Tallow 'Magic Ingredient' in Promising Cholesterol Fighter
Imagine a cholesterol-lowering hot fudge sundae. Tim Carr, a University of Nebraska-Lincoln nutrition scientist, envisions all sorts of foods with cholesterol-fighting power. He's working on a potential food additive that could turn such dreams into reality. He has developed a compound that packs more cholesterol-lowering power than similar commercially available plant-based food additives and should be easier to incorporate into foods. Carr's new compound outperformed plant-based additives in animal studies. Preliminary research also indicates it works at least as well as widely prescribed cholesterol-lowering statin drugs. And raw materials come from two abundant Nebraska products -- soybeans and beef tallow. Scientists have long known that plant substances called sterols help reduce blood cholesterol. However, sterols don't dissolve in water. Mixing sterols with oil or fat improves their solubility but has limited their use to higher fat foods such as margarine or salad dressings. That snag bothered Carr. "Here we have this nice ingredient for lowering cholesterol but we can only deliver it in high-fat foods," the university Institute of Agriculture and Natural Resources researcher said. "What's wrong with this picture?" Carr studies the role of various fats in heart disease. His earlier research revealed that stearic acid, a saturated fat found in beef tallow and some other fats, actually lowers cholesterol. "I've built on that earlier discovery of the good saturated fats," he said. He devised a way to blend specific amounts of stearic acid with plant sterols.
"The magic ingredient or what I'm calling beneficial saturated fat is stearic acid," he said. Combining stearic acid-rich beef tallow with soybean-derived sterols boosts the cholesterol-lowering power.
Commercially available plant sterol additives are gooey, sticky substances. They stick to food manufacturing equipment.
Carr's compound is easily made into a powder that theoretically could be added to diverse foods, from breakfast cereals and drinks to dairy products and even chocolate.
"We think this powder is going to be much easier to work with and have a much broader application," he said.
Carr is testing his compound's effectiveness in animal studies and exploring how best to commercialize it to benefit consumers. The university is patenting this technology.
So far, results are impressive.
Carr's College of Education and Human Sciences team compared his compound to a commercially available plant sterol product in hamster feeding trials. The compound lowered LDL, or bad, cholesterol about 70 percent, compared with 10 percent using the commercial sterol additive.
While hamsters are a good model for humans, they aren't people. Carr hopes to get funding for human clinical studies.
Commercial plant sterol additives and the team's plant sterol/stearic acid compound both work by blocking cholesterol absorption in the small intestine. Typically, the body absorbs 50-60 percent of cholesterol in the gastrointestinal tract, he said. Excess cholesterol winds up in blood where it can contribute to heart disease.
"With our compound, absorption is in the 3 to 5 percent range," Carr said. "That's highly effective."
Carr is in the midst of a hamster study comparing the compound to a commercial statin drug.
"Our preliminary data indicates that it's as good or better than the statin drugs," he said. He'll have more definitive answers later this year.
Americans take about 2 million daily doses of statins, such as Lipitor, making them the nation's most widely prescribed drugs, Carr said. Statins help millions lower their cholesterol, but there is some concern about their potential for liver and muscle damage.
If the new compound proves effective in further studies, it might provide a new cholesterol management tool.
"The beauty of this is that our compound passes right through the GI tract and takes cholesterol with it. It's never absorbed into the body so there are no toxicity issues," he said.
This research is conducted in cooperation with the university's Agricultural Research Division.
Sours: https://www.newswise.com/articles/tallow-magic-ingredient-in-promising-cholesterol-fighter#!
Immadragon — solution for Magic Tallow for Thaumcraft 4 in...
We've run out of time.
For about a week there, we had a sort of plan but it didn't work out. The landlady refused a lease in order to help us deal with back pay as well as looking for financial help for various associations that require lease info, as such, she's not getting any more money out of us.
She wouldn't let us pay our bills in person. She always demanded the amount be given to her directly. When asked if the prices were really what she claimed, she threw a fit. Claimed we were being rude despite how suspicious it is that she wouldn't even let us contact the companies personally.
She is still having her family members stalk us. She calls every day complaining about something or other.
The plan we'd been going with fell through. Once again, we cannot rely on anyone we seem to know personally, over several years.
Mom's maternal family is useless. They are wealthy. They married into wealth and do not work at all. But when it comes to helping their own family out, they don't do that. This bitch was my Nana's sister and she and her spawn are so against helping their own family financially that they didn't even help with Nana's funeral when she died. This bitch came out of the same vagina and supposedly loved Nana to pieces, and couldn't be bothered to help her destitute niece handle her dead sister's affairs.
The only time they want to help is when they have some kind of comment on Facebook about how I am too lazy and need boot camp to get me into shape physically and mentally. They've never offered to help us and always bring up not giving people handouts. They go on multiple cruises and vacations a year but the idea of helping family is just impossible. They claim everyone is greedy but them.
Mom has only managed to sell her grandmother's heirloom bracelet(which had to go to groceries) and my sister's guitar(which went to electric). Less than $300 between them both. No one wants the violin or the keyboards. We have limited edition comics but no one is interested. Fine china that no one cares about.
We've been trying to sell shit and it's not working out.
We have exactly $1.08 in the Paypal. I have $5 in an Amazon gift card. I'm doing surveys but it's not really helping.
We basically need money to just put our things in a storage unit now.
Step-dad's friends are still making excuses and he's still believing them. They claim they either, don't trust links on Facebook, the link doesn't work, or it leads to a different page entirely. Several people here have tested the link out for me on various devices and browsers. They are lying. I don't know why they just won't admit that they don't want to help.
Just say no. Dozens of grown men have been leading this idiot on for almost 3 months. And no matter what we say he's still defending them.
As for step-dad's issues, several law firms have gotten back to us about his injury. Yes. He has a case. His former job owes him a lot of money they're trying to get out of paying. BUT, no one wants to take his case because it's not financially beneficial to THEM.
Finally, the IRS is still giving me problems about the 2nd and 3rd stimulus checks they owe me. The nearest office over an hour away has been closed all year because of the global panorama. I have no way of 'proving my identity' because they refuse to accept online or phone call verification. Every time I call I get the same bitch who gives me a spiel about how despite the letter saying to call that number specifically, no one there can actually help with stimulus check related issues, despite it being only for the missed stimulus checks.
Both of them would really help out but of course nothing can go our way, right.
I feel bad that my sister has to deal with this when she just started her job yesterday. She's gonna go stay with her friend on the 4th while we do whatever.
So once again, here is the gofundme.
Here's my Ko-Fi. I am accepting commissions but I only have a few days left where I'll be able to take them so it'll have to be quick if anyone's interested. We won't have internet access let alone a place to sleep. I'll keep the Ko-Fi open for donations but other than that I won't be able to reliably swing it and I wouldn't want to let anyone down.
Thanks for listening to my whining. Sorry I haven't been able to post my happy stuff in recent months but homelessness is really kicking my ass.
Sours: https://ethrildragon.tumblr.com/post/98462016328/solution-for-magic-tallow-for-thaumcraft-4-in
John Scott Builds His Daughter a Theatre
This entry is about John Scott and his business ventures. He was known as "Old True Blue" Scott after a washing blue, which made him a fortune, but he also sold ink, watercolors and magic lanterns. The latter were used in Sans Pareil performances. There are also guides to businesses in the Strand.
Contents
The Ink bottles Sold by John Scott
The following image is from: http://www.chipstone.org/publications/CIA/2002/Glenn/480win/16.html
Figure 16 Ink bottles, London, 1780–1820. Salt-glazed stoneware. H. of tallest: 3 1/2". These small bottles contained ink or pigments. The bottle on the left is impressed "SCOTT, 417 STRAND." John Scott was listed in the London Directory as "water Colourman to her Majesty" at this address from ca. 1790–1839.
Magic Lanterns Sold by John Scott
From: NÜRNBERG AND THE BULL'S-EYE MAGIC LANTERN
http://www.academia.edu/1200403/Nuremberg_and_the_Bulls-Eye_Magic_Lantern
by Deac Rossell
Image from Page 13:
[Revised 1/2012. This is a revised and expanded version of an article first published in New Magic Lantern Journal, Vol. 9 No. 5 (Winter 2003), pp. 71-75, as "Some Thoughts onthe Bull's-Eye Magic Lantern". All illustrations are gathered in a table at the end of the text.]
Descriptive text from Page 3-4:
Lantern No. 2 has a nameplate attached: "Scott. No. 417 Strand London." This is the plate of John Scott (1752-1838), the artist's colourman and impresario whose business was established enough to allow him to build the Sans Pareil Theatre (later the Adelphi) in 1806 [4] for his daughter, a singer. Scott's shop sold hand-painted lantern slides, and as an established colourman, he was in close contact with painters with the necessary skills to work on glass., Numerous slides marked "Scott, Maker No. 417 Strand, London" survive,mostly from around 1820. But there is no evidence that Scott was an instrument maker or optician. It is unlikely that he was actually making magic lanterns, and he does not appear in Gloria Clifton's Directory of British Scientific Instrument Makers. The nameplate on No. 2 is [4] probably a retailer's plate rather than a maker's plate. This suggestion is given added substance because Scott advertised, from 7 January 1791 until 12 May 1801, that he had"imported large quantities of lanterns from Germany; they are contained in neat boxes, each lantern with 12 slides . . . half a guinea to two guineas each also some larger at 12 guineas each." These lanterns could well have been ordered from Nürnberg, and Scott's [5] advertisements cover a good portion of the period to which my Nos. 1-8 are currently dated and in which No. 2 was probably originally sold.
The Sans Pareil / Adelphi Neighborhood: 1814/1823
Simulated image of the block the Adelphi resided on 1814 through 1823. The assigned addresses to buildings and the published index of business did not line up very well around Lumley court, so accuracy in that area is in doubt.
Select Image to see Larger Version.
To download the Google Sketchup Source, place your cursor over the following link, click right mouse button, select Save As: streetview.skp (18 MB)
Materials for Watercolours and Drawings Sold by John Scott
From National Portrait Gallery: British artists' suppliers, 1650-1950
From http://www.npg.org.uk/research/programmes/directory-of-suppliers/s.php
A selective directory, to be revised regularly, 1st edition 2006, 2nd edition 2008, 3rd edition October 2011 (*revised entry, **new entry). Contributions and corrections are welcome, to Jacob Simon at [email protected]
*John Scott 1782-1816, George Scott 1814-1831, John Harrison Scott 1831-1841. At 419 Strand, London 1782-1788, 417 Strand 1788-1839, 33 Craven St, Strand 1840-1841. Watercolour preparers.
John Scott (c.1752-1838) sold materials for watercolours and drawings, advertising extensively from 1782 onwards (e.g., Morning Herald and Daily Advertiser 29 June 1782). John Scott, water colourman, at 419 Strand, took out an insurance policy on 10 April 1787, covering his utensils and stock for £400 (Sun Insurance policy registers). He announced his move to 417 Strand the following year (General Evening Post 1 August 1788). The freehold of these premises was sold in 1803, subject to a lease until 1813 at £60 a year (The Times 29 January 1803).
Scott sold his products widely in Britain and overseas. In 1783 he advertised that his watercolours were on sale in Paris as well as at many book and print sellers around England, also noting that he had just imported a large quantity of very fine French drawing chalk, shortly thereafter advertising that he had 'fixed a correspondence abroad for a supply of most Foreign Articles used in Drawing; likewise Crayons in sets, ditto of Swiss Crayon Pencils, a curious article, being in wood after the manner of Black-lead, in sets of 50 and 70, of all different tints' (General Evening Post 23 December 1783, 6 January 1784).
In the St James's Chronicle 12 August 1788 Scott described himself as 'Superfine Water-Colour Cake Preparer to her Majesty and the Royal Family', selling 'British & Swiss Crayons, & the true Italian Crayon Pencils, in sets of every Colour, of which Scott is the only importer', his products being 'sold by the first Booksellers and Druggists in every provincial Town in the Kingdom' (Clarke 1981 p.14). One such bookseller was J. Todd of Stonegate, York, who advertised Scott's products in the York Courant 6 May 1783 (Clarke 1981 p.16). In most directories Scott was described as a watercolour preparer but he was also listed as 'new invented water colour cakes and crayon manufacturer' (Wakefield's directory, 1790). His colours were advertised in the United States (Poulson's American Daily Advertiser, Philadelphia, 12 October 1804, see 'American Historical Newspapers 1690-1876', http:/infoweb.newsbank.com).
A lengthy advertisement in 1792 for his True Liquid Blue for Blueing Silk Stockings etc, names numerous retailers across the country and gives a good idea of his product range, including 'Scott's Superfine Prepared Water-Colours in Cakes, in neat Mahogany Boxes…, fine Indian Ink, Swiss Pastells, Crayons, Camel's Hair and Black Lead Pencills, Italian Coloured Pencils, Drawing Paper, Chalks, &c; a fine new White that will stand, 1s. per ounce. Ivory Pallets, Pallet knives, and all necessaries for Drawing and Colouring' (The Star 16 May 1792). 'Scott in the Strand' is said to have supplied Gainsborough with a Cremona White, according to the recollections of the Rev. Kirby Trimmer (Walter Thornbury, The Life of J.M.W. Turner, R.A., 1862, vol.2, p.64; Sloman 2002 p.70).
About 1804 Scott began to build a theatre for his daughter, Jane Margaret, in Bailey's Alley behind 411 Strand, which opened in 1806 as the Sans Pareil. Under his daughter's management the theatre flourished sufficiently for him to buy the freehold in 1808 and to extend the theatre, which was said to hold over 1,800 persons. In 1819 Scott sold the theatre, which became the Adelphi (see Survey of London, vol.36, Covent Garden, 1970, pp.239-52, available online at www.british-history.ac.uk). John Scott, formerly colourman of St Margaret's Westminster, died in 1838 and was buried on 26 November, age 86, at Walton-on-Thames as of Parliament St, St Margaret's. In his lengthy will, made 16 November 1829 and proved 10 December 1838, John Harrison Scott was named as his son, while another son, George Scott, was described as deceased.
The business continued in the family over more than one generation. George Scott took over from his father at the close of the year 1813, according to his subsequent advertisement (The Times 31 August 1821). In turn, he was followed by his brother, John Harrison Scott (c.1783-1854), who announced his retirement in 1839, stating that Barclay & Son of Farringdon St had been appointed his wholesale agents (The Times 21 January 1831, 9 April 1839). In the early 1830s the business was listed as a liquid dye manufacturer and in 1836 as artists' colourman and dye manufacturer. The 1841 Post Office directory contained two listings at the same address: John Scott, colourman, and John Harrison Scott Esq. John Harrison Scott was christened at St Martin-in-the-Fields in 1783, the son of John Scott and Elizabeth, and died at 18 Camden Square, reportedly at the age of 68, in 1854 (Morning Chronicle 16 November 1854).
Selected Pages from Kent's Original London Directory: 1823 Related to the Sans Pareil / Adelphi Block
Kent's Original London Directory: 1823, Title Page
Kent's Original London Directory: 1823, Page 6
Kent's Original London Directory: 1823, Page 15
Kent's Original London Directory: 1823, Page 27
Kent's Original London Directory: 1823, Page 35
Kent's Original London Directory: 1823, Page 42
Kent's Original London Directory: 1823, Page 66
Kent's Original London Directory: 1823, Page 130
Kent's Original London Directory: 1823, Page 141
Kent's Original London Directory: 1823, Page 162
Kent's Original London Directory: 1823, Page 165
Kent's Original London Directory: 1823, Page 179
Kent's Original London Directory: 1823, Page 211
Kent's Original London Directory: 1823, Page 267
Kent's Original London Directory: 1823, Page 256
Kent's Original London Directory: 1823, Page 259
Kent's Original London Directory: 1823, Page 296
Kent's Original London Directory: 1823, Page 279
Kent's Original London Directory: 1823, Page 320
Kent's Original London Directory: 1823, Page 327
Kent's Original London Directory: 1823, Page 345
Kent's Original London Directory: 1823, Page 350
Selected Pages from <I>Post-Office Annual Directory: 1814</I> Related to the Sans Pareil / Adelphi Block
Post-Office Annual Directory: 1814, Title Page
Post-Office Annual Directory: 1814, Page 56
Post-Office Annual Directory: 1814, Page 76
Post-Office Annual Directory: 1814, Page 192
Post-Office Annual Directory: 1814, Page 220
Post-Office Annual Directory: 1814, Page 232
Post-Office Annual Directory: 1814, Page 243
Post-Office Annual Directory: 1814, Page 268
Post-Office Annual Directory: 1814, Page 310
Post-Office Annual Directory: 1814, Page 337
Thank you for visiting this site.
Copyright © 1988, 1992, 2013 and 2016 by Alfred L. Nelson, Gilbert B. Cross, Joseph Donohue.
Originally published by Greenwood Press as The Sans Pareil Theatre 1806-1819, Adelphi Theatre 1819-1850: An Index to Authors, Titles, Performers, 1988, and The Adelphi Theatre 1850-1900: An Index to Authors, Titles, Performers and Management, 1992.
The Adelphi Theatre Calendar revised, reconstructed and amplified. Copyright © 2013 and 2016 by Alfred L. Nelson, Gilbert B. Cross, Joseph Donohue. This work is licensed under a Creative Commons Attribution-NonCommercial 3.0 Unported License, with the exception of graphics from The Clip Art Book, edited by Gerard Quinn and published by Crescent in 1990. These images are reproduced in accord with the publisher's note, which states "The Clip Art Book is a new compilation of illustrations that are in the public domain. The individual illustrations are copyright free and may be reproduced without permission or payment. However, the selection of illustrations and their layout is the copyright of the publisher, so that one page or more may not be photocopied or reproduced without first contacting the publishers."
Sours: https://www.umass.edu/AdelphiTheatreCalendar/img288c.htm
Source: NYU Langone/Karsten Moran
The following is an abridged version of Dr. Ahmad's recent interview with Stephen Ross, M.D. Dr. Ross is the Director of Addictive Disorders and Experimental Therapeutics Research Laboratory at NYU and an Associate Professor in the Department of Psychiatry at the NYU Grossman School of Medicine.
Dr. Ross has conducted extensive research into the effects of psychedelics like psilocybin on addiction and cancer-related existential distress.
Dr. Samoon Ahmad: To start, could you give me a little bit of an overview about what drew you to psilocybin?
Dr. Stephen Ross: I had just taken over the leadership of the Substance Abuse Division and I was being supervised by Jeff Guss, who's a longtime faculty member. One day in supervision he starts talking to me about some conference he's going to in Switzerland commemorating the discovery of LSD [lysergic acid diethylamide]. I was like, "What are you talking about? Why would anybody commemorate the discovery of LSD?" And he said, "Well, actually, psychedelics were a big part of psychiatry."
So, I started looking, and you don't have to look very far because it's all kind of hidden in plain sight. There's this enormous body of research in psychiatry spanning 30 years. There were APA conferences dedicated to LSD; it was hailed to be a wonder drug, and it was used in all these clinical indications. What really got my attention was that the most studied indication with LSD was the treatment of alcoholism.
There were thousands of people in clinical trials. What they found was that a single dose of LSD led to improvements in drinking compared to placebo even after six months. I just thought that was fascinating. The other most studied indication for LSD was for the treatment of terminal cancer—specifically psychiatric and existential distress.
I just thought all this was so fascinating that we decided to form a reading group. We called ourselves the Psychedelic Reading Group at NYU. About a month after we formed the group, I heard that psychedelic research had resumed in the US in the late 90s and that one of the sites was UCLA. Now, I had gone to UCLA for medical school, and my favorite rotation was at Harbor-UCLA, which is kind of like Bellevue. And though I never met him at the time, there was a guy, Charlie Grob, doing psilocybin research for terminal cancer—studying people who had anxiety, depression, and existential distress—at UCLA.
I was introduced to him when I went to visit my family in late 2006. I went to Harbor and we had like a three-hour lunch. He was Division Chief like me, running their child division, and he's just this amazing guy who said, 'This is a really promising part of psychiatry and it's starting to come back and I'm doing this trial.' And then he said, 'Why don't you do a bigger trial at NYU? My daughter is an NYU student. I love NYU.'
You know how much I love Bellevue, but they would not let me do it. I thought that was the end of it, but the NYU College of Dentistry reached out to me, and they said they were interested in part because the head of their clinical research center was dying of lung cancer. So we did this study, this psilocybin and cancer study at the Bluestone Center for Clinical Research at the Dental School.
At the end of that trial, we designed this psilocybin for alcoholism trial, but the dental school said, "We can't have drunk people running around the dental school. You have to do that at Bellevue." And I said, "But Bellevue doesn't allow us to do that." Turns out after several years and positive media portrayals, Bellevue has accepted me back, and so we now have our psychedelic lab at Bellevue. We have several full-time studies. We're finishing up psilocybin for alcoholism. That's going into a Phase 3. We're just starting psilocybin and for major depression. That's a Phase 2. I'm hoping to restart the psilocybin and cancer work soon. We're finishing up use of psilocybin and religious professionals.
Interestingly, in the age of COVID-19, we're hoping to move in that direction, as well. I designed a trial using psilocybin to treat frontline healthcare workers—you know, ICU docs, ER docs, nurses, and so on—who have COVID-related anxiety, depression, and existential distress. Depending on getting funding, we may be doing something COVID-related.
Dr. Ahmad: In your opinion, are these the kinds of conditions that psilocybin has the most potential to treat?
Dr. Ross: Well, there are three main areas that are likely going to get psilocybin rescheduled in the next three to five years: Cancer-related existential distress, alcoholism, major depression. I mean, the trials could fail, but I would doubt it at this point—certainly for cancer and alcohol. We know that there's a very strong efficacy signal.
We're finishing up the trial on psilocybin and alcoholism in about 100 people, and we'll analyze the data in a month or so. My sense is that it's going to be a positive trial. It's going to be helpful compared to placebo. Psilocybin is [also] being studied for tobacco addiction at Johns Hopkins, and they're finishing up a controlled trial of psilocybin versus nicotine replacement, and we'll know more there soon, too. Their pilot trial, you know, was like in 12 people, and it's astonishing. Like 80 percent of people after two doses of psilocybin were not smoking at six months—but, again, that was open label. It was very small. We have to see what the control trial shows.
There's also a trial at the University of Alabama finishing up with the use of psilocybin to treat crack cocaine addiction. We should know in a year or so about that. There's now a trial starting up using psilocybin to treat opiate addiction, but that's in the very early stages.
I think psychedelics can be very helpful for addiction. Certainly, that was the most promising area historically, but we'll have to see the results of all these trials to see how helpful they are for these other disorders. If they are, then they'll have a huge public health impact.
Dr. Ahmad: I'm sort of thinking of the path of marijuana and how long that took to become accepted. Do you think a similar amount of cultural or societal change needs to happen in terms of educating people about psychedelics like psilocybin?
Dr. Ross: I think it's going to be vital to educate the public. Otherwise, history will repeat itself. When psychedelics escaped from the lab and started to be used by the general public, people realized that these drugs were dangerous. Because of that, they were demonized and thoroughly repressed.
Now they're coming back and it's like the echoes of history. There's this exuberance phase and the public is hearing about it through the Pollan[i] book and other sources, and they're thinking, "My God! This is going to cure me. One or two doses of psilocybin will cure me." And then they realize it's not legal, so then they find it in the underground.
And now you get into dangerous territory. I think if we're not careful, we can have a cultural backlash again. I think what we need to do is be very cautious. Continue to do the research, to do good research to see what the data shows and how good or not the effects are, and then educate the public that, yeah, these are new treatments, but they have risks associated with them and they should only be used in these kinds of ways.
I think the right model is that this is medication-assisted psychotherapy. All our treatments are done with two dyad therapy teams, and there is an enormous amount of preparation before the dosing session.
On the dosing day, you know, it's very controlled. There's a kind of living room in the Clinical Translational Science Institute. We make sure they're ready. We then give them the pill. We turn on preselected music that we play for the whole time. We have them lying supine on the couch. They put eye shades on, they listen to the music, and the default is to focus internally while the two therapists are there to support them.
With psilocybin, it's a six-hour experience. It comes on gradually, it peaks for about two or three hours, and it comes down gradually. Following the dosing session with the psilocybin, there's a lot of integrative psychotherapy. I really think that the arc is at the heart of the therapeutic experience. The drug is part of it, but the drug facilitates the psychotherapy as opposed to the model of ketamine for depression, which is that it's a biological effect that is changing glutamate or BDNF [brain-derived neurotrophic factor].
Our cancer patients—and this is throughout the study—75 percent said the experience was the single or top-five most meaningful most spiritual experience of their lives. I think these are highly memorable, difficult, transformative experiences that kind of get people thinking in a different way, and then it's what happens after that's key. So, again, I think it's drugs plus psychotherapy and not just drugs alone.
Months, sometimes years, later we ask them to reflect on the experience, and they're often able to say, precisely, "I had this experience. I remember this thing happening and that's stuck with me to this day. It had a profound effect on me at the time and it still has a profound effect on me. I can remember very clearly when I had that confrontation with cancer" or "When I experienced my death" or "When I came to another insight." And that's why these are so memorable. They have this kind of spiritual content to them.
Dr. Ahmad: You recently published your long-term follow-up study on the treatment of existential distress in patients with life-threatening cancer. Could you share some of your key findings?
Dr. Ross: Yes. The original sample was about 30 and we were able to follow up with about half of them, about 15 or 16, because the other half had died. It was pretty astonishing. Four and a half years after a single dose, we found pretty much what we found one day after giving them the dose. It was that 80 percent of people were in remission from their depression or anxiety symptoms.
But... you have to be very skeptical of that. To really demonstrate that you need a much bigger study. It needs to be a parallel design. But the idea that people with cancer who have a very bad reaction with it, who feel anxious and depressed and wish they were dead already or that life has no meaning, it appears that psilocybin really works for those people. In the majority of them, it can rapidly transform them out of that state and into a much better orientation to cancer and life, and that it can last for a long time.
Dr. Ahmad: Have you found that these spiritual experiences are any more or less pronounced in people who are not struggling with the issue of personal mortality?
Dr. Ross: Well Hopkins did a study they published in 2006. They gave psilocybin to normal volunteers. They didn't have any psychiatric problems, but these were spiritually oriented people. In that study, they found that three out of four said the psilocybin experience was the singular or among the top-five most spiritual or most meaningful experiences of their lives.
Our religious professional trial that we're doing with Hopkins, these are, again, "normal" volunteers, but they're rabbis, priests, imams. We're still analyzing the data, but, just anecdotally, they've been some of the most profound experiences I've seen. These religious professionals are having really intense spiritual and mystical experiences and they are having, for the most part, a positive impact on their religious practice, and sort of deepening their religion or giving them new insights into the nature of reality and God. So I think that the use in "normal" volunteers is interesting to consider and how it may help people that don't necessarily have a psychiatric illness, but want to have some kind of spiritual growth.
Dr. Ahmad: For patients who have a negative experience, what do you do to manage them?
Dr. Ross: We have a whole algorithm to deal with somebody having a difficult psychological experience. Interestingly, psilocybin is extremely safe medically. It's not associated with organ damage or overdose death. It can cause a mild increase in blood pressure and we measure that a lot, but the main thing is that people can have anxiety reactions or psychotic-like experiences. That's why we carefully rule out people with psychotic illnesses or a family history [of these illnesses]. We rule out people with severe personality disorders. We also rule out people where there is not a good rapport.
We're very careful to only go into a dosing session if we feel comfortable. If somebody does have a difficult experience, we've rehearsed it ahead of time. "If you feel like you're going crazy and you're never going to come back, that's common. If that happens, this is what you should do: Dive into the experience, don't run away from it. Try to go with it and be curious as the first step." If they're still having a hard time, we will then sit them up and we might provide therapeutic touch to them. Somebody may hold their hand or their shoulder and reassure them that they're under the influence of a drug and that they are going to be okay.
And those are often the therapeutic moments. If someone is having a really hard time and they're resisting, and we remind them, "Go back into it. Don't be scared. We've got you." It's typically those moments that people have these kinds of psychological breakthroughs.
If someone is really having a hard time though, we can give them Valium, but we rarely have to do that—maybe two or three times in 150 patients. If we need to abort the experience, there is an antipsychotic you can give them. Psilocybin is a 5-HT2A agonist, and we have Zyprexa, which is a 5-HT2A antagonist. If we give them that, it will essentially stop the experience. I think we've done that once.
Dr. Ahmad: Are there any directions that you hope the research will take in the future?
Dr. Ross: We're getting close to forming a Center for Psychedelic Medicine at NYU, and the novel direction we want to go is to use psychedelic therapeutics within medicine and neurology—or at the intersection between psychiatry and medicine. This is an area that is completely new, and this would be for pain disorders. There's evidence that psychedelics have potent anti-inflammatory properties, so we're going to be looking at inflammatory conditions like rheumatoid arthritis and some of these kinds of conditions, too. There's also some evidence that psilocybin is associated with neural regeneration, and there are some people now thinking of using it for neurodegenerative disorders like Alzheimer's or Parkinson's.
The antiinflammation stuff is interesting. It comes from studies of a psychedelic drug called DOI [2,5-Dimethoyx-4-iodoamphetamine] down at LSU by guy named Chuck Nichols. He took rats that had asthma. When you biopsy them before they get the drug, there's all this inflammation and all these inflammatory cells. When they gave them DOI, one dose of it, a day later they did the biopsies again of the pulmonary tissue, and what they found was remarkable: There was no more inflammation. All the inflammatory cells were gone. The entire inflammatory process was not there.
Psychedelics exert their psychological effects by activating the serotonin 2A receptor, but how they work as anti-inflammatories is actively being worked on. It definitely appears that they have rapid and sustained anti-inflammatory properties, but there's a lot more research to be done there to see if that's true effect, how universal it is, and then what the exact mechanism is.
It's wild to think of utilizing them not for their psychological effects, but for their biological effects. And I think the area that, to me, encapsulates putting all this together would be this use of LSD in metastatic cancer pain. There, LSD may have direct analgesic effects, but it also may indirectly help pain by making depression and anxiety better.
So, yeah, the interface with medicine and neurology, I think, is the newest thing. There's also this concept of microdosing. Rather than these big macro-doses that cause mystical experiences, how can you leverage things and use them daily? There's a lot of hype about LSD and psilocybin microdosing, but there's no data. Those trials are starting.
I was invited by the Journal of Psychopharmacology because they did a review article on microdosing. I think my title was like 'All Hype, No Data, and the Implications of Microdosing Within Psychiatry.' It's funny. My mom, who's in her seventies, asked me, 'Do you think I should microdose with LSD?' And I was like, 'Mom! What are you talking about?' And she goes, 'I hear it's great. It's been proven to be great!'
So it just goes to show you that there's so much out there, and that people think that it's going to help their creativity and their energy and their sex lives and their sleep and on and on. The reality is we know nothing about microdosing. We don't know anything about its potential benefits or its potential harms. If you give a psychedelic a lot, it may be harmful. The serotonin 2B receptor that psilocybin also activates is associated with valvulopathy [disease or disorder of the valves of the heart]. That's associated with, like, the Fen-phen [fenfluramine/phentermine] drug; that was a [serotonin] 2B agonist.[ii] So it may that we find out that microdosing causes cardiac problems, but we just don't know.
People are now just beginning to look at microdosing in human populations, number one, to take normal volunteers and see what are the psychological effects; and then, right around the corner from that group, there are those starting to design trials for microdosing to see if it can help treat psychiatric disorders like major depression, ADHD, addiction.
With microdosing, we just don't know. It's one of these examples of the overexuberance among the public. People think that something is a real thing, they want to try it, and then they get into trouble.
I have another research program with CBD (cannabidiol), and we're using that daily to treat pain disorders. There's psychedelics, like bromo-LSD as an example, that don't cause any psychological effects, but it appears to be helpful for cluster headaches.
Dr. Ahmad: Could psychedelics be used to reduce levels of anxiety and stress?
Dr. Ross: I think so. There's the whole inflammatory hypothesis of depression—that depression is associated with hyperactivation of cytokines and increased inflammation. People with depression have shorter rates of survival compared to people without depression.
We looked at this in cancer. We actually looked at inflammatory and immune markers because cancer-related distress, whether anxiety or depression, is associated with decreased rates of survival, so the implication is that there's something going on We know that depression, in particular, drives this hyperinflammatory response and decreases immunoresponse, but unfortunately we never got to analyze those samples because of Hurricane Sandy. When Sandy hit Bellevue, our samples were in the Bellevue CTSI (Clinical & Transitional Science Institute) and because all the generators are in the basement, and, as you remember, the lights went out, so we lost our samples. We never we never got to analyze them. It would be really interesting to…and, again, this is, like, you have to be very careful here because there really is no data yet, but some people get really excited that psilocybin will cure cancer—not just cancer anxiety, but that it'll make their anxiety and depression so much better that their immune system will get better and they'll fight off the cancer.
That's a real stretch, but you could look at that. You could properly design a trial to actually look at that, and if that were the case, it would be pretty big. But I would think that just improving someone's state of mind that has cancer is going to have some positive effect on the rate of survival.
Dr. Ahmad: I want to thank you for enlightening us. I really appreciate it. I also want to thank you again for the very kind words about my marijuana book, which is now scheduled to come out September 9.
The full interview was published on Dr. Ahmad's site, samoonmd.com. You can read it here.
__________
[i] Michael Pollan's book, How to Change Your Mind, was published in 2018. It examined the therapeutic use of psychedelics and described some of Dr. Ross' research. The book was immensely popular.
[ii] This drug combination was introduced in the 1970s, but was pulled from US markets in the 1990s due to the cardiac risks associated with usage.
Sours: https://www.psychologytoday.com/za/blog/balanced/202007/magic-mushrooms-and-the-future-psychology
Research magic tallow
Thaumcraft 6, Ch 2 Pt. 1: "Basic Alchemy"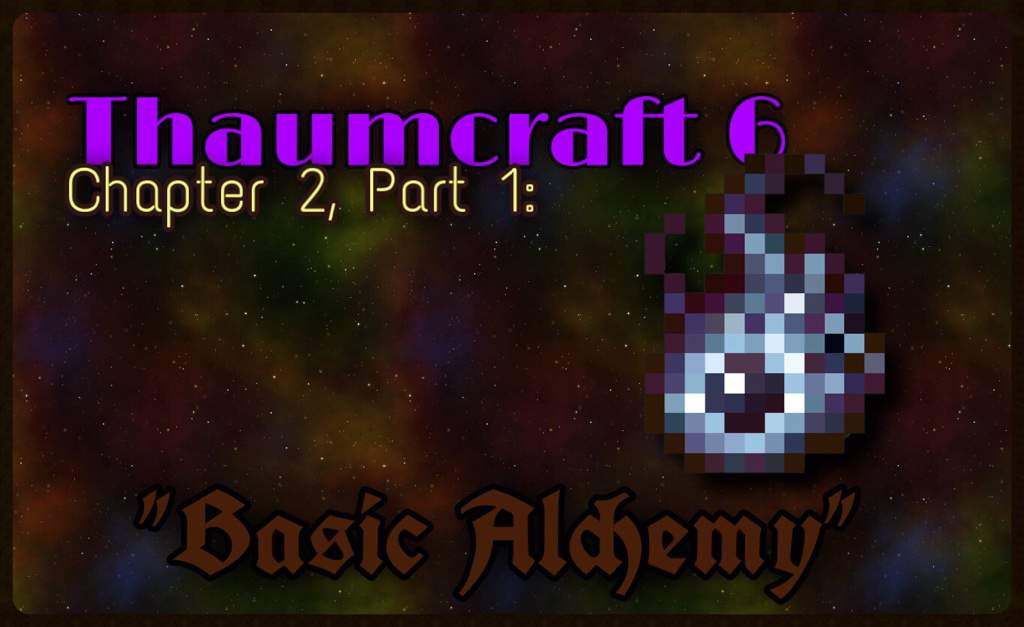 ~•~Welcome my Thaumaturge practitioners, I'm Gabu. Starting in Chapter 2, the use of Alchemy is essential to move through the whole mod. There's time some quest of learning needs another chapter in order to progress. Not only today I'll teach alchemy but also; Essentia classification, the use of research table and so much more~•~
:sparkles: ❍━━━━❑❒❖❑❒━━━━❍ :sparkles:
•Research•
-In order to progress in Thaumcraft 6, not only gathering Vis Crystals is necessary. There is a depth of info and progression on investigating, analyzing, or by the use of ancient knowledge. Many quests inside the Thaumonomicon need the Knowledge Scroll leveling in order to craft or advance. Which are three ways to;
•Investigating:
-Using a Research Table, to learn each Knowledge and level up each one through paperwork and some times they need items.
•Analyzing:
-Using a Thaumometer, scanning, and analyzing all items, blocks, and entities all around the world gathering knowledge.
•Ancient Knowledge:
-By the use of consuming "Curiosity" items to gathering knowledge. These items are; Preserved Curiosity, Pech Wand, Illuminating Curiosity, and Crimson Rites (Others are going to be explained in further blogs).
~>Thaumometer<~
Crafting recipe: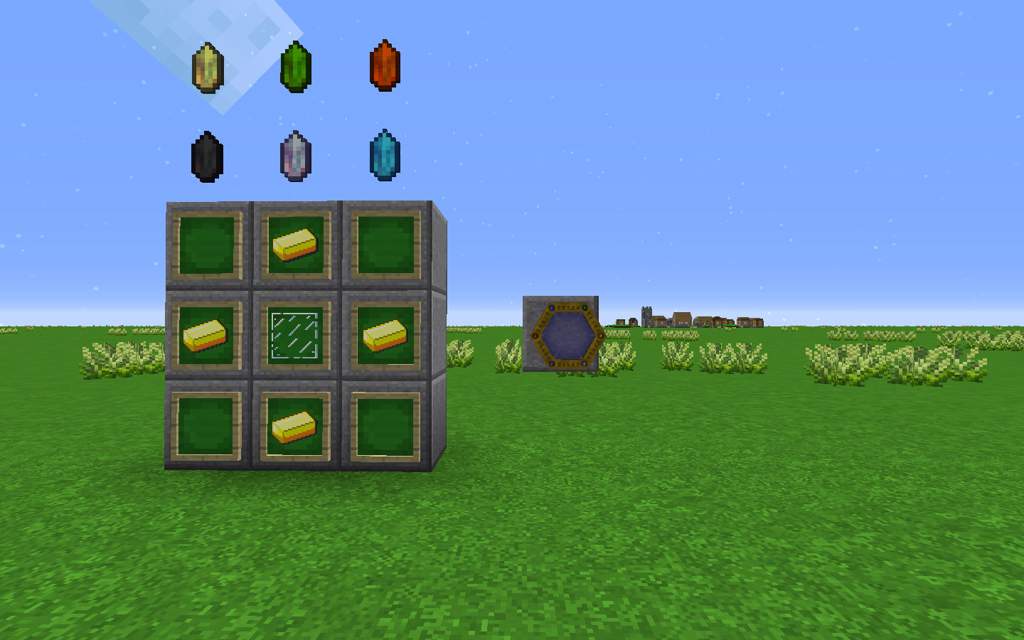 Crafting components:
-4 Gold Ingots, and Transparent Glass Pane
Vis Cost: 20
Vis Crystal Consumed:
-Aer
-Ignis
-Terra
-Aqua
-Ordo
-Perditio
•TIP•
-Thaumometer has two uses;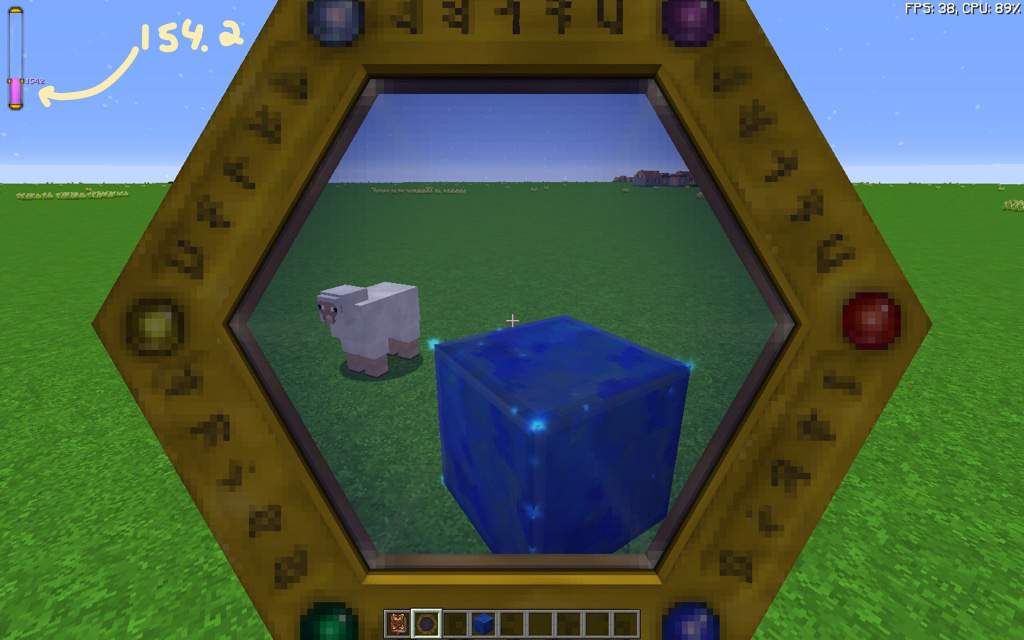 1- Determining the number Vis and Flux on chunks.
2- Blue particles of stars on all surfaces of a block means you as players haven't analyzed it. Use right-click to analyze, once is analyzed a text on top of the Hotbar would pop up; "You have learned something new" is already analyzed is "Nothing new can be learned from this"
~>Research Table<~
Crafting recipes
•Table•
Crafting recipe: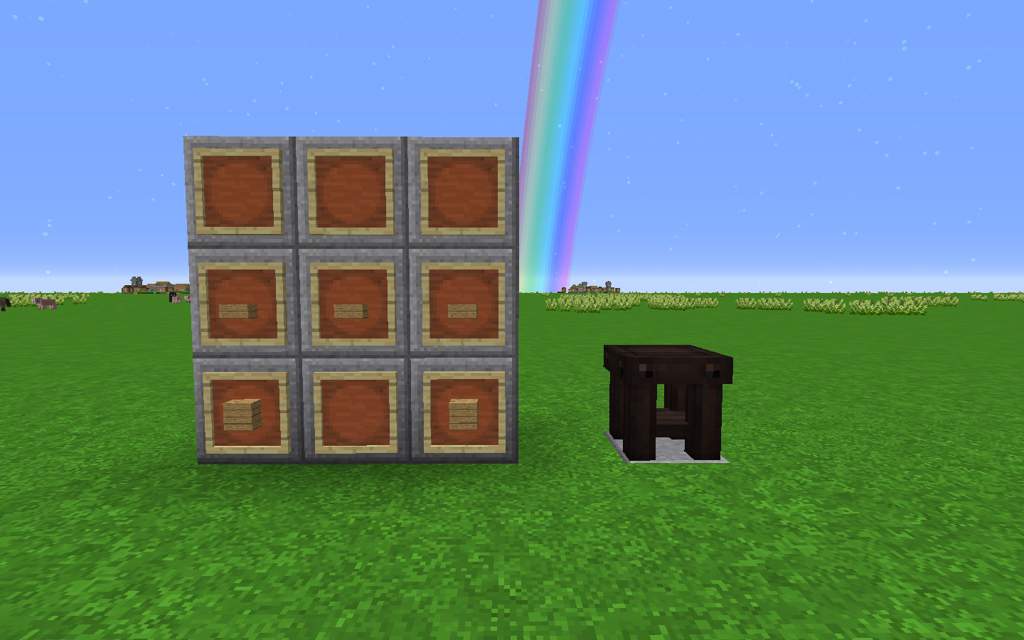 Crafting components:
-2 Any planks, and 3 Any wood plank slab.
•Scribing Tool and Phial•
Crafting recipe: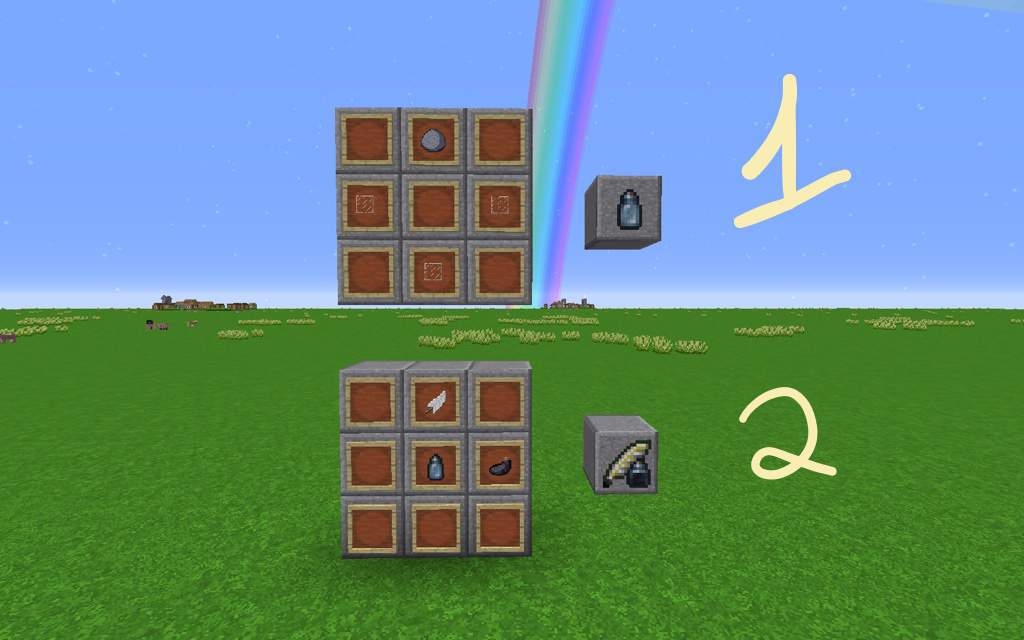 Crafting components:
1•Phial
-3 Any color glass and clay
2•Scribing Tool
-Phial, Any black dye, and Feather
•Research Table•
Needs:
-Scribing Tool
-Wooden Table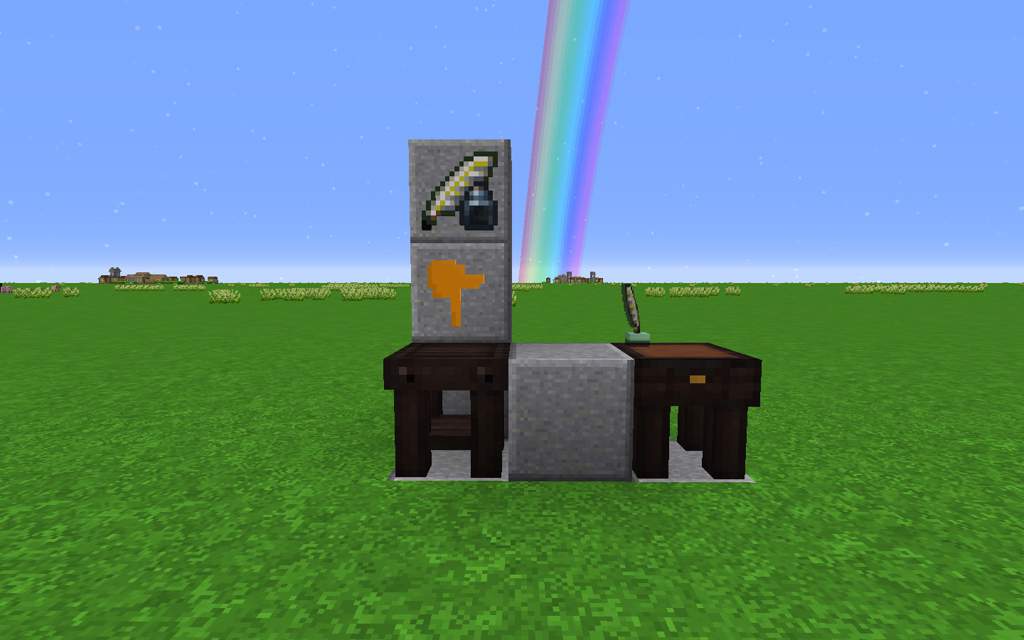 Method:
-The player most held the scribing tool in the main hand, then use right-click on a wooden table.
•TIP•
-The scribing tool doesn't break, even do shows a durability bar. It only shows how much ink is left, if a scribing tool doesn't have ink inside the research table doesn't work. To refill just place it on a crafting table next to any type of black dye.
:sparkles: ❍━━━━❑❒❖❑❒━━━━❍ :sparkles:
•Research Table•
-As previously mentioned the research table helps the Thaumaturge to progress, but how exactly works is going to be explained in this section.
~•GUI•~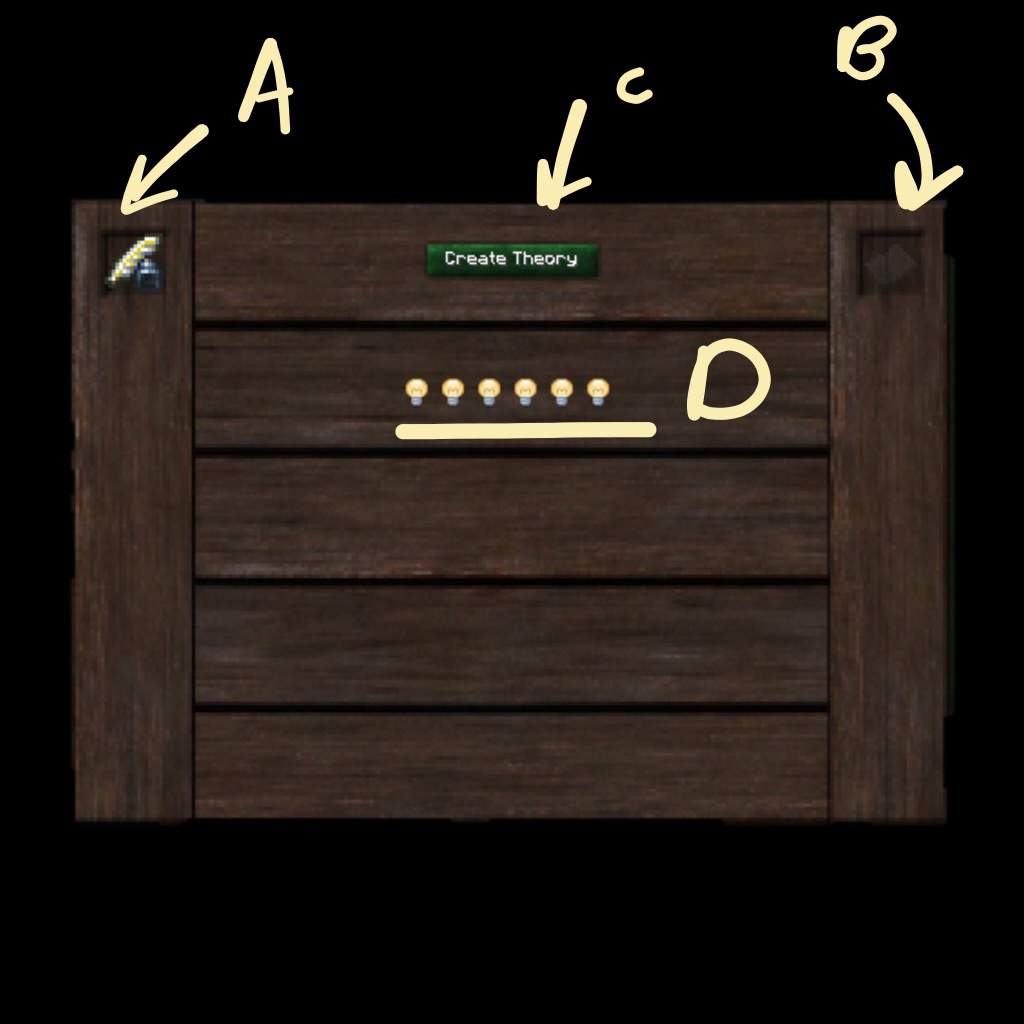 A: Scribing Tool Slot
B: Paper Slot
C: Creation of a theory or just the start button of the mini-game
D: Ideas
-Ideas are sacrifice when doing the mini-game of researching knowledge. Prepare yourself for some reading and a ton of paper. Ideas cam only increase on the number, the further your complete task in the Thaumonomicon and scan with the Thaumometer the more ideas on the number is going you to have. Also, have fun, read, and try your best to gather knowledge through the paperwork. I highly recommend by personal experience to explore the world with the Thaumometer and use "Curiosity" items to gain knowledge.
!: Consumed item
!x/(without exclamation): Doesn't consume item but is required
:sparkles: ❍━━━━❑❒❖❑❒━━━━❍ :sparkles:
•Celestial Notes•
-Notes that may be used to gather knowledge inside the Research Table. Only take a Scribing tool, some paper, and the Thaumometer. The notes are the following;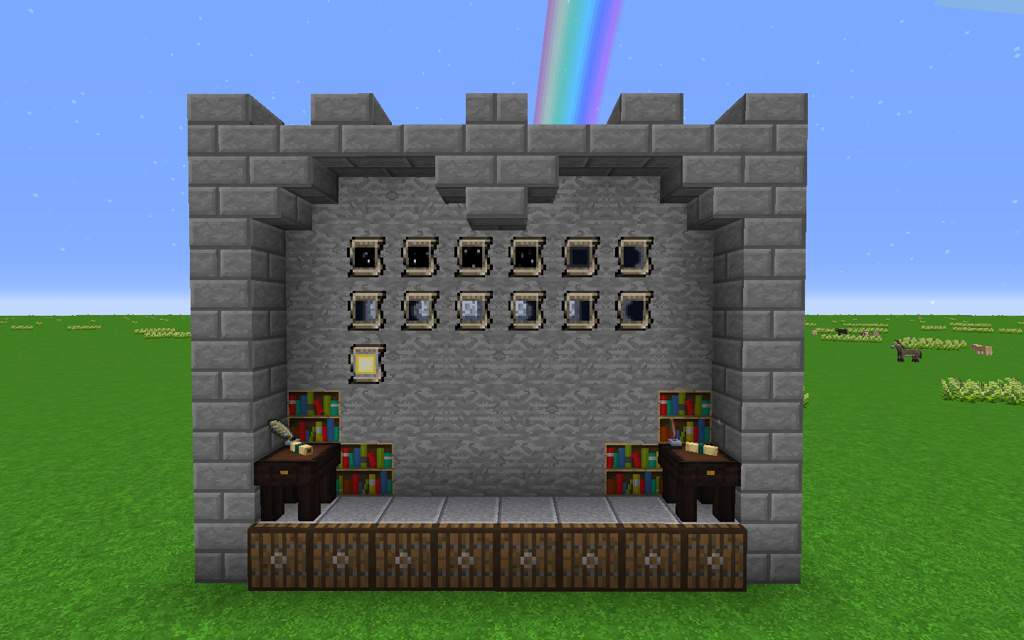 Celestial Notes Preview Texture
-You can only take notes once a day or night, as you can see; the celestial notes are from each night sky quadrant, moon faces, and sun.
:sparkles: ❍━━━━❑❒❖❑❒━━━━❍ :sparkles:
•Aspect of Essentia•
-Compounds of the world are called "Aspects" by the use of shift and hovering the mouse on top of any block or item, a player can see the number of aspects and which one is. But what are their names? Let's learn together;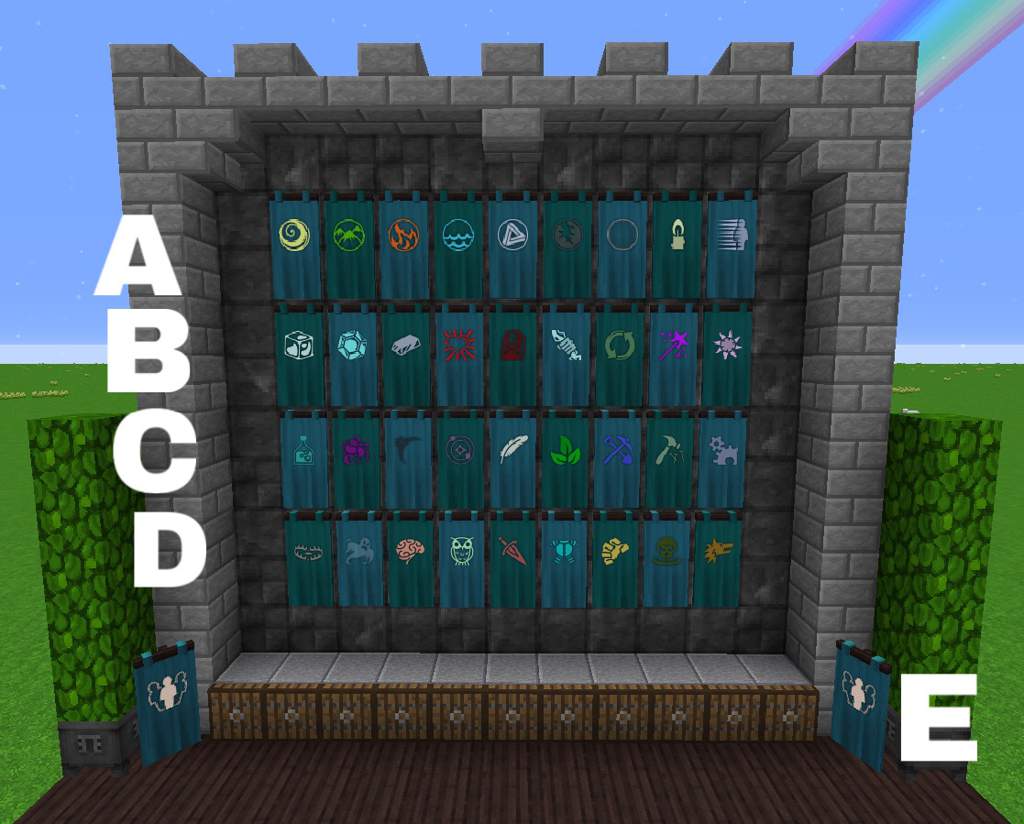 -Order is from left to right:
~A~
-Aer (Air)
-Terra (Earth)
-Aqua (Water)
-Ordo (Order, Regulatarity and Purity)
-Perditio (Entropy, Chaos, and Destruction)
-Vacous (Void)
-Lux (Light)
-Motus (Motion and Animation)
~B~
-Gelum (Ice, Frost, and Cold)
-Vitreus (Crystals, Glass and Clear)
-Metallum (Metal)
-Victus (Life)
-Mortuus (Death)
-Potentia (Energy and Power)
-Permutatio (Exchange and Barter)
-Praecantatio (Structured Magic, Spells & Enchantments)
-Auram (Aura and Vis)
~C~
-Alkimia (Alchemy and Chemistry)
-Vitium (Taint, Change, and Mutation)
-Tenebrae (Darkness)
-Alienis (Alien, Strange and The Eldritch)
-Volatus (Flight)
-Herba (Plant)
-Instrumentum (Tool and Instrument)
-Fabricio (Craft)
-Machina (Mechanism and Machine)
~D~
-Vinculum (Trap and Imprison)
-Spiritus (Soul)
-Cognitio (Mind, Memory, and Cognition)
-Sensus (Senses)
-Aversio (Aversio and Conflict)
-Praemunio (Fortify, Protect and Ward)
-Desiserium (Wish, Desire, Want and Yearning)
-Examinis (Undead)
-Bestia (Beast)
~E~
-Humanus (Player and Humanoid)
:sparkles: ❍━━━━❑❒❖❑❒━━━━❍ :sparkles:
•Basic Alchemy•
-The reason for this blog's name, alchemy's first lessons start here. When using a Crucible, most be fill with water, have a heat source under it and careful hands, unless you want the world to be corrupted with taint and flux. Flux is created when Essentia inside a cauldron is dissolved, this happens over time, so be fast when doing crafting. Additional guiding:
1-) Place crucible over a heat source (fire, lava, or something similar).
2-) Add water and wait until it boils (little bubble particles inside the water).
3-) Add ingredients with the aspects you require, either by dropping them in or clicking with the item/block on top of the crucible's tip face.
4-) Throw in Catalyst (Main ingredient)
~>•TIP•<~
-Shift-right clicking with an empty hand will empty a crucible.
-Each crafting operation will consume some of the water. Refill it with a water bucket at any side except the top of the crucible.
-A player can craft multiple items at once just by adding the sufficient aspects and the use of sufficient catalyst.
-The purple smoke that comes out of is Flux. If you read my previous blog on this showcase, you can learn what is capable of this gas to do in your world.
-If a player throws Quartz Slivers (Quartz Nuggets) and there are aspects inside the crucible Vis Crystal of doing aspects will be created! Without the need of emptying the crucible and creating "by accident" Flux in the chunk or environment.
:sparkles: ❍━━━━❑❒❖❑❒━━━━❍ :sparkles:
•Brewing Utilities•
-The first time using Crucible, let's not go straight to alchemy but easy Alchemy before lessons. These items can be used to decorate, be used on alternatives of heat sources on fuel type blocks like furnaces. Ready to see them?
Alchemical Recipes: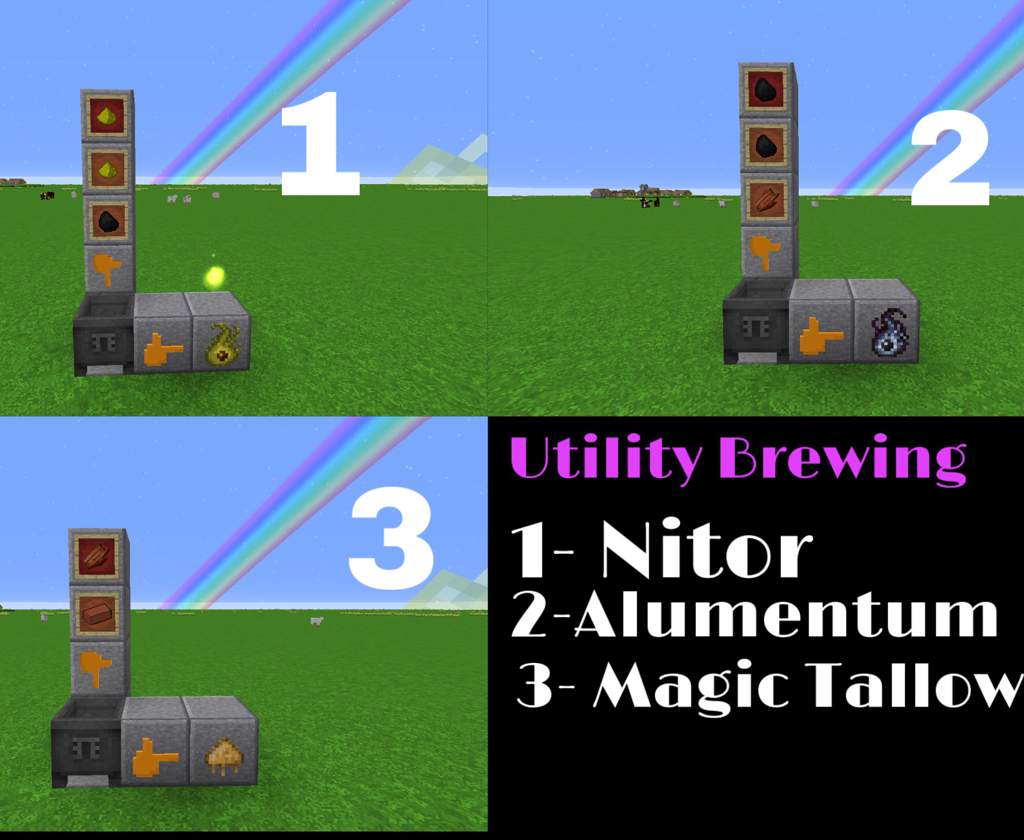 Brewing components:
~>•Nitor•<~
-Used as a light source, doesn't need a surface to be held, can be be used as an alternative of heat source under a crucible; can't burn player nor mobs and flammable blocks. Also prevents a little of Flux been created by the dissolve of aspects inside of the crucible. Can be dyed inside a crafting table to all 16 colors.
•Needed Aspects:
-10 Potentia
-10 Ignis
-10 Lux
•Catalyst:
-Glowstone Dust
•Recommended Items:
-Glowstone dust (10 Lux and 5 Sensus)
-Coal (10 Potentia and 10 Ignis)
~>•Alumentum•<~
-Capable of each smelt 24 items, throwable like a snowball; If it lands on any surface will explode. Not to worry, it only destroys blocks that are weak such as; Wood logs, wood planks, Dirt, and similar, it does give damage to players and can light up TNT if they explode near one.
•Needed Aspects:
-10 Potentia
-10 Ignis
-5 Perditio
•Catalyst:
-Coal
•Recommended Items:
-Coal (10 Potentia and 10 Ignis)
-Rotten Flesh (5 Humanus, 5 Victus, 5 Perditio)
~>•Magic Tallow•<~
-Magic Tallow is used for the crafting of candles, which can later be used with Infusion.
•Aspects Needed:
-1 Ignis
•Catalyst:
-Rotten Flesh
•Recommended Item:
-Brick (5 Aqua, 5 Terra, 1 Ignis)
•TIP•
-Candles can be used as a light source just like a torch would, they come in all 16 colors of dye;
Crafting recipe: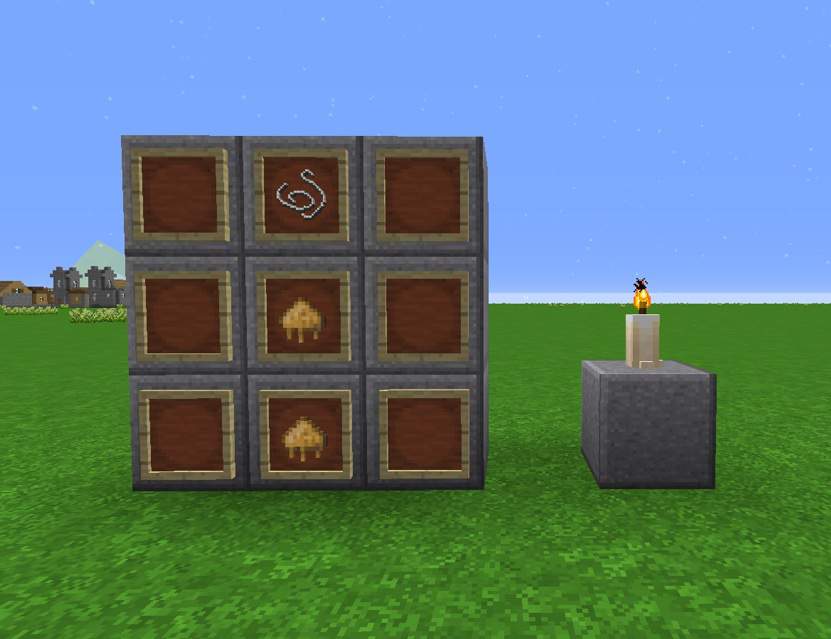 Crafting components:
-2 Magic Tallow and String
•Colors•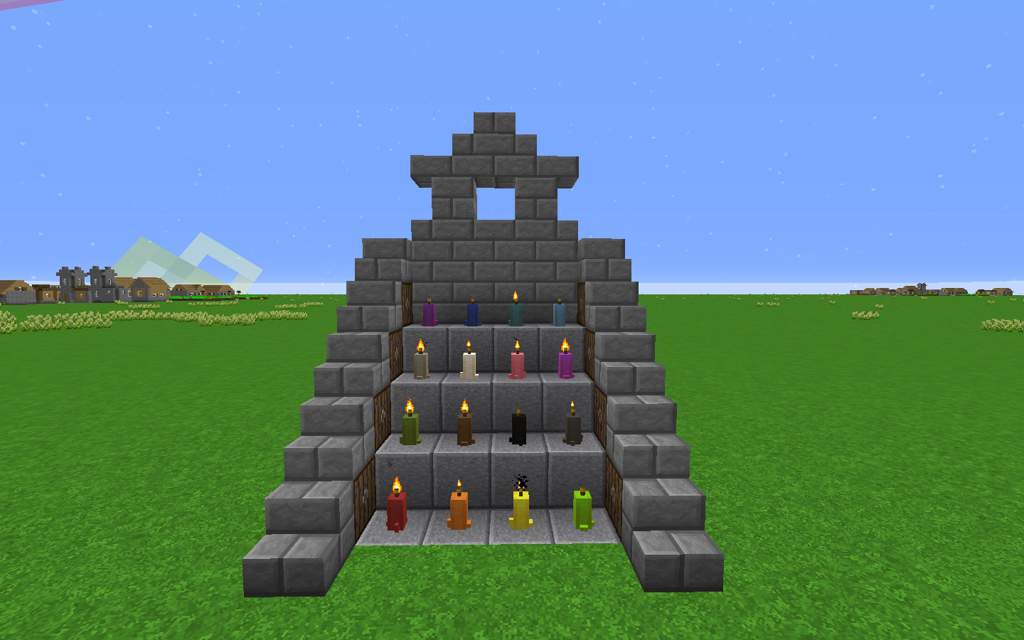 :sparkles: ❍━━━━❑❒❖❑❒━━━━❍ :sparkles:
•Basic Alchemy•
-First lessons on alchemy, some items are capable to be duplicated; only by the use of aspects and maybe for you easier to get them than doing vanilla style.
~>•Hedge Alchemy•<~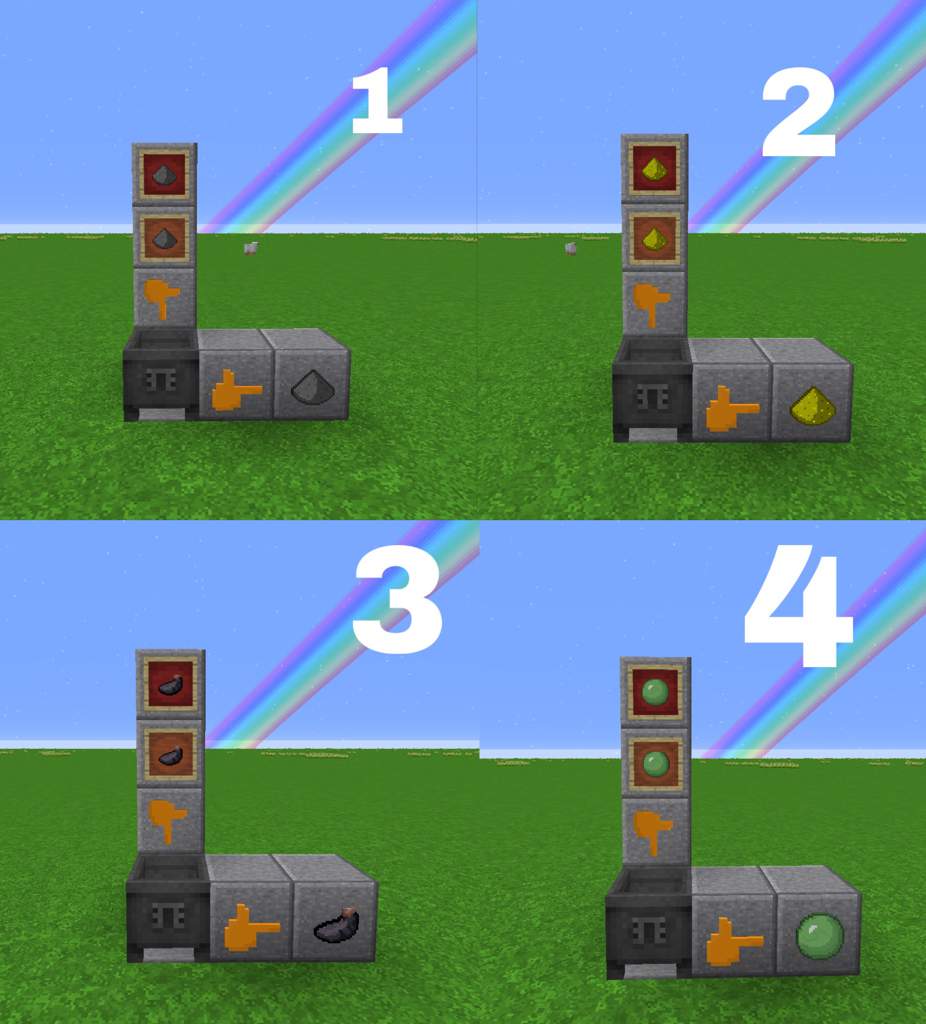 <~1~>
<•Gunpowder•>
•Aspects needed:
-5 Alkimia
-10 Ignis
-10 Perditio
•Catalyst:
-Gunpowder
•Recommended Items:
-Gunpowder (5 Alkimia, 10 Ignis, and 10 Perditio)
<~2~>
<•Glowstone Dust•>
•Aspects Needed:
-10 Lux
-5 Sensus
•Catalyst:
-Glowstone Dust
•Recommended Item:
-Glowstone Dust (10 Lux and 5 Sensus)
<~3~>
<•Ink Sac•>
•Aspects Needed:
-2 Aqua
-2 Bestia
-5 Sensus
•Recommended Item:
-Ink Sac (2 Aqua, 2 Bestia, and 5 Sensus)
<~4~>
<•Slimeball•>
•Aspects Needed:
-1 Alkimia
-5 Aqua
-5 Victus
•Catalyst:
-Slimeball (1 Alkimia, 5 Aqua, 5 Victus)
•Recommended Items:
-Slimeball
<~•Alchemical Practices•~>
-Slimeball, Gunpowder, Glowstone dust, and Ink Sac, are duplicated when the alchemical recipe is done. But in the following section not all recipes are as easy like the previous one;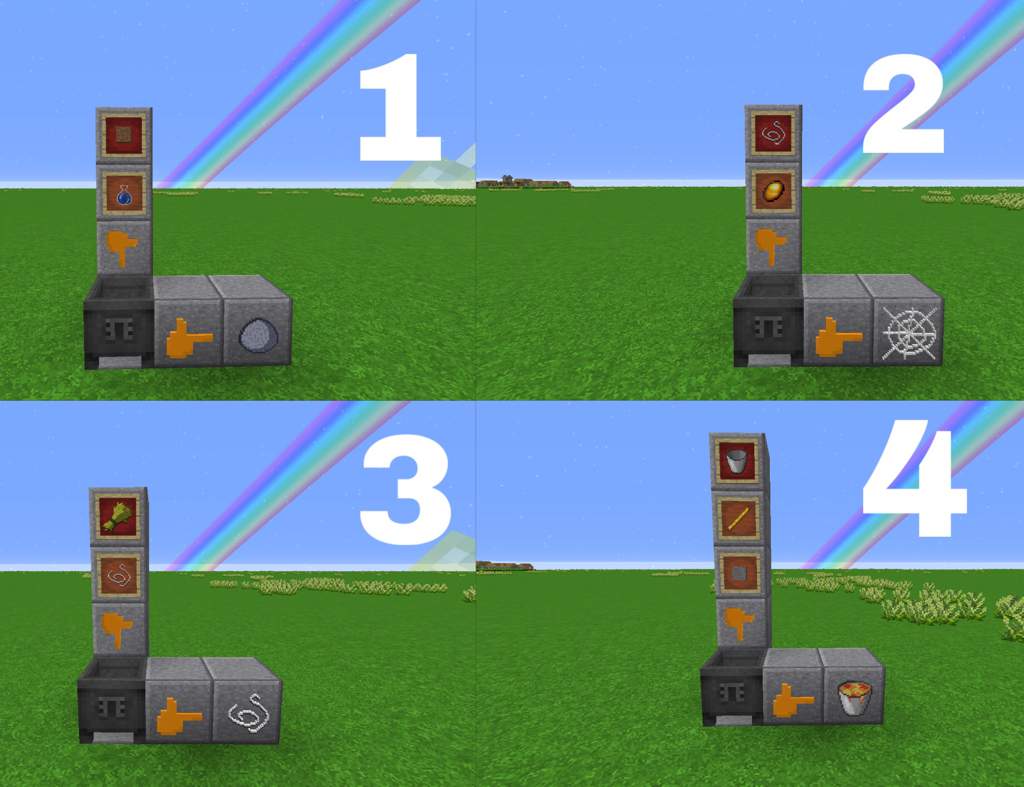 <~1~>
<•Clay Ball•>
•Aspects Needed:
-5 Aqua
•Catalyst:
-Dirt
•Recommended Item:
-Water Bottle (10 Aqua)
<~2~>
<•Cobweb•>
•Aspects Needed:
-5 Vinculum
•Catalyst:
-String
•Recommended Item:
-Amber (10 Vinculum and 10 Vitreus)
<~3~>
<•String•>
•Aspects Needed:
-5 Bestia
-1 Fabrico
•Catalyst:
-Wheat
•Recommended Item:
-String (5 Bestia, 1 Fabrico)
<~4~>
<•Lava Bucket•>
•Aspects Needed:
-15 Ignis
-5 Terra
•Catalyst:
-Empty Bucket
•Recommended Items:
-Stone (5 Terra)
-Blaze Rod (15 Ignis and 5 Potentia)
:sparkles: ❍━━━━❑❒❖❑❒━━━━❍ :sparkles:
•Everfull Urn•
-Place it near a crucible, it will refill it when is not fully filled. If you use an empty bottle on it with right-click, is going to be filled with water. Blocks that need water to work the Urn will refill them, the more urn is around the crucible; the faster can be refilled.
Alchemical recipe: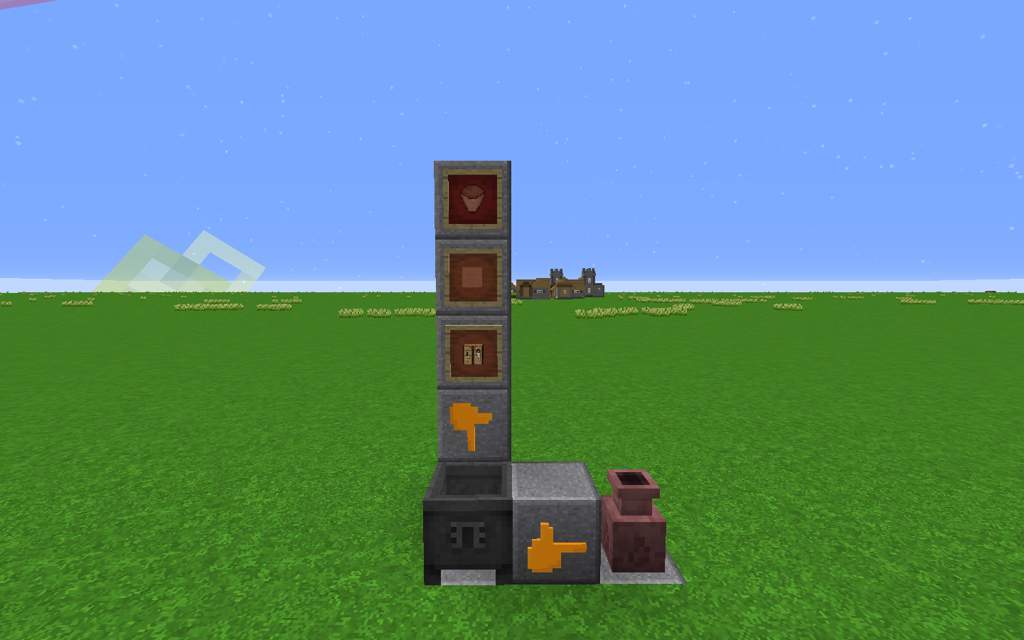 Alchemical recipe and texture
•Aspects Needed:
-30 Aqua
-10 Fabrico
-10 Terra
•Catalyst:
-Flower Pot
•Recommended Items:
-Crafting Table (20 Fabrico and 9 Herba)
-Hardened Clay (15 Aqua, 15 Terra and 1 Ignis)
•TIP•
-The Everfull Urn will consume 1 Vis by each water bucket refill on anything.
-It can only refill blocks or containers within 2 blocks.
:warning: ❍━━━━❑❒❖❑❒━━━━❍ :warning:

-The following sections if are unlocked in the Thaumonomicon are going to give Warp to the player! Be sure of what you doing!
:warning: ❍━━━━❑❒❖❑❒━━━━❍ :warning:
•Liquid of Death•
-A fluid so acid that any mob that touches dies in fast speed, what is special of it; when someone o something dies on it their Aspects of the body solidified in Vis crystals! Why stop there? Any mob can be killed with it, including the wither (I did test it).
Alchemical recipe: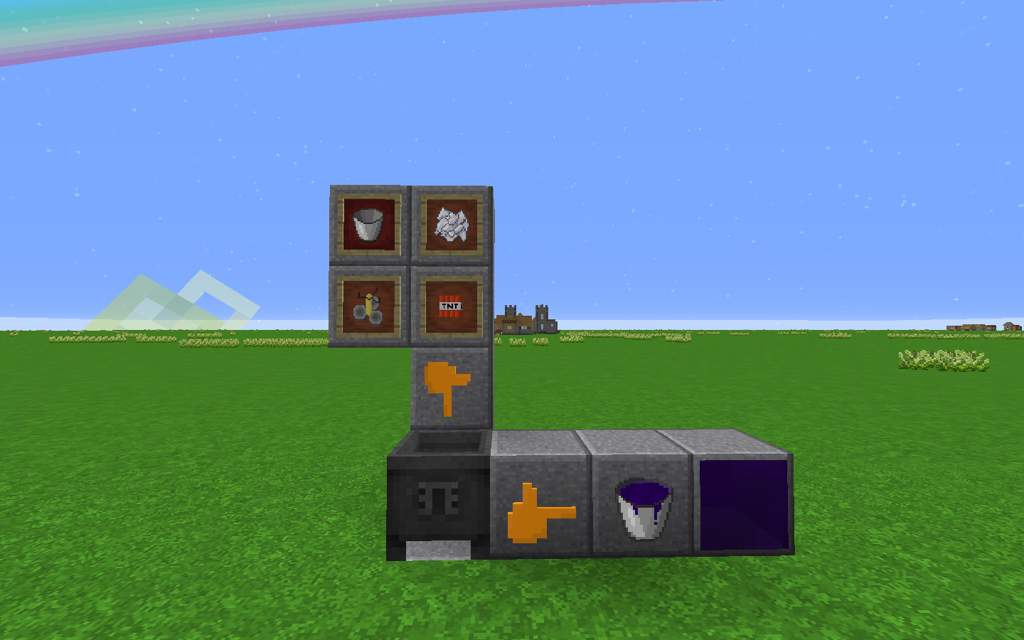 Alchemical recipe and texture
•Needed Aspects:
-100 Mortus
-50 Perditio
-20 Alkimia
•Catalyst:
-Empty Bucket
•Recommended Items:
-100 Bone Meal (1 Mortus , 5 Sensus, 2 Victus and 1 Herba each)
-1 TNT (52 Perditio, 37 Ignis, 18 Alkimia, and 15 Terra)
-Brewing Stand (25 Alkimia, 15 Fabrico, 11 Ignis, 11 Terra, 3 Potentia, 2 Perditio)
:warning: ❍━━━━❑❒❖❑❒━━━━❍ :warning:
•Bottle of Taint•
-A bottle containing Flux Goo, somehow a helper to Taint be spreading and contamination the world, at the same time spawning Taint creatures.
Alchemical recipe: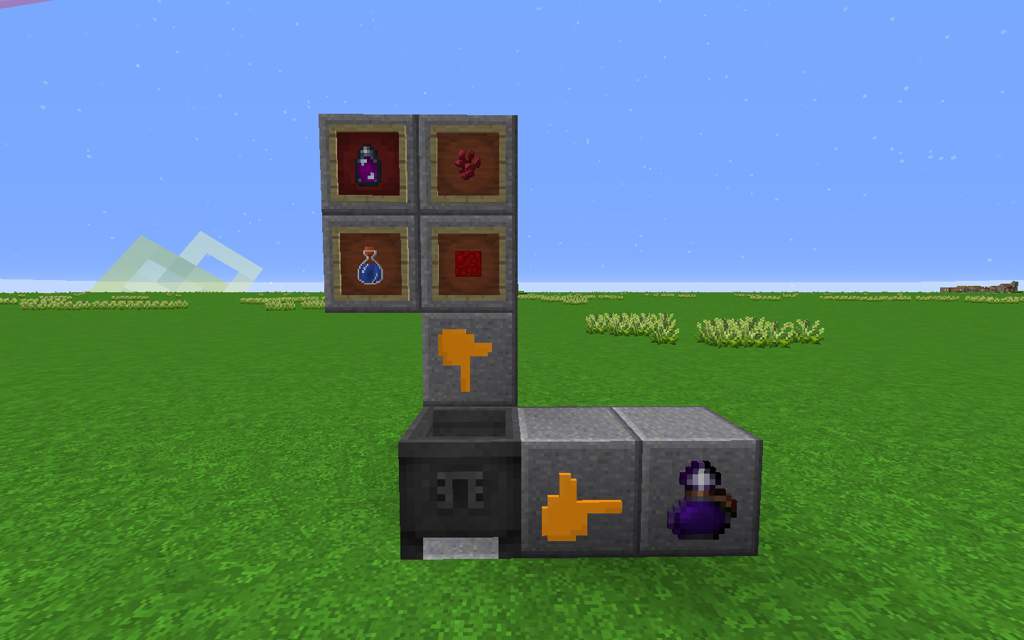 Alchemical Recipe and texture
•Aspects Needed:
-30 Vitium
-30 Aqua
•Catalyst:
-Phial of Vitium Essentia
•Recommended Items:
-3 Bottles of Water (10 Aqua each)
-2 Nether Wart Block (13 Vitium, 6 Herba and 20 Alkimia each)
-2 Nether Wart (3 Alkimia, 2 Vitium, and 1 Herba)
:sparkles: ❍━━━━❑❒❖❑❒━━━━❍ :sparkles:
•Taint Creatures•
-A Flux Rift was created, all the amount of Flux in the area as created, you see how purple things blocks spread around a big area. Out of nowhere creatures come out of where before was vegetation and how they come from the corrupted earth;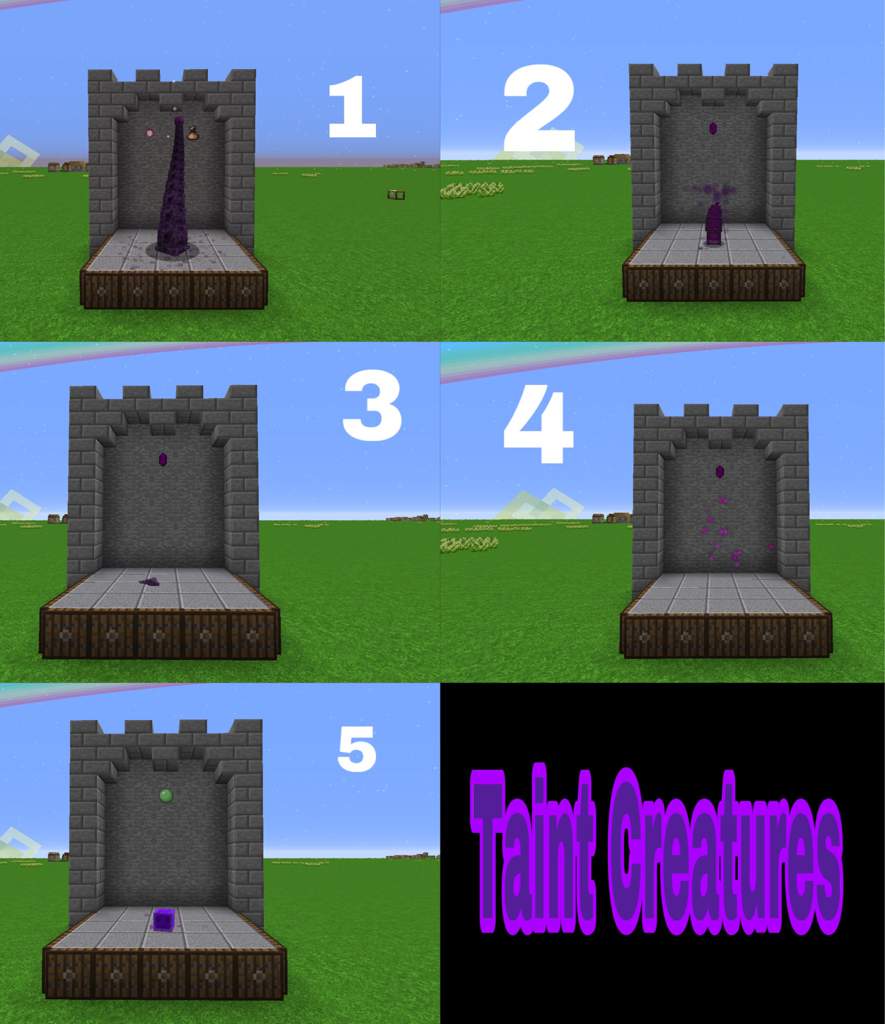 <~1~>
<•Giant Taintacle•>
•HP: 275
•Behavior: Hostile
•Type: Boss
•Attacks:
-Sweeping its extremity to make a one-hit kill if a player is or isn't wearing any armor from Vanilla Minecraft!
-Is hidden near the surface if there isn't a player nearby, if one is nearby they come up!
•Drops:
-Uncommon and Rare Treasure Bags
-Primordial Pearl
<~Extra~>
<•Taintacle•>
-Smaller than the giant Taintacle, this one isn't a boss and strong as it familiar.
•HP: 50
•Behavior: Hostile
•Type: Normal
•Attack:
-Uses his whole body to make 3 HP attack damage.
•Drop:
-Vitium Vis Crystal
<~2~>
<•Taint Seed•>
•HP:
-Normal Size: 75
-Giant-Size: 150
•Behavior: Both Neutral
•Type: Both Normal
•Attack:
-Both are normal, but they are responsible for the fast-spreading of taint in an area. As long they are alive more Taint creatures spawn and the corrupted area doesn't get cured over time.
-When mobs or players get too near because the taint seeds are going to be infected with "Tait Poison", which if an animal is killed they are going to protect the taint seed with their lives, why? 'Cause they are corrupted now. A normal size taint seed gives Taint Poison I, whole Giant Taint seed gives II.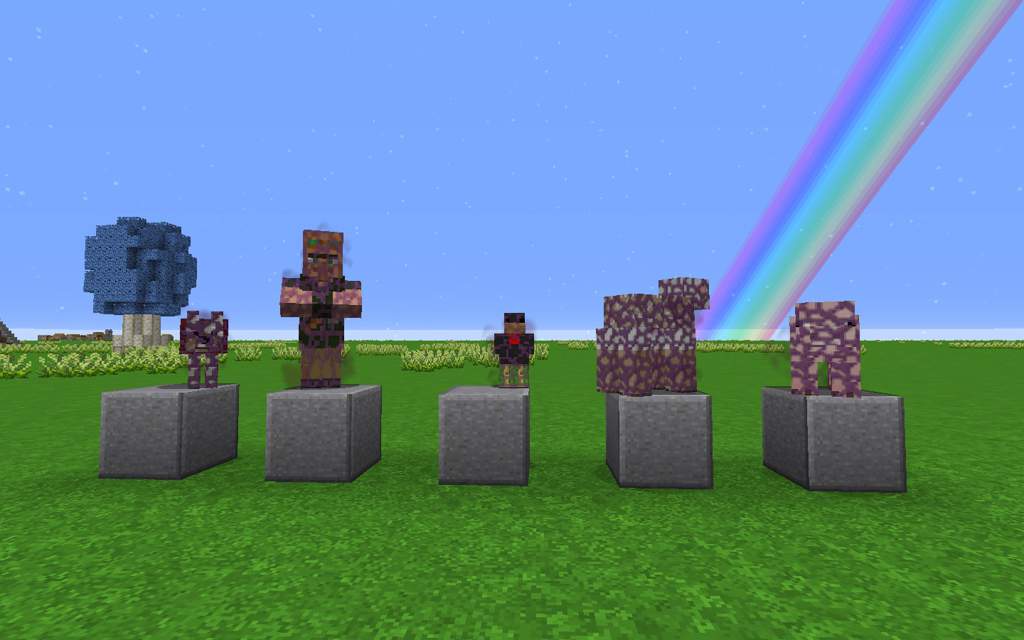 Corrupted by the Taint Seed
-As you can see in the above image, many creatures can get corrupted with taint. They all going to attack players who try to kill or stop the spreading of Taint corruption. The list goes on and on. Here's a Tamed Wolf, a Villager, a Chicken, a Sheep, and a Pig, are just a few to mention. Only solution; death.
<~3~>
<•Tainted Crawler•>
-When it runs around create "Fibrous Taint" which is a beginner to the spread of taint. Called an extender or spy creating mischief around.
•HP: 8
•Behavior: Hostile
•Type: Normal
•Drop:
-Vitium Vis Crystal
•Attack:
-Small as a Silverfish, attacks in a group is one is getting hit. But they don't hide.
<~4~>
<•Taint Swarm•>
-Some times is near strong creators or defenders of Taint corruption, been themselves called a wall of protection.
•HP: 30
•Behavior: Hostile
•Type: Normal
•Drop:
-Vitium Vis Crystal
•Attack:
-What it looks like separated or individual purple firefly is a single body. Confusion one of their attacks hit the most distant purple orbs or just attack the nearest surface where they are flying.
<~5~>
<•Thaumic Slime•>
-One of the most terrifying and strange creatures created by Taint Corruption.
•HP:
-Big: 16
-Medium: 4
-Tiny: 1
•Behavior: Hostile
•Type: Normal
•Drop:
-Slimeball
•Attack:
-If a player is far but they were capable of seeing them. The Thaumic Slime if is Big or Medium is going to launch their half to the player. Not only far but also if the player is flying or in a high place.
:sparkles: ❍━━━━❑❒❖❑❒━━━━❍ :sparkles:
•Arcane Stone•
-Can be used as a construction block, on structures, and crafting recipes.
Crafting recipe: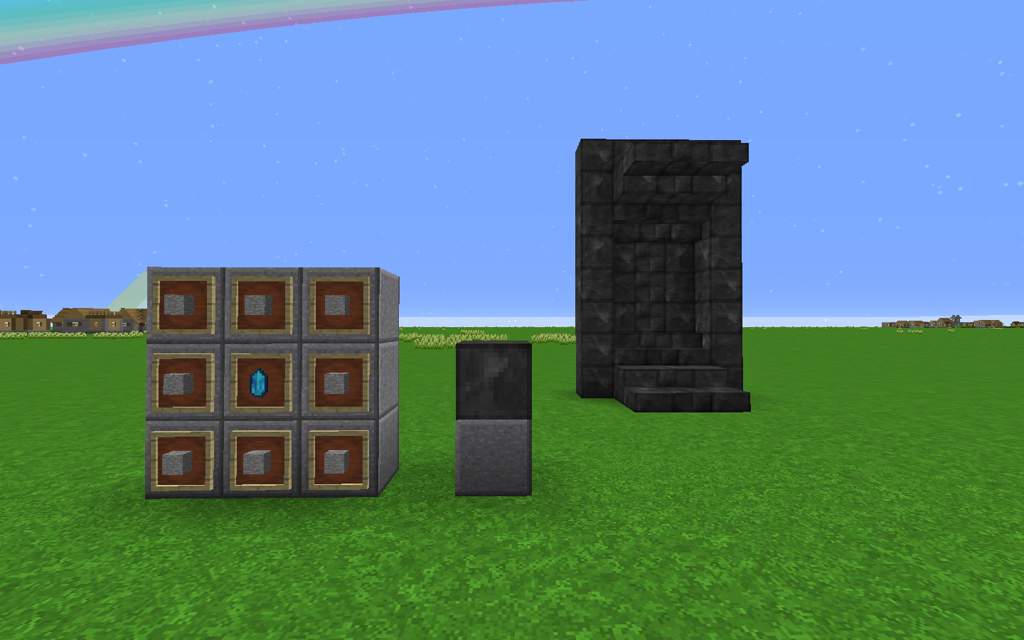 Crafting components:
-8 Stone and 1 Any Vis Crystal
:sparkles: ❍━━━━❑❒❖❑❒━━━━❍ :sparkles:
•Paving Stone of Travel•
-When a player or mob is running or moving on top of one, they get the speed and jump boost. If you make a path with them would help you make faster self transportation from point A to B and vice-versa.
Arcane Recipe: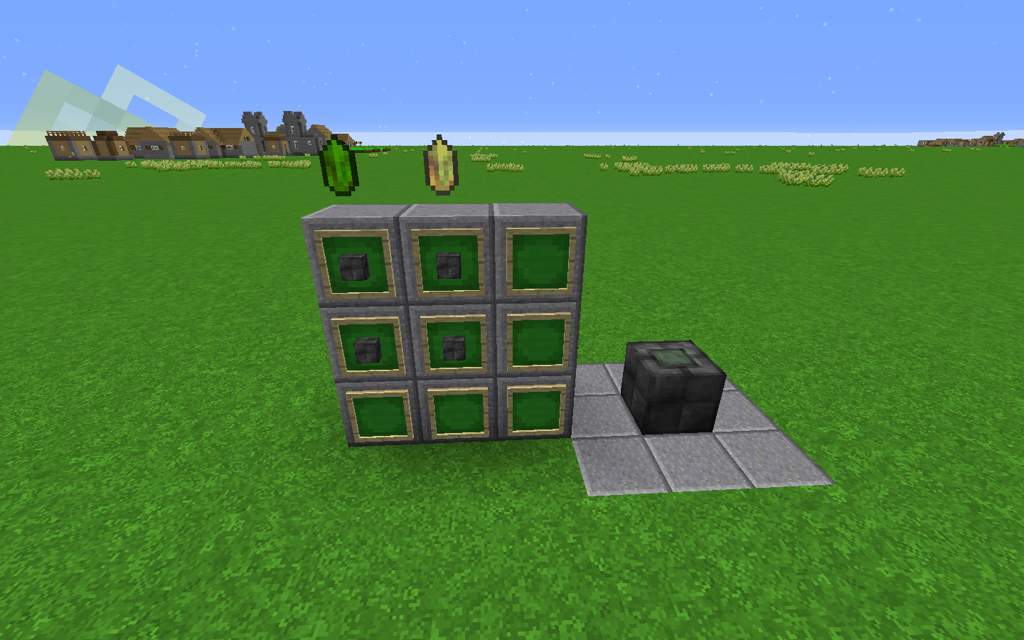 Crafting components:
-4 Arcane Bricks
•Vis Cost: 50
•Vis Crystals Used:
-1 Aer
-1 Terra
•Each crafting 4 is created.
:sparkles: ❍━━━━❑❒❖❑❒━━━━❍ :sparkles:
•Barrier Stone•
-Capable of letting the only player walk to and off the limit or protecting zone. Hostile, Neutral nor Passive mobs can pass the limit of the Barrier Stone. It creates a barrier of 2 blocks height of invisible blocks. You can see this if you try to place a mob on top it 2 blocks up.
Arcane Recipe: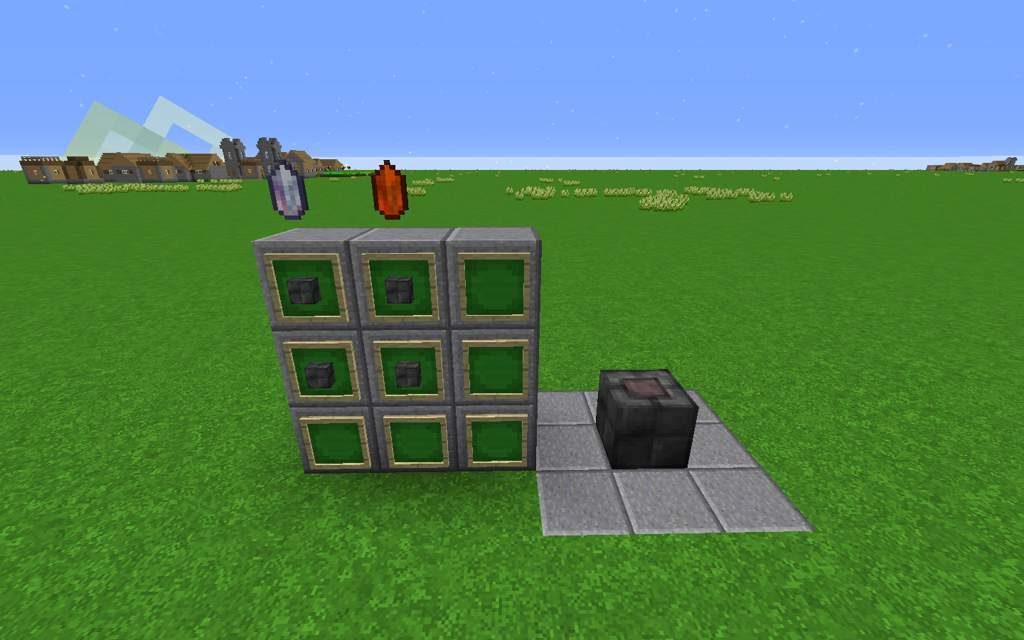 Crafting Components:
-4 Arcane Bricks
•Vis Cost: 50
•Vis Crystals Used:
-1 Ignis
-1 Ordo
:sparkles: ❍━━━━❑❒❖❑❒━━━━❍ :sparkles:
•Have you missed a blog?•
-If you didn't understand most of what this blog is about, here are links to the previous blog on Thaumcraft 6;
Thaumcraft 6, Ch 1: "World of Magic"
:sparkles: ❍━━━━❑❒❖❑❒━━━━❍ :sparkles:
~>•That's it for today everyone, hope you'll like it. Don't forget to leave support, share and comment for questions, suggestions on another mod you want to be to showcase, or for compliments. If you have an extremely fast question to be resolved, go to my DM/Direct Message. Have a wonderful day my Thaumaturge apprentices•<~
<~Hashtags~>
#Feature
#FeatureThis
#CuratorReview
#LeaderReview
#Mods
#ModdedMCExpert
#Gabu
#WeAreAFamilyHereOnMCA
Sours: https://aminoapps.com/c/minecraft/page/blog/thaumcraft-6-ch-2-pt-1-basic-alchemy/ppuQ_uq854EV0ppRjQ1qqNqEe6kWXZ
Thaumcraft 5 Tutorial - Part 9 - Alchemy - Nitor, Alumentum and Magic Tallow
General Information[]
Magic Tallow is an early "hidden" research that is used in a few other more advanced crafting recipes. When you unlock this research you also learn how to create Candle, which are basically just a better looking torch when crafted into a Magical Building Blocks, although one that can only be placed on a flat surface, not hung on a wall.
Advanced Uses[]
Magic Tallow is used in the creation of Tallow Golems and Tallow Candles. (By combining a tallow candle with a dye in an arcane workbench, you can obtain a coloured candle.)
If you have an alembic, then Magic Tallow becomes an inexpensive way of creating Praecantatio. Simply place a magic tallow in your crucible and right-click with your wand. You'll get your tallow back, with a profit of one essentia of praecantatio.
You can also do that with more than one; if you have 4 Alembic there, you can throw up to one stack of tallow in to get that amount of Praecantatio.
Research Details[]
Crafting[]
In order to craft Magic Tallow, you need to add four Corpus to a Crucible, and use 5 vis.
Sours: https://thaumcraft-3.fandom.com/wiki/Magic_Tallow
Similar news:
I've spent years trying to find that one lotion or moisturizer that I could fall in love with. As a woman in my thirties, I'm always looking for something that I can use on my face and body that is moisturizing for my dry skin patches, isn't too oily for my T-zone, will give my skin a nice glow, helps treat the occasional blemish or acne, has some anti-aging properties since wrinkles are becoming a concern, and is sustainable and affordable option.
After years of searching, I really hadn't fallen in love with any lotions or beauty products. With a list of must haves like that I knew it would be hard. And then it happened. I found my miracle product; I discovered lard, and I finally feel like I'm excited about my skincare regimen. I'm finally feeling like my skin is HEALTHY and I'm happy about what I'm using to moisturize both my face, lips, and body. You might be thinking, did she really just say she uses lard?? Yes, lard. I rub lard on my body. I rub lard on my lips. I rub lard on my face.
When you're looking for that perfect skincare product, I'm sure lard never crossed your mind. I know it didn't for me until recently. I mean honestly, the thought of rubbing pig fat on my body and face didn't sound that appealing until I did a little research. Now I can't imagine using anything else.
This summer my husband and I met our friends at Wildom Farm. Their farm is located in McHenry, Maryland, which is about 15 minutes from our farm. Wildom opened my eyes to the possibility of using lard in skin care products, in my search to find a better balance of wellness and sustainability. Wildom raises pigs, chickens and turkeys in forest and pasture while using regenerative farming techniques. This is the way farming should be, focusing on producing healthy and happy animals that are living in the sunshine and eating the forage to create healthy forests and land. Wildom reached out to me about the possibility of using lard for skincare products, and after some research, I learned just how special lard really is. In my opinion, it might just be a perfect skincare option for me and after reading about the benefits it might be a great option for you as well.
So what makes lard such a great option? There are truly countless benefits.
First let's talk about cost. The great thing about lard is that you get all of the benefits of expensive creams and beauty care products without the crazy price tag. Expensive creams have always been a turn off for me. I want something that works, but I don't want to pay an outrageous price. As a mother I'm usually spending more on my children than myself. I'm sure all of you parents can relate. Lard is a great solution. Compared to the cost of many other products it's inexpensive. And with lard, a little goes a long way, so I'm using less and getting more out of it. I'm actually saving money on my skincare regimen since switching to lard.
Another huge benefit for me is sustainability. Using lard in my daily skincare regimen has really brought me back to appreciating what resources I have locally. Instead of creating more waste, we are choosing to use the lard from a local pig farm and repurposing it for wellness and beauty products. As long as pigs are continuing to be harvested, we will continue to have this product readily available in a local setting. Using what we already have readily available and repurposing is truly empowering. I'm feeling like I'm not only doing my skin a favor, but I'm doing my part to help the Earth.
Avoiding chemicals is also a huge must for me. I've really tried cutting back on the use of chemicals in my daily life, especially since having children. Have you ever bought a beauty product and looked at the ingredient list? I usually feel pretty overwhelmed when I do. I've started using only safe and chemicals free options for health and beauty, and lard is an amazing solution for that. I can create my own skin care product with only a handful of ingredients. And I can easily pronounce everything I'm putting on my skin. No questioning or looking up what an ingredient is. I have extremely sensitive skin with sensitivity to numerous chemicals or common beauty ingredients, so I'm always cautiously reading labels. It's really bringing me peace of mind having to avoid the question of what I'm putting on my skin.
Now for the really fun stuff... what lard is really doing for my skin. This is where my mind was blown. There are so many benefits. Lard can reduce fine lines and wrinkles, tone and firm skin, even out complexion and skin color, reduce redness, fight inflammation, help treat rosacea, reduce dryness (which makes it great for use in winter!), helps treat eczema, helps reduce appearance of scars, smooths skin texture, softens skin, improves acne, and reduces the size of pores. (2,3,4, 5)
All of that from lard?! Yep. I hope you can understand now why I was so intrigued.
But how and why does lard work so well for skincare? When it comes to cellular makeup, pig lard is incredibly close to human skin. Lard has a similar pH to that of human skin, and it is made up of both saturated and monounsaturated fats. When it comes to skincare, the experts know that oil dissolves oil. Since lard is so similar to our own skin oils, it's really perfect to be used as a skincare product for humans in many forms- lotions, creams, lip balms, cleansers. (1)
Pigs are also extremely efficient at processing sunlight and storing it as Vitamin D in their fat (2). When we rub lard on our skin, we're soaking up all of that Vitamin D, which helps to minimize dark spots and lines, reduce acne, promote collagen production and reduce inflammation which is a common factor in conditions such as psoriasis and atopic dermatitis (3). Lard is also rich in omega-3 fatty acids, Vitamin E and Vitamin A (1,5). It's packed full of vitamins to give us that healthy glowing skin that we all crave.
But there is one important thing to remember before you go rubbing pig fat all over your body and face. Not all lard is created equally. Vitamin D-rich lard comes from pastured hogs that have been exposed to sunlight (2). That's why we use lard from Wildom. These pigs are kept in the forest and on pasture enjoying that beautiful sunshine and soaking up all of that vitamin D to help give us beautiful, soft and most importantly HEALTHY skin.
So now you might understand why lard checks all of my boxes for a perfect skincare product. I'm officially hooked. I never thought I would be saying that I rub pork fat on my face daily, but here I am, and my skin has never felt this healthy.
Here at Yorkie Acres Farm we offer a lard lotion called Farmer's hands. I'm currently using this lotion on my body and also my face daily. But keep those eyes peeled for a future face cream using lard as well, since I'm officially hooked!
We also offer our Piggy Pout lip balm, because your lips deserve some of that piggy magic too!
I also recommend checking out our friends at Wildom. If you're local, they sell pork, chicken, eggs, and even offer farm visits. It's definitely worth the trip! They're doing some pretty incredible things. We love knowing that we're helping them to put their lard to good use to help create a healthy and sustainable skincare regimen for people.
https://m.facebook.com/wildomfarm/
http://www.yorkieacresfarm.com/store/Lip-Balm-c50166183
http://www.yorkieacresfarm.com/store/Skin-Care-c67250730
References:
(1) https://www.westonaprice.org/health-topics/know-your-fats/the-skinny-on-fats/
(2) https://www.ncbi.nlm.nih.gov/pmc/articles/PMC5685574/
(3) https://www.karger.com/Article/FullText/485132
(4) https://www.cambridge.org/core/journals/british-journal-of-nutrition/article/association-of-dietary-fat-vegetables-and-antioxidant-micronutrients-with-skin-ageing-in-japanese-women/56684BEDBFE3C4A13F20629EB4BF2507
(5) https://lpi.oregonstate.edu/mic/health-disease/skin-health/essential-fatty-acids
Sours: http://yorkieacresfarm.com/this-little-piggy-the-magic-of-lard-for-skincare
12862
12863
12864
12865
12866