How To Make a Contact Paper Countertop Last
NOTICE: One year update at the bottom of this post. Please read before starting!

Doing a contact paper countertop makeover has been a popular way to inexpensively cover up an old ugly countertop. Granite contact paper is typically used as it resembles a real granite countertop  and while if done well it looks awesome, this comes with a variety of inherent problems. Well, we're going to show you how to fix almost all of them on one fell swoop! And if your looking for other great inexpensive fix-up ideas check out our Frugal DIY Bedroom Makeover Ideas and our Classy Living Room Ideas on a Budget.
We also did a full makeover on our master bathroom complete with recovering the counter with contact paper. 
Make sure you check that out too>>>>>> Magical Dark Sea Bathroom Makeover
PROBLEMS WITH A CONTACT PAPER COUNTERTOP
Seams. There's no way around having seams and even with pattern matching they tend to show. With granite paper you can't match patterns and they show up more. Accept it.
Water can get under the seams.  If it does, they will start to peel up.
It's easily damaged because, well, it's paper. In a kitchen you can't cut on it or put anything hot on it. In the bath room no curling irons can touch it.
Edges peel up. If your countertop has a straight edge as the one shown below, the paper will peel away easily where it meets together when anyone rubs against it.
Be careful. You just have to be careful because it can be nicked with anything sharp or discolored easily.
Those are some pretty big issues considering all the work you go through to put the stuff on. And it does take a good bit of work.  But we found a way to make it more sturdy and long lasting. You still can't set extremely hot things on it or cut on it but water and peeling should not be an issue which is the biggest problem in a bathroom.
NOTE: This is best done in bathrooms mainly because you can't cut or place hot things on it even with our method. However, if you're really careful in your kitchen, go for it!
Water Based Polyurethane Gloss Finish.  Because it's water based it doesn't harm the contact paper.  It seals over the seams and edges so water cannot get in. It protects the surface and all your hard work. The only type I found is linked below and made by Rust-Oleum. A little goes a long way. It's a bit pricey but we use it for all types of things such as my post on how to build a Large Surface Home Office Desk.  Buying it in the two quart package can save you almost $15.   This is of course optional. You can  just treat your contact paper with great care. But if you have kids or just don't want to worry about being extra careful you don't have to use it.  But if you have edges of your counter like mine, I'd still suggest gluing them somehow as they will find a way to peel just from leaning against them.
FYI This does make it more of a permanent thing. You cannot easily remove the paper later. You would have to do some light sanding to get through the gloss.
NOTE: Once companies realized people were using granite contact paper to cover counters they raised the price of that type so its a bit more costly. Buy enough to cover your counter. If you're  using a pattern that you can match you'll need more.  One roll "barely" did my small countertop.
This job could be done in a day and ready to use the next day but you'd need to start early to allow yourself to get all the coats of varnish on.
How Long It Took Me
(I've never done this before.)
Covering small bathroom vanity: 2 Hours
Clear Coat: 1 day due to drying time of 2 hours in between each of three coats.
Should you decide to not use clear varnish grab one of our free reminders to print and/or frame and  set on  your countertop! Photos of them printed up are at the bottom of post. Various sizes!
Download Now!
Scrub and clean your countertop thoroughly and wipe with a clean dry cloth. You want to make sure there is nothing left on it to make the contact paper not adhere to the surface.
Having someone to help makes it go much faster and makes the paper easier to handle.
This project takes patience. If you hurry it up you'll mess up.
This is what our bathroom looked like before we repainted our walls.  The house must have been a rental because at some point they had painted over wall paper. Sad but true. For the moment we were looking for a quick fix up so we did a little sanding and hole filling and added a new coat of paint.   Eventually we'll redo the entire bathroom the "right" way and also replace the vanity but for now we were looking for a quick inexpensive facelift.
The walls had been painted here. But the counter top still needed some work. It appeared that some past owner had also painted the countertop. It wasn't too bad of a job, however, they went over everything including the part of the back splash that was metal.
I debated what to do and finally decided I would paint the metal parts metallic silver.
I chose Martha Stewart's metallic silver as it's close to the real thing.
I masked off everything with painters tape.
I probably didn't need to do the inside parts as those would be painted over anyway but I was thorough.
I painted two layers of silver paint on all the trim parts, allowing it to dry in between coats.
It looked quite a bit better in my opinion.
Now it was time to start on the counter top itself. I grabbed my roll of granite contact paper.
There will be some measuring involved on parts but for the larger areas you just unroll and start. Again, your surface should be cleaned spotless and free of any soaps etc. so that the paper sticks well.
The trick is to make sure you have no bubbles and that it's even as you lay it out. Use a credit card or something similar to help smooth it down as you go.
When you come to the sink you will carefully press up to it and down into the area around it. Because our sink was curves as many are we were only able to go so far and then needed to start cutting small slits that allowed us to press the paper closer to the sink. Cut a large hole out for the sink, making sure to give you plenty of paper to work with on all sides.
Notice how I cut the paper and moved on. At some point you might run out of paper and have to make a seam. I did not due to how short my counter was. If you do have to make a seam you can decide ahead of time where you might want to have it fall for atheistic purposes.
Once I had my paper laid longways across my counter, I'd go back and do the detail work around the rest of my sink. I make small slits with my X-acto knife, part way down and NOT TOO FAR, just enough to allow me to push the paper around the edge of the sink and curve it around as shown.
Again, you want no bubbles. This might require some lifting and re-positioning. It takes patience and time. Go slow. 
You want your paper tucked tightly next to your sink.
More slicing down to allow for the curve. Again, do not go down too far.
Trimming off extra.
Moving onto the other side.
The front edge.
The paper was not deep enough to go to the back which is where I thought I would rather have my seam as apposed to having a seam vertically down my sink.  I decided this would show much less.
Sours: https://craftyourhappiness.com/2017/01/04/granite-contact-paper-countertop-makeover/
Contact Paper Countertops
Contact paper countertops are the perfect solution for old counters when it is just not possible to change out the countertop, either due to budget restraints, or the fact that you are renting
PIN THIS TO PINTEREST
Yes, when you think of contact paper, you might imagine the 60's kitchen shelves lined with floral contact paper.
But the contact paper available today is very different!
They are easy to apply, durable, and easy to remove as well! They make a great candidate for inexpensive updates to countertops in a kitchen or bathroom where it is just not possible to change the countertops out.
I used contact paper a couple of times on countertops while I was renting and absolutely loved the results!
Table of Contents
What is contact paper –
Contact paper is an inexpensive material that has a decorative surface on one side and a highly adhesive material on the other side.

Wikipedia
It is usually very easy to peel and stick the contact paper onto any surface.
The contact paper decorative side is usually made of plastic-type material which makes it waterproof and durable.
Where to buy contact paper –
You can find contact paper very easily in many stores. Here are some of my favorite places to buy it –
PIN THIS TO PINTEREST
Design and Pattern Options
Contact paper is available in various colors and patterns to mimic real countertop materials like marble and granite. They are also available in wood and concrete look!
Below are some of my favorites –
How to apply contact paper on countertops
Applying contact paper to countertops is a simple peel and stick action.
Like any project, prep work is the most important!
Below are the step by step instructions to applying the contact paper –
Clean surface – using household cleaner followed by rubbing alcohol
Apply – slowly peel back surface and apply
Smooth and remove bubbles – using a smoothing tool and pin. You can also use a hairdryer!
Cut off excess – using an X-acto knife.
Below is a video where I show you exactly how to do this.
Click here to subscribe to my YouTube Channel for more great videos!
Do you need to seal the contact paper countertop?
Contact paper is an inherently durable material and short of putting a hot pot on it, it is very durable and does not need to be sealed.
However, you may opt to apply caulking around the cut edges in cases where there is a lot of water and humidity involved like in a kitchen or bathroom.
PIN THIS TO PINTEREST
Durability
This is one of the most common questions I get and it is totally understandable!
When I applied contact paper to my kids' bathroom counter in our rental, I wasn't quite sure of how durable it was going to be.
Here are some contact paper countertop reviews –
They are doing AMAZING! We couldn't be happier with them. It has continued to fool people… they don't believe it until we point out the seams!
See more details below on how well they have lasted!
Removing contact paper
What happens when you need to remove contact paper from your countertop?
It is actually pretty easy to take it apart!
If you used caulking around the edges, you will have to cut out the caulking using a box cutter.
Then the contact paper can be simply pulled away.
Some adhesive films may be a bit harder than others and you can use the heat from a blow dryer to soften the adhesive and pull back the contact paper.
Take a look at how I removed the contact paper from the bathroom countertops after 10 months and what I found underneath!
PIN THIS TO PINTEREST
DIY contact paper countertops
Below are a few tutorials on how to update countertops with the contact paper from around the web.
You will be amazed and inspired by all the before and afters!
RELATED: Everything you need to know about contact paper
More contact paper ideas –
It is not just for countertops and kitchens! It can be used for so many other projects and ideas!
Here are a few examples –
Have you used contact paper on your countertops? How do you like them? Share a picture in the comments or tag me on Instagram @anikasdiylife
Sours: https://www.anikasdiylife.com/contact-paper-countertops/
If you're looking for high-quality and affordable vinyl contact paper countertop - you'll find the best vinyl contact paper countertop at great prices on Joom - from 2 to 7 USD. A wide range of available colours in our catalogue: Black, Grey, Green, White, Blue, Multicolor, Red, Gold, Pink, Yellow, Purple, Beige, Brown, Orange, Coffee, Transparent. Only high-quality materials: Faux leather, Vinyl, Plastic, Metal, Paper, Synthetic; and popular brands: Shein, Yogodlns, LALA IKAI, MERRY'S, ZANZEA, ZSIIBO, Baseus, Sisjuly, Floylyn, EXOTAO, Finejo, Zeagoo, Avidlove, O.TWO.O, fenvi, TOMKAS, chuwi, Asstseries, KANGOL, USAMS, LASPERAL, Focallure, AUKEY, onemix, FLOVEME, ZAFUL, Ugreen, BAMOER, WOSTU, PUPPYOO, HEROBIKER, JewelryPalace, NAVIFORCE, Picun, KBAYBO, Rosetic, Vention, Chenistory, Astrid, Tronsmart, chuwi, Eachine, BlitzWolf, Ulefone, Skmei.
If you're not satisfied with the quality of vinyl contact paper countertop you've received - please contact our support. We'll review the issue and make a decision about a partial or a full refund.
All products from vinyl contact paper countertop category are shipped worldwide with no additional fees.
Choose a product

Tap a "Buy" option to place the product in the cart and proceed with your order.

Choose a quantity of vinyl contact paper countertop. (Default — 1. Maximum number — 20).

Enter your full delivery address (including a ZIP code and an apartment number), personal details, phone number, and an email address.Check the details provided and confirm them.

Pay for your order.
Delivering products from abroad is always free, however, your parcel may be subject to VAT, customs duties or other taxes, depending on laws of the country you live in. If you're not sure whether you will be charged any taxes, please contact your country's customs service information bureau.
Sours: https://www.joom.com/en/best/vinyl-contact-paper-countertop
Contact Paper for Countertops
Last week I gave my kitchen a refresh with painting the cabinets and putting up a contact paper backsplash. I'm not quite ready for a remodel, so I'm doing budget friendly fixes that'll make it more pretty for now. The biggest issue was my dark brown granite counters. Since I wanted a lighter look, I went for grey marble contact paper for countertops. Want to see the DIY?!
contact paper for countertops
Who is this project good for? Contact paper for countertops are a great project if you have counter tops that you don't like, that are old, or just boring. If you're not ready to totally change out the counters- maybe because of time or budget reasons or if you rent, this is a the perfect solution!
SUPPLIES
Above I Iinked to the contact paper I bought. When I got it a few weeks ago, it was listed for $23 for one roll. I wanted to share a few other options-
1 marble (what I used) / 2 light wood / 3 pink marble / 4 terrazzo / 5 rose gold marble / 6 grey marble * / 7 beige marble / 8 grey granite * / 9 oak wood *
Want to avoid seams? *** I marked the contact papers that are 26″ wide with an asterisk. Counters are 24″ wide so a 26″ piece of contact paper should cover the top and the lip of the countertop. This will give a much more polished look.
I wish I would have ordered a wider one! Mine was 24″ wide so If I would have run the contact paper side to side, the front of the counters would have still been brown.
step 1- clean

Start by cleaning the countertops really well. I used a rag and all purpose cleaner. You want to make sure to remove any crumbs or oil- both of these can make the countertop bubble when applying it.
step 2- cut

Next, cut the piece of contact paper. I was working with the left side of the countertop and worked right. I used a fabric measuring tape to measure the counter top (including the bull nose). Note, it's better to have a little extra instead of too little.
Mark the back of the contact paper with a pencil, draw a straight line, and cut on the line with scissors. The back of my contact paper had registration marks which made it easier to keep the line straight.
step 3- apply
And now, it's almost time to put on the contact paper! One tip I'd share is to cut a small piece of backing off the contact paper. This makes it so you have a small sticky area. I've found this helps when getting the first piece placed. Put that little sticky part down and then start pulling the rest of the backing off.
Another tip I have is to WORK SLOW! This is similar to applying wallpaper, but the tendency to get bubbles is MUCH higher. I found the most success by pulling off 1/4″ of backing at a time and smoothing with the wallpaper smoother tool (use the felted side).
Keep smoothing out the contact until you're over the front lip of the counter top. Since my counter has a bull nose, this was especially tricky to get to lay flat. My contact paper was a little long, so I had to use an exact-o knife to trim it.
step 4- going around the faucet

I was worried about going around the faucet and sink. I tried to take it slow and be meticulous with this step. To go around the faucet, I cut a line and a circle- so there's a seam behind the faucet. I trimmed out the circle and kept trimming until I had a good fit.
Remember, it's better to start by not cutting enough of the contact paper and having to trim more than making an error.
Once I had the faucet hole good to go, I cut a hole for the sink opening with scissors. This would later allow me to easily cut out the excess contact paper.
I got the contact paper applied. This took awhile because I was going around so many areas while lining up the seam.
I finished the sink by cutting out around the top of the counter top. There was still brown granite showing, so I cut small strips and laid them around the edge. Honestly, this part looks a little janky and I'm worried about it staying on. If I was to do this again, I'd try to fold over the contact paper and smooth down around the sink.
step 5
Finally, finish by smoothing and using a pin on any bubbles. You can also try using a hair dryer to get out the bubbles.
after
Ta da! Here's the new faux marble countertops! Honestly, I love them!

They're not perfect yet- I need to do something about the dark line between the backsplash and counters. I'm thinking about ordering this Instatrim that's sticky (but I think I can remove it later when I renovate and want to sell or donate the granite)
I'm also not happy with the sink area. One reader suggested buying white Gorilla tape for the edge.
faq about contact paper for countertops
I wanted to answer a few questions I've received about this project.
how durable is contact paper on countertops? Will it hold up to water?
From everything I've read, these should be durable. I will NOT be cutting on these- I always use a cutting board anyway. I also will NOT be putting a hot pan directly on the contact paper.
For the water, I've heard it's very durable even from water. They are plastic so I'm hoping they'll do well. There is a seam super close to the left side of the sink. That's the part I'm most worried about wearing well.
You can also caulk along the faucet and where the counter hits the backsplash to make it more durable.
how do you clean these?
I'll continue using multi purpose cleaner and a rag or Clorox wipes. I'll keep you updated with how they hold up to routine cleaning. We eat pretty much every meal at home so these will be used.
how do you remove contact paper from countertops?
You just pull it off. It's stuck on there really well, but once you get a corner pulled up, it just takes some muscle to pull it up.
can we see the seams? How noticeable are they?
Here's one seam and some bubbles. They're somewhat noticeable. That's why I'd suggest a wider contact paper. Though, it would be WAY trickier going around the faucet if I'd done one big piece.
do you have a video of this?
I saved the video of me installing these countertops on my Instagram. You can see them under this highlight.
is there a repeating pattern or do you just lay it as is?
There isn't a repeating pattern. It's kind of random. So you can just lay it down and not worry about matching the pattern.
DID YOU DO THE EDGE AGAINST THE FRIDGE?
No. I needed that strip to use around the sink. I barely had enough or I would have. I don't think folding it over would have been that hard.
how long did this take you to do?
This took me 2 and a half hours to install. I did spend a bunch of time taking pictures and doing Instagram stories though.
BEFORE
AFTER
I hope that answers all your questions! If I missed anything, please leave a comment and I'm happy to answer!
This post contains some affiliate links for your convenience. Click here to read my full disclosure policy.
If you love it, pin it!
Budget Decorating, Decor, DIY, Kitchen
Sours: https://athomewithashley.com/contact-paper-for-countertop/
Paper countertop contact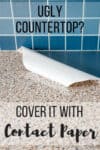 Learn how to transform your bathroom or kitchen countertop with contact paper! You'll be amazed by how good it looks and how well it holds up over time!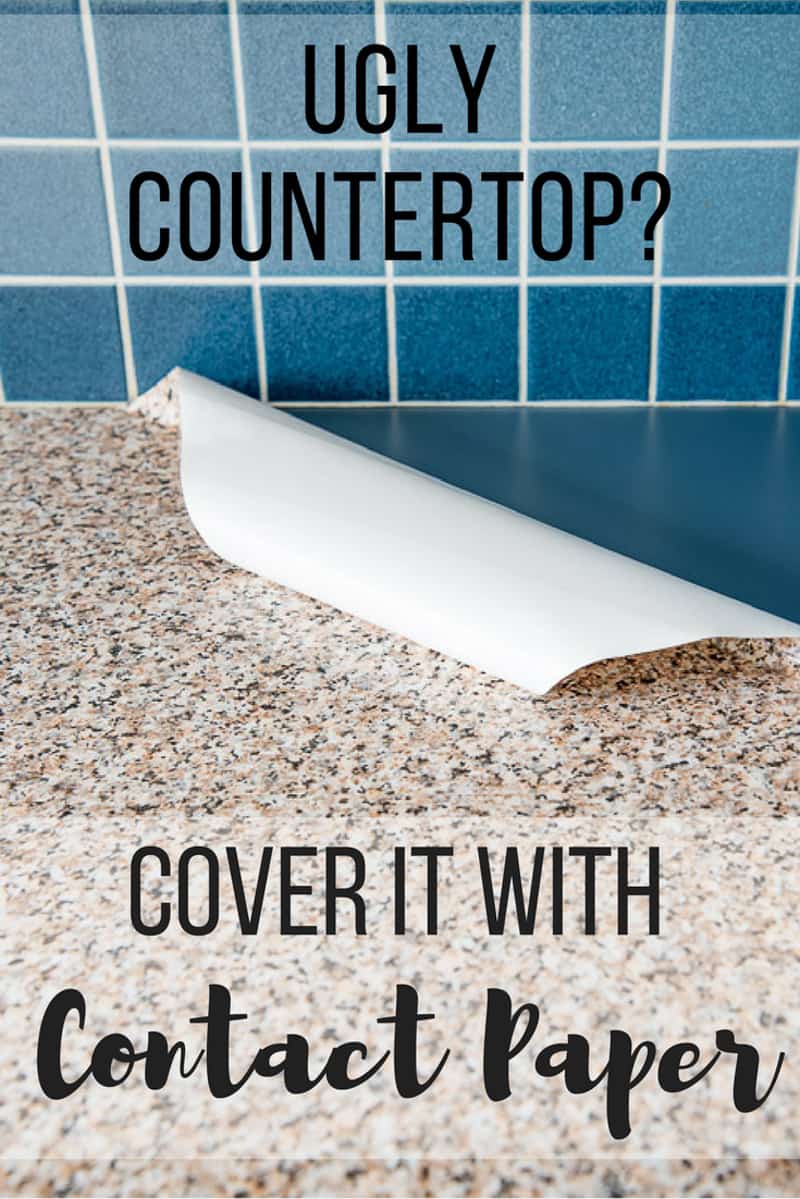 People thought I was crazy. There's no way contact paper will hold up in a kitchen, they said. Well, here we are two years later, and it's still going strong! Even with water, heat and everyday abuse, that contact paper countertop still looks amazing!
Watch the video below to see how easy it is to apply!
Subscribe to my YouTube channel for more DIY project videos like this one!
This post contains affiliate links for your convenience. Purchases made through these links may earn me a small commission at no additional cost to you. Please visit my disclosures page for more information.
I get a LOT of questions about my kitchen counter contact paper. How does it look now? Is the contact paper waterproof? Does it leave any sticky residue when you remove it? Does it really look like granite?
I'll answer all these questions, plus give you a little tour of my faux granite countertops, now that we've had them for over two years. I'll even remove the contact paper from one section, so you can see how the countertop underneath is holding up.
What is contact paper?
Contact paper comes on a roll, with a smooth, waterproof side and a sticky backing covered with a protective film. Basically, it's a giant countertop sticker!
Back in the day, this decorative material was used to line the inside of drawers and shelves. It prevents wet dishes from ruining the cabinetry, so why not use it as a countertop cover too?
Nowadays you can find contact paper in a broad range of colors and patterns. I used a granite pattern in my kitchen, but you can find everything from marble to wood grain to faux tile! You can find lots of creative ways to use contact paper around the home here!
What brand of contact paper should I use?
I get this question ALL.THE.TIME! Here's the DC-Fix countertop contact paper I used in my kitchen, which you can find on Amazon. They now make a full countertop width roll, which I used in the video above.
There are lots of other color options available online! Look for the rolls with 26.5" widths for countertop depth, and purchase a little more than you need. Colors can differ between print runs, so it's better to hold on to the extra roll in case you need it down the road.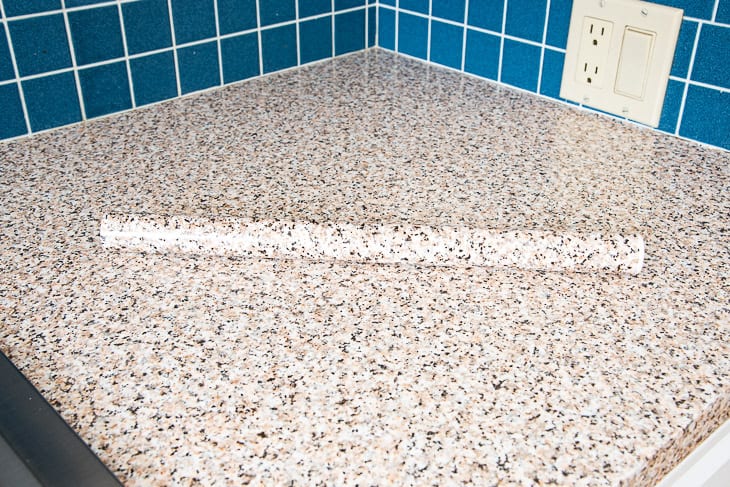 I've used different brands of contact paper for other projects around the house, but nothing holds up quite as well as the DC-Fix brand I used for the countertops. I tried dry erase contact paper on these cabinet doors for my workshop, and this patterned contact paper for a room divider screen, but both tend to peel up at the corners over time.
Drawbacks
A comment I frequently get is that you can't cut on contact paper like real granite. Of course you can't! But we couldn't chop on the laminate countertop underneath either, so it was a non-issue for us. Plus, why are you dulling your good kitchen knives on granite anyway? That's what a cutting board is for!
Another issue that people love to point out is that the seams are visible where two pieces of contact paper meet. But if you choose a random pattern like this faux granite, the seams blend together and you really have to hunt for them!
Of course, these contact paper kitchen counters aren't permanent. We plan to completely gut and remodel our kitchen in a few years, and this quick fix lets us enjoy a nicer looking space while we save up for the big renovation.
If you're looking for a more permanent solution to your dated countertops, try adding a new layer of laminate! You can learn how to cut and install laminate sheets in this post.
Durability
Want to see how our contact paper kitchen countertop has held up over the past few years? Let's take a little tour and find out!
Over time
The oldest section is on this used kitchen cabinet I bought at an architectural salvage store. The attached countertop was in bad shape and didn't match the rest of the kitchen anyway, so I figured contact paper couldn't make it any worse! Once I saw the results, I knew I had to try it on the rest of the kitchen.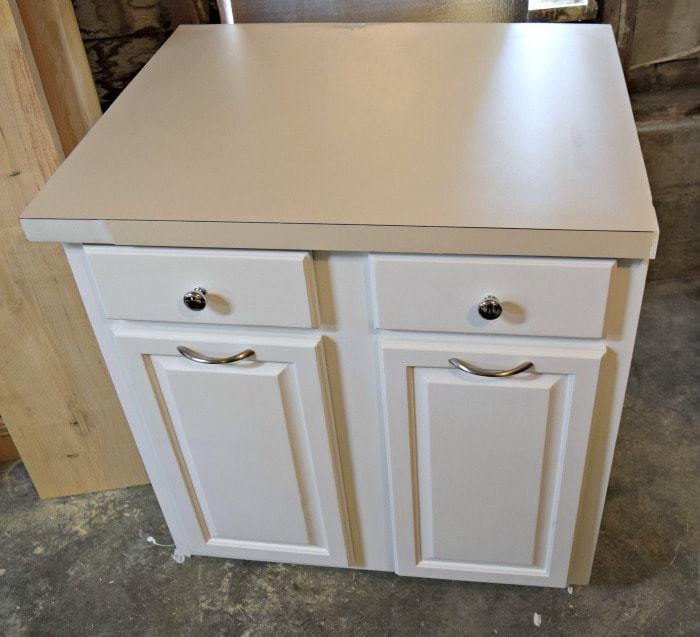 This empty space used to be where our fridge was, but we did a little shuffling when we closed up the back door. I turned the salvaged piece into a pull out trash can cabinet, and it gets a LOT of use every day.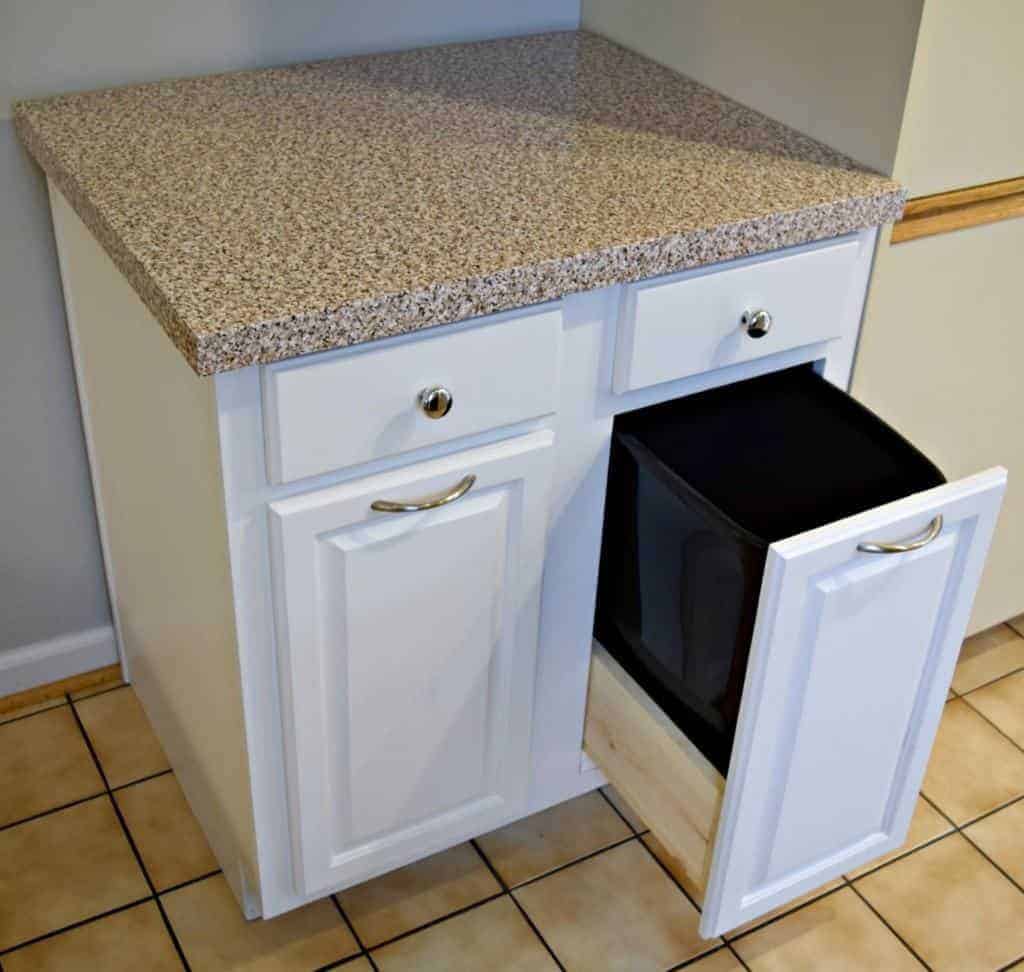 The top is mostly used for making school lunches, since that's where the bread box is. Crumbs get wiped off daily, but it's not in the main cooking or cleaning area. So how's this section of countertop contact paper holding up? Still looks like the day I applied it!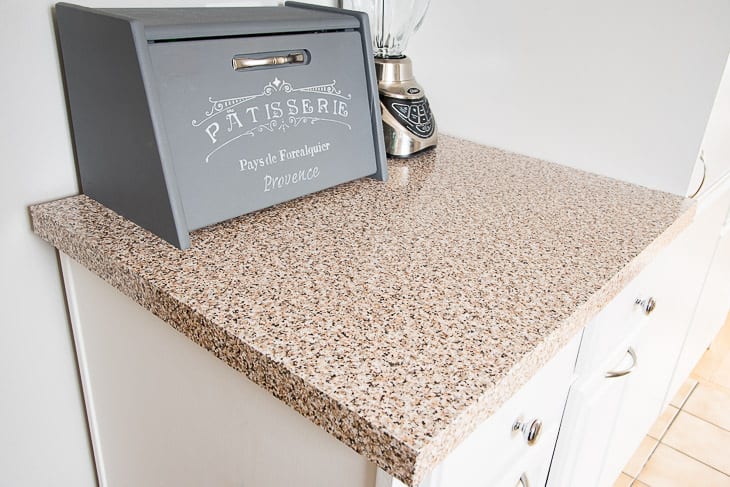 The outside corner, which gets rubbed up against frequently, has a tiny bit of wear. A quick touch up with a scrap of contact paper will fix that! The granite pattern blends in easily, so you can't see where repairs have been made.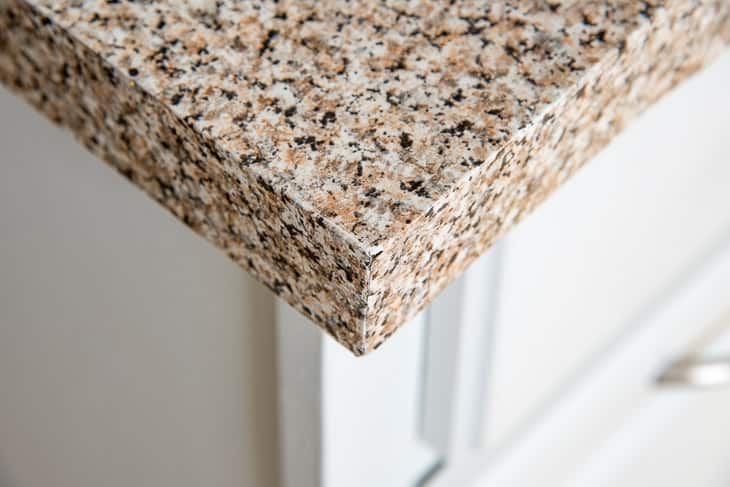 Next to the Stove
On to the more important question . . . how does the countertop contact paper hold up next to the stove? Pretty well, I'd say!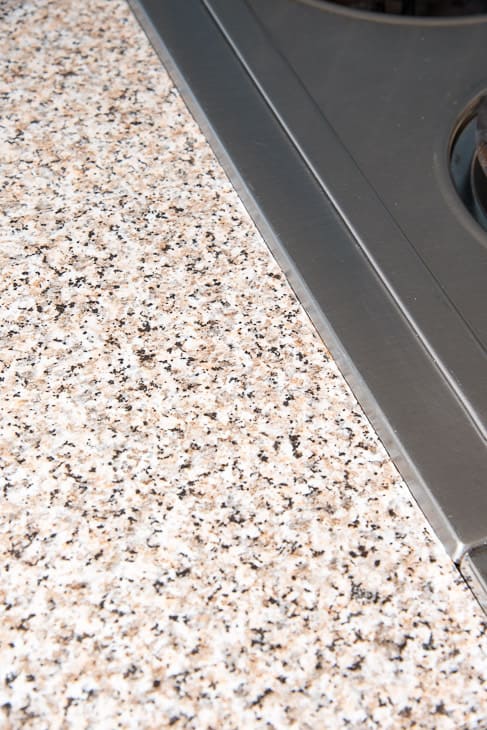 The only sign of wear I can find is in the area between the sink and the stove, where most of the cooking action happens. The seam between the two sheets of contact paper has lightened a bit from daily cleaning, but it's only really visible from this low angle.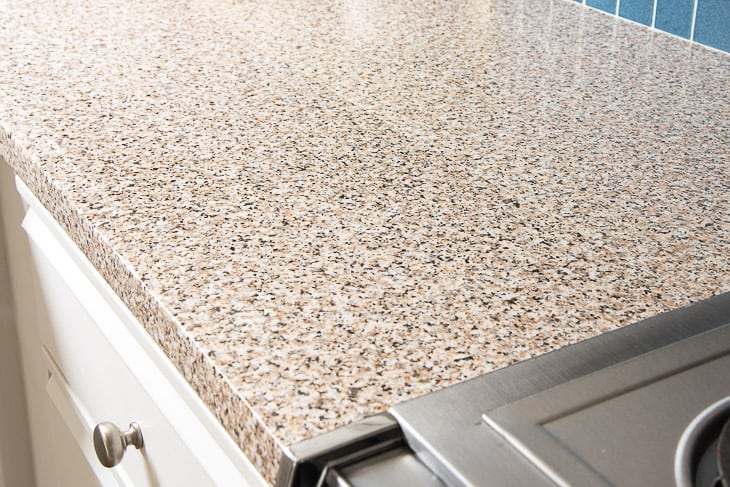 Want to avoid the seam down the middle? There are now counter width contact paper rolls that are made to do just that! These weren't available two years ago when I did this project, but I might end up replacing mine with the new 26" wide version for a flawless look.
Next to the Sink
So the countertop contact paper can handle the heat. What about water? Doesn't the adhesive turn into a gooey mess after a while? Or develop a haze of mold from constant water exposure? NOPE!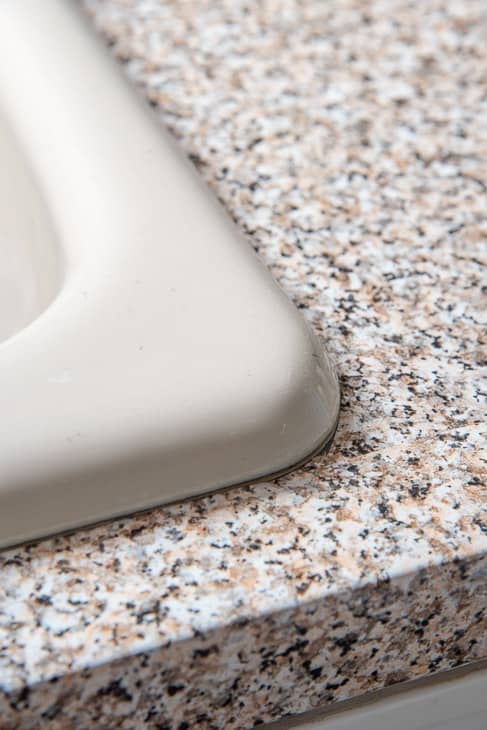 If you zoom in real close, you can see a tiny bit of the blue laminate peeking out from under the corner of the sink. But I think that's from when I originally cut the contact paper to fit the sink, not from any damage due to normal wear and tear. A little clear caulk would protect the seams even more!
Seriously, this area gets soaked when we're washing big pots and pans, and water pools just like on any other countertop material. It's thick and waterproof, so drips stay on the surface until you wipe them up.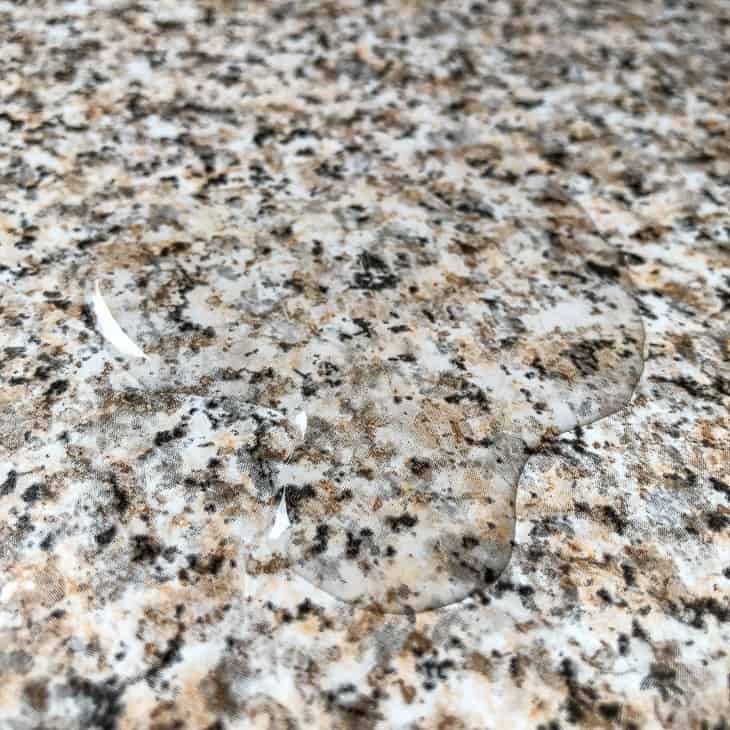 How to apply countertop contact paper
Ready to tackle your own kitchen or bathroom? Here's how to do it!
Clean the countertop
Give the entire surface of the countertop a good scrubbing with regular household cleaner. Don't forget the front edge and underneath! Allow everything to dry thoroughly before moving on to the next step.
Cut the contact paper to size
You don't have to get out the measuring tape or a ruler. Just roll out the contact paper so that it covers the entire area, including the edges, with an extra inch or two at the ends.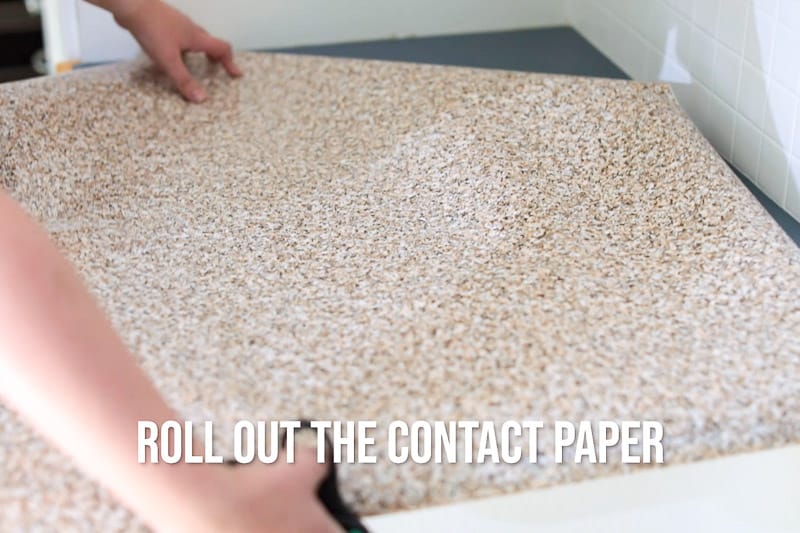 Cut off the excess paper with scissors. You can use the lines on the back to help get a straight cut, but I just eyeballed it with the edge of the roll as a guide.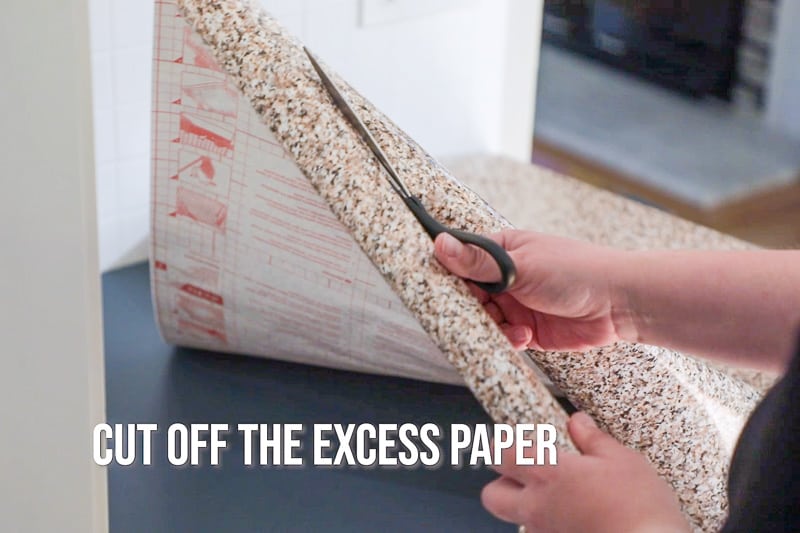 Spray the counter with Windex (optional)
I learned this trick from a reader! She suggest lightly spraying the countertop with Windex before applying the contact paper to allow it to slip and slide on the surface easily. Once you have it in place, use a squeegee to push out the moisture underneath! I've also heard that soapy water works the same way, but the alcohol in the Windex will evaporate faster.
I used this technique with translucent contact paper on the window after I finished this half bath remodel, and it worked great! I think it would be even easier on a horizontal surface like a countertop, so the moisture doesn't drip while you're working. I ended up with quite a puddle on the windowsill!
Line up the edge with a corner
Start in a back corner, where you can line up the long edge of the paper with the back wall. Leave a little overhang on the end so you can trim it to an exact fit later.
Peel the paper backing away about 6 inches, and stick it down. Run a smoothing tool (you could also use a credit card) over the entire area to adhere it firmly to the surface. Push out any air bubbles towards the edge.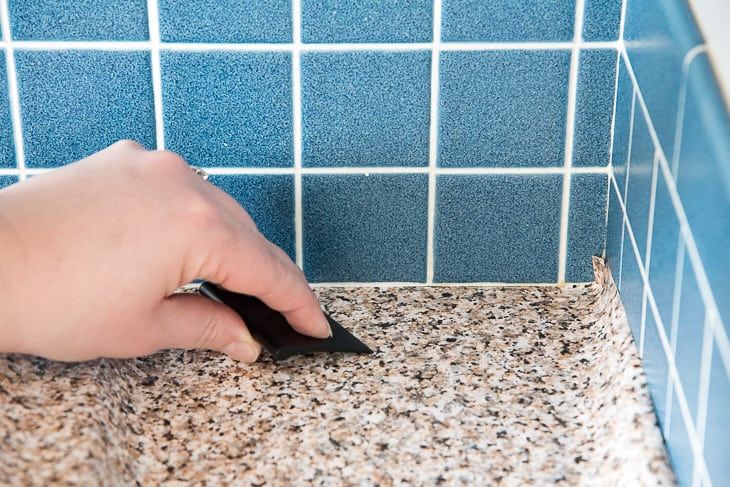 Pull off backing and smooth out air bubbles
Continue removing the backing from underneath, pressing the contact paper down as you go. Pulling the roll taut with one hand and sliding the smoothing tool towards the roll helps prevent air bubbles from forming.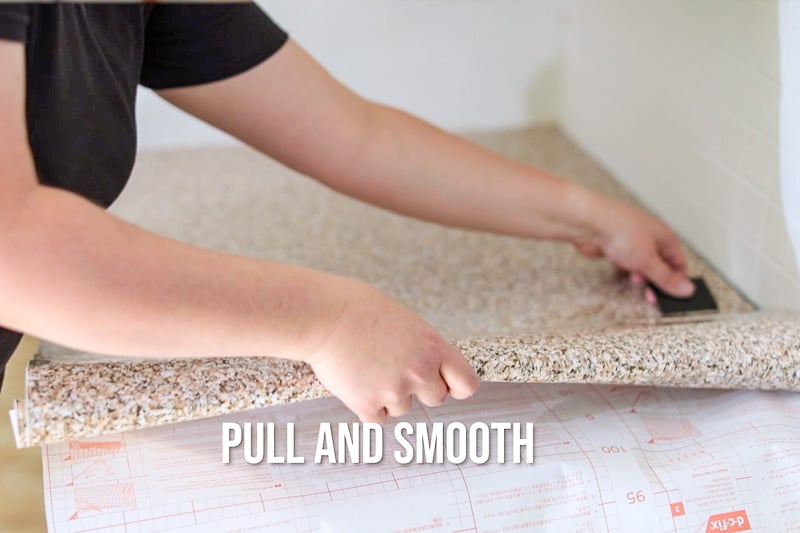 If you veer off track or get some bigger air bubbles, just pull up the contact paper and try again! Smaller air bubbles can be popped with a pin and pressed down later.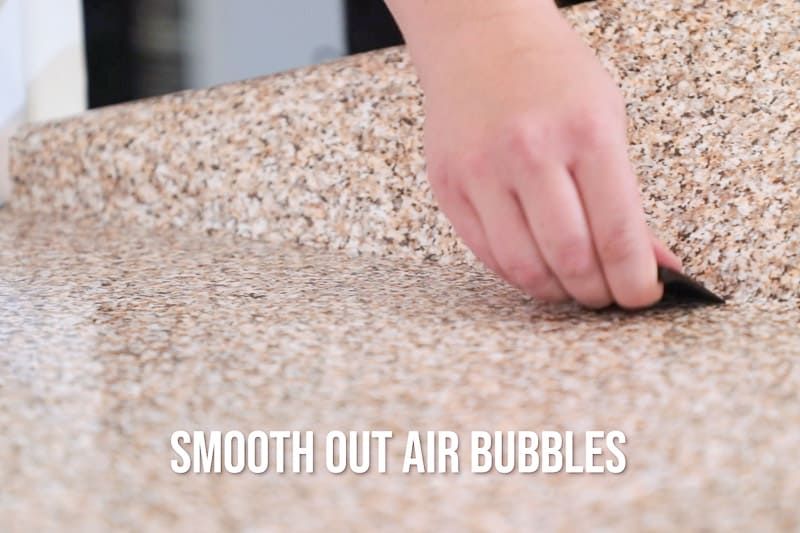 Leave the excess hanging over the outside edge for now. The corners can be a bit difficult, but I have a few tricks to make it look great!
Trim off excess and touch up gaps
Press the inside corner tight against the wall with the smoothing tool and run a utility knife down the edge to trim off the excess. Repeat this process for the underside of the countertop where it meets the cabinets.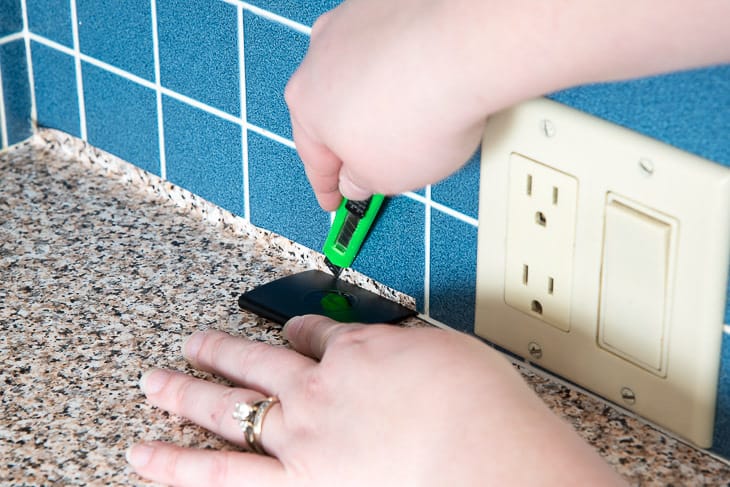 I veered off track a bit with the wider countertop depth contact paper, so there was a gap between the backsplash and the paper. Luckily, that's easy to fix!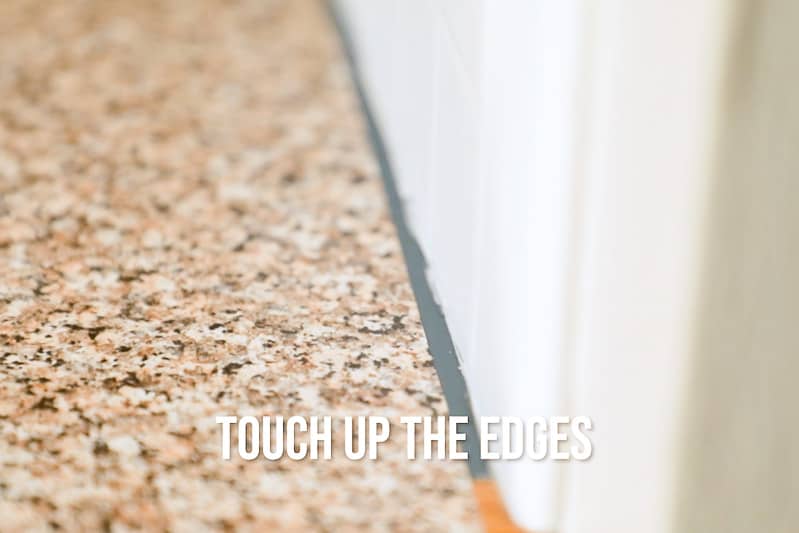 Cut a thin strip from the roll of contact paper, slightly wider and longer than the gap. Use the factory cut edge for the best results.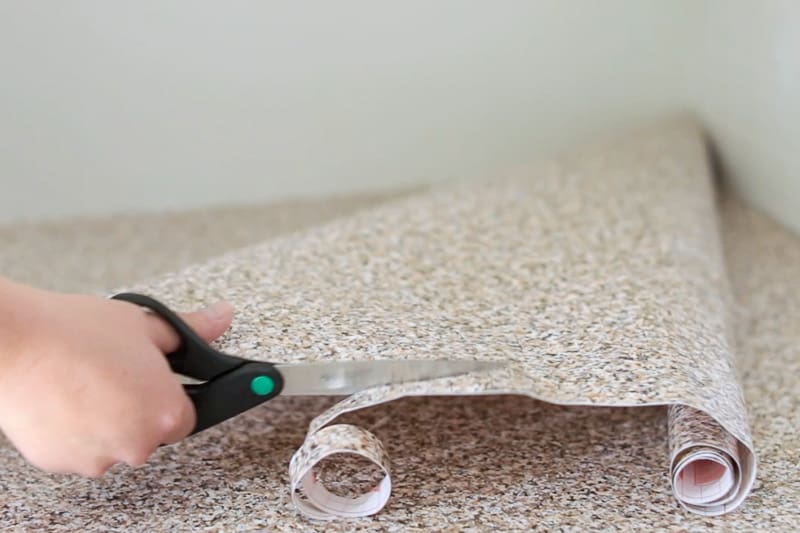 Then line up the straight edge with the backsplash, and press it into place. This back corner will be covered up with small appliances anyway, so the seam will be hidden.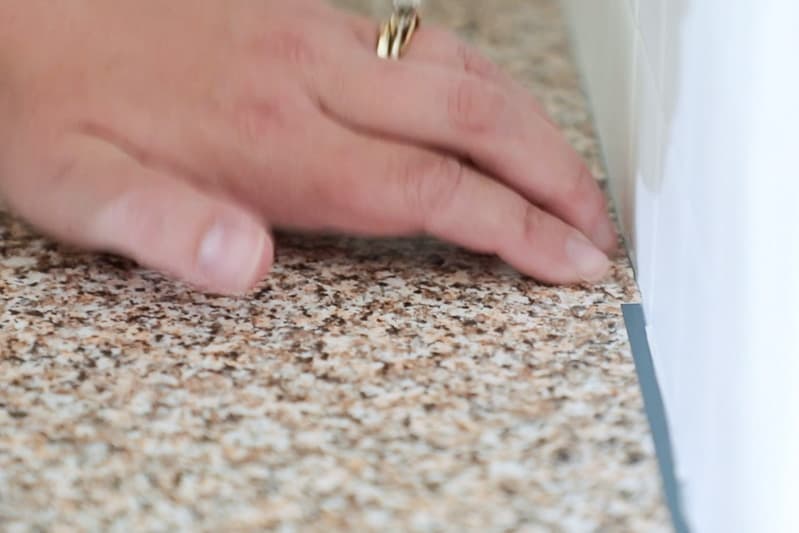 Wrap the corners
Start by wrapping the contact paper around the straight edges of the countertop until it sticks to the lip underneath. Sometimes it doesn't adhere very well to the plywood base, but you can use hot glue or super glue to hold it in place.
You can tackle the corners two different ways. I just folded the two adjoining sides together, like when you're wrapping a present. Then I cut along the vertical corner with a utility knife to remove the fold. You might have a little gap like this, but that's ok!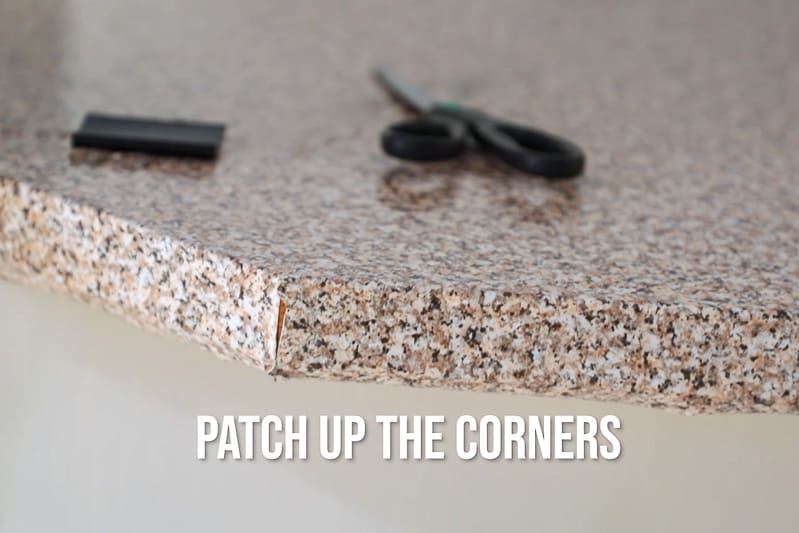 Just cut a small patch three to four inches long and the same thickness as your countertop. Wrap the corner with the patch to reinforce the seam and hide the gap.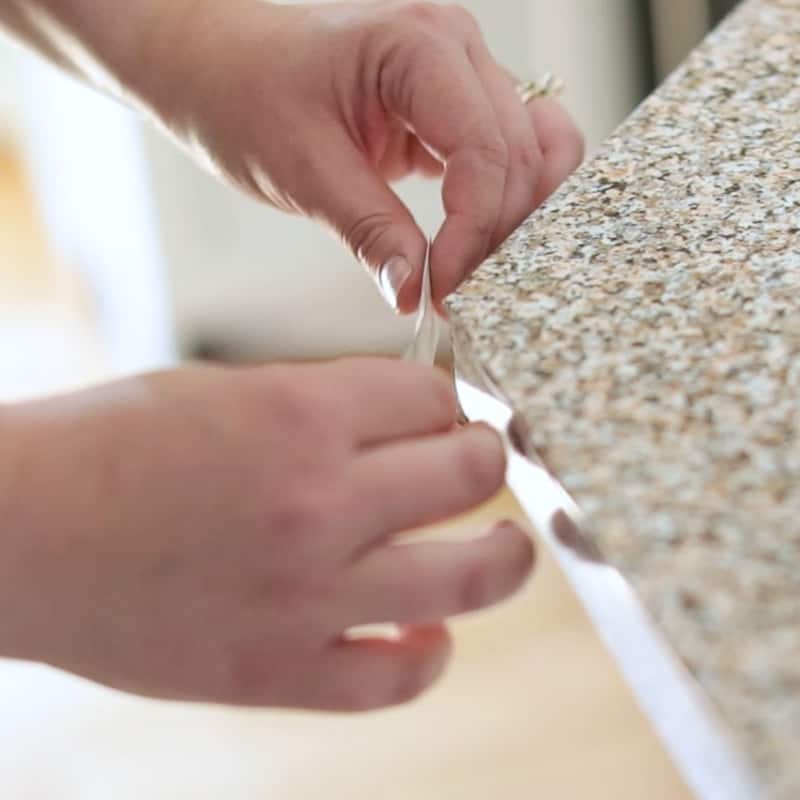 You can just barely see the seams of the patch, because the pattern of the granite helps it blend in.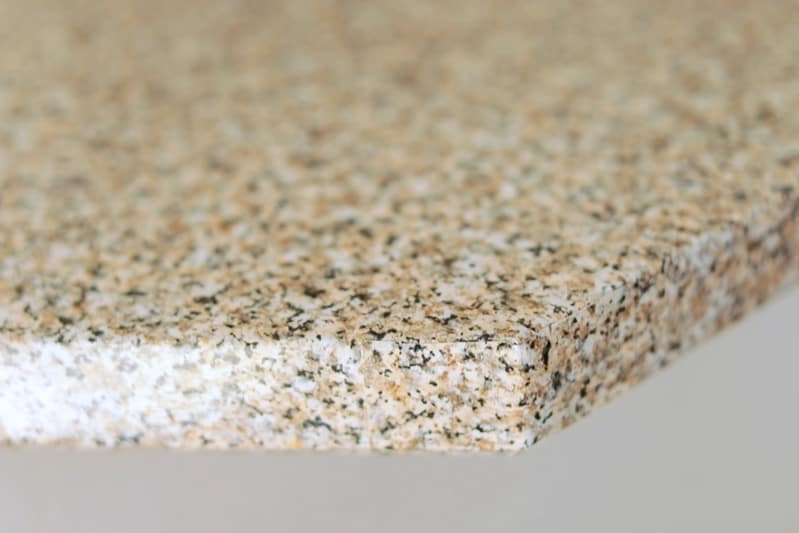 If you have a solid color or marble contact paper, a patch like this might stand out and look too obvious. In this case, you can use a hair dryer to soften the contact paper, then stretch it over the corner. You can see this technique in action in the video here.
Seal seams with silicone caulk (optional)
If you're concerned about water and gunk getting underneath the edges of the contact paper in high traffic areas like the sink or stove, you can seal it with silicone caulk. You can learn more about how to use a caulk gun here.
Keep in mind that this will make it more difficult to remove later, and I didn't find it necessary. You also don't need to apply a top coat or any other sealant on top. It's waterproof all on its own!
How to remove contact paper
I know you're dying to know what it looks like underneath, right? Contact paper kitchen counters are a great solution for renters or military families in government housing who can't change the countertop. But if there's a sticky mess underneath, it might not be worth risking the security deposit.
Let me assure you that this particular brand of countertop contact paper does not leave any residue behind! Here's what ours looks like underneath after two years.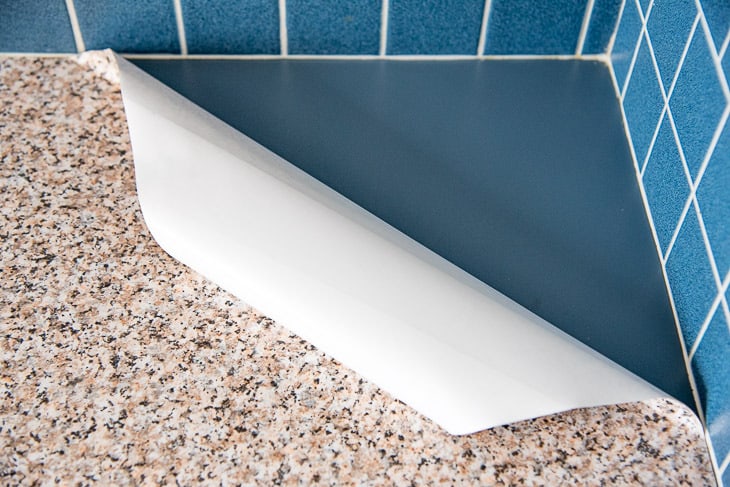 The original laminate is not sticky at all! It looks and feels exactly like it did the day I covered it up. The contact paper peeled up in one big piece, so I didn't have to scrape off any stubborn slivers.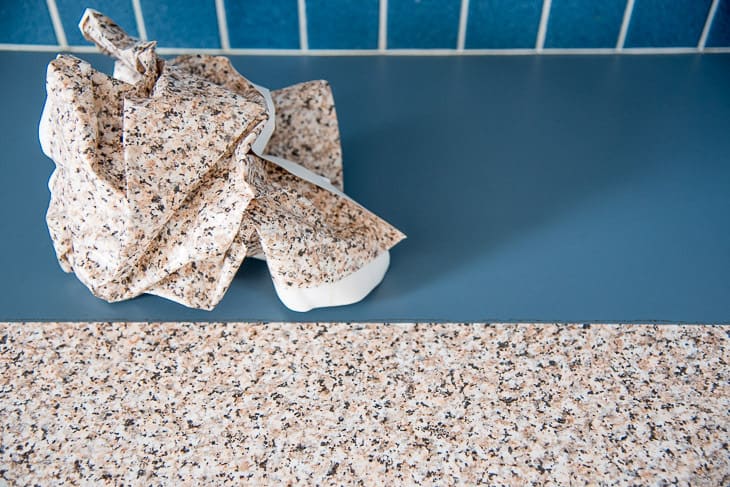 If you look closely, you can see a thin line of grime where the two sheets met. It cleaned up easily with soap and water, leaving the laminate spotless!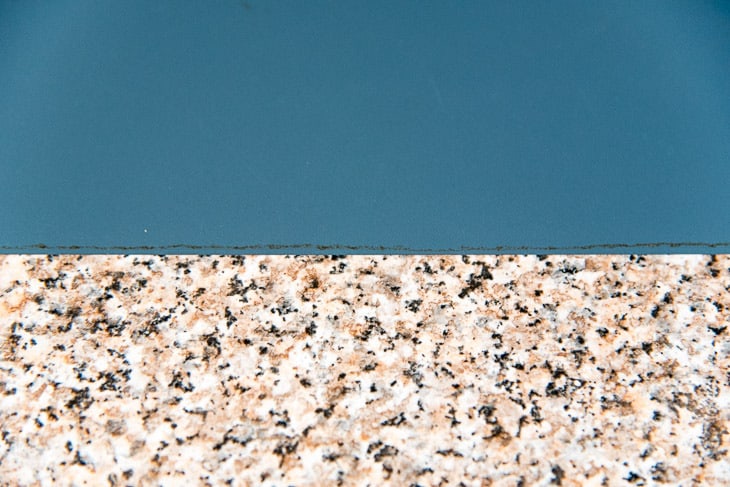 If you applied caulk along the edges, you'll need to break that seal with a utility knife first. Other brands of contact paper may harder to remove, but you can use a hair dryer to soften the adhesive as you peel it away.
Easy peasy, right? If a full kitchen or bathroom makeover isn't in the budget, give this quick fix a try. You can find even more DIY countertop ideas here!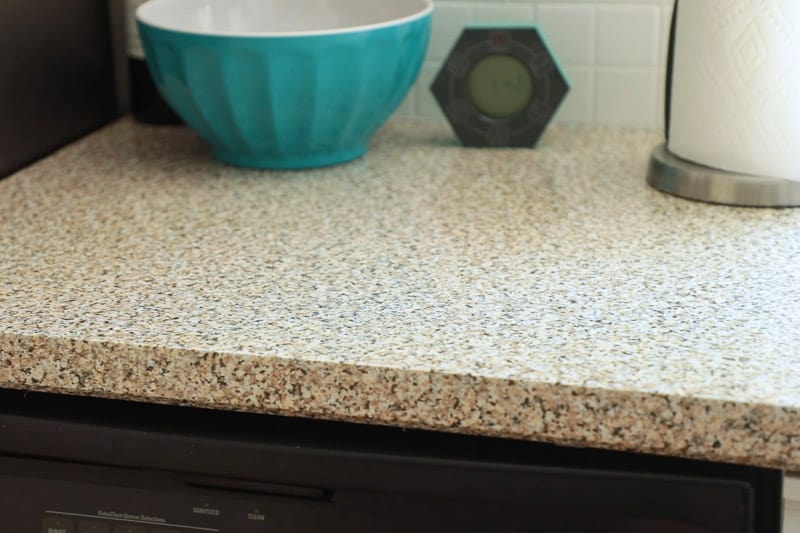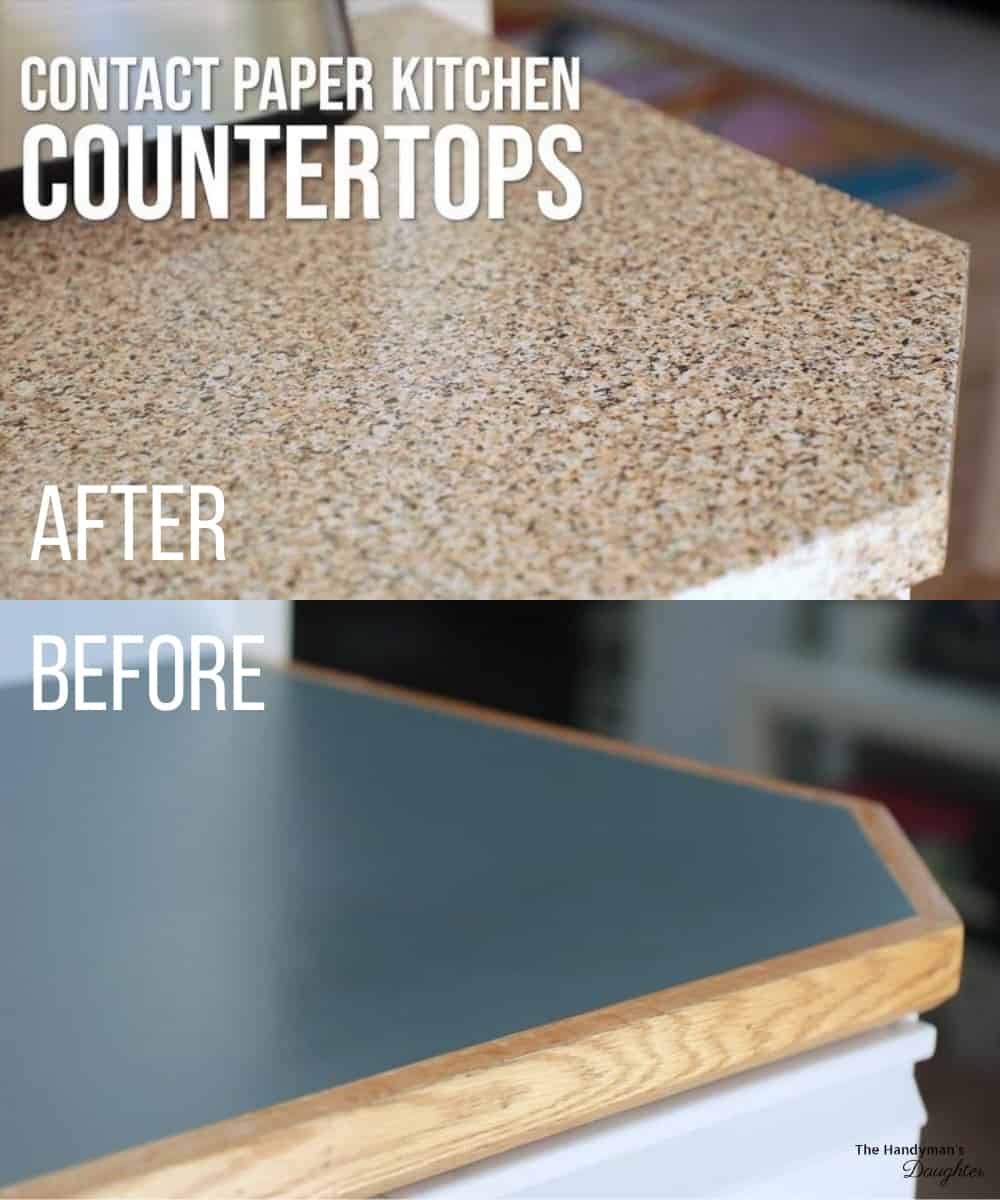 Sours: https://www.thehandymansdaughter.com/contact-paper-kitchen-counter/
DIY Kitchen Countertop Makeover With Contact Paper//D-C-Fix On Your Camper Countertops
Do you sleep. Will you sit on top of my dick. Come to me. Good morning princess. (slapping your ass) So who are you according to the horoscope.
You will also like:
For two days you digested, remembered everything that happened that night and in the morning. and every time your legs were compressed strongly and the seam of your jeans pressed pleasantly on the clitoris. you melted. your lips were bloodshot, heavy and your thoughts were heavy too.
4216
4217
4218
4219
4220