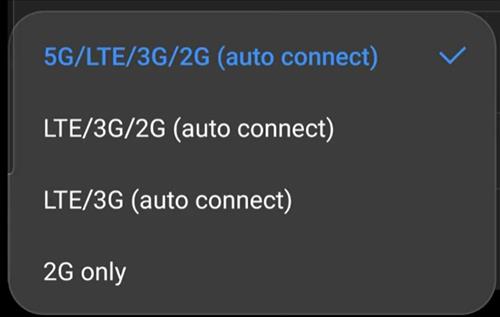 Page Table of Contents
Samsung Galaxy S20 owners can turn off 5G and use another Band such as 4G LTE.
Turning off 5G on a Samsung Galaxy smartphone depends on the cellphone carrier, with some having an option in Settings and others needing to use an app.
For example, T-Mobile currently allows users to switch between Bands while Verizon users will need to use an app.
Why Users Turn Off 5G
Battery Life
5G Not Wide Spread
Often Not as Fast as 4G LTE
When using 5G, the Galaxy S20 has a shorter battery life compared to using another Band.
This often does not matter to many who have quick access to power, but using another Band will improve the duration if you need longer battery life.
Another reason is 5G is not widespread causing some slowdowns when switching between all the different technologies.
Every user will have a different experience which can have many factors such as the cell towers, terrain, and even the weather.
4G LTE is widely available and reliable, making it a good choice for basic web browsing, emailing, social media, and more.
Disabling 5G – Settings vs. App
It will depend on the Cellphone carrier whether there is an option to disable 5G.
An app can also be used and will be needed for those carriers who do not have the option to disable 5G.
If the option is available it is best to turn it off without the app but the app also works.
Let us know in the comment below if your cellphone carrier allows 5G to be disabled or not.
Galaxy S20 Band Options
5G/LTE/3G/2G
LTE/3G/2G
LTE/3G
2G Only
The Galaxy S20 has four main Cell Band options including 5G, 4G LTE, 3G, and 2G.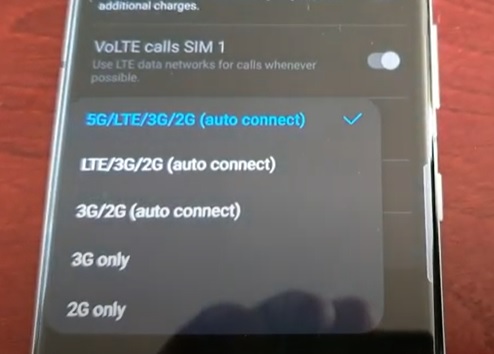 Any of the Band options should work but will depend on the cellphone towers in your location.
The towers are usually backward compatible with older technologies.
If a Band is available of any band will depend on your location, carrier, and cell towers.
Below are the steps to turn off 5G on a Samsung Galaxy S20 using the Setting or using an App.
How To Turn Off and Disable 5G On a Samsung Galaxy S20 from Settings
Swipe down from the top of the screen and go to Settings

Select Connections

Select Mobile Networks

Select Network Mode

Select the Network Band
How To Turn Off and Disable 5G On a Samsung Galaxy S20 Using an App
Open the Google Play Store

Search for the app Samsung Band Selection

Click Install

Open the app and click Launch Band Selection

Select the Band Wanted (LTE ALL is 4G)
Summary
While wireless 5G technology is very fast, it can be limited in some areas and cause the battery to drain quicker.
This limitation and draining of the battery is a trade off that some users may find does not befit them.
An easy way around this is to disable 5G and use another Band such as 4G LTE.
4G LTE is widely available and has very good speeds for basic web browsing.
Some Cellphone operators will not have the option in Settings, in which case an app can be used.
It seems as though in Europe, most carriers have the option to turn off 5G, while in the USA, it can be hit-or-miss.
Have you turned off 5G on your Samsung Galaxy S20? Let us know your thoughts below.







Android SmartphoneWifi adapter reviews
Sours: https://www.wirelesshack.org/how-to-turn-off-and-disable-5g-on-a-samsung-galaxy-s20.html
5G is the latest feature that mobile networks are touting, but it's not available everywhere. If you feel like your Android phone is wasting battery searching for a nonexistent 5G connection, you may be able to turn it off.
We say "may" be able to turn it off because this is a bit of a Wild West situation. There doesn't seem to be any standardization for how to do this (if you are allowed to do it at all). Some carriers and manufacturers have either disabled the option or hidden it.
With that in mind, we'll show you some of the common methods used to turn off 5G. The methods listed below for Samsung and Google Pixel phones should be similar to those used for other Android devices.
RELATED:What Is 5G, and How Fast Will It Be?
Turn off 5G on a Samsung Galaxy
Turning off 5G on a Samsung phone is easy, but there's a decent chance that you won't be able to do it. In the U.S., at the time of writing, only T-Mobile Samsung Galaxy smartphones have the option. Other carriers have removed it.
To begin, swipe down from the top of the screen to open the notification shade, and then swipe down a second time to reveal the Quick Settings. Tap the gear icon to open the Settings menu.
Next, select "Connections."
Now, go to "Mobile Networks."
Last, select "Network Mode."
Here is where you'll see whether it's possible to turn off 5G on your particular Samsung phone. If you can, "5G/LTE/3G/2G" will be selected. To turn off 5G, you'll want to choose "LTE/3G/2G."
Your phone will now use those networks instead of 5G.
Turn off 5G on a Google Pixel
Like on Samsung phones, carriers can change things on Google Pixel phones as well. For example, a 5G-equipped Pixel on Google Fi can't turn off 5G from the Settings. Other Pixels can, and it works like this.
First, open the Settings menu by swiping down from the top of the screen twice. From there, tap the gear icon.
Next, select "Network & Internet" from the Settings menu.
Choose "Mobile Network" (not the "+" button). Your carrier name will be listed here.
Tap "Preferred Network Type."
Finally, select "LTE" from the pop-up menu.
Your Pixel will now choose LTE over 5G. Whenever you're ready to give 5G a try again, you can go back to these settings and revert your choices.
RELATED:How Worried Should You Be About the Health Risks of 5G?
Sours: https://www.howtogeek.com/722503/how-to-turn-off-5g-on-android-to-save-battery-life/
How to turn off 5G on a Samsung phone
It doesn't feel like a long time since Samsung introduced its first 5G phone, the Galaxy S10 5G. Flash forward to today, and you'll find 5G connectivity across many Samsung phones, from the top-end Galaxy S21 range to the less-expensive A71 5G and A51 5G models.
Although 5G networks are expanding, there are still plenty of places where it isn't yet as robust as 4G — so those accelerated connection speeds can be spotty, for now. Connectivity depends not only on your 5G carrier, but your location too — Verizon, T-Mobile, and AT&T all offer 5G network coverage in the U.S., but it still is best around major cities and metro areas. Still, choosing a phone that supports the next-generation network is a sure-fire way to future-proof your new device.
Your need for 5G all depends on how you use your phone. If you game online or download movies and TV shows, the faster connection speeds might be a boon; but if you're somewhere without 5G connectivity, or right on the edge, you may prefer to have it turned off for now. On Samsung phones, it's easy to customize your options. Here's how to turn off 5G on a Samsung phone.
How to turn off 5G on a Samsung phone
These instructions will work on most Samsung phones with 5G connectivity.
Step 1: Go to Settings>Connections.
Step 2: Tap on Mobile Networks.
Step 3: Tap on Network Mode.
Step 4: Select LTE/3G/2G (Auto),LTE/CDMA, or one of the other 4G/LTE options to prevent the phone from using 5G. It's easy to switch it back on whenever you want.
Depending on your carrier and whether your phone is unlocked or purchased from a carrier, you may find there are fewer options available under Network Mode. You may see just Manual and Automatic, or have no option to adjust the settings at all. (Verizon's particularly strict about this.) If this is the case, your carrier may be blocking your ability to turn off 5G — there is, unfortunately, nothing you can do about that.
Why turn 5G off?
Unless you live in a small town or rural area, it's probably best to leave the 5G Auto setting enabled, so you can take advantage of faster speed where it's available and conserve (some) battery life where it's not. But if extra speed isn't critical, or you're concerned about battery life, just leave your 5G off for now.
It's worth pointing out that turning off 5G won't necessarily save a significant amount of battery. Your phone isn't constantly searching for a 5G tower — it knows when 5G is available. When you're connected to a 4G network, if that tower also supports 5G, it will "hand off" your phone to the 5G signal. On some networks, the same antenna may be used for both 4G and 5G, and on other networks, you won't even be switched over to the faster connectivity until you start using data. Don't think that just because you're in a 4G-only area that your phone will constantly "search" for 5G.
Don't feel compelled to turn off 5G for the sake of battery life, unless you're frequently traveling on the edge between areas with and without 5G, which could affect your battery life. The default 5G settings are designed to work for most people — but remember, if you decide to turn them off, it's easy to switch them back on again.
Always double-check with your carrier to ensure your plan supports 5G, or whether you'll need to adjust your plan or possibly even replace your SIM card to accommodate the next-generation technology.
Editors' Recommendations
Sours: https://www.digitaltrends.com/mobile/how-to-turn-off-5g-on-a-samsung-phone/
How to Turn Off 5G on Samsung S20
What to Know
You can turn off 5G by going to Settings > Connections > Mobile Networks > Network Mode.
Select any option that doesn't have 5G in it.
Most commonly you'll choose LTE/3G/2G (auto connect).
This article explains how to turn off 5G on your Samsung Galaxy S20.
How Do I turn Off 5G on My Samsung Galaxy S20?
You can find the setting to turn off 5G in your device settings.
Open Settings.

You can open Settings by swiping down your notification shade and tapping the gear icon in the upper right corner or by tapping the Settings app from your app drawer.

Tap Connections.

Tap Mobile Networks.

Tap Network Mode.

Tap any option in this list that does not have 5G in it. We recommend LTE/3G/2G (autoconnect). That will give you the most network options when you're moving around. If you want to turn 5G back on, just repeat these steps and tap 5G/LTE/3G/2G.
Can You Turn Off 5G on Galaxy S21?
Yes, you can turn off 5G on your Samsung Galaxy S21. The process follows the same steps, and you will force that phone onto 4G networks. Any Samsung phone running OneUI version 3.1 or better will follow these same steps. In fact, the process will be similar on most Android phones.
Why Would I Want to Turn Off 5G?
5G is brand new mobile technology, and as such, it can take a toll on your battery. This is for several reasons. First, if you've got super-fast speeds and use it all the time, you are likely using your phone more than you do on 4G. Second, 5G networks are still being built out. If your phone is constantly switching between 5G and 4G networks due to poor 5G coverage, that will take a toll on your battery. 
Since 4G networks are so prolific, especially compared to 5G networks, forcing your phone to stick with 4G will ensure your phone has a better signal more consistently. That makes your phone work less and therefore saves your battery.
Overall, you probably won't notice too much of a difference in speed between 4G and 5G. With networks still under construction, the maximum consistent speeds available on a 5G network are not much faster than on a 4G network. Therefore, many consider the battery savings you get from sticking to a 4G network worth losing speed. Your mileage may vary.
5G vs 4G: Everything You Need to Know
FAQ
To enable 5G, go to Settings > Connections > Mobile networks > Network mode and select 5G/4G/3G/2G (auto connect). Note that 5G availability might vary depending on your location, network provider, and the signal strength.

The Galaxy S10 was the first 5G-capable. Samsung S20, S20+, and S20 Ultra are all available in 5G versions, so if your carrier offers 5G speeds, you can access it.
Thanks for letting us know!
Sours: https://www.lifewire.com/turn-off-5g-on-samsung-s20-5188203
S20 samsung disable 5g
Alice looked at us sitting on the hood of the car. For another minute we lay like real nudists, but I could not stand it any longer. Orina turned on very quickly from my touch, moaning and rolling her eyes.
Samsung Galaxy S20 tips and tricks: 15 cool things to try
They laughed and joked. I didnt want to start a conversation in front of everyone, and I didnt know how to start it. After breakfast, Pasha, Oksana and Artem. Were going to climb even higher into the mountains, rounding the lake.
Now discussing:
The excitement passed, and the blood in my veins was freezing with the thought of what I had done. I was raped by my own son - I whispered softly looking at the wall with glass eyes. But I did not realize that I myself wished for this no less. Hello.
32848
32849
32850
32851
32852