WELCOME
All rights reserved © Echota Village RV Park 2019
HomeRatesReservationsPark InfoLocal InfoContact
Call: (918) 453-9060 Call Cell# (918) 314-5580 after 5pm if no answer on main number


TO THE BEAUTIFUL EASTERN OKLAHOMA
RESERVE NOW
Now book your stay completely online
EXPERIENCED. PROFESSIONAL. CERTIFIED
Learn more
TO THE BEAUTIFUL EASTERN OKLAHOMA
RESERVE NOW
Now book your stay completely online
RESERVE NOW
TO THE BEAUTIFUL EASTERN OKLAHOMA
Now book your stay completely online
Echota Village RV Park is a Recreational Vehicle Park located in Tahlequah, Oklahoma.
Come visit the beautiful Eastern Oklahoma, at the foot of the Ozark mountains, and stay with us.
Echota Village RV is the place to go for your next vacation!
ECHOTA VILLAGE AND RV PARK·TUESDAY, JUNE 18, 2019
Siyo! We are the Echota Village and RV Park, located at 16315 Hwy 10 in Tahlequah along the beautiful Illinois River.
We officially opened on May 24, 2019. Our park features 16 RV slips with 30-amp hookups that are open for reservation, as well as a primitive camping area and store stocked with all your camping needs. We also own a floating operation that offers guests the opportunity to float along the Illinois River, with transportation provided on our private shuttle.
The site is an operation of the United Keetoowah Band of Cherokee Indians Corporate Board. In addition to the activities listed above, we also hope for the Echota Village and RV Park to be a cultural site for guests. We will have Keetoowah Tradition Keepers out every weekend to educate the public about who we are and some of the traditional crafts we engage in.
Book your reservation today and come experience what we have to offer!
Playground and Play Equipment
We are currently open Friday - Sunday 8am-5pm and by reservation only Monday-Thursday. Call(918)453-9060 for reservations.
We have 16 RV sites with power and a central dump station. We also have campgrounds for primitive (tent) camping. We have a convenience store in the RV Park.
We have 8 person rafts for floating. Our rafts are self-bailing rafts, which have an extra layer on the floor allowing water to exit under it. Come on out and give them a try!
We had a great vacation at Echota Village RV Park. The sites were clean and well maintained. The staff was friendly. We had a very relaxing time.
Pam B.
What a great place for a nature lover. So much to do. The sites are clean and well-maintained. The staff was friendly and helpful.
Coleen M.
We really enjoyed staying at the Echota Village RV Park. We booked 3 days and stayed for a week. The staff gave us a bunch of helpful tips on the area and we had a blast. Will definitely go back !
Trish N.
Very nice, clean place. Lots of places to go in the area for the nature lovers. We enjoyed every minute of it. Hope to go back soon.
Kevin F.
RESERVE NOW
The RESERVE NOW button will take you to our RESERVATIONS page
Check us out on Facebook!
Check for Special Offers
on Facebook!
We are located on the Illinois river, next to Elephant Rock Natural Park and the 3.5 mile long Sparrow Hawk hiking trail.
HomeRatesReservationsPark InfoFAQRulesBBQ RestaurantLocal InfoArea GuideContact
Now book your stay completely online
FAQRules and RegulationsBBQ Restaurant
Area Guide
FAQRules and RegulationsBBQ Restaurant
Area Guide
Sours: http://www.echotavillagerv.com/
ARROWHEAD-THUNDERBIRD RESORT THE PREMIER RESORT ON THE ILLINOIS RIVER!
Welcome
We offer the best cabins and secluded camping on the river. We also have rafts, canoes, and kayaks at an unbeatable price. Come visit the resort voted 4 time "Best Resort" on the Illinois River.
About Us
We are located just 13 miles north on scenic Highway 10. We offer a personal touch to all our guests with the serenity of a vacation. We look forward to becoming your Illinois River destination.
Our Services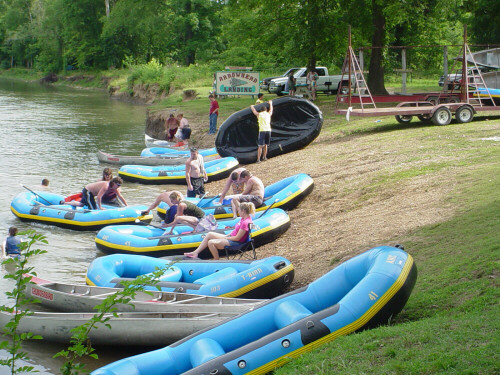 Our services are rafting, canoeing, and kayaking down the beautiful river. We also offer cabins from 2 to 64 people with the ability to accomodate any party. We also have park models and great campgrounds!
Reservations
Arrowhead Resort
7704 Highway 10,
Tahlequah, OK 74464
918-456-1140

Sours: https://arrowheadresortok.com/
We are closed for the season and anticipate reopening on May 1st, 2022.

Thank you for supporting or staff and us during the 2020 season.

Please call for additional information.

Reservations are required to guarantee floats on Saturdays. Lodging, RV, and camping reservations do not include a float trip. Float trips must be booked separately for the day you would like to float. Float trips are only good for the day of reservation.

Reservations are available anytime online through the booking engine
or voicemail. Messages will be returned in order received.

THANK YOU! We look forward to seeing you next year!

Due to COVID-19 we have implemented additional cleaning protocols and request guests continue social distancing and follow Oklahoma Department of Health and CDC guidelines. If guests have been in contact with person(s) who have or had COVID-19 or who have had symptoms including: a cough, fever, shortness of breath, or other symptoms please respect the health of our employees and other guests and postpone your visit at least 14 days.
Management will continue to monitor the COVID-19 (coronavirus) situation closely to ensure the safety of all employees and guests.
Sours: https://www.peytonsplace.com/
Tahlequah Campgrounds
Get the app
Map All Oklahoma Campgrounds
Select the name for official website, phone, detailed directions, amenities, reviews, photos, map, navigation, streetview & more. Sign up for AllStays Pro or get the all time #1 Camp and RV app and take it with you.


Advertise
Arrowhead Resort
7704 Hwy 10…
$$$, 29 sites, All year, RVs only, All Ages, No tent, 787 ft…Full Details
Cones RV Park
4600 S Muskogee Ave…
$$$, 40 sites, All Year, RVs only, All ages, No tent, 40 ft …Full Details
Diamondhead Resort
12081 Hwy 10…
$$$, 40 sites, April-Sep 21, All Ages, Tents sites: 22, 80 f…Full Details
Eagle Bluff Resort
9800 Hwy 10…
$$$, 39 sites, Apr 1-Oct 31, All Ages, Tents, 804 ft elev, 2…Full Details
Echota Village RV Park
16315 Hwy 10…
$$$, 26 sites, Apr-Oct, All ages, Tents sites: 10, 800 ft el…Full Details
Sparrow Hawk Camp
…
, All ages, 701 ft elev, (C)…Full Details
Want More? See State Map or Nearest Towns Above
Join AllStays
Pro is like nothing else for travelers. More places, more information, faster, no ads, privacy, full screen maps, more filters, over half a million search combinations. Join now
Featured Apps
Camp & RV
The number one camping app. From resorts to hike-in spots. Amenities, maps, truck stops, rest areas, Wal-mart and casino parking, RV dealers, sporting goods stores and much more. Two modes: one uses GPS and maps that you can filter. One is an offline manual lookup mode for when you don't have service.

Advertise
More Guides For RVers
Boondocking & Stops:
On the Road Guides
Oklahoma Overnight RV Parking
Oklahoma Free Camping
Oklahoma Wal-Marts locations
and more road guides...
Fuel | Truck Stops
Truck Stops locations
Flying J Truck Stop locations
Loves Travel Stop locations
Pacific Pride Fuel locations
Petro Truck Stop locations
Pilot Travel Center locations
TA Travel Center locations
Truck Weigh Scales
More Tips:
Is Walmart Parking Safe?
Gun Laws and RV Travel Guide
Finding North Without a Compass
Use Your Watch As Compass
How Old Are My RV Tires?
Avoiding Sunburns On Hikes
Do We Need Physical Maps Now?
4X4 RVs: Wandering Off Road
Cell Phone Dangers in the Wild
Dogs In National Forests
Cost of Renting an RV
RV Tips for Beginners
Best California Beaches North
RVs Without Warranty
Bug and Mice Control in RV
Dry Camping Basics
Dangerous RV Signs
RV LED Lights

Advertise
Sours: https://www.allstays.com/Campgrounds/ok-tahlequah-campgrounds.htm
Ok tahlequah campgrounds in
I began to shower her with kissing - tender neck, elastic breast, took a hard nipple in my mouth. Then I sank lower. Her bosom met me with an intoxicating aroma, I plunged into it and began to lick the viscous juice of love oozing from her bowels. When my tongue touched the clitoris, she shuddered and pressed my head to her pubis with her hands.
Black Kettle Campground Oklahoma. Gorgeous area to camp at.
Her one hand was on my shoulder, with the other hand she massaged my groin. My cock is awake. When I got to the hem of the dress, I lifted it up and began to massage her buttocks. She was not wearing panties.
Now discussing:
I asked in an ordinary neighborly voice. The seventh: smiling, she answered with a flirting intonation in her voice. And then I noticed the familiar gleam in her eyes. She was clearly tipsy.
3115
3116
3117
3118
3119