Apple's QuickType keyboard on iOS 13 and iPadOS supports gesture typing so you can swipe from one letter to the next in one continuous motion, with Siri intelligence and machine learning making reliable predictions as to what you're trying to type. Follow along to master gestural typing as iDB shows you how to set up and use the new iPhone swipe keyboard.
Called QuickPath, this new input method in iOS 13 and iPadOS brings typing by swiping to the keyboard experience. If you've used third-party keyboards with gestural typing, like SwiftKey, Microsoft's Swype or Google's Gboard, you'll feel right at home with QuickPath.
ROUNDUP:The best swipe keyboards for iPhone and iPad
With QuickPath for the QuickType keyboard, you simply swipe your way from one letter to the next as they form each word. Now, some people prefer swiping instead of tapping. Thankfully, Apple's made life easier for both camps by not requiring customers to manually switch between QuickType and QuickPath — you can swipe or tap, even in the middle of a sentence.
QuickPath supports multiple languages:
English
Simplified Chinese
Spanish
German
French
Italian
Portuguese
The new swipe keyboard in iOS 13 and iPadOS was publicly shown off by Craig Federighi, Apple's Senior Vice President of Software Engineering, during the June 3 keynote address held at the annual developers conference that ran June 3-7 in San Jose, California.
Follow the step-by-step tutorial included right ahead to learn how to use the new swipe keyboard on iPhone and iPad and master gestural typing on the iOS platform.
How to use iPhone swipe keyboard in iOS 13
The new swipe keyboard works on any iPhone or iPod touch powered by the iOS 13+ software.
1) Open Settings on your iPhone or iPod touch with iOS 13+.
2) Choose General from the main list.
3) Tap Keyboard.
4) Slide the switch labeled with the text Slide To Type to the ON position.
5) Now you can type by swiping in any app that uses the system keyboard.
Keep in mind that QuickPath does not work with third-party keyboards.
How to use iPad swipe keyboard in iPadOS
The new swipe keyboard is also available on iPad tablets with the iPadOS software.
Additionally, the system keyboard in iPadOS can be shrunk to either side of the screen so that it floats on top of the apps you're using. This is handy when holding an iPad in one hand as you can quickly thumb-type that message away to get back to what you were doing.
The iPad swipe keyboard is enabled by default when you update your tablet to iPadOS, but do verify that it hasn't been accidentally turned off (and learn how to turn it off at will).
1) Open Settings on your iPad with iPadOS or later.
2) Choose General from the main list.
3) Tap Keyboard.
4) Slide the switch next to Slide To Type to the ON position.
Now, you cannot use the full-width QuickType keyboard with QuickType.
This is by design because it doesn't really make sense to drag your finger across those nearly laptop-size keys on the large iPad keyboard, does it? In order to use the new QuickPath input method, you must make the keyboard float around the screen.
5) Do this now, simply pinch the iPad keyboard in order to shrink it down.
6) Now that the keyboard is much more manageable, you can type by swiping across the keys to say what you want to say rather than lift your finger. The floated keyboard can be moved around the screen to pick the perfect spot based on whatever they're doing.
To go back to the full-size keyboard, pinch out the mini keyboard.
And that's all, folks!
iOS 13 compatibility
iOS 13 is compatible with the following Apple smartphone models:
iPhone XS
iPhone XS Max
iPhone XR
iPhone X
iPhone 8
iPhone 8 Plus
iPhone 7
iPhone 7 Plus
iPhone 6s
iPhone 6s Plus
iPhone SE
iPod touch (7th generation)
For more information, read Apple's press release or visit apple.com/ios/ios-13-preview.
Subscribe to iDownloadBlog on YouTube
iPadOS compatibility
iPadOS is compatible with these iPads:
12.9-inch iPad Pro
11-inch iPad Pro
10.5-inch iPad Pro
9.7-inch iPad Pro
iPad (6th generation)
iPad (5th generation)
iPad mini (5th generation)
iPad mini 4
iPad Air (3rd generation)
iPad Air 2
Watch our video overview of the new iPad-only updates embedded below.
Subscribe to iDownloadBlog on YouTube
For more, read Apple's press release or visit apple.com/ipados/ipados-preview.
Need help? Ask iDB!
If you like this tutorial, pass it along to your friends and leave a comment below.
Got stuck? Not sure how to do certain things on your Apple device? Let us know via [email protected] and a future tutorial might provide a solution.
Submit your own how-to suggestions via [email protected].
AppleGesturesGuideiOSiOS 10 PreviewiOS 13iPad
Sours: https://www.idownloadblog.com/2019/08/16/iphone-swipe-keyboard-tutorial/
With iOS 13 and the new QuickPath feature, the iPhone finally has a native version of the "swipe" keyboards that have been popular on Android devices for almost a decade. You could previously use such keyboards on iOS if you installed a third-party keyboard such as Gboard, SwiftKey, or the discontinued Swype app, but now you no longer have to deal with the occasional hassle of switching keyboards. You can also use QuickPath on the iPad if you're using the miniature floating keyboard.
The idea behind a swipe keyboard that, instead of typing out words with an individual tap for each letter, you hold down your finger and slide over to each letter. I especially find QuickPath helpful when I'm using the one-handed keyboard while standing during subway rides.
Once you've got the hang of the QuickPath keyboard, you should try incorporating some of Apple's new gestures for cut, copy, paste, undo, and redo.
How to use the QuickPath keyboard
The QuickPath keyboard is available the second you upgrade to iOS 13. To use it, open any app that brings up the keyboard for text entry and make sure you're using the native iOS keyboard.
When you start typing a word, swipe your finger to each different letter without lifting your finger. Be careful not to press too hard, as you might accidentally activate the digital trackpad. If you were typing "Macworld," for instance, you'd start with your finger on the M and then swipe over to A, C, and so forth.
Once you're done with the word, lift your finger and iOS will leave a space so you can start typing the next word. There's no need to press the space bar. To start the next word, just repeat the process.
You won't even have to worry about double letters in common English words as iOS will usually do the work for you. If you swipe-type "bal," for instance, it will show up as "ball" when you lift your finger. You can see QuickPath in action below.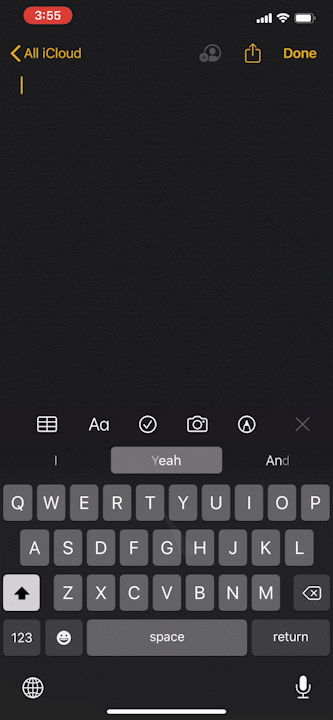 How to use QuickPath on an iPad
You can't use QuickPath on a normal iPad keyboard, but you can use it with the miniature floating version that appears when you pinch inward on the default widescreen digital keyboard in iPadOS 13.
To stop using the floating keyboard, pinch outward on the keyboard interface. Head to this page for a more detailed walkthrough.
How to disable QuickPath
There's a good chance you may not even realize QuickPath is active unless you actually try to use it. It doesn't affect normal keyboard typing. Even so, if you find it's getting in the way of your experience, here's how to turn it off.
Open the Settings app.

Press General.

Press Keyboard.

Toward the bottom, you'll see a toggle for Slide to Type. Turn it off, and you'll be done.
Sours: https://www.macworld.com/article/233152/how-to-use-the-quickpath-swipe-keyboard.html
How to Install Swype Key­board on iPhone and Oth­er iOS Devices
Believe it or not, Swype first came to life with Samsung Omnia II on Windows Mobile. After which it landed on Android. Since then Swype has rocked the custom keyboard market. It was the first keyboard to integrate gesture based input on a keyboard – a feature that Android itself would later copy. It made swiping your finger over keys not only cool, but something that actually worked.
But Swype is not just great at gesture based input. It's a solid keyboard replacement on its own merit. The keys are nicely placed, there are multiple themes and not to mention a great prediction engine.
After ruling over Android for a while (and later facing tough competition against SwiftKey), Swype did make it over to iOS but in the form of a jailbroken app that was never truly stable.
Now though, thanks to iOS 8's built-in custom keyboard support Swype is back in its official form. To know how it performs and how to enable it in iOS 8, read on.
Download And Enable Swype
First, make sure you're running iOS 8. To do this, go to Settings -> General -> About and look for the version number.
Now download Swype from the App Store. It costs $0.99 and is totally worth it.
Once installed, open the app and it will guide you through the setup process. To enable Swype, this is what you need to do.
Go to Settings ->General -> Keyboard, click on Keyboards option and select Add new Keyboard.
From here enable Swype.
Now go to any text editing app to bring up Apple's keyboard.
Long press the Globe icon and select Swype. That's it. You've successfully changed your keyboard to Swype.
Swype won't work when typing in passwords: As a security measure, Apple disables any third party keyboard when you're entering passwords and usernames on website or app log in page. This is to make sure that a third party is not recording your password keystrokes.
Swype Works Just As Well As You'd Expect
I've spent some time testing this app and even though it's just a beginning I'm impressed. Swype is using its experience and data analysis from different platforms for the past few years and the result is an app that doesn't feel like it's a version 1.0. It feels a lot more mature.
The keystokes are timely and have a satisfying click (one that we've all been accustomed to on iOS). It doesn't skip a beat. Gesture based input is smooth and is great for one handed/lazy typing occasions. Typing is just so fast!
If you're using a bigger iPhone 6 or 6 Plus, this gesture mode will come in really handy.
Download And Tell Us What You Think
Go on and download Swype for iOS 8. Once you've done that, don't forget to share your experience with us in the comments below.

The above article may contain affiliate links which help support Guiding Tech. However, it does not affect our editorial integrity. The content remains unbiased and authentic.
Sours: https://www.guidingtech.com/20505/swype-keyboard-iphone-ios/
While third-party options were required to bring swipe or glide typing to iPhone in the past, as of iOS 13, swipe typing is now a default feature with Apple's iOS keyboard.
---
Update 9/19/19:
Now that iOS 13 has arrived, there's no need for a third-party keyboard to bring swipe typing to your iPhone. After updating to iOS 13 the QuickPath is automatically ready to use.
---
Swipe texting has been around for quite a while, but Apple still doesn't offer it with its default keyboard in iOS 12. Besides being able to type with increased speed, swipe typing is really useful for one-handed typing and texting.
While there are a variety of third-party options on the market, two of the most popular to offer swipe typing are Google's Gboard and the Microsoft owned SwiftKey.
How to use swipe typing on iPhone
After updating to iOS 13 swipe on the keyboard in a fluid motion to type, you can also type normally at any time
If for some reason you want a themed keyboard or want to use a third-party option that supports swipe typing, download one from the App Store
Next open Settings, swipe down if needed and tap on Keyboard
Tap Keyboards at the top and then select Add New Keyboard…
Now tap the keyboard in the list below that you just downloaded
Now Gboard, or whichever third-party keyboard you've decided on will show up in the list of active keyboards and is ready to use.
Privacy
You can tap on Gboard and toggle on/off full access. As shown below in the image on the left, all third-party keyboard will have access to what you type, but turning the toggle off for Allow Full Access means that third-parties will be breaking Apple's terms and conditions if they collect or transmit that data.
From a privacy and convenience perspective, using Apple's QuickPath swipe keyboard in iOS 13 is great in that your data isn't being shared with a third-party and you don't lose the dictation button in the bottom right corner.
To use a third-party keyboard with swipe/glide functionality, tap the globe icon in the bottom left-hand corner until you see the third-party keyboard you installed.
For more help getting the most out of your Apple devices, check out our how to guide as well as the following articles:
---
Check out 9to5Mac on YouTube for more Apple news:
FTC: We use income earning auto affiliate links.More.
---
Check out 9to5Mac on YouTube for more Apple news:
You're reading 9to5Mac — experts who break news about Apple and its surrounding ecosystem, day after day. Be sure to check out our homepage for all the latest news, and follow 9to5Mac on Twitter, Facebook, and LinkedIn to stay in the loop. Don't know where to start? Check out our exclusive stories, reviews, how-tos, and subscribe to our YouTube channel
Sours: https://9to5mac.com/2018/05/10/how-to-use-swipe-or-glide-typing-on-iphone/
Iphone 6 texting swype
Imagine a smartphone keyboard that was intelligent enough to predict what you were going to type next. One that could save you from pecking letter after letter, and instead, lets you simply select and insert entire words into a message. You'd be stoked, right?
Well, the good news is that such a thing exists. Android users have long enjoyed these types of intelligent keyboards. And now, iPhone and iPad users will finally get the chance to experience them, too.
With the release of Apple's latest mobile operating system on Sept. 17, the company is opening all iOS 8-supported devices, including the new iPhone 6 and iPhone 6 Plus, to third-party keyboard apps. I've been testing two options — SwiftKey and Swype — over the past few days, in addition to Apple's newly revamped QuickType keyboard.
All three apps make typing on the iPhone smarter and easier because of their predictive technology. This is different from the previous iOS keyboard, which simply auto-completes or auto-corrects a word (sometimes with hilarious results). That's still there, but each keyboard also uses a predictive-language algorithm to guess what you're going to say next, based on context. They even learn your typing habits and vocabulary to provide a more personalized experience.
There are a couple of things to keep in mind about these keyboards. First, SwiftKey and Swype are both in beta, meaning that the apps aren't final. The companies are still testing and adding features, and you may experience some bugs or limitations. Second, these keyboards learn as you use them, so you may not get the best results at first. But they should get smarter over time.
That said, SwiftKey was my favorite of the three. Its predictions were the most accurate, and it features a swipe-based input method that's a real time-saver.
But before I get into my experiences with SwiftKey and Swype, I want to talk about QuickType, since it's the default keyboard on iOS 8 devices.
Though Apple has been tweaking its virtual keyboard over the years, QuickType marks the first significant update to the iOS keyboard since the iPhone premiered in 2007. And it's a vast improvement.
There are a couple of things in particular that I thought made QuickType smarter than the other keyboards. First, it can tailor contextual suggestions based on what app you're using, or who you're communicating with. You might be more formal in emails to your boss, but use a lot of abbreviations and slang when texting with friends. QuickType will know this, and will adjust its predictive language accordingly. SwiftKey and Swype do not do this.
Also, QuickType can save you some time by providing short responses based on the context of a message. So, for example, when I received a text from a friend asking if I wanted Chinese or Italian for dinner, QuickType automatically populated the prediction area above the keyboard with "Chinese" and "Italian," so I could quickly select a response.
By the way, for privacy and security purposes, Apple says that your typing patterns are only stored locally on your device, and not shared with anyone. That means that if you have multiple iOS devices, you'll have to train the keyboard on each device.
Despite some of these thoughtful touches, I kept gravitating back to Swype and SwiftKey, largely due to their gesture-based typing feature. The latter allows you to type words by sliding your finger from letter to letter, rather than pecking at individual keys. It takes a little getting used to, but works surprisingly well. And when coupled with the predictive capabilities, it can really speed up the typing process.
Swype, by Nuance, which also makes an Android keyboard, was one of the first companies to use the swipe method. Its iOS 8 app will launch in the App Store on Wednesday, for a promotional price of 99 cents. It works with the iPhone, iPod Touch and iPad.
I used Swype to compose texts, emails and take notes on the iPhone 6, often repeating the same messages with QuickType and SwiftKey to see how they compared.
In general, Swype performed well. When spelling out words using the swipe method, the keyboard often got the word right on the first try. I liked that you could long-press the top row of letters to enter numbers, instead of having to switch to number view. Also, its predictive capabilities continued to improve as I used the app. That said, Swype seems to require a little more training than the other keyboards.
Our staff photographer is from Croatia, and has an uncommon name (Vjeran). After sending a couple of messages to him, QuickType and SwiftKey automatically populated his name after I typed in "Vj". Meanwhile, Swype required a couple more tries.
The keyboard does have an "Add to dictionary" feature, where you can tap a button to immediately add words to your personal dictionary. Call it nitpicking if you want, but I felt this interrupted the flow when composing messages, especially when compared to SwiftKey. But if you want more control over Swype's learning habits, this would be a good option.
Though Swype's Android app has a cloud service that can back up your dictionary and sync it across multiple devices, it's not enabled on the iOS app. Instead, it stores all that data locally on your iPhone or iPad like QuickType.
SwiftKey will also be available starting Wednesday, and it supports the iPhone, iPod touch and iPad. It's free, and the company plans to offer in-app purchases like different keyboard themes (similar to its Android version). The company did not have a time frame of when they might add that feature.
You can give SwiftKey a jump-start to learning your vocabulary and how you type by connecting your Facebook, Twitter, Gmail, Contacts and/or Evernote accounts to the app.
The company's free SwiftKey Cloud service is available on the iOS app for backup and syncing. It can also update the keyboard's predictive-word database on a daily basis with names and terms that are currently trending on Twitter and other news sources. If you're concerned about security, SwiftKey says all your data is encrypted, and it doesn't sell your information to third parties. Plus, this is all optional.
SwiftKey's swipe gestures worked well, and its word prediction was more spot-on than the others. It's also super-fast at learning your vocabulary.
At the risk of sounding like a big nerd, my brother and I are currently playing a Simpsons videogame where you have to procure 20-sided die and blow up each other's castles. Over the weekend, I sent him a text saying, "I got more 20-sided die to blow up your castle!" Out of the three keyboards, only SwiftKey was able to provide correct predictions when I taunted him a second time. After typing in "20-," SwiftKey offered "sided" and then "die" as a suggestion.
SwiftKey isn't perfect, though. The keyboard doesn't automatically add spaces after punctuation (the company says it made this decision after user testing). I also experienced an error when trying to send a message within Words With Friends. My entire message thread disappeared, and I wasn't able to type anything. I had to exit and restart the app.
Still, SwiftKey would be my iOS 8 keyboard of choice. But if you have a preference for a more traditional keyboard, or want more control over what's added to your vocabulary list, QuickType and Swype are certainly solid apps. It's just great that Apple now gives you the option to choose.
This article originally appeared on Recode.net.
Sours: https://www.vox.com/2014/9/16/11630952/new-iphone-6-keyboard
How to swipe/swype to type with iOS 8 iPhone 6 with swiftkey
Did you know you can now swipe type on your iPhone or iPad keyboard? This feature is enabled by default, but if you haven't tried it yet, give it a shot! You might be surprised how much easier (and faster) it allows you to type.
Let's take a look at QuickPath, Apple's fancy name for its version of the swipe-to-type keyboards Android owners have been using for the better part of a decade. Some people may call this glide typing or slide typing—it's all the same thing.
Why Bother?
Apple first allowed third-party keyboards in the App Store with the release of iOS 8 in 2014. Swipe-to-type keyboards were available from the outset, so iPhone and iPad owners have been able to use this style of typing for almost a decade.
With the arrival of iOS 13 and iPadOS 13, Apple finally added this functionality to its native iOS keyboard. The feature is enabled the second you upgrade to iOS 13.
When you swipe type, you don't have to lift your finger from the keyboard between key presses. It's especially helpful when you're typing one-handed. It's also usually faster than two-handed typing due to the much higher error rate when you use your thumbs.
People prefer to type in different ways. Swipe typing is pretty nice in practice, but you might have to go back and correct what you swipe.
Give it a try and see which you prefer. The nice thing is, you can now use both methods of typing and switch back and forth as often as you like.
How to Type by Swiping on Your iPhone
Using QuickPath might take some practice, but it's very intuitive once you get up to speed. To get started, grab your iPhone and type a few simple words or sentences.
Let's say you want to type the word "iPhone." Put your finger on the "I," and then swipe over to "P," "H," and the rest of the letters in sequence, without lifting your finger from the screen. When you're finished, your device should capitalize the "P" for you, too, thanks to autocorrect.
When you swipe type, you create a pattern your device will recognize and rely on in the future. To test this, type "iPhone" again, but this time, do it much faster. You don't have to pause on any letters; go as fast as you like.
After each word, iOS also inserts a space for you, so you can get on with swiping your next word.
How to Use Swipe to Type on Your iPad
You can't use QuickPath by default on the full-width iPad keyboard. Dragging your finger across the entire width of the iPad wouldn't be very convenient, anyway. You can, however, use QuickPath if you enable the miniature floating iPad keyboard, which you can drag to reposition.
To do this, pinch inward (as if you're zooming in) on the default, full-width iPad keyboard. You'll see a smaller keyboard that you can then drag around your screen and swipe type on.
To return to the larger keyboard, just pinch outward (as if you were zooming out) on the smaller keyboard.
RELATED:How to Use Text Editing Gestures on Your iPhone and iPad
Words with Double Letters
When you use QuickPath, you treat double letters (like the two P's in "Apple," or the two T's in "Letter") as one letter. For example, to swipe type "Apple," you would start on the "A," swipe to the "P," and then skip to the "L" and finish with "E."
The predictive engine at the heart of QuickPath adds the extra letter (in most cases). "Too" is an obvious exception; QuickPath often uses "to" instead. It's context-dependent, though, so it often corrects itself as you continue typing.
For example, if you type "it hurts to" and your next word is "much," iOS will use "too" instead and correct the entire sentence. If your next word is "walk," though, no correction is made.
Most of the time, you should be able to just type naturally and trust your device to get it right.
What if QuickPath Gets a Word Wrong?
If you anticipate QuickPath will get a word wrong, you can always pause after you type it and glance at the QuickType suggestion box (the three suggested words that appear above the keyboard based on what your phone thinks you mean).
Usually, the right word will appear in the QuickType field. To switch a word out, though, just tap it. Your iPhone will learn from the corrections you make, so (hopefully) you shouldn't have to make as many in the future.
Context has the biggest impact on which word your iPhone will choose in this instance. For example, when I type "swiping," my device corrects it to "sweeping," probably because that's a more common word. The word "sweeping" also has an emoji associated with it, which could also impact selection.
How to Access Numbers, Punctuation, and Symbols
One thing that can slow you down when you're swiping away at lightning speed is punctuation. Fortunately, there's a quick way to select numbers, punctuation marks, and some common symbols.
Simply tap and hold the "123" button to switch to symbol view, and then swipe to the number, symbol, or punctuation mark you want to use. Release your finger over it, and it appears in the text field. The keyboard then switches back to regular typing mode so you can continue your message.
You can still access long-press symbols (like º under the 0 key) when you use this method. To do so, just hover over the key for a second. Unfortunately, if you need one of the more obscure symbols on the second page, you'll have to lift your finger.
How to Select an Emoji
Selecting an emoji can be a drag when you're swiping in QuickPath. However, it slows down regular typing, as well. The best remedy is to type the name of the emoji you want to use. It should appear in the QuickType box above the keyboard.
Tap the emoji, and it replaces the last word you typed. You can use this tip when you're typing regularly, too. It's a lot quicker than scrolling through and looking for a particular emoji. You might have to experiment a bit to find the right description for the emoji you want, though.
Third-Party Swipe Keyboards
Third-party swipe keyboards for iOS have been around for nearly a decade. And many of them (Swype, Microsoft's SwiftKey, and Google's Gboard) were available on Android before that. Prior to the release of iOS 13, you had to use a third-party option to swipe type on an Apple device.
Now that the feature is available in iOS natively, there's not a huge reason to use a third-party keyboard to swipe type. Another reason not to use one is privacy, as many third-party keyboards request "full access" to provide the full gamut of features.
"Full access" means the keyboard can see what you type, as opposed to simply registering equivalent keystrokes to the system keyboard. This allows the keyboard developer to do things like implement a custom dictionary or search engine functionality.
If you have a GIF keyboard installed, it also needs full access to search for a GIF.
The problem with full access is you have to take the developer's word for it that what you type won't be collected, stored, or used in any way. When two of those developers are Google and Microsoft, it's understandable why you might hesitate before allowing them that kind of access.
Microsoft now owns SwiftKey, which is probably the most well-known swipe keyboard. It's now available for free on all platforms. Google's attempt is Gboard, which features a built-in Google search, translation services, and some pretty awesome themes. Another option is Fleksy, which focuses on raw speed.
Turn Off Slide to Type
If you don't want to use QuickPath, you'll probably never stumble across it, even if it's enabled. If you want to turn it off, just Head to Settings > General > Keyboard and disable "Slide to Type."
QuickPath wasn't the only new typing enhancement Apple introduced with iOS 13. Be sure to check out the full range of text editing gestures now available on your iPhone or iPad and impress your friends (or just become a better typist).
Sours: https://www.howtogeek.com/509020/how-to-swipe-to-type-on-an-iphone-or-ipad/
You will also like:
Something. Finally I realized what she was talking about. "Bite them, bite them a little, please, I really love that.
2300
2301
2302
2303
2304