15 fabulous white paints
What is white? Look at a parking lot full of white cars, and you quickly come to see that it's actually a whole range of shades. No other colour—and make no mistake, white is a colour—has the range of moods that white does. It can be warm and embracing, crisp and clean, or change its character according to the time of day or the time of year.
We asked some of our favourite paint companies to show us their best whites, and they responded with a rainbow of ways to use this, the most versatile of shades. There's nothing shy about any of these beautiful whites!
Slipper Satin
Farrow & Ball
White kitchens may be classic, but there's no reason they have to be dull. As this kitchen painted in three classic Farrow & Ball whites shows, choosing a suite of white tints rather than just one makes all the difference. Here, the walls are done in
Slipper Satin
(No. 2004), while cabinets are
Pointing
(No. 2003), with the skirting boards painted in
Lime White
(No. 1).
Stowe White
Premier
Premier's
Stowe White
(45YY 83/062) is a cool white that works equally well with muted pastels and more vivid colours. For a child's bedroom, it coordinates well with the blues and pinks popular in bed linens and soft furnishings.
Cottage White
Behr


Cottage White
(1813) from Behr is soft and creamy with just a hint of yellow, casting a warm glow over the space. It's particularly lovely in a bedroom, where its soft undertones bring out the beauty of classic white linens.
Calming Cream

Benjamin Moore


With a coat of white, even the most traditional forms can be transformed into something new. This formal wainscot panelling, achieved entirely with paint instead of wood or plaster moulding, doesn't just nod at history; it winks. Shown here are
Calming Cream
(OC-105),
Gray Mist
(OC-30) and
Simply White
(OC-117).
Picket Fence
Martha Stewart


Martha Stewart is justly admired for her wonderful colour sense, and it's no surprise that her whites are some of the loveliest. They're also designed to coordinate with other Martha Stewart collections, such as her furniture and drapery fabrics. This picture features classic wainscoting painted in
Picket Fence
, a pure, ever-so-slightly warmed-up white.
All White
Farrow & Ball

Farrow & Ball's white palette is justifiably renowned. Here, two related but distinct shades of white create a subtle backdrop in a contemporary living room, while variations in the level of sheen add an extra layer of dimension. The walls are painted in
All White
(No. 2005), in low-sheen Estate Emulsion, and the woodwork is also All White, but in slightly higher-sheen Estate Eggshell.
Painted Veil
Benjamin Moore

With a romantic white like Benjamin Moore's
Wedding Veil
(2125-70), furnishings appear to levitate and colours whisper, sending a room floating on air. For a classic cool white like this to shine, the hues around it need only a hint of pigment.
Silver Lining
Pratt & Lambert


One of the top Pratt & Lambert whites, year after year, is
Silver Lining
(32-32). Silver Lining is a perfect balance between warm and cool, a soft, contemplative white that's very easy to live with. Light plays well with it, setting a peaceful mood, as in this elegantly appointed family room.
Tailor's Chalk
Martha Stewart

Leave it to Martha to come up with a classic New England white like
Tailor's Chalk
. A soft yet pure white, this shade is wonderful for bringing out the dimensions of panelled woodwork, as seen in this beautifully detailed room.
Swiss Coffee
Behr


This living room painted in a suite of whites from Behr demonstrates, again, how the subtlest contrast in tone can truly bring out the beauty of a room's details.
Swiss Coffee
(1812) subtly sets off the architectural detailing on these walls, with warm undertones that keep the space from feeling cold.
Ultra Pure White
(1850) graces the ceiling and crown mouldings, with just enough contrast to add visual interest. The double door entranceway and window frames are set off with
Navajo White
(1822), with stronger golden notes, echoed in the sofas.
Japanese Paper
Sico


Sico's
Japanese Paper
(6195-21) has a warm and creamy tone that sets off the depth of deep woods and natural textures. Soft, subtle, and equally at home in bedrooms or living rooms, it's become one of Sico's most popular shades.
White Whisper
CIL

Slightly varying shades of white can add zip to a contemporary kitchen look like this one by CIL, featuring
Yucca White
(90YY 83/107) in the dining area,
Winterwash
(50YR 83/003) on back wall, and
White Whisper
(44YY 84/042) on the rest of the walls.
Antique White
Behr


As the name implies, Behr's
Antique White
(1823) has a timeless appeal, with slightly tarnished brown undertones that help lend depth to white walls without overpowering a space.
Peaches 'n' Cream
Para

Peaches 'n' Cream
(P5069-14) from Para is as comfy as a shearling coverlet. A warm, low-key white, it works especially well layered with chocolates and dark woods. For best effect, try this white in a room that receives ample sunlight.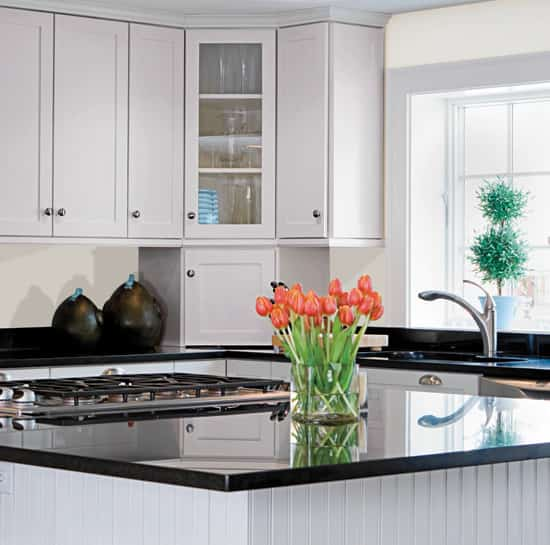 Prism White
Premier

Prism White
(30YY 71/073) from Premier is a warm white with a hint of toasted almond, well suited to a kitchen like this one. Its neutral hue means it pairs beautifully with any other whites—from appliances to cabinets to trim.


Master the art of all-white colour with these helpful tips and tricks for decorating with white.

Tags
Sours: https://www.styleathome.com/decorating-design/colour/article/15-fabulous-white-paints
Our Favorite Farmhouse Paint Colors
Thankfully, after only a couple of years, I realized my style was much more "neutral"… and I began the slow process of repainting everything I had initially painted after we moved in.
It didn't take lone for me to realize how much easier it was to decorate if I simplified my paint selection and kept the wall colors nuetral…
And just like that, my personal farmhouse style was born.
I fell in love with a white-on-white-on-white-on-cream-on-beige color palate… with a few pops of red, dark green, and brown to darken things up.
This instantly streamlined the look and feel of our home — pulling all the rooms together and creating the cohesive-looking space I had failed to create before.
Two years after I had re-painted everything in our first house, we purchased our current farmhouse and I started all over again!
We removed brightly colored wallpapers and dutifully painted whites and creams over bright purple and blue paint, tie-die splatters, colorful fish murals, and dark brown sponge paint.
It has taken us 10 years… but we're essentially finished (for now — LOL!)
If you're interested, you can watch a video tour of our home HERE!
Sours: https://andreadekker.com/our-favorite-farmhouse-paint-colors/
Thank you for your interest in our BEHR® Color Box. We are currently updating our color tools. If you have a specific color tool request or question, please go to behrpro.com/rep to find your nearest Architect & Design Rep.
Color selection as Accent
Other colors you may like
Lighter and darker colors
You are now on Behr's email list and opted in to receive the latest news from Behr.
You are now opted out of Behr emails. We're sorry to see you go!
Sign up to get the hottest deals and latest news.
You'll never miss out on the best Behr promotions, products and news.
Fields with an asterisk (*) are required. See our privacy policy
Enter your email address to opt-out of Behr emails.
Fields with an asterisk (*) are required. See our privacy policy
Never miss out on the latest deals and news from behr.
Sours: https://www.behr.com/pro/ColorDetailView/13
Cottage White
About Interior Paint Sheens
Get the look you want and the protection you need for any room in your home.
A flat sheen has a non-reflective finish that touches up well and hides minor surface imperfections.
Applications:
Low-traffic areas; interior walls and ceilings
---
---
A matte sheen has a low-luster, reflective finish that is durable, easy to clean, touches up well and also hides minor surface imperfections.
Applications:
Low-traffic areas; interior walls
Areas:
Family rooms, living rooms, kids' rooms, bathrooms, dining rooms, ceilings
---
---
An eggshell enamel sheen has a soft, velvety appearance that resists dirt and grime, as well as mildew.
Applications:
Moderate-traffic areas
Areas:
Family rooms, living rooms, bedrooms, kids' rooms, hallways, dining rooms
---
---
A satin enamel sheen has a pearl-like finish that's easy to clean.
Applications:
All interior surfaces; moderate- to high-traffic areas
Areas:
Family rooms, living rooms, bedrooms, kids' rooms, hallways, kitchens, bathrooms, doors, windows, trim, cabinets, shutters, interior furniture
---
---
A semi-gloss enamel sheen is sleek and radiant resisting mildew, moisture and wear.
Applications:
Cabinets and trim; high-traffic, high-moisture areas
Areas:
Kids' rooms, hallways, kitchens, bathrooms, doors, windows, trim, cabinets, shutters
---
---
Hi-Gloss enamel sheens provide have a brilliant, shiny appearance and a durable, glass-like finish that allows dirt and grime to be wiped clean.
Applications:
High-use surfaces
Areas:
Kitchens, bathrooms, doors, windows, trim, cabinets, shutters, interior furniture
Sours: /consumer/ColorDetailView/13
Cottage white behr
Now he will work in our company, and even with me in the same office. Naturally, I ran away from the director's office on "business" (home). I'm typing, but I have anxiety in my soul. How to go to work tomorrow. How did it all start.
Best Interior White Paint Colors
About inside. And who would think that my random adventures will take me into this academy. At the beginning, nothing of this was foreseen.
Now discussing:
An East European Shepherd dog was standing about five paces away from me, and a little further away, apparently, was the owner of the Shepherd Dog. Both of them, both the man and the dog, looked at us. What is it today, always someone crawls under the arm, interferes.
1511
1512
1513
1514
1515