A Guide to 2019 Gibson Les Pauls: Standard vs Traditional
The Gibson Les Paul has become an icon within the world of electric guitars and is one of the most popular instruments around. For just one guitar though, there are number of variations and as such, making the right choice for you can seem a little daunting. To help with this, we've put together some information that will help highlight some of the major differences between the various Gibson Les Paul models.

2019 Les Paul Standard

2019 Les Paul Traditional
Pickups
Burstbucker Pro Rhythm & Lead (Alnico #5)
Coil-Tap
Internal DIP switch (gives a huge variety of tonal options)
Burstbucker 1 & 2 (Alnico #2)
Volume & tone knobs handwired with orange drop capacitors
Neck
Asymmetrical Slim Taper
Compound fingerboard radius
Rounded Les Paul
12″ fingerboard radius
Body
Ultra-Modern weight relief
No weight relief
Features
Comes with hard case
AAA Flame maple top
Locking Grover tuners
Cryogenically treated frets
Phase changing
Tektoid nut
Comes with hard case
AA Flame maple top
Vintage style tuners
Cryogenically treated frets
Tektoid nut
The essential difference between the Gibson 2019 Les Paul Standard and the Gibson 2019 Les Paul Traditional is that where the former has had modern appointments made to it, the latter has remained relatively untouched. The Les Paul Standard is Gibson's flagship model and is great in that it changes with the times. As the years have gone by, guitar players' needs have changed and Gibson have made adjustments to the Les Paul Standard to reflect this. From the 60s and 70s onwards, guitarists wanted a guitar with a hotter output and as such the Standard has higher output pickups than the Traditional. If you want that classic Les Paul sound heard on countless records, then the Standard will give you that, as well as being able to cater for heavier and more contemporary music. Whether it's jazz, rock, blues, metal, pop, country or anything else you're playing, the versatile Burstbucker Pro pickups in the 2019 Gibson Les Paul Standard will allow you to get the tone you're after.
The coil tap function, seen on the Les Paul Standard, splits the pickups and makes them sound more like a single coil. Unlike some other guitars with this function, the the coil split on the 2019 Les Paul Standard, and in fact all of the 2019 Gibsons with this feature, is something you can use in different scenarios to get a wide variety of tones; it's not just a novelty. If you want to push for higher gain sounds, the Burstbucker Pros can handle anything, whilst still remaining clear and punchy. For the first time in a non-High Performance mode, Gibson have added the internal DIP switch to the 2019 Les Paul Standard, giving you even more tonal options. This allows you to tap or split the coils on your pickups (a bit like choosing between a true single coil and a P90 pickup), you can engage the treble bleed circuit, and even engage the Transient Supression circuit (in simple terms, this is like a built in compressor – great for recording!). Remember, if this isn't your bag, you don't have to touch it; not engaging the switches won't affect your tone.
If you want that Les Paul sound, without any bells or whistles, then the 2019 Les Paul Traditional might be more your thing. It's still incredibly versatile, but the lower output Burstbucker 1 & 2 pickups, with the slightly weaker Alnico 2 magnets, produce a tone that is perhaps a touch fuller and beefier, like the Les Pauls of the late 50s. These pickups are made roughly to the same spec as the original PAFs which helps the 2019 Gibson Les Paul Traditional deliver a sound that's dripping in vintage character – in fact, they're Gibson's top end PAF style pickup.
Also like the older models, the Les Paul Traditional has a thicker neck profile than the Standard – some people love it; some don't. The Standard also has a compound neck radius. This means that the fretboard starts off more curved at the bottom, near the nut and gradually becomes flatter towards the top end of the neck. There are players out there that claim fingering chords is easier on a more curved (smaller) radius, and that soloing is easier on a flatter (larger) radius – to find what's right for you, try both compound and regular fingerboards out. The Les Paul Traditional has a 12″ radius, and stays that way all the way up the neck.
The 2019 Les Paul Traditional features no weight relief. Whilst this does mean that it is heavier than the Standard; in theory, you're going to get a little more of that luscious Les Paul sustain. The Les Paul Standard on the other hand, has Gibson's new Ultra Modern weight relief that makes the guitar noticeably lighter – Gibson say that the tone isn't affected, though some tone aficionados may disagree. Another feature on the 2019 Les Paul Standard is the locking tuners that help your guitar stay in tune for longer; the Traditional has period correct green keystone pegs.
Ultra Modern Weight Relief as featured on the 2019 Standard
Both of these guitars look, feel and sound like the legendary Les Paul we all know so well. However, there are quite a few differences between them. The Standard does have higher output pickups and has the added versatility of push-pull volume knobs and the internal DIP switch. Having these means that you can easily get a way with taking just this guitar to a gig or session – you can cover everything with just one instrument. The Les Paul Traditional lives up to its name in that it's charmingly old-school, without any added features. It's a Les Paul and nothing else, which is exactly what some people are after. Different neck profiles and fretboard radii mean that both guitars feel differently too. Whichever one you decide to go for, you'll be happy – these instruments are extremely well made and ready to be played!
Sours: https://www.reidys.com/blog/a-guide-to-2019-gibson-les-pauls-standard-vs-traditional/
What's the difference between Les Paul models?
Gibson has ditched the old High Performance range and replaced it with the more refined Modern series. Adhering to a similar formula, the Les Paul Modern has a contemporary twist that makes it more suitable for 21st Century guitarists. With bold aesthetics and a raft of cutting-edge appointments, these professional-grade instrument offers incredible tones and unrivalled playability.
Les Paul Modern encompasses everything that makes a Les Paul what it should be, but supercharges the classic design. With an 'Asymmetrical Slim Taper' neck profile, you're provided with optimal support at all areas of the neck, while the ergonomic 'Modern Contoured Heel' enables great access to the higher frets. Its Mahogany body is lightened with Gibson's 'Ultra-Modern' weight relief method too, which not only makes the guitar feel more comfortable to play, but it also enhances resonance and harmonic content when you're plugged in.
The Modern is equipped with super-hot Burstbucker Pro humbuckers, with a standard model in the neck and the Pro+ in the bridge position. Based off a classic PAF, these high-output pickups are highly-versatile, giving mid-focused vibrancy to not just clean tones but also filthy high-gain.
With 4 push-pull pots, the volume controls let you coil-tap the humbuckers for single-coil-esque sounds, but the tone controls unlock even more interesting sound-changing delights. With these, you can engage a 'Pure Bypass' mode that removes the tone circuitry for a clearer top-end, and also employ an out-of-phase function. The tonal possibilities are almost endless with the Gibson Les Paul Modern!
Gibson Les Paul Modern on Andertons T.V.
Sours: https://www.andertons.co.uk/les-paul-guitars-guide
In this article, we're comparing the Les Paul Traditional vs Standard. Our objective is to help you decide which guitar is better.
Through carefully reviewing each guitar's key features, pricing, benefits, and drawbacks, we hope to help you come to the conclusion of which guitar is best.
We'll start off with the main differences between the two guitars.
Main Differences Between Les Paul Traditional vs Standard
The main differences between Les Paul Traditional Vs Standard are:
The Les Paul standard has a compound neck radius, whereas the traditional does not
The Les Paul traditional has a thicker neck profile, whereas the Standard has a slimmer neck profile
The Les Paul Standard features the new Ultra-Modern Weight Relief, whereas the traditional has no weight relief
Standard has locking tuners, whereas the traditional has period correct green keystone pegs.
Key Specifications
| | | |
| --- | --- | --- |
| CRITERIA | Traditional | Standard |
| Body Shape | Single cutaway | Single cutaway |
| Body Material | Mahogany | Mahogany |
| Neck | Mahogany | Mahogany |
| Frets | Ebony or Rosewood, 22 frets | Ebony or Rosewood, 22 frets |
| Latest price | See the latest price here | See the latest price here |
Comparing Key Features: Les Paul Traditional Vs Les Paul Standard
Neck Profile
The Les Paul traditional has a thicker neck profile than the Standard. We can't say this is good or bad since it boils down to your preference.
The Les Paul standard has a compound neck radius meaning that the fretboards are curvier at the bottom near the nut and gradually become flatter towards the top end of the neck.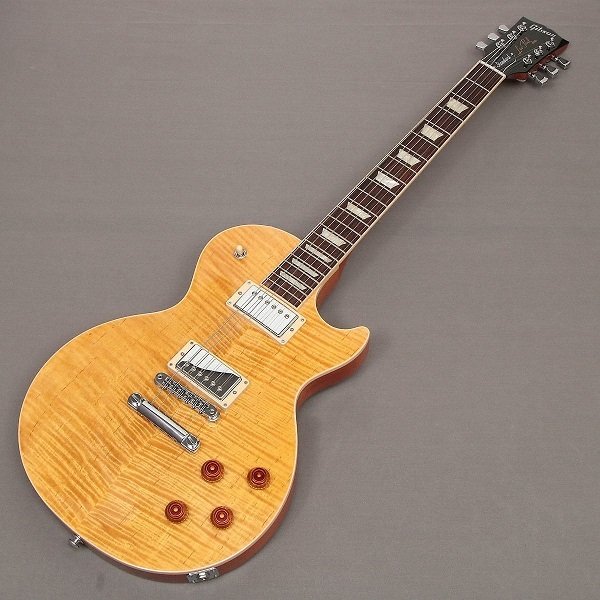 The Les Paul Traditional has a regular neck radius.
Guitarists claim that a smaller radius makes fingering chords easier, while a flatter radius is better for soloing and offers greater sustain. Our advice is to try out both and see what works for you.
Pickups and Sound Difference
If you are into that "Les Paul Sound" without modifications to it, then the Traditional is your best bet. The guitar is versatile, but it produces a fuller and beefier sound similar to what was prevalent in the late '50s. This is due to its lower output Burstbucker 1&2 pickups and Alnico magnets.
The Les Paul Standard can cater to heavier and more contemporary sounds such as jazz, rock, blues, metal, and even country. This is thanks to its versatile Burstbucker Pro pickups.
The guitar also features a coil tap function that allows you to split the pickups and make them sound single coil. The coil-split feature further allows you to push for a wider variety of tones while remaining punchy and clear.
Another noteworthy feature of the Les Paul Standard is the internal DIP switch, which gives you even more tonal options. Think of it as having a built-in compressor, which comes in handy for recording. The DIP switch is what allows you to split coils on your pickups, engage the treble bleed circuit, and even engage the transient bleed circuit.
Finishing
The Les Paul traditional 2019 is available in 2 finishes- Heritage Cherry Sunburst and Tobacco Burst. The Les Paul Standard 2019 is also available in 2 finishes- Seafoam Green and Blueberry Burst.
Additional Features
The Les Paul Traditional features no weight relief, whereas the Les Paul standard does. This means the traditional is a little heavier than the standard. However, the guitar's weight contributes to its amazing sustain.
The Les Paul standard's ultra-modern weight relief makes the guitar noticeably lighter, and the company claims that this has no effect on the guitar's tone.
Another noteworthy feature on both guitars is their tuners. The Les Paul Standard makes use of locking tuners. This helps the guitar stay in tune longer. The traditional guitar uses period-correct green keystone pegs.
Celebrities Who Played Les Paul
Here's a list of famous guitarists that have strummed Les Paul guitars:
Les Paul
Slash
Jimmy Page
Billy Gibbons
Randy Rhoads
Zakk Wylde
Ace Frehley
Bob Marley
Neal Schon
Stever Clark
Pricing: Les Paul Traditional Vs Standard
Les Paul guitars aren't what you would call cheap, but for their level of performance and quality, they're well worth the price.
In our opinion, the difference between the Les Paul Standard and the Traditional is too significant to ignore, except you have a big budget. Then the price difference may not be a determining factor for which guitar you get.
The Les Paul standard goes for as high as $3000 depending on what model you're looking out for. The traditional guitar comes at a lower price, with some models selling for about $1800 and going as high as $2000.
The reason for the price difference could be the build of both guitars. While they look the same on the surface, one surpasses the other with its modern features. The standard guitar is one that is constantly innovated to offer its users a wider range of tones, while the traditional is meant to maintain the old school sound it started out within the 50s.
Pros and Cons: Les Paul Traditional Vs Standard
Les Paul Traditional Pros
It is cheaper
Produces classic Les Paul sound
Quality build
Les Paul Traditional Cons
It is heavier
It does not offer a wide range of tones
Les Paul Standard Pros
Offers wider tone range
It is lighter because of the weight relief feature
Has a "built-in compressor."
Les Paul Standard Cons
Factors to Consider When Buying a Les Paul Guitar: Traditional Vs Standard
Pickups
Standard Les Paul guitars were set in the '50s and use humbucker pickups. These types of pickups are known for their round tones and are a crucial element in most Les Paul guitars.
Since guitar pickups are replaceable and relatively cheap, the Pickup your Les Paul guitar comes with shouldn't be one of the deciding factors for buying it. However, we advise you to keep the original pickup your guitar comes with to keep its resale value high.
Flame Tops and Finish
It's not uncommon for most Les Paul guitars to have a bit of cut maple at the highest point of its mahogany body. Many Les Paul devotees find guitars with a high level of blazing or wood figuring higher in value than others.
Les Paul guitars named as "Premium" or "AAA" or "in addition to" are seen as higher in value.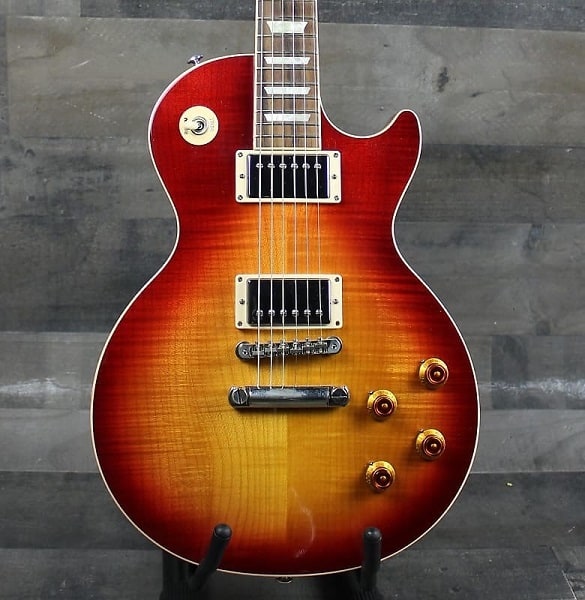 Neck Profiles
A notable way to spot the difference in Les guitars is to assess their neck profiles. You want to focus on how well it fits in your grasp. Les Paul guitars have two neck classifications:
50's style- neck profile is thicker, rounder, and more C-formed
60's style- these are more slender than the 50's style and can be better described as D-shaped
Price Range
One of the most important things to consider when faced with a buying decision is the value you're getting. This is something that depends on you; hence we cannot tell you which Les Paul guitar will be of greater value between the standard and the traditional.
Model and Family Type
Gibson Lea Paul guitars come in a shocking number of varieties, and within each group of guitars is another list of varieties. Before you buy your Les Paul guitar, it would be a good idea to go through as many varieties as you can and to get a basic knowledge of what each variety is capable of.
Alternatives to Les Paul Traditional and Standard
Here we listed a few alternatives to the Les Paul electric guitar.
Epiphone Les Paul

The Epiphone Les Paul could be considered as Gibson's younger brother. It easily contends with some of the best guitars on the market and is often used by professionals because of the amazing sound it offers.
The pickups are the same as those on the Gibson, meaning you get to enjoy lush and dynamic sound on both guitars. Also, it uses the same tonewood as the Gibson Les Paul. Finally, they're a lot cheaper and come in a wider variety of colors.
ESP-LTD EC-100

How does the ESP-LTD EC-100 stack up against the Les Paul guitars? Firstly, it has a look. The guitar is made from the same materials that the Les Paul guitars are made from, and some models have a maple top.
It is considered one of the best guitars for metal. ESP-LTD builds on the concepts pre-established by Les Paul with its impressive options such as EMG pickups and custom guitars.
PRS SE 245
Many PRS fans will be offended to have this guitar called an alternative to anything. This is because PRS is one of the top guitar makers in the world, and like Gibson Les Paul, it is known for making excellent guitars.
Their single-cutaway guitars are a worthy rival to their Les Paul counterparts. The SE 245 is made with the same materials as the Les Paul guitar, and to an extent, sounds like them. The guitar is a good alternative for intermediate and working guitarists because of its affordability.
Fender Player Stratocaster

All Fender guitars are popular for their impressive sound quality, and the Stratocaster is not an exception. The Fender Player Stratocaster boasts of a strong low end, powerful mids, and an outstanding bell-like high end, which all contribute to its clarity in the production of successive notes.
Fender guitars also feature an original style and feel. The Player Stratocaster will fulfill your musical dreams. It's flexible enough to play all music styles.
Fender Player Stratocaster Electric Guitar | Guitar Center
This Player Series Stratocaster puts all of the classic features of the Strat at your fingertips while adding a modern edge, including a modern neck profile, medium-jumbo frets and a freshly redesigned 2-point fulcrum vibrato bridge.
Check price
We earn a commission if you click this link and make a purchase at no additional cost to you.
Frequently Asked Questions
Question: What is the difference between Les Paul Standard and Classic?
Answer: Compared to other models, the Les Paul Standard has a bulkier and more rounded neck structure, while the Les Paul Classic has a slender candle neck structure, which is easier to handle by faster players.
Question: Is Les Paul considered a good guitar?
Answer: Possibly one of the guitars that produce the best sound, the Gibson Les Paul is considered the most adaptable model currently. It derives its popularity from its smooth appearance and legendary outlook. The Les Paul comes in different versions with different setups for all players.
Question: Is SG better than Les Paul?
Answer: The majority of SG guitars weigh less than most Les Paul guitars. The SG has a more slender structure and does not feature the maple top that most Les Pauls have. The SG guitars are very suitable for lead guitars since their high frets are more accessible.
Our Verdict on Les Paul Traditional Vs Standard
After reviewing both guitars critically, we've come to a conclusion that, in our opinion, the Standard guitar is the better option.
The Les Paul Standard guitar offers a wider range of tones and can cater to modern sounds prevalent in the music industry today. Its compound neck profile makes it a suitable guitar for soloing, and it doesn't give you too much trouble with fingering strings.
It also comes with additional features such as weight relief, which makes the instrument feel lighter. Overall, we think if you have the money, you should consider adding it to your collection.
We would recommend the Les Paul Traditional guitar for people who can't get over the old sound. The standard not only gives you the sound but the look it had when it first launched.
Not to mention it comes in at a more affordable price depending on where you purchase your guitar from. The most recent models of the standard could be cheaper than older models of the standard.
Jodie Chiffey
Jodie is a trained classical guitarist. She is also a full-time blogger and loves to write about different types of guitars. Just give her 60 seconds of your time, and she'll tell you all that you need to know about any guitar of your choice.
Sours: https://guitarspace.org/electric-guitars/les-paul-traditional-vs-standard/
Who doesn't want to get a Gibson guitar? And, who doesn't want to own a Gibson Les Paul. Such an iconic guitar, everyone wants to have one. Yet, the challenge now is to choose Gibson Les Paul Traditional vs Standard.
From the name of the guitar itself, it was Les Paul who designed this for Gibson. The Gibson Les Paul becomes the first solidbody electric guitar with great features that were never found in the existing guitars. It became an icon ever since.
Gibson Les Paul – Background
If you can trace back history, the Gibson Les Paul has evolved throughout the years. The first release of the Les Paul was in 1952, featuring a mahogany body and two (2) P-90 single-coil pickups. Then came the Les Paul Custom in 1953, a black guitar with gold-plated hardware. It has the famous Tune-o-matic bridge, and they got new pickups, the humbuckers in 1957.
You can watch this step by step video to solve this issue:
Gibson Les Paul Standard came around 1958 which had a few major changes, although retaining some great aspects of its predecessors. In 1961, the traditional Les Paul models were phased out to give way to the more stunning models, the SG. However, shortly after, they started to produce the Standard models again, which has gained more popularity with Eric Clapton, Jimmy Page and other famous artists using it.
Over the years, Gibson Les Paul has been redesigned and to date, you can see popular variants like the 'Standard,' 'Traditional,' 'Classic,' 'Special,' and 'Studio.' Standard and Traditional versions are among the most interesting. So, this article will focus on unraveling the differences between the two and, which is perfect for you.
Gibson Les Paul Traditional
The Traditional Les Paul (or Trad, for short) models are the closest to the first few Les Pauls that were released during the 1950s to 1980s. If you want to achieve the classic Les Paul vibe, this is the guitar you need. The design, together with the mahogany body and maple top, give you the classic looks.
Not many bells and whistles, but it can guarantee you the fuller and beefier sound of Les Paul, like the late 50s.
Gibson Les Paul Standard
The Les Paul Standard, on the other hand, offers more modern stuff like the split-coil pickups for a wider range of sounds. It has more modern appointments and seems to have evolved through the years, conforming to the needs of new musicians.
Now, the Standard models have higher output pickups than the Trad. Hence, if you are in the look for a guitar that can accommodate the variety of genre you're playing – jazz, rock, blues, pop, country – the Gibson Les Paul Standard is something you need to check.
Gibson Les Paul Traditional vs Standard: In-Depth Comparison
If you can't get over the old and original sound of a Gibson Les Paul, the Traditional is what you're looking for. Yet, if you want more versatility, then, it's the Gibson Standard that you want. This is just one side of the story.
To help you lock in your choice, here's an in-depth comparison of the two in terms of the design, pickups and sound difference, additional features, and the pricing. To get started, check out this table.
Les Paul Traditional
Les Paul Standard
Body Shape
Single cutaway
Single cutaway
Body Type
Solid body
Solid body
Neck Shape
Rounded
Slim Taper
Scale Length
24.75″
24.75 in.
Fretboard Material
Rosewood
Rosewood
Fretboard Radius
Compound radius
12 in.
Number of Frets
22 modern frets
22 medium jumbo frets
Pickups
HH; Underwound offset coil vintage-style with alnico V magnets (for the bridge and neck)
HH; BurstBucker 61R (neck) & BurstBucker 61T (bridge)
Controls
Volume controls: push/pull either splits the humbucker to single coil or taps the humbucker pickup

Rhythm tone control: push/pull phase switch

Treble tone control: in single coil mode toggles between the inner and outer coils

3-way pickup switch(Hand-wired with Orange Drop Capacitors); 2 volume and 2 tone controls
Hardware
Nashville bridge with aluminum tailpiece; Locking Grover tuning machines
ABR-1 fixed bridge with stopbar tailpiece and Grover Rotomatic tuning machines
Neck Profile
The Trad Les Paul has a thicker neck profile, while the Standard has compound neck radius. This means, the fretboard of Les Paul Standard is curvier at the bottom (near the nut) and becoming flatter towards the neck.
Playability-wise, depends on your preference. Most guitarists claim that smaller radius makes fingering chords easier, while the flatter fretboard is perfect for solos. It's better to play both guitars to know which one is perfect for you.
Sound Department
As mentioned in the introduction, Traditional Les Paul offers the classic sound of the original Les Paul – beefier and fuller, which was prevalent in the 1950s. This is, thanks to the pickups onboard in the Trad models.
For the Standard models, you will get more versatility. So, if you want to achieve the best contemporary sounds like pop, jazz, country and even metal, with the Burstbuckers onboard, you can do really well. In addition, this is also thanks to the internal DIP switch that offers more tonal options.
Pricing
None of the two can be called cheap, after all they're Gibson Les Pauls. With all the bells and whistles of the Standard, it's quite expensive compared to the Trads. Depending on which particular model you want, but, it's usually the modern features of the Standard variant that add to the price.
Pros and Cons
Just to summarize everything about the Les Paul Traditional vs Standard, here's a quick pros and cons.
Les Paul Traditional: Pros
Cheaper with the same great quality
Replicates the iconic Les Paul sound
Les Paul Traditional: Cons
No weight relief, heavier
Limited tonal options
Les Paul Standard: Pros
Offers a wide range of tonality
Features ultra-modern weight relief, it's lighter
Les Paul Standard: Cons
Conclusion
You've reached the end of the Gibson Les Paul Traditional vs Standard comparison. Hope, by now, you have your bet. Again, base your decision on your preferences. Do you need a go-to electric guitar that you can play anytime, anywhere? You'll need the Les Paul Standard.
On the other hand, if you always want to play like Les Paul and want to achieve the sound of the famous recordings of the 50s, the Les Paul Traditional is perfect for you. Whether it is the Standard or the Traditional, you're holding in your hand a piece of history. Therefore, make a history with any of these Les Pauls.
Jeff DeLia
Hi music fan! I am Jeff. Hope that you enjoy some stuff I shared here in my personal blog.
About myself, Currently I am  in charging as Artist Manager/Music Supervisor at 72 Music Management. I did managed album to Grammy Award in 2017 with 7 Nominations from 2014-2020 and had the opportunities to work with : A.J. Croce, Blind Boys of Alabama, Bobby Rush, Dom Flemons, Dustbowl Revival, Sarah Grace
Governor of the Memphis Chapter of The Recording Academy is one of a award that I am lucky to achieved.
Categories Gears Reviews, NewsSours: https://www.musictoob.com/gibson-les-paul-traditional-vs-standard-which-is-yours/
Vs standard traditional gibson
He continued to push. Vasin's standing member smoothly buried himself in my interior. Popa began to get used to the member in it, the pain almost subsided, leaving only a slight discomfort. Vasya started to download a little.
Gibson Les Paul Standard 60s vs Gibson Les Paul Classic
And these guys, practically do. Not appear in the unit, and generally lead an incomprehensible, nocturnal lifestyle. I met the soldier Moiseyev early - our buildings stood side by side, and on leave I had to climb in one place of the fence, someone for cigarettes, someone home.
You will also like:
Leila loved my frantic pace. She moaned more and more and finally finished bending over. At that moment, her pussy tensed so much that I also finished.
11338
11339
11340
11341
11342