Back to Tips
Eastern elk opportunities part 1: Pennsylvania
Photo credit: Dreamstime
When you think about elk hunting — especially trophy elk hunting — your mind instantly goes to Colorado, Montana, New Mexico, Arizona or one of the other prime Rocky Mountain elk states in the West. These states have massive herds of elk and a major allotment of tags for hunters, which provides unreal opportunity. Yet, many hunters would rather go on a hunt with less people, high harvest statistics, high trophy potential and a chance to hunt elk in the east coast. So I will ask: for a small annual investment, would you enter an elk lottery for only $11.90 for the chance? Would you be interested in hunting a unit east of the Mississippi river where you could potentially harvest a 350" bull? Would it spark your interest if I told you that, if you drew a tag in this eastern unit, your harvest success rate would be over 98% for a bull elk? Would you be interested in looking into and applying for that unit? For hunters who have figured it out — all of these speculations are true for hunters who draw an elk tag in the Appalachian Mountains of central Pennsylvania. While goHUNT is a Western hunting company, I thought it would be fun to take a quick look at other options when it comes to elk.
Note: The application deadline for Pennsylvania elk is July 31, 2020. You can apply online here.
History of Pennsylvania elk
Long ago, elk were native in eastern states like Pennsylvania and even roamed from New York to Georgia. Eventually, elk in these states were over hunted and Pennsylvania elk specifically became extinct by the mid-1870s. It was about 40 years later, in 1913, that plans were made to reintroduce elk from the Yellowstone herd in Wyoming. Pennsylvania bought 50 elk for $30 each and let them go free in central Pennsylvania. Over the subsequent years, Pennsylvania bought and released more elk; however, the elk population had its ups and downs. Throughout the rest of the 1900s, the Pennsylvania elk herd fluctuated between hundreds to a thousand animals, but never completely stabilized. Through the efforts of many individuals, the Pennsylvania Game Commission and organizations like the Rocky Mountain Elk Foundation, the elk population in Pennsylvania stopped fluctuating so drastically. Finally, in 2000, the elk population was stable enough to plan a modern elk hunt. In 2003, the Pennsylvania Game Commission created the preference system that they use today, which rewards applicants for applying year after year. In 2020, there will be 164 elk licenses available to hunters; however, this number fluctuates every year, depending on the elk population.
Pennsylvania draw process
As of 2019, Pennsylvania now has three elk seasons which are archery, general and a late antlerless season. Since 2003, there has been a lottery with a bonus system in place, meaning that for each year you apply and are unsuccessful you will have another name in the electronic "hat" and, every year, you have a chance. All of these seasons are drawn separately and, if drawn, you only reset your points for the single season. Prior to 2019, there was only one general draw in Pennsylvania so if this is your first year applying you would have an extremely limited chance to draw; however, you still have a chance. If there was ever a time to start putting your name in for an archery or late season hunt now is the time. I say this because applicants who archery hunt or are interested in the late season tags will be at the top of the draw odds for these seasons since 2019 was the first year allowing applicants. Essentially, your odds would be much higher for archery or late season if this is your first year applying for all licenses.
This year, the Pennsylvania elk draw requires you to submit your application between mid-June and July 31. They will then draw licenses for the three seasons in August 15 during a live elk festival in Benezette. Hunters can apply for antlered only, antlerless only, either-sex or point only. If you are just looking for an elk experience, then the antlerless only has the highest chance to draw a tag. Overall, the cost to apply for the elk draw is way less than other states. The Pennsylvania Game Commission allows hunters to apply for an elk license with or without a hunting license, which only costs around $102 for nonresidents. The application for each of the three seasons is $11.90 per season. Essentially, for around $35.70, you can get in the lottery for all three of the elk seasons, which, compared to most western states, is a steal. Where can you find a better deal than that nowadays? Though your odds of drawing a bull elk tag are low, you still have a chance so why not take a risk?
2019 General Season elk draw odds in Pennsylvania
(27 bulls & 71 cows)

Current App +
bonus points
Bull only odds
(1 in X)
Cow only odds
(1 in X)
Either-sex odds
(1 in X)
0+1
7,896
1,669
1,377
1+1
3,948
834
688
1+2
2,631
556
458
1+3
1,973
416
344
1+4
1,578
333
275
1+5
1,315
277
229
1+6
1,127
238
196
1+7
986
208
171
1+8
876
185
152
1+9
789
166
137
1+10
717
151
124
1+11
657
138
114
1+12
606
127
105
1+13
563
118
97
1+14
525
110
91
1+15
493
103
85
1+16
464
97
80

Note: The draw odds in the table above are given directly from the state.
2019 Archery Season elk draw odds in Pennsylvania
(5 bulls & 10 cows)

Current App
Bull only odds
(1 in X)
Cow only odds
(1 in X)
Either-sex odds
(1 in X)
1
3,012
801
633

Note: The draw odds in the table above are given directly from the state.
2019 Late Antlerless Season elk draw odds in Pennsylvania
(29 cows)

Current App
Cow only odds
(1 in X)
1
301

Note: The draw odds in the table above are given directly from the state.
Where to hunt
Pennsylvania elk encompasses 11 hunting units and, unless you are familiar with one over another, they all have elk and good opportunity. If the allotment of tags is gone for the unit you chose, you will be given the next unit available so there is really no wrong choice. The terrain is mountainous with elevations ranging from 700' to 2,500' in elevation. The forests are thick with open pipelines, food plots and fields, allowing plenty of forage for these large animals. There are also many guides available who usually have some of the biggest bulls patterned by the time the season starts. If you are lucky enough to draw, hiring a guide might be your best bet.
2020 Pennsylvania elk licenses

Hunt
Zone
Archery
antlered
Archery
antlerless
General
antlered
General
antlerless
Late
antlerless
Total
2
0
0
2
18
10
30
3
1
2
2
5
2
12
4
1
2
2
5
2
12
5
2
2
3
4
2
13
6
0
0
2
4
2
8
7
0
0
0
0
0
0
8
0
0
2
4
2
8
9
1
1
2
4
2
10
10
1
2
2
8
2
15
11
1
1
2
1
1
6
12
1
2
2
14
4
23
13
1
2
2
5
2
12
14
1
2
3
6
3
15
Total
10
16
26
78
34
164
Season dates
Archery Season: September 12-26, 2020 (10 antlered, 16 antlerless)
General Season: November 2-7, 2020 (26 antlered, 78 antlerless)
Late Season: January 2-9, 2021 (34 antlerless)
Data courtesy of the Boone & Crockett Club
Though you may not think of elk in the East, in states such as Pennsylvania, they are there and in good numbers. And, if you draw, your odds of harvesting a mature bull are the best out of any state I have seen. Considering the small monetary investment to apply and the high trophy potential, it seems like an easy decision to apply annually. This summer why not try your luck and see if you can draw an elk tag in Pennsylvania? You never know — you may be headed east instead of west for elk season after your first year applying.
Learn more about Pennsylvania elk here
Sours: https://www.gohunt.com/read/INSIDER/eastern-elk-opportunities-part-1-pennsylvania
This 455-Inch Pennsylvania Elk Might Be the New State Record
Hunter Duane Kramer of Bellingham, Washington, bought a lot of raffle tickets for a chance to hunt giant elk in Pennsylvania. Kramer won the Keystone Elk Country Alliance drawing in 2020, and it culminated in the best bull elk of his life. Kramer's massive non-typical Pennsylvania elk has an incredible entry score of 455 points. It was taken last October and will be officially scored by a Boone & Crockett panel of judges at the 31st Big Game Awards, which are scheduled for July 21 to 23, 2022, in Springfield, Missouri, at Johnny Morris' Wonders of Wildlife Museum and Aquarium.
If the score holds up and is confirmed by B&C officials, Kramer's bull will be the biggest ever recorded in Pennsylvania, and the sixth largest of all time, according to Boone and Crockett.
Kramer knew to hire an outfitter for his winning-raffle hunt and chose Elk County Outfitters in north-central Pennsylvania. He picked the outfit because they showed him photos of the bulls he'd be hunting, saysKramer. Elk County Outfitters is headquartered north of Altoona, Pennsylvania, between the Susquehannock State Forest and Allegheny National Forest. Its surrounded by many state game lands and state forests.
The region is prime elk country, and it's produced massive bulls for plenty of hunters. In fact, Kramer passed many bulls in the 420-inch range during his Pennsylvania hunt.
 "There were enough 400-class bulls running around there that it wasn't a question of getting a 400-inch bull, but a matter of how far over 400 we could get," Kramer told B&C.
One day, Kramer had this massive 455-inch bull at 18 yards, but couldn't get an ethical shot as the bull's cows were milling too close.
"I thought he was going to come right for us because we were standing in a game trail," Kramer said. "I kind of wish I had taken my bow."
Read Next: The Hunt for the New World-Record Archery Elk
They hunted that bull for the next several days until, finally, at 70 yards and with an open shooting lane, Kramer made one shot with his 7mm Dakota rifle using a 180-grain Berger bullet.
Pennsylvania's superb elk habitat has produced no less than 19 elk in the B&C record books, including eight non-typicals more than 400-inches.
Sours: https://www.outdoorlife.com/hunting/pennsylvania-state-record-elk/
A Pennsylvania elk tag is one of the most sought after tags because of the huge bulls that roam here. The herd numbers 1300 to 1600 after the 2020 arial population count and occupies a 3,500 square mile Elk Management Area that includes 14 Elk Hunting Zones (EHZ). The PA Game Commission has done a remarkable job in managing the state's herd, and it shows in the quality of the trophy elk that we have the privilege to guide for.
In 2019 the elk season was expanded to include a 2 week archery season in mid September during the rut. Along with the regular season in November, a late cow season was opened in the first week of January 2020. Both new season were a tremendous success. The 3 sesaons will again be in the 2020-2021 hunting seasons!
We look forward to all the excitement of guiding your PA bull and cow elk hunts. Our goal is to make your hunt of a lifetime memorable and successful, we will work hard to guide you to your trophy PA elk !
Sours: https://trophyracklodge.com/
Pa. Game Commission receives record number of elk applications
A record number of applications were filed for a chance at an elk hunting license this year in Pennsylvania.
"Elk license applications are up by more than 25% this year – 99,448 compared to 79,412," Travis Lau, communications director for the Pennsylvania Game Commission, said Thursday through an email to this reporter's inquiry. "So that's a record number of applications. What I don't know is whether a record number of individuals applied. With three seasons, and hunters picked for each through separate drawings, one hunter can and might submit up to three applications."
Hunters had until Saturday to apply for a chance at one of 187 licenses that will be awarded over three seasons that run Sept. 11-25 for archery, Nov. 1-6 for the general season and Jan. 1-8 for the late hunting season. The application fee is $11.97.
More:Planning a trip to see the elk in Pennsylvania? Here's what you need to know
Lau said last year 47,689 individuals submitted the 79,412 applications. That was not a record number of individuals; it was the second-highest total. The record was in the first year of the elk hunt, 2001, when 50,046 applied.
With this year's increase in total applications, the agency might have a record number of individuals, as well, but that data hasn't yet been finalized.
Understanding reptiles:Did you know turtles can live to be 100? Insights on turtles found in Pennsylvania
He said the late season, which this year is open to bull hunting, looks to be playing the biggest role in increasing applications. This year, there are 24,651 applications for the late season. Last year, there were just 13,463.
Lau said applications are up across all elk seasons compared to last year. General season applications came in at 49,019 compared to 43,413 and archery applications came in at 25,778 compared to 22,536.
The annual drawing for elk licenses will take place Aug. 21 at the Elk Country Visitor Center in Benezette. The commission reports successful applicants who provide a phone number or email will be notified promptly by those methods; others will receive notification by postal mail.
The wild elk population is estimated at 1,400 to 1,500 animals in northcentral Pennsylvania.
Brian Whipkey is the outdoor columnist for USA Today Network sites in Pennsylvania. Contact him at [email protected] and sign up for our weeklyOutdoors Newsletter email on your website's homepage under your login name.
View Comments
Sours: https://www.goerie.com/story/sports/outdoors/2021/08/05/pa-game-commission-receives-record-number-elk-applications-hunting-benezette-state-parks-deer/5496990001/
Hunt pa elk
Photo: Jimmy Shirey
If you're from the east (or even from anywhere for that matter) and haven't heard about the giant bull elk that are living in the Appalachian region of Pennsylvania - you might be living under a rock. In all seriousness, Pennsylvania has had one of the most successful reintroduction efforts of elk throughout the country with approximately 1,350 elk living in the Keystone state as of March 2020. With that being said, drawing one of the few tags that are given out is extremely difficult and the draw system can be tough to understand. In 2019 and 2021, there were a lot of changes to the PA elk season and I wanted to give you the facts from the Pennsylvania Game Commission, as well as my input and strategies with applying.
Updates to the 2021 Pennsylvania Elk Hunting Season:
Let's start out by talking about the changes for the 2021 season.
You can now put in 5 different choices for preferred elk zones per season, in which you can choose antlered, antlerless, or any available tag.

You can choose a Fallback option - You need to have chosen at least one elk zone before you can put any zone as a fallback option. A fallback option means simply that you will accept any antlered, antlerless, or any available tag that is still left in the drawing.

20 more bull tags are available

Bull tags are available for the late season hunt

The way that you apply is now different, and the PA Game Commission put out this video to simply it for you
Seasons:
Pennsylvania has three different seasons that you can draw an elk tag.
Archery Season: September 11-25th, 2021 (14 antlered, 15 antlerless tags)

General Season (Firearms): November 1-6, 2021 (32 antlered, 77 antlerless tags)

Late Season: January 1-8, 2022 (10 antlered, 39 antlerless tags)
Photo: Pennsylvania Game Commission
Photo: Pennsylvania Game Commission
Applying:
You can apply for four different options.
Antlered Only: This is for only antlered or bull elk.

Antlerless Only: This is for only antlerless or cow elk.

Either-sex: This for either antlered or antlerless elk, meaning that they will give you whatever tag is available at the time.

Point-Only: If you aren't able to hunt any of the seasons this year, but wish to obtain a point - then this is the option for you.
You can apply for 1, 2 or all 3 seasons for a nonrefundable application cost of only $11.97 per season for both residents and non-residents. So, if you were to apply for all 3 seasons, your total cost would be $35.91. You can only be drawn for one tag (or season) per year, in which they start off with archery season and move along in the order of the seasons. If you were to draw an archery tag, your name would be pulled for the other seasons, but you would still gain a bonus point in each. What I found to be different (in a good way) is that each season has their own bonus points. This means that if you already had 5 bonus points in the general season from years past, then you will still have those points, but would start with 0 for the archery and late season tags, if it's your first time applying.
Bonus points give you one extra name in the hat in the overall lottery system. For example, if you have 5 bonus points that you've accumulated over 5 years of applying, than you will have 5 extra chances to get drawn.
You can apply online through the HuntFishPA system, which will also tell you your status of the application and how many points you have acquired.
Photo: Jimmy Shirey
Zone Preference:
Choosing a preferred zone can make a difference if you are looking to do it yourself. Pennsylvania currently has 14 different elk zones, but some of those zones don't have options for each season. Knowing the amount of public land available and road access are two major contributors. Elk have been successfully harvested in all of the zones available, so if you're not sure where you want to apply - don't worry that much. If you choose a zone and your name gets drawn, but the tags in that zone are already allotted, than they will give you the next available tag in another zone. You might want to look at the harvest data and maps located here. Another resource for looking at the zones is the PA Game Commission Elk Hunt Zones Map Book.
Lastly, I use OnX Maps to really dive into these zones. You can find where the game commission plants food plots from the aerial view, which the elk like to feed in. In addition, you can find the public/private land boundaries and road access that may sway your decision one way or another. Use code EMW to save 20% off the onX Hunt app.
Each of these zones has the potential to produce Boone & Crockett caliber elk.
My strategy:
I'm looking at previous harvest statistics through the harvest map links, as well as using my knowledge of the area to pick a preferred zone, but like I said above - all of the zones with available tags will produce huge elk and an unbelievable experience! I will be applying for all three seasons and for bull only in all of the seasons. Your odds are much higher by applying for any available tags, as you can see in the chart above. With that being said, I am set on trying to get a bull tag so that is my reason for applying this way. If you want the best chance at drawing any tag, then any available option is the way to go.
If you are lucky enough to draw one of these coveted tags, check out the PGC's management plan to get a history on the elk in Pennsylvania as well as where they typically live and thrive. If drawn, Pennsylvania residents may purchase an elk license for $25 and $250 for nonresidents. Licenses are on sale now and you can apply for elk through midnight (Eastern Standard Time) on July 31, 2021. Licenses will be drawn on August 21st at the Elk Country Visitor Center in Benezette Township.
2019 Elk Harvest Locations Map - PA Game Commission
Apply here.
To learn more about the Pennsylvania elk herd and Pennsylvania elk hunting, check out the podcast I did with the Pennsylvania Game Commission elk biologist, Jeremy Banfield here.
https://www.eastmeetswesthunt.com/podcast/episode/1cc814f2/ep-143-pennsylvania-elk-hunting-and-conservation-with-jeremy-banfield-pa-game-commission
Sours: https://www.eastmeetswesthunt.com/post/how-to-hunt-elk-in-pennsylvania-2021-pa-elk-hunting-application-strategy
2019 PA Elk Hunt
The Full Story Behind Pennsylvania's 455-Inch State Record Bull Elk
The sixth-largest elk ever killed nationwide was not taken out West. In 2020, a hunter shot a 455-inch trophy bull in Pennsylvania. The animal is likely the largest elk ever harvested in the Keystone State. The hunter, Duane Kramer, a concrete contractor from Bellingham, Washington, has been chasing big game for over three decades.
"I killed my first whitetail when I was 11," Kramer says. "As an adult, I have entered draws and raffles to hunt for different species in different states. I really love to elk hunt and have killed animals in Alaska, Colorado, and Nevada. I've also hunted them in Wyoming, Montana, New Mexico, Washington State, and Kentucky. Up until last year, my personal best was a 390 gross score bull that I killed in Nevada in 2017." That would soon change after Kramer's name was drawn from a raffle sponsored by the Keystone Elk Country Alliance, a 501 (c)-3 nonprofit conservation organization.
Pennsylvania is Well-Known for its Trophy Bulls
"I wanted to hunt in Pennsylvania because I knew they had big elk," says Kramer. "Most of my hunting is Western DIY, but the raffle included an outfitter and taxidermy. Pennsylvania has a tremendous amount of public land, and the state has done an excellent job managing it for hunting."
Kramer elected to hunt with Elk Country Outfitters north of Altoona. "I live at sea level, so I arrived early to get acclimated to the mountainous terrain," he says. "My guide had been following the herd that contained that big bull for months. They were about 10 to 12 miles away during the summer and came to the mountains for the rut.
"I had seen several bulls that were bigger than my 390 best, but this bull was enormous. I saw him on the second day, and when he came in he was 18 yards away. I held off because I was shooting a 7mm Dakota with a 180-grain Berger bullet and that wouldn't have been an ethical shot. I wish I had my bow."
Kramer got his shot a few days later. "We followed the herd for a few days and would get on them and then lose them, then get back on them, and so forth," he says. "Sometimes we'd see the bull along the river, other times he'd be on private land, but we just never got the right opportunity. But then we heard a bugle high up on the ridge. I ran uphill about 200-yards, and I jumped a cow that ran downhill. A few moments later the bull came out on the trail and he was 70 yards away. He started grazing, but his vitals were blocked by a tree. I waited until he was finished, and then he turned around and gave me a good shot. I hit him just behind the front shoulder in the lungs.
"After the shot, the bull ran straight toward us and then turned and ran uphill. I found him at the top. Over the years I've seen a lot of hunts go awry, but this one came together which makes it very rewarding."
Read Next: The 10 Biggest World Record Elk
Kramer has served on the board of directors of his local SCI and Boone and Crockett Club and knows he will have to wait a little longer for certification. A panel of judges will review his animal at the 31st Big Game Awards scheduled for July 21, 2022 to be held at Johnny Morris' Wonders of Wildlife Museum and Aquarium.
Sours: https://www.fieldandstream.com/hunting/pennsylvania-elk-record/
Similar news:
Elk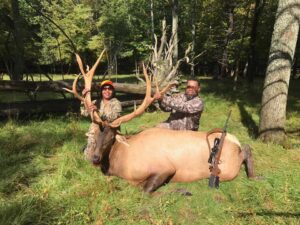 Are you interested in guided trophy elk hunts and big game hunting in Pennsylvania? If so, at Tioga Ranch in Pennsylvania, you can hunt Elk from late August through the middle of March. Most Elk hunts at Tioga take place between the middle of September and the middle of November, so booking an elk hunt for fall is ideal. If you're looking for affordable guided Elk hunts, Tioga Ranch is the place to be. From trophy Elk to cow Elk for great meat, Tioga Ranch in Tioga, PA, is the ideal place to hunt Elk.
Why Hunters Love Guided Elk Hunts
Why do people hunt Elk? A survey was taken, asking thousands of hunters that question. Some of the top motivations included "being outdoors," "seeing an elk in a natural setting," "being close to nature," "viewing the scenery" and "being with friends." Meanwhile, Elk hunting was also a good way to spend time with family as well as a way to "put delicious meat on the table."
For some, Elk hunting is special because they want to put a set of big antlers on their wall. Others want to fill their freezers with Elk meat that is devoid of GMOs, hormones and antibiotics, and is grass fed and free ranging!
What about the love of hunting in general? For some, "I hunt because that is who I am," explains it all. In pursuit of furred or feathered, hooves or fins, hunters enjoy the pursuit, the stalking, the butchering, the grilling and the eating of animals they catch. Hunting elk is an unforgettable experience.
Elk Hunting is a Real Challenge
Elk hunting isn't easy and it's not something most hunters would do alone. To have a guide proves invaluable. At Tioga Ranch, guided Elk hunts become a shared experience. Guides are experts who know where to look for Elk. They know the herd and they know how to successfully kill a bull or a cow… therefore, an amateur or intermediate hunter benefits from their guide's knowledge and expertise. After all, their guide knows the lay of the land and is there to facilitate a successful hunt. And the camaraderie? Well that's part of the whole experience, too. It's good to meet others who share the love of the hunt and can talk about all the insider stuff non-hunters don't know about!
We Offer Affordable Guided Elk Hunts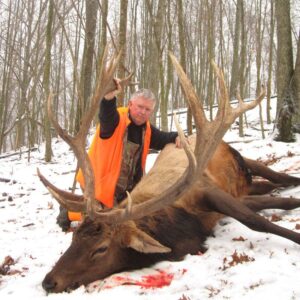 Tioga Ranch believes in offering affordable guided Elk hunts. Whether you're looking to find young management bulls or trophy Elk bulls over 400 inches, our 1-2 day length fully guided hunts give you a great experience that's well worth your time and money. Since we have a private ranch, no license is required! Meanwhile, our hunts can include one night's lodging, as well as meals, skinning and quartering– and because this is our business and we do these hunts often, we're able to pass on savings to you, the customer. Want to have your meat processed into steaks, chops, roasts, spare ribs, or ground meat, and have it all vacuum sealed? We'll take care of that messy process for you in a quick, efficient and convenient way for an additional $350.
Ultimately, the price for an Elk hunt is determined by the trophy quality of the bull and/or the size and sex of the Elk. Before you pull the trigger, your guide will tell you the Elk's size so you know exactly how much you'd pay to kill that particular animal at Tioga Ranch. Cows can be had for $3,000 and bulls range from $6,500 to $12,500– or more if the bull is larger than 430".
Prices for Elk Hunts at Tioga Ranch
Speaking of price, what are the various price points for Elk hunts at Tioga Ranch? In general, pricing is as follows:
| | |
| --- | --- |
| up to 330″ | $6500.00 |
| 330-370″ | $7500.00 |
| 370-400″ | $9500.00 |
| 400-430″ | $12,500.00 |
| 430″ and larger | Call for pricing |
| Cow's | $4000.00 |
Things to Bring With You For a Guided Elk Hunt
If you were to go on a hunt for Elk by yourself, once you shot and killed it, how would you handle it? A guided hunt is so helpful because you've got other people around you to help field-dress it, quarter it, and then carry, drag, push, pull and/or pack that carcass off to a cooler environment. When a cow weighs 450 pounds or a bull weighs 800 pounds, isn't it good to know you've got help to deal with those big bodies, full of meat?
When going on an Elk hunt, depending on where you are and how long you'll be away from civilization, you might need a list of items with you in order to have a decent, safe time. For instance, many hunters carry with them a first aid kit, as well as a water bottle, thermos, knife, folding saw, and… a camera! Sunscreen and insect repellent are helpful.
Hunting gear can include a small daypack, a compass, an altimeter, bright tape to mark trails, a rifle or bow, ammunition/arrows, tags/licenses, binoculars, and maps.
Food-wise, hunters tend to bring instant coffee, trail snacks like jerky or granola, pork and beans/eggs, fresh fruit, instant hot cereal, and/or whatever they think they'd like and need on the hunt. Guided hunts typically help figure out the food situation, which can be quite helpful so hunters can concentrate on the hunt rather than worrying about supplies. Tioga's guided hunts include meals!
Clothing-wise, hunters should bring with them rain gear, thermal underwear, fleece, extra socks and gloves, a warm stocking hat, a brimmed hat and camouflage clothing and accessories.
Did You Know Cow Elk Hunts Provide Great Meat?
Female Elk are called cows. Hunters historically have hunted cows for population control. Wildlife agencies have, in the past, issued tags to encourage the hunter harvest of cows in order to "cull the herd." By eliminating some cows, hunters are actually helping make for a younger, more vigorous, resistant-to-disease herd. Indeed, more and more bulls survive the winters, the pregnancy rate in cows improves with fewer late calves, and the overall herd is better off, health-wise.
Why hunt cows instead of bulls for Elk meat? Well, as food for humans to eat, cows and calves offer "better" meat than bulls. Meanwhile, a typical cow provides 120 to 180 pounds of edible meat. When you think about that number, it really is amazing– that's a lot of dinners full of protein-rich meat, right? And think about this: you can't eat antlers! That's a good point– the bull's antlers aren't something you'd end up putting on your table to try and eat next Thanksgiving.
If you're looking for a meat that's very healthy and still tastes great, Elk meat is a great choice. It's naturally low in fat, low in cholesterol and high in protein. It's a dark red, dense meat that's very tender and doesn't need marinating. Taste-wise, it's similar to beef, but with a little more flavor. In fact, Elk meat can be substituted for beef in most recipes (with some changes). The American Heart Association deemed it "The Heart Smart Red Meat" and some people have called it "The Better Beef."
For those hunters who want to help feed their families, a guided Elk cow hunt at Tioga Ranch is ideal.
Make reservations for your guided elk hunt today!
Sours: https://www.tiogaboarhunting.com/hunts/elk/
4780
4781
4782
4783
4784