Triton Electric Power Pool Lift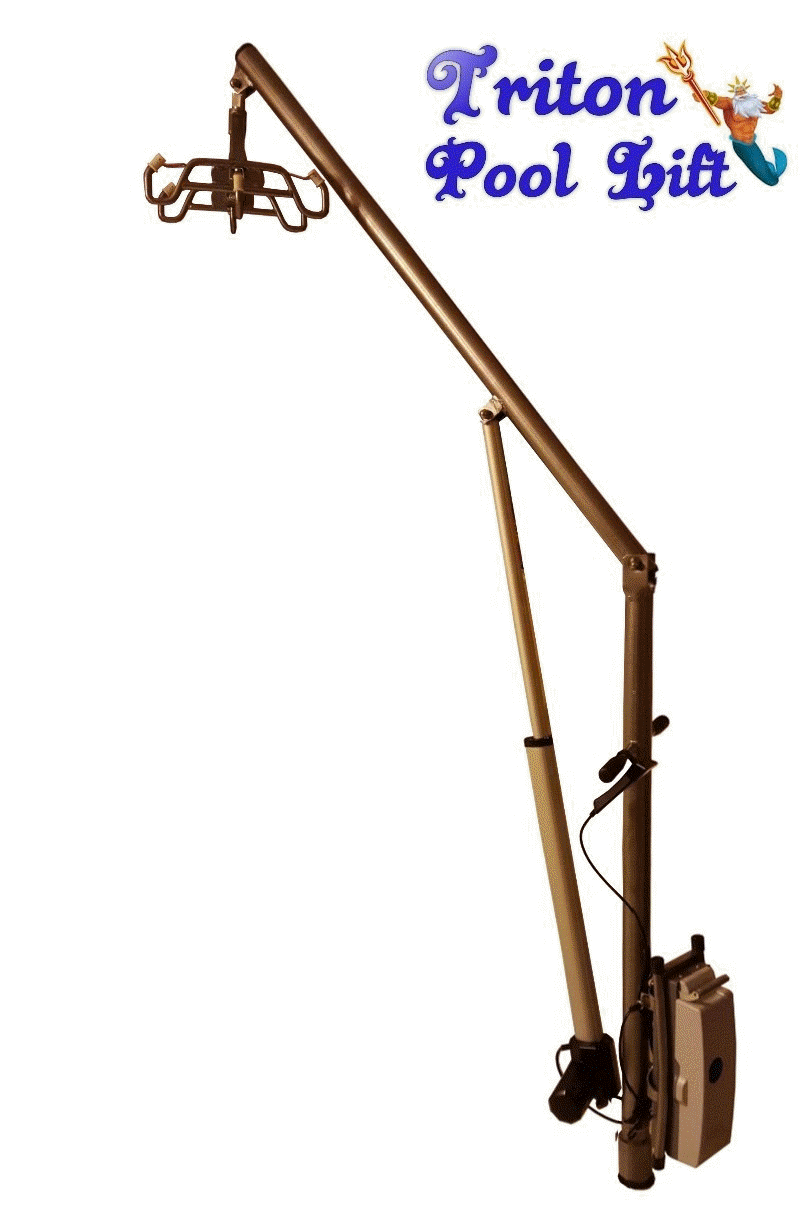 Patient Pool Lift

The Triton Power Pool Lift Is The Worlds Only Pool Lift With A Full Eight Feet Of Travel Making It A Multi Applications Lift That Is Used For Above Ground And In Ground Pools, Spas, Hot Tubs, Bath Tubs, Boats And Many Other Applications Such As A Lift Transfer From Wheelchair To Bed. The Triton Is Made Of The Highest Quality Stainless Steel At All Critical Points And Galvanized Steel With A Poly-Bond Finish At All Non Critical Points. Therefore The Triton Will Never Rust Or Corrode. Every Triton Lift Is Tested At 400 Pounds. With the Triton Weighing Only 61 Pounds It Is Easily Transported From Station To Station Or Anchor To Anchor. For Example If You Had A Pool, A Spa And A Standard Bath Tub You Could Install An Anchor At Each Location, Then Move The Triton From One Station To The Other. The Triton Patient Pool Lift Is Made Of The Absolute Best Material Available Providing The Customer With The Highest Quality Product At The Lowest Prices Possible. One Concrete Anchor Is Provide At No Charge With The Purchase Of The Triton And Is Normally All That Is Ever Needed For Basic Installations. The Triton Has Been Load Certified With Seismic Calculations. Certified Documentation Supporting Load Limits and Seismic Zone 4 Installation Capability Available.



The Triton Patient Pool Lift Works Great For The Following Applications.

1) In-ground Pool
2) Above Ground Pool
3) Half Sunk Pool
4) All Spas In-ground & Above Ground
5) Bath Tubs In Home & Institutional
6) Hot Tubs & Jacuzzi's
7) Patient Boat Lift. Transfer From Dock To A Boat.
8) Patient Lift Used To Get A Person In And Out Of Bed.

* View photos below showing the Triton used in many different applications.

* The Triton Comes With A Limited Life Time Guarantee.

* The Only Aquatic Lift With A Six Point Carry Bar & 24ah Batteries That Will Make Over 100 Lifts Up & Down On A Single Charge.

The Triton Battery Power Pool Lift comes standard with a 6 point carry bar verses a two point carry bar found on all other lifts.

The 6 point carry bar not only gives you far greater support it adds comfort for the person being transferred as well as making it easier for the assistant transferring them.
This installation utilizes the concrete anchor that is included with the purchase of each Triton. We do offer a surface mount anchor sold separately that is best for wooden decks. (see more information below)
The Triton is the only truly a hybrid pool loft allowing it accommodate both a in ground and above ground pool or Jacuzzi.

The seat shown to the left is a optional upgrade. The armrest fold down completely out of the way on both sides. Each and every lift comes standard with a hammock mesh sling shown in other photos.

Product #: 47TRI41



The Triton Power Pool Lift is simple and easy to install in existing homes or buildings as well as new construction. The Triton can be used indoors and outdoors. Also the Triton will accommodate any application, above ground or in ground pools as well as above ground or in ground Jacuzzi & spas.

Using the Triton Patient Pool Lift is even easier. With the simple push of a button you can lower and raise the lift with a travel of eight feet. This lowers and raises the occupant into and out of the water. Each and every Triton is fully load tested while rotating 360 Degrees, insuring that the Triton will be easy to operate. The ease of rotation is due to the Tritons unique anchor & sleeve system that makes the Triton nearly frictionless.

The Triton comes standard with a second battery pack FREE. Both are a full 24ah. This allows you to be charging one battery and using the other, giving you piece of mind knowing that you will always have power for your Triton Power Lift.

Charge the batteries anywhere. With the Triton Power Pool & Spa Lift their is no need to use extension cords to supply power to the location of the lift. The Triton batteries simply lift off and can be taken to any location for charging. Just one of the Triton batteries will provide as many as one hundred lifts in and out of a pool or spa on a single charge.



| | |
| --- | --- |
| | The Triton comes standard with a quick dry soft mesh sling, however the Triton also offers a Hard Shell Seat Option. This option is perfect for people that can stand and pivot then sit into the seat allowing the Triton to lift them in & out of the pool. This option is only recommended for pools, not Hot Tubs or Spas. The soft mesh quick dry sling is used for people with extremely low to no mobility at all for example a quadriplegic. |

Optional Polairis Plus

The Polairis Plus is now available when ordering your Triton. The Polais is a unique ridged sling allowing a person to be lifted in a seated position without a cloth sling under them. Some people prefer this to a conventional cloth sling.

All New High Performance Stainless Steel Actuator, Providing Quicker Transfers And More Freedom With The Two Waterproof Wireless Transmitters.

The New High Performance Actuator Utilizes A Controller And Printed Circuit Board That Incorporates Two New Wireless Keychain Remotes In Addition To Its Standard Tethered Or Wired Remote.
| | |
| --- | --- |
| | The Stainless Steel Concrete Anchor Is Designed With A Nylon Wear Sleeve That Allows For A Smooth 360 Degree Rotation. One Stainless Steel Concrete Anchor Is Included Free And Is The Only Anchor Required To Install And Use The Triton Power Pool Lift. Additional Anchors May Be Purchased Allowing You To Move The Triton From One Location To Another. For Example If You Had Both A Pool And A JacuzziYou Could Get A Second Anchor And Move The Lift From Pool To Jacuzzi Allowing You To Use One Lift For Both Your Pool And Jacuzzi. |

The Drawing To The Right Gives You The Dimensions Of The Concrete Anchor. It Is (8.97 Inch Deep) (2.99 Inch's Wide At The Bottom) And (3.5 Inch's Wide At The Top.) It Is Recommended That This Anchor Be Installed By Drilling A Whole In Existing Concrete That Is 3.5 Inch's In Diameter And Filling Void With Hydraulic Cement.

Product Weight:
61 lbs.
Shipping Dimensions (box 1):
62"/ 17.75"/ 5.25"
Ship Method (s):
Ground, Next Day, 2 Day, 3 Day
Product Weight Capacity:
400 lbs.
Mounting Style
Cement-in Sleeve/Surface Mount
Mast Height
Cement-In Sleeve: 51 in.
Surface Mount: 61 in.
Range of Boom
Cement-In Sleeve: 86.25 in.
Surface Mount: 96 in
Sling Seat Height
74" Inches High To
Negative -34" Inches (Note: Below deck with lanyards)
Boom Length
54 in.
Finish
Stainless Steel and Extremely Durable With Epoxy Quality Finish.
Battery
24 Volt SLA / 24ah
Made Of
Stainless Steel & Galvanized Steel

| | |
| --- | --- |
| | The Triton Patient Pool Lift is extremely easy to use. With the simple push of a button you can lift a person in or out of a Pool, Spa, Tub, Bed or even a Boat. |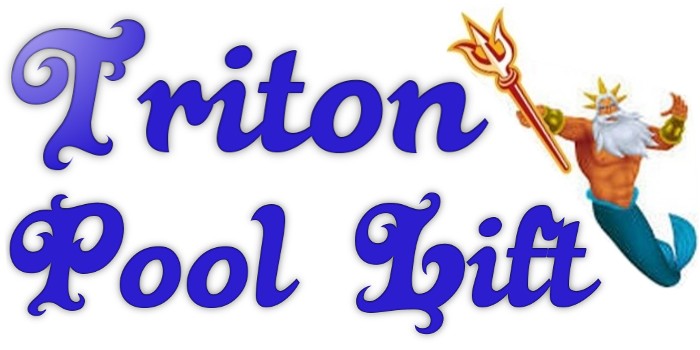 The Triton Pool & Spa Lift

Sours: https://www.discovermymobility.com/store/patient-lifts/summit/triton-pool-lift/index.html
The Triton Lift Manual - Planet Mobility
TheTritonLiftManual
---
World Wide Seating Inc. 15002 Technology Dr. Shelby Twp. Mi. 48315 (866) 601-7324 Fax: (586) 532-8279 http://www.worldwideseating.com
---
The parts list above is a complete list of all parts used to build the Triton. All parts are readily available

however normally 'Not' needed.

Hanger Assembly: TheTriton offers a standard 2 Point Carry Bar.

Surface Mount: The surface mount is designed strictly for wood surface such as a patio, deck, or a wood

floor. Note: It is very important to be sure you drive the lag bolts directly in the CENTER of the Floor Joist.

It is very important that you load sets each lift lifting at least 400 lbs to be sure that there is no weak points to

your installation.

World Wide Seating Inc. 15002 Technology Dr. Shelby Twp. Mi. 48315 (866) 601-7324 Fax: (586) 532-8279 http://www.worldwideseating.com
---
Pool Deck Worksheet: This worksheet is not a requirement to order. This worksheet can be

used as a helpful guideline to demonstrate the placement of your anchor in relation to the pool

wall. This worksheet can also be used to determine anchor placement with an above ground

Jacuzzi, Hot tub or Pool.

Tech Support: Technical support is available to answer any questions you may have regarding

the Triton and or the installation of the Triton at (866) 465-4387 or email

World Wide Seating Inc. 15002 Technology Dr. Shelby Twp. Mi. 48315 (866) 601-7324 Fax: (586) 532-8279 http://www.worldwideseating.com
---
Installing The Anchor:

Concrete: There are two separate ways to installing the Triton concrete anchor. First you may drill a

hole in the deck of the pool 3.25" inches as shown above. This application would then allow you to simply slide

the

Anchor right into the hole you have drilled.

Wood Surface Mount: This application is used with wood floors. This installation requires this anchor

to be bolted to the floor joist under the floor.

World Wide Seating Inc. 15002 Technology Dr. Shelby Twp. Mi. 48315 (866) 601-7324 Fax: (586) 532-8279 http://www.worldwideseating.com
You have already flagged this document.
Thank you, for helping us keep this platform clean.
The editors will have a look at it as soon as possible.
Are you sure you want to delete your template?
Magazine: The Triton Lift Manual - Planet Mobility
Sours: https://www.yumpu.com/en/document/view/37647335/the-triton-lift-manual-planet-mobility
1 TRITON POWER POOL LIFT Installation, Assembly and Operation Instructions 00 LBS [8 kg] MAXIMUM LIFTING CAPACITY MANDATORY ± LEAVE THIS MANUAL WITH LIFT OWNER - WARNING- IMPORTANT SAFETY INSTRUCTIONS. READ AND FOLLOW ALL INSTRUCTIONS. LIFT SAFETY CAN ONLY BE ENSURED IF THE LIFT IS INSTALLED AND OPERATED PROPERLY ± ACCORDING TO THESE INSTRUCTIONS.. TO REDUCE THE RISK OF INJURY, DO NOT PERMIT CHILDREN TO USE THIS PRODUCT UNLESS THEY ARE CLOSELY SUPERVISED AT ALL TIMES. 3. DO NOT PERMIT CHILDREN TO PLAY ON OR AROUND THIS PRODUCT.. NEVER APPLY DIRECT WATER PRESSURE TO THE ELECTRONIC COMPONENTS. 5. SAVE A COPY OF THESE INSTRUCTIONS IN A SAFE AND EASILY ACCESSIBLE PLACE. World Wide Products // Page of 7 World Wide 003-0
2 TABLE OF CONTENTS Triton Power Pool Lift Parts List 3 Retro-fit anchor Installation Instructions New construction anchor installation instructions 6 Triton Power Pool Lift TM Assembly Instructions 7 Triton Power Pool Lift TM Operating Instructions 9 -volt battery and charger installation and operation Triton Power Pool Lift TM trouble shooting guide Safety, cleaning and maintenance 5 Triton Power Pool Lift TM Detailed Parts List 6 Warranty 7 // Page of 7 World Wide Products 003-0
3 TR RITON N POW WER POOL P L LIFT T - REA AD CAREF FULLYCheck entire e box and inside all packag ging materialss for parts. Be efore beginnin ng assembly, read the instructiions and iden ntify parts usin ng the figures and parts lists in this docu ument. It is crritical that all parts s be carefully inspected i by the installer prior p to installlation to ensu ure that no dam mage occurred in trransit and tha at a damaged d part is not ussed. If any da amage occurrred in transit or o you are missin ng parts, notiffy World Wide e Products Im mmediately! Fa ailure to notifyy Aqua Creekk of damaged orr missing partss within 3 dayys of receipt of o shipment may m affect you ur ability to receive replacemen nt parts. Prope er installation cannot be ovverstressed ± improper insstallations willl void the e warranty and may affect the safety of the user. The Triton T will arrive parttially assem mbled in multiple m boxxes. Begin by removin ng all parts from the bo oxes and lo ocating the parts for yo our lift in the parts listss below. Re efer to arts breakd down drawin ngs in the back b of thiss manual for assistance. the pa PART TS LIST ( (ANCHOR INCLUDED D) TY. DESCRIPTION POWER EZ Z BOOM-ARM & MAST (PARTIIAL ASSEMBLY Y) ANCHOR (IF ( ORDERED WITH LIFT) BOX ³% CONTENTS C S ((ANCHOR INCLUDED D) TY D DESCRIPTIO ON V CONT TROL BOX V BATT TERY CHARGE ER 3 HARDWAR RE BAG HANDSET CONTROL 5 V BATTE ERY 6 SLING 7 Point Carrry Bar 8 HANGER 9 SLING BAR RS 0 LINEAR AC CTUATOR TURN-BAR R HARDWA ARE BAG TY D DESCRIPTIO ON ; -3/ 6 6 +(; %/7 6 6 </& & )/$7 :$ $6+(5 #0- ± 6 6 %877 +($' + /// Page 3 of o 7 World Wide W Products 003-0
4 TRITON POWER POOL LIFT ANCHOR INSTALLATION NOTE: The Triton Power Lift that is installed into a concrete deck. Anchor options include a surface mount anchor and a wood deck anchor system both purchased separately. The Power Triton anchor system can be installed in an existing pool deck (Retro-fit installation) or when pouring a new concrete pool deck (New construction installation) ). If the anchor has already been installed you can move on to the assembly section of this manual thatt is appropriate to the lift you purchased. TRITON POWER POOL LIFT TM RETRO- -FIT ANCHOR INSTALLATION NOTE: All Lifts Must Be Weight Test After Installation Prior To Use. Inspect Lift Every 6 Months As Well As Deck And Anchor. Do Not Use Any Alternative Lift With Installed Anchor REQUIRED TOOLS (Core Drilling Method) Tape Measure Core Drill [0 cm] Core Drill Bit Electrical tape -part Epoxy or Hydraulic Cement Small Carpenters Level Felt Tip Marking Pen Vacuum or compressed air source : Determine the best location for the lift. Be sure to mount the lift at a location that is [ cm] from deck level to the bottom of the pool. Make sure the location includes enough clear deck space to easily transfer into the lift seat. Keep in mind this lift will require assistance from another person to operate and you should locate it in an areaa that can accommodate another person. The lift should also be located so as to provide at least [.8 m] of unobstructed deck to each side of the lift to accommodate easy maneuvering of the lift over the water and back. CONCRETE ANCHOR : SOCKET Locate the concrete anchor socket that came with your lift. Be careful to not lose the protective cap on the anchor. This willl be used to keep dirt and debris out of the socket when the lift is not installed in the anchor. 3: The setback to the center of the anchor must be no less WKDQ [30.5 cm] and [5 cm] from the pool wall. The anchor location must also be DW OHDVW [5 cm] from any control joint or edge of concrete slab. Measure the location out using your tape measure and marking pen. (Reference the drawing on the next page for details). // / World Wide Products Page of 7
5
Sours: https://businessdocbox.com/91693573-Construction/Triton-power-pool-lift.html
Lingering a little in the hole under the knee, I began to climb higher on the sofa. It was here that the first surprise awaited me. I even had to lift the blanket slightly to examine the clothes she slept in. She usually slept in underpants and a T-shirt, but now she was wearing some kind of shorts made of soft knitted fabric.
Pool lift parts triton
A mid-level manager, with high-quality brains, high-quality sexual function, no family, no children, no social obligations. This is how I meet my fortieth birthday. I stick my tongue out at the reflection in the mirror, then wink and pee in the toilet. The day promises to be bright.
DELFIN bazénový zvedák / DOLPHIN pool lift
And all of you: shove in vain, shove in vain. - Ira was pleased with her entrepreneurial spirit. Okay, okay. Pash, go ahead and tell me.
You will also like:
Step. The cave he walked through was as dark as Malacath's ass. Yesterday he was left alone, his last companion - a small and unpleasant empire with a funny elven name Anuril, unsuccessfully jumped off the ledge right onto the.
4779
4780
4781
4782
4783