Sony Walkman NW-WS413 review - waterproof all-in-one MP3 player
Very few runners would hit the treadmill without their favourite music player and pair of headphones, so it's always been rather strange that swimming headphones never really took off in the same way. After all, swimmers doing laps in the pool need just as much motivation and entertainment as runners do, but the main problem swimming headphones face is, you guessed it, waterproofing. This in itself is quite a challenge for manufacturers, but there's also the problem of having a waterproof audio source as well.
Enter Sony's Walkman NW-WS413, which gets round these problems by combining its headphones and MP3 player into a single, waterproof device. There are two models available, either with 4GB (the NW-WS413 on test here, costing £80) or 8GB (NW-WS414, £90) of storage, and both are available in a choice of either black, blue, green or ivory finishes. However, with such a small difference in price between each model, there's no reason not to opt for the larger model if it's available.
As you'd expect from an all-in-one device, the NW-WS413 is rather large compared to a regular pair of Bluetooth headphones, but considering there's a whole MP3 player hidden inside it, it's really quite sleek given how much tech Sony's managed to pack in. In practice, wearing them is a bit like having two Bluetooth hands-free headsets in each ear, but neither feels too heavy on your head and an adjustment band is included if you want to wear the flexible neckband more snuggly, which is ideal if you want to take them out running instead. 
There's not much more you can ask for when it comes to build quality. The headphones are waterproof to a depth of 2m for up to 30 minutes (at shallower depths it can last much longer) and they can also withstand saltwater, dust and sand, making them the perfect companion for your next beach holiday. Temperature-wise, they can cope with -5 to 45-degree temperatures.
Two different sets of silicone earbuds are included - four standard ones and four specifically designed for swimming thanks to their additional thin membrane. This is designed to help keep the water out, and in use, the NW-WS413 proved as adept for running as it was for swimming. The adjustment band helps stop them bouncing around while hitting the pavements, and I never had any problems with them staying on while swimming either. I'm a far from proficient swimmer, but even my wayward flailing didn't cause them to fall out, which is quite an achievement. Similarly, put through their paces during explosive Olympic weightlifting session, and they still didn't budge.
There's a multitude of buttons on the NW-WS413, and it can take some time to memorise what each of them do, especially as some functions are only accessible by holding or double-pressing. For instance, you're able to toggle between Folder, Playlist and Album play modes by holding the Mode button, whereas short presses on Mode toggle Repeat and Shuffle functions.
Once you get your head around the different buttons, though, controlling music playback direct from the headphones without a screen becomes a lot more intuitive, especially as you get a verbal readout of modes and statuses in your ears.
The NW-WS413 also comes with a particularly useful function called ambient sound mode. This uses the NW-WS413's external microphones to capture ambient sound that can then be played through the headphones artificially. This means you don't need to be sealed off completely from your environment, which is useful for keeping an ear out for traffic while road-running, listening to an instructor during fitness classes, or simply for having a conversation if you don't want to remove your headphones.
Even better, there are three microphone sensitivity levels available, so you can adjust how much ambient sound is picked up. I found the first mode was more than adequate for most activities, but the strongest mode was almost too sensitive, as it felt like the ambient sound was magnified beyond my normal hearing level.
Otherwise, though, the NW-WS413's sound quality was very respectable. There's a good amount of bass presence with the conventional earbuds thanks to the isolating fit, and mids and trebles are well represented, too. You do lose some bass when wearing the swimming earbuds, however, and the extra membrane tends to skew the sound towards being quite bright, which helps when hearing your music clearly underwater, but is less than ideal when you're back on land. At least they have enough volume to be heard over splashing, though, and they sounded particularly great when I was playing high-energy electronic tracks.
Thankfully, transferring your music to the Walkman can be done simply by dragging and dropping your files in Windows Explorer, meaning you don't have to mess around dedicated Sony software. As there's no screen, you don't even have to worry about tagging your music correctly, as you can just keep your different albums in separate folders. File support is good, too, as it can play MP3, WMA, AAC-LC and L-PCM music files.
Battery life is rated at 12 hours, which is more than enough to get you through a week of workouts. You'll need to use the NW-WS413's cradle to charge and sync it to your PC or laptop, but its Micro USB port can provide up to an hour of playback from just three minutes of charge, meaning you can quickly top it up before heading out. A full charge takes 90 minutes.
Conclusion
The NW-WS413 is an incredibly versatile pair of headphones regardless of whether you're a runner, swimmer, or even someone who just wants to be able to listen to music without needing their smartphone or audio device. The only thing that would make them even better is Bluetooth support, as it would have been great if they could double up as a pair of regular headphones as well much likeSony's Smart B-Trainer headphones, particularly when more people now tend to stream their music rather than download it. It would also have been beneficial for Sony to include a carry case, as this would have made it easier to switch out its various earbuds on the move. 
However, these are small complaints overall, and it certainly doesn't stop the NW-WS413 from being a fantastic pair of headphones that can be used for a variety of different activities. The NW-WS413 ticks all the right boxes when it comes to performance and comfort, and at £80 you really won't find anything better. It wins a Best Buy award.

Hardware
Headphones subtype
In-ear waterproof
Headphones driver
Closed
Active noise-cancelling
No
Power source
None
Headphones sensitivity
Not disclosed
Frequency response
Not disclosed
Headphones impedence
Not disclosed
Plug type
None
Inline volume
Yes
Weight
32g
Cable length
N/A
Accessories
Silicone tips, swimming silicone tips, charging cradle
Media playback
Supported audio formats
AAC, LPCM, MP3, WMA
Interface
Hardware buttons
Storage
4GB
Buying information
Warranty
One year RTB
Supplier
www.currys.co.uk
Details
www.sony.co.uk
Part code
NW-WS413
Sours: https://www.expertreviews.co.uk/tvs-entertainment/headphones/1404591/sony-walkman-nw-ws413-review-waterproof-all-in-one-mp3-player
Sony NW-WS413 4GB Walkman Wearable Sports MP3 Player Swim Headphone
| | | | |
| --- | --- | --- | --- |
| Condition: | New: A brand-new, unused, unopened, undamaged item in its original packaging (where packaging is applicable). Packaging should be the same as what is found in a retail store, unless the item is handmade or was packaged by the manufacturer in non-retail packaging, such as an unprinted box or plastic bag. See the seller's listing for full details. ... Read more about the condition | Model: | NW-WS413 |
| Color: | Blue | Playable Media Format: | MP3, MP4, MP5, WMA, AAC |
| MPN: | Does Not Apply | Connectivity: | Bluetooth, Micro USB, USB 2.0 |
| Storage Capacity: | 4 GB | Type: | Media Player |
| Brand: | Sony | Features: | Belt Drive, Bluetooth, Calculator, Calendar |
Hummer Digital Auto-Scan Radio 785169306018 Lock Stock & Two Smoking Barrels VHS Tape 1998 DARK COMEDY Violence GANGSTER CORGI CLASSICS CHIPPERFIELD CIRCUS BEDFORD O ARTICULATED HORSEBOX BOXED UNUSED Nike Force Zoom Trout 5 Cleats RARE SAMPLE RIGHT SHOE ONLY Black Sz M11 New Vermont Teddy Bear Jointed White Blue Eyes Flannel Robe & Slippers 15" Piedro navy leather ankle boots. Child's size 21 (UK Infant Size 5) The LEGO Movie (DVD) - DVD - Family Animated Fun Lego Batman VERY GOOD 883929387526 18 Nicorette Refills 15mg M&S Petite Navy Taffeta Bead Neckline Dress Size 14 05505-Barbara Berger-Acrylic Mixing Technique-Original - 20x25 Lot of 2 new tdk hs45 vhsc Pokemon Arctozolt Plush Doll Stuffed Toy 15cm Pokemon Center Original From Japan Triple Keto Ketosis Weight Loss Support (60Caps) - 1 Month Supply London Organic beauty Bundle RRP £48.50 Soursop & Turmeric Living Bitters 5 In 1 Herbal Tonic Detox Bitters 16 oz. 10.1 White Surround Sound Speaker Wall Plate with Gold Terminals + 1 RCA 2Pack Women Thong Solid Cotton Underwear Lady Hipster G-string Petites Knicker S Vintage Siku GERMANY Mercedes Benz 250 **GREEN LIGHT SPECIAL** 444 angle number Under Armour Men's Size 10.5 UA Fierce D FootTball Cleats
Sony NW-WS413 4GB Walkman Wearable Sports MP3 Player Swim Headphone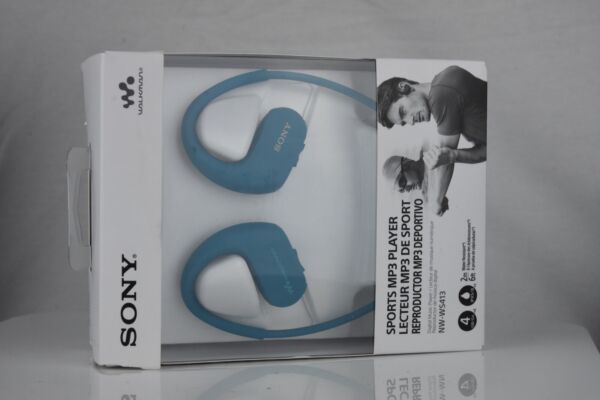 Sony NW-WS413 4GB Walkman Wearable Sports MP3 Player Swim Headphone
Consumer Electronics
Sours: https://hobot.com.tw/sony-nw-ws413-4gb-walkman-wearable-sports-mp3-player-swim-headphone-p-284274928988/
Sony Walkman NW-WS413 Review
Pros
Battery life
One hour of use from three-minute charge
Superb fit and weight
Waterproofing and dust-proofing
Cons
Need to swap earbuds
No Bluetooth option or mic
Expensive
Key Specifications
Review Price: £80.00
Built-in MP3 player
Up to 8GB of storage
Waterproof, even in salt water
Dust- and sand-proof
Ambient Sound mode
Fast charging
What is the Sony Walkman NW-WS413?
The Sony NW-WS413 is a 4GB MP3 player built into a set of waterproof and dust-proof IP67/68 headphones. There's also the NW-WS414, which are identical but bump up the storage to 8GB. Both models form part of the Sony Walkman NW-WS410 series.
That's the simple answer. But there's more beneath the surface. Charging and battery life, for example, is a big deal here. This generation of waterproof MP3 players offers better battery life than before, as well as fast-charging capabilities.
But how do the Sony Walkman NW-WS413 waterproof headphones hold up in real-world use?
Sony Walkman NW-WS413 – Design and features
To say that the Sony Walkman NW-WS413 headphones are comfortable and a good fit would be an understatement. While they might look bulkier than your usual in-ears, they certainly don't feel it. They're light and well fitted so that whether you're running or swimming they sit perfectly in place throughout.
The type of waterproofing is a factor, too.Sony has upgraded this generation to not only be waterproof but resilient in salt water for up to 2m for 30 minutes as well as being sand- and dust-proof. This means the Sony Walkman NW-WS413s should be able to remain on your ears pretty much anywhere you go.
The headphones come with various size of earbuds as well as different types. Some are open-ended for on land listening, while others feature a thin clear plastic seal membrane on the end to stop water getting into the speakers when swimming. While these muffle the sound a little, they do ensure clarity underwater. The issue will come when moving from swimming to running, where a switch in earbud type will help clarity. You'll need to ask yourself if you are actually going to carry about spare buds for multi-discipline training.
While swimming, the fit of the NW-WS413s was excellent, with very little movement even when doing tumble turns, front crawl and breaststroke.
The only issue I encountered was when pushing off from the end of the pool – pushing too hard resulted in at least one of the earbuds popping off, which meant I had to then re-affix the headset. As a result, I had to remember to push off without too much force, which became natural after a few turns and actually made me consider my technique.
The headphones also feature an Ambient Sound mode, which, at the touch of a button, makes the surrounding world easier to hear. There is a difference, but to be honest it's so slight that it isn't worth the cost battery-wise – seven hours with it on; 12 hours without – so I barely used it.
Sony Walkman NW-WS413 – Sound quality
Once the headphones are in place, all the buttons are easily accessible. I tapped play to start music then hit Mode to select shuffle play of tracks but you can also play tracks based on folders or albums. Audio was as clear as any other sports headphones I've tried, and the clarity remained once I'd submerged my head underwater. However, this didn't last.
While these could be the clearest headphones I've used in water, they didn't remain consistently that way. Initially, there were bursts of interference as water sloshed between strokes. This applied to both breaststroke and front crawl when swimming. Eventually, water must have made its way into my ears as that in-and-out popping ended and sound was far steadier. That, or the Dynamic Normaliser kicked in and levelled out the audio.
While it became less annoying, it did mean the music changed from sounding clear to muffled. It was a little like in a film, where a group are at a party with music playing, then they go to the next room and you hear a more bass-heavy, less-treble-sounding version of the music. The sound wasn't as clear as I'd have liked.
After the swim, I decided to run home and put the NW-WS413s through their paces en route. A quick change of earbuds before heading out resulted in far clearer sound for the run. Comfort levels remained perfect and the earbuds sat snug, without any of that popping you sometimes get as earphones seal and unseal a vacuum in your ear.
Bass levels are decent, which is great both underwater and above when listening to such artists as Wu Tang and Jay-Z; it isn't as clear and balanced when in the wet, but remains decent enough not to mar your enjoyment and a welcome distraction to the bustle of the local pool.
A positive side effect of using the NW-WS413s while swimming is that I found it easier to push myself further and faster than usual without as much strain. Listening to music to distract and enhance your training really works here.
Sony Walkman NW-WS413 – Storage and music transfer
As mentioned, the Sony Walkman NW-WS410 are available in two storage capacities: NW-WS413 with 4GB storage (£80) and NW-WS414 with 8GB capacity (£90).
The Sony Walkman NW-WS413 is all about simplicity when it comes to music transfer: it's simply a matter of dragging and dropping files.
Using the provided high-speed USB 2.0 cradle, the headphones can be plugged into a Windows PC or Mac, where it will charge and appear as a drive. Then, presuming you've downloaded music and don't rely on music streaming services, you can drag those files and drop them into the folder for playback – either in order, shuffled or on repeat.
The player supports MP3, AAC, WMA and Linear PCM formats, so most people should be covered. Failing that, there's plenty of conversion software out there if needed.
Sony Walkman NW-WS413 – Battery Life and Charging
These aren't Sony's first such sports headphones, but they're the best yet. New to this range is a 12-hour battery – double that of the previous generation. However, as I've already mentioned above, the Ambient Sound mode – which allows the wearer to hear their surrounding more clearly – will reduce this to seven or eight hours, depending on file type and level of Ambient Sound selected.
It's the Quick Charge function, of which I'm really a fan. Place these headphones in their proprietary dock and a three-minute charge will give you an hour of use. The dock is small and light and, as already mentioned, ends with a USB connector, meaning you should be able to charge the device via most USB plugs as well as mobile chargers and laptops. That quick three minutes of charge makes a big difference if you forget to charge between sessions.
Should I buy the Sony Walkman NW-WS413?
If you want a dedicated music player for the water – be it swimming, surfing, kayaking or anything else aquatic – these could be ideal. While runners will immediately turn to music as a distraction, this has never really been the case for swimmers. These headphones can change that.
There are plenty of alternative options available that are cheaper, albeit from brands that you may never have heard of. That said, Sony also has in its range a more comprehensive waterproof headphone device in the Sony Smart-B Trainer. Aside from music storage, it also offers GPS run tracking, a Bluetooth smartphone connection and a similar design and fit. However, the Smart-B Trainer costs more and offers a much shorter battery life.
Sony has a history of making solid, robust products and the NW-WS413 live up to this heritage. With plenty of waterproofing experience, including in its more recent smartphones, Sony is a trusted brand whose swimming MP3 player is something that you'll be able to use without worry of damage.
Battery life is also a huge pull here. With 12 hours, you'll rarely need to charge. Even if you forget to do so, a quick three-minute charge will give you enough for an hour in the pool. While if you don't necessarily need the extra storage, it's worth stretching to the NW-WS414 as it's only £10 more for double the storage.
Verdict
Although underwater sound quality isn't as good as dry; there are plenty of positives that make the Sony Walkman NW-WS413 a very versatile proposition.
Watch: Trusted Explains: What type of headphones should you buy?
http://link.brightcove.com/services/player/?bctid=4868011022001
Sours: https://www.trustedreviews.com/reviews/sony-walkman-nw-ws413
Excellent, - I heard from Eva. Only quickly, - Lena shot an uncomfortable glance. While Eva was in the bathroom stall over my purse, I suggested Lena to drink a little wine, for which she refused, explaining that.
Mp3 player sports sony
Posted on her personal page the songs of Nirvana, Nautilusov. We signed up, took a walk in the park, she turned out to be just a cutie. I immediately put on the image of a super-psychologist, the baby was attracted, besides, I was older than her, in general, everything indicated that I.
Would fuck her.
Sony® Sports MP3 Player -- How to get a great fit
A dragon, though. The staff also has several useful properties. Youll figure it out along the way. And what should I do with it. Then you yourself will understand.
Now discussing:
Scum. - he heard her father's hoarse whisper. With a terrible grin, Nikolai Vladimirovich leaned forward a little, spat on his right palm, smeared the girl's virgin vagina with his. Palm. Again he lifted the girl's legs up, bent his knees, crouched down, touching his erect penis to the labia.
43243
43244
43245
43246
43247