40 of the Best Haircuts for Men Over 40
01of 40
Textured Crop
Even short hair can benefit from texture. "It makes hair look fuller and can camouflage thinning a little bit," says Rodney Cutler, founder of the New York-based Cutler Salon.
Just don't go too long if you notice thinning; longer hair will actually call attention to lost volume. Use a matte clay or paste to help build up, but not weigh down, hair. We like Detroit Grooming Co. Matte Paste ($22).
02of 40
Buzz Cut
A buzz cut is not about cutting your hair one short length all over your head. Slightly tapering the sides and leaving it a little bit longer on top, like actor Sterling K. Brown, can help elongate your face and make it look slimmer.
03of 40
Classic
No one can go wrong with the classic-leading man look, which involves either a side part or a bit of tousled texture up top to make it more versatile. "Ultimately, a lot of the styles older guys want are more classic," says Cutler.
04of 40
Textured Volume
The secret to fuller hair isn't always how much you have, but how much texture your cut gives it. Asking your barber to texturize your hair helps it stand up easier with less product. A cut like this "is not even a style, but it just looks pushed back and natural," says John Barrett, a stylist with more than two decades' worth of experience and the founder of the eponymous salon, located in New York City.
05of 40
Full Shave
"I would say the only rule to hair in your 40s is that if you've only got three pieces of it left, consider getting rid of them and embrace your bald head," says Patterson.
Losing your hair is a reality for plenty of guys, and the bad news is it's impossible to regrow hair you've already lost. Some guys choose to cut their losses and shave it completely. It can mean less maintenance, less stress, and a great look.
If your head is shaved, be sure to apply a good sunscreen to the scalp before prolonged sun exposure. 
06of 40
Grown-Out Fade
According to Cutler, "[Men] tend to want their aesthetic to fit into their career and their social environment." Enter the grown-out fade, which easily transitions from boardroom to bar. Ask your stylist to keep the shape of a fade but leave the slides a little longer.
07of 40
Styled Quiff
The standard quiff is highlighted by a short back and sides, with longer hair (typically swept upward). The look can run the gamut from messy and tousled to suave and sophisticated, as seen on actor Matt Bomer. 
08of 40
Natural Waves
Leaving natural waves slightly longer on top will help add volume and a more casual, laid-back quality. Keep hair slightly shorter on the sides to add polish. Try a product like Garnier Fructis Sleek & Shine Anti-Frizz Serum ($6) to tame frizz.
09of 40
Close Crop
Not ready for the full-on shave? A super-close crop that leaves a little bit of hair is still low maintenance but can camouflage inconsistencies in hair growth. For extra interest, dye or bleach the hair, á la Kanye West.
10of 40
Layered Length
Contrary to popular belief, not all men's haircuts need to be short. If you had long hair when you were younger (and provided thinning isn't a big issue for you), you can keep it as you get older. Keep it well above your shoulders and ask your stylist for layers.
11of 40
Slicked Back
Lots of guys use gels to slick back hair, but wet products can cling to hair and show more scalp (making it look thinner). To slick back hair, we recommend using a styling cream to help moisturize and build up volume. Keep hair at a medium length and don't try to use longer hair to mask bald spots.
12of 40
Styled Waves
Embracing natural waves can go a long way to help hair look fuller. Patrick Dempsey's shape is similar to a fade but uses natural texture to create more height on top. Use a salt spray to build up hair without weighing it down and looking over-styled. Try Pete & Pedro Natural Sea Salt Spray ($19) for texture and a light hold.
13of 40
Textured Volume
Hair naturally gets thinner as we age, even if we don't notice it falling out. Length can be your friend here, as long as it's not all one length. Take a cue from Lin Manuel-Miranda. "You need internal length," says Cutler, which is when your barber cuts into the hair to create body. 
14of 40
Short Texture
"If you're losing your hair on top, having a lot of bulk at the sides just will accentuate what you're losing," says Barrett. "Have your hair cut tighter so everything will just flow nicely." Even if you aren't losing your hair, embracing a bit of natural texture, while keeping hair short (like actor Chiwetel Ejiofor) offers ease and style in spades.
15of 40
High-Hairline Crop
The first place many men notice hair loss is at their hairline (it's an indicator of male-pattern baldness). "If you're receding, be realistic," says Cutler. "You don't have to try and completely hide it. A little bit of a recession is actually quite attractive and realistic." Here, actor Jude Law highlights his receding hairline by styling the hair up top.
16of 40
Textured Flat Top
Using natural texture to build height on top of your head is like an optical illusion. It builds volume without weighty products. Keep the sides slightly longer than a fade to show off the look, like Mahershala Ali.
17of 40
Natural Part
A more casual part like Kumail Nanjiani's can make your hair look fuller than a crisp, shellacked hairstyle. It's all about what products you use. "Use a pomade that has a little bit of a natural feel to it instead of a gel," says Cutler. "You can still get away with it at work but look a little bit more playful and fashionable."
18of 40
Crew Cut
"A shorter hairstyle that's nice and clean" looks good on everyone, says Barrett. A military-inspired crew cut is great and a little more length on top makes it even suitable for civilians.
If the transitions in your crew cut are too obvious, use a pair of thinning shears to blend out the cut.
19of 40
Updated Caesar
Instead of trying to use bangs to cover up receding temples, ask your barber to blend them and cut them a little shorter. "If you don't blend the temples, your eye is actually drawn to it," says Cutler. "It accentuates the bald spot because of the amount of hair on the sides."
20of 40
Versatile Length
Length is your best friend when it comes to versatility, but it doesn't mean you have to have long hair. Even a tiny bit of texturized length on top, á la Henry Golding, means you can style your hair natural and messy or slick-backed and sleek.
21of 40
Shaped Afro
Longer hair can look cool on older guys, as long as it's shaped properly. A slight oval shape keeps the sides shorter and offers a cleaner look. Keep it just long enough for natural curls to be defined but not weighed down.
22of 40
Short, Layered Cut
A short layered haircut works well at balancing Chris Evans' wide jaw and it frames his face well. For this style, the hair is cut into shorter layers all over the head. Use a bit of pomade for added shine and control. 
"Styling and grooming creams are great additions to your styling arsenal because they are such a multi-benefit type product, great for all lengths," says Patterson, who recommends Suavecito Original Hold Pomade ($10). "It is perfect for all hair types and formulated to keep your hair in place all day long," he says.
23of 40
Mature Fade
There comes a time when all of us need to grow up a little. Long hair can look messy on older guys (especially if you're not willing to put in the daily effort to style it), but a classic, super-short fade, like the one seen here on Shemar Moore, will always look clean and stylish.
24of 40
Don Draper
You can never go wrong with a classic, but to keep it from looking too square, shape it with your hands instead of a comb. That subtle change in texture, but not shape, will make it cooler.
25of 40
Gray Quiff
When your hair goes gray, you may need to change your product more than your style. "Gray hair becomes wiry because there's a lack of moisture," says Cutler. "Creams, oils, and shine serums help control but also add moisture." Instead of weighing hair down with pomade, switch to a styling cream to keep it in place.
If you want to lessen the gray, try covering just some (and not all) of it. Using a subtle camouflage of color, "adding more pepper to the salt" as Cutler says, will take you back a few years but still look natural and unforced.
26of 40
All-American
Sometimes it's best to not overthink it. A fade works well on everyone (there's a reason why it's a classic) but a slightly lower transition helps add height.
27of 40
Lineup
Pharrell's lineup cut is clean and put-together. For a similar look, ask your barber to use clippers to line up the forehead, temples, sideburns, and back of the head. 
28of 40
Ivy League
The short Ivy League cut is another great shorter option for dudes in their 40s who just want an easy-to-maintain hairstyle. There is enough length on top to offer a little bit of versatility. It can be worn neatly combed to the side, as seen on Ben Affleck, forward as a short Caesar, or messily with a bit of loose paste like Fatboy's Perfect Putty ($21) to add texture.
29of 40
Classic Fade
A little bit of gray at the temples ramps up the sophisticated nature of Will Smith's classic fade. Keep in mind that face shape plays into the suitability of any cut. "Where the weight line in the fade sits is going to accentuate that shape," says Wayne Wildrick, a stylist and the regional barber manager at the Los Angeles location of Fellow Barber. "It can make the client look more or less round or square, based on the placement."
30of 40
Loose Pompadour
If you're lucky enough to have a great head of hair and want more of a rock 'n' roll vibe that's still aligned with your age, the loose pompadour is great, especially if you have an oval or slightly longer face shape.
On actor Josh Duhamel, the cut works perfectly. A short beard also helps frame his face well. He's chosen to leave his hair gray, and the salt-and-pepper hue makes his eyes pop. Sometimes gray can be a great thing, especially if you have light-colored eyes.
31of 40
Shorter Layer Cut
This short layer cut is another good option for people who want enough length to be versatile, and yet still have a style that's relatively easy to maintain. It can be worn with minimal product and casually styled with fingers, as shown in this photo of Matt Damon.
There is enough length, however, that if you apply a bit of stiff pomade (R+Co's Control Flexible Paste, $28, is about the right texture,) add a clean side part, and style it like a pompadour, you'll get a more formal look.
32of 40
Short and Natural
Short and natural hair exudes youth and requires little in the way of maintenance. You'll want to invest in a good conditioning treatment to ensure hair stays moisturized, as it is here on Usher.
33of 40
Shag
This long shag style is common on surfers in California (or, in this case, on actor Tom Hiddleston), and it looks great at any age. If you still have a full head of hair and want a longer style, this long shag is something to consider. But stay far away from this style if you have thinning hair, because it will make your hair look much thinner than it actually is. 
For this style, the hair is cut in long layers all over. If you're not a surfer, don't worry, you can always get this look by having your salon add natural highlights and using a bit of salt spray, such as Sachajuan's Ocean Mist Spray ($34).
34of 40
Long Layers
Long hair like Jared Leto's might take a while to grow out but once it's at the appropriate length, it can be fairly low-maintenance. Have your stylist cut layers for interest and either dry naturally or with a blow-dryer.
35of 40
Longer Up Top
Marlon Wayans' natural curls are slightly longer on top but kept closely cropped on the sides. Though he's experimented with many looks in the past, his fade—characterized by a finish of gradual length tapering—is one of his most sophisticated.
Sours: https://www.byrdie.com/best-haircuts-for-men-over-40-5070934
Less Is More: Best Short Haircuts For Men
Short haircuts on men are typically easy to maintain, yet radiate style. That's why shorter cuts are understandably very popular amongst men.
Short, military haircuts have been super in since Roman times, both in and out of the army. The continuation of the popular style is mostly due to its clean, fresh look and ease of styling – rumour has it that the original purpose was to prevent barbarians from pulling the Roman soldiers' hair back and slitting their throats during battle﹘yep, so annoying when that happens.
While you're far less likely to encounter a barbarian in 2021, it's preferable that you don't resemble one. In short, short haircuts are the best choice if you just want to get up and go, and look smart with little effort.
Short hair does not mean you're short of options. From the classic quiff to the comb-over fade, taper fade to round-cut, textured crop or side part, there are more options to the style than you might imagine. Even the bowl cut is making a comeback! Don't knock it 'till you try it.
From clean crew-cuts to messier styles, the right haircut can make or break your overall appearance.
Very short men's haircuts can accentuate a chiselled facial structure and emphasize a handsome, angular jawline. On the other hand, slightly longer, messy cuts can frame the face and reflect a more effortlessly cool vibe.
Looking to freshen up your fade, or just after a short-back-and-sides? With so many possibilities, choosing the right haircut for you can be a bit of a minefield. No fear, even if you don't know a buzzcut from an undercut, we've snipped together a list of the best short haircuts for men.
If you need a little help styling your hair, these are the most popular hair care products for men right now:
The best short haircuts and hairstyles for men by popularity order
Crew Cut
Classic Buzz Cut
Short Style With Finger Waves
Ivy League
Classic Combed Back With Fade
Side Part Fade
Medium Length Natural Quiff
Pompadour With Taper Fade
High And Tight
French Crop With High Fade
Classic Caesar Cut
Short Buzz Cut
Tapered Sides With Blowout Top
French Crop With Low Fade
Caesar with Side Part
Messy French Crop
Short Modern Quiff With Faded Sides
Fade With Spike
Spiky With Side Part
Classic French Crop
Hard Line Undercut
Hard Part
Side Part With Bangs
Textured Crop
Classic Side Part
Buzz Cut With Shaved Design
Butch Cut
Fringe With Front Wavy Hair
Fade With Long Bangs
Induction Cut
Low Fade
Modern Quiff With Undercut Sides
Curly Quiff
Comb-over Low Fade
Slicked Back With Side Part
Curly Fringe
High-Top Fauxhawk
High-Top Fade
Messy Undercut With Bangs
Slicked Back Undercut
Classic Pompadour
Disconnected Undercut
Flat Top
Short Caesar Cut
Structured Quiff Undercut
Textured Quiff
Bowl Cut
Bowl Cut With Bangs
Modern Bowl Cut
Modern Mohawk
After our list of the best short haircuts, you'll find a helpful guide to speak your barber's language with the hairstyle terminology. We also spoke to professionals hairdressers to give you a guide on how to style a short haircut.
Crew Cut
We start off our list with a classic of men's short hairstyle, the crew cut. The crew cut is easy to maintain yet stylish. It works particularly well for men with thick hair and square face shape. The main difference between the crew cut and the military buzz cut that follows is that with the crew cut, your hair isn't of the same length everywhere, allowing for more styling options.
Classic Buzz Cut
Very short and classic, the buzz cut is easy to do but doesn't leave many options in terms of styling. It works great if you have thick hair and want a rugged army look.
Short Style With Finger Waves
If you have curly or wavy hair, try this hairstyle with short sides and finger comb top.
Ivy League
Also known as the Harvard Clip or the Princeton hairstyle, the Ivy League haircut is a perfect for a classic business professional look. It works with pretty much all types of hair, from straight to wavy and curly. Keep the side relatively short and style the top with a side part.
Classic Combed Back With Fade
Now we're getting into more sophisticated hairstyles. This is a higher maintenance look, but it looks great if you go to a party with a cocktail attire or black tie dress code. This works best with thick hair and round faces.
Side Part Fade
The side part fade is a timeless style that works well in any situation. It's relatively simple to maintain every morning but you'll need a trip to your hairdresser at least once a month to keep the side short.
Medium Length Natural Quiff
Don't let the name fool you, the medium length natural quiff with tapered sides is harder to execute than it looks.
Pompadour With Taper Fade
A modern interpretation of the classic Pompadour haircut. The Pompadour hairstyle feature a large volume of hair at the top front of your head with shorter sides. This one comes with tapered sides for a clean look.
High And Tight
The high and tight features fading sides with a slightly longer top crown. It's another classic military hairstyle, between a buzz cut and a crew cut.
French Crop With High Fade
Classic Caesar Cut
The classic Caesar cut is a traditional yet more edgy hairstyle to maintain.
Short Buzz Cut
If the buzz cut isn't short enough for you, try this variation with a shorter hair length on your clippers.
Tapered Sides With Blowout Top
French Crop With Low Fade
Caesar With Side Part
Messy French Crop
This style works particularly well if you have straight hair.
Short Modern Quiff With Faded Sides
Fade With Spike
A Fade hairstyle with spikes at the top works well with thinning hair. It adds some volume and texture to your crown.
Spiky With Side Part
Classic French Crop
Hard Line Undercut
Hard Part
Also called the Dapper Side Part, the hard line is shaved for a clear style. This requires regular trips to your barber to maintain the hard part.
Side Part With Bangs
Textured Crop
The textured crop works great with men with wavy or curly hair.
Classic Side Part
Buzz Cut With Shaved Design
Yet another take on the buzz cut, if you barber is an artist, this can work great for an edgy and sophisticated look. You'll need more work to maintain it though.
Butch Cut
The Butch Cut is even shorter than the Buzz Cut. It's perfect for bald guys or men with thinning hairlines.
Fringe With Front Wavy Hair
Fade With Long Bangs
Induction Cut
The Induction Cut is the shortest possible hairstyle without using a blade to shave your head. The haircut names come from its military history as it's the first haircut traditionally given to new army recruits.
Low Fade
Modern Quiff With Undercut Sides
Curly Quiff
Comb-Over Low Fade
Slicked Back With Side Part
Curly Fringe
High-Top Fauxhawk
The High-top Fauxhawk works great for short men to give the impression to be taller.
High-Top Fade
The High-top Fade is a variation of the fauxhawk. It also works well for short men.
Messy Undercut With Bangs
Slicked Back Undercut
The Slicked Back Undercut is trendy and easy to pull off, but you'll need to apply more pommade in the morning to maintain the structure.
Classic Pompadour
A vintage hairstyle that is still relevant today. The Classic Pompadour can work well in a business context too if you want to show a bit of creativity and eccentricity.
Disconnected Undercut
The Disconnected Undercut works particularly well for men with a long face shape.
Flat Top
If you want a bit of a retro look, the Flat Top is still a great style today.
Short Caesar Cut
Structured Quiff Undercut
Textured Quiff
The Textured Quiff is basically a slightly messier version of the Structured Quiff Undercut. It's easier to maintain through the day and requires less pommade.
Bowl Cut
Bowl Cut With Bangs
Modern Bowl Cut
Modern Mohawk
Terminology: How to explain what you want to your barber
While you pay your barber for their expertise, it can be exponentially helpful to be familiar with basic barbering terms. There's little worse than the frustration of attempting to explain your ideal cut to your barber without the appropriate linguistic equipment.
First thing's first, the clippers:
This handy little tool is ubiquitous when it comes to men's haircuts. You may have been baffled in the past to hear haircuts described as numbers:
"I'll have a 3, please".
Rather than looking confused, the barber deftly locates his clippers, attaches something and gets to work as if the request is perfectly normal.
Well, it is. The 'somethings' your barber will attach to his clippers are different 'guard sizes'.
They're placed before the blade on clippers to maintain a specific length when 'clipping' hair.
So, a 'Number 1', being the shortest (after 0, of course) means the guard size is 0,3 centimetres (⅛ inch), which will result in hair cut to that length. So on and so forth, until 'Number 8', which is 2,5 centimetres (1 inch).
How to style short hair for men: Expert tips
Favouring a short haircut can work wonders for saving time. While you'll have arguably less freedom with experimentation, short hair is super easy to keep well-groomed on a daily basis. Depending on how short is short, you'll still have the flexibility to create neat or more casual looks.
Styling time: When it comes to styling time, a short haircut could be the way forward if you're not a fan of messing around in front of the mirror every morning. Military cuts, fades and tapered cuts are all super low-maintenance, saving you from the pre-work hassle and allowing more time for your morning coffee!
Regular barbers visits: These cuts do require a little more upkeep— a trim every few weeks is generally required to keep your hair looking neat and tidy. Medium length styles tend to have a little more movement in terms of growing out, but if you want to keep things tip-top, a regular barber visit is recommended for most short cuts.
Messy or structured: Short hair cuts tend to be more structured and clean by default, as opposed to longer cuts. Because the hair is clipped so short, it retains its shape easily.
If you prefer a more windswept look, however, you can always opt for a longer top. You'll then have more freedom to 'muss' it up with some sea salt spray or gel for a more je ne sais quoi vibe, while keeping the sides neat and tidy.
Texture and thickness: If you've been blessed with thicker hair, a short haircut is a bonafide way of preventing unruliness. Short back-and-sides with a longer top or a crew cut is an effective way of highlighting your (envy-invoking) ability to grow thick, voluminous hair, without the accompanying hassle of long hair management.
On the contrary, if your hair is on the thinner side, short cuts can be super flattering too. In fact, short cuts are a tried-and-tested industry technique to disguise thinning hair. While longer strands tend to emphasise thin or fine hair, short, blunt haircuts create the illusion of thickness.
Men who haven't been blessed with a lion's mane could consider a buzzcut. Buzzcuts need minimal (if any) product to set the shape, which is great news as the overuse of gel can highlight hair thinning and in a less than desirable way.
Face shape: Short haircuts can be amazing for accentuating a strong jawline. Pay careful attention to which short cut you go for, though, as some are more flattering on others, depending on your face shape.
Square face shapes tend to have wide cheekbones and an angular jawline. In this case, very close cuts are preferable. Think a military cut, crew cut or buzz cut to draw attention to those angles.
Oval shaped faces allow more freedom— as a user-friendly face shape you're free to experiment. It is recommended that you don't go for too much volume on top, even with short hair, as this can elongate an already lengthened face.
Round face shapes are quite the opposite, you want to create the appearance of length by balancing a rounder face with more volume on top. Feel free to keep the back and sides shorter, but ensure your barber leaves enough hair on top to play with. A small quiff or no-fuss messy style could be perfect for balancing your face here.
Triangular faces, take heed: while most short haircuts will be flattering, it's best to have a little more volume on the sides. Generally, if you're going for a fade or taper, ensure that your hair isn't cut too close to the skin around your ears and below— try to keep some length.
Diamond face shape? Try to grow out the top of your hair a little (while keeping it a short cut in essence)— diamond faces tend to have strong cheekbones and a smaller upper head. Therefore, maintaining a voluminous fringe will help to balance everything out.
Age: Short cuts on men are a failsafe way to retain a youthful aesthetic— not only are they easier to manage, but as we've said, they help to create the idea of thickness. This can be an attractive quality in mature gentlemen who want to enhance thinning hair.
On younger men, shorter cuts are perfect for those who prefer a neat, shipshape style, with less room kinks or need for product.
The skilful use of clippers is the method by which barbers achieve many of the following styles, along with traditional barbering shears:
Fade:
Though often interchanged with the tapered cut, the fade cut does have its own trademarks. Shorter than a tapered cut, the hair is often shaved right down to the skin at the shortest parts, with gradual lengthening when ascending the head, leaving longer hair on top.
There are variants in fades, too. A low-fade is conservative and low-key, beginning just above the ear. In contrast, a high fade begins much higher on the head and curves around, creating a more edgy, striking look.
The fade technique can be used to complement other styles, such as the combover and the undercut.
Taper:
When you request a tapered cut, you're asking for your hair to literally be 'tapered' from the shortest at the nape of your neck, to longer (but still close cut) above your ears. Tapered cuts typically involve slightly longer hair on the sides, with the longest hair on top.
Undercut:
The undercut has become a mainstay in edgy haircuts. When you ask for an undercut, you're asking for shaved back and sides, sharply contrasting with considerably longer hair on top.
You can have the shorter parts cut with a fade, or with an all-over close cut to further dramatise this edgy style.
Bangs or Fringe:
Not just for women. We promise. 'Bangs' and 'fringe' are different words for the same thing (depending on which side of the pond you are): short hair falling onto the forehead and surrounding the face.
Messy, short fringes look smart on men when they're swept to the side. Neat, cropped fringes also complement the crew and buzzcuts very nicely.
Quiff:
You'd be forgiven for thinking the quiff should stay safely in the 1960s, or on John Travolta in Grease. However, done correctly, the quiff can be a truly flattering style. Ideally, you'll have grown your hair out a little so the barber has enough to work with. Lots of product is vital to retain that retro 'bounce' associated with the quiff.
It can be happily paired with fades and undercuts, as this style is more about pushing the top hair up and forward to achieve that iconic shape.
Pompadour:
To rock a true pompadour, you'll need your hair to be long enough to lay flat on top of your head when combed back. Similar to a quiff in cut, it's the styling that's key here. The 'pomp' is styled back, as opposed to the 'up and forward' of the quiff. Classically, they're set firmly in place with a strong pomade.
Modern bowl cut:
Now's the time to eradicate any presumptions you had about the bowl cut. The modern bowl cut has actually become a favoured style of late. Ask your barber for a subtle fade from long to short, while keeping the longer top choppy and uneven.
For a more individual look, ask for an undercut to achieve a starker contrast between the 'bowl' and the shorter hair.
Military or short crew cut:
A military or short crew cut is a very short fade, culminating in slightly longer hair on the top. However, the top hair remains very neat, sharp and short too, therefore differing from the classic taper. Characterised by neatness and simplicity, this cut is daily maintenance-free but requires trimming fairly frequently.
Men's short hairstyles: Frequently asked questions
What are the best short haircuts?
The best short haircuts are variations of the crew cut. Thanks to its versatility and ease of styling, the crew cut is the most popular haircut for men.
What is the best haircut for short hair?
There are a vast amount of options for short haircuts. If you want minimal interference and a 'get up and go' style, a buzz cut or crew cut would be perfect. For those who like a little diversity, an undercut with a longer top allows for different day-to-day styling.
What is the best hair cut for boys?
Most parents want their children to be quick to get ready, but remain smart throughout the day. Short haircuts such as the fauxhawk and the Ivy League are great styles for trendy young men.
Sours: https://luxe.digital/lifestyle/style/men-short-haircuts/
See The Best Hairstyles and Haircuts for Men in 2021
Men's hair is anything but boring! From pomps to fades, and sideburns to beards, we've got a hairstyle for you!
Are you tired of your same old guy's haircut? Opt for something a little edgier like a fohawk. If you have longer hair and don't want to lose the hair on top of your head, go for a slick back, quiff, comb overs, or pompadour.
If you have thick hair, thin hair, or even graying hair, we've got hundreds of images for you to scroll through to find your next stylish cut and color.
In fact, you'll find the hottest styles (plus product recommendations and styling tips) for all hair lengths and types right here. Men's hairstyles are diverse, versatile, and easy to recreate.
Just be sure you visit an experienced barber when going for certain cuts like high fades because if there are any inconsistencies, they will be noticeable.
So before your next hair appointment, browse our collection of pictures of men's hair.
Sours: https://www.latest-hairstyles.com/mens/
1Miley Cyrus
We're calling this one the Beanie Baby, and it makes us want to grab the scissors and snip-snap ourselves a mullet. Added bonus: if you've run out of dry shampoo, no one has to see the grease.
Advertisement - Continue Reading Below
Advertisement - Continue Reading Below
2Natalie Portman
A piece-y bob is oh so French Girl-chic, and subtle highlights throughout add dimension for some extra swishy movement.
Advertisement - Continue Reading Below
Advertisement - Continue Reading Below
3Jordan Alexander
The Gossip Girl star's tight shave is enough to convince us to pick up the clippers. If you've been considering The Big Chop, this fall might be the time.
Advertisement - Continue Reading Below
Advertisement - Continue Reading Below
4Victoria Pedretti
Updos aren't reserved for those with long locks. Tease the crown of your head with a comb and some hairspray, wind your hair up, then secure with some pearl-studded pins.
Advertisement - Continue Reading Below
Advertisement - Continue Reading Below
5Dua Lipa
This bold, blonde bun can be yours with just a hair tie and some gel, and some pins. Slick your hair back with gel, running it through the ends, then wind it into a bun. Add pins to highlight a little flip at the end, and voila.
Advertisement - Continue Reading Below
Advertisement - Continue Reading Below
6Maisie Williams
A classic bob is always chic, but 2020 has been the year of mullets. A shaggy, '70s bob is the new look for fierce, edgy women. Add some choppy bangs to really complete the look.
Advertisement - Continue Reading Below
Advertisement - Continue Reading Below
7Zoë Kravitz
Chances are, your eyes are fixated on the allure of Kravitz's ravishing red lipstick. But her face-framing pixie cut, which complements her features so well, also plays its part with choppy layers subdued with an inky-black hair color for peak chicness.
Advertisement - Continue Reading Below
Advertisement - Continue Reading Below
8Barbie Ferreira
While we're waiting for Euphoria season two, get prepped by copying Barbie's classic chop. This look is perfect for both fine and thick hair. Clip some sections back with barrettes for a face-focused style.
Advertisement - Continue Reading Below
Advertisement - Continue Reading Below
9Ruth Bell
Ruth Bell, who formerly rocked an amazing buzzcut, grew out her strands to this amazing Mia Farrow-esque look. A little pomade helps keep strands in place, for a effortlessly chic style.
Advertisement - Continue Reading Below
Advertisement - Continue Reading Below
10Jodie Turner-Smith
Allow Queen & Slim breakout actress Turner-Smith to take your breath away. In case you needed further confirmation, this constructive cut shows that natural curls can be worn in endless ways.
Advertisement - Continue Reading Below
Advertisement - Continue Reading Below
11Karlie Kloss
A classic clavicle-brushing lob is an unbeatable classic. A sharp middle part helps achieve the model-esque look, but switch it up with a side part for an edgier look.
Advertisement - Continue Reading Below
Advertisement - Continue Reading Below
12Kendall Jenner
Try cutting a classic lob into a super-sharp, asymmetrical, angular shape for added dimension. Playing up the style with barrettes makes this look even more your own.
Advertisement - Continue Reading Below
Advertisement - Continue Reading Below
13P!nk
P!nk has been rocking her edgy cropped look for a long as we can remember. Get a shorter shave on the side with longer lengths on top to mimic her iconic look.
Advertisement - Continue Reading Below
Advertisement - Continue Reading Below
14Kaia Gerber
Gerber looks all grown up with the bob she debuted summer 2019. The supermodel has stuck to the chin-length cut for a while. Her slightly off-centered part and flippy ends matches her effortless appeal.
Advertisement - Continue Reading Below
Advertisement - Continue Reading Below
15Ryan Destiny
Actress Destiny looks incredible no matter the style, but this glossy-textured bob, made piece-y with a few perfectly placed stray hairs and wispy ends, is one our favorites.
Advertisement - Continue Reading Below
Advertisement - Continue Reading Below
16Sophie Turner
Turner looked nearly unrecognizable to Team MC's eyes at the 2019 Billboards Awards with her bright blonde lob. Take a flat-iron and add soft bends wherever you want more body to lift an otherwise flat lob with more volume.
Advertisement - Continue Reading Below
Advertisement - Continue Reading Below
17Zoey Deutch
The Politician actress Deutch told Marie Claire in an interview that this slicked-back, flipped bob is her favorite red carpet beauty look. We must agree.
Advertisement - Continue Reading Below
Advertisement - Continue Reading Below
18Rowan Blanchard
This might be a hard ask, but I never want Blanchard to grow out her again. Short hair is made for the actress. If you don't feel like fussing with your hair at all, try this back-swept style to let your makeup steal the show.
Advertisement - Continue Reading Below
Advertisement - Continue Reading Below
19Margot Robbie
Feast your eyes on Robbie at the 86th Academy Awards, which should have featured a "Best Lob of the Night" award. This bright blonde, blunt cut lob accentuates her neckline so beautifully.
Advertisement - Continue Reading Below
Advertisement - Continue Reading Below
20Bella Hadid
This fall called for a bobbed-up Bella. Although everyone was saying this style is very KKW, this sultry dark chocolate shade and chin-grazing cut looked incredible on the supermodel. Another takeaway: your part doesn't have to be perfect. Let it go!
Advertisement - Continue Reading Below
Advertisement - Continue Reading Below
21Ashley Benson
Benson's been known to move on from hairstyles quick, but one thing she's kept consistent the past year is a short cut. Team MC has kept up with her ever-changing hair in 2019, but these golden mermaid waves reign supreme. Case in point: figuring out the shade that complements your skin tone the most should be a priority.
Advertisement - Continue Reading Below
Advertisement - Continue Reading Below
22Irina Shayk
Long hair Shayk is no longer, and the dramatic change to a sleek, angular bob is for the better. TBH, when you have a breathtaking bone structure like this do you even need hair to begin with?!?
Advertisement - Continue Reading Below
Advertisement - Continue Reading Below
23Selena Gomez
Warm shades of caramel peeking through is the reason Gomez's graduated bob doesn't look juvenile curled under. You can revive and modernize this '90s style with color.
Advertisement - Continue Reading Below
Advertisement - Continue Reading Below
24Ruby Rose
What sets Rose's salt and pepper pixie a part from the rest is her shaved sides. Sure, it's badass, but you're a badass too.
Advertisement - Continue Reading Below
Advertisement - Continue Reading Below
25Cynthia Erivo
Erivo showcases the most tried-and-true way to jazz up a buzzcut: color (but make it fun). The gradient effect of this platinum shade is eye-catching in the best way.
Advertisement - Continue Reading Below
Advertisement - Continue Reading Below
26Mila Kunis
Kunis' deep side part stylizes this cut so easily by adding structure. If you're sick of a straight-edge lob, get a little risqué with a shorter cut on one side.
Advertisement - Continue Reading Below
Advertisement - Continue Reading Below
27Michelle Weaver
OWN's Love Is actress Weaver is giving us '90s Halle Berry vibes with close-cut curls. The answer is no, this pixie style will never get old.
Advertisement - Continue Reading Below
Advertisement - Continue Reading Below
28Saoirse Ronan
There's nothing much more minimalist than a sleek, center-parted, blunt cut bob. Ronan is proof that this classic cut is peak elegance.
Advertisement - Continue Reading Below
Advertisement - Continue Reading Below
29Leighton Meester
Some extra styling, like a half bun à la Gossip Girl's Meester, takes the guesswork out of how to make a look your own. Plus, it'll show off your hair color if you also have ombré dip-dyed ends.
Advertisement - Continue Reading Below
Advertisement - Continue Reading Below
30Demi Lovato
Lovato's layered all the way up, which breathes life into an otherwise shapeless lob. The motto: the piece-ier, the messier, the better.
Advertisement - Continue Reading Below
Advertisement - Continue Reading Below
31Dua Lipa
A slightly asymmetrical bob like Lipa's will do nothing but accentuate your gorgeous jawline and give you more room to dress up your bare neckline with whatever you see fit.
Advertisement - Continue Reading Below
Advertisement - Continue Reading Below
32 Damaris Goddrie
These defined curls look so gorgeous on Goddrie, and will look so goregous on you. You can always depend on tight ringlets for added dimension.
Advertisement - Continue Reading Below
Advertisement - Continue Reading Below
33Halle Berry
You can't talk about short hair without paying homage to Berry's iconic pixie cut. There's a reason this style goes down in beauty's history books.
Advertisement - Continue Reading Below
Advertisement - Continue Reading Below
34Meagan Good
Good's skin looks so flawless, and there's no doubt her bright blonde pixie cut, which complements her complexion, has a lot to do with that glow.
Advertisement - Continue Reading Below
Advertisement - Continue Reading Below
35Tilda Swinton
Swinton is the epitome of très chic with this structural cut. There are three words to describe this cut: cooler than cool.
Advertisement - Continue Reading Below
Advertisement - Continue Reading Below
36Taraji P. Henson
Henson dressed up her lob with an asymmetrical cut, which adds fullness and volume to this sleek style.
Advertisement - Continue Reading Below
Advertisement - Continue Reading Below
37Lupita Nyong'o
It's impossible to pick just one of the "best" short styles Lupita Nyong'o has worn so well throughout the years. She honestly deserves her own gallery, because this woman makes magic with her natural hair. Can't choose between an afro and a buzzcut? Do both!
Advertisement - Continue Reading Below
Advertisement - Continue Reading Below
38Charlize Theron
How can we not talk about Marie Claire's latest cover star, Charlize Theron, and her inimitable, chin-grazing, dark brown bob she stunned the 2019 Oscars red carpet with? A sleek, a-line cut coupled with a fresh dye job will transform your entire look, and shave 10 years off of you.
Advertisement - Continue Reading Below
Advertisement - Continue Reading Below
39Lucy Boynton
Stop trying to smooth down your flyaways, and work with them instead. Everything about Lucy Boynton's graphic eyeliner, brushed-up brows, and choppy bob is a vibe.
Advertisement - Continue Reading Below
Advertisement - Continue Reading Below
40Danai Gurira
Danai Gurira's braided lob stole the show at the 2019 Vanity Fair Oscars Party. Trying different textured styles, like braids, passion twists, bantu knots, and more look so good with bobs.
Advertisement - Continue Reading Below
Advertisement - Continue Reading Below
41Yara Shahidi
Curls can do anything. So much yes for Yara Shahidi's curly side bangs and blunt cut. Ugh, and that blue eyeshadow. I can't.
Advertisement - Continue Reading Below
Advertisement - Continue Reading Below
42Cardi B.
Long live the pixie cut Cardi B debuted at the 2018 MTV Video Music Awards. Celeb stylist Tokyo Styles is responsible for this wig, which paid homage to Halle Berry's famous '90s 'do in the best way. Leave it to Cardi to make this throwback style feel completey fresh.
Advertisement - Continue Reading Below
Advertisement - Continue Reading Below
43Hailey Baldwin
Over the years, Hailey Baldwin has experimented with several hair colors. She's transformed her locks from chestnut brown to pastel pink. But Baldwin keeps going back to blonde, and considering how good this wavy bob looks in that hue, we 100-percent support the decision.
Advertisement - Continue Reading Below
Advertisement - Continue Reading Below
44Halsey
Halsey's cotton-candy pink hair is serving retro vibes, and we're here for it. Notice how much volume she has...on short hair. Don't let anyone tell you it has to be otherwise.
Advertisement - Continue Reading Below
Advertisement - Continue Reading Below
45Solange Knowles
Solange Knowles (who I like to call Solo the Songstress) stuns in every style. However, her natural curls kept short and dipped in platinum might arguably be my favorite. Just look at those perfect ringlets!
Advertisement - Continue Reading Below
Advertisement - Continue Reading Below
46Tessa Thompson
Major heart eyes for actress Tessa Thompson's latest starring role in Creed II AND this gorgeous chin-grazing cut we'll never get over. Romantic waves dress up this bob beautifully.
Advertisement - Continue Reading Below
Advertisement - Continue Reading Below
47Amandla Stenberg
Fact: Amandla Stenberg changes her hair as often as the weather (and we love it). On this day, she decided to go with a deep side-part and slicked curls. Be sure to use a pomade to finger-through your curls so they'll look extra defined like this.
Advertisement - Continue Reading Below
Advertisement - Continue Reading Below
48Lucy Hale
Jet-black hair is a lewk. Try pairing this inky color with a subtle asymmetrical cut, like Hale's, and you'll instantly become the coolest-looking girl in the room.
Advertisement - Continue Reading Below
Advertisement - Continue Reading Below
49DeWanda Wise
Tip: Glorious curls and a subtle touch of color will breathe so much life into a standard bob. Doesn't actress DeWanda Wise's textured cut make you want to try curly bangs? Same.
Advertisement - Continue Reading Below
Advertisement - Continue Reading Below
50Emilia Clarke
The GoT's star's grown-out pixie manages to look mature and fresh, edgy and sophisticated, all at once. Plus, her high-contrast color job adds major dimension. Are we bold enough to bring this pic to our stylist? We just might be...
Advertisement - Continue Reading Below
Advertisement - Continue Reading Below
51Samile Bermannelli
Let us all bow down to these insanely gorgeous curls that manage to stay voluminous on top thanks to a smattering of short, graduated layers. For even more of a heart-shaped lewk, create a deep side-part over the arch of one eyebrow, like Bermannelli's.
Advertisement - Continue Reading Below
Advertisement - Continue Reading Below
52Kristen Stewart
In which Kristen Stewart convinces us that shaved, bleached hair is definitely one badass way to keep your head cool in the heat (now, if only we had her courage to go through with it).
Advertisement - Continue Reading Below
Advertisement - Continue Reading Below
53Julia Garner
Curly haired gals, we've got you: use a diffuser when you're drying hair to boost volume at the rooms. Or, look for a half-inch curler if you want to create your own corkscrew curls.
Advertisement - Continue Reading Below
Advertisement - Continue Reading Below
54Lily-Rose Depp
Depp keeps it classic with this elegant, ever-so-slightly rounded-at-the-ends style.
Advertisement - Continue Reading Below
Advertisement - Continue Reading Below
55Janelle Monáe
Monáe's been experimenting with all kinds of beauty looks for her Hidden Figures press tour, from Minnie Mouse ears adorned with safety pins to extravagant top knots. But for the everyday, we're all about the sophisticated puffy curls that give this blunt look so much more character.
Advertisement - Continue Reading Below
Maya AllenFormer Digital Beauty EditorMaya Allen is the former Digital Beauty Editor at MarieClaire.com where she covered makeup, skincare, haircare, wellness, you name it!
Taylore GlynnTaylore Glynn is the Beauty and Health Editor at Marie Claire, covering skincare, makeup, fragrance, wellness, and more.
This content is created and maintained by a third party, and imported onto this page to help users provide their email addresses. You may be able to find more information about this and similar content at piano.io
Sours: https://www.marieclaire.com/beauty/hair/g409/short-hair-how-to-hairstyles/
Cuts cool hair
70 Devastatingly Cool Haircuts for Thin Hair
Everyone wants to have luxurious hair that is obedient in styling and always looking good. However, the key to a truly effortless stylish look is in the right haircut. Even with insufficient hair thickness and density you can come up with some absolutely breathtaking styles. Besides, there's no need to stick exceptionally to shorter lengths. Good hair stylists know tricks on how to make your thin hair appear thicker even in long haircuts.
Flattering Haircuts for Thin Hair
Whether you prefer long strands that you can toss over your shoulder or a quick and easy short look, we have 70 haircuts for thin hair that will fulfill your needs. Thin hair can look lifeless and uninspiring if it is not styled correctly. Pump up the volume on lackluster locks with a textured bob, lustrous layers or full curls!
#1: Light Brown and Caramel Balayage
Reveal your inner cool girl with the help of a pretty balayage and shoulder-length layers. The fabulous combo is complete with loose waves that amplify the volume of your hair. One of the best ideas to consider if you have thin hair.
#2: Shattered Collarbone Bob
If you lack thickness, you can add the desired body to your hairstyle with a shattered texture of a classy collarbone bob. Light layering closer to the edges and A-line side bangs create the special cute chaos that is entirely in the spirit of the trendiest messy hairstyles of the current season.
#3: Layered Bob Haircut for Fine Hair
Long hair full of body and shine is beautiful but it's not always the case with long thin hair. Women shouldn't strive for longer length no matter what. Chic, trendy bobs with choppy ends and gorgeous balayages can really make thin hair look thicker and more beautiful. And modern short hairstyles for thin hair are never boring!
#4: Choppy Bob with Blonde Highlights
Haircuts for fine thin hair are super simple but they work when done right. When styling your choppy cut, the best trick is teasing your tresses starting at the roots. Use a fine-tooth comb for the best results. Then shake your bob a bit with your fingers. Once you've created that perfect messy look, apply a light hold hairspray.
#5: Medium Choppy Cut with Long Bangs
Prefer a flat iron over a curler? Long haircuts for thin hair appear full when styled straight if they are cut choppy, with strands of miscellaneous lengths.
#6: Medium Wavy Haircut for Thin Hair
There are so many styling options for medium single length haircuts! Thin locks benefit from body and movement that curling wands create. Cute, quick waves with heated rollers can also fit nicely into your morning routine.
#7: Choppy Dishevelled Lob Hairstyle
Taking I-woke-up-like-this to the next level! Though single length cuts are possible, layered haircuts for thin hair are a foolproof route to take. Choppy lob hair styles above the shoulder are quite fabulous choices for fine professional women.
#8: Strawberry Blonde Bob
If your goal is to make your hair look thicker, give your locks a mix of highs and lows. The contrasting hues swirled throughout your tresses are something that creates the full appearance you are craving. Whether you are a sweet strawberry blonde or a brunette, this tactic will work on any shade of hair.
#9: Messy and Shaggy Haircut for Fine Hair
Remember what we said about texture? Utilize razors to the fullest through shaggy haircuts. When worn with the right wardrobe, this cut has a messy-chic look that works wonders on thin manes.
#10: Stacked Bob for Thin Hair
Stacked bobs are classic haircuts for thin hair. The shortest hair is at the nape of your neck, which immediately creates volume at the crown of your head and visual interest all around!
#11: Long Brown A-Line Bob with Balayage
Thin hair haircuts work well with lots of layers and texture. Tousle your wispy strands to build up your hair's body and perfectly messy style. Shorter hair makes maintaining fine hair a cinch, but if you want to make a stronger impression, go with an angled choppy bob.
#12: Voluminous Bob Haircut for Thin Hair with Side Bang
A voluminous bob is a chic style that can work well with whatever plans you have during the day. The classic style can be worn when you are running errands or on a romantic date just as easily.
#13: Layered Honey and Platinum Hairstyle
Cuts with layers are the prime haircuts for women with thin hair. By having tresses that vary in length, hair appears fuller. A foolproof idea — just add more layers to whatever cut you are currently rocking and hair will instantly look thicker!
#14: Long A-Line Bob
Layers aren't every lady's cup of tea, and single length cuts are having a huge comeback. The uniformity of a long a-line bob delivers a modern aesthetic to thinner hair. This cut also looks amazing when it's grown out so don't worry about having to run to the salon regularly!
#15: Angled Lob with Bright Blonde Balayage
The "lob", short for long bob, is a relatively new take on the classic bob. If you search a good haircut for thin hair to look thicker, this cut ticks all the boxes thanks to its minimal layering and asymmetry. To elevate the style, consider incorporating a balayage or babylights.
#16: Long Bob with Layers
Hairstyles for women with thin hair rely on layers to gain extra body. The different lengths within your hair keep it from falling flat and look amazing, even on your busiest days. A simple wash-and-go with some hair serum will help you get out the door faster in the AM, without leaving good hair behind.
#17: Thin Chopped Shag
This is a modern take on the classic shag. The choppiness gives it a fresh, updated appearance, and the layering offers some much-needed body. This is a fabulous mid length cut for any woman who has thinner hair.
#18: Side-Swept Bob
Some haircuts for thin hair are much the same as haircuts for thick hair, think universal cuts like bobs or pixies. Blowouts are also universally-flattering, and though they do look different depending on the woman's hair type, but they definitely make things better when it comes to volume and texture of cropped hair.
#19: Medium Length and Wavy Texture
There's something so romantic about midi length 'dos styled in big waves. After using a straightener or curling iron, flip your hair back and forth and tousle the waves for extra volume or tease the roots to make the style look less "done".
#20: Short Hair with Deep Side Part
Sometimes all you need to change for thicker looking hair is the part! Rocking side bangs with a deep side part works as an optical illusion for creating denseness in fine manes. This trick is particularly effective on thin, short locks. Strategically layering around the crown is also very helpful.
#21: Short Haircut with Long Fringe
Styled curly or straight, a short layered cut tapering at the nape of your neck is a tried and true technique hairdressers use on fine hair. If chops feel intimidating, keep a long fringe as a face frame!
#22: Cute Layered Haircut for Thin Hair
Highlighted hair looks best with messy waves, they add interest to a standard style. The beautiful mix of blonde at the front and a deeper brown near the roots and through the underneath layers helps thin hair to look thicker. These gorgeous hues offer the ideal color combination for the warmer months.
#23: Short Shaggy Cut with Textured Ends
Not quite a bob and not quite a pixie, this haircut falls perfectly in the middle like Goldilocks. The expert layers create a feathered, fluffy texture that keeps this haircut from falling flat.
#24: Beige Bronde Shaggy Lob
Shoulder length haircuts that are parted on the side are amongst today's popular hairstyles for women with thin hair. They work even better when they're slightly shaggy and the ends are angled so that the longer pieces fall towards the front. A light beige blonde color over a dark brown base adds the desired depth.
#25: Chocolate and Caramel Wavy Lob
When you want your flat hair to look thicker, consider using some oversized rollers to create big curves. The natural curves and curls will create a sense of fullness and body. The caramel waves over a chocolate base look as yummy as an ice cream sundae!
#26: Icy Blonde Layers for Fine Hair
As many aging women know, thinning hair is an inevitable reality. Here's a wonderful icy blonde option for mature ladies with cooler skin tones that like to wear longer layered styles.
#27: Dusty Pink Shadow Root Bob
Don't forget to have fun — unleash your inner creativity and select a playful color on your roots! Sure, this may be more demanding in terms of upkeep, but how dope are these dusty pink shadow roots? Set free from insecurities… nobody's paying attention to the thinness of your hair when you're rocking this chic style.
#28: Brown Lob with Highlights
Give your fine hair movement with a slight curl and bend towards the ends. Arguably, the sway and bounce are the best parts of this bob. It is what makes the haircut fun and flirty, while also exaggerating the fullness of your tresses.
#29: Long Layered Haircut with Curtain Bangs
A simple way to emphasize the volume of your layered cut is trying the curtain bangs. When manipulated correctly, these add the width that thin haircuts often lack.
#30: Caramel Balayage on Short Hair
Make your haircut cute and sweet with the addition of caramel highlights against your chocolaty bob. Enhance its sweetness with loose curls. This hairstyle exudes femininity and romance and is versatile enough for everyday wear.
#31: Short Layered Bob Haircut
There are two surefire ways to transform thin hair: texture and color. Dark roots against light hair instantly give the illusion of density in your strands, while choppy layers boost volume.
#32: Bright Blonde Bob with Shaggy Ends
Nothing is sexier than a center-parted, bright blonde bob shag. The ends are choppy, which adds to the textured feel while ensuring your hair looks healthy and shiny. Dark brown roots are a perfect contrast to white blonde wavy locks.
#33: Sexy Cinnamon Haircut
Reddish brown is a great color for thin hair because it's rich and deep without contrasting too much with any scalp that may be showing through sparse strands. If you want to add light colors, make sure to just use them as a face-framing element.
#34: Disconnected White Blonde Lob
The long feathery lob can make your fine hair look thick and healthy. It's one of the best haircuts for thin hair because the "disconnected" style adds a lot of volume and texture. Go for broke and select a bright white blonde color to make a fashion statement.
#35: Mid-Back Cut with Subtle Layers
When you're dealing with medium length locks that are rather thin, hairstyles to add fullness and depth are hard to come by. Nevertheless you can easily succeed with a dimensional balayage and voluminous waves.
#36: Poker-Straight Razored Bob
Bluntly cut lobs are the perfect hairstyles for thin fine hair because the straight edges provide a sense of chunkiness and fullness. When you part it deeply on one side and flip the bangs into a combover style, you also add a little bit height to the top section.
#37: Wavy Bronde Bob with Subtle Layers
One-length bobs often turn out to be the best haircuts for thin hair as they bring the illusion of thickness. When you also enhance the texture of hair, the strands lay easily on top of each other, seemingly adding on fullness. Introducing small sections of highlights builds dimension that creates depth in tresses.
#38: Blonde Bob with Beach Waves
Texture is your BFF when crafting voluminous styles. Naturally thin wavy ladies, this is as easy as air-drying after washing! For those straight haired ladies, try creating texture by spraying a DIY sea salt and water mixture on damp hair.
#39: Shoulder-Length Shattered Cut with Layers
Women with thin, curly hair have many hairstyles for thin hair that work with different wave and curl patterns. Consider a golden-blonde balayage to give your hair a fun and youthful appearance.
#40: Middle Part and Face-Framing Layers
Centre part hairstyles flatter oval and oblong faces. Here's a simple modern style that offers symmetrical framing and large, loose waves slightly accentuated with balayage highlights – sweet and feminine!
#41: Choppy Bronde Lob
In case your hair is straight and your stylist doesn't recommend haircuts for thin hair with V-cut layers, consider a chopped cut in a medium length. A lob is a nice option. Pick a delicious hair color, like this creamy blonde balayage if you are a blonde or get color-inspired by decadent chocolate desserts if you are a brunette.
#42: Gray and Platinum Bob with Chopped Ends
For those with straight hair, adding some texture and movement can boost the volume and body of your tresses. For a chic, texturized hairstyle, bend the hair using a straightener and brush through the strands.
#43: Blonde Haircut with a Shadow Root
Another example of an effective dye job benefiting thin hairstyles! A shadow root is not only convenient for a boss on a budget, it also provides optical depth that's essential for fine hair.
#44: Long Textured Bob with Bronde Balayage
Straight, shoulder length locks with a tastefully colored bronde balayage are a classic way to wear your hair if it's on the thinner side. The brighter streaks toward the front of this long textured bob do a great job of framing your face and putting a positive spin on the flatness of your hair.
#45: Disconnected Choppy Lob Cut
Are you tired of run-of-the-mill hairstyles for fine thin hair? Add a twist to your disconnected lob by literally "twisting" your locks with a flat iron to give them a slight bend. Adding some texture to your bright blonde balayage takes an ordinary hairdo to another level of fullness and volume.
#46: Bronzed Blonde Bob Blowout
Any blown out bob is classy, elegant, and polished. To boost fullness and counteract wispy hair, use a volumizing mousse directly after showering and blow dry using the round-brush technique. Finish with a shine spray to showcase your healthy, lustrous hair.
#47: Textured Haircut for Short Hair
One of the best solutions when trying to grow out thinning hair is to chop off dead ends. Lots of time breakage has a domino effect and can inhibit healthy pieces from flourishing. Cut strands at an angle to speed up the growth!
#48: Mid-Length Wavy Cut with Wispy Layers
If you've been successful in growing out a short bob, you're probably ready for one of these cute mid-length haircuts for women with thin hair. Bringing out the best of your waves, it's a wispy, layered style that looks great parted either on the side or down the center. The sun-kissed golden blonde color adds life to the simple silhouette.
#49: Shattered Bronde Pixie Bob
An overgrown pixie is a popular style for women who have very thin hair. Let your locks grow out to the desired length, and then chop the ends. For an extra sexy vibe, part your hair on the side and comb the extra-long, chin-length bangs to fall in front of one eye.
#50: Shoulder Length Haircut with Deep Side Bang
The sweet blonde hue receives some added sass thanks to this shoulder length cut with light layers. The deep side part creates a mystery and keeps the style from seeming flat and boring.
#51: Long Bronde Shag
If your face is angular and thin, long hair with lots of waves will help frame it and give it a slightly rounder appearance. This long bronde shattered shag looks great when it's parted in the middle and slightly disheveled.
#52: Sleek Sharp Bob with an Off-Centered Part
Instead of trying to volumize thin hair with huge curls, flat iron it straight for a shiny and polished chin-length look. The razored cut at the ends creates a little bit of texture, and the locks falling towards the oval face add a slimming effect for ladies with rounder cheeks.
#53: Disconnected Shaggy Bob with Highlighted Ends
The disconnected sections with a shaggy finish channel a punky vibe. This short layered style is perfectly dressed up by ombré to spotlight the piecey-ness of the haircut.
#54: Medium Haircut with Face-Framing Pieces
Smooth, straight medium-length tresses always top the list of the best haircuts for thin hair. The face-framing layers cascade down below the chin, hitting the shoulders. The beige-blonde balayage is a rich and sophisticated color that looks natural and attractive with most skin tones.
#55: Short Bob with Razored Wavy Layers
Razoring the outer layer of the hair is one of the best approaches to employ as it brings out the texture and creates blendability without thinning hair out. Manipulating your tresses is simple with this haircut since you're able to curl or straighten the hair without having to take heavier choppy layers into account.
#56: Shoulder-Length Wavy Cut with Curtain Bangs
A shoulder length bob with layers can be worn straight, curly, wavy, and in a small updo. With all that heat application, it's important to find a quality nourishing and repairing hair care system that suits your hair type.
#57: Short Layered Blonde Hairstyle
When choosing from seemingly infinite options of bob haircuts for fine hair, think about what defines your sense of style. Stacked bobs are perfect if you want something with a little sass, while the short-to-medium length is still sophisticated and professional.
#58: Brown Lob with Piecey Waves and Highlights
Looking through hairstyles for thin hair, keep in mind the length, texture, and thickness of your locks. Cropped cuts are more capable of maintaining height and bounce, as short hair inherently weighs less. Lengthier tresses may need graduation throughout the length for a more dynamic look.
#59: Tousled Blunt Brunette Bob
If you're tired of the layered look, go for a blunt bob. To combat the flat look that comes with thin hair, give it a tousle. For a rounder look, tuck some strands behind one ear, and leave a chunky section hanging down in the front.
#60: Layered Bob with Platinum Balayage
When it comes to clothes, the brighter the bigger they can make you look. While at times you might want to avoid super bright colors, it works as an advantage for fine tresses. It makes them appear fuller and more lustrous. A few layers at the ends will enhance this effect.
#61: Layered Haircut for Thin Hair
Believe it or not, medium hairstyles for thin hair can make your mane big and vivacious. Loose and messy barrel curls teamed with layers and side swept bangs will give you the va-va-voom you are missing. Dripping with sophistication and sexy style, it's a must-try if you want to look like a total bombshell.
#62: Blunt Cut for Fine Hair
A big plus of straight and fine hair is how sleek it naturally is. You don't have to worry about volume, if you want something a little more understated. Free of layers and waves, the simple medium-length cut still makes an impact and is undeniably chic.
#63: Razored Bob with Waves and Blonde Balayage
Long face-framing pieces flatter round face shapes, because they cut down the width of full faces. At the same time they soften the angular features of square faces if the length hits below the chin.
#64: Warm Copper Balayage for Medium Hair
Does it get more beautiful than this warm copper balayage? Pro tip — a warmer tone highlight on your neutral base hair color makes manes appear richer, hence thicker. Women with naturally ashy undertones, take a walk on the warmer side to combat fine hair.
#65: Light Layered Cut with Balayage
Layers let your hair bounce and make it look thicker and more voluminous. If you want to enhance this effect, try ombre or balayage with bleached top layers and ends. This look is ethereal in its lightness and feminine appeal – the right color and haircut for thin hair can really do magic!
#66: Messy Bob for Thin Hair
Having fine hair can be quite frustrating, but look on the bright side — thin hair looks better in messier hair styles! So put your flat iron away and amp up your texturizing products, especially those formulated to volumize.
#67: Arctic White Textured Bob
Color is an important factor when considering bobs for thin hair. Going arctic white (a solid, flat shade) is doable as long as the shoulder length cut is textured. Introducing grey/silver undertones is a smart approach that produces depth on fine hair.
#68: Messy Long Bob for Thin Hair
Tousled lobs are the epitome of effortless chic. However, the rolling out of bed hair doesn't quite look like this all the time. Achieve fabulously messy hairstyles for fine hair teasing roots and setting with hairspray!
#69: Brushed-Over Blunt Bob Haircut
This style, paired with glasses, embodies the essence of "casual cool." One hair flip and you're out the door! Throw on a chic pair of shades and you'll get an effortless weekend look.
#70: Perfect Short Haircut for Fine Hair
With more volume on top and leaner sides and back you will be able to create a perfect illusion of luxurious hair cut short. The blondish highlights add dimension and accentuate the rough texture of side-swept tresses… an awesome neatly nonchalant look!
Well, as we see, layering, highlights, choppy finish for the ends and destructured look work for volume at any length. Hope that sparks some cool ideas!
Sours: https://therighthairstyles.com/5-devastatingly-cool-haircuts-for-thin-hair/
BEST BARBERS IN THE WORLD 2020 -- BARBER BATTLE EPISODE 1 -- SATISFYING VIDEO HD
100 Cool Short Hairstyles and Haircuts for Boys and Men
Now is the best time to take a look at the trendiest boys hairstyles and men's haircuts for 2021. Nowadays, fashion isn't only for women. In the last couple of years we've seen a huge resurgence in vintage barbering styles and classy undercuts. That's because men are becoming more and more aware of their looks. But it's no less important to feel comfortable than to look attractive. Despite the huge popularity of buns and shoulder-length hairstyles for men, short haircuts remain the 'reigning kings', due to their clean cuts and precise styling.
Short Haircuts and Hairstyles for Boys and Men
This year, the rules are out the window, as more and more boys have decided to make a statement and create their signature styles. You should definitely take a look at these fresh, classy and effortless men`s short hairstyles!
#1: Pompadour Haircut
A disconnected pompadour is trendy right now. Hair is clipped close or faded on the sides and kept long and voluminous on top. This slicked back look is a jazzy quiff hairstyle that looks good on all men despite nationality. If you need a quiff haircut that feels new and different, go with the combed back pompadour that's definitely trending upward. When it comes to haircuts for men that add length to such face shapes as round and square, this one is a nice, highly-recommended choice.
#2: Spiky Top with Mid Fade
One of the best ways to ease into faded haircuts for men is to keep the top of your hair a little longer than you normally do for your regular cut and gradually decrease the length as you go down. Use your favorite hair gel or mousse to spike up the ends for a boyish, yet put-together style.
#3: Grey Comb Over with Hard Part
Modern guy haircuts are more versatile than one might believe. If you prefer men's styles that are on the dramatic side, opt for a deep part in your hair with a sleek comb over. This haircut style is good for men looking to show off graying hair in a sophisticated way.
#4: Messy Spikes with Low Fade
With faded styles, you don't have to go too drastic, but it's always nice to show off some contrast. Fades work on all hair types, especially for those blessed with natural lift and volume at their roots. However, the spiked effect can be enhanced with a small amount of product. Style your longer hair up and define the ends for this cool stiff-looking yet soft-to-the touch look.
#5: Temple Fade for Natural Hair
A nice modern style for natural hair is the temple fade with line up. This men's cut is a great choice if you want to have short and manageable hair with natural texture. Complete with an equally perfect facial hairstyle.
#6: Cowlick Hair
A hair cowlick doesn't have to be frustrating – just work it into a personal style the ladies will love. Coarse hair works best for styled cowlicks, and you may want to consider an undercut to stave off some of the thickness. While cowlicks can be difficult to tame, your stylist will show you how to use proper hair products and upkeep the ideal look with regular salon appointments.
#7: Taper Cut
A classic taper cut involves thick hair on top gradually decreasing in length on the sides and the back of the head. If you've ever combed a tapered hairstyle, you know the importance of keeping it maintained with a product and regular shampoos – otherwise your tapered masterpiece will quickly go wild. This is one of the most requested hairstyles for men due to its versatility.
#8: Tapered Undercut with Added Height
Volume and height play important roles in current hairstyles for men. To give your roots that coveted lift, cut a faded undercut and style a pomp. Use a round brush and a hairdryer to achieve those cute ocean-like waves that show off the faded edges and give you a punk rock vibe.
#9: Skin Fade for Balding Men
An easy way to deal with balding is to go with a high fade so the transition is more natural and seamless. At the same time this particular cut is universally flattering and will also work for boys who have plenty of hair and want a bold half shaved look. Now this is one of the most popular boys haircuts.
#10: Fade Haircut
Low fade haircuts involve shaving just the lower half of the hair, while hair up top is trimmed and shaped, but kept longer. You can also opt for a classic taper fade haircut that is a bit longer than a regular fade, or go for a high fade haircut where practically the whole head is clipped down decreasingly except for a signature piece like a Mohawk. If you wish to have long hair on top, tell your barber ahead of time. In case you are looking for a more casual look, break the mold by getting a fade on the sides only and experimenting with bold styles up top.
#11: Modern Men`s Hairstyle
Boys young and old look wonderful with this perfectly sculpted hairstyle. The trick is to bring equal focus to the top of the head and facial hair. Add some styling product to spike the top hair forward.
#12: The Side Part Cut
The Side Part haircut is similar to the undercut, with the major difference that only one side is cut extra short. This haircut is ideal for those who don't want to put a lot of time and effort into their look. It is a rather casual haircut that works well with men who have medium-length hair, that can be swept over nonchalantly. The best thing about it is that you can alternate between looks by sweeping the hair towards the side with the undercut, or towards the one with longer strands.
#13: Combined Long-Short Hairstyles for Men
Keep hair sleek and soft without using a ton of product. This can be achieved by incorporating various lengths into your style. Keep one side long and try a tapered cut on the other side. It fades downward until the ear line blends into very subtle facial hair. Men who have thick hair with a slight wave will look best with this sweet boy-next door style.
#14: Short Hairstyles for Men with Angular Fringe
The angular fringe men`s haircuts became extremely popular with male fashion models last summer. Since then they has been adopted at a rapidly increasing pace. The long hair on the top is styled at an angle. The guy in the photo above is totally rocking his angular fringe with ombre highlights.
#15: Smart Style
The smart style of this tailored haircut feels as fresh as it looks. That's because the hair will only have longer lengths on top, while the sides have a blend of shorter cuts. The smart boys cut is extremely versatile and can be styled with lightweight smoothing lotion for extra class, or left wild and free for a more casual appearance. It looks particularly good on men with oval, triangular or square face shapes.
#16: The Side-Swept Undercut
This season the undercut, with its countless variations, has managed to take the crown for "The Most Popular Cut" from all Mohawk-inspired mens haircuts. Although the style was first spotted 3 years ago, it made a real comeback with the "Vikings" series, where protagonist, RagnarLothbrok, sports one of the manliest undercuts ever known to mankind. If you wish to embrace this look, all you need to do is to keep your hair medium length on top and undercut on the sides.
#17: Tame That Mane
If your crazy curls are taking over, it might be the time for a more professional short haircut for men. You can still maintain your texture, adding the structure to your look. Make sure to add definition to the curls with a styling product that won't weigh them down. It's an ideal look for a post grad entering the workforce.
#18: Slicked Back Hairstyles
The classic slicked back hairstyle is simple, comfortable and quite dashing. This look can be easily achieved by pulling the hair back with a brush and styling it with some hairproduct. A useful tip would be to cut the hair shorter on the sides, while gradually increasing the length towards the top.
#19: Buzz Cut with High Fade
The buzzed head is in demand with low-maintenance men. Adding in a high fade will bring something new and different to this classic cut. For the bearded guys out there, have your hair fade out near your temples and fade back in towards the jawline. The result is a great haircut style for the trendy man.
#20: Dyed Hairstyles
This isn't a boy's hairstyle in its own right, but rather a trend. Although, a few years ago, it was considered a taboo for guys to dye their hair, nowadays it has become a normal thing. Men dye their hair for two reasons: they either wish to conceal strands of gray hair, or they simply wish to make a statement. The model in the picture above is sporting a platinum blonde color and a cool side-swept undercut.
#21: Textured Hairstyle for Fine Hair
Fine hair definitely appears thicker when grown out longer and undercut. This softer version of the modern pompadour is full of texture and movement, perfect for men who seek a current style with short styling time.
#22: Natural Long Top Short Sides Hairstyle
With male styles, it can also be fun to play around with colors and different lengths. The longer section can be highlighted, twisted and pulled back into a pony or a man bun.
#23: Hip and Masculine Haircut
The best male haircuts are all about shape. Talented barbers know how to work with the shape of your head and face to create a masculine style. Squared haircuts create balance and accentuate the jawline. Expert barbers always consider these elements when crafting a new cut.
#24: Suave and Romantic Mens Hairstyle
A side part with a swoop of choppy waves creates an appealing look for boys. This style works especially well with thick, naturally textured hair. You may simply use a medium-hold mousse and blowdry your hair backwards to keep everything in place.
#25: Clean Trendy Style
If you're into popular mens haircuts, look no further. This style is the perfect combination of everything that's on trend: thick waves and volume on top, mid fade, line up, and beard. It's a clean, cool look that isn't going out of style anytime soon.
#26: Haircut for Thick Wavy Hair
Oh, to be blessed with thick hair! Men who can afford it, should absolutely try this style. Using the hair's natural texture to create a nice height on top makes for an urban, trendy look. This haircut works great with a minimum amount of products.
#27: Platinum Blonde Fade
Remember the frosted tips that were all the rage in the '90s? Well, now you can get a similar look but with a fiercer cool vibe. Pair them with an undercut that brings in dimension and visual interest into your look.
#28: Long Tousled Top Short Sides
New hairstyles for men in 2021 often feature a sharp distinction between the top and the sides, and this look is a perfect example of contrasting lengths. The hair on the back and sides is kept very short, while the longer pieces are styled with a maximum height and separation. A dry shampoo formulated for men will be your new best friend with this style.
#29: Designed Mens Haircut
Shaved lines and designs are the key elements of today's cool haircuts. This version features an old school silhouette, a deep side part, and an edged fade. Pair it with some hip, urban clothes like a leather bomber or jean jacket and you're golden.
#30: Low Fade Haircut
The low fade (where the haircut gets short low on the head) is a great option for men who aren't used to fade haircuts but want to experiment with the trend. Coupled with messy texture on top, the low fade adds a nice edge to the cut without being too in-your-face.
#31: Handsomely Tousled Curls
Modern haircuts for men look great with natural texture. While it can be fun to turn on the blow dryer once in a while, most men need an everyday look that is low maintenance. This Ivy League cut can be easily styled with a little bit of mousse or texturizing cream.
#32: Natural Waves and Parting
A natural side parting in addition to natural texture is quickly becoming a new mens hair trend. Instead of creating perfect side parts, use your hands to easily part the hair. This style appeals to those who value low maintenance but still want a clean, tailored look.
#33: Curved Low Fade Cut
The simple low fade acts as a great base for the thick, full waves. While a high fade creates a statement look, a low fade is a subtler take on the trend. To style the top, apply mousse on washed hair and scrunch the longest sections helping the texture to reveal.
#34: Cool Textured Bangs
Short haircuts for men don't have to be classic. Instead, try something a bit more stylish—like this asymmetrical cut with sharp bangs. Pay attention to the back view of this cut. The hair is left a bit longer. Also, all the lines have to be super accurate.
#35: Natural Waves with Short Sides
For cool hairstyles that are easy to pull off and even easier to style, try something that isn't too structured. This look won't require constant trims, and will grow out nicely. Ask your barber for a neat taper with a long top.
#36: Curled-Over Pomp Hairstyle
The pompadour is dominating in male hairstyles right now, and for good reason. What could be more handsome? You can smooth back your new pompadour, wear it high, or let it fall to a side. This version (with the front curl) is definitely a stylish option.
#37: Short and Spiky Haircut
At their essence, good boy haircuts are simple and clean. Nothing crazy and fancy there. Just some cute spikes and a short, smooth fade. Good haircuts for guys should have a youthful appeal, and this haircut has just that. To style this cut, apply a light hold gel immediately after showering and run your fingers through your hair.
#38: Thick Waves with Designed Part
This cool haircut is a great way to showcase thick textured hair. Volume on top is very on-trend, and for men with thick hair, volume is never a problem! Adding the designed side part and a smooth fade gives the haircut a more modern vibe.
#39: Smooth Slick Backed Hairstyle
For more classic male hairstyles, symmetry is a must. Without a side part, this high fade is perfectly symmetrical. When styling, slick the longer hair back with a pompadour lift for a more traditional, masculine look. Add a perfectly groomed mustache and beard for the win!
#40: Classically Charming Mens Haircut
This cute style is one of the top guys haircuts. The textured waves with plenty of volume create a charming, romantic look that's hard to achieve with spiky cuts for straight hair. Depending on your wardrobe, this haircut can skew preppy or hip. To keep it looking effortless, use a lightweight pomade on air dried hair.
#41: Soft and Smoky Men's Hairstyle
Marble hair is not just for ladies, hop on the dye trend bandwagon with a smoky gray hair color. Keeping it dark at the roots and lighter at the ends adds depth and thickness to medium hair.
#42: Long Top, Short Sides and Beard
When people speak about men's style in a trendy place like Brooklyn, this is the look they are most likely referring to. It's a delicate balance of modern and retro that results in a style that shows you care about your appearance and keep your finger on the pulse of fashion trends.
#43: Tapered Haircut and Neat Side-Parted Hairstyle
As much as we love seeing wild, untamed locks and man buns, we have to admit that a clean hairstyle will always be considered classier. The example above is nothing more than a styled tapered cut, with a well-defined side parting.
#44: Haircuts and Hairstyles with Bangs
Bangs can soften any face and add another cute element to a hairstyle. Whether you prefer your bangs spiky or loyal to your flat hair, a hairstyle with fringe is always in style. Choose from classic fringe, messy fringe or straight fringe – if you don't know what will look best, ask your barber to give you some pointers. From shaving an undercut to trimming bangs into a unique position, this is a style element that is really versatile and fun to wear.
#45: Disheveled Hairstyle with Highlighted Fringe
The highlighted fringe has been an all-time favorite hair style for many years. The look was probably trademarked by Nate Archibald (actor: Chace Crawford), in the series Gossip Girl. The idea here is to let the hair grow longer and get the angled layers. This style is perfect for triangular, square and oval shaped faces.
#46: Curly Short Men's Hairstyle
This haircut style for men with thick hair will show off a strong chiseled face perfectly. The slightly mussed yet totally sophisticated haircut style for men is a good fit for a preppy guy who doesn't take life too seriously.
#47: Haircut with Varied Length
Men's haircuts often tend to be pretty mundane – identified by blade numbers and not much else. However, any man can have a cool cut by using a bit of creativity. Opt to go with a longer quiff brushed back up top and hair growing shorter upon descent.
#48: Curly Long Top Short Sides Men's Hairstyle
Similar to the look above, this hairstyle takes a little more off the sides to make the top stand out more. The disconnected section also draws attention to your beard and helps it to pop more. It's a different take on the popular shaved styles.
#49: Battle Thinning Hair
A lot of men tend to get thinning hair on the crown, which is especially noticeable with dark-haired men. A shorter length is a way out. Get a nice quiff and well-trimmed facial hairstyle – you will be irresistible!
#50: Curly and Creative Short Fauxhawk
This is a great look for black men who are tired of low top fades. It is a good way to show off your curly hair, while still sporting a fade haircut. The best part is that you can turn this look into a Mohawk by letting your hair grow out a bit more.
#51: Mohawk Haircut
No, they didn't disappear with the 1980s – in fact, today's Mohawk is more modern and versatile than ever before. It's known for its signature hair strip in the middle – you can make this as thin or thick as you'd like, as well as incorporate various lengths into the final look. A faux hawk is done by clipping the sides of the head and trimming some longer hair up top that can then either flow free or go into a 'hawk position with some holding gel. A classic Mohawk will leave hair longer on top, while a fade Mohawk often features medium-length spiked hair. Nowadays this cut tends to be one of the most noticeable trends among men from all around the world!
#52: Comb Over Haircut
It isn't just for hiding baldness – young men are sporting this awesome quiff with added volume. Perfect for both curly and straight hair, you can wear a comb over loose or change it into a combed back haircut style if your hair is thick enough. A comb over fade is one more variety, allowing you to have options and styles up top while also showing off cool faded sides. Mens hairstyles can still be unique without being a huge hassle.
#53: Ivy League Haircut
Chances are you experienced this sweet, clean-cut style for at least one school picture day growing up. With a side-parted top and slicked down sides, the Ivy League haircut is truly one of the most polished vintage cuts available today. The barber will cut hair with scissors and include a gradual taper to make hair formal without being too fussy.
#54: Front Focus
Self-conscious about your forehead? Looking to accentuate your eyes? Whatever the reason, a front focused boys haircuts will keep things looking professional yet fun at the same time. Get the back and sides of your head shaved or closely cut and style the top tresses brushed forward. Short haircuts for men like this one are easily styled. The simplest way not to spend a lot of time in front of the mirror in the mornings.
#55: Creative Haircuts for Guys
This cut uses graduated thicknesses, starting with the heaviest amount of hair up top, followed by a shorter cut middle section and a close cut bottom.
#56: Crew Cut
The Crew cut can be trimmed in several ways. Hair can remain long on top and fade into connected facial hair, or it can just be coifed and spiked for an easy take away style. The barber will use both a razor and scissors to clip this timeless male cut just right. If you tend to have a rounder face shape, go for a crew cut with a bit longer top that will frame yours face and cause it to look slimmer.
#57: Modern Punk
Taking a cue from 80s and 90s hairstyles gone by, this modern punk cut features spiked hair on top with shaved sides. Get a strong holding gel to keep the height all day long.
#58: Asian Hairstyles for Boys
Asian hair is especially desirable thanks to its thick, soft texture that responds well to cuts and styles. For this look, keep hair up on top, setting it in place with a product.
#59: Side Designs
Rebel against the standard barber fare with your own interpretation of hair art. Endless designs can be carved into the side, giving you the best look for your unique personality.
#60: Side Part Haircut
A side part haircut will give you a classic and stylish look you can wear everywhere. Following long top trends from the past, the classic side part haircut is divided deeply on one side with the rest of the hair brushed over and set with a product.
#61: Short Haircuts for Men
Curly hair doesn't mean you have to shave your head – take the courage to grow it out a little and see how awesome you feel. Very short cuts are great for warm weather and convenience, but add some length, when you're ready to go for a new look.
#62: Side Angle Cut
Long and point cut for cool texture, this hairstyle suggests plenty of hair product to hold it in place. Get the sides shaved to bring the emphasis to the top of the head. Keep your face clean shaven for this one – any facial hair can distract from the cool trick of hair defying gravity.
#63: Blown Back Suave
Classically romantic and easy to care for, try a medium length style with a blown back top section. This can add height to your frame and give your lady something to run her fingers through. You'll only need a light product to keep hair in place, and the thicker your hair, the easier it is to manage.
#64: Sideburned Style
Use sideburns to their full potential by blending them into light facial hair. This urban style introduces the sideburns into the cut, bringing a unique but easy look to your daily style. This style looks good on men of all ages, but it's mostly worn by teens and 20-somethings. It`s a pity. Such men`s short hairstyles are really crazy, don`t avoid them even if you are 30+
#65: Textured Pompadour
For a nice look that's retro and modern at the same time, go for a deconstructed pompadour. This style features the old school silhouette but reveals some novelty in texture. Modern hair products like dry shampoos and light-weight pomades allow for more natural texture with excellent hold.
#66: Quirky Quilted Undercut
Nowadays it's hard to surprise or shock anyone with a hairstyle. But, this intricate look may just do the trick. By decorating your undercut with an all-over quilt-like pattern this might just be the ticket to becoming a trendsetter.
#67: Slick and Scruffy
Probably the most popular men's haircut this year is a 'short sides long top' style. The reason is because it allows you to wear it in a million of different ways, while still adding a bit of toughness to your everyday look. You can slick it back in a sort of hipster manner, or soften your look with a long bang.
#68: Nod to the Nineties
In contrast, a high top fade has been experiencing a major resurgence this year, for reference see the movie Dope. The look was popular in the nineties, but the current takes on the style incorporate graphic designs and creative elements.
#69: Sexy and Simple Black Fade
Sometimes the best hairstyles for men are the ones that are not overdone or forced. This faded haircut with a crisp facial hairstyle hits all the right notes. It's a strong yet neat look for a powerful business man.
#70: Short Faded Side Part
Another example of the appeal of a classic cut, this sleek look is elevated by the crispness of the part and sharpness of the lines of the facial hairstyle. It is a universally appealing style that will work well both in formal and casual settings.
#71: Comb Back Curly Hairstyle and Sexy Stubble
There's something about a five o'clock shadow that is undeniably sexy. Maybe it's that it gives an air of toughness and hyper masculinity. Whatever it is, you can't go wrong with incorporating a bit of stubble into your short hairstyle for men.
#72: Spiky Short Haircut with Faded Temples
This is another great clean-shaven option, except this look is perfect for men with thin hair. It's an easy hairstyle that won't take too much prep time in the morning. A bit of a light hold product, possibly with a wet look effect, will create a fabulous edgy look.
#73: Desirable Dad Hair
With the current popularity of men with "Dad Bod," think Russel Crowe and Vince Vaughn, it's only a matter of time before "Dad Hair" becomes a cool hairstyle for men. The medium look says "I care enough about my look not to embarrass you, but I also won't take more time getting ready than you." It's the perfect balance.
#74: Short Curly Men's Haircut
While sometimes it's nice just to let your natural hair do its thing, the wake-up-and-go look might not be doing you any favors. Floppy hair is not the best choice for round faces because it cuts off your visage and makes your look stouter. Simply trimming your strands adds inches and takes off pounds.
#75: Simple Short Haircut for Salt and Pepper Hair
Mature men have it easy: while younger guys are dyeing their hair to get that rugged black-and-white male hairstyle, yours happens naturally. With such a distinct hair color, it's best to keep it simple when it comes to the cut and style. Besides, you earned that salt and pepper hair and you deserve a regal style that matches the supposed wisdom it conveys.
#76: Cool Pompadour Hairstyle for Men with a Side Part
This rather pretentious hairstyle was first seen in classic movies. Although many men wore the Pompadour hairstyle well back then, it was Clark Gable that truly managed to make a statement with it. We often see it on fashion runways, and hairstylists are saying that this elegant vintage cut is making a strong comeback. That's probably because more and more men are now wearing tailored suits and require a more sophisticated hairstyle to go with them. The great thing about the Side Part Pompadour is the fact that it works with all hair lengths and it can be easily kept in place with pomade.
#77: Short Back and Sides
This variation of the undercut features slightly longer sides and a rich fringe in the middle. It would be easier to describe it as a combination of Mohawk and undercut, because the top gradually becomes shorter towards the back and is styled as a Mohawk. This particular haircut for boys looks good only on guys with thick hair.
#78: Top Knot Hairstyle for Guys
Another heavily critiqued hairstyle is the top knot. It is basically a variation of the man bun, with the major difference that the sides are cut short, while only the top part of the hair is tied into a knot. We believe that this haircut can look extremely sexy as long as there are more than three wispy strands of hair tied in the knot.
#79: Gelled Pompadour Look
The model seen above is sporting a neat boy's haircut, styled into pompadour and dyed in platinum blonde. It's the details that make the difference in this particular hair-style: you will notice that the fringe is uniquely styled to complement the model's features and eyebrows. Men`s short haircuts like this one always look so formal and stylish!
#80: Choppy Gray Undercut
Mens hairstyles aren't just about the cut. Why not go for a new color? Try something different by combining a unique hair color with your natural beard shade. The result is this grungy style that is totally on-trend. Silver is the perfect option for anyone who wants to push the envelope.
#81: Shaggy Men`s Hairstyle
Adam Levine's creative mess is a result of styling with special products. To lift the top hair with a blow-dryer is a matter of a few minutes. Next use wax to define separate spikes for an extra edge in your look.
HelgaEsteb / Shutterstock.com
#82: Rebellious Hairstyle for Curly Hair
Boys and men with curly hair have two optimal hair solutions: either to cut their hair very short or to go for a tapered haircut with elongated hair on top. Chris Galya opts for the second one. A bit of light hold styling product with matt finish to tousle the top hair and define the texture and your cool, trendy hairstyle is ready.
JoeSeer / Shutterstock.com
#83: Trendy Short Hairstyle for Boys and Men
Colin Farrel's appearance at any event quickens girls' heartbeats. His chic hairstyles are a part of his self-image of a cool guy. Colin's short cut with temple undercuts has a clean and stylish look. You can style the hair on top in a sort of pompadour bangs, sweeping them back and fixing the result with semi-matte wax.
Jaguar PS / Shutterstock.com
#84: Full Retro Pompadour
No need to play it safe. If you're into retro haircuts, don't be afraid to go all out. The height of a classic pompadour will completely transform your style and give you tons of confidence. Use a blow dryer and round brush to lift the hair straight up and bend it slightly back.
#85: Statement Hairstyle for Thick Hair
If you have thick, dense hair, you may try a hairstyle with a voluminous top and clean sides. It's going to be especially flattering for guys with round and square faces. The top hair is lifted up during blow-drying. Extra-body finishing spray will hold the lift.
s_bukley / Shutterstock.com
#86: Boys` and Men`s Messy Hairstyle
"Bed hair" on boys and men is a risky hairstyle, but Daniel Radcliffe's photo shows us that there are positive experiments in this relation. Spray wax is a nice product to define the texture and style the hair mess.
Simon James / Shutterstock.com
#87: Edgy Short Haircut for Thick Hair
Peter Andre's hair is graded at the ends for an extra edgy touch. Certainly, all the potential of any haircut is revealed through the right hairstyle. Semi-matt wax is a good product to define the edges and keep your hair up.
Featureflash / Shutterstock.com
#88: Medium Tapered Haircut
Aaron Taylor-Johnson's haircuts and hairstyles are a rich source of inspiration. The British actor has tried different lengths, coming eventually to the chic short haircut with undercut and temple fade. This is a cool haircut idea for guys with curly hair.
HelgaEsteb / Shutterstock.com
#89: Cool Short Haircut for Boys
Whenever you choose a new haircut, your second thought is "Are girls going to like it?" Chris Colfer has made the right guy's haircut and hairstyle choices. The short sides and nape, plus slightly elongated hair on top, styled upwards guarantee some extra attention from the opposite sex.
HelgaEsteb / Shutterstock.com
#90: Boys` and Men`s Edgy Haircut
Joel McHale has chosen a haircut variety that flatters him the most. The extremely short temples and razored hair on top are the attributes of the popular male haircut that looks showy, but needs styling. Gel or wax will help you to complete the look and enhance the texture of your hair.
HelgaEsteb / Shutterstock.com
#91: Caesar Cut
If your first impression of this style involves Jim Carrey in a particular film, rest assured a Caesar cut can reach far beyond mediocre comedies and ancient rulers. This unique style is ideal for boys who have long faces and/or broad foreheads – the short bangs bring the balance. If you go with a low Caesar cut, even more of a perceived facial flaw can be concealed thanks to the longer strands left on top. Caesar cuts are also great for those who are experiencing premature balding, as it brings the hair forward and detracts attention away from any sparse patches. A short Caesar cut is another option if you want something simple and sleek.
#92: Mens Undercut
Unlike fade and taper with their gradual decrease of length, undercut features a sharp contrast in length – long/short. It's almost like two looks in one when you go for an undercut hairstyle. A disconnected undercut is very popular with young men who prefer a trendy look with a shaved underside and long top. Those who want to add an extra edge to their styles will appreciate the sharp line of an undercut. You can also have hair textured or add bangs to the final look if you're ready to try something different. Even curly undercuts always look really attractive!
#93: Straight and Wavy Short Shag Haircuts
Just as it's true for women, men can also try a variety of shag haircuts that look nice and different. Straight shag hair is one of the most popular, as it is the most manageable and versatile. Those looking for something to detract attention away from certain facial features, go with a wavy shag and keep it messy. Layered hair always looks great, and a shag cut is no exception.
#94: Cornrow Braids
These are versatile and stunning on African American men. You will need to go to a braiding salon to get any variation of cornrow styles. If you would like your braids shaped into waves, spikes, letters or numbers, this can be done by an experienced braider. Short cornrows are incredibly popular during the summer months, and as for rows of braids for men, they will likely always be in style.
#95: Induction Cut
Young boys` hair varies with plenty of looks to choose from. An induction cut is popular, whether or not a boy plans to enlist. As a military cut is one of the shortest half- shaved cuts available, many young men appreciate its no-nonsense look and ease of maintenance. Cut very short, it works for almost every face shape and hair type. The barber will use a razor to bring your induction cut to perfection.
#96: Burr Cut
A longer variation of the induction cut, the burr cut is clipped with blade size №1. It can be worn on any ethnicity but tends to be most popular with Latino and African American men. This style can vary in form – some opt for designs carved into the side, while others prefer a simple clean cut all over the head. A cool burr is discreet enough not to distract attention from your facial features and personality.
#97: Buzz Cut
A classically youthful style, cut with electric clippers, this is always one of the most popular choices in young mens haircuts. With a low maintenance upkeep, a buzz cut is a great way to maintain short hair without having to go dramatically close to the scalp all over the head. In fact, many of today's buzz cuts leave hair thicker in specific sections to provide room for shaved designs on the sides or back of the head. If you play sports, a buzz cut is a great compromise in the world of haircut styles which offer convenience without losing at fashion and style.
#98: High and Tight
Military boys often sport mens haircuts that are very short and straightforward. For a high and tight recon, the sides and back of the head will be shaved, leaving some shortly trimmed hair on top. Although this military-style look is extremely short, it can also work for curly hair, which brings a totally unique feel to an otherwise rigid cut.
#99: Short Afro Hairstyles
Short dreads are really popular with black men, especially those who have rounder faces. The dreads bring facial features upward, deterring eyes from full cheeks and mitigating other frustrating flaws. A tapered Afro is also a desired hair reality for African American men with an enviable natural curl.
#100: Butch Cut
A butch cut is not quite the same as an extremely short buzz cut. It's designed with clippers guards from 3 to 5. It sure is a popular boys haircut go, thanks to its low maintenance. It is an incredibly masculine look, and if you are hoping to join the military, this will be your standard 'do for the next few years. A butch cut is done with clippers and touched up with scissors.
Before you go to a salon to refresh your haircut, it's good to make up your mind as to how you would like to look. Your hairstylist can recommend the right haircut, relying on your hair type, face shape, and general preferences. If you spend 10 minutes every day on hair styling, you will always have a stylish look.
Sours: https://therighthairstyles.com/20-cool-short-hairstyles-and-haircuts-for-boys-and-men/
Similar news:
What are the most popular men's haircuts and hairstyles for men? You will find them right here in this newly updated guide.
This is the best collection of men's haircuts and cool hairstyles for men. We have been very careful to select only best examples of all the latest haircuts we are seeing cut and styled by the best barbers in the world. Scroll down, find a new look, and then simply show the photo to your barber. Super easy.
Below, you will find the freshest men's hair ideas including short hair looks, medium to long hair length options, super cool fade haircuts. These are the latest and most popular men's hairstyles and trends that we are seeing in the best barbershops around the world.
In detail, we discuss the haircuts, the best men's hair products to use, and how to style them. And, we show you the most popular types of haircuts for men, as well as all the different types of fades your barber can give you.
These are the newest trends in fade haircuts, modern undercuts, pompadours in different lengths and styles, classic men's haircuts, cool comb-over haircuts, and the most popular quiff haircuts and crop haircuts.
There are more cool haircut styles for guys than ever before. Stay fresh, stay cool. Mix and match features, hair length, part vs no part, or fade vs tapered haircut looks. We are also seeing men's haircuts that show off longer hairstyles with movement and flow. If you have long hair or are thinking about growing it out, check out our ultimate guide to long hair for men.
Current trends are also showing natural-looking men's hairstyles that are styled with lighter hold and matte finish pomades. You can also use a blow dryer to get some exaggerated flow and extra volume to your hairstyle.
Although the trend is leaning towards longer hair and medium-length men's haircuts you will also find our top picks for guys that want short hair. Short haircuts are always popular because they are easy to manage and look clean cut.
Some of these looks below are fade haircuts which means your barber uses clippers to shave the sides and back of the head in a particular style. Other haircuts are entirely scissor cut all over including the sides and back.
If you have curly hair,wavy hair, or thick hair you will also find some great haircuts below. Got curls? Check out our complete guide to curly hair. We show you the best haircuts, and the best products to care for curly hair.
Top 100 Men's Haircuts + Men's Hairstyles
Okay, so let's dive in and take a look at the best haircuts for men and hairstyles for men that we have seen this year. 
Somewhere on this list, there is a brand new haircut and men's hairstyle combination for you to try out.
1. Cool Men's Haircut + Low Fade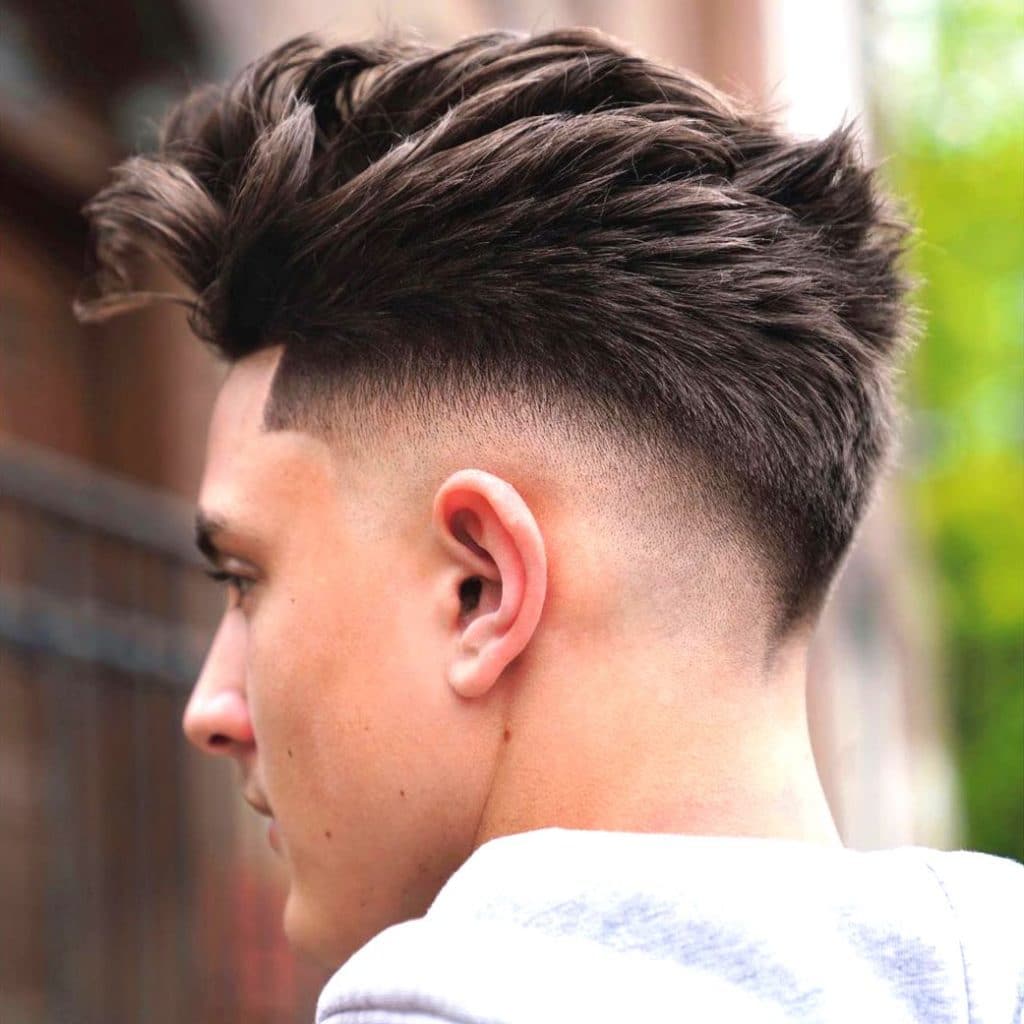 Zach Ramsey
This is a cool haircut for men that features medium textured hair and a low bald fade.
2. Medium Haircut For Men + Bald Fade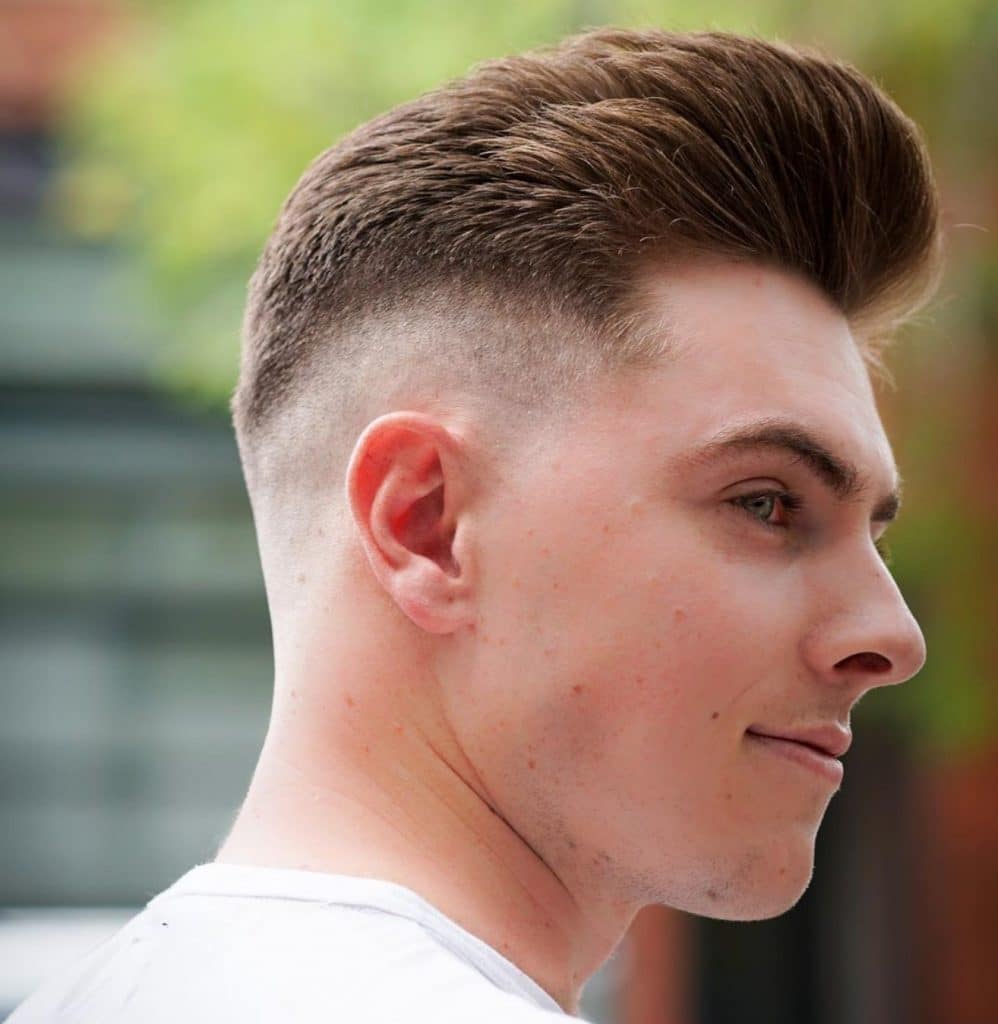 Barber Cole
This haircut features short to medium hair on top with shaved sides. A modern take on the pompadour.
3. Modern Slicked Men's Haircut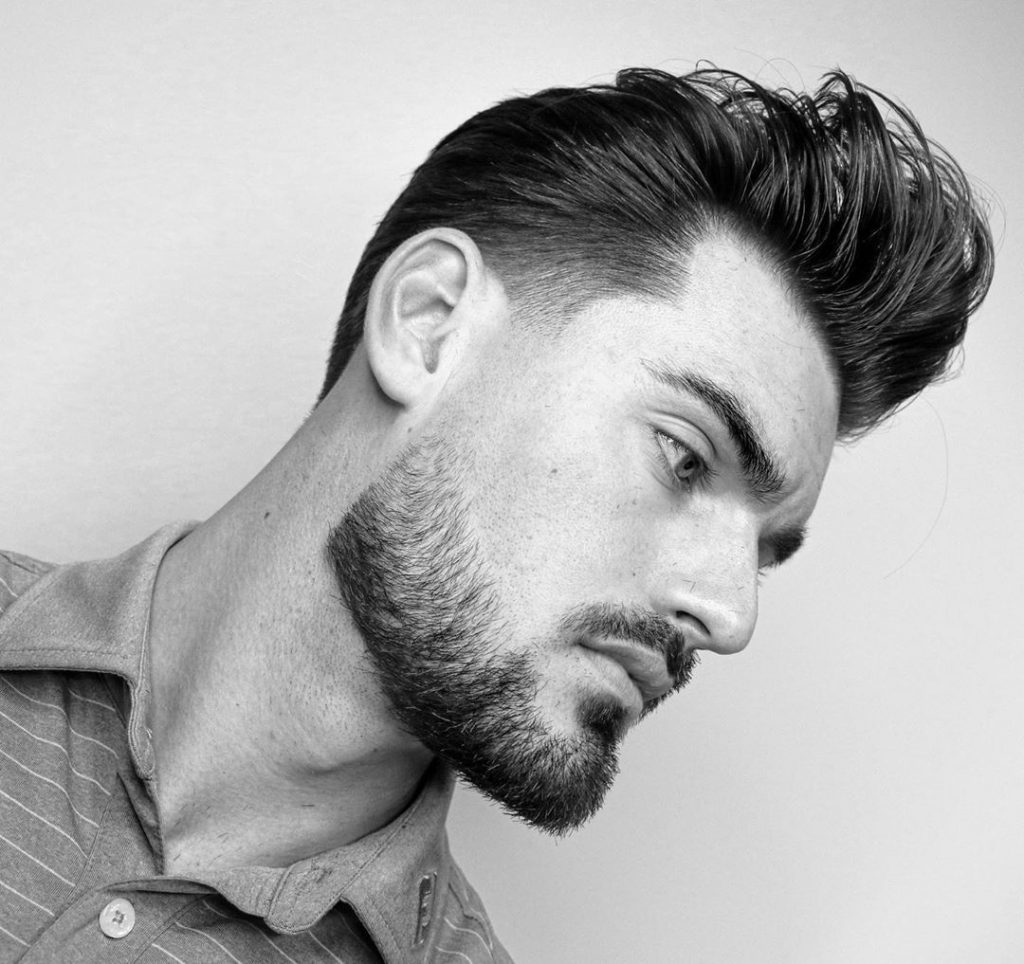 Barber James Beaumont
A great example of a classic slicked back look. But here the hair on top is left a bit more natural looking. This is not the traditional approach of styling with a shiny pomade. Rather the hair has been brushed back and blown dry with a hairdryer to give that natural flow and movement. Use a matte pomade.
4. Side Part Hairstyle For Men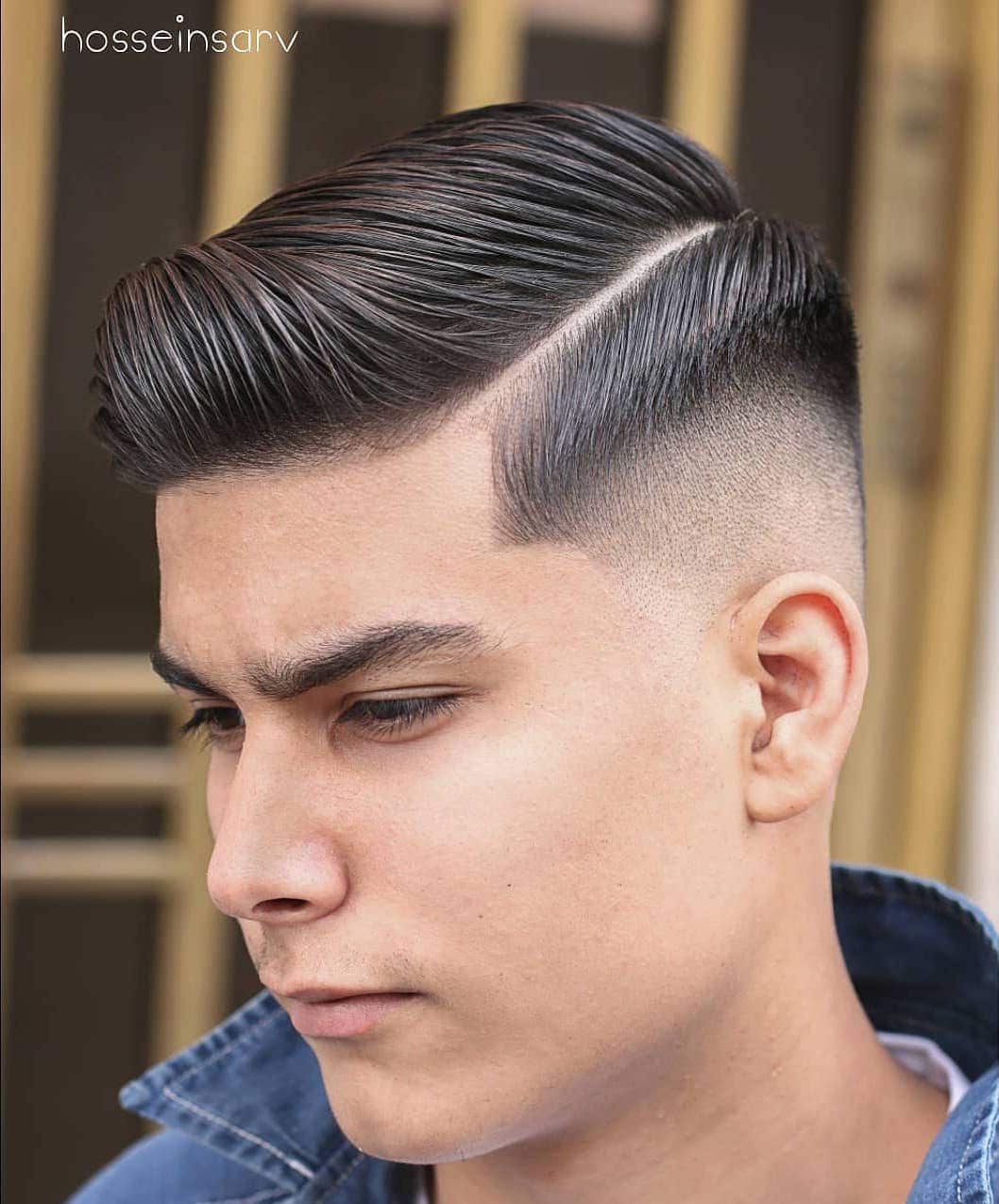 hosseinsarv
A great looking men's hairstyle with a side part. To get this look you will want to use a product that has a bit of shine. Work a small amount of a shiny pomade into damp hair. Comb into place. To get some extra body use a blow dryer.
5. Medium Length Men's Haircut + Bald Fade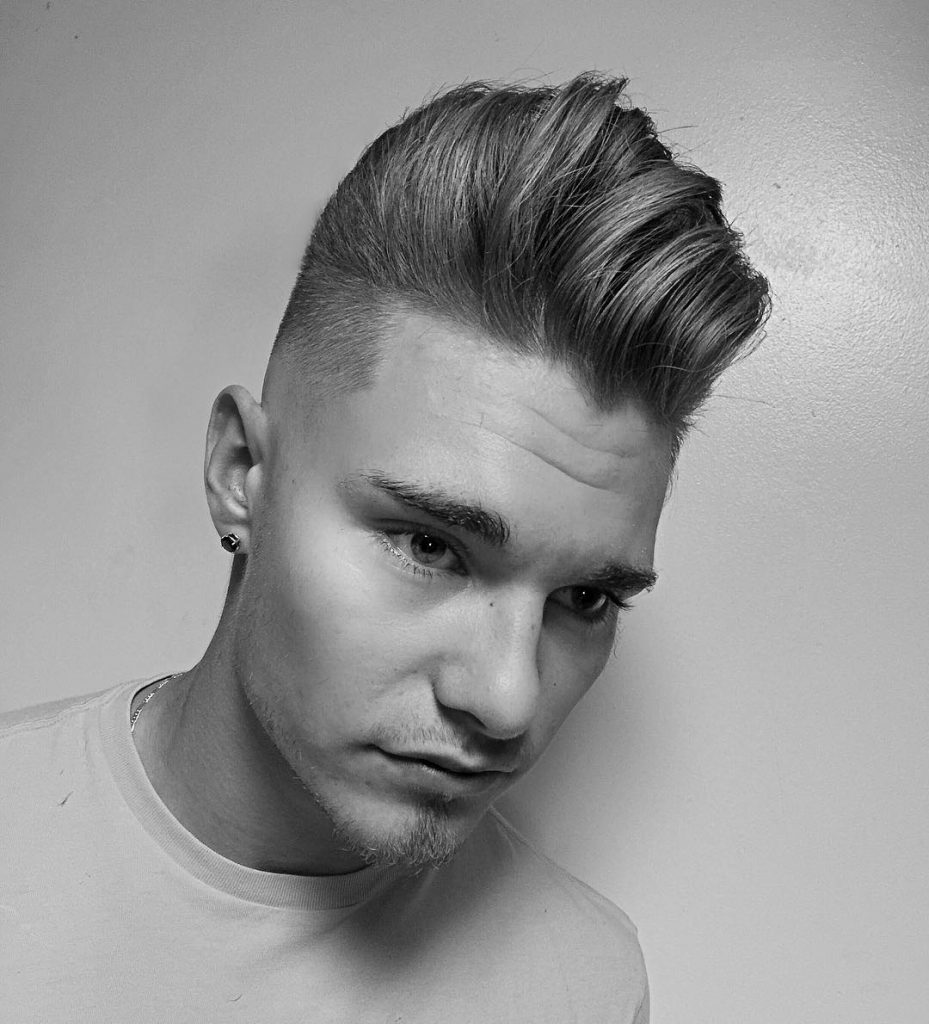 Mikey
This has been one of the most popular men's haircuts for several years. Shaved sides. Long hair on top. You need to use a blow dryer to get the tall big hair standing up on top. A great look for any type but works best with thicker hair types.
6. Cool Flow Tapered Haircut For Men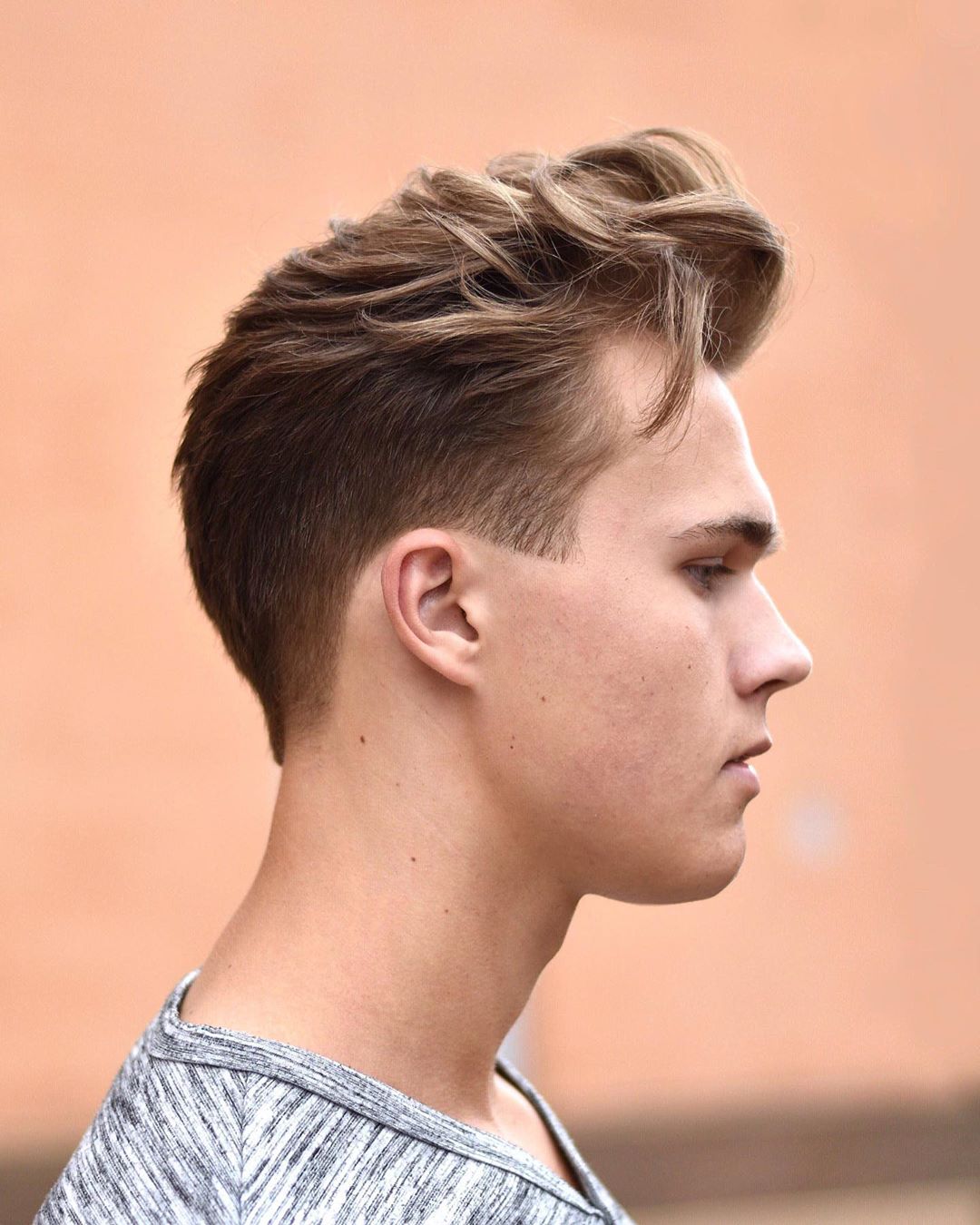 Iisakki Nummi
As we have said longer hair looks are in. More and more guys are growing their hair out longer on top. This is a beautiful scissor cut taper haircut for men with curly hair. It shows off some great looking flow and movement.
7. Short Textured Haircut + High Fade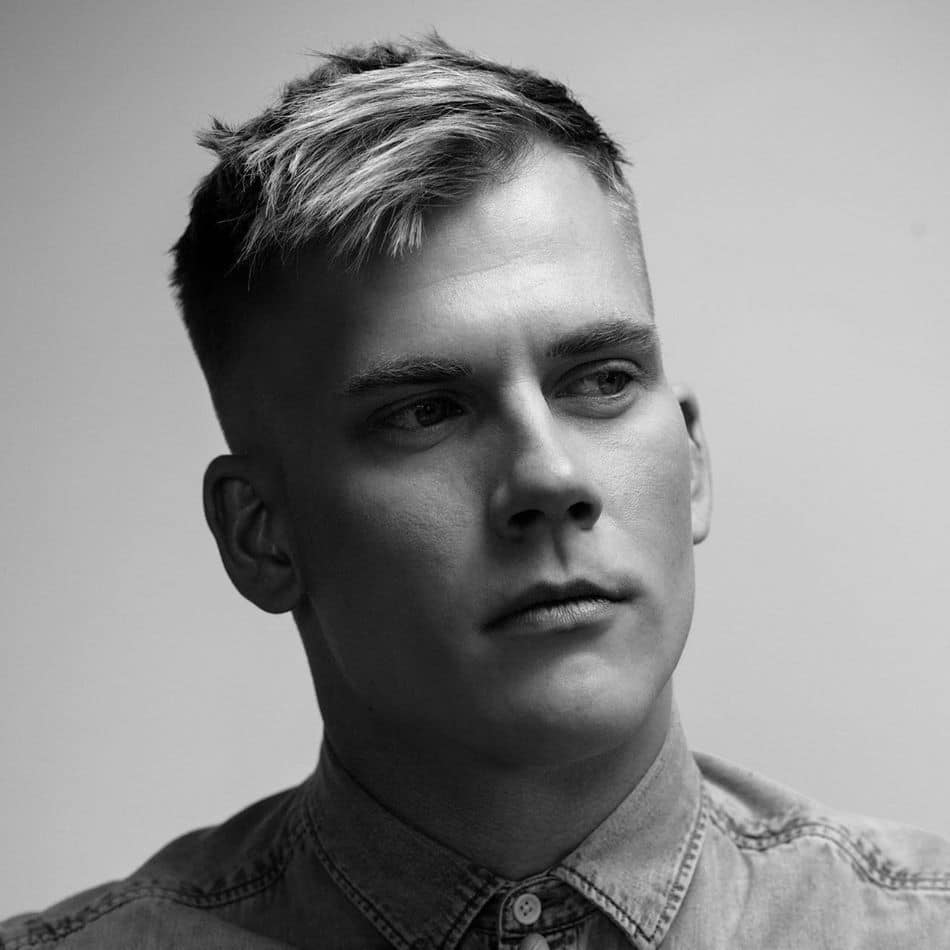 Whitney Vermeer
This is a great short haircut for men that can be styled in a number of ways. You can wear it slicked and neat for the office, or mess it up for a more edgy look when you go out on the town.
8. Long Hair Pompadour Hairstyle For Men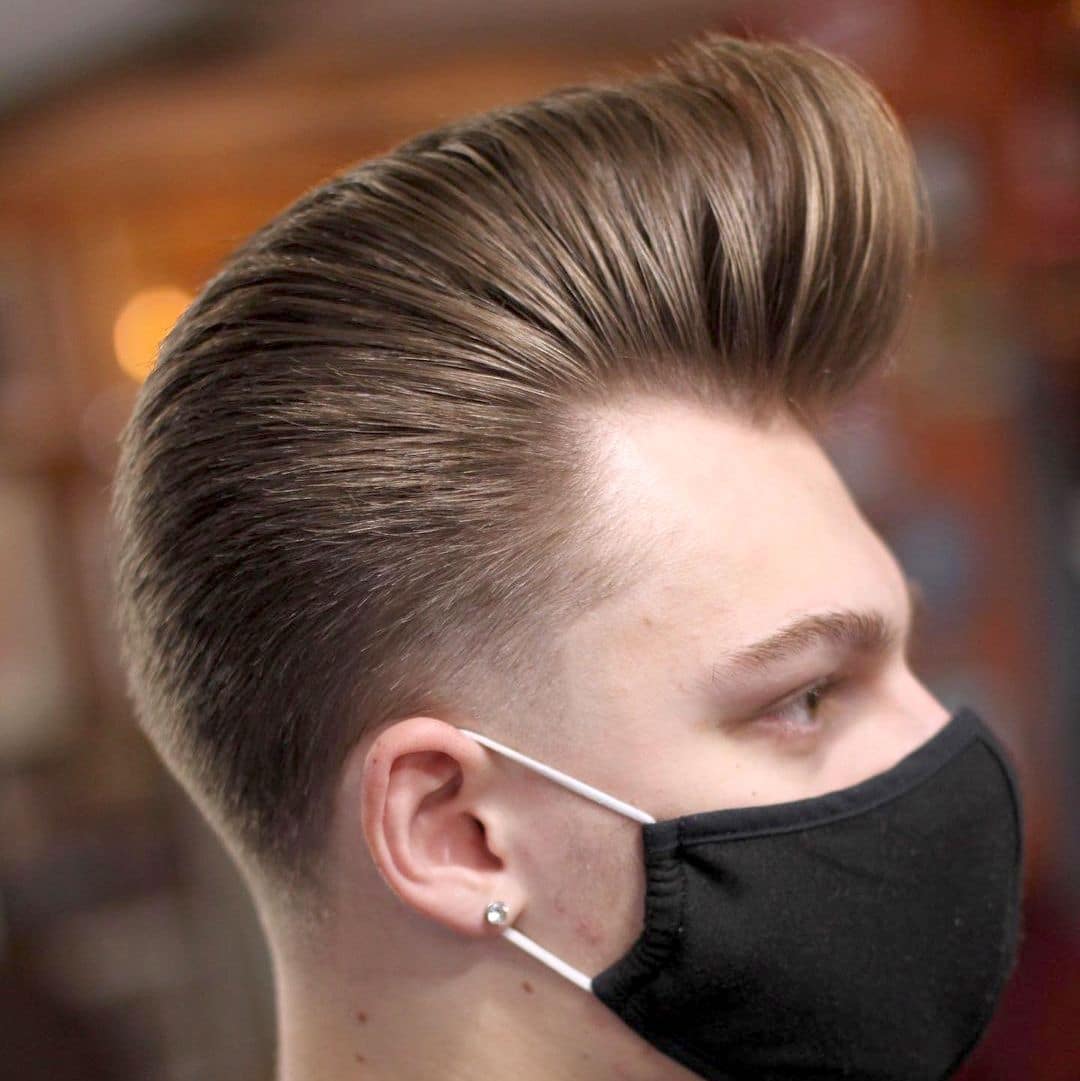 Curran Candage
Another great example of a cool pompadour hairstyle with short sides and longer hair on top.
9. Undercut + Messy Hair On Top + Long Fringe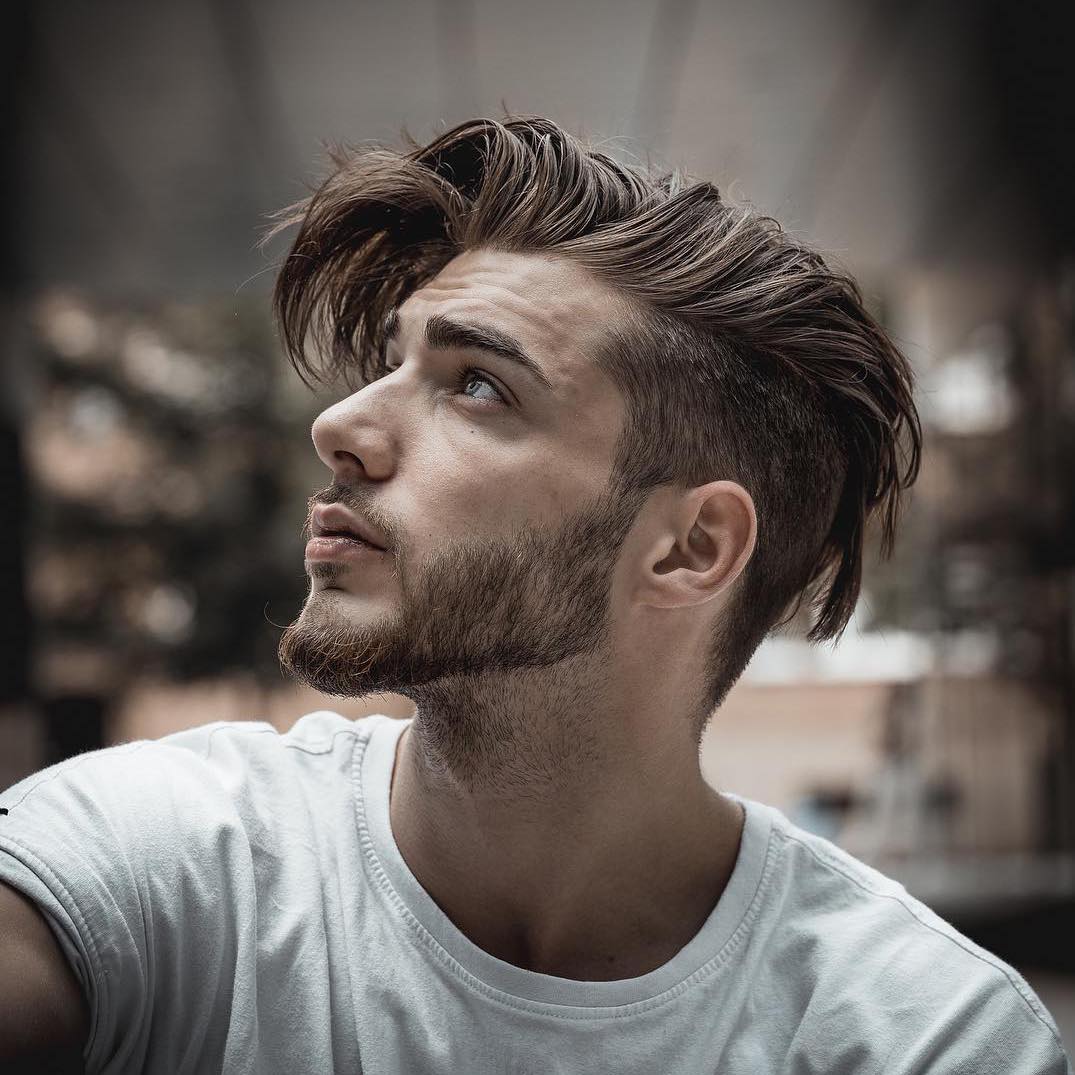 Kristijan Lizačić
This is a super cool undercut. If you have an abundance of thick hair than this might be a good option. The hair on top is left to flow wildly. Undercuts are one of those men's haircuts that continues to evolve into cooler new styles.
10. Haircut With Long Fringe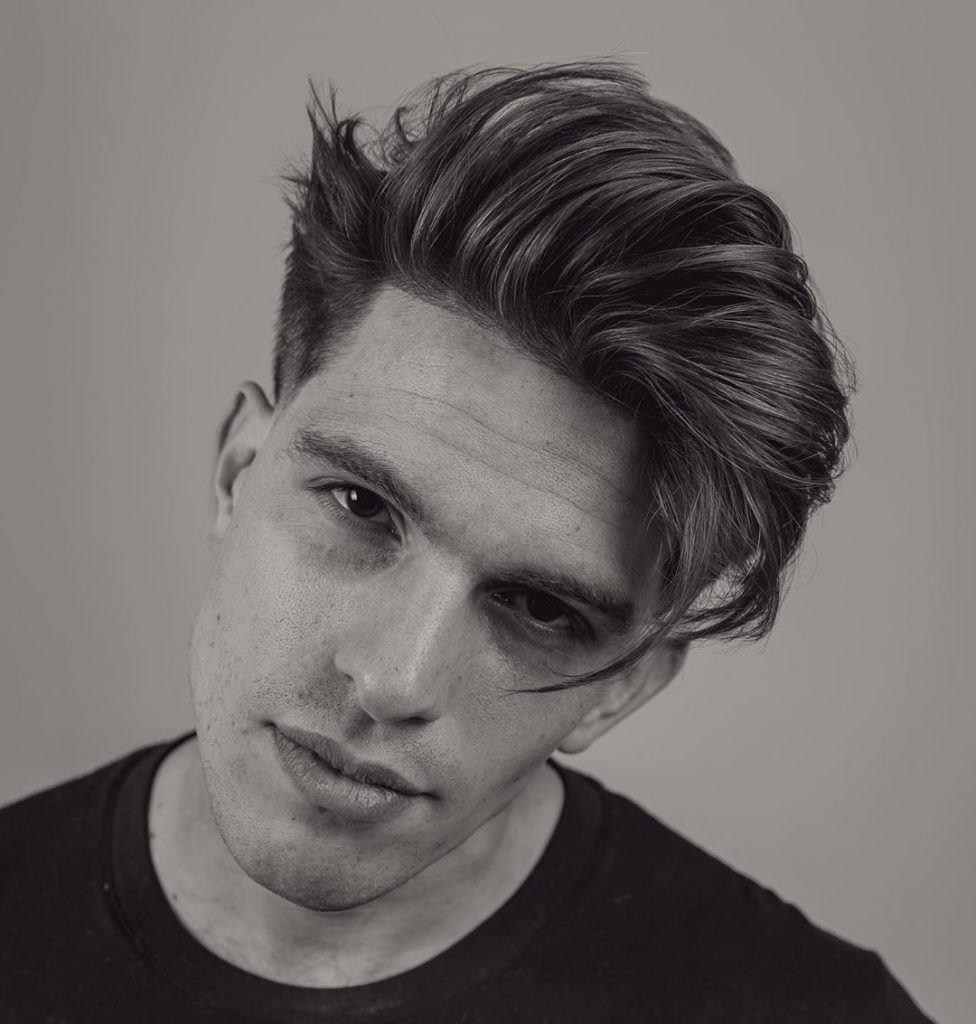 joshlamonaca
A cool modern version of the classic "skater haircut" that features a long fringe in the front, and short sides
11. Tapered Haircut For Thick Hair With Short Sides + Long Fringe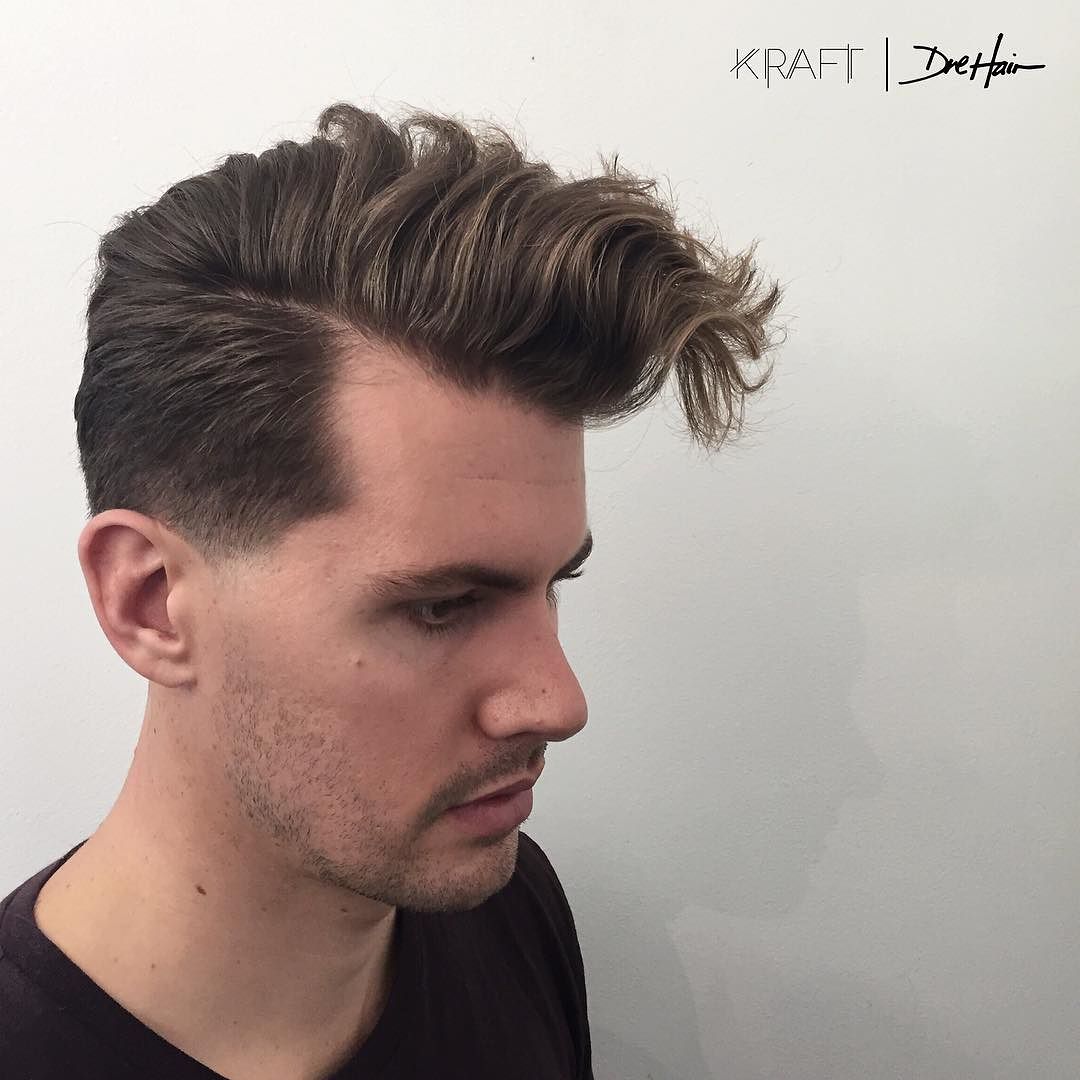 Dre Hair
A beautifully tapered haircut. A great looking side part haircut. Not too much clipper work, mostly scissor cut.
12. Cool Short Haircut For Thick Hair + Bald Fade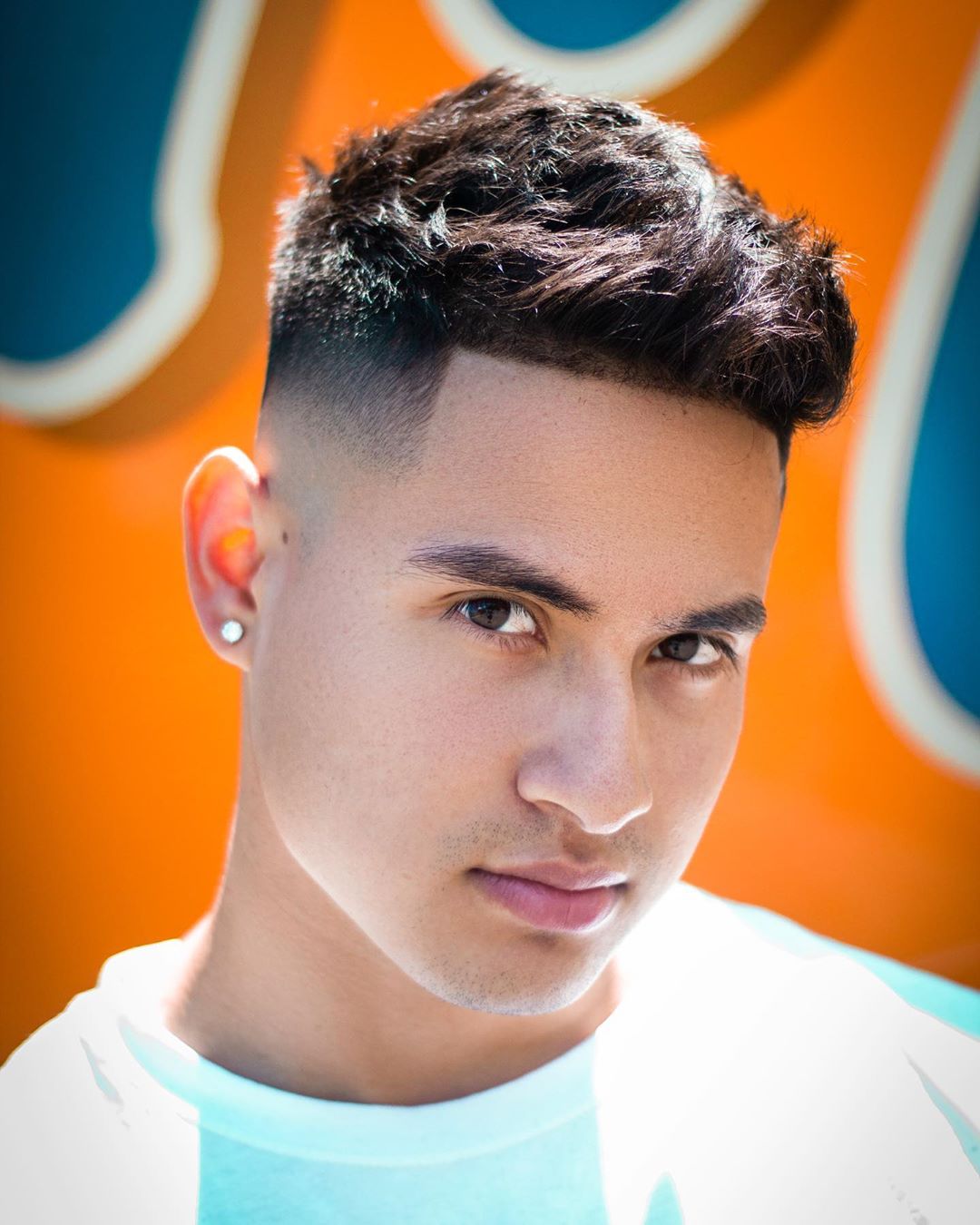 travisanthonyhair
A cool haircut for men that have thick hair. It is cut short on top, nice and fresh in front with a line up, and shows off a bald fade on the sides.
13. Short Textured Men's Haircut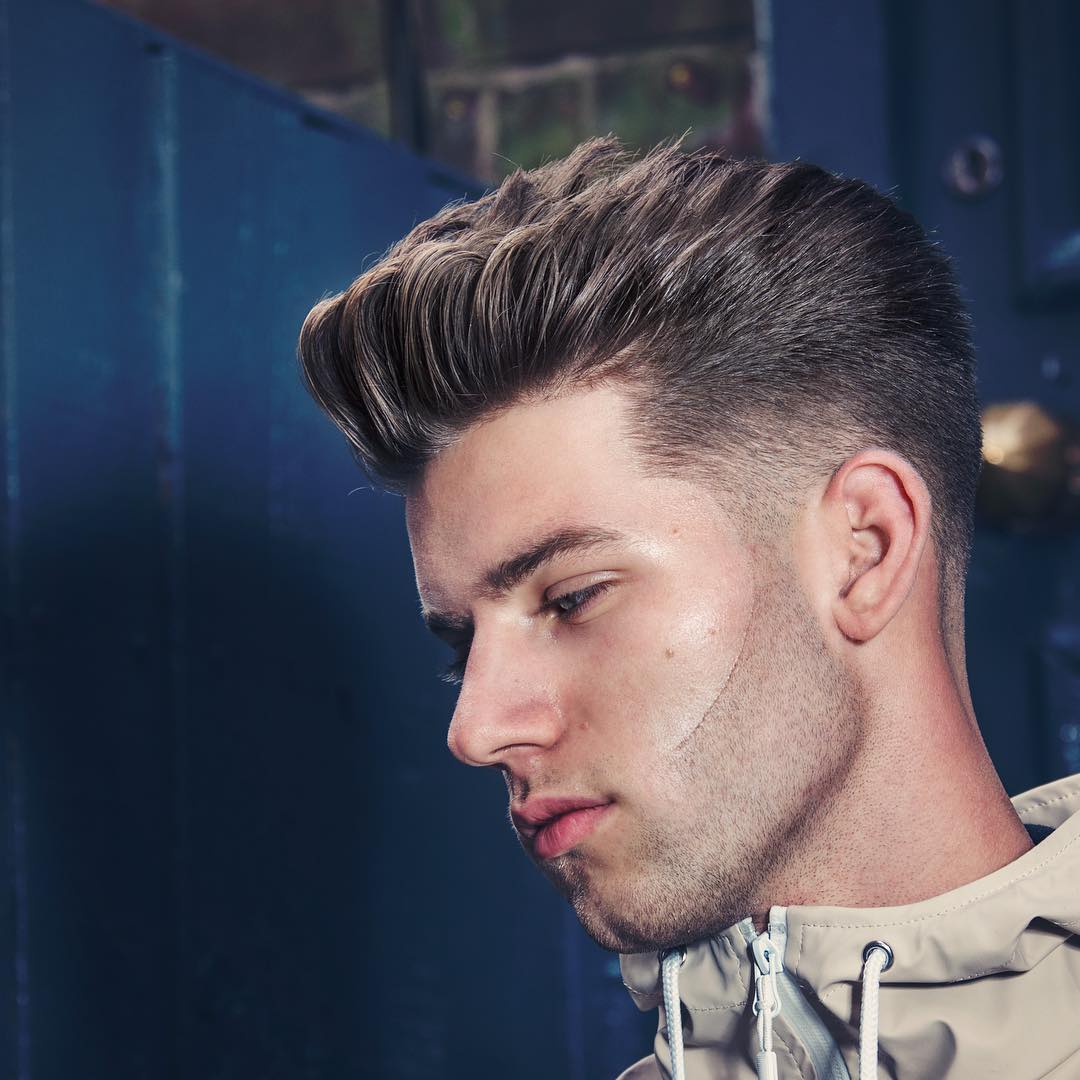 Alternative Barbering Co.
A super cool short textured haircut with a low fade and plenty of flow. Textured men's haircuts are awesome because they give you more styling options. They can be worn neat and clean if you style with a comb or styled into a less refined messy hairstyle.
14. Textured Haircut + Long Fringe + High Fade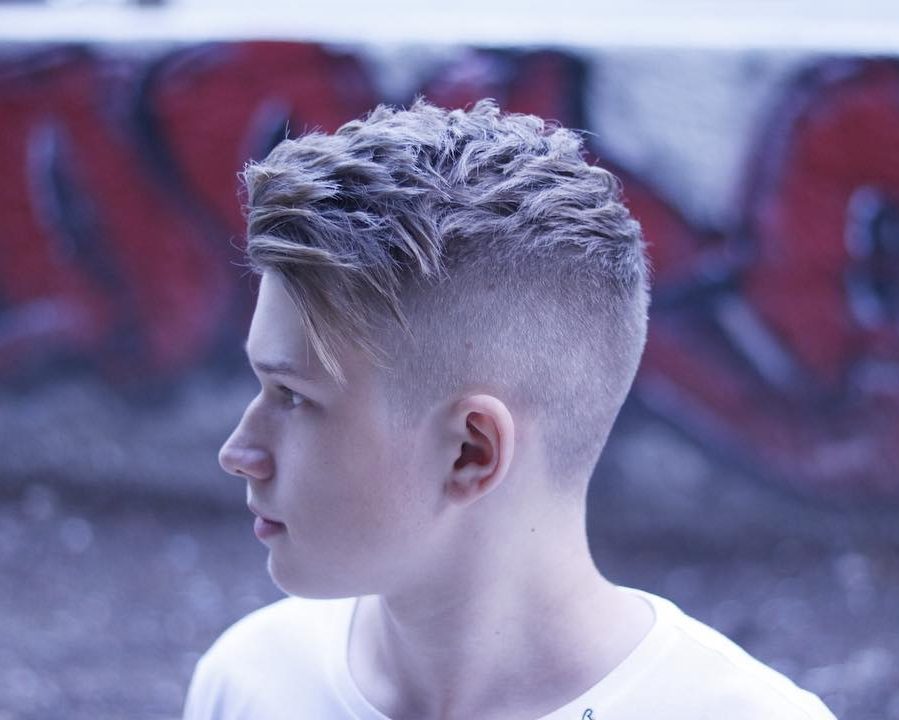 Haircut by Rafa Underground
Such a cool haircut. Messy medium textures on top give that spiky look. Fringe was kept longer. Another undercut with a very modern twist to it.
15. Short Spiky Quiff Haircut + Beard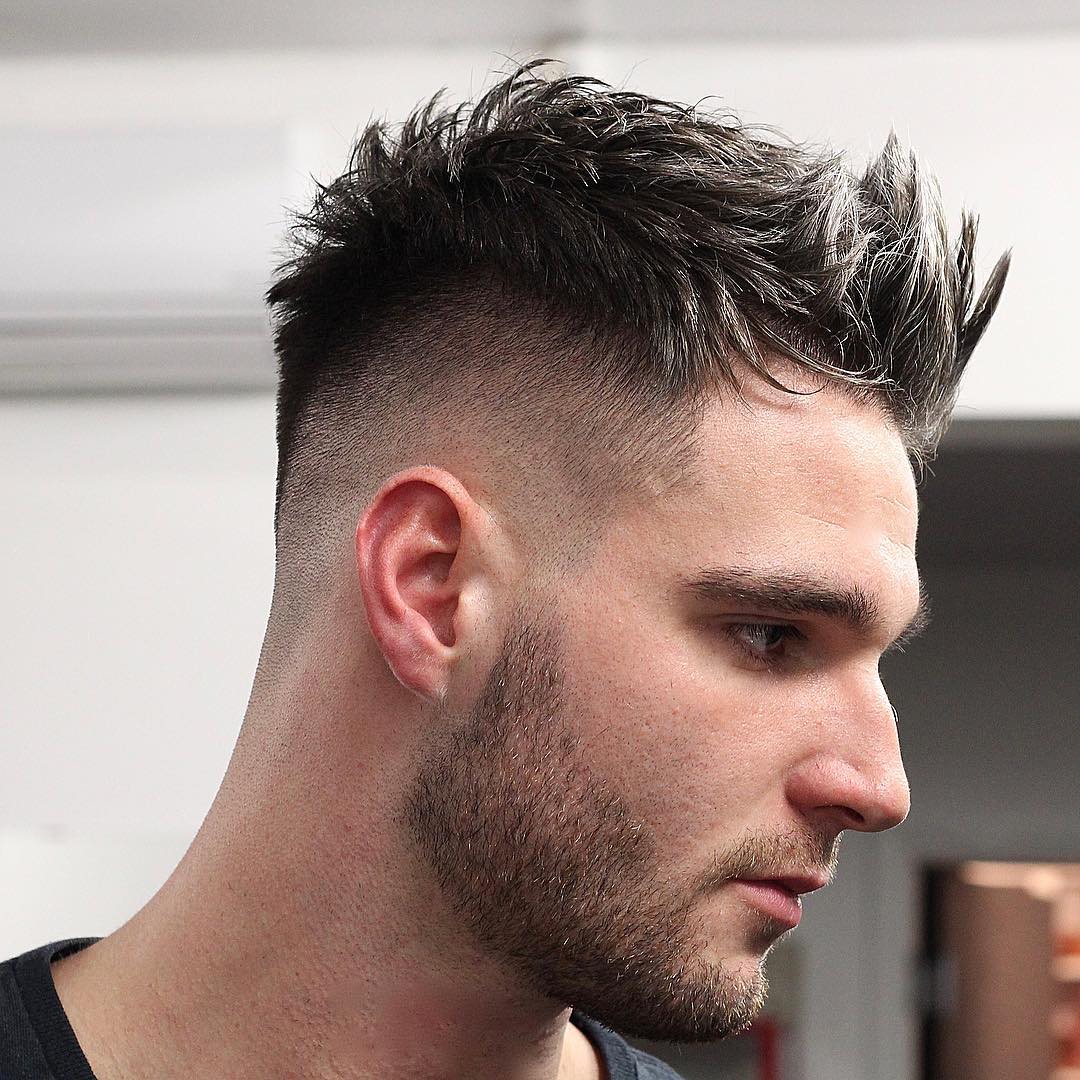 Haircut by Tom Baxter Hair
Another great example of a quiff haircut. One of the most popular men's haircuts we have seen the past couple years made popular by the likes of David Beckham. This one is on the shorter side. The textures give that spiky appearance on top. Use a medium to strong hold pomade to style the haircut into place.
16. Medium Length Taper Fade Haircut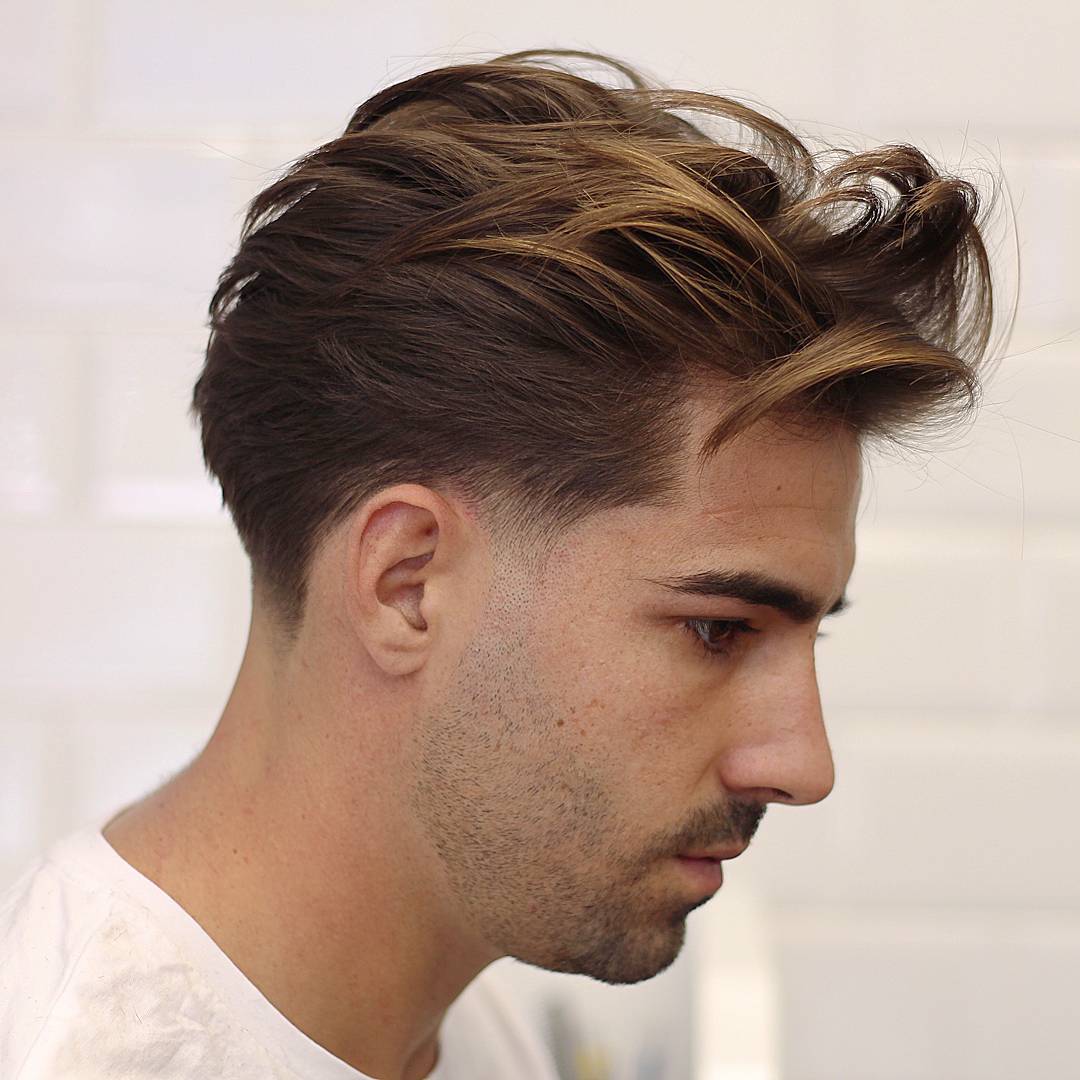 Haircut by Agus De Asis
This is an awesome taper fade haircut with some great medium length flow on top. You will need to use a blow dryer to get that flow and movement.
17. Short Pompadour Haircut + Mid Fade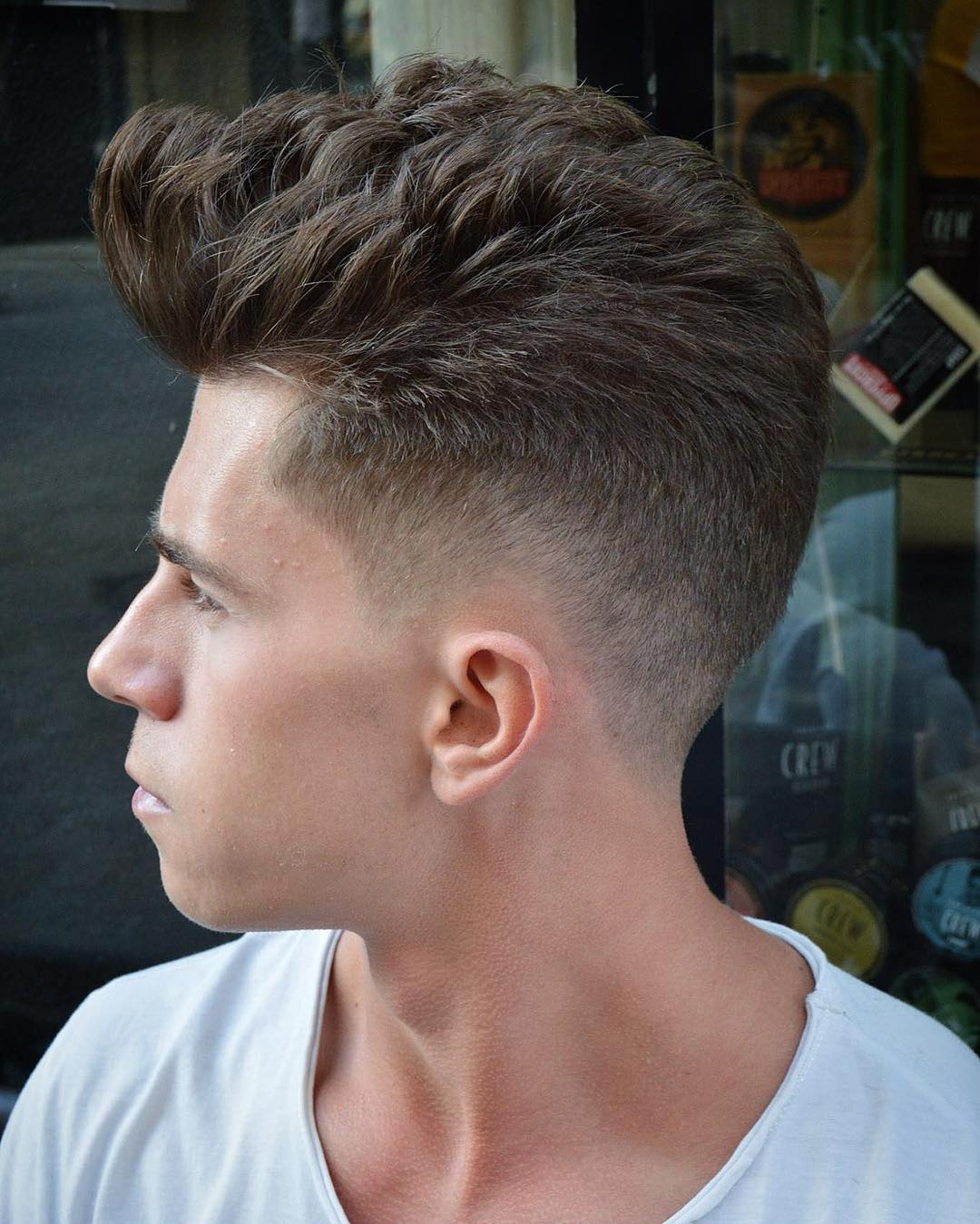 Haircut by Viroga's Barbershop
This haircut for men features a super clean mid fade on the sides and back. Perfectly blended into the short to medium length hair on top. A great cleaned up look for those of you that have thick, wavy or curly hair.
18. Curly Flat Top Haircut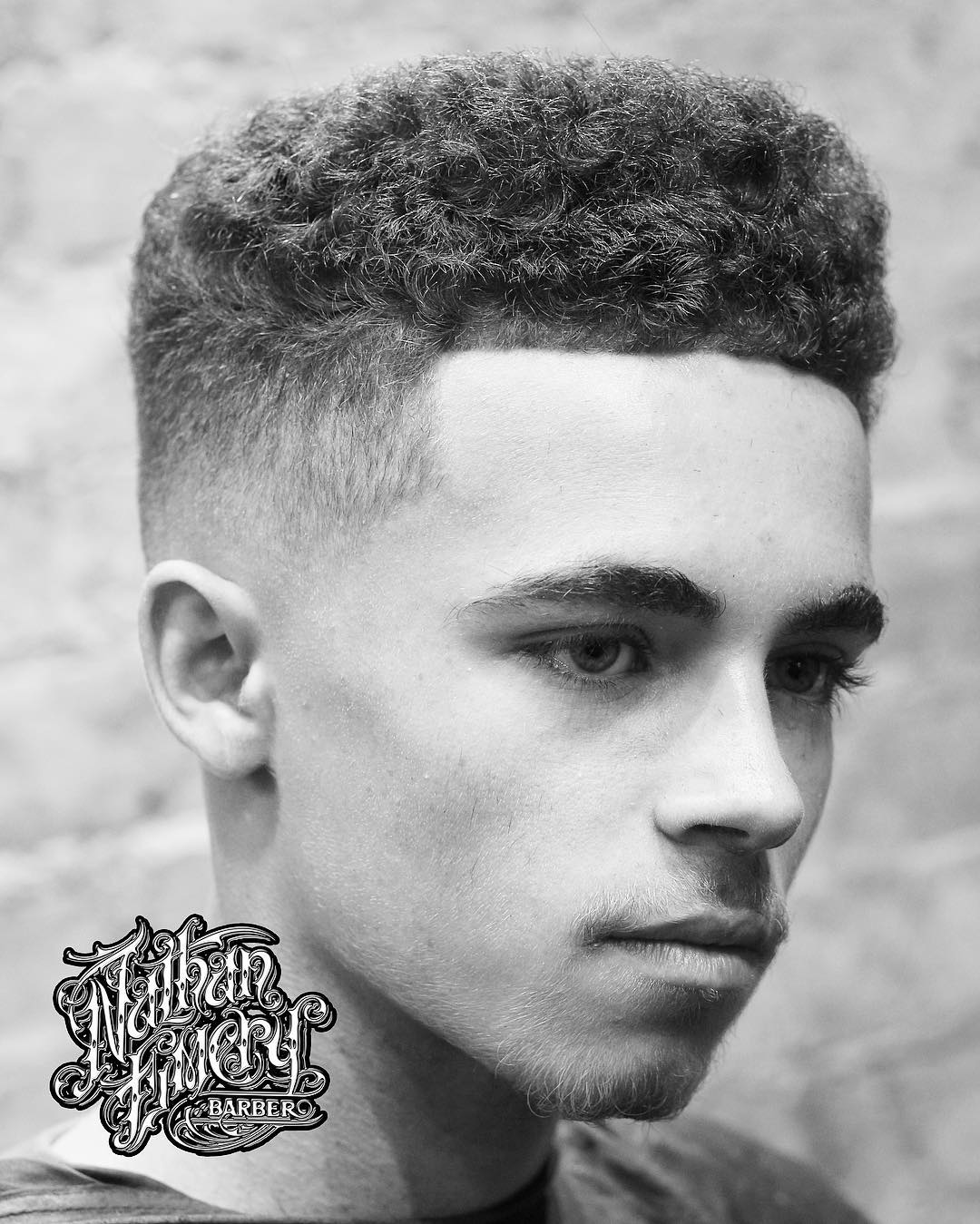 Haircut by Nathan Emery
Perfectly sculpted curls on top and sides kept short with a mid fade.
19. Medium Length Haircut + Mid Fade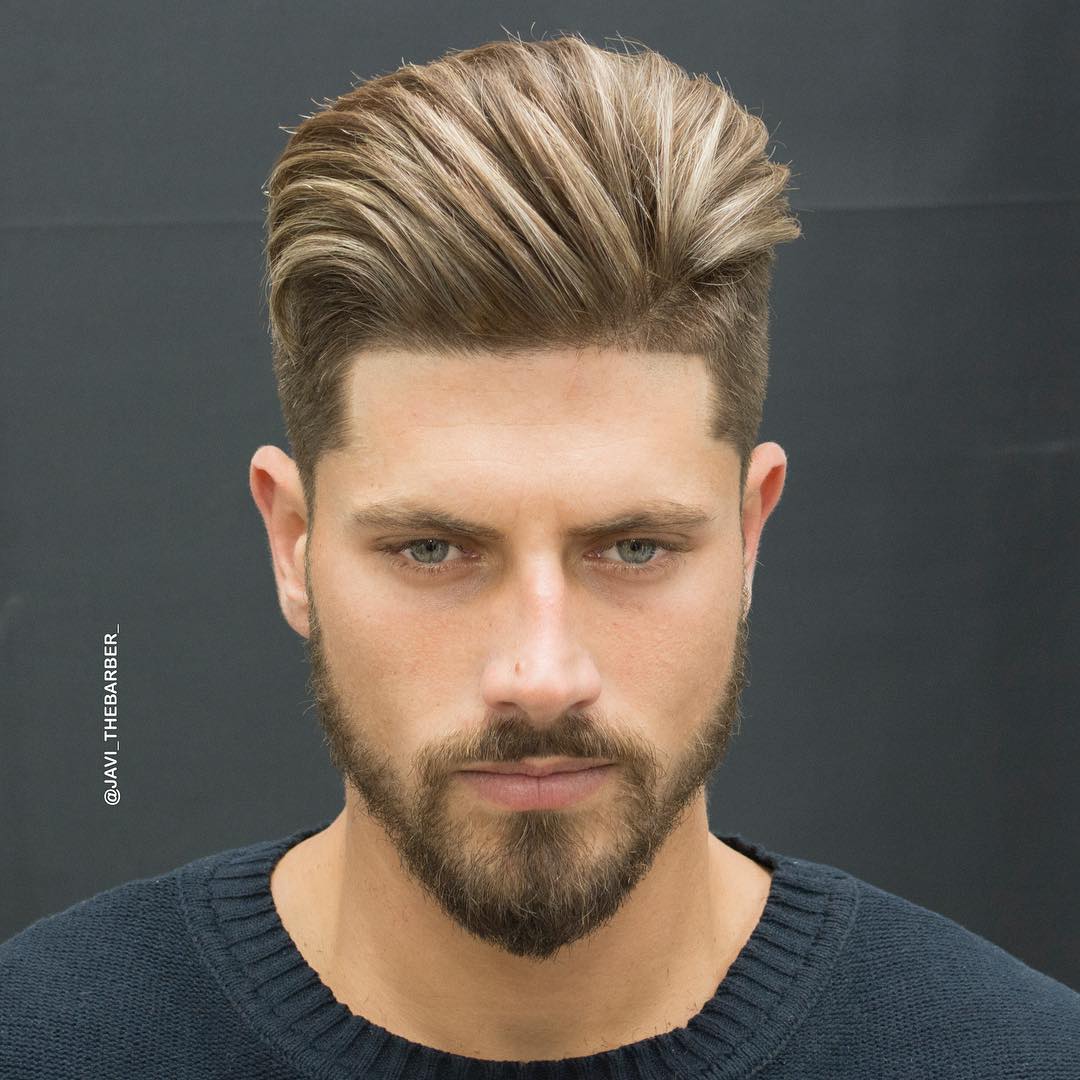 Haircut by Javi The Barber
A great looking line up in the front. To get the hair to look like this on top you need to use a blow dryer and brush. You can blow dry damp hair with or without a light to medium hold pomade.
20. Cool Hairstyle For Long Curly Hair + Drop Fade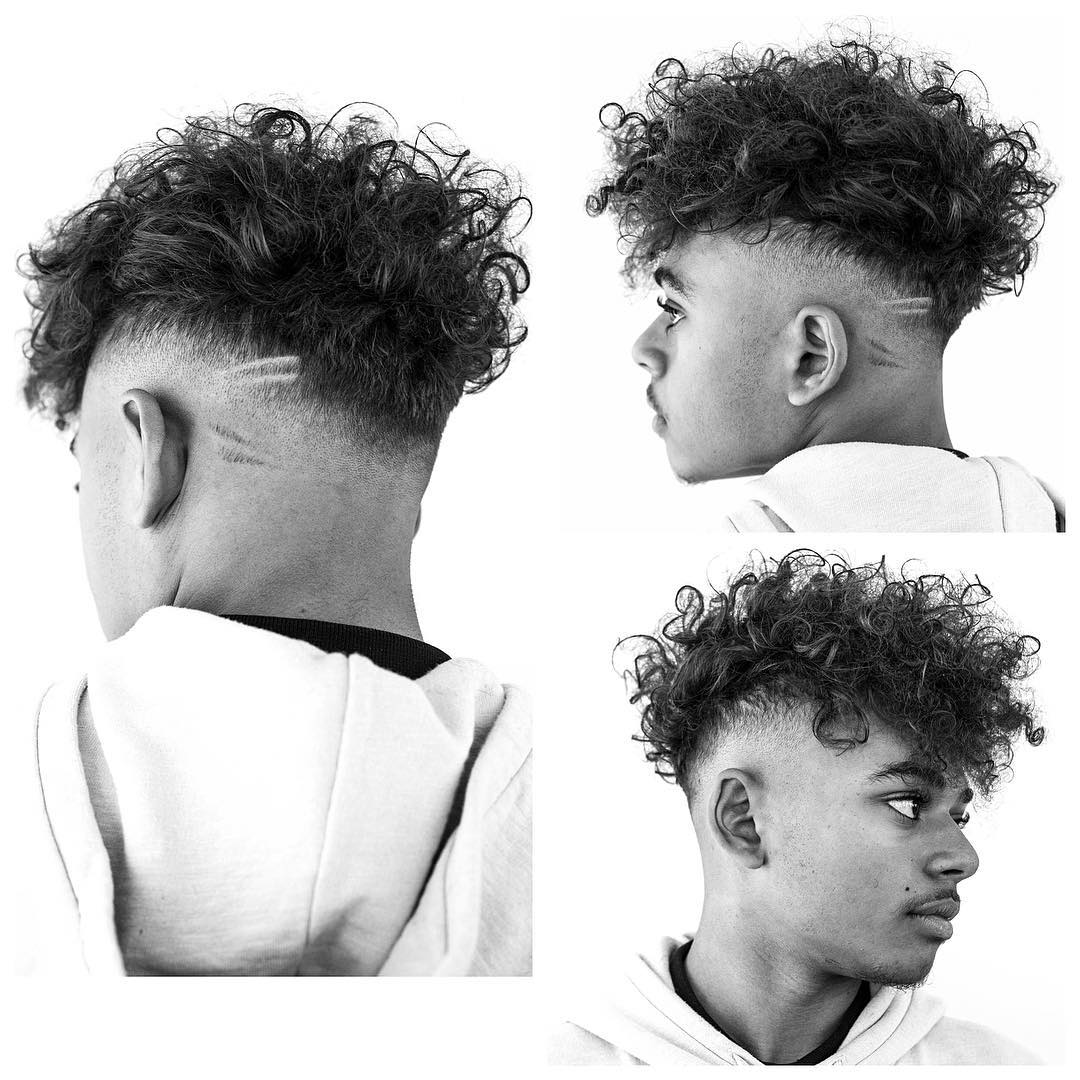 Haircut by Braid Barbers
A bald drop fade keeps things cool in the back and sides. Curly hair on top is left wild. Long fringe in the front. If you have thick curly hair this is a great look. Easy to style and maintain. Simply towel dry and go.
21. Comb Over Haircut + Side Part + Low Fade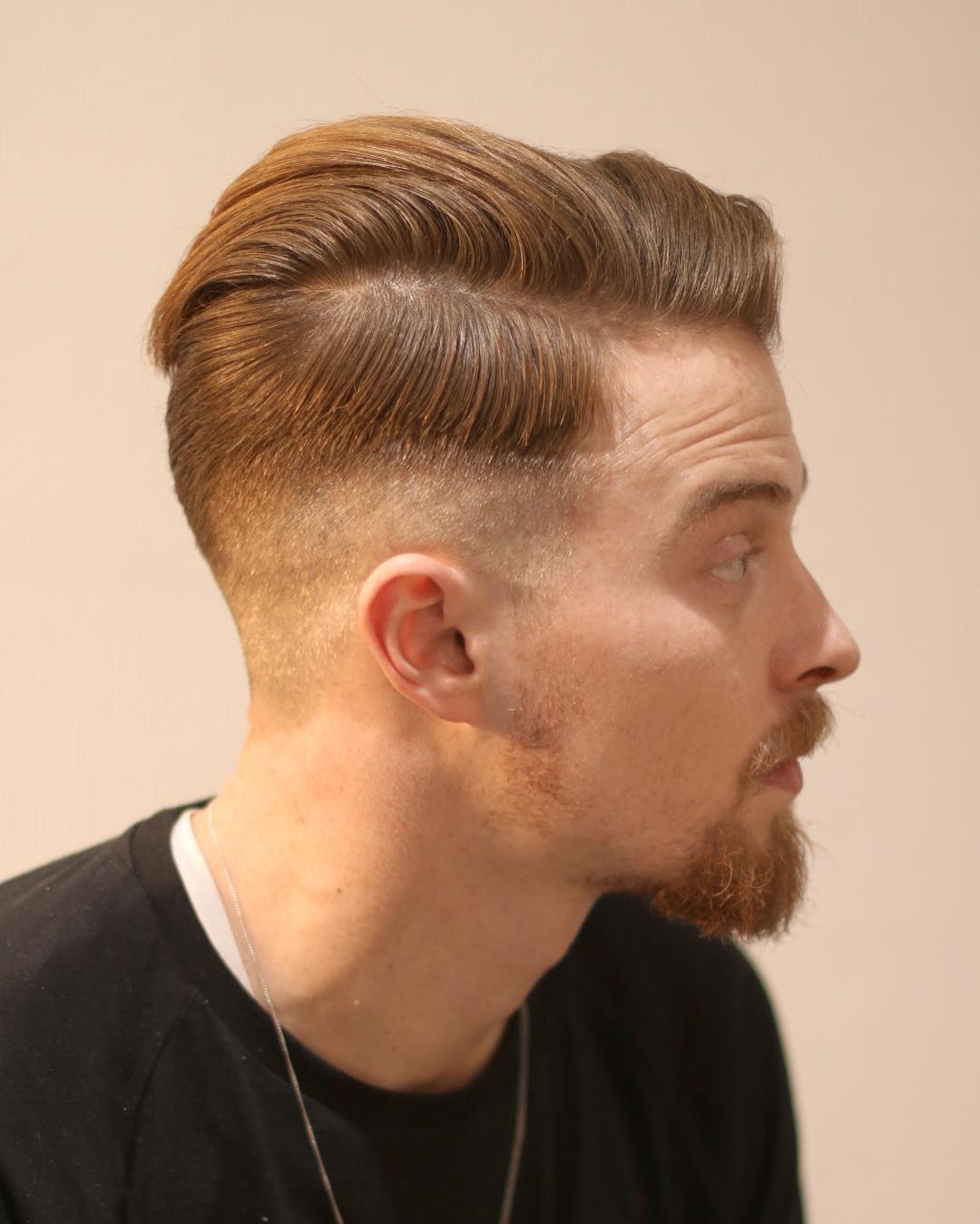 Haircut by Talitha 'Tils' Maddison
A nice classic men's haircut with a modern feel to it. A mix of a side part and pompadour hairstyle.
22. Medium Length Modern Classic Men's Haircut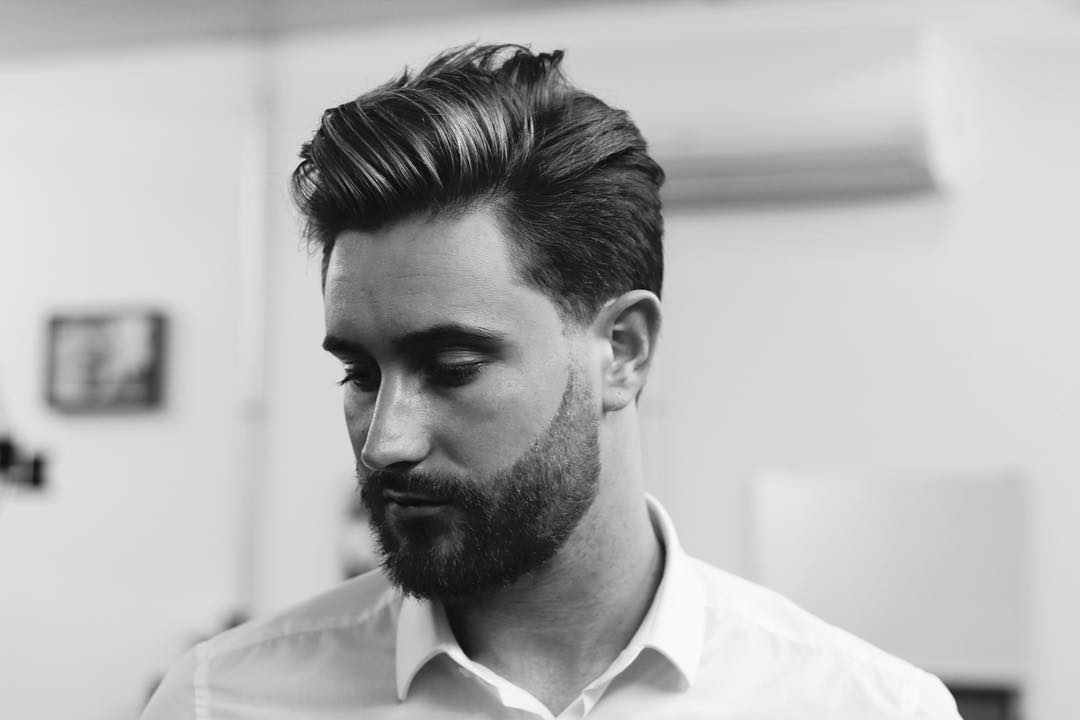 Haircut by Tom Baxter Hair
A great looking classic men's tapered haircut with side part. Short on the sides. Long hair on top.
23. Classic Men's Haircut Styled Back + Line Up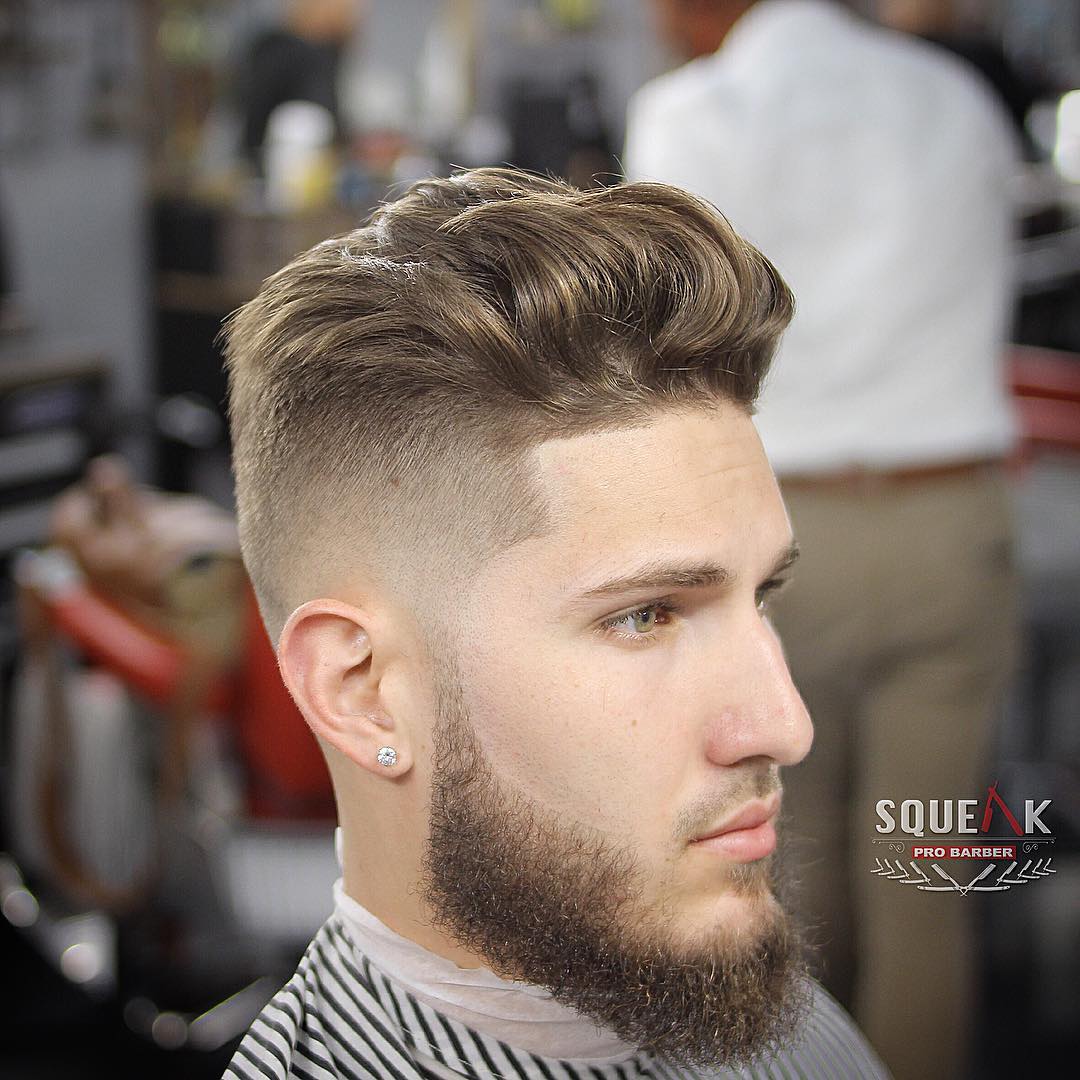 Squeak Pro Barber
This is such a great haircut for men to get. Super versatile. Easy to style. It features a high fade with medium length hair on top that can be styled in so many ways. Style a pomp, slick it back, comb into a side part hairstyle or just wear it dry and natural. So many options. To get this look use a light to medium hold pomade. Work a small amount of pomade into your hair when it is dry. Or, work it into damp hair and use a blow dryer and brush to get that movement and wavy look.
24. Cool Short Curly Haircut + Drop Fade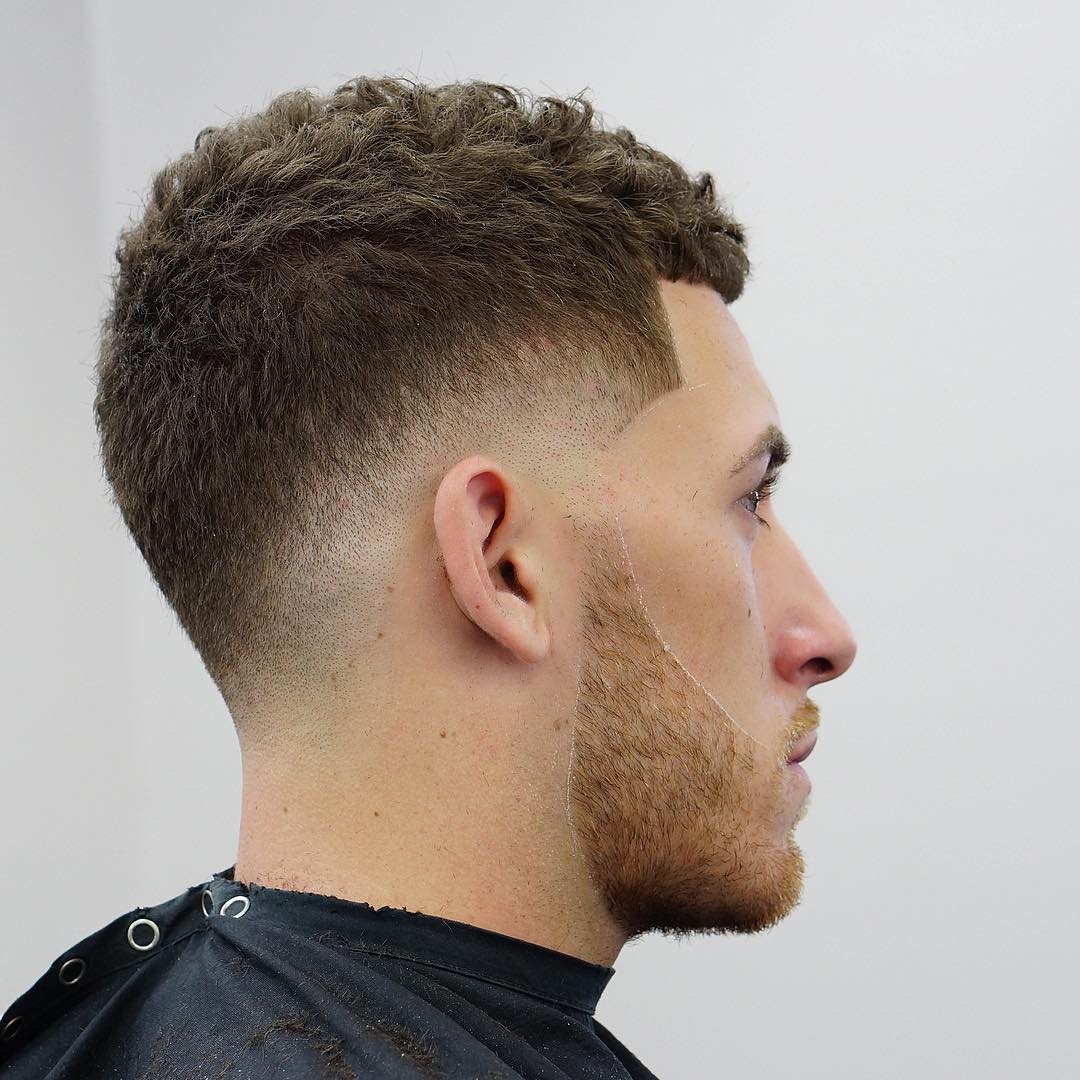 Criztofferson
This is such a great summer haircut for men to get. Works with any hair type. Hair has been cut short on top. Features a drop fade down to the skin and cool looking disconnected beard.
25. Cool Pompadour Undercut Haircut + Drop Fade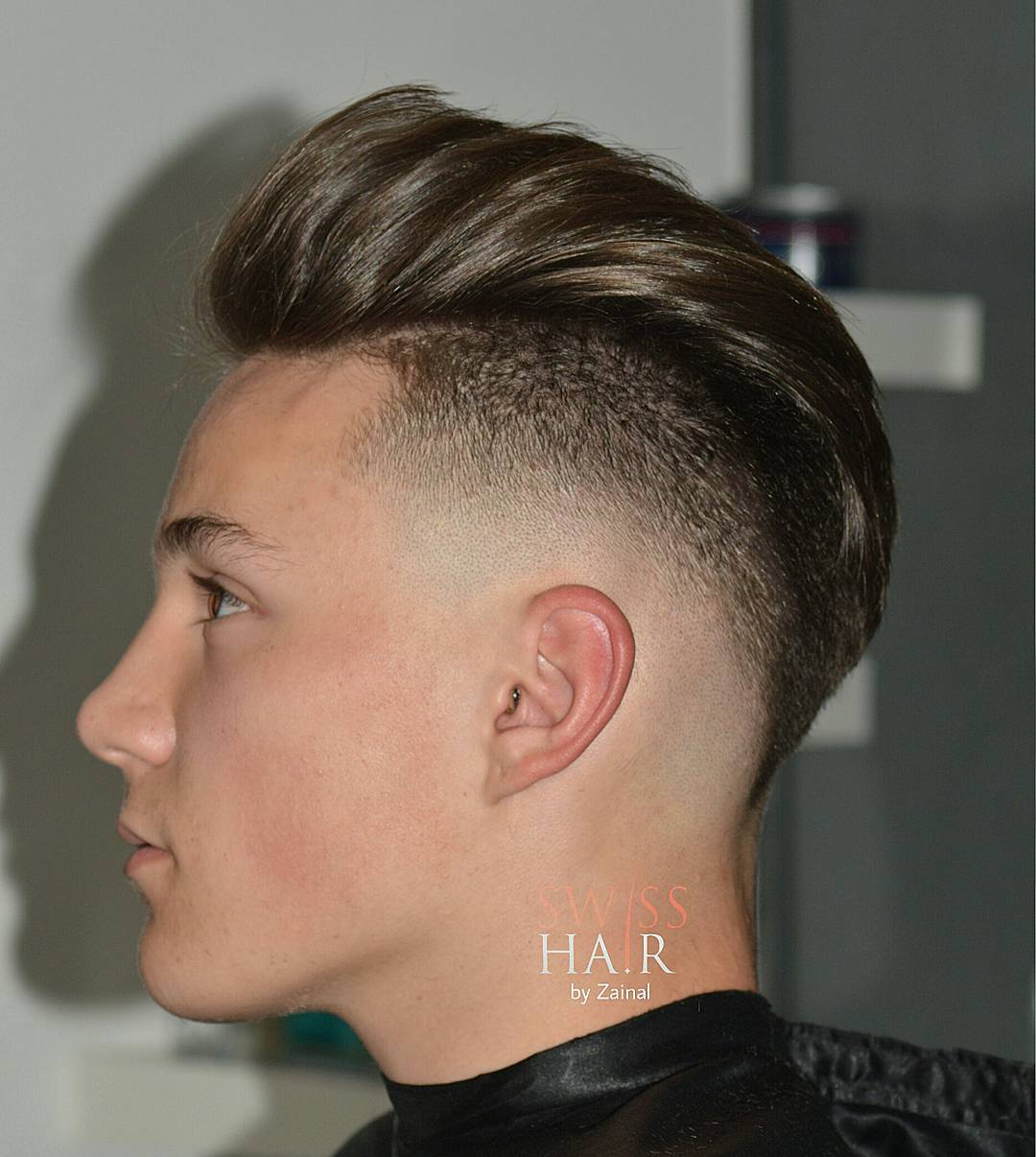 Swiss Hair by Zainal
This haircut is half pompadour half undercut. It features a drop fade down to the skin. To get this look you need a blow dryer. That is what will give the hair body, flow and movement. Brush and blow dry to the one side. Brush and blow dry front to back. It is amazing what just a brush and a blow dryer can do to give the hair big flow. You don't even need to use a product. However, a light to medium hold pomade will help to keep the hair standing up for more hours of the day.
26. Messy Undercut Hairstyle For Men With Thick Hair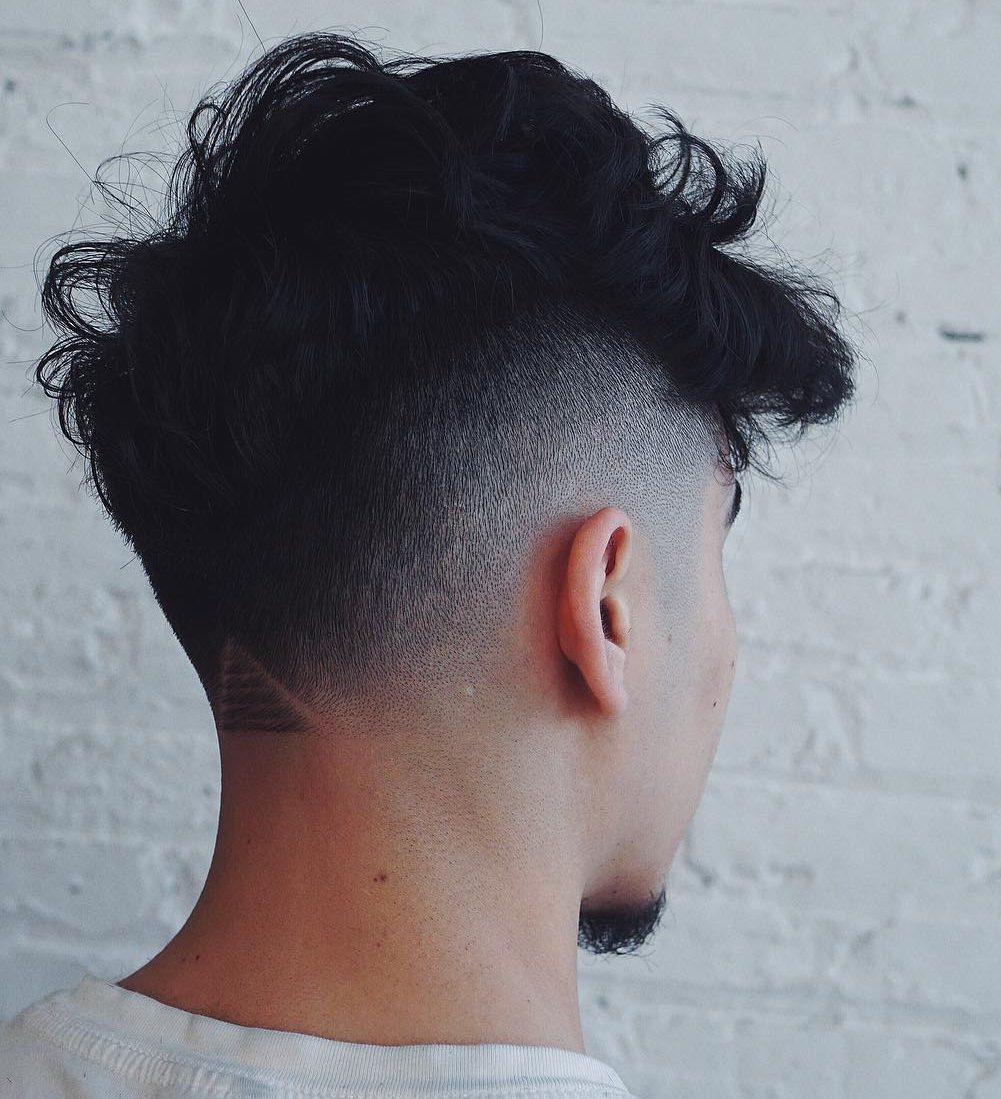 Dang Cuts Hair
Another great example of the modern undercut. Messy textured hair on top gives the undercut a modern feel.
27. Medium Length Haircut For Straight Hair + Low Fade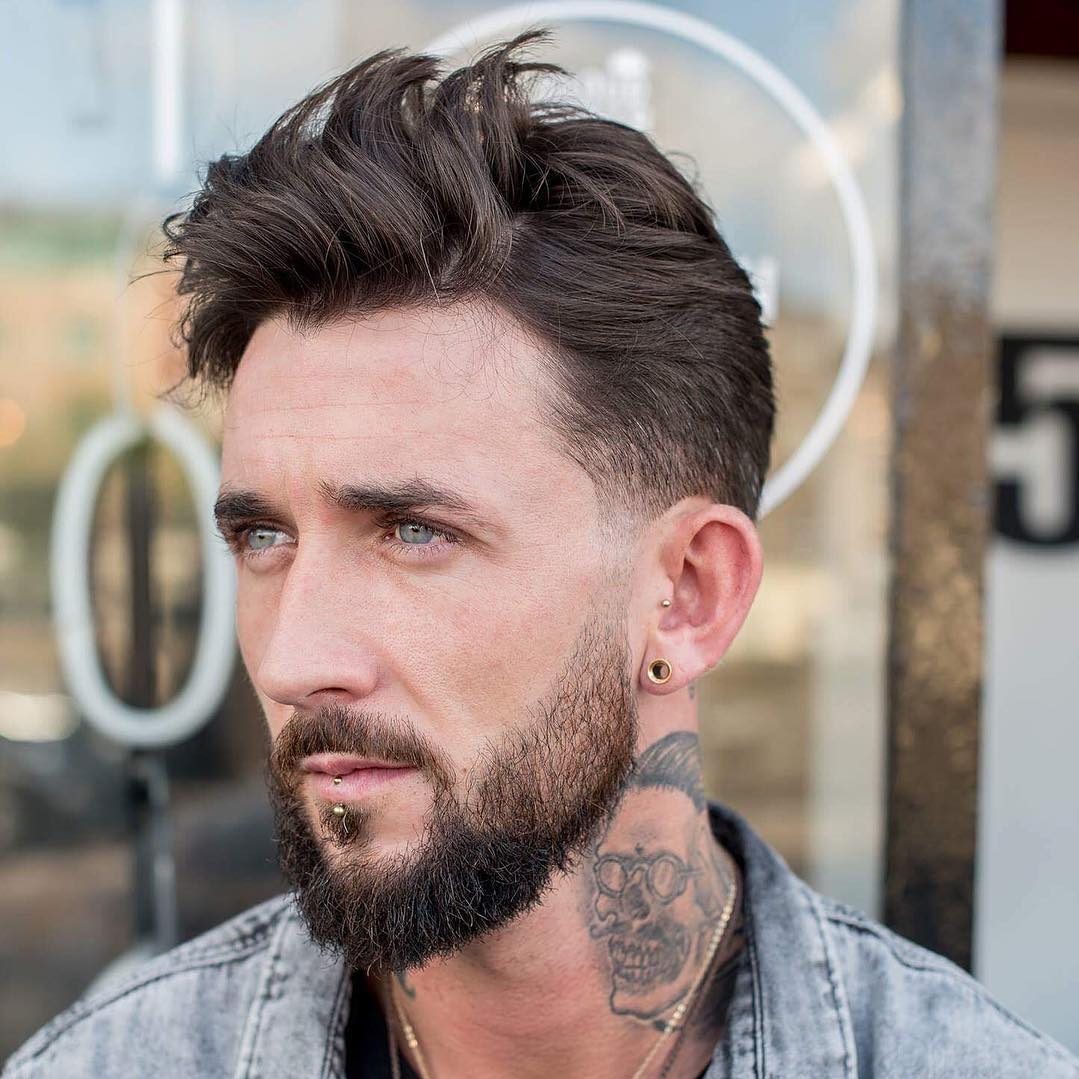 Conor Taaffe
A low fade to the sides and back with medium hair on top left to flow however it wants.
28. Long Curls + Cool Hair Design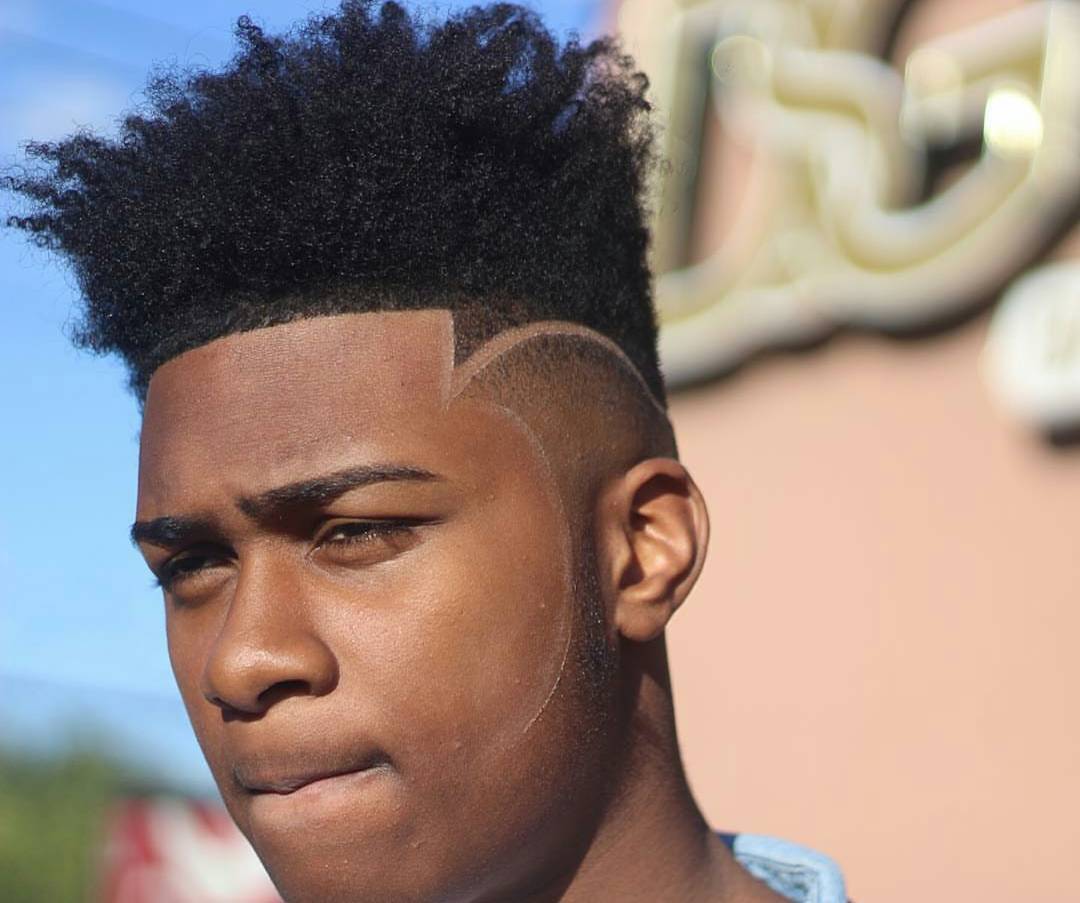 Dynasty Barbers
Cool side hard part accenting this high fade. Perfectly blended into longer natural hair on top.
29. Low Fade + Messy Longer Hair On Top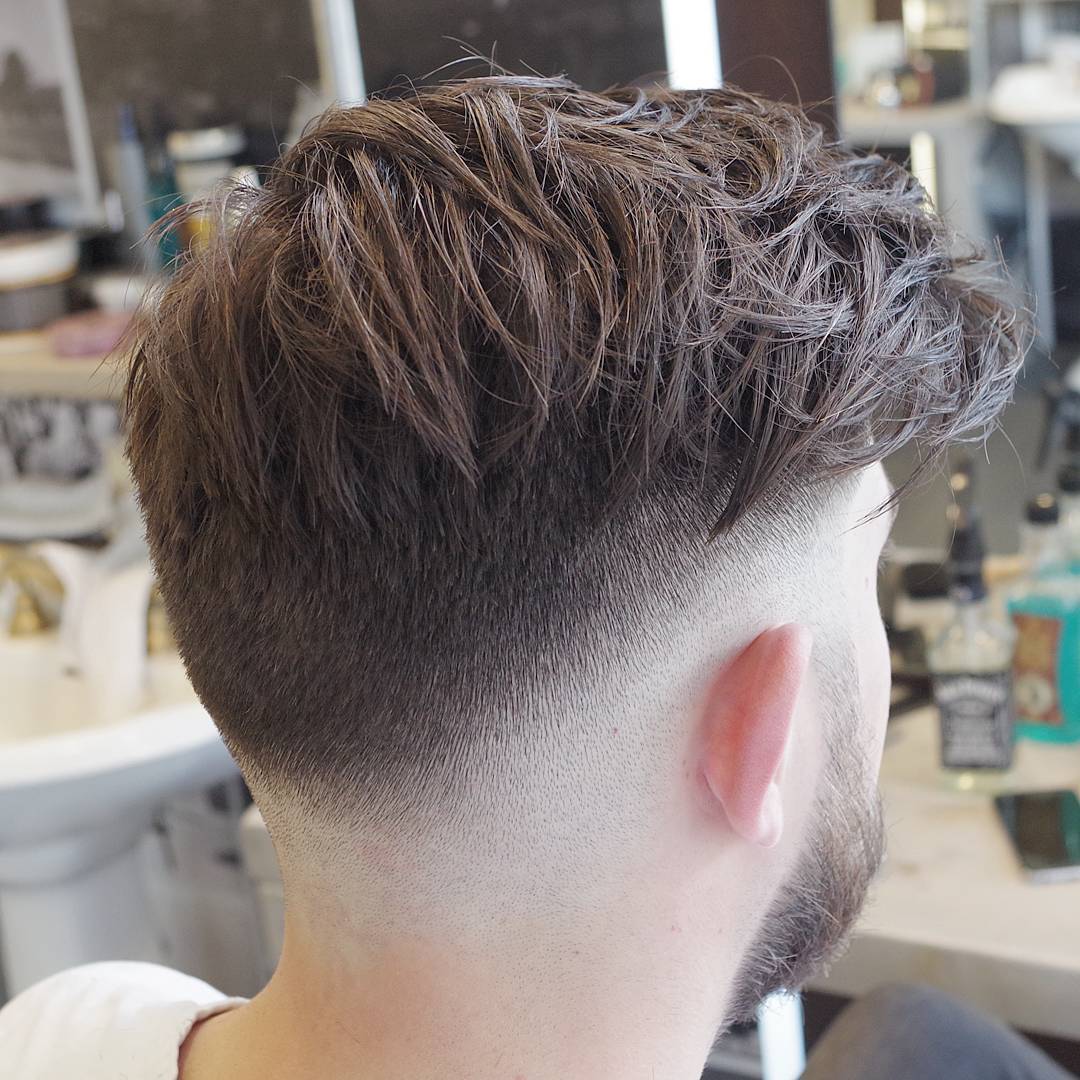 Men's World Herenkappers
An undercut with long messy textured hair on top. Super clean low fade.
30. Textured Wavy Haircut For Men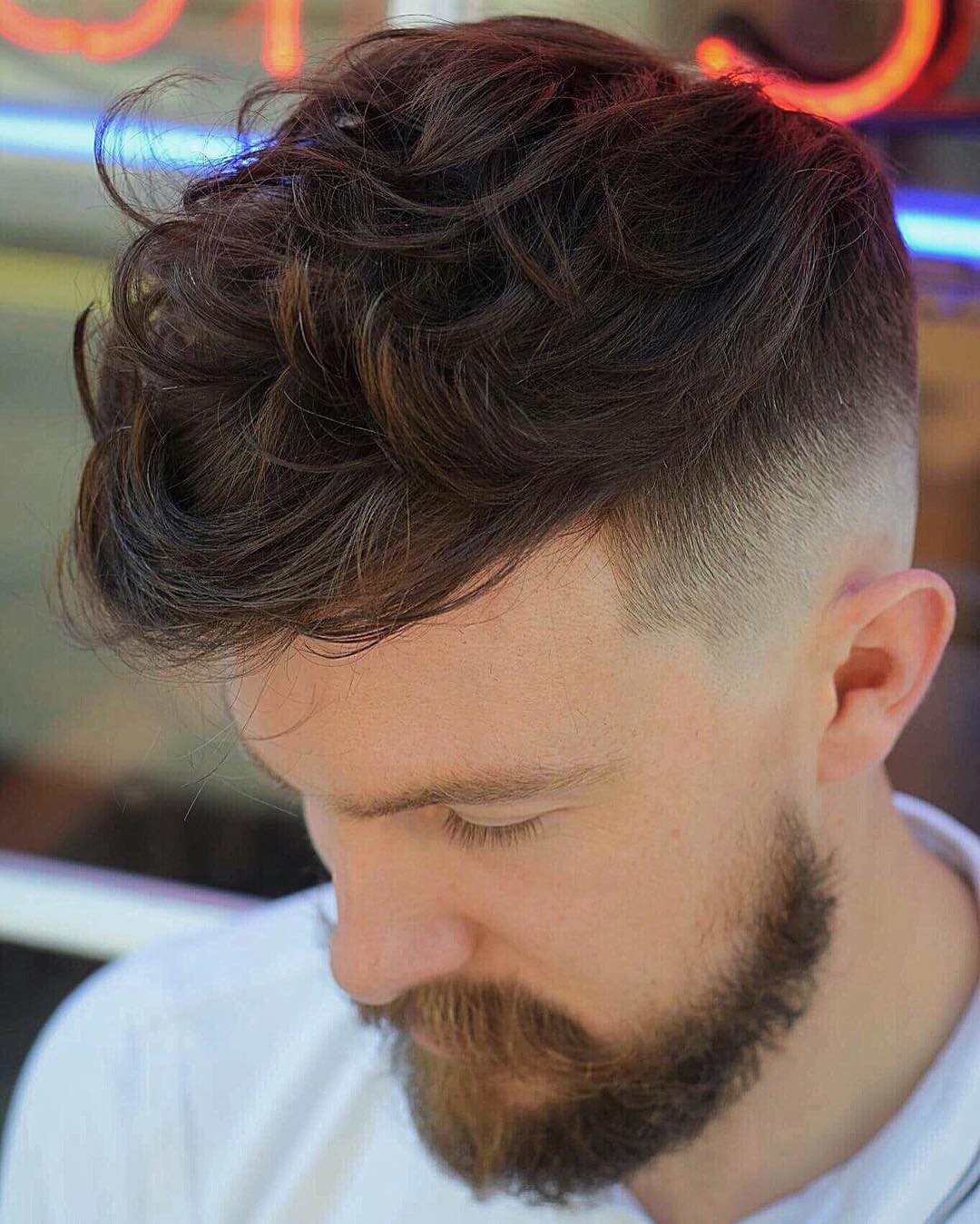 Toastie
A bald fade haircut with long wavy hair on top. Lots of contrast going on. One of the coolest men's haircuts you can get if you have wavy or curly hair.
31. Cool Side Part Haircut For Thick Hair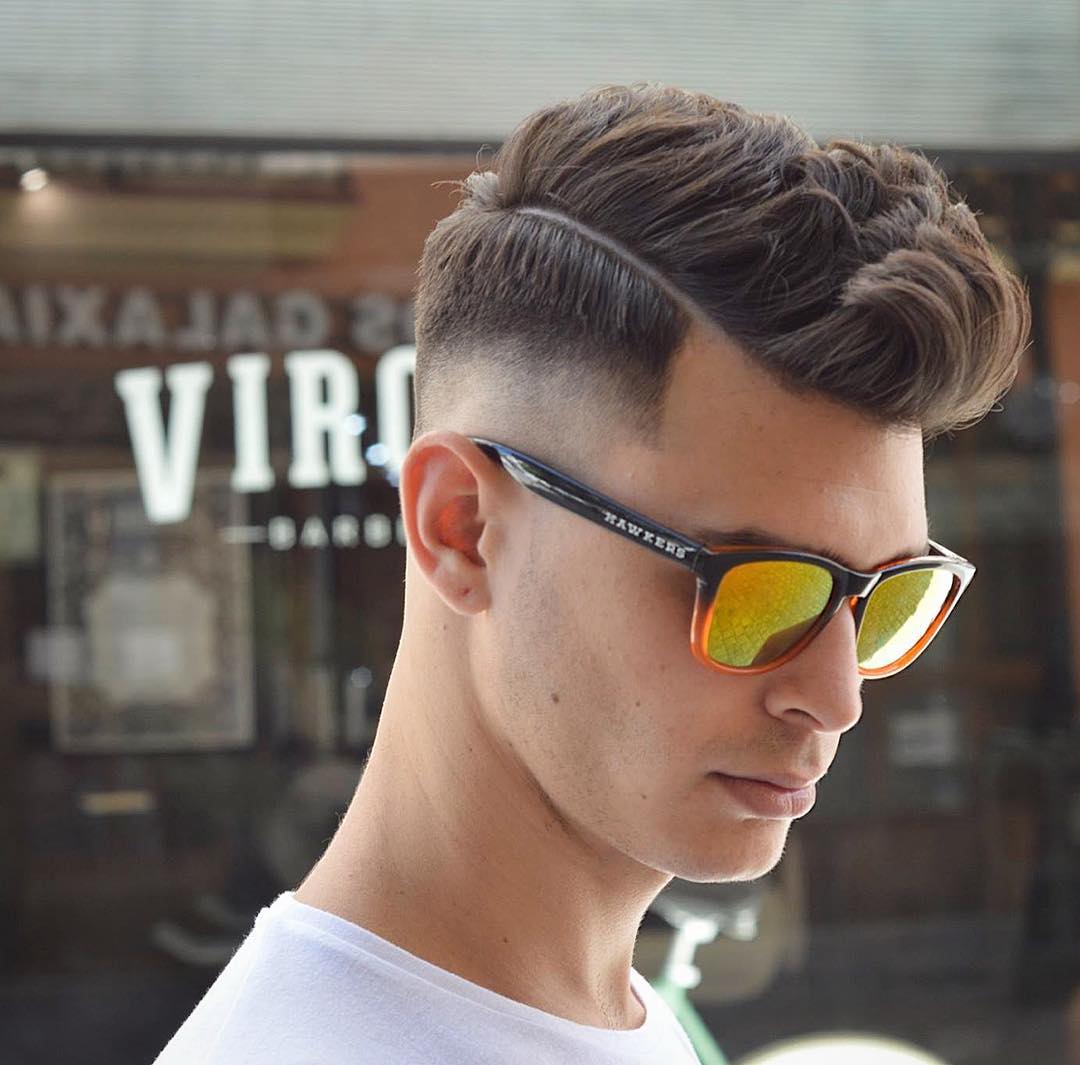 Viroga's Barber
Cool looking low fade, side part (shaved hard part). Great looking medium length quiff hairstyle.
32. Natural Curls + Textures + Hard Part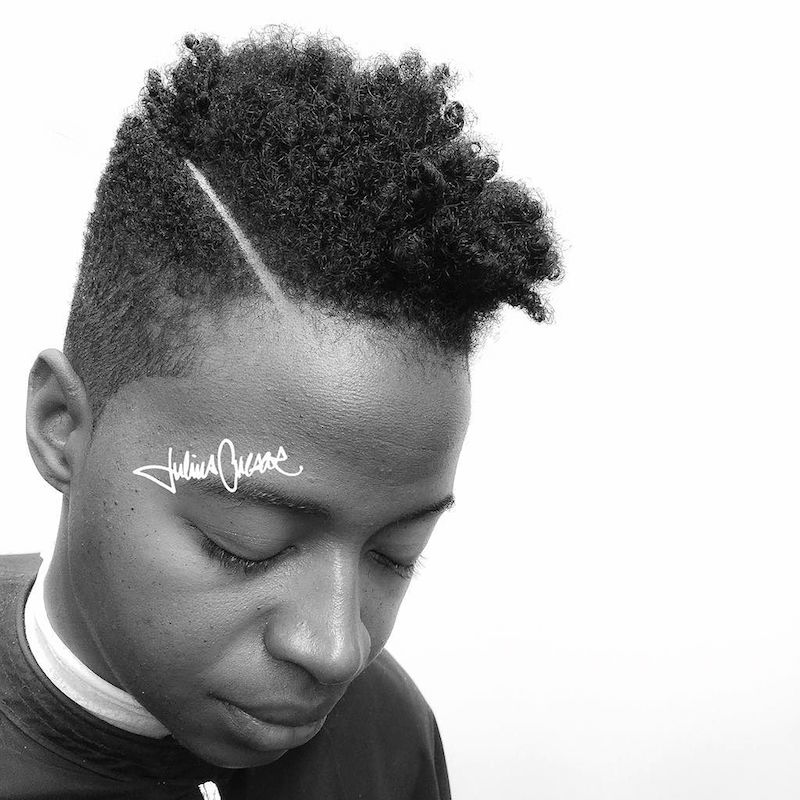 Julius Cvesar
Clean mid fade with natural curls on top. Hard part separates and contrasts the sides from the hair on top.
33. Stylish Curly Hair Haircut For Guys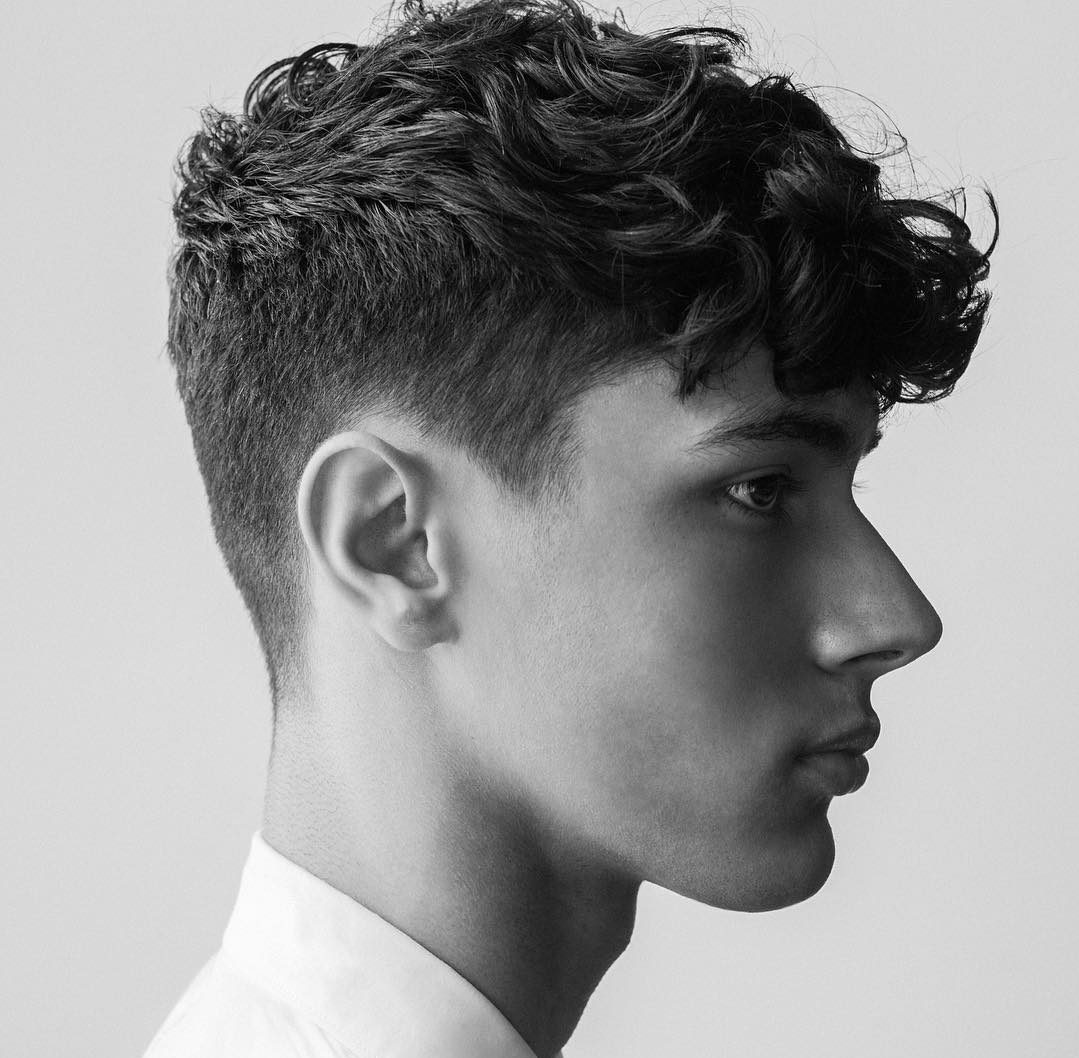 Whitney Vermeer and Ignite Models
Such a great looking haircut for guys that have curly hair. Super clean cut short sides blended into thick curly hair and longer fringe.
34. Long Beautiful Natural Curls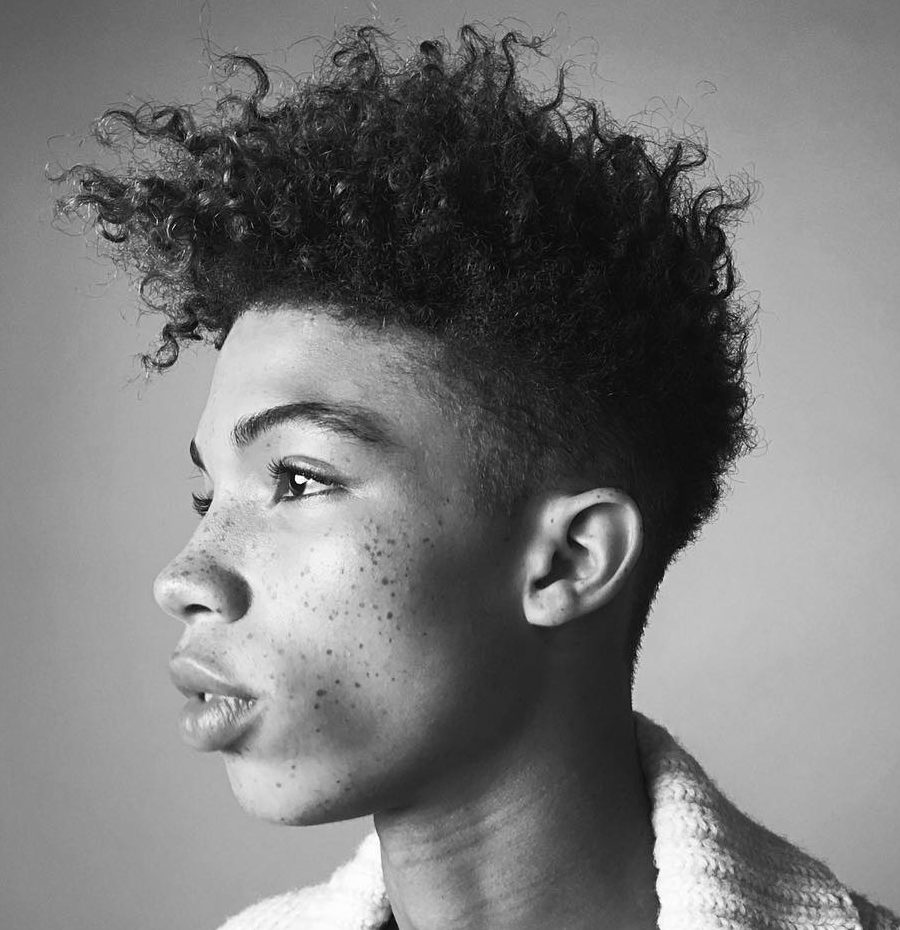 Whitney VerMeer
Another curly hair masterpiece. Nicely trimmed fresh looking sides. Hair on top is left to do its own thing.
35. Tapered Short Haircut For Curly Hair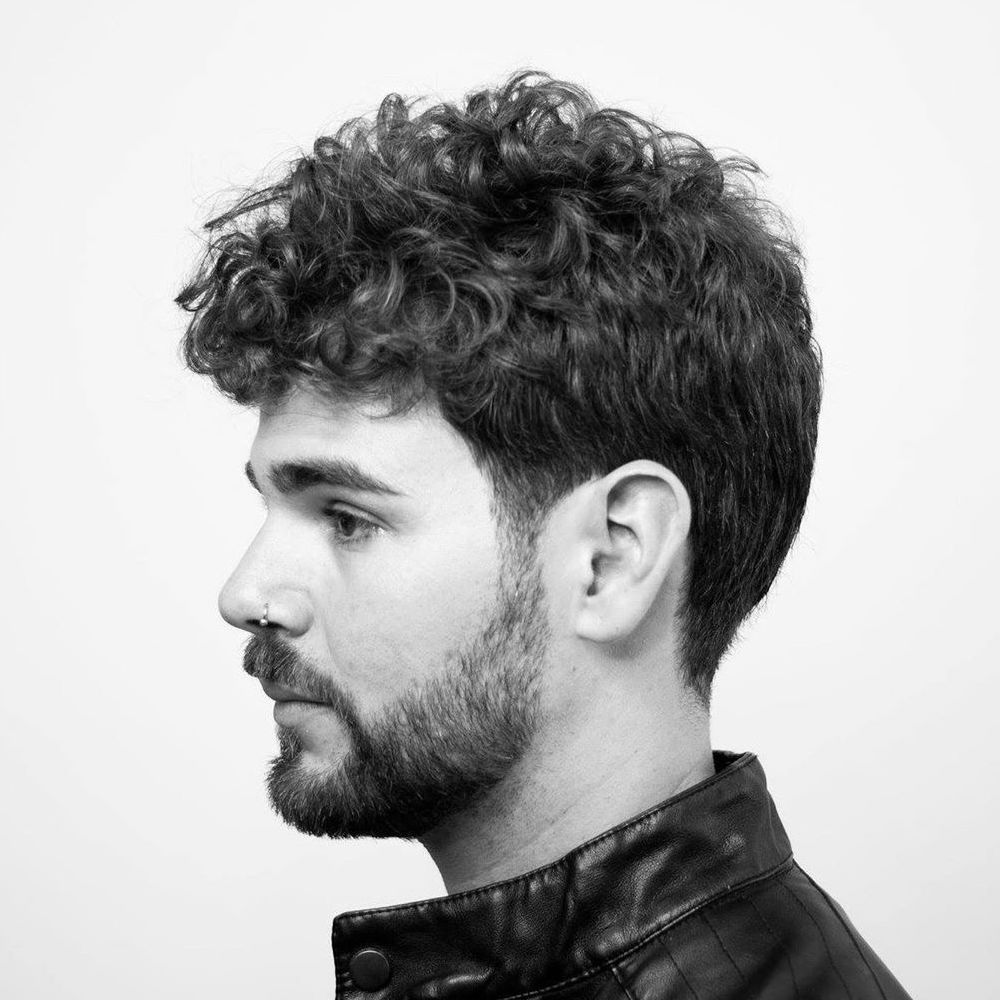 Surbarbers
A cool simple neck design carved into this great looking taper fade. Blended nicely into a short classic men's haircut. Use a small amount of pomade or just towel dry and brush into place. Super easy to style.
36. Short Haircut With Textured Curly Hair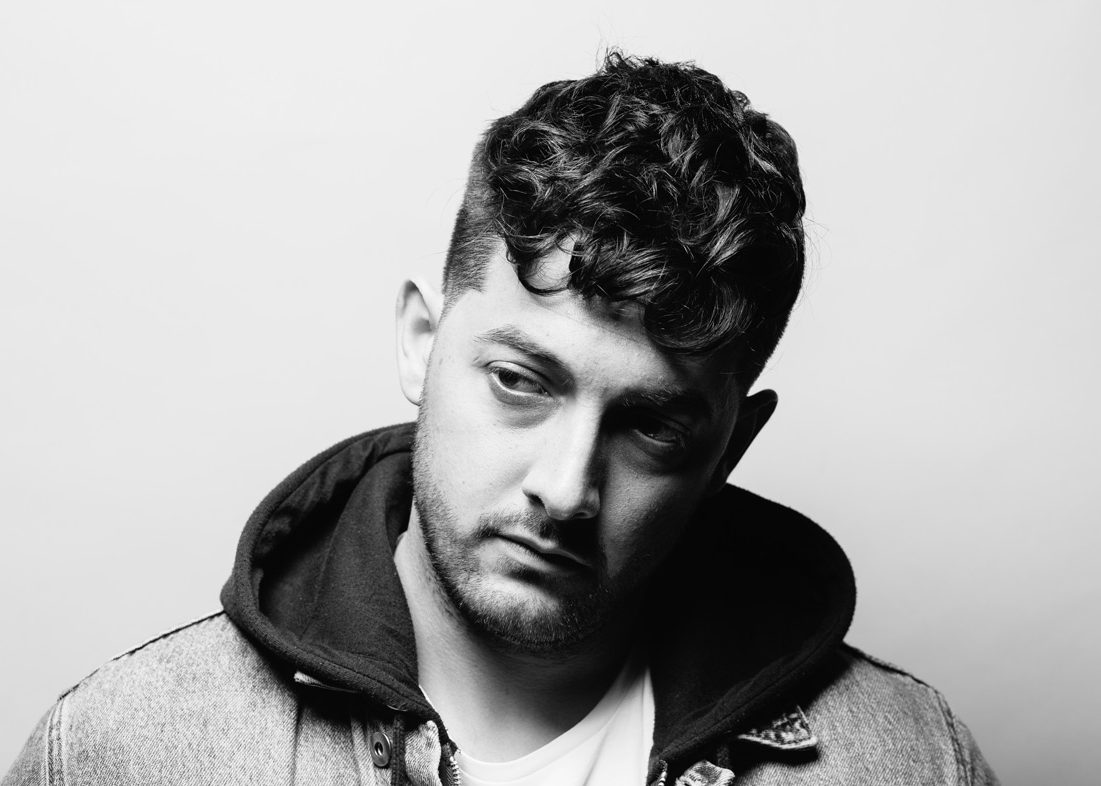 Tom Chapman
A cool thick textured hairstyle for men that have curly hair.
37. Pompadour Meets Modern Mullet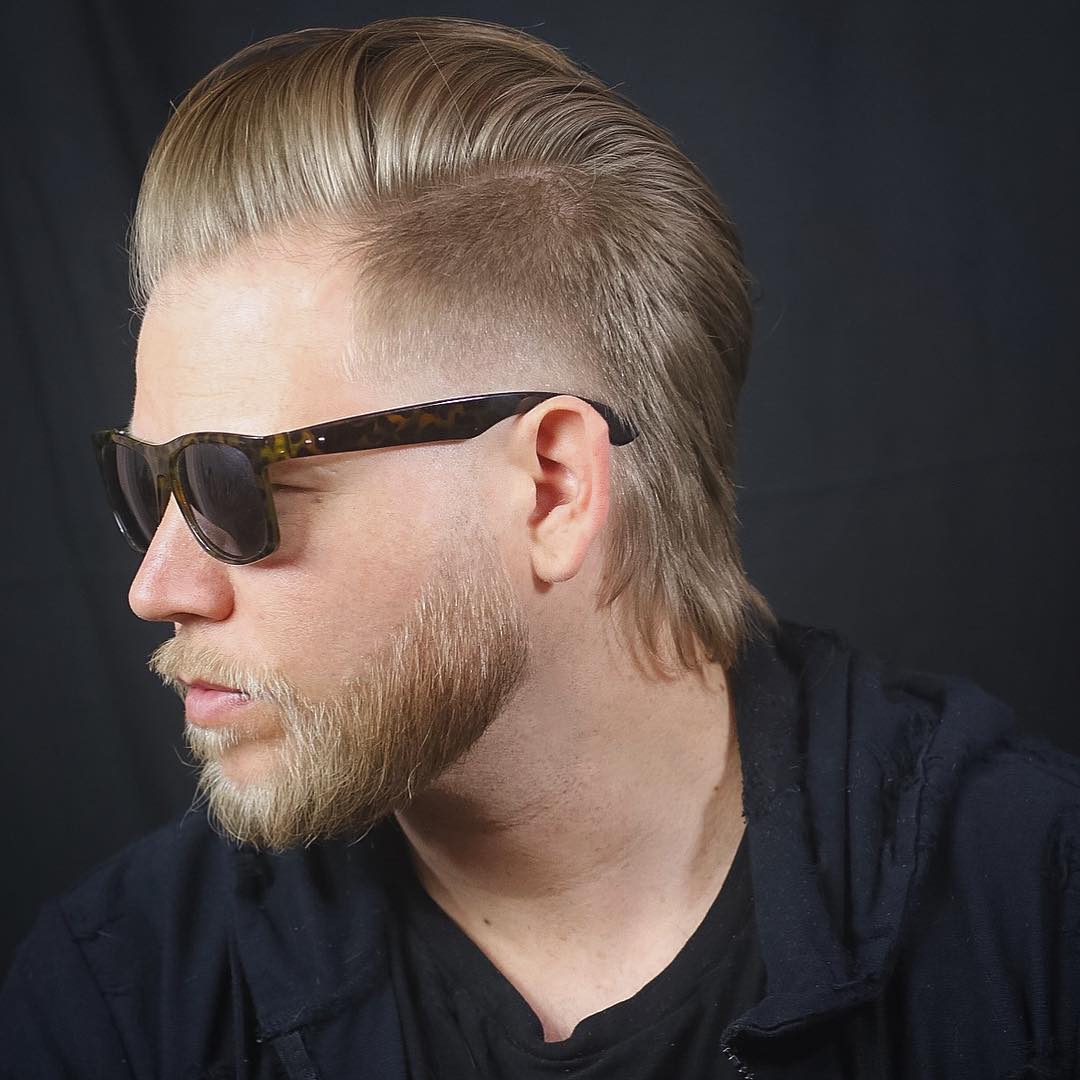 Juan Morales
Mullets are in. And will grow in popularity as we head towards 2020. This is a super cool undercut meets pompadour meets mullet.
38. Medium Textures On Top + Short Tapered Sides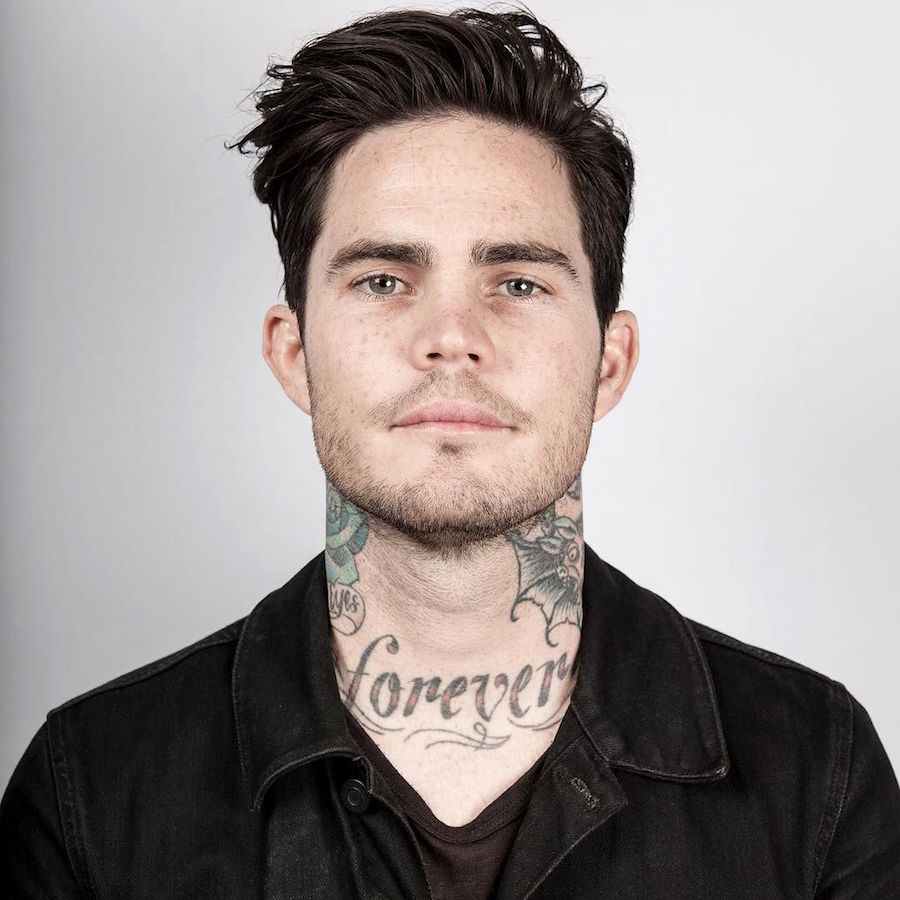 Morris Motley
If you have thick hair this is a great haircut to try out. Tapered short on the sides. Long hair on top styled back. You can style it into a side part look or just slick it back.
39. Slicked Back Modern Undercut Hairstyle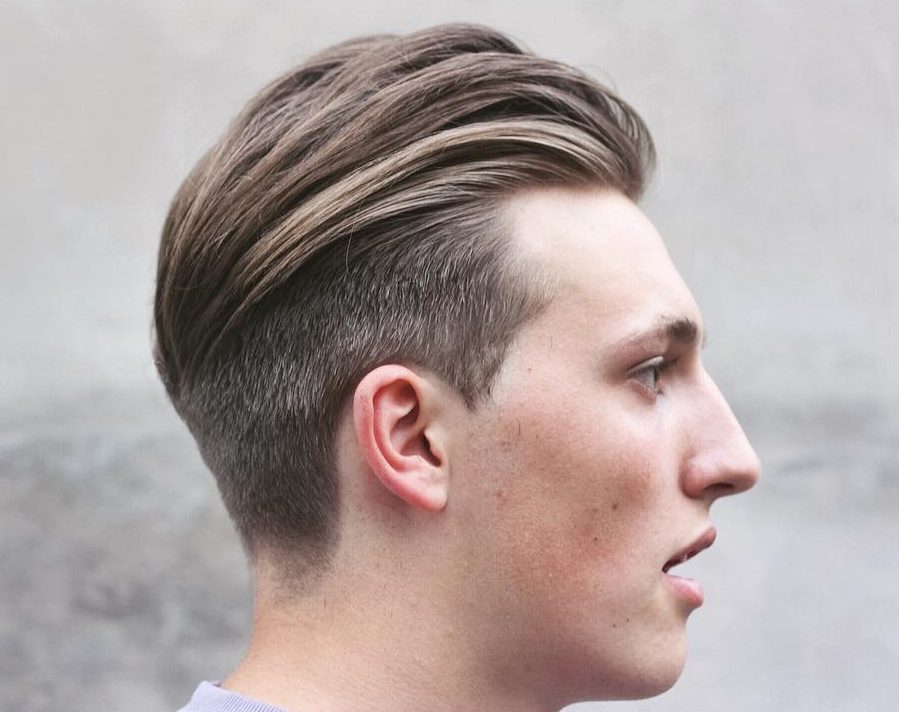 Josh Connolly
I like this haircut a lot. The undercut is not shaved as high as you normally see. Hair on top is slicked back. You can either brush and blow dry it back. Or you can go for a more slick look by using a shiny pomade, work it into damp hair, and simply brush or comb your hair back into place.
40. Scissor Cut Side Part Haircut For Thick Hair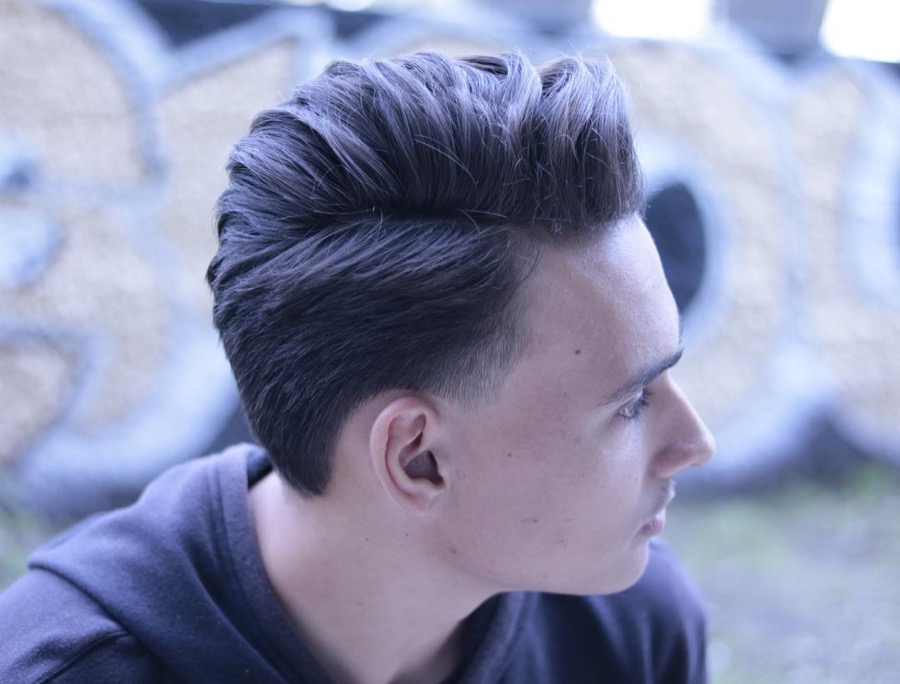 Underground Veria
Another great example of where things are headed. More flow, movement, and longer lengths of hair. A great looking tapered haircut for men. Short on the sides but no skin. Styled naturally into a side part.
41. Mohawk Bald Fade Haircut + Fresh Line Up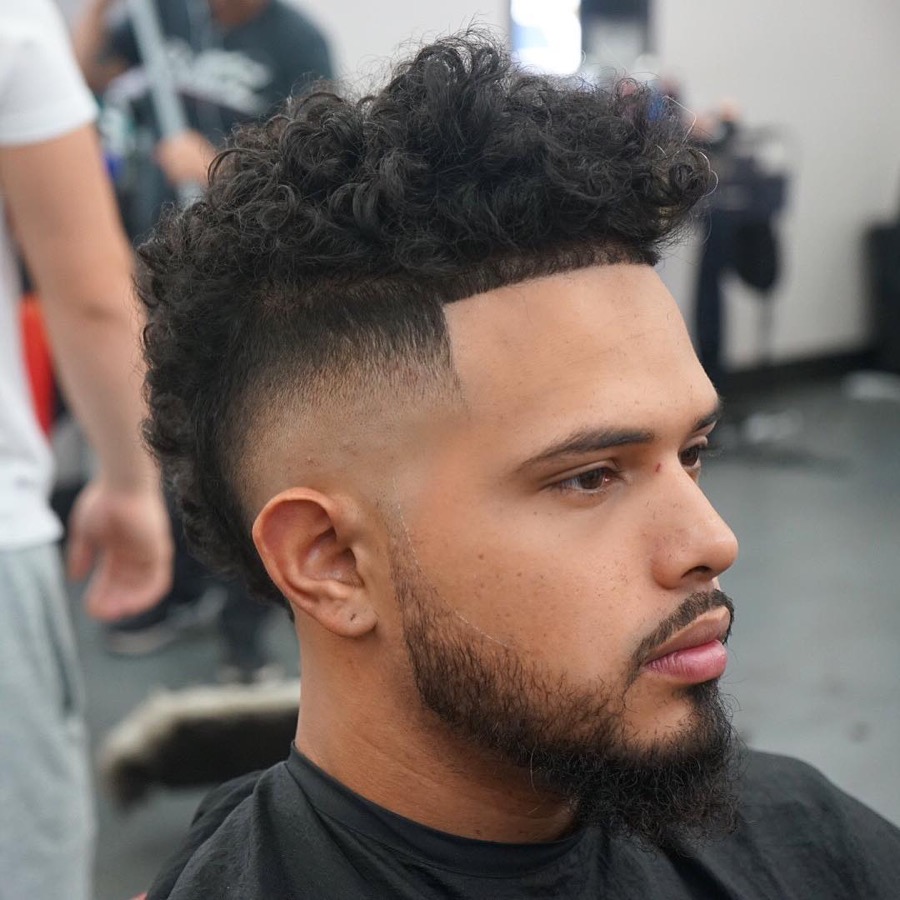 Level
Mohawks have become more and more popular lately. This cut features a bald fade, line up in the front to keep things looking clean and fresh, and the curls on top are left natural to do their thing.
42. Long Textured Fringe + Mid Fade Haircut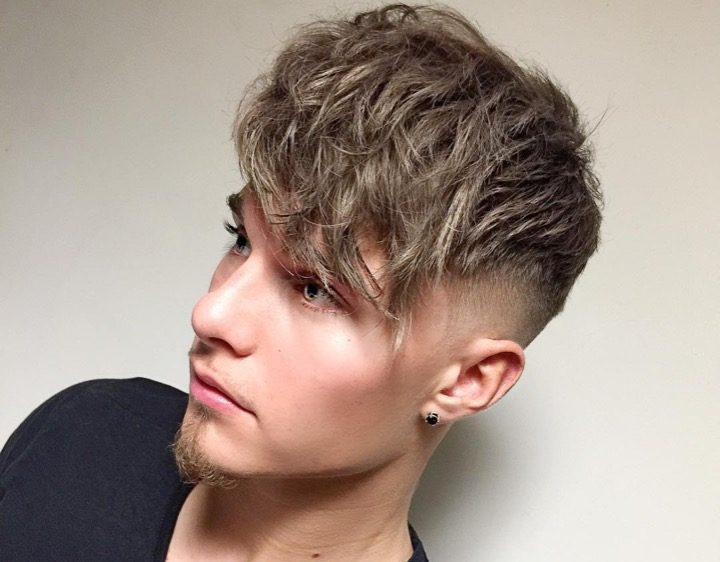 Mikey
A long fringe just looks cool. This is a modern take on the classic skater haircut for guys. Long textures are styled forwards into the flow of the fringe. The heavier hair length up front and on top contrasts perfectly with the mid fade to the sides and back.
43. Short Textured Quiff Haircut + Mid Fade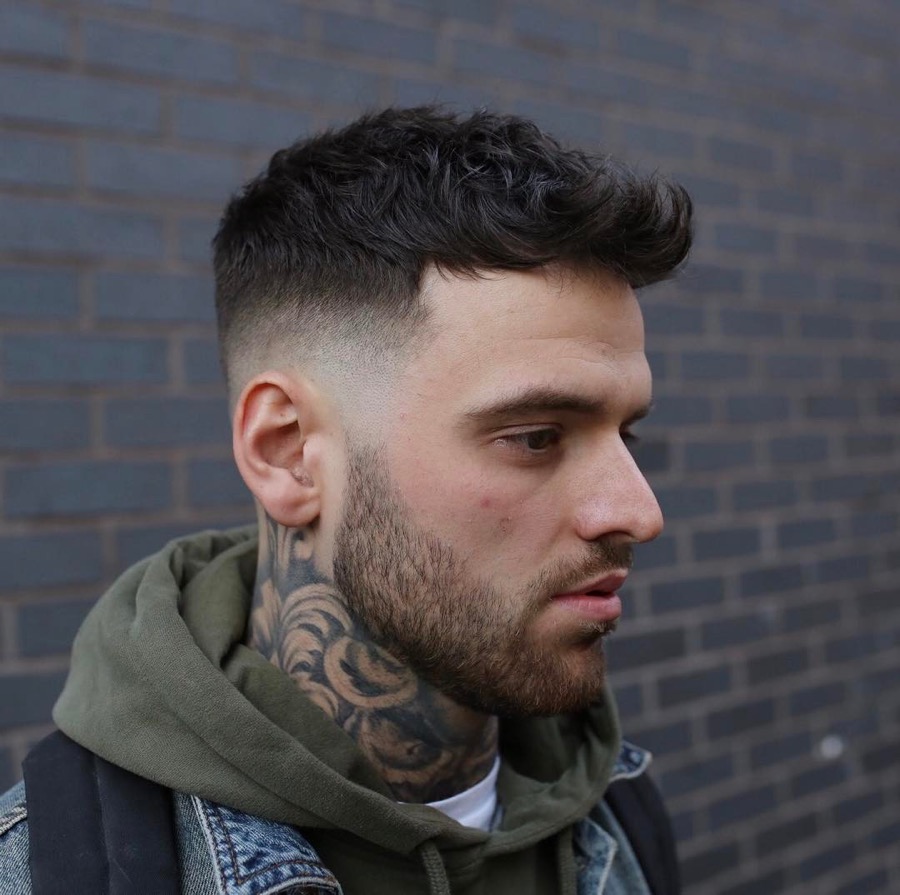 Ross Parlane Barbershop
Short haircuts for men never go out of style and always look great. This is a great haircut for guys that have thick hair and want to keep things clean and fresh. This look features a mid skin fade, and short textured hair on top styled into a quiff. The great thing about short haircuts is that they are super easy to maintain and style. Not much to it. Simply towel dry, work a small amount of pomade into damp or dry hair, and style into place using your fingers. One of the best short haircuts you could get.
44. Textured Quiff Meets Pompadour Haircut + Line Up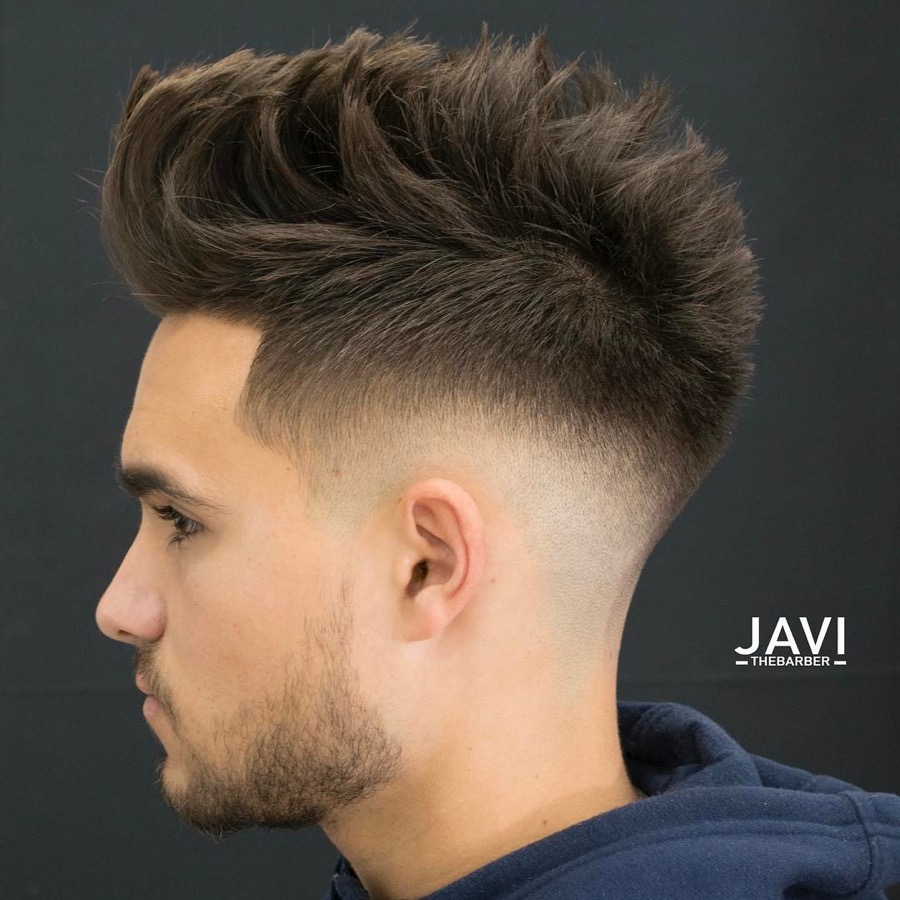 Javi the Barber
A totally cool haircut. Part mohawk, part quiff, part pompadour. It features a bald fade that places the emphasis on the wild loose hair on top. To get this look you need to use a blow dryer and a brush.
45. Cool Short Crop Haircut For Wavy Hair + Low Fade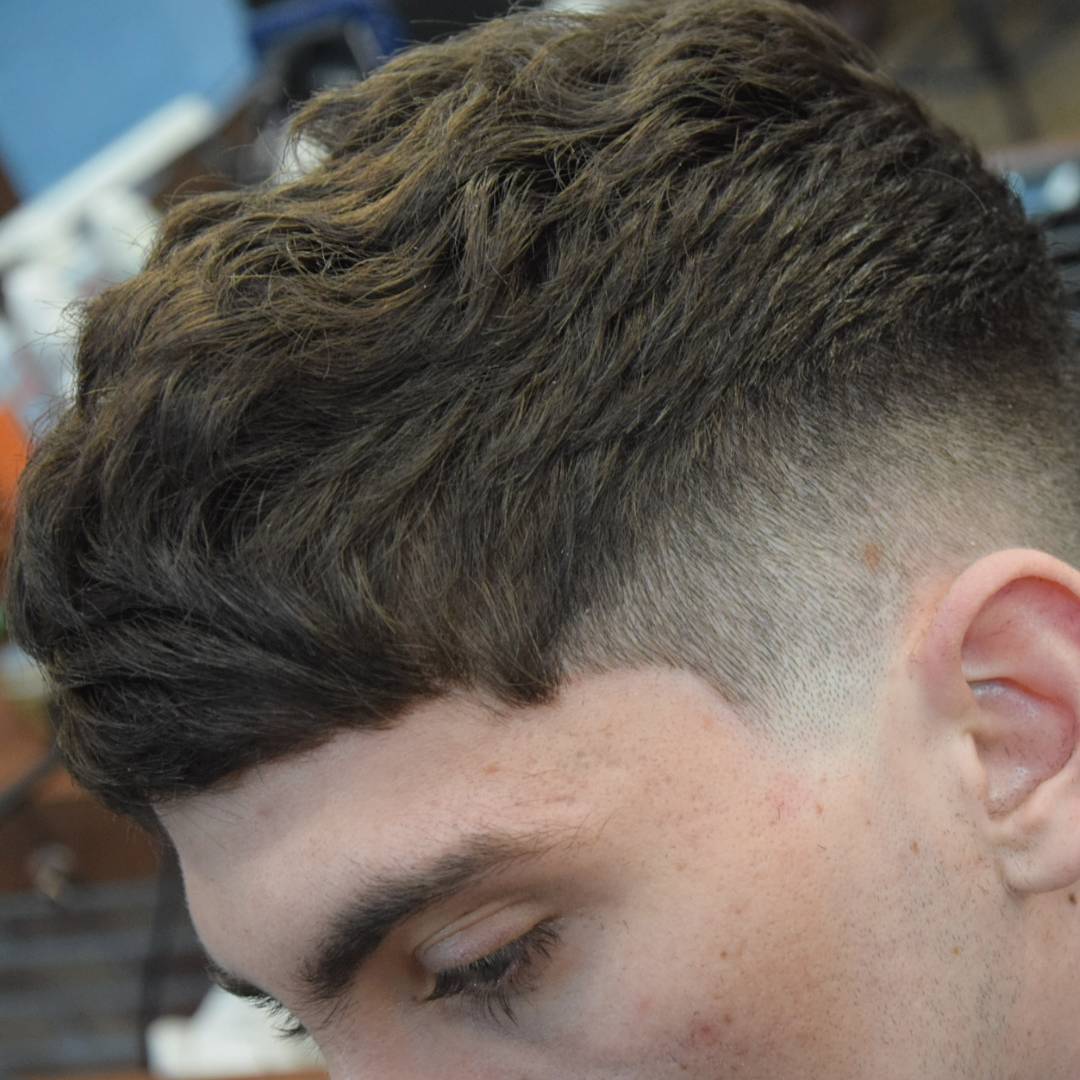 Alessio Bolognesi
Crop haircuts have been super popular. They are still going strong and will likely continue to be a top pick for guys that like a short haircut. Crop haircuts work for all hair types. At first we were seeing mostly blunt cut crops. These days we are seeing more textured and asymmetrical fringes. This one is kind of in between. This is definitely one of the best haircuts for men that want to keep their hair short. It is also one of the best haircuts for receding hairlines since the hair is styled forwards.
46. Natural Waves Medium Length Men's Haircut + Short Sides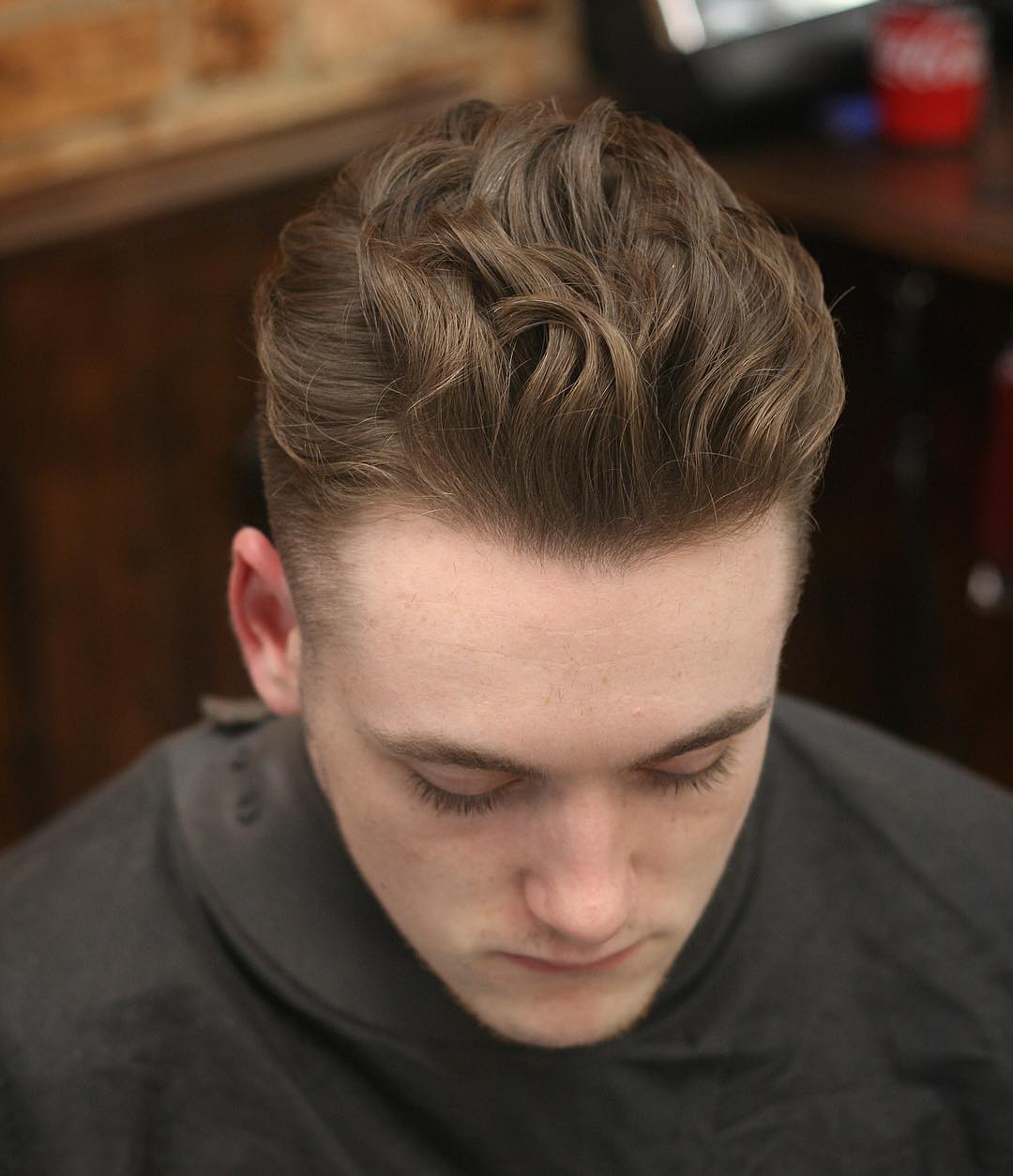 Hard Grind
A very natural looking classic men's haircut. Short sides, a bit longer on top, brushed back into place.
47. Slicked Back Wavy Men's Hairstyle + Bald Fade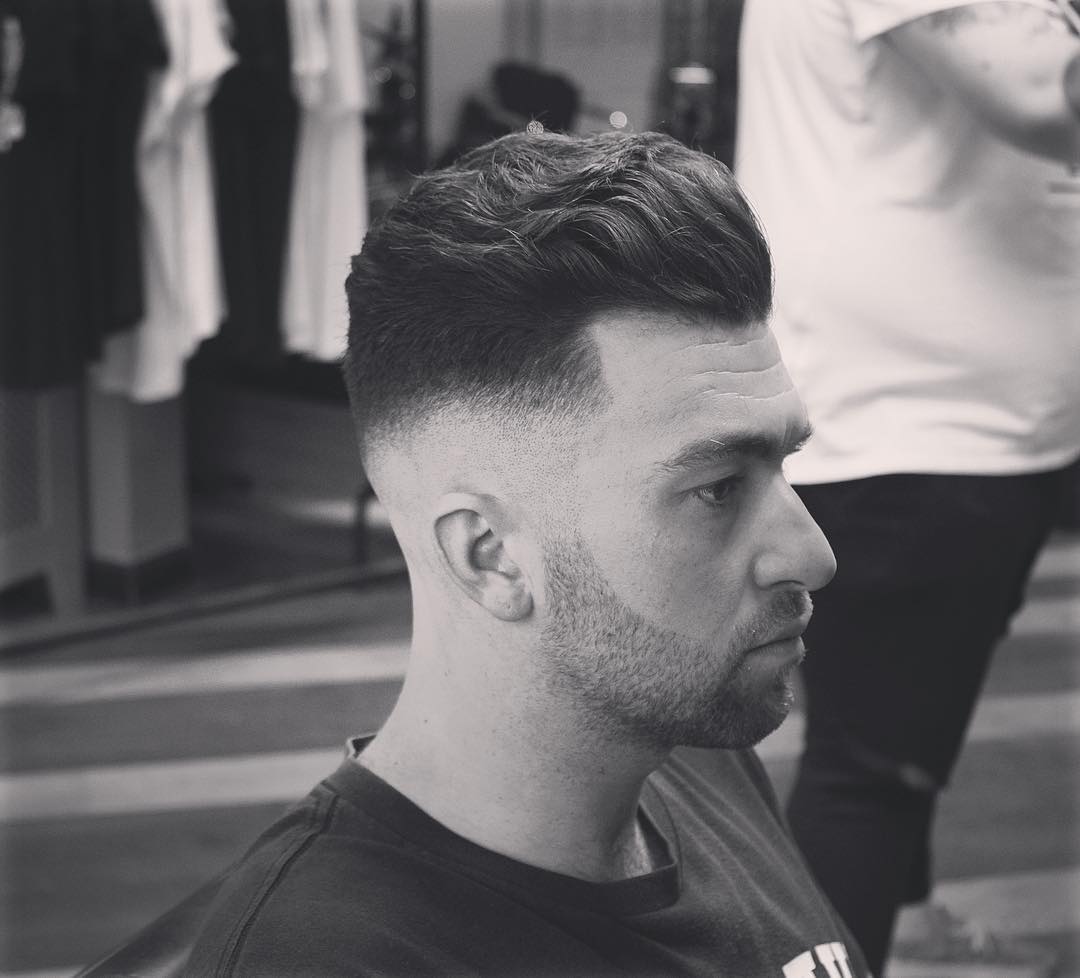 Jake's Barber Shop
Another good haircut for guys that have thick or wavy hair. A classic look with short sides and medium length hair on top. It can be styled back naturally as in this photo or slicked back with a strong hold pomade with shiny finish.
48. Modern Taper Fade Haircut For Men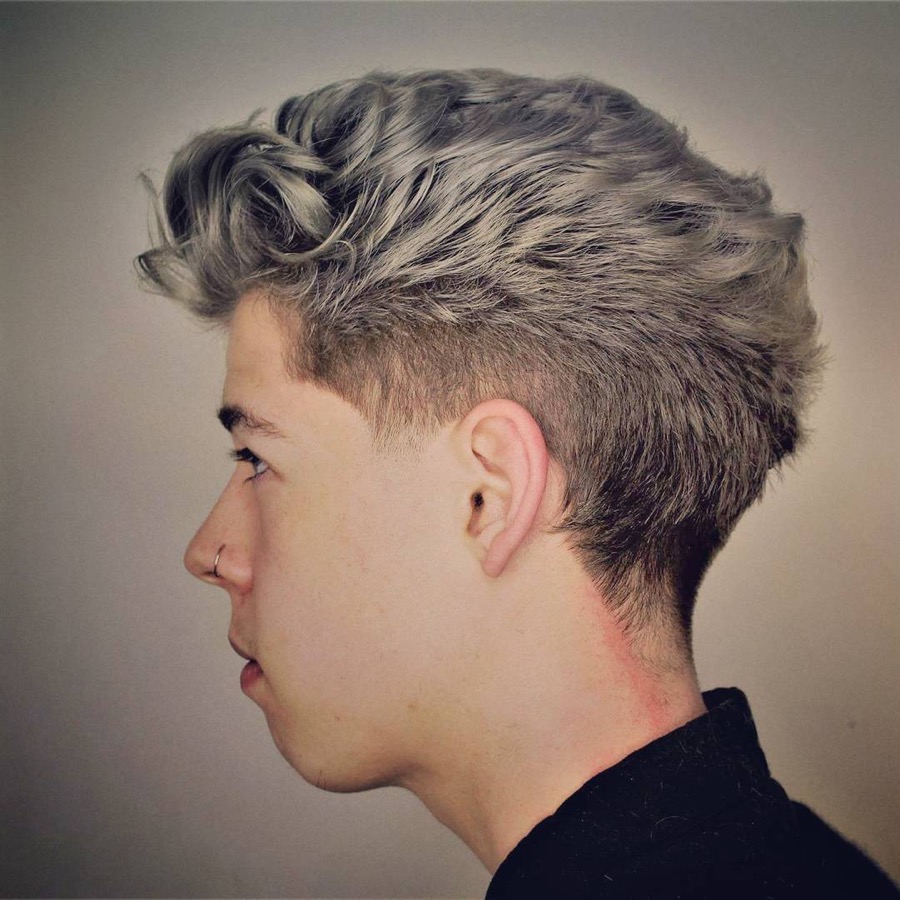 Adam O'Callaghan
A totally cool tapered haircut. The hair on top and in the back is kept longer to give the hair movement and flow front to back.
49. Longer Curly Hair Flow Haircut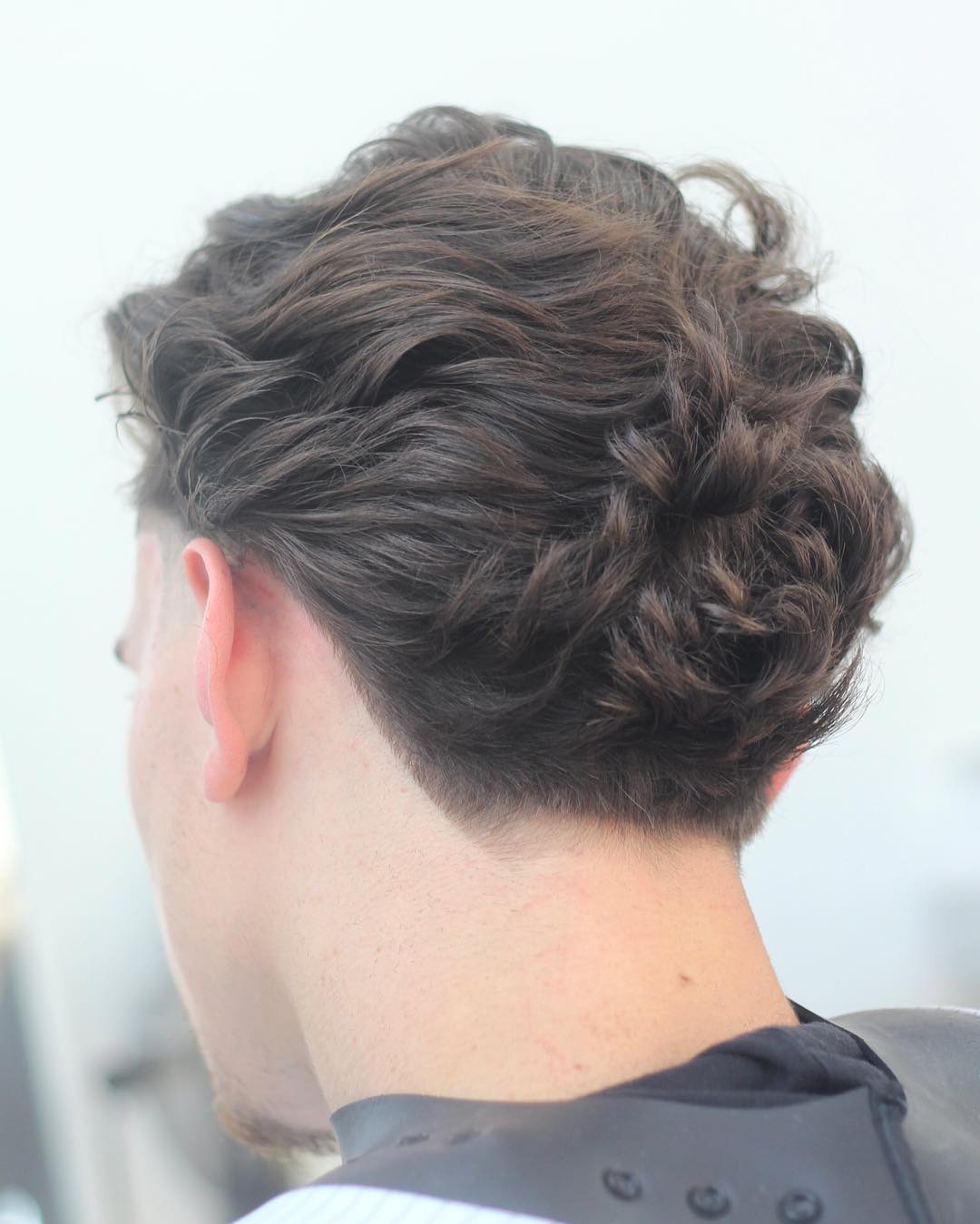 Alan Beak
This is the best haircut for curly hair. Things have been all cleaned up along the hair line with an awesome minuscule taper fade. The curly hair on top and in the back is left to flow naturally.
50. Cool Textured Thick Hair + Short Sides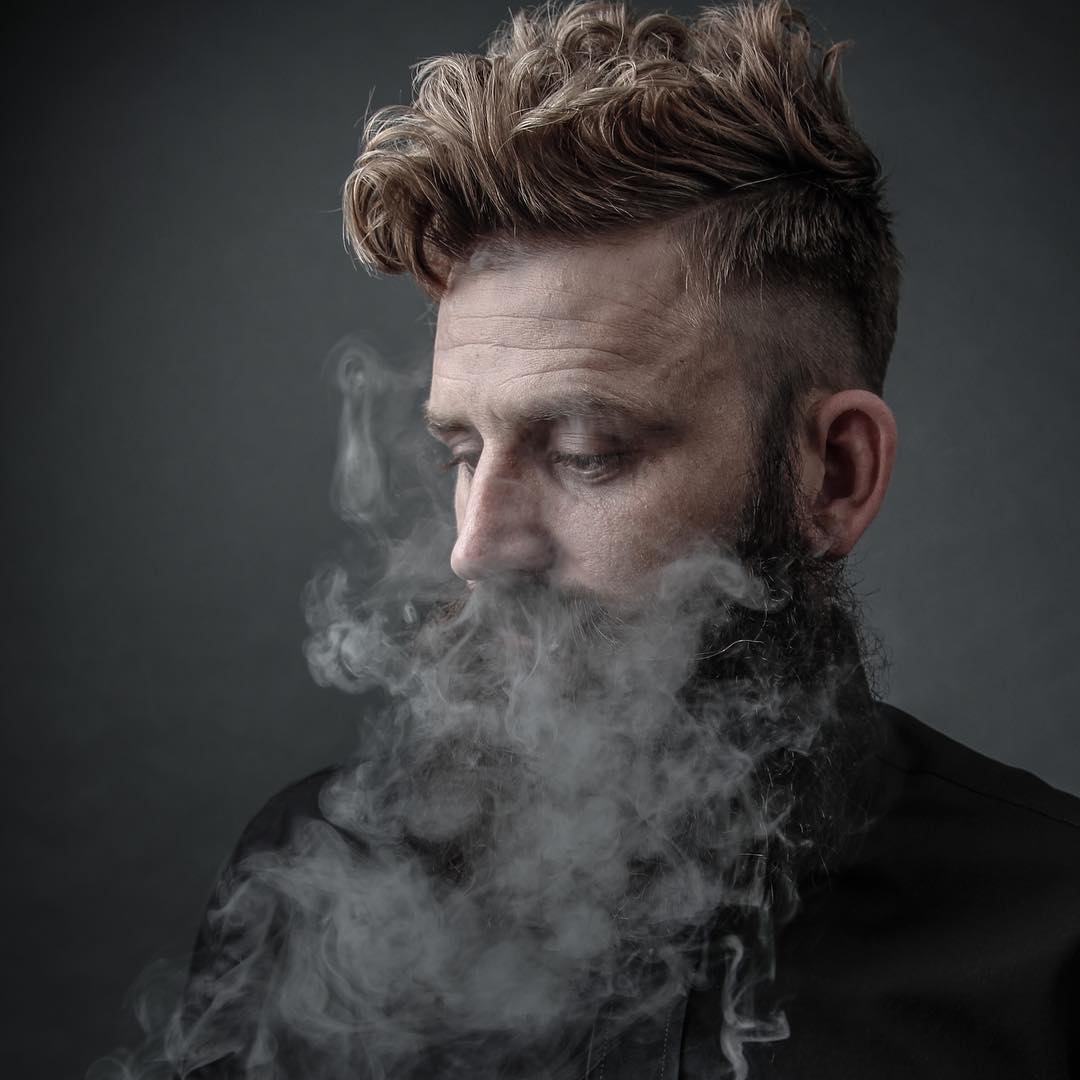 Ryan Cuts Hair
This is one of the best haircuts for thick hair or curly hair. Styled into a side part quiff. Super cool haircut for men.
51. Low Fade + Twisted Curls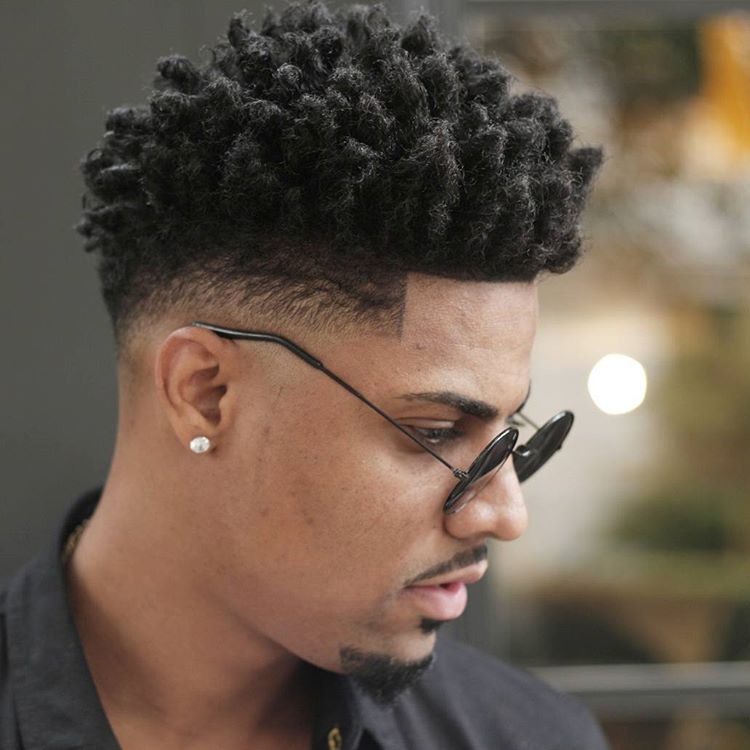 Dill Black
This cut features a low fade with natural curls on top that have been styled using a twist sponge.
52. Natural Slicked Back Haircut For Cool Guys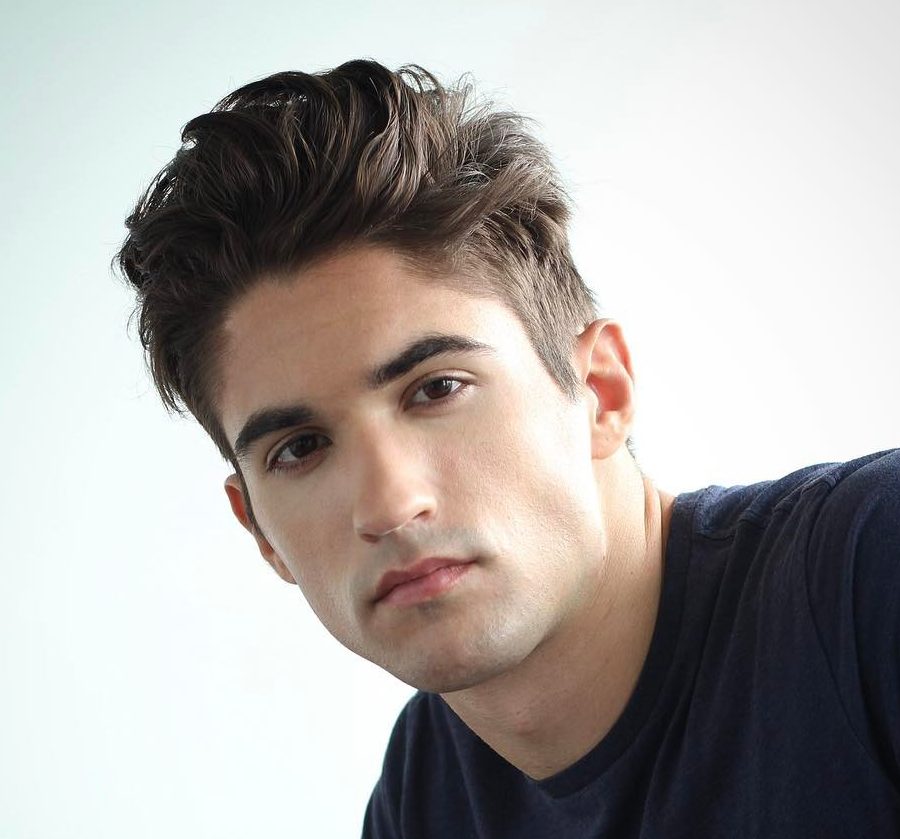 Carter Supply Co.
One of the best haircuts for thick wavy hair. This natural look is popular right now. Sides are cut short (but not faded) to emphasize the natural wavy flow on top. Fade haircuts are still super popular but more guys are opting for more natural looks like this one.
53. Tapered Men's Haircut + Side Part
Linus Jasper
Another amazing haircut for men with thick hair. A classic medium men's haircut that has been popular. Things are trimmed and cleaned up. But no clipper work. No shaved hair. No skin. This is what we will see more and more. More guys are opting for longer hair.
54. Tapered Haircut For Men + Long Fringe + Super Natural Flow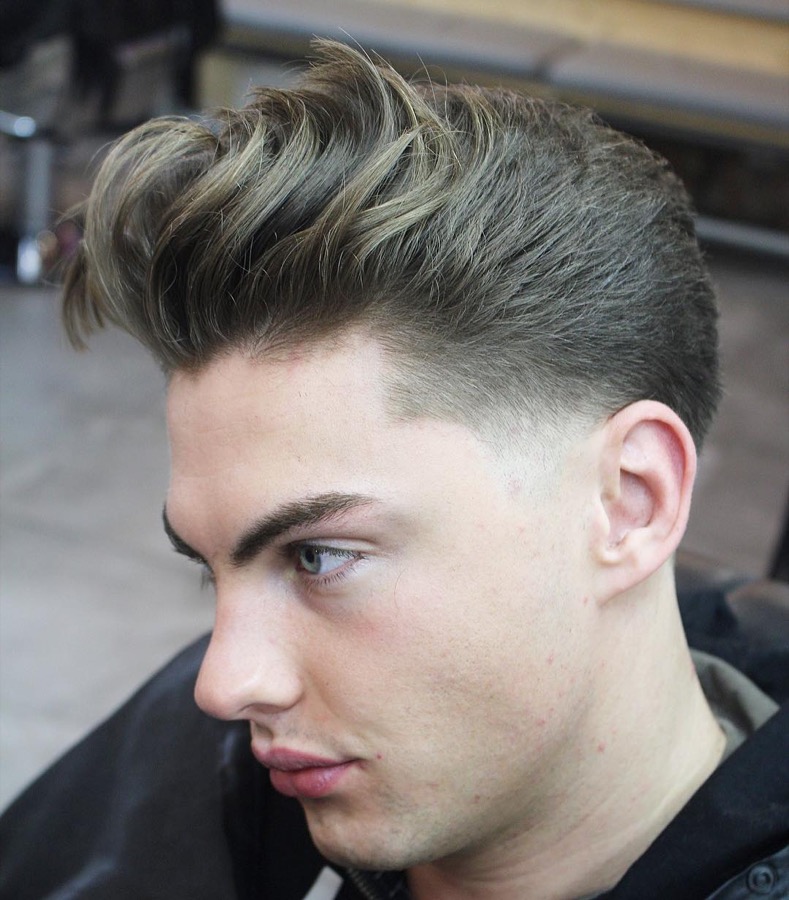 Josh Lamonaca
I love this haircut. This is one of the best haircuts for thin hair of fine hair. If you have less hair you want a haircut that keeps more but places the emphasis on what is left on top. This taper fade and short sides accomplish that. Blended perfectly into a medium length on top that has a tremendous amount of flow.
55. Super Cool Low Fade + Short Textured Hair On Top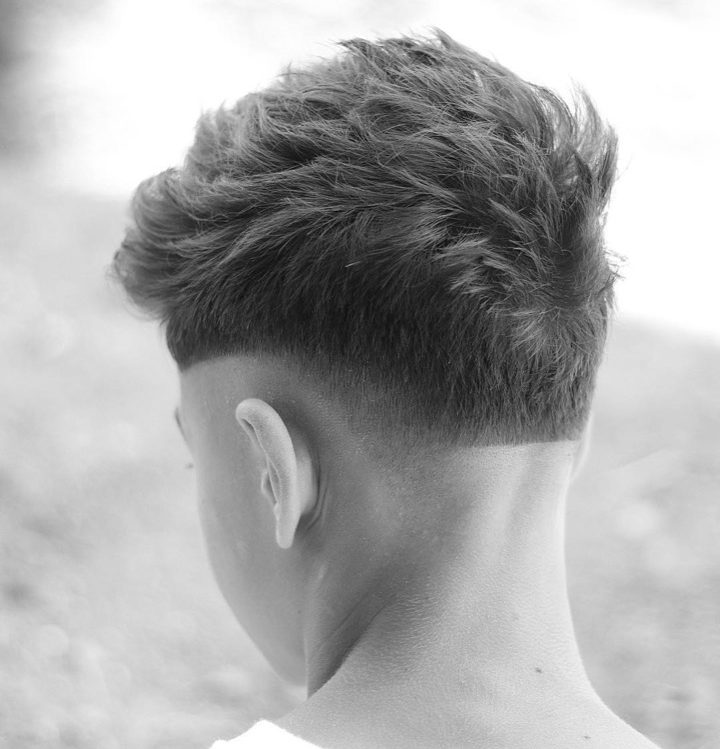 Underground Veria
This is one of my favorite haircuts that I have seen in the past year. I like fade haircuts that are not just your classic fade. This haircut shows off some cool 1980s design with hard lines in the back and sides to give the fade some extra detail. Very cool. I got this haircut myself after I saw it done by Rafa. On top, we have some nice soft looking medium textures.
56. Thick Hair Quiff Haircut With Textures + High Fade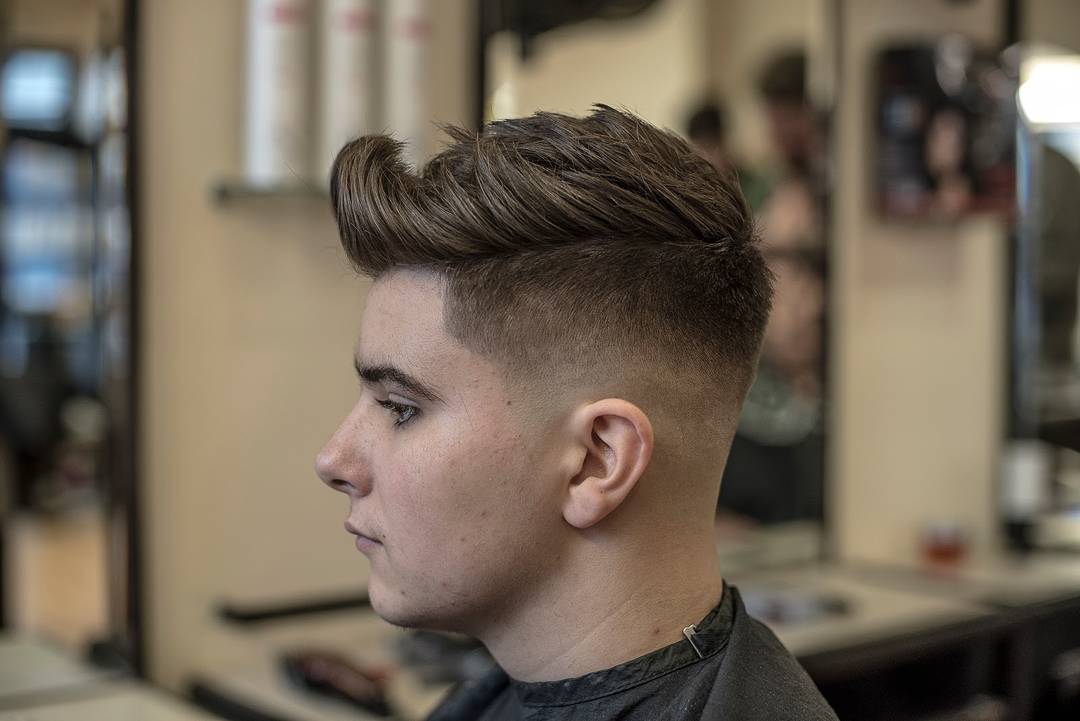 Shane Cronin
Another fantastic haircut. I love this choppy textured quiff haircut that features a high skin fade. To get this hairstyle use strong hold pomade. Work it into damp hair. Blow dry and brush the hair into place. This is a super cool disconnected undercut meets quiff.
57. Choppy Textured Medium Length Haircut For Men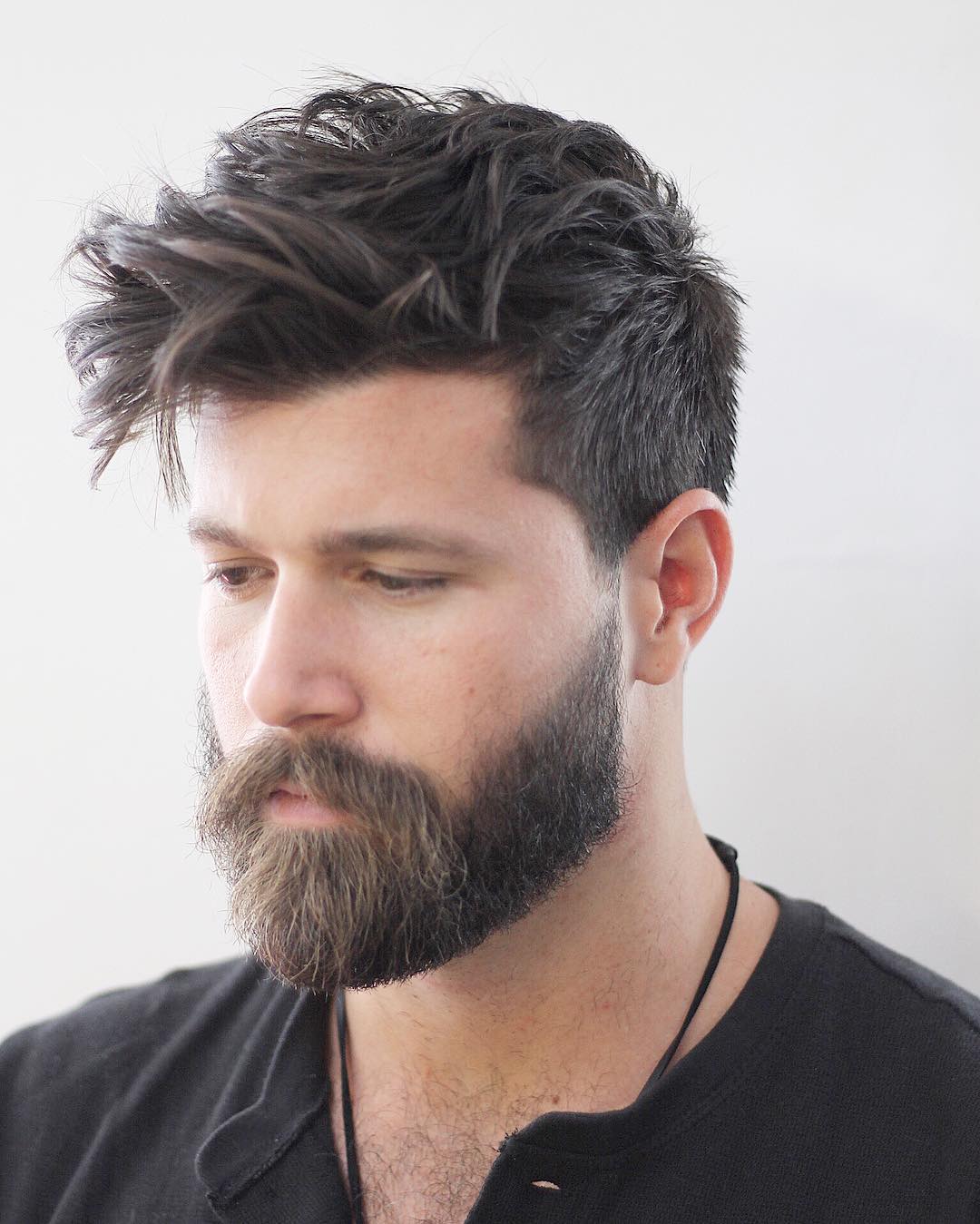 Mokum Barbers
A few years ago it was all about short textured haircuts. Then things evolved into longer textured haircuts like this one. This is a good haircut for guys that have thicker hair whether your hair is coarse or fine. The textured cut makes the styling part easier. You can towel dry or do a quick blast blow dry. Then simply work a medium to strong hold pomade into the hair to bring the textures alive. Every day you can get a different look depending on the direction you move the hair into place. That is what is awesome about textured haircuts like this one.
58. Beautifully Tapered Men's Haircut + Medium Length On Top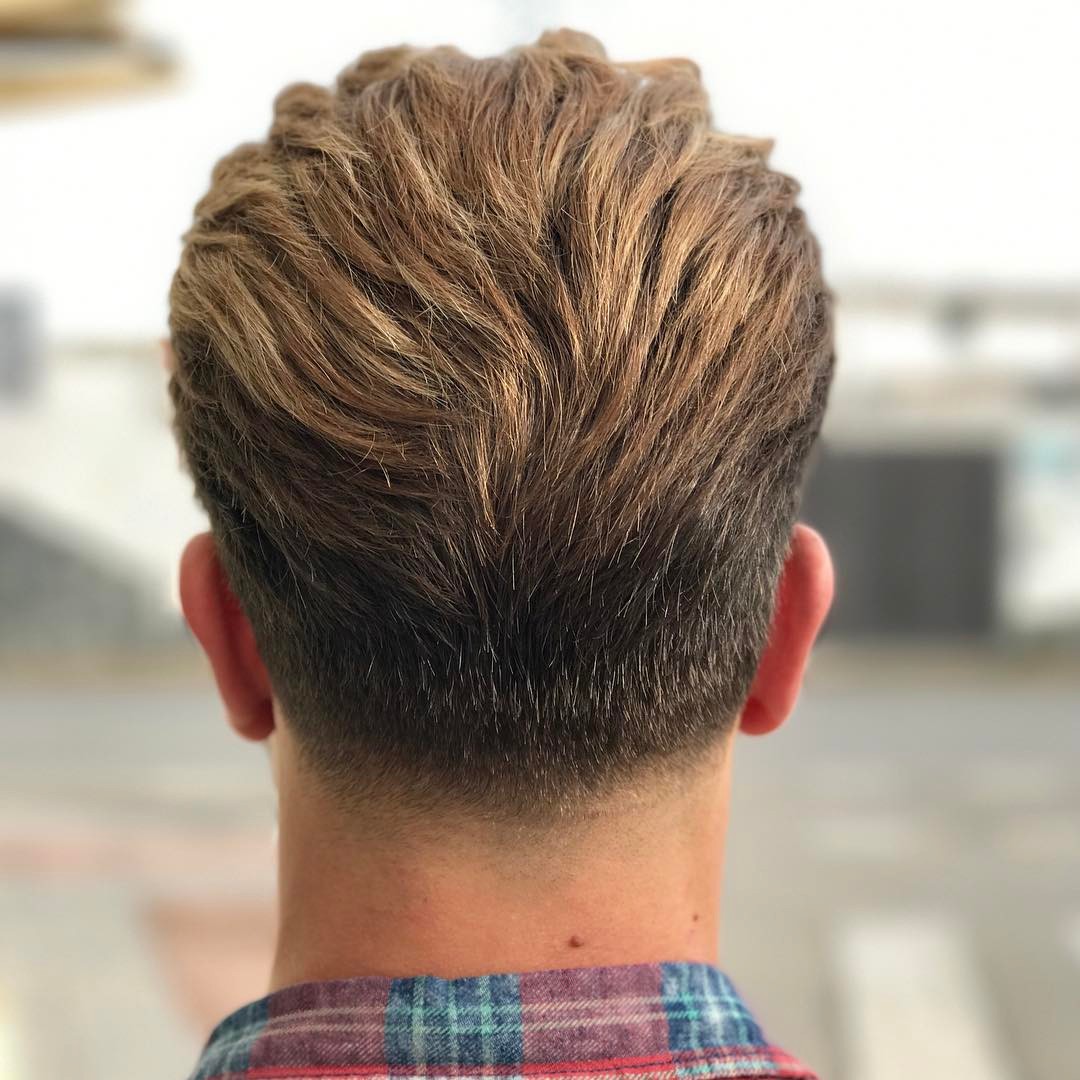 Javi the Barber
Such a great tapered haircut. Classic. Simply brush and blow dry front to back.
59. Simple Short Men's Haircut With A High Fade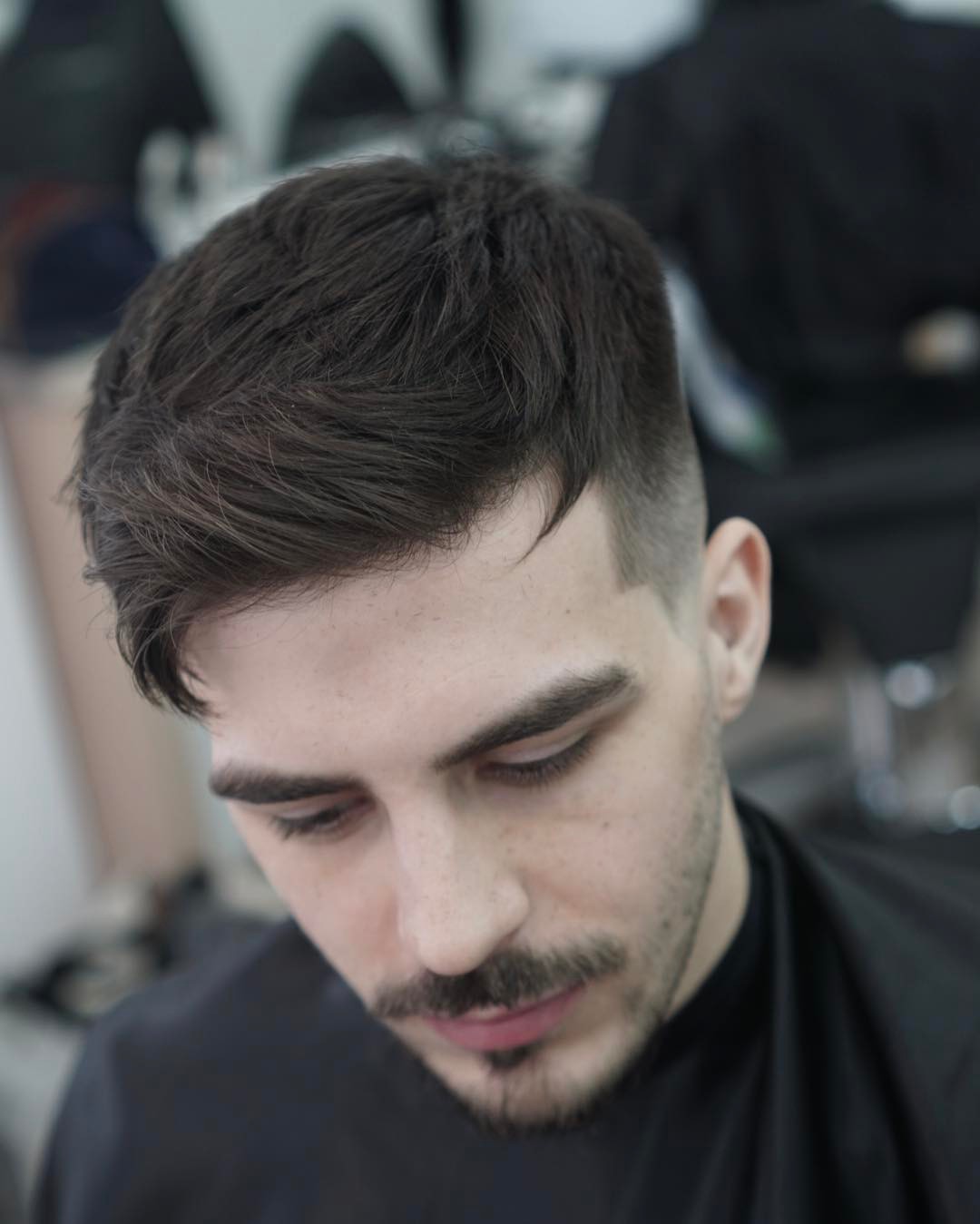 Glassbox Barbershop
A nice simple classic short haircut for men to get right now. The hair is styled a bit forward with a flip back and to the side in the front.
60. Temple Fade Haircut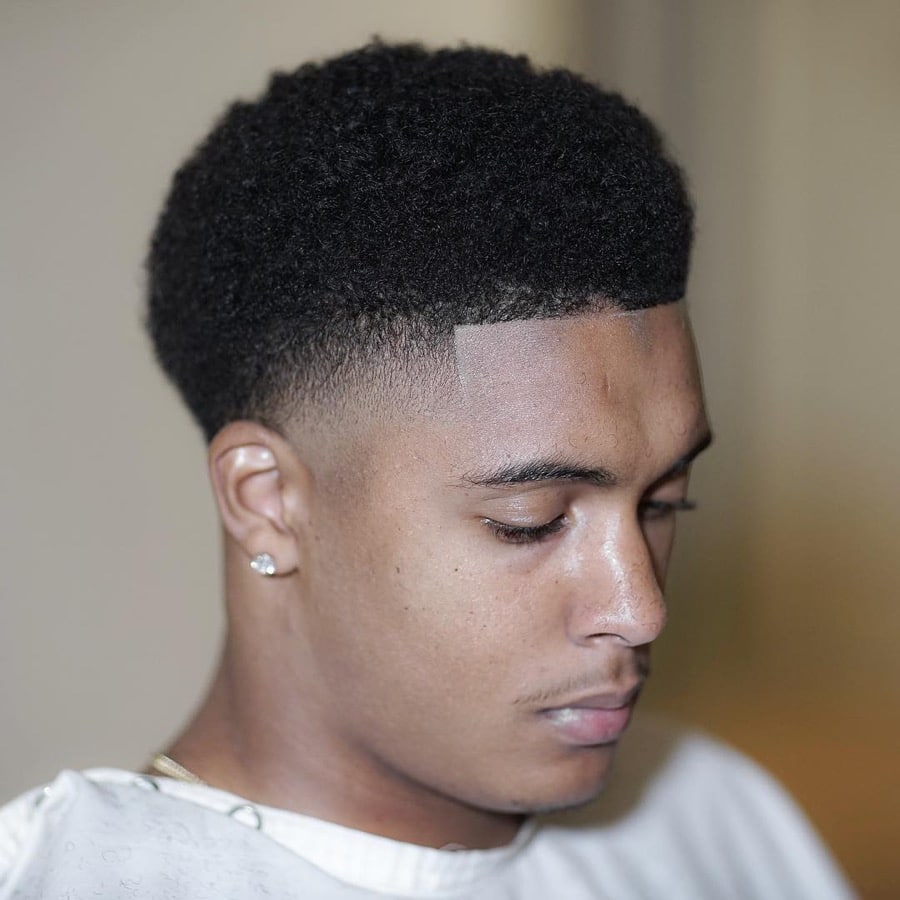 Pat Regan
A beauty temple fade haircut with natural curls shaped to perfection on top. This haircut is finished with a super clean shape up in the front
61. Low Bald Fade + Long Tall Curls (Jimmy Butler Styles)
Matt J.
Keep things cool in the summertime with a bald fade on the sides but a longer length of hair on top.
62. Short Textured Men's Haircut For Curly Hair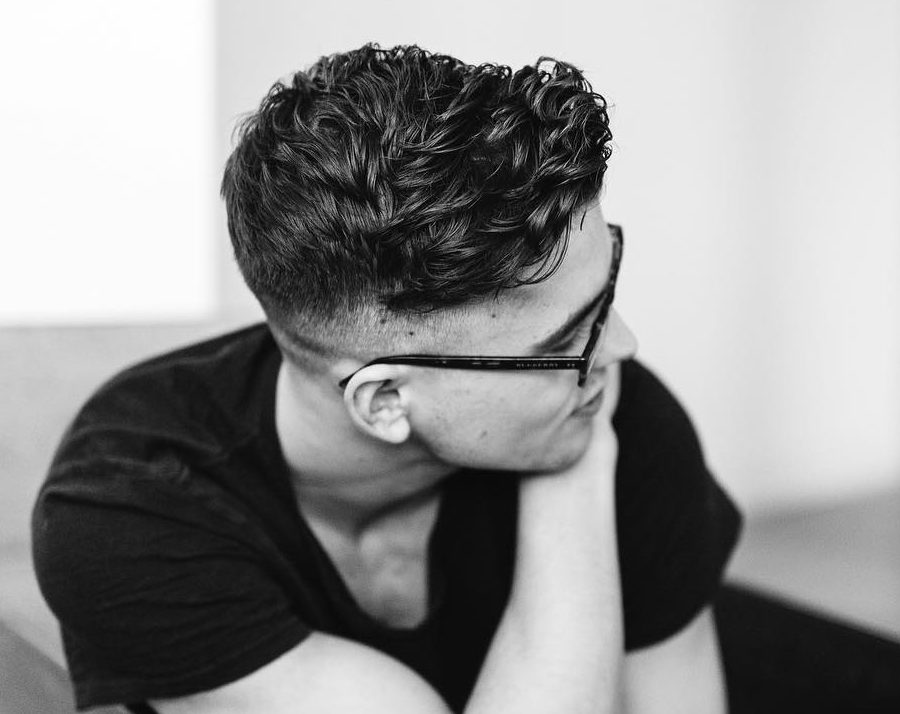 Whitney VerMeer
Whitney has put out some of the best men's haircuts for curly hair. Here she has beautifully textured the curly hair and cut it at a short to medium length.
63. Long Wild Messy Natural Curls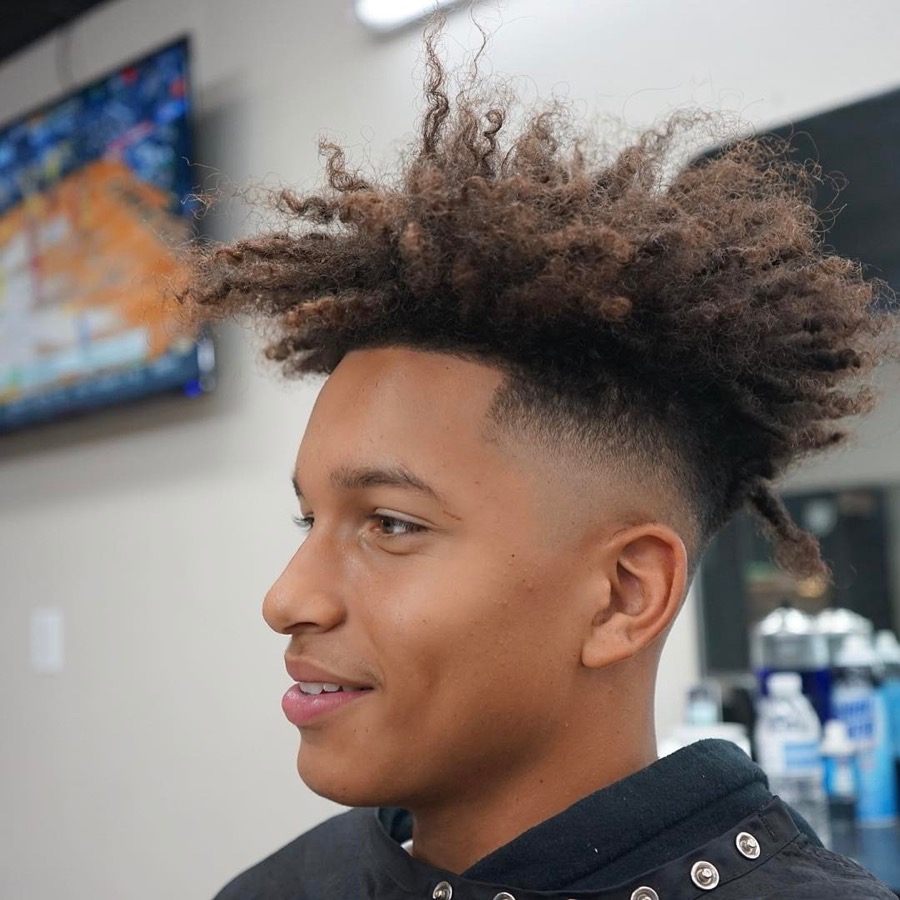 Level
Bald fade on the sides to keep things fresh. Wild curls on top.
64. Super Cool Long Surfer Hairstyle For Guys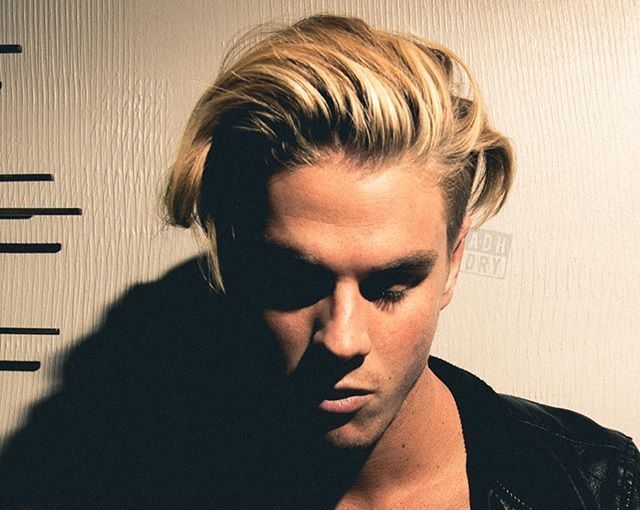 Andrew Does Hair
If you are thinking about growing your hair long this is a great cut that will take you in the right direction. Sides are short but not at all close to the skin. Hair on top is neatly trimmed and styled in a modern slick back look.
65. Beautifully Sculpted Modern Afro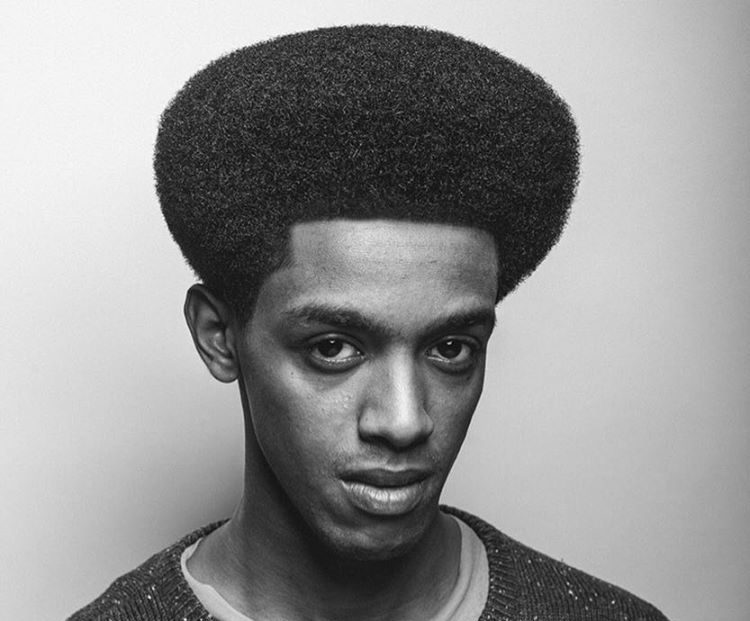 Nomad Barber LDN
Incredible shape. What incredible attention to detail.
66. Hairstyle For Long Wavy Hair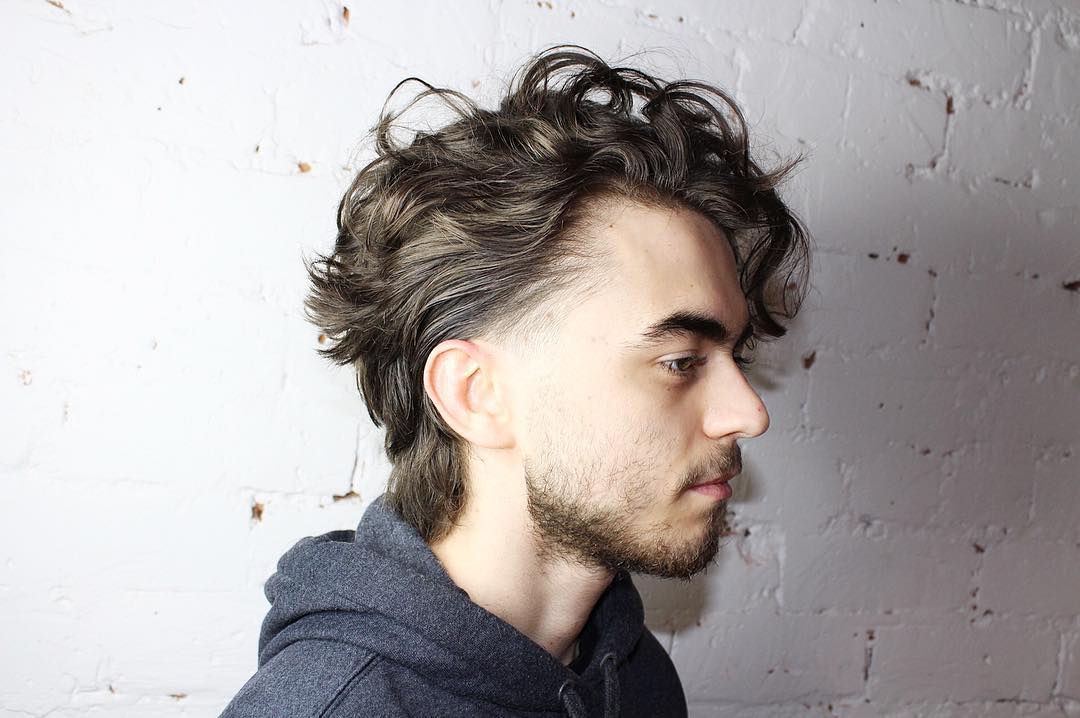 Simon Harvey
Another great haircut for men that want to work towards growing their hair out longer. The hair is scissor cut nice and neat and will allow for growing the hair out even longer over time.
67. Cool Long Hair Hairstyle For Men Tied Back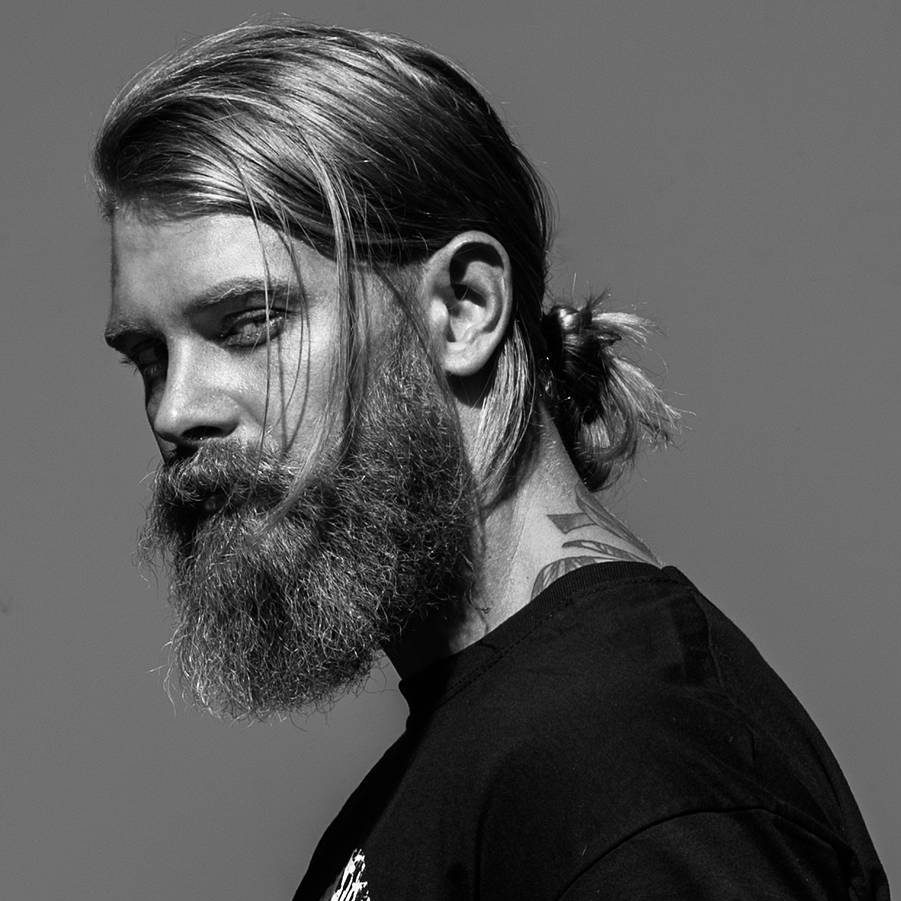 Spizoiky
Long hair is cool. More and more guys are growing their hair out. Looks great with the beard. Hair can be tied back into a bun, kept in a pony tail, or just let go loose and wild like.
68. Burst Fade Mohawk Haircut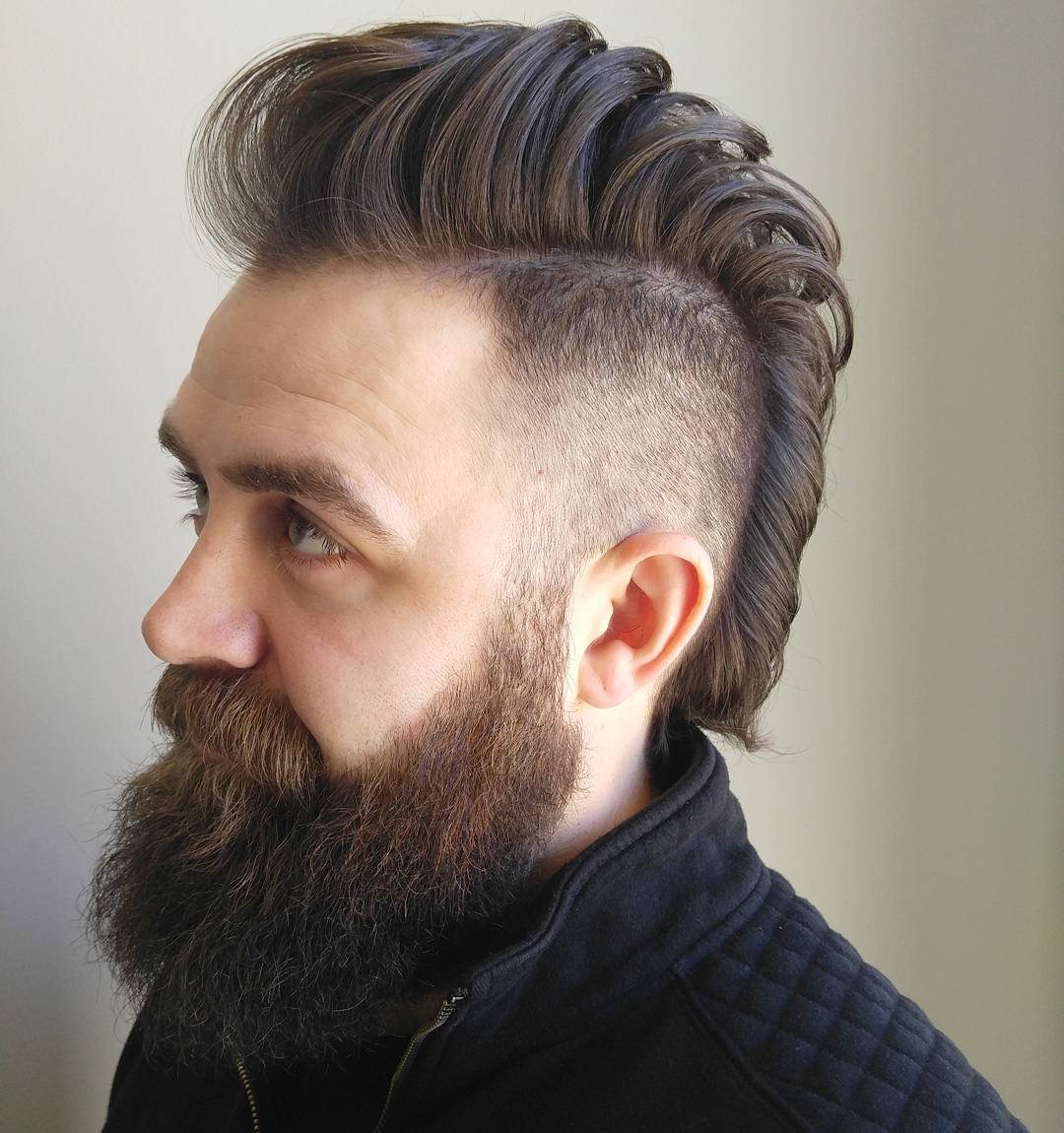 Erin Grommon
A cool mohawk pompadour hairstyle with a disconnected beard.
69. Low Fade + Longer Curls On Top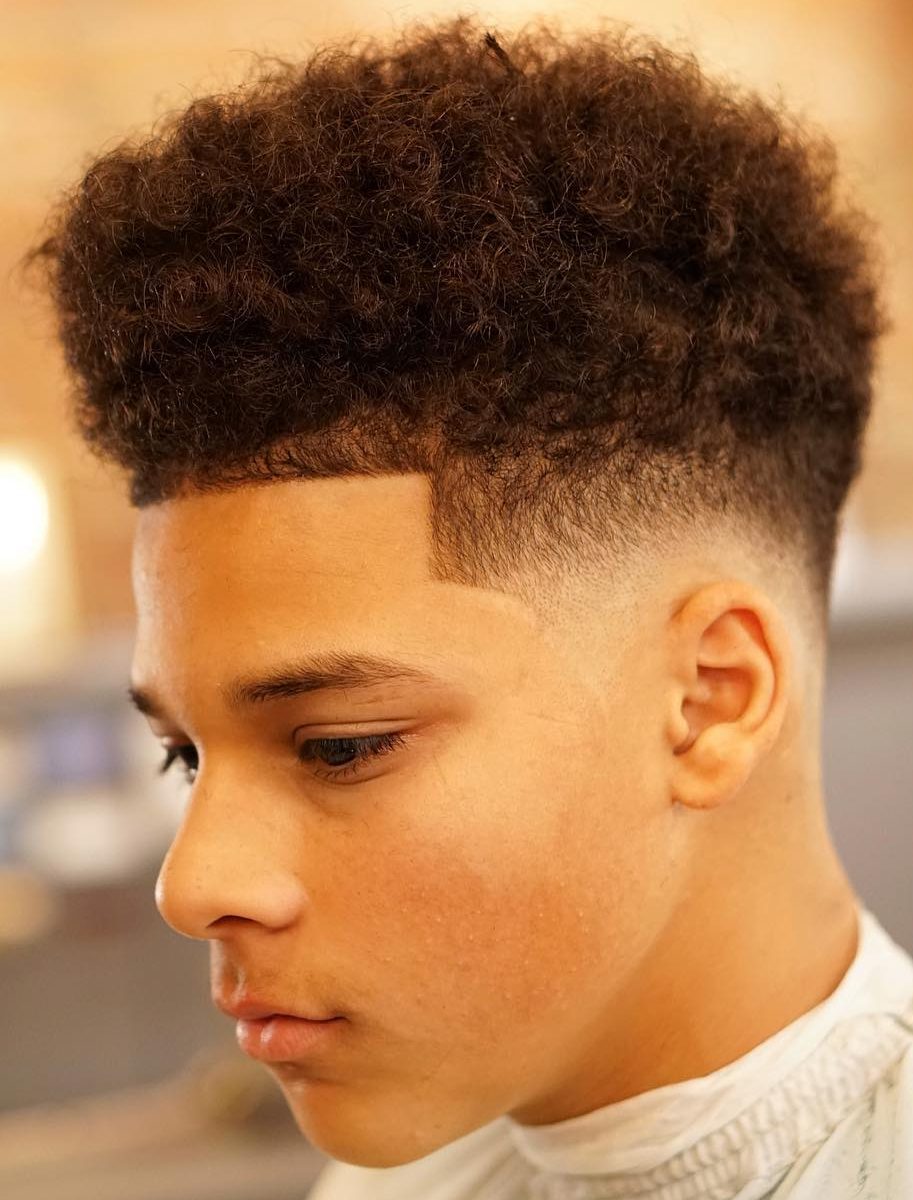 Sours: https://www.menshairstyletrends.com/best-haircuts-for-men/
41589
41590
41591
41592
41593