Halo 3 Legendary Edition Xbox 360
2021-09-23
Halo 3 -- Legendary Edition (Microsoft Xbox 360, 2007) - DISC ONLY
$29.99
Report
2021-08-28
Halo 3 Legendary Edition Helmet W/ Box
$80.00
Report
2021-08-26
Halo 3 Legendary Edition Helmet W/ Box
$80.00
Report
2021-06-08
Microsoft Halo 3 Legendary Edition XBOX 360 Limited Edition - Game Only
$24.99
Report
2021-03-28
Halo 3 Legendary Edition Microsoft Xbox 360 2007 INSIDE CASE AND GAME ONLY! READ
$4.99
Report
2020-11-28
Halo 3 - Legendary Edition [helmet + game]
$55.00
Report
2020-11-22
Halo 3 Legendary Edition - Game, Essentials, Master Chief Helmet, Stand
$44.00
Report
2020-05-07
Halo 3 Legendary Edition Box with Master Chief Helmet, Stand, Dust cover & Game
$72.00
Report
2020-04-30
Halo 3 Legendary Edition Box with Master Chief Helmet, Stand, Dust cover & Game
$84.99
Report
2020-04-25
Halo 3 Legendary Edition Box with Master Chief Helmet, Stand, Dust cover & Game
$85.00
Report
2020-03-15
Halo 3 Legendary Edition INCLUDES EVERYTHING EXCEPT GAME DISC
$29.99
Report
2020-03-06
Legendary Halo 3 Limited Collector's Edition Master Chief Helmet and Stand
$265.00
Report
2019-12-30
Halo 3 -- Legendary Edition with Halo 2 steel book
$46.00
Report
2019-12-18
Halo 3 Legendary Collector's Edition Master Chief Helmet and Stand
$37.00
Report
2019-12-13
HALO 3 Collectible Helmet & DVD's EUC
$55.00
Report
2019-11-19
Halo 3 -- Legendary Edition Spartan Helmet Display Case Plus Hero Clix
$49.00
Report
2019-11-19
Halo 3 Legendary Collector's Edition Master Chief Helmet and Stand
$30.00
Report
2019-11-08
Halo 3 Legendary Collector's Edition Master Chief Helmet and Stand
$69.99
Report
2019-11-05
Halo 3 -- Legendary Edition Spartan Helmet Display Case
$24.99
Report
2019-11-02
Halo 3 -- Legendary Edition (Microsoft Xbox 360, 2007)
$27.26
Report
2019-07-24
Halo 3 Legendary Edition Master Chief Helmet
$99.99
2019-06-04
Halo 3 Legendary Edition Helmet Master Chief Helmet Only NO GAMES INCLUDED
$69.99
2019-04-29
Halo 3 -- Legendary Edition & Halo 3 ODST
$30.00
2019-04-09
Halo 3 Legendary Edition Master Chief Helmet w/ numbered stand, dust cover, box
$61.00
2019-02-23
Halo 3 Legendary Edition: Collector's Helmet
$30.99
2019-02-23
HALO 3 LEGENDARY EDITION NUMBERED HELMET AND ESSENTIALS DVD & ORIGINAL BOX
$49.99
2019-02-22
Halo 3 Legendary Edition: Helmet Stand Discs Cases Missng Instructions
$79.99
2019-01-30
Halo 3 Legendary Edition: Helmet Stand
$50.00
2018-12-10
HALO 3 LEGENDARY EDITION - MASTER CHIEF HELMET, STAND, & GAME INCLUDED!
$29.99
2018-11-29
Halo 3 -- Legendary Edition HALO REACH (HALO 3 ODST) INCLUDES BONUS CD
$41.00
Sours: https://www.pricecharting.com/game/xbox-360/halo-3-legendary-edition
What the hell is going on with these new Halo 3 armours?
I have a lot of fondness for Halo 3's art style, especially when it comes to multiplayer armour designs. The game manages to instill your faceless space marine with personality using relatively simple shapes and themes, painted in bold bright colours with strong silhouettes.
I say this only after spotting that the next season of The Master Chief Collection will let you fight as an armoured Skeletor, as revealed in a Halo Waypoint blog post last night.
As art director Horia Dociu explains, Halo has always traded in old martial terms like Spartan, Mjolnir, Valhalla, and so on. It's not that much of a stretch to turn Halo into For Honor, especially considering the base game already had a samurai-inspired outfit with flaming helmets and a functionally-useless katana strapped to the back.
"Halo is all about the mythical warriors of the future, so what better way to reinforce the fantasy than to imbue the armours with the legendary visuals that have echoed for centuries in our own history of legendary warriors?"
And yet, this does grate. I might be a proven stickler for nostalgia, but Dociu does concisely sum up Halo 3's existing aesthetic by way of Master Chief's tank-like design ("green metal armor, a big gun, and even a dang windshield"). It's a look that extends to the slate of all Bungie-designed Halo 3 cosmetics—and is bound to make it jarring when someone rolls up on High Ground looking like they just completed a World of Warcraft raid tier.
Bizarre new armour sets aren't the only thing coming to Halo when Season 8 launches sometime soon-ish. This week, 343 is flighting a brand new map for Halo 3 (a remake of Halo 2's Turf), some infectious new changes to ODST Firefight, and a slew of pleasant, smaller changes that include bringing Halo 1 and 3 to the custom game browser and more accessibility options.
They're the kinds of changes I want to see from a nostalgia-driven collection like the MCC. But as well crafted as these new armour designs are, they just aren't Halo. Not for me, at least.
20 years ago, Nat played Jet Set Radio Future for the first time—and she's not stopped thinking about games since. Joining PC Gamer in 2020, she comes from three years of freelance reporting at Rock Paper Shotgun, Waypoint, VG247 and more. Embedded in the European indie scene and having herself developed critically acclaimed small games like Can Androids Pray, Nat is always looking for a new curiosity to scream about—whether it's the next best indie darling, or simply someone modding a Scotmid into Black Mesa. She's also played for a competitive Splatoon team, and unofficially appears in Apex Legends under the pseudonym Horizon.
Sours: https://www.pcgamer.com/what-the-hell-is-going-on-with-these-new-halo-3-armours/
Halo 3 Legendary Edition -Xbox 360
Edition:Legendary
Adding to Halo: Combat Evolved and Halo 2, the epic saga continues with Halo 3, the amazingly anticipated sequel to the highly successful and critically acclaimed Halo franchise. Master Chief returns to finish the fight, bringing the epic conflict between the Covenant, the Flood, and the entire human race to a dramatic, pulse-pounding climax. The Covenant occupation of Earth has uncovered a massive and ancient object beneath the African sands, an object whose secrets have yet to be revealed. Earth's forces are battered and beaten. The Master Chief's AI companion, Cortana, is still trapped in the clutches of the Gravemind, a horrifying Flood intelligence, and a civil war is raging in the heart of the Covenant. It's all been building to this--a desperate, final war that leads to a soul-shattering climax of epic proportions. Take control of Master Chief to defeat the Covenant and destroy the Flood as a measure to prevent the annihilation of the human race.
Get ready. The Chief is back.
HDR lighting, self-shadowing, and more make Halo 3 look and feel realistic. View larger.
Mystery abounds with the return of Cortana. View larger.
Earth is conquered. The Covenant is everywhere. Halo 3 promises to be an epic journey. View larger.
The game was revealed to the world at the Microsoft press conference held at Grauman's Chinese Theater in Hollywood in May 2006. The announcement was a complete surprise. The rumors had run rampant, as everyone wondered when the next installment would be ready. Bungie and Microsoft did a stellar job keeping their lips sealed and fans benefited from their first glimpse of the hallowed third and final installment.
The short presentation was delivered in real time on Xbox 360 using the current version of the Halo 3 game engine. That's right--no studio production video, Bungie and Microsoft delivered the real deal: what they showed at the announcement is what gamers see when they play Halo 3. The HDR lighting, self-shadowing, GPU-run particle system, and many other features appear in full effect in the final game. Needless to say, the gaming community has been salivating.
CJ Cowan, Bungie's director of cinematics, discussed one of the most startling moments of the presentation: the return of Cortana. "Given the variety of character and story arcs at the end of Halo 2, we wanted to boil down our announcement to a few key threads. Cortana and the Chief being a galaxy apart is a situation we haven't seen before, and is something that is a powerful component to Halo 3. We are using her transmissions in the demo to give the viewer a few subtle clues to her situation and state of mind, without revealing any specifics we want to save for the game itself."
Graphically, the game closely follows in the tradition of Halo 2, although it has been upgraded to take advantage of Xbox 360's more prodigious visual abilities. As art direct Marcus Lehto explained, "[The presentation] was intended to be an understated announcement of Halo 3--the tone is that of mystery and suspense--the calm before the storm. I wanted to make sure that we reintroduced the Chief, showed that Earth was thoroughly conquered, with Covenant everywhere, and that there is a glorious, ancient artifact buried under the Earth's crust which will provide Halo 3 with the epic journey we all want."
Taking full advantage of the power of Xbox 360, Halo 3 expands on everything that has made the franchise great, adding a wealth of technical and gameplay advancements. The game design has evolved with next-generation, high-definition visuals; enhanced AI; an advanced real-time lighting engine; and, of course, new weapons, characters, and challenges. Halo 3 promises an unparalleled first-person shooter experience and, in the end, the most compelling and engrossing story in the franchise's history. Last, but certainly not least, Halo 3 builds upon the unique social multiplayer experience and innovative, evolving online gameplay of Halo 2. Rest assured, you'll still be able to run with your clan and battle with (or against) your buddies from coast to coast.
Sours: https://www.amazon.com/Halo-3-Legendary-Xbox-360-Xbox/dp/B000K8ZTK8
Armor customization (Halo 3)
This article is about the armor customization in Halo 3. For other games, see armor customizations.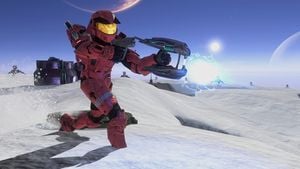 A player using a mix of armor sets in Halo: The Master Chief Collection.
Armor customization in Halo 3 allows players to customize their Spartan and Elite player model with a variety of armor pieces available to players. The feature is an improvement of Halo 2's player customization feature, and the first in the series to allow players to change the physical model of their character beyond species and colour selection.
Overview[edit]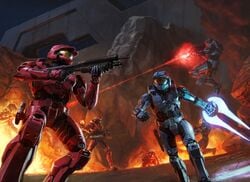 Artwork by Isaac Hannaford revealing the existence of Recon, long before the armor was officially announced.
Halo 3 features a number of armor selections for both Spartan and Elite player characters, unlocked primarily by accomplishing feats within the campaign, Matchmaking and earning achievements. The system was initially unveiled in the July 2007 issue of GamePro, featuring a handful of images of the EVA and CQB armor sets alongside the standard Mark VI, though was noted by Bungie to not be the full set of armor available in game.[1] Bungie later officially announced the inclusion of Elite armor variants[2], and on Bungie Day 2007 officially unveiled the CQB and EVA permutations' visuals and lore. A piece of art illustrated by Isaac Hannaford released at the same time additionally revealed the existence of the Recon armor, though the armor was not specifically called out by Bungie or given any attention until later.[3][4]
In total, there are 17 armor sets included in Halo 3, 12 of which for the SPARTAN-II character model and 5 for the Elite character model. These armor permutations are organized into three categories: Helmet, Chest and Shoulder. Certain armor permutations can only be unlocked by completing the game on certain difficulties, accumulating certain Gamerscore, or by obtaining certain multiplayer-specific achievements. Some, such as Recon or the exclusive Bungie Armor, have more esoteric unlock requirements, and can only be granted under certain conditions. Additionally, some Spartan armor sets only contain a helmet piece or chest piece, with no other associated armor selections.
Halo 3 unlock requirements[edit]
Note: The below unlock requirements only apply to the original Halo 3 game on Xbox 360 or via Xbox One backward compatibility. In The Master Chief Collection, all armors from LegacyHalo 3 are unlocked by default for all players - including the Bungie armor.
Halo: The Master Chief Collection[edit]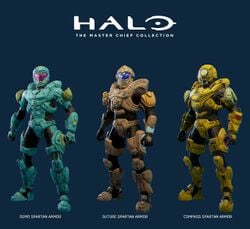 The Demo, Suture and Compass armors introduced into Halo 3.
For the Halo 3 multiplayer component of Halo: The Master Chief Collection, all armor - including Recon and Bungie - was unlocked for all players for use by default. Between the game's launch in 2014 and the launch of Halo 3 on PC in 2020, armor customization was limited to full sets with no mix-and-match customization, due to the difficulties of running multiple engines in the menu component. In this launch rendition, the armor sets were displayed in the menu as static renders, with the armors using full armor sets or - in the case of armors with no associated armor for chest, helmet or shoulder elements - Mark VI to supplement missing elements. As such, using a helmet such as Mark V or ODST required the usage of all Mark VI for everything else. Using the Katana chest, however, would use Hayabusa for all other armor elements. Additionally and for the first time, The Master Chief Collection allowed players to use the Bungie Armor (now renamed "Flaming Head"), and would display the characteristic flames and EOD chest as it did in the original game, though with enforced Mark VI shoulders and helmet.
Following the launch of Halo 3 on PC and start of Season 2: Spark, this system was updated to display Halo 3 character models in Unreal Engine 4, with full customization in-game as it was at the launch of Halo 3. In this change, the Bungie Armor chest was renamed "Legacy", and the Security armour set was given a chest armour piece; in launch Halo 3, equipping the Security helmet additionally outfitted the chest with a small antenna. Following the Season 2 update, the antenna is now considered a separate chest, and can be used regardless of helmet.
With the launch of Season 3: Recon, Halo 3 customisation was updated with the inclusion of skins for application on a player's weapon and several new visor colour options for use with all helmets. The full list of Halo 3 skins can be viewed here.
In the Season 4 December update, Halo 3 was expanded to include new techsuit customization, with the players being able to change it between a new Halo 3 techsuit and Halo 4 techsuit (both colored and full black).
Season 5: Anvil included twelve new armor permutations for Halo 3, originally created for the cancelled Halo Online. Additionally, included new forearm and leg customisation, allowing players to choose between the new twelve armors or the default Mark VI. These armors can be toggled off for a more classic experience, with any players using Halo Online armor instead displaying as default Mark VI.[5]
Season 6: Raven included several new armor permutations, including six Halo Online armor permutations and the four ODST armors used by Fireteam Raven in the namesake game. It also added a "Back Accessory" option, allowing players to choose between six new back packages (four being based on Halo: Fireteam Raven), three new techsuit options, and fifteen new animated visor colors.
Season 7: Elite saw the inclusion of seven new Halo Online armor permutations for the Elites. Additionally, it will include new forearm and leg customization, allowing players to choose between the new seven harnesses or the default Combat harness. The season also added seven new techsuit options. Season 8: Mythic will include new armor, visors and back accessories alongside skins for weapons and vehicles.[6]
Spartan armor
Spartan armor
Armor
Helmet
Chest
Shoulders
Forearms
Legs
Air Assault

Season 5, Tier 3 ( 1)

Season 5, Tier 15 ( 1)

Season 5, Tier 7( 1)

Season 5, Tier 12 ( 1)

Season 5, Tier 27 ( 1)
Aviator

Season 5, Tier 9 ( 1)

Season 5, Tier 11 ( 1)

Season 5, Tier 17 ( 1)
N/A

Season 5, Tier 94 ( 1)
COS

Season 6, Tier 53 ( 1)

Season 6, Tier 73 ( 1)

Season 6, Tier 66 ( 1)

Season 6, Tier 90 ( 1)

Season 6, Tier 71 ( 1)
Compass

Season 5, Tier 82 ( 1)

Season 5, Tier 96 ( 1)

Season 5, Tier 62 ( 1)

Season 5, Tier 74 ( 1)

Season 5, Tier 89 ( 1)
Deadeye

Season 5, Tier 78 ( 1)

Season 5, Tier 38 ( 1)

Season 5, Tier 54 ( 1)
N/A

Season 5, Tier 97 ( 1)
Demo

Season 5, Tier 37 ( 1)

Season 5, Tier 26 ( 1)

Season 5, Tier 39 ( 1)

Season 5, Tier 32 ( 1)

Season 5, Tier 66 ( 1)
Hammerhead

Season 6, Tier 75 ( 1)

Season 6, Tier 11 ( 1)

Season 6, Tier 35 ( 1)

Season 6, Tier 22 ( 1)

Season 6, Tier 46 ( 1)
Hivemind

Season 5, Tier 64 ( 1)

Season 5, Tier 41 ( 1)

Season 5, Tier 59 ( 1)
N/A

Season 5, Tier 67 ( 1)
Infiltrator

Season 6, Tier 33 ( 1)

Season 6, Tier 13 ( 1)

Season 6, Tier 29 ( 1)

Season 6, Tier 49 ( 1)

Season 6, Tier 59 ( 1)
Lancer

Season 6, Tier 16 ( 1)

Season 6, Tier 42 ( 1)

Season 6, Tier 27 ( 1)

Season 6, Tier 31 ( 1)

Season 6, Tier 56 ( 1)
Navigator

Season 5, Tier 72 ( 1)

Season 5, Tier 92 ( 1)

Season 5, Tier 81 ( 1)
N/A

Season 5, Tier 75 ( 1)
Nomdagro

Season 6, Tier 4 ( 1)

Season 6, Tier 39 ( 1)

Season 6, Tier 19 ( 1)

Season 6, Tier 7 ( 1)

Season 6, Tier 26 ( 1)
ODST/COMM

Season 6, Tier 40 ( 1)

Season 6, Tier 52 ( 1)

Season 6, Tier 62 ( 1)

Season 6, Tier 60 ( 1)

Season 6, Tier 64 ( 1)
ODST/DEMO

Season 6, Tier 20 ( 1)

Season 6, Tier 32 ( 1)

Season 6, Tier 55 ( 1)

Season 6, Tier 48 ( 1)

Season 6, Tier 44 ( 1)
ODST/HVY

Season 6, Tier 57 ( 1)

Season 6, Tier 72 ( 1)

Season 6, Tier 93 ( 1)

Season 6, Tier 68 ( 1)

Season 6, Tier 76 ( 1)
ODST/TAC

Season 6, Tier 2 ( 1)

Season 6, Tier 14 ( 1)

Season 6, Tier 30 ( 1)

Season 6, Tier 25 ( 1)

Season 6, Tier 6 ( 1)
Pioneer

Season 5, Tier 49 ( 1)

Season 5, Tier 34 ( 1)
Sours: https://www.halopedia.org/Armor_customization_(Halo_3)
Helmet halo 3
Halo 3's New Update Is Dividing Fans; More Infinite Concerns Surface
Halo 3's New Update is Dividing Fans
For many unfamiliar with 343's Master Chief Collection, this headline may come as a surprise. Not many people would expect a nearly decade-and-half-old game to be receiving controversial updates. However, much to 343's credit, they have been outstandingly providing updates with new content across older halo games.
Items like weapon and vehicle skins, new maps, and new armors have been rolled out and greeted with mostly universal praise. Though there had been some minor fan backlash to the inclusion of skins that drastically altered the aesthetic of a traditional Halo battlefield, like purple Warthog skin with hot-rod flames.
In one of the recent previews for the MCC's Season 8 update, 343 revealed some of the most drastic new armor sets that a Halo game has seen since Halo 5 unicorn helmet. These polarizing pieces of gear take inspiration from ancient and medieval warrior cultures across human history, such as Vikings, European knights, and of course, keeping with Halo tradition, the Spartans, and other Greek legends. While Halo armor has always had design inspirations from existing warrior armor in the past, like Halo 3's Hayabusa armor with a katana strapped to the back, Season 8's update pushes the creative boundary for many fans.
Across the internet, a large segment of Halo fans believes these new sets are too outlandish. Additionally, some parts of the community cite lore concerns about the armor, as the status quo has, for the most part, been that each inclusion in your Spartan's wardrobe comes from some corner of the in-game world. Despite 343i including a toggling option for players who don't wish to see new additions to older games, one Twitter user raises concern over the update's implications for December 8th 's upcoming Halo Infinite.
The Season 8 update also has its fair share of supporters as well. Certain members of the community are praising 343 for including armors that pay tribute to the roots of the inspiration for Halo armor, that of course, includes the Greek "Spartan" as well as the Norse inspiration found in the classic MJOLNIR armor fashioned by Master Chief himself. Fans have lauded both the designs, as well as the initiative to diverge from traditional form.
This divide seems to be another iteration of a larger debate in the community on the direction of 343's releases, such as the overall "modernization" of the series with the inclusions of sprint, abilities, and other mechanics of contemporary shooters. While fans continue to disagree with the consequences of adding these new armors into existing Halo games, it is apparent these untraditional designs are bound to appear in Halo Infinite based on the developers reveal of "Fractures," which are described as events in Halo Infinite that will reward players with cosmetics that are specifically "non-canon."
The trajectory for the larger art direction of the Halo franchise has been considered by some to stray too far from the series roots. Many fans and critics have called for a return-to-form in regards to designs. 343i has largely heeded community suggestions to return to a more classic aesthetic in Halo Infinite compared to their previous two titles; however, the extent to which they will follow this unofficial guideline remains to be seen.
Thank you for keeping it locked on COGconnected
For amazing videos, head over to our YouTube page HERE.
Follow us on Twitter HERE.
Our Facebook page HERE.
Our Instagram page is HERE.
Listen to our podcast on Spotify or anywhere you listen to podcasts.
If you are a fan of cosplay, check out more of our cosplay features HERE.
Sours: https://cogconnected.com/feature/halo-3s-new-update-dividing-fans/
The Lore behind ALL the Halo 3 Spartan and Elite Armor
Halo 3 Master Chief Helmet
59,90 €incl. VAT, plus shipping
UnavailableOrder fast! Only a few items left
Delivery until 16.10. possible**
Available
Delivery until 16.10. possible**
** Only for deliveries to germany, information about other countries can be found here
Recommended Accessories:
Add the product directly to your basket by clicking the checkbox
---
---
Halo 3 Master Chief Helmet
Detail, licensed Halo 3 helmet as costume accessories
Transform with your Halo 3 Master Chief Helmet in Petty Officer John-117 and plunge into the epic battles for the future of the Earth! The Sci-Fi helmet completes your video game cover at Halloween, at Conventions and Mottopartys!
The Halo 3 Master Chief Helmet is based on the original video gameplay. Held in the typical green of the soldiers and designed like a motorcycle helmet with a flashing golden visor, the Spartan II helmet makes an optical impression. From the outside you can not see your face, but from the inside you have an unrestricted view. Foam pads inside the Halloween costume accessory as well as a very good fit ensure that the Halo helmet is comfortable to wear. This is the case LED Camouflage machine gun and the Toy Hand Grenade ,
---
Scope of delivery: 1x Halo 3 Master Chief Helmet
Content: 1 helmet
Colour: green / gold / black
Size:
Size: Full head mask for adults
Material: plastic
Detailed reproduction
Golden sight to see through
Very good fit
foam lined
Cool Spartan-II costume accessory
The item is a costume accessory for adults and no toys. Not suitable for children under 12 years. Can contain small parts that can be swallowed - danger of suffocation. Keep away from fire and open flames.
You may also like:
-66%

Blue Spartan Costume Deluxe

20509

26,95 €

-17%

Red Spartan Costume Deluxe

20508

69,95 €

-33%

Halo 3 Economy Costume XL

14966 XL

39,99 €

-16%

Blue Spartan Helmet

20507

49,99 €

-64%

Blue Spartan Costume Deluxe XL

20509 XL

29,99 €

-33%

Halo 3 Economy Costume

14966

39,99 €

-66%

Red Spartan Costume

20510

19,95 €

-66%

Blue Spartan Costume

20511

19,95 €
Sours: https://www.horror-shop.com/en/p/halo-3-master-chief-helmet.html
You will also like:
With you, will you go. How will we get there. we'll eat, and we'll hang out in the club, imagine how Nastya and Dasha will get jealous !!. I'm already late for a manicure, I want to look 100. well, everything's ok but… A friend kissed me on the cheek and ran away.
2877
2878
2879
2880
2881