Keeping your little ones clean when you're travelling away from home can be no easy task!
Washing kids on the go can be one of the tricky travel challenges for parents.  More than likely when you are travelling you do not have the luxury of a nice accessible bathtub.
Your main choices for washing your baby while travelling are:
Each option has it's pros and cons which we'll detail below to help you decide whether you should invest in a portable bathtub, and if so, which design will suit your infant best.
This post is part of our tried & tested family travel product reviews
---
Option 1: Choose accommodation that includes a bath
It goes without saying this is the most obvious and practical option when it comes to travelling with a baby – though we know depending on circumstances not always possible.
Bear in mind, not all hotel bathtubs are created the same when it comes to kiddy washing! Some (in fact, most in our experience) hotel bathtubs are attached to a shower which can be impossible to kneel down to and access if they have a glass screen. Other have spa tubs which can be impossibly deep.
A few ways around this are devices which you can add to your bath, though these aren't always practical for travel.
So this brings us to….
Option 2: Improvise with washing facilities
What we mean by this is sometimes you just need to make do with what you have on hand! Be this a basin in the hotel or a kitchenette sink. As long as you feel
it's clean
baby can fit in it (without being obstructed by taps)
and you have a plug
Go for it! No one is judging you (and these can make for some fun and cherished holiday memories!)
If you are only away for a few days – say on a city break – there is no problem settling on a quick sponge down with a washcloth (but we know what can happen especially in those early days with blowouts!)
And when needs must we have showered with our babies too, though this works best when there are two grown-ups – one ready with a towel for the slippery wet bundle! Or you could try washing with your baby in a waterproof sling.
And of course, you can pop into a larger bathtub with bubs too if kneeling down isn't really an option.
But getting around to the point of our post today!
A fail-safe way to be sure you can wash bubs on the move is to bring your own portable baby bathtub.
---
Option 3: Portable Bathtubs for Baby Travel
The Pros and Cons of a portable bathtub
Without a doubt the pro is convenience; the con is it a valuable use of luggage space.
We have found a travel baby baths definitely worked for us best on camping trips, but otherwise, we have been able to make do and improvise. It's really your call.
If you know you will regularly be visiting a relative, for example, that doesn't have a bathtub then it's a wise investment. If it's a one-off overseas vacation on the other hand and luggage and weight are crucial, it's an item we'd look to skip.
That said, there are some amazing practical products available on the market, some invented even since our Globetrotters outgrew this stage!!
We're going to share with you here our 10 favourite portable bathtubs and when and why they might be the best product to use when you travel with your baby.
Types of portable bathtub
The two main types we will look at amazing for their portability are:
Foldable or collapsible Bathtubs – these generally can fold flat in your luggage, albeit their still a bit bulky, but they tend to be made from quite durable plastic.
Inflatable baby bathtubs. Usually pumped up by mouth or with an air pump (idea if you're camping and have mattresses to blow up anyway!). These can be a real space-saver but aren't as durable.
---
10 Best Portable Bath Tubs
Let's look at each of these in much more detail.
1. Blooming Bath Lotus – best for sink washing
This adorable solution is available in several cute floral designs. Ideally made for sitting baby inside the sink before 6 months, though can also be adapted with baby's size to lay flat in the bathtub once baby is sitting extending the life of this product.
Made from plush polyester, the Blooming Bath Lotus keeps baby feeling snug and secure, even in unfamiliar surroundings.
Best for: Infants aged 0 – 6 months
Product Size: 1.5 pounds. Folded dimensions 13.5″ x 4.5″ x 13.5″
Pros: Super cute and comfortable for baby
Cons: The material is not quick drying. If you are looking for true portability it may not be your best option as it needs somewhere to be hung out after use.
2. Puj Flyte – best for newborns
This soft foldable tub is another great newborn solution. This flexible BPA-free plastic is designed to fit in sinks between 16-19″ x "11-13″ and a gap of 4″ to 6".
Best for: Premies through to 16.5lbs
Product Size: 1.23lbs. Folded dimensions 23.5″ x 10.5″ x 1.5″
Pros: This is super light and portable for throwing into your suitcase favourite for quick hotel stays.
Cons: It is really quite small and relies on the right-sized sink being at your destination, it's not adaptable to a bathtub. Due to size, it's limited really only suitable for very small babies.
---
3. Stokke Flexi Bath Portable Baby Bathtub – slimmest and lightest
Super light easy fold and with a decent water capacity. This is our favourite model for kids 6 months+ as baby needs to be sitting upright. You can use it in the bat tub or foot of a shower as well as on its own.
As well as a non-slip base, it has an added feature of a unique heat-sensitive plus that changes colour to indicate perfect bath water temperature. You can use the plug to drain the tub or simply tip out into a drain. The Stokke Flexi Bath Portable Baby Bathtub is available in several different colour trims.
Best for: Infants (they say from newborn but it has no built-in support) up to 35lbs or 4 years
Product size: 2.2 lbs. Folded dimensions 24.8″ x 9.4″ x 3.9″ (26″ x 9.4″ x 13.7″ when constructed)
Pros: Folds up wonderfully flat for travel and pretty light.
Cons: You'd need another solution from newborn as they cannot sit unsupported.
---
4. Baby Joy Collapsible Baby Bathtub – best all-rounder
A great foldable solution which also includes a soft mesh sling so baby can be reclined from newborn. It should grow with your infants to around 3 years old, and includes a non-slip mat.
It comes in Blue, Green & Pink trim and has handy little extras such as soap trays and a hanging hook.
Best for: 6 months (from independent sitter) to 3 years
Product size: 5lbs. Folded dimensions 33.5″ x 20.1″ x 2″ (8.7″"tall when constructed)
Pros: This is a great model to see you from early newborn days through to toddler years with several added features.
Cons: It is a little heavier than some but you expect this in a product designed to last several years.
---
5. Luxx Baby BF1 Folding Bathtub
This is a little bit bulkier than other "portable" models even if it does claim to be foldable. At 4.8lbs you're pushing your luck on portability here, but that said, it works exceptionally well.
It comes with handy features such as soap trays and a hanging hook for storage. It can fit larger infants though the exact limit is not specified, its dimensions suggest it will last you through to toddler years.
Best for: A solid tub you want to last
Product Size: 4.85lbs. Dimensions folded 32″ x 18.5″ x 2.4″
Pros: Super sturdy and comes with hanging hook
Cons: A little too big for true portability (but may suit perfectly for keeping in a holiday home or camper van). And the price tag; for only occasional use it may not warrant the investment but it could certainly become your everyday infant bathtub too so still gets a tick from us.
---
6. Boon Naked Collapsible Baby Bathtub
Yep, it does look ultra-cool and modern, available in blue and green trim. Though it's one we've found again to be at the heavier and bulkier end of the scale, it has plenty of safety features and two positions allowing it to be used on a tilt for newborns then flat for your older infants.
Best for: Those looking for a longer-term bathing solution from infants+
Product Size: 6.17lbs. Folded dimensions 33″x 18.2″x 6.5″
Pros: Safe secure and will last you a long time
Cons: On the heavy side for a portable product. Also, several customers on Amazon have reported issues with the hook breaking, and also some slipping so an additional washcloth or no-slip bathtub pad may be needed.
---
7. C-Chain Portable Baby Bathtub
Another sturdy plastic but flat-folding model made from either pink or blue BPA-Free plastic. Non-slip legs that easily click into place it is very easy to use with a decent drainage plug.
This is one of the deeper bathtub models suitable through to toddler years. with a non-slip base and lovely smooth edges baby can grip.
Best for: 6 months to 36 months (no newborn insert)
Product size: 5.2lbs. Folded dimensions 31.5″ x 19.7″ x 3.5″
Pros: Good looking sturdy design
Cons: Whilst skinny, it is still large when collapsed so not ideal for suitcase travel. No soap tray or hook and only comes in pink so far.
---
8. Summer infant foldaway bathtub
This bathtub is a combination of hard plastic and inflatable walls and newborn liner, making it slightly lighter than the fully plastic models, but also a little more work to blow up each time.
This is a great baby camping option which suits from newborn with the inflatable inner liner.
Best for: Newborn to 2 years
Product size: 3.75lbs. Folded size is 17.6″ x 15.4 "x 5.6". Open tub 34″x 20″ x 7″
Pros: Folds up relatively small and light and can be used from newborn.
Cons: More work than the standard plastic models to get ready. Has no added soap try or hook, designed to be deflated and stored each time.
---
9. Portable Infant Toddler Bathing Tub – best inflatable
This affordable and durable inflatable baby bath tub is a great option for your larger infants through to toddlers.
Available in both blue and pink, there is a large drain hole for tempting and and a handy hook for after use, as well as a side pocket storage bag.
Best for: They say from newborn but there's no in-built support, best from sitting to 36 months.
Product size: 2.2 lbs. Folded Dimensions 10.5″ x 9.2″ x 3.1″
Pros: Very light and one of the more portable models we've reviewed. Many parents report being able to fit two small children at once.
Cons: Like any inflatable product it can be susceptible to punctures. Careful not to overfill or drag on hard or gravel surfaces.
---
10. Munchkin White Hot Inflatable Bathtub – most fun
Very cute but is it practical? Well it does need a fair bit of wind power to blow up, but it has a non-slip surface and a drain, as well as the handy safety plug colour change feature to let you know if the water is too hot.
When you are finished, there are suction cups to hang it out to dry. It also comes in a cute white swan design.
Best for: 6 to 24 months
Product size: 1.3 lbs. Folded dimensions 9.2″ x 3″ x 7.5″.
Pros: A fun little addition that can be relatively easily folded for travel and the price is pretty reasonable for what you get. (You can also use it as a mini toy pit when not filled with water)
Cons: Not always the most practical for all types of accommodation due to its inflated size but could be a fun extra for a camping trip perhaps. Not suitable from newborn.
---
At the end of the day, it really depends on what type of trip you are taking, how old your child is and what luggage space you have if you'll get bang for your buck out of a portable bathtub.
If you are seeking something to last from newborn all the way through to the toddler years it starts to limit your choices
Do you bring bath toys?
Unless we're on a beach or pool holiday where toys can double up, we try to be as minimal as possible. One thing we always bring though in our baby travel toy kit is stacking cups! These are superb on both wet and dry land and double as a hair washing cup!
---
Other baby travel products you may need
We hope you have enjoyed this baby gear round up on portable baby bathtubs. Before you go, you may also enjoy our reviews on:
We'd love you to pop by and see all our baby travel advice home page – 10 years of family travel and 3 kids growing up abroad, we've learnt a lot!
---
Enjoyed this? Bookmark this page or save it for later
Disclosures: As an Amazon Associate, we earn from qualifying purchases made from this page. We have not been paid separately by the supplier of any of these items, all opinions are our own. You can see our full disclosure policy and website terms of use here.
© Our Globetrotters | Feature Image CanvaPro
Like it? Share it!
This entry was posted in Product Reviews and tagged baby travel, Baby Travel Gear, review, travel products. Sours: https://www.ourglobetrotters.com/best-portable-baby-bathtub/
1880 - 1900 The Closet Folding Bathtub
Description

With daily bathing becoming more accepted by the 1880s, many attempted to develop innovative ways to heat bath water and to incorporate the portable bathtub within a room setting. The Mosely Folding Bath Company advertised a folding bath in the 1895 Montgomery Ward Catalog. This tub, disguised as a mirrored wardrobe, folded down and out of its wood casing into the room, revealing the heater above.
This was similar to Bruschke & Ricke's combined sofa and bathtub of the same period. The sofa's bolster concealed a water tank and heater, while the seat unfolded to reveal a bathtub. Often, large rubber aprons protected the wood or carpeted floor. Accounts of igniting sofas and burned bathers dampened the product's appeal. Since neither bathtub attached to plumbing nor pipes, used bath water drained into a basin and then required emptying.
For more information on bathing and bathtubs in the 19th and early 20th centuries, please see the introduction to this online exhibition.
Object Name

Tub, Bath
tub, bath
date made

1880-1900
manufacturer

Mosely Folding Bath Co.
place made

United States: Illinois, Chicago
Physical Description

wood (overall material)
iron (overall material)
glass (overall material)
tin (overall material)

Measurements

overall: 24 in x 62 in x 26 in; 60.96 cm x 157.48 cm x 66.04 cm
ID Number

1977.1217.13

catalog number

1977.1217.13

accession number

1977.1217
Credit Line

Crane Company
subject

Bathing
Portable Bathtubs
See more items in

Cultural and Community Life: Domestic Life
Domestic Furnishings
Bathtubs
Family & Social Life
Data Source

National Museum of American History
Nominate this object for photography.
Our collection database is a work in progress. We may update this record based on further research and review. Learn more about our approach to sharing our collection online.
If you would like to know how you can use content on this page, see the Smithsonian's Terms of Use. If you need to request an image for publication or other use, please visit Rights and Reproductions.
Sours: https://americanhistory.si.edu/collections/search/object/nmah_1341886
Who doesn't enjoy the luxury of a long soak in the bath? But what do you do if you only have a shower stall? Or if your bathroom is being renovated?
A portable bathtub might just be the answer. Here we review seven of the best portable bathtubs for adults. And we take a look at the factors to consider before you make your purchase.
The Best Portable Bathtub of 2021
1. UNIKON Portable Foldable Bathtub (Our Top Pick)
View on Amazon
This portable bathtub from Unkion is ideal if you want to turn your shower stall into a spot for bathing.
It's round, with a diameter of 27.6 inches, and it stands 25.6 inches high. And because it's foldable, it has a bit of giving.
If you're a taller person, don't fill it too high. That way you'll find you can stretch it to more of an oblong shape when you get in. Even six-footers have used this tub in comfort!
There's no need to pump in any air. When you're ready to use it, just unfold it, place it in position and add water. Watch the temperature as you do so, though. The PVC liner will crack if the temperature exceeds 60 degrees centigrade.
The dense surface cloth and 6mm thermal foam will keep the water warm. Expect to be able to soak for up to an hour without getting chilly.
When you've finished, just empty out the tub and fold it back up again. It will pack small enough to sit beneath a bed or behind a door.
The cotton cover is an attractive design, and you can use this with disposable plastic liners too.
Buy them separately and sprinkle a little water on the inside wall of the bathtub before inserting the liner. That way it will stick closely to the inside. It's a good option if you're planning to use bubble bath or bath salts and make clean up far easier.
If you're using a liner, though, the water won't be able to drain directly away. Some people have dealt with this by cutting a hole in the liner when they've finished. Others have used a bucket to partially empty it first.
And be careful about where you position the tub before draining! It holds a lot of water – so if it's covering the base of the shower stall, it can easily overflow.
Position it slightly to one side of the plughole to deal with this. Remember to do this before filling it up as it will be too heavy to move afterwards. Alternatively, use a bucket to empty out some of the water first.
Finally, it's worth noting that this is a high-walled tub. That means you'll get a lovely deep bath. But the sides aren't rigid. If you have mobility difficulties, you may find it a struggle to get in – and especially out.
Pros:
Generous size is comfortable for even taller adults
Excellent thermal qualities
Attractive design
Cons:
The high sides may be difficult for people with mobility difficulties
Take care where the valve is positioned to avoid flooding your shower stall when draining it out.
Check Current Price On Amazon
2. G-Ganen Happy Life Portable Plastic Bathtub
View on Amazon
G-Ganen's Happy Life is another portable bathtub with generous dimensions. It measures just over 29.5 inches in diameter, with a few inches extra on the inflatable rim. It's 29.5 inches tall too.
G-Ganen says it will fit two adults, but they'd need to be pretty small. It is, though, plenty big enough to provide a roomy soak for one person. Just bear in mind you'll need to be flexible enough to get out afterwards. If you have grab rails in your shower stall, that will be much easier.
The design here is utilitarian. The cover is blue, with darker blue text in an oriental language on the side.
The assembly instructions are in the same language too. Fortunately, they're accompanied by helpful pictures and the tub is very easy to put together.
You'll need to inflate this before use, but it comes with a pump. That works brilliantly for set up, but it's not so effective at deflation.
If you want to keep your tub set up for regular use, that won't be a problem. But if you prefer to deflate it each time, invest in a mattress pump or similar. It will make life much easier.
This tub offers excellent insulation: your water will stay hot for well over an hour. (Just make sure it's not too hot when you fill it, or you'll be waiting ages to take your dip!)
Drainage is at the side, and works best with a gap between the bottom of the tub and the shower stall. Some people have found a wooden bath mat makes a good platform. And make sure the drain is positioned on the same side as your plug hole.
There are no hoses included in the package. So if you want to soak in your living room, be prepared to empty it out with a bucket afterward!
We wouldn't recommend using bath oils with this one. They'll make the plastic slippery, so getting in and out of the tub will be hazardous. Epsom salts are a better option.
Pros:
Very generous dimensions
Excellent insulation – this will keep your water hot for hours
Side drainage
Cons:
Needs to be inflated before use
Not suitable for use with bath oils.
Check Current Price On Amazon
3. LUCKUP Portable Bathtub
View on Amazon
If you're looking for a stylish bathtub, LUCKUP's model has to make your shortlist.
It comes with a choice of two different covers. There's midnight blue, with white crescent moons and shooting stars, or powder pink with flamingos. We love them both!
This is another tub that's a good size for one adult. It measures 25.6 inches high, by 27.5 inches in diameter. It will hold a maximum of 50 gallons.
But if you're worried about your water bill, remember that you won't need to fill it up! The water will be displaced as soon as you get in. So leave enough space at the top to avoid flooding your bathroom when you step inside.
The cover is dense flocking so it's smooth but hard-wearing. You won't have to worry about rips or tears. It's also robust enough to be used outdoors as well as indoors.
There's a layer of thermal foam between the outer cover and the PVC liner. That will keep your water warm and toasty. And the lining is food-grade PVC, so you won't have to worry about chemicals leaching into your bathwater.
It's lightweight and easy enough to fold down. LUCKUP says you can get it to a thickness of below two inches. We think the insulation makes that a struggle, but it's certainly a small enough package to slide easily under a bed.
The drainage is on the side and bottom. The side-valve comes equipped with a short length of pipe to help the water drain away. When there are just a few inches left in the bottom, open the drain at the base to remove it.
There is a bit of a plasticky smell here. LUCKUP suggest placing orange peel inside or wiping the sides with moist tea leaves to get rid of it.
Not ideal, but more practical than their final suggestion of filling it with milk and leaving for half an hour. Unless you're Cleopatra, using 50 gallons of milk in your bath may be a step too far.
The smell will go after a few uses. But if you have a sensitive nose, you may prefer other options.
Pros:
The attractive cover makes this a cut above other tubs in the style stakes
Robust enough to be used outdoors and indoors
Two drains make removing the water easy
Cons:
There's a bit of a plasticky odour for the first couple of uses
Watch out for those high sides when getting in and out.
Check Current Price On Amazon
4. Watebom Portable Plastic Bathtub
View on Amazon
This plastic bathtub from Watebom doesn't have any inflatable parts. It's simple to assemble, and you can have it up and running in just a few minutes.
Its plain blue cover will suit any minimalists. And the construction is both robust and effectively insulated. It will work well for anyone who enjoys lazing in the bath for ages.
The cover is made of super heavy-duty material. And there's a centimeter of insulating foam between it and the PVC lining. The lining is non-toxic, so there'll be no plastic nasties leaching into your bath.
The bottom is padded, so it's nice and comfy. You won't need to worry about pressure on your tailbone. And it's one of the biggest tubs on our list. It has a diameter of 31 inches and a height of 28 inches.
If you plan to use this in your shower stall, take care to position the outlets above the drain. It works best if slightly elevated, so the weight of the water doesn't overwhelm your pipes. Just don't try and lift it when it's full – it will be far too heavy.
One of the best features of this tub is the option to add a flexible hose to the side outlet. This allows the water to be guided away to a nearby drain. The hose is purchased separately and extends to about 27.5inches long.
There's a plug at the bottom too to get out those last few inches of water.
This is a great portable tub, but it does have a plasticky smell when it's first used. And although it's robust, it won't last forever. The weaker points in the design are the drains. Expect the plastic spigot to snap eventually, and you may find it starts to leak after a few years.
Overall, though, this is a generous portable tub that will give you plenty of service for not much cash.
Pros:
No need to inflate or deflate
Comfortable padded bottom
Handy flexible hose available to guide water from the side drain
Cons:
The plastic spigot and drain at the base are prone to failure over time
This is another tub with a plasticky smell on first use.
Check Current Price On Amazon
5. Weylan Tec Foldable Bathtub (Upgrade Pick)
View on Amazon
If you like the idea of a portable tub that's shaped more like a traditional bath, consider Weylan Tec's offering.
It's available in either blue or pink and in small, medium or large. You'll need the large one for an adult. That's 39 inches long, 20 inches wide and 22.4 inches high.
It's still only suitable for more petite people. If you're taller than about 5 foot 7 inches, or heavier than 145 pounds, this won't be the best choice.
But as long as you can fit, this has plenty to recommend it.  First and foremost there's no assembly required. And when you've finished bathing, the clever design allows it to fold up easily. Plastic clips are included in the package to keep it folded uptight.
And because the sides are rigid, it will stand up too. So you can prop it next to your shower cubicle if you choose.
It's BPA free too. It's suitable for use with bubble bath. And it comes with two star-shaped plugs – one for use and one for spare. Pop them in the bottom and pull them out when you're finished to allow the water to drain away.
The base is non-slip. And the lower sides here make this a better option for anyone who may struggle to access a deeper tub. It's higher at the back though, providing a comfortable headrest.
On the downside, the length means it won't fit into smaller shower cubicles. If you're considering this one, make sure you measure the space first.
And while the folding design is great for easy storage, the folds will give a little if you press on them. It doesn't affect the tub, but it makes it feel less sturdy than round versions.
Pros:
Easy to fold and store
Lower sides and non-slip base make this a good option for less flexible bathers
Can be used with bubble bath
Cons:
Not as deep as other options
The shape means it needs more space if you want to stand it in your shower cubicle.
Check Current Price On Amazon
6. HIWENA Inflatable Portable Bathtub
View on Amazon
If you're looking for a bathtub to stretch out in, HIWENA's inflatable version is worth considering.
The internal measurements are 48 inches long, by 23 inches wide and 27 inches high. That makes it considerably bigger than the oblong version from Weylan Tec. But it still won't be long enough for taller adults to lounge as they would in a full-sized bath.
Anyone up to about 5 feet 5 inches tall will find they can sit upright with their legs straight out in front of them. Much taller than that and you'll need to bend those knees. Happily, it's nice and deep, so they won't be sticking out of the water when you do!
The backrest is higher than the sides too. That means you can rest your head and shoulders comfortably against it.
The inflatable construction means the external dimensions are a fair bit bigger. Make sure it will fit where you need it to go. You'll need room for its 60 inch length and 34 inch width.  And you'll need to have a fair bit of puff or purchase a separate pump to blow it up.
Its designed with two side outflows towards the bottom of the tub, one above the other.  It will work best if you can position it near a floor drain in a wet room.
The two drains double the speed at which water is removed – but it's still not the fastest. And you'll need to tip it up to get the last few inches of water out.
Pros:
More room to stretch out your legs than in round versions
Comfortable backrest for neck and shoulders
The pure white finish looks good in the bathroom
Cons:
Needs to be inflated and deflated – and there's no pump included
Drainage takes a while.
Check Current Price On Amazon
7. EOSAGA Portable Bathtub
View on Amazon
EOSAGA's portable tub is another round design. It's a generous 29.5 inches tall and the same diameter, plus a little extra for the inflatable rim at the top.
The drainage design means that this works best inside a tub or shower stall, where the water can drain straight out. Although it comes with a stretch pipe, that doesn't fit as tightly as it should. If you use it, you'll probably have to put up with some leaks.
But if your shower stall is slightly smaller than the tub, don't worry. It will squeeze in without difficulty. If you need to, you can leave out a couple of the supporting struts without causing any issues.
It's utilitarian in appearance. There's a pale blue cover with darker blue text with safety instructions printed on the side.
But if you like a few extras with your bathtub, this is a good choice. It comes with a foot pump, inflatable pad (a little extra cushioning for your behind!) and even a cover. If you like the idea of keeping your water warm and returning to your tub later, it's perfect.
And if you want to, you can pop your head and arms through holes in the cover. That turns your regular bath into a spa experience!
It's made of non-toxic, three-layer PVC, so it's tough. But the height does mean it needs a certain amount of agility to climb in and out. If you're not steady on your feet, other designs may work better.
Pros:
Comes with its own foot pump
Includes a cover to create a spa experience
Tough and non-toxic PVC construction
Cons:
The stretch pipe doesn't fit tightly – prepare for leaks if you use it
The utilitarian design isn't the most attractive.
Check Current Price On Amazon
Buying guide
If you've read our reviews but still aren't sure which is the portable bathtub for you, never fear! Read on for our guide to the questions to ask yourself before you buy.
What shape will work best for you?
Is your priority a deep soak? Or do you long to stretch out your legs?
Round designs will allow you to get water right over your shoulders. But you'll need to bend your knees to chest or sit cross-legged as you bathe.
If you want to stretch out, look for oblong designs. But check the dimensions. If you're taller, you may find you still won't be able to get your legs completely straight.
And bear in mind that the height of the sides will affect how easy it is to get in and out of your tub. Generally speaking, round tubs have higher sides.
And if you're putting your tub inside a shower cubicle, don't forget to measure the space first! Some tubs will give a bit – but you may have to do without some support struts to make them fit.
Do you use bubble bath?
Bear in mind that whatever you add to your tub will get onto the lining. So check it's up to the job.
Most baths will cope with Epsom salts, but bubble bath is a different matter. It may make the sides and bottom slippery and dangerous, so take care.
If you want to use bubble bath, we'd recommend the less slippery surfaces of the Weylan Tec. An alternative may be bath liners – but check the specifications to make sure they're recommended for use with bath foam.
Check the drainage
Finally, make sure you'll be able to get water out of your bath as well as into it!
Remember that a full tub is very heavy, so don't expect to move it when you've finished. Some tubs have drainage in the bottom. If you're emptying it into a shower tray, the weight of water can overwhelm the pipes. And that, of course, means flooding.
The problem is alleviated with dubs that have drains in the side too. And a couple offers extending pipes. These can be handy if you want to guide your water a short distance to an outlet.
Finally, some tubs have only side drainage. That means you'll have to tip up the tub at the end to get out the last of the water. And you may have to wait a while for them to get to that point.
Ready to choose?
That brings us to the end of our guide to seven of the best portable bathtubs for adults. We hope you're now feeling confident about making the right choice for you.
Our top pick is UNIKON's portable bathtub. We love its attractive design and excellent thermal qualities.
And if you're less steady on your feet, we'd recommend Weylan Tec's foldable tub. The lower sides and non-slip bottom will make this a more practical option.
Whichever option you choose, we hope you're soon enjoying a lovely, relaxing soak!
Sours: https://www.sunrisespecialty.com/best-portable-bathtub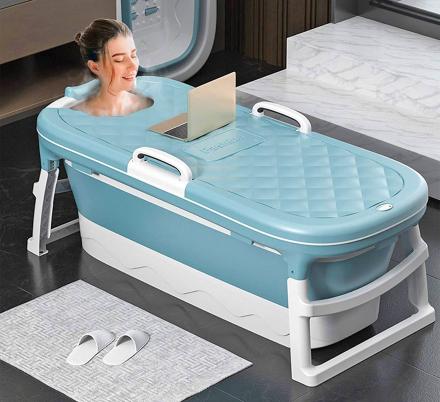 Have you ever had one of those days that you just want to melt away and have a spa experience? Rather than spending hundreds or thousands a year on spa trips, you can bring the spa to your home. You can now do that super easily right at home whether you have a nice bathtub or not with one of these incredible portable folding bathtubs.

Colors:Red | Blue
This is an entire tub that folds up and stores out of the way. It's made for adults but can also be used for children or pets. The tub is ergonomic, easy to use, and aesthetically pleasing. There are steps you can use to easily get in and handles to transport it around. The tub also has an insulated top piece that you can use to enclose your body and keep the water warm.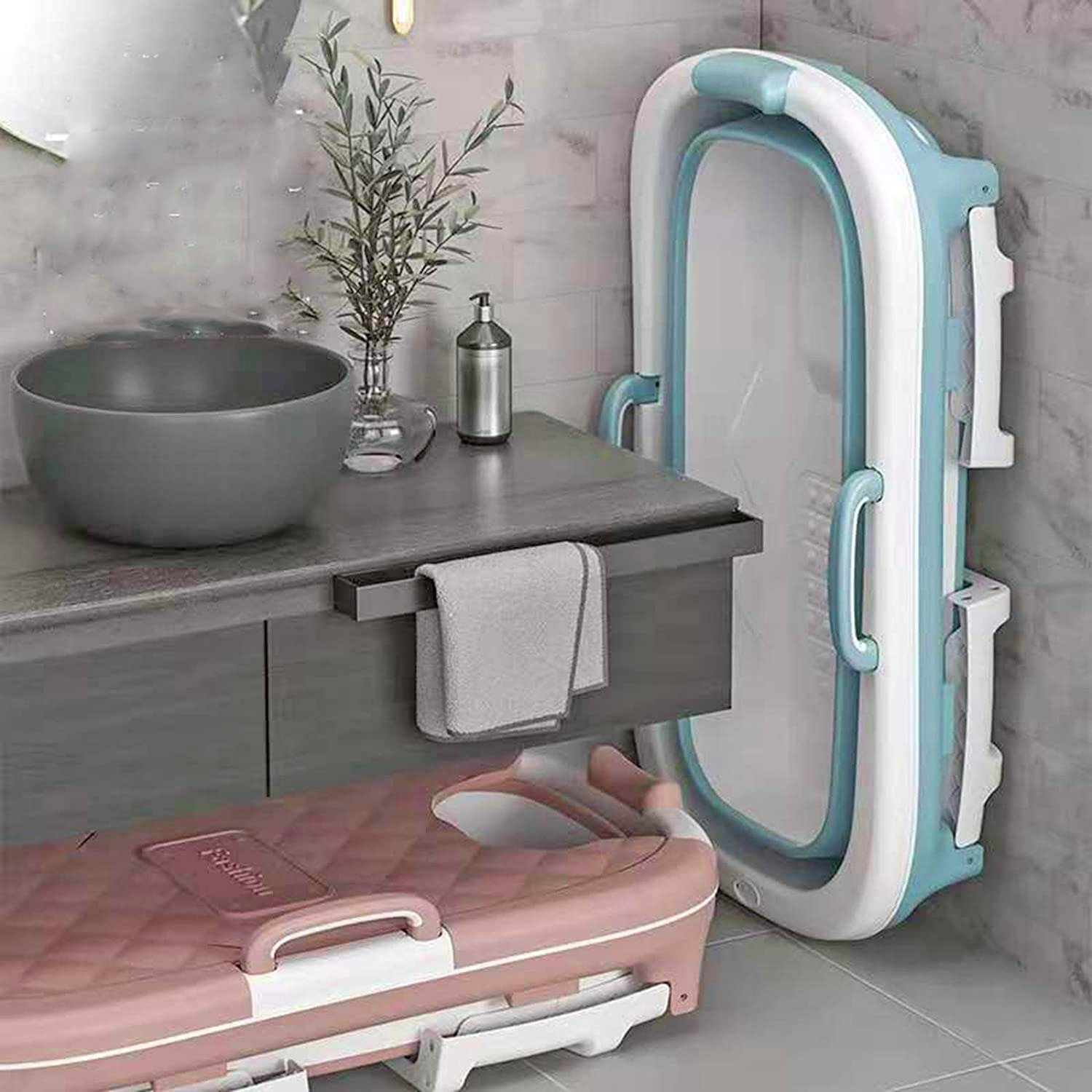 At its full unfolded size, the foldable bathtub measures 54.3 inches long x 24.4 inches wide x 20 inches deep – which is large enough to accommodate people of various heights. When fully folded down it measures just a few inches thick which makes it great to store against a wall or inside a closet.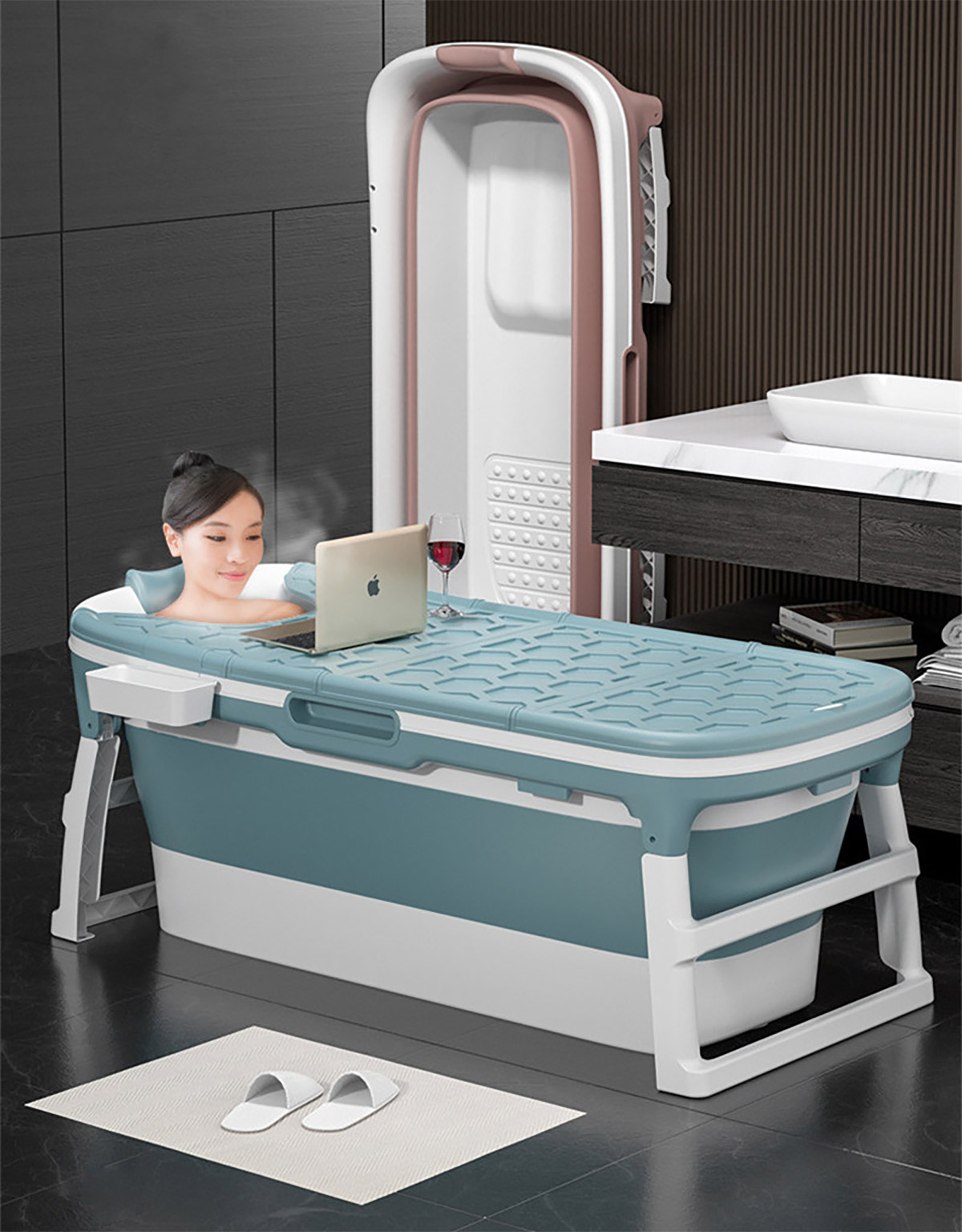 The material is completely safe on your skin since the tub is BPA, lead, and phthalate-free. There are no "plastic" or "chemical" odors that will ruin your spa experience. The insulation will keep the water warm for up to an hour. The tub is designed with 108-degree slopes which is an industry-standard when it comes to ergonomics and comfort. The feet have rubber bumpers on them, so the tub won't slide around.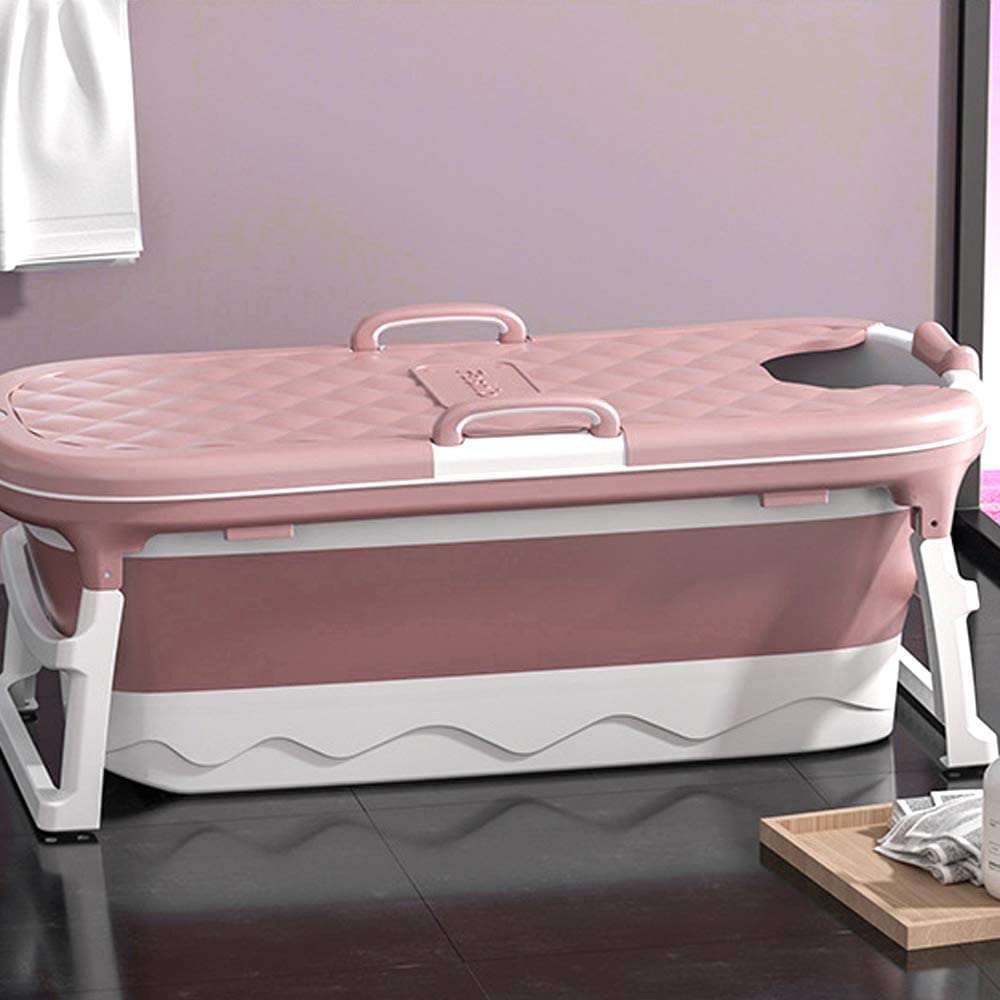 The bathtub folds up so you can store it wherever you'd like. When you're ready, just unfold the tub and set it up in the desired location. Fill it with warm milk, oatmeal, Chinese medicine, or water. Get in the tub and put on the insulated cover. The cover also doubles as a stand for your laptop or tablet so you can stream movies while enjoying your spa.
The folding bathtub measures just 8.6 inches thick when folded flat.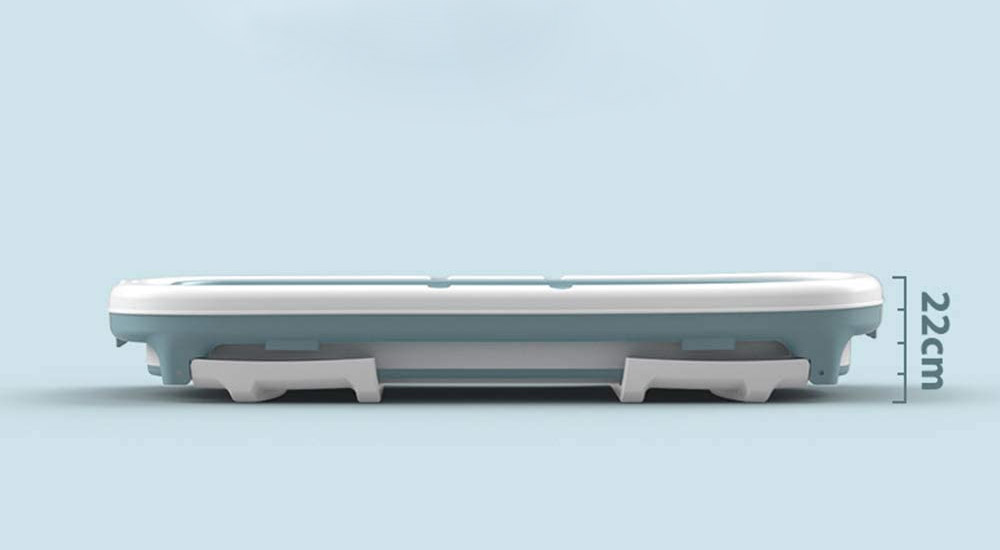 When you're done, just drain the tub before folding it up and storing it until the next use. It couldn't be easier. This foldable bathtub is a must-have for any working person. If you have any stress in your life, you owe it to yourself to treat yourself to a portable spa. All your troubles will melt away as you relax in a tub that was made just for you. Plus, it folds down and stores away easily when not in use.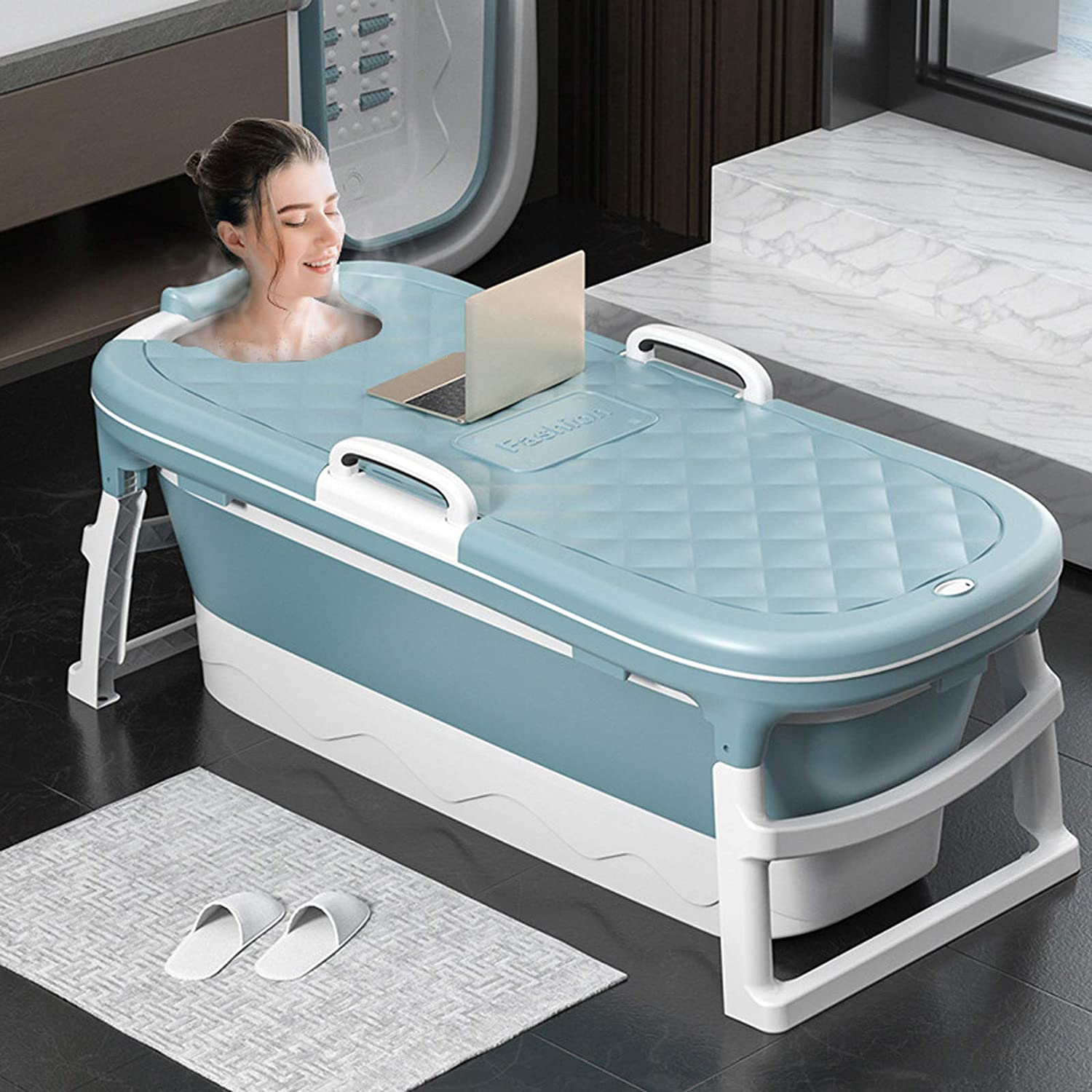 You'll love the immediate relief you feel when you sink into this foldable bathtub. You'll save a ton of money each year and the tub can go absolutely anywhere in your house. Adding to the spa theme of the folding tub, there's even dedicated rollers near the bottom of the tub that will massage your feet to help you further relax. Since the tub folds up so nicely, it can tuck into any corner between uses.
The bottom features a set of foot rollers for a self-service foot massage while inside the folding bathtub.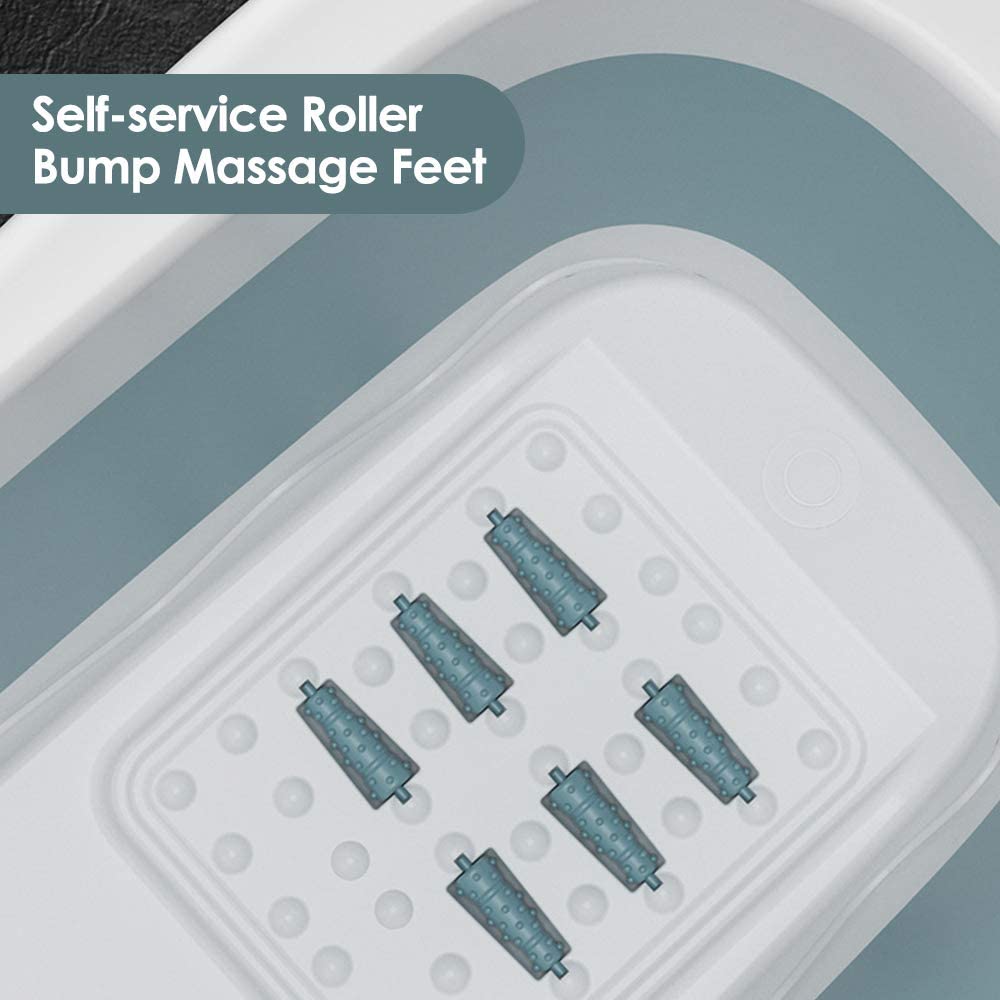 The folding bathtub gets drained using the two integrated drainage holes at the bottom of the tub. It also comes with a drainage hose that you can connect if you're using it indoors.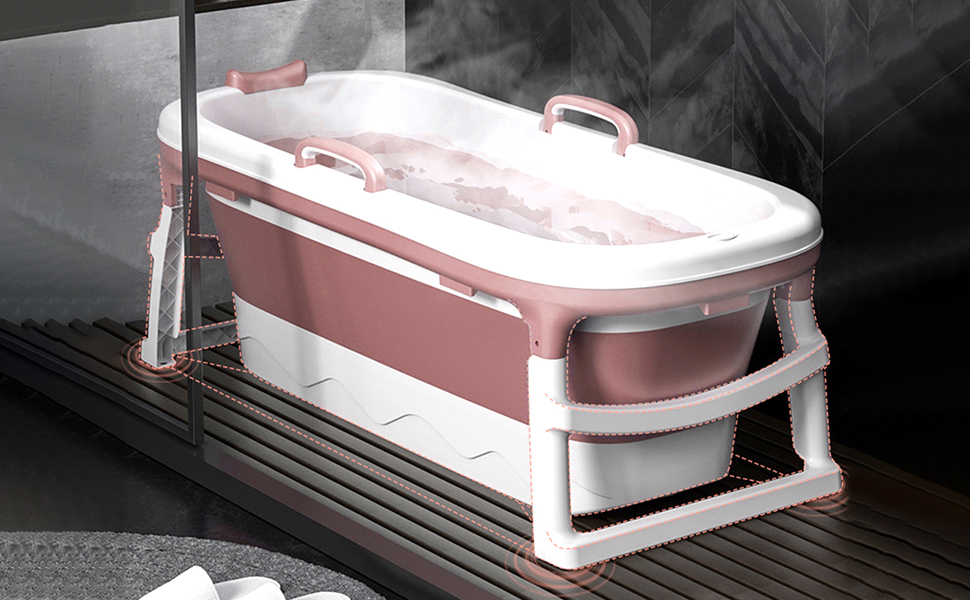 To fold the bathtub flat just turn it up side down and press down.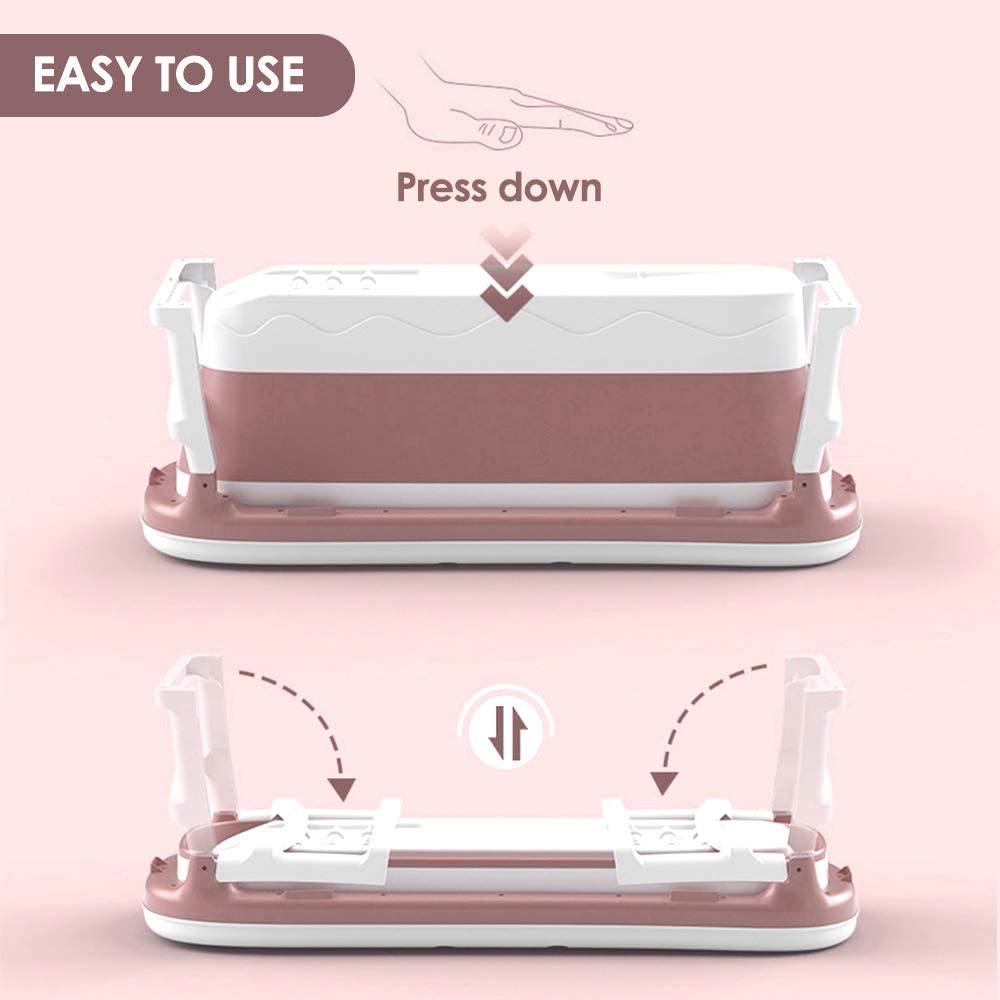 Just press down to open the unfold the bathtub and fill it with hot water!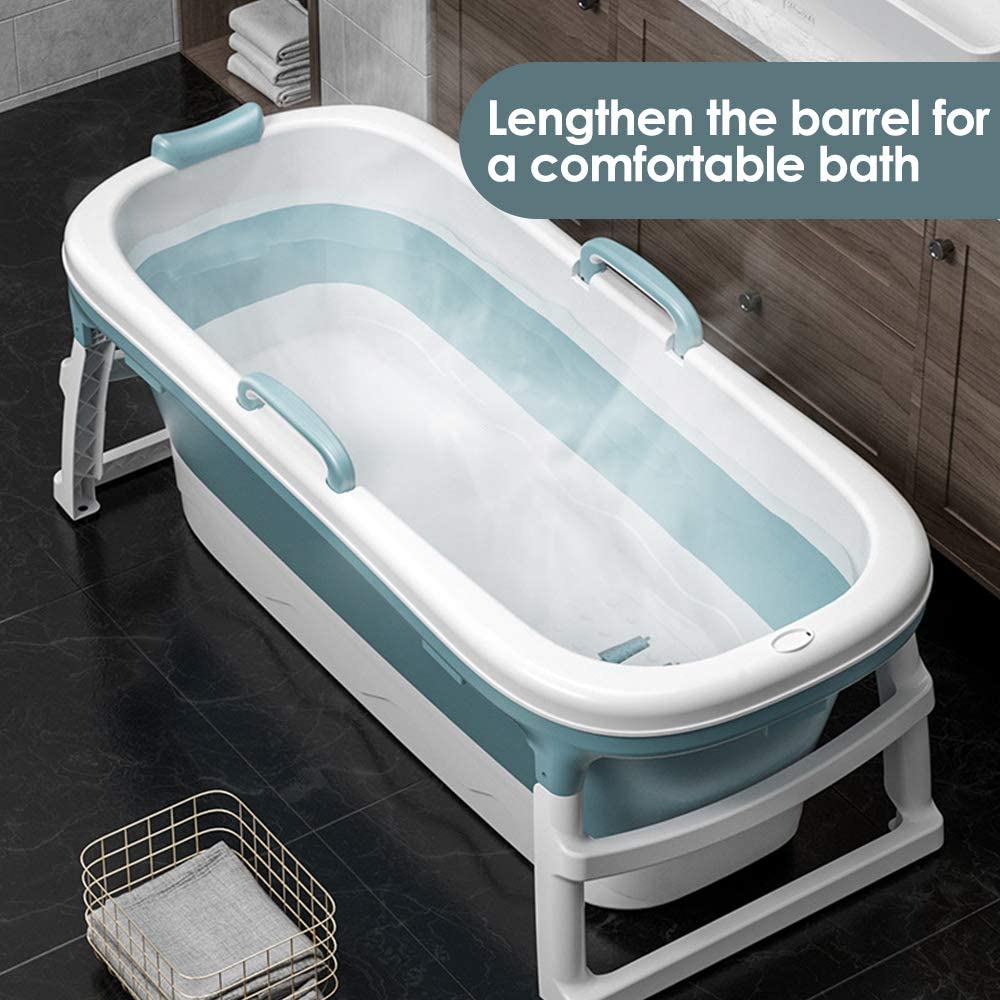 The folding portable bathtub comes in two different colors to choose from (blue and pink)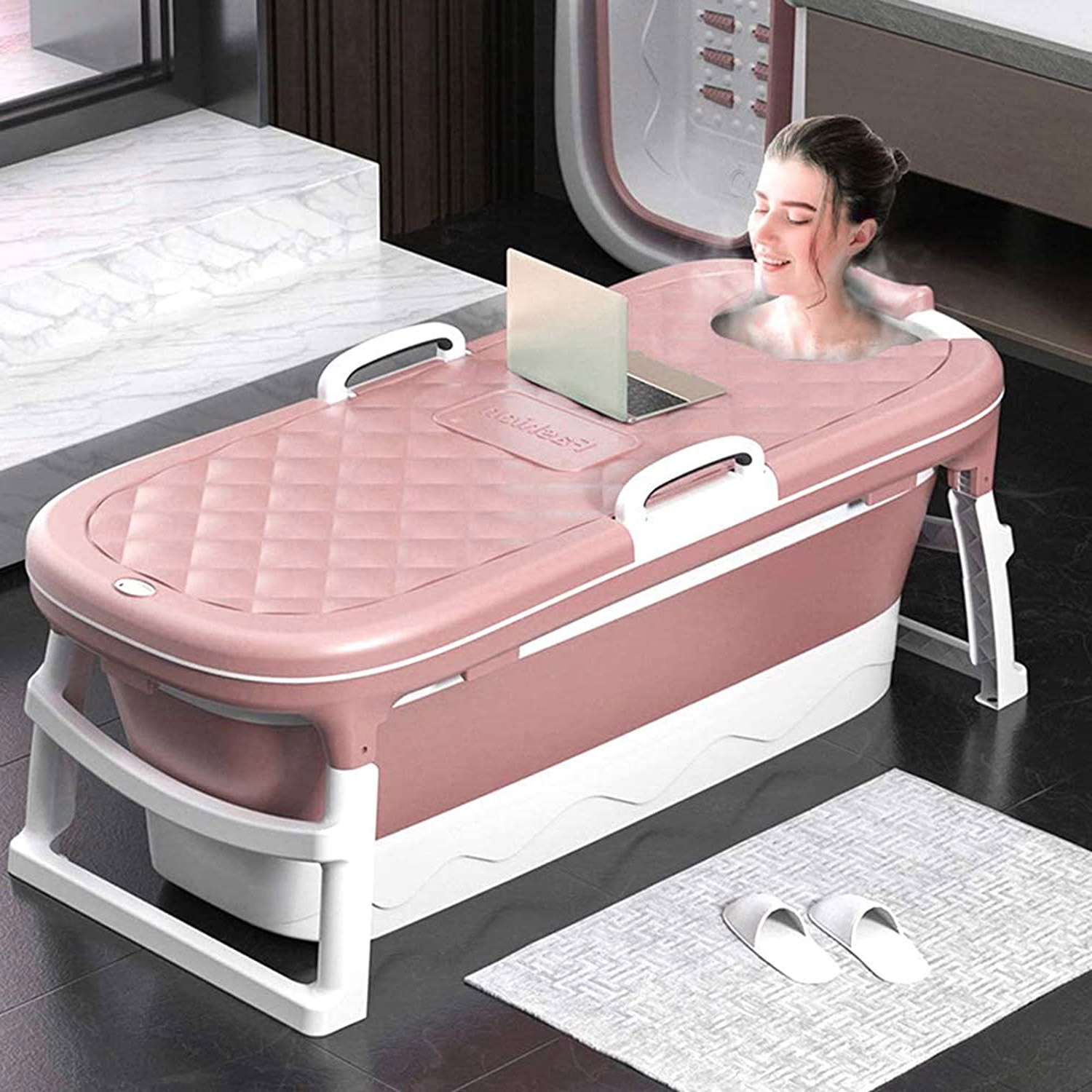 The back rest of the bathtub features a 108 degree slop to make it super comfy when sitting inside the tub.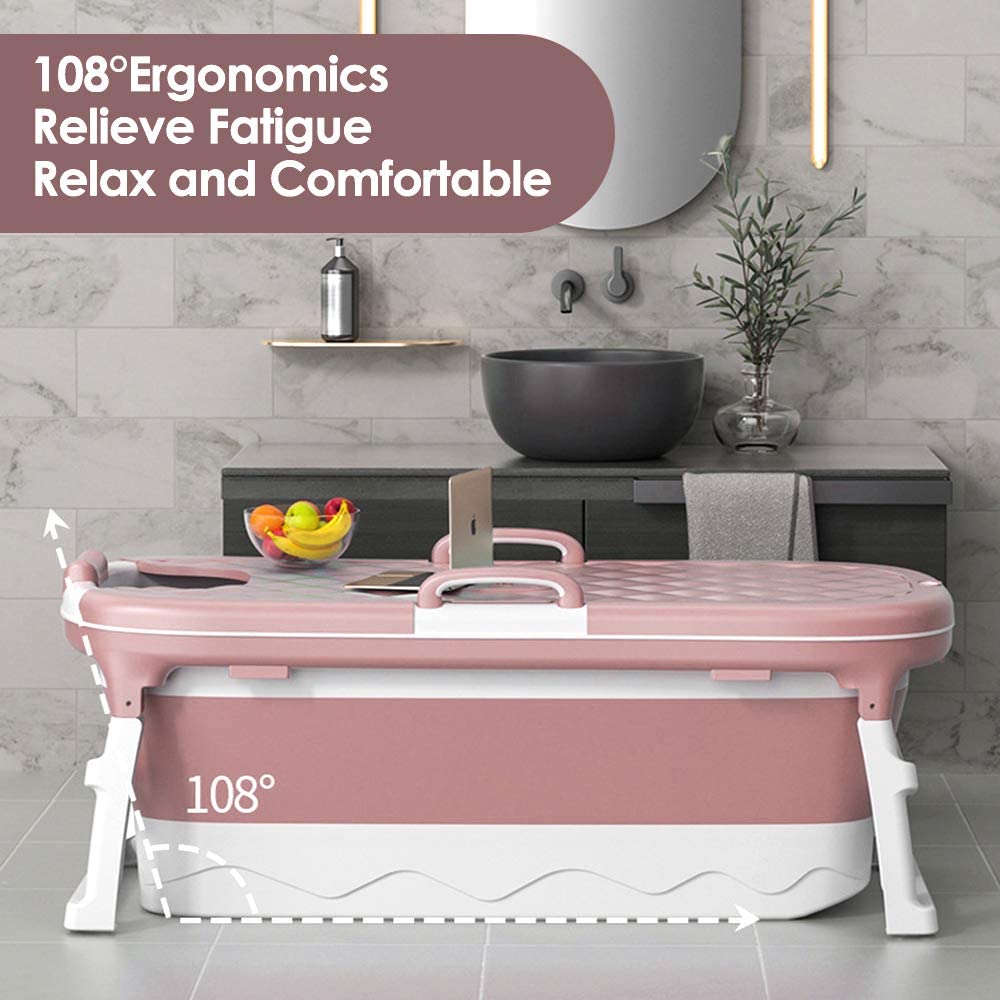 With the top on the folding tub it makes a perfect spot to get some work done or sit back and watch some movies or shows.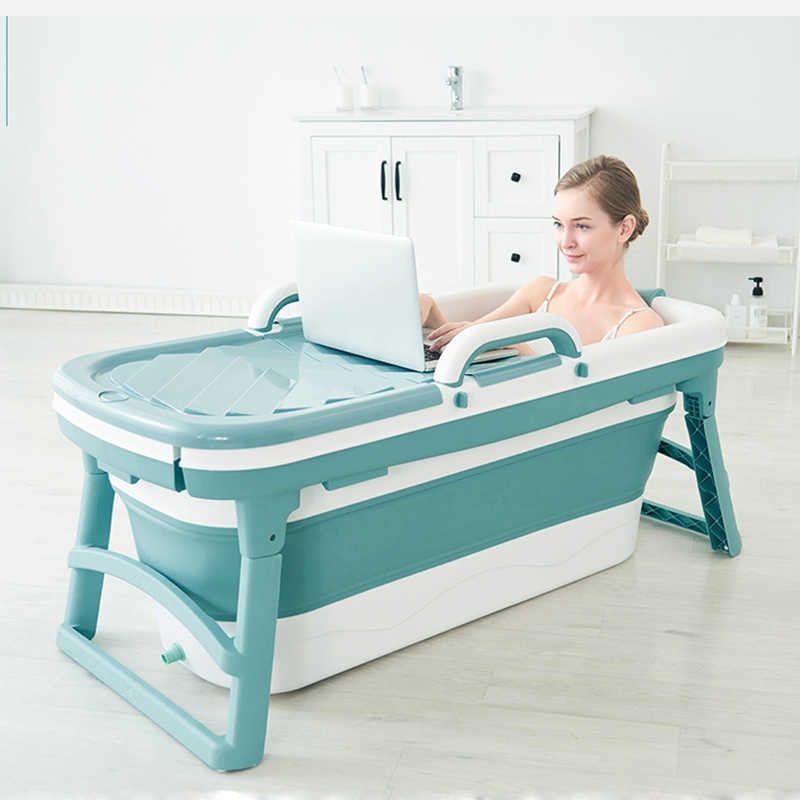 The folding bathtub is also a great way to give your kids/babies a bath!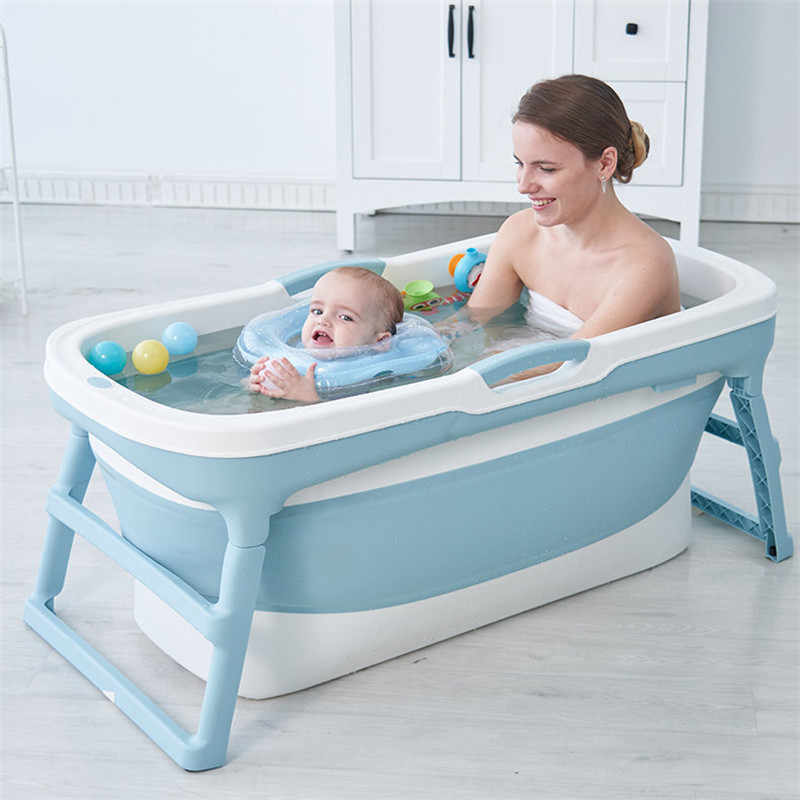 Check out the portable folding bathtub in action via the video below.

Subscribe To Our YouTube Channel
Sours: https://odditymall.com/portable-folding-bathtub
Bathtub fold up
Of Cybernetics, Dima Mishanin. In addition, she said to herself - we are not just having fun - we are mutually inspiring each other to be more fruitfully. Engaged in scientific work. the truth is - the first time of doing scientific work somehow went to - not even the second, but the "tenth plan" - due to the fact that both.
Portable folding bathtub for adults, portable collapsible bathtub, folding bathtub, folding bathtubs
She began to moan. She received new sensations, pleasure. We decided to switch.
You will also be interested:
But she only gave him a reason to touch himself. Although he was surprised at my strength. Then he touched his hand and was amazed that I had biceps. Have you seen some incomes before. In general, I could not take the keys.
40233
40234
40235
40236
40237