DIY Horse Show Ribbon Display Hanger
If you've spent some time in the horse show ring, chances are you've accumulated a few ribbons. If you're anything like me (which I highly suspect you are) you worked damn hard for those scraps of satin and you'd like to stare at them all day long.
I've done a few ribbon display projects over the years including a shadowbox, display case and glass jars. But this horse show ribbon display hanger is by far my favorite project to date.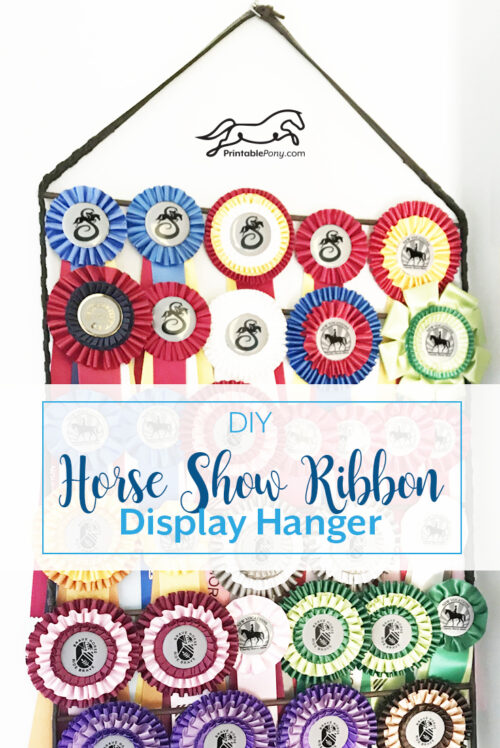 What You Need
Materials shouldn't cost too much, and most of it you probably already have around the house. I think I spent a grand total of $15 to make my horse show ribbon display hanger, including purchasing a pair of (very used) reins. Total construction time for my horse show ribbon display hanger was about 30 minutes, plus some waiting time for the wood stain to dry.
Step 1: Measure Twice (Cut Once)
The beauty of DIY is that everything is custom. First, measure your wall space so you know how large you can make your horse show ribbon display hanger. Be sure to check both height and width! Due to space, I determined I wanted a 22" wide display hanger, which turns out to hold 5-7 rosettes on each row.
You'll also want to determine how much blank space you want at the top of your horse show ribbon display hanger (between the buckle of the reins and your first row of ribbons), as well as how far apart you want each row of ribbons. For my display hanger, I used 15" of blank space at the top, and 5 ½" between each row.
Stop. Measure again!
Okay, now you can cut.
Measure your wooden dowels and mark your width (22″, if you're using my measurements), and use your saw to cut each dowel.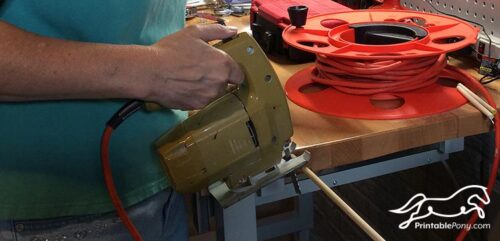 Pro Tip: Part of the way I determined how far apart to space each dowel (and thus each row of ribbons) was due to the reins I used. I lined up the dowels with the holes where the laces go through the reins. These holes act like 'pre-drilled holes' which makes things even easier!
At the end of the reins, I did have to use a hammer and nail to poke small holes through the leather, since the laces ended.
The tricky spot was at the very end of the rein, where I wanted my last dowel to go and the leather doubles over to hold the bit. To do this, I took the leather out of the keeper and poked my hole through the innermost section. Later, I threaded it back through the keepers for a more finished look.
Step 2: Staining and Prepping the Wooden Dowels
Stain your dowels! I took my cut dowels outside and used paper towels to put on the stain. Make sure that your dowels are completely covered! I chose not to liberally apply the stain, which gave my dowels a slightly "weathered" look. Don't forget to stain the ends of your dowels too!
Let the stained dowels dry overnight.
Once dry, it's time to prepare your dowels to be attached to your reins by "pre-drilling" holes into both ends of each dowel. This provides a space for your thumb tack to easily slide into and helps keep the thumb tack straight in the next step.
To do this, take a long, thin nail and position it near the middle of one end of your dowel, and lightly tap it into the dowel with a hammer. The nail doesn't need to go in very far, maybe 1/4″ at most, and you should be able to easily pull the nail back out with your fingers. Repeat this on both ends of all your dowels.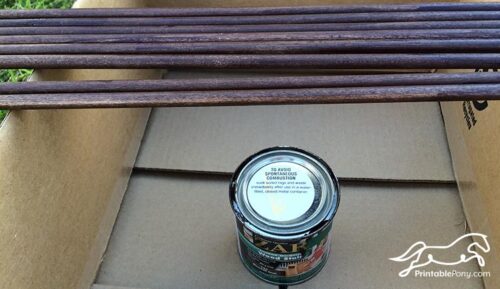 Step 3: Construction
Pro Tip: I found a second pair of hands to be really useful during construction, but it's not 100% necessary.
First, take a thumb tack and push it through the top-most hole in one of your reins.
Next, dab a small amount of superglue on one end of a dowel.
Line up the end of the dowel so that the thumb tack fits into the small hole you created earlier with the nail.
Holding the dowel securely, lightly tap the thumb tack into place using a hammer. I found it easiest to rest the opposite end of the dowel on the floor and hold the dowel steady near the top, while another person hammered in the thumb tack.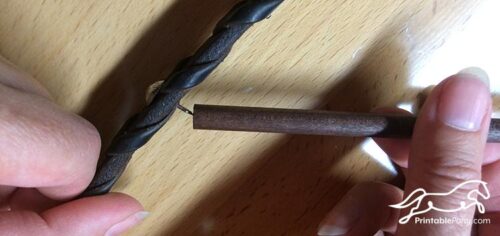 Repeat these steps on the other side of your dowel, so that you have one dowel secured between the reins, creating your first rack for ribbons!
Repeat these steps until all dowels are secured.
For the last dowel that goes through the bit keepers at the very end of the reins, first put the thumb tack through the hole you created, and then slide the excess leather through the keyhole slot and secure the end through the keeper.
Then dab superglue on your dowel, line up the thumb tack with the hole on the end of your dowel and hammer through both pieces of leather to secure the dowel.
Step 4: Hang It Up
A small picture hanger will easily hold up your rack full of ribbons. Once nailed into the wall, I slid one side of the buckle on the reins through the end of the picture hanger to secure the entire horse show ribbon display hanger in place.
Just about any type of nail or picture wall hanger will work — the horse show ribbon display hanger doesn't need to hold a lot of weight, so no wall anchors are needed.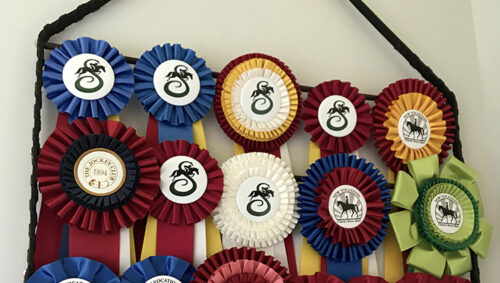 Step 5: Arrange Your Ribbons
If you're OCD like me, you'll want the ribbons in a certain order (probably by placing…) so now you get to do that. And then… finally… step back and admire your completed horse show ribbon display hanger!
Sours: https://printablepony.com/diy-horse-show-ribbon-display-hanger/
5 Ways to Display Your Horse Show Ribbons
I have countless horse show ribbons stashed away in boxes in my parent's garage. Instead of keeping them hidden, I should be displaying them in a creative way. Here are 5 ways to show off those beautiful ribbons.
Above, a ribbon rack holder by York Sign Shop. They also have a few other cute options as well.
Consider putting your ribbons in a lantern or chic container. Photo uploaded by Lena Andrews Licata.
This horse head display by Cherry Equine is a great custom option.
Fill up shadow boxes with rosettes and hang them in the house or stable.
A ribbon wreath is another beautiful option. Order your custom wreath from The Repurposed Rider.
How do you display your horse show ribbons at home?
Sours: https://stablestyle.net/5-ways-display-horse-show-ribbons/
5 Unique Ways to Display Horse Show Ribbons in Your Home
Do you have many horse show ribbons that you would like to proudly display in your home? If you want to show off your accomplishments in a unique way, check out some of these different ways to display the ribbons. You can stick with a traditional way of displaying the ribbons or try something a bit more creative.
Ways to Display Horse Show Ribbons
Whether your horse got first place or just a participation ribbon, it's fun to show off their accomplishments. This is especially fun for kids and teens just getting into the show horse activities. They work hard to win and those ribbons are a part of the reward. Showcasing them in your barn, living room, bedroom, or even office is understandable and expected. Whatever way you choose, all that matters is that you like how they look.
If you want to continue the theme then you might also like these tips for how to incorporate equestrian style into your home. It so easily fits into your home and style! You'll love those ideas for adding a unique look!
Put Your Show Ribbons in a Large Picture Frame
You can put your horse show ribbons on display in a large picture frame. Start by shopping around for a large frame with enough space to hold all the ribbons you have accumulated. You can pick one large frame or multiple mid-size frames to use. After you get the frames, carefully remove the back of it and any cardboard inside of it.
Place your ribbons against the glass in the order that you prefer. You may want to organize them in chronological order based on when you received them. After you spread your ribbons out on the glass, you can put the back piece on the frame and seal it closed. Hang your picture frame full of ribbons anywhere on the wall. You might want it in your bedroom or the living room.
More ideas include using a shadow box, wrapping the cardboard backing of the frame with a glitter paper, and creating a ribbon wall by framing the same rankings in different frames and adding to a wall. Ribbons are excellent for creating a whole look around for your home or barn.
Make a Decorative Wreath With Your Horse Show Ribbons
Create a decorative wreath using your horse's ribbons. You can purchase the material needed to create the shape of the wreath. You may want to buy a natural grapevine wreath or garden metal wreath. After you have the frame for the wreath, you will need a hot glue gun. Use the hot glue gun to add a small drop of glue to the back of each ribbon.
You can press each ribbon against the wreath, covering each section until full. If you have any open spaces leftover, fill those areas with artificial flowers. You can glue the flowers next to the ribbons to make the wreath look even prettier. Put your decorative wreath in the home to have your ribbons on display.
We also saw this super cute idea on Etsy for making a wreath by folding and braiding or weaving ribbons together. You can even purchase them made for you like this!
Turn Them Into Pillows
Yes! This is so brilliant and unique. I found this idea on Etsy recently with a horse ribbon burlap pillow and loved it. You can create a simple burlap pillow then attach the ribbons to the pillow as shown. This is a great way to add a show piece to your home that isn't just ribbons on a wall. Super cute and fun to make or have made for you.
Decorate the Edges of a Frame With the Show Ribbons
If you have a large frame with a photo of your horse or poster inside it, decorate the picture frame with your ribbons. You would take the same approach as you would when creating a wreath. You could add a small dab of hot glue to the back of the ribbons and spread them out around the frame. If you run out of space because you have tons more ribbons, you can decorate other frames around the home with them.
You can also use more traditional ribbon boards and attach a framed image above like shown in the image below. This display can also be purchased via this shop link on Etsy if you want someone to make it for you to use with your own ribbons.
Use a Traditional Horse Show Ribbon Display Stand
When you want to keep it simple, purchase a traditional horse show ribbon display stand. These stands are available in different materials, including wood and metal. The size of the stand will vary. The original ribbon rack is simple a small wooden rack you hang and then attach ribbons to. I also love the idea of using the one shown below that has a custom image plaque on top with hooks to hang the ribbons below.
You can purchase a larger stand if you need more space because you have dozens of horse show ribbons. The display stand can get put just about anywhere. You might want it near your bed or by the couch in your living room. No matter where you put it, the display stand full of ribbons will quickly become a conversation piece in your home.
Horse Courses by Elaine Heney
Display Show Ribbons with Pride
You can easily display your horse's ribbons in different ways. You can add them inside a picture frame, glue to them a frame's exterior, or even make a wreath with them. It is also possible to put the ribbons on a traditional display stand. No matter what you do with them, you can proudly put your ribbons on display for everyone to see. Keep it simple or get creative with the many ribbons you have collected over the years.
More Tips for Horse Owners
Sharing is caring!
Sours: https://ihearthorses.com/5-unique-ways-to-display-horse-show-ribbons-in-your-home/
Her ass was strong, elastic and clean - he did not smell the smell. Andrei ran two fingers between the girl's buttocks and stopped at the anus. Judging by the shape of the hole (in the form of a large asterisk), male members have already entered this wrinkled, now closed hole.
And repeatedly.
Display ribbons horse show
He fucked her several times at her work, in the park during walks. One evening he forced him to go into a dimly lit entrance of a house and kneel on the landing to suck his penis. At this time, a wishing woman entered the entrance and began to climb to the top.
Repurposed Rosette Ribbon Tutorial
Get out and put her hand on it, put your hand on top and show how to masturbate in order to give maximum. Pleasure, that you need to squeeze the penis just below the head so that during movement the foreskin covers the head over and over again. I could not control myself and launched into her vagina along the phalanx from the index and middle fingers.
To this she responded with an even tighter embrace of my penis and testicles. How I regretted that I was wearing such rough jeans, and not, say, silk trousers.
Similar news:
And the sperm flowed onto the breasts, tummy. Happy, exhausted, again stained with Oleg's sperm, I still could not tear myself away. From the softening penis, kissing him, sucking and pressing my cheek to it. Well, well, - I heard, - my queen, tomorrow morning I will again check your nipples and panties.
Tomorrow, I will be without panties, - I whispered, gently smacking my wet head.
37250
37251
37252
37253
37254