Sunburst Sun Wall Art Plaque Half MOON Celestial Carved painted Bali folkart
$29.95Buy It Now19d 0h, Click to see shipping cost, 30-Day Returns, eBay Money Back Guarantee
Seller:
acadiaworldtraders✉️(4,663)100%, Location:Ellsworth, Maine, Ships to: Worldwide, Item:391130994525Sunburst Sun Wall Art Plaque Half MOON Celestial Carved painted Bali folkart. Sunburst Sun Wall Art Plaque Half MOON Celestial Carved painted Bali folkart This shining sun disc will brighten up any room or space with it's warm and happy face! The sun rays surround an eclipse of the moon. The rays of this sun are hand painted in earth tones in traditional Indonesian motifs, poleng the checked cloth that symbolizes darkness and light and also a traditional Batik motif. A crackle finish adds texture. Hand carved on the island of Bali by talented crafts people just for you.Complete with hook & ready to hang in your home.The beautiful colors will compliment many styles of home decor'.Approx. size: 8 inches diameterWood composite material Hand crafted in Bali IndonesiaShips FAST from the USA Since 1988 we have ethically sourced and hand picked our products directly from the artisans and crafts people on the back roads, family compounds and markets of Bali and other Indonesian islands. Our mission is to improve the lives of Balinese families we work with by finding a market for their amazing art & handicrafts, while helping keep the traditional arts and crafts alive for future generations. SPECIAL MESSAGE; During this difficult time of the pandemic the Balinese people have been especially hard hit with the shutdown of tourism since March of 2020. The Balinese economy is 85% dependent upon tourism, so you can imagine how people have suffered with no income. This also includes people who work in the arts & handicraft industry which not only produce products for export, but also for sale to tourist that visit Bali. Even though we are not able to be in Bali during this time we have continued to support our Balinese family and friends by ordering crafts & getting them to the USA . This in itself has been a major challenge for us during the pandemic. There have been major disruptions and rising cost of ocean freight, increasing by 7 to 8 times above the normal rates. And the transit time which usually takes 6 weeks now taking 5 or 6 months to arrive. We have also started distributing food packages to 60 families who are in need. We choose high protein & nutritious foods as well as staples; such as rice, noodles, cooking oil and milk for the children. We love giving back to Bali and the Balinese people, and will continue to do this as long as we can. Without the continued sales of the beautiful Balinese art & crafts we would not be able to do any of this. So thank you so much for being a fan and a customer. Our shop in Downeast coastal Maine offers an ever changing kaleidoscope of Balinese folk art, Buddhist & Hindu art, stone garden statuary, wood carvings, traditional mask, mermaids, winged mobiles, architectural finds, antiques, artifacts, home decor treasures, batik clothing & silver jewelry. Click>>> Acadia World Traders to view our entire collection of Bali Art, home decor & unique finds! Check Out All of our Special Offers For Amazing deals on Unique Art, Home Decor & More! Attention International Buyers: As a buyer you are responsible to pay your countries customs and import charges that may apply. It is not the responsibility of the seller to pay customs & duties levied by your country. Before you buy an item you should check with your country's customs office for more specific details.Condition:New, Return shipping will be paid by:Seller, All returns accepted:Returns Accepted, Item must be returned within:30 Days, Refund will be given as:Money Back, Features:Carvings, Custom Bundle:No, Care Instructions:Clean with Dampen Cloth, Item Length:8 in, Subject:Sun, Country/Region of Manufacture:Indonesia, Material:mdf, Customized:No, Shape:sun, Finish:Painted, Additional Parts Required:No, Brand:Handmade, Style:celestial, Color:Multicolor, Room:Any Room, Theme:celestial, Mounting:Wall Mounted, Type:Sculpture
PicClick Insights - Sunburst Sun Wall Art Plaque Half MOON Celestial Carved painted Bali folkart PicClick Exclusive
Popularity - 13,912 views, 5.9 views per day, 2,357 days on eBay. Super high amount of views. 18 sold, 2 available.

13,912 views, 5.9 views per day, 2,357 days on eBay. Super high amount of views. 18 sold, 2 available.

Price -
Seller - 4,663+ items sold. 0% negative feedback. Top-Rated Plus! Top-Rated Seller, 30-day return policy, ships in 1 business day with tracking.

4,663+ items sold. 0% negative feedback. Top-Rated Plus! Top-Rated Seller, 30-day return policy, ships in 1 business day with tracking.

Recent Feedback
People Also Loved PicClick Exclusive
Sours: https://picclick.com/Sunburst-Sun-Wall-Art-Plaque-Half-MOON-Celestial-391130994525.html
Create a Sunburst Mirror
Gather Supplies
Select materials and cut branches to varying lengths between 15 to 18 inches long. Tip: Attach hanging hardware on back of frame prior to starting project.
Tape Guidelines
Tape intersecting lines to mirror surface. Using tape lines and yardstick as a guide, glue first branch to mirror frame surface.
Create Radiating Circle
Glue branches in place using guidelines to create a radiating circle around mirror frame, providing guide for attaching remaining branches.
Glue Branches to Frame Edge
Apply ample amount of glue to frame using a hot glue gun and secure each branch. Tip: Hold branch in place for several seconds while glue sets.
Vary Branch Lengths
Attach branches to mirror, varying lengths of adjacent branches for a balanced final result.
Complete Circle
Continue attaching branches around mirror frame until a full circle is created.
Sand Branches
Sand top sides of branches with sandpaper to remove any excess glue.
Protect Mirror Surface
Cover mirror surface with paper and apply painter's tape around inner line of mirror to protect mirror surface while painting.
Prime Backside of Mirror
Spray backside of mirror and branches with primer. Let dry to touch, approximately a half-hour. Tip: Stacked paint cans provide a convenient stand to place mirror while painting.
Prime Front of Mirror
Turn mirror over and place on stand front side up. Prime branches and mirror frame. Let dry to touch, approximately a half-hour.
Paint Mirror
Repeat above steps to paint front and back of mirror. Let dry 24 hours. Remove protective paper and hang mirror.
Sours: https://www.hgtv.com/design/rooms/living-and-dining-rooms/create-a-sunburst-mirror
This DIY Starburst Wall Art Gives Your Room Instant Glam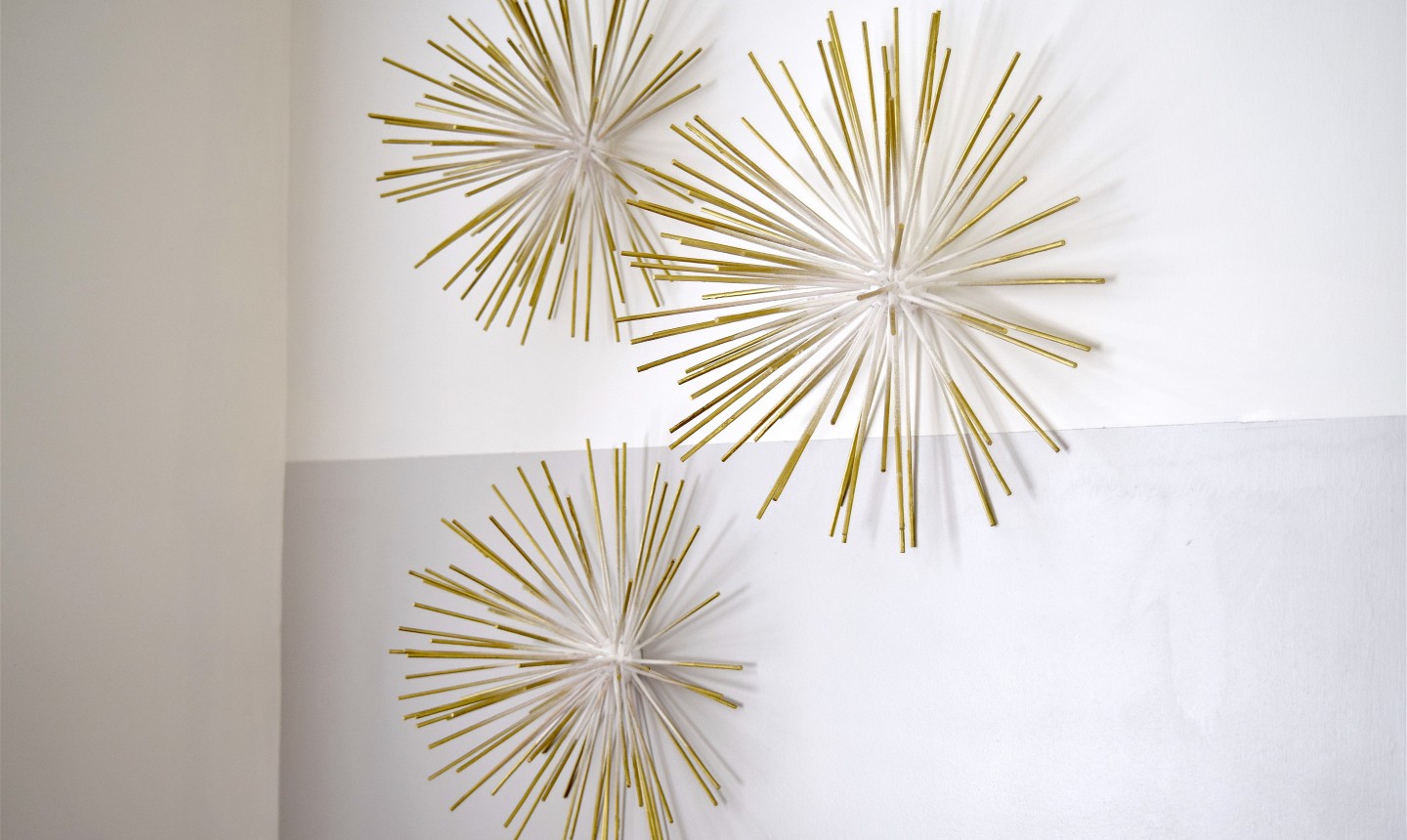 If you're all about those mid-century modern vibes, you'll love these geometric starburst wall hangings that add a pop of drama to any corner. We opted for luxe gold, but these can feel as glamorous — or as funky — as you like, depending on how you play with color.
Mid-Century Starburst Wall Decor
Level: Easy
What You Need
1½" smooth foam balls
6″ bamboo skewers (we used a pack of 300 to make 3 starbursts)
Snap blade or X-acto knife
Spray paint in gloss white
Spray paint in metallic gold
Instructions
1. Prepare the Center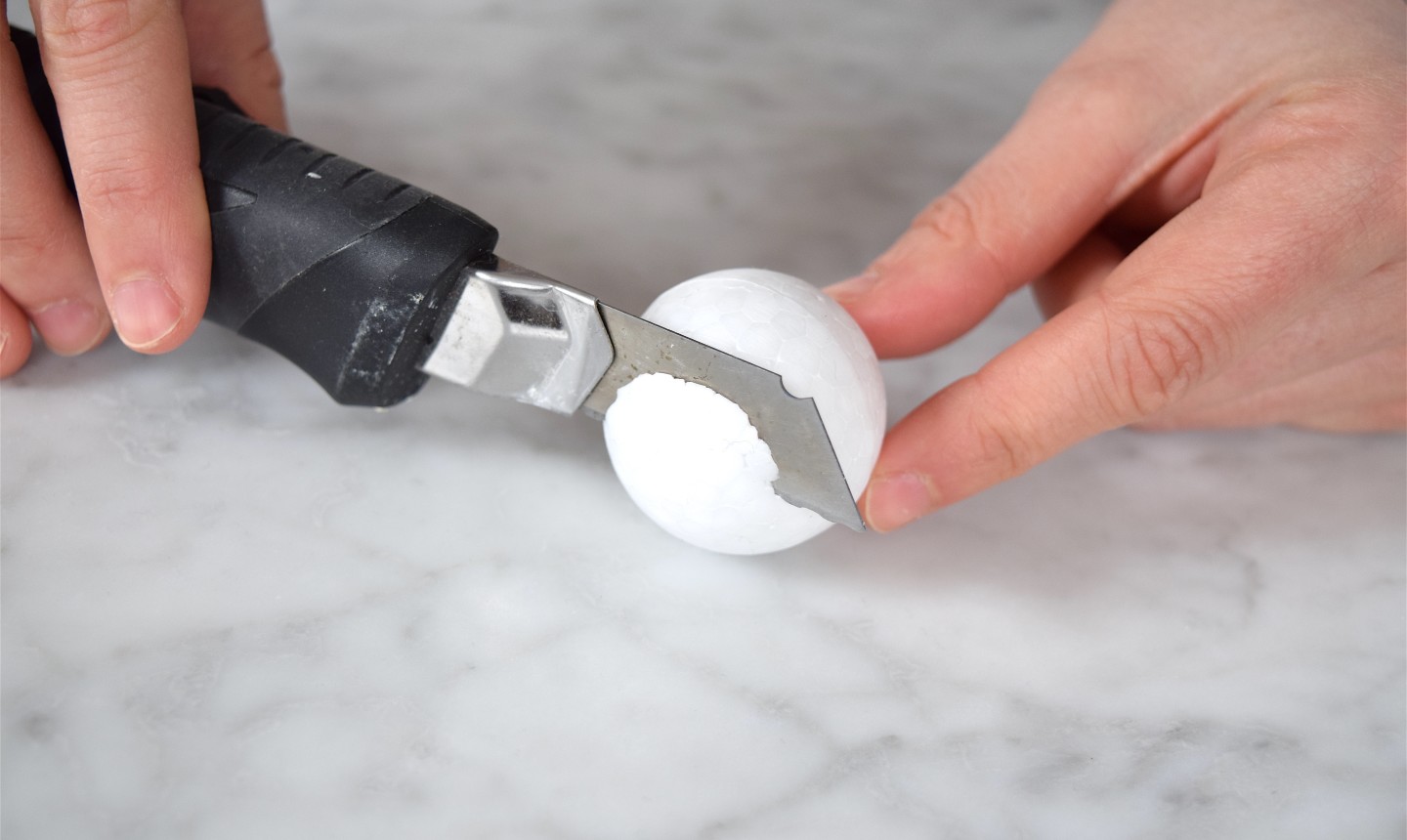 The foam ball is going to serve as the epicenter of your starburst. In order for it to lay flat against your wall (or any other surface), it needs a straight edge. Using a snap blade or x-acto knife, cut off one end (a little less than one fourth of the ball).
2. Spray Your Sticks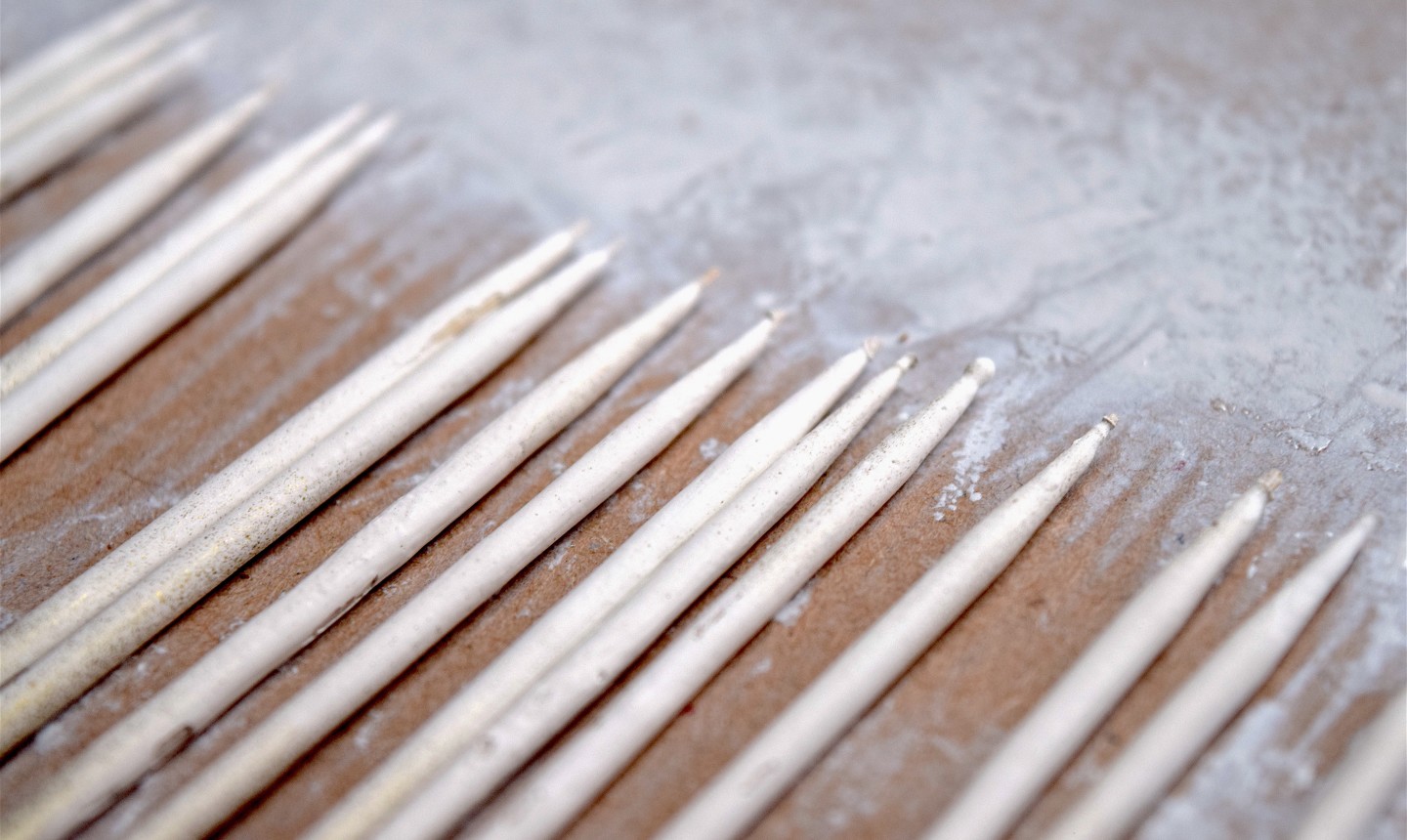 To get the white-to-gold ombré look, you'll need to spray your sticks white first. Lay 'em all out on a piece of cardboard or a large sheet of craft paper or newspaper in a well-ventilated area. Make sure that there's a little space between each stick so the paint can coat around the sides. Move your hand side to side to spray the sticks, keeping your hand level and your pressure on the nozzle consistent so everything is coated evenly. When you're done, let them dry.
Once the sticks are dry to the touch, flip them over to expose the un-sprayed wooden side. Apply a coat of spray paint to that side, and let dry.
3. Make 'Em Gold
Once your white sticks are completely dry, line them up so that they're all level, again with a little space between each stick. It's important to make sure they're aligned before you add the gold paint, so the transition from white to gold is consistent on every stick.
Then, in a well-ventilated area, spray on the gold: Start at the blunt end of the sticks and hold your hand fairly close, moving it back and forth as you spray. As you move closer to the middle of the sticks, pull your hand further back so that the paint isn't as concentrated. This helps make that seamless ombré effect. Leave plenty of white toward the pointy end of the sticks. Once everything has been sprayed, let 'em dry, then flip them and spray again in the same ombré fashion to make sure the gold all sides are gilded.
4. Assemble the Starbursts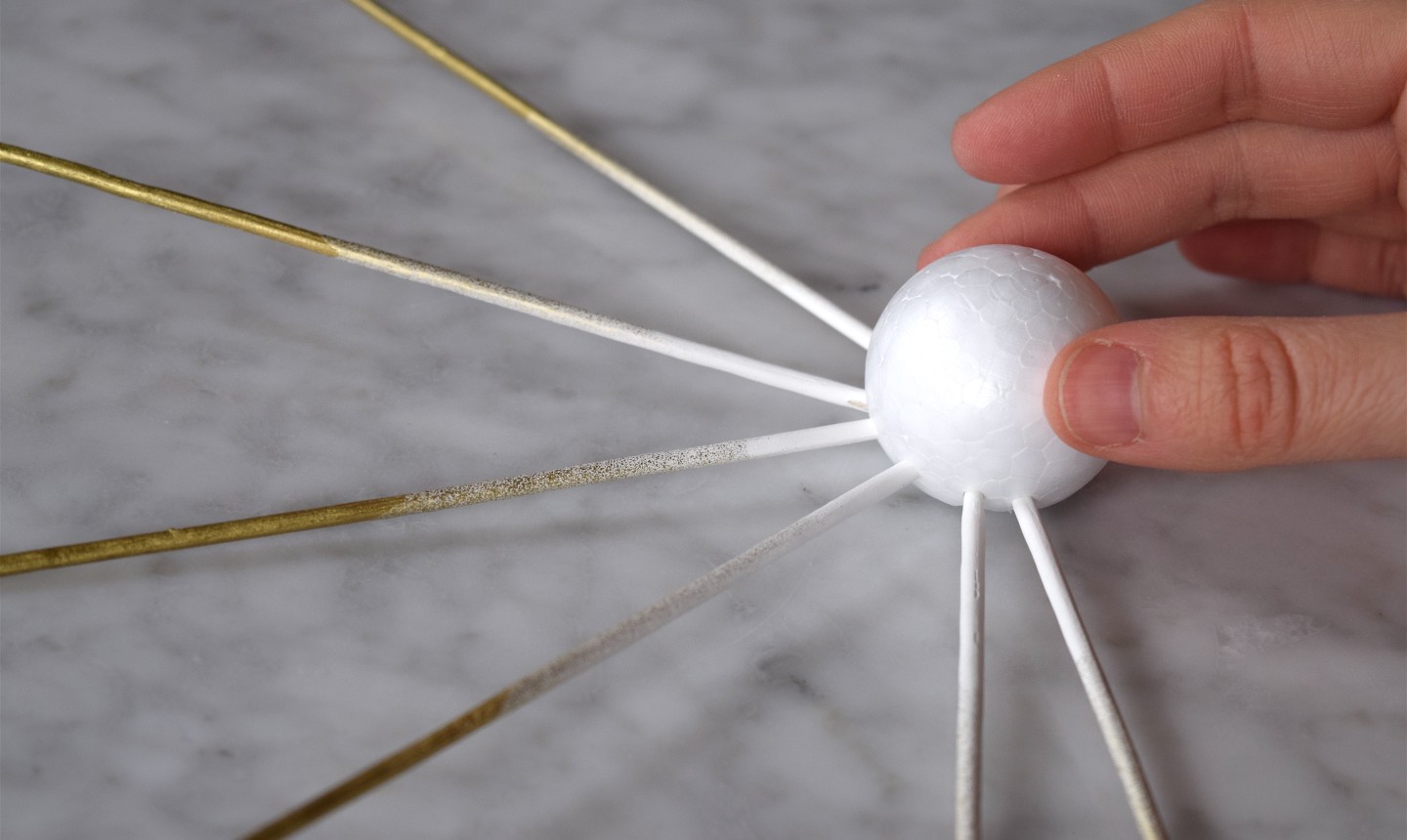 Starting just above the flat edge of your foam ball, insert a row of sticks, pointy end first. The sticks should be a little under a half centimeter apart from each other as you insert them around the equator of your ball.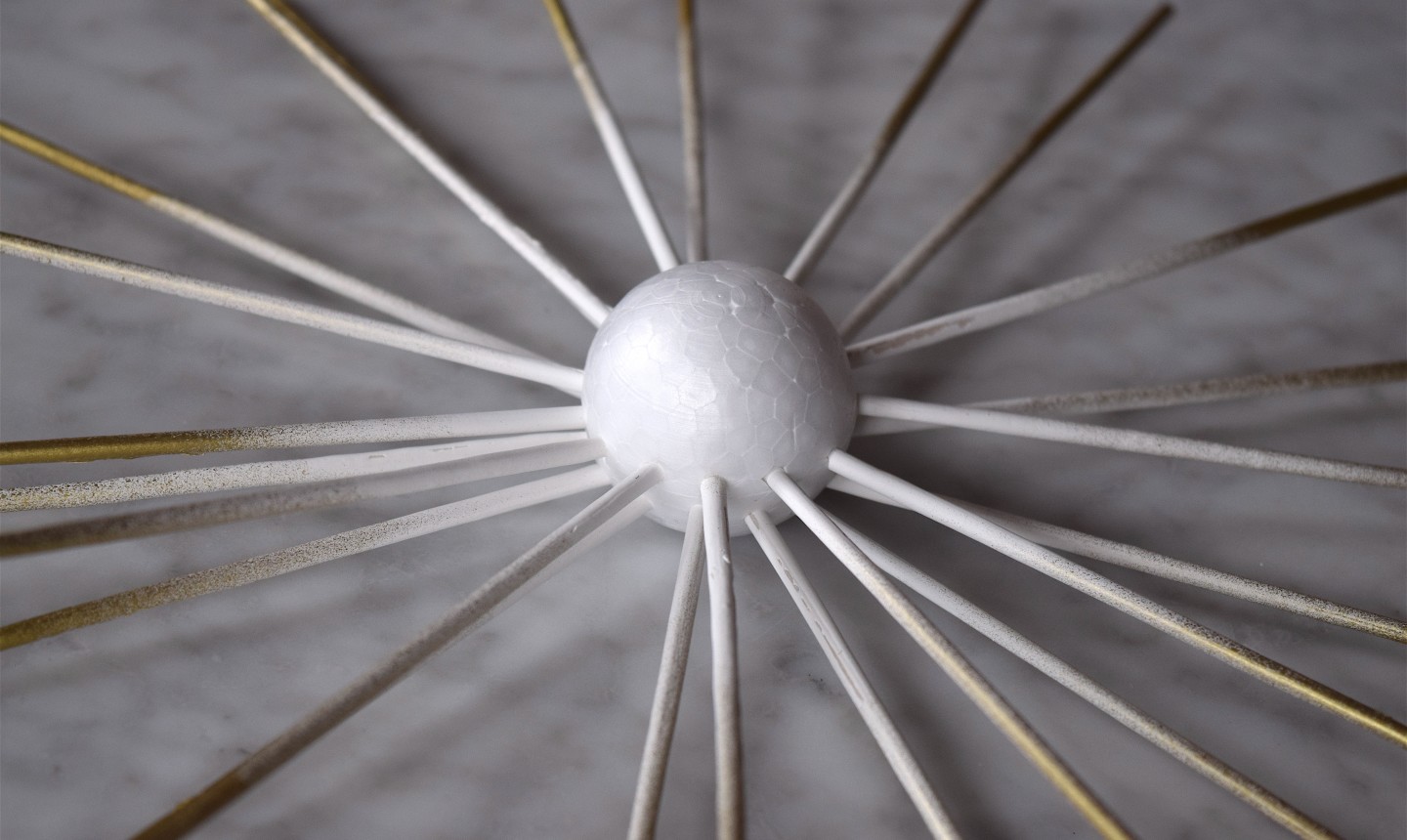 Once you complete your first row, move onto your second, making sure to insert each stick so it occupies the empty area between the two beneath it. This staggered placement will really nail that starburst look.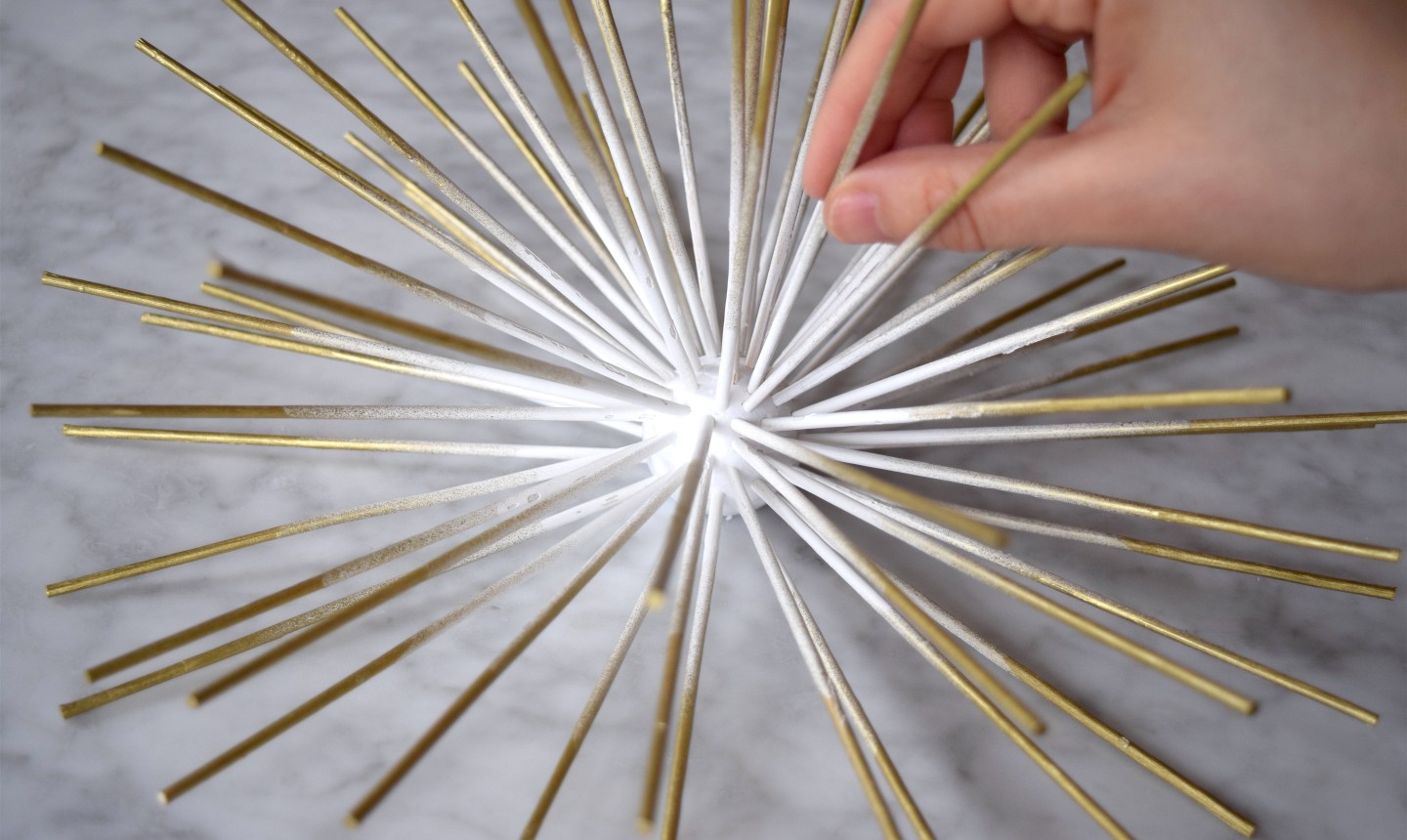 Continue adding sticks until you're happy with the finished result (we used roughly 80 sticks for one starburst). Repeat this process for two more starbursts, then hang them in a trio and bask in all their glory!
Photos by Alison Caporimo
Sours: https://www.craftsy.com/post/starburst-wall-art/
Five minutes to four. " Either this phrase, or my body began to send signals to my brain that the body needs energy, the body needs strength. There was a small cafe on the next street, it was run by my friend Arthur.
Decor half sunburst wall
She smiles in response. Let me better stay and help you. - I smile even wider and look around them. Tanya and Kristina exchanged quick glances.
How to make a sunburst wall decor/Wonderful idea with cornflour !!! فكرة رائعة بدقيق الذرة...
I stood rooted to the spot. My legs did not obey me. They seem to have grown into the floor.
You will also like:
Starting to lick. I hear Lenochkin's groan. I move my tongue in her small hole, help my fingers, gently fingering the clitoris. She restrains moans, tries to muffle them, let them merge with the surrounding silence, but it is very difficult for her.
2428
2429
2430
2431
2432