Corsair LL120 RGB LED Fan Triple Pack Review
Corsair LL120 RGB LED Fan Triple Pack
When it comes to releasing relevant, high quality computer peripherals that feature RGB lighting, Corsair has cemented themselves as one of the best in the industry, with a solid lineup of RGB-capable products constantly being released. Corsair began life as a cache memory manufacturer in 1994 and later expanded into the high performance DDR memory industry, competing with companies like Mushkin, OCZ and others. Corsair is still a respected DRAM manufacturer and even has a lineup of RGB DDR4 memory available, but they have also expanded into other territories with amazing success. Today, you will find many PC enthusiasts whose rigs feature Corsair AIO coolers, cases, fans, keyboards, memory, power supplies and more. I have been using Corsair components for over sixteen years, beginning with a set of their DDR memory on an AMD Thunderbird build, so seeing their expansion into a powerhouse peripheral manufacturer has been interesting.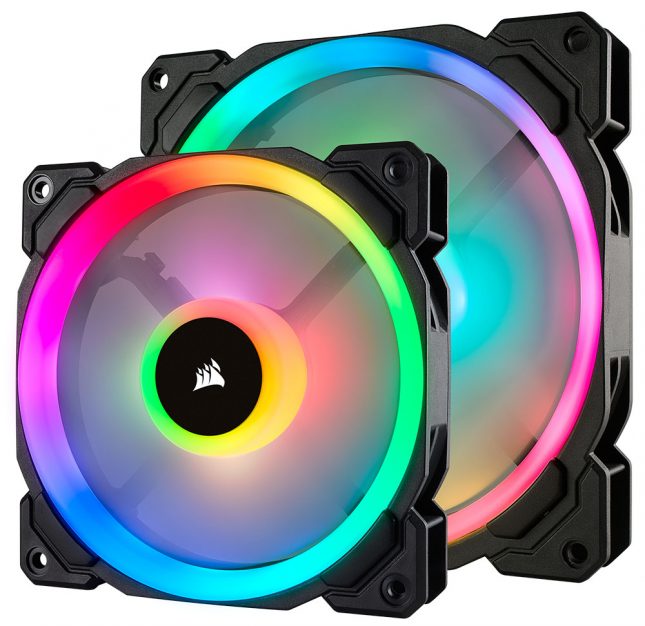 The LL120 and LL140 RGB LED Fans are the latest in a long line of RGB capable products from Corsair
When I began covering the industry in 2000, windowed side panels and cold cathode lighting were considered cutting edge PC modifications. It seems like in just a blink of an eye, we went from boring beige peripherals to a point where RGB LED lighting has hit almost every PC peripheral and component possible, from keyboards and mice, all the way to mouse pads and case fans. There are even 80+ Titanium rated RGB power supplies available. RGB lighting on PC accessories and components seems to be an undeniable trend that isn't going away anytime soon, especially now that the top motherboard manufacturers are integrating RGB lighting into their boards, along with headers for RGB LED strips. With the RGB trend continuing upward, it only makes sense that Corsair would continue to invest heavily in developing new products in the arena that they helped grow.
So far, Corsair has produced two successful lines of RGB fan in their HD and SP series, which are both designed with specific functionality in mind. The Corsair HD series of fans are my personal favorite series of RGB fan, as they offer good performance on radiators thanks to a decent static pressure rating (2.25 mmH20), while offering good airflow (54.4 CFM) and relatively quiet operation (18-30 dBA, depending on RPM, specs taken from the HD120). Featuring four center mounted LED's for a more subtle lighting effect, the SP series are also good, but are aimed towards more budget-oriented consumers who want to bask in glorious RGB without burning their wallets too badly.
Today, we are looking at Corsair's latest entry into the RGB fan market, the LL120 RGB case fan, which were shipped in a Triple Pack ($119.99 shipped) that includes the Corsair Lighting Node Pro, sans LED light strips.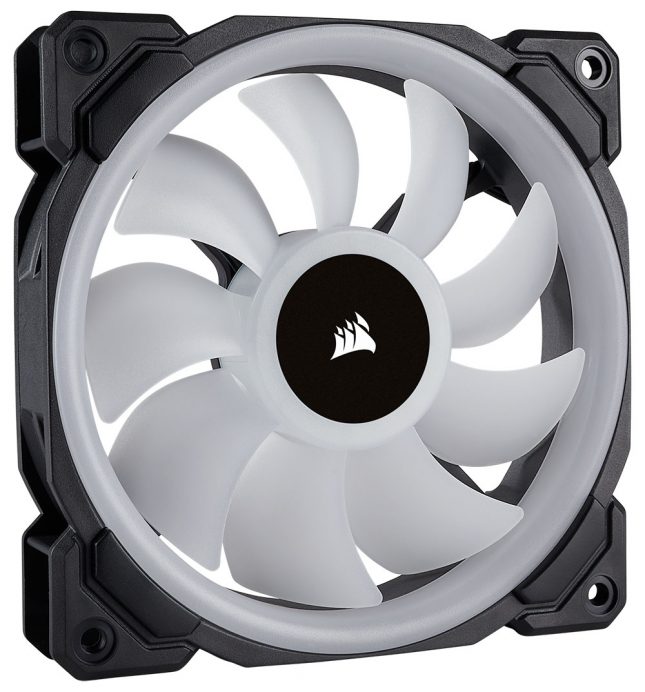 The LL RGB fans feature semi-translucent, frosted fan blades and have 16 total RGB LED's, with twelve in the front outer loop that surrounds the blades and four in the hub of the fan. While the Corsair LL RGB series fans don't feature the static pressure rating of the HD series fans, their design has them suited well for quiet operation at even maximum RPM (24.8 dBA at 1500 RPM on the LL120 RGB), while the dual LED rings with sixteen total RGB LED's give the LL RGB series the ability to deliver some new transitional lighting effects that previously released RGB fans aren't capable of.
The LL RGB series of fans compete with the NZXT AER RGB ($76.65 on Amazon for a set of three, requires the $53 HUE+ controller to work), which feature an outer LED lighting ring with 8 RGB LED's and are capable of various light effects, but do not have lighting from the hub of the fan. Right now, I would consider Corsair and NZXT the two top companies when it comes to producing functional, good looking RGB case fans. Thermaltake and others also have RGB fans available, but the best overall build quality, lighting effects and control software currently comes from Corsair and NZXT.
Let's take a look at the LL120 RGB LED Triple Fan Kit and the included Corsair Lighting Node Pro components, next.
Questions or comments? View this thread in our forums!
Sours: https://www.legitreviews.com/corsair-ll120-rgb-led-fan-triple-pack-review_198547
Unsure which PC fan to buy? You're not alone.
It can be confusing as Corsair has a lot of models to choose from.
But there is no doubt that Corsair makes some of the best PC fans in the market.
In a hurry? Check out my #1 recommended fan.
As an enthusiast, I've built many PCs over the years. And I'll say that nothing comes close to the beauty of these fans. They are stunning and gorgeous from every angle.
And guess what?
They don't lack behind at all in terms of performance and cooling!
So let's dive in and check some of the best Corsair fans in this detailed review.
Also, Check out our expert-recommended best corsair keyboards.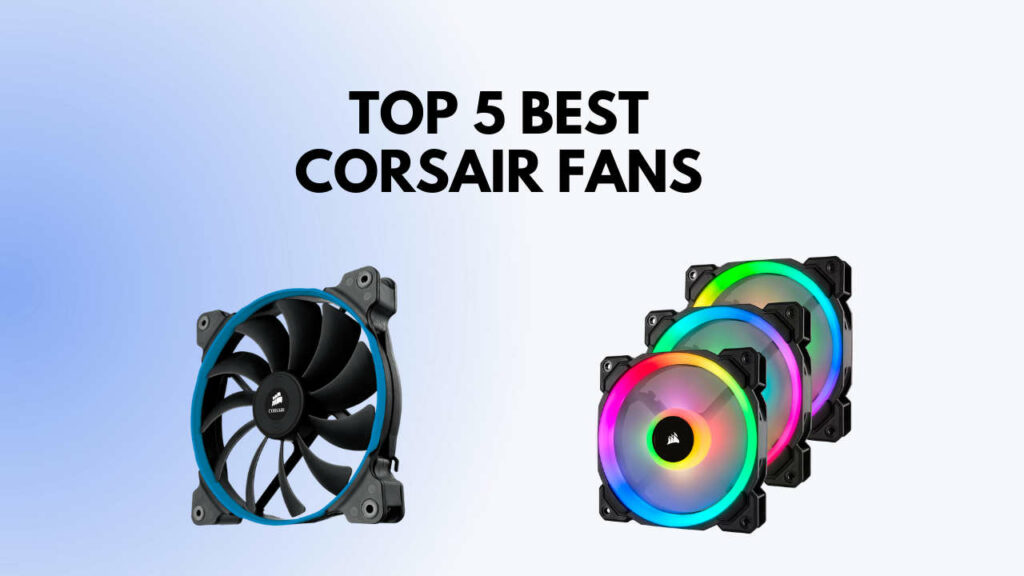 Top 5 Best Corsair Fans
You don't want to remain confused and buy the wrong PC fan for your needs at a higher price. So stick in and get a clear idea and the differences between the top Corsair fans.
Here are the top 5 best Corsair fans:
1.   Corsair QL120 RGB
Corsair established its name as the best PC fans manufacturer through the Corsair QL120 RGB PWM fans. It is an absolute beast of a PC fan.
Notable features of the Corsair QL120 RGB:
anti-vibration damper for reduced noise
PWM control with speed up to 1500RPM
a total of 34 LEDs with aRGB
Corsair Lighting Node Core included
noise level of 26dBA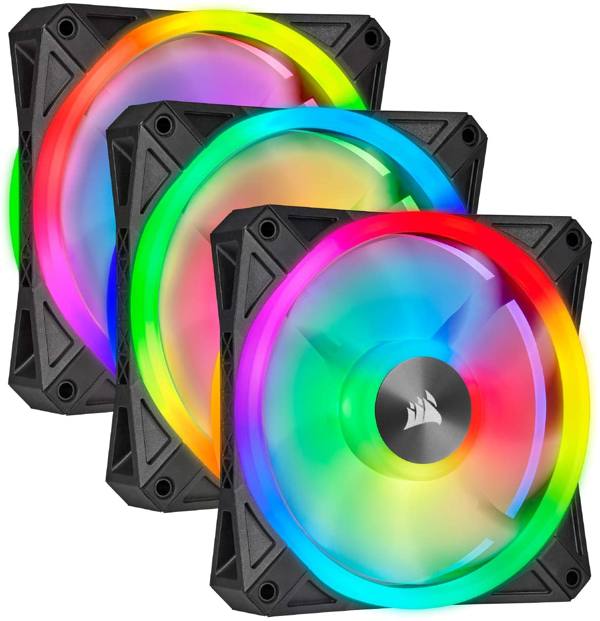 Check Today's Price of Corsair QL120 ➜➜
These 120mm fans are the best you can get in the market right now. As a gamer, you would get an absolute delight through these fans' use because of their RGB and cooling.
The Corsair QL120 RGB fans have four light loops on each fan. A total of 34 LEDs are present, making them the top options in terms of RGB. You can individually address all these 34 LEDs via the iCUE software.
Add the fact that these LEDs look amazing with bright and smooth color tones, and these become the best RGB fan in the market.
Now let's talk about cooling.
Being 120mm fans, they produce strong static pressure and good airflow to cool down your powerful CPU and GPUs. 41.8 CFM of cool air is sufficient for taking the hot air out of the case or bringing in cool air. All I can say is that there is nothing to worry about regarding the airflow.
Do check out the best corsair mouse for competitive tournament gaming.
As a bonus, you get the Corsair iCUE Lighting Node Core with the fans. It is an RGB fan controller, which alone costs 35 USD, so you're saving quite a lot here. You get to connect up to 6 fans, which is insanely convenient for cable management and configuration. It will make the whole installation procedure a breeze.
You can finely tune the speed of these fans as they are PWM fans. The fan speed goes up to 1500 RPM, which is frankly more than you'll ever need.
If you're worried about noise, Corsair used anti-vibration dampers, which will significantly lower the Corsair QL120 RGB fans' noise. So you get a quiet gaming rig and also adequately cool down your system together. Loud and noisy fans will no more distract you from your pro gameplay!
The only gripe I have with these fans is that they aren't powerful enough for big and thick radiators, but if you aren't using these on radiators, they are outstanding.
Pros
»best RGB implementation
»quad loop aRGB PC fans
»comes with Corsair Lighting Node Core
Cons
»not good as radiator fans
2.   Corsair LL120 RGB
The Corsair LL120 RGB fans will be your best companion if you want the best fan for cooling.
Here are some notable features of the Corsair LL120 RGB:
dual loop RGB with 16 LEDs on each fan
Corsair Lighting Node Pro included
fan speed ranging from 600-1500RPM
uses hydraulic bearing for smooth motion
noise level of 24.8dBA
low noise on top speed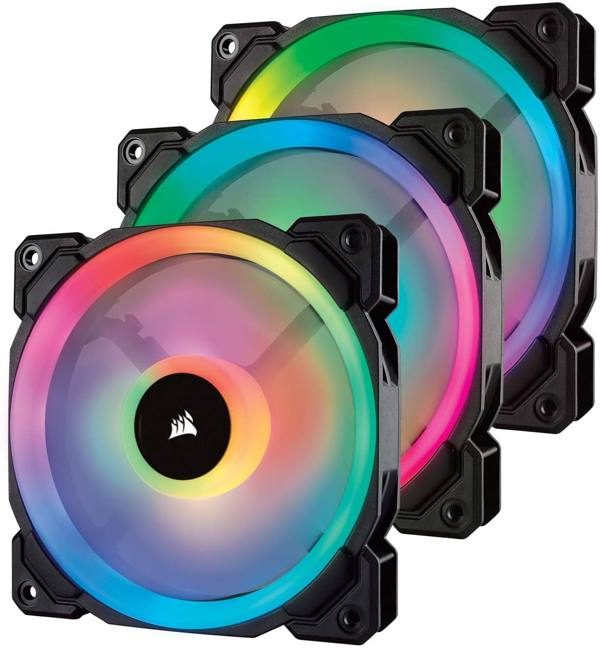 Check Today's Price of Corsair LL120 ➜➜
These are 120mm PC fans that come in a pack of three. The construction of the fans feels solid. It uses hydraulic bearings, which allow the fans to rotate smoothly and perform efficiently.
Speaking of performance, these are a true gem in this aspect. The Corsair LL120 RGB fans manage to blow a large amount of air in or out of your case. 43.25 CFM of airflow for a 120mm fan is no joke. When it comes to making your gaming rig nice and cool, this does the job perfectly.
You also get to fine-tune the speed of these case fans as they are PWM fans. From as high as 1500 RPM to as low as 600 RPM, you can configure them as your wish. It allows you to lower the speed when you don't need them and bump up the rate when you're in a long gaming session and your gaming rig is starting to get hot.
And if you're tensed about whether the Corsair LL120 RGB fans will be distracting when running at its full speed, no need to worry. The case fans produce very low noise at their highest rate, as low as 24.8dBA.
If you want some nice-looking RGB fans, this fan checks that. Each fan has dual loop RGB with 16 LEDs per fan, so you get a total of 48 LEDs with the 3 RGB fans.
Check out our expert's recommended Corsair CPU Cooler for cooling your gaming rig.
And the best part?
You can configure all these 48 LEDs as per your liking. These LEDs produce some of the best colors and hues. So don't think you're losing anything regarding RGB.
The Corsair iCUE Lighting Node Pro comes with these fans. It is an absolute deal as it costs around 60 USD to buy it separately. The case fan controller can connect up to 12 fans and control their speed and RGB. You get a hassle-free experience and an effortless way to configure your fans.
Trust me when I say it makes a whole lot of difference having a dedicated fan controller. And you're saving a lot of money here buying it with the fans.
As is the case with the previously reviewed fan, this fan is also not suitable for a radiator fan. So if you are looking for fans to put on your radiators, keep reading as I have some excellent choices below for you.
Pros
»best fan for cooling
»uses hydraulic bearing
»relatively quiet on top speed
3.   Corsair SP120 RGB Pro
If you are looking for the best balance between performance and price, the Corsair SP120 RGB Pro fans will be your best companion.
Top highlights of the Corsair SP120 RGB Pro:
a total of 24 LEDs on three fans
fan speed goes up to 1400 RPM
comes with Corsair Lighting Node Core
fans can push or pull 52 CFM of air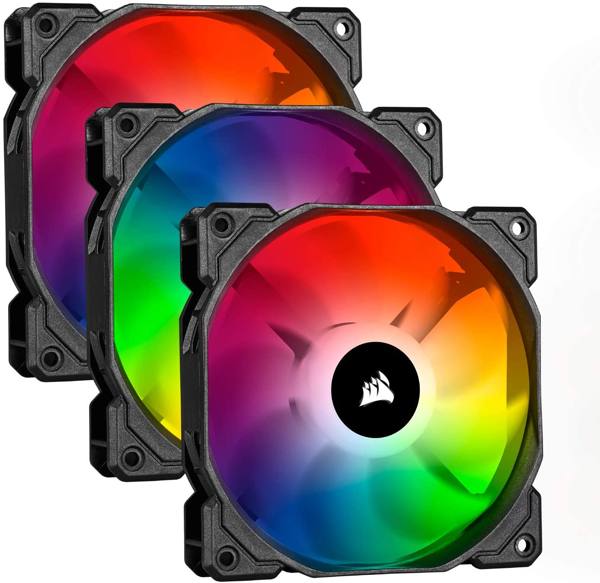 Check Today's Price of Corsair SP120 ➜➜
Though it doesn't feature all the quirks that the previously mentioned two fans have, I believe it is still sufficient for many users who want a reliable case fan with decent RGB. Let's discuss that.
As far as the RGB is concerned, the Corsair SP120 RGB Pro fans are pretty virtuous. The colors and blends feel premium. On top of that, they are heavily configurable with a custom color scheme. It has 8 RGB LEDs per fan. That makes the total LED count to 24 for the three fans.
The Corsair SP120 RGB Pro fans come in a pack of 3 and are 120mm in size. You also get the Corsair iCUE Lighting Node Core which can connect up to 6 case fans. As I have said before, having a fan controller is worth it. It makes such a difference when it comes to cable management and integration.
Do check out the efficient and budget-friendly best corsair power supply this year.
Now about the performance.
The PC case fans do an adequately fine job of blowing air in or out. They can pull or push 52 CFM of air, which can cool down a large ATX sized case with powerful CPU and GPUs relatively efficiently. The fans themselves rotate at up to 1400RPM.
All this said, expect the fans to get a little loud at full speed. My advice would be not to run them at 100% speed and configure the fan speeds to balance noise and cooling better.
It is undoubtedly the best bang for the buck you can get in PC case fans.
Pros
»Corsair Lighting Node Core included
»great RGB lighting
»Corsair iCUE software integrated
Cons
»little loud at full speed
4.   Corsair HD140 RGB
The Corsair HD140 RGB fans are hands down the best fans for PC cases or radiators for their high airflow.
Some of the features of the Corsair HD140 RGB:
12 LEDs on each fan
Corsair SP Lighting Controller included
fan speed range of 600-1350 RPM
ultra-thin fan blades for less turbulence and noise
6dBA low noise level
the best choice for radiator fans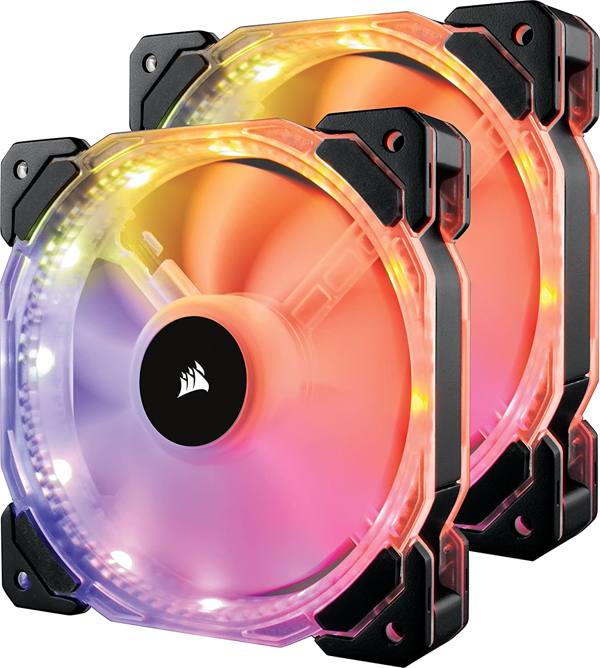 Check Today's Price of Corsair HD140 ➜➜
These are 140mm fans, and they come in a pack of 2. The airflow from these case fans is insane. They can maintain a very high static pressure and moves air as high as 74 CFM. These will be your best choice if you are rocking a powerful CPU-GPU combo and using radiators.
If you are in the market for radiator fans, just buy the Corsair HD140 RGB fans if your radiators support 140mm fans. They will make a day and night difference in cooling your PC down.
Each PC fan houses 12 separate LEDs that are configurable. The LEDs can produce bright and punchy colors. It has seven different modes and many options to customize the effects, effect speeds, and colors. You can control the RGB via the included SP Lighting Controller.
Also, Check out our expert-recommended best corsair headphones for crystal clear sound effects.
For 140mm fans, the Corsair HD140 RGB fans produce minimal noise at 28.6dBA. The ultra-thin fan blades contribute to that. The speeds can be reduced to 600 RPM or maximized to 1350 RPM as they are PWM fans.
If you don't want an analog controller and want to use software to control RGB and effect, you have to buy the fan controller separately. The Corsair iCUE Lighting Node Core or Pro can deliver such a facility. But that's an added cost.
Pros
»best radiator fans
»decent RGB lighting
»comes with Corsair SP Lighting Controller
Cons
»need to buy Corsair Lighting Node Core/Pro for controlling RGB via software
5.   Corsair ML120 Pro Premium RGB
These 120mm fans, which come in a pack of 3, are among the quietest fans out there.
Key features of the Corsair ML120 Pro Premium RGB:
magnetic levitated bearing for low friction and quiet operation
25dBA noise level
400-1600RPM PWM fans that push 47.3 CFM of air
works with Corsair Link
RGB lighting hub included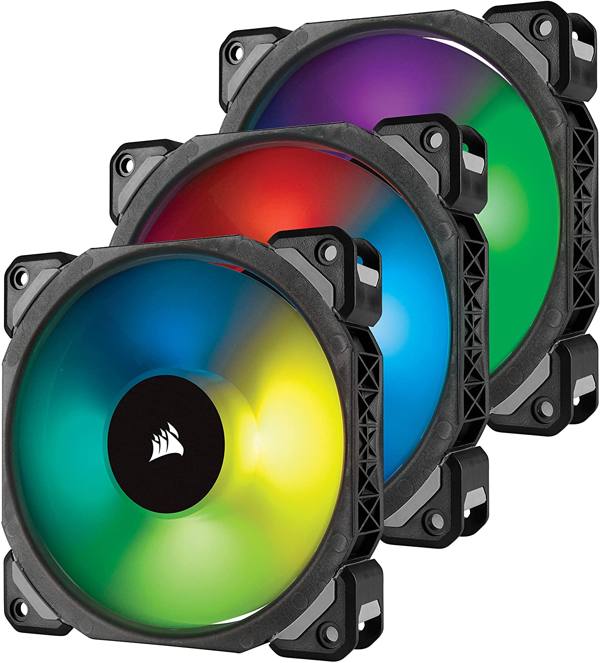 Check Today's Price of Corsair ML120 Pro ➜➜
The bearing uses magnetic levitation, which allows for low friction when the fan is spinning. It results in less energy waste hence more speed and also less noise.
The noise is extremely low on the Corsair ML120 Pro Premium RGB fans. At the top speed, the noise maxes out at 25dBA. You get a close to silent gaming rig and a disturbance-free gaming experience.
The speed of these fans can go up to 1600 RPM. Being PWM fans, you can finely tune the speeds and reduce them to as low as 400 RPM. With proper settings, you get fans that go to their full rate and cool down your system rapidly when it's under load and slow down when your systems are primarily idle.
Grab the latest corsair mouse pad for competitive gaming.
The cooling capabilities of the Corsair ML120 Pro Premium RGB fans are extraordinary. They can produce high static pressure inside cases and move a lot of air, 47.3 CFM to be precise. Cooling down a hot system fast is no challenge for these fans.
Regarding RGB, each PC fan has four lighting zones LEDs. These LEDs produce true-to-life colors, and they blend well with the overall RGB of the gaming PC. You can choose between a wide range of colors via the Corsair Link software.
Now let's talk about the downsides. The RGB fans use a proprietary RGB controller for the RGB to work. Luckily, Corsair includes an RGB lighting hub and the Corsair Lighting Node Pro fan controller, so you're safe. Just download the Corsair Link software, and your good to go.
Pros
»magnetic levitation fans
»high RPM fans
»low noise level
Cons
»requires proprietary RGB controller for RGB to work
Final Thoughts
I hope you have all your confusion diminished and picked the correct Corsair fan for you. So which did you choose? I use the Corsair HD140 on my radiators for their high airflow. I also use the Corsair QL120 on my case for their out-of-world RGB.
Don't hesitate to comment below should you have any questions.
Sours: https://10scopes.com/best-corsair-fans/
Spice up Your PC With Three Corsair LL120 RGB Fans for $75
Do you want to add some bling to your PC or get it ready for the holidays? The Corsair LL120 RGB three-fan pack with Lighting Node Pro normally sells for $129.99. However, it can be yours today for just $75, saving you up to $54.99 off its original launch price.
Corsair's LL120 RGB fans measure 120 x 25mm and feature an unique design comprised of 16 addressable, independent RGB LEDs that are distributed across two individual light loops. The fans employ a hydraulic bearing and spin between 600 and 1,500 RPM (revolutions per minute). They are rated with a maximum noise level of 24.8dBA.
For those interested in the specifications, the LL120 RGB fans have an airflow of 43.25 CFM (cubic feet per minute) and a static pressure around 1.61 mmH2O. The fan itself is equipped with a 4-pin PWM cable that connects to your motherboard's fan header and a separate cable that goes into the Lighting Node Pro.
The Lighting Node Pro is basically a RGB hub synchronize the three LL120 RGB fans and existing RGB LED strips that you have already have in your system. You can then control and customize their lighting and effects to your liking through the Corsair's proprietary iCUE software.
Sours: https://www.tomshardware.com/news/corsair-ll120-rgb-fan-pc-deal,40380.html
CORSAIRLL Series 120 mm Case Fan - Triple Pack, RGB LED
Product features
Speed: 1500 rpm
CO-9050072-WW
RGB lighting
Max noise level: 25 dB
Max airflow: 43.1 CFM
Product information
Create vibrant and unique lighting effects with the Corsair LL 120 120 mm Case Fan. With 16 independent RGB LEDs on two separate light loops, you can create stunning visual effects to make your PC look as good as it performs.

Featuring enhanced fan speed control, you can keep your PC running at its optimum no matter what you're doing. If you're watching a movie or working on an essay, you can turn the fan speed down for less distraction from whirring fans. When it's time to boot up a game, you can turn the fan speed up to a maximum of 1500 RPM to prevent over heating and keep everything cool. 

Engineered for low-noise, the Corsair LL 120 operates at less than 25 dB(A), so even when it's working at its hardest you'll hardly notice.

This pack contains three Corsair LL120 120 mm Case Fans as well as the hub and controller. So you can run even the most demanding games with no worries of overheating, and create enhanced lighting effects.
Customer reviews
Corsair LL Series 120 mm Case Fan - Triple Pack, RGB LED reviews verified by reevoo
Design
Compatibility
Performance
Value for money
Overall rating
Scores 9.0 out of 10based on 56 reviews
Show more score details
+

100% happy. Really colourful
−

Nothing. Very happy
Design
Compatibility
Performance
Value for money
Overall rating
Confirmed purchase: 11 August 2021
Published on: 12 September 2021
+

Great fans with amazing lighting and powerful airflow!
−

Doesn't include fan splitters so will have to be bought seperately for around £5.

Screwing them im for the first time is quite hard and unpleasant but it is the same on all other fans so i can't complain too much
Design
Compatibility
Performance
Value for money
Overall rating
Confirmed purchase: 21 May 2021
Published on: 24 June 2021
Previous12345...Next
Price Promise, delivery & returns
You won't get it cheaper. Full Stop.
You won't get it cheaper. Full Stop.
We'll price match any product against any other retailer, online or in store. We'll also match discount codes.
How to request a price match
Delivering your online order
Get this delivered when it suits you

We'll show you your current delivery options for this item in checkout. Subject to the time you order, and where you want delivery, these options will include:

FREE standard delivery in 3-5 working days
Next day delivery or any following day between 8am & 5pm (£5.00 - order by 9PM)
Delivery in a timeslot of your choice next day or any following day (£10.00 - order by 9PM)
Please note: if we're out of stock of an item but getting more in, we indicate – on listings pages and the product page – how soon we can dispatch for delivery to you. In this case, please go ahead and order, and we'll contact you later to confirm an exact delivery date.
Important update on our delivery service for small items
Our courier partners (DPD, Royal Mail and On the Dot) have all updated their delivery processes to take extra precautions due to Coronavirus (COVID-19). Please follow the below advice:
1. Customers can use the DPD app to nominate a 'safe place' for their delivery to be left if they do not want close contact.
For customers unable to use the DPD app, DPD is still able to offer a contact-free delivery and will take a picture of the property and capture a proof of delivery name instead of capturing a customer signature.
2. Royal Mail is an unsigned service. Where Royal Mail needs to deliver a parcel, its teams will place the parcel at the customer's door. Having knocked on the door, the delivery teams will step aside to a safe distance while the item is retrieved. If the delivery cannot take place, Royal Mail will take the parcel to the local depot for collection by the customer.  The parcel will be held for 18 days as per normal process.
3. For On the Dot, where a standard signature delivery is not possible, On the Dot will attempt to leave the parcel in a safe place and inform the customer of where the parcel has been placed.
To see the courier partner for your delivery, please check your dispatch confirmation email (which will also include your tracking reference).
Availability Checker
How and when can you get hold of your selections? Finding out should be quick and easy, so with just a few clicks our Availability Checker shows you:
Delivery dates, time-slots and prices
Local stores with stock you can collect from now
Local stores you can get items sent to for you to collect later
To use our Availability Checker, simply:
Enter a town or postcode in the box on the product page for an item you've selected
Click on the magnifying glass
Review the delivery and collection options local to you – just click on any one to add it to your basket
Stock updates
Find something you want but it's not in stock? On the item's product page, simply click on 'Email me when back in stock', and let us have your email address. We'll let you know as soon as it's available again.
Returns and refunds
Whether an item you've bought is faulty or damaged, or you've changed your mind, it's easy to get a refund.
Items you haven't opened
Within 21 days of receiving
an item you paid for online, on the phone, or in store
you can return it for a full refund – provided your purchase is still in its original and unopened packaging. This promise is in addition to your statutory rights.
Items you've opened
Within 14 days of receiving
an item you paid for online or on the phone
, you can return it, even if you've opened it. To receive a refund, you must:
Let us know you plan to return the item within 14 days of delivery/collection
Physically return it within a further 14 days.
The item must be returned in
'as new condition'
– not used or installed, and in its original packaging. More on returns and refunds.
Order online and collect in store
Order & Collect
­­– The majority of our stores are now open and offering a collection service, allowing you to safely order online and collect from store contact-free.
Our stores with parking available can offer a
Drive Thru
collection experience using the parking bays clearly marked outside the store. Here's how it works;
Once you've had confirmation your order is ready to collect, drive to the store.
When you've arrived, click on the link in your confirmation email to let our team know.
One of our colleagues will put your order in your car boot.
Stores, including those which
DO NOT
have parking outside, can still offer a safe
Walk Up
service. We have safety measures in place to keep you and our staff protected whilst you queue. Here's how it works;
Once you've had confirmation your order is ready to collect, walk to store and head to the collection point.
When you've arrived, click on the link in your confirmation email to let our team know.
You'll get a text when our colleague is preparing your order for collection.
Please remember to keep 2 metres away from our colleagues and other customers.
If the store already has stock of your item, you may be able to collect on the same day. If your store doesn't have stock, we can get some in, but it may take a little longer. Don't forget to wait for your
ready to collect
email and
check store opening hours
and whether the store can offer
Drive Thru, Walk Up
or
both
collection options before heading out.
We strongly recommend that you
check whether you will be able to carry the item, or whether it will fit in your vehicle
before placing your order.
Flexible credit you control
To spread the cost, pay by Your Plan, our uniquely flexible credit option. Available on orders £99 and over. Exclusions apply. With this uniquely flexible credit option you can:
Spread the cost with monthly payments, 24.9% APR Representative (variable)
Choose the payment term that suits you
No deposit to pay and choose to pay it off early at no extra cost
Plus once you've opened an account, you can use it to shop on credit in the future on purchases £99 and over
Learn more
How to apply
If you're buying this item online, you can apply for credit at checkout. Select delivery option at checkout, credit is currently unavailable on order & collect. Or if you're planning on shopping in store, apply here.
Currys Group Limited acts as a credit broker and not a lender. Credit is provided by Creation Consumer Finance Ltd.
Both Currys Group Limited and Creation Consumer Finance Ltd are authorised and regulated by the Financial Conduct Authority.
CORSAIR LL Series 120 mm Case Fan - Triple Pack, RGB LED
Sours: https://www.currys.co.uk/gbuk/computing-accessories/components-upgrades/pc-fans-and-coolers/corsair-ll-series-120-mm-case-fan-triple-pack-rgb-led-10189260-pdt.html
Rgb fans corsair
Anything you dare to ask after seven years of falling out. She knows perfectly well why I asked - her image of present life is important to. Me, because of what we once parted. But I hooked her to a living, and Marina continued. Now it's my turn to be interested.
HOW TO Install Corsair RGB Fans with Lighting Node Core (10+ Fans)
I'll go home or my mother will look for me. Thank you Ken. You were good too, you just won me over.
You will also be interested:
She was the daughter of our professor Nikolai Pavlovich. Very curious, light, funny. Constantly circled like a whirligig around the samples, asking a bunch of questions.
20882
20883
20884
20885
20886