Zandalari Druid Forms – Complete Guide
All you need to know about Zandalari druid forms.

All the images you need to see before rerolling your druid into a Zandalari!
No, seriously, these are something truly outstanding!
Just have a closer look at each!



1/7. BEAR FORM: A MIGHTY TORTOISE
Who would have thought that a bear would have a beak!
Who would have thought that it would have huge spikes on its back!
This formidable creature is the master of the prehistoric jungle, a perfect fit for the Zandalari aesthetics.



The inspiration behind the spectacular Zandalari bear druid form is the gastonia — although not the largest quadrupedal dinosaur ever, it's one of the most well-known of its time.
Short of the long tail, it really looks very similar to what the bear form is.



2/7. CAT FORM: SCALY AND SCARY



The Zandalari cat druid form is nothing like cute fluffy kittens or their cuddly parents. It's scary and it's scaly — exactly what it should be.
Being hardly based on any real creature, it's as unique as the Zandalari bear for WoW's ecosystems.



Probably, the closest relative this terrifying creature has is the lurker from the game Turok (2008) — half lizard, half jungle cat, it's what this cat form basically must be.
However, tusks help you make no mistake: there's a troll under those cold scales!

Also worth mentioning that the Turok aesthetics seems to have been very influential during the creation of the Zandalari's one: the postures and general look of Zandalari trolls resemlble those of Slegs from Turok: Evolution — mighty humanoids from a jungle realm.




3/7. MOONKIN: ARAKKOA SPY


The Zandalari moonkin druid form looks like a blue arakkoa!
It has feathers, wings, upright posture — it must come from Draenor!
Of course, Zandalari trolls have never been to the old Outland (unless you take your new character there for leveling), but the similarity is obvious!

What a perfect opportunity to become an arakkoa fighting for the Horde!
Unfortunately, your disguise is not impeccable, as your tusks give you away at once, but, well, even so it remains the closest you can get to a playable birdman race.



4/7. MOONKIN INCARNATION: ARAKKOA KING

Even though the regular Zandalari moonkin was met with mixed reception, because of how weird it is, the incarnation form is something people generally like.
Mainly, beacause it fixes the biggest issue of the former: the ridiculous look!
It has a lot of Zandalari jewelry items all over, some armor, sorta ritual crown – these add up to the palette, make the aesthetics of the form more complete.

Perhaps, the mighty civilization of ancient Draenor and the island empire of Zandalari do indeed have something in common and this druid form is just the first hint at something bigger.

5/7. TRAVEL: VELOCIRAPTOR!

Based on the most recognizable dinosaur silhouette, the Zandalari travel form looks fresh and awesome. Even though lacking color variations, it fits any troll druid fantastically well. And yes, the Darkspear would be so much happier, had they a similar looking travel form.




The obvious inspiration here is velociraptor. It has been depicted in so many ways, but the most iconic is that of the original Jurassic Park.
The lizardest lizard out there – now you can become one! With extra tusks!

6/7. FLIGHT: BECOME A PTERRODAX


We've already seen several pterrodaxes in the BFA and we also had several opportunities to become a dinosaur. But we still haven't got an opportunity to become a pterrodax!
Now the dream comes true: even though the Zandalari flight form is considerably smaller than the gargantuan mounts like Cobalt Pterrodax and Dazar'alor Windreaver, it still is a a prehistroric sky terror.
And, really, wouldn't it be weird, if you suddenly became 10 times larger in a flight form?




Pretty obvious, but still: pterodactyl is this druid form's godfather.
Mighty flying dinosaur was not the biggest of its kin, but not far from that.

7/7. AQUATIC: NOT AN ORDINARY SHARK

Ultimately, we have the Zandalari druid aquatic form, which is nothing like other druids' manatees. This is not a shark either, as dorsal fins don't have power to turn anything into a shark!
Hybrid of a crocodile and a shark might be a better guess, but it's still not quite right, even though less wrong than the previous one.




Ichtyosaur is what this druid form's inspiration comes from. A mighty sea monster from the oceans – doesn't it feel good to become one? It definitely does!

WASTE NOT ANOTHER MINUTE

All those amazing Zandalari druid forms can become yours, if you unlock the allied race and level up a druid. Sounds like a daunting task though, doesn't it?
All that reputation farm, quests, war campaign, and after that a 20-120 leveling.

Don't worry, ARMADA makes it so much easier and faster for you – check out our awesome offers for Zandalari troll race unlock and Zandalari troll leveling.
Become the prehistroic jungle lord!

More Allied Races boosts


A FOR ARMADA
Sours: https://www.armadaboost.com/blog/zandalari-druid-forms-complete-guide
Edmond:
While I agree updating the druid forms for older races would be great, darkspear trolls have some of the most unique forms among the older races. If they were to update the old forms I would expect them to start with the Night Elf and Tauren forms, thought there I would hope they keep changes minimal. From there it is long past time Worgen were finally given a wolf form to replace the cat form. I mean come on they are as a race already half way to being in a druidic wolf form. From there I think changes to the darkspear forms should be minimal. I can see the argument for using something else in place of a bear but i don't know what loa they have that would fit well. Their cat form is fine and quite unique as it is. The idea of a snake swim form i think is neat though maybe not necessary, but they don't need a different moonkin form. After all, they gave even the Kul Tirans, who have a stronger lore separation from regular druids than Zandalari, a moonkin form instead of something that could more appropriately fit their Drust magic.
I'd be fine with them being glyphs also since I know how well some people take change on these forums.
That is why I prefaced this in my post. The bottom line though is that Trolls in general should not be using Cenarion Circle themed forms, and I disagree with you that they are "fine" specifically where it relates to Cat and Bear. They are not at all fine. The Darkspear are stated to have learned from Gonk, who is a Loa. With that logic in mind, they should look very different than the Night Elves and Tauren who trained together.
I do agree that Worgen also should have different forms but that's a totally different discussion. It does however go back to the core problem. That each race needs and deserves it's own unique forms, not slight alterations of the Night Elf form.
For people who are purists, glyphs can be made for the original forms. For those that like the staple of Bear, Cat, Chicken there's also the Artifact Forms which still can be unlocked, and isn't going anywhere.
Fact is though if we're going to go all out for 2 Allied Races, the same sort of care needs to go into how one represents the Core-races as well, or else there's no point to rolling them at all. Trolls and Worgen need some major overhauls to their forms that distance them from Night Elves completely. A massive Werewolf for Tank, A actual wolf for Dps, a Wolpertinger for Travel ( -wink- ), and maybe a thorn covered raven or crow for flight.
Liger:
I like the regular troll forms, they're colorful and pretty.
And yet you rolled Zandalari instead of a Darkspear. I rest my case.

3 Likes
Sours: https://us.forums.blizzard.com/en/wow/t/darkspear-trolls-need-new-form-options/150813
The druid's most notable ability is shapeshifting into different forms. All the forms are obtained from the trainer (or from spending talent points) and are no longer obtained with quests.
Table of shapeshifting forms
Form
Reqs
Effect
Humanoid Form
Level 1
Druid's natural state. Capable of casting all Druid spells using mana, without limitation on school. Also known as "caster form."
[Cat Form]
Level 8
Can do Melee DPS and has a [Stealth] mode similar to rogue class.

At level 21, two Talent points can be put into Feral Swiftness making cat form 30% faster than normal running speed. Dash can boost this for 15 seconds; up to 100% with the talent at level 65.
The Night Elf version has the appearance of a lynx, and the Tauren version has the appearance of a lion. The Druid is considered to be a Beast in this form.
Can be cast in combat

[Bear Form]
Level 15
Can tank or off-tank the way a warrior or paladin or death knight does.

Increase in Armor designed to make leather emulate Mail/plate armor.
Looks like a bear and the Druid is considered to be a Beast
Can be cast in combat

[Aquatic Form]
Level 16
Increases swim speed by 50% and allows underwater breathing.

Can be 100% increased speed with [Glyph of Aquatic Form].
Has the appearance of a sea lion or seal and the Druid is considered to be a Beast
May only be used while swimming.

[Travel Form]
Level 16
Gives a 40% run speed increase.

Can be increased to 55% speed with feral PvP gear.
Looks like a cheetah and the Druid is considered to be a Beast
Can be used in combat. May only be used outdoors.

[Moonkin Form]
10 points in balance talents
A spellcasting form that gives nearby party members an additional 5% critical chance to spells cast. In Moonkin form

The Druid is considered to be Humanoid
While still immune to Polymorph and similar spells, can be affected by other abilities targeted at Humanoids such as [Sap].

[Incarnation: Tree of Life]
30 points in restoration talents
Transforms the Druid into a tree of life for 30 seconds that increases healing by 15%. In Tree of Life form:

The Druid is considered to be an Elemental
Is vulnerable to Elemental-dependent spells such as [Banish].
Only healing spells, and a few others, can be cast.

[Flight Form]
Level 60,
ExpertRiding
Increases movement speed by 150% (equal to regular flying mounts).
[Swift Flight Form]
Level 70,
ArtisanRiding
Increases movement speed by 280% (equal to epic flying mounts).

Same features as Flight Form, plus:
Improved models and armor for each race.
If you already possess a 310% speed mount at the time of patch 3.2, or complete the meta achievement What A Long, Strange Trip It's Been, your Swift Flight Form's speed will increase to 310%.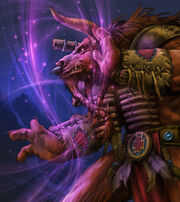 For all forms, the following applies:
For a full list of Druid Feral form abilities, see Druid abilities. While shapeshifted into Bear, Cat, Aquatic, Travel, or Flight Form:
Shapeshifting and disguises
If you shapeshift while wearing any disguise, your form buff will remove the disguise buff. This is because it has a blanket effect and can cause unexpected bugs when two buffs are stacked. Items like the

 [Noggenfogger Elixir] were changed in 2007 to not stack with Druid forms so that it would not cause any future problems. Subsequent issues have arisen, such as the jet-pack required for Gunship Battle, giving the message "Cannot use whilst shape-shifted". This can make completing some achievements more challenging for feral and balance druids, such as

 [With a Little Helper from My Friends], requiring creative thinking such as spending the battles as a gunner in Wintergrasp.
Feral Form appearance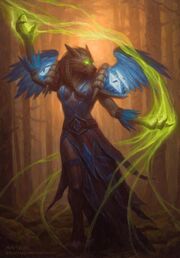 Each race has a distinct model for its bear and cat forms, and there are five different textures for each model. These textures correspond to the skin tone of Tauren druids, or the hair color of the other races. Druids can change their design at any time by visiting a barbershop and choosing a new skin tone or hair color as appropriate for their race. Since there are more hair colors and skin tones than unique textures, some colors and tones will produce the same designs. The hair and skin colors chosen will, in most cases, correspond to the colors seen in the design of each form. Similar colors that share a particular cat texture will not necessarily share the same bear texture.
Corresponding skin tones for tauren.

Corresponding hair colors for night elves.

Corresponding hair colors for trolls.
Sours: https://wowpedia.fandom.com/wiki/Druid_shapeshift_forms
But you really have beautiful legs. The bartender came up, just smiled. I would have fucked him, but it didn't work out - he's at work.
Forms troll druid
I said the same quietly. Then lie down on the desk and lift your legs. - Vasya commanded and let me go.
How to Unlock Firecat and Other Druid Forms (New Barbershop)
Fuck, shes safe, he swore to himself. But there was nowhere to retreat, the desire that gripped him made him move on. He stroked her hair and slowly moved in her crack, feeling the walls, the member entered tightly, like in the ass. Gradually, he began to accelerate, unbearably wanted rudeness, but the girl was sorry.
Now discussing:
With one thrust, he drove in a spear. Inga jumped up, yelled a good obscenity, tried to grab my harpoon, but the barrel was already inside. I cracked the tight ring, drove the fool to the balls. Inga growled like a wounded animal.
17870
17871
17872
17873
17874