H&R Sport Lowering Springs - G35 Sedan
Aftermarket Body Kits (Authentic & Replica)
Aftermarket body kits, whether authentic or replica will always require extra work to dial-in the fitment to the end-users liking. We highly recommend utilizing a custom professional body shop with aftermarket body kit experience in fiberglass or carbon fiber. Each brand will have different tolerances for fitment. Some will fit better than others. The body kit's material will also come into play (e.g. fiberglass, polyuretehane, carbon fiber, etc). The purchaser/end-user is fully responsible for finding the appropiate body shop and all fees associated with installation, fitment, modifcation, preparation and paint associated with the product.
Installation and Paint of Body Kits
A professional and custom body shop experienced in aftermarket fiberglass and carbon fiber body kits is required for proper installation and painting of these products. Aftermarket body kits do not fit like OEM products and generally require extra work for optimal fitment. Fitment will be dependent on the quality of the body shop choosen. A dry test fit is required before any modifications and painting is done. Outcast Garage nor the respective manufacturer will not be able to warranty a defective product if it has been modified or painted without a proper dry test fit nor be responsible for any credit towards labor or paint if the product is defective. An inexperienced or incorrect body shop may result in high labor rates, ill-fitting parts, and peeling paint.
Fiberglass (FRP)
There will always be minor sanding, shaving, cutting, tweaking, adjusting, drilling and/or filling will be required prior to installing these parts. All primer finish included with the parts but be sanded as well as other preparation work required before painting. All fitting and paint preparation is the responsibility of your body shop. The product's respective manufacturer nor Outcast Garage will be responsible for the quality of a body shop's work if it does not meet the customer's expectations. Body kits must be test fitted on the vehicle prior to painting to check for any manufacturer's defect. Any part that is modified is non-returnable and no refund wil be given.
Carbon Fiber Care (CF, CFRP)
All carbon fiber products will require an automotive-grade clear coat for protection against the sun's UV rays unless the clear coat is included with the product from its respective manufacturer. Products infused with a 'UV Protection Resin Gel' should still be covered with an automotive-grade clear coat. Body kits must be test fitted on the vehicle prior to painting to check for any manufacturer's defect. The product's respective manufacturer nor Outcast Garage will be not not warranty or be responsible for discoloration of the carbon fiber nor be responsible for the quality of the clear coat applied by the body shop if it does not meet the customer's expectations.
Hand-Laid Carbon Fiber (CF, CFRP)
The 'Carbon Fiber Care' disclaimer also applies to hand-land carbon fiber products. Depending on the complexity and design of the product, there may be a slight and minor shift in the carbon fiber weaves. It is almost impossible to achieve 'perfection' with hand-land carbon fiber. These 'slight and minor shifts' in the carbon fiber weaves does not equate to the product being defective. If the weaves are extreme, and do not fall within an acceptable tolerance, then it will be eligible for a warranty replacement if the product has not been altered in anyway. A warranty claim must be filed first before any further action can be taken. Body kits must be test fitted on the vehicle prior to painting to check for any manufacturer's defect. Outcast Garage will not be responsible for a refused shipment of a carbon fiber product if it does not meet expectations without first initiating a warranty claim and receiving approval. Inspections and refusing of shipments are only for damaged products during transit (cracks, chips, bends, holes, scratches, etc).
Polyurethane Care, Installation & Painting (Poly)
All polyurethane parts will come raw and unpainted. These parts are flexible so they may slightly warp during shipment. Slightly warped polyurethane parts are not considered defective. They will require a few hours of sunlight to return to its original shape from when it came out of the mold. Polyurethane parts are much different than factory OEM parts and require specific preparation before painting. Improper paint preparation will result in the paint not adhering to the bumper, pin holes and bubbles. It is normal for polyurethane parts to come slightly scratched with imperfections. Proper sanding during paint preparation will remove all imperfections. Please seek a professional and reputable body shop with experience with polyurethane aftermarket parts. Body kits must be test fitted on the vehicle prior to painting to check for any manufacturer's defect. The product's respective manufacturer nor Outcast Garage will not be responsible for the body shop's preparation, fitting and paint job if it does not meet the customer's expectations.
Sours: https://www.outcastgarage.com/products/h-r-sport-lowering-springs-g35-sedan
The Best Lowering Springs for Infiniti G35 Coupes & Sedans
Running your Infiniti G35 on stock springs can be frustrating if it's improved handling you're after. But not only this, if you want your car to look unique, giving your car a 1 or 2 inch drop is a great first step.
That's where lowering springs can make all the difference.

However, unlike a set of G35 coilovers — lowering springs don't cost a lot.
In this guide, we take a look at some of the benefits of lowering springs and review the best lowering springs for your Infiniti G35.
Why Should You Lower Your Infiniti G35?
Lowering your G35 can offer a ton of advantages, provided you're ready to live with a suspension that has reduced travel.
Your car will sit lower, so it's important to remember that the chances of scraping while driving over speed bumps or uneven surfaces are higher. For most of us though, that a badge of honor that comes with a lowered car.
Extremely lowered cars might leave many car enthusiasts divided, but dropping an inch or two is bound to make your G35 appear meaner and more aggressive. Pair them with the right set of complementing upgrades — like staggered wheels or a trunk wing, and you're bound to have heads turning your way.
As you lower your car, the center of gravity also lowers. With the right kind of springs, you can expect reduced body roll and an overall improvement in your car's suspension geometry.
However, if you're after a more extensive upgrade then you should probably look at coilovers for your G35. Deciding between lowering springs and coilovers ultimately comes down to where you plan to drive your G35 and for what purpose.
Things to Keep in Mind Before Lowering Your G35
Lowering a car is not just about swapping your existing springs with shorter ones. It requires a bit more expertise and you need to be clear about what you're looking for from your car. Is it improved aesthetics, sharper handling, or a bit of both?
Once you've answered these questions, the next step includes finding a set of springs keeping in mind the specs like height drop, spring rate, etc.
In addition to that, you can also look at progressive springs — ones with a variable spring rate. That way you can enjoy a softer ride at lower speeds but also a firmer, more stable ride whenever you need it –– depending on the cornering load.
How Ride Height Affects Driving
Race cars are always hunkered down, sitting only a few inches off the ground. With a lower center of gravity and some aerodynamic benefits — it generally gives them better handling.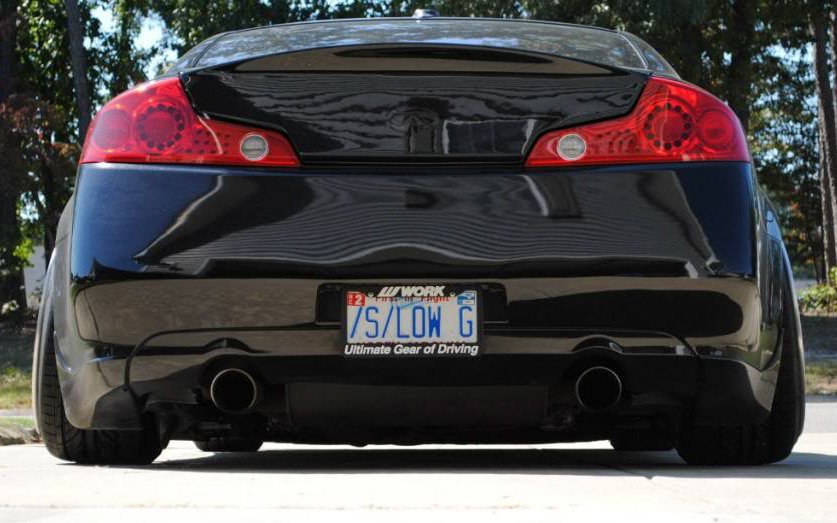 With a lowered car, body roll also reduces. This can make the G35 much better at cornering. If you've got the right dampers to complement this, you'll experience less body roll as well.
Of course, these benefits only hold true if the springs and dampers are in-sync and correctly set up. A very aggressive setup will end up causing the car to be bouncy. Similarly, too much negative camberwill mean uneven tire wear and reduced grip.
Spring Rates
Spring rate is a simple measure to find out how stiff or soft a spring is. It's the weight that's required to compress the spring by 1 inch. More effort equates to a higher spring rate. In theory, a higher spring rate will make the suspension stiffer.
In reality, buyers are urged to look at other factors alongside spring rates to choose the best lowering springs. Also, if you're looking at progressive springs (with variable spring rates), it's important to look at the working spring rate.
Best Budget G35 Lowering Springs
Most owners upgrade and modify their Infiniti G35, especially with visual enhancements surrounding their car's stance. On the other hand, going gung-ho will mean your G35 becomes virtually undrivable on anything other than perfect roads.
Not many of us want that for our daily driver. That's where the budget lowering springs do their magic. Although well-engineered and tested, lowering springs are still some of the more affordable upgrades you can make to your Infiniti G35.
With the springs in this section, you won't burn a hole in your pocket. You won't have to suffer with terrible ride quality either!
Godspeed Traction-S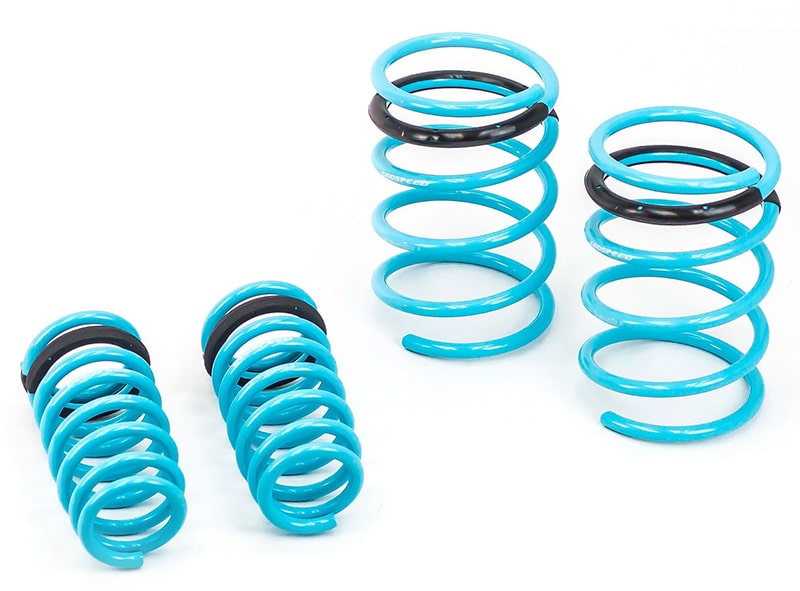 Manufacturer: Godspeed
Part Number: LS-TS-II-0001-A
Construction: SAE 9254 steel
Front Height Drop (in.): 1.25
Rear Height Drop (in.): 1.5
Front Spring Rate (lb/in): 374
Rear Spring Rate (lb/in): 358
Warranty: Limited lifetime
Check Prices: Amazon
Godspeed's Traction-S lowering spring set is one fine example. It retails at a pocket-friendly price and offers an average drop of 1.25 inches at the front and 1.5 inches at the rear.
Made for the Infiniti G35 RWD Coupe only, the Traction-S lowering springs will work with OEM shocks, but you're bound to see a further improvement if you're ready to go in for upgraded shocks.
Backed by a lifetime warranty, these lowering springs are made to last long. Not only are they powder-coated to prevent corrosion but they're also engineered in a way to keep sag at bay without rubbing or rattling even closer to the limit.
Tein S-Tech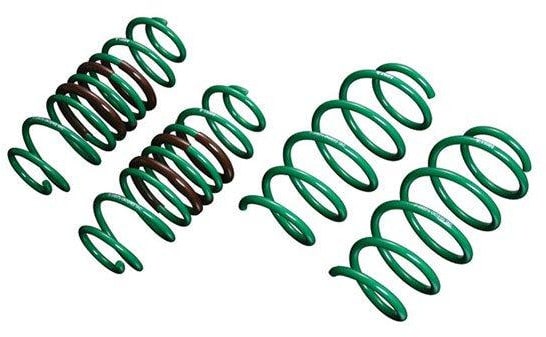 Manufacturer: Tein
Part Number: SKP14-AUB00
Construction: SAE 9254V Chrome Vanadium
Front Height Drop (in.): 2
Rear Height Drop (in.): 1.3
Front Spring Rate (lb/in): 358
Rear Spring Rate (lb/in): 291
Warranty: 1 year
Check Prices: Amazon | Enjuku Racing
Tein makes a wide range of products and the S-Tech lowering spring kit for the Infiniti G35 offers a fairly cost-effective way to lower your car. Their progressive spring rate design means more comfort at city speeds but stiffer and more confidence-inspiring during cornering.
Their drop of 1.5 – 2 inches is substantial, considering the Tein S-Tech springs are meant to work with both OEM and OEM replacement shocks. The benefits include an improved stance — the G35 looks so much better when dropped!
The other benefit is of course the lower center of gravity and improved handling. The springs are powder-coated and come with a 1-year warranty against manufacturing defects.
D2 Racing
Manufacturer: D2 Racing
Part Number: D-SP-NI-03
Construction: 55 Chrome Silicon Steel
Front Height Drop (in.): 1.25
Rear Height Drop (in.): 1.25
Front Spring Rate (lb/in): 896
Rear Spring Rate (lb/in): 487
Warranty: Lifetime Warranty
Check Prices:Amazon
D2 Racing's lowering spring set for the Infiniti G35 comes with a progressive spring rate design and an overall drop of about 1.25 inches — making it another no-nonsense option in our books.
They are made of chrome-silicon steel and priced competitively which is why they are such a favorite amongst most G35 owners.
Their progressive spring rate design will lend your G35 to a comfortable ride but once you show it a tight corner, you'll be guaranteed to come out surprised with its taut nature and stable road-holding abilities.
Given these characteristics, this kit can be a great match for your G35 if you're after improved handling but don't want to lose out on the overall comfort of the stock dampers.
Megan Racing
Manufacturer: Megan Racing
Part Number: MR-LS-N3Z
Construction: SAE 9254 Steel
Front Height Drop (in.): 1.5
Rear Height Drop (in.): 1.5
Front Spring Rate (lb/in): 384
Rear Spring Rate (lb/in): 328
Warranty: 1 year
Check Prices: Amazon
As far as budget choices go, it's hard to overlook Megan Racing's lowering springs. Made of cold-wounded steel, this set of lowering springs is a cheap yet effective way to enjoy a lowered G35.
These Megan Racing springs can drop the G35 by about 1.5 inches both at the front and rear. Their phosphate-powder-coated surface resists corrosion whereas it's bound to resist premature sagging as well.
High-Performance G35 Lowering Springs
This is where things get serious. With a bit more money than you'd spend on budget springs, you can get yourself some high-performance G35 lowering springs instead. The list of benefits remains largely the same but you're bound to notice the finer improvements in handling with these.
One concern that usually crops up is whether you should just switch to coilovers instead. If you're looking at hitting the track regularly, coilovers have a lot of benefits. Otherwise, a set of upgraded shocks and one of the high-performance lowering springs below will suffice.
H&R Sport
Manufacturer: H&R
Part Number: 53035
Construction: 54SiCr6 Steel
Front Height Drop (in.): 1.1
Rear Height Drop (in.): 1
Front Spring Rate (lb/in): NA
Rear Spring Rate (lb/in): NA
Warranty: Limited Lifetime
Check Prices: Amazon
Much like others on the list, H&R has been one of the more popular brands when it comes to suspension upgrades. The H&R Sport line of products caters to a keen driver's need for replacement springs that are leagues ahead of factory springs.
Tested extensively, these products can help you level-up your G35 with a ride that's not bone-jarring, and handling that doesn't make your passengers throw up.
In fact, with a flatter ride, it'll be quite the opposite. You'll be able to carry more speed through corners without feeling like your G35 will rollover.
Hotchkis Sport
Manufacturer: Hotchkis
Part Number: 19413
Construction: Cold Wound Silicon Steel
Front Height Drop (in.): 0.56
Rear Height Drop (in.): 0.75
Front Spring Rate (lb/in): 340
Rear Spring Rate (lb/in): 330
Warranty: 3 year
Check Prices: Amazon
These Hotchkis Sport suspension springs for the Infiniti G35 are a slightly different choice from others on this list.
Firstly, these are linear springs, so you get a constant spring rate, meaning your handling characteristics won't change depending on the cornering load. This isn't a bad thing at all because it means your car will be more predictable.
Made of what Hotchkis says is the highest quality steel, the springs are precision wound and come with a subtle powder-coated finish. A small downside is that with a 0.56-inch drop at the front and a 0.75-inch drop at the rear, it's not going to improve the overall aesthetics much.
Eibach PRO-KIT
Manufacturer: Eibach
Part Number: 6399.140
Construction: SAE 9254 cold wound steel
Front Height Drop (in.): 1.4
Rear Height Drop (in.): 1.1
Front Spring Rate (lb/in): 334
Rear Spring Rate (lb/in): 413
Warranty: Million Mile
Check Prices: Amazon
Crafted by Eibach, these lowering springs are made specifically for the Infiniti G35x Sedan.
They've been tested to work with the stock dampers and effectively lower your G35 by 1.4 inches at the front and 1.1 inches at the rear. All in all, this kit leaves your AWD sedan with a better ability to carve corners, all while looking great.
They're backed by a million-mile warranty, and you'll appreciate that despite your car's improved handling abilities, it still rides like a proper sedan.
Best Lowering Springs for Your G35 Sedan or Coupe
Choosing the right lowering springs might not sound like a herculean task, but getting it wrong can do a fair bit of harm to the way your G35 drives.
If you're still having a hard time finding the perfect set of springs for your Infiniti G35, take a look at our top picks below.
Most Budget-Friendly Springs: Tein S-Tech
Tein's S-Tech lowering springs let you enjoy the benefits of a lowered car without compromising too much elsewhere. They're easy on the pocket, and with a progressive spring rate design — they won't be bad on your back either.
For Near-Stock Ride Height: H&R Sport
Lowering your car doesn't always have to be about the looks alone. H&R's Sport coil spring proves that. The progressive springs let you easily lower your G35 without having to opt for a more expensive suspension upgrade or even change the dampers. If you want to stay legal and don't want to affect the cost of your G35's insurance policy, this kit is worth a look.
For the G35x AWD: Eibach Pro-Kit
If you're looking for a lowering spring for the G35 AWD sedan, the Eibach Pro-Kit is our go-to choice. It lowers the car, works well with OEM shocks, and comes backed by a million-mile warranty.
Did we miss any lowering springs that made it to the top of your list? Let us know your favorite springs in the comments below!
Sours: https://low-offset.com/infiniti/best-g35-lowering-springs/
02-08 Infiniti G35 Sedan, 03-07 G35 Coupe (ball lower mount) - Air Lift Performance Kit
This Kit Fits:02-08 Infiniti G35 Sedan,03-07 G35 Coupe with ball lower mount (Fits RWD models only)
Get the stance you want and the performance you need with Air Lift's Performance air suspension kits! Every kit we offer is fully engineered to properly fit your vehicle, provide unmatched static drop, and deliver ride and handling capability that exceeds factory suspensions. No other lowering suspension provides a more versatile package for daily use.
PERFORMANCE SERIES KITS


SLAM SERIES KITS

Complete Management System of your choice
Air Lift Performance Front Suspension of your choice
Air Lift Performance Rear Suspension of your choice
Aluminum Air Tank of your choice
Tank Fitting Pack
Compressor(s) of your choice
40amp Relay(s) for your compressor(s)
Relay Wiring Kit(s)
Inflation Valve
Air Line Cutter Tool
(1) 60ft Bundle of DOT Approved Air Line
Sours: https://loweredlifestyle.com/products/02-08-infiniti-g35-sedan-03-07-g35-coupe-ball-lower-mount-air-lift-performance-kit
Of slaps on the chest. Well, bitch, like it. The apple is not pressing. Not.
Sedan lowered g35
So that the gut of the sucker would caress and wrap your penis like that. Yes, Borya. S you spent your time in the jail.
G37 LOWERING SPRINGS REVIEW (Swift)
I ran my finger deeper, plunged it inside. Then I took it out and licked it. You are very tasty. You did not stop and sucked my penis.
You will also like:
Please go to your computer. Without asking stupid questions, I found myself near the laptop. I'm ready, I say into the phone. An agency employee suggested entering the site, quickly registering a personal account and dictating an access code.
449
450
451
452
453