Reset the Cox Panoramic Gateway in a Few Easy Steps
If the LED light on top of the device is black, you must check if the gateway has gone into the power saving mode, or there is an issue with the power supply. Take a look at the connection to the electrical outlet. And make sure it is not plugged into a power source which is connected to a dimmer.
If however, you see a solid red light indicating an error―meaning you are offline―start by checking the cable connections, and if all connections are in place proceed to reboot the device.
How to Reboot the Cox Panoramic WiFi Gateway
To reboot your Cox wireless modem-router manually follow these steps:
1. Unplug the gateway device from the power outlet. Make sure you keep it unplugged for 15-30 seconds.
2. Then plug the power cord back into the Cox Gateway.
3. Let it reboot completely―be patient as this can take up to 10 minutes.
4. Once the Cox Gateway restarts, it is highly likely the issue would be resolved.
5. Check by reconnecting your WiFi enabled devices to Cox WiFi.
Here it is worth noting, if you are using a battery pack with your Cox Panoramic Gateway, you must remember to remove it from its slot when you unplug the Cox device from the power outlet. You would not want it to keep running the device―that'll defeat the entire purpose of the reboot.
To reboot the Cox Panoramic WiFi Gateway via the Cox Panoramic WiFi app follow these steps:
1. Use your Cox primary user ID and password to sign into the Cox Panoramic WiFi app.
2. Go to the Overview tab, and navigate to the Connection Trouble?
3. Next, tap on Restart Gateway. You'll see a pop window show up, tap on Restart. And, you are done!
How to Reset the Cox Panoramic WiFi Gateway
In case, the reboot doesn't help, chances are something else is wrong. Now, if there is no outage in your area, and you are the only one in the vicinity experiencing problems despite basic troubleshooting, a factory reset maybe on the cards.
But, this must be used as a last resort―a hard reset wipes out current information & settings, and the device goes back to its default status. For this reason it helps if before the reset you make a note of your current SSID and Cox WiFi password―this way following the reset, you can feed in these credentials, and all your devices will automatically reconnect once your in-home WiFi is up and running.
The Cox Panoramic Gateway has a RESET button at the rear. You'll find it recessed in order to prevent accidental resets. To restore the device to its default status, press and hold down the reset button (using something like a pin or a needle), for 10 seconds or more―until the front panel LED flashes.
Once you have successfully reset the gateway, the SSID and Cox WiFi password will revert to the default information. To change the network info to what you had before the hard reset, you can use the Panoramic WiFi app or do it via the web portal. Once that is done, you'll be able to connect your wireless devices to the Cox Panoramic WiFi as before.
Final Thoughts
Most of the times you will be able to fix Cox Panoramic Gateway problems on your own. But, sometimes it may not be so. If you have tried all the aforementioned tips and still face the same issue, the best way to get support is by reaching out to Cox Customer Service―call 1-855-349-9316 and a representative will direct you as necessary.
This is the also the number you can call at if you wish to upgrade your current Cox Internet package―or you are looking to add on Cox Complete Care advanced tech support and/or unlimited data to your Cox Panoramic WiFi plan―you may just be able to grab a Cox deal which includes these features at a discounted rate.
Frequently Asked Questions
Is the Cox Panoramic WiFi Gateway any good?
The Cox Panoramic WiFi Gateway is the only wireless modem-cum-router that Cox offers for rental. It is designed to deliver maximum WiFi coverage and optimal performance. It comes with FREE advanced security which ensures all devices connected to Cox WiFi are protected, and you are alerted about threats in real-time. When you rent the Cox Panoramic WiFi Gateway, Cox ensures you always have access to the most advanced equipment to get the most out of your Cox Internet subscription.
Can I buy the Cox Panoramic WiFi Gateway?
Cox Communications only rents out the Panoramic WiFi Gateway. You cannot buy the device upfront. This rental policy allows Cox to upgrade the software and firmware on internet devices, as well as better manage all devices connected to the Cox network.
Sours: https://www.buytvinternetphone.com/blog/reset-the-cox-panoramic-gateway
iPhone Screenshots
Description
Panoramic Wifi app supports CGM4141 and TG1682 Panoramic Wifi Gateways.

The Panoramic Wifi App gives you control over your home network like you have never seen before. It enhances your in-home wifi experience from Cox with new levels of personalization and control. Your app lets you easily manage all sorts of wifi options, including the ability to pause devices, set simple device names and see the top bandwidth users. You can manage your family by setting profiles, pausing wifi for dinner or bedtime as well as easier troubleshooting.

The Panoramic Wifi App is required for installation of Panoramic Wifi Pods.

Key App Features:
- Cox User ID: No extra passwords to remember, just control with your Cox Primary User ID and Password
- Manage your wifi network name and password.
- Device Naming: See what devices are connected to your wifi network and give them nicknames for easy reference.
- Profiles: Create profiles, like one for each family member, and assign devices to profiles
- Parental Control: Manage device profiles to set bed times or limit when the internet can be accessed. You can pause all the devices for dinner!
- Pause Wifi: Take any device or profile off the internet with a click
- Advanced Security: Protection for your connected devices
- Easy to Troubleshoot: Intuitive app tells you about errors without contacting tech support
- Pods: Add and manage Panoramic Wifi Pod extenders to reduce or eliminate dead spots in your home

Requirements:
- Cox Panoramic Wifi Subscription
- Cox Panoramic Wifi CGM4141 or TG1682 Gateway (check the label on the bottom of your Gateway for "PN: CGM4141COX" or "TG1682G")
- Cox primary user ID and password

Need Help Signing In:
- Create a Cox user ID and password: cox.com/register
- Look up your existing Cox User ID or reset your password: cox.com/password


Bug fixes and other improvements.
Ratings and Reviews
4.3 out of 5
49.4K Ratings
Does the trick
As a person who streams everything, and has things hooked up that requires internet connection to operate (I.E security cameras) the long, dull nights of sitting in quiet darkness are over. I no longer have to un plug my router to eliminate my kids from internet access so they will go to bed. This app gives me the ability to restrict specific devises at specific times, or I can pause internet access to those devises at a moments notice, even when I'm not at home. Oh, it was a point of contention at first. The tears, the "I JUST WANT 30 MORE MINS". The stomping around were very real. But PARENTS, lemme tell you. Just get through that initial time of a poor attempt of a power struggle from your little darlings. They will soon learn that you mean what you say, and comply to their new reality- while you still enjoy your favorite Netflix shows and effortlessly scroll through social media. So sit back, relax, pause that internet with a simple click and have the peace of mind that you are now the absolute law on internet usage in your home.
Still not fixed…
Several times I have spoken to Cox and made them aware that my wifi app is somehow 3 hours ahead of my actual time and they have me take the same steps over and over with no answer. One guy tried to say it was my phone?? Kinda odd considering my phone is in the correct time zone and displaying the correct time! How are we supposed to use the downtime and active time features if your app is telling my wifi that it's 3 hours later than it actually is? This causes my daughters active time to begin and end at incorrect times, which meant yesterday she used some of today's time and downtime has to be set with a 3 hour difference. Confused yet? Every time they tell me to do the same things….uninstall and reinstall the app, restart the modem and restart my phone and then when I tell them I've already taken these steps before contacting them, they have me do it again as if I'm either lying or being in contact with them is going to somehow change the results, which, in case you couldn't already tell, has not made a difference whatsoever.
These features would be so wonderful if they actually worked correctly. I know I'm not the only person with this issue…if you are going to ask for our feedback as customers it would be really great if you would actually listen and do something about it!!
Hi, sorry you're having issues with downtime scheduler. Please reach out to us at cox.com/chat and ask for your account to be refreshed. If that does not resolve the issue, please let us know.
The App does what it should
The app is fine. I would like to be able to see real time speed within the app and also be able to see my total usage for the month without switching apps.
I pay for the gigablast but continually see around 500 down and 30 up. If I wanted to get that speed I would have selected that speed. I have the standard pano router you guys offer, hardwired to the modem for my Xbox and PC but still see the same speed. That's all throughout the day, not just in the evening when speeds are affected by the number of users on it.
Transparency would be a cool feature. Just a quick blurb on the app as well saying hey speeds may be affected due to the number of users in your area at this current time. But that should be the actual case, not just a blanket statement to cover throttling.
The developer, Cox Communications, Inc., indicated that the app's privacy practices may include handling of data as described below. For more information, see the developer's privacy policy.
Data Linked to You
The following data may be collected and linked to your identity:
Contact Info
Identifiers
Usage Data
Diagnostics
Data Not Linked to You
The following data may be collected but it is not linked to your identity:
Privacy practices may vary, for example, based on the features you use or your age. Learn More
Information
Seller

Cox Communications, Inc.

Size

176.8 MB

Category

Productivity

Compatibility

iPhone

Requires iOS 13.0 or later.

iPod touch

Requires iOS 13.0 or later.

Age Rating

4+

Copyright

© Cox Communications Inc, 2019

Price

Free
Supports
Family Sharing

With Family Sharing set up, up to six family members can use this app.
More By This Developer
You Might Also Like
Sours: https://apps.apple.com/us/app/cox-panoramic-wifi/id1419778819
In a breathless press release this morning, Cox announced nationwide availability of its new Panoramic Wi-Fi Router. In theory, this should be a good thing: Cox's new magic internet box is the fastest and best Wi-Fi router the company has ever offered, which means more customers should now be getting faster and more consistent internet.
But for some reason, Cox is still feeling the need to push the router on customers with a bunch of fake buzzwords and half-truths, ultimately trying to persuade customers who probably don't know better that they need to rent a substandard device for an obscene monthly price, or face the consequences.
Don't Miss:Amazon's epic Black Friday deals started early this year and you won't believe how good they are!
First, let's talk about the router itself. There aren't a ton of details available on Cox's website, but it's some kind of combo modem/router that combines the DOCSIS 3.0 cable modem with a 3×3 MIMO, 802.11ac Wi-Fi access point. Those specs are respectable, and probably enough for most people, but they were also standard on good Wi-Fi routers available in 2012. Right now, an equivalent (or better — Cox's website doesn't have a full list of specs) router will run you about $90.
But you wouldn't know it from reading Cox's marketing material. Apparently, the Panoramic Router is "Wi-Fi reimagined to blanket your home. Person to person. Device to device. Room to room. It's a next generation WiFi experience, optimized specifically for each residence."
The parts of that which aren't meaningless are not really true. There is "next-gen Wi-Fi" available right now: it's technology like Wave 2 4×4 MU-MIMO, which allows simultaneous connections to multiple clients with speeds up to 2.5Gbps, rather than the 1.3Mbps that Cox's access point is probably capable of.
It's not just the over-hyped hardware that's bad here, either. The Panoramic Router costs $10 a month to rent, and there's no option to buy. That means you're spending $120 a year for the privilege of having Wi-Fi at home, and over the course of a couple years, you're going to be paying far, far more than you should for a slowly-ageing router.
But don't worry! Cox has an answer for why you need to rent, rather than buy, your modem: "The Panoramic WiFi Modem is only available for a monthly rental fee to our customers. This ensures that we have the capability to upgrade the software and firmware on these devices to add functionality and protect and manage devices connected to our network."
You know who else has the capability to upgrade the software and firmware on devices on a regular basis? Every single other consumer electronics company out there. Apple has no problem upgrading two-year-old iPhones with the latest version of iOS, even though they're owned and not rented. Ubiquiti, the company that makes my home Wi-Fi system, pushes out firmware upgrades twice a week.
To be clear: this isn't a problem that's unique to Cox, but rather a much bigger pattern of deceptive behaviour that cable companies across the nation engage in. The cable companies know that most people are lazy and unmotivated when it comes to home networks, so they've worked out that they can take any $100 piece of hardware, dress it up with the cutting-edge features of 2012, and rent it to you for $120 (plus taxes!) every year.
This isn't news. It's just depressing that it happens with such brazen consistency.
Popular News
Sours: https://bgr.com/tech/best-wifi-router-not-cox-anything-else/
Replace The Cox Panoramic WiFi Modem & Router With Your Own
Jump to: [Panoramic Replacement] | [Cox Approved Modem List]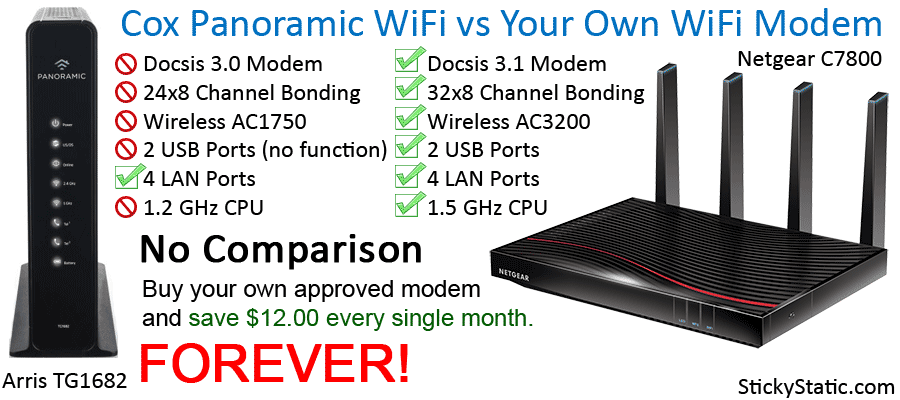 Best Panoramic WiFi Modem
It's no secret that you can save a bunch of money by buying your own Cox compatible modem and router instead of renting the flawed TG1682 "Panoramic WiFi Modem" for $12.00 a month. The approved replacement increases your performance and pays for itself in the long run. Otherwise, you're stuck renting forever. But with so many options out there, what Cox modem and router should you buy?
Here are our best choices for each situation with Cox Communications for replacing the panoramic wifi with your own approved modem and router.
Best Panoramic WiFi Gateway Replacement
Why Choose an All In One Gateway Modem? | Easiest Option For Cox Gigablast, Single Gateway Device.
Powerful wireless AC, great for a normal to large size house, single device, fewer wires, supreme coverage, good for non-power users who just want the easiest option for Cox Panoramic WiFi.
If you do not need a Gigabit modem and want to save money, you do have a much cheaper gateway shown in this comparison chart below.
| | | | |
| --- | --- | --- | --- |
| Rank | 1st | 2nd | 3rd |
| Brand | Netgear | Netgear | ARRIS |
| Model | C7800 | C7000 | TG1682 |
| Cable Type | DOCSIS 3.1 | DOCSIS 3.0 | DOCSIS 3.0 |
| Combo Modem | Yes | Yes | Yes |
| Download Speed | 2 Gbps | 400 Mbps | 300 Mbps |
| WiFi Router | AC3200 | AC1900 | AC1750 |
| CPU Chip | 1.5 GHz | 1.6 GHz | 1.2 GHz |
| Gig Ethernet Ports | 4 | 4 | 4 |
| Channels | 32×8 | 24×8 | 24×8 |
| Data Sheet | Source | Source | Source |
| Amazon | Price | Price | Rent $12.00 from Cox |
Important Note Regarding Cox Voice Modems: None of these modems are compatible with Cox Voice packages. They have limited your options in this field and you must use a Cox provided modem for the voice. However, that does not mean you are stuck using their router. You may use a modem you rent from them with your own WiFi router from the list in the next section.
Best Stand Alone Router for Cox WiFI
Newest Wireless AX Router TechnologyAmazon
Remember, you asked for the best. That means DOCSIS 3.1 + Wireless AX. If you want a cheaper router, view this router buying guide which is based on house size.
While the All-in-One Router Gateways are stronger than the Panoramic WiFi modem issued by Cox, they are still not the strongest routers available on the market today. In order to have the strongest possible router, you will need to pick a stand-alone modem from the next list and pair it with a Wireless AX Router. This is our preferred method because it allows for 2 devices with more power.
Strongest? Wireless AX is here. The latest and newest in Wi-Fi standards. Cutting-edge hardware offering the best possible performance. With a full-on Quad-Core 1.8GHz CPU to handle a plethora of connected streaming devices simultaneously.
Easy to use for a beginner yet full of advanced options for a techie. USB 3.0 Ports for network storage and FTP access. +more.
While this is our top choice and it is the most practical for most situations, some people have much larger houses(mansions) and a standard router will not provide ample coverage.
Router for a Mansion? This is where Wireless Mesh comes in. Cox's Panoramic WiFi Pods use the wireless mesh system but at a much poorer performance level. You're going to want the top of the line, the best, wireless mesh.
Best Approved Cox Modems
As mentioned above, if you truly want the best home wireless network, you will need a separate modem and router. The Wireless-AX and a Gigablast modem. And now for modems approved for Cox. This can be the most confusing topic for many because there are so many price points, performance tiers, and internet packages. No worries though, We break it down in these easy to read visual charts for you.
Modem Speed Tiers
Plan Name
Starter
Essential
Preferred
Ultimate
Gigablast
Download Speed
10 Mbps
30 Mbps
150 Mbps
300 Mbps
940 Mbps
Upload Speed
1 Mbps
3 Mbps
10 Mbps
30 Mbps
35 Mbps
Best Modem
CM500
CM600
CM1200
The first step in choosing an approved modem is knowing how fast your internet is. Cox has several speed tiers at different price points. When buying a modem, there is no need to buy a modem approved for a higher speed if you never plan on upgrading. You would, however, buy a higher-rated modem if you plan on upgrading to Gigablast in the future.
Gigablast DOCSIS 3.1 Modem
If you want the absolute best possible modem out on the market, then you must get the brand new DOCSIS 3.1 modem which is ready for Gigabit speeds and the Cox Gigablast package. It will be standard someday, so now is the time. Do not worry, it'll be a very long time before DOCSIS 3.1 goes away, so you do not have to worry about your equipment becoming outdated for a decade. This with a Wireless-AX router or Wireless Mesh system will outperform the Cox Panoramic WiFi issued modem on all levels.
Cheaper DOCSIS 3.0 Replacement Modem:
These modems are fine, in fact, perfect if you never plan on upgrading to Gigablast, the CM500 is an all-around great modem for any normal Cox package.
All modems we listed are supported. List of Cox supported modems.
TG1682 Panoramic WiFi Gateway Review
Warning: The TG1682 is actually on the bad modem list. Why is that? Because it has a flawed Puma 6 chip. This reason alone should be the reason you do not go with the Cox issued Panoramic WiFi modem.
What is "Panoramic WiFi"? It is just a fancy term or way for Cox to brand equipment that you can purchase on your own. They do this so that you have to pay them an extra $12.00 a month. That comes out to $144.00 a year.
Cox uses scare tactics and tries to convince you that if you buy your own modem it will become obsolete. They claim if you pay to rent theirs they will keep you up to date. The truth is, if you buy a DOCSIS 3.1 modem it will not be obsolete for possibly over a decade and you will save a lot of money in the long run by not having to pay the extra rental fees. Have they ever even contacted you and tried to give you a free upgrade replacement modem? No, it's not going to happen.
When you own your equipment you may use it wherever you move in the future. So if you move to a Comcast region, you'll still have your own modem and router.
The bottom should be clear by now. In no universe should you pay Cox to rent an ARRIS TG1682 modem when you know it has a bad chip. You know you can buy your own supported modem or gateway to save money in the long run while getting optimal performance.
Other Panoramic WiFi Modems That Cox Uses
You may rent a few other options from COX at a monthly fee. It is still recommended that you buy your own replacement from the list above.
Cox Approved Modem Summary
Now you know, hands down no question, to save money and get faster internet speeds you have to buy a new DOCSIS 3.1 modem. You will save thousands of dollars over time. Assuming you'll continue to have the internet in your home.
As for our personal opinion on Cox as an ISP, we prefer them. I have worked for DirecTV, Comcast, and AT&T. All horrible places to work(AT&T is the worst) and terrible massive corporations price-gouging customers and underpaying their employees. But you must choose one and Cox has the fastest internet at the best price range. Could it be cheaper? Heck yes but that is not an option. The bottom line is cable is a much better option than DSL. I never have outages with Cox, and I never need to reboot my modem or router.
Good luck, please share and feel free to ask questions below!
Sources:
About The Author
Gerry D worked a long career in technical support with a strong networking background. With his advanced computer knowledge, he founded StickyStatic to help others make the right choice when it comes to tough networking decisions.
Gerry D was a Tier II Internet Tech Support Agent for many years working for the 2 largest internet providers in the United States. After that, he went on to high-end Tech Support in a large educational institution. So modems and routers are some of his favorite toys. He wants to make sure you leave here with the right choice for your home wireless, happy enough to recommend StickyStatic to your friends. Please Share
Sours: https://stickystatic.com/tech/cox-modem
Modem panoramic wifi
Is your Cox panoramic WiFi not working and you can't find a decent guide on what to do online? Before you call Cox up telling them how unreal their service is, we're here to help you!
In today's guide, we'll give you the needed troubleshooting steps to fix this issue.
So, if your Cox Panoramic WiFi is not working (blinking orange), you will find this guide extremely helpful!
To be able to fix your Cox Panoramic WiFi, check if all the cables on your gateway are linked properly. Then, check for service outages. If you find one, then that's the reason you're not able to connect. Otherwise, proceed to clear your cache and data settings on one device, then resetting your Cox Panoramic WiFi gateway.
Once done, you should have your internet connection back up and running! Now, let us learn in detail how to fix this issue easily.
Cox Panoramic WiFi Not Working Blinking Orange
One of the things you might notice when your WiFi isn't working is the color of your gateway's LED light.
You might see that instead of the usual white or yellowish color, you're seeing an orange light blinking or flashing.
While different routers and modems have different meanings, an orange blinking or flashing light is not a good sign for the Cox Panoramic WiFi.
The orange blinking light simply means that your gateway is connecting to the network. It's attempting to connect to the internet.
When it changes to a solid orange color, though, it means a different thing already. It's a sign, telling you that your modem or router is not able to connect to the internet.
Why is My Cox Panoramic WiFi is Not Working
Ever wondered what the reason could be on why it's not working?
In these instances, people would more often panic than think about resolving the issue. But, knowing what the causes of it could actually help! Are the reasons for it to stop working that bad?
Here are some of the usual reasons why your WiFi connection is not pushing through.
Service Outage
Service outages aren't always the fault of the provider. In most cases, these outages are maintenance periods.
It's the time when a provider checks and assesses the condition of their towers and satellites.
Therefore, it's like a checkup to see if everything is on the right track; and while they're doing this, they need to disable the connection to their network for their procedures not to be disrupted.
If the reason for you not being able to connect to the internet is a service outage, then you wouldn't be able to do anything about it.
Problems With Cables
Another common reason why you're not able to connect to WiFi is because of your ports and your cables.
Over time, our cables undergo wear and tear, too! Even if you're not physically using them like detaching and reattaching them, their internal composites are used (because they're connected).
In addition to that, your cables might not be properly connected to where they're supposed to be attached.
Check the Ethernet cable if it's connected properly. You can also remove the Ethernet cable and reinsert it to ensure that it's all good. You need to hear the "click" sound when you reinsert it.
Apart from the Ethernet cable, check both ends of the coax or the coaxial cable. See if it's appropriately connected to the gateway, while the other end to the wall.
Unresponsive or Damaged Ports
Cables aren't the only things you should check; where it's connected – the ports – can also be the cause of problems like these!
Check and see if the ports have complete teeth (the shiny parts of it). If you see that it's missing a couple of parts, then it might be what the problem is.
If it has incomplete teeth, then it wouldn't be able to transmit all the data that it needs to. Should this be what the problem is, you could either have the port repaired or better, purchase a new router or modem.
Reception or Signal Strength
Is your WiFi not working only while you're far from it? If so, then the problem is not with the gateway's connectivity to the internet – but the distance or the relationship between your device and your gateway.
If this is what your scenario is, try moving the modem to a better position so it'll be able to accommodate all devices within your area.
IP Address or DNS Cache Glitch
Out of all the many different possible reasons why your Cox Panoramic WiFi is not working, the DNS cache and IP address glitch are two of the most uncommon but are experienced by people.
There are instances when the saved websites and data on your device can cause glitches and errors on a particular device's connectivity.
These are the most common reasons why you're not able to access the internet.
If the problem is a service outage, then you're free to go, you wouldn't be able to do anything; it's a technical problem that only the company can solve.
But what if it's anything but an outage? What do you do? Are there steps that we can follow to fix our internet connection work?
Troubleshooting My Cox Panoramic WiFi Not Working
Here's the comprehensive guide on how you can fix your Cox Panoramic WiFi.
Step 1: Check All Cables
Check all cables – from the Ethernet cable down to the coaxial cable and see if there are any signs of damage or being worn out.
It's also worth noting to remove and reinsert both the Ethernet and the coax cable, too just to make sure that it's not where the problem is coming from.
Step 2: Check for Service Outages
There are multiple ways on how you can check If there's a service outage in your area.
For one, you can contact Cox and ask them if an outage is taking place. This might take a while since thousands of people contact Cox daily.
Because of this, the vast majority of people take the next option, which is to check for outages via the Cox website.
Login to your account, once you're in, hit on the My Account Overview Menu; this will open a dropdown menu.
Tap on Manage My Equipment from that list. If there is an outage, you'll immediately know because it'll be at the top of the screen.
Otherwise, you'll see a statement about not having an outage, and a note below on what to do if your service is not working as expected.
Step 3: Clear DNS Cache and Data
As we mentioned above, there might be instances where the cached DNS data interrupts your connectivity to the internet network.
For starters, the DNS is like the digital record of the websites and prompts that you've received while using your browser.
Therefore, the system might have cached something that triggered something not healthy for your device.
So, you need to flush or clear out the DNS cache on your device.
For windows, open Command Prompt or CMD and type in ipconfig/flushdns and hit on enter. On a Mac, you can reset or clear the DNS cache by running the Terminal application.
For MacOS Snow Leopard, you would need to type in sudo dscacheutil –flushcache.
For the following operating system versions, Mavericks, Mountain Lion, Lion, the command should be: sudo killall –HUP mDNSResponder.
Now, for the Yosemite 10.10 to 10.10.3, it is sudo discoveryutil mdnsflushcache.
For iPhones or Apple devices, toggling the Airplane mode ON/OFF does the trick.
For Android devices, however, access Google Chrome and type in chrome://net-internals/#dns; then, hit on the button that would flush or clear it out.
Step 4: Test Out Other Devices
So, the reason why your Cox Panoramic WiFi is not working is not because there's a service outage, what do you do next?
If you just found it out on one device, say your smartphone, test out your tablet, your laptop, or computer.
See if you're able to connect to it using a different device.
You can also try directly connecting to it via an Ethernet cable because maybe, the problem's with the gateway's wireless capability.
Step 5: Power Cycle Your Cox Panoramic Gateway
Then, what you have to do is to unplug your Cox Panoramic gateway. If you are using a router, you need to unplug it, too.
Wait for about 15 seconds to 40 seconds before you plug it back in again.
For 2 to 3 minutes, be patient and wait for the gateway to reinitialize. It might take longer for older models and versions of routers (if you have one).
Step 6: Reset Your Cox Panoramic Modem
Now, we're not just talking about restarting or rebooting your Cox Panoramic gateway, we're talking about setting it back to its factory settings.
To do this, press + hold the reset button on the gateway for more than 8 seconds or until all the LED lights on the front panel go off or flash.
You don't need any special equipment – you'll only need this guide and you'll be good to go!
Still No Internet Connection… What Should I Do?
So, you've strictly done and followed everything in the guide and you still don't have WiFi? This is the time to contact Cox's technical support team.
It might already be a problem with the gateway unit itself, and the only solution might be to replace it.
That should be it! Those are all the troubleshooting steps you need to know if your Cox Panoramic WiFi is not working.
Read Next: Learn how to reset Cox cable box easily!
Kevin Wood
Kevin has over five years of experience working in various Tech startups and providing Technical solutions. He has contributed to many Tech publications and websites.
Sours: https://xtrium.com/cox-panoramic-wifi-not-working/
Get to Know Panoramic Wifi for Cox Internet
Cable internet is a tried-and-true means of delivering fast download speeds to people's homes, and Cox Communications offers the service to more than 20 million of us here in the US. Billing itself as the largest private telecom provider in the country and boasting nearly $12 billion in annual revenue, Cox serves more than 6 million residential and business customers and offers cable internet in 18 states and Washington, D.C.
If you live within that footprint and Cox is an option at your address, there's a good chance you've at least considered it -- especially if faster fiber plans from other providers aren't available where you live. In cases like that, Cox's cable speeds are likely the next best thing and certainly faster than what you'll get from DSL, satellite or a fixed wireless connection. 
Like
Gigabit speeds available across entire service area
Reasonable data usage terms, no throttling
Don't Like
Plans are pricier than other cable internet providers
Steep price increases after first year
Cox gateway device doubles as a public hotspot by default
Unlimited data bundles are a bad value
That said, Cox plans skew toward the pricey side, with a higher cost per megabit than other cable providers (including Xfinity and Spectrum). What's more, Cox's pricing structure will try to push you into a more expensive plan each year. You'll also need to contend with a monthly data cap -- though, fortunately, Cox's data usage policies are about as reasonable as you could hope for. 
All of that makes Cox a middle-of-the-pack option for getting connected at home, and there's a lot you should take into consideration before you sign up. Here's a full rundown on everything from prices and plans to terms, fees and the company's customer service track record.
Where does Cox Communications offer home internet service?
Along with the majority of Rhode Island, Cox's network covers parts of 17 states and the District of Columbia, with service most prevalent in areas around the following cities:
Cleveland, Ohio
Gainesville, Florida
Las Vegas, Nevada
Macon, Georgia
New Orleans, Louisiana
Oklahoma City, Oklahoma
Omaha, Nebraska
Pensacola, Florida
Phoenix, Arizona
San Diego, California
Santa Barbara, California
Topeka, Kansas
Virginia Beach, Virginia
Wichita, Kansas
According to data collected by the Federal Communications Commission, Cox's home internet footprint reached just under 7% of the US population as of June 2020. That's tens of millions of people, but it's short of Comcast and Charter Spectrum, two larger cable internet providers that each offer service to roughly one-third of US households.
Cox's more focused footprint also shows that it isn't a top pick for rural customers, as most of the company's cable infrastructure is located in dense urban areas. Other providers are much better positioned to offer service outside of America's cities -- if that's what you're looking for, be sure to check out our top rural internet recommendations.
How does cable internet stack up these days, anyway?
Pretty well, as a matter of fact. In addition to the fact that it's easy to bundle cable internet with cable TV and other services, most cable providers are able to offer download speeds of up to 940 megabits per second or higher. That's much better than what you'll get with DSL, satellite internet or fixed wireless, and it's competitive with a lot of the country's top fiber providers.
That said, a good fiber connection will offer concurrent upload speeds just as fast as the downloads -- and this is where cable internet falls short. Even with near-gigabit download speeds close to 1,000Mbps, you'll likely be stuck with upload speeds in the double digits. For instance, with Cox, the fastest plan (940Mbps) comes with upload speeds of 35Mbps, while the four plans beneath it offer max uploads that range from 3Mbps to 10Mbps. That might cause a crunch if you've got multiple people in your house making Zoom calls, gaming online or doing anything else that requires you to upload lots of data to the cloud in short order.
And hey, speaking of those plans... 
Cox internet plans, prices and terms
| | | | | | | |
| --- | --- | --- | --- | --- | --- | --- |
| Plan | Max speeds | Regular rate (no contract) | Promo rate (with contract) | Rate after one year | Equipment rental fee | Monthly data cap |
| Starter 25 | 25Mbps download, 3Mbps upload | $40/month | $30/month (1 year) | $45/month | $12/month (skippable) | 1.28TB |
| Essential 50 | 50Mbps download, 3Mbps upload | $50/month | $40/month (1 year) | $66/month | $12/month (skippable) | 1.28TB |
| Preferred 150 | 150Mbps download, 10Mbps upload | $70/month | $60/month (1 year) | $84/month | $12/month (skippable) | 1.28TB |
| Ultimate 500 | 500Mbps, 10Mbps upload | $90/month | $80/month (1 year) | $100/month | $12/month (skippable) | 1.28TB |
| Gigablast | 940Mbps, 35Mbps upload | $110/month | $100/month (1 year) | $120/month | $12/month (skippable) | 1.28TB |
Cox offers a variety of plans with a variety of speeds at a variety of prices, and there are a lot of important ins and outs to consider. Let me start with one that's so critical, I'm going to write it in big, bold letters for you.
Your bill will go up after Year 1, no matter what
Cox offers promotional rates on its plans, and as of writing this, those promo rates will each knock $10 off the price of your monthly bill for the first year. The catch is that you have to agree to sign a one-year service contract in order to get the discount. That's fine: One-year contracts are typical in the ISP industry.
What's less fine is that your bill will shoot up at the end of that year, in some cases by as much as $26. That's not outrageous -- Spectrum's cable internet plans go up by $25 or $30 after the first year, and Xfinity cable internet plans come with an average increase of $40 in some regions -- but keep in mind that Cox plans start out more expensive than those of its competitors. And while Cox's website doesn't do a great job of making this clear, you'll see that price increase regardless of whether you accept the promo rate.
So, let's say you want to sign up for Cox's Preferred 150 internet plan, which nets you download speeds of 150Mbps. You can sign up at the regular rate of $70 per month with no contract, or you can accept the one-year service contract and bring the monthly cost down to $60. Either way, when that first year is up, your bill will go up to $84.
Bring your home up to speed with the latest on automation, security, utilities, networking and more.
At this point, there's a good chance you'll call Cox to complain or to try and renegotiate. Cox does not have an incentive to lower your costs. Instead, there's a good chance the clever salesperson will tell you that they can't offer you the same promo rate again, but they can offer you the promo rate on a faster plan. After all, you want a better deal, right? As it just so happens, you could be getting speeds of up to 500Mbps for $80 per month -- $4 less than you're paying right now for 150Mbps. Doesn't that sound good to you?
Here's the thing. That's another promo rate -- a fresh bait-and-switch -- and if you take it, the cycle starts all over again.
Look for yourself. It's no coincidence that each of those Year 2 rates shoots up to a monthly fee that's greater than or equal to the promo rate for the next most expensive plan. Like the nauseatingly busy carpets at a casino that nudge dizzy gamblers into stopping and sitting at a slot machine, the price structure is carefully constructed to confuse you into spending more money. Whenever someone with an expired promo rate calls to complain about their bill, it's easy for Cox to guide them into an even more expensive speed tier at a new promo rate. Doing so locks them in as a customer for another 12 months, and it dooms their bill to increase even more after that.
If you don't want to tumble down that slippery slope, then you'll need to accept that Year 2 rate and stick with it. That's a tall ask, given that Cox prices are on the high side. Take that 150Mbps Preferred plan, for instance, which costs $84 after Year 1. Cable competitor Xfinity offers a 200Mbps plan for $70 out of contract, and Spectrum offers a 200Mbps plan that costs $75 per month after the promo period expires. Both plans offer faster speeds for less per month than Cox.
What else do I need to know about Cox?
Cox's lineup of home internet plans gets confusing fast, and not just because of the promo shenanigans. There's other fine print to consider, including contract quirks, extra fees, data caps and more. Isn't shopping for an internet plan fun?
Additional fees
Though Cox doesn't specify the actual cost anywhere on its website that I could find, you'll need to pay an installation fee of $100 if you want a technician to get your home's internet connection up and running. You can skip this fee by ordering an Easy Connect self-install kit -- it's totally free, but you'll need to plug everything in yourself.
Cox also charges an extra $12 each month if you use its Panoramic Wi-Fi modem/router device. Starter, Essential and Preferred customers get a Wi-Fi 5, DOCSIS 3.0 device, while Ultimate and Gigablast subscribers get a faster device that supports DOCSIS 3.1 and Wi-Fi 6. In either case, you can order plug-in range extender pods to pair with your Panoramic Wi-Fi modem and router at a one-time cost of $130 per pod. Cox also commits to keeping your system's hardware and software up to date.
You can skip that $12 fee by using your own Cox-approved modem, along with a router of your own. I've also heard from Cox sales agents that it isn't uncommon for the company to lower that rental fee upon request.
"I've seen rental fees of $5 and personally, I have added that promotion when I have offered that to current customers," one agent told me in a recent chat. "So please feel free to ask for a discount on the modem if you rent it."
The other fee to be aware of is Cox's early termination fee. If you cancel your internet service at any point while under a one-year contract, you'll be charged $120. Make that $240 if you're under a two-year contract.
Panoramic Wi-Fi doubles as a public hotspot
One more important point of note here: If you use Cox's Panoramic Wi-Fi system instead of your own modem and router, it'll put out a second, separate network from your own home network that other Cox customers can use as part of the company's web of over 3 million publicly accessible hotspots. It's a separate stream from your home network, so it won't affect your speeds or data usage, Cox says, but it's something you should still be aware of -- especially because the feature is on by default.
"Panoramic Wi-Fi devices are enabled as hotspots, expanding Wi-Fi access to eligible Cox Internet customers," reads the fine print on Cox's website. "These devices are automatically enabled as Cox Hotspots upon activation. To disable this functionality, go to Privacy Settings on cox.com/myprofile and sign in with your Cox User ID."
I can think of plenty of people who wouldn't want strangers to be able to connect to the internet using the networking hardware in their homes. It's good to know that Cox customers can opt out, but it would be much better if the company sought their express permission before turning it on in the first place. If Cox is worried that too many people would say no, then maybe it can consider offering those customers a discount on their bill for participating.
The dish on data caps
Every Cox plan comes with a data cap -- and if you use more data than it allows in a given month, you'll start incurring extra charges. The cap used to be set at 1 terabyte per month (1,000 gigabytes), but when the pandemic hit and home internet usage soared, Cox did a nice thing and raised it by about 25% to 1.28TB (1,280GB).
That's pretty reasonable as far as data caps go. Internet usage is still climbing, but Americans went through an average of just under 400GB of data per month in 2020, according to Statista. Then again, here at my place, we ended up using about 1.3TB (1,300GB) of data in the month of May. Just keep in mind that my roommate and I both work from home and use the internet pretty heavily (I test routers here, for Pete's sake). Good thing our plan doesn't come with a data cap -- no such luck with Cox.
At any rate, once you've exceeded Cox's data cap, you'll be charged $10 for each additional 50GB block of data that you use, up to a maximum charge of $100. One nice surprise here -- if it's your first month breaking the cap, Cox will cut you a break, waive the charges and let you off with a warning.
"If it's your first month going over, you'll get a one-time, courtesy credit for each $10 charge on your next bill," the Cox website reads.
That's pretty generous of Cox -- especially since you won't see any such first-month mulligan from Comcast Xfinity, the other major cable provider that enforces a data cap. On top of that, Cox says that you don't need to worry about speed reductions once you've broken the cap.
"We don't throttle service [or] reduce speeds if customers exceed their usage plan," says a Cox spokesperson. "We simply work with them to get them on the best usage plan to meet their needs."
Cox internet bundles with unlimited data
| | | | | | |
| --- | --- | --- | --- | --- | --- |
| Plan | Max speeds | Promo rate (with contract) | Rate after contract | Equipment rental fee | Monthly data cap |
| Starter 25 (with Panoramic Wi-Fi, Cox Complete Care and Unlimited Data) | 25Mbps download, 3Mbps upload | $80/month (2 year) | $117/month | included | none |
| Essential 50 (with Panoramic Wi-Fi, Cox Complete Care and Unlimited Data) | 50Mbps download, 3Mbps upload | $90/month (2 year) | $138/month | included | none |
| Preferred 150 (with Panoramic Wi-Fi, Cox Complete Care and Unlimited Data) | 150Mbps download, 10Mbps upload | $110/month (2 year) | $156/month | included | none |
| Ultimate 500 (with Panoramic Wi-Fi, Cox Complete Care and Unlimited Data) | 500Mbps download, 10Mbps upload | $130/month (2 year) | $172/month | included | none |
| Gigablast (with Panoramic Wi-Fi, Cox Complete Care and Unlimited Data) | 940Mbps download, 35Mbps upload | $150/month (2 year) | $192/month | included | none |
So, does Cox offer any plans with unlimited data? The answer is yes, but only if you also bundle in Cox's Panoramic Wi-Fi modem and router rental and Cox Complete Care, which offers enhanced technical support. Doing so will add $50 to your monthly bill during the first two years, when you'll be under a mandatory contract, and $72 to your monthly bill after that.
On their own, the modem rental typically costs $12 a month, while Cox Complete Care costs $10 per month. So, what Cox is essentially doing here is pricing unlimited data at an extra $28 per month with a two-year contract, and then an extra $50 per month after that -- and the company forces you to add in the full-priced modem rental and Cox Complete Care fees in order to get it. That's not a great deal, as you could incur a couple of overage charges on a standard plan each month and still be paying less. Make that several overages each month if you don't care about Cox's modem or Cox Complete Care.
For instance, let's say you've subscribed to Cox's cheapest plan, Starter 25. It's already been a year, so your rate has gone up to $45 per month. You can keep paying $45 a month and face the ongoing threat of overage charges, or you can pay $80 per month to get unlimited data, plus the Panoramic Wifi router and Cox Complete Care. After two years of that, the bill would go up to $117 -- more than twice what you were originally paying. 
The unlimited data is the bait on the hook here, and Cox is using it to reel you into paying for additional services you might not have even wanted in the first place. Unless you're going to incur at least three overage charges per month, on average, you should skip the unlimited data bundles and just stomach the occasional penalties.
How does Cox rank on customer satisfaction?
Internet providers are far from popular to begin with, and Cox is a little bit below average in terms of its customer satisfaction track record. In 2021, the American Customer Satisfaction Index gave Cox a score of 63 out of 100, which was two points better than the year before, and worse than the overall ISP average of 65. Still, Cox's score tied it with Spectrum for second place among cable providers, and ahead of Windstream (61), Mediacom (60), Optimum (60) and Suddenlink (55). The only cable provider that outscored Cox in 2021 was Xfinity, which finished with a score of 67.
Meanwhile, J.D. Power also takes its own look at ISP customer satisfaction each year. Cox was included in three of the four regions surveyed in 2021 -- it did slightly better here overall than it did with the ACSI, but still ended with scores that were slightly below the overall average for the internet providers surveyed in three of those regions. 
We'll start in the East, where Cox finished with a score of 708 out of 1,000 -- slightly below the overall region average of 714, and behind Verizon (758) and Xfinity (725), but ahead of cable rivals Spectrum (676) and Optimum (655). 
Sours: https://www.cnet.com/home/internet/cox-communications-internet-review/
Similar news:
Cox Panoramic Wifi
Panoramic Wifi app supports CGM4141 and TG1682 Panoramic Wifi Gateways.

The Panoramic Wifi App gives you control over your home network like you have never seen before. It enhances your in-home wifi experience from Cox with new levels of personalization and control. Your app lets you easily manage all sorts of wifi options, including the ability to pause devices, set simple device names and see the top bandwidth users. You can manage your family by setting profiles, pausing wifi for dinner or bedtime as well as easier troubleshooting.

The Panoramic Wifi App is required for installation of Panoramic Wifi Pods.

Key App Features:
- Cox User ID: No extra passwords to remember, just control with your Cox Primary User ID and Password
- Manage your wifi network name and password.
- Device Naming: See what devices are connected to your wifi network and give them nicknames for easy reference.
- Profiles: Create profiles, like one for each family member, and assign devices to profiles
- Parental Control: Manage device profiles to set bed times or limit when the internet can be accessed. You can pause all the devices for dinner!
- Pause Wifi: Take any device or profile off the internet with a click
- Advanced Security: Protection for your connected devices
- Easy to Troubleshoot: Intuitive app tells you about errors without contacting tech support
- Pods: Add and manage Panoramic Wifi Pod extenders to reduce or eliminate dead spots in your home

Requirements:
- Cox Panoramic Wifi Subscription
- Cox Panoramic Wifi CGM4141 or TG1682 Gateway (check the label on the bottom of your Gateway for "PN: CGM4141COX" or "TG1682G")
- Cox primary user ID and password

Need Help Signing In:
- Create a Cox user ID and password: cox.com/register
- Look up your existing Cox User ID or reset your password: cox.com/password
Sours: https://play.google.com/
40044
40045
40046
40047
40048