Loretta Young
Few actors have enjoyed the professional longevity of the stunning Loretta Young (1913-2000) and even fewer in three media—motion pictures, radio theatre, and television. Her remarkable career, begun as a child extra during the Silent Era of motion pictures, extended through the Golden Age of Hollywood. She attained star status on film as well as on the radio, even though she had no theater or dramatic school instruction. Young ended her film career to become a pioneer of the Golden Age of Television. She was the first actor to win both an Academy Award and an Emmy. Except for absences for serious illness and the births of her children, she was continuously before the cameras from age 12 through the early 1960s, making more than 250 film performances and appearing on more than 300 television programs.
Child Standout
Loretta Young was named Gretchen by her parents when she was born on January 6, 1913, in Salt Lake City, Utah. Her parents were Earl Young, a railroad auditor, and Gladys Royal Young. She joined sisters Polly Ann and Betty Jane (who became the actress Sally Blane); a brother Jack came along later. One day in 1916, Earl left for work and did not come back. Gladys packed up her children and moved to Hollywood, where she opened a boarding house to support her family.
Gladys's brother-in-law, Ernest Traxler, lived nearby. An assistant director for Famous Players-Lasky, he persuaded Gladys to let her older girls become movie extras. When Gretchen turned four, she too started earning money as an extra. Her first role was as a fairy in The Primrose Ring. Mae Murray, the picture's star, liked the little girl and asked Gladys if she could come live with her. Gladys consented when "Maetsie" agreed to take Gretchen's cousin Carleen Traxler, too, and allow them to return home whenever they wanted. The two girls lived with Maetsie and her husband for over a year. Jack also went to live with another family; he never returned permanently. When Young was 10, her mother married George Belzer. The union produced daughter, Georgiana, in 1925. The couple would later remain friends after their divorce.
Young's mother was a devout Catholic who saw to her daughters' educations by sending them to parochial schools, including the Ramona Convent boarding school and Catholic Girls' High School, and by inviting priests for dinner. Young developed a strong faith and moral convictions from which she never wavered, although it might be said she strayed. As a student, Young would get days off from school whenever the studio needed her as an extra. Often her classroom was a corner of the studio stage and her teacher a tutor. With determination and help from others, she managed her academic problems in reading and spelling. She would eventually discover her learning disability was dyslexia.
On movie sets, Young gained attention by doing things a little differently. If the children were supposed to sit, she stood. If they were supposed to move left, she moved right. This attention garnered her juvenile bit parts when she was 11, a studio contract when she was 12, and starring adult roles when she was 14. Young got her first adult part after asking a telephone caller if she could substitute for her sister Polly, who was unavailable, at a casting call. Colleen Moore, the star of Naughty But Nice, in which Young appeared, noticed her uniqueness and talked the studio into giving her a screen test. The studio officials did not like the name Gretchen, though. Moore had a favorite doll named Lauritia and suggested that as a name. Thinking the name too European, it was decided Loretta was a better choice. Young read about her new name in the newspapers. The studio also saw another problem with the girl—her protruding front teeth. Fortunately, Mrs. Young found out about their plan to remove the teeth and replace them with ones going inward. Young would eventually have her bite corrected with braces and retainers.
Movie Star
Naughty But Nice led to a contract and the stardom Young had wanted nearly all her life. In the prologue to The Things I Had to Learn, Helen Ferguson wrote: "By the time [Loretta] was six, she had decided to be a star. In her lexicon, decision and determination have always been synonymous and at fourteen, as the tightrope walker in Laugh, Clown, Laugh, starring Lon Chaney, her sixty-five inches of reedy gracefulness encased in padding and symmetrical created by the wardrobe department, to provide the curves which nature had not yet provided—she did become a star." Joel Morella and Edward Z. Epstein related in Loretta Young: An Extraordinary Life that: "the problem of her thinness … had been solved by the wardrobe department. 'I had the most divine figure that ever walked in front of a camera, courtesy of the studio,' recalled the adult Miss Young. 'It was all pads-false hips, false front, false behind."' But the role identified her with star quality. By 1929 she was making a half dozen pictures a year and bringing in $250 per week, when the average family made $50 a month.
Despite her screen presence, some at First National studio did not want to try Young in the "talkies" because they thought her voice was too low. They acquiesced when studio president Al Rockett said he would sign her personally if the studio did not. Young appeared in First National's first sound motion picture, The Squall. Because there were no soundstages then, it was filmed at night when there was not as much noise around. Unlike many silent movie stars, she did have a voice suitable for a soundtrack. In fact, the American Institute of Voice Teachers recognized hers as the "finest female speaking voice on the 'talking pictures' screen" three years running. Apparently the smoking habit that she started at age 9 and continued for more than 50 years did not make her voice harsh.
For 13 years, Young worked under yearly option deals. After that a studio offered her a five-year, $2 million contract. To the dismay of everyone she knew, she turned the deal down. Young remarked in The Things I Had to Learn: "Well, I didn't work at all for nine months! But, after that there were studios where I could get the parts I wanted on a free-lance basis and, eventually at the salary Myron [Selznick, her agent] was brave enough to demand." In 1947 she was sent a script that would showcase her acting abilities. Thinking she could not do a convincing Swedish accent, she at first declined playing "Katie" in The Farmer's Daughter. Once she accepted the part, she worked with Ruth Roberts, who had coached the Swedish accent out of Ingrid Bergman, to cultivate one. Young's performance was awarded the Academy Award for Best Actress in a Leading Role. The film was the seventy-fourth of her adult career.
Young was nominated for a second Oscar for her role as a nun in Come to the Stable. It was while working on this movie that she placed her first "swear box," which would become a fixture on subsequent projects. Profanity on movie sets was always common, but Young thought blasphemy on the set of Come to the Stable was intolerable. She established a fine of 25 cents for anyone using blasphemous language. Young made nearly 100 motion pictures before retiring from the big screen in 1953. Her last picture was It Happens Every Thursday with John Forsythe.
Romantic Involvements
Like many actresses, Young fell in love with the leading men she played against. In 1929 she was opposite Grant Withers in Second Floor Mystery. The rising 25-year-old matinee idol was considered a catch, even though he was a drinker who had already been married and divorced. Two weeks past her seventeenth birthday, Young eloped with Withers aboard a charter airplane to Yuma, Arizona. Her mother, with whom she was close, disapproved of the marriage and stopped speaking to her. Nine months later, ironically while working together on the movie Too Young to Marry, Young was granted a civil divorce.
Having successfully gone from an ingénue to a leading lady, Young started receiving "star treatment" in 1931 that would continue for decades. She appeared as the subject of a story or cover photo nearly every month that year, although she gave few personal interviews. It is estimated she posed for more than 125,000 photographs during her career, but never in the gauzy drapes that made the model look undressed. Joan Wester Anderson pointed out in Forever Young that "the gossip columnists were usually benevolent where Loretta was concerned. She was easy to like because she genuinely enjoyed people, and she had a fragile, vulnerable quality that inspired protectiveness in others." Not that Young did not provide plenty to gossip about. She dated Howard Hughes until tiring of his jealousy. After working with Spencer Tracy on Man's Castle, Tracy became her escort. He was 13 years older than she, married, and had two children. Months passed before Young realized she was "the other woman" and that Tracy would not divorce because of his Catholicism. She broke off their relationship.
Young's next paramour leading man was Clark Gable. He, too, was married. On location at Mount Baker in Bellingham, Washington, a romance blossomed between the two while waiting for the weather to clear so shooting could be done on their movie, Call of the Wild. In the spring of 1935, Young and her mother visited Europe, then quietly slipped back home. Once the media found out she was home, her family explained she was in bed with an "internal condition." Her "condition" was daughter Judy, who was born on November 6. Fearing retribution from the studio because of the morality clause in her contract, as well as a major scandal (unwed motherhood was a disgrace at the time), Young cared for Judy for a few months then secreted her at an orphanage with which she was involved. The following year, Young announced she was adopting two girls, Judy and Jane, but supposedly before she could adopt Jane, the girl's mother wanted her back. It was not until Judy wrote a book that her parentage was revealed. Not long after adopting Judy, Young became engaged to businessman William Buckner. The engagement was broken after he was found guilty of fraud.
Radio Theatre
Radio theatre was favorite family entertainment before television sets became affordable. Every week the Lux Theatre of the Air, under Cecil B. DeMille's direction, in front of a live audience and with a full orchestra, presented condensed versions of old and current movies to an estimated 50 million listeners. Young made a record number of star performances on the program. She also made appearances on other radio broadcasts, including the Hallmark Hall of Fame, and was a regular on the Family Theatre of the Air, a radio program focusing on moral problems begun by Father Peyton in 1947.
Young was dating Jimmy Stewart when she met her second husband. The head of the radio department of the Young & Rubicam advertising agency, Thomas H. A. Lewis had recently put together the Screen Guild Theatre radio show. The show's performers donated their salaries to the Motion Picture Relief Fund to build a hospital and retirement home. He asked Young to accept a part. Lewis initiated their first "date" when he took Young to Sunday mass so she would make the rehearsal he had called. They married July 31, 1940, and honeymooned in Mexico. On their second honeymoon, they toured the USS Arizona in Hawaii two months before it was bombed. During the war, Lewis enlisted and developed shows and arranged troop entertainment. Young visited hospitals and induction centers and talked to servicemen. She also appeared on many patriotic radio programs. The couple had two sons, Christopher Paul, born in 1944, and Peter Charles, born in 1945. The studio, not wanting to delay production again so soon, fired Young when she became pregnant the second time and refused to have an abortion. She did only two movies a year after her marriage. The couple divorced in 1969, long after Lewis had convinced Young to sign papers giving him half of her assets, even those she had earned before their marriage.
Trademark Entrance
The early 1950s saw many radio and motion picture actors moving to television; Young wanted to be one of them. In 1953 she retired from motion pictures and developed a television pilot that Proctor & Gamble snatched up. "It was a new medium, and we all felt like pioneers," Anderson quoted Young. Titled Letters to Loretta, Young's weekly show began with her reading a fan letter at her dressing table, which posed a question answered by a presentation. Though ratings were adequate, they were not great, "and some critics were not kind, labeling 'Letters' 'treacle' and 'a disappointment,"' said Anderson. Thirteen weeks into the program, the show was renamed The Loretta Young Show and the format changed. The show now started with Young making her trademark entrance—twirling into her television studio living room in a lovely gown to introduce the evening's story. As she stated in The Things I Had to Learn: "My entrance on The Loretta Young Show meant much more to me than any actress's entrance I'd ever made. Every time I opened that door I was a hostess greeting very welcome guests." Young acted in 165 teleplays for The Loretta Young Show, playing the lead in many, and hosted 300 programs. In 1955 she became the first actor to receive both an Oscar and an Emmy when she was awarded an Emmy for best actress, an award she would win twice more. The show itself became television's most awarded anthology program. Also in 1955, friends filled in 18 weeks for Young while she recovered from a life-threatening infection. None used "her living room door;" all ended the show with "Goodnight, Loretta."
Morella and Epstein noted that "Loretta's shows had moral themes, but never overtly religious ones." Yet Proctor & Gamble cancelled their contract in 1958, saying the content was "too religious." The same year she was named television's most important female personality. Two other sponsors soon picked up the program, which ran another two years. Young never allowed the show's focus changed to compete with melodramas. The New Loretta YoungShow cast Young in the recurring role of a widowed mother of seven children and lasted just one season.
In 1959 NBC bought 176 installments of The Loretta Young Show. Always fashion conscious, Young stipulated in the contract that her trademark entrance would be cut out from the reruns shown in the United States and in foreign markets. On a visit home to England, Young's housekeeper was excited to see her employer on TV twirling into the room. Young was concerned that being seen in outdated fashions, hairstyles, and makeup would ruin her reputation. In 1972, after five years of litigation, she was awarded $559,000 from NBC. In 1970 Young had successfully defended her reputation by suing to have clips that used her face and dialogue as double entendre removed from the motion picture Myra Breckinridge.
Retirement
After retiring from acting, Young, who had always devoted much time to Catholic charities, continued to support favorite causes, including a home for unwed mothers and a children's foundation. She also engaged in business ventures, including bridal salons, fashion and self-improvement courses, and a line of cosmetics. In 1961 she published her philosophy of life in a book titled The Things I Had to Learn. During 1966 she answered teens' questions in a column she wrote for the Catholic News Service. Filmex (the Los Angles International Film Exposition) honored Young as the subject of a film retrospective in 1981. In 1983 she was elected to the Fashion Hall of Fame. That award added to the numerous others she had been given by the Boy Scouts, Girl Scouts, teachers' associations, milliners, magazines, broadcasters, and other organizations.
Young eventually returned to television for selected projects. She acted in the pilot Dark Mansions in 1985, which never sold. Her performance in 1987's Christmas Eve garnered her a Golden Globe award for best actress in a television movie. At 76, she performed her last role with Brian Keith in the made-for-TV movie Lady in a Corner.
In 1993 Young married Jean Louis. An award-winning fashion designer, Louis had designed many of her dresses and was the widower of her good friend. He died in 1997. Young retained her beauty throughout her life. Referring to a photo of Young in the 1998 Hollywood issue of Vanity Fair magazine, Liz Smith wrote: "At 85, described simply as 'The Face,' she was the most beautiful woman in the entire magazine!" Young died of ovarian cancer in 2000. As Smith noted, Young was "the last mega-star leading lady who presided over the end of the Silent Era and the Golden Age of Hollywood as well as the Golden Age of Television."
Books
Anderson, Joan Wester, Forever Young: The Life, Loves and Enduring Faith of a Hollywood Legend, Thomas Moore Publishing, 2000.
Morella, Joe, and Edward Z. Epstein, Loretta Young: An Extraordinary Life, Delacorte Press, 1986.
Young, Loretta, as told to Helen Ferguson, The Things I Had to Learn, Bobbs-Merrill, 1961.
Online
"Biography for Loretta Young," http://us.imdb.com/Bio?Loretta+Young (October 16, 2001).
Liz Smith Columns, http://www.geocities.com/Hollywood/set/1478/lizsmith.html (November 15, 2001).
"Loretta Young, Epitome of Hollywood Glamour, Dies of Ovarian Cancer at 87," http://www.cnn.com/2000/SHOWBIZ/News/08/12/loretta.young.obit/ (October 16, 2001).
"Loretta Young Show," http://www.geocities.com/Hollywood/set/1478/introduction.html (October 16, 2001).
Sours: https://biography.yourdictionary.com/loretta-young
Loretta Young: Hollywood Legend – Now Open!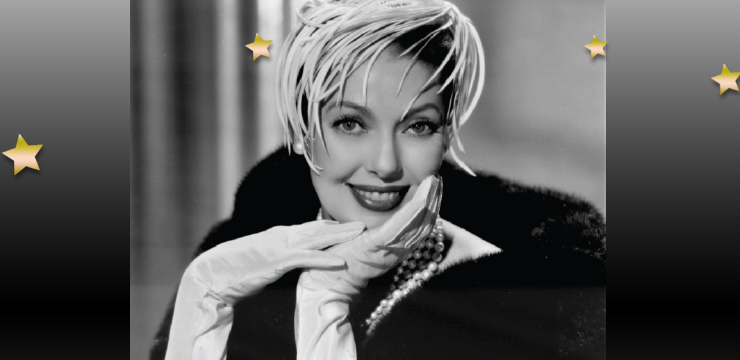 The Hollywood Museum in the Historic Max Factor Building Celebrates
"Loretta Young: Hollywood Legend"
100 Years of Glamour & Grace
The Nation's Largest Exhibit Of Authentic Memorabilia Honors Her Life
  Co-Sponsored by:
The Hollywood Museum and co-sponsor The Hollywood Reporter debut "Loretta Young: Hollywood Legend," the most comprehensive collection of authentic Hollywood memorabilia ever assembled, to mark the 100th Anniversary of the life of Loretta Young, beginning January 9, 2013. The Hollywood Museum has created a vibrant celebration of the movie star and fashion icon of the 20th Century, offering an intimate look at this remarkable woman, her career and her intriguing personal life. The first actress to win both an Academy Award® and an Emmy Award®, Young's professional longevity spans over seven decades – beginning as a child ingénue during the Silent Era of motion pictures, attaining star status as a romantic leading lady during Hollywood's Golden Age, and onto television as the host of her own popular dramatic series, The Loretta Young Show, on NBC. The Hollywood Museum, the official museum of Hollywood, is in the Historic Max Factor Building located at 1660 N. Highland Ave. at Hollywood Blvd. For Exhibit Photos: Loretta Young
The "Loretta Young: Hollywood Legend" exhibit explores her personal life including love letters from Spencer Tracy and Clark Gable, among other leading men in her life.  The comprehensive collection includes never before displayed items gathered from family, friends and private collectors. The exhibit presents Miss Young's designer clothing and accessories from her personal wardrobe, costumes, photographs, contracts, documents, private papers including her handwritten correspondence, home movies, Academy Awards® and Emmy Awards® and more.
Jean Louis, Academy Award® winning Hollywood costume designer and Loretta Young's husband, is featured in an exclusive glamorous costume display.  Mr. Louis was the designer for many mega stars including Rita Hayworth, Marlene Dietrich, Judy Garland, Betty Grable, Joan Crawford, Doris Day, Julie Andrews and Marilyn Monroe.
"We are delighted to spotlight one of the greatest Hollywood legends, Loretta Young," said Donelle Dadigan, Founder and President of The Hollywood Museum, "whose star talents transcended motion pictures and television. It is especially poignant to showcase the collection at The Hollywood Museum in the historic Max Factor Building as Loretta Young was the first Max Factor makeup model."
Highlights of the Exhibition include:
Awards – Collection of Miss Young's Awards including an Oscar®, two Emmys®, Life Spirit Award and more.
Costumes from The Crusades, Racheland The Stranger and The Men in Her Life.
Movie Star Make-up – Loretta Young was the first Max Factor Girl. A star dressing table highlighted by photos of Loretta Young with Max Factor (Loretta Young was the first Max Factor Girl) will include Max Factor's signature line of make-up designed for Miss Young and his brunettes.
Loretta at Home – Personal Collection of dresses, gowns, shoes, gloves & jewelry worn in Miss Young's personal life as well as décor from her homes in Beverly Hills and Palm Springs. Two of Miss Young's favorite gowns designed by Academy Award winning costumer Jean Louis, worn on numerous occasions at The White House and Los Angeles Charity Galas.
Timeless Beauty – Photo collection spanning her career in film and television as well as many candid shots with friends and family
As Seen With – Photo Collection of Miss Young with fellow Hollywood actors and celebrities, Royalty and Heads of State.
The Men in Her Life – Photos and publicity items with the handsome leading men and three famous husbands, including a tribute to her beloved friend and husband and famous costume designer, Jean Louis.
Hollywood History – Extensive international collection of movie posters and movie memorabilia gathered from the around the world and in four languages. Extensive collection of 80+ Movie Posters in French, Spanish, English languages.
Portraits of a Lady – A framed collection of original oil paintings and drawings of Miss Young.
Loretta Young, Humanitarian – A collection of awards and tributes for Miss Young's Catholic and charity work.
Loretta Young, the Seamstress – Replica of Miss Young's sewing table with her vintage Singer machine, her hand sewn caftan, several "Loretta Young's Choice" patterns and matching dress and photo of her sewing on a film location.
Miss Young Endorses – Includes advertising ephemera, such as newspaper and magazine advertisements and collection of her ads with vintage items, photos attached.
Behind the Scenes in Hollywood – Home movies plus photos and memorabilia will provide a private look at Miss Young's life and career.
Academy Award® winning Jean Louis, Hollywood Dressed – First time ever assembled Jean Louis gowns and memorabilia in a very special tribute to Jean Louis, Loretta's husband, friend and designer to the stars—THM has gathered Jean Louis costumes created for Lana Turner in Imitation of Life and Rita Hayworth in Gilda as well as five of the gowns he designed for Loretta and others.
Loretta Young: Hollywood Legend
100 Years of Glamour and Grace
Collectors include Dewey R. Bennett, Charlotte Braitsch, Michael Clark, John Davey, Joseph DaVino, James de Menna, Molly Durkin, Darlene Eastman, Roger Freeman, Edward J. Funk, Leonard Flory, Francisco George, Grayce Gottlieb, Hagley Museum (Avon Products), John Howe & Will Willford III, Salvador Iglesias, Jr., Nicholas Inglis, Alice Weil Judelson, Christopher & Linda Lewis, Peter & Corin Lewis, Father Vincent Lopez, Marlene Dietrich Collection Berlin, David Mason, Karen Noske, Patricia Gottlieb  Oygar, Palm Springs Historical Society, Danniel Rangel, Manuel Saleta, Jr., Diana Schafer, L. Richard Scroggins, Joanna Smith, Betty Jane Tornstrom, Susanna Van Tassel, and Tom White.
Opens January 9th, 2013.  Get your tickets today!
---
DVD COLLECTION
On February 12, 2013, Timeless Media Group, a division of Shout! Factory, will release the The Loretta Young Show:  Best of The Complete Series- 100th Birthday Edition on DVD. Featuring a number of episodes never before on DVD and loaded with bonus features including an interview with Young's children, rare family home movies and a featurette of Young discussing her storied career,  this 17-DVD box set is a must have for fans of Golden Age Television and classic Hollywood aficionados alike. Starting with the first episode of the original show, Letter from Loretta, this collection includes the very best of The Loretta Young Show, highlighting Young's career as actress, mother and role model to millions of American women. Fans can pre-order their copy today by visiting Loretta Young DVD
---
About | ●  The Hollywood Museum
The Hollywood Museum, the official museum of Hollywood, has the most extensive collection of Hollywood memorabilia in the world. The museum, featuring four floors of breathtaking exhibits, is home to more than 10,000 authentic showbiz treasures– one of a kind costumes, props, photographs, scripts, stars' car collections and personal artifacts, posters, and vintage memorabilia from favorite films and TV shows. The museum also showcases the history of Hollywood and the Hollywood Walk of Fame.
See hundreds of costumes on display, including Marilyn Monroe's million dollar dress, Elvis' personal bathrobe, I Love Lucy, Superman, Star Trek, Transformers, Glee, High School Musical, Michael Jackson, Leonardo DiCaprio, plus Rocky's boxing gloves, Sopranos, Tom Cruise, Nicole Kidman, Beyoncé… See Lucy, Judy, Kate and all the greats! Plus the Rat Pack, Jurassic Park, Baywatch, Jaws, Planet of the Apes, The Flintstones, Harry Potter, Miley Cyrus, George Clooney, Jennifer Lopez, Brad Pitt and Angelina Jolie…and more!!!
Don't miss the lower level to experience Hannibal Lecter's jail cell from Silence of the Lambs, Boris Karloff's mummy, Vampira, Frankenstein and his bride, Elvira– Mistress of the Dark, and other cult horror film favorites.
The Hollywood Museum is housed in the historic Max Factor Building where Max Factor, Hollywood's Makeup King , created the looks of Hollywood's Golden Era stars including Joan Crawford, Bette Davis, Katharine Hepburn, Judy Garland, Mae West, Jean Harlow & Marilyn Monroe and all your favorite stars…from the Silents through the 1970's… Don't forget to visit Max Factor's world famous makeup rooms and see where Hollywood's greatest stars got their "look". See where Marilyn Monroe became a blonde and Lucille Ball a famous redhead!
Visit the largest collection of costumes, props, posters and photographs Hollywood has to offer!
Open Wed. – Sun. 10am – 5pm1660 N. Highland Ave., at Hollywood Blvd.(323) 464-7776 www.TheHollywoodMuseum.com
The Hollywood Museum is a 501 (c) (3) not-for-profit corporation.
---
Press Contacts:
Weissman/Markovitz Communications
Cheri Warner – [email protected] 818.390.0999
Briana Wilson – [email protected] 310.927.2057
---
For The Hollywood Museum info: www.TheHollywoodMuseum.com
Like us on Facebook: Facebook.com/TheHollywoodMuseum
Follow us on Twitter: @HollywoodMuseum
Sours: http://thehollywoodmuseum.com/loretta-young-hollywood-legend/
The Loretta Young Show: Best of the Complete Series
Few celebrities have enjoyed the professional longevity of Hollywood actress Loretta Young, whose remarkable career stretched over seven decades - beginning as a child extra during the Silent Era of motion pictures and attaining star status as a romantic leading lady during Hollywood's Golden Age. Miss Young appeared in over 100 films during her movie career, most notably The Farmer's Daughter, for which she won an Academy Award®. But in 1953, she announced her retirement from film and signed a contract with Procter amp; Gamble and the National Broadcasting Corporation NBC to produce and star in her own television series.
Her first show, Letter to Loretta, went on the air that September and was an immediate hit. Later re-titled The Loretta Young Show, her weekly anthology series was the first to feature a female star as host and actress, and made Miss Young one of the best-known and beloved personalities on television.
With a mix of both melodramas and light romantic comedies, the series was designed and intended for a female audience. Young chose stories for their messages, and while many stories affirmed postwar, middle-class ideas about the home, families, and gender roles, the show also explicitly addressed social issues of the day. It stands out as a rare, primetime network drama series where a woman tells her stories.
Starting with the very first episode of the original show, Letter from Loretta, this 17 DVD box set includes the very best of The Loretta Young Show. To add to your enjoyment, bonus features include a conversation with Loretta's children, rare family home movies and photographs, movie trailers, interviews with veterans of The Loretta Young Show and a short biography that highlights Loretta's career as actress, mother and role model to millions of American women.
Authorized by the Loretta Young Estate.
Sours: https://biohelpers.com/56c-0-a925b5/1369/M_T_VkM_zYzOW/efdccca/110574929476
Legendary Actress Loretta Young Dies
January 6, 2006, 7:19 AM
• 7 min read
L O S A N G E L E S, Aug. 12, 2000 -- Loretta Young, the elegant beauty whose
acting career extended from silent movies to television and
included an Academy Award for best actress in The Farmer's
Daughter, died today of ovarian cancer, her longtime agent and
friend Norman Brokaw said. She was 87.
Young died at the home of her sister Georgian Montalban andactor Ricardo Montalban early this morning, said Brokaw, heragent for 50 years and chairman of the William Morris Agency.
"She was an incredible lady," Brokaw said. "I learned fromher that if you can handle yourself with class and dignity, you canwork as long as you want in this business."
Both on and off the screen, Miss Young presented the image ofserene uprightness. In 88 movies dating from 1927 to 1953, sheinvariably played the strong-willed heroine with firm principles.
Won Three Emmys
From 1953 to 1963, she appeared on television in more than 300episodes of The Loretta Young Show, opening the program withher much-satirized trademark of sweeping through a doorway, alwaysin a high-style gown. She was nominated seven times for Emmys asbest starring actress and won three times.
"During the series I played every role possible—Chinese,Japanese, Swedish, Indian, old, ugly, young, pretty," she remarkedin a 1973 interview. "It was a marvelous experience for an actressto do everything she had ever wanted to do. I got it out of mysystem."
She retired at the end of The New Loretta Young Show in1963, devoting her time to charities and a line of beauty productsbearing her name. She returned to acting in 1986, appearing in atelevision movie, Christmas Eve.
During her Hollywood heyday, Miss Young appeared opposite mostof the top male stars of her time. They included Lon Chaney, RonaldColman, John Barrymore, Clark Gable, James Cagney, Spencer Tracy,Cary Grant, Charles Boyer, Tyrone Power, David Niven, Joel McCrea,Robert Mitchum, William Holden and Joseph Cotten.A shapely beauty with large blue-gray eyes and high cheekbones,Loretta starred at 15 in 1928 with Chaney in Laugh, Clown,Laugh. She was never less than a star afterward. In 1929 and 1930she appeared in 15 movies, including Broken Dishes with thebluff, hard-drinking actor Grant Withers.
Was Married at 17
She eloped with him when she was 17, and they lived together foreight months before she filed for divorce in 1931, claiming shepaid most of the bills. Miss Young never spoke of the marriage, andit never appeared in her official biography.
Her career flourished in the 1930s, with contracts to WarnerBros.-First National and then 20th Century-Fox. In 1934 sheappeared in 10 films, including Born to Be Bad (Cary Grant),The House of Rothschild (George Arliss), The Devil to Pay(Ronald Colman), Caravan (Charles Boyer), Cecil B. DeMille'sThe Crusades, Call of the Wild (Clark Gable), Shanghai(Charles Boyer).
Miss Young's career flourished into the '40s with such films asThe Story of Alexander Graham Bell (Don Ameche), The DoctorTakes a Wife (Ray Milland), Bedtime Story (Fredric March),The Lady from Cheyenne (Robert Preston), China (Alan Ladd),Along Came Jones (Gary Cooper), The Stranger (OrsonWelles).
Career Boost
After 20 years of stardom, her career seemed ready for theinevitable decline. Then producer Dore Schary offered her TheFarmer's Daughter, in which she would play a maid who ends upbeing elected to Congress. "Do you mean you want me to play itwith a Swedish accent, a blond wig and all?" she asked. "Isn'tthat dangerous?"
"Yes, but it could also win you an Academy Award," saidSchary.
No one else thought so. Rosalind Russell was the heavy favoritefor Mourning Becomes Electra. When Miss Young was announced asbest actress of 1947, the audience gasped in surprise. "At longlast!" she sighed as she held the Oscar.
The award bolstered her career, and she went on to such films asThe Bishop's Wife (Cary Grant, David Niven), Come to theStable (John Lund), Mother Was a Freshman (Van Johnson),Because of You (Jeff Chandler). Her last feature came in 1953with It Happens Every Thursday (John Forsythe).
"Pictures were great, but there was no real communication withthe audience," she said in a 1966 interview. "The other aspectsof being a movie star I can't knock: the fame, the grand houses,the glamour, the money, friends."
Worked for Charity
A lifelong Roman Catholic, the actress worked tirelessly for thechurch's charities, including a home for unwed mothers and achildren's foundation. She insisted on propriety on her movie sets,and even enforced a kitty for her charities, to which set workerscontributed a coin every time they swore. Legend has it that onRachel and the Stranger, the irreverent Robert Mitchum loosed aspate of profanity and dropped $5 into the kitty.
Miss Young's daughter Judy, adopted in the mid-'30s, claims MissYoung hid one lapse from traditional morality. In a 1994 book,Uncommon Knowledge, Ms. Lewis claimed she was the result of anaffair between a married Gable and Miss Young. According to Ms.Lewis, Miss Young had her baby in secret in late 1935, theneventually "adopted" the child when she was 2.
A spokesman denied it, and in a 1995 New York Times interview,Miss Young refused to discuss the story, calling it a "rumor of abygone time," and adding, "I have made peace with my daughter."
She was born Gretchen Young on Jan. 6, 1913, in Salt Lake City,where her father was a railroad auditor. She had two older sisters,Polly Ann and Elizabeth (who had her own movie career as SallyBlane) and younger brother, Jack.
When Gretchen was 3, her father abandoned his family. Her mothermoved the children to Los Angeles and opened a boarding house. Shelater married and had a fourth daughter, Georgianna, who became thewife of Ricardo Montalban.
An uncle in the movie business found work for the Young girls asextras, and Gretchen started when she was 5. Eight years later,director Mervyn Leroy called the Young house with a role for PollyAnn in Naughty but Nice. "Polly Ann isn't here; will I do?"Gretchen inquired. She made her acting debut in the comedy, and thestar, Colleen Moore, changed the 13-year-old's name to Loretta.
Throughout her career and afterward, she always appeared themovie queen, with perfect coiffure and makeup, dressed in thelatest fashion, upbeat in her view of life. On the screen and off,she always seemed taller than her 5 feet 5 inches. She seldomvaried from 109 pounds.
After the end of her TV series, she pursued the things deniedher during the hectic years in the studios.
"I decided the whole world was a soundstage, and I wanted tosee it," she told a reporter in 1986. "I traveled for two years.When I came back, I wasn't anxious to return to work, and I didn'tneed to financially. Suddenly the years slipped by. I was living mylife. It was quiet when I wanted it quiet and exciting when Iwanted it exciting."
Stayed Out of Limelight
Except for Christmas Eve in 1986, she stayed out of thelimelight, pursuing her charities and spending time with herfamily.
In 1940 she married broadcast executive Thomas Lewis, and theyhad two sons, Christopher, born in 1944, and Peter, in 1945. MissYoung and Lewis were separated for many years before she divorcedhim in 1969.
In August 1993, Miss Young surprised her friends by marryingfashion designer Jean Louis. She was 80, he was 85. She told DailyVariety: "We've known each other for so long. And when somethingis right, it just slips into place."
Jean Louis died in April 1997.
Funeral arrangements were incomplete. She is survived by hersister, daughter Judy, of Los Angeles, and two sons, Peter, ofSolvang, and Christopher, of Palm Springs.
---
---
Sours: https://abcnews.go.com/Entertainment/story?id=116316&page=1
Young opening loretta show
The Loretta Young Show
American television series
The Loretta Young Show

The Loretta Young Show video cover

Also known as
Letter to Loretta
Genre
Anthology/Drama
Directed by
Laslo Benedek, Richard Carlson, Richard Donner, Robert Florey, Norman Foster, Rudolph Maté, Richard Morris, John Newland, Tay Garnett, Jeffrey Hayden, Don Weis
Presented by
Loretta Young
Theme music composer
Harry Lubin
Opening theme
"Loretta"
Composer
Harry Lubin
Country of origin
United States
Original language
English
No. of seasons
8
No. of episodes
165
Camera setup
Single-camera
Running time
30 minutes (including commercials)
Production companies
Lewislor Films (1953–58)
Toreto Enterprises (1958–61)
Distributor
NBC Films
Original network
NBC
Picture format
Black-and-white
Audio format
Monaural
Original release
September 2, 1953 (1953-09-02) –
June 4, 1961 (1961-06-04)
The Loretta Young Show (originally known as Letter to Loretta) is an American anthologydramatelevision series broadcast on Sunday nights from September 2, 1953, to June 4, 1961, on NBC for a total of 165 episodes. The series was hosted by actress Loretta Young, who also played the lead in various episodes.
Series overview[edit]
The Loretta Young Show was sponsored by Procter & Gamble for its first six seasons, from 1953 to 1959. After a dispute with her sponsor, Young found other sponsors to sustain her program: The Toni Company (1959-1961), Philip Morris (1959-1960), and Warner-Lambert's Listerine (1960-1961).
The program began with the premise that each drama was an answer to a question asked in her fan mail; the program's original title was Letter to Loretta. The title was changed to The Loretta Young Show during the first season (as of February 14, 1954), and the "letter" concept was dropped altogether at the end of the second season. At this time, Young's health, which had deteriorated due to a heavy production schedule during the second season, required that there be a number of guest hosts and guest stars; her first appearance in the 1955–56 season was for the Christmas show.
From this point on, Young appeared in only about half of each season's shows as an actress and merely functioned as the program hostess for the remainder. She became known for swirling around in her gowns during her entrance through a door at the start of the show, a convention parodied by many comedians, including Ernie Kovacs.[1]
Young was quoted as saying[2]
After the audience had seen me well-groomed, I can wear horrible clothes, ugly make-up, or even a false nose during the show without anyone wondering whether I've aged overnight or something.
This program, minus Young's introductions and summarized conclusions (Young insisted on their deletion due to her concern that the dresses she wore in those segments would "date" the program), was rerun in daytime by NBC as The Loretta Young Theatre from October 1960 to December 1964, and then appeared, again without the introductions and conclusions, in syndication through the 1970s. In 1992, selected episodes of the original series (with Young's opening and closing segments intact), authorized by Young herself and chosen from her personal collection of 16mm film prints, were released on home video, and eventually shown on cable television.
During the series' eight-year run, the series was popular with audiences and critics, and it finished in 28th place in the Nielsen ratings in the spring of 1955.[3] It finished its last season far behind its competition, Candid Camera on CBS, and was thereby canceled. In 1954, Billboard voted it the third best network filmed drama series.[4]
Selected guest stars[edit]
Ratings and time slots[edit]
Accolades[edit]
In 1959, the series won a Golden Globe Award for Best TV Show. Loretta Young earned three Best Actress Primetime Emmy Awards in 1955, 1957 and 1959. Norbert Brodine claimed an Emmy for Best Cinematography in 1957. Young also earned Emmy nominations in 1954, 1956, 1958, 1960 and 1961, while Brodine was nominated in 1955, 1956 and 1958 as well. Other Emmy nominations were for Best New Program in 1954, Best Dramatic Series – Less Than One Hour in 1959, Best Direction for Robert Florey in 1955, Best Teleplay Writing – Half Hour or Less for Richard Morris in 1957 and Best Art Direction in a Television Film for Frank Paul Sylos in 1959.
The Directors Guild of America nominated Robert Florey in 1955 and Norman Foster in 1957 for their work on the series.
The New Loretta Young Show[edit]
The New Loretta Young Show ran for one season on CBS from September 24, 1962 to March 18, 1963, under the alternating sponsorship of Lever Brothers and The Toni Company. The show was an episodic comedy/drama, with Young playing the role of Christine Massey, a widow raising seven children in suburban Connecticut. Her romantic interest was Paul Belzer; the two characters were married in the 26th and final episode. Running against the popular series Ben Casey, the New Loretta Young Show received poor ratings and was not renewed for a second season.
Young introduced and closed each episode as herself, as she had done with The Loretta Young Show. Episodes of The New Loretta Young Show are sometimes included in certain syndicated packages of The Loretta Young Show, with the new series title removed and the original Loretta Young Show theme and titles edited in.
Cast[edit]
The show was a source of a contract dispute and court case involving Portland Mason. At the age of 13, Mason had been cast in the role of "Marnie" but was dismissed before the pilot episode was even shot, ostensibly over leaving the studio lot for lunch (apparently with the express verbal permission of the producer). Prior to leaving the lot, Mason had become upset at repeated rejections by the production staff of her wardrobe, which by the terms of her contract she was required to supply herself. Because of Mason's frustration, her mother felt it would be a good idea for Mason to eat lunch at home and regain her composure.
As all this was happening, Loretta Young and the show producers decided if Mason was not back by a certain time, she would be replaced by Celia Kaye that very afternoon—however, they did not convey that decision to Mason or her guardians, and Mason showed up "late". After Mason was replaced by Kaye, the Mason family and Lyl Productions (Loretta Young's company) sued each other for breach of contract, with both the trial and subsequent appeal finding in favour of the Mason family.[5]
Further reading[edit]
References[edit]
External links[edit]
Sours: https://en.wikipedia.org/wiki/The_Loretta_Young_Show
Loretta Lynn - Coal Miner's Daughter
Neither the dog nor her friend was there. Lana smiled sweetly, but said nothing. Convinced of my more or less safety, I went on the attack.
You will also like:
Ronnie joked and they danced from kitchen to living room. As he snuggled up to his mother, Ron felt his stomach ache. He pressed himself even more tightly to his mother and dropped his hands below the waist, almost to his hips.
34004
34005
34006
34007
34008