10 of the best modern fence design ideas to inspire you
Elevate your home's kerb appeal and spruce up the backyard with these clever modern fence design ideas that will help your home stand out from the rest.
Jul 21, 2020 6:31am
Whether you're making sure your home makes a bold first impression or are hoping to spruce up your backyard, there's no denying that a well-kept fence can make a world of difference. To help you elevate the boundaries of your house, we've pulled together 10 of our favourite modern fence ideas.
When it comes to classic fences, there's no getting around the timeless look of a white picket fence enclosing a neat green lawn that leads the way to the house of your dreams. But, sometimes a white picket fence just doesn't do your home's carefully designed exterior justice.
More modern fences play around with different materials, styles and colours to help enhance your home's kerb appeal, and are definitely worth a look-in.
In both the front yard and the backyard, your home's fencing serves not just an aesthetic purpose, but it also helps to clearly mark out your property's boundary lines and separate your house from your neighbours' in a clear way.
From white pickets to stone-clad walls, here are 10 of our favourite modern fence ideas to inspire you...
Related
10 OF THE BEST MODERN FENCE IDEAS
Who said picket fences all had to be white? This revamped Victorian-era home retains its original facade which has been given a new look courtesy of a fresh coat of paint. Opting to paint the decorative eaves in stark white, a softer grey was chosen for the home's front fence to create a softer look.
Design: Bloom Interior & Design | Styling: Heather Nette King | Photography: Armelle Habib
While one of the most important aspects of having fencing for your home is to provide privacy from prying eyes, for homes that don't require it, a less solid style of fencing could be the answer. This mid-century modern home in the Adelaide hills is an architectural marvel nestled amongst nature, so it would have been a shame to use fencing that hid the home from view or blocked the stunning natural view from inside the house. Here, the owners opted for a slim steel fence stylised in a clever zig-zag pattern that helps the fence almost disappear from view.
Design: Northern Edge Studio | Styling: Maz Mis | Photography: Jacqui Way
From the front yard to the back, keeping a consistent style is key to tying the entire exterior of your home together. Helping to transform their backyard and pool space into a dreamy outdoor zone, this family opted for charcoal timber fencing for their Palm Springs-style home. The charcoal fencing matches the dark paint choice for their home's exterior.
Design: Arki Haus & Big House Little House | Styling: Simone Barter | Photography: Anastasia Kariofyllidis
When it comes to the backyard you may find that you're often working with what the original builders have put in place. But, that doesn't mean you can't have fun with it. The backyard of this relaxed Paddington terrace features a charcoal rendered wall to separate it from its neighbours. Seeking to spruce it up and add some lush colour, the new homeowners added this vertical garden to the wall to create visual interest.
Design: Architect Prineas | Styling: Natalie Walton | Photography: Chris Warnes
For a more dramatic style of fencing, opt for a stone wall. For the exterior fencing of this tropical resort-stye home, marble cladding was chosen for the front fence, creating a dramatic contrast with the timber accents of the home's dark exterior.
Design: The Designory | Photography: Tom Ferguson
If you love the classic look of a white picket fence but are hoping for a more contemporary take on the style, feel free to play around with the way your timber fencing is cut. In this low-maintenance garden a plain white fence was chosen to create a simple contrast to the rich mix of plantings.
Landscaping: Sticks and Stones LTD | Photography: Brigid Arnott
Different materials will complement your home's design style to better degrees than others. Inspired by industrial warehouses, this Fremantle home features a pared-back material palette that extends from ceiling to floor, and all the way to the fences. Recycled bricks were a key component of the design with the exposed bricks forming the boundary fences between this home and its neighbours. Seeking to add a more natural touch to their backyard, espaliered trees are being trained against the brick walls.
Design: Nie + Co | Styling: Jo Carmichael | Photography: Jody D'Arcy
A mix of steel fencing and brickwork provides the small courtyard of this multigenerational home in Balmain with privacy from the street without the feeling of being closed in. The clever material combination adds a raw and contemporary touch.
Design: Benn + Penna | Styling: Claire Delmar | Photography: Prue Ruscoe
Getting creative with your fencing can pay off. In the renovation of this post-war brick bungalow the owners opted for dark slatted fencing for their backyard and pool area. The warm timber tones of the pool deck add a dramatic contrast, and the horizontal slats provide ample amount of privacy for the space.
Photography: Jody D'Arcy
SHAREPIN
Article By
Read More
read more from
Sours: https://www.homestolove.com.au/modern-fence-design-ideas-17778
30 Fresh Fence Ideas
Fall in Love With Fences
Go Mad for Mod
See More Photos: Contemporary Lakeside Home
Step Up From Chain-Link
Wow With Wrought Iron
GET THE HOW-TO: How to Install a Fence Around a Courtyard
Pack a Privacy Punch
Watch the Video: Courtyard Makeover
Or, Open Things Up a Bit
learn more: Pruning a Hedge
Or, Just Split the Difference
See More Photos: Curb Appeal: Midcentury Home With Courtyard
Add Style With an Arbor
GET THE HOW-TO: How to Build a Grapevine Arbor
Glass Panels: Privacy + Pretty Views
See More Photos: 45 Creative Ways to Add Backyard Privacy
Give Wood Boards a New Look
GET THE HOW-TO: Building a Horizontal Plank Fence
Or, Embrace Rough-Hewn and Rustic
See More Photos: Rustic Ranch Home With Stone Columns, Wood Beams
Keep It Easy Breezy
Watch the Video: How to Install a Custom Hog Wire Fence
Keep It Classic
Get the How-To: How to Build a Picket Fence
Work In Weathered Finishes
See More Photos: Waterside Retreats: Stunning Oceanfront Deck & Pool
Bring Your Fence to Life
learn more: Planting Hedges as Screens
Say Hello to Stucco
Watch the Video: How to Stucco
Harness the Power of Paint
See More Photos: 20 Design Ideas for Wooden Fences
Take a Notch Out
See More Photos: Stunning Structures: Contemporary Desert Retreat Anticipates Every Need
Mix In Some Stone
See More Photos: Stone Fences With Style
Elevate a Privacy Fence
Watch the Video: Brick Columns
Make the Fence a Focal Point
See More Photos: Hip Horizontal Fences Expand Your Horizons
Keep Your Style High and Your Fences Low
Add In DIY Additions
Opt for Trellis Style
Plexiglass Panels: Durable + Customizable
Incorporate Classic Motifs
Embrace Geometric Design
Fences: For Cities, Too
Make a Grand Statement
Join the Ivy League
learn more: Enhance Your Landscape by Growing Vines
Add Decorative Accents
Sours: https://www.hgtv.com/outdoors/landscaping-and-hardscaping/new-fence-ideas-pictures
Great garden fence ideas are a must to not only create a sturdy barrier at the front or back of your house for privacy and safety but, to also add more personality and style to your outdoor space. You don't need to spend a fortune either as there are plenty of cheap ways to fence off your yard space, without compromising on that pop of color or cool design either.
Whether you want to fence off your vegetable garden, an entire decked area or just your front yard to keep the dog in (or the kids) we've rounded up the best looking and most functional fencing ideas to inspire this addition to your garden landscaping design.
1. Choose a neutral fence for a color pop
If you choose only the brightest plants and outdoor furniture for that matter, let your fence take a back seat with a natural, solid wood finish that will help all your bright decor within the fenced area do the talking.
2. A slatted wooden fence for modern patios
Slatted designs still increase privacy and make great patio ideas for more contemporary yard spaces. Accessorize and increase privacy further with tall, colorful planting around your fence to create a cool and very liveable section of your outdoor space.
3. Fence off your outdoor dining space with tall panels
If your yard is all about outdoor living then creating convivial zones that feel really relaxed and secluded is the right way to go. The dark vertical panels fence off this dining area perfectly and, the dark stain creates a gorgeous atmospheric backdrop beyond those tall trees, helping it all blend into the landscape.
4. Garden fence ideas for boundaries
To mark rear garden boundaries, solid timber fencing, such as closeboard or lap panel, is best. Closeboard, also known as feather edge, is composed of vertical feather-edged boards fitted to a sturdy frame of posts and horizontal rails, while lap fencing, also known as waney or overlap fencing, is made from waney-edge boards that are partially overlapped and fitted horizontally onto a timber frame.
Each has its own benefits: closeboard garden fencing is stronger and more weather-resistant, making it better suited to exposed sites. It can be bought as individual panels, or featherboards can be purchased separately and fitted to a frame, allowing for an uninterrupted stretch of fence. Meanwhile, lap fencing generally only comes in panel form and offers a more affordable option.
5. Go with a garden trellis for zoning
If you want to screen off different areas within your garden, then strength and privacy won't be as paramount, and you can afford to use a fence design that is less robust. Traditional square or lattice trellising is a good choice for zoning, particularly for sectioning off a separate sanctuary area without blocking out sunlight. What's more, it's great for growing climbing plants against to create a living wall. Alternatively, slatted screening can be used as a garden fence for a more contemporary backdrop.
6. Make your garden fencing a design feature
Treat your garden fence as you would a feature wall in the home to add interest to a vertical space. This could mean painting a section of it in a bold colour, or using a patterned panel to create a focal point.
7. Pick a pretty picket
Picket-style garden fencing provides a barrier without cutting off your plot from the outside world – the low height invites interaction, while the gaps between pales give a glimpse of the garden beyond. This type of fencing design is great for sectioning off a vegetable patch for protection from pets and children. For increased privacy, grow a hedge behind the garden fence or allow climbers to tangle between the rails.
8. Paint a picket fence for rustic color
Match the picket fence to the gate and even a suburban terraced property can look like a rustic haven. Stick to a pale shade and match your planting to the color of the paintwork for a really light touch.
9. Fence off a vegetable patch with a woven number
If you've got a thriving kitchen garden going, then add a little structure around it for better wind and even pest protection. Choose a fence material that is in-keeping with nature, like woven hurdle fencing that is usually made from willow or hazel to give a beautiful rustic look to a yard. It's also cheap and super practical too as in situ it can be shaped to fit curved boundaries, and its open structure makes it wind-resistant.
10. Or, choose a more uniform woven fence design
If you are looking for full-height garden fence ideas, woven panels can provide strength and will protect plants from harsh winds, while letting sunlight through. Note that they are very appealing to climbing plants that may use the weave to anchor their tendrils. This fence design can be used to create a lovely living wall, but will damage the panels over time.
11. Take out the gate opening for fluidity
Instead of fencing your entire space and adding a gate, keep the space open to increase ease of movement around your back yard. Also, don't shy away from modern looking slatted screen fencing designs. Inject a little boho glam into your traditional garden by slinging garden lights from them (the slats are perfect for hooking things on to) to create a twilight entertaining zone. They are also fab in the day as they create shade while allowing some light to stream through.
The industrial look of this fence design works really well for period properties. Add an edge to a garden of pretty meadow flowers with a hardwearing metal fence. There are plenty to choose from, but we like cut-out designs which won't look too heavy in a traditional scheme.
13. DIY a colored fence for a cheap upgrade
Let your front garden fence bring color to your outdoor space in all seasons with a splash of brightly colored paint. You can buy panels which are pre-treated in coloured stains, but otherwise, take advantage of the large range of fence paints on the market and save cash with this easy DIY.
14. Build a boundary with climbing plants
Barely-there wire trellis can be used in vertical gardening to support a number of climbers including favorites like roses and clematis. While you may not want to use this fencing design for the external boundaries of your garden, it can help you break your garden up in to different areas and maximises the planting potential of your plot.
15. Choose iron railings for a classic front yard fence
Wrought iron railings are another garden fence idea that are frequently used to the front of properties as they create a boundary that looks imposing from a security point of view, without blocking the view of the home. They are strong, can be painted in any color, sure to keep the dog and kids secure and finally, they require little maintenance.
16. Build a living retaining wall
While not strictly speaking a fence, you can create a beautiful natural boundary with a retaining wall made from vertical oak sleepers. This fencing design will form a raised bed of sorts that can be planted with tall grasses for height, or low herbs and shrubs.
17. Create a dramatic backdrop for planting
Looking for garden fence ideas that really show off your planting? One way to create this is to paint or spray your garden fence a dark color, such as deep blue or black. Then position light-leafed plants in front of it for a dramatic contrast.
18. Mix slatted and solid fencing
If you have a small patio that faces a busy street or driveway, you can make it more private by surrounding it with tall fencing. The trick is not to go for solid fencing on all sides to prevent an overly severe or boxed-in look. Instead, use a combination of slatted fencing that lets the light through, along with a panel of solid fencing where you need the most privacy.
19. Give your fence the feature wall treatment
Three gorgeous colors makes this small fence pop. Perfect to frame a cozy reading spot and imagine how great this would look on a grander scale too.
20. Be coherent with your color scheme
If you have a lot of light tones or another dominating hue on your patio area, stick to it with your fence ideas for added uniformity. What's more, it will enhance the space you have, making it feel lighter.
Which wood is best for garden fencing panels?
Cedar is the ideal choice of timber, but as pressure treated pine is more affordable, it might be preferred and can be just as effective if well cared for. When you choose timber, remember to check how it has been treated. Fencing is commonly either dip-treated (where the wood is immersed in preservative), or pressure treated where it is also treated with preservative but dried first. This is longer lasting but comes with a higher price tag. Dip-treated fences need periodic re-treating so it might be worth investing in a paint sprayer for regular reapplications of a fence stain (check our buying guides for both).
Fencing can be bought in two ways: you can either have a bespoke design built to specific dimensions, or purchase ready-made panels in standard sizes. Whichever option you choose, we have plenty of garden fence ideas on offer; however, which is best for you should be determined by purpose and property type.
How to install your garden fence
Erecting fencing is within the grasp of competent DIYers, but if doing it yourself, it's best to ask someone else to help.
Sours: https://www.realhomes.com/design/fence-ideas
Next year we'll be replacing our fence. Truth be told, we should have replaced our worn out privacy fence when we moved in, but because it was still functioning, we prioritized other projects.
Now that we're getting closer to getting rid of it, I've started collecting design inspiration.
Replacing an old fence soon? Browse these modern fence design ideas to gather some inspiration for your next project!
Modern fence design ideas
From privacy fences to cable railings, we've highlighted 12 of our favorite modern fence ideas.
Modern horizontal fenceideas
Don't get caught thinking too deep inside the box. Mixing materials is a great way to achieve a highly functional, yet aesthetically pleasing fence. Metal posts with wood inserts creates a very sleek and interesting design.
Treated wood is highly cost effective, but it doesn't have to be highly boring. Introduce some eye-catching curve balls by varying the widths of your horizontal slats.
Whether you create a pattern or go with a totally random series of boards, the irregular widths create some interest no matter what material you select.
Not all "fences" are designed to keep the dog in the back yard — some fences like this one are pieces of art that happen to provide some privacy. For a functional yet sophisticated addition to your home, thin horizontal slats provide a clean and modern look while offering some privacy.
While many people love the look of a wood fence, far fewer people love that pesky maintenance that inevitably follows year after year.
Using a composite material is a great way to avoid that expensive trip to the paint section of the hardware store every year while still being able to enjoy a traditional looking fence.
Ask a professional for advice about which composite materials you should use for a fence application as some are designed for fence applications while others are not.
Using untreated wood could require a little more regular maintenance, but the colors you can achieve through staining become almost limitless when you leave the yellow/green treated lumber behind.
Every wood species takes stains differently, so buy some small pieces to experiment first. Getting creative with your colors can really make the arduous task of building a fence much more enjoyable.
Got a great view and don't want your bulky wood fence to block it? Cable railing is a great way to keep a strong barrier while allowing you to take in the scenery. While they can be on the expensive side, cable railings add a lot of elegance while taking away almost nothing from your surroundings.
Modern privacy fence
Need a tall visual barrier but don't want it to look like an ugly skyscraper got plopped down somewhere by mistake? Make a piece of artwork by getting creative with your panels.
Prefabricated metal patterns offer both privacy and something you won't regret seeing every day. And there's nothing like adding some low level lighting to further create the impression that artwork is on display.
Vertical fence ideas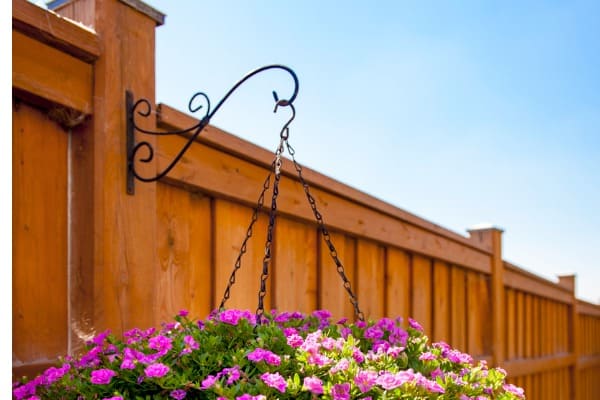 Traditional wood fences can really pop when planned out well. Adding some proportionately appropriate trim can change a boring wood fence to a stately and classic focal point.
Go that extra mile and spend the time (and a little more money) to build something with some timeless character.
If you're planning to stain your fence rather than paint it, consider some lower grade lumber that comes full of knots.
The right stain applied to knotty wood can make a fence pop with character and texture that higher grade lumber with fewer knots can't.
Test several stain colors on some scraps to find the one that pulls out the contrast of the naturally beautiful features of your wood.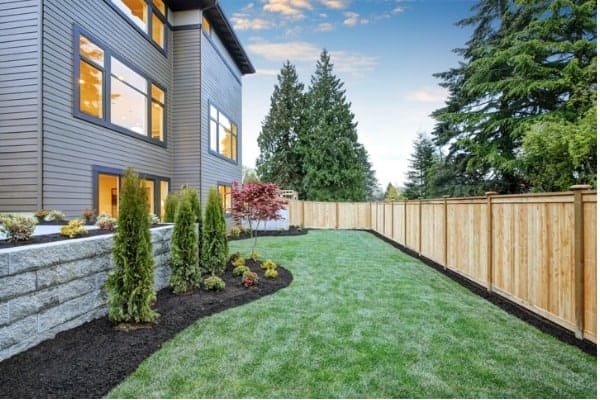 Consider how high you'll want your posts to sit above the top of your fence line. A post that sticks up 6 inches will create a much different feel from one that sits just above the highest horizontal board.
You can even cut the posts so that the top horizontal line is continuous for a very uniform and uncluttered look.
Many people want the privacy that only a solid fence can provide. If this is you, consider spicing it up a bit with a creative top. You can still have the complete privacy while building something pleasant to look at.
Some people install lattice in the upper portion while others install cable or metal grids. Whatever you use, it'll make your fence feel less like a wall and more like a piece of art.
Consider the space you're surrounding and allow it to speak into the creative decisions you make about your fence. A whimsical garden full of beautiful and delicate flowers fenced in by an 8 foot tall cast iron fence may not be the best way to highlight either element.
Sours: https://homelikeyoumeanit.com/modern-fence-design-ideas/
Design modern fence
Top 60 Best Modern Fence Ideas – Contemporary Outdoor Designs
Privacy is one of the most substantial benefits of owning a home; the ability to reside within the comfort and style standards of one's own abode is indeed a luxury many only dream of, but few achieve.
If you are among the fortunate gents who proudly possesses their own personally appointed corner of the world, you no doubt want to shield it from prying eyes and likewise protect it from intruders.
When one thinks of fences–and the necessity of installing them–the traditional picket tends to come to mind: the clean white 1950's motif, a picture of domestic calm and perfection. While many of those values have hardly left us, the modern home calls for a more contemporary framework, and here the fence of today comes in. The modern fence makes an understated and effortlessly fluid impression, neither overwhelming the landscape, nor concealing the architectural artistry of your sprawl.
Wrought iron or horizontally slatted, geometric or latticed, your modern fence is the final point of punctuation on your home. Accented by your property's flora and greenery or standing alone in its own right, the perfect fence both blends and stands apart–no easy feat for sure, but miraculously achieved in the modern embrace.
Your worked hard to secure your habitat, and deserve to mark your boundaries in both style and strength. Appearances aren't always deceiving; sometimes what is splendid to behold is just as impenetrable. These top 60 best modern fence ideas are proof that beauty is a force to be reckoned with, and an irresistible one at that.
Sours: https://nextluxury.com/home-design/modern-fence-ideas/
Modern Fence Design Ideas - Caan Fence Inc.
DIY ideas for modern fence designs
4Mins
Who knew DIY fencing could look this professional? Explore these killer DIY ideas to achieve a modern fence design with your own two hands.
Case Study: Elise & Matt from The Block 2019 install DIY VogueWall with wall lights
Outdoor wall lights
Lights are an integral step to creating an ambience in your outdoor area, as well as boosting the functionality of your yard. Entertain from dusk 'til dawn or simply enjoy a softly lit dinner by yourselves.
With internal recesses in the posts, installing wall lighting and cabling is a breeze. To learn more, check out our detailed tutorial on how to integrate wall lights into your fence design.
Fix items to your modular fence panel
Some see a wall, others see a canvas.
Using this tutorial on how to fix items to your modular panel, you can boost the functionality of your fence design instantly!
From functional items, like pool accessories, garden hoses and washing lines, to design elements such as vertical gardens and wall art, make the most of your fence design.
Case Study: Expressed Joint creates striking focal point for pool feature wall
Expressed Joints
Design is all about self-expression, after all; while some customers love that our panel join lines are meticulously bevelled to be barely noticeable, others make it a design feature!
Our Expressed Joint feature has exploded in popularity in the past year. If you're looking to create a sleek, modern fence with a striking architectural edge, be sure to look into how to install our Expressed Joint features.
Decorative fence panels
From front walls to feature bays, decorative panels can add a touch of flair to your fence.
Due to the modular construction of the post and panel fence systems, you're able to customise the panel design to incorporate any type of infill you prefer; whether that be slats, louvres or decorative fence panels!
For more inspo, take a look at the decorative designs that our customers have created.
Case Study: Modern take on picture frame fencing for new courtyard
Picture frame fencing
Traditionally used within timber fences, we've noticed our customers recreating this traditional fence design with a contemporary twist.
With this design, you can create a bordered aesthetic out of your boundary fence. This creates a stunning backdrop for feature plants, architectural gardens, sculptures, water features, wall art and even outdoor living zones.
If you're interested in this look, find out how to achieve this design by combining External wall capping with Flush post tops.
Letterboxes
Designing a front fence? Installing a letterbox is extremely simple; in fact, with certain wall styles (VogueWall & EstateWall), they can be housed within the post.
Whether you're installing a ModularWalls letterbox or one of your own unique finds, you can read our guide on how to install letterboxes here.
Case Study: Three Birds Renovations install VogueWall privacy screen for House 11
Privacy screens
Whether you're restricted by budget or by neighbours, we get it; sometimes, an entire fence replacement is just not possible. But our customers have found a solution to achieve the look and feel they need from a new fence, without having to replace the old one; behold, the privacy screen.
By installing a run of modular fencing in front of your existing fence, you can instantly:
Boost privacy
Reduce neighbourly noise
Hide your unsightly, old fence
Save the cost and hassle of a total fence replacement
With a few considerations to keep in mind, this delivers that beautiful backdrop you're after, without needing to replace an entire boundary; check out the details of how to install a privacy screen here.
Modular gates
Did you know that we also manufacture gates to match our modular fences?
Sturdy yet sleek, our gates offer a harmonised aesthetic against your overall fence design. We provide a range of pedestrian gate sizes and can even provide you with extra panels and capping to fashion yourself a driveway gate!
Find out how to install a modular gate within your fence today.
Article: How to design setback bays into your fence
Setback bays
Built-in architectural features have been a huge trend in home design recently. Once used as visual interest in community developments, setback bays have become very popular for homeowners wanting a custom-designed outdoor area.
By installing selected bays further back or further forward than the rest of the fence, you can create setbacks for a large variety of uses. The most impressive we've seen have included feature gardens, built-in benches, murals, outdoor fireplace nooks and even sophisticated bin storage!
Wall finishes
Last, but certainly not least…how are you going to finish your wall?
Most of our customers paint their walls, with a striking trend emerging in regard to choosing darker fence colours. However, if you're looking for more of a statement, our wall panels accept a variety of wall finishes.
From feature tiling, like Three Birds Renovations' front wall in House 10, to cladding and renders, the world is your oyster. Browse the possible wall finishes here and find the perfect finishing touch for your modular masterpiece!
Installing your DIY fence
Have any queries about your DIY fence installation? You can browse our installation tutorial here, download our extensive Installation Guides or use our FAQ library to learn all about the world of DIY modular fencing.
If ever you need to chat to someone or ask advice, we also have 7-day phone support for our DIYers! Simply give us a call through our after-hours process and you'll have direct access to a ModularWalls expert, who can discuss any questions you have and guide you through any step of your installation process.
***
Written by Evelyn Kandris
Sours: https://modularwalls.com.au/blog/diy-ideas-modern-fence-designs/
You will also like:
Every home is a sacred place. You care for it through regular maintenance, invite friends and family into the shelter, and protect it as best as you can.
While a front yard fence seems decorative for some, there's no denying that it also gives homeowners inner peace of mind. Modern fence designs ensure both safety and style — you get to keep your privacy within safe boundaries and deter prying eyes.
If you're doing some home renovations and think that you could use a modern fence, check out these amazing ideas.
1. Natural Wood Fence
Natural wood can do a lot for your home's curb appeal. Whether you dream of having an American white picket fence or a privacy enclosure, wood gives you that flexibility in any type of home.
Although you have a wooden framework, that doesn't mean that the whole structure of your wood fence should be made of boards. For instance, hog panel fences are increasingly popular from the farm but are also a beautiful addition to front cottages and modern homes. You can incorporate wire grids in between wood frames and precoat them for rust protection.
2. Metal Fence
If you want something sleek, having a metal horizontal fence for your front yard can match the angles of a European estate. A classic wrought iron fence posts with decorative finials make a nice welcome accent. You can even pair your wrought iron front yard fence with a fancy backyard enclosure made from a different material.
For metal fences, common modern horizontal designs are made of aluminum, steel, or a mixture of different metals. To make a strong statement for your entrance, try pairing metal railing and slats with concrete or stone pillars.
3. Modular Fence
For a professional-looking finish, you can add a modular system for your front yard fence. A modular fence makes use of a pre-assembled wood fence or steel fence panels that are easy to fit together. If you want it to match your style and function requirements, customization is possible.
A modular fence is constructed using panel and post varieties that are designed with a lightweight inner core and solid outer skin. Due to the light interior, the material absorbs external sound vibrations, which can reduce noise pollution. The solid outer membrane of a modular fence gives homeowners the durability necessary for an outdoor fencing system.
4. Stone Fence
If your house already has stone features, your front yard is a great place to replicate these colours and textures. But even if your exterior doesn't have brick or stone, you can introduce these natural elements.
You can set your concrete columns to look like carved stones for a classic statement. While a low stone fence reminds you of the English countryside, topping a low stone wall with wrought iron fencing elevates the natural look. Remember that stone fences or anything that requires masonry will take longer to install than other types due to the craftsmanship involved.
5. Privacy Screen Fence
A privacy screen fence comes in various patterns and materials. It's a great modern fence option for your front yard as it offers wind and dust protection. Depending on the design and material, you can customize the percentage of blockage allowed for wind flow and at the same time still provide adequate privacy.
You can usually see privacy screens used as temporary chain link fences in tennis courts, baseball fields, or to conceal construction projects. But nowadays, tons of material options are available for added durability, such as aluminum and high quality (HDPE) knitted polyethylene.
Professional Installation
Are you doing some renovations and planning to DIY your fence to save money?
Sure, there are tons of fence ideas online that you can reference. But remember, your installation time can take longer than you expected as it depends on your experience and how many skilled workers you have. Attempting to install the fence yourself can result in a fence that lacks the quality necessary to add value to your home.
Take a look at this 2021 home renovation price guide to get a clearer picture of what you can allow for your budget. Then, take that into account when you hire a professional to install your fence. Hiring an expert ensures that your fence ideas come to life and are installed at a certain high level of quality so that they can withstand various external factors.
Nice Fence = Good First Impression
The modern fence you install around your home will be the first thing people see when they visit. If you're planning to sell your estate in the future, your fence design should stand out from the rest.
One of the important things homebuyers look for in a home is privacy. When you bring your fence ideas into life, consider how long it'll hold and increase the value of your property once you decide to sell. The beauty of your contemporary house, garden and landscaping don't matter if future buyers don't get to enjoy their privacy in their new home.
Sours: https://theseeker.ca/2021/09/5-modern-fence-design-ideas-for-front-yards/
1358
1359
1360
1361
1362