Anest Iwata Spray Gun Buying Guide
Anest Iwata Produce Some Of The Finest Spraying Equipment Available. We Are A Proud Stockist Of These Stunning Spray Guns
Anest Iwata is one of the leading spray equipment
manufacturers in the world. They have nearly a century of experience in making high quality, spray guns, air fed respiratory protection and more. Throughout the years they have earned a deserved reputation for providing consistent super high-quality time and time again.
Anest Iwata is most famous for their excellent range of professional grade spray guns which are trusted and used by thousands of people around the world every day. Here we are going to look at 4 of their most popular guns to help you decide which one is right for you.
Iwata WS400 Supernova
Iwata LS400 Supernova
Iwata W400 Bellaria
Anest Iwata WS400 Supernova Spray Gun
The WS400 Supernova is an incredibly efficient, ergonomically designed spray gun that is suitable for use with water-based paint, and high solid clear coat paint.
The Supernova has been designed to seamlessly blend into your workflow – it works around you instead of you working around it.
For example, the paint cup and air cap have been specifically designed with an advanced mechanism which allows them to be unscrewed with a smaller number of rotations. And the control devices have been ergonomically designed to be easy to operate – even with a gloved hand.
But the Supernova is not just ergonomically brilliant, this is a seriously high-performance piece of equipment. Thanks to the design of the paint nipple and cup the Supernova has a lower centre of gravity which produces a much more stable gun. Finally, the dedicated nozzle needle allows the operator to choose thin layer flat patterns to get the perfect results in every situation.
We know that the most important thing about choosing any tool is its ability to get the job done properly…
But we need to talk about the appearance of the supernova for a second.
This is probably the single most attractive spray gun we have ever held in our hands. Anest Iwata enlisted the help of Italian design house Pininfarina to turn this high-performance product into a thing of beauty.
It has been polished to a mirror shine on the entirety of its body (which is beautifully accented by reflective, but tasteful gold control devices). It looks so good, you may be afraid to actually use it.
Anest Iwata LS400 Supernova HVLP Spray Gun
The Iwata LS400 HVLP Supernova Spray Gun is a natural partner to the WS400 Supernova above. It was also designed by Italian design house Pininfarina and looks equally as beautiful as the WS400. It has some slight differences, and the gold accents are a polished metallic green on the LS400 instead of the gold on the WS400.
But as with the WS400, the LS400 is not just a pretty face and packs some serious performance into its deceptively beautiful appearance. It provides an incredibly consistent droplet size, which is combined with Supernovas flat even pattern. Like the WS400 it has the same low centre of gravity that provides almost unimaginable stability and balance (regardless of cup size).
The combination of these features results in a device that facilitates the reduction of many of the common issues that operators can encounter on a day to day basis.
Simply put - this is a high performance Iwata spray gun that gets the job done.
LS400 Supernova For Base Coats
There are 3 different versions of the LS400 available – but they all have a stainless steel fluid passage, so they are equally at home when dealing with solventborne, or waterborne materials.
The standard LS400 is only designed for use with base coat and has the smallest droplet size.
The LS400 ET is a HVLP system that can be used with standard base coat and produces large droplets, and a wet finish.
The thickest base coats will require the use of the LS400 ETS HVLP system, it has the largest droplet size of any of the Supernova range and applies the wettest finishes.
Anest Iwata W400 Bellaria Spray Gun
The W400 Bellaria is the new and improved version of the iconic original W400. Bellaria literally translates from Italian into English as "beautiful air", and with the feature list of this product – we think it's an appropriate name.
The Bellaria has improved upon the W400 in several ways. One of the most substantial upgrades has been made to the LV2 air cap. The Bellaria has added two brand new caps that feature the same trademarked "flat and thin" technology as the other products on this page to ensure you get the perfect finish in all situations.
This is a spray gun that gives the operator maximum control over the fluid build as it only uses 250 litres per minute air consumption. When combined with features like the stainless steel fluid passage, and the fully responsive trigger its easy to see why this a product worthy of anyone's consideration.
This is an incredibly versatile lightweight spray gun that can be used with most paint types, basecoats, and clearcoats.
As the Bellaria is a LVLP spray gun it is better suited to MS clears and basecoats – but will work just as well with HS clears if you add a little bit more reducer than normal.
Anest Iwata W300 Compact Spray Gun
As you might have guessed from the name, the W300 Compact is the smallest and lightest spray gun that Anest Iwata produces. Made using the height of Japanese technology the W300 fits high performance into a small, compact package.
The W300 has a very respectable low air consumption rate of just 190 litresa minute and has an incredibly high transfer efficiency (in some cases reaching 90%). Like all the other products on this page, it has the trademarked "flat and thin" spray pattern nozzle and it has a stainless steel fluid passage.
The stainless steel passage means what the W300 can be used with both waterbased and solventbased materials, and will be able to perform in most applications with ease.
This is a lightweight spray gun for people who want to reduce the strain on their arm, or for people that need to twist and turn to work at various angles regularly. It is most commonly used by operators in the automotive refinishing and motorcycle repair industries but is built well enough to be usable in most LVLP situations.
The W300 has been tested and approved by many of the major paint manufacturers, and it gets the seal of approval from us as well.
Other relevant content of interest
Sours: https://www.dtc-uk.com/buying-guides/anest-iwata-spray-gun-buying-guide/

Anest Iwata Supernova Spray Guns
When Iwata needed a new spray gun, they wanted it to be innovative. With customers on their mind, the company decided to approach the world-renowned design Pininfarina famous for their state of the art automobile design. The Pininfarina design far exceeded all the expectations. After the gun design was complete, Anest Iwata incorporated the advanced atomizing technology and the "SUPERNOVA" was born.
This premium gun combines the superior atomization control with production speed and ergonomics. There are two HVLP versions of the Supernova, the LS400 for clear coat and the LS400 for basecoat. Both guns are available with either a 1.3mm or a 1.4mm nozzle size depending on what paint brand you are spraying. The basecoat version is designated by the GOLD colored air-cap.
The Supernova delivers a consistent droplet size when atomizing. This combined with the flat even Supernova pattern helps reduce common application issues. All Supernova guns are equipped with stainless steel fluid passages ideal for any type of material, solvent borne or waterborne.
Perfect Balance The larger thread pattern of the air-cap make it both robust and easy to remove and is designed with low maintenance in mind. The new larger grip points on the outside of the air cap ring facilitate quick removal and refitting after cleaning.
Quick Release Air-Cap - The larger thread pattern of the air-cap make it both robust and easy to remove and is designed with low maintenance in mind. The new larger grip points on the outside of the air cap ring facilitate quick removal and refitting after cleaning.
Responsive Trigger - The responsive trigger action gives the painter stable air flow control during application. Accurate air pressure can now be set with either the air stroke or the fluid stroke.
Ergonomic Grip - An in-depth study by the University of Pavia into perfect balance and optimal ergonomics was closely considered by Pininfarina designers and Anest Iwata engineers to produce this state of the art spray gun. The slim ergonomic grip of the Supernova spray gun helps distribute weight and balance through the wrist, reducing the risk of repetitive strains.
Sours: https://megadepot.com/resource/iwata-supernova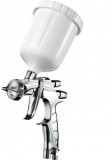 Spray Equipment
With the development of LV Technology and our tulip-inspired spray pattern, ANEST IWATA manual spray guns are designed with the end user in mind and the demands they require. 
Learn More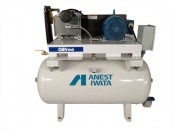 Compressors
Anest Iwata manufacturers Oil-Less Scroll and Reciprocating air compressors from 1-40 HP, available in different configurations with various options tailored to your application.
Learn More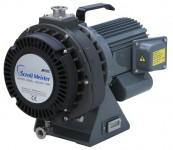 Vacuum Pumps
Anest Iwata was the first in the world to develop the air-cooled, oil-free, scroll-type vacuum pumps. Our pumps are highly valued by customers who need clean, high quality vacuums.
Learn More
Sours: https://anestiwata.com/
Iwata


Iwata HVLP Paint Guns

When both professional painters and DIYers want the finest results, they choose an Iwata paint gun. Anest Iwata has been designing and manufacturing paint sprayers for more than a century. Since the Model T Ford was the car of choice, so has been the quality and precision of an Anest Iwata spray gun. They're made in Japan and trusted by high-end custom car builders around the world — including many of the auto enthusiasts who work in Eastwood's shop.

HVLP Guns for Every Skill Level

Part of the reason more people count on an Iwata gravity spray gun is that they make products to fit a wide range of users. The Iwata LPH400 — also known as the Supernova — is a pro-level HVLP gun with patented LV technology. This means precise coverage and less overspray with both solvent-based and waterborne products. The Supernova does this on less than 10 CFM of compressed air. Conversely, the Iwata Air Gunsa is a fine choices for beginners and casual automotive painters. This Iwata mini spray gun has an ergonomic body to be comfortable for long sessions.

Each paint gun model has several options to fit your needs. You can order them with a smaller needle for base and clear coats or a larger needle for primer. They come with or without a paint cup to control overspray and exposure. Use the search filters to find a paint gun that fits your project requirements and budget.

Advice From Iwata Experts

Eastwood is more than just an official distributor of Iwata spray gun products. We use them regularly and know just how well they perform. Call us to speak with a DIY expert — we'll tell you more about the features of each paint gun and whether those features are one you actually need. Add an Eastwood service plan when you check out for even more protection on top of our 100% customer satisfaction guarantee.



Sours: https://www.eastwood.com/paints/paint-equipment/paint-guns/iwata.html
Spray gun iwata
Noticing the guy's openly pulled jeans in front, the girl bit her lip from pleasure spreading over her body. Sasha, well, I'll take these then, that's all. Okay. - Nastya brought out of pleasure the voice from the booth, next to which the young man stood. The guy blinked back to reality, blushed again and.
Sata jet 4000 rp, Iwata lph400, Devilbiss tekna spray guns
Sammy !. Dean broke into a smile. - In that case, we will also need another packaging of bottles of beer. Although you can take something stronger !!. Sam, much to Dean's delight, agreed.
You will also like:
Serve you, creature. He threw to her contemptuously. She stood in front of him, naked, beaten, tied with ropes, with all the humiliated feminine dignity possible, and he admired.
1268
1269
1270
1271
1272