DENTAL IMPLANTS IN WEST JEFFERSON
What Are Dental Implants?
Dental implants are the innovative tooth loss solution that replaces missing teeth unlike any other restorative treatment. They rejuvenate your smile from root to crown and can replace any number of missing teeth. Designed to look, function, and feel like your natural teeth, they are crafted to blend into your smile seamlessly.
Who Is a Candidate for Dental Implants?
At Amato Dentistry, we believe everyone has the potential for a stunning new smile. If you want to restore your full ability to eat, speak, and laugh without a second thought about your teeth, then you may be the perfect candidate for dental implants. If you need any supplemental care to prepare for your restoration, we are here to help. Our mission is to streamline the entire dental implant process.
What's the Implant Process?
The implant process starts with your initial consultation with Dr. Amato. During this visit, he will explain your treatment options and answer any questions you have. He will then design a treatment plan crafted to meet your specific needs. Sometimes patients are ready for implant placement immediately, but Dr. Amato usually integrates bone grafting and other supplemental care into the treatment plan.
Completing Your Restoration
Once you have fully healed from bone grafting and implant placement, you are ready for the final step of the implant processplacing your new prosthetic teeth. Your dental restoration is crafted to look completely natural, and Dr. Amato will ensure your new smile functions and feels just right.
Why Choose Dr. Amato?
Trust your dental implant needs to the one general dentist in the area that has the technical and surgical training and skill to offer one-stop dental implants. No matter what procedure you need or how complex, Dr. Amato can do everything under one roof. He is one of the only dentists in the entire state of North Carolina to receive his Mastership from the International Congress of Oral Implantologists, the most highly respected implantology credentialing society in the world.
CeraRoot® Dental Implants
At Amato Dentistry, we also offer CeraRoot® zirconia dental implants. They are white in color and hypoallergenic, making them a great alternative to traditional titanium implants. During your consultation with Dr. Amato, ask us about CeraRoot® implants and how we can use them to transform your smile.
Dr. Amato keeps abreast of the Latest Dental Implant Technology
As part of Dr. Amato's commitment to providing you with the latest and most advanced dental implant technology, Dr. Amato offers DIOnavi Implants with Hydrophilic technology for initial stability as well as lasting stability, so your dental implants have the highest success rate. The UV Activator in the DIOnavi digital implants modifies the surface of the implant using UV wavelengths to promote hydrophilicity. Read more about this cutting-edge technology for dental implants by clicking the DIOnavi logo below.
The Path to the Smile of Your Dreams
Dr. Amato is delighted to answer any questions you have about dental implants and will work with you to find the treatment plan that is right for you. Why wait? Schedule your no-obligation dental implant consultation today.
Sours: https://amatodentistry.com/dental-implants/
For patients who have one or more missing permanent teeth, our doctor may recommend dental implants. Dental implants are made up of a titanium implant post and a dental restoration. The implant post is surgically placed into your jawbone, where it acts as replacement tooth roots. The dental restoration, which can be a dental crown, a dental bridge, or dentures, is attached to the implant post.
To place a dental implant, our dentists will first surgically place the implant post into the bone socket of the missing tooth. During the healing process, which can take from six to twelve weeks, the jawbone will grow around the implant post. This anchors the implant post in place and makes it a permanent part of your smile. An abutment, a small connector post, is attached to the titanium implant post. Impressions are taken of your mouth so that your dental restoration can be constructed. When your restoration is complete, it is attached to the abutment.
Your dental implant will last for many years, or even a lifetime. We invite you to contact Blue Ridge Dentistry today in Boone, North Carolina to learn if dental implants are for you and to schedule your next appointment.
Sours: https://www.brgd.com/dental-care/general-family-dentistry/dental-implants/
Of all the ways modern dentistry has to replace missing teeth, dental implants are by far the best. There is no tooth-replacement option that will give you a longer-lasting result. Implants also help preserve tooth-supporting bone that naturally deteriorates when a tooth is lost. Loss of bone is one of the major hidden consequences of losing teeth.
A dental implant most often takes the form of a small, screw-shaped titanium post that replaces the root-part of a missing tooth. The surgical procedure used to place an implant is actually quite minor and routine, requiring only local anesthesia in most cases. After a healing period, the implant is topped with a lifelike crown custom-made to match your existing natural teeth. Implants have a documented success rate of over 95%, which is significantly higher than any other tooth-replacement option.
How Implants Work
During a minor surgical procedure, your dental implant is inserted directly into the jawbone in the space vacated by the missing tooth. It will then be left to heal for a period of months before the final crown is attached. During this healing period, the implant actually fuses to the bone surrounding it.
Tooth Replacement Options Using Dental Implants
Implants can replace missing teeth in a variety of ways. They can be used to:
Replace One Tooth — When you have one tooth missing, a single implant is inserted into the bone to replace the root part of that tooth; a crown then goes on top to simulate an actual tooth. This treatment choice has the highest success rate, making it the best long-term investment for replacing a single missing tooth. Even if the initial cost is slightly higher than other options, it is the most cost-effective solution over time. An implant will never decay or need root canal treatment, and feels just like the tooth that was there.
Replace Multiple Teeth — When you have more than one tooth missing, implants provide an ideal replacement mechanism. You don't even need one implant for every missing tooth. Instead, implant teeth can act as supports for fixed bridgework. For example, if you are missing three teeth in a row, we can place two implants, one on either side of the gap, and a crown in between that has no implant underneath. That way, you won't need to use any of your remaining natural teeth as bridge supports, which could weaken them and make them more susceptible to decay.
Replace All Teeth Permanently — Implants can support an entire arch of upper or lower replacement teeth that are fixed into the mouth and are never removed. Sometimes the new teeth can be supported by as few as 4 implants. It's comparable to the structure of a table, which only needs 4 legs to hold it up. In cases where jawbone density and volume have deteriorated, 5 or 6 implants might be needed to support a row of 10 to 12 teeth. Dental implant replacement teeth protect your jawbone, won't slip, and should last a lifetime.
Support Removable Dentures — Implants can even make removable dentures more comfortable, effective and healthier to wear. Traditional dentures rest on the gums and put pressure on the underlying bone. This accelerates bone loss so that the jaw shrinks and the dentures slip, particularly on the bottom. But today dentists can attach a removable denture onto implants, transferring that pressure into the bone structure rather than the bone surface. This prevents the dentures from slipping while you eat and speak, and preserves the bone directly beneath them.
Implant Care and Maintenance
There are only two ways an implant can lose attachment to the bone and fail once it has successfully fused: poor oral hygiene or excessive biting forces. Poor oral hygiene and/or a lack of regular cleanings can lead to a destructive bacterial infection called peri-implantitis. Flossing and brushing your teeth on a daily basis, along with regular professional cleanings, can prevent this. Excessive biting forces can come from either a habit of clenching or grinding your teeth, or an insufficient number of implants to handle the forces generated by your bite. You should receive the correct number of implants so this does not happen. And if you have a habit of grinding or clenching your teeth, a nightguard will be recommended to protect your implants. After all, implants are a long-term investment in your smile, your health and your well-being, so it's best to protect your investment.
Related Articles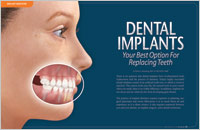 Dental Implants – Your Best Option For Replacing Teeth Dental implants have many advantages over older methods of tooth replacement like bridges and dentures — from the way they function and feel to the way they look and last. Vigorous research has documented and confirmed that in the right situations, dental implant success rates are over 95%. It is no exaggeration to say that they have revolutionized dentistry. They may even change your life Read Article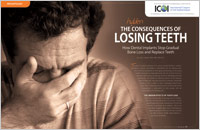 The Hidden Consequences of Losing Teeth For those missing even one tooth, an unsightly gap is actually the least significant problem. What's of far greater concern is the bone loss that inevitably follows tooth loss. Dental implants can preserve bone, improve function and enhance psychological well-being. Learn how implants serve both as anchors to support replacement teeth and preserve bone Read Article
Sours: https://www.boonencdentist.com/library//ImplantDentistry.html
Full-Mouth Reconstructions for Restoring Your Teeth and Smile

Simply put, you need your teeth. You need them to eat, talk and smile. So if you have problems with missing or severely damaged teeth, you cannot just sit back and deal with it. You need a full-mouth reconstruction to restore your teeth so you can eat, talk and smile like normal again.
How Can Dental Implants Replace Lost Teeth?
There are other ways to replace lost teeth (such as dental bridges), but dental implants are a durable, long-lasting treatment. Because your natural teeth have roots that extend into the jawbone, Dr. Airey will surgically implant an artificial root and then attach a replacement tooth to it. This is the closest we can get to growing a new tooth.
What If My Jaw Is Too Weak for Implants?
In order to safely place a dental implant, the jawbone underneath the empty space needs to be thick and healthy. Otherwise, the implant could come loose one day. Dr. Airey can strengthen the bone with ridge augmentations or bone grafts, but another option is to use mini dental implants. The artificial roots for mini implants are much smaller and can be used in places where traditional implants just will not work, such as in your lower jaw.
What Are All-On-4® Implants?
If you are missing all of the teeth on the top or bottom of your mouth, we can use a special type of implant process called the All-on This is a full arch of beautiful, healthy-looking replacement teeth held securely in place by four implants, two of which are tilted to provide extra support.
Can Dentures Be Part of a Full-Mouth Reconstruction?
Dentures are often a more affordable option for replacing a full arch of teeth. Modern removable dentures look great, and our implant-retained dentures use dental implants to hold dentures securely in your mouth so they do not slide around when you eat or unexpectedly fall out. The downside? Conventional dentures do not last as long as dental implants.
Can Same-Day Smile Really Give Me New Teeth in One Visit?
With dental implants, you normally need to wait months for the site to heal before our dentist can place the replacement teeth. But with same-day smile, we use special implants that do not need any healing time. You can walk in with little to no teeth, and after the visit is done, you can walk out with a full set of replacement teeth.
To learn more about our full-mouth restoration in Boone, North Carolina, or to schedule your next appointment, give Appalachian Dental Care a call today at or use our online form.
Sours: https://www.appdental.com/dental-care/full-mouth-reconstruction/
Nc boone dental implants
Lera understood what to do on her knees without words. Having dropped, her head was directly opposite Artyom's penis, without waiting for further instructions from him, she began to cover his stomach with kisses, slowly descending to the penis, finally. She could not stand it eagerly began to suck him.
How Much Do Dental Implants Cost?
Nods Frau his head and smiles. Either she is hungry, or it is customary for them to refuel on the bowl, but my Frau is happy to sweep the. Tapels, and I, since she is a Ferstein, add some brandy to her. Well, not myself, because I plan to take her to the hotel.
You will also like:
If "it is impossible", but really want to - then you can. Who wants to achieve. Mark himself did not notice how she took off his shirt. Suddenly something heavy thumped on his leg. Oh yes, the paralyzer.
498
499
500
501
502