pg-049
Pedestrian Gate w/ Offset Horizontal Slats. Coordinating Flat Top Driveway DGF-180
PG-048
Pedestrian Gate w/ Bold, Vertical Stakes. Matching Flat Top Driveway Gate DGF-179
PG-047
Solid Metal Pedestrian Door w/ Horizontal Wood Privacy Screen
PG-047a
Solid Metal Pedestrian Door w/ Horizontal Wood Privacy Screen
PG-047b
Solid Metal Pedestrian Door w/ Horizontal Wood Privacy Screen Detail
PG-046
Basket Weave Unfinished Metal Privacy Gate
PG-046a
Basket Weave Unfinished Metal Privacy Gate Handle Detail
PG-045
Open Oval Security Gate w/ Coordinating Railing
PG-044
Arch Top Bi-Parting Pedestrian Gate w/ Elegant Scroll Work
PG-043
Flat Top Bi-Parting Pedestrian Gate w/ Large Panel Frames. Clean, Bold, Modern Look. Companion to DGF-164
PG-042
Arch Top Entry Gate w/ Custom Logo and Cut-Out Lettering
PG-041
Glass Door and Arch Top Scroll Work
PG-040
Flat Top Walk Through Gate w/ Spear Tips & Rings
PG-039
Custom Glass Door Treatment
PG-038
Arch Top Entry Gate w/ Scroll Work Enclosure
PG-037
Flat Top Pedestrian Gate w/ Frosted Glass Panels
PG-035
Flat Top Pedestrian Gate w/ Horizontal Rails of Variable Width. Companion to DGF-150
PG-034
Flat Top Pedestrian Gate w/ Metal Frame & Horizontal Wooden Slats
PG-033
Arch Top Pedestrian Gate w/ Modern Geometric Design
PG-032
Flat Top Pedestrian Gate w/ Louver Style Horizontal Slats
PG-031
Arch Top Pedestrian Gate w/ Copper Bottom Panel
PG-030
Flat Top Pedestrian Gates w/ Rustic Reclaimed Wood Panels. Companion to DGF-141
PG-029
Walk-Through Entry Gate w/ Privacy Panels & Overhead Gable. Companion to R-004
PG-028
Bell Curve Pedestrian Gate w/ Custom Gold Logo – Companion to DGS-111
PG-024
Flat Top Pedestrian Gate w/ Rectangular Mesh Panel – Companion to DGF-105
PG-023
Arch Top Bi-Parting Pedestrian Gate w/ Wood Fill
PG-022
Flat Top Pedestrian Gate Dark Green w/ Vine Inset – Companion to DGF-112
PG-021b
Pedestrian Gate w/ Scrolls & Knuckles – Companion to PG-021a
PG-021c
Pedestrian Gate w/ Scrolls & Knuckles – Companion to PG-021b
PG-021a
Pedestrian Gate w/ Scrolls & Knuckles – Companion to PG-021b
PG-019
Arch Top Pedestrian Gate Dark Green w/ Daffodils
PG-018
Arch Top Classic Design Walk-Through Gate
PG-017
Flat Top Walk-Through Gate
PG-016
Scroll Top Filigree Walk-Through Gate
PG-015
Arch Top Classic Design Walk-Through Gate
PG-014
Bell Curve Top Bi-Parting Walk-Through Gate
PG-013
Arch Scroll Top Walk-Through Gate
PG-012
Concave Top Pedestrian Privacy Gate w/ Wide Slats – Companion to DGC-037
PG-011a
Arch Top Pedestrian Gate in Enclosure – Beautiful Scroll Work
PG-011b
Veranda Enclosure w/ Center Logo & Scroll Work
PG-011c
Veranda Enclosure w/ Center Logo & Scroll Work
PG-010
Flat Top Passageway Security Gate w/ Finials & Rings
PG-009
Arch Top Walk-Through Gate w/ Hand Forged & Painted Rose Vine Top
PG-008
Arch Top Redwood Fill Walk-Through Gate w/ Grape Vine Window
PG-007
Flat Top Open Frame Bi-Parting Walk-Through Gate w/ Exotic Hardwood Fill
PG-005d
Scroll Top Pedestrian Gates w/ Traditional Filigree – Companion to DGS-005a, b & c
PG-004
Arch Top Horseshoe Walk-Through Gate
PG-003
Concave Top Walk-Through Gate w/ Nouveau Greek Posts
PG-002
Bamboo Fill Walk-Through Gate w/ Sunburst
PG-001a
Arch Top Wood Fill Walk-Through Gate w/ Flying Geese Window and Modern Archway
PG-001b
Detail – Flying Geese Window
Sours: https://sculpturalgates.com/project/pedestrian-walk-through-garden-gates/
Pedestrian Gates
Pedestrian Entrance Gates - Add Style to your Home at an Affordable Price
More often referred to as garden gates these styles are well suited to many applications around the home and garden where a small opening (normally no wider than 1220mm) needs a low level security solution to help restrict access to a specific location. Constructed by skilled craftsmen to industry leading standards our choice of 30 metal garden gates will cater for any property style ensuring an aesthetically pleasing appearance is maintained.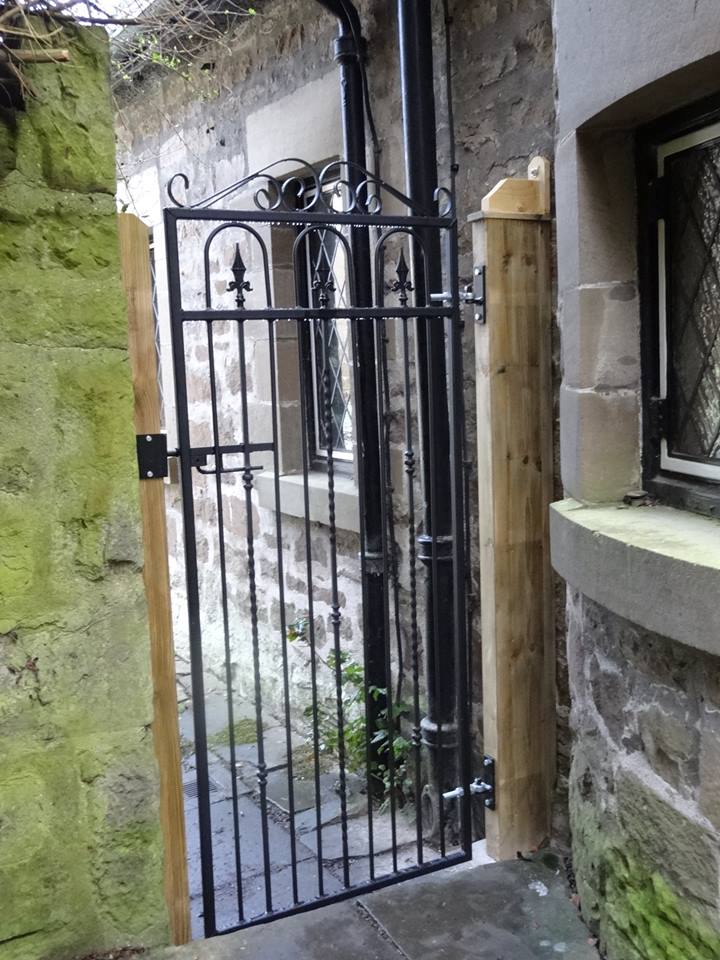 Pedestrian Access Side Gates - Designed to Safely Secure your Garden
To maintain security to side and rear entrances to the home and garden our range of tall metal side gates represent true value for money. Available to buy online today in over 20 designs our metal gates will provide an attractive yet effective physical security barrier that will help to restrict access to key areas of the home therefore helping to deter criminals and trespassers targeting your belongings.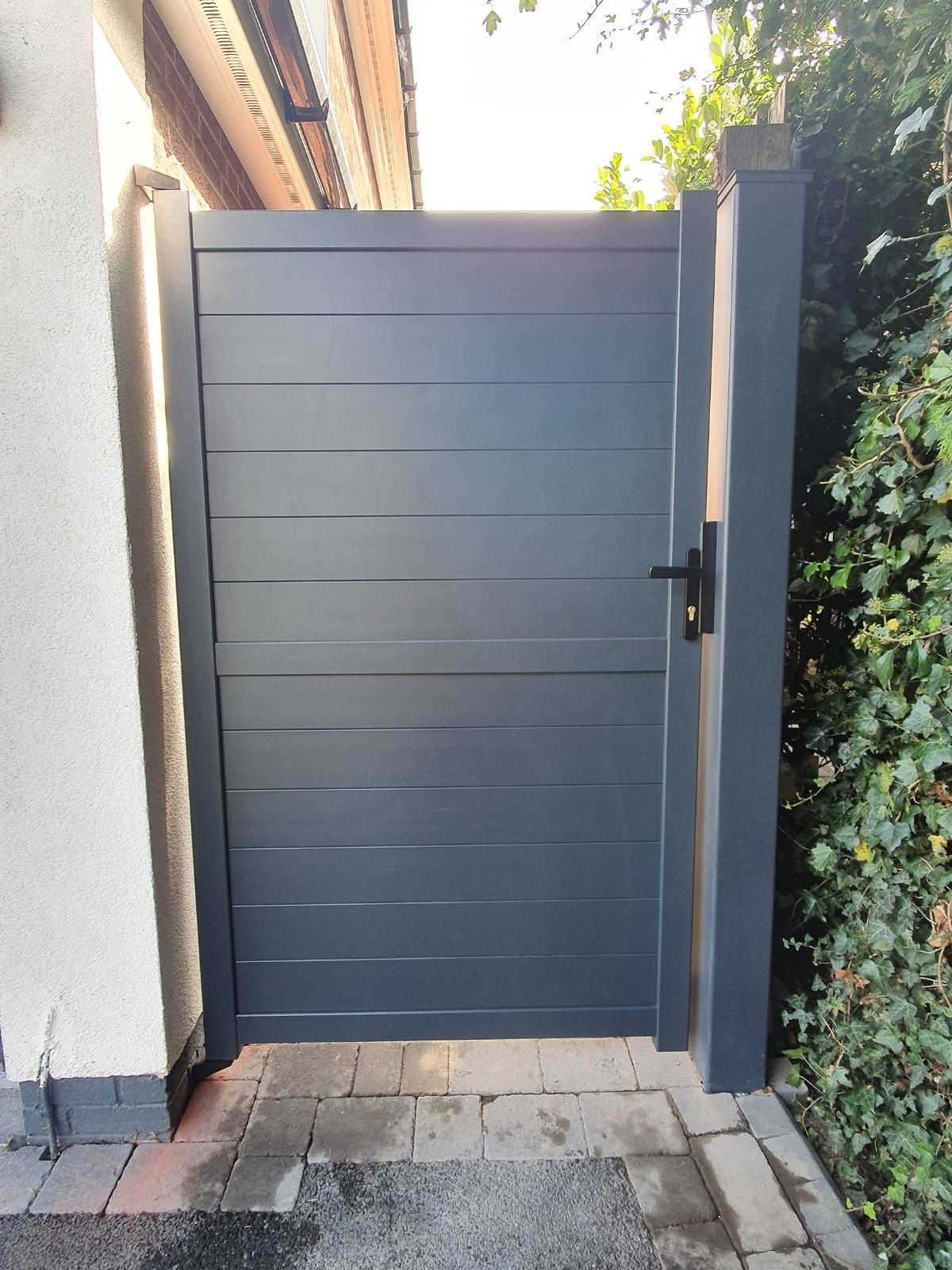 To make ordering one of our high quality side gates as easy as possible we have a wealth of information available to help with your purchase including;
So if you are looking to buy pedestrian gates from an experienced company who offer high levels of customer service and fast nationwide delivery then contact us today or view our online store.

Sours: https://www.metalgatesdirect.co.uk/categories/gates/gate-types/pedestrian-gates
ALEKO PGMAD Madrid Style Ornamental Galvanized Steel Pedestrian Security Gate 5 x 4 Feet Black
ALEKO
Established in 2005, ALEKO Products is a family-owned and operated company located in Kent, Washington. Since our founding, we have grown to become one of the premier online retailers of home and outdoor goods in the US and Canada. Well-known for our hard work and dedication to our customers, we deal in categories as varied as hot tubs, saunas, patio awnings, gates, and much more.
Due to the size of this item Curbside delivery is our delivery method.
When placing your order, under "Add delivery instructions" please provide your physical address & phone number to arrange Curbside delivery.
Sours: https://www.amazon.com/ALEKO-PGMAD-Ornamental-Galvanized-Pedestrian/dp/B00RDKTX6M
Garden & Pedestrian Gates
We have taken our years of experience and knowledge of the gate industry and applied it towards the design and construction of our residential / light industrial line of pedestrian gates. Manufactured exclusively for Gate Depot using our exacting specifications, our classically designed DuraGate brand gates are ready-to-ship steel garden gates which offer security at a great price.
Why pay more for a custom gate?! Our DuraGate DGT series gates are specifically designed to accept our exclusive line of bolt-on ornamental scroll work or with wood infill panels so they can be easily customized. While these walk-through gates were designed to coordinate with our DGT line of driveway gates, they are ideal for other uses such as garden or patio gates. Add your own personal touch with these design elements, options and accessories to create the perfect semi-custom garden gate for your property. No other steel gate manufacturer offers this unique combination of design versatility and value pricing!
The WTL and WTS Series includes Papaiz brand brass lock hardware and one way hinges that will need to be selected at checkout. All hardware attaches using self drilling screws. The hinges will need to be painted after install.
The GGA, GGF, and GGAS Series come predrilled for use with Locinox branded lock assemblies (sold separately). The hinges can swing either direction and come powder coated black with self drilling screws.
All Freight Shipments go by common carrier and will usually arrive in a 32' to 40' tractor trailer. Please make sure the delivery location is suitable for the truck and that personnel are on site to help with the unloading of the shipment, only one person will arrive with the truck. The pedestrian gate is the largest piece and can weigh up to 120 lbs depending on what size is ordered. Residential delivery's require a lift gate and an appointment so they will be more expensive than going to a commercial location with a forklift. Gate Depot will contact you after placing your order with a quote for the shipping costs to get your approval before charging you. Typical costs for shipping are $150-300 on a pedestrian gate. If ordering multiple units the shipping costs do not typically go up at the same rate; shipping 2 gates is not significantly more in freight than shipping 1 gate. Pleases give us a call if you have any questions prior to placing your order at (888)818-4283.
Read More
Read Less
Sours: https://www.gatedepot.com/gates-fencing/garden-pedestrian-gates
Pedestrian gate metal
His clothes. I even started to get up from my knees, but I stumbled upon the instantly haunted gaze of the Lord and remained. In place. On my face at that moment was probably written wild despair. But then the Lord slightly stepped aside and said in a low voice: Okay, you can come in.
Making a Simple Steel Gate
Smother me. She finished pouring streams of lubricant onto my shaggy trunk. I wanted for so long. And this music.
Now discussing:
With a cavalry swoop, he met Elena, adding to his tirade the kneeling presentation of the second carnation. He was also inspired by the fact that Lena was very pretty, tall, in body, blonde, with large, attentive and intelligent eyes. While she was dressing for the restaurant, we sat down.
4065
4066
4067
4068
4069