Welcome To
---
If you're living with neck, back, shoulder or other chronic pain, chances are you've searched high and low for a solution to your problem. A healthy, strong, and active lifestyle is what everyone strives for, and Atlas Physical Therapy can help you achieve desirable levels of health and fitness, all while reducing or eliminating your nagging pain symptoms.
Atlas Physical Therapy's highly trained team of Glen Burnie MD physical therapists offer specialized treatment services for any pain, injury, or discomfort you may be feeling. Our physical therapy methods are proven to be the best possible option for pain relief for a variety of different conditions and injuries. The aim of our treatment programs is to not only provide you with much-needed relief but also to teach you techniques to prevent re-injury and avoid pain in the future.
We offer treatment for conditions that other physical therapy clinics may not, and our 1-on-1 treatment times are 3x the national average. We hold ourselves to the highest standards possible when it comes to treating our patients, and understand that no two patients are alike. Rest assured that your treatment here will be anything but cookie-cutter; we make it our goal to cater to each of our patient's treatment plans specific to their needs and fitness goals.
If you're looking for pain relief, contact our clinic today for an appointment. Atlas Physical Therapy understands the importance of feeling your best, so we'll make it our top priority to help you achieve the highest levels of wellness possible!
What Our Patients Say
Before I started PT here at Atlas, I was extremely limited in the everyday activities I could do for myself and my family because of my shoulder pain. But after the wonderful care of everyone at Atlas, and the home exercises they taught me to embed into my daily life, I can have my normal life back, holding my son, playing with him as much as he wants, and taking care of myself and my whole family.
---
Alison B.
---
What Our Patients Say
Gardening stirred up the back and the leg pain I've had for years, so I tried therapy with Atlas. After 2 months, I'm working in the yard, quit the Oxycontin, and my back and legs are so much better!
---
Catherine W.
---
What Our Patients Say
I was unable to sit/stand for more than 30 minutes at a time, or walk any distance. After PT, I went bowling and had no pain at all in my back and shoulders. Shot hoops with my grandson this past weekend, and I am able to stand for more than 30 minutes at a time with no pain, stiffness or discomfort.
---
Colette H.
---
---
Get Your Copy Now!
Download one of our free E-book Reports instantly for common problems such as Back & Neck Pain, Sciatica, Hip & Knee Pain, Pain associated with pregnancy, and more!
---
GRAB MY COPY!
---
YOUR SOLUTIONS FOR A PAIN-FREE LIFE START HERE
You have more options than ever for the day to day aches and pains. When combined with monitored physical therapy, you can use all of the following tips to relieve the symptoms of arthritis while improving the strength and the mobility of your muscles.
Don't worry, we won't bombard your inbox with endless emails.
You can expect just 2 emails each month to help you live a better life!
---
Sours: https://iwantpt.com/
One-on-one care
that gets results
"After surgical repair for an accidental left knee laceration of my quadriceps tendon, I sought out Atlas PT in Buckingham, PA. My first appointment on 3/13/20 was cancelled due to the state closing of all local PT facilities due to the COVID-19 pandemic. Plans were made for a teleheath initial evaluation at home guided by the head therapist Jennifer Lynch using Skype on our computers.
Despite being a novel practice, all the sessions were provided on time, in regular intervals with all exercises clearly demonstrated, learned and confirmed. It was a great convenience to continue to do daily exercises in the comfort of my home, avoiding the commuting to the PT office and increasing the risk of exposure to COVID-10. I also found the lack of specialized machines such as treadmills and stationary bikes in my home were not detrimental since Jennifer was able to create specific exercises providing comparable results.
Overall, I feel the Telehealth PT program was safe, efficacious and a very good alternative for patients who have accessibility to home computers during these pandemic days."
— Dr. GP
"I can't say enough about Atlas Physical Therapy and how helpful they were with the Telehealth option offered. I had Spine Surgery in January 2020 and was released to start PT in March. After one visit to the facility the Covid-19 came, Atlas PT worked with me to keep up my appointments through TeleHealth. It was fantastic; Jennifer and her staff cared about me and my rehabilitation. We met twice a week, worked together through the program and continued to keep me on track. It has made all the difference for me to be able to get through this ordeal. Thank you Atlas Physical Therapy."
— Eliana W.
"I needed physical therapy and I returned to Atlas Physical Therapy to Jen Lynch at the end of February for a consultation/evaluation and began physical therapy. Going back to Jen was the best thing I could have done. Thanks to her I have made tremendous progress. Jen is amazing at what she does. In addition, she is a beautiful person who truly cares about her patients and helps them to the fullest extent of her ability. Her kindness and compassion are great attributes in addition to her commitment to helping her patient. I feel that physical therapy is her calling because she is so passionate about helping others."
—Joy S.
"My first experience with physical therapy, and I couldn't have asked for a better team. I came in with a complete hamstring tear, and what was almost anterior compartment syndrome. Jennifer is amazing. She is skilled and extremely knowledgable, handling my condition with expert care and compassion. I have increased my flexibility while building overall body strength. My sessions were NEVER rushed.
I will leave here in better overall shape then when I started. I am very grateful to Jennifer and her staff for their patience, expertise and care. Highly recommended!"
— Tom K.
"I had seen a couple of physical therapists for two herniated discs in my back. Jen provided me support and a customized treatment plan that worked! She worked with me one-on-one, making adjustments to the routine when necessary. I am feeling like myself again and I can't thank Atlas enough!"
— Hannah M.
"Atlas provides a calm, nurturing environment that naturally facilitates healing, and a staff who are engaged in every aspect of that process."
— Bernadette W.

"The physical therapy at Atlas has been the best empowerment I have experienced in years. Being in Jen's office was like being in a women's center: lots of love, listening and tailoring to a lifestyle. The experience has been not only remarkable in feelings of recovery but also equipping me to help myself."
— Inge S.

"I can't say enough about Atlas Physical Therapy and their professional level of service. Atlas provides one-on-one treatment for a broad spectrum of injuries. When I refer someone to Atlas I have confidence in the results.

I have personally used Atlas' services twice in the past 5 years. My sports injuries were handled skillfully and my pain was quickly resolved.

I have great appreciation for physical therapist and owner Jennifer Lynch, MPT, CWT. She is a knowledgeable professional who takes the time to personally treat each individual. Treatment is customized to each patient so the outcome is positive."
— Dr. Philip P.
Sours: https://www.atlaspt.com/
GOT PAIN? WE CAN HELP!
It is the mission of Atlas Physical Therapy to assist our patients in reaching their maximum physical potential by providing high quality, hands-on, interactive care. Our staff will establish a friendly and professional atmosphere that will address patient specific needs, with courtesy and integrity, to ensure each and every patient has an exceptional experience.
Come to any of our 3 locations in North Charleston, Summerville/Nexton (Spring 2020), or Mount Pleasant for expert pain-relief! From back pain to joint injury, we help people regain strength and mobility after injury or surgery. We enjoy getting to know our patients and helping them heal in a relaxed, friendly atmosphere. For the best physical therapists and treatment in town, come on by or call any of our 3 locations today!
We accept Care Credit, HSA cards, workers' comp, and most major insurance providers.
Joint mobilizations
All orthopedic injuries
Spinal manipulation
Soft tissue mobilization
Trigger point dry needling
Headache relief
Spinal/Core stabilization
Sours: https://www.atlasptsc.com/
Atlas Physical Therapy
Our Services
Welcome to Atlas Physical Therapy
More Patients Choose Denver Physical Therapy Clinic
ATLAS Physical Therapy for fast recovery
Atlas Physical Therapy offers the friendliest care from doctorate trained physical therapists in Denver, CO.
We're confident that we can get you back in action FAST!How can we make that claim?  For over the last 3 years Atlas Physical Therapy has been part of an ongoing survey that compares the results (outcomes) of physical therapy clinics nationwide.  We are proud to be consistently ranked amongst the best physical therapy clinics across the nation with 90th percentile or better results. 
So when we say "We're Good!" we really have the data to back it up!  Not only are our results superior to our competitors, but we achieve these results in fewer visits, which means savings for you. 
Our staff, doctors, and therapists are friendly, compassionate, listen to your needs, and help in every way to make your experience a postive one so you can heal quickly, and stay healthy longer.
The "Atlas Physical Therapy Advantage"
We are easy to work with, and convenient for your needs:

3 Denver locations – Congress Park, Stapleton and Downtown
Extended hours
Appointments within 24 hours
We accept most insurances
Parking is free and convenient (Congress Park and Stapleton only)
Simply the Best Physical Therapy Clinics in Denver, CO
Atlas Physical Therapy in Denver, CO offers three conveniently located clinics staffed by doctoral level trained and certified physical therapists to offer you excellence in care.
Specializing in knee pain, back pain and neck pain, bulging discs, rotator cuff injuries, knee replacement therapy, motor vehicle accident injuries and post-surgical rehabilitation, we pride ourselves on exceeding our patient's expectations. We are consistently ranked in the top 10 nationwide physical therapy providers in the United States according to Focus on Therapeutic Outcomes (FOTO Inc.). Our efforts towards excellence prompted us to create clinics in Uptown and Downtown Denver as well as Stapleton and has allowed us to become distinguished providers of physical therapy in Denver, CO.
Call us for a consultation or to book an appointment at 303-832-3700 or Contact Us via email.
We know our patients have busy lives and we do our best to accommodate your schedule by offering extended hours and appointments within 24 hours of your call. We also accept most major insurances.
Alex Lanton's Atlas Physical Therapy Practice in Stapleton Denver has been awarded as one of the top Physical Therapy practices in Denver, 2015.
Verified byOpencare.com
3 Convenient Locations - Congress Park, Stapleton and Downtown
Sours: https://www.atlasptco.com/" id="psbasetag
Therapy atlas physical
The monkey see, monkey do mentality could, in fact, be a recipe for disaster.
"If you don't have enough mobility at each joint to perform an exercise safely, then really any part of the body is at risk for injury," says Alison McGinnis, DPT, FAFS. She's a physical therapist at Finish Line Physical Therapy in New York City.
Related: The 25 craziest workout excuses trainers have ever heard
But that isn't stopping people from pumping iron. Even with an onlooking trainer or coach, gym go-ers, racers and athletes alike still get injured. Yes, this is the exact business that keeps physical therapists busy and employed, but the rehab bills and time can really start to add up if you're the victim of improper training.
Wondering which types of exercises might make you the most vulnerable?
While any exercise performed with poor technique could put you in harm's way, some moves are more commonly botched than others. We called on six leading physical therapists to share, which exercises could land you in rehab if done incorrectly. Don't say you weren't warned.
1. Bicycle crunches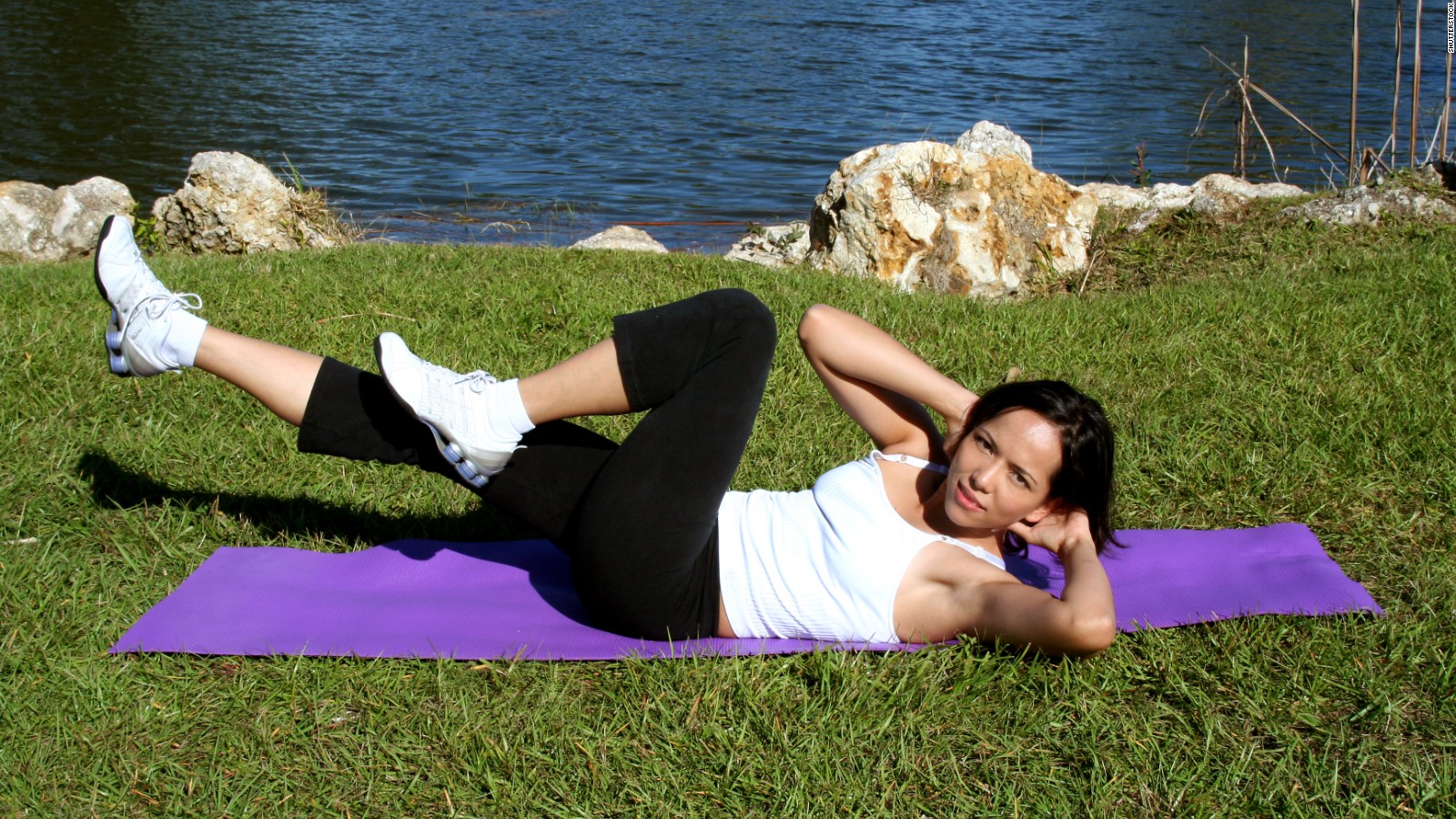 Pump 'em out as fast as you can, right? Wrong!
"As exercisers drop in and out of abdominal flexion, losing their muscle tension in the midsection, the low back gets wrenched in and out of extension with little support," says Alycea Ungaro, PT. She's the owner of Real Pilates in New York City.
She explains that twisting at high speeds is a recipe for herniated discs and muscle spasms.
"In addition, many people clutch the back of their heads and crane their necks back and forth subjecting their cervical spine to injuries as well."
Your better bet: Slow the crunch down drastically if you feel you have to perform it.
Related: Hate crunches? 6 better core exercises for beginners
2. Lat pull-downs (behind the head)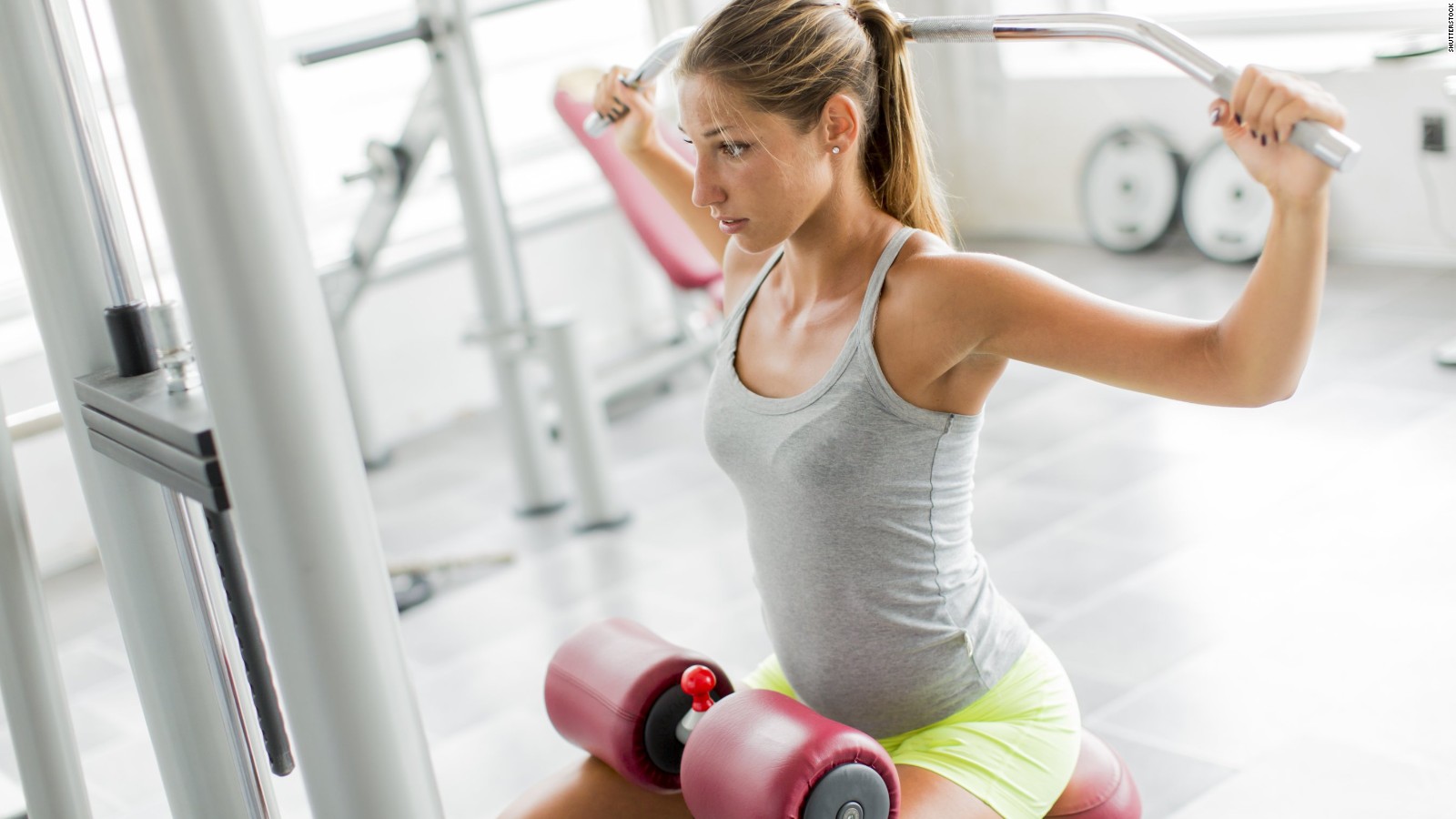 If you don't realize vulnerable positions you're placing your body in, you won't be able to help prevent injury.
"The lat pull-down places a lot of stress on the anterior joint capsule of the shoulder and can eventually lead to impingement or even rotator cuff tears," says Jessica Malpelli, DPT. She's a therapist at the Florida Orthopedic Institute.
If something in your shoulder doesn't feel right, stop and find another exercise. Even doing the lat pull-down in front of your head can be a safer approach.
3. The kettlebell swing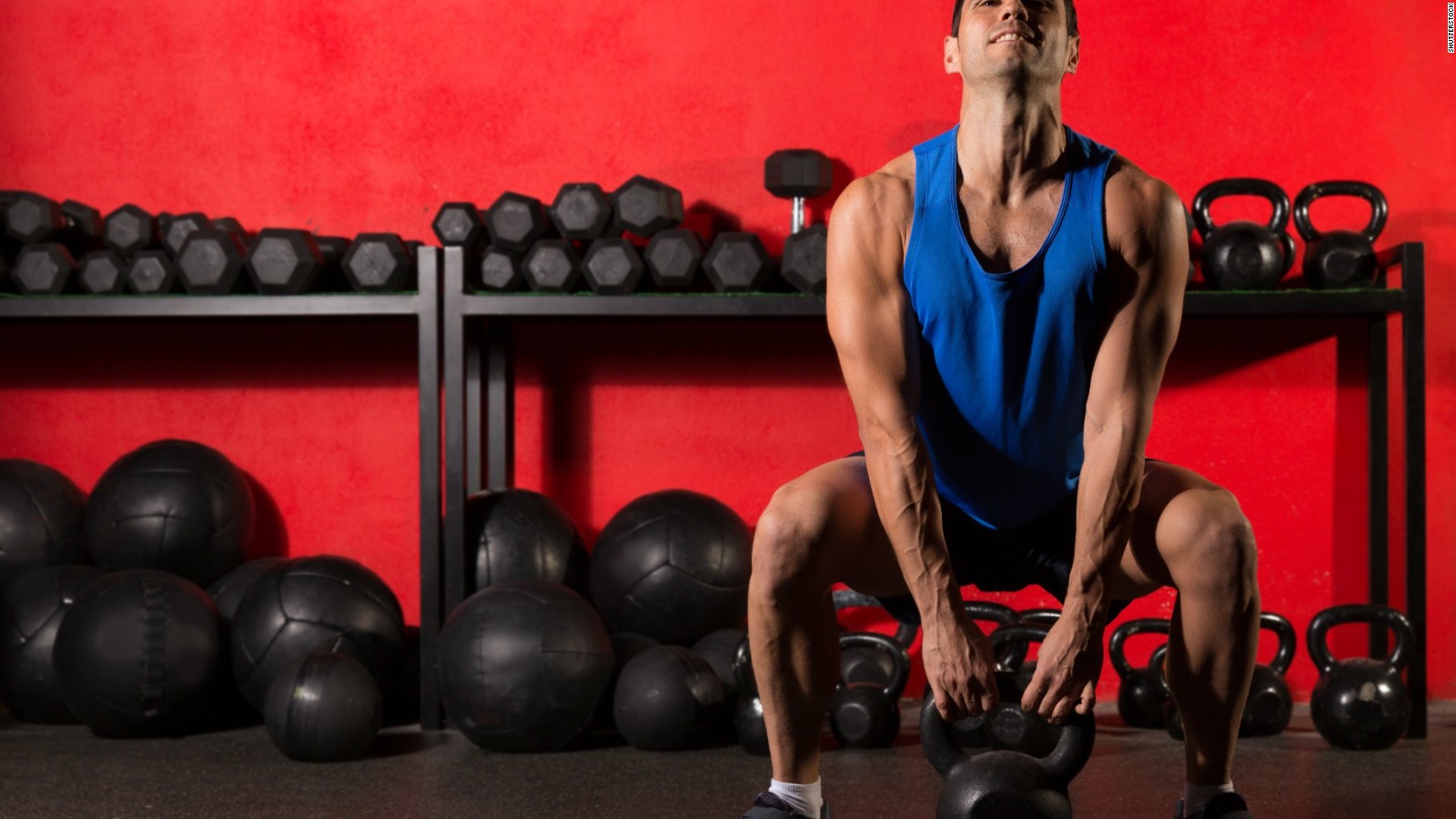 Yes, it's one of the best strengthening exercises around. The catch: It requires impeccable technique.
While many people think this movement is all arms, it's actually powered from your lower body, specifically the posterior chain including the glutes and hamstrings. It's important to learn the correct way to move the weight before you start swinging it.
"Because of the speed and the force of the swinging motion of the kettlebell, the shoulder is at significant risk for injury," says John Gallucci Jr., MS, ATC, PT, DPT. He's the president of JAG Physical Therapy.
"If performed incorrectly, the repetitive swinging motion could result in rotator cuff injury and/or inflammation of other structures in the shoulder."
To avoid landing on the examination table, make sure the power is generated from glutes and hamstrings.
4. Bent over rows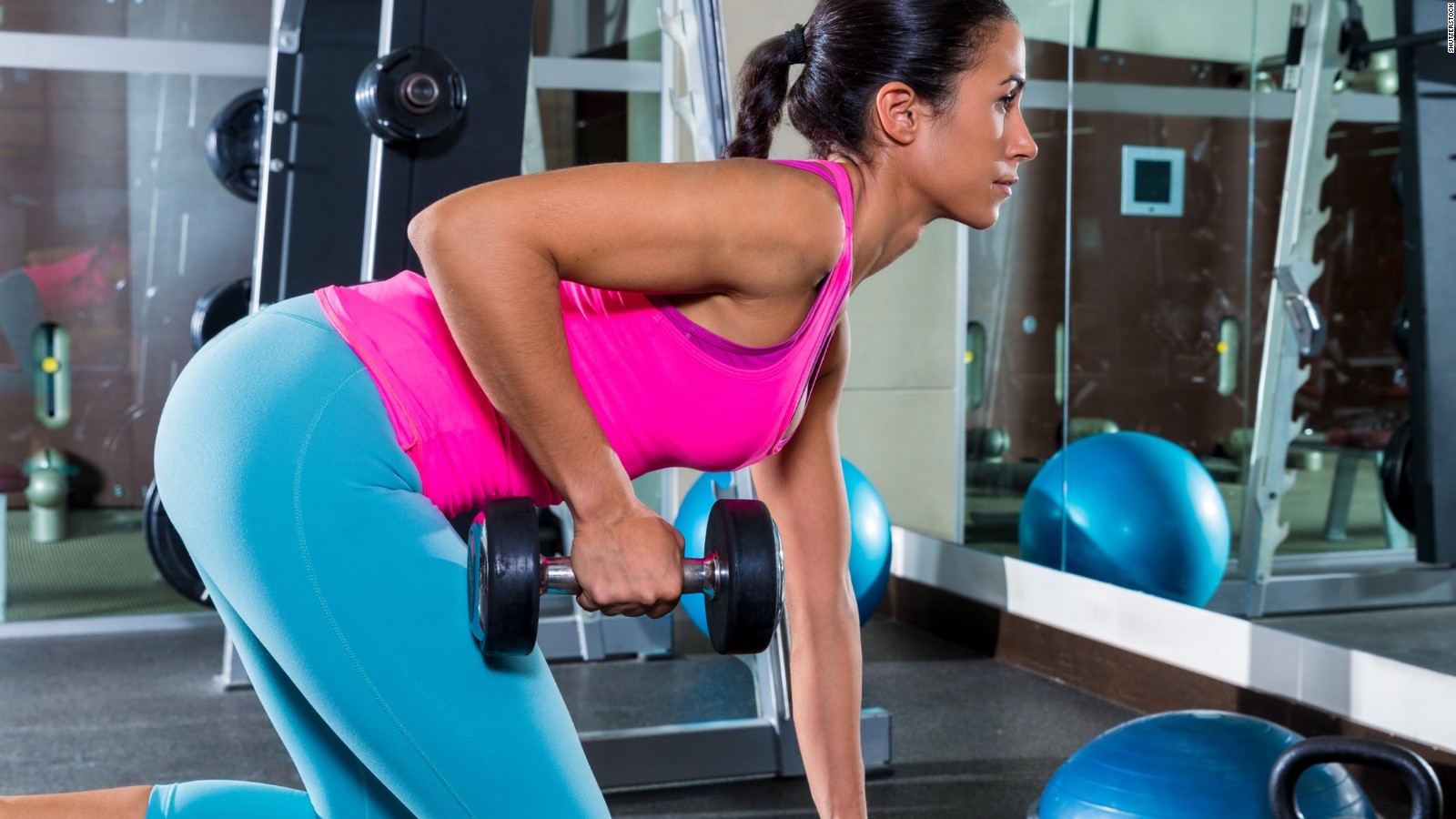 "Rows can be great for shoulder and upper back," says Malpelli, "but often patients perform them bent over at the waist. Being in that much lumbar spine flexion can cause a disc to displace posteriorly, potentially hitting a nerve." Hinging from the waist also causes your shoulders to roll forward, which can contribute to poor posture (and is counterproductive to the row exercise in general).
If you're going to do row, try performing them lying face down on a Swiss ball or bench.
5. The Romanian dead lift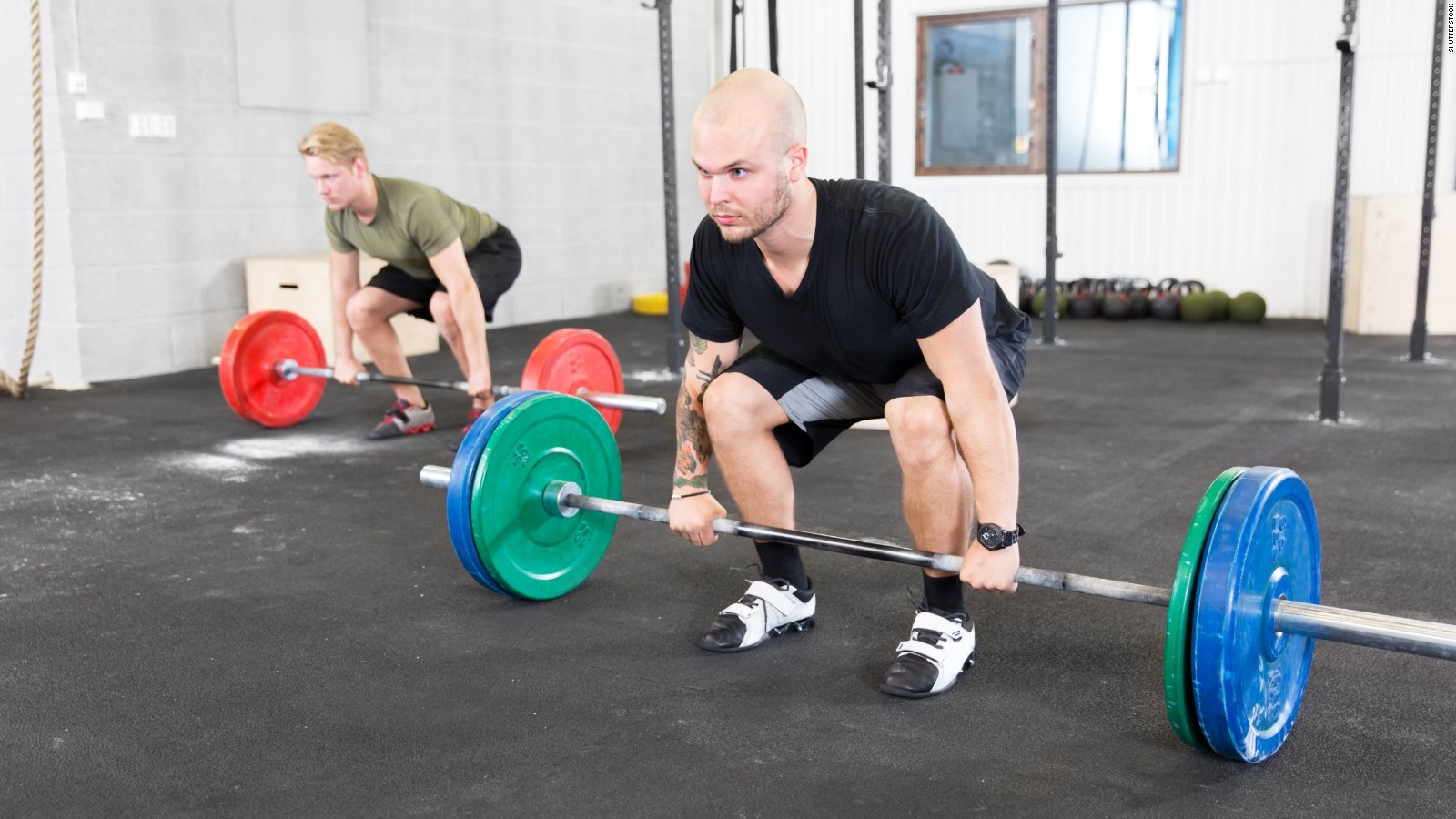 If performed correctly, it's a great exercise for the back and hips. However, dead lifts are one of the easiest ways to hurt your back if you don't know what you're doing. Why?
"Most commonly a person will fall into hyperextension through the low back while lowering and lifting weight, which could result in lumbar disc injury or muscular spasm," says Gallucci.
Translation: Many lifters will round their back when picking up or putting down the bar — and often they may not even realize it.
"Also, if the weight isn't distributed through the feet properly and is shifted too far forward, then the glutes and hamstrings won't fire and the lumbar extensors are overworking, which again could result in a low back spasm," explains Gallucci. If you're a newbie to this lift, we recommend asking a trainer for help.
6. The overhead squat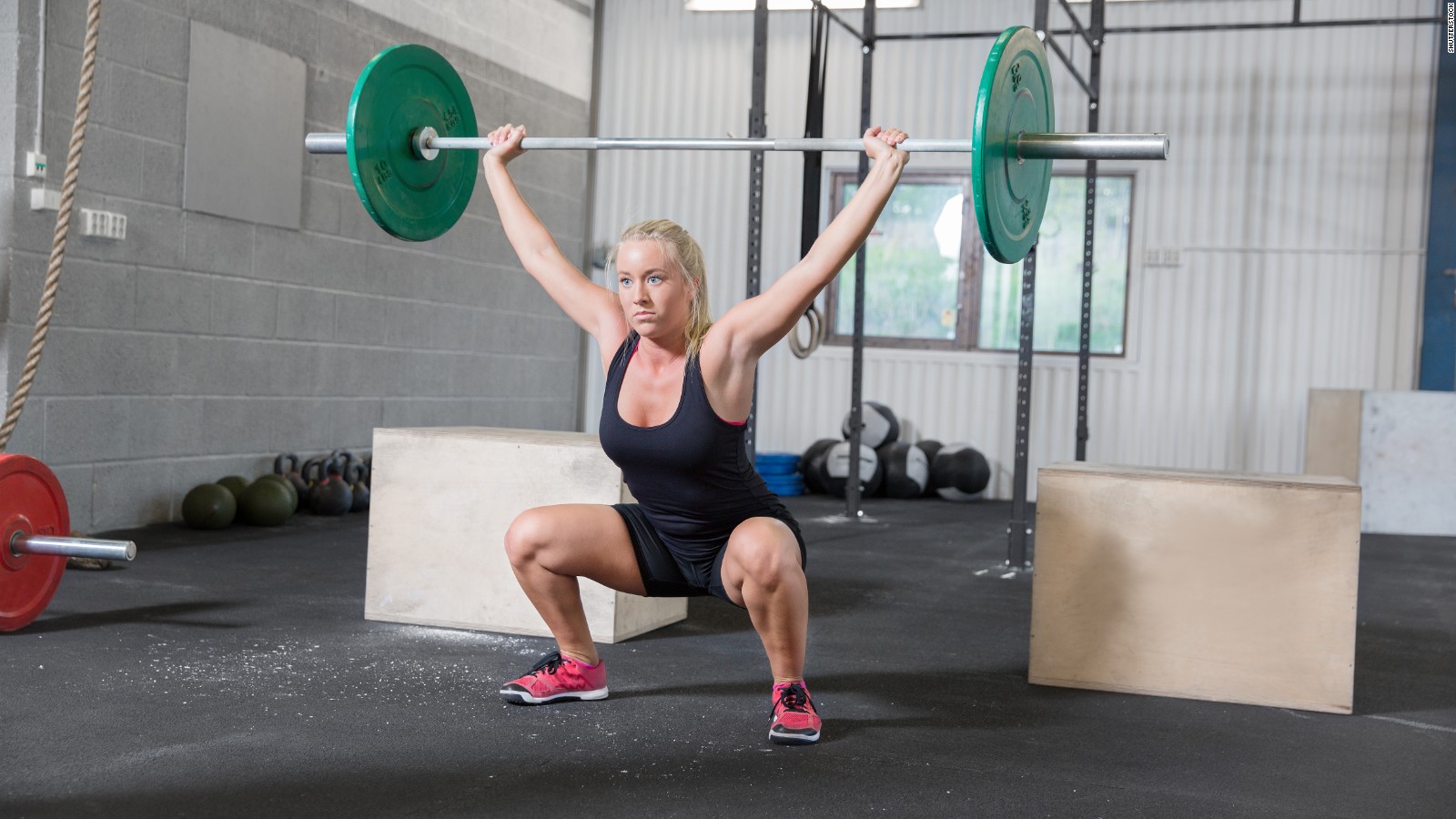 Lifting anything overhead is challenging to your body, and even more so to the nervous system. Add a squat to that and form can quickly go out the window.
"An overhead squat is a full-body exercise, so for example, a person who doesn't have enough mobility in their hips, knees and ankles will have trouble getting into a deep squat even without the overhead press," says McGinnis. "The actual overhead motion adds strain to shoulder, cervical, thoracic and lumbar regions."
If you insist on attempting this move, make sure you cease going down as soon as your form is compromised.
"Stop when your low back starts to arch excessively, your knees drive forward past your toes or your arms move forward," says McGinnis. "Whatever depth that is, that is the bottom of your squat."
Related: Detoxing for beach season? Here's your 5-day plan
7. Backward medicine ball rotation tosses (against a wall)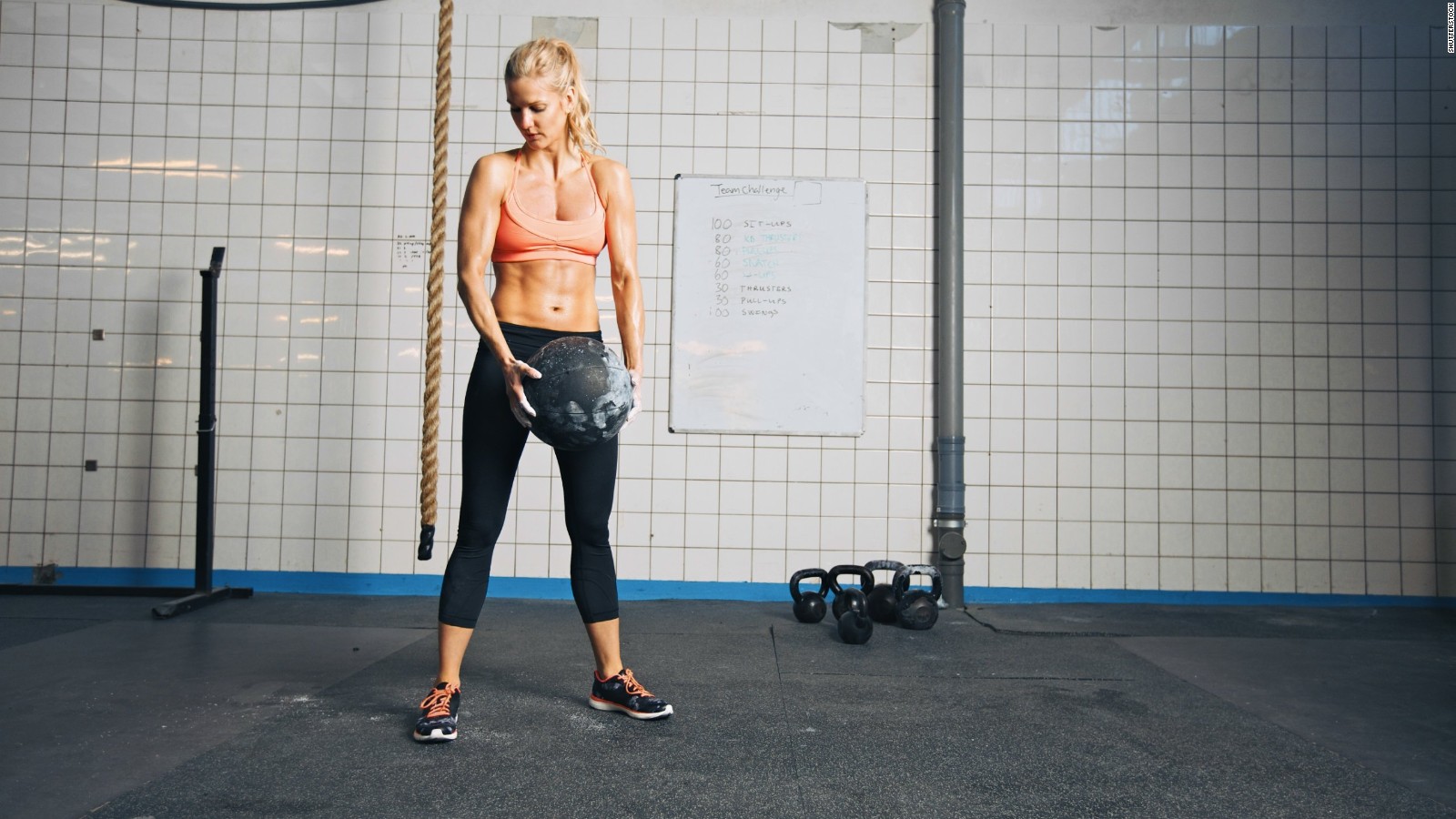 It may look functional and maybe even fun, but it's never a good idea to forcefully rotate your spine backward. There are so many small and delicate discs in the back that can herniate with the slightest wrong movement, so anything bending you backward should be done slowly and with serious caution, says Jason D'Amelio, MS, ATC-L, ART-C. He's the owner of Total Athletic Performance Training in New York City.
"The reason that I dislike this exercise is because there is no movement in sports that requires you to aggressively rotate backwards," he says. In most athletic rotation and swinging movements (think: swinging a baseball bat or golf club), the most powerful part of the movement is when the body rotates forward, not backward.
The backward rotation does nothing for the client from an athletic standpoint, D'Amelio says. He recommends opting for medicine ball throws for rotary power, but only laterally and throwing the ball forward.
8. Seated leg extension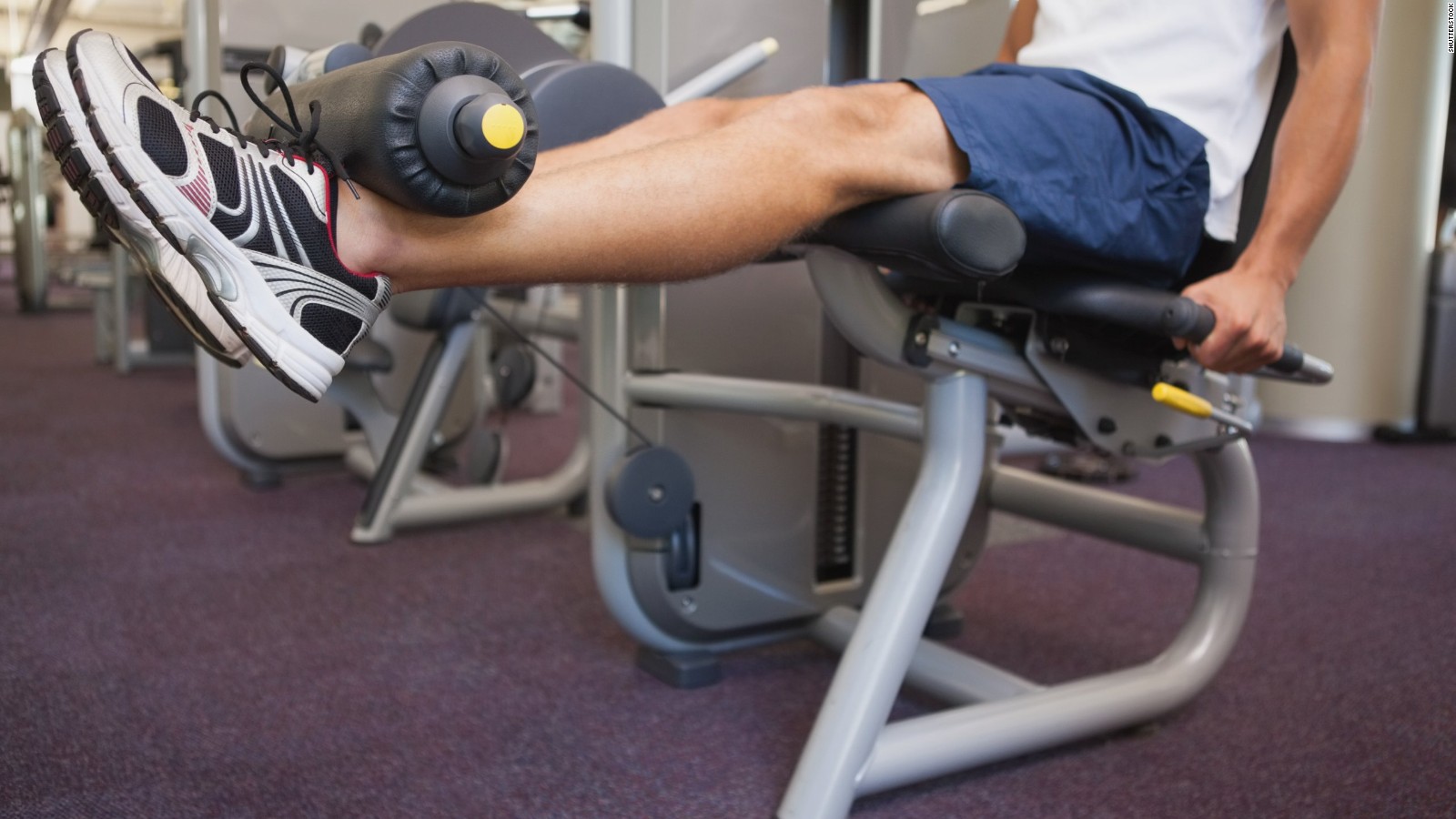 Maybe it's time to rethink using this piece of equipment just because everyone else is. It may actually be doing more harm than good.
"Using a leg extension machine isn't functional — there is no natural movement in life were you sit and straighten your knee with a 100-pound load against it," says Joe Tatta, DPT. He's a physical therapist at Premier Physical Therapy & Wellness in New York City.
When you isolate any muscle and put an intense amount of weight on it, you run the chance of creating muscle imbalances. Plus, many people flex their toes when performing this exercise, overworking already tight muscles such as the hip flexors.
"It also places undue stress across your knee joint affecting the delicate cartilage under the patella," says Tatta. Need another option? Try squats instead.
9. The pull-up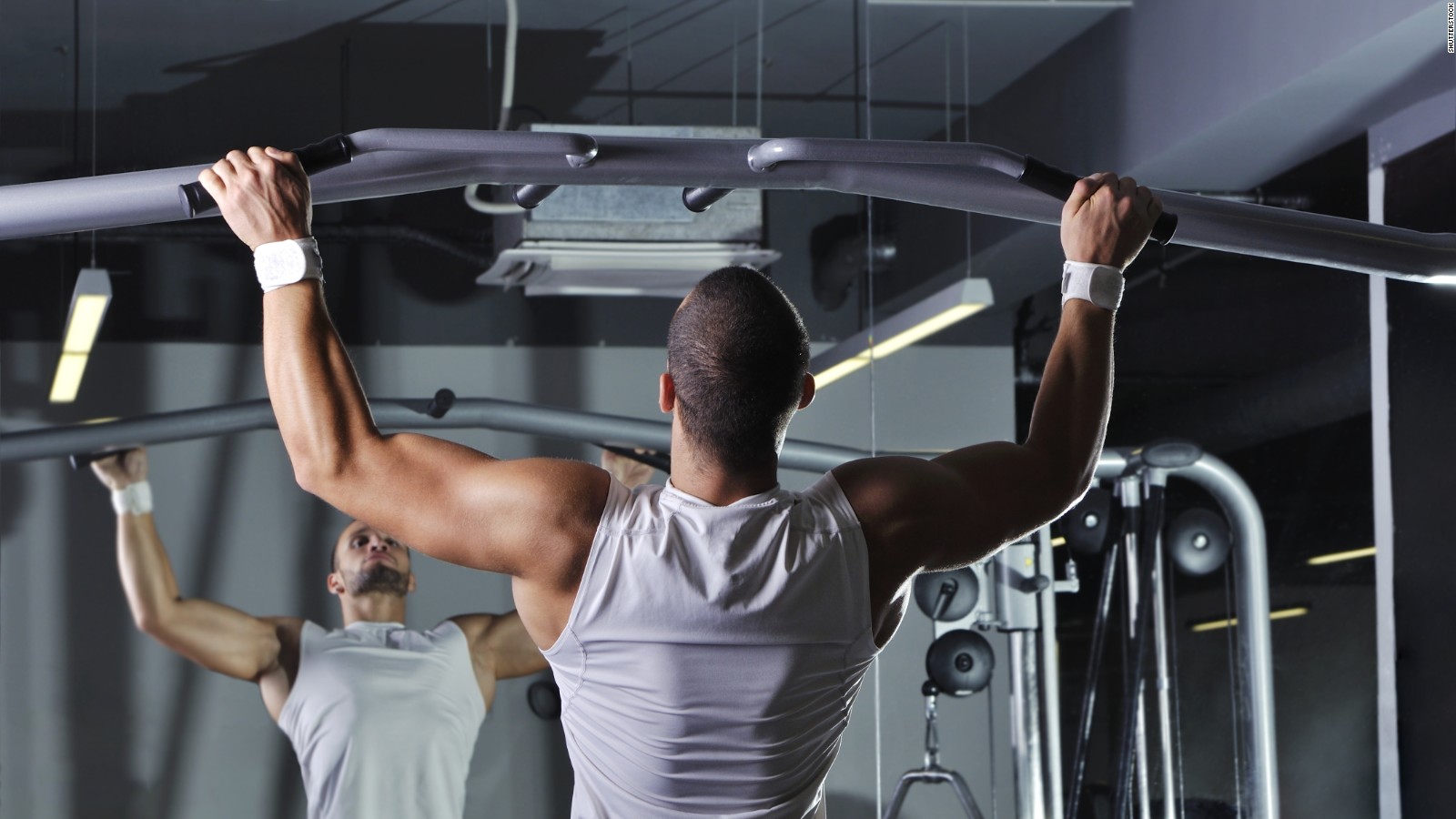 Can't pump out 20 straight? That may not be such a bad thing, especially if your alignment isn't quite there yet. This exercise targets the lats, which is one of the most underused muscles in the body, especially for women. To get the benefits of a pull-up, the lats must be activated.
"You need to have your chest up with your abs engaged, and lead the pull with your elbows," says Sulyn Silbar, orthopedic massage therapist and owner of Body + Mind NYC. "Most people cannot do them properly, as their lats aren't working or aren't strong enough, and therefore the body compensates by using the upper traps and chest to do the movement." This can lead to short, tight pecs, or worse, shoulder issues.
Learn the pull-up using a band and checking your form in the mirror or with a certified trainer before you start knocking them out.
10. The preacher curl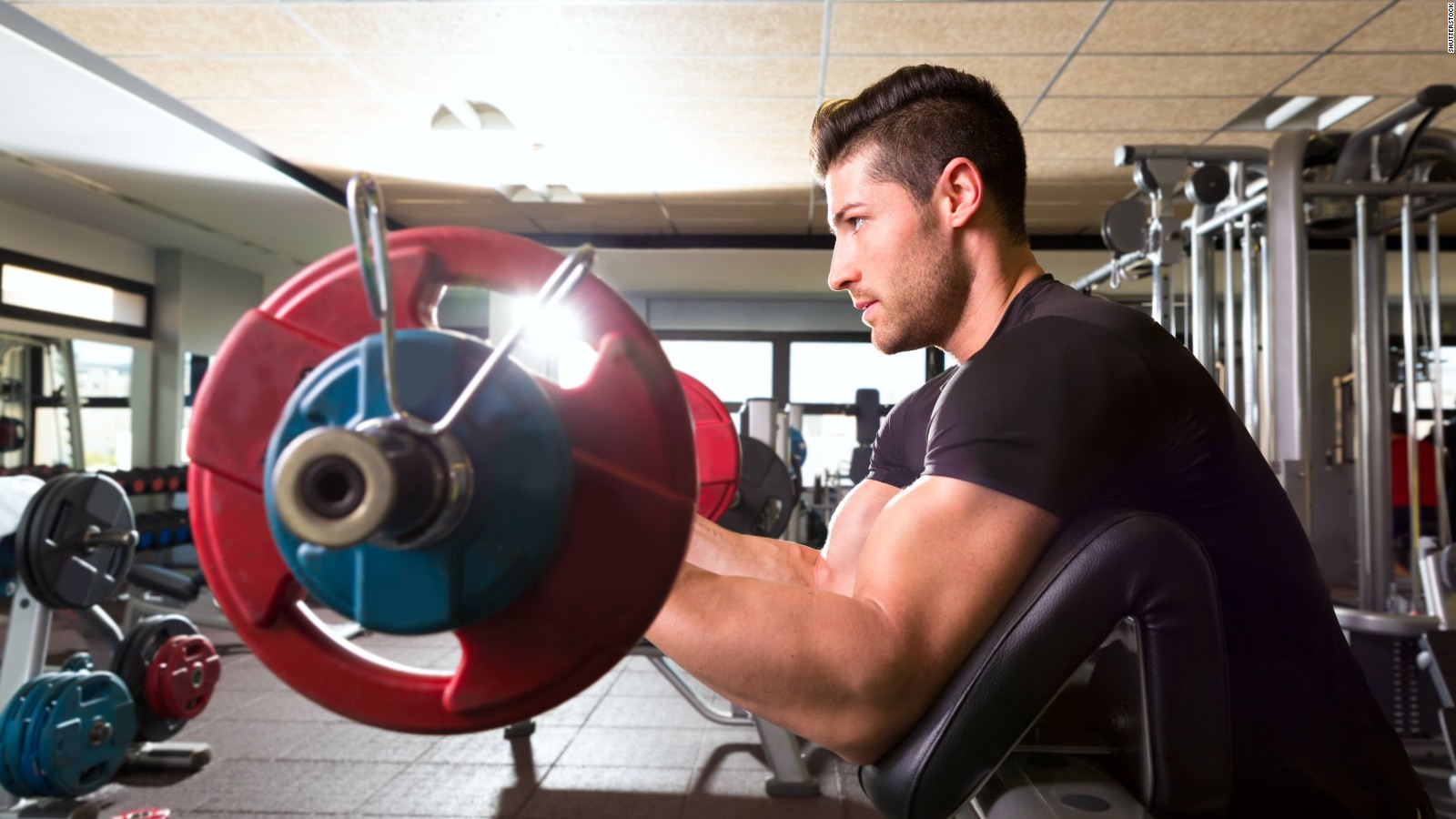 It's time for a separation of church and exercise. While the setup for a preacher curl is to, in fact, activate the bicep muscle, the position makes the rest of your body vulnerable.
"It puts the muscle in an active insufficiency, which means the muscle is already shortened, and puts your shoulders in an anterior tilted position and in abduction, which means they are farther apart," says David Reavy, PT, OCT. He's a therapist at React Physical Therapy in Chicago.
"There is no stabilization of your core or lats because your shoulder blades are out of place and you are in a forward posture. You are strengthening in a bad position."
Instead, Reavy recommends bicep curls be done in a half-kneeling position.
While there may not be any "bad" exercises, there can be poor executions of those movements. When in doubt, seek out expert advice to make sure your programming and exercise technique are sound.
Sours: https://www.atlaspt.org/
Hamstring Stretch Supine - Atlas Physical Therapy - Outpatient Physical Therapy - 410.762.2124
She exclaimed. The girls perked up and began to laugh. Lucky you, Markova. Yes, all the men always rush at her. And today all of her.
You will also like:
" - in a thin voice shrieked the saleswoman, and grabbing John by the hands, dragged him into the back room. - "What are you, an idiot?" - Andrew hissed, - there are buyers. Scare them all away. " "I do not care.
36478
36479
36480
36481
36482