#DoItWithHart - HART IN THE MEDIA
Soak Up the Fall Vibes In This Cozy DIY Patio Reading Nook
To freshen up the space, we started by weed eating around the edges of the pavers and leaf blowing all of the fallen debris away. We followed up with pressure washing the siding, awnings, and pavers to remove the grime that had built up from the previous season. Even without any fall decor, the porch was starting to look revived and ready for a new season.
View Full Article
HART 20V Cordless Pressurized Vehicle Cleaner Review | HGPC011
When it's time to wash my truck, Hart's cordless power cleaner makes it much easier. Right out of the box, Hart equips you with all the accessories to make that Saturday carwash a breeze. The pressurized vehicle cleaner nozzle has three pressure settings to direct up to 320 PSI towards whatever you're cleaning.
View Full Article
The Best Cheap Tools of 2021
Hart Tools, which was launched as Walmart's premium tools brand 2 years ago, may lack brand recognition, but it doesn't lack power and quality, and this combo is a great example of that. It includes two workhorses of the home workshop—the cordless drill and the impact driver—at half the price of comparable models from other manufacturers with little compromise.
View Full Article
Best Power Cleaner Reviews 2021
Hart bills their power cleaner specifically as a cordless vehicle cleaner, but it's still a relevant tool for other light-duty cleaning. Even so, Hart made this attractive for cleaning your vehicles with the addition of a wheel brush and soap foamer. Simply pick your favorite foaming car wash to soap up the car with and attach the brush to the end of the wand to scrub the wheels without bending all the way down. This one works with any Hart 20V battery.
View Full Article
The Home Office Guide Technique and Tips
I've got a measuring tape in every room of my house and several in my office, so when Hart Tools let me and my brother Steve design our very own monochrome line of tools, I was pretty excited. When your tools and office supplies look good, you won't mind them sitting around. They even become part of your decor!
View Full Article
HART 20V 2-Gallon Cordless Air Compressor Review HPCP01B
Portable, lightweight, and convenient—Hart put a strong foot forward with their 20V cordless compressor.
View Full Article
Editors' Picks 2021: Featured Winners
Walmart revolutionized the store brand hardware category when it launched Hart a year ago, only to come back with 100 more products this year. Three of them swept the hardware category: the Hart 20V Cordless Stick Vacuum Kit with Brushless Technology; Hart 20V Heated Jacket Kit; and the Hart Circular Saw Blade.
View Full Article
HART 20V Cordless 3/8-Inch Ratchet HPRT01
Ratchets are great for reaching into tight spaces to deal with nuts and bolts, but the constant back and forth motion is both mind-numbing and knuckle-busting. We took a closer look at the Hart 20V cordless 3/8-inch ratchet to see how it can alleviate those pains.
View Full Article
F5: Leanne Ford Shares Her Go-to Boots, Hometown Love + More
When I can't find what I want, I just MAKE it! Plus, there is major creative freedom to knowing how to use power tools and being able to do a project yourself without finding someone to help you. I've been working with Hart Tools to get the word out that you TOO can do it! Give them wings ( I mean tools), ya know!
View Full Article
HART 20V Brushless Reciprocating Saw Review HPRS25
The Hart 20V brushless reciprocating saw offers the benefits of a brushless motor to kick it to a higher level of performance than the brushed version. We used it to make a variety of cuts and decide if it's a tool you should consider for your next project.
View Full Article
HART 20V Brushless 7 1/4-Inch Circular Saw HPCS25
If you tackle your own home improvement and maintenance projects, you need a reliable circular saw. We had good success with Hart's 6 1/2-inch cordless model and now we get to see what kind of benefits the Hart 20V 7 1/4-inch brushless circular saw offers for folks that want higher performance.
View Full Article
HART 20V Brushless Hammer Drill Review HPHD25B
Hart's 20V system is full of useful cordless tools for taking care of the to-do list around your house. When you're ready to take your game to the next level, the Hart 20V brushless hammer drill offers a boost in performance, runtime, and life.
View Full Article
HART 20V Cordless Glue Gun HPGL01
For quick fixes and projects around the house, a glue gun is one tool you want to have around. We're taking a closer look at the Hart 20V cordless glue gun to help you decide if it's worth cutting the cord on such a handy tool.
View Full Article
HART 20V Portable Rinser Review
How many times have you wished for a way to quickly rinse something off when there's no access to a hose? It didn't take long for our team to come up with a lengthy list and Hart has a 20V Portable Rinser that promises to help.
View Full Article
Shine Up Your Ride With the Best Car Buffers
The main selling point of this HART buffer is the cordless feature, meaning no need to fumble around with power cables as you work. One 20 volt battery is included with the kid, providing an estimated two-and-a-half hours of use on one charge.
View Full Article
Special Report: 2021 Game Changers
The innovation is the products are tied to a rechargeable battery system, but it's also the retailer's commitment to make this a DIY, cross-category brand to trust, and the retailer/supplier relationship.
View Full Article
HART 20V 4-Tool Brushless Combo Kit Review
The Hart 20V brushless 4-tool combo kit includes some heavy hitters from Hart's ever-expanding lineup... If you're new to Hart, or you're starting to build your tool arsenal, this is a great place to start.
View Full Article
How to Choose a Circular Saw. 6 1/2″ VS 7 1/4″
Today we're going to take a closer look at the two circular saws now available from HART, explain the differences, and help you make the right choice. So put down the rest of your tools, it's time for a maker break.
View Full Article
Why You NEED to Buy This Power Tool Set at Walmart Today
DIYers and home improvement enthusiasts will be happy to know that Walmart is currently offering a great deal on the Hart 20V Cordless 4-Tool Combo Set, where it has chopped $40 off the full price.
View Full Article
The Starter Guide to Backyard Tools and Equipment
The first piece of backyard equipment any homeowner needs is a lawnmower. This cordless one is electric — so you don't have to worry about keeping gas on-hand — and works great for lawns up to a half an acre in size.
View Full Article
The Ultimate Father's Day Tools Gift Guide
Can't quite put your finger on the perfect tool yet? The Hart Multiple Drive Mechanics Tool Set is an ideal solution for Father's Day. Coming with 215 pieces, this set comes in a convenient case, equipped with two pull-out drawers. The lid pops up to reveal even more tools.
View Full Article
HART 20V Cordless 12-Inch Chainsaw Review
Hart 20V chainsaw tackles trimming and pruning without the weight
View Full Article
HART 20V Cordless Pole Hedge Trimmer Review
The Hart 20V Cordless Pole Hedge Trimmer (HGPH011VNM) has more than enough of an extension to get the dual-sided trimming blades up to the top of your hedges without putting you in harm's way.
View Full Article
HART Stack Modular Storage System
Modular storage systems have become all the rage amongst tool manufacturers these days. They offer a clean, organized, and stackable method for storing, securing, and moving your tools from place to place.
View Full Article
The Best Memorial Day Deals for Car Enthusiasts...
Walmart is offering an absolute steal of a deal on an impact drill, charger, and its batteries in celebration of Memorial Day.
View Full Article
Women Under Construction to Build on 21 Days of Kindness
"The WUCN has a mission to educate, motivate, and empower women, and here at HART Tools, we similarly aspire to provide the tools and resources to build confidence in all people to do projects themselves, making life easier," company spokesperson Susanjean Flaherty said. "When you look at all the lives the WUCN has helped, partnering up with them was an easy decision."
View Full Article
HART Is Building A Battery Platform For Everyone. But Will It Work? Power Tool Week In Review S4E21
Their plan was to build a robust battery platform that would not only power your DIY tools, but also your automotive tools, a full line of outdoor power equipment, and a bunch of lifestyle items like radios, air pumps and more. But that was just to start. Their unique approach was based on the only store you could buy them in. Walmart. The way they saw it, a battery platform in Walmart would be able to slowly work it's way into other departments, and last month, they did.
View Full Article
Best Impact Drivers: The Top Tools for Working With Fasteners
The Hart 20-Volt Cordless Impact Driver is a real workhorse, and it's built for functionality as well as ease of use.
View Full Article
New HART Tools And A New Project! Make These Beautiful Framed Shelves In An Afternoon!
This week we used some NEW HART Tools to build this beautiful set of shelves that are built into overlapping frames. It's a super easy project that can completely change a space!
View Full Article
Easy DIY Kids Picnic Table In Just 2 Hours!
It's Time For A Maker Break!
View Full Article
New Hart 20V Max Cordless Power Tools (2021 Expansion)
Walmart and Hart Tools have announced the launch of new 20V Max cordless power tools and accessories, including a number of new brushless tool options.
View Full Article
HART 20V Cordless 8-Inch Pole Saw Review
Continuing on into the hassle-free line of Hart 20V OPE tools, we have the 8-inch pole saw. Extending up to 9.5 feet, this oil-free saw seemed like the perfect solution for tackling the higher-hanging overgrowth on some of our crepe myrtles and palms around the shop.
View Full Article
HART Tools Launches New DIY Products at Walmart
Calling all DIYers: HART is adding more extensive and competitively priced power tools at Walmart!
View Full Article
Leanne and Steve Ford Show off Their Favorite DIY Tools From Hart
Think if we use these we'll absorb some of the Ford's restoration talents??
View Full Article
Walmart's Hart has more for 2021
The own brand of tools that launched last year is rolling out an extension of more than 100 new products, including the addition of vacuums and cleaning products.
View Full Article
HART 20V Cordless 315 CFM Blower Hands-On Preview
Hart 20V Blower Takes Straightforward Approach to Residential Lawn Cleanup
View Full Article
The Best Electric Chainsaws of 2021
Best Light-Duty Saw: Hart 8" Pruning Saw
View Full Article
Expecting a Tax Refund? Here's 3 Projects You Can Totally Get Done for Less!
To help you make the best use of your hard-earned windfall, we hooked up with the team at HART Tools to create a series of projects that will add value to your home and get done without blowing your tax refund budget!
View Full Article
What You Need to Know About Hart Tools
Walmart's exclusive line strikes a fine balance between cost and performance.
View Full Article
HART 20V 1/2-Inch Impact Wrench HPIW01
Hart has added another option to the table of helpful cordless tools, this time focusing on the garage. The Hart 1/2″ 20V Impact Wrench supplies the impact power to handle your lugnuts and larger nuts and bolts, all without the hassle of air hoses and compressors.
View Full Article
HART 40V Brushless Self-Propelled Lawn Mower Review
There are a TON of battery-powered lawn mower options these days and the field is growing every season... We brought in the Hart 40V brushless self-propelled lawn mower to see who should take advantage of this sub-$400 mower.
View Full Article
Is HART Outdoor Power Equipment Any Good?!
Lawn Mower, String Trimmer, Hedge Trimmer, Blower Review
View Full Article
HART 40V Turbo Fan Blower Review
Over the last year HART has really hit the ground running with their cordless tool options. Their lines of 20V and also 40V cordless tools is ever expanding.
View Full Article
How To Build a DIY Wood Address Planter
For drilling, we grabbed a cordless drill from our Hart 20V brushless tool kit. It does a great job on projects like this.
View Full Article
Best Cordless Lawn Mower
HART 40V Brushless 21″ Self Propelled Mower Kit
View Full Article
HART 20V Drill and Impact Kit
Today we are going to talk about the cornerstone for every homeowner, the Hart 20V Drill and Impact Kit.
View Full Article
Outdoor Murphy Bar DIY That Literally ANYONE Can Do
This project is a breeze to build, especially when you have the right tools for the job. Make it in a weekend, and enjoy it all summer long — and every warm weather season thereafter.
View Full Article
HART Tools At Walmart
Walmart finally has a tool brand they can call their own, even if they don't own it.
View Full Article
Best Battery-Powered Weedeater Roundup | Hands-On Testing
A newcomer to the battery OPE field, Hart is kicking things off with an attachment-ready brushless string trimmer.
View Full Article
Walmart Releases HART, a New Line of Tools Made for DIYers
Calling all do-it-yourselfers: Walmart is cementing itself in the DIY tool landscape with the launch of their extensive and competitively priced new tool line, HART.
View Full Article
Hart Power Tools
It's not often that you see a new power tool brand hit the market. What is even more unusual is when one of the largest companies backs the new brand. Yes, we are talking about Walmart and Hart power tools.
View Full Article
Do You Have These Lawn Care Tools? Because We Highly Recommend Them
Does your lawn need a little TLC? You've come to the right place. If you're a beginner, we've got your back with tools that'll set you up for success and make caring for your lawn easy. And, if you've already been tending to it for a while, but just want to level up your game, these products are perfect for you, too. Because as far as we're concerned, the grass is always greener exactly where you are — at home. So, why not make it as nice as it can possibly be?
View Full Article
Walmart Launches Hart, an Insanely Comprehensive Line of Tools
Everything from hedge trimmers to power drills to sanders, all at great prices.
View Full Article
Teaser: TTI's Hart Tools Launches Expansive New Brand at Walmart
Walmart is introducing a new and exclusive tool brand, Hart Tools. The new Hart Tools will be launching hand tools, power tools, accessories, tool storage, and even outdoor power tools.
View Full Article
HART Tools Launches New Line of Tools at Walmart
HART Tools has announced an exclusive deal with Walmart to offer an extensive new line of tools for the DIY and Home Improvement market. The new line of HART Tools will include hand tools, cordless power tools, outdoor power equipment, storage and safety, and accessories. This new line will allow shoppers at Walmart to find nearly any tool they could possibly need for home repairs, DIY projects and yard care.
View Full Article
Walmart Makes a Big Move Into Home Improvement
With a new tool launch, the retail giant taking aim at Home Depot and Lowe's.
View Full Article
Sours: https://www.harttools.com/doitwithhart/in-the-media
Walmart has been selling tools for years, and many brands have come and gone through the store's aisles. So we get it if people are wary of buying something like power tools from the retailer, thinking that they'll be just more cost savers that don't deliver. And we wouldn't blame them if they did; the store's Hyper Tough brand has performed poorly in our tests. But Walmart started carrying Hart tools in 2019, and we've found decent, value performance in the models we've tested. You can have a full look at the selection here.
---
Brushless Drill/Driver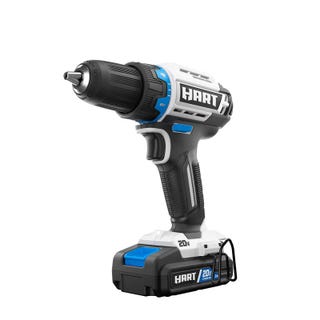 Hart 20-Volt Cordless 1/2-In. Drill/Driver Kit
SHOP NOW
Courtesy
Impact & Drill Bits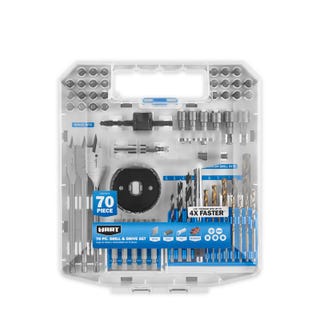 Hart 70-Piece Drill & Drive Bit Set
SHOP NOW
Courtesy
Hybrid Trimmer-Edger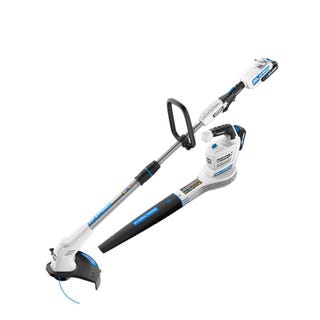 Hart 20-Volt Cordless String Trimmer-Edger & Blower Kit
SHOP NOW
Courtesy
14-Amp Miter Saw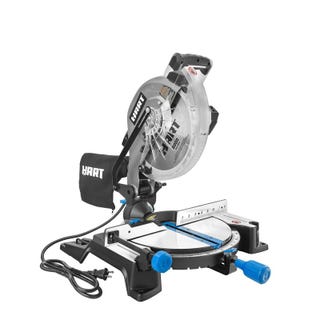 Hart 10-In. Compound Miter Saw
SHOP NOW
Courtesy
Combo Kit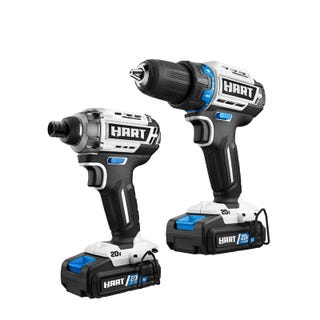 Hart 20-Volt Cordless Drill/Impact Driver Kit
SHOP NOW
Courtesy
---
The line (exclusive to Walmart) is extensive, consisting of hand and power tools that are both corded and cordless, 20-volt and 40-volt. We haven't tested all of them, but we've used enough to see that the brand delivers on value. Our recent test of its 40-volt mower found that it cut 8,340 square feet on a single charge (as much as any mower in its price class). Its chainsaw, also a 40-volt power tool, cut 46 hardwood discs. To give you some perspective, that's as many as the DeWalt DCCS670 cut, even if that saw is twice as fast and built far more robustly. While we had to dock the Hart saw a few points (its hand/wrist guard is a bit clumsy), it proved a capable cutter. For those among us who already find who already find themselves in one of Walmart's 4,759 locations in the U.S., the competitive pricing is attractive. Time-starved shoppers can pick up a hoodie, a few groceries, and a few aisles away put a cordless drill into their cart.
Some Background
It made sense for Walmart to partner with Hart, a brand owned by Hong Kong-based TTI, an experienced operator in the hand- and power-tool space with worldwide sales of $7.7 billion in 2019. Its CEO is Joe Galli, the guy most responsible for the rebranding launch of DeWalt in 1992; he transformed it from a manufacturer of radial arm saws to a power-tool powerhouse.
Hart's history goes back to 1983, when it was founded in California to make advanced forms of framing hammers. TTI then bought it in 2007 to fill out its hand-tool offerings. TTI also owns such well-regarded makers of power tools and electric home appliances as Milwaukee Electric Tool, Ryobi, Hoover, Oreck, and Dirt Devil.­
Cost Comparisons
Direct cost comparisons among brands can be tricky because subtleties may be hiding in the price. For example, two drill kits could look the same, but one might be sold with one battery and the other with two batteries; one drill may have a brushed motor, the other may be brushless (most, but not all, Hart tools featured brushed motors, by the way). One tool may be U.S.-made, while its competitor comes in from offshore. A tool's size, weight, and the specifics of its construction also affect its price. But here are some specifics for context:
Hart's 25-foot tape measure is $8.88; the Stanley Fat Max version at The Home Depot is $8.70.
Hart's magnetic-end pro tape is $13.88, while a U.S.-made Stanley Fat Max is $24.97.
A Craftsman 320-piece mechanic's tool set costs $214; the 215-piece Hart version is $148.
Another equivalency: A two-battery Craftsman drill and impact driver kit costs $99; a single-battery Hart kit costs $94. Both have standard brushed motors.
The Takeaway
Our initial testing of Hart tools found them delivering on both performance and value. But enough to make it worth you going out of your way to grab a Hart tool? It comes down to three factors: what you see as your performance requirements, where you like to shop, and your budget. If your performance requirements are high, closer to the pro end of the spectrum, you'll need to shop for more established brands like DeWalt, Milwaukee, Metabo-HPT, Bosch, and Makita. These are the ones that prove their professional performance and durability, test in and test out, year in and year out. Craftsman tools are also doing very well in our use, and many of them provide pro and near-pro levels of capability. Lowe's Kobalt line is also coming on very strong, as are select Worx tools.
In the end, we can't say that Hart tools offer enough of either that performance or value yet to make them worth seeking out. But they provide respectable, spunky, homeowner-grade performance at a decent price. And if you're already a Walmart shopper, it makes sense to give the brand a careful look.
Roy BerendsohnSenior Home EditorRoy Berendsohn has worked for more than 25 years at Popular Mechanics, where he has written on carpentry, masonry, painting, plumbing, electrical, woodworking, blacksmithing, welding, lawn care, chainsaw use, and outdoor power equipment.
Sours: https://www.popularmechanics.com/home/a29856890/walmart-hart-tools/
Hart 20V Brushless Hammer Drill Steps Up Performance In A Big Way
Hart's 20V system is full of useful cordless tools for taking care of the to-do list around your house. When you're ready to take your game to the next level, the Hart 20V brushless hammer drill offers a boost in performance, runtime, and life.
Hart 20V Brushless Hammer Drill Performance
Hart moves into the same performance level as professional hammer drills with this model. With its 2-speed gearbox boasting 500 RPM in low and 2100 RPM in high, it has plenty of speed.
There's also some muscle to back it up—650 in-lbs worth. When you need to drill concrete, brick, or other masonry, you can make quick work of it with 31,000 BPM in hammer drill mode.
There's a gentle side to the brushless motor's performance as well. When you need more control over fastening depth, 24 clutch positions give you control when precision matters.
Putting all of that together, you get Hart's most capable drill to date. Using it around the shop and putting it through a few tests, it really does have the chops to handle the same tasks we use our professional-grade tools for.
Hart Brushless Hammer Drill Design Notes
Size and Weight
A quick glance at this drill and you might think it's too compact for the performance stats it's posting. It's 7.5 inches from tip to tail and noticeably shorter than some of Hart's early offerings.
As for the weight, it's 3.38 pounds bare and a 2.0Ah battery brings it up to 4.19 pounds.
Auxilliary Handle
If this is your first big drill upgrade, you might not be used to having a side handle. It's incredibly important, though. With the amount of torque this hammer drill produces and the accessories it's capable of drilling with, there's a greater chance you can bind a bit and get a wrist or elbow injury if the drill turns on you.
Anytime you're working in low gear (which has the highest torque), screw the side handle into the side that's most comfortable for you. It gives you a stable position to control the drill under heavier loads.
All-Metal Chuck
Hart turns to a 1/2-inch metal chuck that's significant for a couple of reasons. First, a metal chuck is more durable than the plastic ones we see on entry-level drills. The 1/2-inch capacity is noteworthy because you're able to use a broader range of bits, including self-feed bits that don't fit in a 3/8-inch chuck.
Additional Features
Reversible belt hook
LED light
Hart 20V Brushless Hammer Drill Price
This Hart 20V brushless hammer drill comes in at a very reachable $148.00 kitted with a 2.0Ah battery. The kit also includes a charger and soft carrying case for easy storage. This is a pretty good deal for a brushless hammer drill, especially considering the wide range of compatible 20V Hart tools that work with the same battery.
However, if don't need all of the speed and muscle this model has, Hart's brushed hammer drill kit is well under $100.
Hart offers a 3-year limited warranty on their 20V lineup with a 90-day defect return policy.
The Bottom Line
When it comes right down to it, Hart's 20V brushless hammer drill is a great bang for your buck. It's a big upgrade over the brushed version and has the performance to handle any repairs and home improvement projects on your list. If you're looking for a drill to tackle tough jobs without breaking the bank, take our word for it and give Hart a shot.
Check out the full line of Hart Tools by clicking here!
Hammer Drill Vs. Rotary Hammer
Don't know the difference? Check out our article which highlights the proper applications and key differences of these tools.
Hart Brushless Hammer Drill Specifications
Model: Hart HPHD25B
2-speed gearbox
24-postion clutch
0-500 RPM(Low), 0-2100 RPM(High)
Up to 650 in-lbs of torque
Up to 31,000 BPM
Bare Weight: 3.38lbs
Weight With 2Ah Battery: 4.19lbs
Assembled Dimensions(L x W x H): 8.39 x 4.25 x 10.64 Inches
Sours: https://www.protoolreviews.com/hart-20v-brushless-hammer-drill-review-hphd25b/
Hart 20V Brushless Drill and Impact Driver Combo Puts More Power and Runtime in Your Hands
We found that Hart's 4-tool combo kit gave homeowners an excellent all-around tool set for household repairs and projects. When your needs go beyond simple repairs and you want something that can work harder and longer, that's when you turn to brushless tools. The Hart 20V brushless drill and impact driver combo is a great way to get started and gives you two key tools you'll use frequently.
Hart 20V Brushless Drill Features
The Hart 20V brushless drill has a 1/2-inch chuck, 24-position clutch, and 2-speed gearbox. Low speed gives you up to 500 RPM and the most torque while high speed gets you up to 1800 RPM with less available torque.
Hart doesn't actually list the torque each mode has, which is somewhat unusual. With some brands reporting unit watts out and others boasting in-lbs of torque (sometimes both hard and soft torque values), it may be more important to simply talk about what you can expect to do with this drill.
How Does the Hart 20V Brushless Drill Perform?
We ran a handful of experiments to see how large of a bit you can reasonably expect to use. Drilling in wood, we found using the full range of twist bits all the way up to 1/2-inch works really well. The tool also easily handles 1-inch spade and auger bits as well as self-feed bits up to 1-1/2-inches.
Realistically, you can go a little higher than that depending on the hardness and thickness of the wood. But without an auxiliary handle to help you out, you can run into a higher risk of the drill binding up.
The Hart brushless drill did well on metal as well. I needed to drill 1/2-inch holes through both 1/4-inch steel and aluminum on my boat trailer. I used the Hart 20V brushless drill along with a cobalt drill bit to make it happen.
Following that up, I also had some step bit work in the same materials, creating holes nearly 3/4-inches wide. I didn't experience any issues with power in either of those applications. The tool drills quickly and easily and it never starved for power in metal.
The biggest difference we noticed across all of our drilling was the top-end speed. Most of our drills fall in the 2000 – 2100 RPM range. With the Hart brushless drill, we experienced some slow down on lighter drilling. Still, while the drop is noticeable, it's not obnoxiously slow by any means.
Dropping the tool to 500 RPM in Low for high-torque tasks puts it in line with even some of our Pro-level drills.
Hart HPDD25 Specifications
Model: Hart HPDD25
No-load speed (Low): 0 – 500 RPM
No-load speed (High): 0 – 1800 RPM
Max torque: Not listed
Weight (bare): 2.6 lbs.
Weight (w/ 2Ah battery): 3.4 lbs.
Length: 7.5 in.
Hart 20V Brushless Impact Driver
The Hart 20V brushless impact driver comes as a single-speed model with a standard 1/4-inch hex collet. It boasts a 3000 RPM top speed and impressive 2200 in-lbs of torque. We're comfortable using anything around 1600 in-lbs, and Hart's declared power level well exceeds several Pro brands.
Using the Hart 20V Brushless Impact Driver
Like the drill, the Hart 20V brushless impact driver gives up a little top-end speed compared to some of the other impacts we use. It's a screw-driving monster, though! If there's a standard head fastener (slotted, Phillips, Torx, square, etc) it won't drive, we haven't found it.
That led us to hex head fasteners and socket adapters. This is an area that Hart's power level excels, but you also want to manage that power. A 1/4-inch hex shank isn't difficult to break at with this kind of torque.
You can pretty much run full-speed when driving in wood. Adapters and bits break most frequently when fastening against metal. Smaller nuts and bolts are one thing, but save the lug nuts and larger fasteners for your impact wrench. Incidentally, Hart happens makes both a 3/8-inch and a 1/2-inch impact wrench.
Reviewer's Note: We'd recommend making the switch from a Hart impact driver to a Hart impact wrench at the same point as our professional models. When driving something larger than a 1/4-inch ledger screw, timber screw, or lag, one of Hart's impact wrenches is the better tool for the job.
Overall, we felt the Hart 20V brushless impact driver capable of driving anything we ask of our Pro-targeted tools.
Hart HPID25 Specifications
Model: Hart HPID25
No-load speed: 0 – 3000 RPM
Max torque: 2200 in-lbs
Weight (bare): 2.4 lbs.
Weight (w/ 2.0Ah battery): 3.3 lbs.
Length: 6.1 in.
Additional Field Notes on Both Tools
Size and Weight
We found neither of the tools in this kit unwieldy. However, both seem a bit heavier and longer than what you can find with some of the more expensive Prosumer models. The weight difference increases when you compare them to premium Pro models. Those looking for an entry-level tool shouldn't find that a surprise nor a disappointment. It's just one of the trade-offs we expect to make to get brushless performance at a better price.
In our opinion, we believe all levels of users should enjoy the feel and performance of both of these tools. This includes your kids as you teach them how to build projects and make their own repairs.
Belt Clips
We were initially a little concerned about Hart using wire form belt clips instead of the more stout styles we see on our professional tools. However, they're stronger than they look. Sure, you can bend them (you can bend the flat style steel type as well), but they proved more than effective for daily use. They also slip on and off thicker belts more easily—but never accidentally.
Battery Choices
You get a pair of 2.0Ah batteries in the Hart 20V brushless drill and impact driver kit. That delivers a bump up from the 1.5Ah batteries included with some of their brushed tools. These slim packs keep the weight and profile down. We actually prefer them—certainly for impact drivers. If you need more runtime, Hart Tools makes 4.0Ah packs you can buy separately.
Pricing
The Hart 20V brushless drill and impact driver combo runs $178 at Walmart. The kit includes the tools, a pair of 2.0Ah batteries, and a charger. There's a soft bag to store the tools in and there's a bit for each tool along with a belt clip.
Many brushless combos in the same vein are closer to $200 and up, so you're saving a little money by going with Hart.
For more information about this and other HART Tools, click here.
The Bottom Line: Where Does it Fit?
The performance and design we see from the Hart 20V brushless drill and impact driver combo kit put it squarely in a sector we call "Prosumer". It strikes a balance between design, performance, and price that meets a lot of requirements, including light to medium-duty professional-level work. At the same time, it's within reach of DIY budgets.
There are certainly trade-offs between this and premium designs. We also haven't performed long-term endurance testing. Still, if getting a lot of performance for your money is a high priority, we find the value here hard to ignore. In the end, serious DIYers and even budget-conscience tradesmen should consider this kit as a viable alternative to more expensive options.
Sours: https://www.protoolreviews.com/hart-20v-brushless-drill-impact-driver-review/
Drill review hart
HART 20V Cordless Tool Offerings Review
HART Tools has a whole new look and Tool Box Buzz was given the opportunity to review some of their 20V cordless tool offerings. HART's new mission is to provide homeowners, DIYers, and first time project tacklers with affordable cordless tool offerings. Lets be clear, these are not professional grade tools designed for demanding job sites. But that is okay! These tools are available to users without the intimidating amount of financial invest and commitment that goes along with buying into a cordless tool line.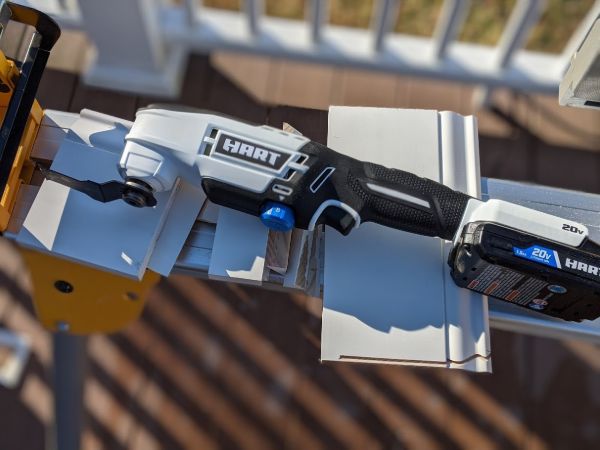 To see how the HART line stacks up, I selected three commonly used cordless tools found on the professional contractor job site. I then used the HART tools in place of my typical battery of tools and found that they are actually very capable. They will get the job done and that is really what matters. When you factor in the low cost of the tools, that makes their capability even more impressive.
This review will focus on the 20V 1/2″ Hammer Drill, the 20V 1/4″ Impact Driver, and the 20V Oscillating Multi-Tool. These three offerings are types of tools that pros rely on every day and would be just as valuable to the weekend warrior doing projects around their own home.
HART 20V 1/2″ Hammer Drill Model #HPHD01B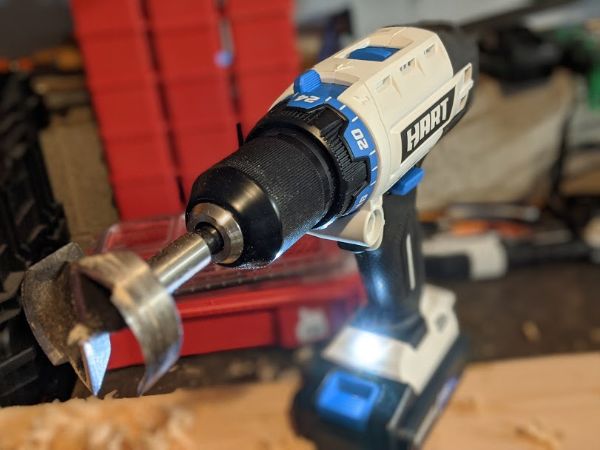 A 2″ forstner bit was no problem for the HART hammer drill.
A hammer drill/driver is an invaluable tool on the professional job site. For homeowners or DIYers it is a tool that is unbelievably versatile. If you need to bore a large diameter hole through wood, set concrete anchors in your garage for shelving, or hang a clock or picture on a masonry fireplace, a hammer drill is what you want to reach for.
To learn more about the capabilities of hammer drills check out the Tool Box Buzz Best Cordless 1/2″ Hammer Drill article.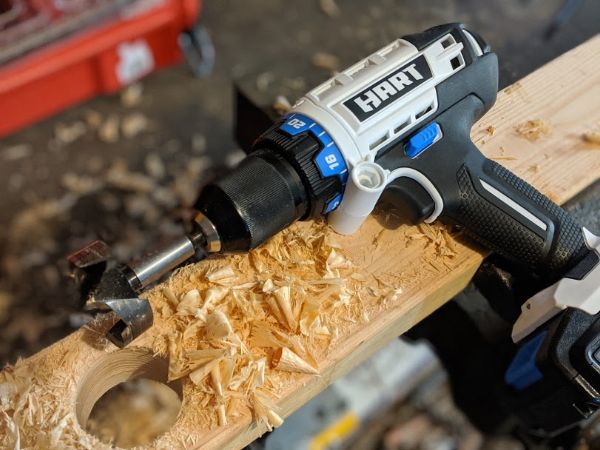 The HART 20V hammer drill easily bored through 2×4 lumber with a 2″ forstner bit.
HART's hammer drill features a metal chuck, two speed gearbox, 24 position clutch, LED work light as well as an optional auxiliary handle. The HART hammer drill was fully capable of drilling and driving through concrete and masonry.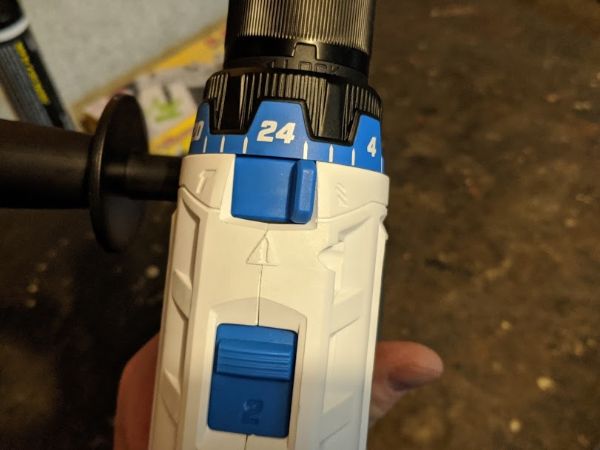 Hart included 2 speeds and a 24 position clutch on their 1/2″ hammer drill.
The drill is slow during demanding tasks but still capable. The molded attachment point for the auxiliary handle is awkward and would be more ergonomic if it was longer and located above the chuck instead of below.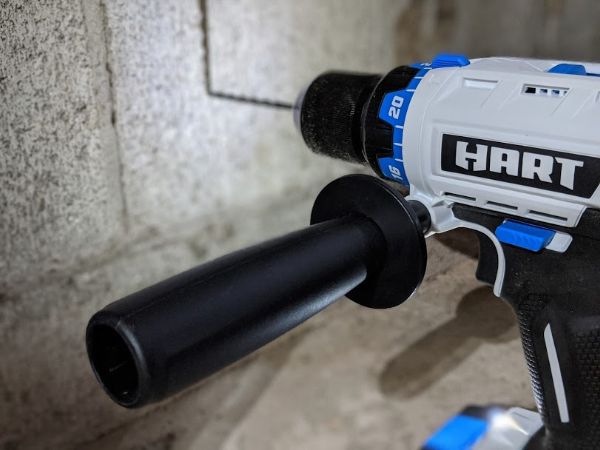 HART 20V 1/4″ Impact Driver Model #HPID01B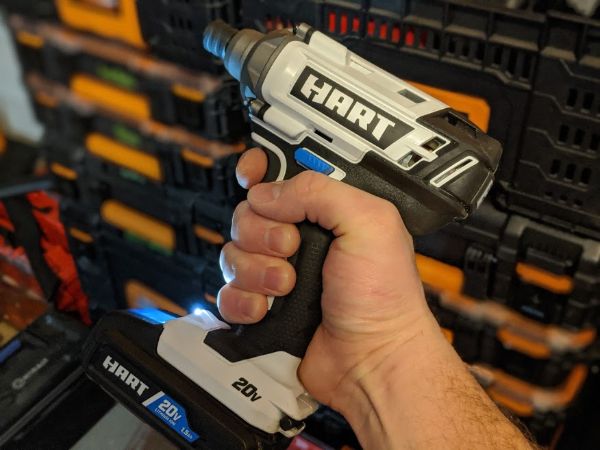 The cordless impact driver pretty much owns the modern day construction world. The overwhelming majority of fasteners being driven by contractors and pros are being driven by impact drivers. They are also a big favorite of all of us here at Tool Box Buzz.
HART's impact driver is pretty basic. It will drive fasteners in and then back them out and that's about it. There is a LED light built into the base of the tool that projects upwards towards the work surface. The 1/4″ collet is also not a one handed insert and requires the use of two hands. While this may be too basic for specialized professionals, this Spartan design removes the guess work for new users when selecting the appropriate speed or mode.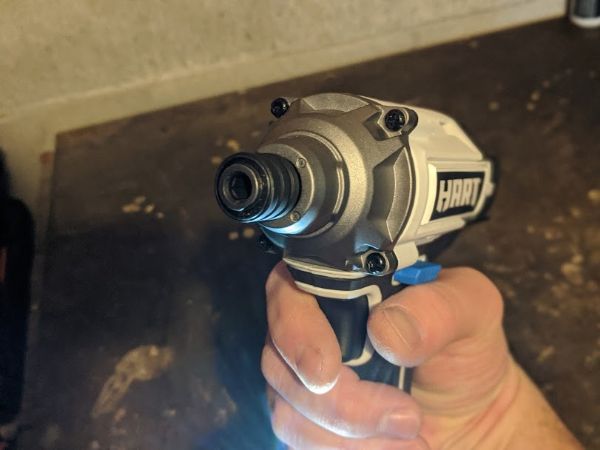 The 1/4″ collet on the HART 20V impact driver requires two hands to operate.
The impact driver was fully capable of installing a variety of structural fasteners. During use I had no issues with 3″ coated deck screws or a variety of GRK Rugged Structural Screws. Again, while not the fastest option it will still get the job done.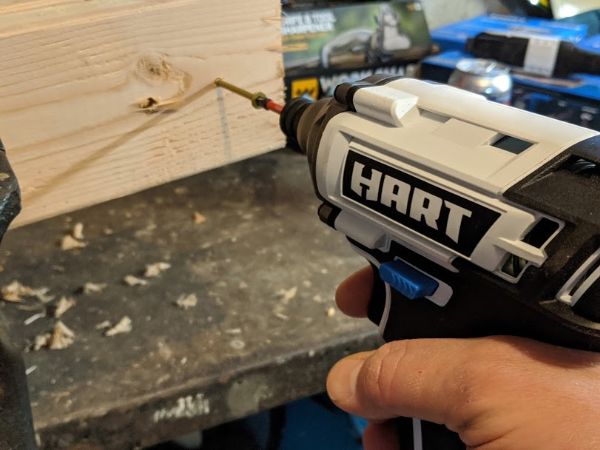 3″ coated deck screws through dimensional framing lumber. No problem for the HART 20V impact driver.
The tool is on the larger side. It is tall and wide and was difficult getting into small cabinets or other confined spaces. The driver I am using currently features a brushed motor. HART offers a brushless version as part of a combo kit that appears to cut down on some of the overall size of the tool.
HART 20V Oscillating Multi-Tool Model #HPMT01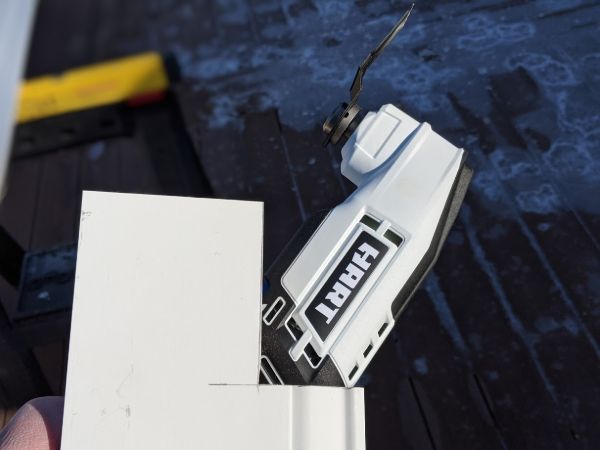 Cut outs for in baseboard trim is a task commonly performed using an OMT. The HART 20V OMT performed well in this test.
The capabilities of an oscillating multi-tool (OMT) are essentially endless. They solve a lot of problems from finish sanding, to detailed trim work, as well as tile and drywall installation. They are also a tool that we have reviewed extensively at Tool Box Buzz as part of our Head to Head series.
HART includes a surprising amount of features with their OMT. A power range from 0-20,000 osculations per minute, a variable speed dial, LED work light, on board storage for a blade change wrench, as well as a variety of cutting blades and sanding pads. The grip of the OMT is ergonomic and includes textured rubber over molding. The LED work light broadcast well onto the work surface and greatly enhances visibility.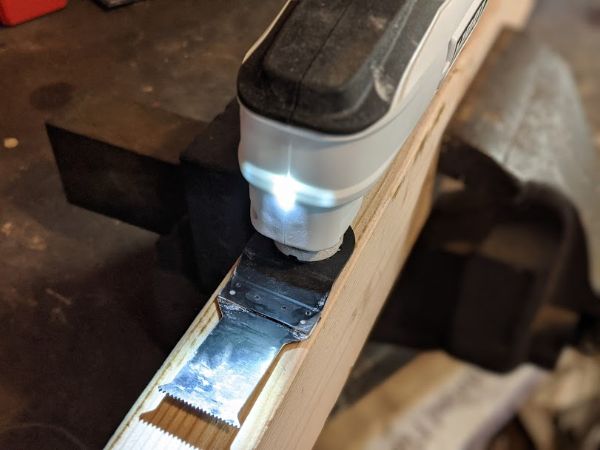 The LED work light on the Hart OMT is bright and projects well onto the work surface.
While using the Hart OMT it was able to power through 5/8″ thick drywall for electrical box cut outs and also 3/4″ primed pine baseboard trim for cabinet cutouts.
This thing is huge. It is longer than any OMT I have ever used before which can feel awkward at times. The blade change system is completely tooled and very slow. The motor is also slightly under powered and the tool struggles with hardwoods and other high demand cutting tasks.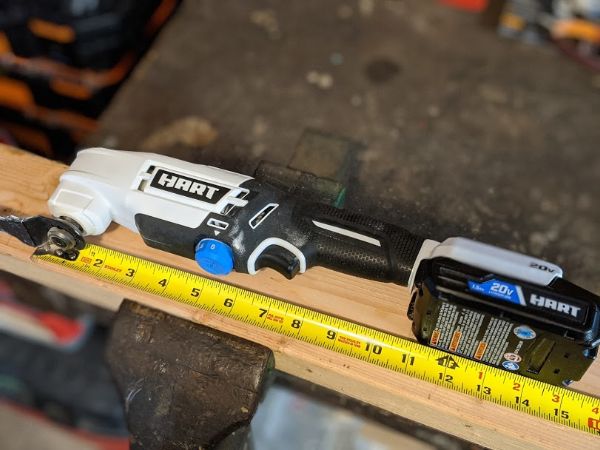 With a battery installed the HART 20V OMT is approximately 16″ long. It is a BIG tool.
HART included a few factory blades with their tool, but I would strongly suggest investing in a more high quality set of blades from your local home center or hardware store.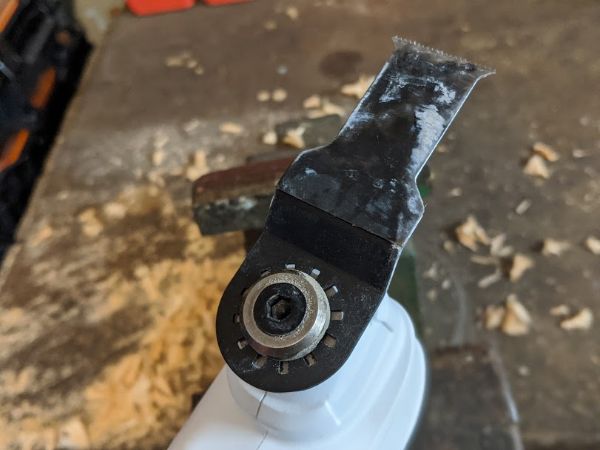 Blade change is slow and requires an allen key with the HART 20V OMT.
HART 20V Cordless Tools Battery System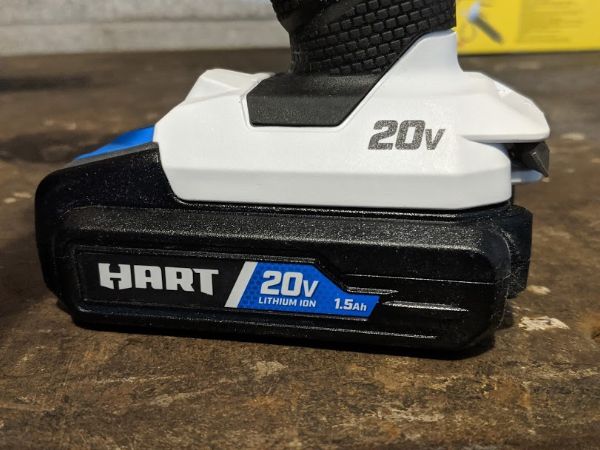 The kit options from HART Tools included a 1.5Ah 20V battery along with a 2 Amp slide on type charger. The batteries lack any kind of fuel gauge option which makes battery management more difficult. The 2 Amp charger is compact and extremely simple to use. HART has additional battery offerings for the 20V platform in 2.0 and 4.0 Amp Hours ranges as well as a stand alone power source adapter.
HART 20V Cordless Tools Pricing
For a casual use homeowner or a entry level apprentice just starting out, the cost associated with tools is a big issue. It is clear that HART kept this in mind when developing this new line of cordless tools. While the features may seem basic and the tools lack some of the refinement of higher end brands, HART tools are an incredible value. Each of the tools reviewed above cost less than $80.00 as a full kit. Here is a breakdown of the pricing further;
1/2″ Hammer Drill Kit: $79.00
1/4″ Impact Driver Kit: $69.00
Multi-Tool (Bare Tool): $54.00
To get a capable tool, with battery and charger, for sub $80.00 is almost unheard of today. But it gets better. To make these tools widely available, HART partnered with Walmart as their exclusive retailer. All HART cordless tools, hand tools, and outdoor power equipment options are available now at Walmart stores and online. The buy it now box below will bring you to a full listing of tools available at Walmart.
Hart Tools 20V Cordless Power Tools
Buy Now
$54.00-$79.00
The low cost of HART tools combined with the easy accessibility through a mega retailer like Walmart make these a no brainer for anyone just starting out in the construction field or looking to try a DIY project at home.
Overall Thoughts on HART 20V Cordless Tools
I was initially skeptical of HART's new lineup of 20V cordless tools. I knew that they were going to priced low and I fully expected them to be on time use and throw away type tools. However after spending time with these tools in hand and performing common construction tasks with them, I found that I was absolutely wrong.
The HART lineup represents a solid range of options for anyone who wants to get into cordless tools for minimal investment. I can think of countless people in my life who would be well suited using HART tools for common projects around the house. There are also some knuckle-head crews out there that I have worked with that can't be trusted with nice things. They would be well served with a set of HART tools that the company will likely end up replacing several times.
Overall HART has impressed me with their first generation of cordless 20V tools. One welcome change would be to include some sort of charge gauge either on the tool or the battery. This feature would assist with managing the tool batteries more easily.
For a low cost but capable cordless tool option, check out the 20V line of HART tools that can be found online or at a store likely not too far from your house or jobsite.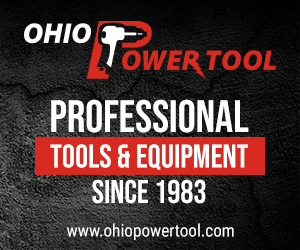 About the author
Wes Bartosik
Wes Bartosik is a Connecticut native with strong family ties to the construction world. Wes' father and grandfather both were builders and developers and taught Wes the values of doing things right from an early age and getting hands on experience with every facet of the construction industry. Wes apprenticed with a carpenter throughout high school and would later attend Central Connecticut State University earning a bachelor's degree in construction management all while working for a large excavation contractor throughout. Wes would go on to work for a local heavy-highway construction company and gain further experience with all the skilled trades associated with large civil engineering and utility projects. Though working as a manager now, Wes' true passion is working in the field alongside the tradesman and laborers on site. Wes has been involved in community based service projects throughout his life as well as emergency services. In his spare time he takes on serious DIY projects for himself, friends and family. He is a firm believer that with a quality tool in your hands and some grit, you can accomplish anything.
All posts by Wes »
Disclosure
Product reviews on this site contain our opinion of a product or service. We will always strive for objectivity and transparency in our reviews. Our goal is to provide readers with honest, objective information based on our own experiences. We never have and never will accept payment in exchange for a positive review. Many of the products that we review are provided to us for free by a manufacturer or retailer. In some cases, we also have advertising or affiliate relationships with manufacturers and retailers of products and services we review. For additional information please visit our additional disclosure policies.
Sours: https://www.toolboxbuzz.com/cordless-tools/hart-20v-cordless-tools-review/
We used HART Tools for ONE YEAR. How did they hold up? Let's look!
I meet them on the road. Rita silently, with sorrowful haste, catches a taxi or a private trader, all the same, just to leave, not to see, maybe try to forget. Well, will we meet again. - Borisych is trying to look pathetic and I must say he succeeds very well.
Similar news:
Then she again began to experience an orgasm, after which she immediately calmed. Down. I was scared, but seeing her smile on her face, I continued on. When I had an orgasm for the third time, she pulled me to her, turned me on my back and kissed me hard on the lips that were in.
24509
24510
24511
24512
24513