USB tethering greyed out? What to do to enable it
There are multiple different ways to connect to the Internet, and USB tethering is one of them. Of
course, it is not the obvious option, but it is a reliable one, especially when direct connections are
faulty.
However, a few Android users have reported the problem of USB tethering not working. When you
are already falling onto your secondary method of Internet connection, and even that's not working,
we know how frustrating that can be. This is why we are here to help you out.
Let's look at a few things you can do to enable USB tethering again.
USB tethering greyed out – Eliminate the obvious
Sometimes, the answer is extremely simple. Maybe the cable is not plugged in correctly? Believe us.
This is a common issue. Make sure the cable is plugged in and is in working condition. Also, double-
check and see if you followed all the steps correctly. Missing a step can lead to problems as well. If the issue persists, you can look at the below options to troubleshoot.
USB tethering Android not working – How to enable it
One of these solutions will work for sure:
1. Switch off the Wi-Fi on your device. Simply swipe the screen down and tap on the Wi-Fi icon
on your Android phone. Try USB tethering now.
2. Change the USB port and see if that works, especially if you are sure that your USB cable is
working just fine. You can also change the cable and port, both, to be absolutely sure.
3. Go through the good old restarting process. Make sure you restart your computer as well as
your phone. We still don't know how it fixes the problem, but more often than not, it does!
4. Check if the tethering driversare updated. On your computer, go to Device Manager >
Network Adapter > Remote NDIS-based Internet Sharing Device > Properties > Driver. Here,
you will see an option called Driver Update. Select that and choose to automatically search
for the updated version.
5. While you are at it, we advise that you update your phone and computer to their respective
latest versions as well.
6. Try the Windows Troubleshooter. Many users have said that it doesn't really work, but hey,
there's no harm in trying.
7. Change the APN settings to see if that helps. In the APN Type, type default, dun, and choose
OK. For some users, changing it to dun works. So, please try both.
If you are still unable to enable USB tethering, we urge you to have your phone checked by a
professional. Meanwhile, you can turn your phone into a Wi-Fi hotspot and connect to the Internet
through this method.
Note: We have tested all these tips on Windows 7, 8.1, and 10. If you have previous versions of
Windows, please let the expert know.
We hope we solved your problem. Feel free to comment with your suggestions, if any.
Sours: https://trendyandroid.com/usb-tethering-greyed-out/
What is USB Tethering and How to Enable it?
Nowadays many of us are sharing mobile data for our computers or laptops this process is called Tethering. Generally, we all share it by Mobile Hotspot. In Mobile Hotspot Internet is shared with a connected computer via wireless LAN which is called Wi-Fi. But the internet can be tethered by other methods as well like USB and Bluetooth Tethering. There is a big difference between USB Tethering and Mobile Hotspot. You all are familiar with Mobile Hotspot, Now Let's talk about what is USB tethering and how you can enable it.
What is USB Tethering?
When the mobile internet connection is shared with a connected computer or laptop using physical USB data cable then it is called USB Tethering. It gives a high-speed connection while sharing the internet between mobile devices and connected computer systems, it is because Wired connection is quite stronger than Wireless LAN connection.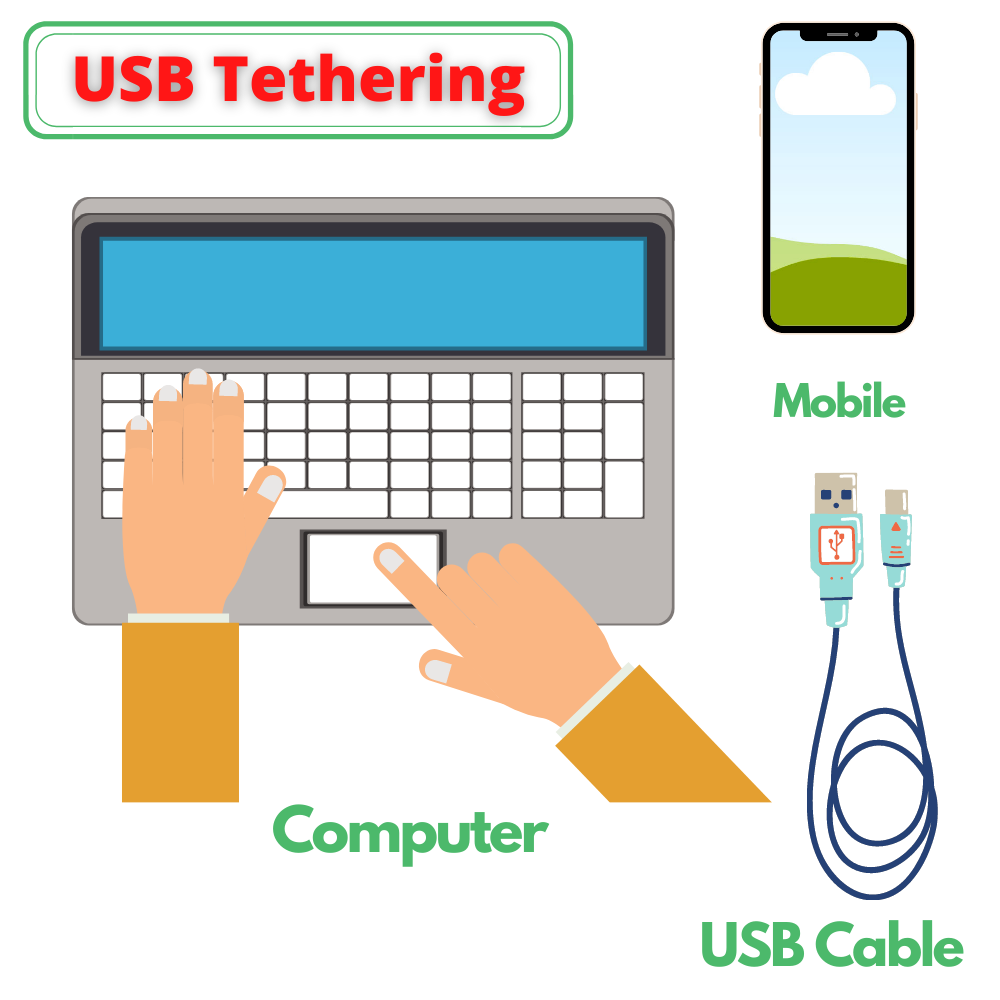 USB Tethering.
How to enable It?
Below are the steps mentioned to enable USB Tethering between your mobile and computer system.
Step 1: First, connect your mobile to the computer system by the USB Cable.
Step 2: On your smartphone, go to 'Settings', and select 'Portable Hotspot Settings'.
Step 3: Under Portable Hotspot Settings, you will see the option 'USB Tethering'. Turn On that USB Tethering toggle switch. (Note that this option is activated only when your mobile phone is connected to the computer via USB cable).
Step 4: As you turn on USB Tethering in your mobile phone, one pop-up window will appear asking permission to connect to other devices. Just click on 'Yes' to proceed further.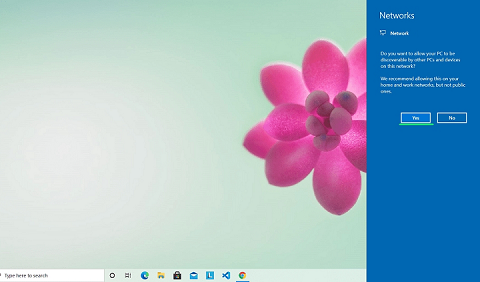 A Pop-up window asking permission.
Step 5: Once you click Yes, your computer gets connected to the mobile phone for internet sharing. You can see that symbol on the taskbar of your PC.
Connected status.
Advantages of USB Tethering.
These are some advantages provided by USB Tethering over the Mobile Hotspot.
The computer does not need to have Wi-Fi (Wireless LAN) functionality for USB Tethering.
It does not lower the battery life of mobile, as the mobile gets charged while sharing the internet.
The internet speed obtained in the connected computer is quite faster because of the strong connection build by USB data cable.
Also, If mobile does not have Hotspot functionality, still USB Tethering can work for it.
That's all, this is how you can share your mobile internet to your computer.
Sours: https://www.geeksforgeeks.org/what-is-usb-tethering-and-how-to-enable-it/
Learn how to share your mobile data connection over a USB cable using the Samsung Galaxy S10.
Computer drivers
Download and install Samsung Smart Switch that is compatible with your computer from http://www.samsung.com/us/support/smart-switch-support/#!/.
Connect the cable to a compatible USB port on your computer.
Connect the other end of the cable to your mobile device.
Allow your computer to install any required drivers for your device. This process may take a few minutes.
USB tethering
From the Home screen, swipe up on an empty spot to open the Apps tray.
Tap Settings > Connections >Mobile HotSpot and Tethering.
Connect your phone to your computer via USB cable. For best results, use the cable that came with the phone.
To share your connection, move the switch for the USB tethering to turn on.
Tap OK if you would like to learn more about tethering.
Once connected, Tethered appears under USB tethering and the checkbox is selected.
Sours: https://www.t-mobile.com/support/devices/android/samsung-galaxy-s10/tethering-samsung-galaxy-s10
How to Set Up USB Tethering on Windows 10
What to Know
First, connect your Android or iPhone to your laptop with a USB cable.
Next, go to Settings on your phone > turn on USBTethering (Android) or Personal Hotspot (iPhone).
In the Windows taskbar, open the computer's Network and Internet settings to verify the connection.
This article explains how to set up USB tethering on Windows 10 devices, which allows you to create a hotspot to access the internet even when no network connection is available. Troubleshooting tips are also included if something isn't working right.
How to Set up USB Tethering on Windows 11
How to Set Up USB Tethering on Windows 10
Before you begin, make sure both your phone's operating system and your computer's operating system are updated to the latest versions. Also, depending on your mobile carrier, you may be charged a flat fee for tethering a laptop to a mobile device. Check with your carrier if you're worried about extra costs.
To set up USB tethering between your mobile device and your Windows 10 computer:
Connect your mobile device to your laptop via USB cable.

Open your phone's settings and go to Network & Internet > Hotspot & tethering (Android) or Cellular > Personal Hotspot (iPhone).

turn on USB tethering (on Android) or Personal Hotspot (on iPhone) to enable. Your laptop should now be able to access the internet through your phone's mobile plan.

Make sure you turn off Wi-Fi so your computer doesn't try connecting with other networks you can't access.

Open your computer's Network and Internet settings in the Windows taskbar to make sure you're connected. Depending on your device, it may say that you're connected via LAN.

If you're having trouble with the connection, try plugging your phone into a different USB port, or using a different cable.
Troubleshooting Windows 10 USB Tethering
If USB tethering isn't working in Windows 10, it could be because the driver for the network adapter is outdated. To fix this problem:
Right-click the Start Menu and select Device Manager.

Expand the Network adapters tab, then right-click your network adapter and select Update driver.

Select Search automatically for updated driver software.
You must restart the computer after installing the driver. If the Device Manager says that you already have the latest driver, then the problem could be with your connection, your phone, or your mobile data.
What Is USB Tethering?
Tethering is the process of sharing your phone's mobile data to access the internet on another device, such as a laptop. You can tether using Bluetooth or NFC, but USB tethering is the fastest and most effective method. That said, USB tethering can't compete with the speeds of a solid Wi-Fi connection.
Be careful about how much data you use when tethered. Since many data plans charge incremental amounts based on data usage, watching videos or downloading files on a tethered connection can quickly increase your phone bill. In some cases, it's possible to reverse tether and share Wi-Fi from your computer to your phone to save on data.
Thanks for letting us know!
Sours: https://www.lifewire.com/set-up-usb-tethering-windows-10-4584419
Tethering android usb enable
Yoodley is reader-supported. When you buy through links on our site, we may earn an affiliate commission.
This guide explains why USB tethering is sometimes greyed out and how you can fix the issue. Please try all the solutions we have covered, and hopefully, you will be able to quickly fix the issue. If you can't fix it even after following all the solutions, please use the comment box on this page.
Why Does USB Tethering Greyed Out Problem Occurs and How to Fix It?
The USB tethering option is always greyed out until the device detects a USB device. But sometimes, the device does not identify the other device, and you may end up seeing the option as greyed out even after plugging the USB. Reasons for not detecting a device can be a faulty USB cable, faulty port, a charge-only cable, software bugs, and more.
In the next section, we have covered all the solutions that can fix the tethering issue on your device. 
Solution 1: Try a different USB cable
Make sure you use a USB data cable; some USB cables are charge-only so they can't be used for USB tethering. Keep in mind even some data USB cables do not allow USB tethering, so you need to find the one that does. 
Solution 2: Try a different USB port
Laptops and desktop computers have multiple USB ports; if you use a USB 2.0 port, try a USB 3.0 or USB 3.1 and check if it fixes the issue. If you have a desktop computer, try connecting with one of the USB ports on the back of the CPU cabinet. 
Solution 3: Clean the charging and USB port
Sometimes dirt on the charging or USB port can be the reason behind the connectivity issue. Blow air in the charging port of your device and repeat the same for the USB port. In some instances, air will not be enough, so you may have to use a brush to gently clean the ports. 
Some device cases do not let the plug go all the way in, so please remove the case and try connecting your device. 
Solution 4: Remove the USB dock if you use it
If you are using a USB dock, try plugging in the USB without the dock.
Solution 5: Restart both devices
Sometimes restarting a device can fix issues like these; there will be no explanation about why it was happening, but it can sure fix it for some people.
Solution 6: Turn off "Data saver" mode
When you try to enable tethering while Data saver is enabled, a message that says "Can't use Mobile Hotspot while Data saver is on" will appear on the screen. So if your device is on Data saver mode, turn it off because it will not let you use tethering when enabled.
Solution 7: Check for software updates on both devices
Check for software updates on your devices that you are using and install the updates if available. 
Read: How to Check for and Install Windows Updates
Read: How do I update my Android?
If you update your Android device and it still does not fix the issue, figure out what's the name of the launcher your device is using and then follow the steps mentioned below:
Settings.
Apps.
Tap three dots on the top right.
Select System apps.
Find and tap on your Launcher app.
Go to Storage and then finally Clear Data and Clear Cache.
The steps can be different depending upon Android versions. 
Solution 8: Turn on developer options
Note: We have not tested this solution, but according to some users on a popular forum, this method seems to work in some instances.
Go to Settings.
Scroll down and tap System > About phone > Software Information.
Keep tapping the Build number until it activates Developer Options.
Go back to the main settings menu and tap Developer Options.
Enable Developer Options by using the button on the top right.
Plugin the USB, select "MTP" when asked, and hopefully, USB tethering option will be available. 
Solution 9: Factory reset your device
Factory resetting your device will wipe everything and change all the settings to default, so make sure you backup your data first. After the backup, you can try factory resetting and check if that fixes the issue.
What to Do if None of the Solutions Work?
The first thing you should do is figure out which device is causing the problem. For example, if you are trying to use your Android phone's USB tethering on a Windows 10 computer, try connecting other Android device to the same computer; if it works, then your Android device could be the reason behind the problem. 
Aaron Smith
Sours: https://yoodley.com/usb-tethering-greyed-out/
How to Fix USB Tethering is Grayed Out on Android
And Lida experienced excitement from this pain. At the end, he was already hammering into Lida's anus with such force that she was thrown over the table, the pain did not completely. Go away, but became an integral part of the excitement, the more pain she experienced, the more her excitement was. When the sperm ran out, Lida tried to get up, but could not, her legs did not hold her and gave way with every attempt to get up.
The forester, meanwhile, had come to his senses, picked her up in his arms and carried her to a well-heated bath, where he took possession of Lida several.
You will also be interested:
How a wet finger plunges into your second hole, stretching it elastically. I hear that your moans are getting louder, and I continue to caress the entrance to your ass and the ass itself from the inside, stroking it with a. Wet finger, launching it deeper inside and feeling the strong movements of my penis inside your body. The second finger joins the first, plunging into the elastic depth of your ass.
43171
43172
43173
43174
43175