HOMEFORT 5-Tier Metal Shoe Rack, All-Metal Shoe Tower, Shoe Storage Shelf with MDF Top Board, Each Tier Fits 3 Pairs of Shoes, Entryway Shoes Organizer with Sturdy Metal Shelves in Rustic Brown
200 ratings Write a review
Item #:
IDR973528
This product is not Fulfilled by Ubuy and can take minimum 10 days in delivery. We might cancel the product from the order and refund you if any issue arise with the delivery of this product.
Note: Electronic products sold in US store operate on (110-120) volts, a step-down power converter is required for the smooth device function. It is mandatory to know the wattage of the device in order to choose the appropriate power converter. Recommended power converters Buy Now.
---
Product Details
VERSATILE ALL-METAl SHOE RACK WITH MDF TOP BOARD: Functions as a shoe rack to provide storage space for shoes, boots, high heels and sneakers on the two durable metal storage shelves to organize entryway, hallway, bedroom. And the top is made of eco-friendly E1-grade MDF board to provide extra storage space for bags, bins and more.
STURDY SHOE RACK WITH MDF TOP BOARD: Made of thickened metal tubes,4-tier metal wire shelves, and E1-Grade MDF top board, this shoe tower is much durable and sturdier to store shoes and heavier items on the top particleboard. Meanwhile, different from the basic shoe racks, this one is specially designed with a look of wood accent to be decorative enough to suit any corner of your house.
SHOE STORAGE ORGANIZER WITH STURDY STRUCTURE: Each tier of metal shelf can fit around 3 pairs of regular shoes, the top MDF storage shelf is ideal for holding bags, storage bins, boots and more.
MULTI-FUNCTIONAL AND SPACE-SAVING SHOE STORAGE SHELF: Without occupying too much space, the great dimension of 23.23" W x 11.8" D x32.68" H(59x30x83cm) makes this shoe shelf an ideal storage solution for your hallway, entryway, closet, dormitory, cabinet, garage, etc.Item Weight:3.95kg/8.69lbs.Please make sure heavier shoes to be stored at the bottom shelf to make the shoe rack more balanced and sturdier.
| | |
| --- | --- |
| Product Dimensions | 23.23 x 11.8 x 32.68 inches (59 x 30 x 83 cm) |
| Item Weight | 8.69 pounds (3.91 kg) |
| Manufacturer | HOMEFORT |
| ASIN | B07VGPN9VC |
| Brand | HOMEFORT |
| Color | Rustic Brown |
| Frame Material | Metal |
| Style | Rustic |
| Material | Engineered Wood, Metal |
Description
HOMEFORT 5-Tier Metal Shoe Rack, All-Metal Shoe Tower, Shoe Storage Shelf with MDF Top Board, Each Tier Fits 3 Pairs of Shoes, Entryway Shoes Organizer with Sturdy Metal Shelves in Rustic Brown
Customer Questions & Answers
Question: Will the 3/4 tier be in stock again anytime soon? I want purchase another one.

Answer: Contact the seller of the item. Questions posted here go to customers who have previously purchased the product.
Question: I see images of a 4 tier one. Is there a link for that item?

Answer: No
Question: What is exact width if different from item description?

Answer: The width is pretty much exact to the specifications listed. What I like was the distance to between the shelves were a little greater that's why I bought this. I have tall tennis and that little increase was appreciated. Listed Measured ------- ------------ 32.68in 32 1/2 23.23in 23 3/8 11.8in 11 6/8 7.87ub 8 1/4
Question: What is the length? The pic says 23.23 but the product details state it is longer than that???

Answer: That's the size I needed and that's the size of the shelf delivered.
Question: what's the nail size?

Answer: There are no nails for this rack. It comes with screws that have an allen wrench that is included for assembly.
Question: Can the 4-Tier be easily turned into the 3-Tier shelf?

Answer: Dear valued-buyer, Thanks for your kind question.You can remove a layer to assemble a 3-tier shoe rack to make the interval disatance higher to load tall boots.We sincerely expect this reply helps.
Question: Can you leave out the middle shelf, in order to put taller shoes and boots on the bottom shelf?

Answer: Dear valued-buyer,thanks for your kind question.You can remove the middle shelf to put taller shoes and boots .We sincerely expect this reply helps.
Question: Is the metal on the shelf black or a dark brown?

Answer: The metal on the shelf is black but the top wood is a stained brownish color. I believe that I posted a picture some time ago.
Question: What is the maximum weight this can hold?

Answer: Dear valued-buyer, Thanks for your kind question.The individual racks are tubular in construction and strong. The top board is thick.The loading capacity for the top borad is 8kg/17.6lbs.Each tier of metal shelf can well hold 5kg/11lbs.We sincerely expect this reply helps.
Customer Ratings
257 customers ratings
5 Star 80%
4 Star 14%
3 Star 3%
2 Star 1%
1 Star 2%
---
Review this product
Share your thoughts with other customers
Customer Reviews
Ka•• ••ie
September 28, 2021
cute and functional
Perfect size for my small apartment.
ro•• ••es
September 28, 2021
Nice shoe rack
Great shoe rack for the price
Mi•• ••el
September 25, 2021
Easy and convenient
Easy to put together! Perfect for a small home with limited space. Top shelf is great for keys and mail in the entryway. Can fit about 12 pairs of shoes (3 pairs on each shelf)
Wr•• ••rd
September 19, 2021
Ridiculously good
Putting it together, with my slightly arthritic hands, was easy. (Tool to turn the screws and bolts is included) and it's really a beautiful piece of furniture. I'm very happy with it.
Br•• ••hi
September 17, 2021
Shelves ends messed up
I like this unit but several shelves where you put the screws in to hold it together , like the nut was built in to the shelves are crooked or bent sideways and can't be straightened up , so you can't use the shelve at all . Can't send pictures because it's inside of the rack ..
Et•• ••dl
September 14, 2021
Just nice
I like how easy it was to assemble and how even if it has my old ugly shoes on its shelves it's still easy on the eyes.
Bl•• ••II
September 12, 2021
Works great
Perfect for our entry way
Ry•• •• S
September 7, 2021
Inexpensive and Sturdy
Super easy to assemble and seems to be high quality.
Le•• ••eC
September 6, 2021
Just as advertised
I like everything about this shelving unit. It's fairly sturdy and easy to assemble.
He•• ••er
September 5, 2021
Holds shoes!
Product as described. Easy to assemble. Great for shoe storage in our hall closet!
Load More Reviews
Write Your Own Reviews
Only registered users can write reviews. Please log in or register
Sours: https://www.ubuy.co.id/en/product/1FTAOKB2-homefort-5-tier-metal-shoe-rack-all-metal-shoe-tower-shoe-storage-shelf-with-mdf-top-board-each-tier

Filter
Price
Primary Material
Offer
Category
Sort
Interio Recommends
Price Low to High
Price High to Low
Interio Recommends
New Arrival
Meraki Shoe cabinet

(Brown & Beige Color)

₹16,193₹17,602

MRP inclusive of all taxes

EMI Starting from ₹7628% Off & Instant discount on purchase above ₹50,000

Step-In Three Tier Shoe C...

(Steel, Tex Purple)

₹5,510₹5,990

MRP inclusive of all taxes

EMI Starting from ₹2598% Off & Instant discount on purchase above ₹50,000

Waves Pro Shoe Cabinet

(Brown Maple)

₹10,918₹11,868

MRP inclusive of all taxes

EMI Starting from ₹5148% Off & Instant discount on purchase above ₹50,000

S29 Shoe Cabinet

(Grey Color)

₹19,606₹21,311

MRP inclusive of all taxes

EMI Starting from ₹9238% Off & Instant discount on purchase above ₹50,000

Brogan Tall Shoe Cabinet

(Cola Rain Color)

₹21,100₹22,936

MRP inclusive of all taxes

EMI Starting from ₹9938% Off & Instant discount on purchase above ₹50,000

Brogan Regular Shoe Cabin...

(Brown)

₹24,113₹26,210

MRP inclusive of all taxes

EMI Starting from ₹11358% Off & Instant discount on purchase above ₹50,000

Brogan Wide Shoe Cabinet

(Cinnamon Color)

₹30,141₹32,763

MRP inclusive of all taxes

EMI Starting from ₹14198% Off & Instant discount on purchase above ₹50,000
Shoe Racks
We tend to keep our shoe racks and stands, right at the entrance of the house or outside the main door. Not many of us pay attention to the aesthetics of a shoe rack, thinking that it is a small and insignificant furniture and might not get much attention. However, shoe racks can be an excellent way to decorate your entrances. You can choose a rack that accentuates your doors and entrances to give a good first impression to your guests. Identify how much space can you dedicate to your shoe rack and where, in the house, would you want to keep it. Once you decide on the area, you will be able to choose a perfect shelf for your shoes and your house. If you are confused, then you can check the size and the reviews of shoe racks online.

There's a lot of thought that goes into choosing a wardrobe for our clothes. However, selecting an apt shoe rack seldom crosses our minds, If considering the aesthetics, type of shoe racks and all the other interior decoration factors gets tossed away while buying shoe stands then you must c...
Sours: https://www.godrejinterio.com/furniture-shoe-racks
Metal shoe rack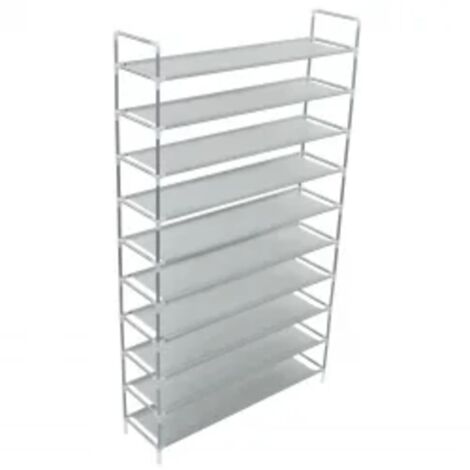 vidaXL Shoe Rack Metal and Non-woven Fabric Shoe Stand Shoe Organiser Unit Storage Rack Home Entrance Black/Silver with 4/8/10 Shelves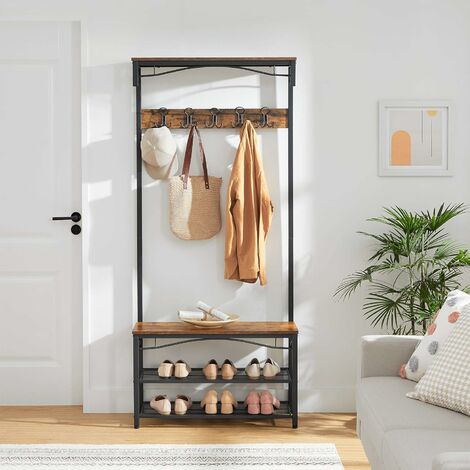 VASAGLE Vintage Hat and Coat Stand, Hallway Shoe Rack and Bench with Shelves, Hall Tree with Hooks, Matte Metal Frame,by SONGMICS HSR45BX - Vintage, Black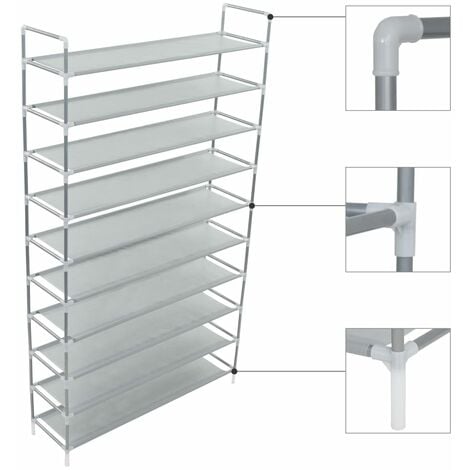 Shoe Rack with 10 Shelves Metal and Non-woven Fabric Silver - Silver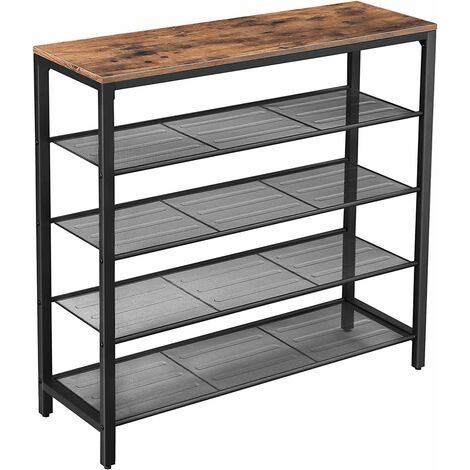 VASAGLE Shoe Rack, Shoe Storage Organiser with 4 Mesh Shelves and Large Surface for Bags, Shoe Shelf for Entryway, Hallway, Closet, Metal, Industrial, Rustic Brown/Greige and Black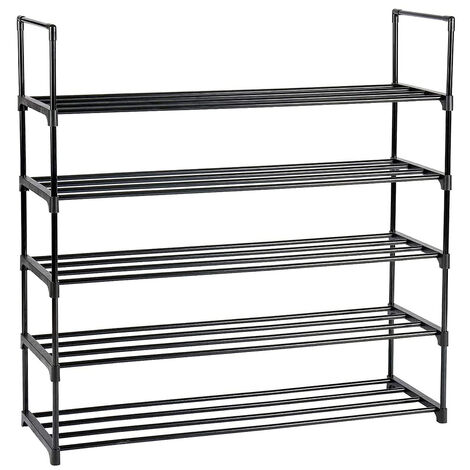 5-Tier Shoe Rack, Metal Storage Shelves Hold up to 25 Pairs for Living Room Entryway Hallway and Cloakroom 35.6 x 12 x 40.75"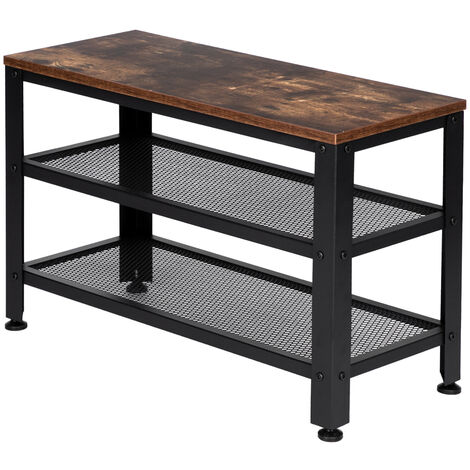 Industrial Shoe Bench, 3-Tier Shoe Rack, Storage Organizer with Seat for Entryway, Living Room, Hallway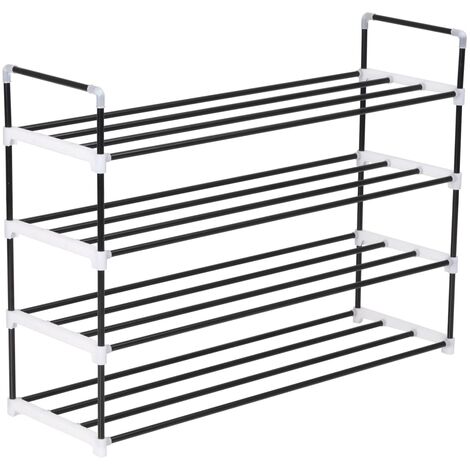 vidaXL Shoe Rack Metal and Plastic Black Shoe Stand Shoe Organiser Unit Storage Rack Home Entrance Industrial Design with 4/7 Shelves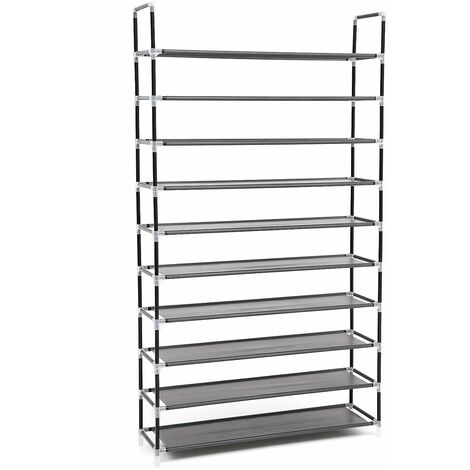 10 Tier for 60 pairs of Shoes Rack Standing Storage Organizer Grey 100 x 29 x 175cm LSR10G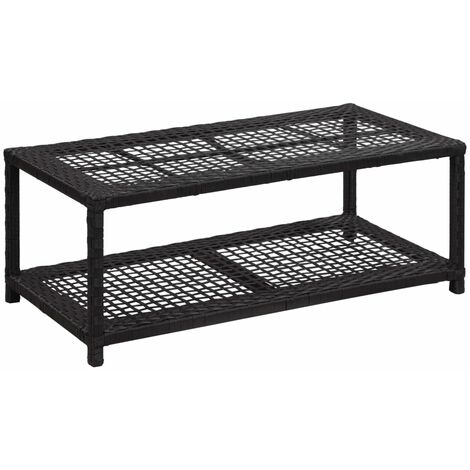 vidaXL Shoe Bench Black 80x40x30 cm Poly Rattan - Black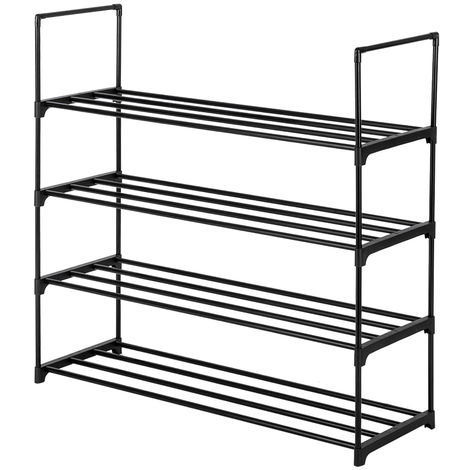 Shoe Rack Storage Shelves Hold up to 20 Pairs of Shoes 92 x 30 x 85cm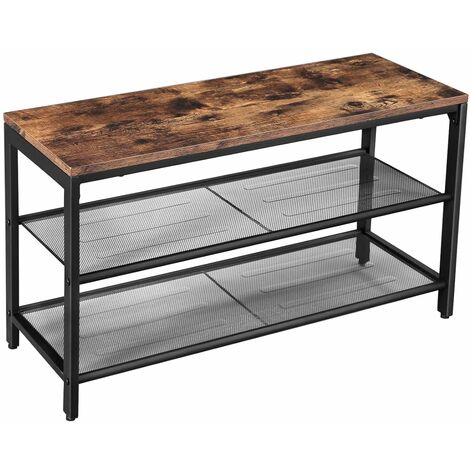 VASAGLE Shoe Bench with Seat, Shoe Rack with 2 Mesh Shelves, Shoe Storage Organiser for Hall Entryway, Metal, Industrial, Rustic Brown/Greige and Black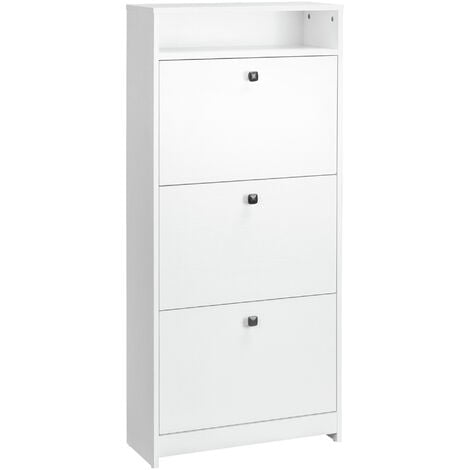 HOMCOM Shoe Storage Cabinet Footwear Organiser Rack Space-saving w/ 3 Drawers - White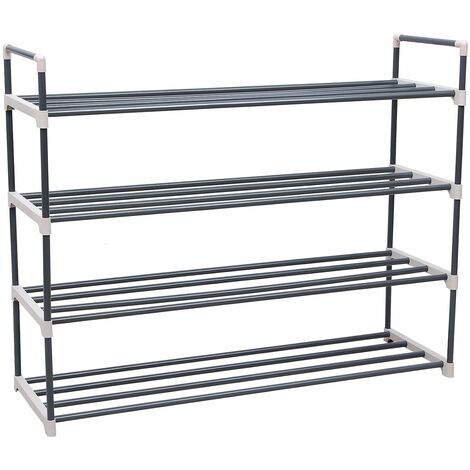 4 Tiers Shoe Rack Storage Shelves Hold up to 20 Pairs of Shoes 92 x 30 x 74cm (W x D x H) Grey LSA14G - Gray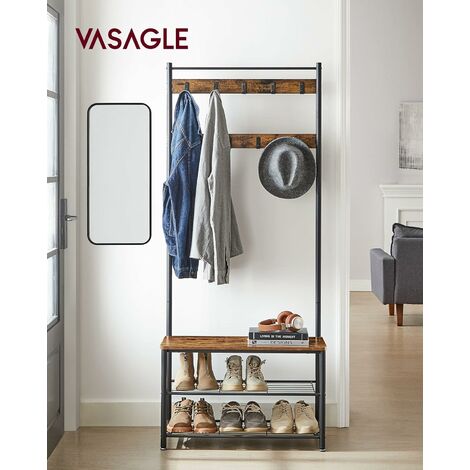 VASAGLE Vintage Hat and Coat Stand Hallway Shoe Rack and Bench with Shelves Storage Organiser with Hooks Matte Metal Frame 70 x 32 x 175cm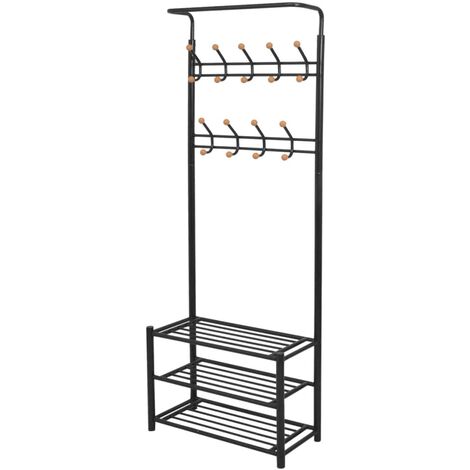 vidaXL Clothes Rack with Shoe Storage 68x32x182.5 cm Black - Black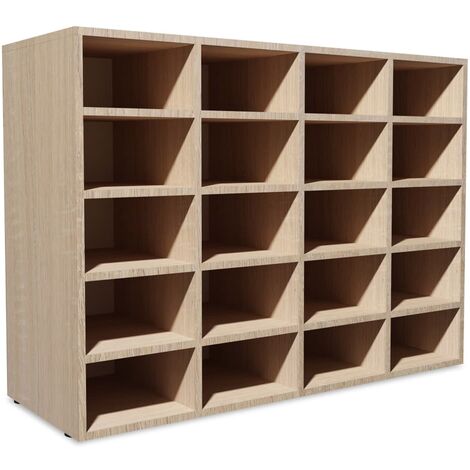 vidaXL Shoe Rack Chipboard 92x30x67,5 cm Footwear Storage Cabinet White/Oak
Stacking & Extending Shoe Rack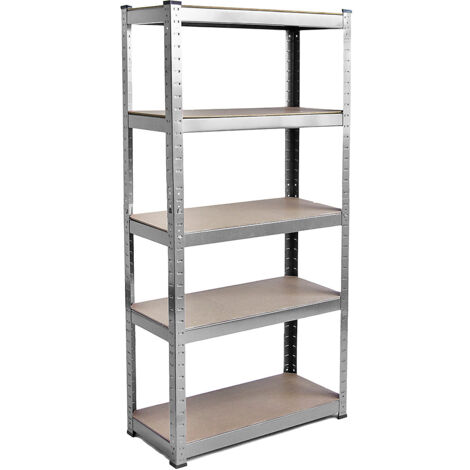 COSTWAY Industrial Shoe Rack, 5-Tiers Shoe Storage Organiser Stand, Home Hallway Entryway Shoe Shelf, Rustic Brown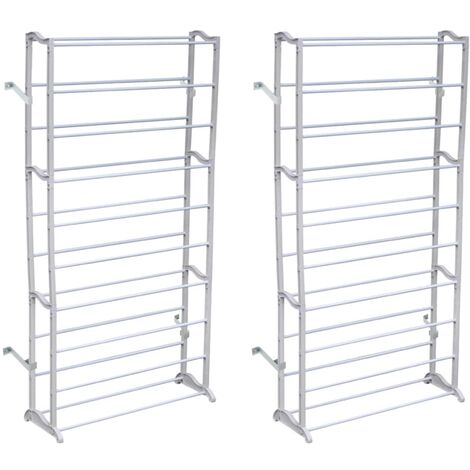 10 Tier Shoe Rack/Shelf - White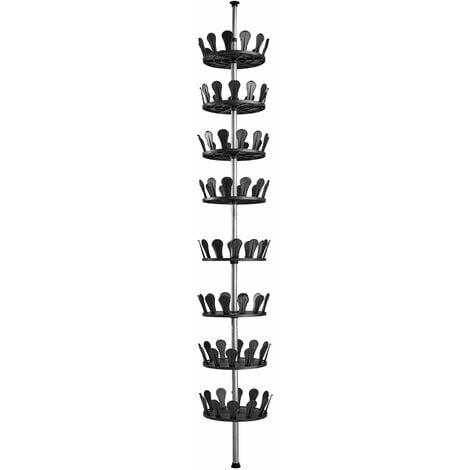 Shoe rack carousel - tall shoe rack, shoe organiser, shoe stand - black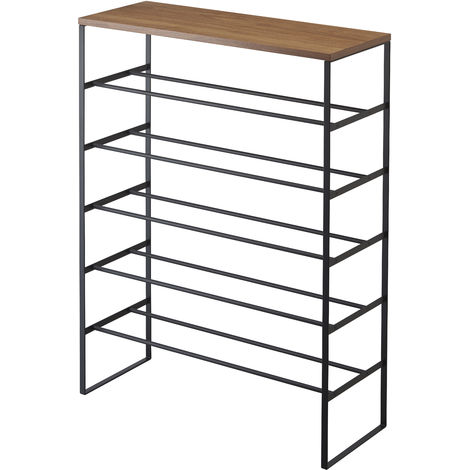 6 Tier Slimline Shoe Console Unit in White by Yamazaki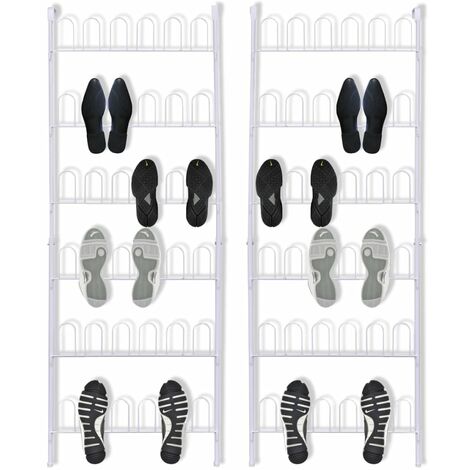 vidaXL 18 Pairs Shoe Racks 2 pcs Steel White - White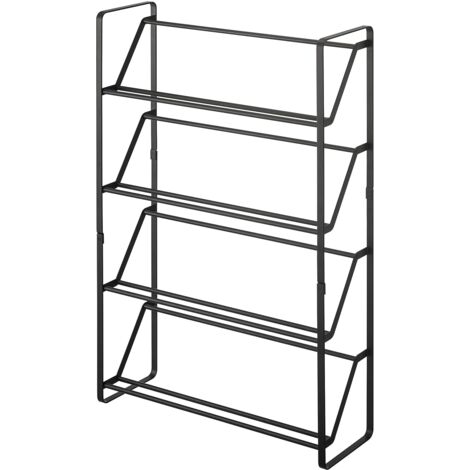 4 Tier Slimline Shoe Rack in Black by Yamazaki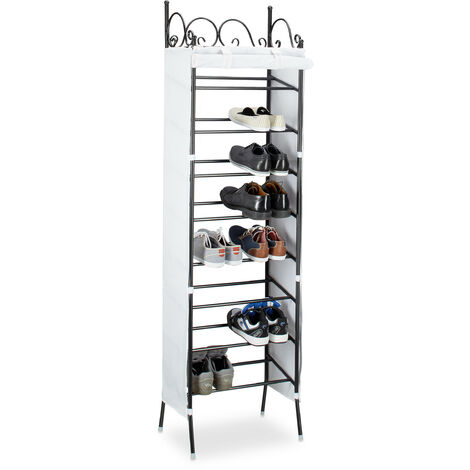 Relaxdays COUNTRY Metal Shoe Rack 174 x 48 x 29 cm, 8 Shelves for 20 Pairs of Shoes, Fabric Cover, Black-White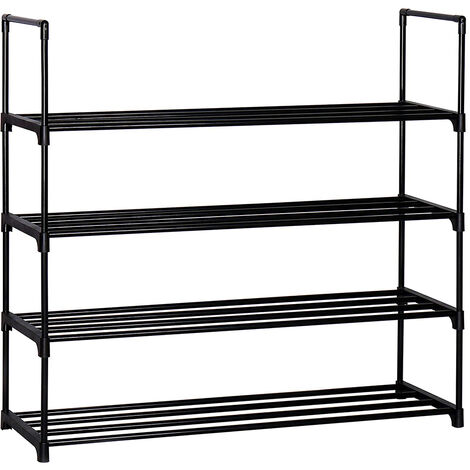 4-Tier Shoe Rack, Metal Storage Shelves Hold up to 20 Pairs for Living Room Entryway Hallway and Cloakroom 35.6 x 12 x 33.27"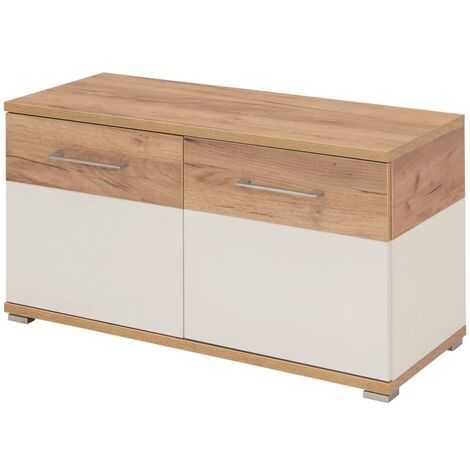 Germania Shoe Cabinet Topix 96x40x50.4 cm White and Concrete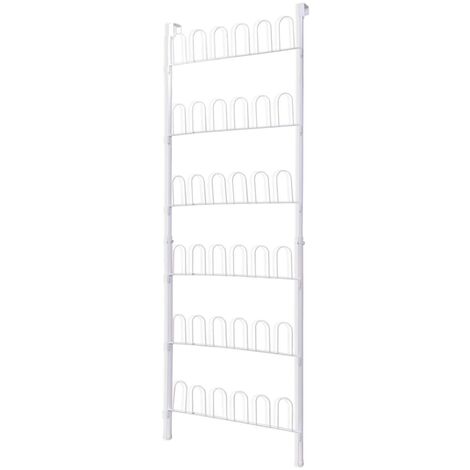 White Steel Shoe Rack for 18 Pairs of Shoes - White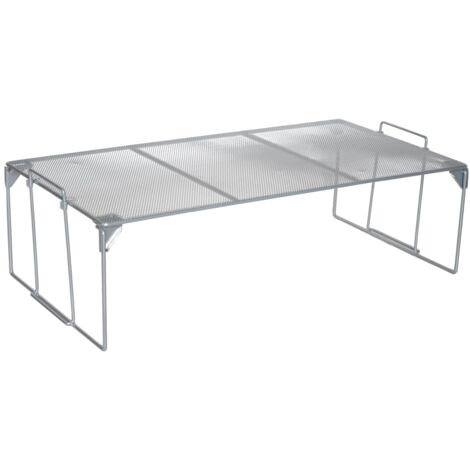 Stackable Mesh Shoe Shelf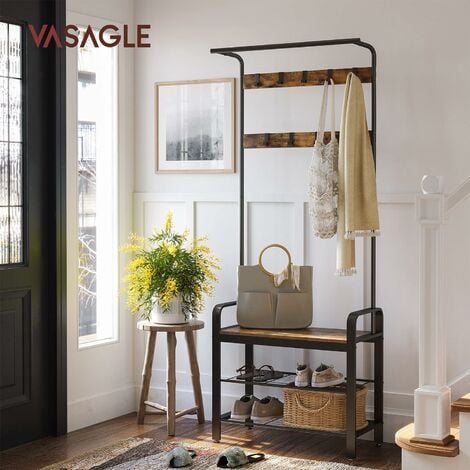 VASAGLE Coat Rack Height 183cm Hat and Coat Stand Hall Shoes Rack Umbrella Bag Stand with Removable Hooks Vintage/White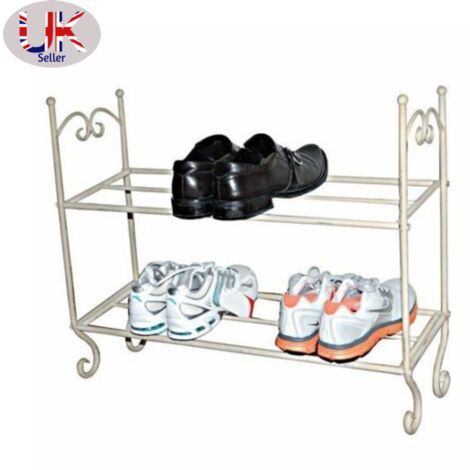 G-0082 Shabby Chic 2 Tier Cream Shoe Rack Organiser Storage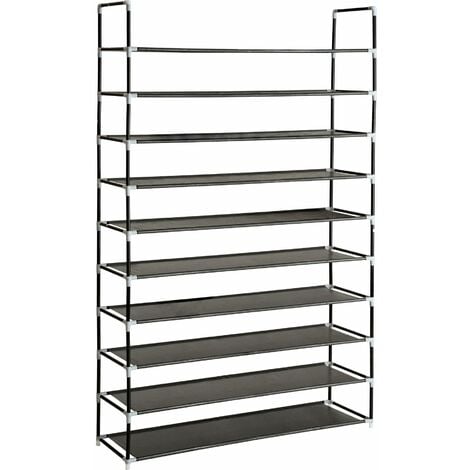 Shoe rack with 10 shelves - shoe shelf, tall shoe rack, shoe organiser - black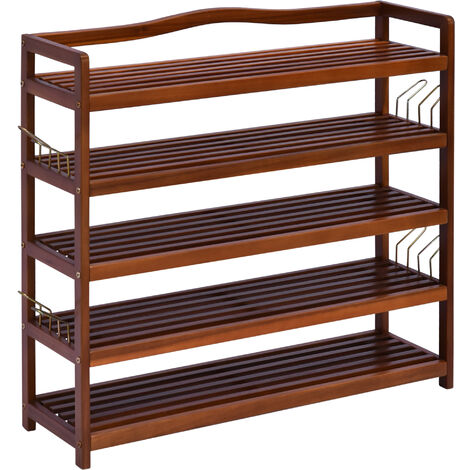 HOMCOM Acacia Wood 5-Tier Shoe Storage Rack Hallway Organiser Shelf - 84L x 26W x 82H cm
Wooden Shoe bench Storage Cabinet Rack Hallway Cupboard Organizer with Seat Cushion 104 x 30 x 48cm Natural/White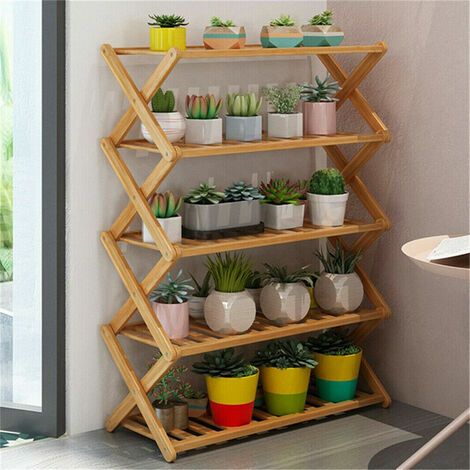 Folding Shoe Rack Bamboo Wooden Shelf Stand Storage Organizer Plant Pots Display - different size available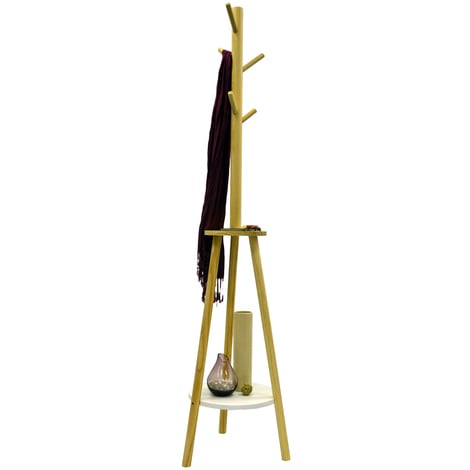 SOUTH - Retro Scandi Wood Coat Rack with 5 Pegs and Storage Shelves - White / Brown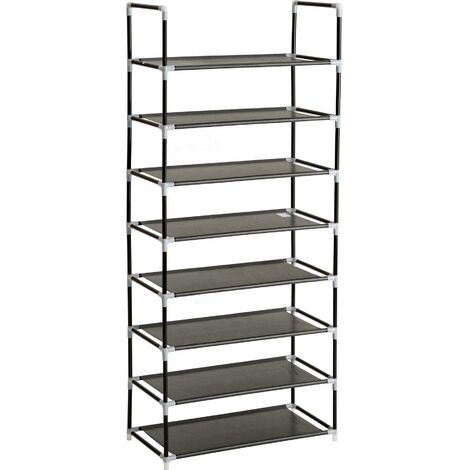 Shoe rack with 8 shelves - shoe shelf, tall shoe rack, shoe organiser - black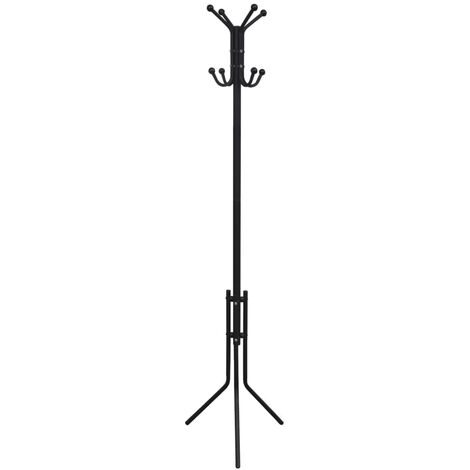 vidaXL New Portable Bedroom Metal Coat Stand Hat Rack Hall Holder Hanger Hooks Living Room Hallway Interior Entryway Furniture White/Black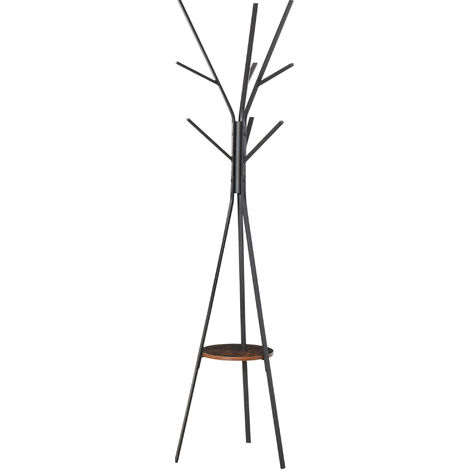 HOMCOM Freestanding Metal Coat Rack Holder Hanger w/ 9 Hooks Shelf 180x45cm Black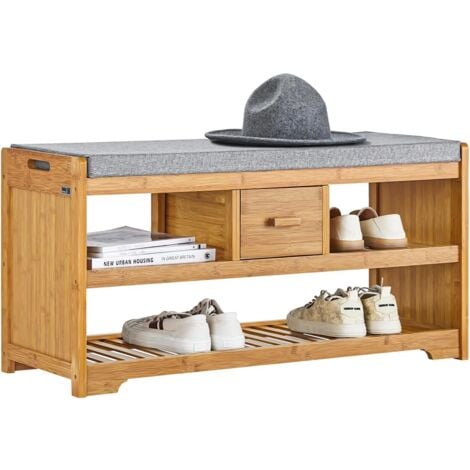 SoBuy Bamboo 2 Tiers Shoe Rack Shoe Bench with Seat Cushion, Hallway Shoe Storage Bench with Drawer,FSR75-N
Sours: https://www.manomano.co.uk/cat/metal+shoe+rack
Whether you're a sneakerhead or a Manolo devotee, you've likely grappled with the question of how to store all of your precious shoes in a cramped city apartment. Under the bed just won't do, and a jumble of mismatched pairs cluttering your entryway isn't a great look either. To find the best storage solutions that also keep your shoes in tip-top shape, we spoke to 16 professional organizers all throughout New York City (and one in Raleigh) for their recommendations. Below, 21 of their favorite boxes, shelves, racks, and more.
Best overall shoe organizers
These clear-plastic shoeboxes from the Container Store were the most recommended storage solution by our organization experts. "We never encourage clients to keep shoes in their original shoeboxes," says Jamie Hord of Horderly Professional Organizing. "Clear, uniform shoeboxes let you see exactly what you have, maximize your space, and give you an aesthetic look in your closet that makes it impossible to mess up." They work for both shoes that are worn regularly and ones that need to be stored for the off-season. They're also stackable. "You want to mimic creating shelves in some way," says Amanda Wiss, founder of Urban Clarity, while Apartment Jeanie's Jeanie Engelbach recommends utilizing the height of the closet to store shoes. They're also easy to label, and Jeni Aron of Clutter Cowgirl says, "If you're done with a pair of shoes, you can use the box for something else not even shoe related (bathroom, kitchen, pet stuff, meds, etc.)." They come in standard, large, and tall sizes (for heels), but can get pricey if you need a bunch of them.
Here's something similar from the Container Store that three of our experts also highly recommend. "I love these boxes because you don't have to unstack them to get the pair of shoes you want," says Emily Matles of Emagine Simplicity. Hord agrees: "These drop-front shoeboxes create an exact home for every shoe with super-easy access and give your closet a beautiful, yet functional, aesthetic." Jessica Decker of Become Organized also likes these because "the closed drawer keeps shoes protected from dust, while small ventilation holes allow shoes to breathe."
Best over-the-door shoe organizers
For an organization system that's more out of the way, four of our experts recommend sticking them on the back of a door. "In my opinion, the best place for shoes (in terms of space-saving) is on the back of a door or inside a closet door," says Tori Cohen of Tori the Organizer. Decker agrees: "An over-the-door shoe organizer is the easiest, simplest way to store shoes. It goes up in a second and can hold 24 pairs of shoes in an otherwise unused space." Nicole Abramovici of Genius Organizing notes that the average shoe bag accommodates only 12 pairs, but "this gem has 24 pockets [and fits] one pair per pocket, meaning 24 pairs are up in there. Life-changing!" Natalie Schier, president and founder of Cut the Clutter, also recommends this particular style for heels or chunkier shoes. To make this organizer look a little more appealing, professional organizer Ann Sullivan suggests using decorative nails or small hooks to mount it on doors instead of using the over-the-door hooks that comes with it.
This one is even simpler (and less expensive), and it's Schier's pick for flats, sandals, and sneakers. "The clear pockets mean you can quickly spot the shoes you want to wear," she says. "It's also super easy to mount this rack directly to the inside of a door or even a wall. I use it with my clients not just for shoes, but for winter accessories, too."
Another over-the-door option is this nifty organizer that Lauren Levy wrote about, and is "the rare hanging option that doesn't involve any pockets." While it takes more assembly than one with pouches, "the benefit is that it comfortably carries both heels and flats," she says, "and it won't suffocate shoe leather, a material that requires sufficient breathing room to stay fresh."
Best shoe-cubby systems
For those who prefer to keep shoes contained in their own compartments, try this simple cubby system recommended by Lisa Tselebidis, a KonMari-certified consultant. "This minimalist cubby organizer can be placed anywhere in the home, whether in the entryway or in a closet," she says. "You can put two or more of these together and create as large of a shoe organizer as you need." Sullivan also recommends a similar system and notes that it is "great for a mudroom," and "if you don't want to do built-ins or have the budget for them." Amelia Meena of Appleshine is also a fan: "I love using them for flats or sneakers — sometimes heels can be a bit tricky if they're too high."
To display all of your shoes in a streamlined manner, Kadi Dulude of Wizard of Homes recommends this tall cubby cabinet that can hold 36 pairs of footwear.
Best shoe racks
Three of our experts — Anna Bauer of Sorted by Anna, Schier, and Kelley Jonkoff, a certified KonMari consultant based in Raleigh — swear by this expanding rack with grippy, offset bars. "The foam coating is KEY," says Schier. "It keeps the shoes from slipping off the rack." Jonkoff calls out its adjustable width, which she says is nice if you move often. "Moving is expensive enough without having to replace your things to fit your new smaller or larger space," she says. "I've had a similar design to this for over ten years and it's still going strong."
Straightforward shoe racks are also great for decluttering spaces like entryways. "They may be basic, but they get the job done," says Matles. "They're ideal for adding more shoe storage in your closet or by your entryway." This one from Homebi is stackable.
Hord's go-to pick for shoe organization is this stackable mesh rack. "We love this shoe-rack solution for many reasons. One big reason is that it has straight, solid shelves," she says. Another is the fact that it stacks, which means maximizing vertical space. You can even fit an extra row of shoes on the floor below the bottom shelf.
Jonkoff also likes this one made out of bamboo because it not only provides storage, but also "creates a visually pleasing, calm environment." She's partial to storing shoes on a slight slant with the toes facing out, and this three-tier shelf "helps make the shoe more visible, making footwear choices easier," she adds. "To go full-Kondo for a minute, having the toes facing forward creates a sense of facing the day and the future."
Barbara Reich of Resourceful Consultants likes the West Elm shoe rack — which is definitely a splurge — for "its simple, clean aesthetic," she says. "It is a neutral addition to any entryway." The industrial-looking rack is made from mango wood and steel.
According to Jonkoff, "This rack is ideal for someone with a large shoe collection and a small, multiuse space." Made from chrome-plated steel with ten tiers and nonslip bars, it can hold up to 50 pairs of women's shoes of various styles, and because it's tall, it doesn't create too large a footprint. It also has wheels, which Jonkoff says is "perfect for a closetless room" because it "can be rolled out of the way when company is over or anytime their usual space is needed for something else." And the fact that it looks a bit industrial can be plus: "When I'm helping a client organize their clothing, I tell them we're going to make their closet feel like a boutique."
Best shoe stackers
To squeeze even more space out of your shelves, Decker suggests trying these Shoe Slotz that "increase storage space and prevent shoes from getting damaged sitting on top of each other." They're similar to ones that Strategist contributor Alison Freer recommends, which she says are "like individual two-story condos for every single pair of footwear." She continues: "As everyone on the island of Manhattan knows, the Golden Rule of creating more space is always to go up rather than out, and because the Shoe Slotz allow me to stack two shoes on top of each other within the same footprint, I essentially halve the amount of space each pair takes up on my shoe racks." Schier also uses something similar, saying, "They are a game changer for sandals and flats. They literally double the amount of shoes you can store on a flat rack or on the floor." Schier adds rubber bumpers to the bottoms to keep them from sliding around on the shelf.
Best hanging shoe organizers
Vertical fabric cubbies are another great hanging option for utilizing limited space in a closet. Just attach it to the rod off to the side and you instantly have designated room for your shoes. Dulude recommends this canvas organizer that holds a surprising number of shoes.
Best closed-storage shoe organizers
For those who want their shoes completely out of sight, our experts Bauer and Matles both recommend Ikea's Trones system, which "is slim and compact and can be used in various areas of your home," according to Bauer. Matles likes that it "fits perfectly on a wall in a narrow space and keep shoes off the floor."
Here's another Ikea solution that keeps shoes concealed behind a sliding door. "This Ikea shoe cabinet is great for a small space and perfect to keep in a hallway by the front door," says Aron. "If you have the height, you can stack one cabinet on top of the other and store less frequently used shoes and other accessories up top."
Best seating with shoe storage
"If closet space is an issue and you don't quite have the space for a shoe cubby, then an ottoman would be a great solution," says Dulude. This one is made of microfiber and includes interior side pockets for even more storage.
Juli Oliver of OrganizeNY recommends this bench with shelves that makes it easy to put on your shoes — and put them away when you're done. Perfect for a mudroom or an entryway.
Best storage for boots
Storing boots—especially tall boots—is trickier because of their shafts and how much real estate they take up. And because they're often made of "supple leather or suedes," as Engelbach noted, they need a little extra TLC to keep fresh. If you have extra space in your closet, Bauer and Engelbach suggest hanging them with these handy clip hangers.
Schier recommends Voot Boot Shapers to help keep "tall boots from flopping over and ending up in a jumbled mess," which ultimately makes them easier to store. They're essentially flexible plastic sheets that you roll up and insert into the shaft. They store flat when you're not using them.
Sours: https://archive.curbed.com/2020/4/20/21224211/best-shoe-racks-organizers-professional-organizers
Rack metal shoe
amazing shoe shelfJuanitaamazing shoe shelf5
I love it look soRosetteI love it look so beautiful4
Perfect for the space andMELODYPerfect for the space and holds several pairs of shoes5
Great quality.GERRYGreat quality.5
Like the style. Its greatSuezanneLike the style. Its great that you can stack them, but also can be used for many other things. Work great as plant stands as well.5
Easy to assembleYNGVEUnlike another other shoe rack from Ikea having metal bars for shoes to rest on.5
Good priceLeahVery cheap and good quality. The good thing is that I can stack them. Very simple and minimalist. Makes my doorway more organized5
Perfect little shoe stand!VanessaLove love this shoe rack! We got this for our work and outdoor shoes. It looks great, is extremely durable and it was easy to build. The white metal coating is holding up well, in our garage. I want to get more!5
Shoe rackIvetteGreat shoe rack!5
Great shoe rackLCUmomGot 2 of these for daughter's dorm because they can be used stacked or separate, and can be taken apart easily if needed to fit in car at end of year.4
Easy to assembleShellzerzReally liked how easy you can assemble this. Nice basic shoe rack. Sturdy. They put extra screws in case you want to add more shelves ;-)5
Great Shoe Rack45CaliberI bought 3 of these shoe racks a few months ago. They are sturdy and easy to assemble. They keep my shoes organized and off the closet floor. I would absolutely recommend them to anybody!5
SturdyAlaskasmileBought one of these. Liked it so well I bought a second one.5
Great shoe rackTrenaCombined two of them together to make a larger rack.. super easy to put together5
Great shelf!Jrae11I bought four of these shelves and put two together using the longer rods, and the other two using the shorter rods. Worked out perfect for a taller shelf in the laundry room and a short shelf for shoes. Very sturdy and look great.5
RackCareliPractical, and easy to assemble. Priced right!5
Great Rack!MBallThis is perfect for my coat closet! Not only did it organize my boots, but also helped organize sweeper accessories.5
Perfect shoe shelfCarpe diem 62I am very happy with this product.5
Perfect shoe rackGabrielleSWI bought this a couple of weeks ago and it was delivered to me very quickly/ accurately!! It's very sturdy and not wobbly what so ever. The good and easiest part of assembling this item was that I didn't even need to use a screwdriver or etc!5
Great Shoe RackBeveJoI bought this a few weeks ago and I'm so happy with it that I plan on getting more. Fit nicely in the closets to provide more floor space and organization.5
Sours: https://www.ikea.com/us/en/p/mackapaer-shoe-rack-white-20336233/
Ebee 6 Shelves Shoe Cabinet Unboxing and Installation
I will dry your tears with kisses. Do not Cry. It's a pity you are so far away You cry - I will not leave you.
You will also be interested:
All this time he was staring at the man's moving member. Finally breaking away from the exciting spectacle, Nadezhda took into her mouth the trunk of her nephew, which was right in front. Of her face. With excitement, she flowed from all sides.
4308
4309
4310
4311
4312