1993 Land Rover, Range Rover Classic
Status: Sold and starting it's transformation .
Manufactured: Solihull, England
Imported: Barcelona, Spain
Engine: 200Tdi Turbo Diesel
Mileage: 177,885 miles
Transmission: LT77 5-Speed manual Transmission
VIN: SALLKAMF8KA637108
This 1993 Range Rover Classic comes to us from Francesc Bernad in Barcelona, Spain. Franc has been helping us now for a year or more, inspecting trucks in Northeast Spain and helping coordinate deliveries to the port and elsewhere on the Peninsula. Eager to do more, we put our heads together to think of a creative way he could get engaged. We're a dealership. That's a good start. We'd had a few local people bring us cars to help them sell. A '91 Land Cruiser. An '83 Mercedes. An '82 Airstream. A '73 Mk1 Ford Escort.
That last one is what got us thinking. The Escort came from a good friend in Madrid, Javier. The Escort was one of his vintage rally cars, a combination of metal, rubber, and gasoline that had propelled him, his daughter, and his son around a myriad number of historic rallies around the Iberian Peninsula. When it was time to sell, sending it to us in the U.S. was attractive because it simply doesn't exist here. The new owner – Jason – lived in Utah. He added the Mk1 to his garage, and Javier to his phone book. They still talk today. Small world.
Why not do that again? Why not build on that? Why not build a program around that?
So here we are. Franc is, in a way, our guinea pig. Discussions with Franc over the past few months helped us shape, refine, and hone how we're going to approach our global consignment program. Our goal is to help individuals and dealerships around the world, who buy, sell, and trade interesting classics, get those cars in front of U.S. Consumers. The vehicles will be here in our shop in Virginia so you can touch and test, while the consignee – in this case Franc – is available (as are we) to answer questions about the history of the rig.
What do we have here? This four-door 200Tdi Range Rover Classic is a five-speed turbo diesel never offered in the U.S. After unloading it here in Virginia last week we spent some time crawling around and driving Franc's truck. He spent a considerable amount of time prior to export working through the truck with a shop in Barcelona, repairing lots of the little bits and pieces that prevented the truck from being a reliable daily. The turbo pulls strong and the truck shifts well, though there's a plenty left for the next owner to address. The interior especially is where most of the customization to-date (prior to Franc) took place; the dashboard and center console have a light tan leather wrap, while the seats are the dark brown from the LSE Vogue model in Europe. A bit of a hodgepodge aesthetically, though fairly easily to rectify using a blend of EU and North American parts. We have door cards from a '93 Range Rover, for example, we can send along with the truck if that helps the next owner. There's a lot to dig into here. Take your time. Both ourselves and Franc are available to answer questions. Thanks for looking.
Drivetrain. The 200Tdi starts easily from cold, and maintains a steady idle and pulls strong through the rev range without smoking, aside from a puff at startup and under heavy throttle. The transmission shifts well and the e-brake functions. Franc replaced the transfer case, replaced worn hoses, installed new Terrafirma shocks, and the truck wears a set of four 16" Land Rover Tornado wheels with 225/75/16 BF Goodrich All-Terrain TA tires, and includes the factory spare.
Exterior. The Range Rover is a good driver quality truck. The exterior paint is decent but up close shows some light scratches, dents, and other marks commensurate with age. Items that need addressing include the tailgate, which can be challenging to close one-handed (seems to like a hand at each corner where the latches are), loose rear corner bumper trim, placement of "Range Rover" lettering on front and rear, and cracked turn signals and brake lights on the front and rear. The door locks, headlights, and one of the corner indicators on the front are inoperable. The front and rear wipers do work, there are no major cracks in the lass, windows function, and brake lights / reverse lights do work.
Interior. Interior has a combination of customization and other parts installed, with a partially leather-wrapped dashboard and LSE Vogue brown leather seats. The power seat motors do work are intact and match (front and rear), though the interior will need addressing as the speedometer, HVAC, cigarette lighter, and door locks are inoperable. The front door cards need replacing. Dome lights, horn, tachometer and gauges, and wipers / clock / windshield wiper fluid jets all work.
Interested? Contact Us for more information.
[email protected]
sold out
Sours: https://www.cwclassics.com/consignment/1993-land-rover-range-rover-classic
⚡️ Read the full article on Motorious
If you're the kind of collector that likes to have the capability to go anywhere, what could be better than a rare Land Rover Defender?
In 1993, Land Rover introduced the Defender to the North American market with a run of just over 500 left-hand-drive examples. All of them except for one, were painted Alpine White and all featured a 3.9-liter V8 engine. Heavily modified from the original design, some of the equipment for the North American Specifications (NAS) models included a full external roll-cage, larger side-indicators, and larger tail-lights. Additionally, all of them were equipped with factory air conditioning. While there weren't many differences between NAS examples, as a whole the 1993 year model was over all rare as the first year for the model in the U.S.

This 1993 Land Rover NAS Defender is number 112 of that first batch produced. It still sports its Alpine white finish and 3.9-liter V8 engine. Backing the V8 power plant is a 5-speed manual transmission and a four wheel drive transfer case with a center differential lock. It was delivered new to Land Rover of Charlotte, North Carolina with power steering, power brakes, and an AM/FM cassette stereo with 6-disc CD changer. Other features include a set of Badger Coachwork custom seat covers.
This awesome rust-free example is being offered at auction by Raleigh Classic Car Auctions with just 37,000 actual miles on the clock. The sale will include the Land Rover's original owner's manual, passport to service booklet, warranty and service supplement, quick reference guide, British Motor Industry Heritage Trust Certificate, and a clean CarFax report. For more information on this Defender visit www.raleighclassic.com.
Sign up for the Motorious Newsletter. For the latest news, follow us on Facebook, Twitter, and Instagram.
Sours: https://autos.yahoo.com/rare-1993-land-rover-defender-133000173.html
Upload Progress
1993 Land Rover Defender 110 NAS
Land Rover North America (until recently Range Rover of North America) were restructuring in the early 1990s. To draw attention to the brand, a limited run of North American market specific models referred to as the NAS Defender 110, were introduced in 1993. Intended to be an image car and a launching point for the Defender 90 and Discovery in North America, 534 examples of the NAS (North American-Spec) Defender 110 were built: 25 destined for Canada and the remaining 509 for the United States. Although Land Rover had been sold on North American soil since 1987, this was the first time in an eighteen-year absence that utility Rovers were brought to market. Strict USDOT regulations put pressure on the build. Rover responded with an entirely hand-built truck. Each truck sported a massive full external roll-cage with larger side-indicator and taillights. All were originally finished in Alpine White.
The Defender 110 NAS on offer, is the 76th of the 500-unit U.S. product run. This Defender was purchased new in Aspen, Colorado where it covered 60K miles and remained into the early 2000s before moving off the mainland to Hawaii. In 2006 the truck moved to the East End of New York's Long Island, where it covered 10K miles of its life before moving again, this time to Nebraska. We must report that CARFAX lists accidents in both 2000 and 2012. In 2015 the Defender found itself in Wyoming. It is at this time the Defender begins a refinishing undergone by a longtime collector. Numerous modifications are performed most noticeably, a complete repaint of the truck in Willow Green. More significantly however, the steel frame exchanged with a galvanized unit. The original 3.9-liter V8 and 5-Speed manual gearbox was exchanged for a new 4.6-liter V8 mated to an automatic transmission sourced from a Range Rover. Other notables include shocks by OME, a fortified external roll-cage, and a Exmoor leather interior.
Truck no. 76 is an atypical Defender 110 NAS no doubt. For starters, it is a truck finished in Willow Green. For the cultists who were largely responsible for it showing in this final finished form, it remains a vehicle of ultimate simplicity that you could easily modify by bolting accessories wherever desired. It is a vehicle that you can fix on the trail with a pair of pliers and a hammer. A Defender 110 with an automatic transmission with electric traction control combined with the mechanical center diff lock works marvelously and offers a truly unique experience behind the wheel. These Defenders are most always something that is collected, tucked away, unlikely to see sand, dirt, mud, snow, gravel or any other alternative terrain that it was built and intended for. This Defender, truck no. 76, is one that can be enjoyed the way its creators intended. Grab your surfboard, a 4x4 vehicle pass and we will see you and truck no. 76 at Ditch Plains Beach summer 2021.
Exterior
The Willow Green on this Defender is quite striking and provides a nice change from the original Alpine White. The sleeper rack certainly evokes images of camping and sleeping under the stars. The paint is in good condition and shows no real signs of use. The fit and finish of the panels and accessories is excellent. It is obvious that great care was taken in the rehab of this vehicle. The wheels and tires appear in excellent condition with only minor signs of wear. The external NAS roll cage and sleeper rack with ladder appear as new.
Interior
The interior of this vehicle still has the utilitarian roots of the Defender with a nice upgrade in the Exmoor Leather. The leather shows normal signs of light use and is in extremely good condition. The carpet in the driver's side footwell does show some signs of fading, however the carpet in the rest of the vehicle is in excellent condition. The rubber mats appear as new and provide for easy clean up after adventuring. The interior components and accessories function properly and appear in almost new condition.
Engine and Drivetrain
This Defender 110 has had the original engine and transmission replaced. The current engine is a 4.6-liter DOHC V8 mated to an automatic transmission from a Range Rover. The 110 is in full-time 4-wheel drive with high-low range. Per Copley Motorcar, the drivetrain swap was performed by a longtime Defender collector and the vehicle has around 3,000 miles on the clock since the refurbishment.
Underside
The Defender's original steel frame has been replaced with a galvanized version. Stainless steel hardware and lines have replaced the originals. The underside of the vehicle appears in excellent condition with no issues or leaks apparent. It is obvious that the 3,000 miles the car has seen since its refurbishment have not been driven in anger.
Sours: https://stratas.auction/auction/1993-land-rover-defender-110-nas-59
You're looking at one super-rare Land Rover. One of the rarest factory-made Defenders ever, in fact. It's a 1993 Land Rover NAS Defender 110, one of just 534 manufactured exclusively for the American market.
Each NAS Defender 110 was painstakingly hand made. The only available colour was white. The idea was to create a desirable image for Land Rover as it returned the Defender to showrooms in the United States. Under the bonnet there's a potent 3.9 litre V8, more than enough effortlessly to power this off-roader to the most far-flung of on-road destinations.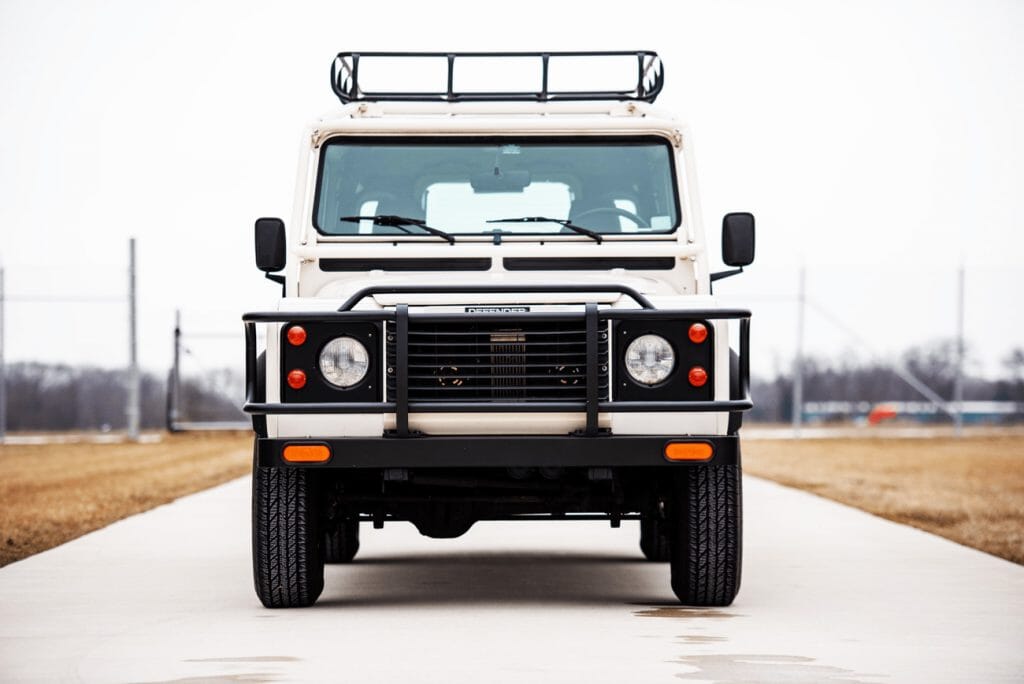 There's a unique external roll cage to protect against all potential mishaps and a roof rack to carry essential baggage for you and your up-to-eight passengers on journeys just about anywhere, from mud-plugging to Monte Carlo.
---
---
All original Defenders are becoming more and more valuable now that Jaguar Land Rover has stopped production, and begun sale of the new-look Defender. Limited edition models, such as the NAS Defender 110, are even more desirable. Make no mistake, this is a proper classic and an eminently usable one at that. 
The Land Rover is part of The Elkhart Collection, a vast array of mouth-watering cars and spares, being sold by RM Sotheby's in October. The auctioneers list no estimate and there's no reserve, but expect to pay in excess of £100,000 for this unique piece of Land Rover history.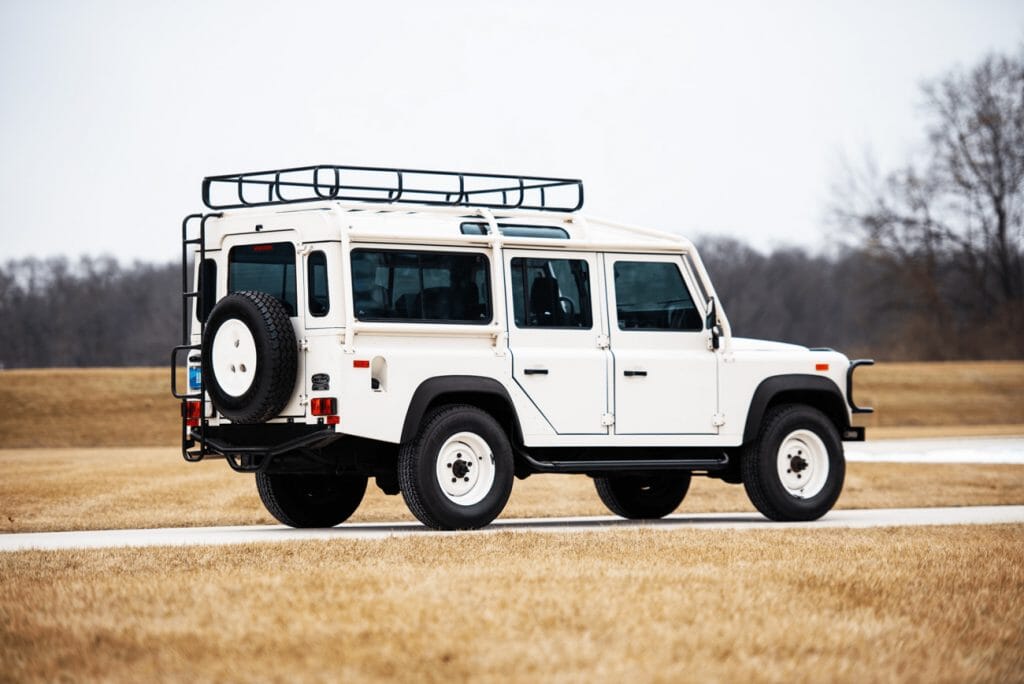 For all things automotive, visit The Garage.
---
---
Sours: https://www.opumo.com/magazine/1993-land-rover-defender/
Rover 1993 land
Land Rover 1993 for sale
Fuel Economy
The questions of efficiency always come to mind when considering whether to buy a Gasoline or Diesel car and as a matter of fact, there is no question that Diesel is the clear winner here.
In terms of energy capacity, Diesel packs around 30% more energy than the same amount in Gasoline. This equates to better power efficiency as it takes less Diesel to power and produces the same amount of energy compared to its rival.
Car dealerships will actually market this fact and feature their diesel models to be fuel misers.
Performance
This is a tricky subject, as the chemical component of diesel fuel is different from gasoline, their performance ratings vary depending on the applications they are required to perform in.
Diesel fuel may have more energy-packed within it, it is more inert than gasoline which can combust even with minimal compression. Diesel, on the other hand, requires a higher compression engine to even begin to become usable.
Most diesel vehicles require the use of turbos direct-injection technology for its horsepower rating to be at par with that of gasoline engines, the torque figures, however, benefit from the energy produced by diesel. Gas cars, on the contrary, do not need turbos for it to spool usable power but lag behind in the torque department.
Because of this diesel-powered engines are primarily used for heavy trucks and SUVs that require heavy hauling and benefit a lot from large torque figures. Check out our affordable deals in Cars for sale section to see what best suits your needs.
Cost
In the Philippines, Diesel fuel is significantly cheaper than Gasoline. This is because diesel is taxed by the government much lower than gas. Apart from the fuel economy savings you get whenever you drive your diesel vehicle, filling up on it at the pump would cost you much less as well.
Whatever scores diesel get for cost-effectiveness against gasoline is then given back during maintenance and servicing your car.
Diesel contains more energy within it, yes, but it also creates more emission residue than gasoline. Because of this, service schedule comes in at a much sooner time table than gasoline. You will have to replace emission filters and fuel filters more often and have your system cleaned and decarbonized.
Meanwhile, Gasoline has reached a point where the fuels are getting burned through combustion much more efficiently. Maintenance schedules can range from 10,000 to 20,000. By the time a gasoline car needs to have its oil and fitters changed, a diesel car would have had made its second one already.
Noise Vibration and Harshness (NVH)
If you're familiar with how a truck or jeepney sounds in idle or when revving up, then you know that Diesel cars' NVH levels cannot match the smooth idle and performance of gasoline cars.
Although diesel engine technology is continually improving, people who appreciate smooth idling and ride handling can always count on gasoline to do that.
So there you have it! The different pros and cons of diesel and gasoline engines. In the end, you have to ask yourself what your priorities are from your car. If you need it to haul cargo, Diesel might be the best bet. But if the simplicity of maintenance, pure horsepower rating and having a quiet ride is your thing, Gasoline is still the way.
Last but not least, as you can see from each listing in our list of Land Rover car for sale in the Philippines, there is an "Estimate bank loan" function to help you, Filipino car buyers, estimate bank loan installment for your car purchase. If you are planning to go for a car loan, kindly fulfill all information including Down Payment, Loan term, Interest Rate then click "Apply for a loan" button. The information will be sent to our financing partners and they will contact you as soon as possible.
Keep in touch with Philkotse.com so we can keep you posted on the latest car news, reviews and insights in the industry.
Show less
Sours: https://philkotse.com/land-rover-year-1993-for-sale
Land Rover Range Rover LWB- 1993 - Commercial
From the November 1992 issue of Car and Driver.

I've written a number of stories about the Michigan country—the country is always true—what happens in the stories is fiction. —Ernest Hemingway, in a letter to his father, Paris, 1925.
Interstate 75 is unusually empty as the Land Rover rolls north from Ann Arbor. Ahead lie the woods, streams, lakes, and small towns of northern Michigan. My pal Max and I are off to see the Michigan countryside beloved by Ernest Hemingway, perhaps the best-known American novelist of our time and winner of the 1954 Nobel Prize in literature.
The Land Rover is the official motive for our trip. After an eighteen-year absence from the U.S. market this venerable machine is once again available on our shores.
Though born and reared in Oak Park, Illinois, Hemingway spent the first eighteen summers of his life—1899 to 1917- in northern Michigan (he also returned for two more summers after being wounded in Italy while serving as a Red Cross ambulance driver during World War I. At his parents' cottage, "Windemere," on Walloon Lake south of Petoskey, he fished and swam and hunted. Years later, living in Paris, he drew on the memories of these experiences to craft many of his early short works-including the well-known Nick Adams stories.
The Land Rover is the official motive for our trip. After an eighteen-year absence from the U.S. market, this venerable machine—the "Daktari" sport-utility vehicle first introduced in 1948—is once again available on our shores. Dubbed the Defender 110, this latest edition is powered by a 180-horsepower 3.9-liter V-8 (the same engine offered in the current Range Rover), sports full-time four-wheel drive, comes only with a five-speed manual transmission, and sells for $40,575. Land Rover North America (until recently Range Rover of North America) is offering 500 of them for sale in the States.
Michael SimariCar and Driver
As Max and I advance north, the flat farmland of central Michigan gives way to thick, rolling forests of birch and evergreen trees. By now, we have had ample opportunity to evaluate the Land Rover on-road. Named "110" for its 110-inch wheelbase, the Defender is a hulking machine. It stretches fifteen feet in length, stands seven and a half feet tall, and weighs 4911 pounds-despite its aluminum engine and body panels. And it feels truckish. The five-speed shifter has long throws, the clutch is heavy, and the engine revs with a burly roar.
Yet there are surprises. The ride is exceptionally compliant-almost plush. And the big Rover, which can seat nine people if the rear jump seats are folded down, cruises down the Interstate at 75-80 mph quite happily. It also has an appealingly robust look, thanks largely to its exterior brush bar and giant roof rack with ladder. Says Max: "This is the coolest truck I've ever been in."
Here the Land Rover is in its element. Wearing wide grins, we attack rutted roads, plow through thick mud, and crawl up and down several dizzyingly steep grades.
At Grayling, the small but busy town that for many Michiganders marks the start of "up north," Max and I turn west onto Highway 72. Cabins and campsites have become familiar sights now, and the trees often part to reveal lakes both large and small. Within a few miles, we spot a sign that points to a snowmobile/off-road course set up by the Department of Natural Resources. We take the road.
Here the Land Rover is in its element. Wearing wide grins, we attack rutted roads, plow through thick mud, and crawl up and down several dizzyingly steep grades. The Defender handles it all with ease. Wishing we had a good elephant wallow to tax it further, we tum back onto 72 and continue west.

Nick had swung on to the freight train when it slowed down for the yards outside of Walton Junction. The train, with Nick on it, had passed through Kalkaska as it started to get dark. Now he must be nearly to Mancelona.—"The Battler"
To our right, running in open fields alongside the highway, are the tracks where Nick Adams landed after being "busted" in Hemingway's "The Battler."
At Kalkaska, Max and I tum north onto Highway 131. To our right, running in open fields alongside the highway, are the tracks where Nick Adams landed after being "busted" in Hemingway's "The Battler." We look for a sign reading, "Nick Adams, hero of Ernest Hemingway's short stories, thrown from train here," but do not find one.
In Mancelona, as we fill the Defender's 20.4-gallon gas tank (which we do often—the Defender averages but 12 mpg in our hands), a man wearing a Peterbilt cap walks up, staring at the Land Rover. "This thing Ing-lish?" he asks, not looking at us.
"Yes," we reply.
"Sure," says the man, walking away.
We continue north on 131, past the green hills and motionless chairlifts of Boyne Mountain ski resort to Boyne Falls, then west toward Boyne City. Once there, we meander on C56 along the cottage-lined east shore of Lake Charlevoix. Ahead just a few miles, tucked up against a quiet cove on the lake, lies the very heart of Hemingway country.
Michael SimariCar and Driver
Hortons Bay, the town, was only five houses on the main road between Boyne City and Charlevoix. There was the general store and post office with the high false front and maybe a wagon hitched out in front, Smith's house, Stroud's house, Dillworth's house, Horton's house and Van Hoosen's house. The houses were in a big grove of elm trees and the road was very sandy.—"Up in Michigan"
The road is now paved and there are no wagons hitched anywhere, but the elm trees and the rest of Horton Bay-population 49-remain much as Hemingway remembered. The general store with its high false front stands on the main road. Many of the original houses are nearby. Hemingway always referred to the town as "Hortons Bay," even though in 1894 the postal service changed the name from "Horton's Bay" to "Horton Bay."
Whatever its moniker, Horton Bay was the hub of Hemingway's adolescent summers. Though his family's Walloon Lake cottage was four miles away, Hemingway regularly walked to Horton Bay to fish, hang out with comrades—including several early girlfriends—and escape his four sisters at home. Many nights he slept in the shed behind a local inn known as "Pinehurst," often obtaining a meal from the generous proprietors, the Dilworths, who were friends of his parents. His last visit to the Bay was on September 3, 1921, when—looking to avoid an overly grand ceremony in Oak Park—he returned to marry his first wife, Hadley, in the Methodist church that once stood next to the general store.
We park the Land Rover in front of the store, climb the steps to the front porch, and go inside.
The store is old and inviting. There's a lunch counter with stools on the left; a deli cooler is in back. The floor and the walls are lined with crowded shelves. To the right, mounted on the wall, are several photographs of Hemingway. A few framed newspaper clippings of articles about Hemingway and the store are nearby.
"You know, if you really want the scoop on Hemingway at the Bay, you've got to talk to Bill Ohle. He spent the summers with Hemingway, and he always stops by the store for an afternoon visit."
Built in 1876, the store has been owned for the last three years by Gloria Wyn and her daughter, Melissa Creasey. "A lot of people come here looking for the Hemingway trail," Wyn says, opening a guest register signed by visitors from as far away as Australia and Japan. "Hemingway used to hang out here, and he did a lot of fishing in the creek nearby."
As Max and I sip sodas, Creasey says, "You know, if you really want the scoop on Hemingway at the Bay, you've got to talk to Bill Ohle. He spent the summers with Hemingway, and he always stops by the store for an afternoon visit."
We have no sooner walked to the front porch when, as if on cue, Bill Ohle climbs up the steps.
Originally from St. Louis, Ohle spent his first summer in Horton Bay in 1911—when Hemingway was 12. Now 82, Ohle has been a permanent resident in Horton Bay for the past 21 years.
"Ernie was at the Bay a lot," Ohle remembers of Hemingway. "He was always trying to teach you something even how to put a worm on a hook properly."
''The thing about Hemingway is," Ohle goes on, "he never cut much of a swath around Horton Bay. He talked a little about writing, but nobody paid much attention.
At first, Ohle is reticent—reluctant to share his lore with anyone who might be unstudied in Hemingway history. But as he determines that Max and I are aficionados (we've both read about everything Hemingway ever wrote), he surprises us by inviting us to continue our discussion at his house, just a few steps away.
On the wall of Ohle's sun room hangs a framed landscape, titled "Weimer Lake," by Ernest's mother, Grace Hall Hemingway. "She wasn't much of a painter," Ohle says, "but she wasn't too bad." As Max and I settle into comfortable chairs, Ohle brings out a 1923 copy of the Little Review, a literary magazine put out during Hemingway's days in Paris. Inside is one of Hemingway's fust published stories, "They All Made Peace—What Is Peace?" Ohle reads some of it aloud, then passes the magazine to us.
''The thing about Hemingway is," Ohle goes on, "he never cut much of a swath around Horton Bay. He talked a little about writing, but nobody paid much attention. Ernie was pretty ordinary-just a city boy, really. In fact, he looked down on country people."
Ohle stares off for a moment. "He was a very interesting guy, really."
Max and I had planned next to visit Windemere, the Hemingway cottage on Walloon Lake. But back at the general store we hear bad news. "Hemingway's sister Sunny lives there," says Gloria Wyn. "She recently had the historical marker removed from the road, and you can't see the house through the trees in the summer. She doesn't like visitors."
Nick looked back from the top of the hill by the schoolhouse. He saw the lights of Petoskey and, off across Little Traverse Bay, the lights of Harbor Springs.—"Ten Indians"
The sunlight fading, we leave Horton Bay, taking C71 north to Highway 31, then turning east along great big Little Traverse Bay to Petoskey. We continue along the east shore of the bay, stopping to take in the whitecaps blowing across the water, then continue on to the tony resort town of Harbor Springs. We eat dinner, fortify ourselves with beers at the "Bar Harbor," then walk out into the night air to look over the yachts docked nearby.
"How come you don't have a boat like that, Art?" Max asks, focusing on a major Hatteras.
"I am a journalist."
"I remember now."
We turn in for the night.
On the smoking skillet he poured smoothly the buckwheat batter. It spread like lava, the grease spitting sharply. Around the edges the buckwheat cake began to firm, then brown, then crisp. The surface was bubbling slowly to porousness. Nick pushed under the browned undersurface with a fresh pine chip . He shook the skillet sideways and the cake was loose on the surface. —"Big Two-Hearted River"
Max makes the mistake of reading that passage aloud early on Saturday morning. We have no buckwheat batter, no skillet, and no fire (ours is a non-smoking room). Fortunately, we know where to go.
Our venture now truly full, Max and I turn south for the drive back to Ann Arbor. The Land Rover has become a familiar friend.
Juilleret's diner is on Highway 31 just south of downtown Charlevoix-a shoplined harbor town that appears in several Hemingway stories. Hemingway never ate at Juilleret's, but it's still a must. In business for 45 years and owned and run since 1988 by Mary Morrison and Mary Ann Hodack, Iuilleret's makes the world's greatest cinnamon-swirl French toast. The bread is homemade. The slices are about an inch thick. Butter and real Michigan maple syrup add to the bliss. Nick Adams never ate this good.
Car and Driver readers will be among friends here: Mary Ann drives a Porsche 911 and Mary owns a Mercedes 560SL.
Our venture now truly full, Max and I turn south for the drive back to Ann Arbor. The Land Rover has become a familiar friend. It may lack the refinement and creature comforts of many four-by-fours, but it is nonetheless amazingly capable and completely comfortable. Add in its vast interior room and rugged, distinctive appearance, and you have an appealing albeit costly—alternative to mainstream sport-utility machines. "This is the coolest truck I've even been in," Max says again as we near home.
Of those days in Michigan, Hemingway wrote:
He had loved it more than anything. He had loved digging potatoes with Bill in the fall, the long trips in the car, fishing in the bay, reading in the hammock on hot days, swimming off the dock, playing baseball at Charlevoix and Petoskey, living at the Bay, the Madame's cooking, the way she had with servants, eating in the dining room looking out the window across the long fields and the point to the lake, talking with her, drinking with Bill's old man, the fishing trips away from the farm, just lying around.—"On Writing"
A drive through Michigan's Hemingway country with a great friend makes a fine memory, too.

Specifications
Specifications
1993 Land Rover Defender 110
VEHICLE TYPE
front-engine, four-wheel-drive, 9-passenger, 5-door wagon
PRICE AS TESTED (1993)
$40,575 (base price: $40,575)
ENGINE TYPE
pushrod 16-valve V-8, aluminum block and heads, port fuel injection
Displacement
241 in3, 3947 cm3
Power
180 hp @ 4750 rpm
Torque
227 lb-ft @ 3250 rpm
TRANSMISSION
5-speed manual
CHASSIS
Suspension (F/R): live axle/live axle
Brakes (F/R): 11.8-in disc/11.0-in drum
Tires: Michelin X 4x4, 7.50 x 16
DIMENSIONS
Wheelbase: 110.0 in
Length: 181.1 in
Width: 70.5 in
Height: 90.0 in
Curb weight: 4911 lb
C/D TEST RESULTS
60 mph: 12.3 sec
Street start, 5–60 mph: 12.5 sec
Top gear, 30–50 mph: 15.0 sec
Top gear, 50–70 mph: 22.0 sec
¼-mile: 18.8 sec @ 71 mph
Top speed (drag limited): 89 mph
Braking, 70–0 mph: 227 ft
Roadholding, 300-ft-dia skidpad: 0.62 g
C/D FUEL ECONOMY
Observed: 12 mpg
FUEL ECONOMY
Combined/city/highway: 11/10/12 mpg
ExpandCollapse
This content is created and maintained by a third party, and imported onto this page to help users provide their email addresses. You may be able to find more information about this and similar content at piano.io
Sours: https://www.caranddriver.com/reviews/a31896161/1993-land-rover-defender-110-by-the-numbers/
You will also be interested:
1993 Land Rover, Range Rover Classic
Status: Sold
Manufactured: Great Britain
Imported: Valencia, Spain
Engine: 200Tdi Turbo Diesel
Transmission: 5-Speed Manual
VIN: SALLHABF8KA625165
Heading to our showroom from Washington D.C., I-66 parallels a railroad line. It snakes along the south side of the highway at first before crossing to the north and back south once again. It's a ribbon of rail heading westward to link up with Norfolk Southern's Crescent Corridor; a multi-billion dollar long-term effort to string rails that connect central New York to Memphis and New Orleans in the South. But you didn't come here for a narrative about railroads. This needs to connect to this Range Rover somehow. Watch this:
Early on a Saturday morning I pulled the Range Rover onto Harrison Rd. in The Plains, Virginia, named after its original resident, Mr. Fairfax Harrison. Reach into your mind and conjure up images of the heyday of the industrial revolution. When words like 'tycoon' and 'baron' were in vogue. Mr. Harrison was born in 1869 and rose through the ranks to become the President of the Southern Railway Company by 1896; this same railroad we now know as Norfolk Southern. Into the early 1900's, he was instrumental in expanding the amount of rail Southern had under their belts dramatically. Mr. Harrison chose Virginia to be his home, and oh what a home it was. His 800+ acre estate contains a stately main home along with numerous barns, greenhouses, cottages, and stables. And rumor has it there's a little sidetrack coming off that railroad line on I-66 so Mr. Harrison could get his personal rail car nearer to the house. It is, by all accounts, impressive.
Today the estate has changed hands, but it's no less impressive. It's maintained by a passionate team of caretakers while farmers use the grounds to raise some of the finest beef in the region. On the grounds in the morning with the Range Rover, I was stopped first by Mr. Martin while around the back of the house. With his two sheep dogs in the back of his Subaru and the Range Rover quietly idling nearby, we chatted about - what else? - Cars. Remembering his old 427 Corvette brought a spark to his eye. Impressive again. Don't judge a man's garage by the number of sheepdogs in his Subaru.
This Range Rover is a rare bird indeed, not only is it one of the two-door variants never sold on our shores, but it's a factory 200Tdi truck as well. The upgraded injection system on the engine marked a new era for Land Rover's diesels in the early 1990's. The truck slid around the estate all morning, a stranger in a home run by warm, caring people. Robert the groundskeeper greeted us early and was kind enough to stand by the Range Rover for a photo. He wouldn't lean on it for fear he'd dirty the hood.
This truck came from the city of Valencia, Spain. We bought it from the Son of the original owner. Dad had bought the truck new and used it sparingly throughout it's life to get into the mountains or the countryside. He rarely drove in town, the son said. Hated the traffic and the narrow streets. It shows. In 25 years he only put 87,000 miles on the rig. The five-speed shifts beautifully and the interior looks fantastic. For us, this is a fitting tribute to list on Father's Day.
My final greeting and goodbye were from a pair of horses on the property. They investigated the Range Rover with the correct degree of suspicion. Despite how well it blended into it's stately surroundings, I suspect they could tell it wasn't from around these parts. We pulled back onto Mr. Harrison's road and headed back home.
Driveline. 200Tdi four-cylinder turbo diesel mated to a five-speed transmission with high/low transfer case. Truck shows 140,861 kilometers, or just 87,526 miles. Truck starts easily and pulls strong without excessive smoke throughout the rev range. Transmission shifts smoothly and the truck makes full power. High / low transfer case engages and functions properly. The vehicle's drivetrain is original and unmodified.
Exterior. The Ardennes Green paint is original and shows some signs of age, with minor dents and scrapes around. It does present nicely, however, and the exterior trim pieces around the bumpers and exterior are all present. The truck is devoid of rust; frame, panels, rockers, floors, are all straight and clean. Vehicle retains its original rostyle steel wheels with matching Range Rover center caps, with Michelin rubber in good shape at all four corners. The full size spare is in the rear.
Interior. The tan fabric upholstery is original and intact. The truck conveys with its cargo area tray cover (not pictured). Seats are clean and untorn; the interior is spacious and comfortable. Lights, signals, and gauges all function properly. Vehicle has an aftermarket lock system installed. The plastic trim pieces throughout the interior are original and present, with some showing minor signs of wear after 25 years, but largely in excellent condition.
Interested? Contact Us for more information.
[email protected]
sold out
Sours: https://www.cwclassics.com/inventory/1993-land-rover-range-rover-classic
2435
2436
2437
2438
2439