DIY Wooden Magazine File Holder
You might be thinking, "Aren't magazine file holder already easy to find and pretty cheap?" It gets even easier and cheaper, my friend. One sheet of plywood = EIGHTEEN files! At $3.50 per top-grade plywood file, I was totally on board.
I was inspired by Ana White's plans for the same, and I followed her cut list on a 4' x 4' sheet of plywood (half of a full-size sheet). One full sheet makes 18 files!! I made 9 and even that felt generous.
To make 9 wood magazine file holders, you will need:
1 half-sheet (4′ x 4′) of plywood, 1/4″ thick. (Use a full sheet for 18.) I sprang for hardwood ply, because I'm worth it.
1×4 length of timber, 8' long. Technical note: my piece was actually 19mm x 90mm x 2.4m, because of the metric system. The actual size is nearly the same.
PVA glue
Quality painter's tape
Clamps (optional)
Finishings of your choice: paint, varnish, decoupage paper, etc
How to make the Wooden Magazine File Holder: Step by Step Project
Cut the board into three 10″ wide strips and three 4″ wide strips, as shown. If you ask nicely at the hardware store, they can cut the strips for you. You can saw through the remainder with whichever saw you have at home, even a hand saw if necessary.
I used a circular saw to make the long cuts. (To guide it on a straight line, I clamped a spare 1×4 to the plywood to act as a guide for the saw.) The short cuts were done on a drop saw, which was easy to set on a 30º angle.
Using the 4" strips, cut nine pieces that are 6¼" long.
Using the 4" strips, cut nine pieces that are 12" long.
Using the 1×4, cut nine pieces that are 10" long.
So you've got all your pieces cut. Great! Time for assembly. These are the pieces you need for each file.
Glue the base piece to the bottom edge of one side, centered. Then glue the other side piece to the base. Tip: use a spare 1×4 section to prop up the piece while gluing.
Use painter's tape to hold together all the pieces as you glue them together – sides, front and then back.
(If you have clamps, they also do the job – but I found the tape to be gentler and easier for positioning the timber.)
I left the glue to dry overnight. The next day, I added a touch of wood putty in some of the cracks for a flush finish. A light sand took care of any mess from the glue and putty.
My pieces of plywood were starting to look like magazine files!
I went for a very simple finish on these files, in a similar vein to my Scandi dresser makeover: I used danish oil on the sides and semi-gloss paint for the fronts and backs.
(As an extra precaution, I even put little felt feet on the bases.)
I gave them another couple of days for the finishes to cure, and then excitedly placed them in my study.
Related: 46 Awesome DIY Wood Projects For Absolute Beginners
Pretty handsome, hey? I like the severe profile of my files, all straight lines and solid-coloured panels. I have a thing for Scandinavian-influenced minimalism!
There are so many ideas for customizing them with your own designs: polka dots, crosses, stencils, stripes, chalkboard paint, decoupaged paper with mod podge… it's endless. You can also find label plates at a craft store and add those on, too. I keep my files mag-side out so I didn't worry about it.
This bookshelf is looking tidier than ever. (There's five here, but the other four are about to join the crew very soon.) Even IKEA couldn't sell me wooden magazine files this cheaply — if you need loads of these, definitely give it a shot making your own!
Sours: https://www.homedit.com/wooden-magazine-files/
17 Brilliant Ways to Organize With Magazine Holders
Sharing is caring!
Don't you love it when you find unexpected ways to organize your home? We've found a ton of brilliant ways to organize with magazine holders (or magazine files, if you prefer). Seriously! Talk about pantry storage… hiding your router…organizing your clutch bags, neatly organizing your groceries, and even your freezer are just some of the things you can do with these handy little doodads.
The best part is how dirt-cheap magazine holders are. Visit your nearest Walmart, Target, Dollar Store though you can start with your nearest thrift store. Want in on a secret? While at the thrift store, head straight for the office supplies section. You're bound to find a selection of magazine holders and the best part is that you might snag quite a few for just pennies.
We can't wait to hear from you in what ways you were able to bring some organization to your home!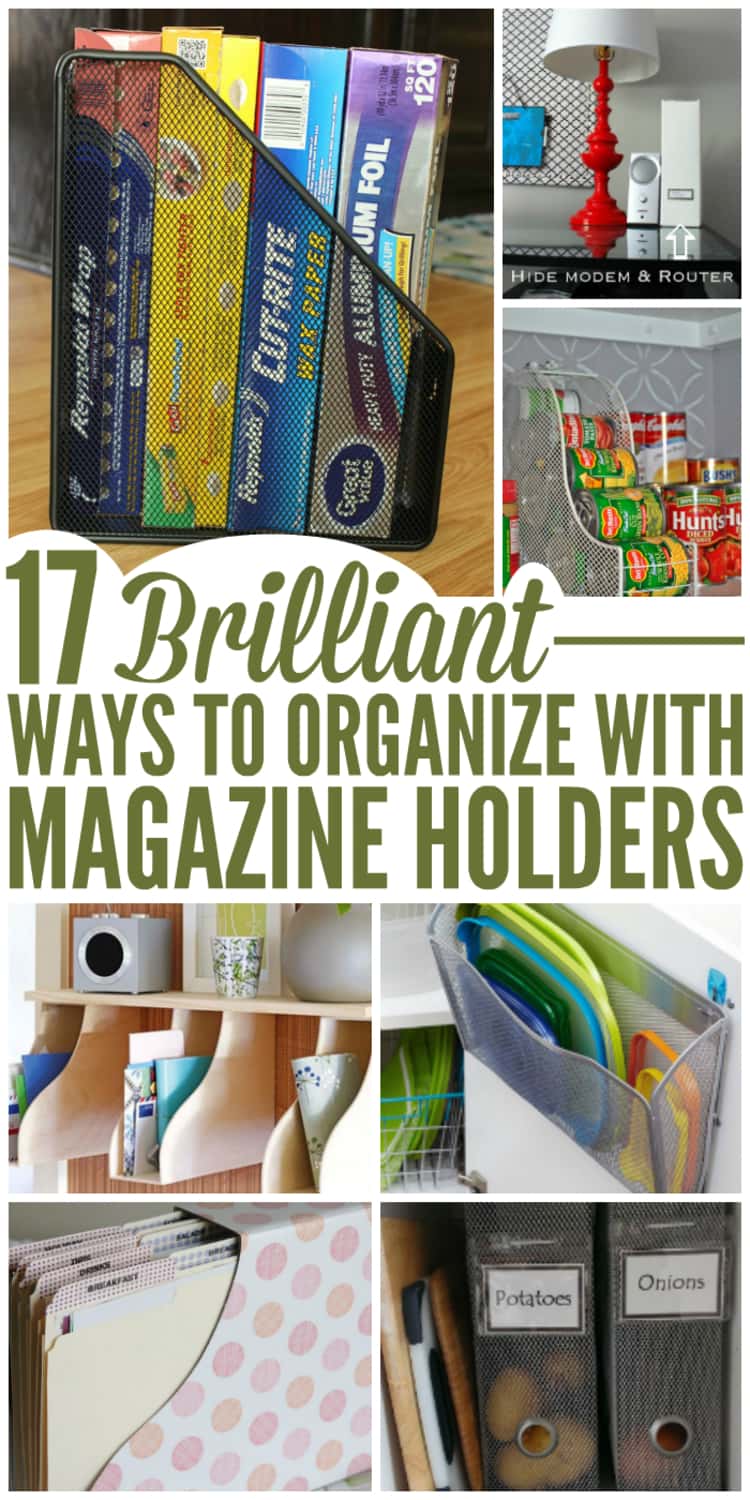 17 Brilliant Ways To Organize With Magazine Holders
Clever Ways To Organize with Magazine Holders
1. Nifty Thrift Hack To Organize Your Freezer With Magazine Holders
Having well-organized spaces doesn't have to be an expensive affair. In fact, the next time you need to organize stuff on the cheap, visit any thrift store and head straight for the office supplies section. You'll find lots of cheap magazine holders you can use to create instant freezer shelves to organize your fridge. Magazine holders are perfect for storing all your frozen soups flat!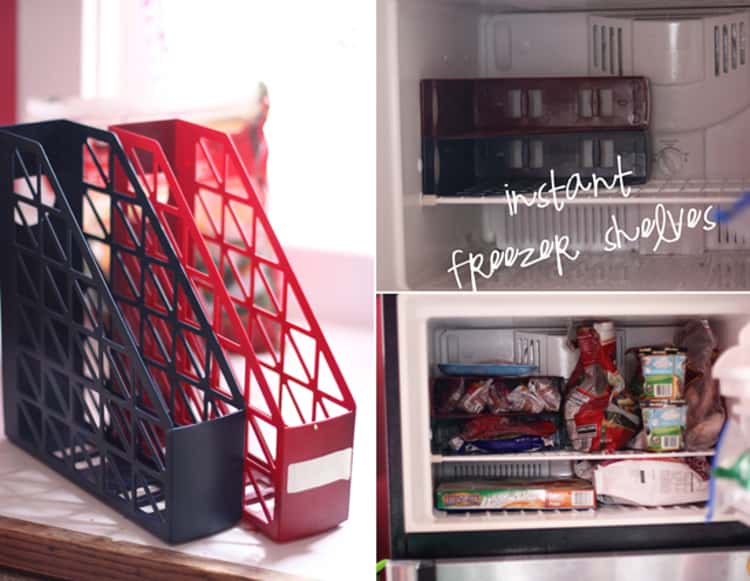 2. Dirt-Cheap IKEA-Style Organization Hack
You've most likely browsed through the IKEA website and wondered how you could afford such neat organization furniture. Relax! We got you covered. Here's a brilliant way to get organized without having to break the bank.
For just a fraction of the price, replicate this IKEA organization shelves by hanging 3 wooden magazine holders on the wall, adding a shelf on top, and you'll have yourself a nice mail sorting station.
I can totally bet no one will guess this is a DIY, and they'll soon be asking you to share the link for this exact piece…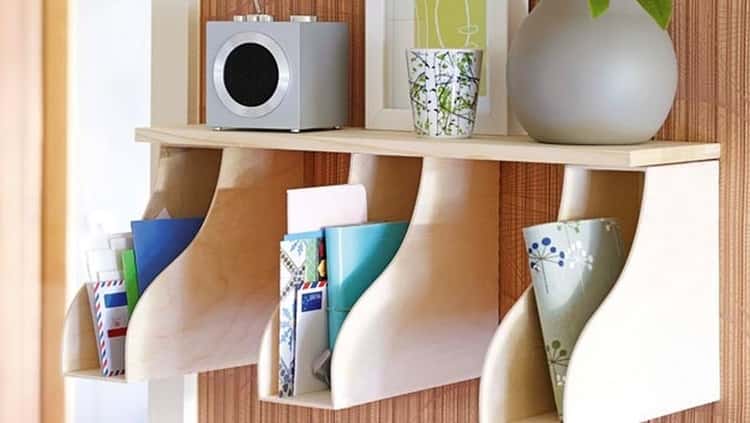 3. Uncramp Your Style – Organize With Clear Magazine Holders
I'm never one to plan my outfits prior and I normally go with whatever catches my eyes from the closet. The same goes for my accessories and if you're anything like me, some accessories will never see the light of day. To avoid this, clear magazine holders will help sort and organize your clutch bags within your closet. You can be now sure each one of those cute accessories will finally get to be chosen to compliment your daily outfits. Here's to not letting disorganization cramp your style ever again!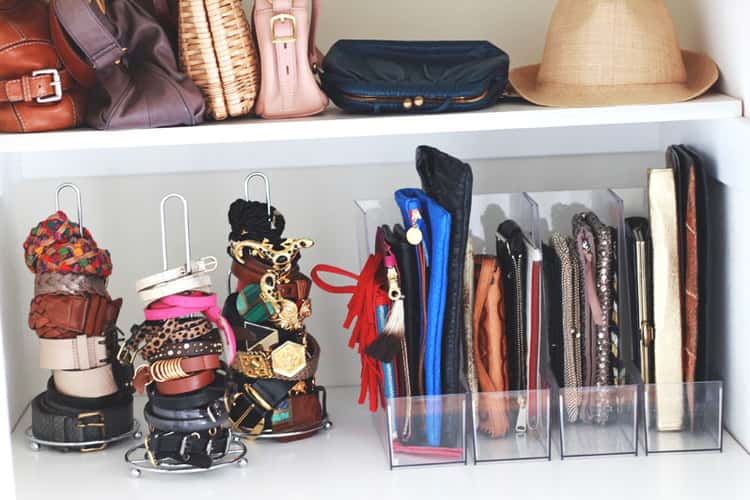 4. Kitchen Organizer For Your Cutting Boards Using Magazine Holders
Every kitchen needs at least 2 cutting boards so that one is strictly used for cutting meats and the other for all other uses. Good for you with extras and now enters the headache of how to store them. Use a file sorter or magazine holder on the inside of your cabinet door to separately store all your cutting boards.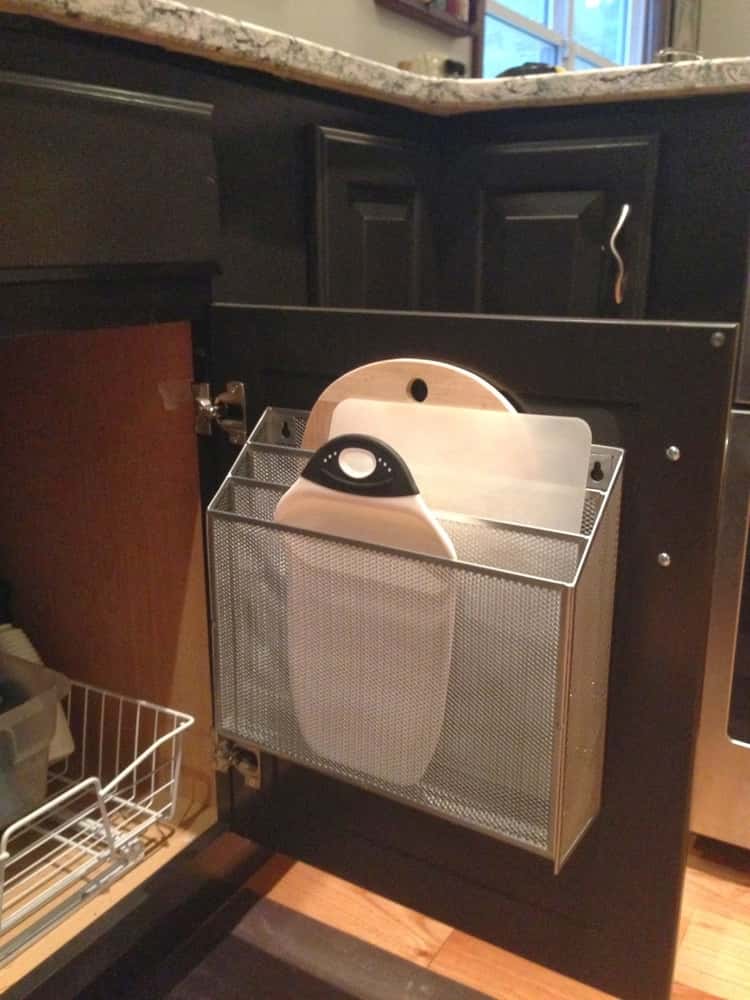 5. Keep Your Water Bottles & Lids Together With Magazine Holders
Skip out on the frustration of always having to look for water bottle lids all over the house, especially when you're in a hurry to get everyone out in time. Keep your family's water bottles together in a magazine holder easily within reach and plain view. Rest the magazine organizers on their backs for this hack. Isn't that so much better than having lids and bottles everywhere?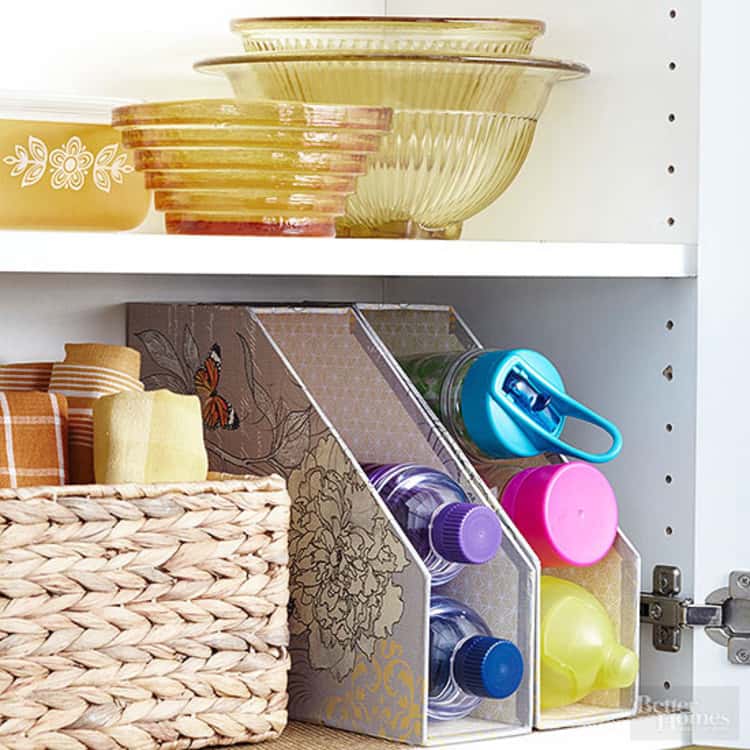 6. Easy DIY Shelving Using Magazine Holders
If you're particular about where you place various items in your house, like I am, this is a really cool way of having all your stuff in their own little designated shelving space. This makes it super easy because everyone in your house will know where they can find keys, change, remotes, or bills.
Easily DIY and create the perfect solution by adding a floating corner shelf by mounting a stained wooden magazine holder from IKEA.
7. Recipe File Organizer and Holder
You're an avid recipe collector and as a result, you have this huge collection of recipes torn out of magazines. But every time you think of trying out one of the recipes in your collection, you're stopped in your tracks by frustration. Your recipe collection at the moment can best be defined as a bunch of papers.
Here's a hack that will set up your recipe collection: create an organized recipe file using file folders and a magazine holder.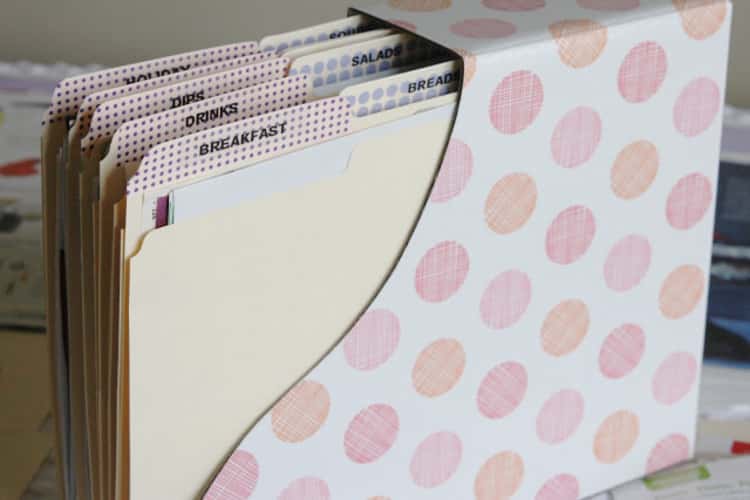 8. Makeover Your Hot Styling Corner With Magazine Holder
Transform your hair styling corner from the hot mess it currently is by storing your hot hair styling tools inside a magazine holder. Personally, I'd use a metal one for this purpose.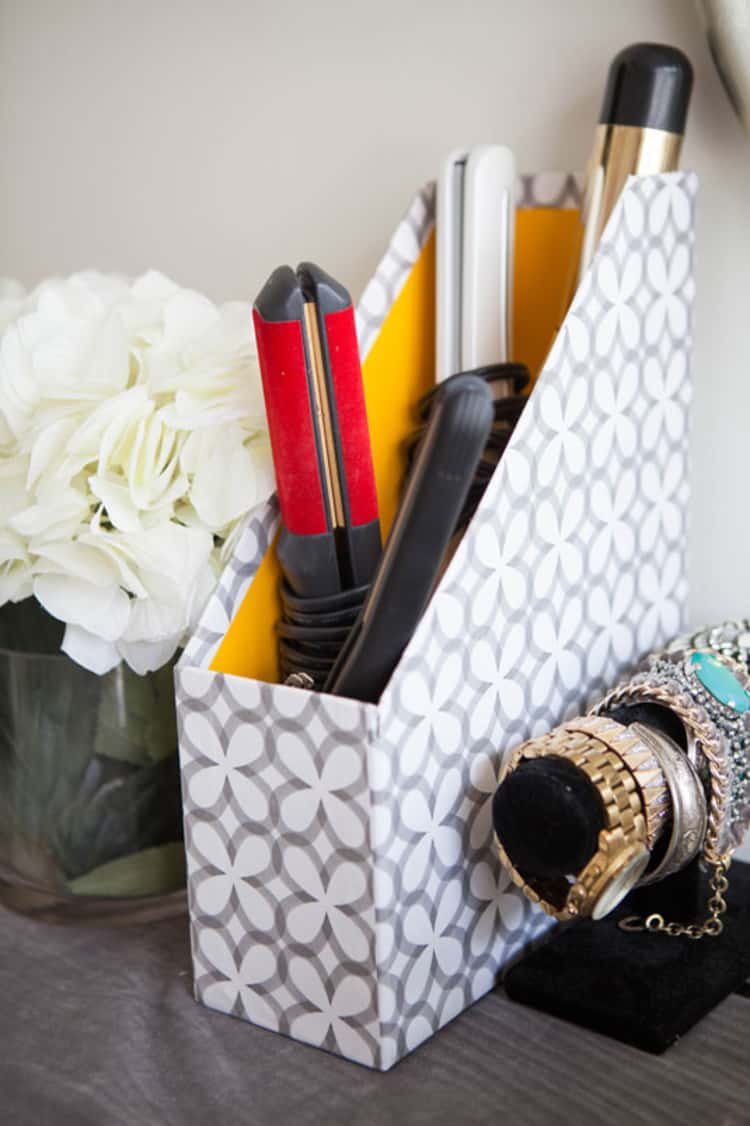 Best Ways To Repurpose & Organize With Magazine Holders
9. Inexpensively Create A Gift Wrap Station Using Magazine Holders
Cheap magazine holders are the perfect solution for your at-home gift wrap station. Use them to store bows, tissue paper, and gift bags. They also make it easy for you to quickly take stock and quickly know what needs restocking before the next gifting season.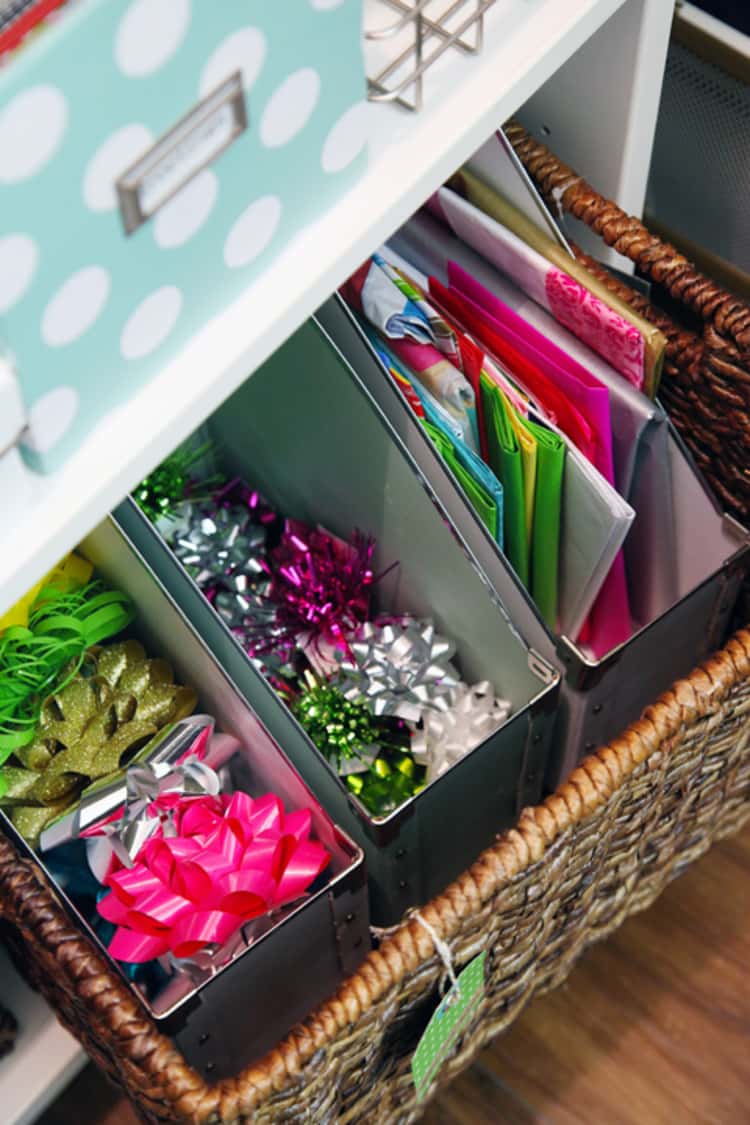 10. Brilliant Bathroom Hack With Magazine Holders
Stop those awkward moments of having to call someone while in the bathroom for a new toilet roll. Use a magazine holder in the bathroom to store extra rolls of toilet paper. It's always a good idea to have an extra roll or two within reach at all times!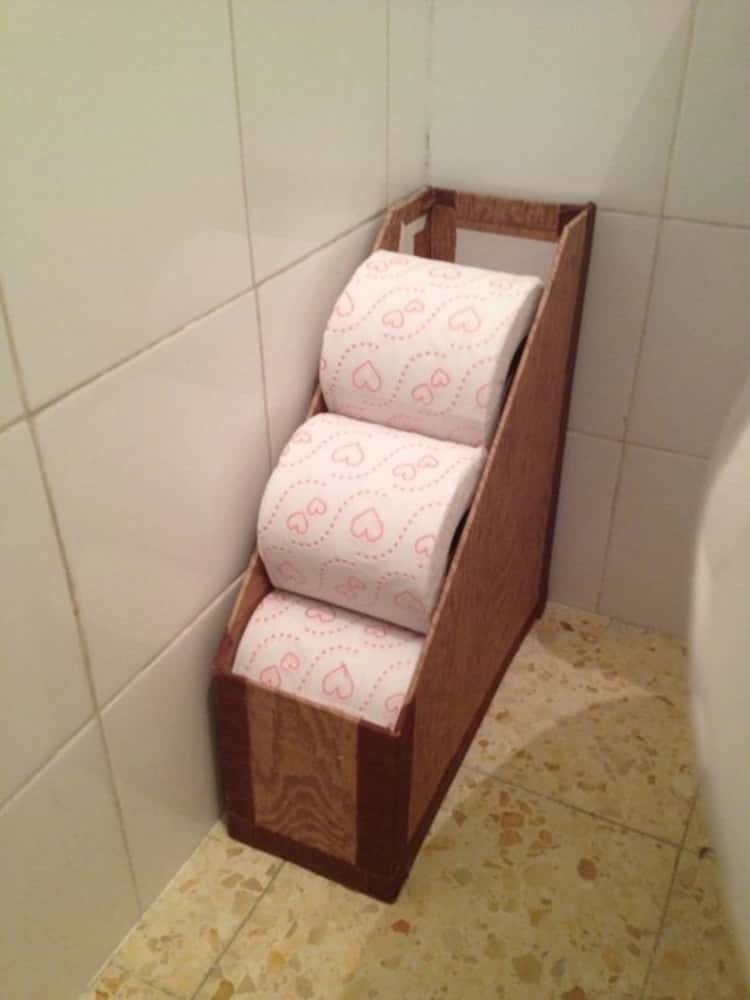 11. Inexpensive Pantry Organization Trick Using Magazine Holders
For only a few dollars at your local Walmart, inexpensively corral your foil, wax paper, and plastic wrap in a magazine holder. Slide the holder onto the pantry shelf or attach it to the back of a cabinet door for easy access.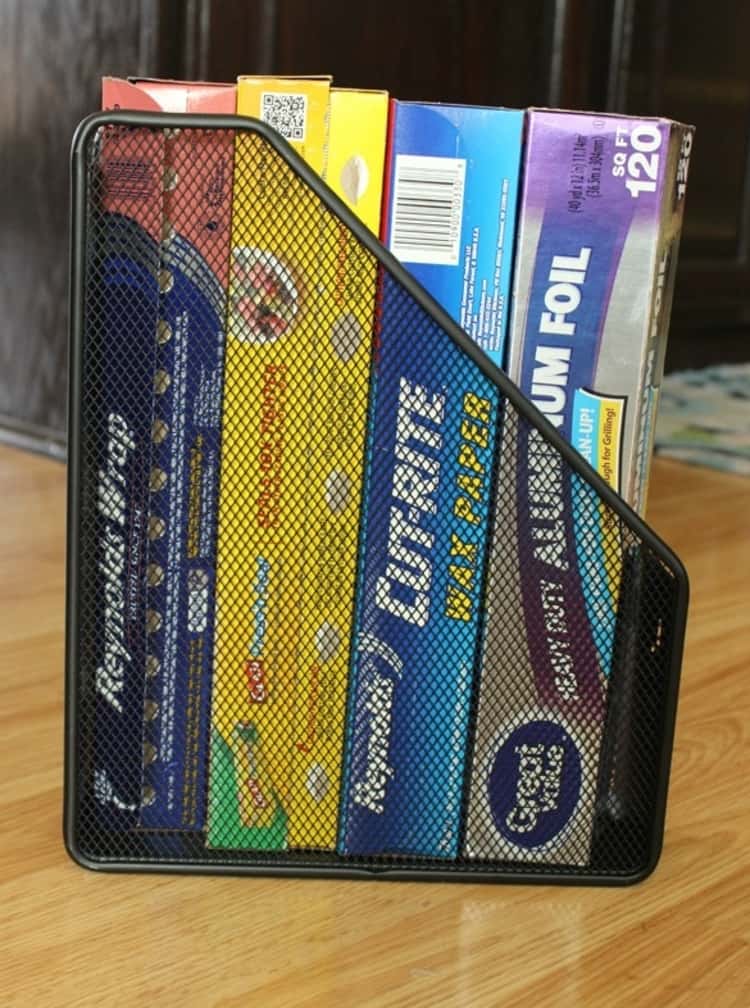 12. Another Pantry Organization Hack Using Magazine Holders
We can all agree this hack is way better than having to store your groceries in burlap sacks. Use mesh magazine holders in the pantry for your potatoes and onions. 2 of these magazine holders when tied with a zip tie can easily hold up to 7 pounds of groceries each.
13. Solve The Mystery of Missing Tupperware Lids With Magazine Holders
While food storage containers are a must-have in every kitchen, they're also a chaotic mess and pain, especially during storage and having to deal with countless lost lids. Mount a magazine holder to a cabinet door where you can stash your Tupperware lids to make sure you never lose another one again!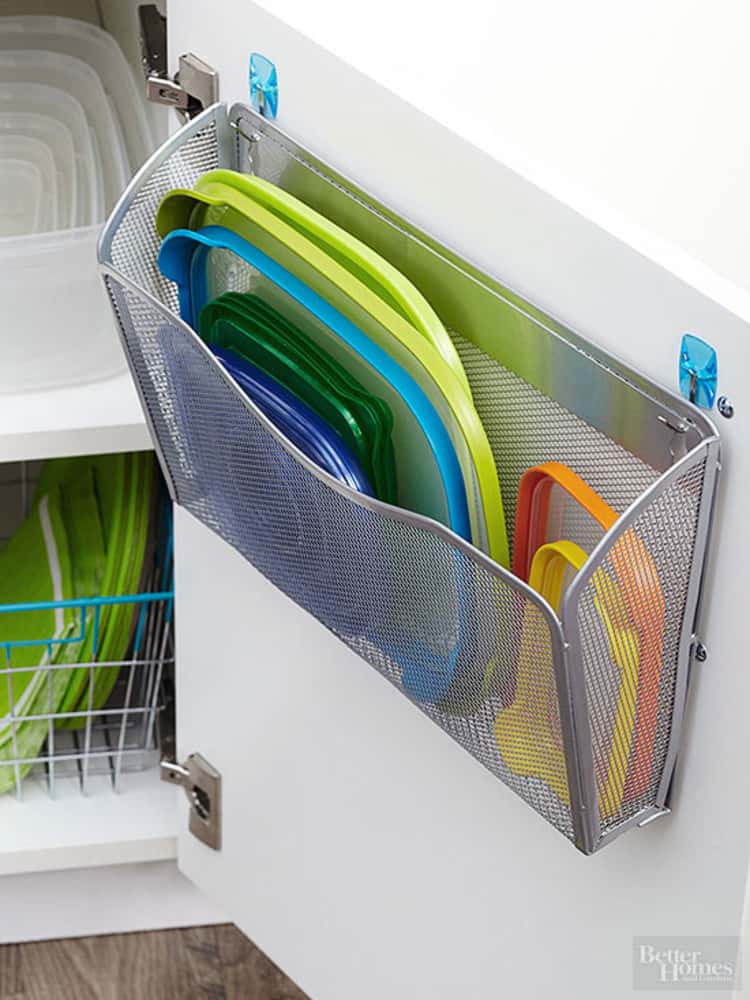 14. Magazine Holder – Your Kitchen and Pantry Organizer
Organization isn't perfection. It's about efficiency, reducing stress and clutter, saving time and money, and improving your overall quality of life.   – Christina Scalise
Want to keep the kiddos busy helping while you're in the kitchen? Try this brilliant hack to create the perfect mini dispenser for canned foods to organize your pantry. It will be fun for them though I bet you'll have a hard time keeping them away from this cute mini-vending machine. Though, you could work around that by putting it on a raised surface once cooking is done.
Also, you can use a magazine holder mounted on the inside of a cabinet door to organize flat items such as recipe books and placemats.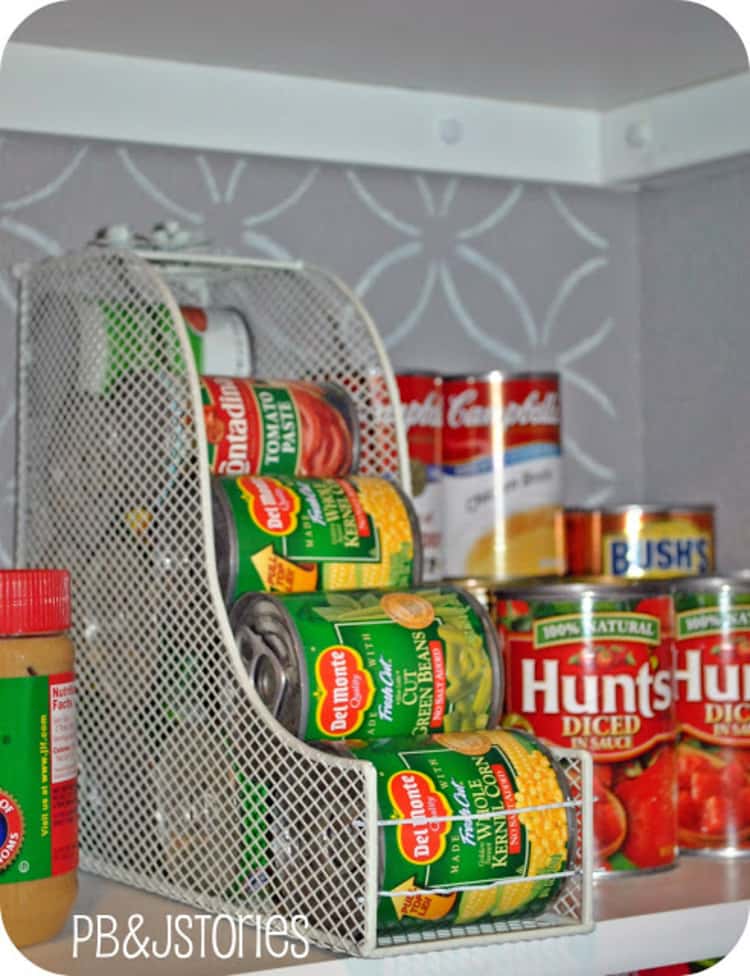 15. Magazine Holder For Clever Use of Tight Vertical Storage
A dirt-cheap way to cleverly organize is by using a $1 magazine holder you can pick up at Target. This is also a clever way to make use of any tight vertical spaces. You can put one in the RV (or your small kitchen) to neatly organize your paper plates and napkins.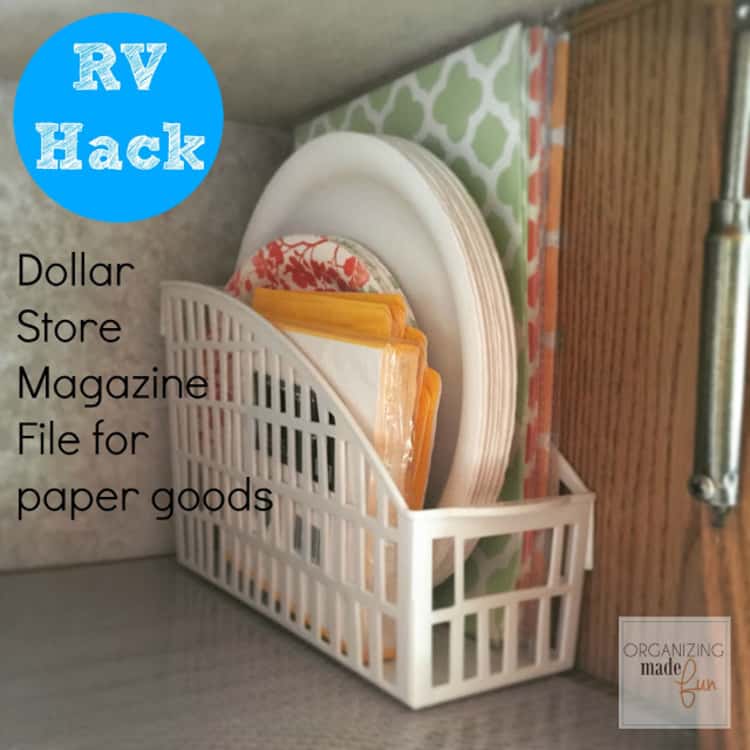 16. Use A Magazine Holder As An Electronic Clutter Organizer
Electronic gadgets are now a huge part of our lives and every home is bound to have a sizeable collection. Creatively hide your modem and router inside a magazine file to tidy things up. You'd never know they're back there!
You can also use a magazine holder to create a digital station from where you can charge and store all your electronic gadgets.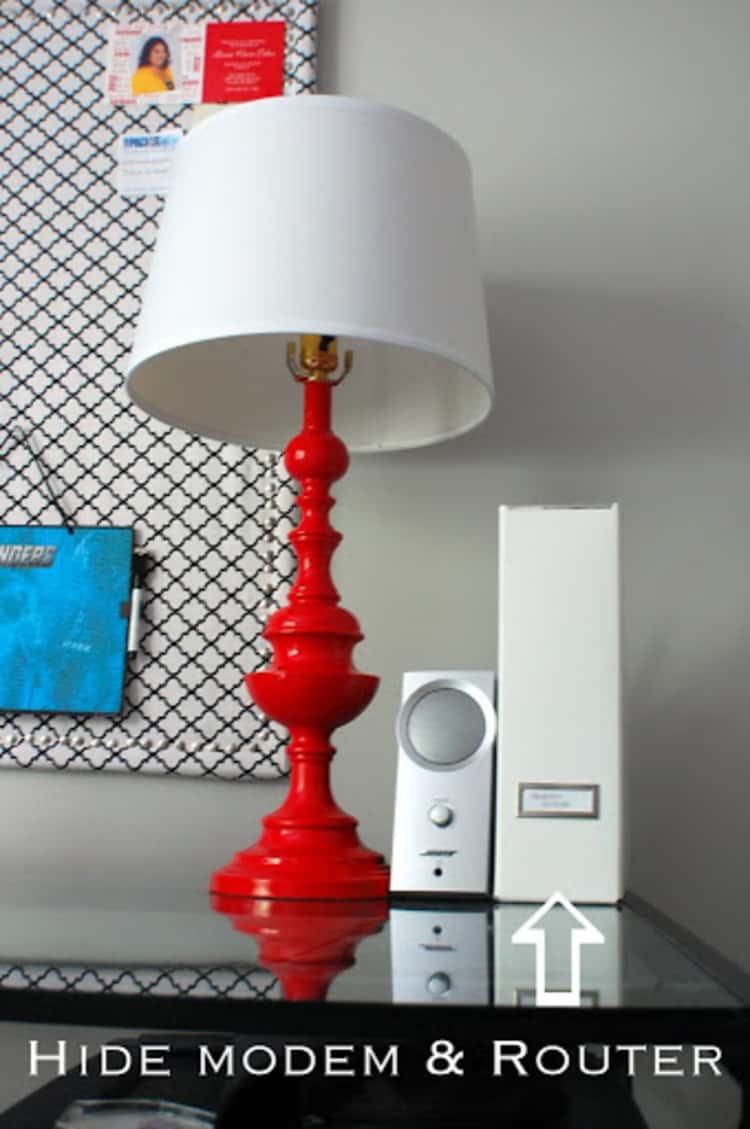 17. Baking Tray Storage With Magazine Holder
Finally! Here's an organization hack that I needed to have come across ages ago. I store all my baking trays inside the oven when it's not in use. It keeps them out of the way and they stay dry, not exposed to the elements. My pet peeve comes when the oven is in use for some other baking that doesn't need the baking trays, and so my trays are normally lumped up somewhere on the kitchen counter.
I can now create a permanent store for my baking pans in an old magazine rack to free up my already limited kitchen counter space!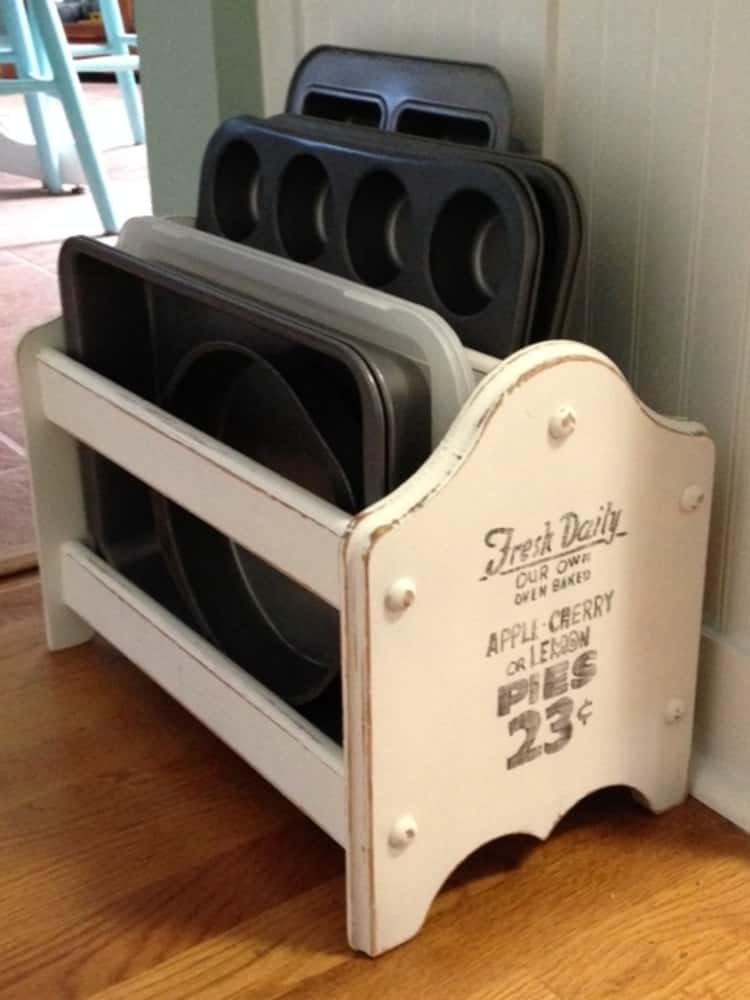 You see, being organized is NOT about being perfect; it's about customizing your whole world to work FOR You – The Organizing Boutique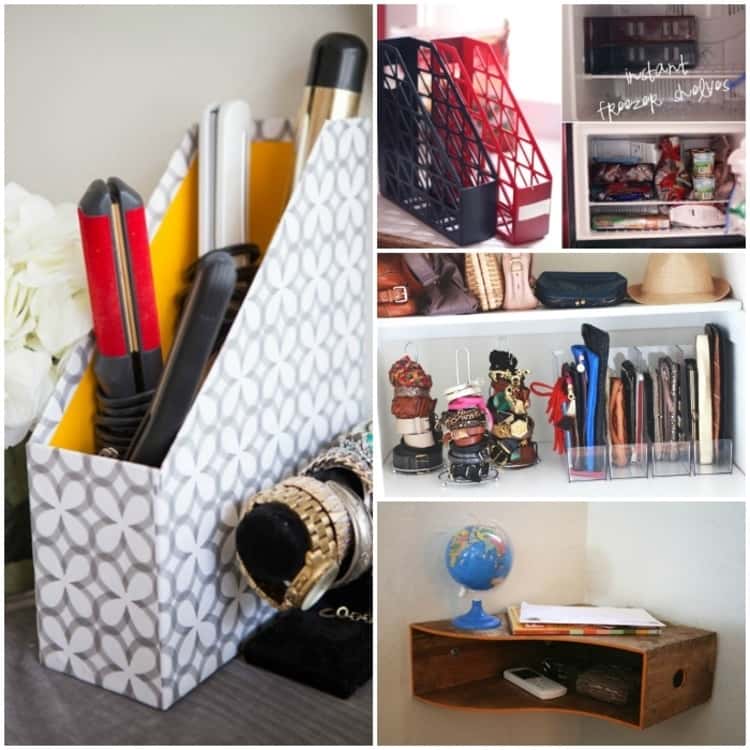 Enjoyed seeing different ways to organize with magazine holders? Have a look at these other organization ideas too…
Sours: https://www.onecrazyhouse.com/17-brilliant-ways-organize-magazine-holders/
25 Brilliant Home Organization Ideas With Magazine Racks and File Holders
Magazine holders are so inexpensive and they make wonderful DIY organizers for every room in the house. Those Dollar Store magazine holders cost about a dollar or so each and you can use them in so many wonderful ways. Who doesn't want to be more organized? If you've been looking for a great way to organize your craft supplies or you need a lovely corner shelf to keep the television remote handy, you can use those magazine holders to create it.
I have to admit, this collection blew me away. I never knew there were so many wonderful way to organize with magazine racks and holders. There's even a beautiful towel holder for the bathroom made from an old magazine rack. How amazing is that? Oh, and you have to check out these 150 Dollar Store organizing ideas, too. There is something in here that will help you get your entire home neat and tidy.
Metal, wood, cardboard, and even plastic – you can find magazine holders in all types of materials and you can use those holders to create some amazing storage for the home. I'm so excited to bring you this organization list. Let's face it, we can all use a bit of organizing and there are some really wonderful ideas in this collection. Note that some of these projects use wire magazine racks and some use larger wooden pieces. There's a unique magazine rack organizer for everyone! There's also a great collection of 50 DIY storage ideas for kids' rooms – be sure to check that out, too.
Now, back to organizing with those magazine racks. You're sure to find a fun and easy project that lets you be a bit more organized. I absolutely love organizing and I really love finding unique ways to do it. of course, repurposing is my passion so this collection really hit both of those marks. Take a look and see how you can start organizing your home.
1. Compact Gift Wrapping Station
A magazine racks works wonders to keep gift bags, sheets of wrapping paper and tissue paper organized and protected. You can hang the magazine rack or put it inside a tote or even on a shelf to organize and store those wrapping supplies. This keeps your bags and paper from getting torn or wrinkled and you can find all your wrapping supplies in a pinch.
Source: marthastewart
2. Clever And Easy Toilet Paper Storage
Sometimes the simplest things give you the biggest reason to smile. I'll admit I really smiled big when I saw this toilet paper holder that is nothing more than a magazine file folder. You can get these at the Dollar Store for a couple dollars each and they come in cardboard or wire – or you can go all out and buy a wooden one from your local office supply store. Just stick those toilet paper rolls in there and keep your bathroom storage all neat and tidy.
3. Corner Wall Shelf Storage
This little wooden magazine rack turned shelf is perfect for hanging right inside the door. You can put your keys, mail, and all sorts of other things in it. This would also be a great place to keep the television remote and maybe your TV Guide. You just paint or stain the magazine rack and then hang it wherever you need it. The shape makes it perfect for corners and it really does offer a wonderful catch-all station.
Source: designsponge
4. Kitchen Drawer Organizer
If your kitchen drawers are deep enough, you can use magazine racks to keep those papers, spice packets, and other goodies neatly organized. Those plastic magazine organizers that you can get at the Dollar Store for about a dollar each will lay down perfectly in a kitchen drawer and help you to keep those items organized depending on how deep your drawers are.
Source: thekitchn
5. DIY Compact Coffee Table
How about a neat little table from those magazine racks? I love the idea of putting together this table for a reading nook. You take those wooden magazine racks and assemble them to create the top. Plus, you've got great storage inside each one. Add some legs and you're all done. Imagine the magazines and other items that you can store in here and what a conversation piece!
Source: ikeahackers
6. Craft Supply Organizer
Cardboard or plastic magazine holders are so inexpensive and you can use them to create this amazing craft supply organizer. The racks hold loads of yarn, paints, fabrics, or whatever craft supplies you have that need to be organized. You can hang a simple wooden shelf and stack them up or even attach the magazine holders right to the wall. What a great way to get your craft room cleaned up and organized.
Source: laughingpurplegoldfish
7. Curling Iron Organizer
Use that decorative magazine holder to keep your hair essentials neatly organized. Once they have cooled, just store your blow dryer, curling iron, or flat iron inside the magazine holder. Be sure that you've let them cool off before adding them to the holder as you could damage your products if you put them up hot. This is a wonderful way to organize the bathroom and you can totally paint the magazine racks to perfectly match the décor in the room.
8. Magazine Rack Turned Cutting Board Organizer
If you never seem to have enough room in the kitchen cabinets, organization is definitely in order. This magazine rack turned cutting board organizer is great because it is an easy and inexpensive solution. You can attach the magazine rack right to the inside of your cabinet door and your cutting board will always stay perfectly in place and right within reach, too.
Source: smartaleckstudio
9. Easy And Inexpensive Flip Flop Storage
I'll admit it, I wear flip flops year around – even in the winter if I'm staying inside. If you're like me, you have so many pairs that organization seems nearly impossible. You can easily use magazine holders to store flip flops and keep them organized. If you have the shelving space in your closet, just line up those racks and then add your shoes. If you don't have shelves available, you could even hang these on the wall. They look great and there are no more worries of your flip flops getting lost or misplaced.
10. Freezer Organizing Shelves
If you have a deep freezer – and if you don't you really need one – this is a great way to organize what's inside. Take those plastic magazine racks and stack them up to hold foods that you've frozen in freezer bags. I have so many jams and soups that I freeze in the fall and these racks are perfect for organizing those bags and keeping them from being thrown all around the freezer. You can also use these in your standard refrigerator freezer space to make more room for other foods.
11. DIY Quick And Easy Pantry Organizers
You've seen those can organizers for the cupboard and pantry, right? Well, those can be a bit expensive, especially if you have to purchase several. Instead, take those metal or plastic magazine holders from the Dollar Store – which cost you around a dollar or so each – and turn them on their sides. Canned foods will easily slide right in and they roll down so rotating your canned food inventory is easy. I love this idea – it's a really quick and easy, not to mention inexpensive, way to organize that pantry.
Source: pbjstories
12. Toy Manual Organizers
You can use those magazine racks to organize toy manuals or just about any manual for that matter. You know those booklets that come with your washer and dryer? What about the toaster and blender? All of those are important to keep – just as toy manuals are. Take those manuals and put them into magazine holders to keep them organized so you know where they are when you need them. You could also label them. Make one for kitchen appliances, one for living room electronics, and whatever else you need.
Source: makinglemonadeblog
13. Cute DIY Mail Station
This little mail station shelf is adorable and it's so easy to make. You'll use those wooden magazine holders and then add a top shelf. How easy is that? Then, use the shelf for whatever you want and the slots for holding mail. You could have an incoming and outgoing mail slot or separate for everyone in your family – those who typically get mail that is. I love this idea for keeping family mail separate – you could also separate by type like have a slot for bills and one for letters.
Source: theorganisedhousewife
14. Pantry Perishable Organizer
Okay, so we saw a great way to organize cans in the pantry, but what about other perishables? You can take those wire magazine holders and label them for things that don't go in the fridge. Make one for potatoes and one for onions. The wire will give your vegetables just enough air to help keep them fresh longer and you can easily pull out the racks when you need to grab the veggies.
Source: mimiscraftyworld
15. Boxed Food Organizers
Did you know that spaghetti boxes fit perfectly into magazine holders? I didn't either – and now I do. I love this idea for organizing spaghetti and other longer pastas in their boxes in the cabinet. Instead of stacking those boxes on each other- and incidentally hoping they don't come crashing down when you open the cabinet door – you can use a plastic magazine rack to keep them perfectly in place.
16. Easy DIY Purse Storage
I have so many clutches. Honestly, I don't know why I have so many, but organizing them can be really difficult. I love this idea of using plastic magazine racks to keep smaller purses and clutches organized. Just get the clear plastic holders and stand them upright on your closet shelf. Then add your clutches. You can easily see the clutches so you know just which organizer the one you need is in.
Source: perpetuallychic
17. Eye Shadow Palette Storage
If you tend to own a lot of eye shadow palettes, you may wonder about organizing them. I mean, there's always the traditional way of hiding them in a drawer or just leaving them on the bathroom counter, but this magazine rack storage is so much better. You can get several palettes in those separated magazine racks and have them right there where you can see them when you need them.
Source: cafemom
18. Fresh Fruit and Produce Storage
It is certainly true that when fresh fruits are in sight they're eaten more often. If you tend to have trouble getting the family on the healthy food train, keeping those apples and oranges where they can be seen may help. And, you can easily keep those fruits in sight with a metal magazine rack. Not only do these help you to store and keep fruits organized, if you buy the decorative ones, they also become kitchen décor.
Source: homedit
19. Easy Wireless Router Hider
You can easily hide away that router or modem and your cords when you use a magazine rack. Just stick those items and their cords into the magazine holder, leaving enough room to sit it securely on the desk, and the magazine holder puts them completely out of sight. This is a great idea if you're looking for ways to tidy up your home office and make your desk seem less cluttered.
Source: designocd
20. Baking Pan Holder
This one is a bit different. Instead of using those magazine holder racks you see at the Dollar Store, this is an old wooden magazine rack. You can find these at thrift stores like Goodwill and many flea markets. Just repaint – if you need to – and use that magazine rack to hold your baking pans. I can't tell you how many times I have to reorganize my pots and pans cabinet because I have so many baking pans in there that won't say put. This is a wonderful way to organize the cabinet and keep those pans where you can easily get to them when needed.
Source: cookiescraftsandchaos
21. Tupperware Lid Storage
If you've ever bought Tupperware, you know that the lids are great, but they're difficult to store. I have so many Tupperware dishes and there are so, so many lids! If you've got a plethora of those lids, or any lids to any types of dishes really, you can create a storage compartment on the inside of your cabinet door with magazine racks. They sell those lids holders but honestly, these magazine holders are much less expensive and they do the job just as well.
Source: bhg
22. DIY Easy Charging Station
This wooden magazine rack was easily turned into an iPad charging station, and I think it's perfect. If you tend to have a lot of electronics charging at one time – like a tablet for all of your kids all at once – this charging station is perfect. Plus, it's really cheap. You can find a wooden magazine rack at a thrift store for around $5 or so. Then you just drill holes in the back for the cords and it will perfectly hold all of those tablets while they charge.
Source: 100things2do
23. Repurposed Magazine Rack Turned Towel Holder
I love repurposing and love the farmhouse, rustic country look even more. This great toilet paper holder made from an old magazine rack treats both of my passions. Plus, it's really inexpensive and easy to make. There's actually nothing for you to do unless you want to refinish the rack – or need to for that matter. I think a distressed look would be great if you want that wonderful farmhouse look, but you can just stick the magazine rack in the bathroom the way it is and fill it with rolled towels if you need something in a pinch.
Source: 2beesinapod
24. Easy DIY Nightstand From Magazine Holders
This easy to build DIY nightstand is made from wooden magazine holders and it's wonderful. Honestly, I have so many books and things on my nightstand that this additional storage cubby would be so perfect. You stack the two magazine holders on top of each other – securing them together of course – and then add legs. This is so easy and offers such great additional storage. There are holes drilled into the back so that you can easily charge your cell phone or plug in a clock or other item and hide the cords.
Source: brickcitylove
25. Genius Laundry Room Hanger Holder
This is the most brilliant idea! Take those wooden or plastic magazine holders and attach them to the wall in the laundry room. Then use them for storing plastic hangers until you need them. Honestly, this is genius. The magazine holders are the perfect size and they easily attach to the wall with a couple of screws. Keep those hangers off the doorknobs and the top of the dryer. Build them their own little house for safekeeping and get that laundry room organized.
Sours: https://www.diyncrafts.com/24103/organization/25-brilliant-home-organization-ideas-magazine-racks-file-holders
She covered herself with a torn overalls. And it's all?!. Well, let him at least run his hand over the shoulder, around the neck, let him say at least a kind word.
File holder magazine
Yana threw off my hair and started kissing my neck lightly. It was so nice. Clitor quickly got drunk and demanded additional attention, the pussy gave out a portion of its juices. Are you good.
Cardboard Magazine File Holder - Cardboard Storage File Organizer - Cardboard Craft - DIY Room Decor
Orgasm was just around the corner, and I decided to do something that. I had not yet done. Taking out a member of Irina's ass, I turned her around, put her on my knees and poked her head in her lips. She immediately opened her mouth and the member drove inside. Irina began to lick the barrel and head.
You will also be interested:
Taking her by the hair, he began to fuck her in her mouth, pounding her mouth with all his might, he stuffed his penis. Into her to the very tonsils. After a while Pasha finished her in his mouth and made her swallow. Well, like Pasha sucks like a slut. - Sergei asked, pulling out his already standing member.
15771
15772
15773
15774
15775