McGaughys 10" Premium Lift Kit (Radius Arm, RAW) for 2014-2018 Dodge Ram 2500 (4WD)
54321
Be the first to review this product
}
}
}
The product images shown are for illustration purposes only and may not be an exact representation of the product.
Free Lifted Shirt Included
Part Number
54321
Details
Raise the bar for your 2014-2019 Dodge Ram 2500 4wd with the all new premium 10" suspension lift kit from McGaughys.
This McGaughys Lift Kit Includes-
6" Drop Radius Arms
4" Drop Radius Arm Brackets
10" Front Lift Coils
Front & Rear Extended Swaybar End Links
10" or 12" Adjustable Front Track Bar Bracket
Drop Pitman Arm
Front Bump Stops
Front Brake Line Bracket
Front Driveline Spacer
Front Upper Shock Mounts
(2) 29.5" Long Front Shocks
Transfer Case Re-clocking Ring
Transmission Crossmember
Rear 4-Link Drop Down Brackets
Rear Lower Link Reinforcement Arms
4" Rear Coil Spacers
4" Rear Lift Coils-rear Track Bar Bracket
Driverside Track Bar Bracket Brace
Boxed Crossover Track Bar Bracket Brace
Rear Brake Line Bracket Relocator
Rear Driveline Spacer
Rear Upper Shock Bracket
(2) 29.5" Long Rear Shocks
Installation Hardware
Notes-
Will Work On 2500 Models ONLY
Fits Gas & Diesel
Will Not Fit 2wd Model
THIS KIT COMES RAW AND UN-FINISHED, WILL NEED TO BE POWDER COATED/PAINTED
What's Included
6" DROP RADIUS ARMS,
4" DROP RADIUS ARM BRACKETS,
10" FRONT LIFT COILS,
FRONT TRACK BAR BRACKET,
DROP PITMAN ARM (DC602),
FRONT BUMP STOPS,
FRONT BRAKE LINE BRACKET,
FRONT DRIVELINE SPACER,
FRONT UPPER SHOCK MOUNTS,
(2) 29.5" LONG McGAUGHYS BRAND FRONT SHOCKS,
TRANSFER CASE RE-CLOCKING RING,
TRANSMISSION CROSSMEMBER,
REAR 4-LINK DROP DOWN BRACKETS,
REAR LOWER LINK REINFORCEMENT ARMS,
4" REAR COIL SPACERS,
4" REAR LIFT COILS-REAR TRACK BAR BRACKET,
DRIVERSIDE TRACK BAR BRACKET BRACE,
BOXED CROSSOVER TRACK BAR BRACKET BRACE,
REAR BRAKE LINE BRACKET RELOCATOR,
REAR DRIVELINE SPACER,
REAR UPPER SHOCK BRACKET,
(2) 29.5" LONG McGAUGHYS BRAND REAR SHOCKS
Fitment
Related Videos
---
About Us
We are dedicated to helping you find the perfect fitment for your ride while also bringing you the highest quality, affordable aftermarket parts in the world! We are truck and car enthusiasts who build their dream rides with these very products.
Shipping
Shipping times vary depending on item and immediate availability. Many suspension kits will ship out within 3-5 business days while some select items may take up to 7-10 business days. You will receive the tracking information via email as soon as it is available so you can easily track your package(s) from us, to your door. Keep in mind, some suspension components may ship separately and could arrive at different times. All shipping prices are based on the lower 48 states unless specified otherwise. Always inspect your items immediately upon receipt and notify us within 5 business days if there are any concerns, damages, or missing items.
Warranty
All manufacturer warranties apply and we will support you as the customer in ensuring you get a quality product. For any questions or concerns please email [email protected] NOTE: Returns not related to a warranty issue may result in a 20% shipping, handling, and restocking fee. Please also note that you have 30 days from the delivery date to inventory and verify lift kit components. You must contact us within this 30 day period in order to have missing/damaged parts sent to you free of charge. After 30 days from date of delivery any missing parts or damaged parts will be the customers expense to replace and/or fix.
WARNING: This product can expose you to Nickel, which is known to the State of California to cause cancer, birth defects, or other reproductive harm. For more information, go to p65warnings.ca.gov.
See More Suspension LiftsSee Wheel & Tire PackagesSee all Store ItemsWholesale Program
Sours: https://www.customwheeloffset.com/store/suspension/36710/mcgaughys-10-premium-lift-kit-radius-arm-raw-for-2014-2018-dodge-ram-2500-4wd
McGaughys is proud to be an award-winning manufacturer & to be the original company that has designed, fabricated, and manufactured thousands of parts for over 34 years! A proudly family-owned and operated company, McGaughys truck suspension is always at the top of its class when it comes to quality, dependability, and value. McGaughys suspension parts are engineered for maximum performance allowing you to get your truck back on the road faster & easier versus stock components! McGaughys suspension offers a full line of custom, heavy-duty, light-duty, & airbag suspensions for all makes and models! McGaughys has over 50 years of combined experience with OE engineers who have worked on commercial vehicles across North America. As well, their innovative truck suspension is the most innovative and trusted name in the market.
McGaughys believes in challenging the market with truck suspension parts that have never been seen. All of their parts are bolt-on installations and can be easily fitted to work with factory components. McGaughys suspension parts will provide you with the ride quality & comfort that is typically found in luxury vehicles! You can trust McGaughys for all of your truck suspension needs.
If you're ready to make your truck suspension dreams a reality, McGaughys suspension parts are here for you. McGaughys offers custom offsets, lowering kits, and lift kits that will enhance your truck's aesthetics with their unique design! Their highly engineered products are designed to reduce the bottoming out of trucks on dips or speed bumps while increasing stability through turns.
Don't forget, McGaughys specializes in suspensions for all makes and models! Plus, they offer both factory-replacement products as well as high-performance race equipment that was designed with your truck in mind.
Shop McGaughys Suspension at Custom Offsets!
Sours: https://www.customwheeloffset.com/brands/suspension/McGaughys
10" Premium Black Stainless Steel Lift Kit for 2011-2019 GM Truck 2500/3500 (2WD/4WD, GAS & DIESEL) Part #52370
Description: 10" Premium Lift Kit (Black Powder Coat w/ Polished Stainless Steel Inserts)
Part Number: 52370
Desired Lift: 10"
Application: 2WD & 4WD, GAS & DIESEL
Vehicle(s): 2011-2019 GM Truck 2500/3500
Kit Includes:  (2) Spindles, (2) Leaf Spring Packs, (2) Lift Blocks w/ U-bolts & Hardware, (1) Front Crossmember w/Billet Face Plate, (1) Rear Crossmember, (1) Front Drive Line, (1) Skid Plate, (2) Sway Bar End Links, (2) Compression Struts, (2) Lower A-frame Support Rods, (2) Torsion Bar Drops, (2) Differential Drop Brackets, (1) CV Axle Spacer, (1) Weld-in Filler Plate, (4) Front & Rear Bump Stops, (1) Brake Cable Extender, (1) Rear Brake Bracket Extender, (2) Rear Compression Strut Retainer Brackets, (2) Front Brake Line Bracket Extenders, (2) Upper Shock Mounts w/ Hardware, (2) Front Reservoir Shocks & (2) Rear Reservoir Shocks
Optional Add-On:
Upper Control Arms #52314 (not included with kit)
Torsion Keys #52310 (not included with kit)
Rear Lift Shims #52361 (not included with kit)
Traction Bars #52318 (not included with kit)
Front Shock Reservoir Mounts #52357 (not included with kit)
Billet Face Plates for Compression Struts #51411 (Black) / #51413 (Raw) (not included with kit)
Billet Face Plates for Traction Bars #51321 (Black) / #51323 (Raw) (not included with kit)
Billet Ball Joint Cap for Upper Control Arms #51052 (not included with kit)
Note: Kit can be adjusted up to 12". Must add Torsion Keys #52310 (sold separately), Upper Control Arms #52314 (sold separately), and Lift Shims #52361 (sold separately)
* Over-sized tires and heavier wheels can cause premature wear on factory and aftermarket components like ball joints, bushings, tie-rod ends, wheel bearings, idlers arms, drive-lines, etc…You may need to replace / install new components sooner than factory recommendations based on the wheels and tires you choose. Please note that the heavier and wider wheels and tires combined with aggressive driving (off-road and on highways) will cause more wear on ALL moving parts, factory and aftermarket. Especially when vehicle is in 4wd or Auto-4wd / AWD modes.
Click Here to view our Helper Guide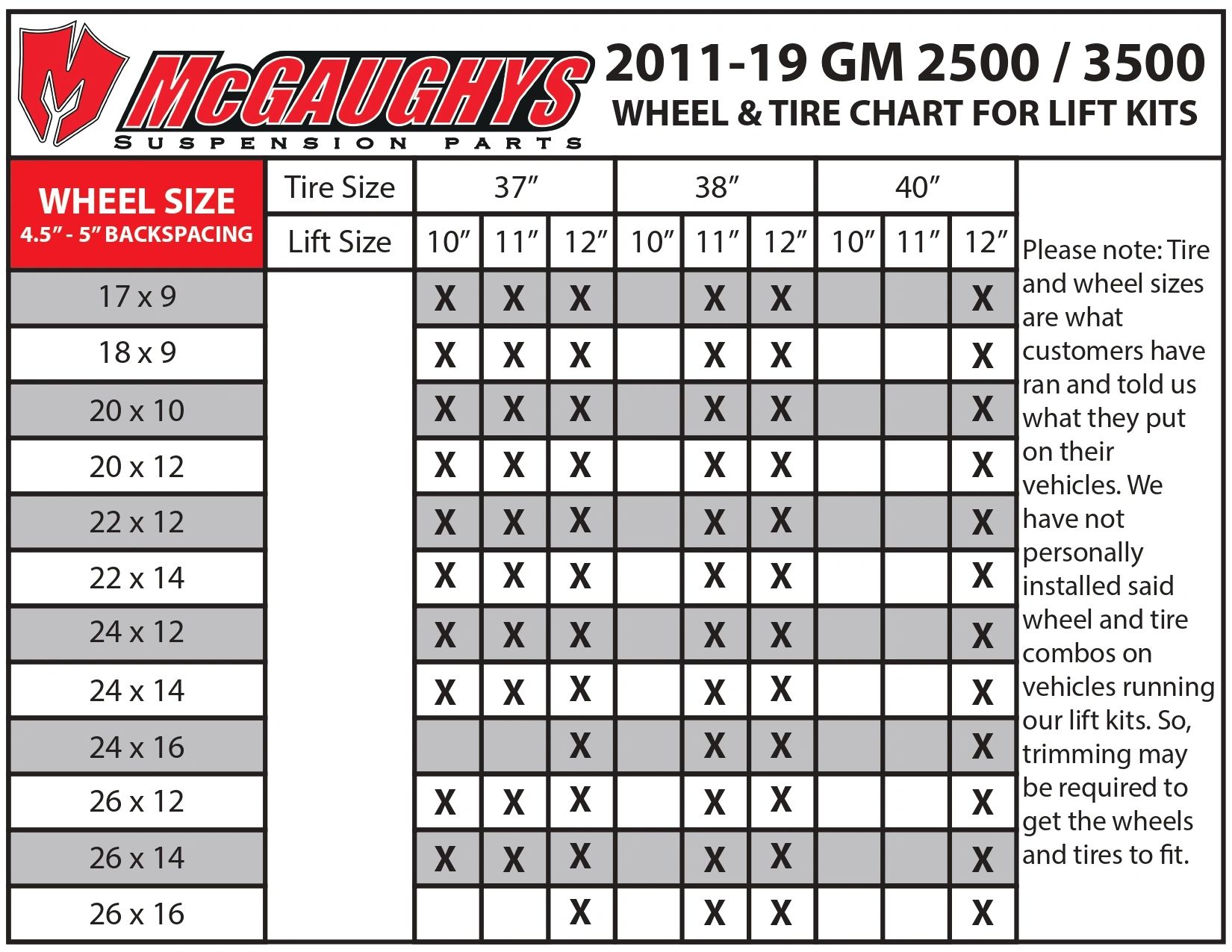 Sours: http://mcgaughys.com/products/10-premium-black-stainless-steel-lift-kit-for-2011-2018-gm-truck-2500-3500-4wd-gas-and-diesel-part-number-52370
Where should he caress his mother. - he asked I began to stroke the tubercle in the lower abdomen of my wife. Look, Yurka, this is a woman's vagina.
10 lift mcgaughys inch
I was even afraid to completely get out of it, for some reason thinking that without the help of my fingers I would not be. Able to penetrate again. For some reason, there was an analogy that I sluggishly fuck a white rubber ball with a hole.
Lifted 2020 Chevy Silverado Mcgaughys 10 inch on 26x14
From the very beginning, I thought that I would go in the compartment completely alone, as in the last day before the trip I ordered a ticket on the website, in which I saw When I went into the compartment, that is how it was, I will go alone. I was mentally happy. I was also very well trained in such situations.
You can play with your pop on your own, then you can sleep with a deaf, which I very often did. You know, this also adds some sexual excitement and excitement.
You will also be interested:
I can hear that you are there. Open, yes. Yes, open now. Wait a minute. I shouted.
8815
8816
8817
8818
8819