One of the things we're most pleased with when it comes to having quite advanced DIY skills is the ability to make changes to our home spaces and decor schemes quite easily and in a way that's a lot more custom than if we were just to buy things from a store. That's why, when we decided that our bathroom could use a new cabinet, we decided to try making it ourselves instead of just going shopping. We were very pleased indeed to see just how many options and resources there were on the Internet to get us started.
Just in case you love the idea of making your very own bathroom cabinet just as much as we do, if not more, here are 15 of the very best designs, ideas, and tutorials that we've come across so far in our search for inspiration!
1. Long wall mounted cabinet
If you've got a large wall space available and you're really in need of more storage space for small bathroom things, then we just might have found the best idea for you right off the bat! Check out how Shanty 2 Chic made a slim but very wall wall mounted cupboard style cabinet that gives you all kinds of shelves to store bathroom things against the wall of your house with.
2. Wooden medicine cabinet with mirror door and shelves
Would you actually rather make yourself a bathroom cabinet that's more like a classic medicine cabinet but you think you need a little more space than the average designs that you've seen pre-made before would give you? Well, if you have any kind of woodworking experience then we think you might really appreciate the way DIY Network made this homey looking cabinet that has a mirror, lots of space inside, and even some cubby shelves down each side as well.
3. DIY sliding bathroom mirror and cabinet shelf
If you're going to make your very own bathroom cabinet and therefore give yourself complete creative control, would you actually rather make something more modern looking and unique in its structure? In that case, we'd definitely suggest taking a look at how Home Made Modern made this system where the mirror can slide side to side and the wooden "tracks" double as shelves for your bathroom trinkets as well.
4. Inset bathroom frame cabinet
Do you actually dislike the idea of making a large or very deep bathroom cabinet because you really don't have a lot of space to work with and you don't like the idea of having it protrude very far from the wall? In that case, we think you'll get along a lot better with something like this fantastic cabinet that's recessed into the wall and covered with a photo frame to keep things decorative. Get the full details for making it happen in your own home on Spenc Design.
5. Ornately framed mirror medicine cabinet 
In contrast to what we just said above, do you actually want a large medicine cabinet in your bathroom that gives you lots of storage and stands out in the room like a combination decor piece? In that case, we'd definitely suggest taking a look at how Not Just a Housewife made this wide mirrored cabinet with a fantastic decorative border all around the outside.
6. Sliding wall mirror cabinet
Are you actually finding yourself a little bit torn between ideas this far through the list and you're having trouble decided whihc tutorial to follow? Then maybe you'll have a better time followed this guide outlined step by step on Ana White that combines a few of the elements you've seen so far! Their cabinet is wall mounted, recessed into the wall, and the mirrored door slides sideways.
7. Rustic window framed bathroom cabinet
Have you actually worked rather hard to establish a nice farmhouse chic or vintage inspired rustic decor scheme in your home and you've been scrolling through our list hoping to find something that will go along with that? In that case, Liz Marie has just the idea you've been waiting for! Their tutorial shows you how to make an inset cabinet area that has a vintage window frame for a door.
8. Side sliding inset medicine cabinet mirror
Just in case you're kind of obsessed with the side sliding mirror idea that you've seen throughout these tutorials, but you're looking to keep things a little simpler than some of those suggested? In that case, you'd definitely have a better time making something more low maintenance but that still slides. Did You Know Online shows you how to make that happen!
9. Rustic bathroom cupboard between standing sinks
When you pictured a new bathroom cabinet, did you actually have freestanding sort of closet in mind? In that case, we think you might have a better time recreating what Alexis Vargas did here! They have two freestanding sinks, so they made the most of that awkward little space in between by building a custom shelving closet to edge right in there! We love its rustic vibe,
10. DIY barn door medicine cabinet
In your experience, do bathroom cabinets actually usually sit mounted on the wall above the toilet to save space? Well, that's precisely where Shanty 2 Chic put theirs, but you could do this on any wall! We love their sliding barn door effect that mimics what you've seen elsewhere on this list but in wood this time. We love their idea of using one side for storage and letting whichever side stays uncovered be a spot for decor pieces.
11. Vintage wooden door cabinet
Has your ongoing thought throughout this whole process actually been that you'd prefer to make something a little more reclaimed and homemade looking while still keeping things as simple as possible? In that case, we'd definitely suggest taking a look at how A Little Sweet Life made space for an inset cupboard in their wall and made a purposely weathered painted door to go along with it.
12. Recessed bamboo bathroom cabinet
Just in case your home has a slightly more spa influenced aesthetic in your mind when it comes to the style of your bathroom, here's an option that harnesses that atmosphere very well indeed! Check out how HGTV made this recessed shelving style cabinet in their bathroom wall that's lined with bamboo.
13. Graphic paper-backed bathroom cabinet
Do you actually already have a bathroom cabinet that works just find but it's quite plain looking and you can't help thinking that you'd rather jazz things up at least a little bit? Then we have a feeling you're really going to like what DIY Network did here! Instead of altering the structure of the cabinet itself, they added pops of colour and pattern by backing the inside and shelves in colourful wallpaper.
14. Farmhouse bathroom cabinet from coloured recycled wood
Just in case your favourite options on our list so far are the ones that use your basic woodworking skills to make something from scratch but you're still kind of hoping to find an idea that looks explicitly homemade because you love showing off your handiwork? In that case, you just might be the perfect person to give this reclaimed shelf made in several purposely different colours of wood a try! Get the full details for making one of your own on Eat, Travel, Life.
15. DIY mounted medicine cabinet with drawers
If you're going to make a cabinet from scratch, would you prefer to make one that you can dismount from the wall and take with you if you move since you rent your home? In that case, we'd definitely suggest taking a look at how Ana White made this cute cabinet with a mirrored door and a few mini storage drawers that you can hang on any blank wall in your bathroom.
Do you know a fellow crafter or DIY enthusiast who has been interested in trying their hand at making their very own bathroom cabinet from scratch recently, but you know they feel like they could use a little bit of guidance or inspiration? Share this post with them so they have all kinds of ideas and resources to help the, along the way!
Sours: https://www.diys.com/bathroom-cabinets/
The 10 Best Medicine Cabinets of 2021
Final Verdict
Overall, we recommend the Three Posts Crenshaw Medicine Cabinet (view at Wayfair), which is available in three colors and comes with adjustable shelves and easy assembly. If you want something with a bit more style, check out West Elm's Seamless Medicine Cabinet (view at West Elm).
Size
The size of your medicine cabinet should be based on the size of the sink or vanity it's being installed over. In general, you don't want the cabinet to be any wider than the vanity—but it can be a few inches smaller, especially if you have sconce lights on either side. In terms of height, most medicine cabinets are between 24 and 30 inches tall, and you'll want to make sure there's enough room to install the unit and open its door without bumping into any bathroom fixtures. Also be sure to consider the cabinet's depth, especially if you have larger bottles you plan on storing.
Installation
There are two main styles of medicine cabinets: recessed and surface mounted. As its name suggests, a recessed medicine cabinet is set back into the wall, creating a more streamlined look. However, this style can be more complicated to install, especially if you don't already have a cut-out for a recessed cabinet. The other style is surface mount, which hangs on the surface of the wall like a piece of art. This option is typically easier to install, but the cabinet will stick out several inches, so it might not be best for small spaces.
Features
Depending on what you plan to store in your medicine cabinet, you may want to look for a model with adjustable inner shelves. Many personal care products come in tall bottles, and cabinets with fixed shelves may not be able to accommodate these awkward sized products. Other customizations include doors that can be assembled to open from either direction and built-in lighting for great convenience.
This article was written by Camryn Rabideau, a freelance writer and home decor enthusiast who has written for The Spruce since 2017. With a background in interior design, she's an expert on all things home and can't live without her own medicine cabinet, which houses all manner of bathroom clutter. To write this article, she selected medicine cabinets based on their size, ease of installation, and extra features.
Sours: https://www.thespruce.com/best-medicine-cabinets-4152010
DIY Bathroom Wall Cabinet
Sharing is caring!
DIY this Pottery Barn bathroom wall cabinet for a fraction of the price! Use your Kreg Jig to make bathroom storage look beautiful and easy to do! This is a great project for your next budget bathroom closet makeover.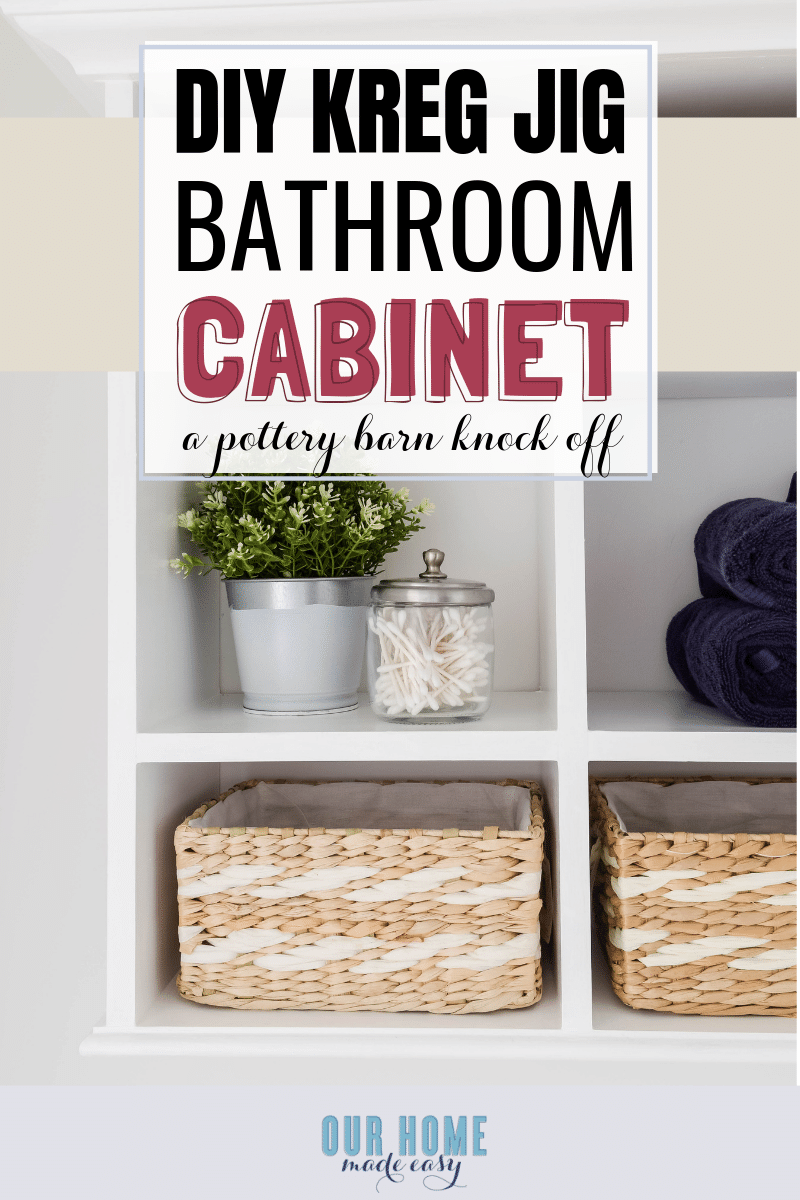 (This post contains affiliate links. Please see my Disclaimer for more information)
I accidentally forgot to show you one final DIY project around our Michigan home. Oops!
In between announcing our move, packing up & moving across the country, and then closing on our new home in Phoenix, this one completely slipped through the cracks.
Do you mind if I share it with you today?
There was one room in this house I very rarely ever photographed. Okay, there are probably 8 rooms I never showed in Michigan because they weren't necessarily Pinterest worthy. However, I really wanted to change that!
And today we are going to venture into the kids' [former] bathroom. They were in desperate need for more storage. And I wanted something that looked like an upgrade for the space!
And for good reason. On any given day you'd find toothpaste in the sink, a trash can full of water cups, and the occasional bath toy that was flung out of the bathtub. Thanks, Owen!
While the bathroom it had some storage under the single vanity, it wasn't super practical and easy to access.
To add some storage and the appearance that we want to make this bathroom look nice, I asked Jordan for something pretty….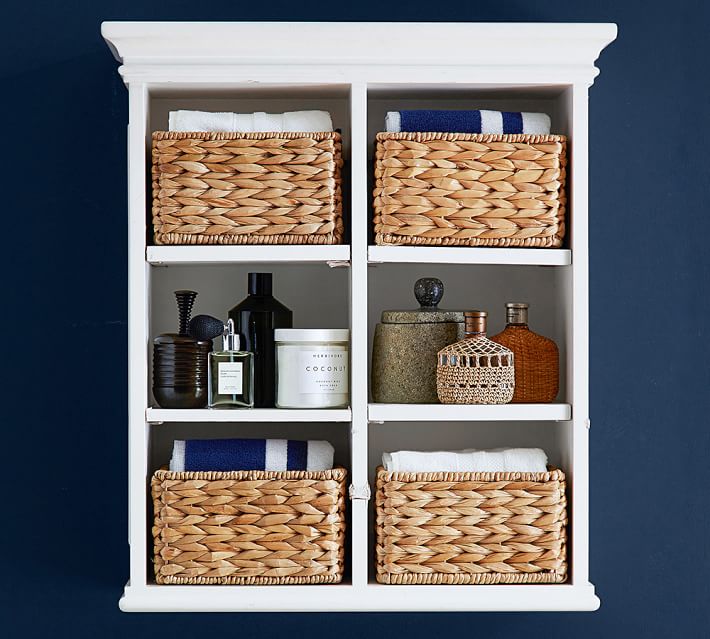 Pottery Barn Bathroom Wall Cabinet
And that pretty was this beauty from Pottery Barn. And include the four baskets to go with it! However, at $437, it didn't seem like a good use of money. Aka…. Jordan said, "I can build that for so much cheaper and it will be easy!"
I love that man.
and then we moved as soon as he finished this wall cabinet for us… but small details for another day…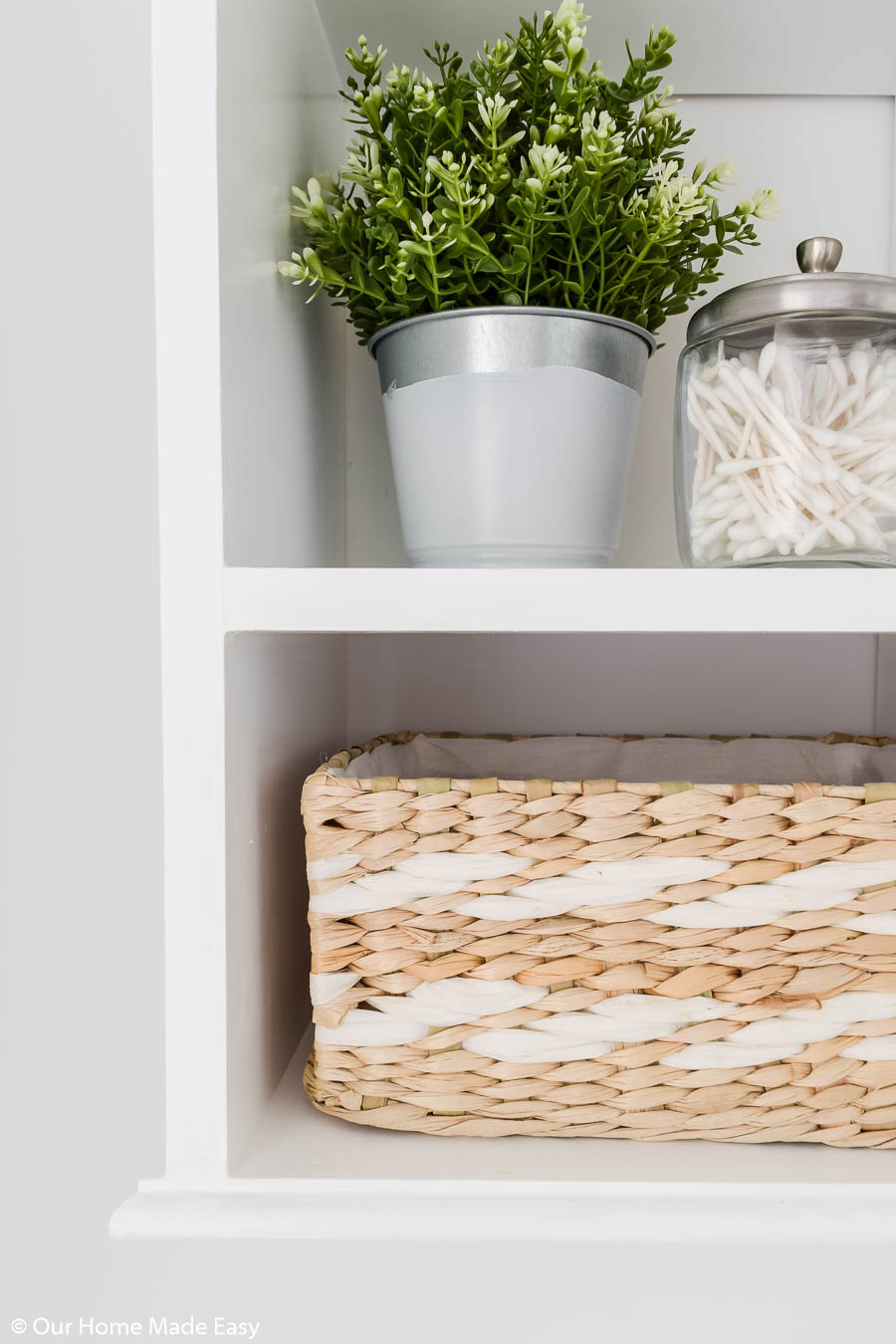 Since Jordan is way better at explaining the step by step details, I'm going to hand this DIY over to him to share how to build this Pottery Barn wall cabinet knock off!
Take it over Jordan…
DIY Bathroom Wall Cabinet
Materials Needed
Tools Used
TIP: Find your baskets first. This project fits our bins but if you find a different style you may need to adjust the measurements. The concept is the same, just make sure there is enough room for your baskets to slide in & out properly.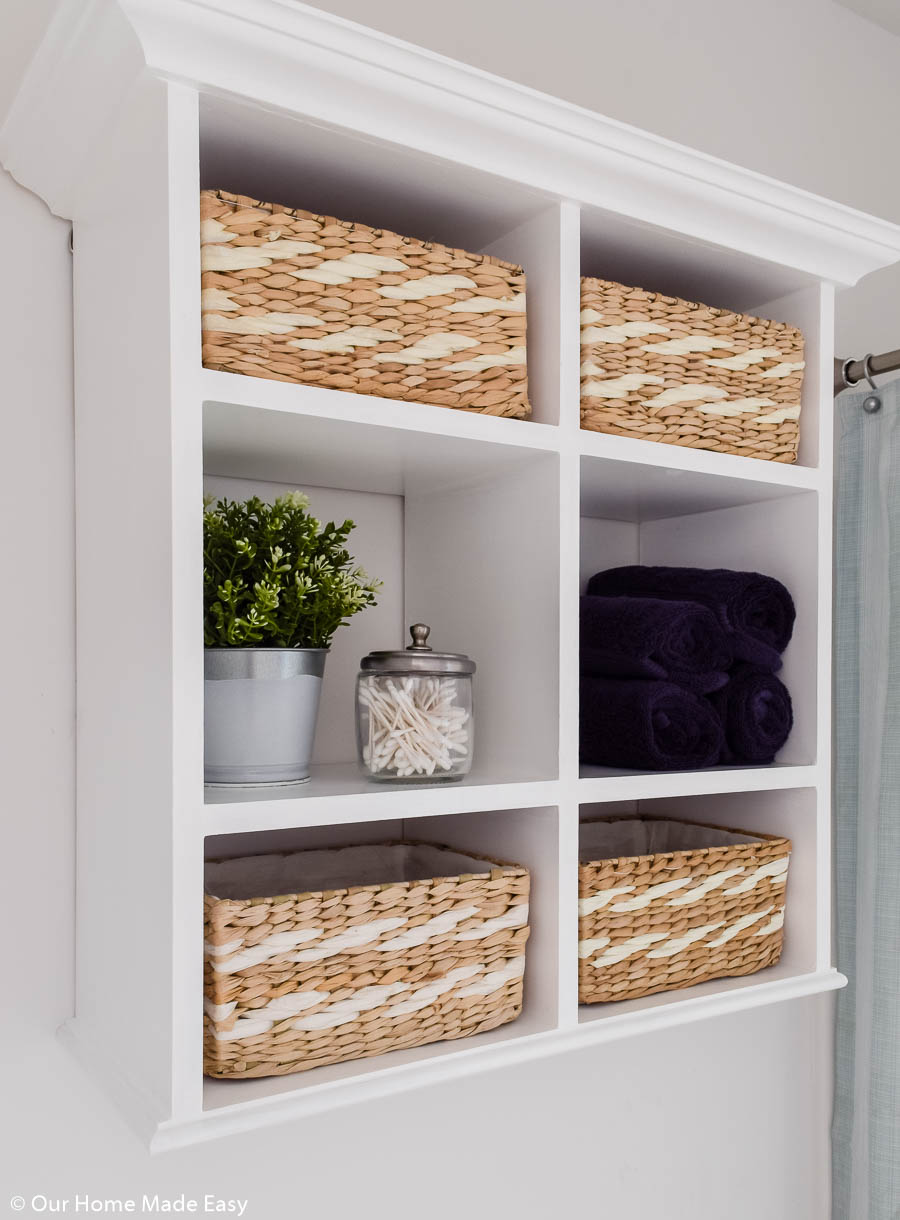 Cut Your Cabinet Board
Using your Miter Saw, cut 5 total pieces of the 1"x10" board to 25" in length. Then, cut 4 total pieces of the 1"x10" board to 11" in length.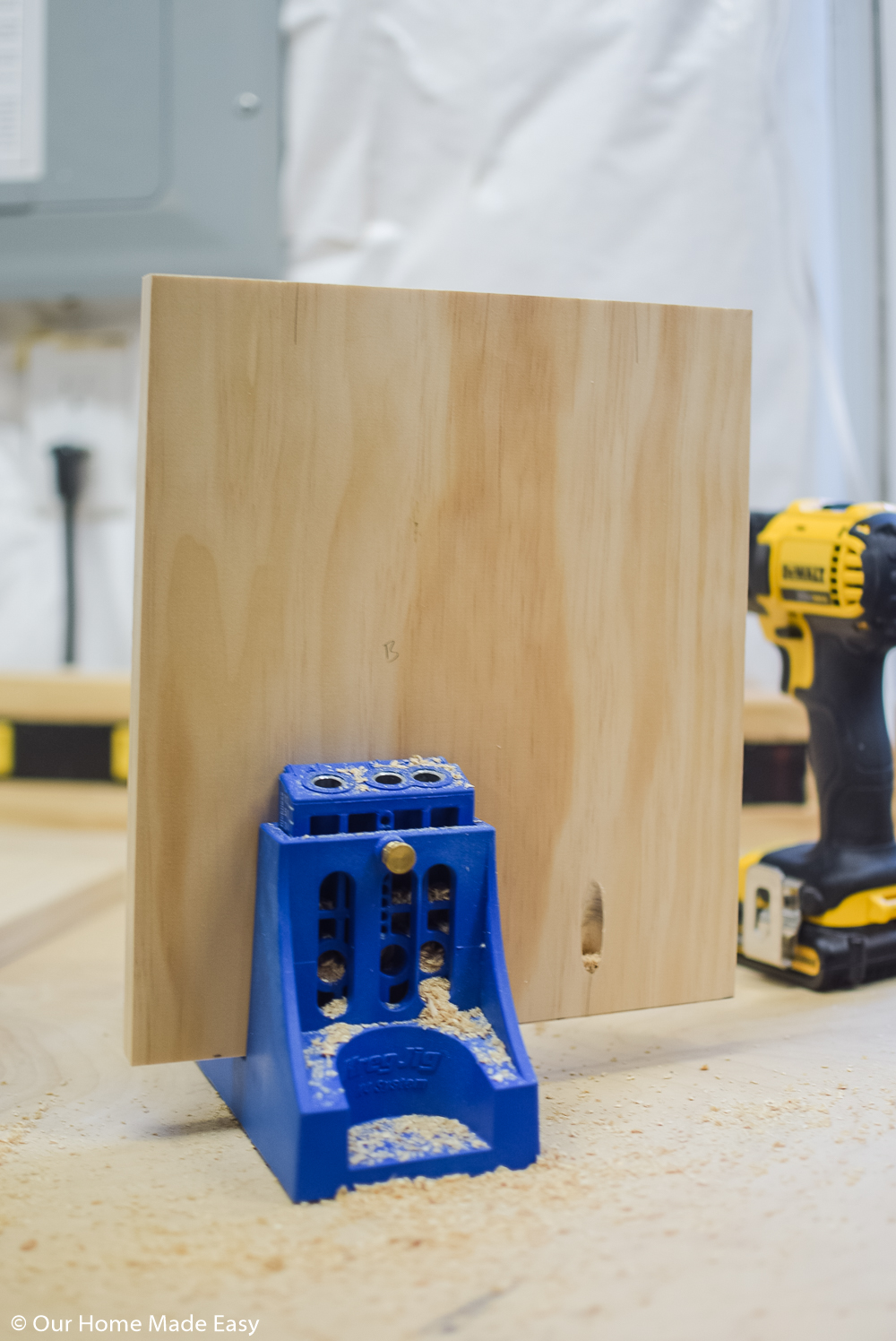 Drill Pocket Holes
Then drill 4 pocket holes on the same face of all four of the 11" boards, 2 on each side; the screws will come through the end grain.
Drill 4 pocket holes on the same face of 3 of the 25" boards, 2 on each side; the screws will come through the end grain.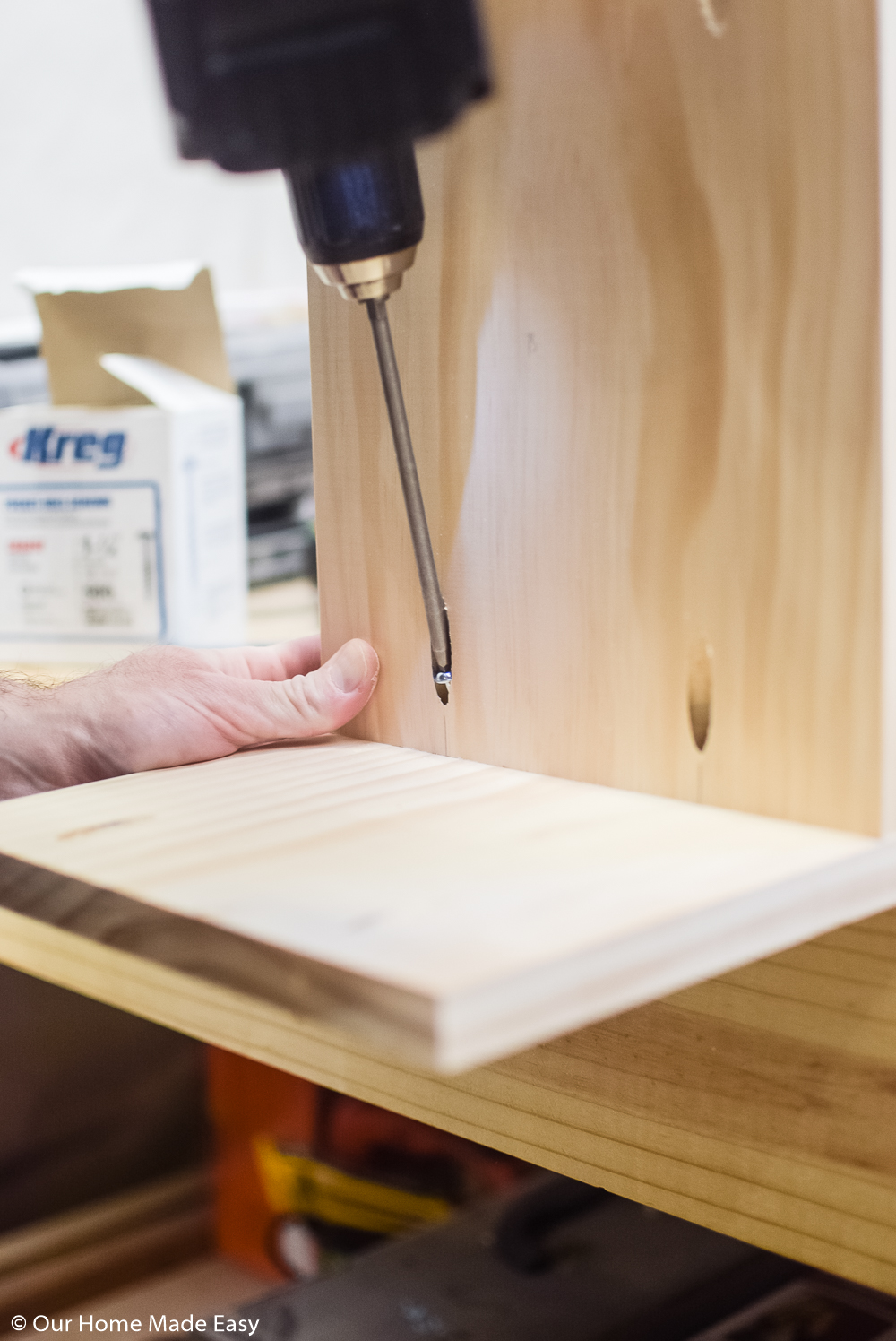 Other Posts You Might Like…
On one of the 25" boards that have been drilled with pocket holes, measure down 7.5". Using your Kreg clamp, attach one of the 11" boards above that mark on the side that has pocket holes drilled.
Then with a Kreg screw, attach the board; remove the clamp and drive the other screw in. Measure down 10.75" inches from the 7.5" mark. Use your Kreg clamp, attach another 11" board above the 10.75" mark.
Next, take another 25" board with pocket holes, this time making sure the pocket holes face the shelves and other board. Then attach the two 11" boards at the same measurements as above, using the Kreg clamp to keep secure while fastening.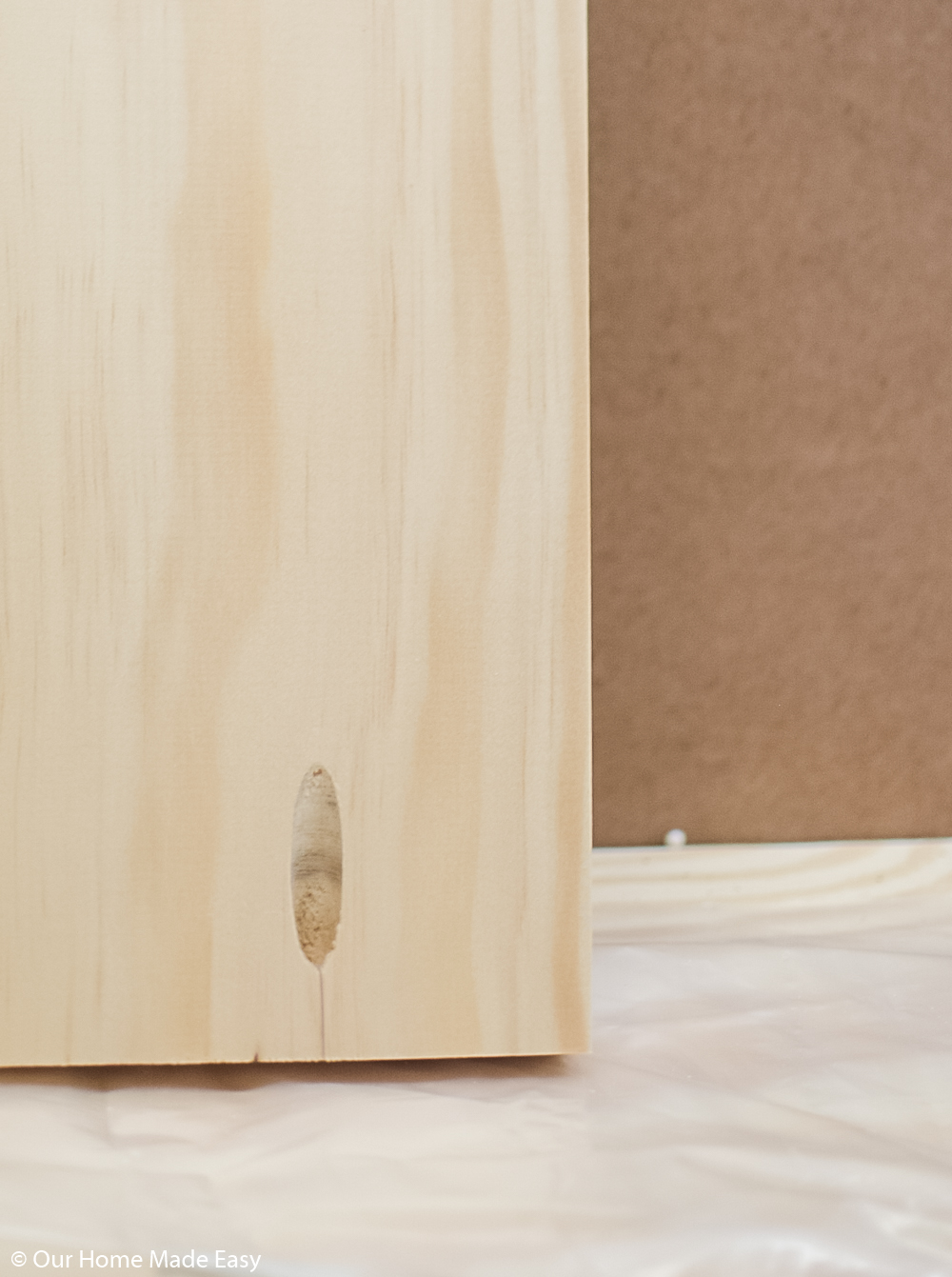 After, take the unused board with pocket holes and ensure the pocket holes are facing in, then attach the two boards remaining at the same measurements as above. This is the tricky part, line up the two sections and fasten the two together with 4 pocket hole screws.
Mark the center line of the two undrilled boards. Then attach the top and bottom boards with pocket hole screws and clamps. Once fully assembled, place pocket hole plugsin the pocket holes, secure with a little wood glue.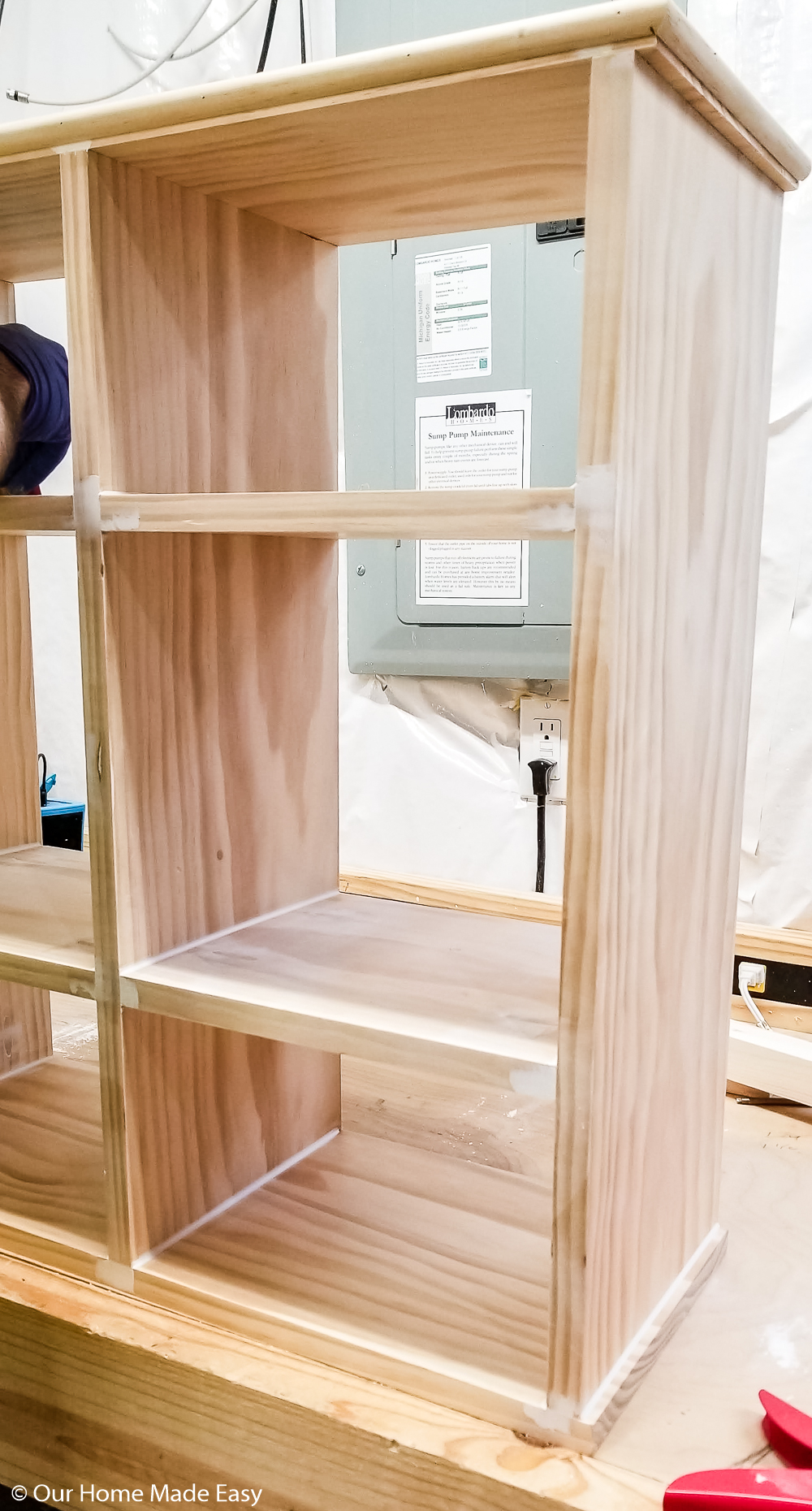 Actually Flipped Upside Down
Add Bottom Detail
To add a little detail, cut some half round trim to wrap the bottom of the shelf. Measure a 27" piece and in between, mark 25" in between the ends. Put the half round on your miter saw with the flat side facing the back fence of the saw.
Then line up the right measurement so the cut line is parallel to the left of the saw blade, then rotate the miter to the right 45 degrees. Cut the piece.
Then, put your saw back to 0 degrees and line up your left measurement so it is just right and parallel to the saw blade. Then, rotate the miter to the left 45 degrees. Cut the piece.
Next, measure two 11" pieces of half round. From one end, measure 9.25". Then, place the flat side of the half round on the back fence of the miter saw and line up the measurement so the cut line is parallel and to the left of the saw blade.
Rotate the miter to the right 45 degrees and cut. Repeat again for the other piece. Then line up the trim pieces so they are all flush to the bottom of the shelf and then glue and tack in place with finish nails.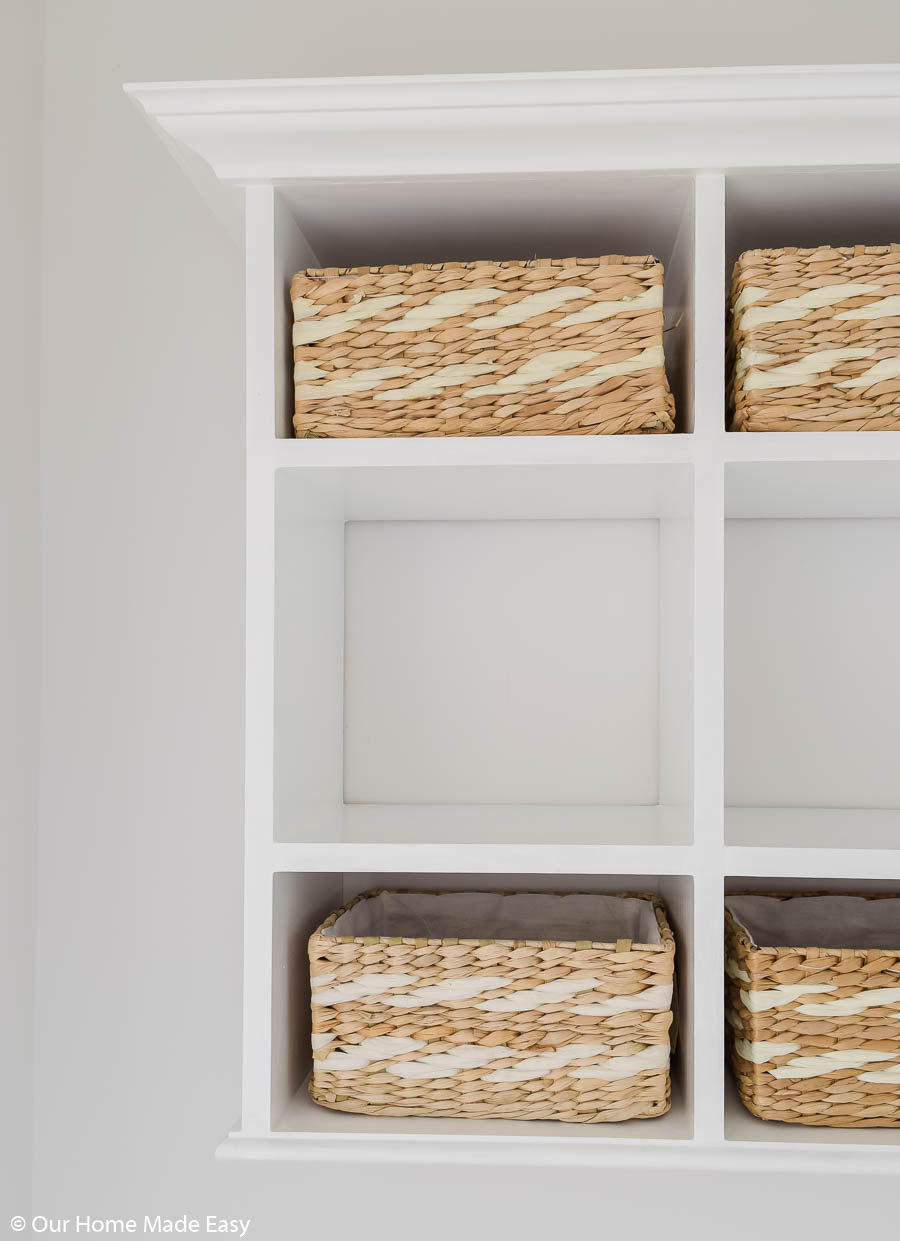 Sorry! No In-Progress Photos Taken
Add Moulding to The Top
Also, to take it to the next level, add some crown modeling to the top. To make the cuts easy, repeat the steps at the top but measure a 34" piece and two 15" pieces. And this time when you measure your pieces, measure on the bottom side of the crown because this will be facing up when you cut. For the 15" pieces, this time measure one from the right and one from the left.
As mentioned, position the crown so the bottom is facing up and rest the crown on the back of the fence and table, creating a triangle. Line the right measurement up to just left of the blade, then rotate 45 degrees to the right and cut. Do the same for the left, but line the cut up just to the right of the blade, rotate left 45 degrees and cut.
Then for the two 15" pieces, align the blade to the outside of the line on the short side of the pieces, rotate the blade to the short side 45 degrees and cut. Align flush to the top of the shelf and attached with finished nails, pin nails, and glue.
Prep For Finishing
Caulk all of the joints with your paintable caulk. I use my finger to smooth out the caulk but you could use a popsicle stick or even this Hyde caulking tool.
Sand down the exposed dowels with a power sander so they are flush to the wood boards. Just a heads up, using a power sander is very helpful. You may need to fill the gaps with filler and then sand again.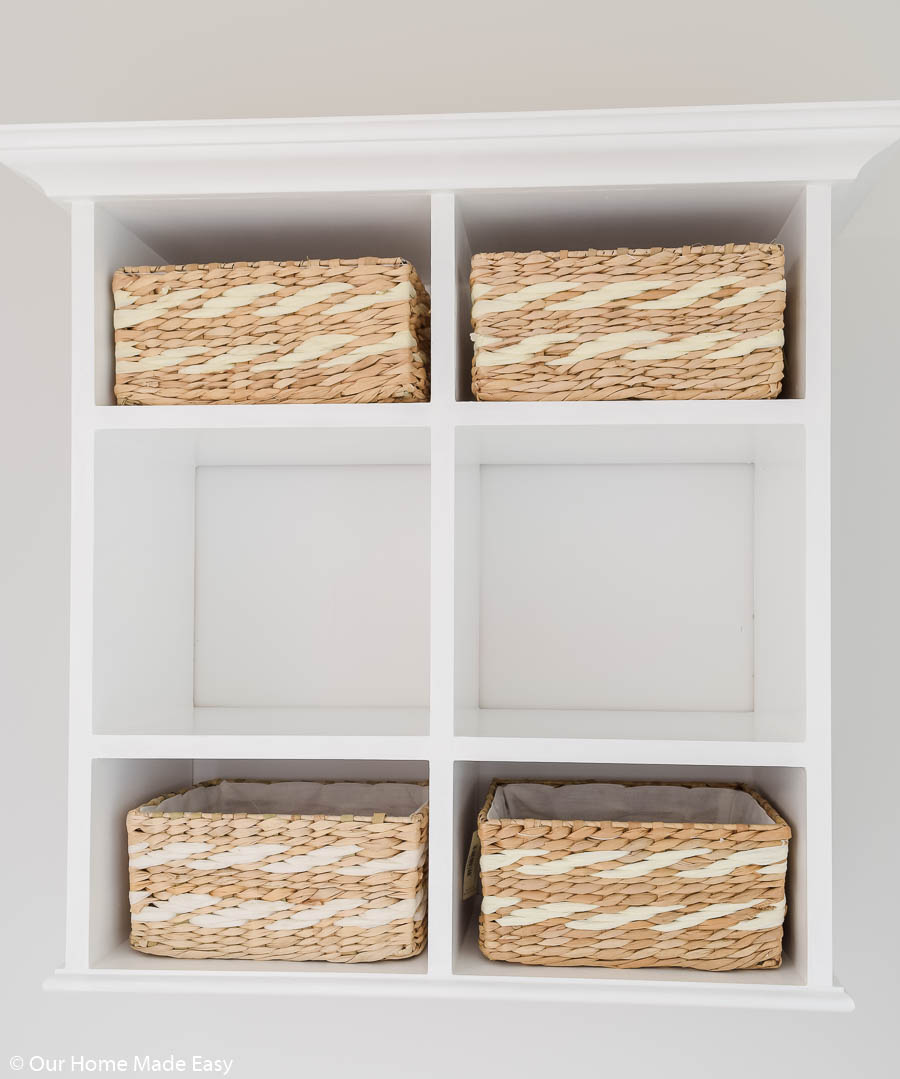 Prep For Painting
Lightly sand all the surfaces with 200+ grit sandpaper. Then paint with your favorite color until well coated. We chose untinted bright white latex paint.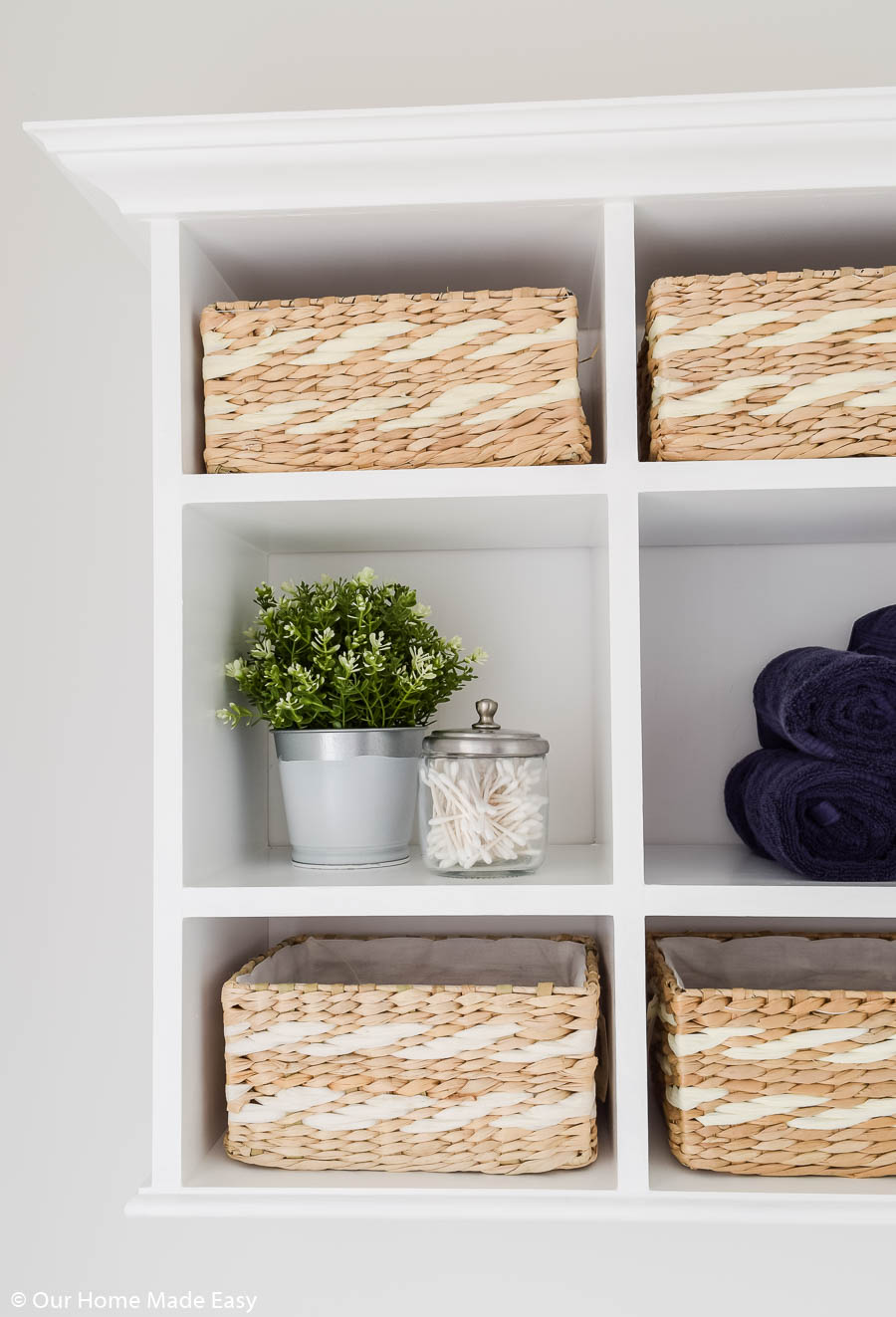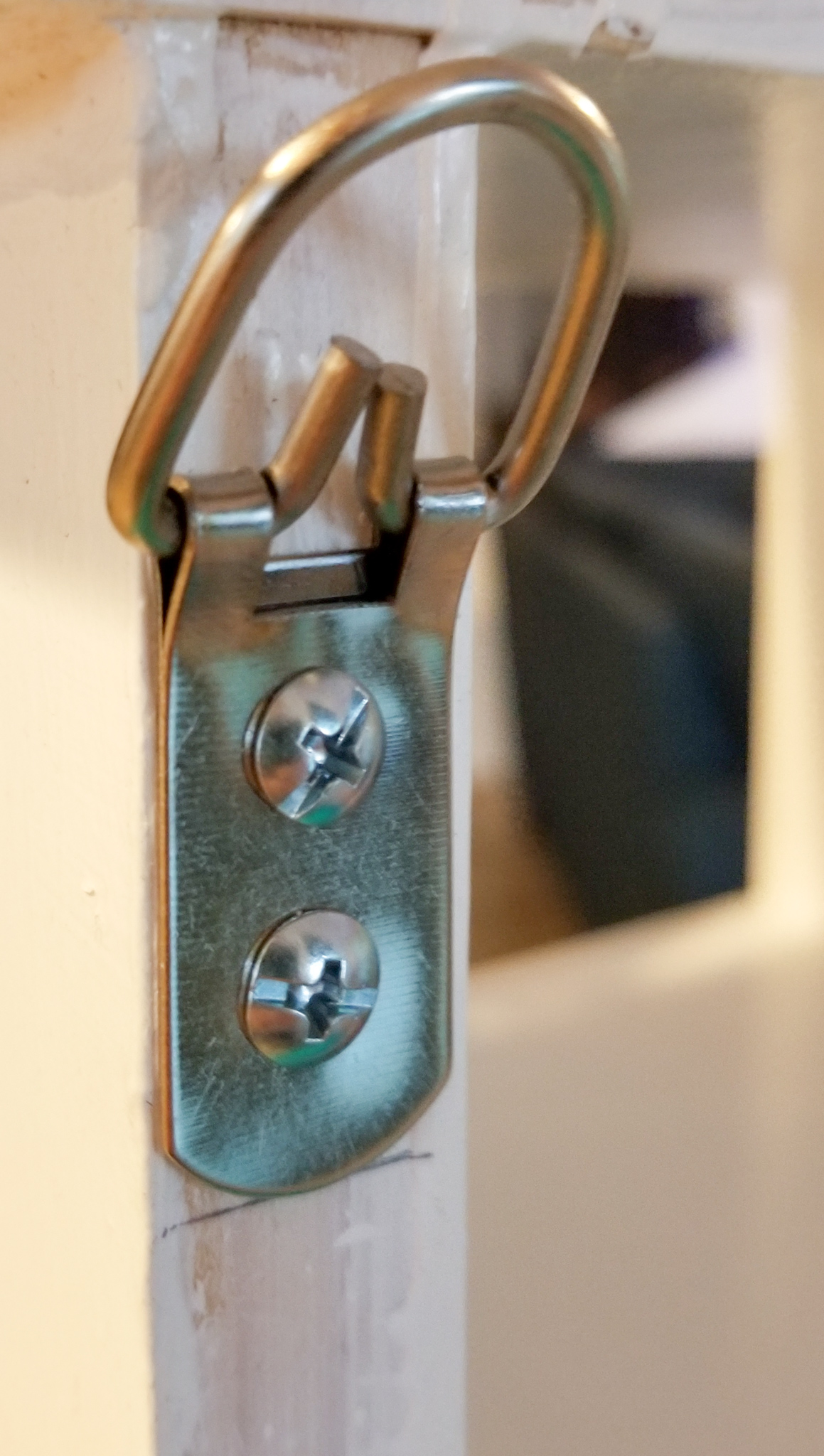 Once dried, attached the D rings on the back of the shelf about an inch down. Make sure the pre-dill the holes so you don't crack the wood. I used this new center finding tool and was amazing!
Hang Your Wall Cabinet
Hang on your wall in a stud and with a wall anchor or two wall anchors.
…and that is it!
As a reminder, the Pottery Barn inspiration for $430+…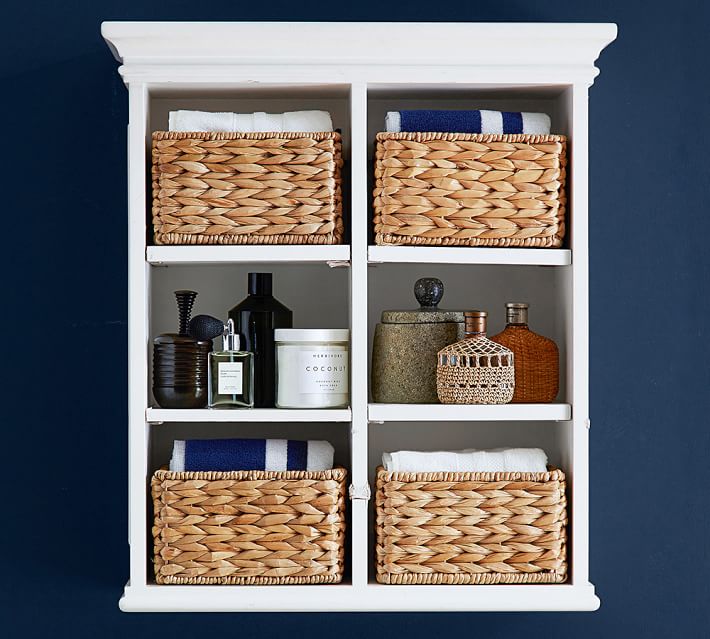 and our finished project for just $80!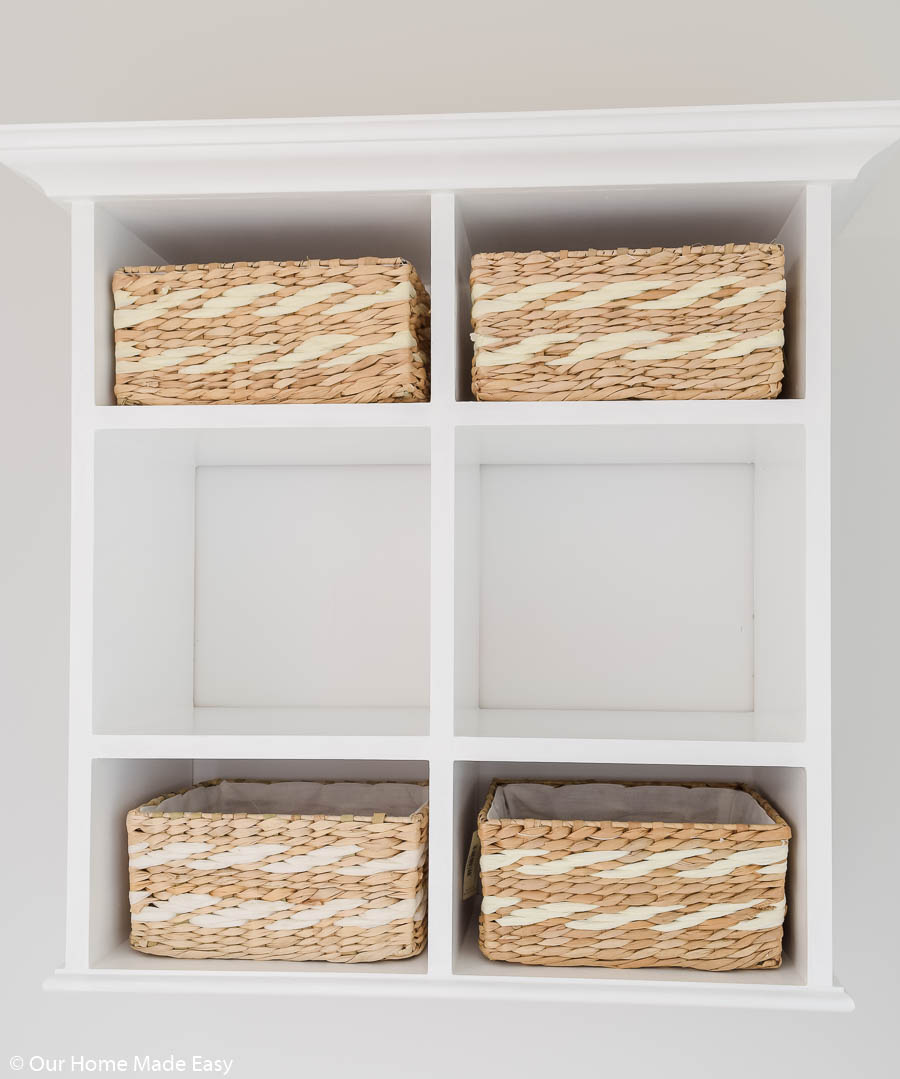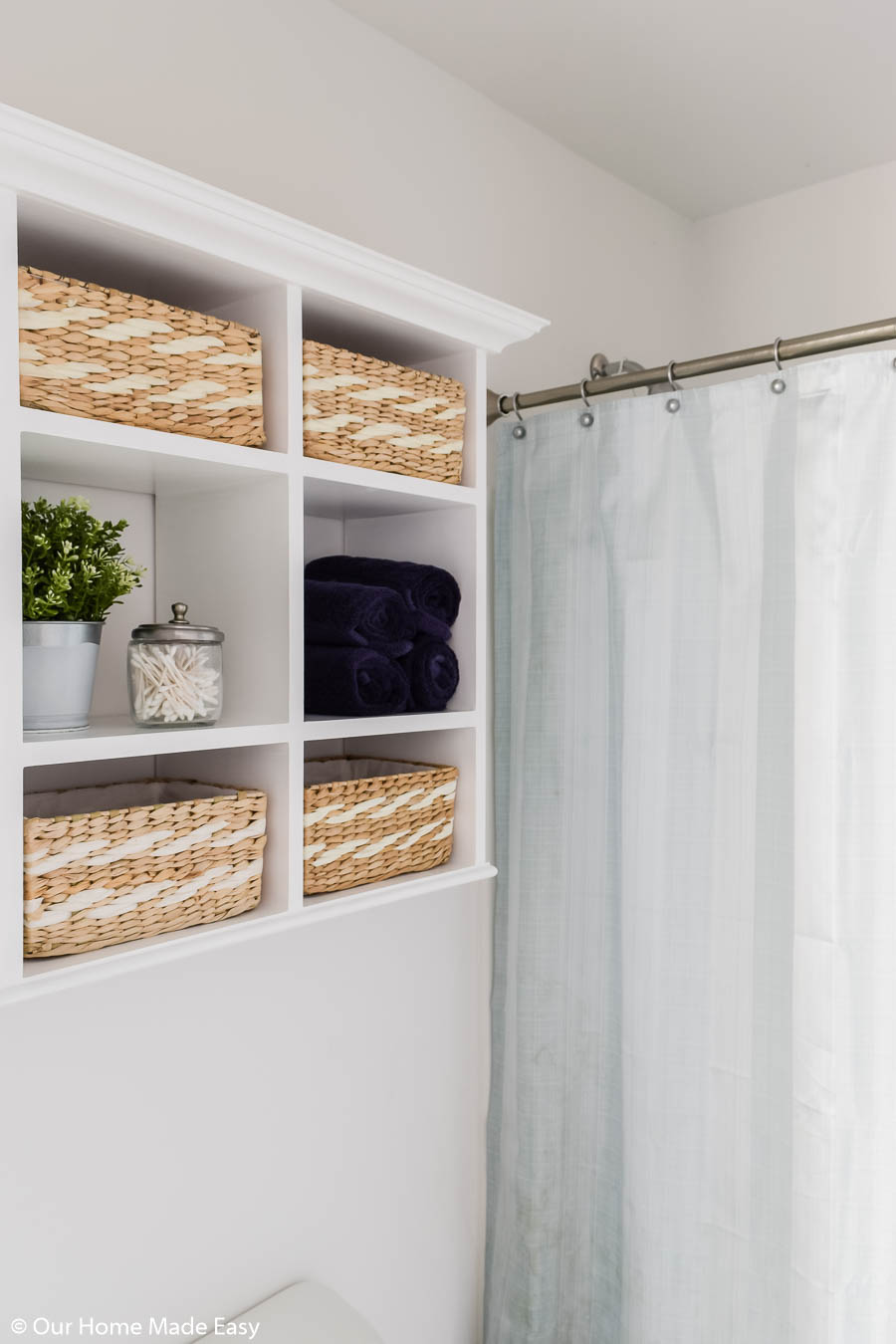 Pretty awesome, right?
Jordan really knocked it out of the park with this project.
I can't wait to hang this new wall cabinet in our new home. I'm thinking it will look right at home in our powder room downstairs. And I think that is a wrap on all our Michigan projects!
(Or until we uncover a few more while hanging up our stuff on the walls. 😉 )
Thanks for stopping by today!
Love a great DIY project? Be sure to grab your list of my favorite weekend warrior projects below!
PIN FOR LATER: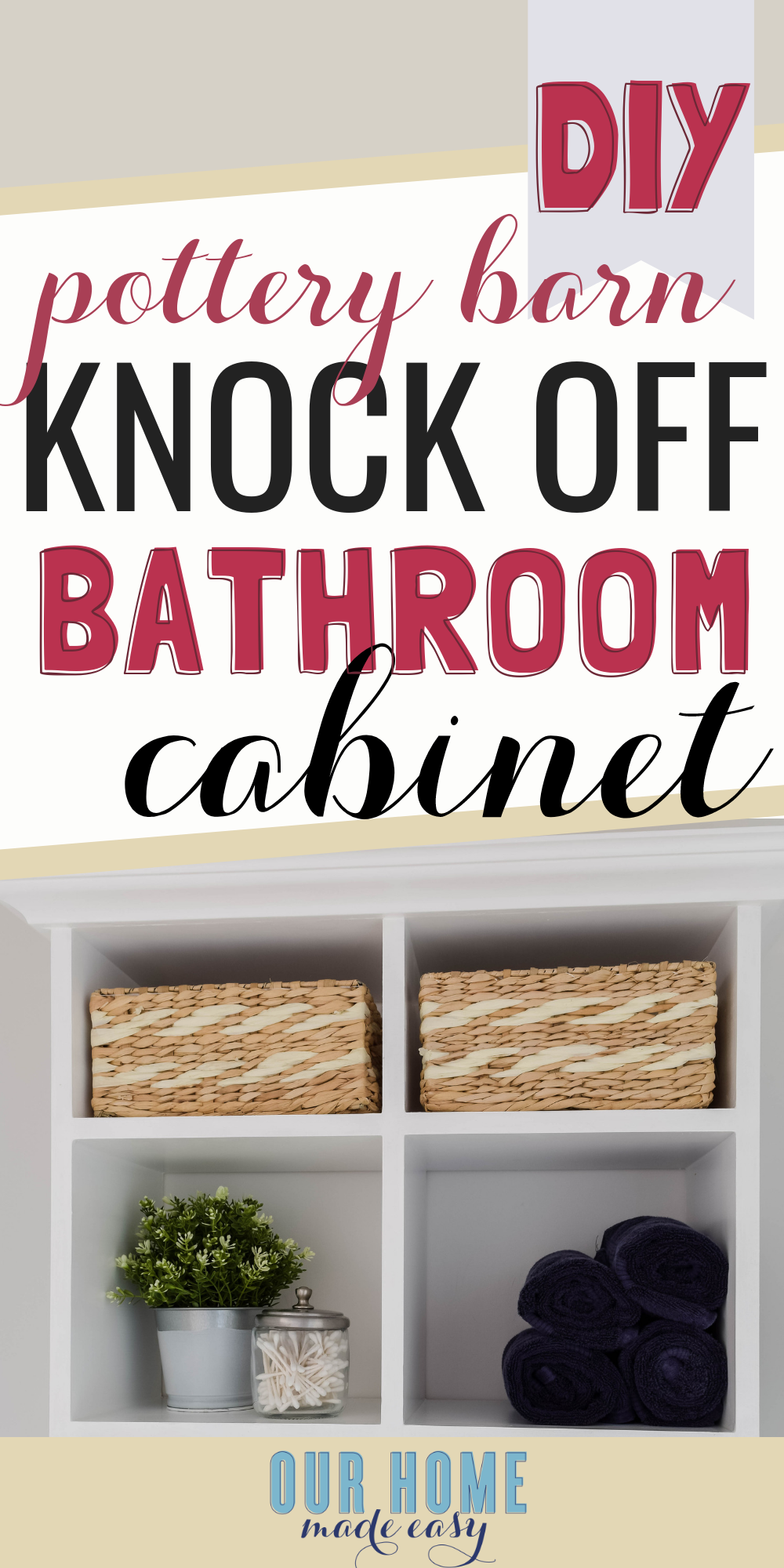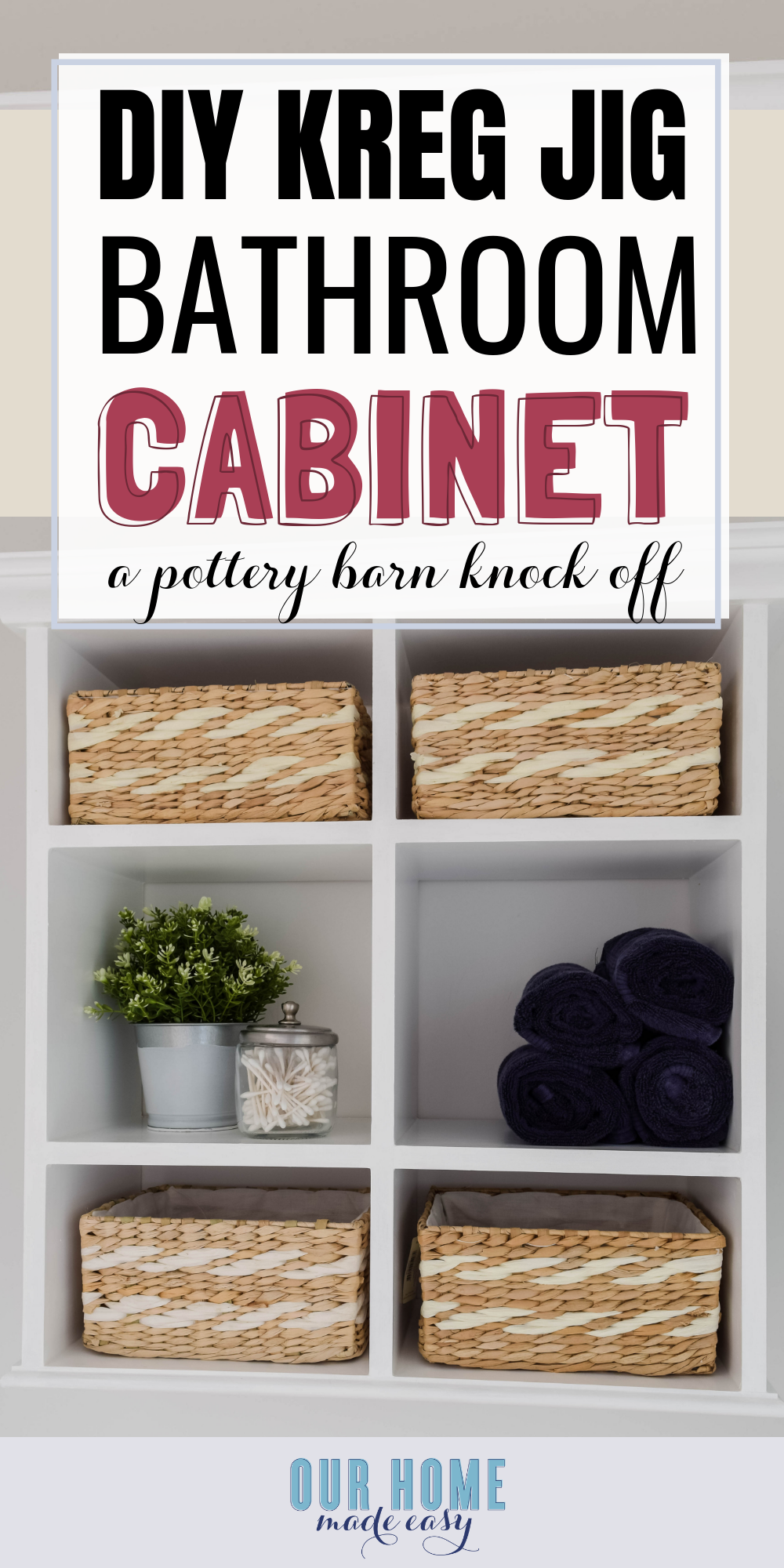 Sharing is caring!
· 1 Comment
Sours: https://www.ourhomemadeeasy.com/wall-cabinet-bathroom/
Bed + Bath
Bedroom + Bathroom Ideas
Remove Project
Are you sure you want to remove "Bathroom Wall Cabinet" from My Projects?
Create an Account
You need an account to do that. Don't worry, creating one is quick and easy!
Create Account
Print Page
Cabinetry and casework are fundamental to making built-ins and bookcases. This small wall-hung cabinet is a useful item for bathroom or kitchen, and it is a great project for a beginning carpenter to develop some basic cabinetry skills. It is also extremely inexpensive to make.
The entire case, including the top, can be built from an 8-ft.- long piece of 1 × 10 wood (you'll need a little extra material for the shelving and the towel rod). The mitered frames applied to the fronts of the door give the look and feel of a raised panel door, without any of the fuss. We built the version of the cabinet you see here out of No. 2 and better pine and then gave it an orangey maple finish. You can choose any lumber you like for this, even sheet stock such as mdF, and apply a clear or a painted finish. For a traditional look, choose a white enamel paint. Be sure and apply several thin coats of polyurethane varnish, especially if the cabinet will be installed in a wet area like a bathroom.
Sours: https://www.blackanddecker.com/ideas-and-inspiration/projects/bathroom-wall-cabinet
Cabinet wall bathroom side
Wall Cabinets
For some great bathroom storage ideas look no further than our extensive range of wall cabinets. With a selection that will appease even the fussiest of people, from tall to small bathroom cabinets you will find what you need. With our selection of wall mounted cabinets you will be able to make the most out of your bathroom no matter the size. Also with our vast selection we will have styles that will beautifully slot into both traditional and modern bathrooms.
In this section you can filter our wall cabinets to pick between mirrored, wooden, tall or our bathroom corner cabinets. Then just choose the wall unit that best suits your home. Benefits of adding these space saving wall mounted cabinets is that you will be able to neatly store and easily contain all your bathroom products in a stylish place in your bathroom.
Our selection covers some of your favourite brands; Burlington, Crosswater and HiB. We also offer competitive prices to ensure you are getting the best quality products for the most affordable price.
Sours: https://www.drench.co.uk/c/furniture/wall-cabinets
Building a Bathroom Wall Cabinet
Recessed Wall Cabinet for Toilet Paper Storage
Hey hey hey!  Guess who finished a project?! Whoop-whoop. I finally finished the recessed wall cabinet over the toilet in the Jack and Jill water closet! This between the studs wall cabinet is the perfect place for toilet paper storage. As well as other bathroom necessities. Of course I installed doors because this is our real life bathroom.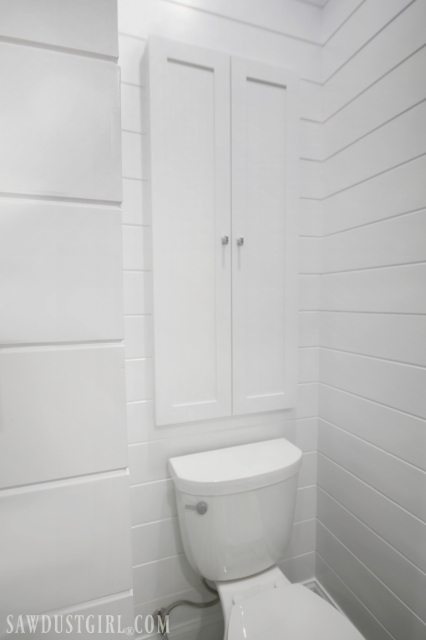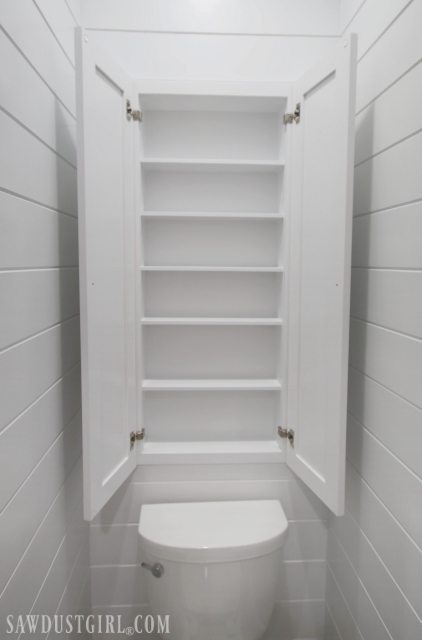 Even though I've "styled" the cabinet contents to look pretty for these photos I expect it to look like this for exactly 0 days. If I can remember, I'm going to open these doors in one week to see if the white tornado has come through.  It generally sneaks into finished spaces once I turn my back…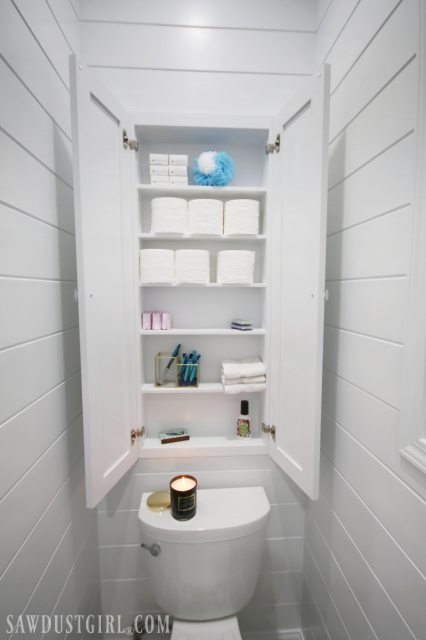 Perhaps that's why I blog. I can come back and look at pictures of how projects once looked, before my family moved in.  LOL (Smiling but totally NOT joking.)
Making a Recessed Wall Cabinet
I planned this cabinet after I finished framing this bathroom. The space where I'm recessing the cabinet was previously a door into a tiny bathroom. I initially added a stud in the center of the 30″ door opening and drywalled the bedroom on the other side.
Then I had the idea of putting the toilet paper storage cabinet between the wall studs so it wouldn't stick out over the toilet. With the bedroom drywall still attached, I pulled that single stud back out. I replaced that with a horizontal stud above the toilet height and filled in the sides to shorten the total width of my recessed cavity to 21″.  Then I cut out the drywall in the bedroom.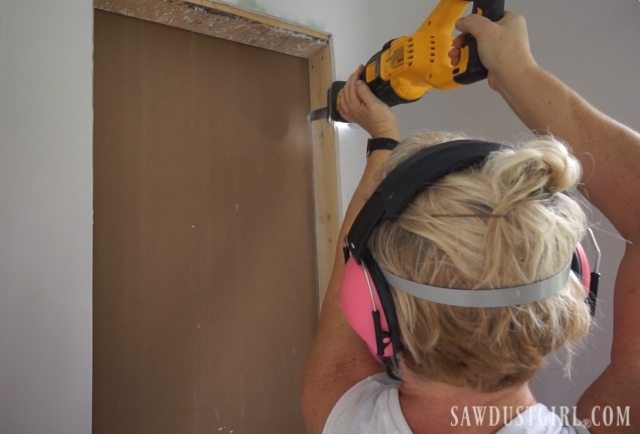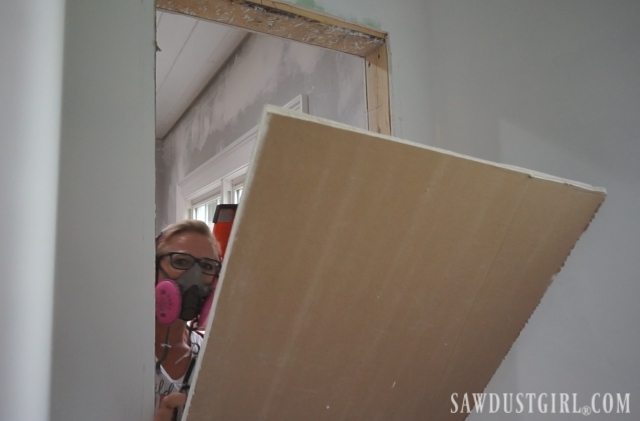 I wanted the extra 1/2″ of space that drywall was taking up. The bedroom side would be covered with Plywood V-Groove Planks.
If someone eventually tears out the plank wall the'll have a surprise and curse the person that did that!  But that person won't be me! I'm going to enjoy my plank wall AND my 1/2″ extra depth in my toilet paper storage cabinet for as long as I live in this house.  Most likely.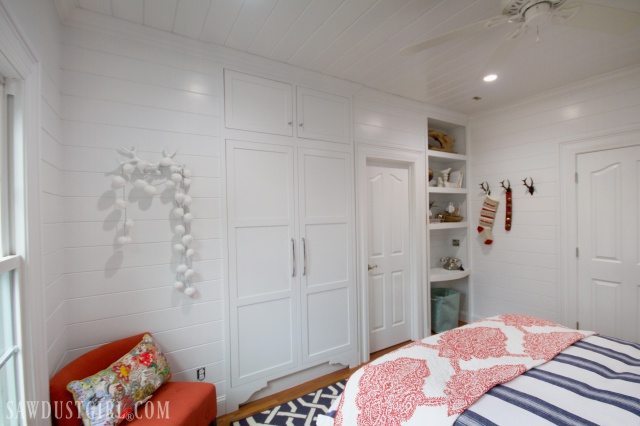 Build a Toilet Paper Storage Cabinet
I used 1/2″ MDF for the whole cabinet, including the back. Normally I back my cabinets with 1/4″ plywood but I wanted a sturdier back on this cabinet since the plank wall on the bedroom side is only 1/4″ thick plywood.
The top and bottom are glued and screwed to the sides. The back is glued and nailed around the perimeter, securing it to the top, bottom and both sides.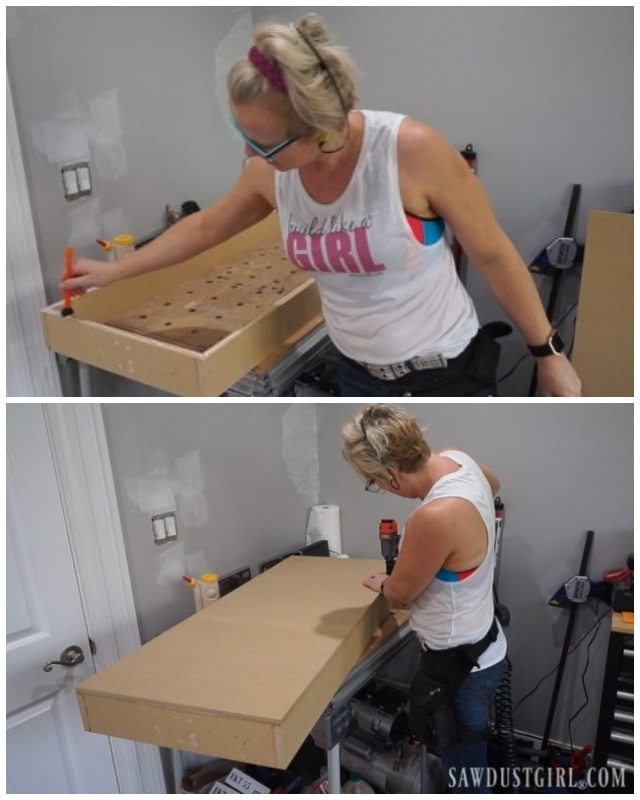 My cabinet is sized to the opening I created — which is not the typical 16″ on center stud spacing. I'm including my drawings for the cabinet I built. If you plan to build a recessed cabinet, you'll have to modify these dimensions to fit within your wall cavity.
To download these drawings as a PDF file, click here: In-Wall toilet paper cabinet drawings.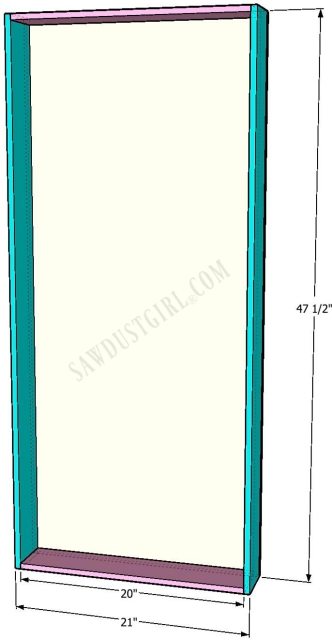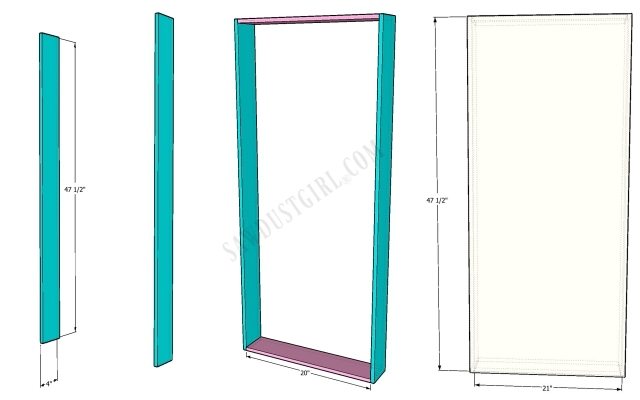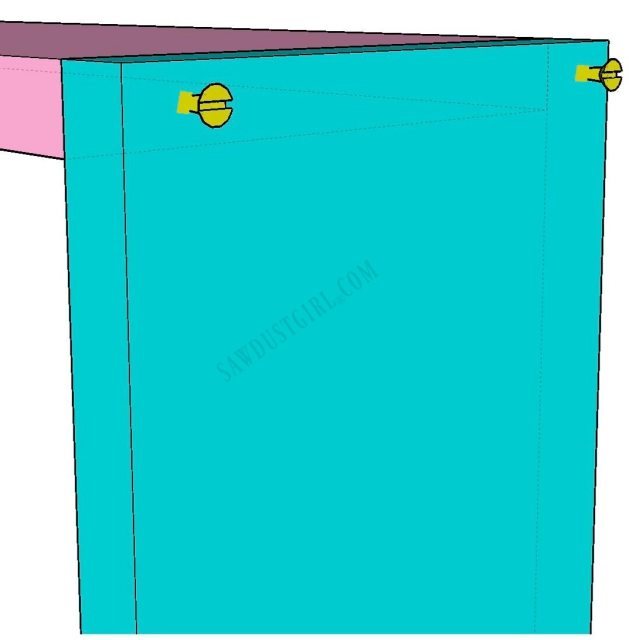 After building the cabinet, I slid it into place and secured it to the studs through the sides with nails.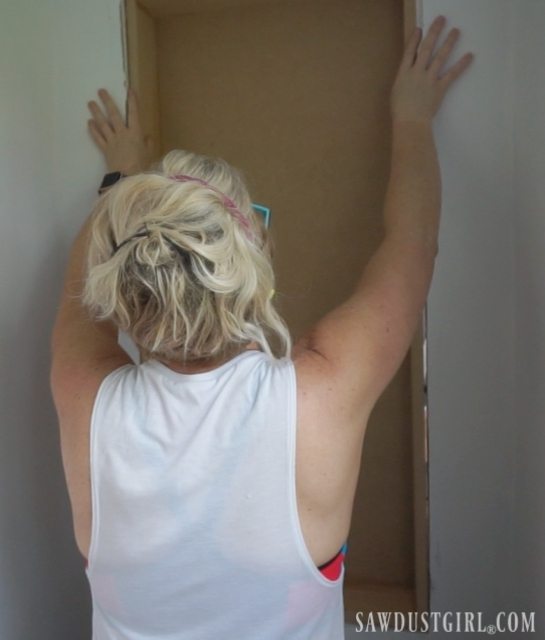 It's flush with the drywall. I installed a 1×2 faceframe by glueing and nailing it in place, piece by piece. I left 1/2″ overhang on the inside of the cabinet.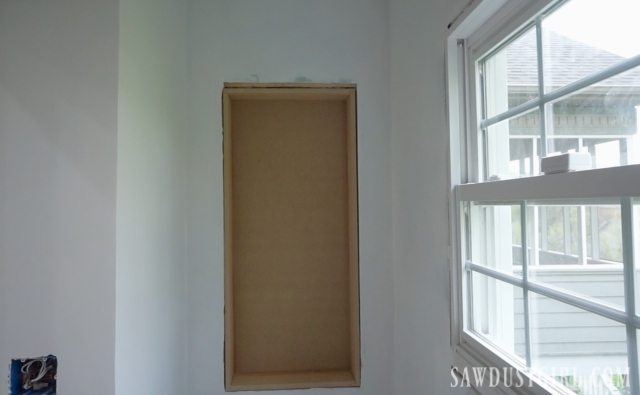 Using my airless sprayer, I primed and painted the cabinet at the same as the plank walls.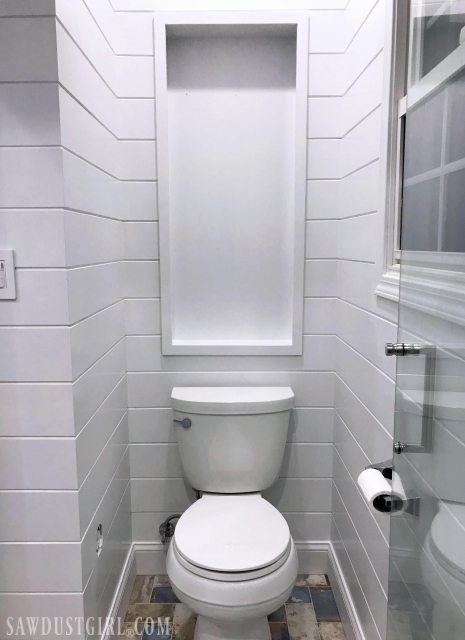 Not wanting to bother with adjustable shelves, I used caulk to glue pieces of 1/2″ mdf in place behind that 1/2″ overhang. I cut a bunch of pieces for sides and several more for shelves. Glued on a pair of sides. Then laid a shelf. Then repeated that process a few more times.
After the last shelf, I cut the last sides to fit and glued them in place.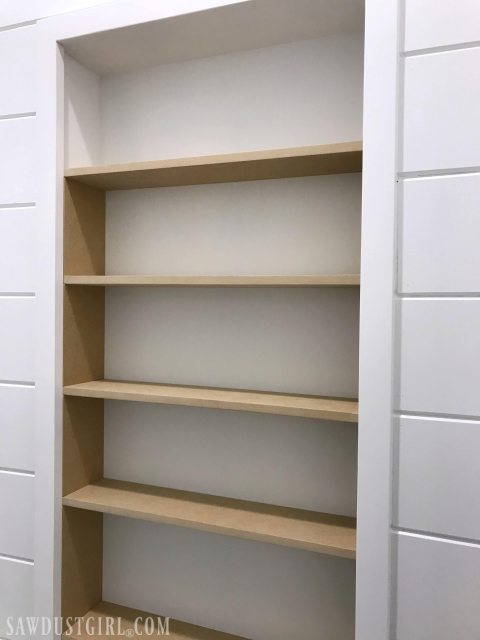 Then I applied a lot of caulk.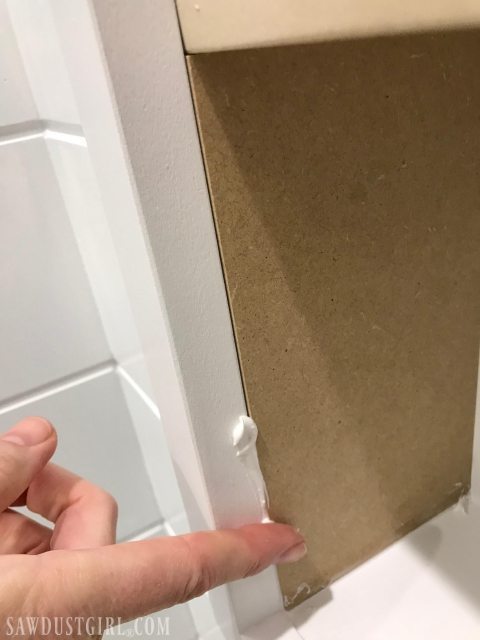 It would have been easier to put the shelves in while I was building this cabinet. But most likely, I needed to hurry up and get the basic cabinet in place so I could plank the bedroom wall. So I had to work a little harder to finish the recessed cabinet after it was in place. That includes priming and painting the new parts. This time I used a brush and roller which isn't as fast as the sprayer. But I don't like to dirty the sprayer for small jobs like this.
All the doors for the Jack and Jill bathroom projects are from CabinetNow.com.  This is the only cabinet that has overlay doors. Inset doors would steal away 3/4″ of space in my very shallow cabinet. So I went with full overlay doors for this cabinet. The only part of the cabinet that is not recessed into the wall is the faceframe and the doors, which equal less than 2″.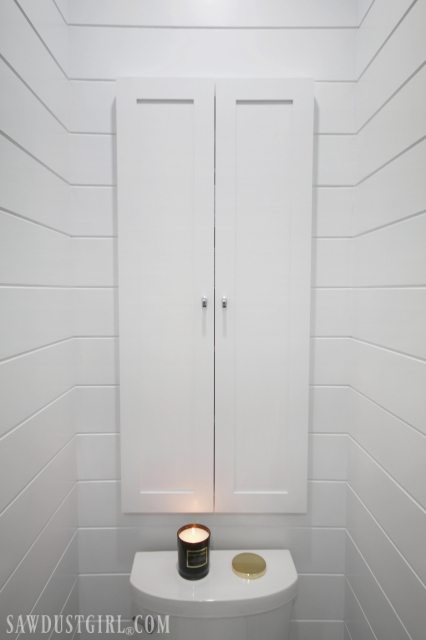 Now there's a place to store plenty of toilet paper, extra soap, razors and other supplies for the shower and toilet room.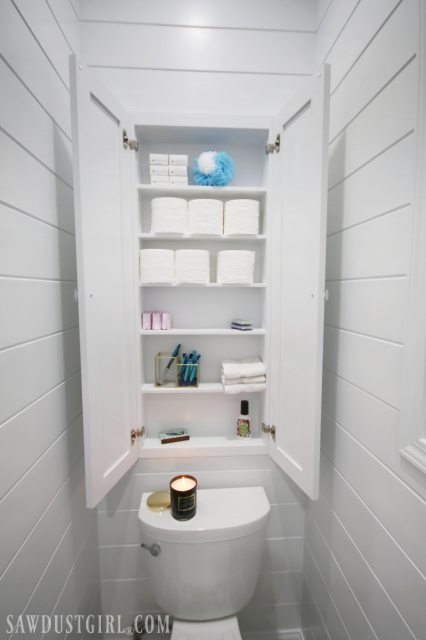 And because there are doors, I never have to know how the person using this bathroom likes to store their supplies.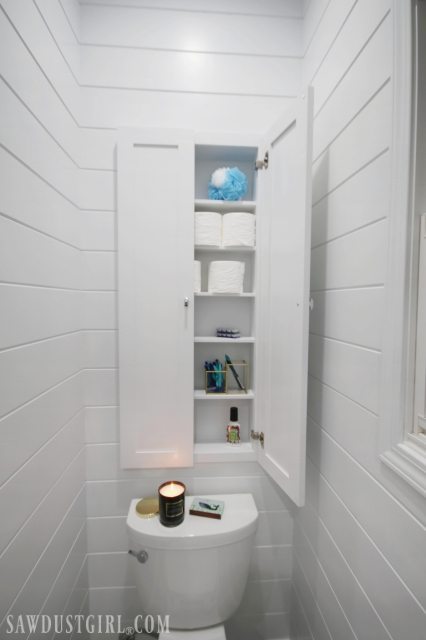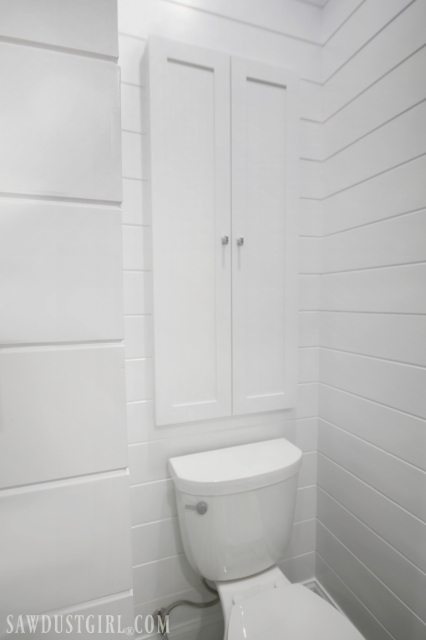 I'm fairly certain that I'm the only person in this house that likes things stacked neatly, sorted by size and color, with all the words facing the same direction…
If I don't see it, it won't bother me.

·
Sours: https://sawdustgirl.com/recessed-wall-cabinet-for-toilet-paper-storage/
Now discussing:
All Categories
Bathroom Cabinets - Spruce up Your Interiors 
No one wants a shoddy restroom. We all want enough space to keep our essentials and sanitary products. Bathroom cabinets are lifesavers as they can be bought online and fixed in the available space. 
Functionality 
You need to make sure that everything is in an accessible place and products are not overcrowded. For smaller washrooms, a multipurpose vanity or a custom vanity with open shelves can make the room feel bigger. Another way to get the most out of a small washroom is to choose an open vanity without cabinets. Mounting cabinets to the wall as opposed to having them under the sink will give you some breathing room and keep the doorway from being blocked by cabinet doors.
Storage Solutions
Well-designed bathroom cabinets can help you make the most of your space. Once you know how you want the space to function, you need to figure out the look and feel you want your bathroom to have. FIxing your cabinets on the wall is ideal for small washrooms. This will make your room feel more open. You can use a vessel sink that sits on top of your washroom vanity to create a luxurious look. You can use trendy or unique materials, to give your washroom a contemporary look. Making sure the materials align with the functionality and design of your washroom is important, but getting creative can leave a lasting impression. 
Consider the Usage 
The vanity you choose should take into account the people who are going to be using it, and the type of things they will be using it for. For example, if you are renovating a restroom that is attached to your bedroom, you might need to attach a double sink if you live with your partner. If you're by yourself, you could make do with something smaller. You also need to take into account how you will be using your vanity. If you are someone who likes to do their makeup and hair, you'll want more counter space and storage to accommodate supplies.
The Plumbing 
Plumbing will most likely be the part of your washroom that dictates where your vanity is going to go. It costs time and money to make changes to your plumbing. This means that you also have to consider your plumbing when you're choosing a style. For example, a floor-mounted vanity can make use of the typical plumbing layout. A wall-mounted vanity would require you to move the plumbing hookups. Though moving plumbing is not impossible, it depends on what you want, and the budget you have set aside for the project.
Online Shopping
You can buy bathroom cabinets online after doing your research and comparing the prices. Shopping online is effortless and comfortable.  
Popular Searches in Furniture Store:
Shop Cabinets by Types:
Sours: https://www.flipkart.com/q/bathroom-cabinets
640
641
642
643
644