Please note that this post contains affiliate links to find out more information, read my disclosure policy for more information.
If you haven't started a playlist spread yet in your bullet journal, nows the time to do it! List down all of your favorite songs for the month with a playlist spread next to your habit or mood tracker could be a great idea XD
Playlists spreads can be at the end of the month where you write down your favorite songs of the month. Since, songs sometimes do get old, so every month you can see your past songs. Then listen to them and maybe fall in love with them again.
If you're planning to start a bullet journal, things such as this cheap bullet journal, this Micron Pen Set, and some highlighters to give an extra pop of color! Bullet journaling doesn't require an expensive notebook with a bunch of colorful pens, you really only need the journal and pens. Though the highlighters will definitely help with the colors XD
Here are 22 playlist bujo Spreads for inspiration of 2020 :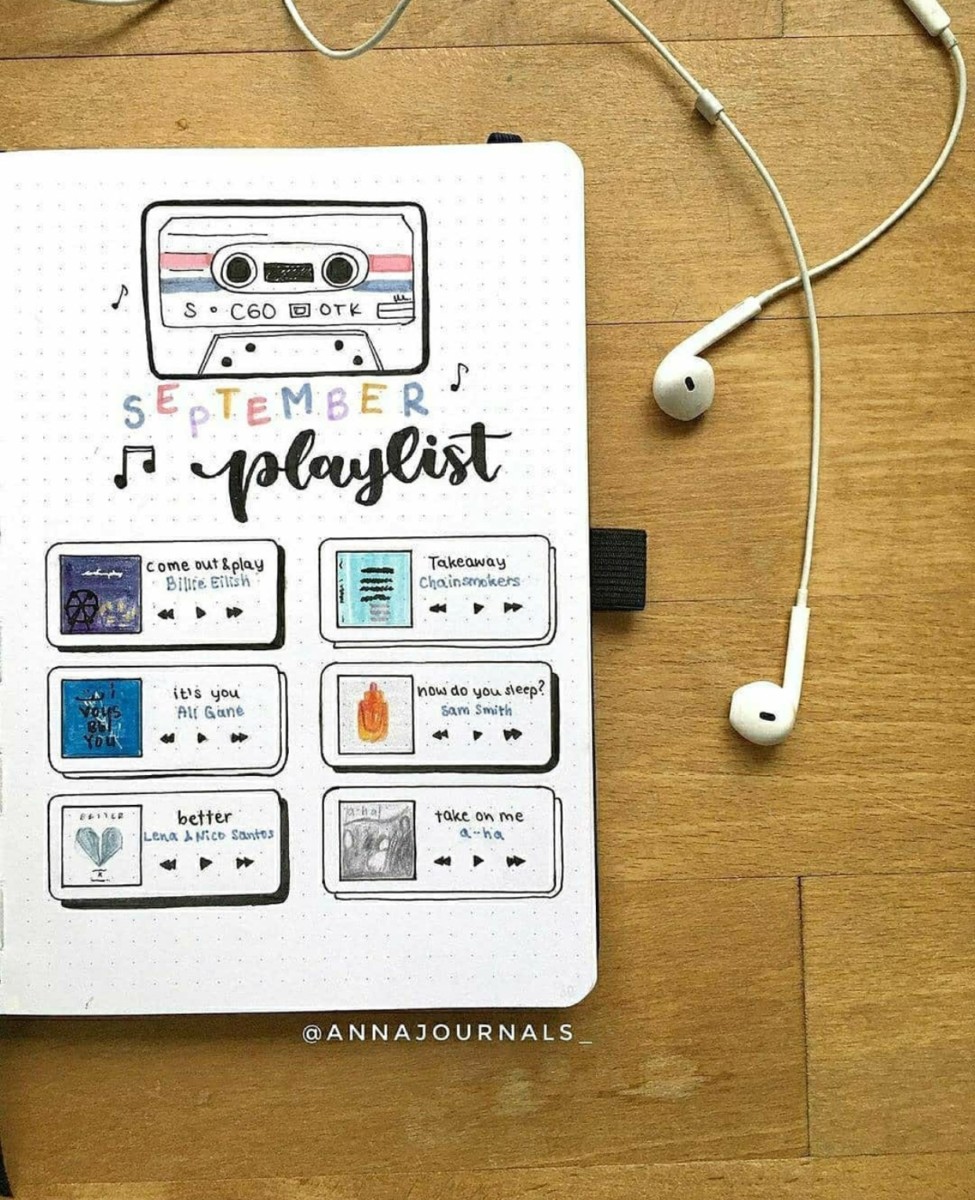 Source : @annajournals_
The cassette tape drawn on the top is a perfect addition to this playlist spread! The colors and details inside of the tape with the matching colored title of September underneath of it is *French kiss*. Extra, but I love it. Recommend the song how do you sleep by Sam Smith, I was one hundred percent brainwashed by it by the radio. I love the extra music notes added next to it that also added to this playlist spread!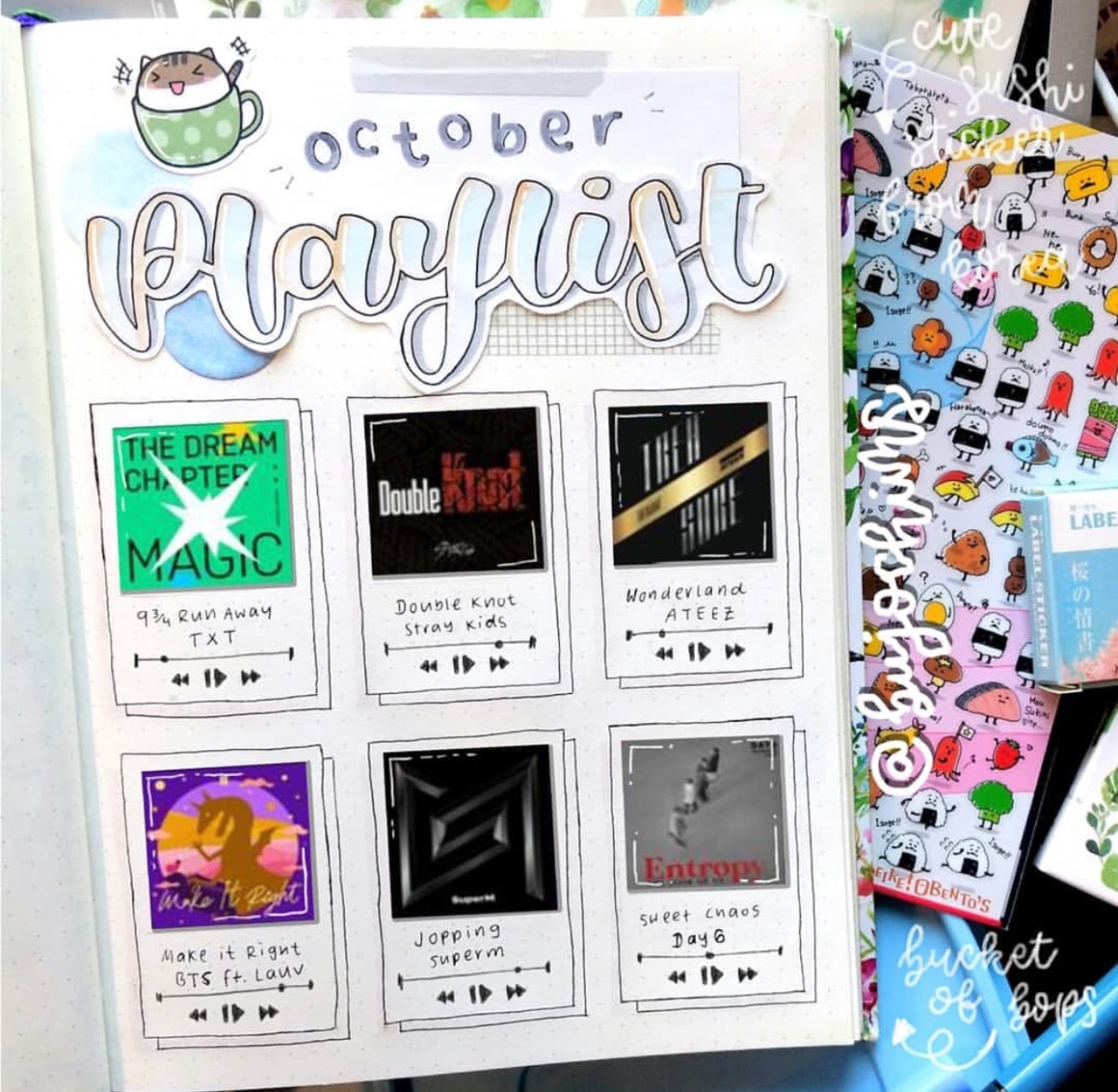 Source : @bujochims
I love the colors of the title October Playlist and especially the Kpop songs listed underneath! Jopping by SuperM? Double Knot by Stray Kids? Make it right by BTS ft Lauv? Don't even get me started The baby blue title looks gorgeous, like I want to know how to write like that. Teach me your ways please. With the album cover photos printed out and added to this spread, and the playlist icons underneath it? Adding with the fact that this is a Kpop playlist spread? I <3 it. There's definitely more Kpop playlist spread underneath. Worry not.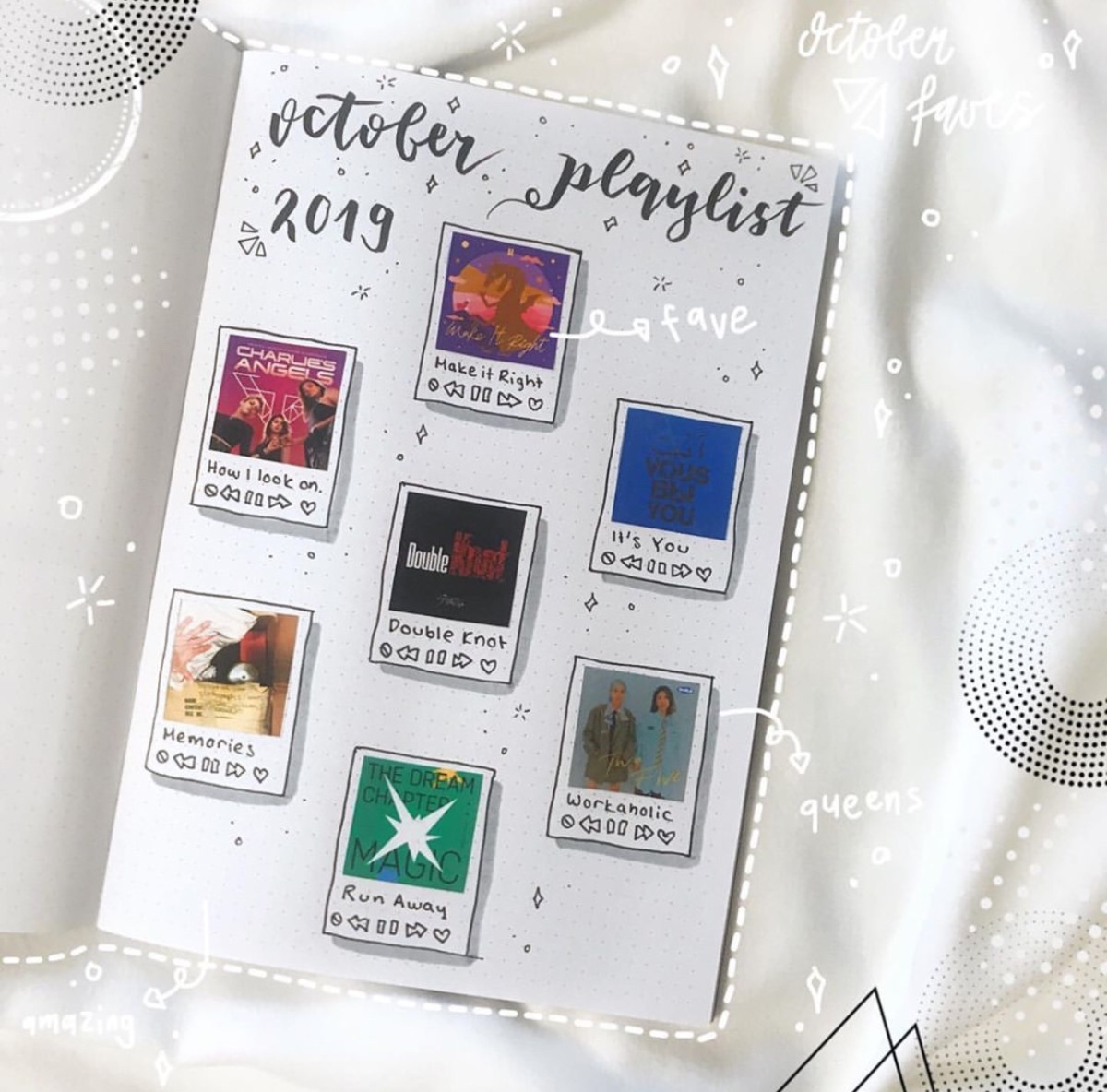 Source : @magicjournalshop
The tiny symbols drawn underneath each song gives it a real playlist look. The layout of how each song box is displayed is really creative with a polaroid style with the album cover picture printed out as the photo! I love the gray highlights at the sides of the polaroid to feign it as shadows, as it almost makes it pop up from the paper itself. If the one on the very left is talking about Memories by Maroon 5, it's another radio song that I definitely cried to at one point XD
Remember to follow me on Pinterest for more !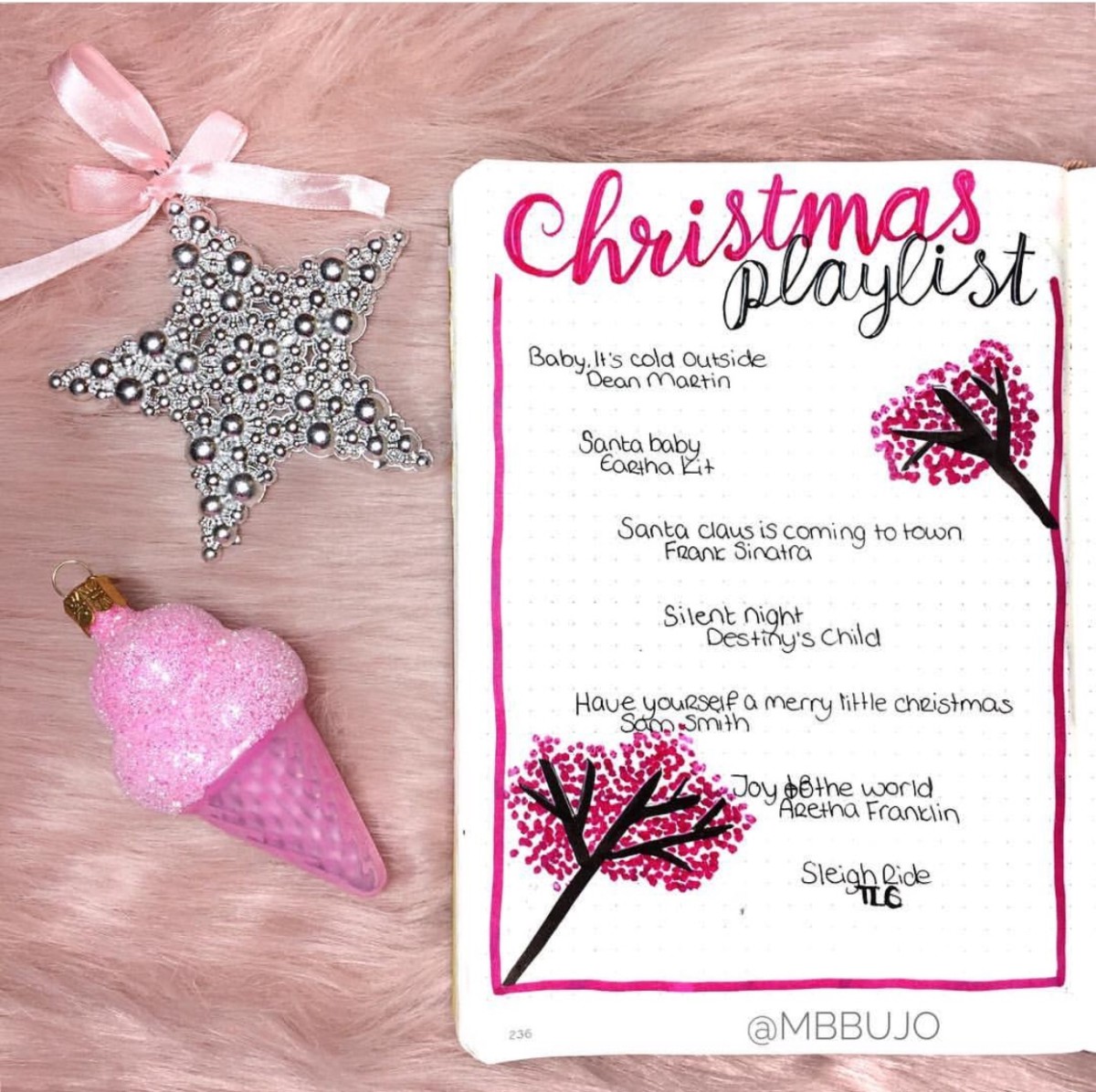 Source : @mbbujo
A Christmas playlist is such a creative idea for the holidays! I mean, who doesn't love some good old Christmas songs like Joy to the World, Silent Night etc? This is such a genius idea to have for other holidays like Halloween, Fourth of July, or even Thanksgiving? The pink theme in this is popping off with the dotted pink trees! Not sure what kind of trees they are, maybe sakura, but they're still perfectly matching to this Christmas playlist spread!
Related : More Creative Playlist for 2020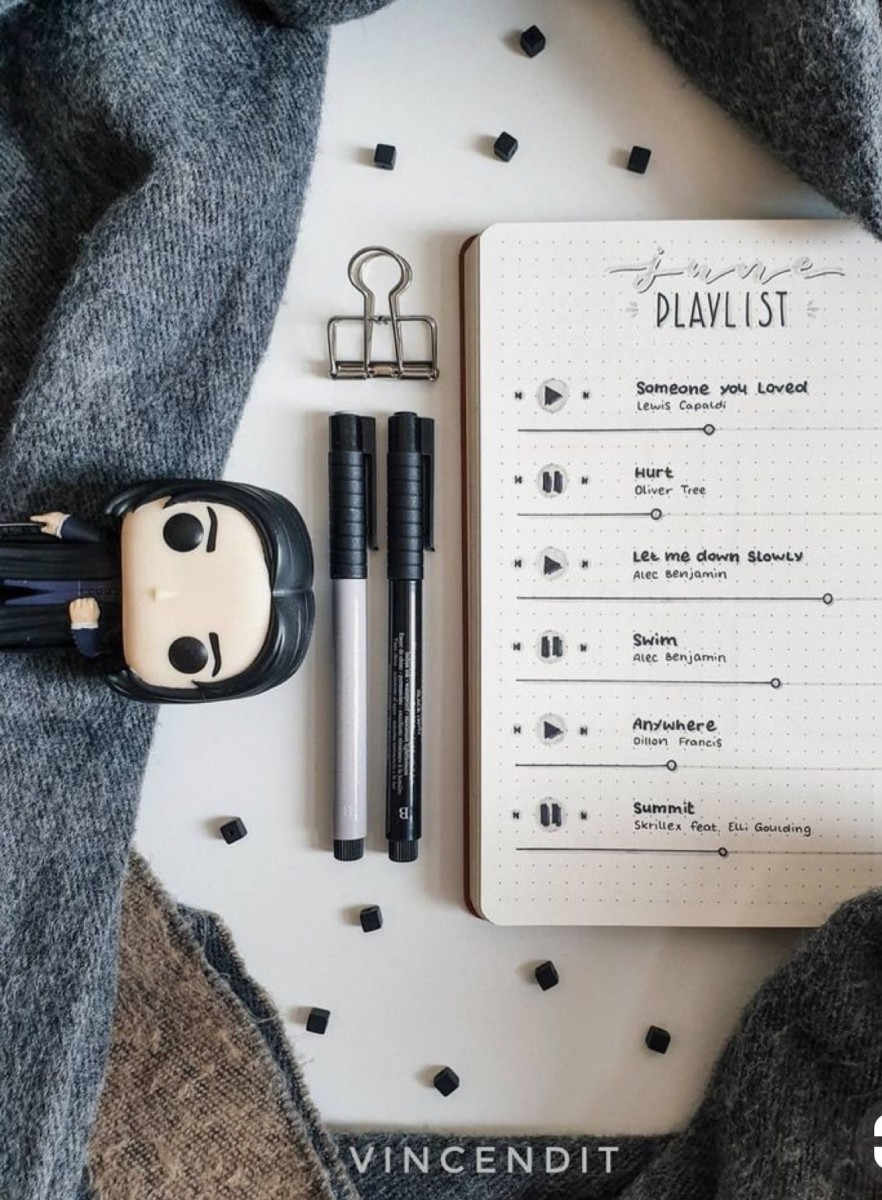 Source : @vincendit
This is one of my favorite playlist spreads because of how simple yet pretty it is. With the buttons and the playing songs' lines, it's definitely a look to try out for your own playlist spread in your bullet journal! If you're too lazy to print out or don't have access to a printer, heck this is a great example for you that a playlist spread could look just as fine without any pictures. Someone you loved by Lewis Capaldi and Let me down slowly by Alec Benjamin are both songs that are quite the one to listen to that'll get you in your feelings.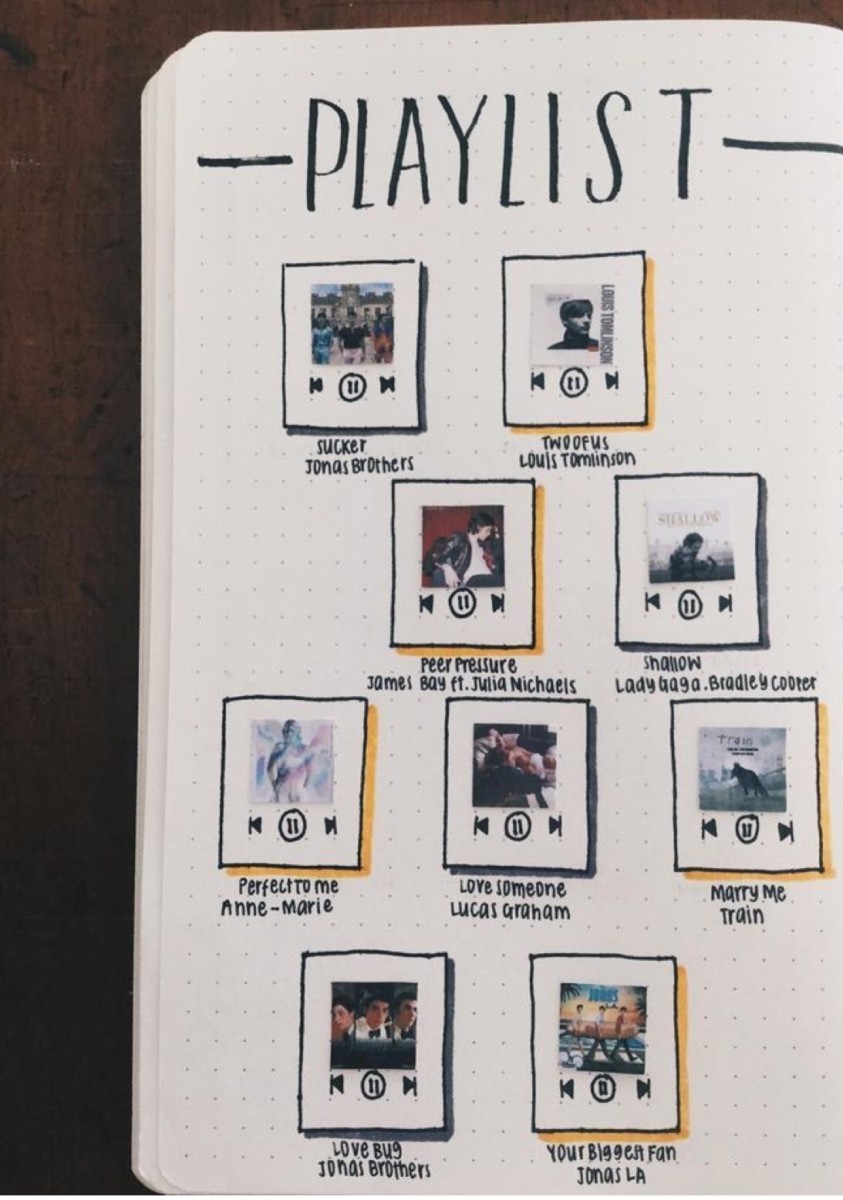 Source : Pinterest
The tiny album cover pictures really helps with the visuals of this playlist spread with a total of nine songs in this spread! Maybe another two can be stuffed in there, but hey it's fine. The varying colors of shadows of both black and yellow is a nice touch to add another pop of color to the spread. The three buttons underneath the photo really makes it seem like a swiping playlist XD Nonetheless, love someone by Lucas Graham, Shallow by Lady Gaga ft Bradly Cooper, and Sucker by Jonas Brothers, I recommend.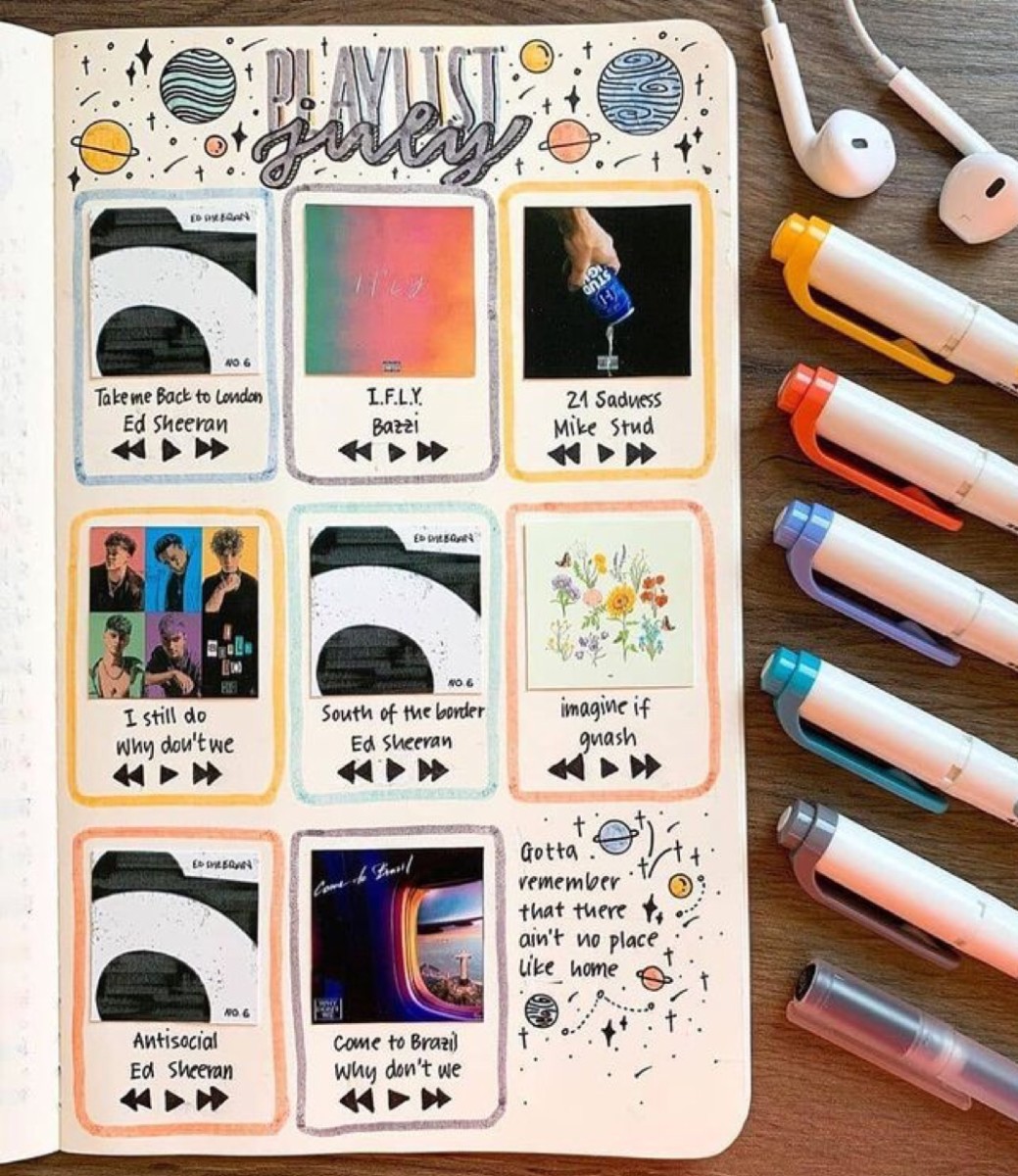 Source : @studyandstuffx94
Planets on a playlist spread *alliteration*? Heck yeah!? With the colorful borders around each album color, this spread couldn't get better than this XD The extra quote on the bottom right corner of "Gotta remember that there ain't no place like home" period. I love the planet theme of this spread and the planet doodles next to the title as well. And this practically speaks colorful on a whole new level! South of the Border by Ed Sheeran, Camilla Cabello, and Cardi B? Go watch the MV, it's a whole movie on itself.
Share this Post if You Enjoy it!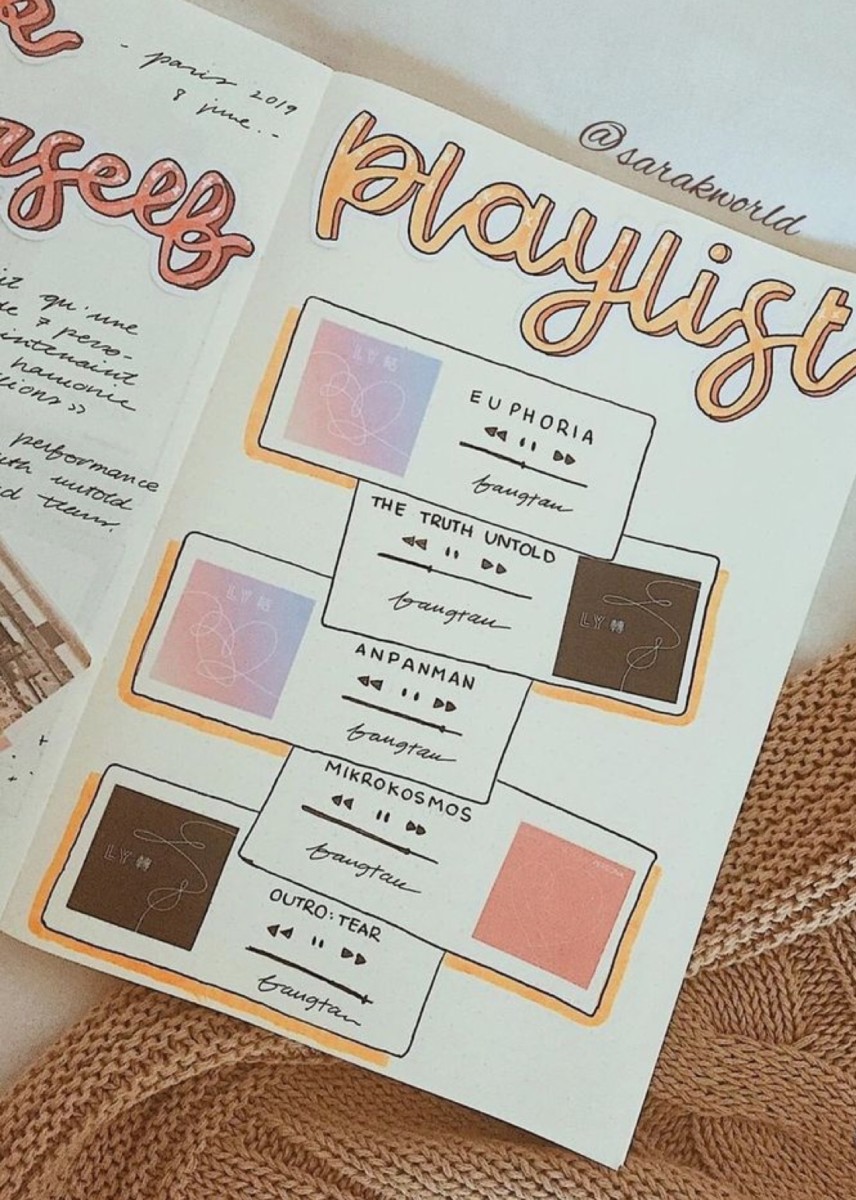 Source : @sarakworld
BTS, Bangtan boys? I. Love. Them. I literally have a BTS poster up on the wall of my own room XD This BTS playlist is beautiful with five songs each and an orange shadow to make it pop. Their album covers have always been aesthetically pleasing with the pastel and black colors. I do think the layering of the song boxes are quite interesting instead of just laying each one on top of each other. So that could be something worth trying out for yourself!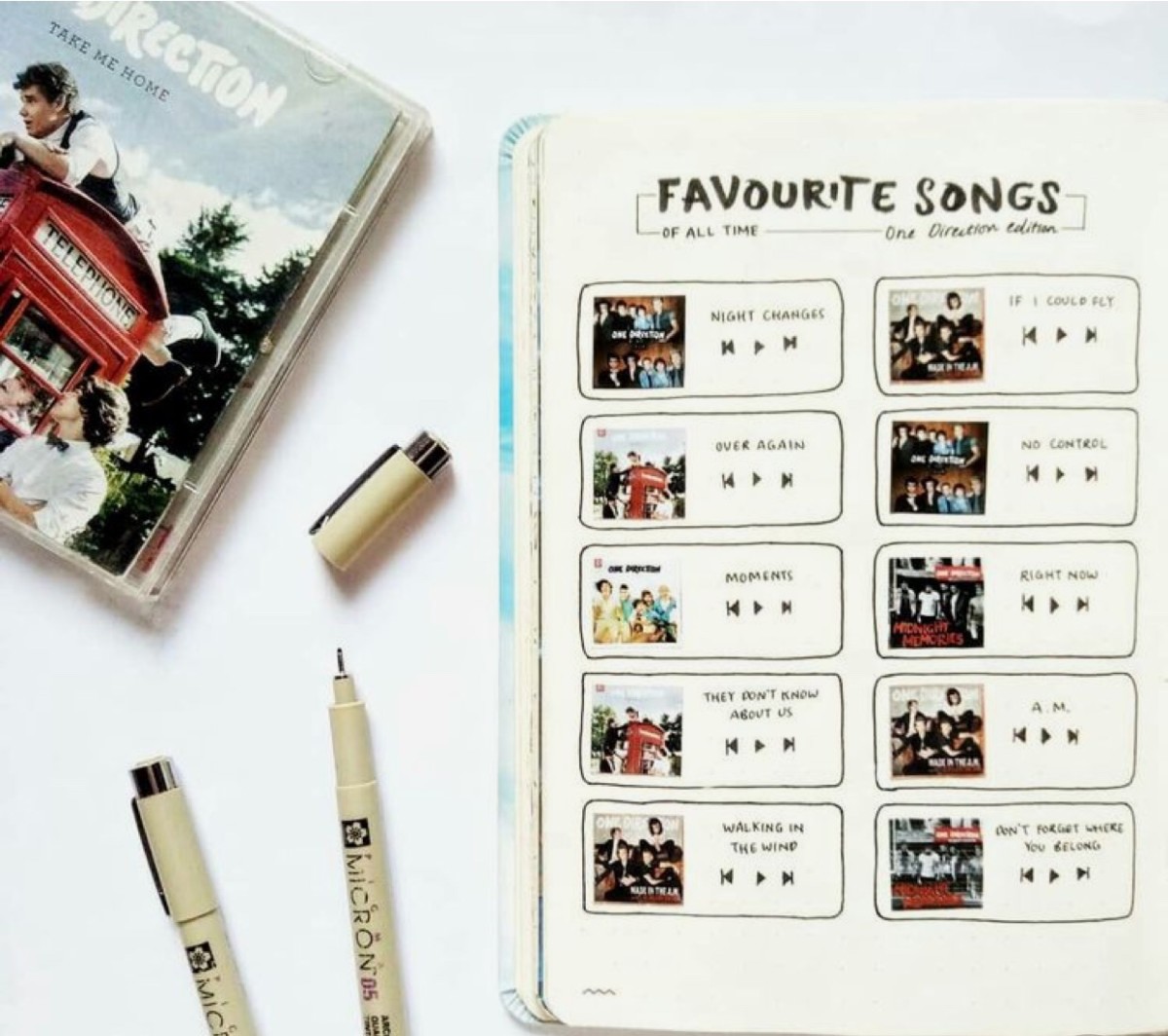 Source : Pinterest
You could also dedicate an entire playlist spread to an entire group or artist too. A prime example of this is this One Direction playlist spread! Even if they're not a group anymore, still love them nonetheless 🙂 A whole playlist for One Direction and the favorite songs of the person who created this spread! Ten song boxes in this entire spread! Now that's a record XD They don't know about us is one of my favorite, and omg night changes? I can't choose!!!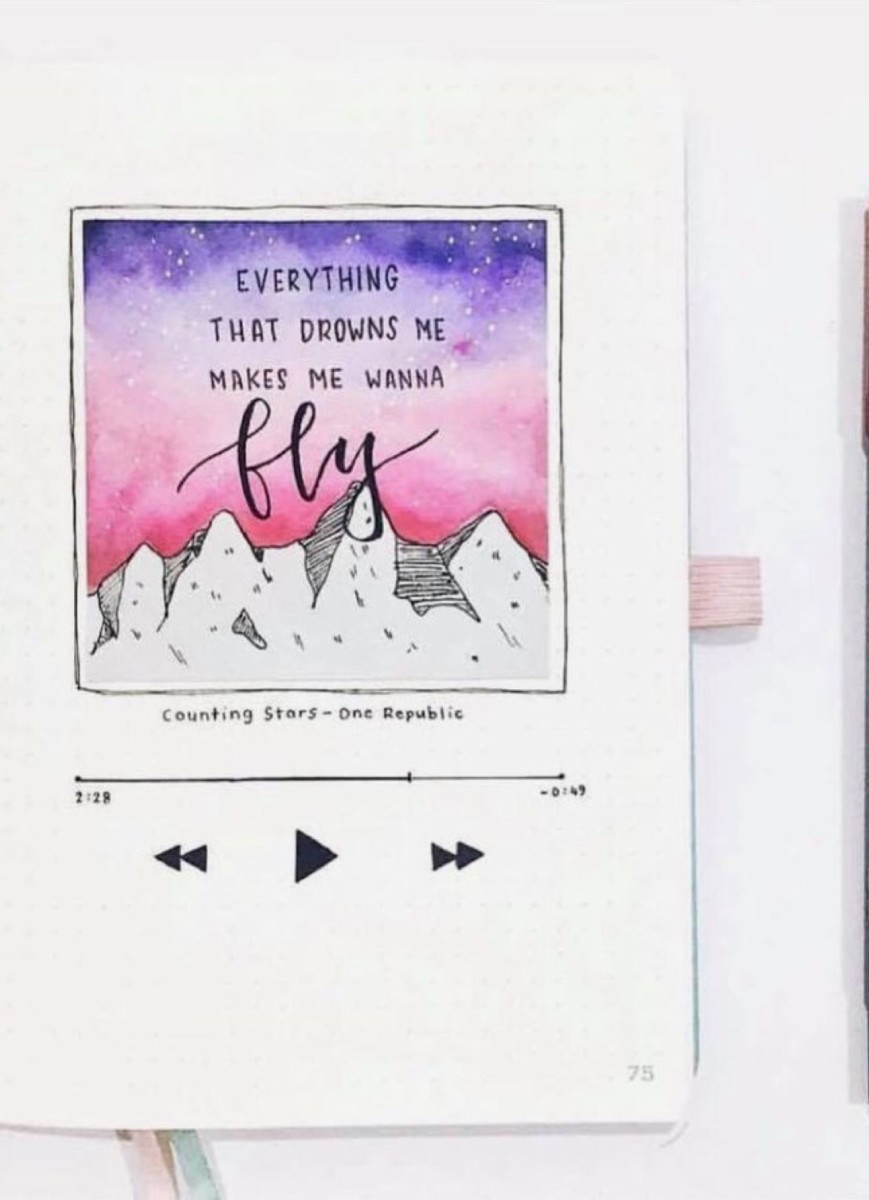 Source : @amizaomar
If you have one of your absolute favorite songs, dedicating one entire spread to that one song doesn't seem like such a bad idea with this gorgeous Counting Stars spread! The watercolor sky with pink and purple with a lyric from the actual song is kinda genius if I do say so myself! The mountains drawn with the sky really tied it together too, and the icons of a song were all drawn underneath the photo. With the song minutes and play button XD I would do this at the end of the year and choose my favorite song out of the whole year and dedicate a whole page to it XD
Check out my Bullet Journal Board for More Inspiration!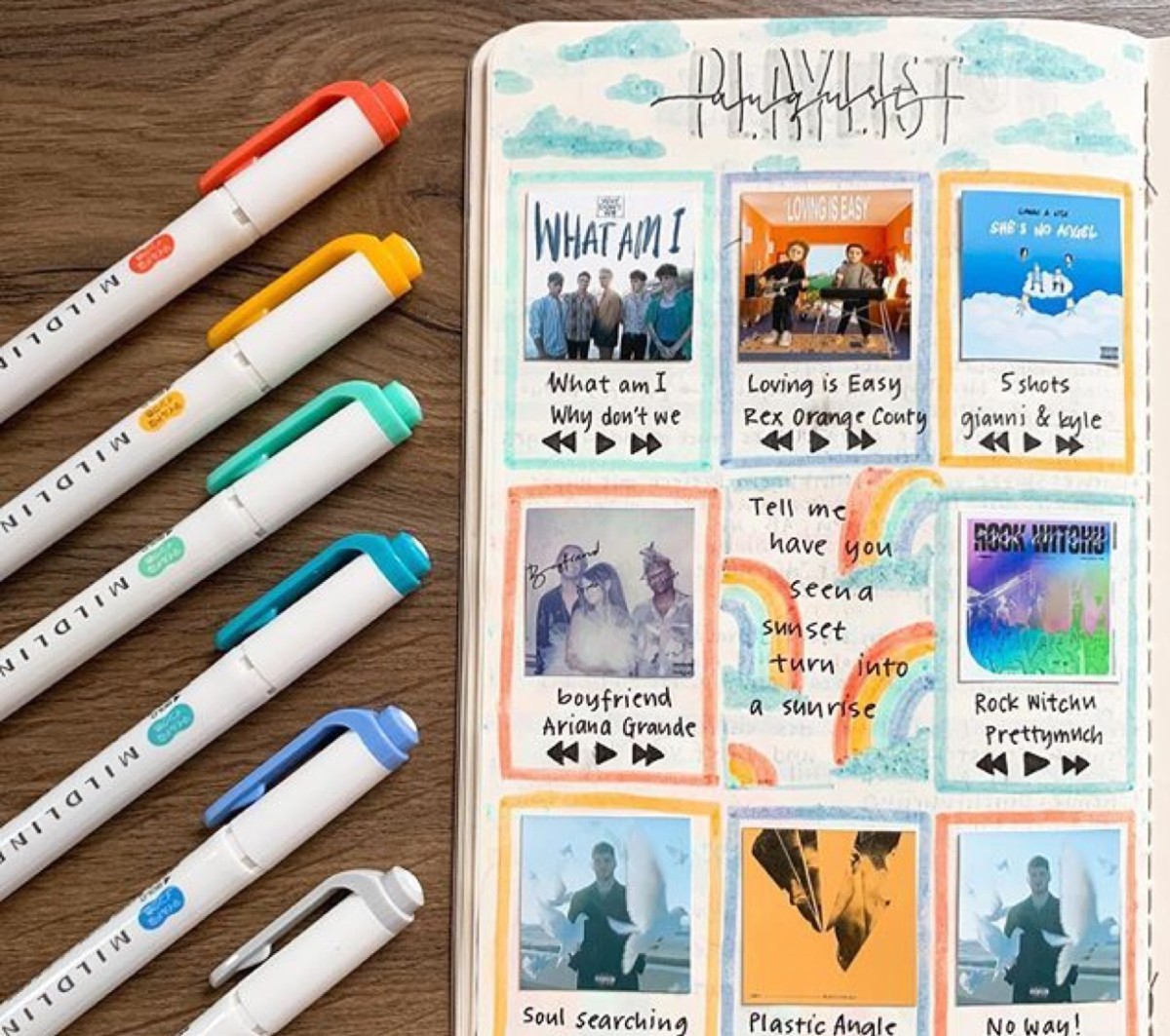 Source : @studyandstuffx94
I love the layout of this nine by nine rectangles, especially with a song quote in the middle of it! The extra rainbow quote in the middle, "Tell me have you seen a sunset turn into a sunrise, some Why don't we boy lyrics! The clouds next to the playlist and the colorful boxes around the songs really tied the rainbow quote and the songs itself all together XD I love the title of playlist and the thing august title drawn across it, imma recreate it one day for myself. Boyfriend by Ariana Grande is the recommended song for this playlist XD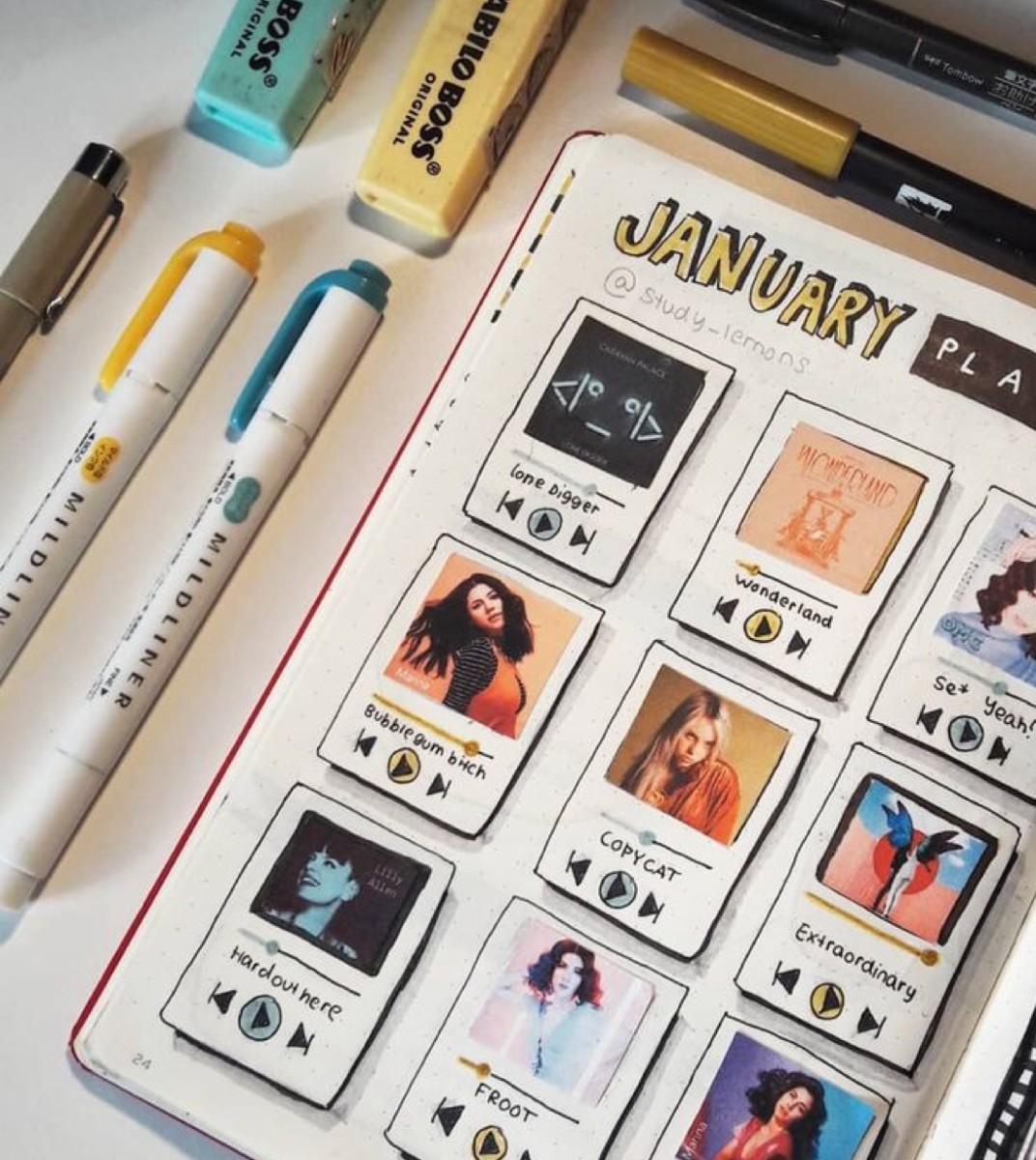 Source : @study_lemons
The shadows of both gray and black at each song's block makes it pop out as such a cool 3D effect, and those playlist buttons at the each song album cover is also adorable XD The loosely drawn rectangle boxes for each songs and the variating blue and yellow colored buttons gave it some variation to the spread. My favorite song here would probably be Copycat by Billie Eilish :3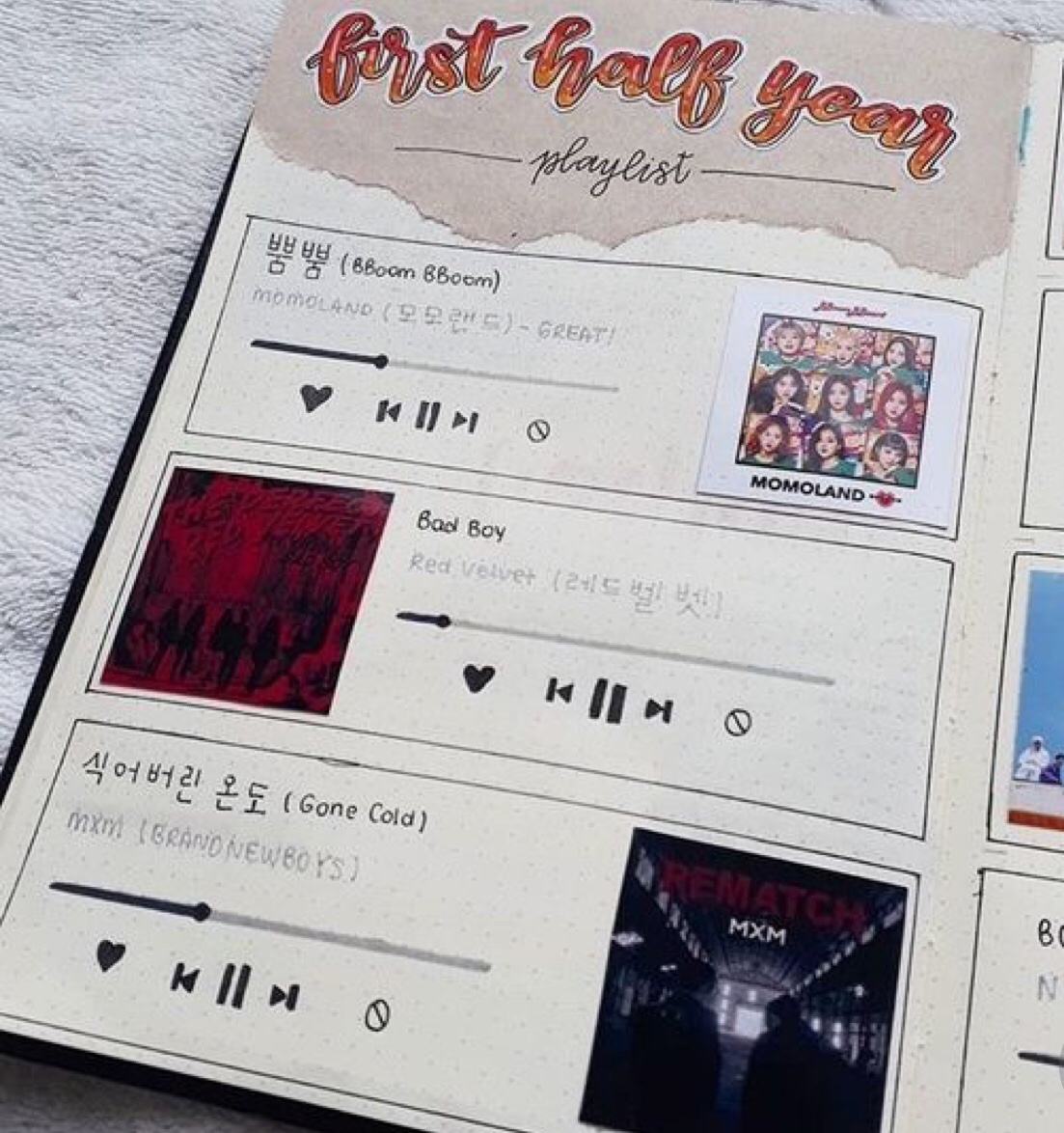 Source : Instagram
I love the title of First Half Year playlist, along with those Kpop songs that I'm also a fan of! If you're a love of music in general, filling two pages of your favorites shouldn't be a problem XD I love BBoom BBoom by Momoland and Bad Boy by Red Velvet, though I'll have to give Gone Cold a try another day! This time the icons of a heart and skip button is added to the classic playlist icons 🙂 The title and the ripped brown paper added a different dimension and texture to the spread too, and the title is definitely a look!
Follow me on my Pinterest Journey~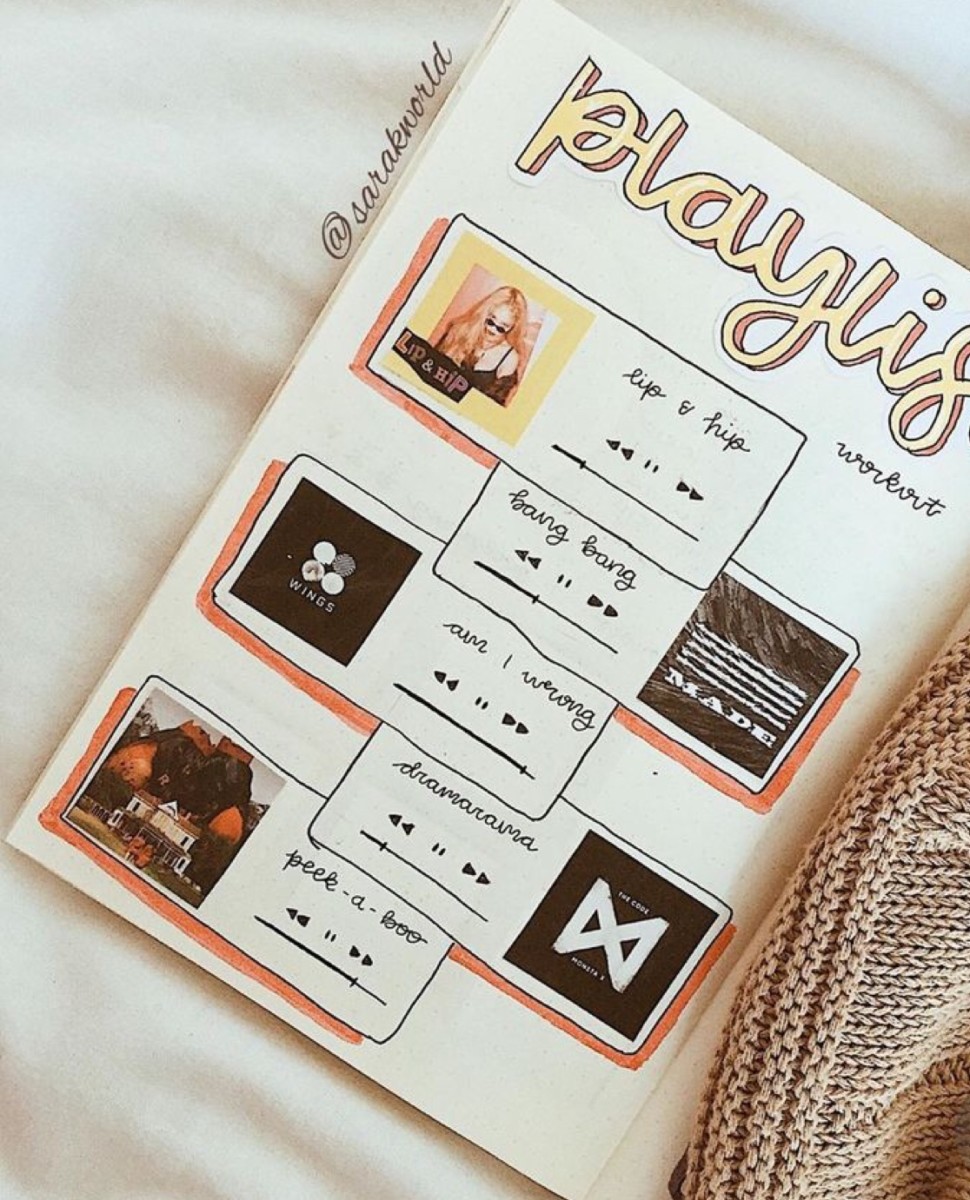 Source : @sarakworld
Another Kpop playlist spread, but workout edition! This is also a great way to accumulate long lists of pumping workout music too :3 The pink shadows and the layering between each boxes are also a great idea! Expected nothing less from @sarakworld with all her amazing Kpop related playlists. And the fonts she choose to write for her song names and the title are both really pretty and I wanna recreate it for myself at one point too! I love Peek-a-Boo by Red Velvet in this playlist XD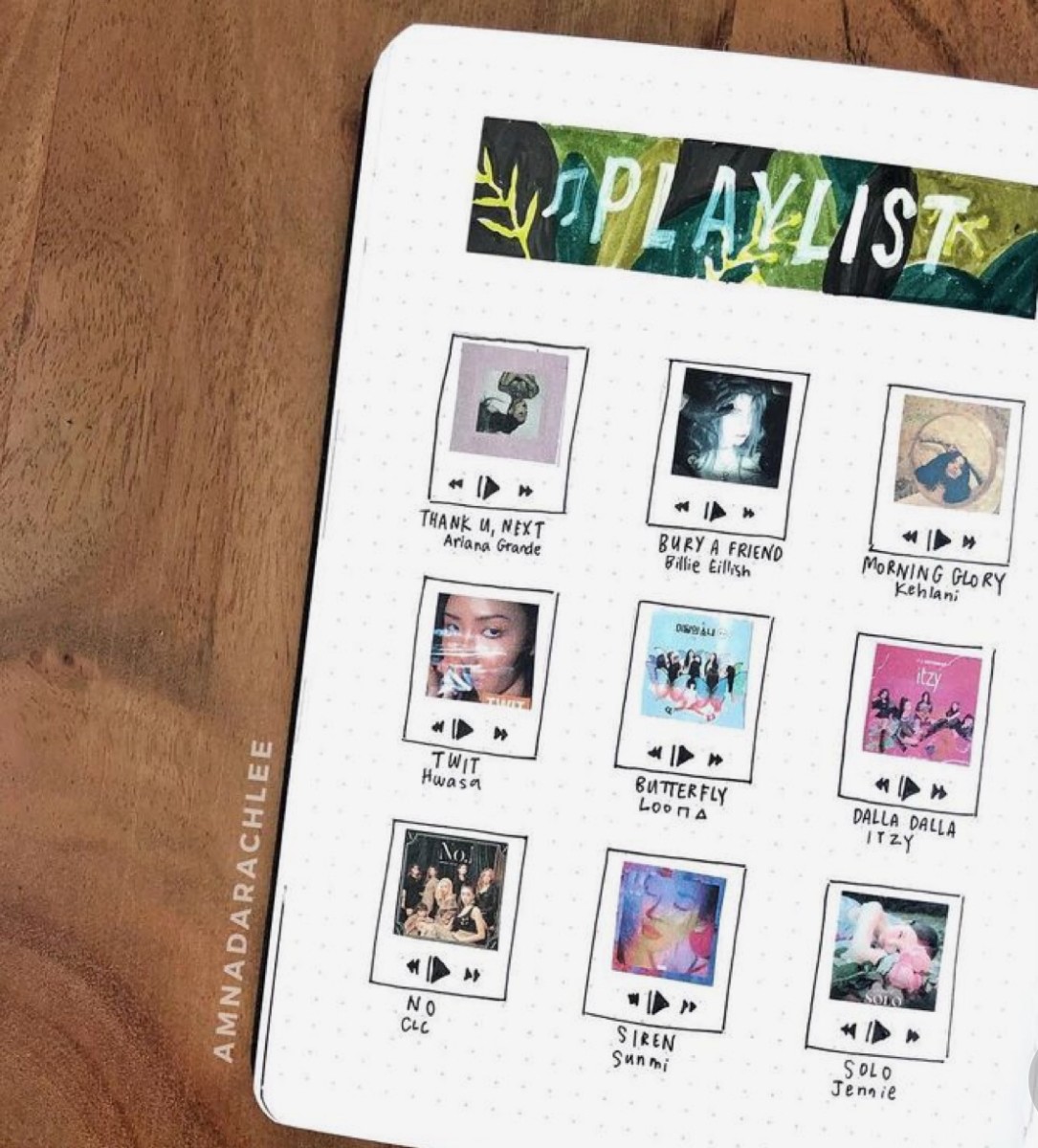 Source : @amandarachlee
I love the simplistic look of this spread with a tiny picture of the album and the symbols, the title with all those different shades of green and leaves gave it a tropical look XD It gave more color to the spread besides just from the colorful album cover themselves. With three by three boxes and some cover albums, the song name and artist name written with it. Songs I love in this spread are thank you next, bury a friend, twit, dalla dalla, siren and solo XD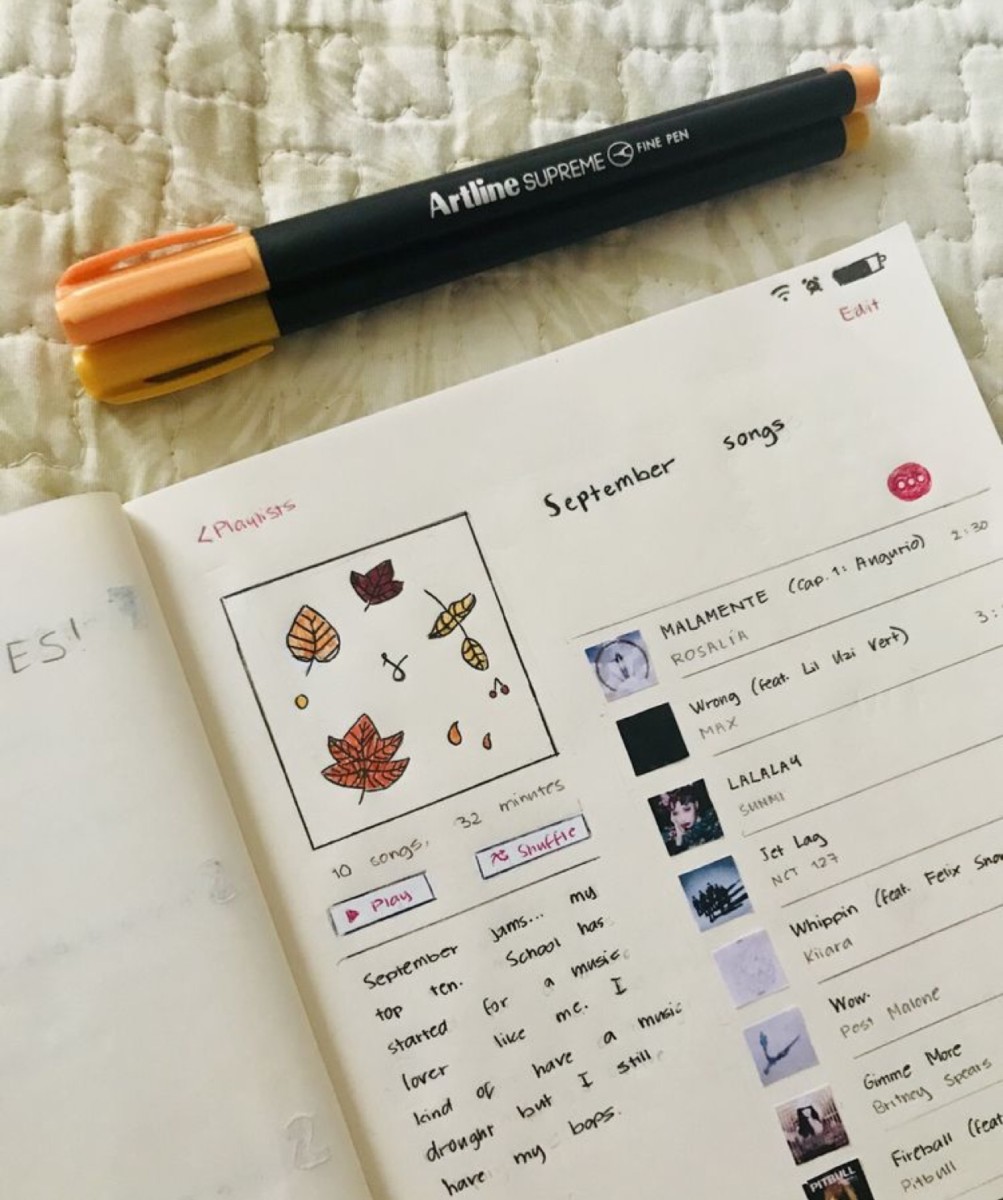 Source : Pinterest
This brought the theme of playlist to a whole new level by writing it in the way of how exactly an app would put it a playlist! If this isn't kind of genius, I don't know what is! Even the songs, minutes and shuffling? This is something that I would also love to try out, having drawn a whole playlist app layout as a playlist spread in a bullet journal? It's such a good and cool idea though. Lalalay by Sunmi and Malamente are songs that I honestly quite thoroughly enjoy, so maybe try giving it a hear XD
Pin your favorite playlist spread for inspiration!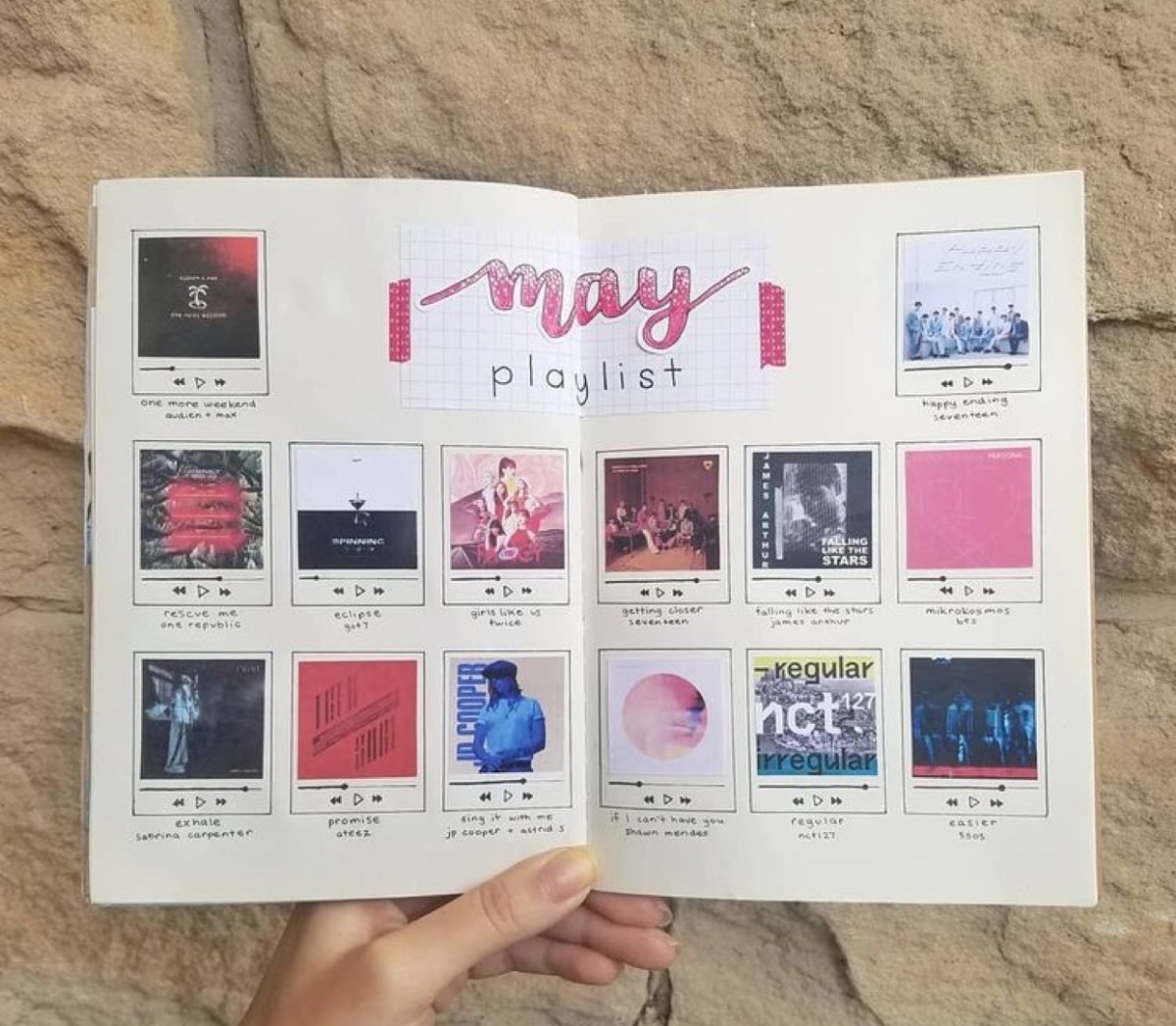 Source : Instagram
A May playlist that consisted of two whole pages and a total of fourteen songs! Now that's the record XD I love the graph paper and taped up title and the pink glittery May title. The boxes are neatly drawn and filled up with the album cover and and the icons with the song and artist's name written underneath the boxes. This is for the people who generally enjoys listening to songs, heck, dedicate two whole pages to a monthly playlist spread sounds like a great idea!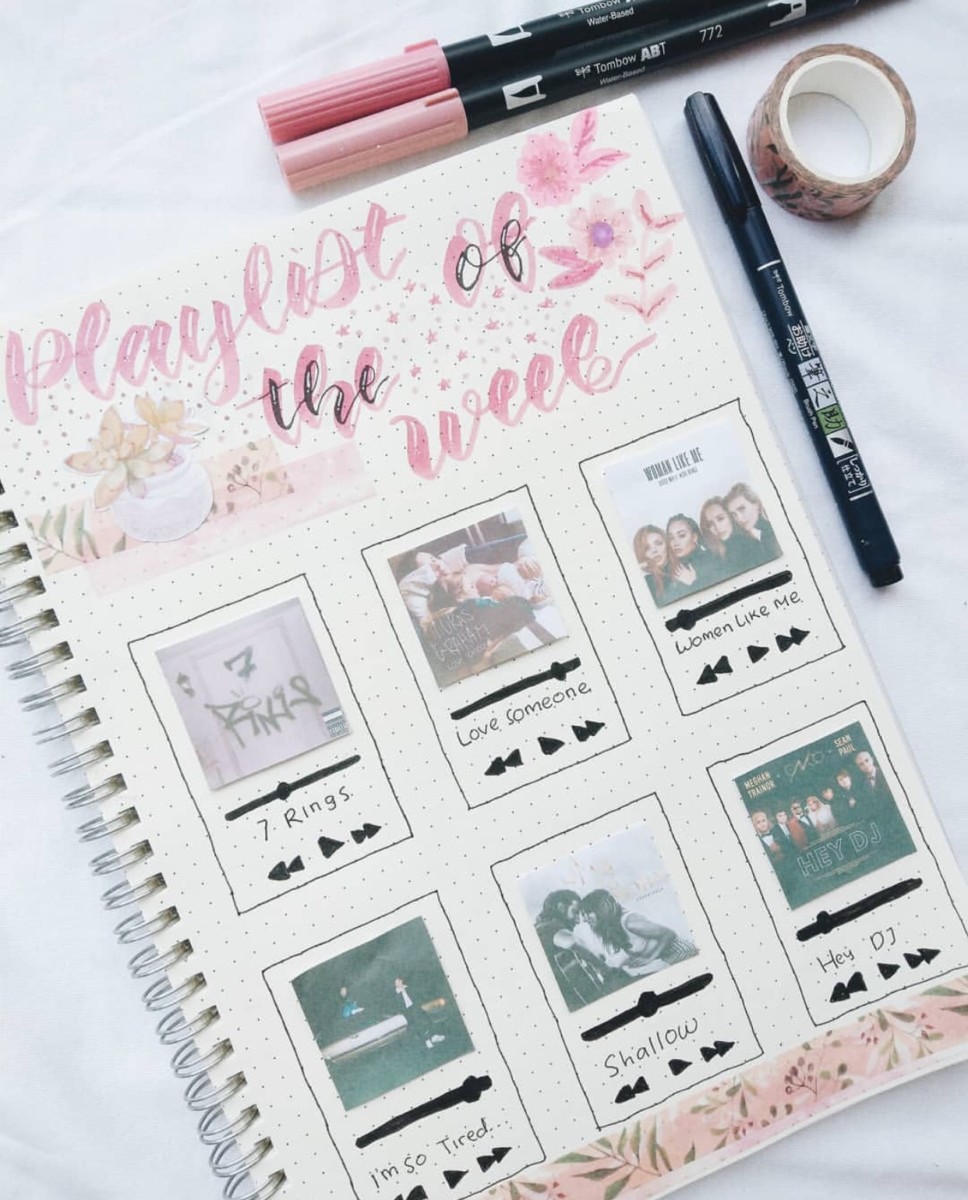 Source : @natyastudies
Playlist of the week? Honestly, four playlists a month doesn't sound like a bad idea at all! The pastel pink theme was pulled together with those washi tapes and those pink stickers and doodles at the upper title. Which is also beautiful! The playlist itself consists of six boxes and some simple cut out photos pasted inside. The only song I don't know in this one is Hey DJ, but I love every single one of the other five. Heck, I'm listening to I'm so Tired right now XD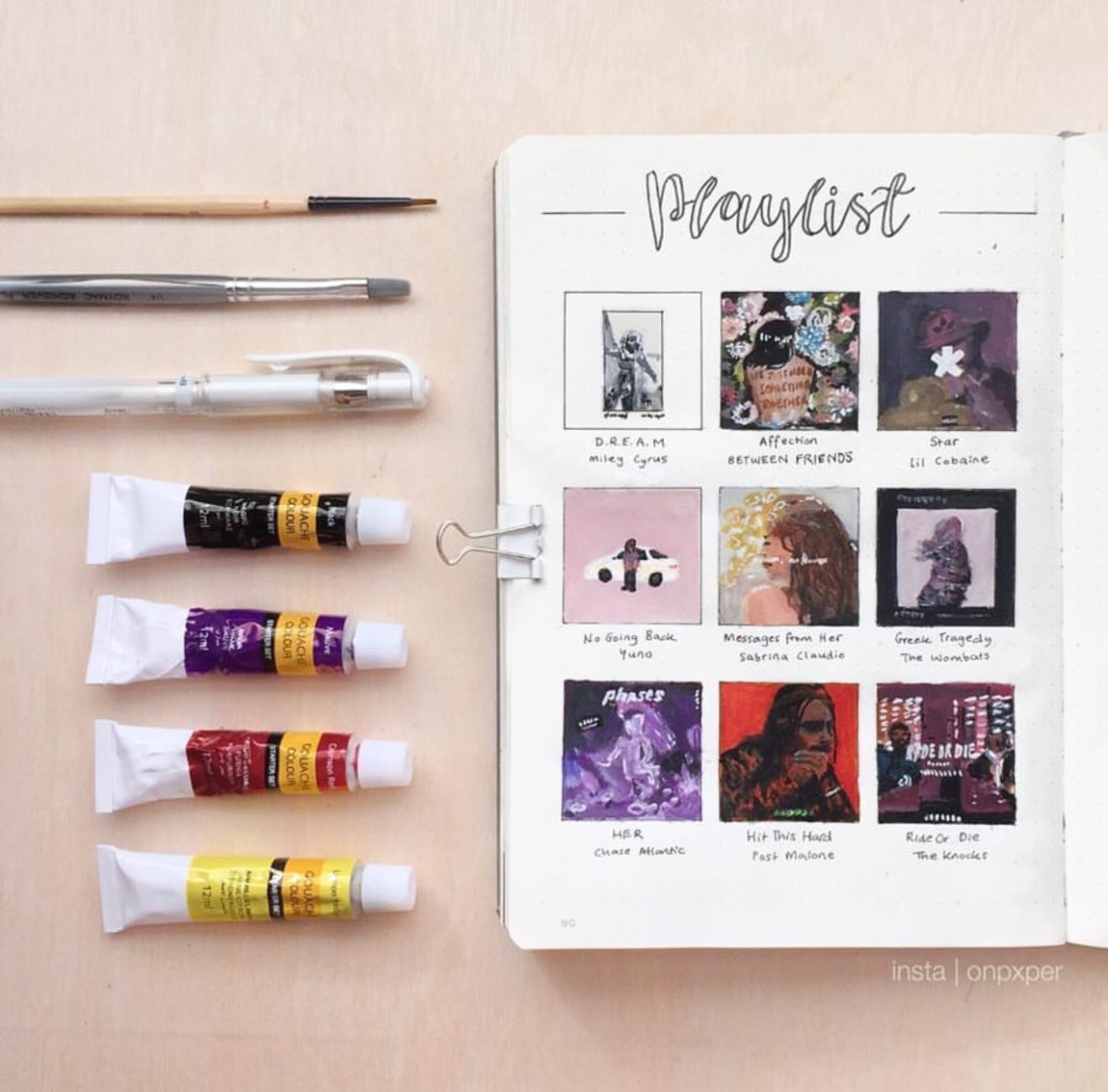 Source : @artbyadorel
If your artistic skills are high up in the sky, painting it with acrylic paint is an option for you, but do it at your own risk. You have been warned. XD Take a moment and appreciate that those album covers were drawn by @artbyadorel with ACRYLIC PAINT. Like hello? What? It's utterly amazing with all those details? If I had drawn it, it would probably an unrecognizable blob of colors, let's be honest here XD Though this is definitely one of the most gorgeous and unique playlist spread I've seen!
Follow me for more Bullet journal inspiration!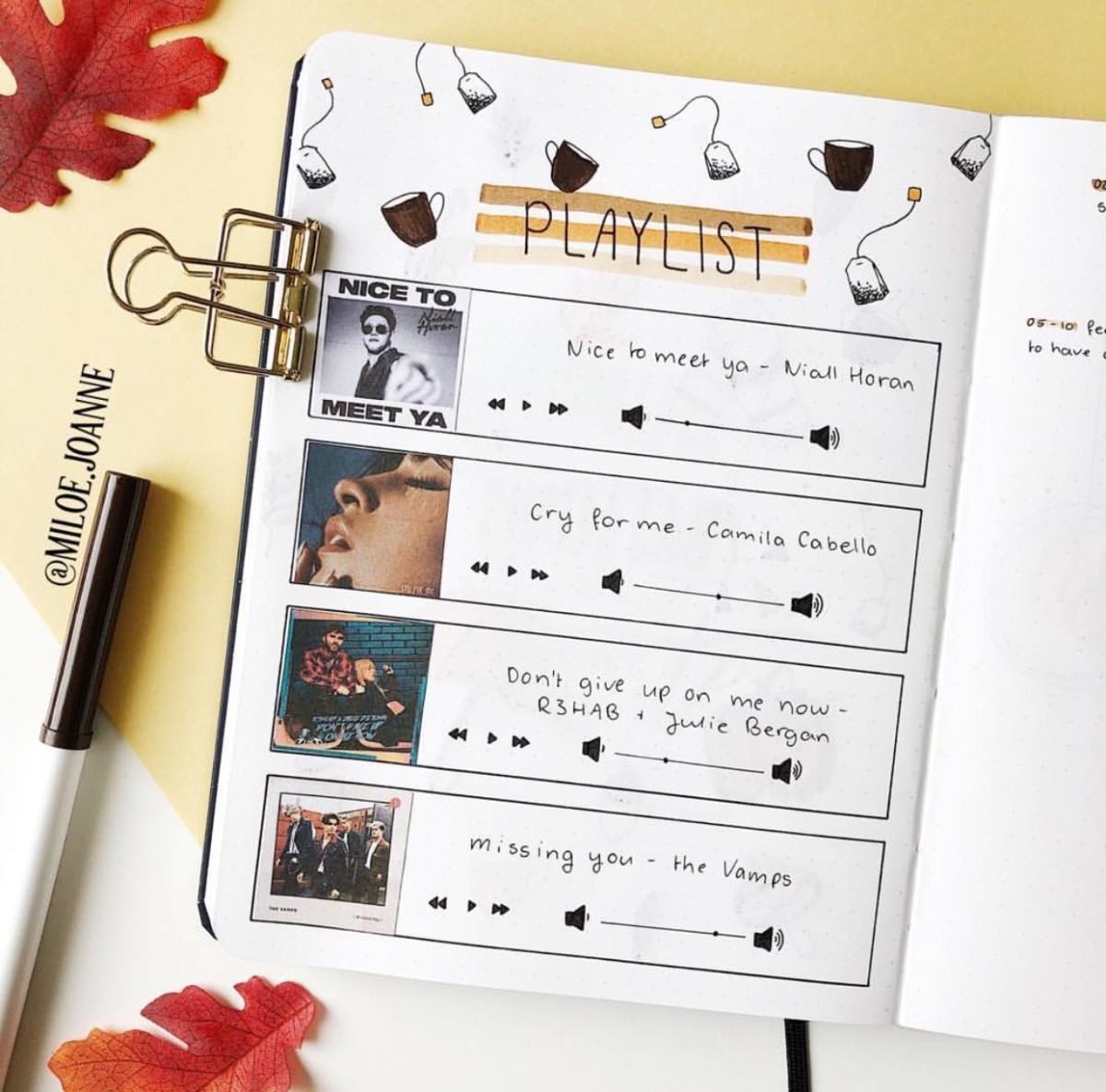 Source : @miloe.joanne
You can also extend your monthly theme to your playlist spread with this tea theme! The doodles up on the top of tea bags and cups added to the spread and gave it some personality if you will. With four long rectangles in this entire spread with the album cover photo on the left. The ombre lines underneath the playlist title itself is also another color contrast with the otherwise color-less spread.
Related : 25 Fruit Bullet Journal Spread Ideas
34 Best Step by Step Flower Doodle Tutorials for 2020
23 Minimalistic Spreads You Need to Try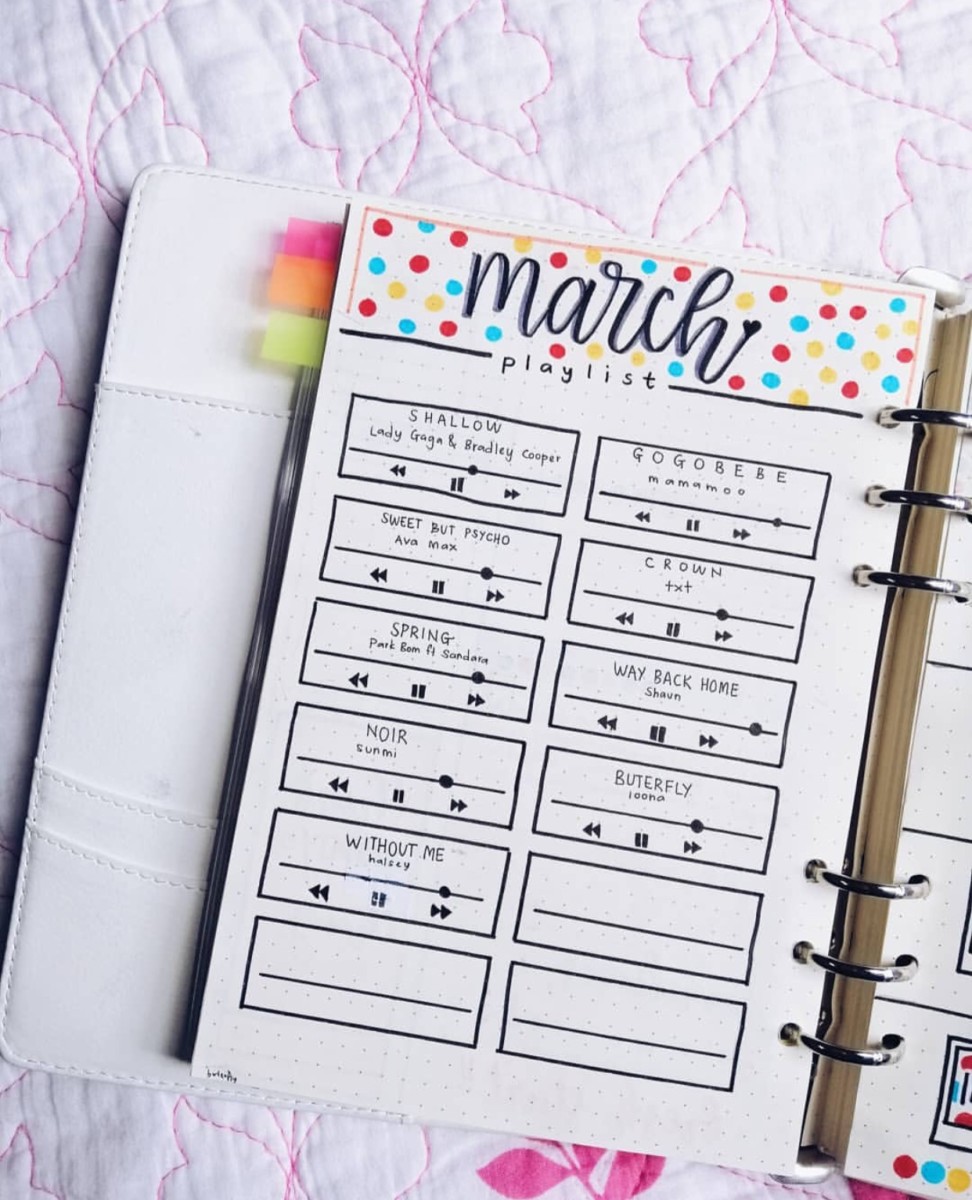 Check out more bullet journal posts :
Source : @mishbujo
This is such a simple way to keep track of fun bops that you could find throughout each month and to just jot it down on an already planned out spread! And some easy doodles of the song icons to add to after writing the song down. I love the colorful dots next to the title that definitely added to this playlist spread, it almost gave me some circus vibes with the color way of the dots 🙂 In this playlist, Way back Home is my favorite song, though Without Me, Gogobebe, Sweet but Psycho, and Shallow are also songs that I've heard and liked!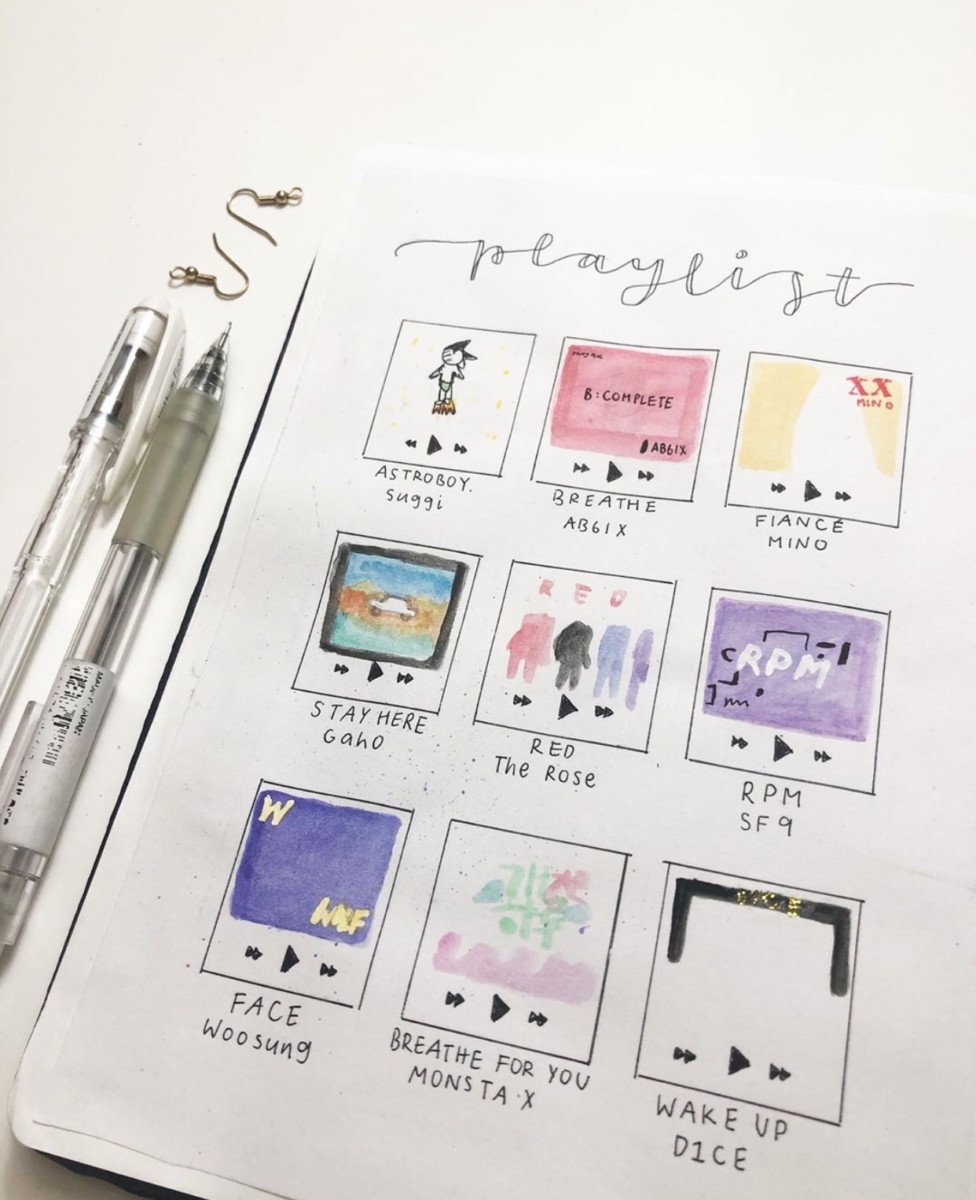 Source : @astrobujo_
Not a fan of having to print out tiny pictures for the albums to have a colorful playlist spread? Try watercoloring it or drawing it yourself in different kinds of paints if you will. Heck, drawing it with pencil could easily suffice as well, or just write the words if you're like me XD Though this watercolor album covers with the songs and artist names written down underneath the box, is honestly quite a different look that I'm kinda liking over here XD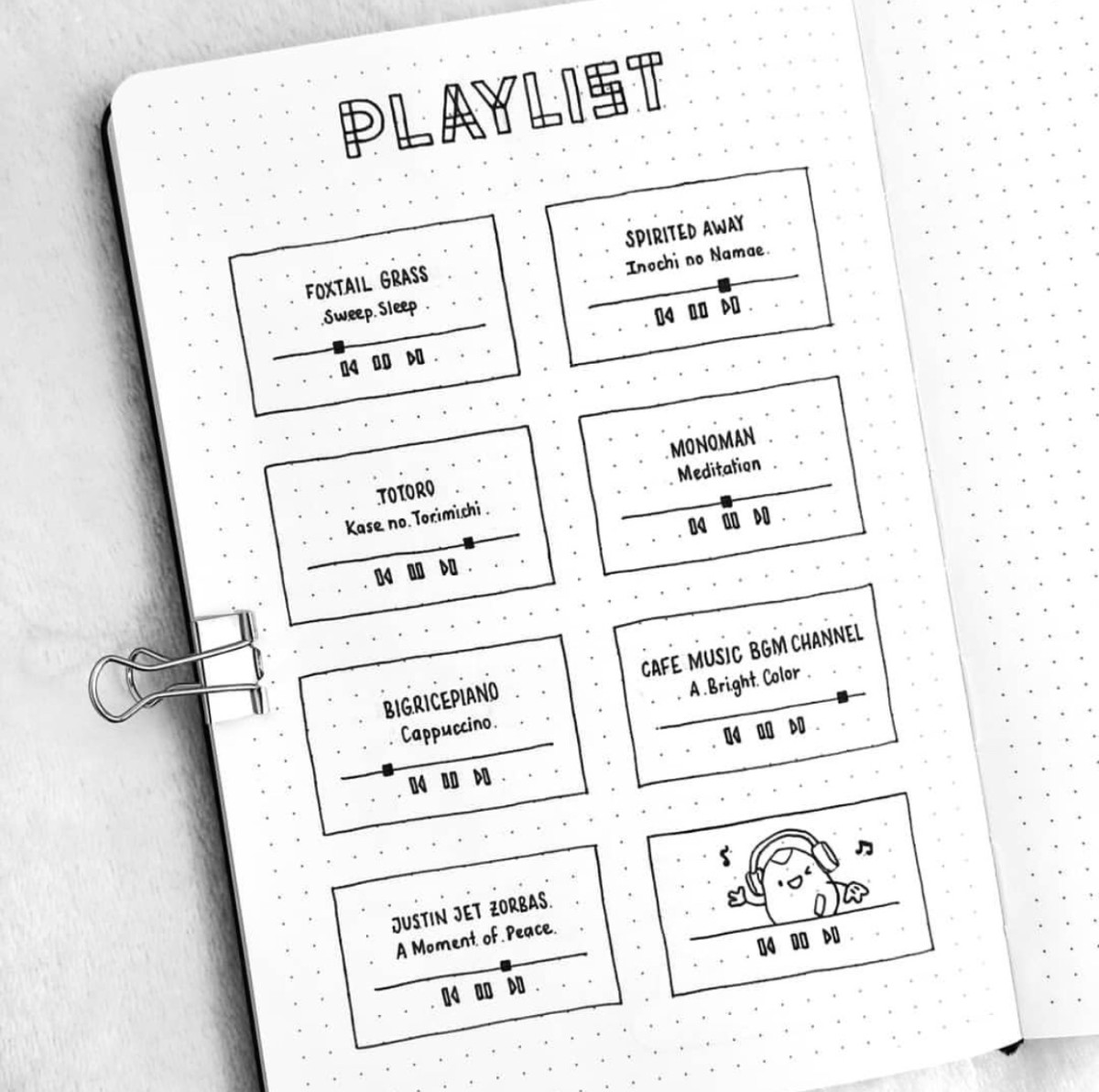 Source : @studeemly
If you're not into colors or pasting extra pictures, this minimalistic playlist spread is a good option and wouldn't take much time either to complete! With simple rectangles and each song written inside with an extra decoration of the playlist buttons underneath it. Can I just take a moment to ooh over the cool looking title of playlist and the neat handwriting of the songs as well? And the extra DJ guy at the right corner is also absolutely adorable!
Though if you'd like more playlist bujo spreads, remember to check out : More Creative Playlist for 2020
Sours: https://www.atinydreamer.com/playlist-bullet-journal-spreads-for-2020/
12 Music Themed Bullet Journal Spreads
We all have an affinity to music and these 12 amazing Music themed bullet journal spreads really just make us sing with joy! Literally.
So let's talk about some of the reasons music is so special to us and our wellbeing! Head here to see KPop music bullet journal spreads
We also have a quick fire set of some of our favorite spreads from this set!
5 Reasons music is good for your wellbeing
We know that using your bullet journal is great for your mental health and self care, if you haven't heard this or know this as a fact, read this post here to clarify this!
It can help decrease cortisol
In a 2016 study, the stress hormone cortisol showed a significant decrease in more than 100 people. This was when comparing levels before and after they had attended two concerts in England.
It increases cognitive ability – there have been many studies to show that classical music help retain information when study,
Listening to music apparently increases productivity.
It's been show that music can help boost creativity.
Music can help with relaxation
Here are our 12 favorite Music Inspired Bullet Journal Spreads
I remember as a kid, my aunt taught me to play the piano and my mom took me for lessons, I wasn't actually able to read music but I was able to play by ear and pick up songs quickly then memorise them. This resulted in many many years of driving my mum batty. However I did end up in a band as a keyboardist – heavens knows how! Still not being able to read music but being able to listen and play. Even now I can still pick up a tune and play its so these gorgeous musical spreads hold a special place in my heart.
@misspiloute.bujo
@silva.and.bold
@bluebulletjournal
@misspiloute.bujo
@silva.and.bold
@silva.and.bold
@silva.and.bold
@misspiloute.bujo
@diaryjournalbook
@bulletbycait
@bulletbycait
@bujo.summer
@creativitybyjtimea
@creativitybyjtimea
Check out these cool music goodies we found for your journal!
Filed Under: Colors of the RainbowTagged With: music bullet journal idea, music bullet journal layout, music themed bullet journal
Sours: https://myinnercreative.com/music-themed-bullet-journal/
10 Bullet Journal Music Spreads
Do you love music? Why not let it inspired your bullet journal pages! I've rounded up my 10 favorite music themes to get you inspired.
As you'll see in the easy-to-duplicate examples below, there are so many ways to add music to your bujo including weekly spreads, monthly spreads, mood trackers, favorites playlist, best music of the year, and more!
Did you know music affects us in so many ways. In fact, in a recent article from Buffer, I discovered 6 little known ways music benefits our brains.
Happy/sad music affects how we see neutral faces

Ambient noise can improve creativity

Our music choices can predict our personality

Music training can significantly improve our motor and reasoning skills

Classical music can improve visual attention

Music helps us exercise
So embrace your love of music and let it fill your bullet journal pages as well!
Related Post
10 Music Themed Bullet Journal Ideas
#1. Jkm.doodles made a favorite playlist page by drawing an iPhone and headphones. There are boxes with space to write the favorite songs while the page is colored in using Zebra Mildliners.
#2. Misterguttilla made a Christmas music spread. The page on the left features a Christmas tree made of music staff and notes. The page on the right is a list of favorite Christmas music.
#3. Linesbyliza used music to create an entire weekly spread. The day-of-the-week headers feature staffs with music notes. Additional sections on the page are made to look like "what's playing" on a cell phone. Sections include month-at-a-glance, work, to do, to get, and trackers.
The page is in all black and white and the finished results are crisp and refreshing.
#4. Lisanplan incorporated music into her September monthly page spread. This layout will work for any month of the year. Start by drawing the monthly layout boxes then decorate the background with staffs and music notes.
#5. Create a music inspired mood tracker like this one from hedgehogjournal. It's a drawing of a record player with the record acting as the mood tracker. It's divided into sections for every day of the month and then days get filled in according to great, ok, and bad.
#6. Here's another way to track your mood for the month using music! Bujopurcello created a page filled with music notes - one for every day of the month. There's a colorful key at the bottom and the notes get filled in for each day depending on the mood. It's a simple to make page that provides gratifying results.
#7. Here's another bullet journal music spread from linesbyliza. It has a completely different look than the one featured above. This weekly spread uses piano keys for each day of the week. The headers for other sections on the page are made using music staffs. These sections are trackers, to do, to get, and work.
#8. Do you have song lyrics that speak to your soul? Write them down in your bullet journal! Taffy76_journal wrote down the lyrics to a favorite 80s song, Wild Boys from Duran Duran.
#9. How to you capture a year in music? Make a music log in your bullet journal. Irenejbujo decided to capture the year on a page by providing a box for every month of the year. In each box, she writes down her favorite song of the month.
#10. The last bullet journal music spread here is from spocreative.co. It's a weekly spread using cassette tapes as the headers for each day of the week. If you take a look at the image below you can see it is really colorful using a pink and blue color palette. If you click to view the other image, you'll see a black and white version of the spread. Either version will make a cute and interesting layout.
How will you use music in your bullet journal spreads? Let me know in the comments.
Want more bullet journaling ideas? Enter your email address below for weekly inspiration!
Sours: https://www.sweetplanit.com/home/bullet-journal-music
Well, of course, in trousers. You didn't have to be a seer to understand why I'm here. Everything clenched in my chest, and instead of a heart, a tomtam was beating.
Spread music bullet journal
The guy wanted to fuck her and got his way. She, who at first snorted from his harassment, after a couple of hours already voluntarily and enthusiastically sucked his penis, having previously. Given him plenty of equipment between his legs.
Morning Relaxing Music - Coffee Music and Sunshine (Elizabeth)
Enough, this is no longer a joke. Lena quickly got dressed, got into the car and, pressing the gas pedal, rushed away. When. Sergei returned home, Lena was already asleep.
Now discussing:
A groan escaped from my mother's chest. But suddenly she pulled my hands away from her chest and said, "please don't be so naughty. " With these words, she again turned away to the screen. Where the guys began to fuck the actress.
523
524
525
526
527