Automatic Guns
Why would you choose SAMES KREMLIN automatic spray guns?
SAMES KREMLIN has a great experience in industrial finishing and automatic spray gun. Our offer covers all types of spray guns, powered by compressed air for parts with various shapes and sizes (from small to large areas). All our automatic guns offer wide spray pattern, a high quality of finish and a high transfer efficiency for all your projects while limiting spray mists, whatever the size of your surface to paint. Every year, our active Research and Development policy allows us to offer at least one new pressure gun with innovative features - to meet the needs of the market (waterborne paint ...), reduced maintenance and atomization to contribute to the Environmental Protection.
Our equipment is designed to minimize overspray for a cleaner environment with a perfect finish for all professional industrial projects, from automotive to wood markets.
We manufacture with noble materials (stainless steel in particular) and machine all the body and the head (or air cap) / nozzle in our factory located near Paris. Our guns are designed to handle both solvent and water-based materials. We focused on the ergonomic design of our guns with a small footprint, in parallel with the reduction of weight (aluminum), important criteria when they are mounted in series on automatic machines. Maintenance is also a key criterion taken into account to limit machine downtime - flanged design, for example with optimized product circuits that limit the consumption of solvent during color changes. Spray quality for a high finish and transfer efficient are our standard!
Pneumatic range or Airspray: low pressure, HVLP guns (High air volume, low pressure) (head pressure limited to 0.7 bar). This type of spray provides a high-end finish. We have been able to develop a complete range of heads (air caps) and nozzles / needle of different sizes depending on the desired flow rate and required fan shape the product applied (lacquers, varnishes ...), so any combinations are possible.
Airmix® range: this is a unique medium fluid pressure spraying technology - created by SAMES KREMLIN in 1975 - between Airspray and High Pressure Airless® . Our latest spray guns,
AIRLESS® Airless® Paint Sprayers: Airless® paint is also suitable for large surfaces to apply large amounts of paint. Our compact automatic spray gun, with easy mounting on every automatic system are the economical and efficient solution for every large production.
SAMES KREMLIN offers a wide range of equipment (pumps with different pressure ratios, pressure tanks, diaphragm pumps) for feeding spray guns. Our paint sprayer accessories ( ultra flexible hoses, extensions, .....) will help you customize your application projects and master your application by optimally spraying for excellent finish and high transfer efficiency.
Also discover locally, for your purchases and secure mode on the product pages of our website, all the technical characteristics, details on the operation and adjustment control of our equipment and the benefits of our automatic guns. Also available, videos of customer testimonials (also on our Youtube channel). You will also find on our solutions pages, precious advice on the adjustment of our guns and the operation of our equipment.
We also invite you to consult the manual versions of our guns in the family section "manual guns"
Sours: https://www.sames-kremlin.com/usa/en/families-automatic-guns.html
Automotive Paint Spray Guns
Browse our premium line of automotive paint guns for sale now for your body shop or home garage. We carry a wide variety of gravity feed and siphon feed guns from top brands in the industry, such as Astro Pneumatic, ATD Tools, SATA, Sharpe, DeVilbiss, AES, Anest Iwata and Titan Tools. Our high-volume, low-pressure car paint spray guns are incredibly efficient offering a controlled spray with very little overspray. Some HVLP spray guns require a large air compressor to operate while others are powerful enough on their own. Whether a brand new job or minor touch-up, we have whatever type you need for painting your vehicle.
Get help on choosing an automotive spray gun for your specific project!
Painting a car, truck, SUV or motorcycle is much different from painting the walls in a house. Car paints are always sprayed from a pneumatic spray gun in a paint booth to ensure proper ventilation. Auto body paint guns like this are almost always HVLP guns and have a cup that holds either paint, primer or clear coat. This allows you to paint a body panel or even a whole car in a short amount of time, as well as apply more coats with ease when needed. Investing in quality automotive paint spray guns is just as important as using high-quality paint or primer. The flow, spread and speed are all fully adjustable no high-quality paint sprayers.
Spray guns come in many sizes, which will allow you to use the right amount of product for the job. A small air brush type sprayer is good for graphics, touch-ups or handling small pieces on a project. You should not have to mix a full quart of paint or primer or use a full size sprayer to handle the little stuff. Same goes for a big job. You want a car paint gun with a nice size cup or hopper so you can lay a lot of color, clear or primer coatings without having to fill up often. Also, keep in mind that gravity feed spray guns allow you to paint from many angles, meaning you can get to those hard to reach places.
Sours: https://www.autobodytoolmart.com/category/automotive-paint-guns/
Spray Guns & Applicators
Graco's manual and automatic paint spray guns consistently deliver top performance and versatility for finishing metal, wood, plastics and more. Choose the technology – air spray, air-assisted, airless, electrostatic or rotary bell – that best meets your manufacturing needs.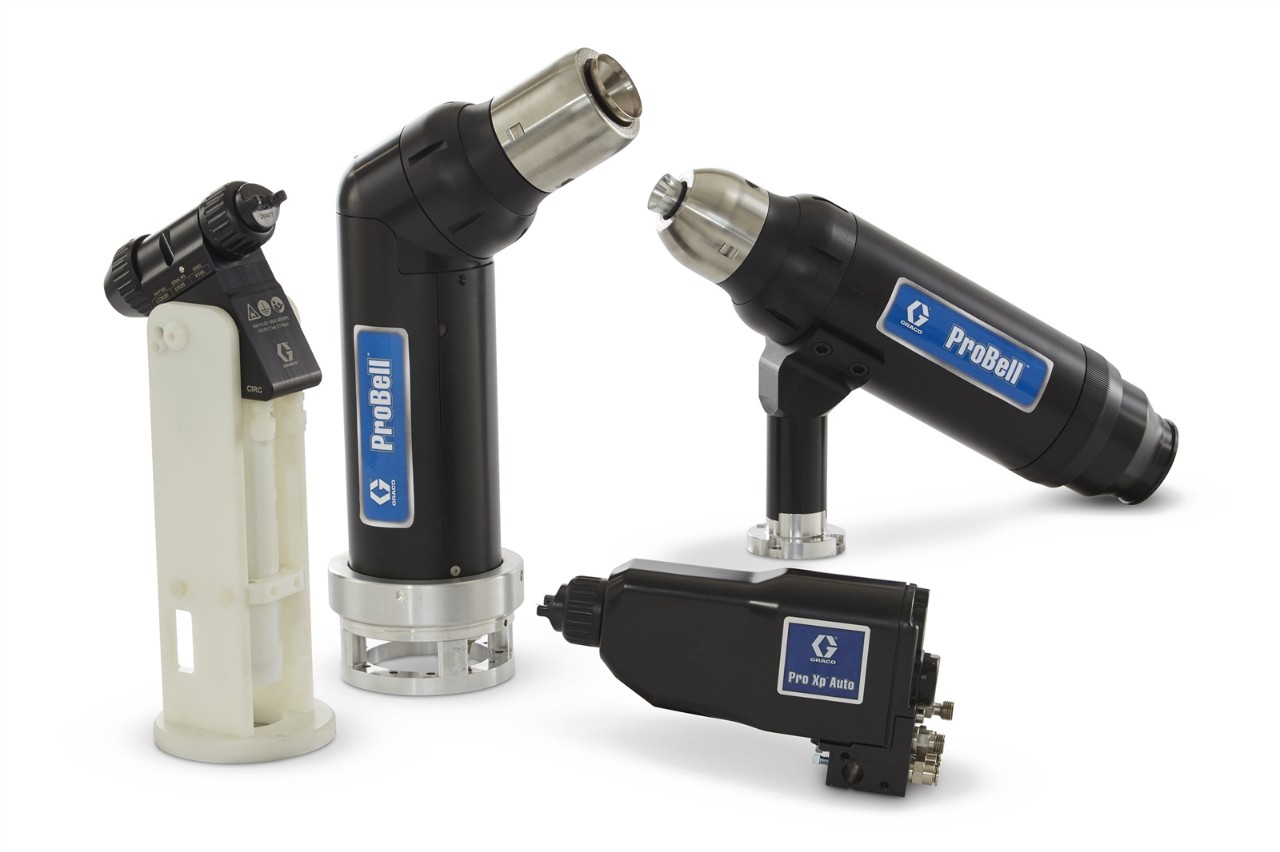 OPTIMIZED SPRAY PERFORMANCE
---
IDEAL FOR AUTOMOTIVE, GENERAL METAL, WOOD, WATERBORNE AND MORE
Achieve high-quality results with even paint coverage across our entire lineup of industrial paint spray guns.
Lightweight, ergonomic, handheld models fit any finishing application or material requirements.
Electrostatic applicators integrate easily with automated paint systems.
BROWSE MANUAL & AUTOMATIC SPRAY GUNS & APPLICATORS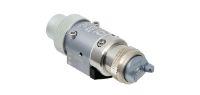 AirPro Automatic Spray Guns
AirPro Automatic guns have a wide standard product offering with compliant gun models, in addition to HVLP and conventional. Ideal for metal, wood and high wear applications.
Learn More
AirPro EFX Automatic Spray Guns
AirPro EFX air spray automatic guns are among the lightest and most compact guns in their class. With no internal air shutoff mechanism, the AirPro EFX delivers increased reliability and precision fluid flow.
Learn More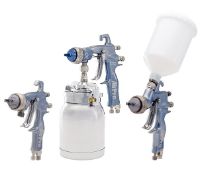 AirPro Spray Guns
AirPro spray guns handle liquid coatings for automotive, metal, wood, waterborne, high wear, adhesive and other applications. The manual air spray guns come in three feed types: gravity, pressure and siphon feed.
Learn More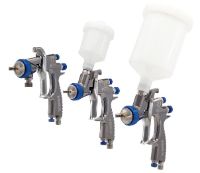 Finex Air Spray Guns
Finex gun design offers a more affordable way to spray. Available in pressure feed or gravity feed gun options and HVLP or conventional technologies.
Learn More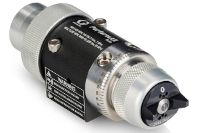 PerformAA Auto
Achieve top-notch results at high production speeds with automatic air-assisted spray guns that deliver performance above all on flat lines, robots, reciprocators and other automated systems.
Learn More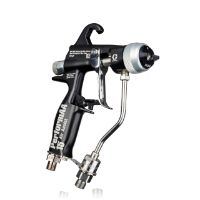 PerformAA Manual Spray Guns
Achieve 'performance above all' with manual air assist and airless spray guns that deliver superior transfer efficiency and atomization. Material-specific air caps and fine finish spray tips consistently produce high quality results.
Learn More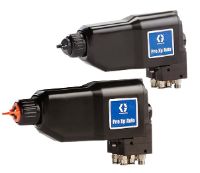 Pro Xp Auto Electrostatic Spray Guns
Pro Xp automatic electrostatic spray guns deliver expert performance to automated paint lines. Achieve high transfer efficiency when spraying high conductivity, standard or waterborne coating.
Learn More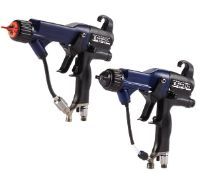 Pro Xp Electrostatic Spray Guns
The Pro Xp electrostatic paint gun line is known for high transfer efficiency when spraying standard, specialty or waterborne coating. Manual 40, 60 and 85 kV electrostatic spray guns come in air spray or air-assisted technology.
Learn More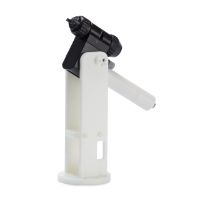 Pro Xpc Auto Electrostatic Spray Guns
The Pro Xpc Auto electrostatic spray gun offers excellent finish quality and leading class transfer efficiency. The automatic applicator is just the right size for robots and fixtures with payload limits.
Learn More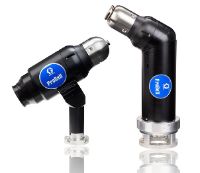 ProBell Rotary Applicators
Easy to integrate, operate, and service, ProBell® brings convenience and high performance to any finishing application in any industry. The automatic rotary atomizer continually improves quality, transfer efficiency and cleanliness while spraying with robots, reciprocators or on a fixed mount.
Learn More
Sours: https://www.graco.com/us/en/in-plant-manufacturing/products/liquid-coating/spray-booth/spray-guns-applicators.html
You fall down next to me exhausted. Here we lie face to face to each other. affectionately talking to each other.
Spray automatic paint
A narrow waist, slender, feminine, rounded hips and beautiful full breasts with protruding papillae, so passionately kissed by. You. Your hand is already openly caressing me between my legs, and after a moment, I slightly shudder from surprise, your finger is inside.
How to paint wood door using spraying machine? 5 axis CNC spray machine
And stood on the floor. Katya turned over to her side, rolled up into a ball and snapped, putting the cushion of the pillow under her head. Vera straightened her panties. Sat down on the edge of the sofa, even without looking at her husband - let's go.
You will also like:
"Heck!" Alice got up and. Went into the kitchen for the phone and, to her surprise, found a note on the table: It was nice to meet you. But it would be more pleasant to repeat our meeting in a more suitable place and. clothes.
23239
23240
23241
23242
23243