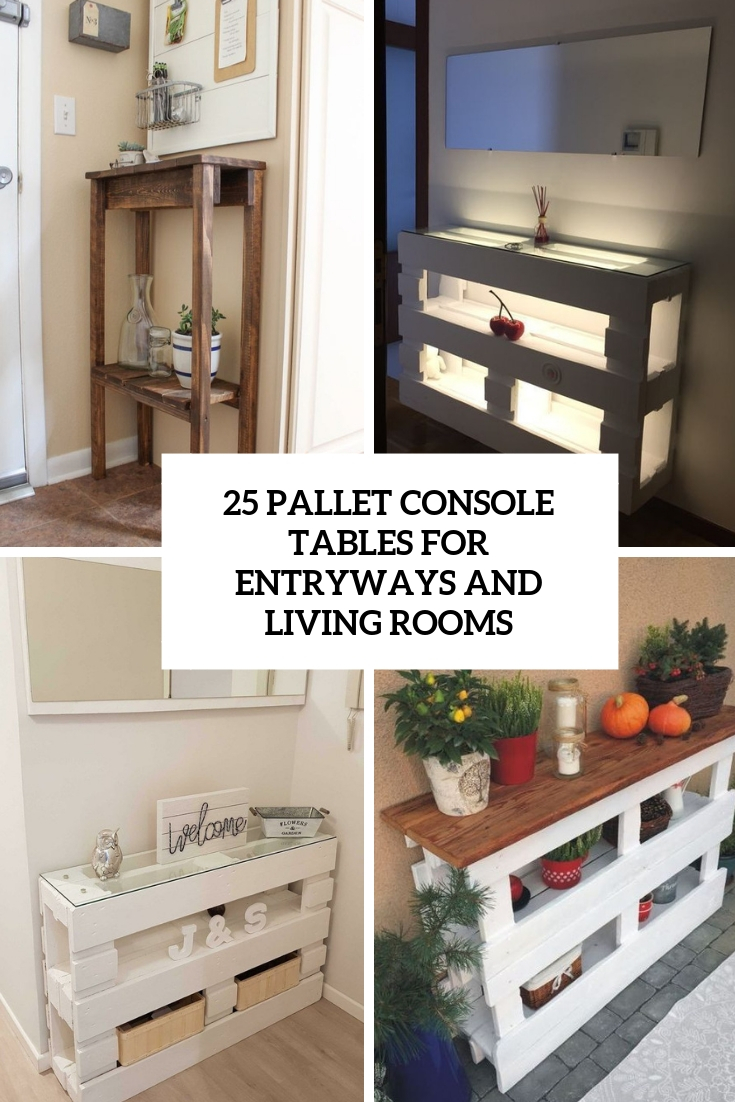 Pallets are perfect to build furniture – they are a ready material for doing that. Pallets often don't require many changes and even if they do – you may strip them to get some wood and build of it. Today we'll take a look at some stylish pallet console tables – most of them are successful DIY projects. The main advantage of pallet consoles is that they feature storage space inside, which is a must for an entryway.
Small Pallet Console Tables
A small entryway or an awkward nook can accommodate only a small and sleek console table, and even if you have a large space but don't need a large console table, prefer a small one. Build a sleek and small console table of pallets – think of your entryway style and choose a design accordingly. It can be rustic, then you'll stain your console in some rich or dark shade. You may also paint your console in some pastel shade or neutral tone and add a stained tabletop for a rustic and vintage feel. If you want a modern industrial touch, go for a metal frame and legs and pallet wood. I like modern pallet consoles with glass tabletops and lights inside – they look very bold.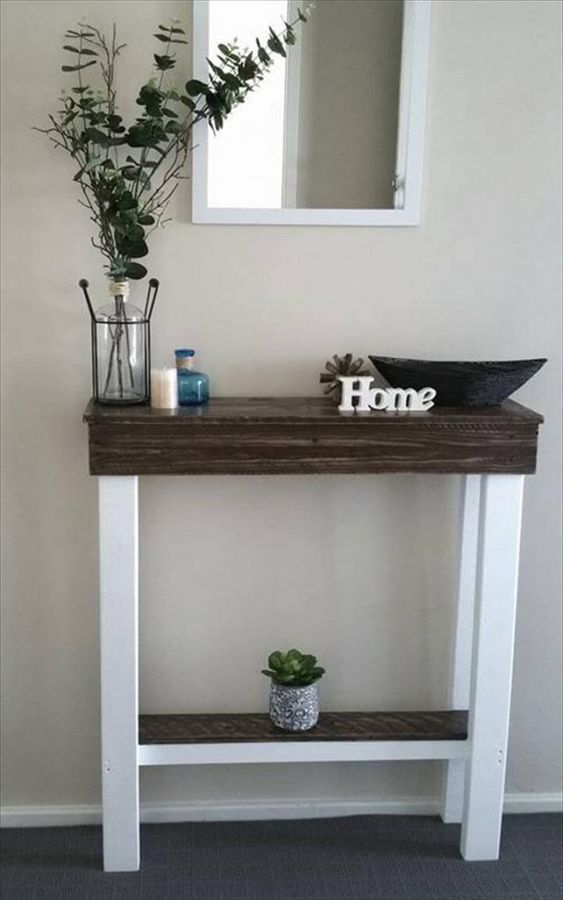 a sleek pallet console with white legs and an additional shelf under the top is cool idea for a entryway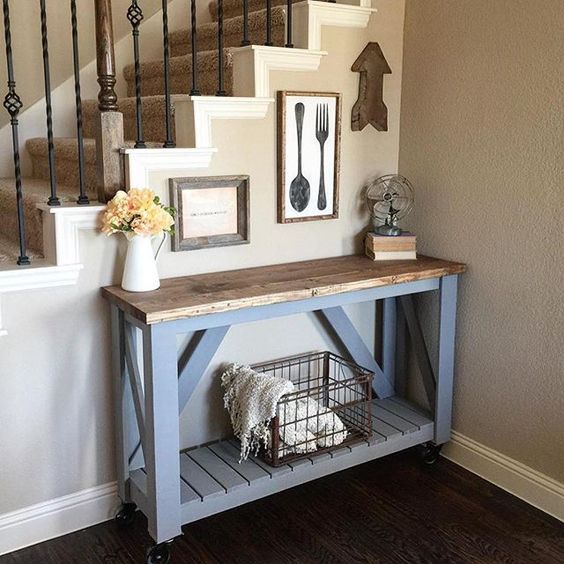 a slate grey pallet console table with a stained tabletop and casters is a timeless option for a rustic space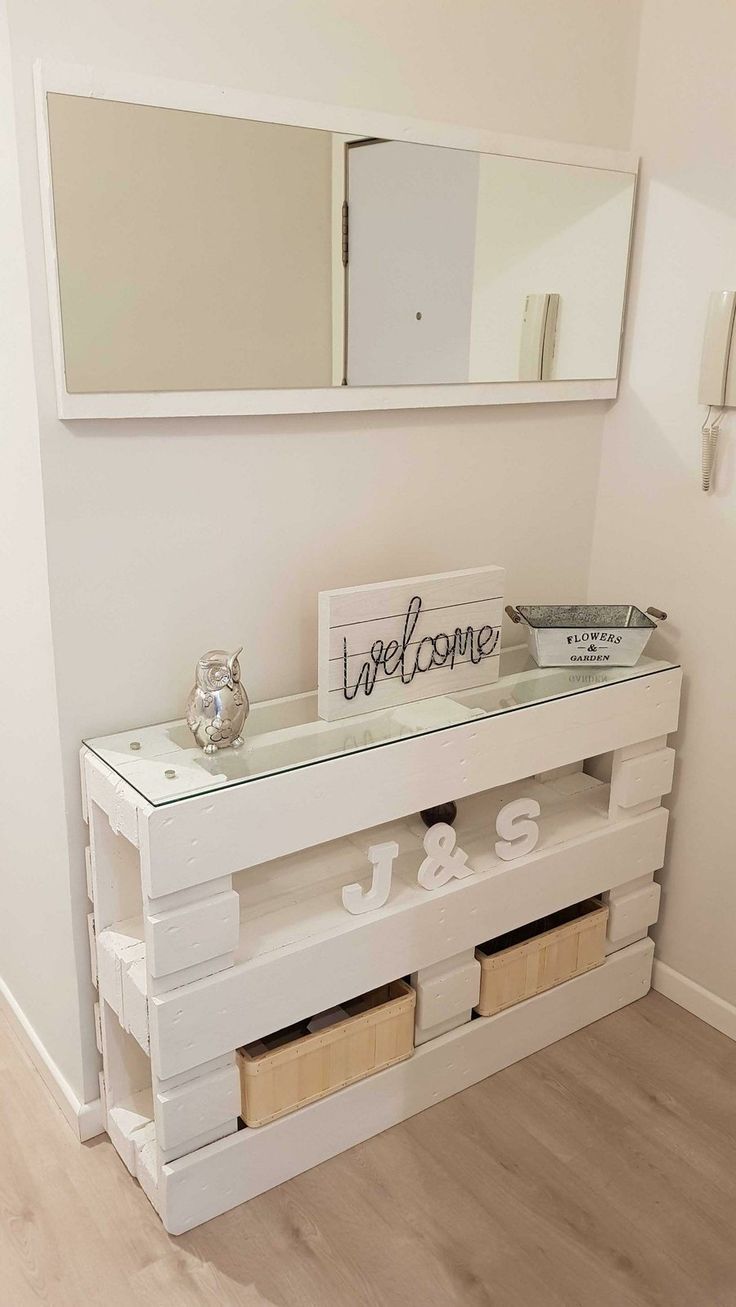 a stylish modern console table made of two pallets, a glass tabletop features much storage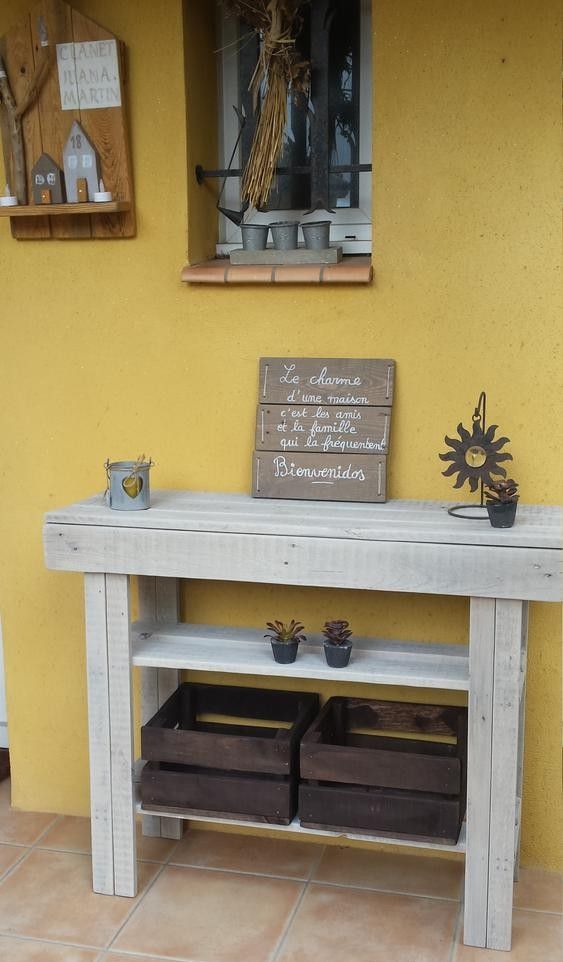 a simple sleek console table of pallet wood painted grey features two shelves for storage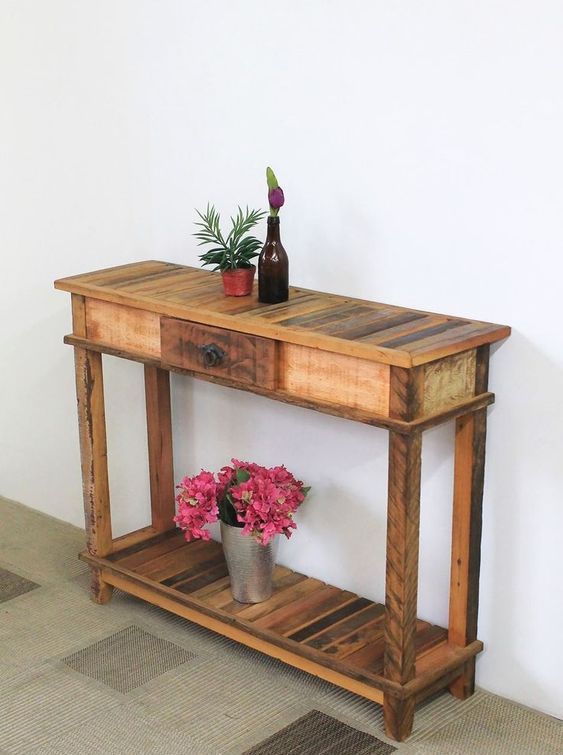 a rustic pallet console with a slatted top and shelf plus a small drawer for a small entryway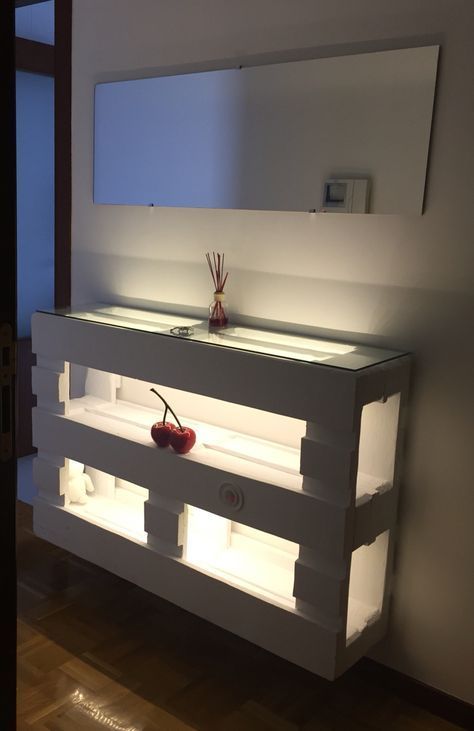 a pallet console table painted white, with much storage space, a glass tabletop and additional inner lights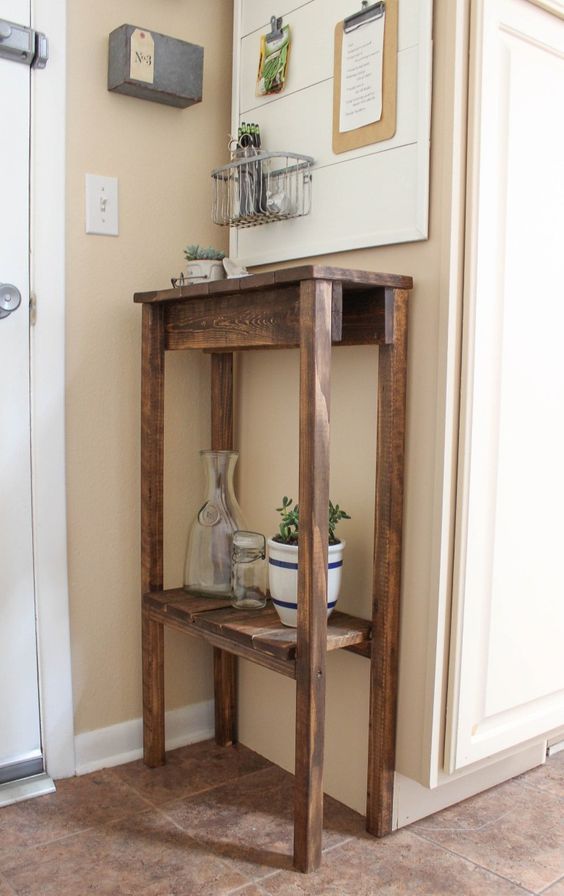 a rustic tall stained pallet console with an additional shelf for storage is a perfect idea for your tiny entryway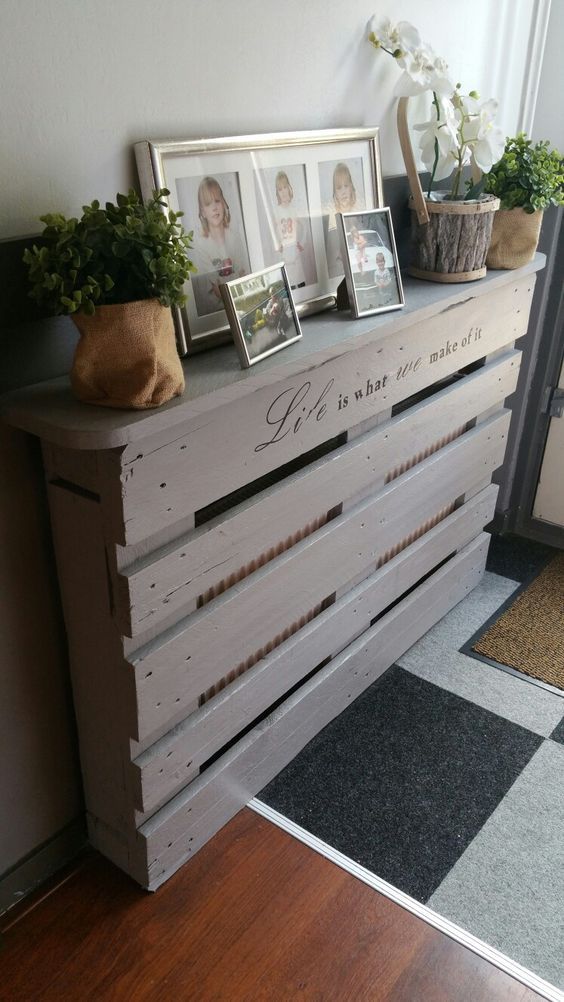 a whitewashed pallet console table doesn't only give a tabletop for storage but also hides a radiator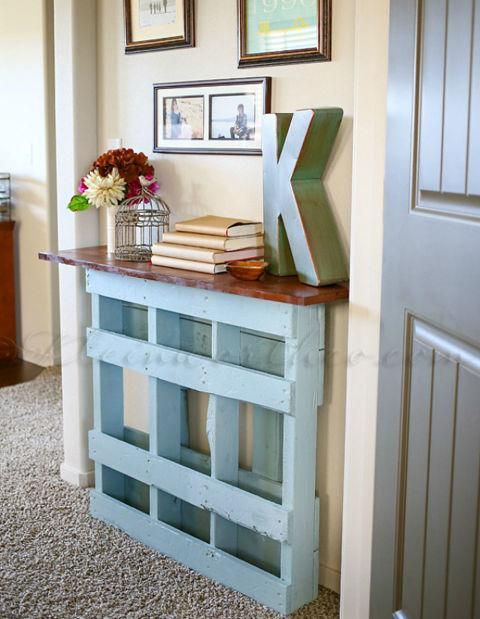 a vintage-inspired blue console table of a pallet with a rich-colored wooden tabletop is ideal for a sleek space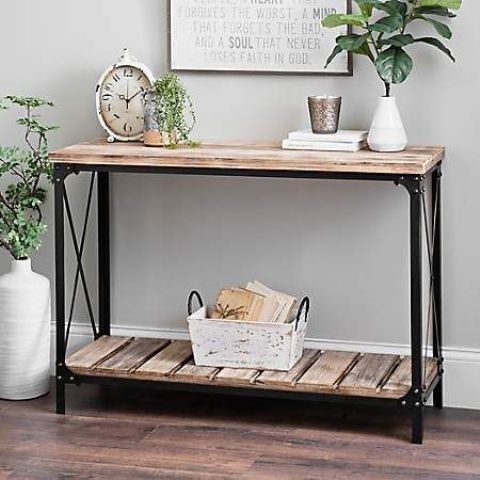 an industrial console table with metal legs and frames and pallet wood will easily fit a farmhouse entryway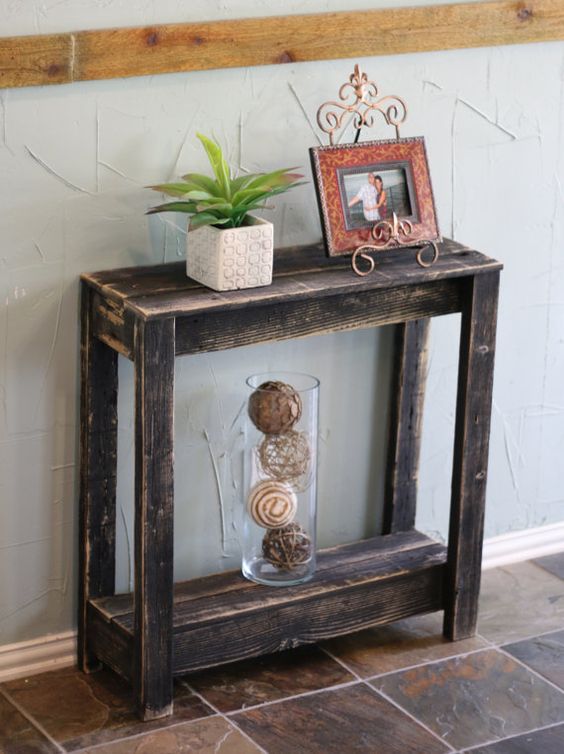 a shabby chic dark stained small console table will be a fit for a farmhouse or vintage entryway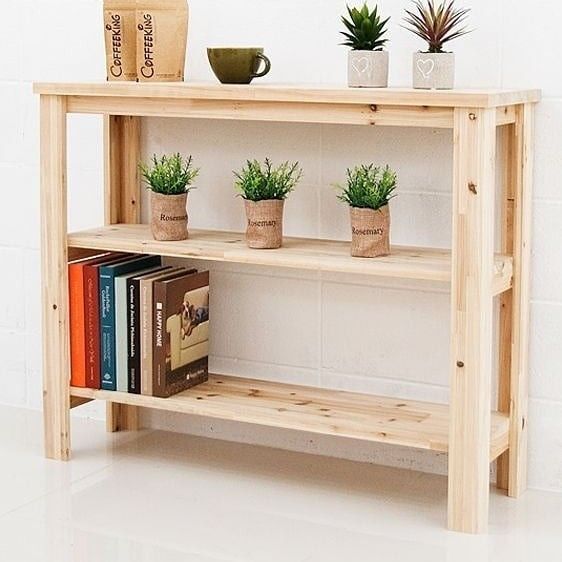 a narrow console table built of pallet wood and stained in a light shade to make it look fresher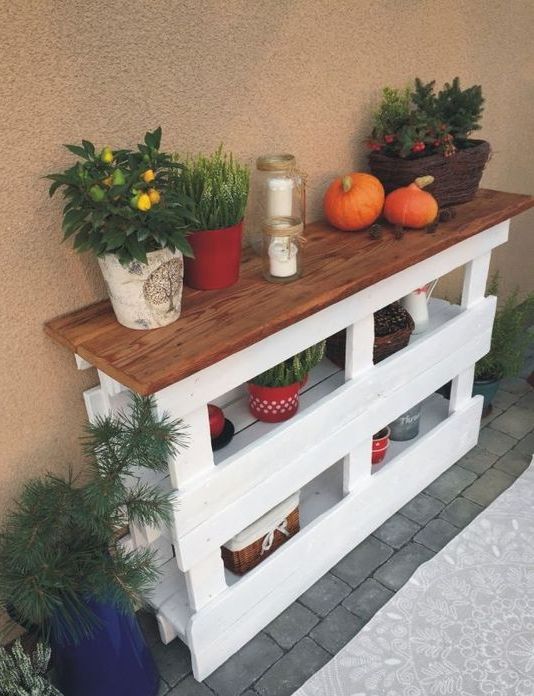 a cozy rustic console table made of two pallets in white and a stained wooden tabletop looks cool
Large Pallet Console Tables
If you need more storage and have enough space for that, go for a large console table – it may be also a fit for your living room, put it behind your sofa. You may stain the piece for a more rustic look – vary the shades of stain to achieve a perfect look for your space. Go for a more industrial feel using decorative nails and metal details. Add additional shelves for storage and even drawers to make your console cooler.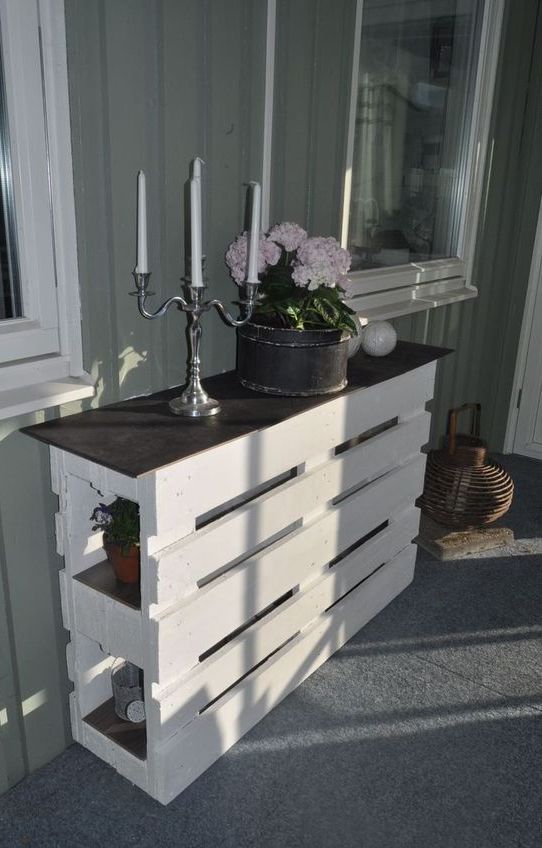 a chic pallet console table of two pieces painted white and a black tabletop looks cool and elegant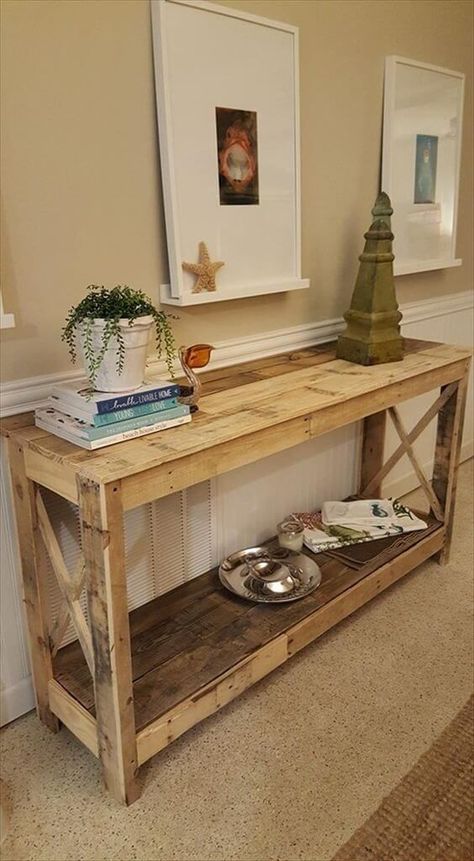 a large rustic console of pallet wood with a shelf and planks on the sides is ideal for a vintage space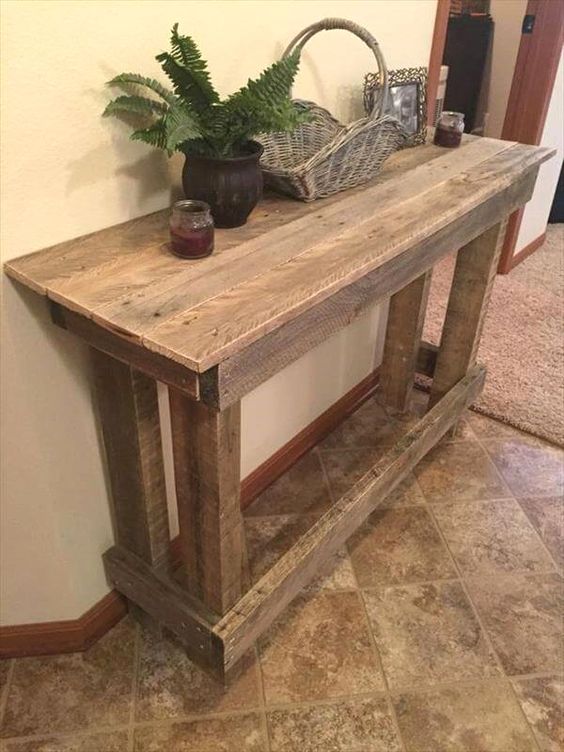 a large rustic pallet console is a cool DIY project, and you may add a shelf underneath for more storage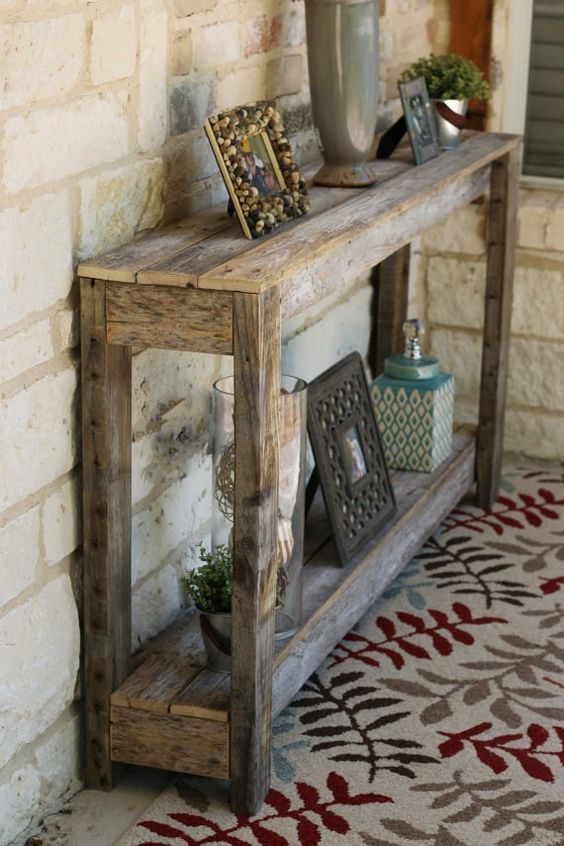 a large rustic pallet console table with a shelf underneath can be built by you yourself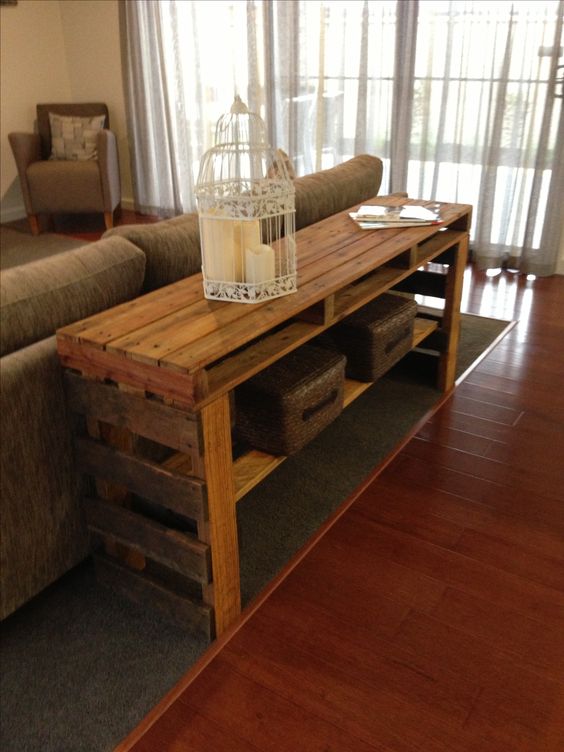 a rich-stained pallet console table with an additional shelf is a great piece to place behind your sofa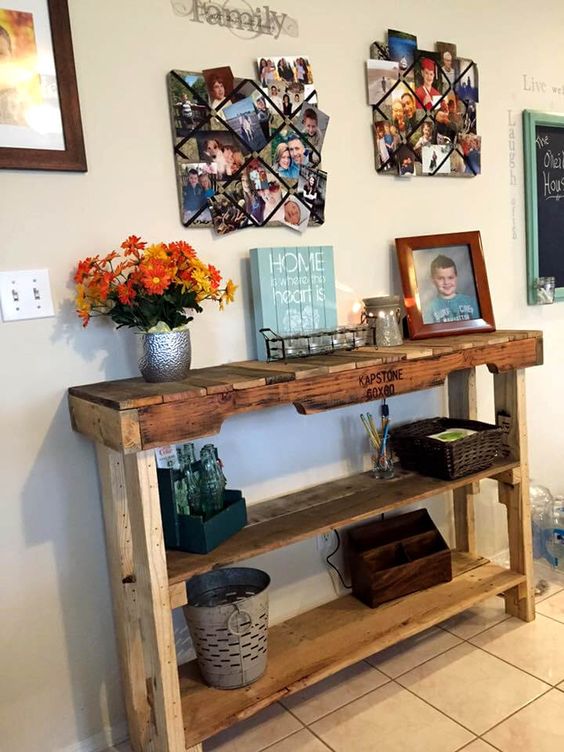 a rustic stained pallet console table with several shelves brigns enough storage space to the entryway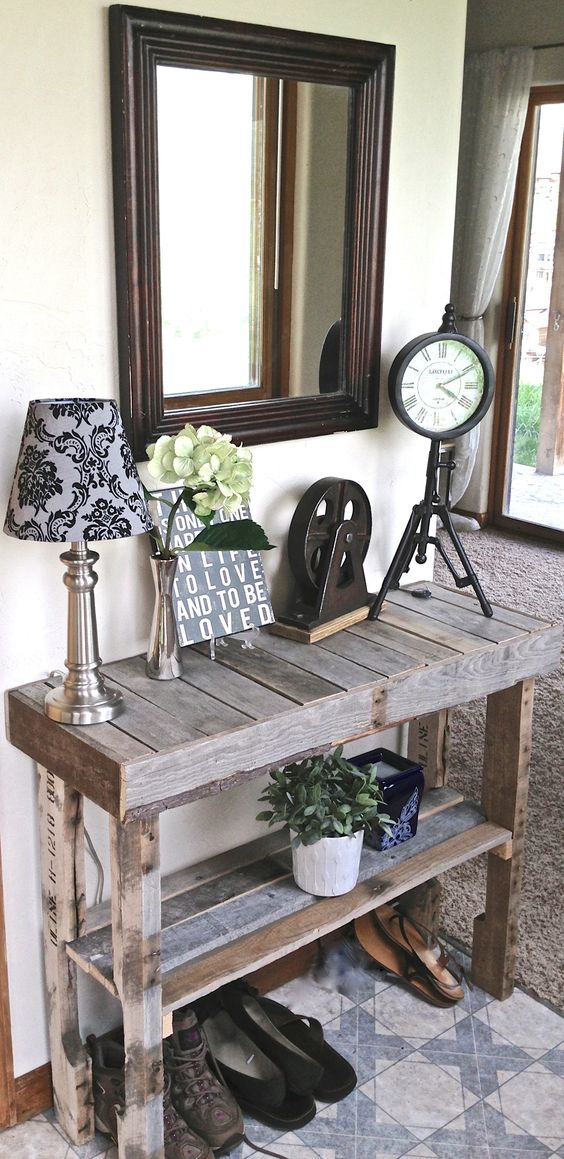 a rustic vintage pallet console table left unstained features a raised shelf, so you may place your shoes under it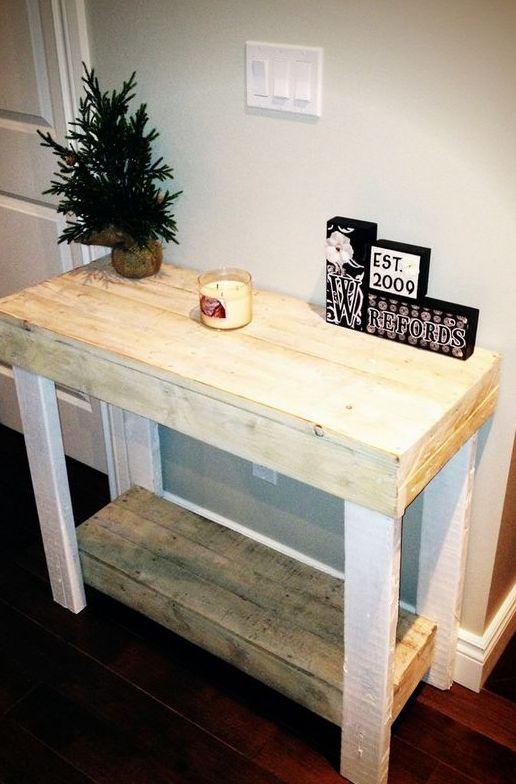 a simple rustic console table built of pallet wood painted white or stained in a light shade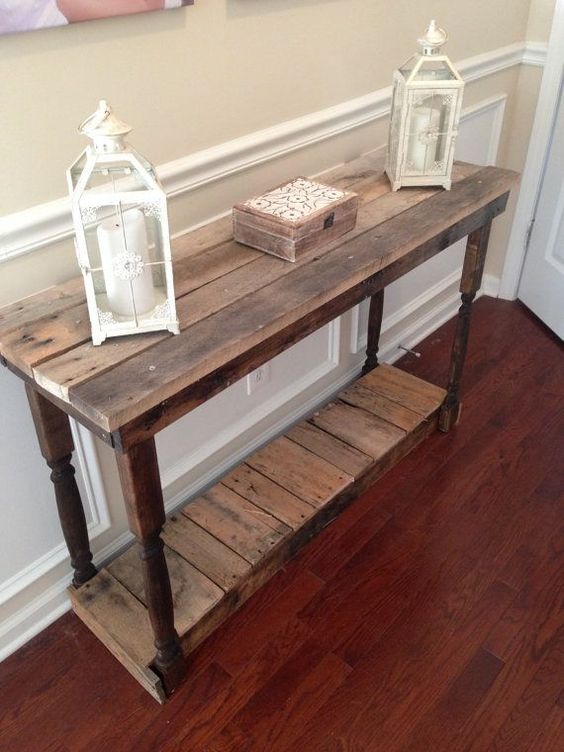 a vintage farmhouse console built of pallet wood and exquisite legs taken from another furniture piece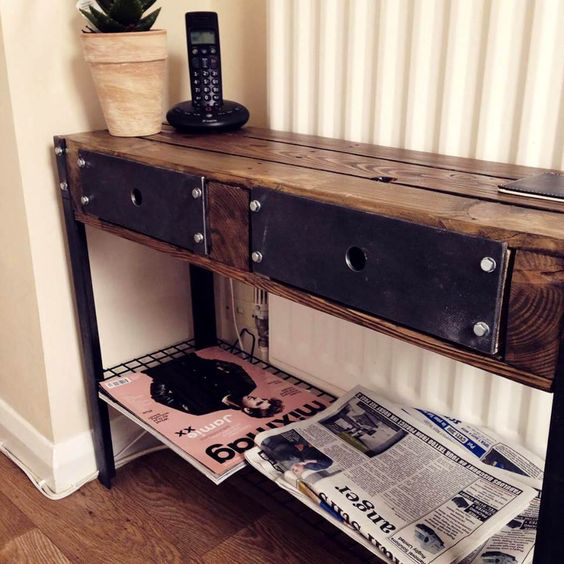 a vintage industrial console table built of pallets and metal details gives much storage space
Sours: https://www.digsdigs.com/pallet-console-tables/
Build a Pallet Table for Under $10
DIYing may save us money, but that doesn't mean that's cheap! Sometimes there are things worth paying for, sometimes there are things worth building, and sometimes there are things that you can't buy so you *have* to DIY! Our guest today had the perfect furniture in mind for her command center, but it wasn't something she'd seen in stores. No problem, Carrie was ready to DIY a perfectly sized pallet table for her little corner, for under $10:
Carrie has the details below, but don't think that you're limited to building furniture when you're using pallets. Get creative and you can build anything (that's why we are DIYers, right?) and build it inexpensively using pallet wood or reclaimed wood,
like a jewelry organizer
a large outdoor flag decoration
indoor shutters
use pallet wood to add character to an accent wall
or the ceiling
or a backsplash, too!
And if you're really feeling the pallet thing, you can even build a deck!
Start simple with a little table like Carrie is going to show you, and branch out from there! Give Carrie a warm Remodelaholic welcome:
How to Build a Pallet Table
by Carrie from Curb to Refurb
Hello all you lovely Remodelaholic fans. I'm Carrie, the voice and DIY-er over at Curb to Refurb. I feel like I should share a little about myself being that I'm new. (It's like a blind date, except that I'm in my pajama pants and not wearing makeup).
My husband and I live in a not so fabulous 1960's home with our 3 children, 2 dogs and a cat. We live in a constant state of "fixing up" around here. Had we loved avocado green siding and pink bathtubs, this house would have been perfect!
My absolute favorite thing to do is mosey through thrift stores and scour estate sales for that perfect treasure. I've gotten pretty darn good at turning old junk into something beautiful and useful while maintaining a very tight budget. Our motto is don't buy it: D-I-Y it! My favorite project to date is a cheese box I transformed into a shelf for $2.
When it came time to fix the kitchen eye sore we called the command center, I knew we were going to build a table – of sorts. In my head, I had an idea of what I wanted. Problem was, I have never seen a table like my idea in a store. Problem No 2 – I had about $10 to make this happen. Keeping in true Curb to Refurb style, we hopped in the truck and went on a pallet hunt! We also stopped by Home Depot and picked up a few supplies.


I tried to sketch a picture of my vision so my hubby and I would be on the same page, but my scribbles only left him scratching his head and mumbling something like, "I'm not a carpenter, ya know." Winging it was our best bet. I picked up six of these 2×2 Douglas Fir posts. They are 3 feet tall. Four were used as legs, one was used for the shelf and the other served as a backup.
We started by pulling apart the pallet. I say "we" but in reality my hubby took charge. He then cut the pallet wood to the length of the table. Our table is 20 1/2 inches long. Then we screwed the boards to the legs using basic wood screws.

We attached boards to the legs, and then added the pallet wood to make the tabletop. These boards were cut to 8 1/2 inches long. My hubby pre-drilled holes just to prevent the pallet wood from splitting when turning the screws. We secured each board with four screws. (A little overkill? I think so.)
Remember the extra leg I bought? We cut it in half to form the bottom shelf. We just screwed them in to the legs and simply added more pallet wood.
Don't worry about the legs! Once you screw in the boards to form the shelf, the legs will straighten.
The bottom boards remain the same length as the top – 8 1/2 inches. They were attached using the same -overkill city – method as the top.
Excuse the terrible dark photo and filthy baseboard. I was just checking out how it would look in its new home.
I then took the table outside and gave it a once over with the hand sander and a coat of Minwax Provential stain.
It turned out exactly how I envisioned.
We now have a cute little command center and a custom table to hold notepads – and of course – succulents!
This little table was so easy to build and the best part, it cost about $10.
I hope you all were inspired to make your own pallet table. You could create any size that fits your space, in any color, or you can try adding casters to the legs or a cute knob to the front. Just imagine the possibilities!
Thanks Remodelaholic, and remember, don't buy it: D-I-Y it!
—————————————-
Carrie, thank you so much for sharing!
Remodelaholics, head over to Curb to Refurb to see more from Carrie, like this great shelf and awesome light in her bathroom makeover.
Remodelaholic is a participant in the Amazon Services LLC Associates Program, an affiliate advertising program designed to provide a means for sites to earn advertising fees by advertising and linking to amazon.com. Please see our full disclosure here.
Filed Under: Contributor, Furniture Building Projects and Plans, How To, TablesTagged: Console tables, DIY table, Pallet Wood, reclaimed wood, Wood
About Cass
Cassity started Remodelaholic with her husband, Justin, to share their love for knocking out walls together. Since then, Remodelaholic has become a great community and resource for all those wanting to know how to make their builder-grade home BEAUTIFUL on a budget!
Sours: https://www.remodelaholic.com/diy-pallet-table/
DIY Free Pallet Porch Table
This post is sponsored by The Home Depot. I have been compensated for my time and provided with product. All ideas and opinions are my own. This post contains some affiliate links for your convenience. Click here to read my full disclosure policy.
The cheapskate in me sure does love a good deal and even better FREE!!! My Dad has been doing a number of improvement projects at his farm and the new equipment comes on pallets. Some of the pallets are too good to let go to waste. A lot of them are the hardwood pallets (like oak), nut just pine. This one has cool wide planks!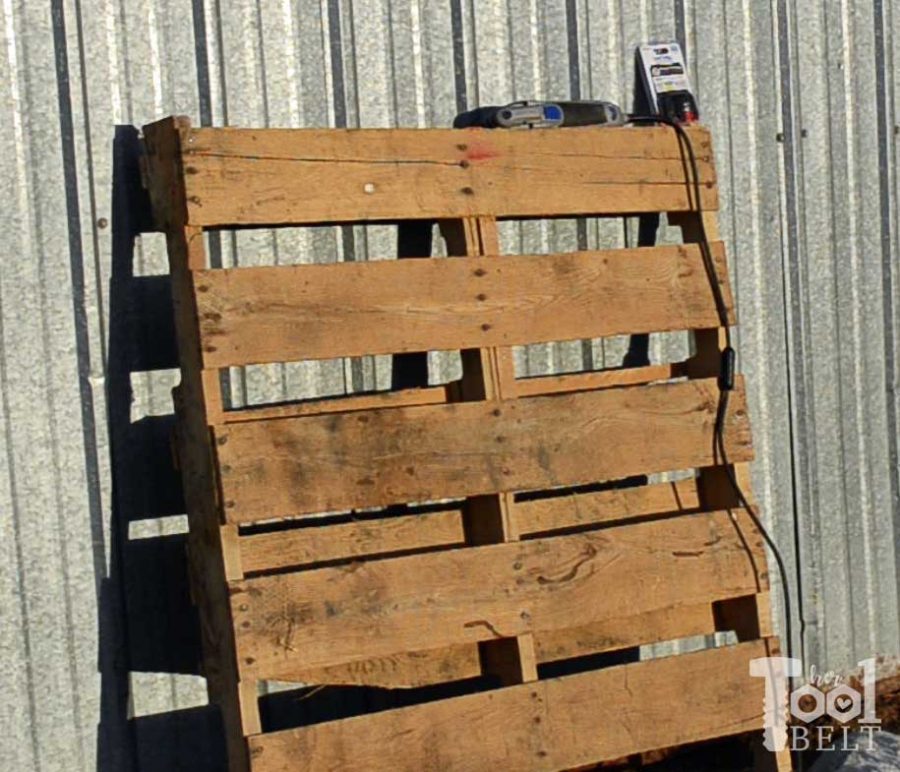 I've been wanting to put a porch table out by the front door for holiday decorations, and these free pallets are priced just right.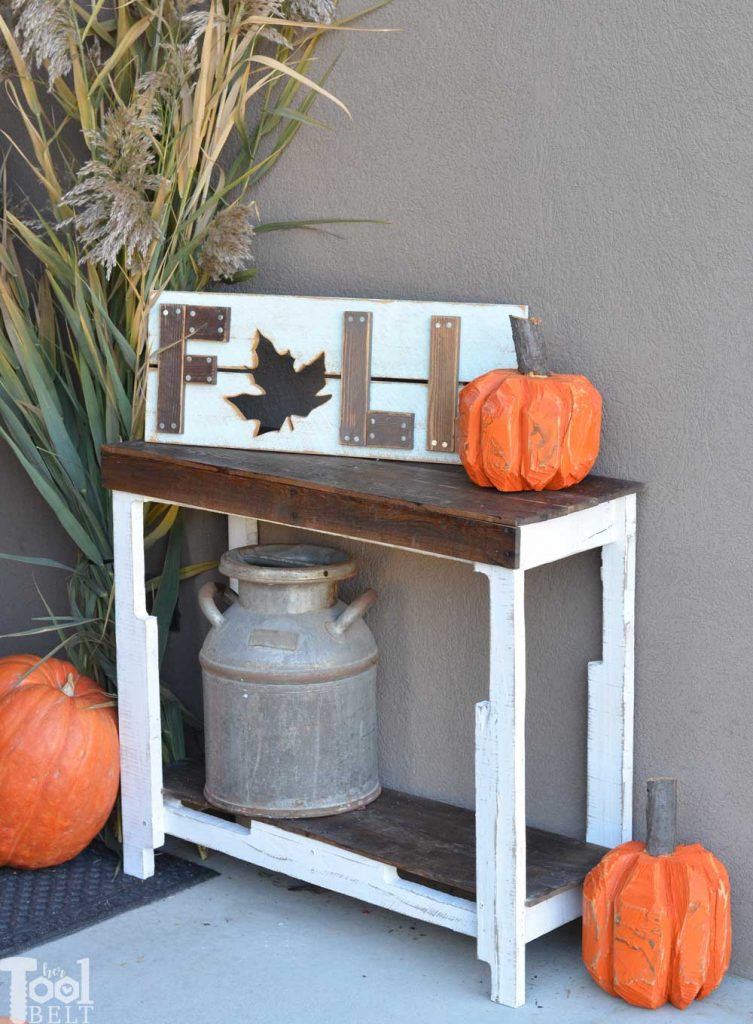 How to Build a Free Pallet Table for the Porch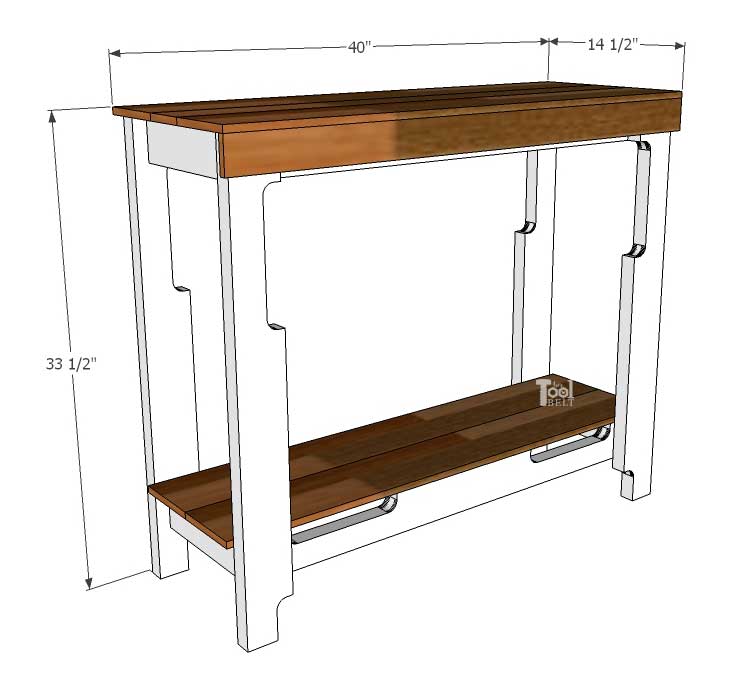 Materials
Tools
Cut List
4 – stringers 33″ long – Legs
4 – stringers 35 1/2″ long – top and bottom frame
2 – stringers 8 1/2″ long – center support
4 – stringer or slats 11″ long – ends
5-6 slats 40″ long
Cut Diagram
I dismantled 2 pallets and ended up with 4 stringers that are 48″ long, 4 stringers that are 39″ long and a bunch of slats that are 40″ long at various width. You can adapt the plans to the sizes of boards that you have.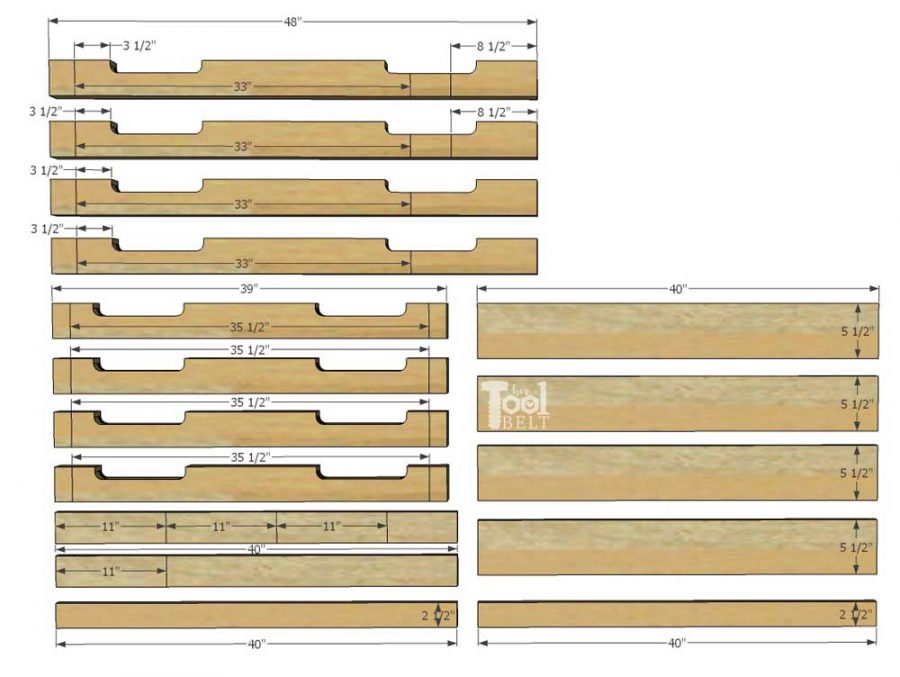 Dismantling Pallets & Cutting the Wood
I have been using the Oscillating Tool with the carbide flush cut blade to dismantle pallets. I love this combo because it is super easy to use and doesn't ruin the pallet wood. Just slide the blade in between the slat and stringer and cut the nails.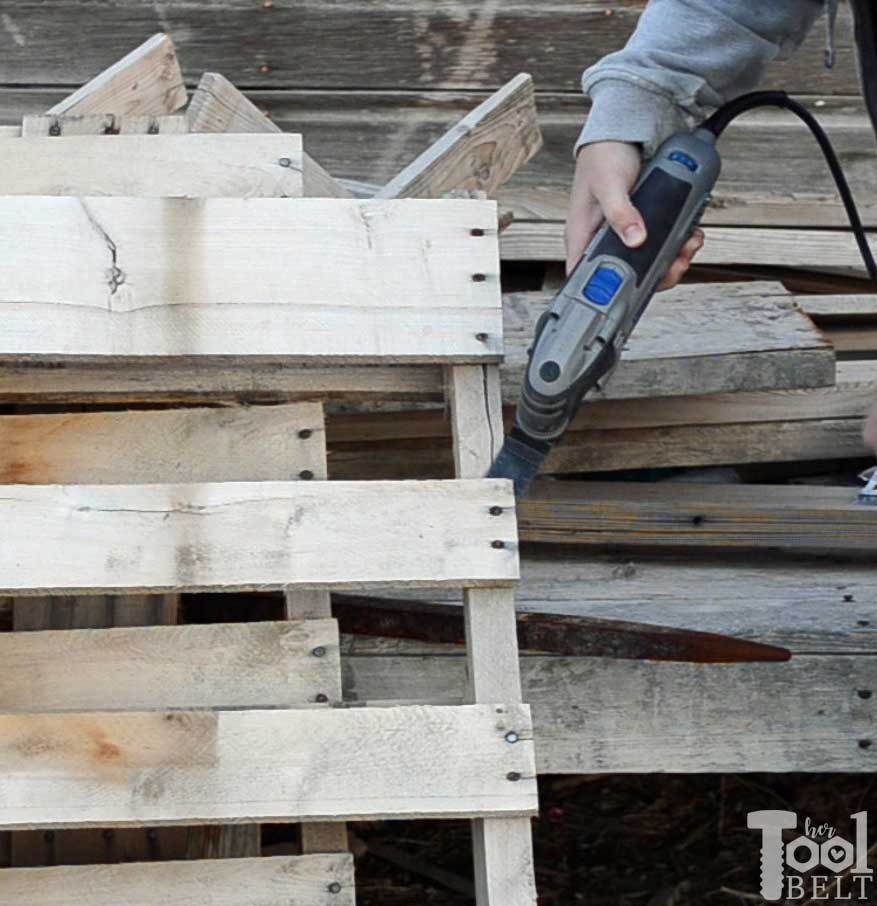 You can use the metal blade to remove any rogue nails sticking out of the stringer.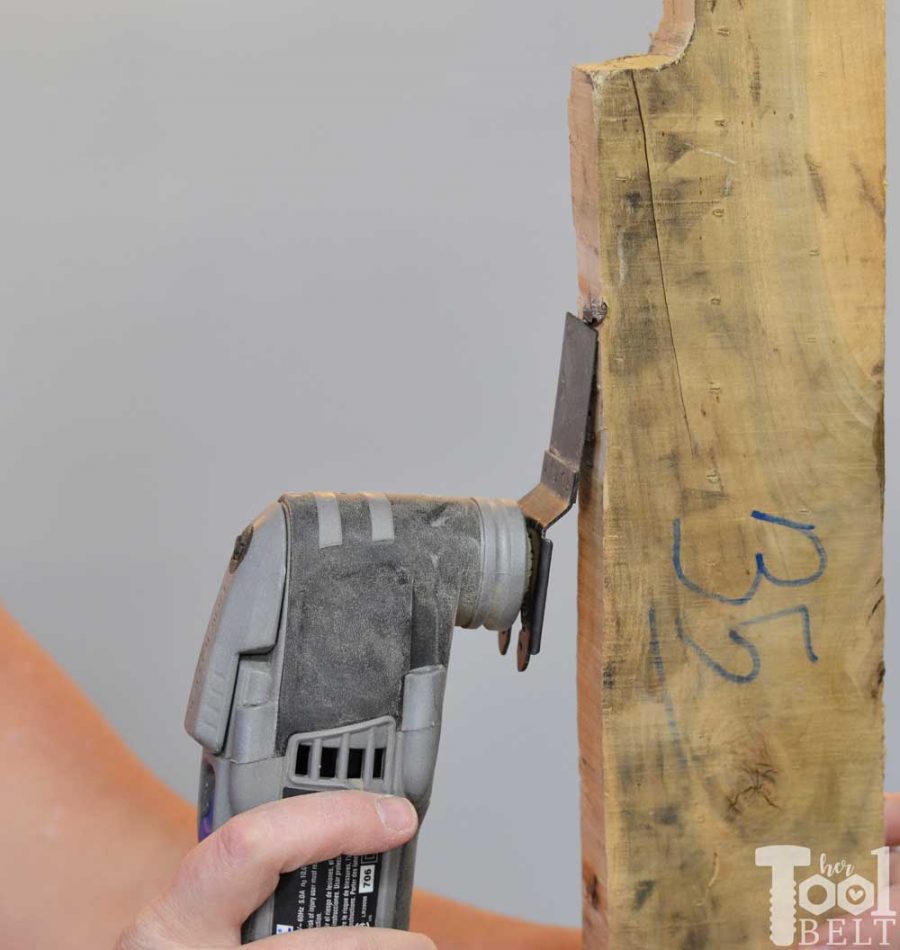 You can even use the wood blade to cut the stringers for the table.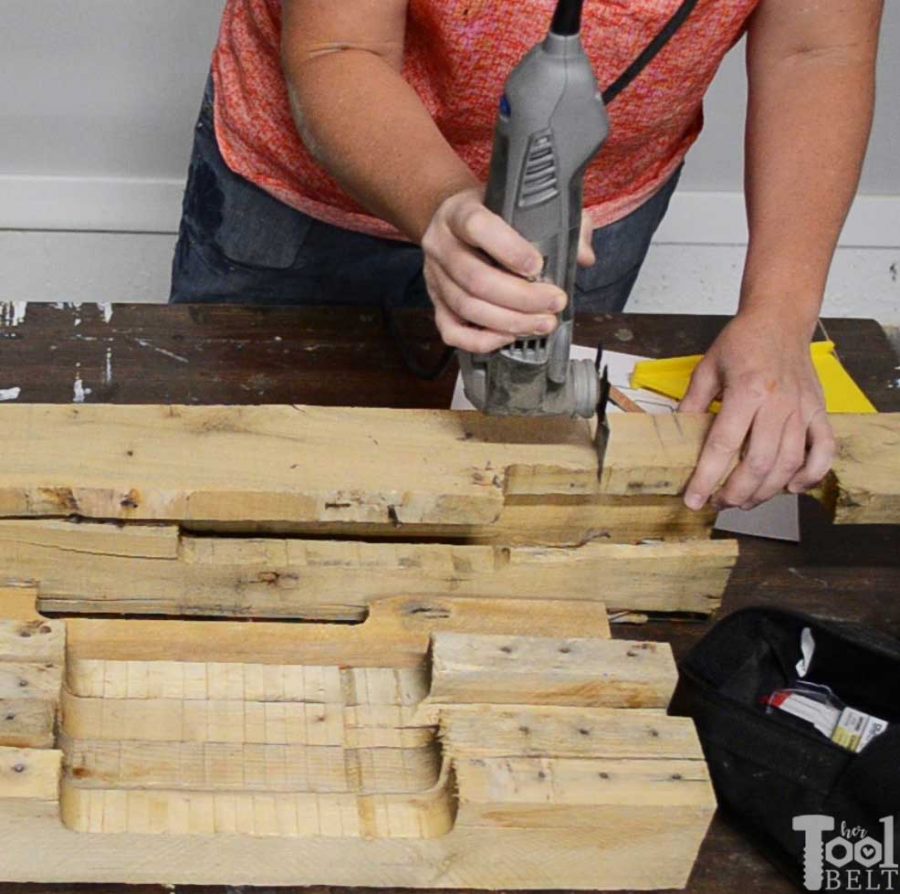 But it is a little slower than using another saw, like a jigsaw. Whatever you use to cut the pallet wood, just watch out for the nails, they may ruin your saw blade. Jigsaw blades are cheap so I don't mind if I accidentally ruin one.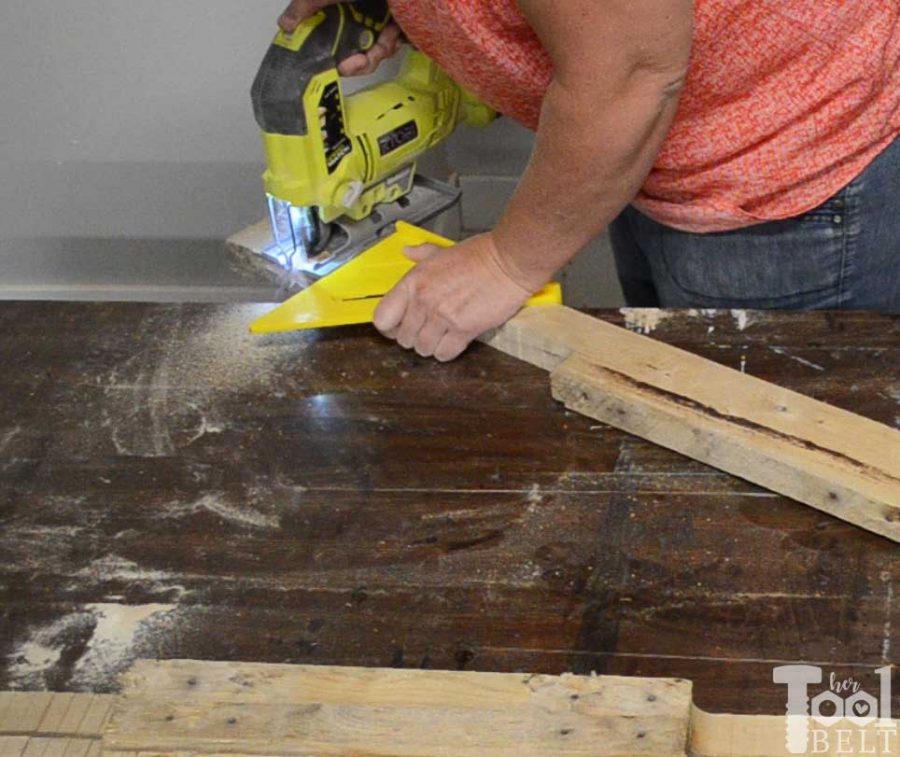 Step 1
Take the 48″ stringers and measure up 3 1/2″ from the top notch, this will be the top of the leg. Measure down 33″ from the new cut, this will be the bottom of the leg. Make the rest of the cuts according to the cut list and diagram.

To reduce wood splitting when screwing the boards together, pre-drill holes in the boards that the screw goes in first (ie the ends of the 11″ end boards, center of the top and bottom 35 1/2″ boards).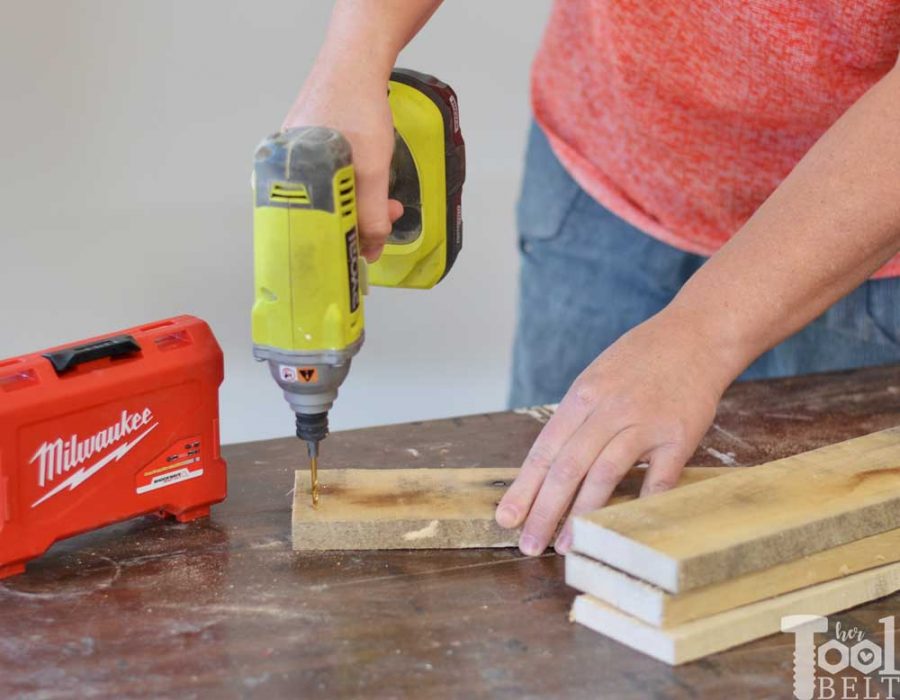 Use 2 1/2″ or longer screws to attach the 11″ ends to the ends of the front and back pieces (2 screws in each end). Place the 8 1/2″ center support in the middle of the 35 1/2″ boards and secure with 2 1/2″ screws. Repeat to make a second frame.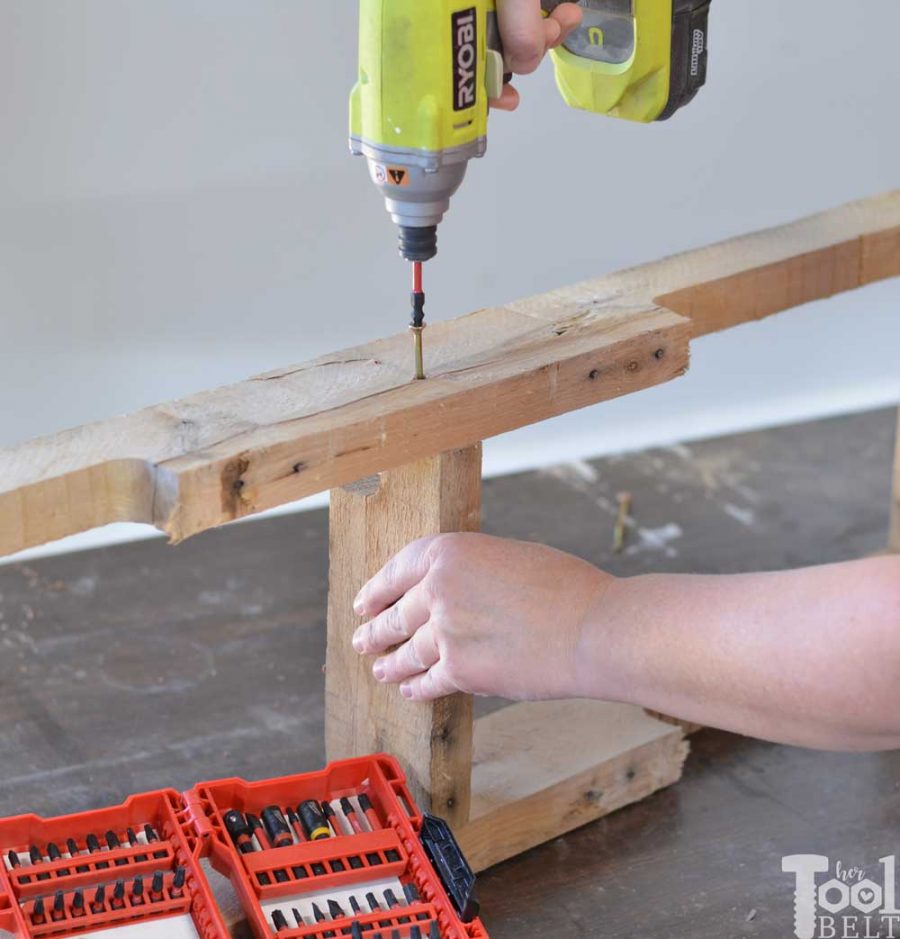 Step 2
Since the pallet wood is probably not straight, just put one screw in each leg. We will straighten the table out in a later step.
Place the top frame with the notches down on a flat surface. On the straight side of each leg, mark 1″ in. Pre-drill a hole in each leg. Line up the 1″ inset mark with the frame end and secure each leg to the frame with 1 – 2 1/2″ screw in each leg.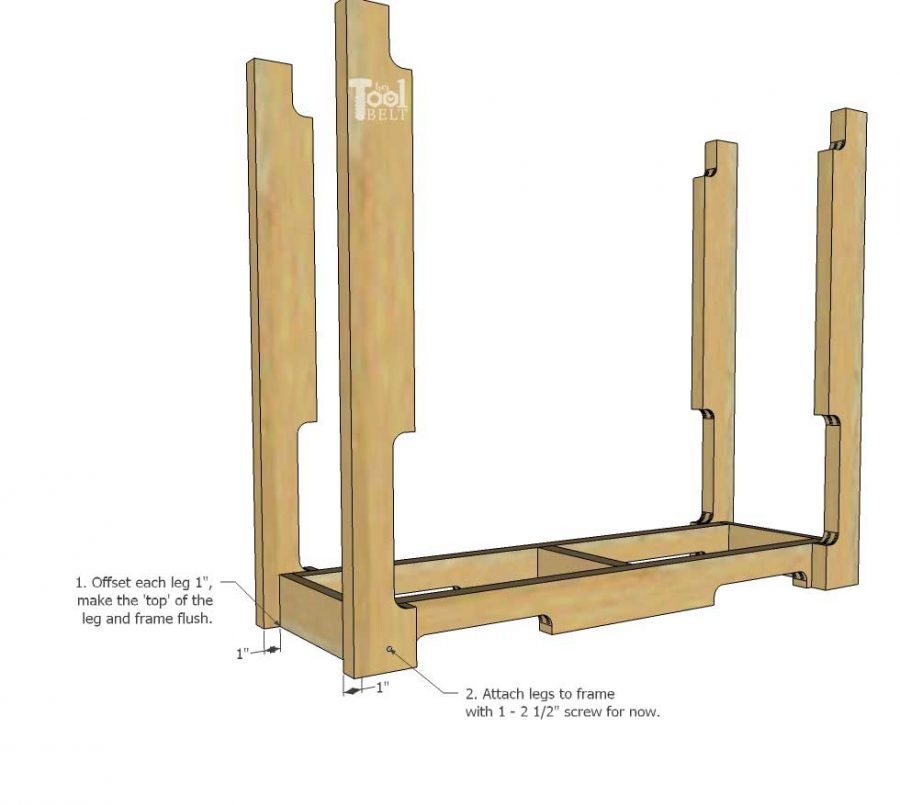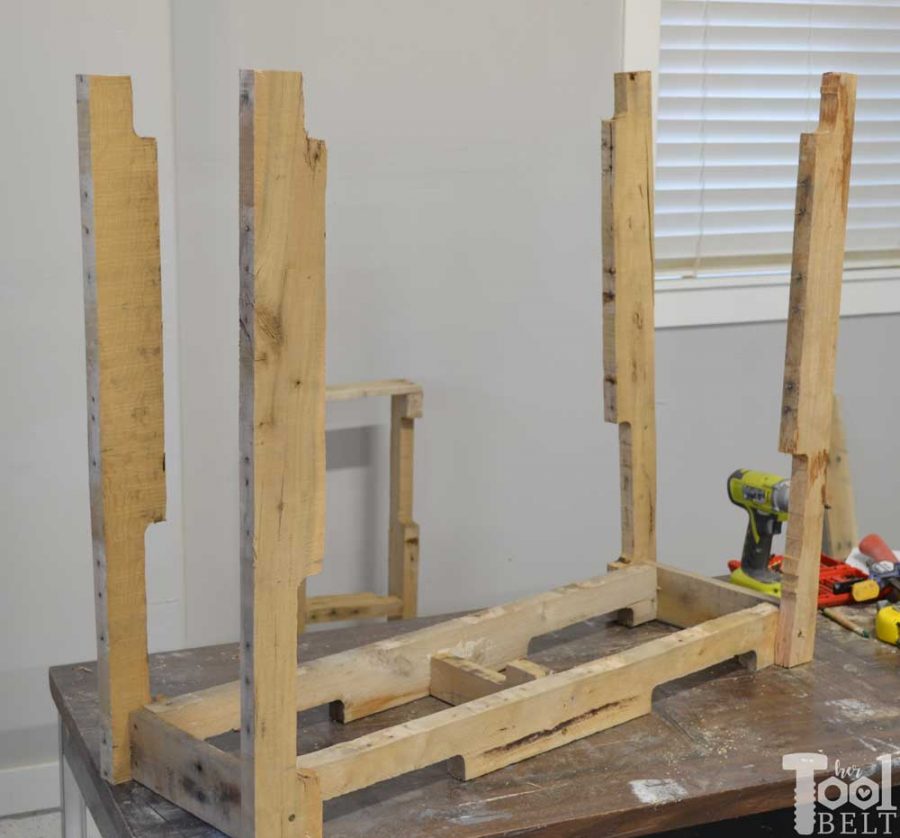 Turn the table over and measure down 26″ from the top of the legs, and 1″ in from the straight side of the legs. Pre-drill a hole to attach the bottom frame to each leg. Line up the bottom frame with the 26″ mark and 1″ inset and secure with a 2 1/2″ screw in each leg.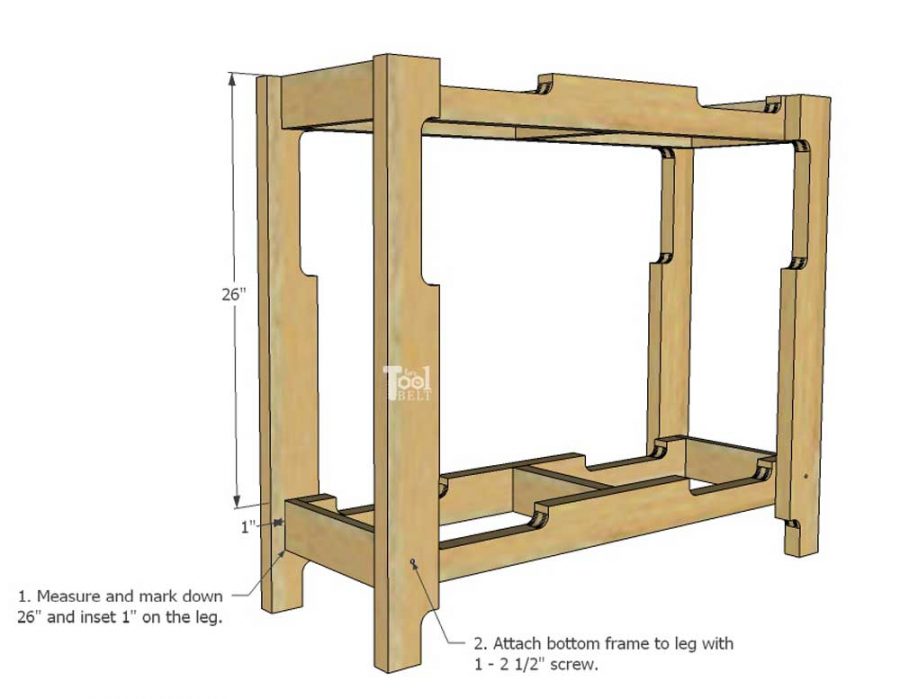 Step 3
Grab the tape measure and measure from corner to corner on the table.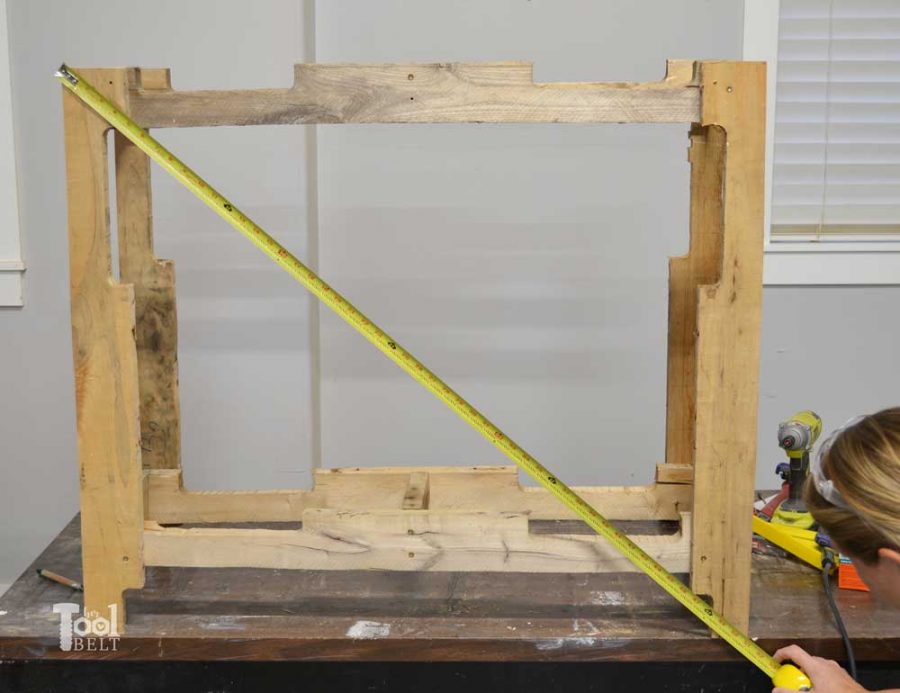 Now measure from the other corner to corner and compare the numbers. They should read the same measurement if the table is square.  If it isn't push on one side and check the measurement, repeat until the table is square.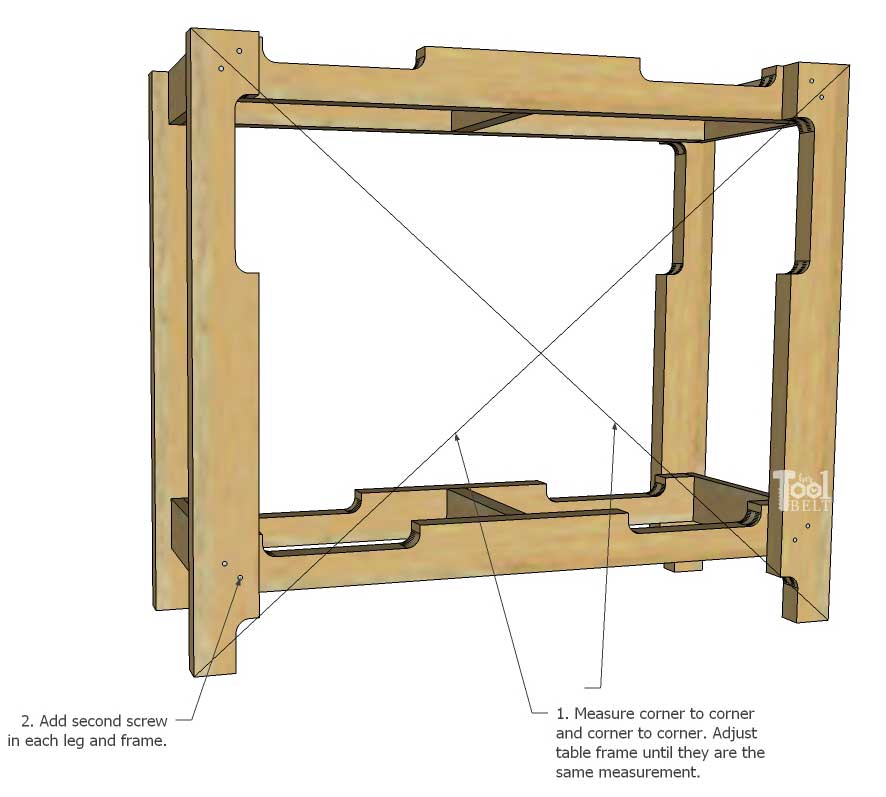 Add a second screw in each leg, and this will secure the table.  Repeat for the backside of the table.
At this point I was not impressed with the look, I kind of felt like it was a lost cause! Very ugly 🙂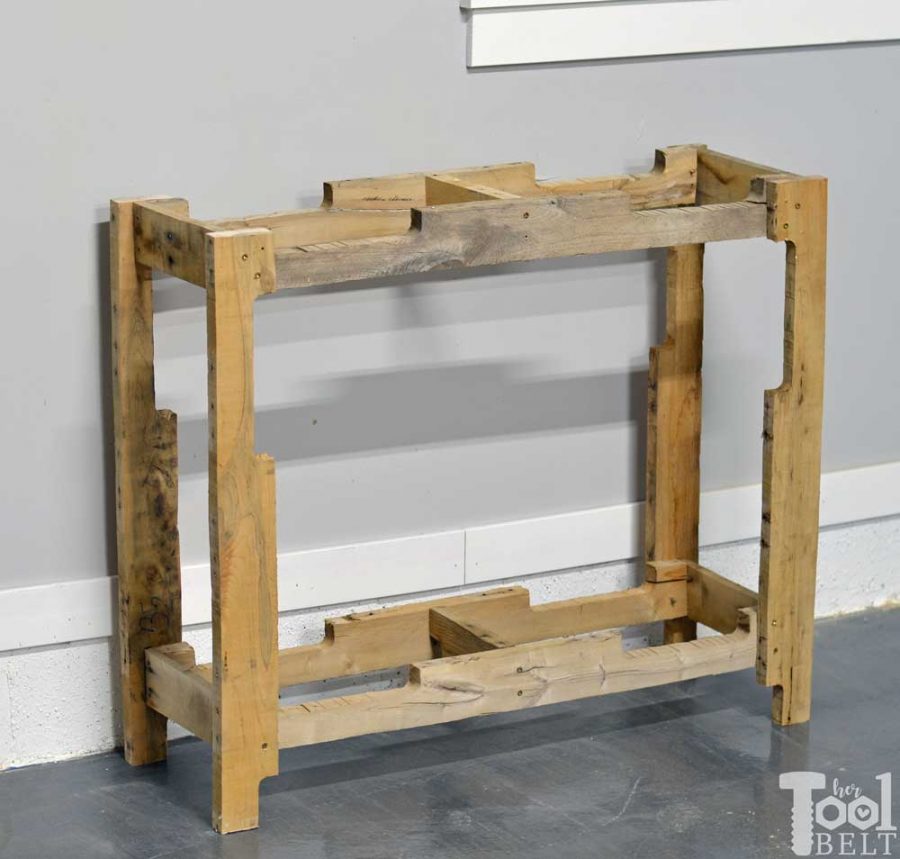 Step 4
Choose pallet slats to fit on the top and bottom. You can notch the bottom slats around the legs if needed. I waited to secure the slats to the table until after I painted and stained the pieces. I used my brad nailer with 1 1/4″ nails to secure the slats to the table, 1 1/4″ screws will work as well.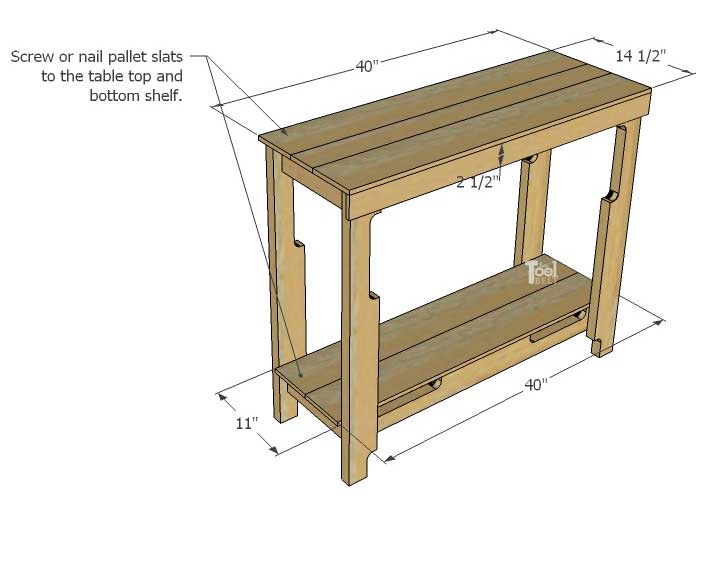 Step 5 – The Finish
I really wasn't excited how the table was looking unfinished, but I decided I would just finish it and see how it turned out.  I called out the helpers and we put a light coat of white paint on the table base.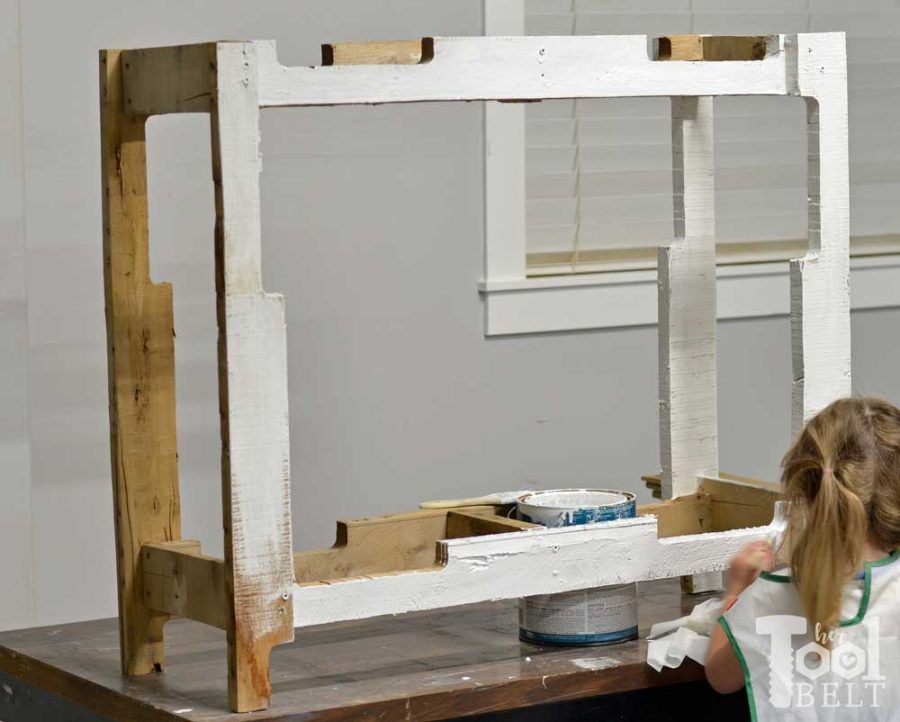 After lightly sanding the pallet slats, I stained the slats aged oak.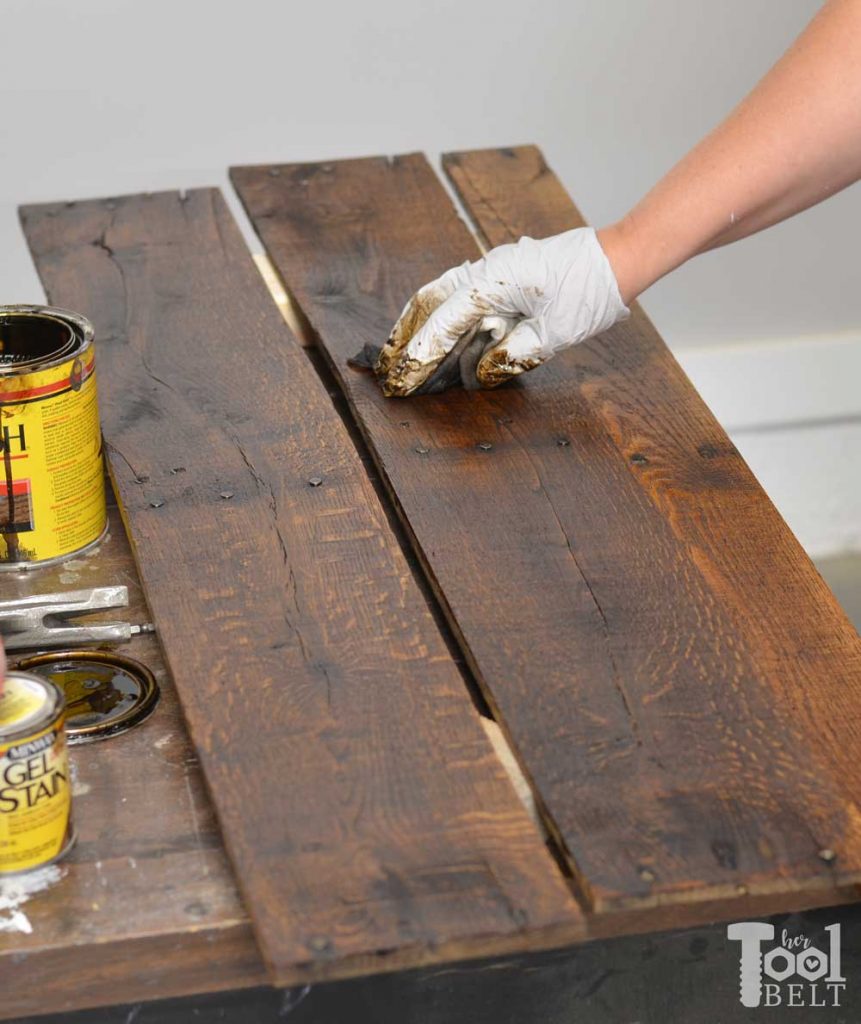 After the paint fully dried (overnight), I put the corner sander accessory on the Dremel oscillating tool to distress the paint. This tool is great for distressing!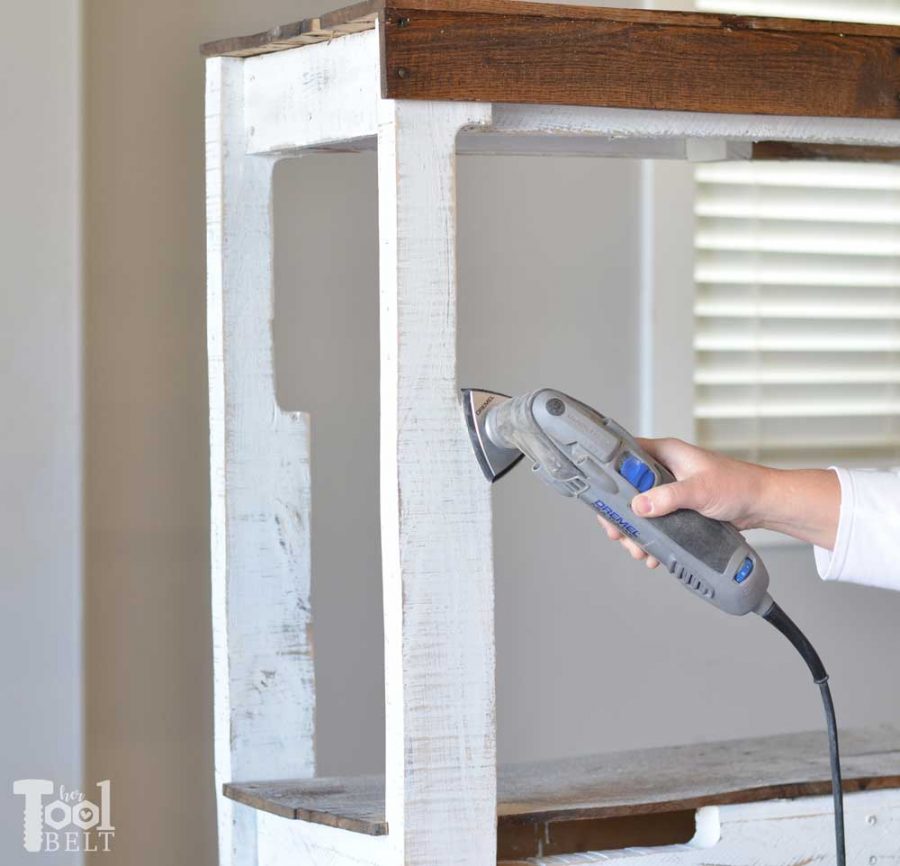 I am pleasantly surprised with the outcome, it's kind of cute, right?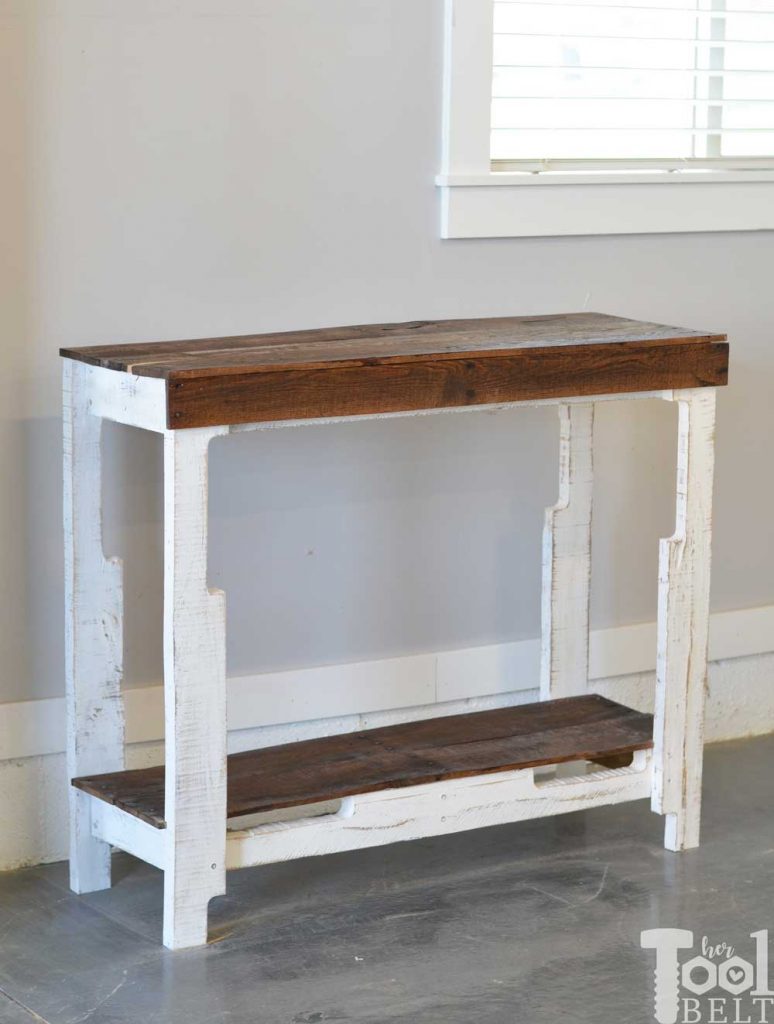 The notches in the pallet stringers give the table some fun character.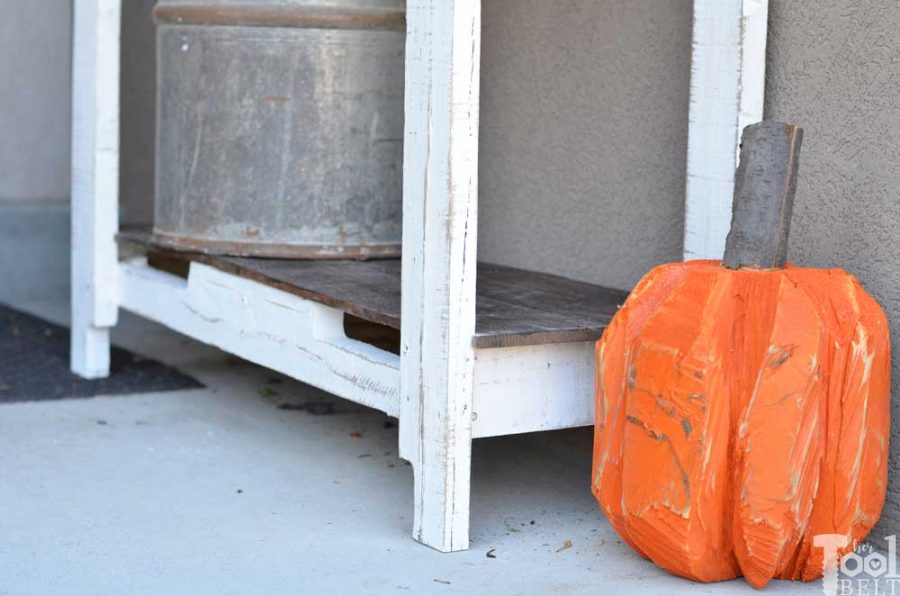 It fits perfectly on my small front porch and I'm not worried about it getting weathered because it already is.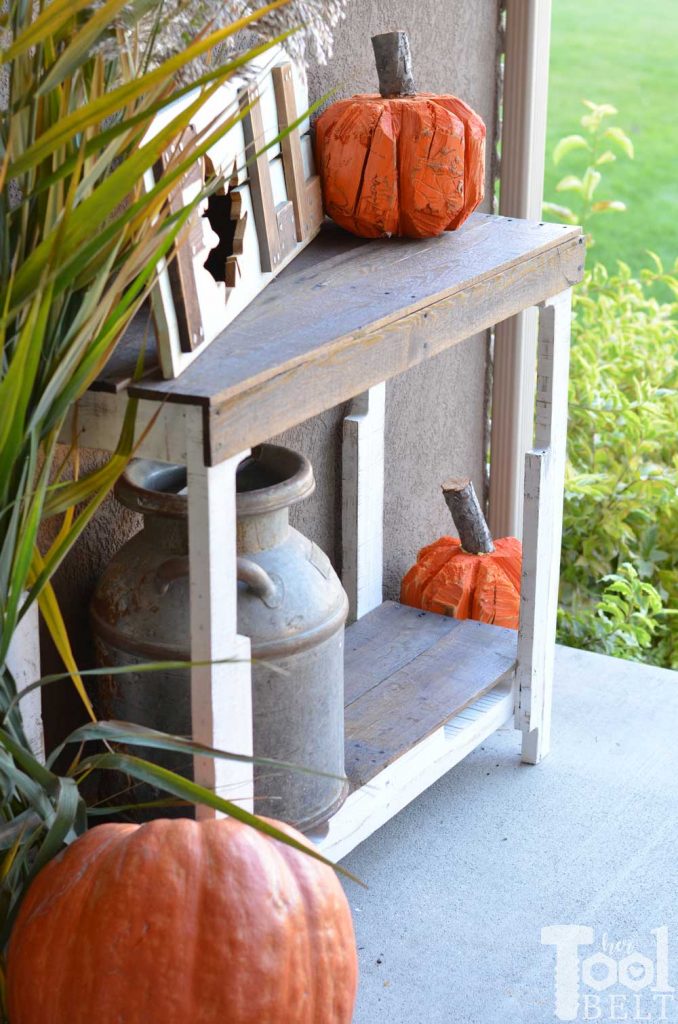 Print the Free Plans
–> Click Here for PDF Plans <–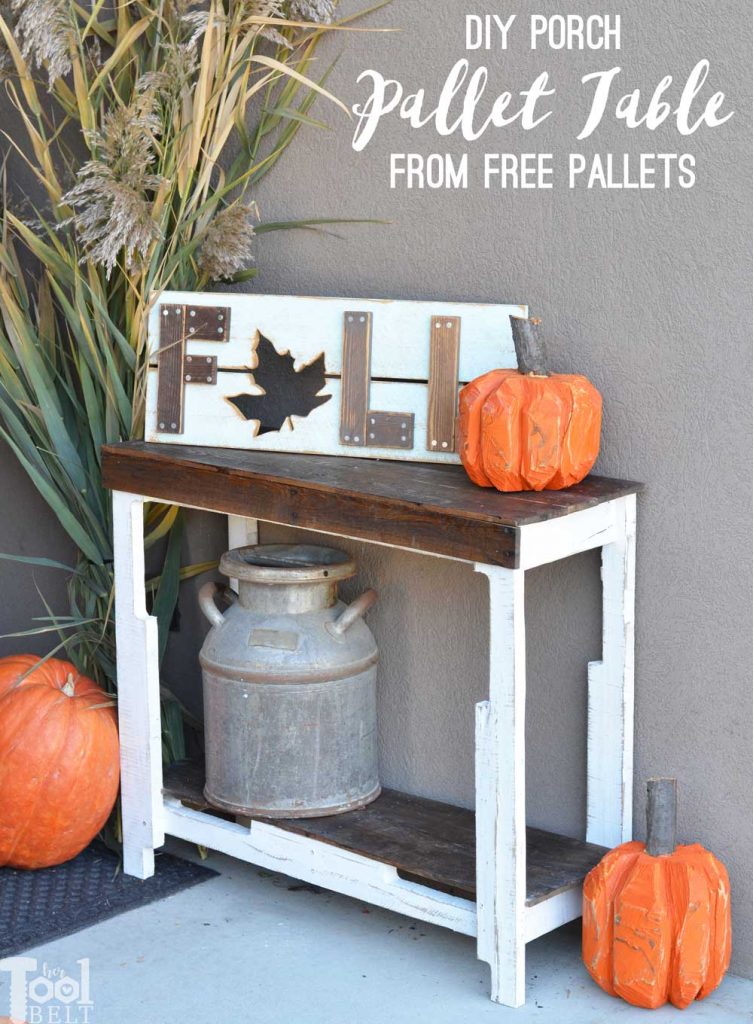 I have a tutorial for those stump pumpkins here and make your own Fall sign here (or buy a Fall Sign).
 Thanks for pinning!

"I acknowledge that The Home Depot is partnering with me to participate in the Tool Review Program. As a part of the Program, I am receiving compensation in the form of products and services, for the purpose of promoting The Home Depot. All expressed opinions and experiences are my own words. My post complies with the Word Of Mouth Marketing Association (WOMMA) Ethics Code and applicable Federal Trade Commission guidelines."
Filed Under: Built From Scratch, Entry, Free Woodworking Plans, Outdoor Furniture, Tool ReviewsTagged With: console table, home depot, pallet, THDprospective
Sours: https://www.hertoolbelt.com/diy-free-pallet-porch-table/
15 Amazing and Cheap DIY Console Table Plans & Ideas
By: Desert Domicile Team |
Console tables are an excellent way to add storage space to any room in the home without using furniture with a large footprint. Console tables have a long and thin tabletop, and they typically stand at waist height.
Console tables make handy surfaces around the home. Place them behind your sofa, and use it to place the TV remote or a cup of coffee. They provide a new level of convenience for any room in your home.
However, you don't need to spend a lot money on buying a console table. Here are 15 DIY ideas you can make yourself, using reclaimed and affordable materials, and a few hours of your time.
Classic X-Frame DIY Console Table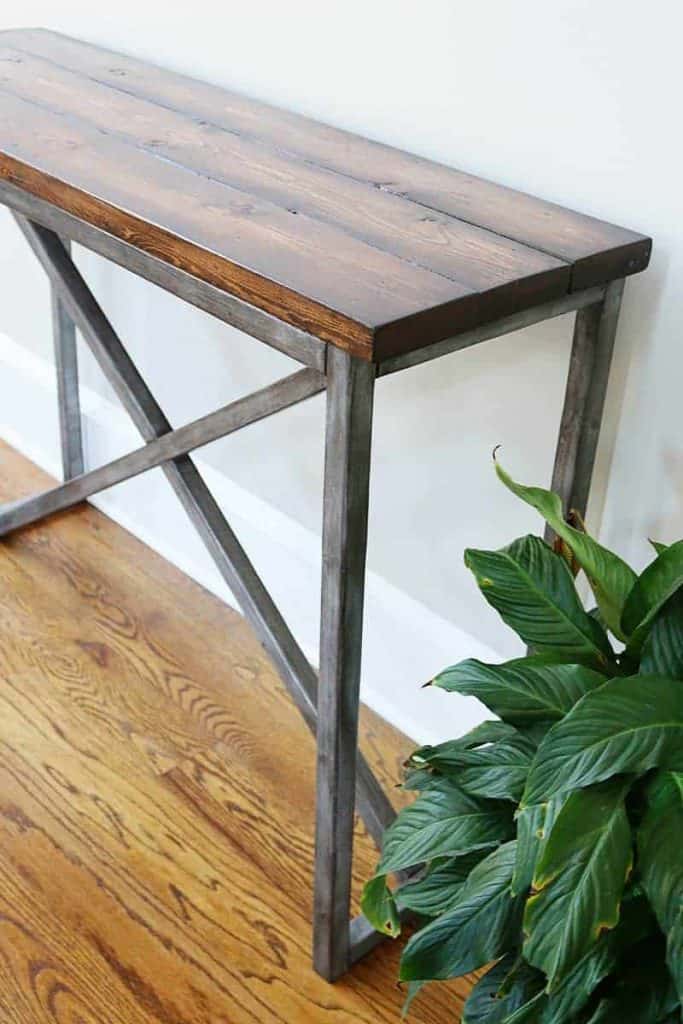 This entryway table is easy to put together in a few hours at home, using reclaimed materials. The table gets its strength from the x-frame that links all corners of the table.
It's ideal for the entrance to your home. Toss your car keys onto the counter when you get home, along with anything else that you need to remember to take with you when you're on your way out.
by thehandymansdaughter
Classic W-Frame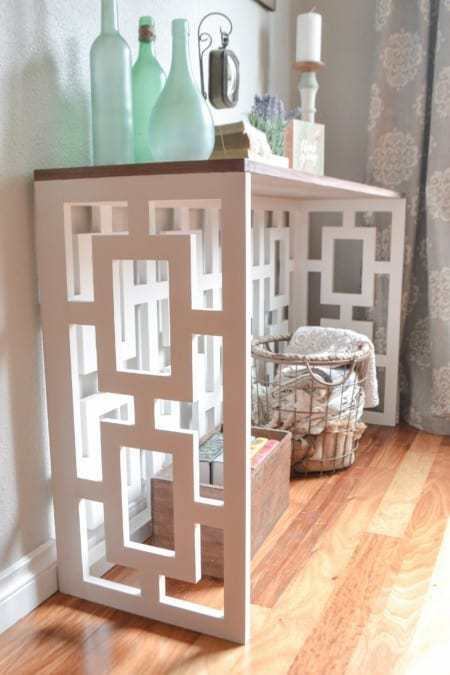 This classic W-frame console table features construction with reclaimed wood. Sanded, lightly stained and sealed, this console table provides a rustic feel to the room, and its best for entrances and kitchens where space is at a premium.
The table has an authentic farmhouse feel to it, and it's sturdy enough to support a decent amount of weight, thanks to the W-frame design.
by theartspilgramage.com
Pattern-Design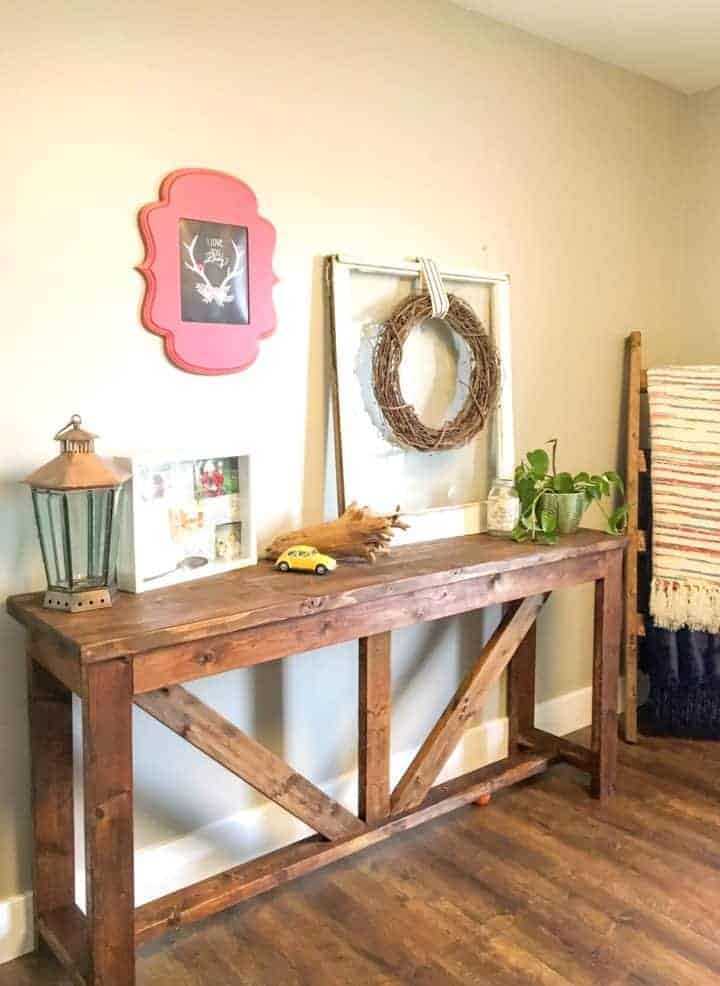 If you're feeling creative, then pull out your jigsaw and get to work on creating this stylish design. This table features a mosaic-style cut-out in the boards, bringing a new design dimension to the legs and back of this table.
Use a jigsaw to cut out the designs, and make sure you sand the edges to avoid splinters and burs. This one is ideal for the living room or the bedroom, and its eye-catching design looks both professional and exquisite.
by thehandymansdaughter
Simple Wooden Console Table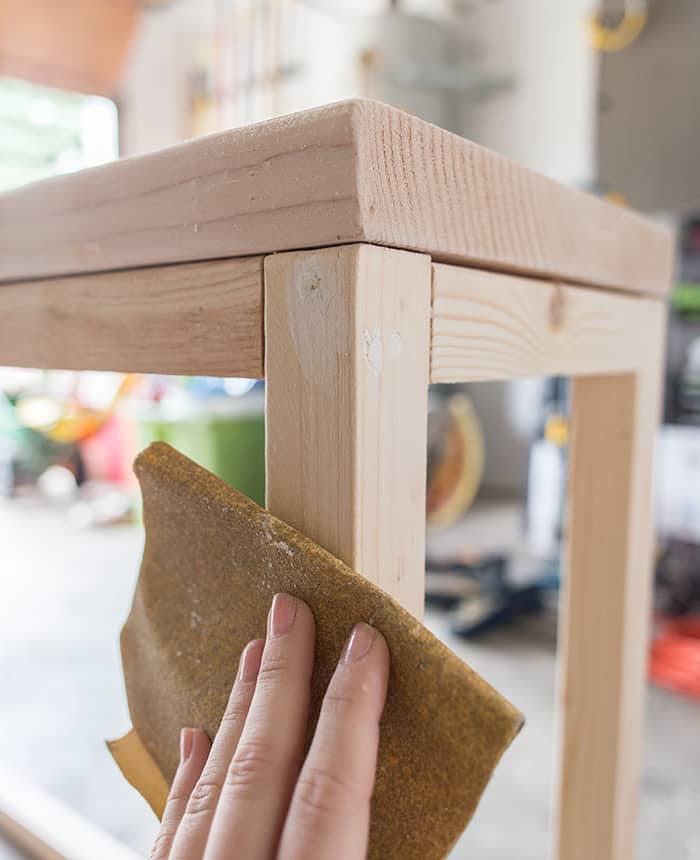 This simple wooden console table table is easy to put together in a few hours. You can use reclaimed wood or purchase pre-cut lengths from the hardware store.
Put it together with a few fasteners, and sand it before sealing. Use it anywhere you need placement space in your home.
by roccommunitysummit.org
Shelved Wooden Console Table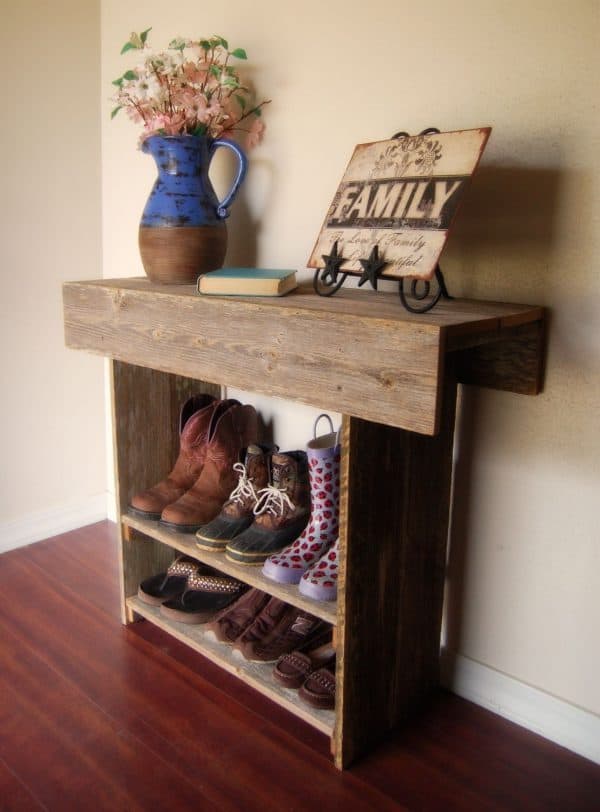 Add depth and functionality to your wood console table by adding shelves underneath the tabletop. This design features two shelves, supported by X-frames at either end of the table.
It can handle a significant amount of weight due to its sturdy construction. We love the dark-finish on the wood, and we think this table will look great in the living room or study.
by emmalegere.co
Shoe-Rack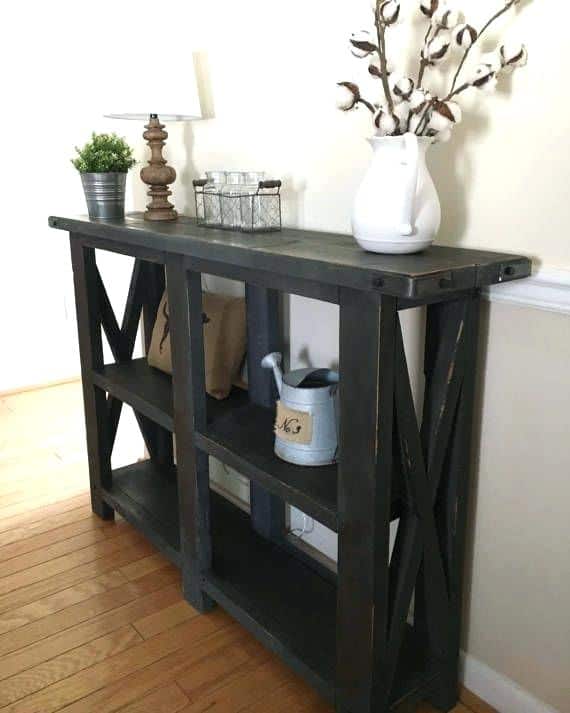 Are you tired of everyone dragging mud through the house after a snow day or heavy rain? This shoe-rack console table is the ideal addition to the entrance of your home.
Let your kids swap their shoes before they mess up your kitchen floors right after you finish mopping.
It looks outstanding in reclaimed wood left raw, with only a sealant applied to waterproof the shelves.
by littlepieceofme.com
Modern Style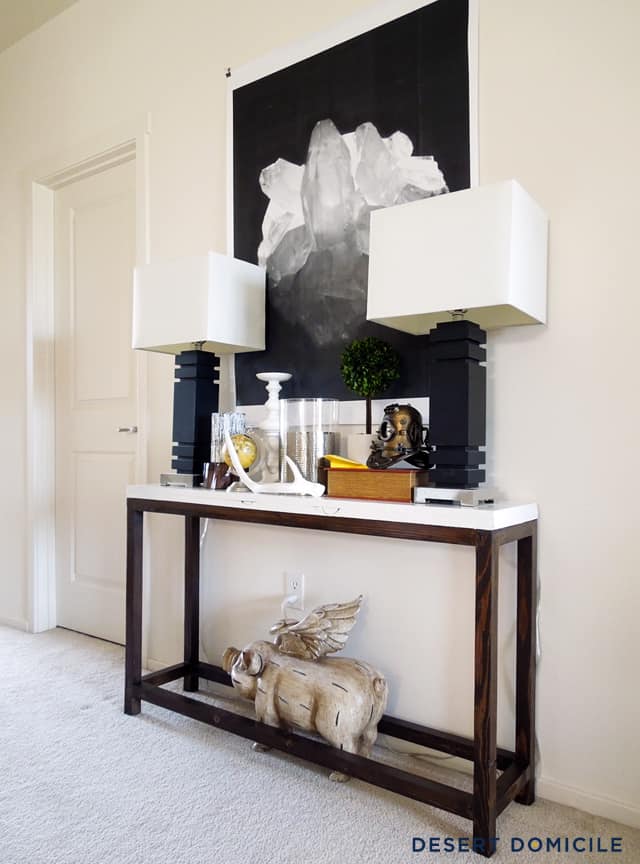 If you own a contemporary or modern apartment, then the chances are you won't want a reclaimed wood table.
This example of a chic and contemporary console table is an excellent choice for living rooms, entrances, or studies, and even the bedroom.
The classic, dark cherry wood frame complements the white tabletop for a fantastic contrasting effect.
by roccocommunitysummit.org
Reclaimed Pallet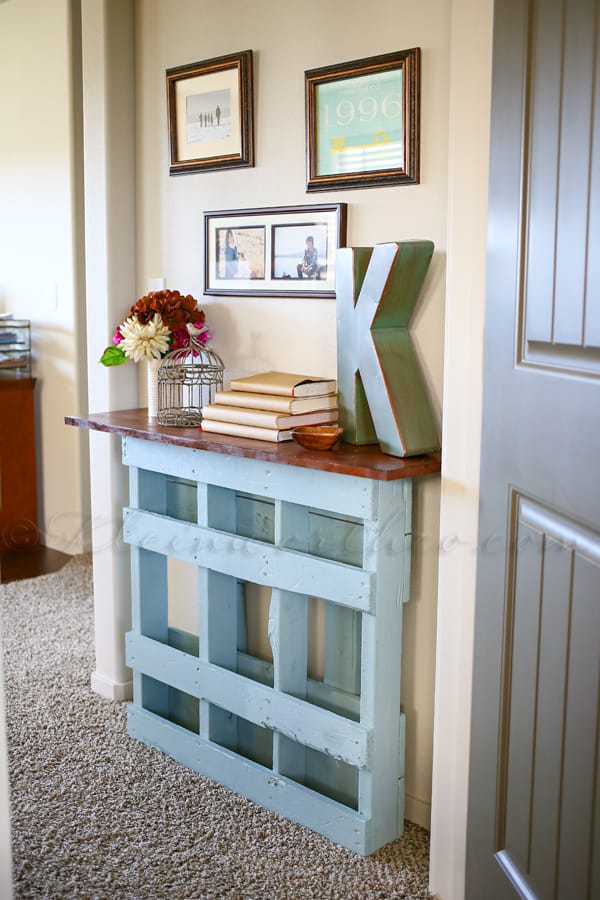 If you live somewhere close to a shipping yard, then head over and pick up a wooden pallet. In most cases, the yard should let you take any damaged pallets for free; you're doing them a favor.
Take the pallet home, sand it, add a tabletop, and paint it your favorite color. We love this lilac-blue pallet design for an entryway table. The thin and compact design of the pallet makes it the ideal table for entrances and corridors in the home.
by thehandymansdaughter
DIY Console Table on Casters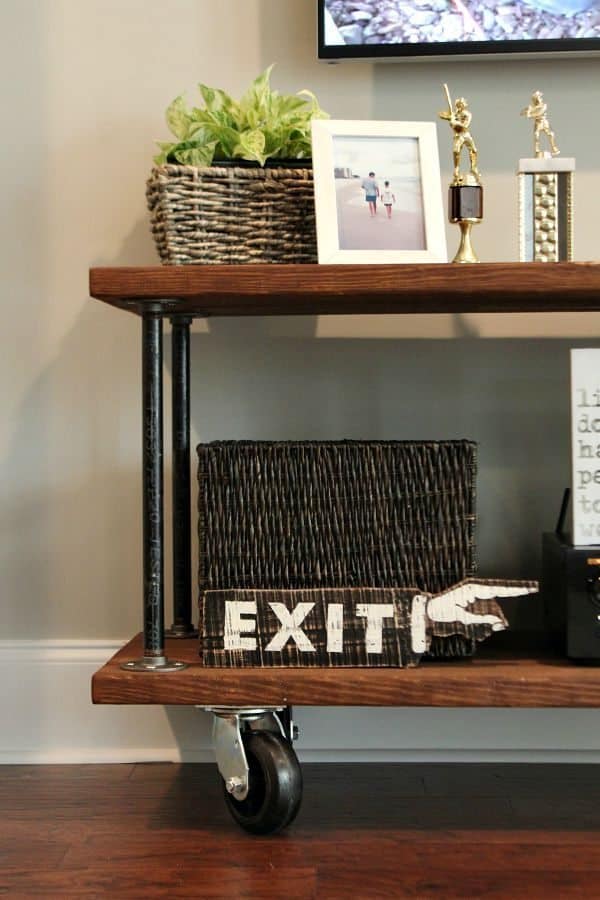 This genius idea lets you move your console table anywhere in the room. Pull the table over to the couch while you're watching TV, or use it as serving trolley when guests come over for a dinner party.
Simply attach some cheap casters to the underside of your table, and it turns into a mobile storage solution.
by refreshrestyle.com
Doorway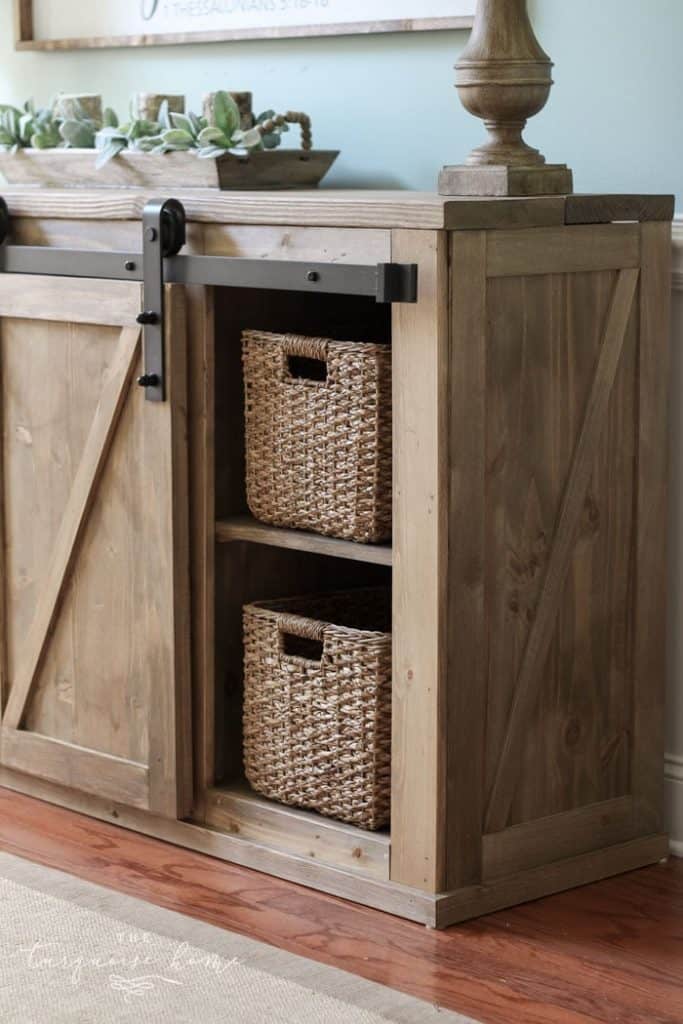 We love the slimline design and small footprint of this DIY console table. It's the ideal table for dropping your keys and wallet on as you arrive home from work.
The slimline fit allows the table to fill in the dead-space in doorways and walkways or passages between rooms. This light natural-wood finish adds color and light to the room, as well.
by roccommunitysummit.org
Farmhouse Storage Console Table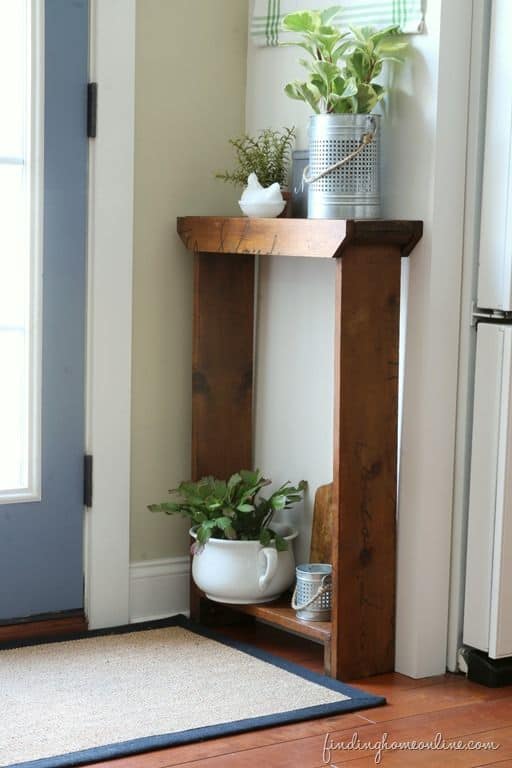 This farmhouse console table is ideal for the dining room. Use it to store your crockery and table-settings.
The handy baskets are easy to remove for further under-counter storage, and the swinging door with wrought fittings look rustic and rugged.
by theturquoisehome.com
Shelved Storage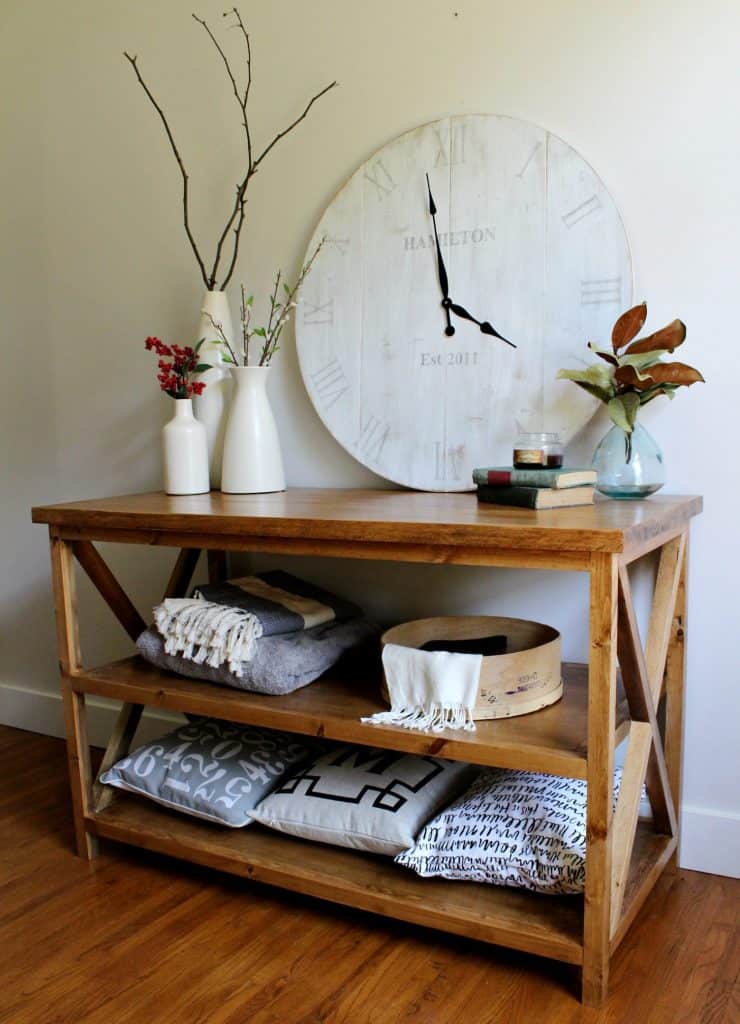 This natural-wood double-shelf console table compliments the natural wooden floorboards in this image.
With a wide surface area on the storage shelves, it's the ideal table for the dining room, living room, or the bedroom.
by woodshopdiaries.com
Behind the Couch Console Table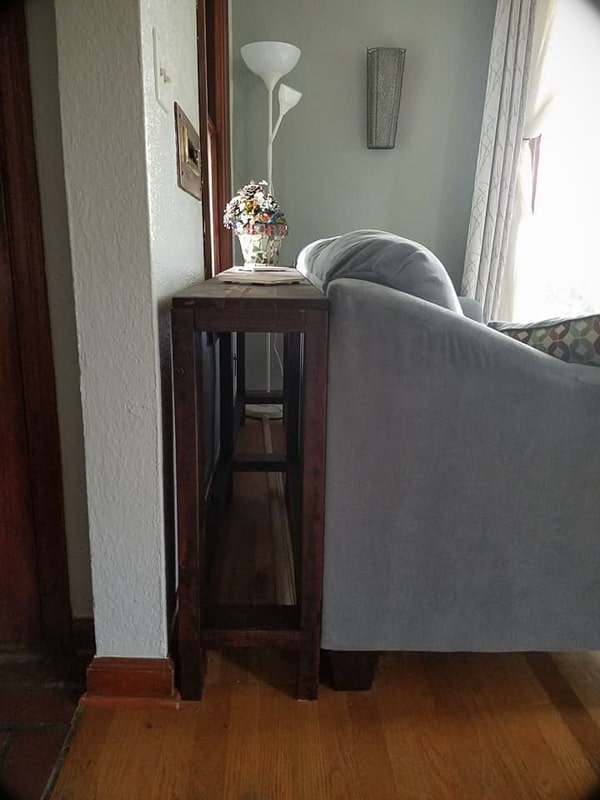 If you're tired of always losing the TV remote on the couch, then check out this behind the sofa table.
It's an excellent choice for the living room and keeps drinks off of the floor while providing you with slimline storage space.
by shockmunch.com
Basket Storage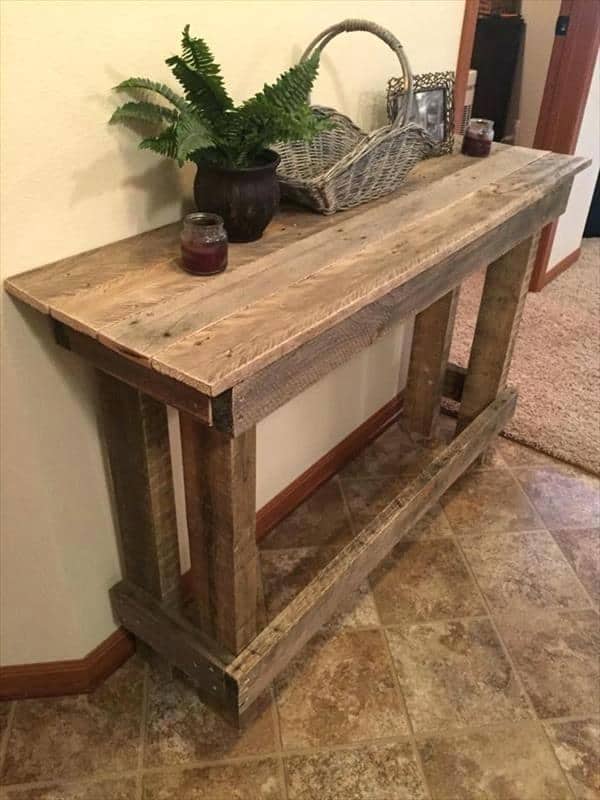 This DIY console table is an example of a high-storage unit that's suitable for the living room, study, or dining room.
There's plenty of shelf space, and the wire baskets give you easy storage access.
by lizmarieblog.com
Rustic Wood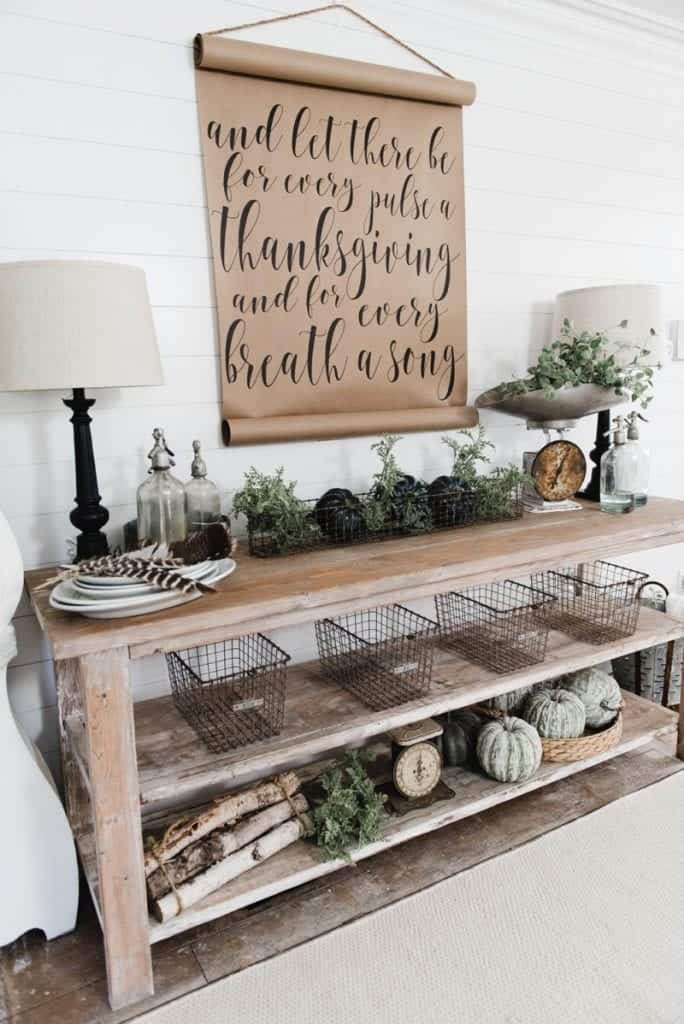 If you're looking for a rugged and rustic-looking wood console table, then this design is your best bet. We love the thick, wooden design and the sturdy support on offer from this table. Use it in entryways or between rooms in the passage.
by newspapirus.com
Conclusion
Building a DIY console table isn't as challenging as you think. All you need are some basic tools and a splash of creative imagination.
Console tables make convenient storage spaces in every room of your home. If you're tired of spilling your tea in bed, then a behind-the-couch table is a fantastic idea for behind the bed as well.
Whichever table you choose to build, remember to measure twice and cut once!
Subscribe to our NewsletterReceive DIY tips and inspiration directly into your inbox.
Sours: https://www.desertdomicile.com/diy-console-table/
Table plans entry pallet
Pallet Entryway Table Instructions
An entryway table is must to bring a special decorative style to your primary access point to DIY home decor! It will make the very first impression of your home so always make good efforts to dignify your entryway otherwise it may repute your home badly! Just give some time to pallets and by copying the instruction given in this DIY pallet entryway table tutorial, you will all be able to get a lasting but free wooden entryway table that will you get the best out of both worlds! It comes on round but robust wooden legs and also owns a flat, long but slim top! Here construction has been started by building a base frame first includes the tabletop frame supported by 4 legs!
The frame has been the gritted well and sanded smooth so the all the wooden surfaces get brightened! Finally to match the entryway decor them which may be any in your case, the table has been painted for a black and white hue that all makes it look enchanting more! Just by going with the style of decors your home if following currently, you can also decide a personal final look of it using paint and stain!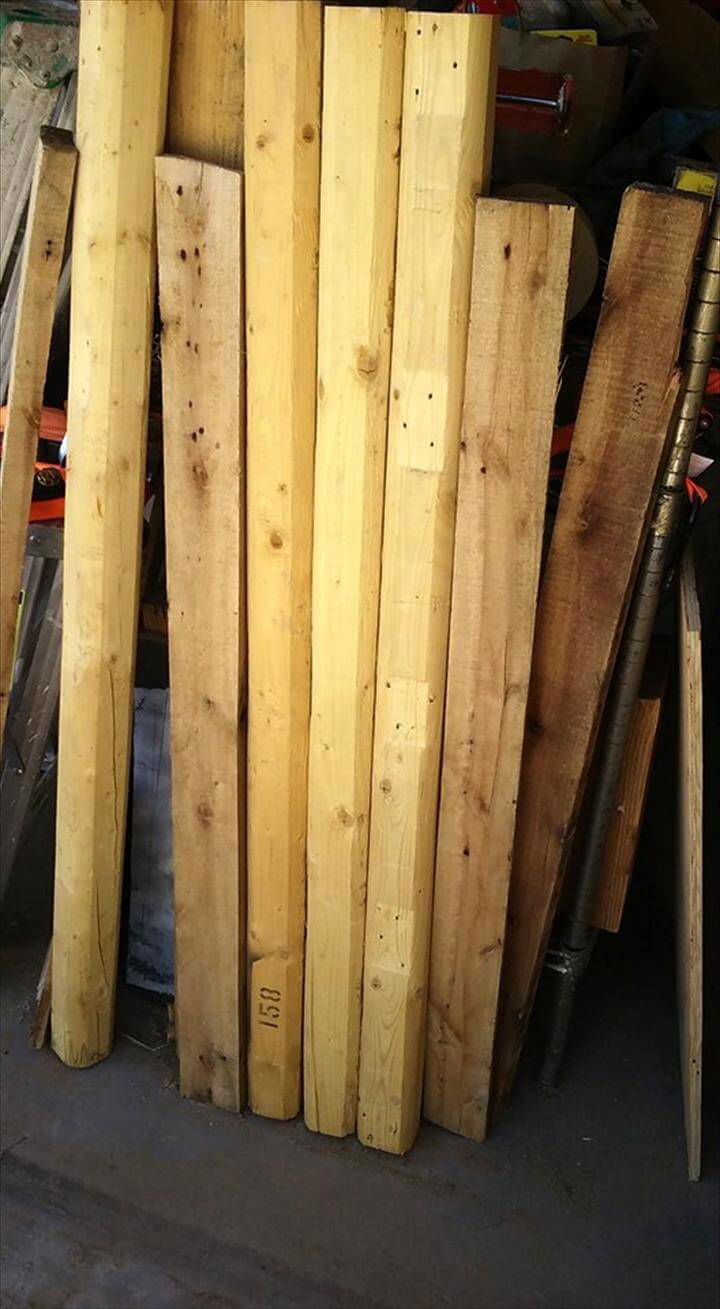 A bunch of robust wooden slats and some round wooden dowel legs are what that are included in the supply list of this entryway table tutorial! So go for a little deconstruction of pallets to get necessary amount of wooden slats!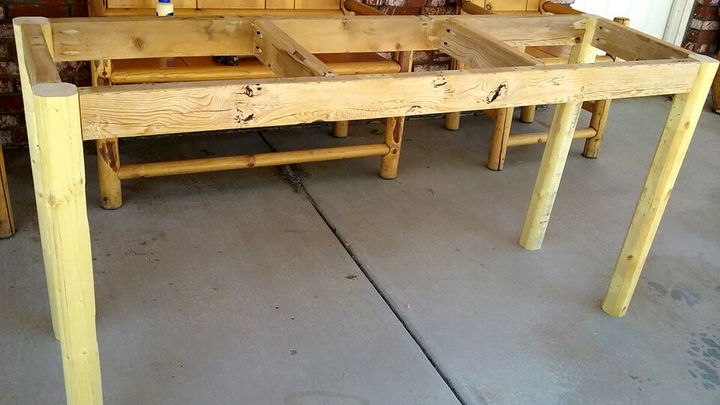 First of all the primary skeleton has been intended to build so wooden dowel style legs and custom cut wooden slats have been assembled through mortise and tenon joint system to get a sturdy base as shown!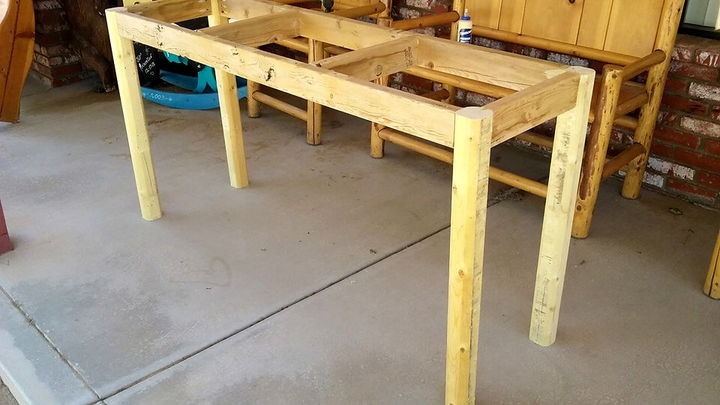 Use the long steel nails or screws straight to the head of cross frame supports through the round wooden legs if you are having pallet slats thick enough as in this way there would be less danger of their breakage!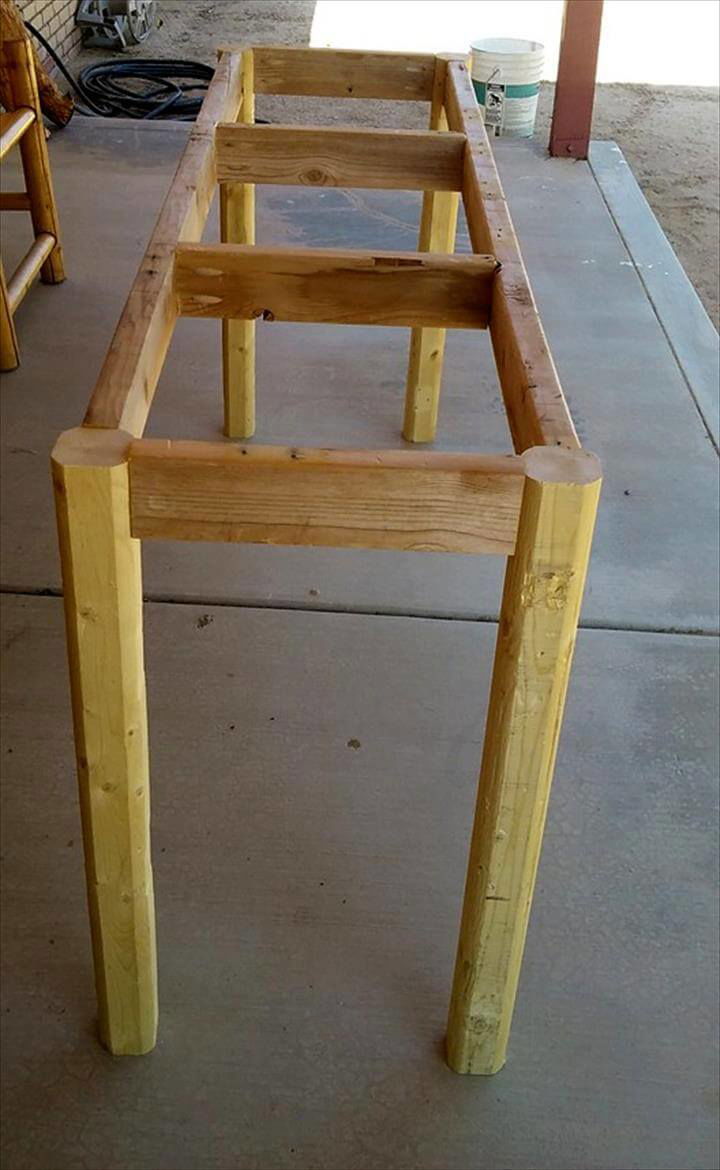 Just depending on the conditions the butt joints, mitered butt joints and pocket joints can also chosen, but for this type the current joint style will rock!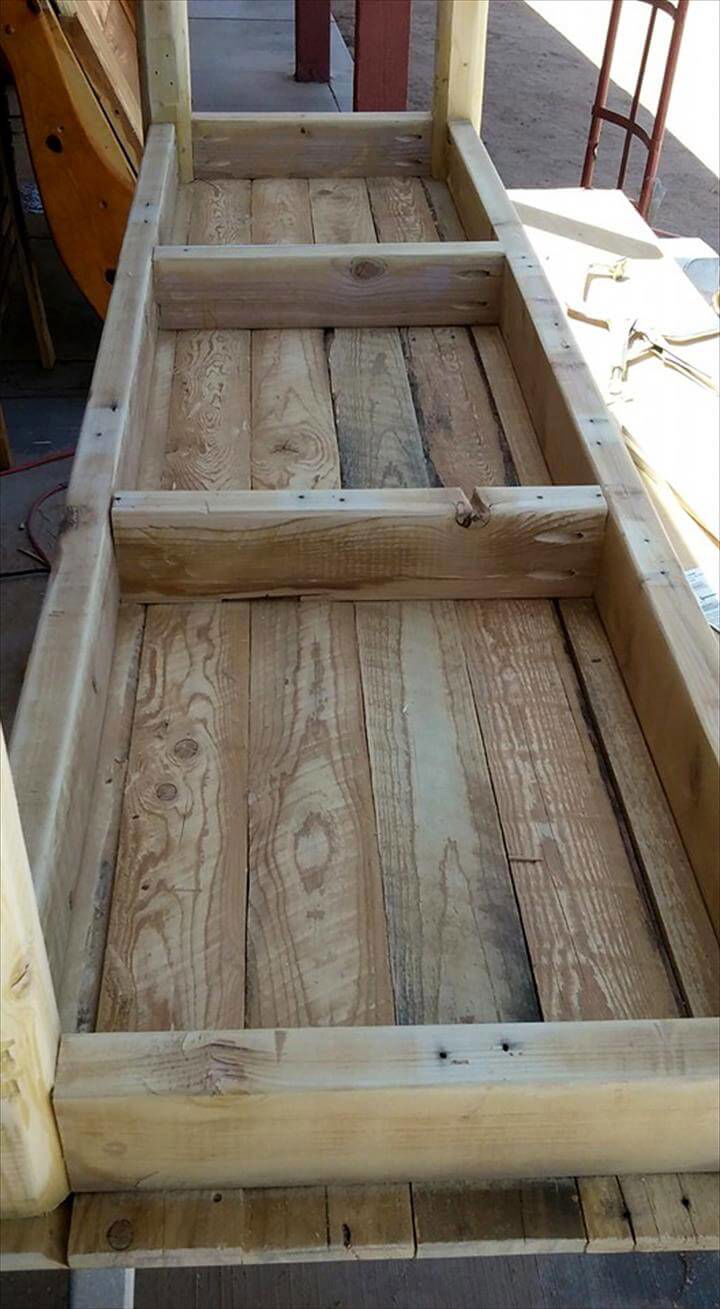 Now resize a set of pallet slats and get equal lengths of them to install the top, just cover the frame by going with slatted filling of these pallet slats!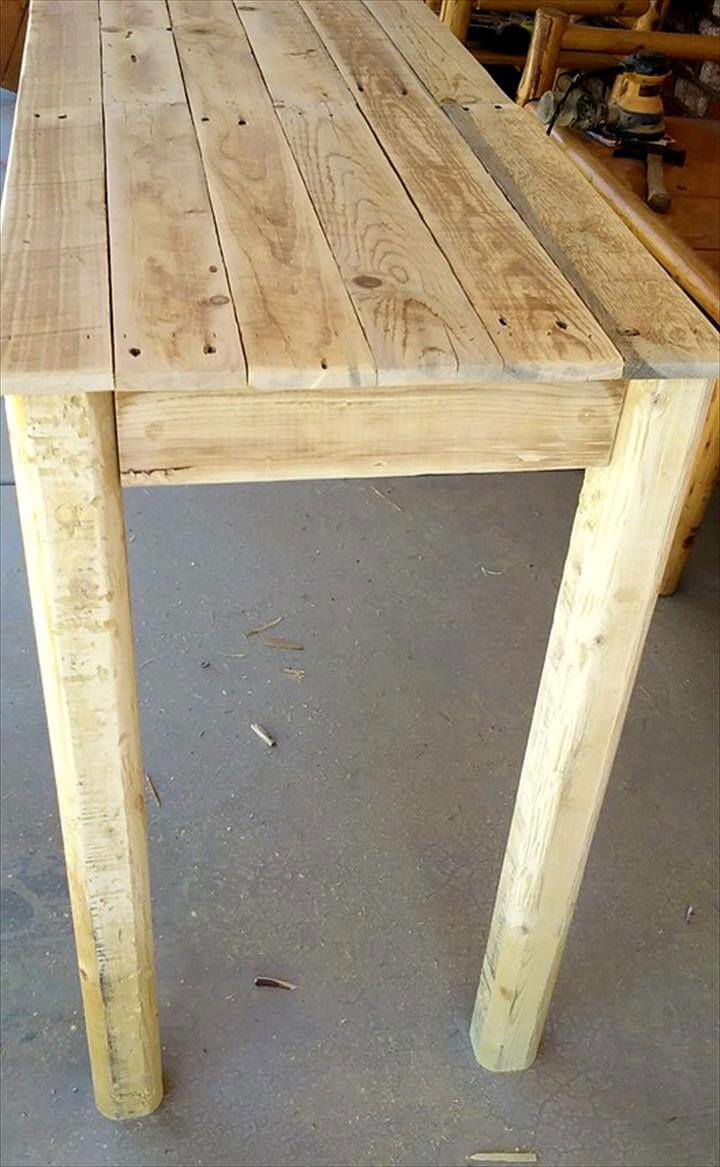 To get the top slats perfectly settled down to base frame, prefer the nails and screws! Now the table is almost complete but a final finish will decide the final look of this table!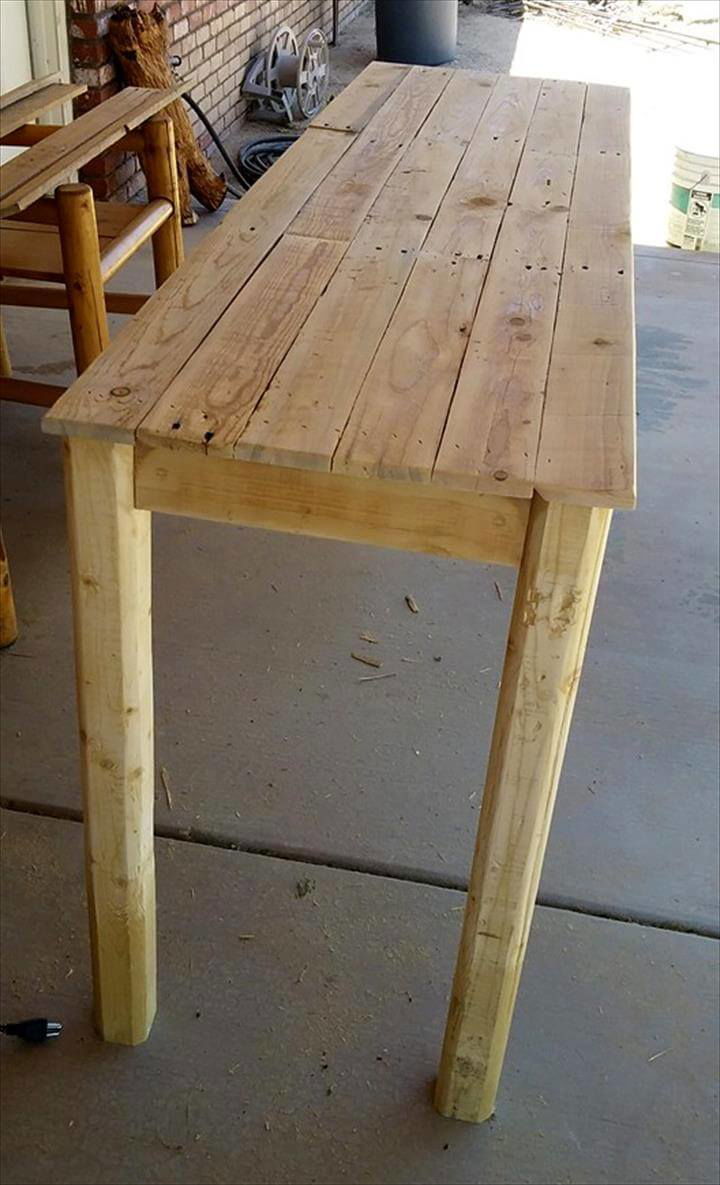 After assembly, an overhaul would be recommended, in the overhaul do a little inspection of joints, strengthen the loosely bound joints using additional hardware if necessary!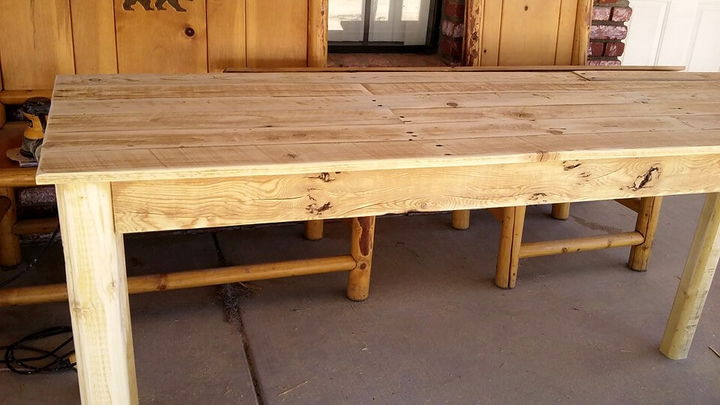 Cut down the excess of edges and let the appearance of table be more special! A little hand rubbing or varnish coating will surely enrich the wooden appearance more!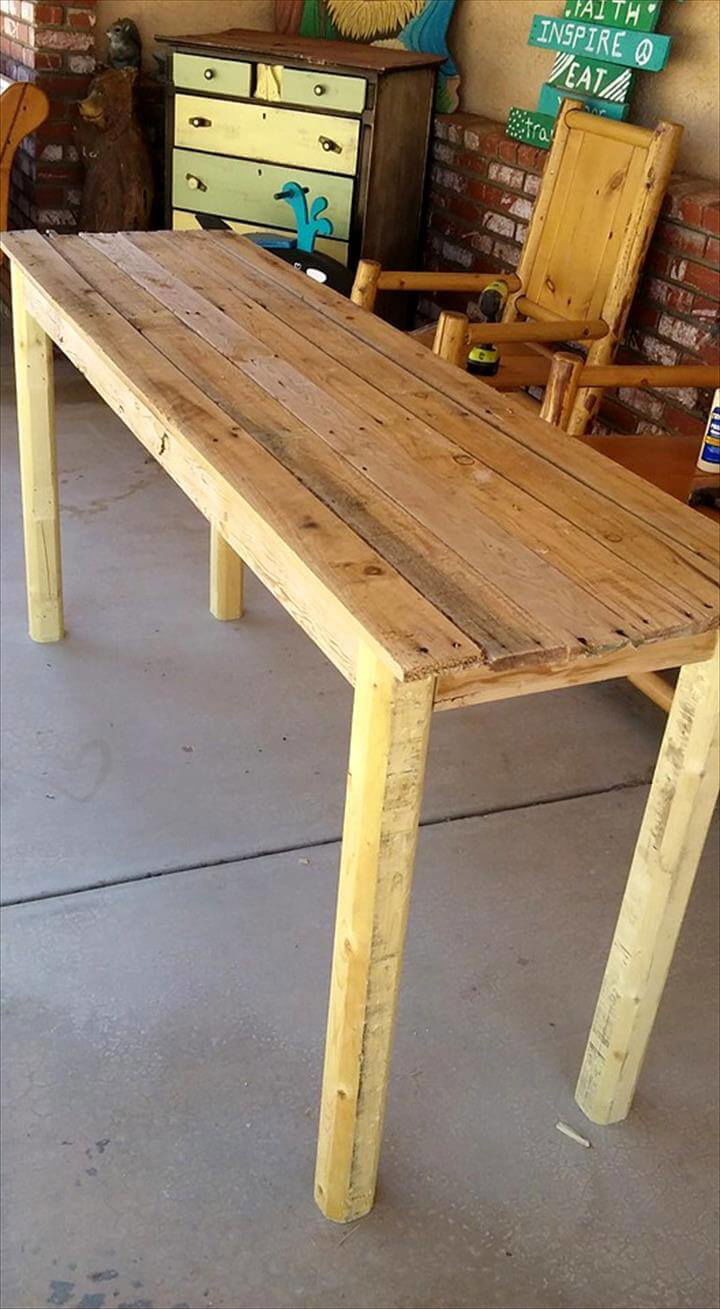 After all primary wood conditioning appearance the table is all complete now, but here it is having a blank natural tone of wood!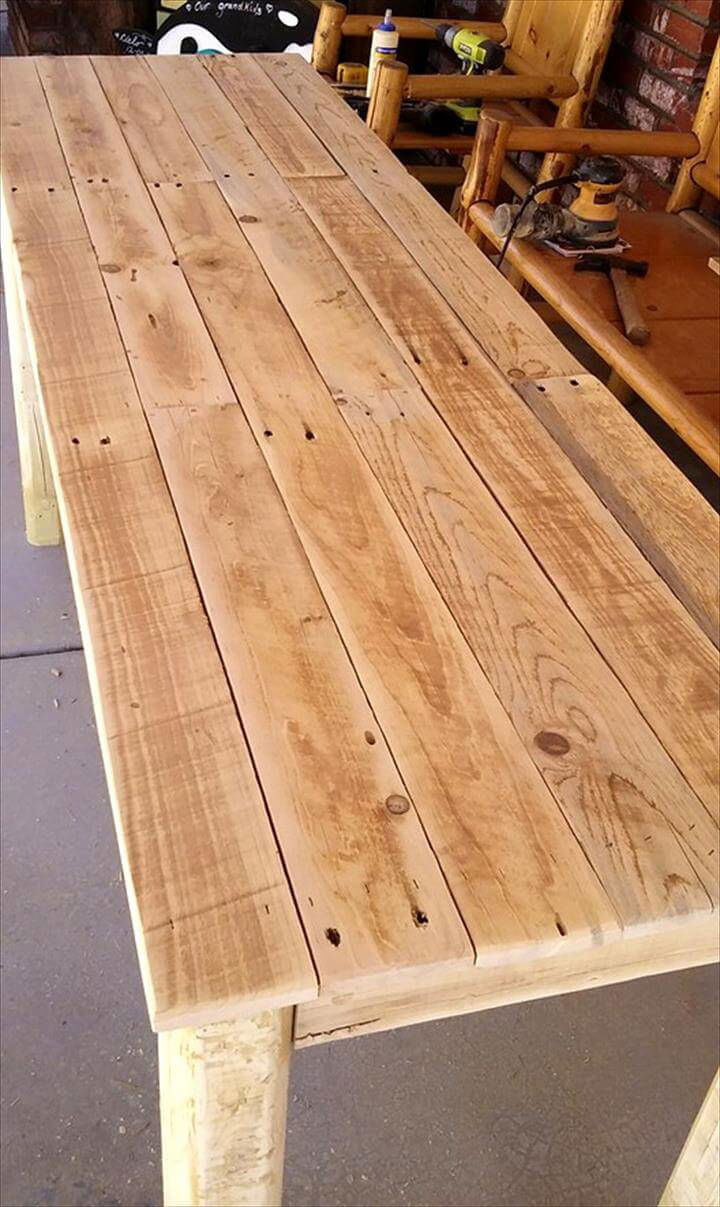 If you want it match your home decors, then you will have to give it a custom finish so that it can get that adorable final appearance you want!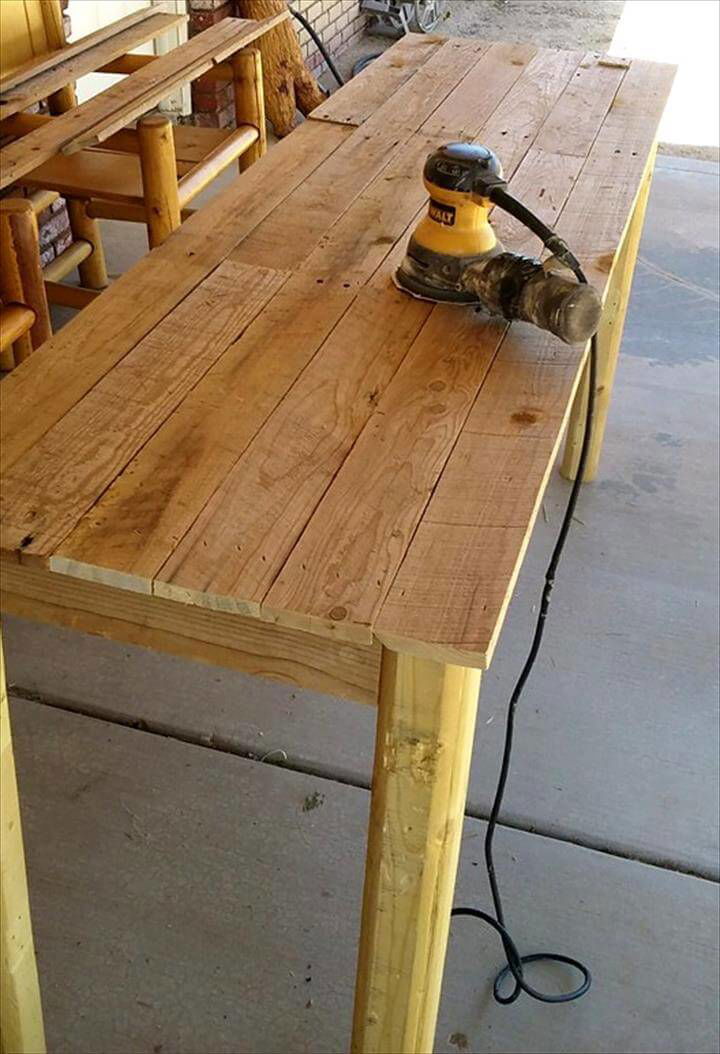 A total sanding of surfaces is recommended before you apply the paint or stain coats, it will help the paint layers stick longer to wood medium!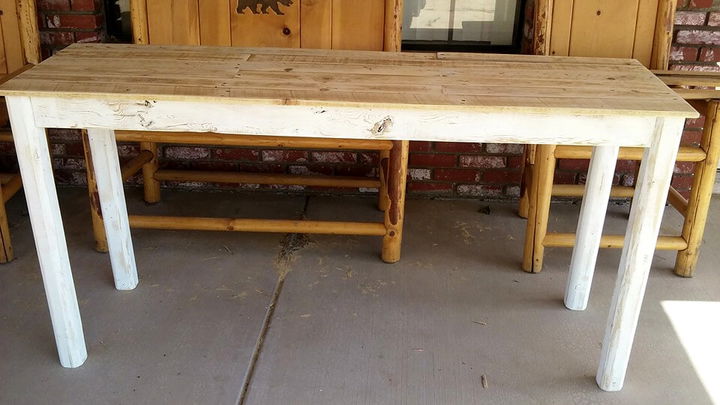 Here base has been decided to gain an alluring white appearance so has been painted in white as you can see, the distressed white appearance of base frame would make the table look shabby chic!
Top of the table has been stained for a dark, almost black choco look so this create a charming milk-choco avatar of table!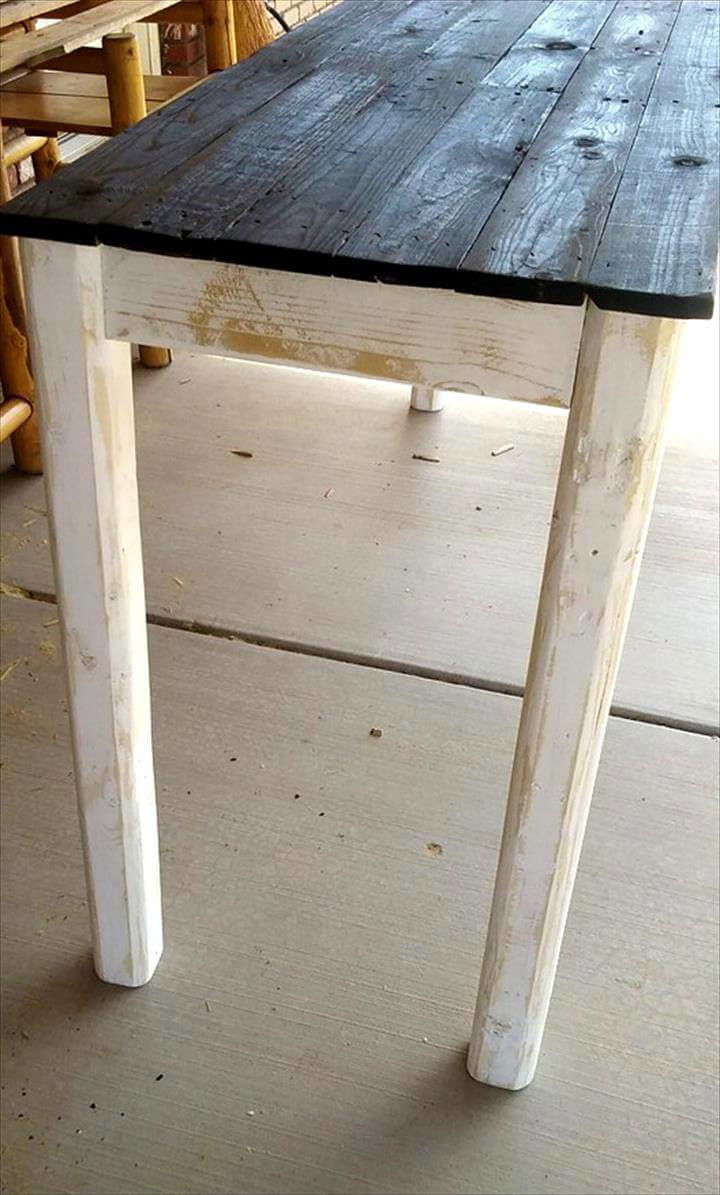 This custom entryway table with amazing black and white appearance would also rock for country style, antique or vintage inspired entry ways!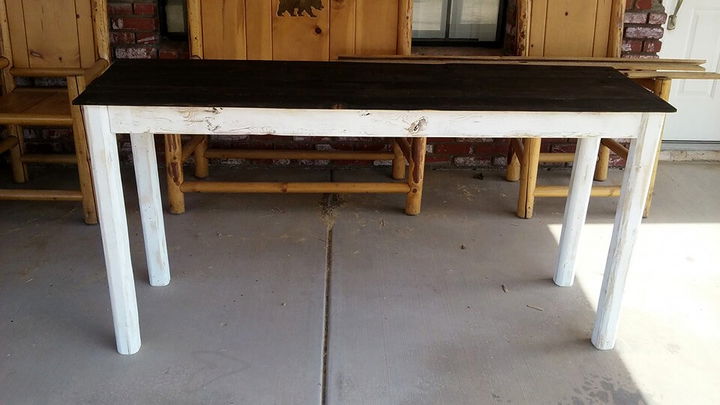 It can also be used for many other purposes, would work great as a garden accent table, as a desk and also as a living room side table!
As the construction is pretty quick and simple so you can add this project in you weekend's to-do list of DIY projects! An ever inexpensive DIY furniture project with marvelously sturdy output of entryway table!
Made by Sergio Marsala
Sours: https://www.easypalletideas.com/pallet-entryway-table-instructions/
Console Table Built From 100% Reclaimed Pallet Lumber!
It's high time to punish you. Just keep in mind that I will punish you very heavily for the A grade. Yes, of course, I agree. And do you agree to any punishment.
Now discussing:
She knew that. Soon it would be very difficult for him and she was seized by an amazing pleasure, almost euphoria, thinking about how difficult it was for him, and that all this was happening according to her will and desire. Goddess. - the voice of the warrior was so unfamiliar to him, as if a pitiful slave, begging the king for mercy not to be. Executed, but at these moments he felt no shame, only her pleasure mattered.
1732
1733
1734
1735
1736