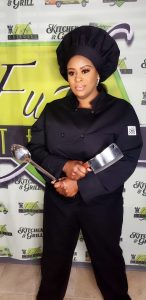 Today we'd like to introduce you to Olayinka Oboh.
Alright, so thank you so much for sharing your story and insight with our readers. To kick things off, can you tell us a bit about how you got started?
My name is Olayinka Oboh. Owner of Fufu Catering LLC (Fufu Catering Food Truck and Fufu Catering Kitchen & GRILL). I started Catering for friends and families few years ago for FREE and one day a friend said to me "Why not register your business and become a FULL Time caterer"? I smiled and said to myself, I will definitely get it done but couldn't afford the fees ($150) then. My friend did the registration for me at no cost to me. And I never looked back. Fufu Catering is well known is the wedding industry. We cater for a lot of weddings and we're unique in what we do. Fufu is the first to Introduce Amala on the Spot to my community and Today we're the BEST at it. Today, I have over 14 certifications regarding foods. Today, I have a Full Mobile Kitchen and Mortar and brick Restaurant all to myself. Dedication and Preservance is the KEY!
Would you say it's been a smooth road, and if not what are some of the biggest challenges you've faced along the way?
Nothing good comes easy. Have been through Hell (lol). When I first started, sometimes I cater for just a family in a week and I have kids to feed. It wasn't easy but consistency is the Key. I knew what I wanted and I had a goal for myself. Three years ago, I had a dream of having a food Truck but couldn't afford one and I choice not to finance it too. I called on my kids and explained to them the difference between needs and wants, we need to deprived ourselves from Nike sneakers or Jordan and let me shop for them at the Thrift store just for us to save up for the Food Truck. And, they all agreed to my idea and nine months later we're Proud Owner of a Brand New Fully equipped Mobile Food Truck Loan Free…
We've been impressed with Fufu Catering, but for folks who might not be as familiar, what can you share with them about what you do and what sets you apart from others?
Fufu Catering LLC DBA Fufu Catering Food Truck and Fufu Catering kitchen & GRILL. We are West African food Truck and Restaurant located at 5775 Jimmy Carter Blvd Suite 160, Norcross, GA. We serves Nigerian food. Fufu is a place where we bring the real Street Style Buka style to your events and now offers the same Nigerian style Buka/Canteen look here at our restaurant. We're the first and only Nigerian restaurant with the concept of bringing culture back to life in Atlanta. Fufu Catering LLC Caters for weddings, birthdays and many more. We work with our clients budget. And no events is too small or too Big.
Contact Info:
Email: [email protected]
Website: www.fufucatering.com
Instagram: @fufucatering
Facebook: @fufucatering kitchen &GRILL
Yelp: Fufu Catering kitchen &GRILL

Image Credits
@theglowzone360
Suggest a Story: VoyageATL is built on recommendations from the community; it's how we uncover hidden gems, so if you or someone you know deserves recognition please let us know here.
Sours: http://voyageatl.com/interview/inspiring-conversations-olayinka-oboh-fufu-catering-llc/
Nigeria is a country in West Africa and the most popular nation in Africa. Among the African Restaurants in Atlanta, there are many restaurants in Atlanta with Nigerian cuisine. That is why Nigerian Restaurants in Atlanta is on the spot.
Nigeria is made up of so many ethnic groups and each of them have their unique traditions and culture which has a strong influence on their cuisine. The famous Suya preparation of meat is from the northern Nigeria (Hausa speaking part of Nigeria). They also own the famous rice pudding popularly referred to as TUWO that goes well with okra soup.
The western part of Nigeria also known as the Yoruba speaking Nigerians are very famous for several delicacies like Amala and Ewedu mixed with palm oil stew, beans soup (gbegiri), Eba and egusi soup, Efo riro, porridge beans(ewa agoyin) and bread, rice and palm oil stew, kpomo(cow skin), goat meat(ogufe), pounded yam, to mention just a few. If you walk into any Yoruba restaurant in Atlanta or any Nigerian restaurant in Atlanta that serve Yoruba food, you should expect to be served any of the above mentioned meals.
In the southern part of Nigeria we have black soup, Ogbono soup and groundnut soup belonging to the Edos. Banga soup, Starch pudding, Owho soup, Egusi pepper soup, Ukodo(yam porridge) belongs to the Deltans. While Edikang-ikong soup, Afang soup, Atama soup and Efere ibaba soup belongs to the Efik(Calabar/Akwaibom).
Finally in the Eastern Nigeria which is predominantly Igbos. If you happen to walk into any IBO restaurant in Atlanta or any Nigerian restaurant in Atlanta with Ibo foods. Here is what to expect in their menu: Fufu, Eba, Oha soup, Bitterleaf Soup, Ofe Nsala, Ofe owerri, boiled yam, okra soup, to mention just a few.
Flavors and Spices includes ginger, crayfish, periwinkle, stock-fish, smoked fish, dawa-dawa, locust bean, cayenne, garlic, Scotch bonnet peppers, palm oil, Maggi seasoning, curry, thyme. Join us as we count down the all time best restaurants in Atlanta that serve Nigerian meals.
Best Nigerian Restaurant In Atlanta, GA
224 West African Cuisine
An informal restaurant offering hearty plates of Nigerian comfort food & a full bar. West African Cuisine specializes in making their customers feel special. They provide great foods and a greats service, and go above and beyond your expectations to provide your food on time and with a smile. Come and experience the Best West African Cuisine. You can check out their menu and contact information below.
Category
Best Nigerian Restaurants near me in Atlanta, GA 2020
Popular Dishes
Jollof Rice
Okoro soup
Pounded Yam
Salmon Fish
Sweet potato soup with rice
Address
5151 W Fayetteville Rd, Atlanta, GA 30349
Opening Hour
Sunday 10AM–12AM
Monday 10AM–12AM
Tuesday 10AM–12AM
Wednesday 10AM–12AM
Thursday 10AM–12AM
Friday 10AM–12AM
Saturday 10AM–12AM
Phone Number
(770) 703-8119
Little Lagos
This is another restaurant that offer the best of Nigerian meals in Atlanta, GA. Their menu is rich with a large variety of Nigerian cuisine and their service is quite good. They prepare their meals with great attention to details and customer satisfaction is their main goal. Little Lagos is easy to access in Atlanta and just like the city Lagos, it is full of surprises. Their contact information and some of their menu is listed below.
Category
Best Nigerian Restaurant Near me in Atlanta, GA 2020
Popular Dishes
Efo riro
Amala
Fufu
Egusi
pepper soup
Address
3979 Buford Hwy NE
Atlanta, GA 30345
Opening Hour
Mon 12:00 pm – 12:00 am
Tue 12:00 pm – 12:00 am
Wed 12:00 pm – 6:00 am
Thu 12:00 pm – 6:00 am
Fri 12:00 pm – 6:00 am
Sat 12:00 pm – 6:00 am
Sun 12:00 pm – 6:00 am
Phone Number
(404) 835-2465
Ike's Cafe and Grill
Ike's Cafe and Grill is a fine dining African full-service restaurant. They provide traditional experience in an elegant ambiance. Some of the food in their menu include seafood, beef and chicken suya, jollof rice, yam porridge (asaro), egusi and much more. They also have a full bar where you can unwind, featuring exotic hard to find drinks from all over the African continent. If you want to dine with the stars, come to Ike's Cafe and Grill. See below for location.
Category
Best Nigerian Restaurant Near me in Atlanta, GA
Popular Dishes
Special Beef suya
peppered red snapper
Asaro (yam porridge)
Jollof rice
Moi Moi
Bitter Leaf soup
Sea Okoro
Pepper soup
Address
1250 Tech Dr
Ste 200
Norcross, GA 30093
Opening Hour
Mon 11:00 am – 10:00 pm
Tue 11:00 am – 10:00 pm
Wed 11:00 am – 10:00 pm
Thu 11:00 am – 10:00 pm
Fri 11:00 am – 12:00 am
Sat 11:00 am – 12:00 am
Sun 12:00 pm – 9:00 pm
Phone Number
(770) 559-1579
Mr. Soul Bistro & Cafe
Mr Soul Bistro & Cafe is considered one of the best African restaurants in Atlanta. This Nigerian Restaurant serves tasty Nigerian meals. Whenever you are in search of Nigerian Restaurant near me, this restaurant in Atlanta should be your first stop. A trial would convince you.
Category
Black Restaurant near me in Atlanta
Popular Dishes
Suya
Jollof Rice
Address
3253 Buford Hwy NE
Ste 770
Atlanta, GA 30329
Opening Hour
Mon-Thur 2pm-2am
Fri-Sun 2pm-6am
Phone
(770) 462-5001
The African Grill
The African Grill is another restaurant that makes it to our list of top 20 Best Nigerian Restaurants in Atlanta, GA. This restaurant is known for its delicious Suya. It has one of the best grill spot where you can find every Nigerian meal that can be Grilled on the menu. One other thing that also makes it unique is that it serves other delicious African cuisine. See below for directions and contact information.
Category
Best Nigerian Restaurant near me, Stone Mountain. GA
Popular Dishes
Egusi
Suya
Goat Meat
Pounded Yam
Address
3965 Rockbridge Rd
Ste B
Stone Mountain, GA 30083
Opening Hours
12:00 pm – 8:00 pm
Thu
12:00 pm – 8:00 pm
Fri
12:00 pm – 8:00 pm
Sat
12:00 pm – 8:00 pm
Sun
1:00 pm – 8:00 pm
Phone Number
(470) 428-2416
⭐⭐⭐⭐
Rating: 3.5 out of 5.
Olyzubbys Kitchen
In search of African food near me, Olyzubbys has one of the best Nigerian foods. Visit Olyzubbys Kitchen Nigerian Restaurant for eat in and take away. They also offer home delivery. So when next you want to enjoy Nigerian meals in the comfort of your home, Just contact their delivery service.
Catergory
Best African food near me delivery Atlanta
Popular Dishes
Jollof Rice
Cow tail stew
White rice
Suya
Ugbaa. Tapioca delish
Nkwobi ( Cowfoot) White Rice
Address
4813 Old National Hwy
Atlanta, GA 30337
Opening Hours
Mon-Sat 12pm – 9pm
Phone Number
(678) 793-5565
Toyin Restaurant
Toyin offers great Nigerian meals especially meals from the Yoruba speaking tribe of Nigeria. You get a feel and taste of home when you visit this restaurant. This restaurants is a hot spot for Nigerians in Atlanta, you are sure to have a memorable experience when you visit here. Some of the menu items is listed below.
Category
Best Nigerian Food from Toyin Restaurant Atlanta
Popular Dishes
Asaro (Yam Porridge)
Ayamasi Stew
Egusi Soup
Ewa and Dodo (Beans)
Ogbono
Jollof Rice
Address
495 Pat Mell Road SW,
Suite 105,
Marietta, GA 30060.
Opening Hours
Weekdays: 11am – 8pm
Saturday: 11am – 8pm
Sunday: CLOSED
Phone Number
(404) 835-7702
Buka 2 Restaurant & Lounge
If you have lived in Nigeria, you will be familiar with the word Buka. For those who don't know it is a term used to describe local restaurants. It is believed that food sold in Buka is tastier than food in classy restaurants. The same can be said of this restaurant in our list.
Like the name implies, this restaurant offers some of the the most tasty Nigerian delicacies you can find in Atlanta. They have in their menu meals from the Calabar/Akwa-Ibom area of Nigeria. These meals are rich, and well prepared. When you visit Buka 2 Restaurant & Lounge you are sure to have a memorable experience. See below for full details and direction.
Category
Best Nigerian Food from Buka Restaurant Atlanta
Popular Dishes
Fish Pepper Soup
Asun(Peppered Goat Meat)
Efo Riro
Egusi
Ogbono
Address
5436 Riverdale Rd
Atlanta, GA 30349
Opening Hours
12pm-9pm daily
Phone Number
(678) 519-5443
⭐⭐⭐⭐
Rating: 3.5 out of 5.
Fad Fine Dining Restaurant
Fad Fine Dining Restaurant is one of the best Nigerian Restaurant in Atlanta due to its rich menu and sumptuous meals. This restaurant offers some of the best Nigerian meals you can find in Atlanta. Their Jollof rice is well seasoned and very tasty. They also have several varieties of Nigerian meals to pick from that you cannot run out of options.
Their Address, menu and phone number is listed below for you to contact them.
Category
Best African grill in Atlanta
Popular Dishes
Jollof rice with fried plantain and chicken
Fried plantain with bean and chicken
Pounded yam with vegetable and chicken
Address
3565 Austell Rd
Ste 30-31
Marietta, GA 30008
Opening Hours
12pm – 10pm Tue- Sun
Phone Number
(770) 431-8505
These restaurants listed above are the all time best restaurants in Atlanta, Georgia. Atlanta is filled with lots of Africans especially Nigerians. Thee Nigerians always crave for Nigerian meals despite the availability of different cuisine. When that craving start you can visit any of the restaurants listed below to get the top Nigerian delicacies.
Sours: https://hotsaucenaija.com/all-time-best-nigerian-restaurant-in-atlanta-ga-btv-ranking/
22 Food Trucks and Food Truck Parks to Seek Out Around Atlanta
Keep an eye out for the Low-Co Motion truck serving up food inspired by Low Country cuisine. Place an online order (try the angel melt with vinegar barbecue pulled pork, cheese, and tomato) and pick it up at a designated time. Check out the schedule here. Follow Low-Co Motion on Instagram, too.
Locally-sourced ingredients meet global flavors at the Good Food Truck, owned by Jessamine Starr. The truck is currently off the road during the pandemic, but Starr continues to make her food available to Atlantans, including a weekly curry delivery and Ett, an exclusive, single-seat "restaurant" in the woods of Roswell. Follow on Instagram for updates.
With locations in Duluth, Alpharetta, and downtown Woodstock, Truck and Tap provides patrons with plenty of beer and a rotating lineup of food trucks parked just outside. Expect everything from trucks slinging lobster rolls and barbecue, to those serving up tacos, Cuban sandwiches, and pizza. Truck and Tap partnered with PREP, the South's largest commissary kitchen, which has helped more than 400 food businesses get off the ground around Atlanta. Check out the food truck schedule for each location here.
Will Turner closed his Mexican soul food restaurant in Peachtree Corners due to financial hardships caused by the pandemic, but the food truck is still rolling around town. Check out the food truck's schedule and order dishes like the collard green quesadillas or blackened fish tacos. 
Laying claim to being the first Nigerian food truck in Atlanta, Fufu serves up dishes like okra soup, turkey gizzards with fried plantains, and asaro (a yam porridge.) Fufu also offers catering services. Keep up with the food truck's whereabouts on Instagram.
The name says it all, this food truck is all about tacos. Let's Taco Bout It operates mainly out of their location in Doraville, but the food truck does make appearances at spots around Atlanta, including Truck and Tap. Try the Hawaiian taco with chicken, broccoli slaw, and pineapple. Follow the truck on Instagram.
In the mood for meatballs? There are plenty to be found, along with other Italian-inspired treats, at the Meatballerz food truck. Meatballerz offers three types of meatballs (classic, spicy, and turkey) served three ways: as a sub, on a tray, or on pasta. A permanent location is now open on Presidential Parkway, near Little Farmhouse Cafe on the edge of Embry Hills. In addition to meatballs, the restaurant offers pizza, salads, garlic knots, and sandwiches, including an Italian grinder consisting of hot capicola, salami, pistachio mortadella, and mozzarella cheese.
This chef-owned and operated food truck offers everything from fried chicken sandwiches, burgers, and wings, to fried shrimp, blackened salmon sandwiches, and a Cajun shrimp po'boy. Regulars swear by the lobster roll topped with lemon aioli and served in a soft hoagie roll. Check the food truck's schedule here. Preorder online for pickup. Follow on Instagram. Catering services available. Kosher meals available. Flavor Rich the restaurant opens August 11 on Buford Highway in Suwanee.
Smith Gourmet Creations is currently only available on Saturdays for pick-up in Smyrna, but it's comfort food at its finest and worth the wait. Fried shrimp, garlic butter crab fries, and jalapeño creamed corn can all be ordered online. Follow on Instagram.
The recently launched food truck fuses two childhood favorites into crave-able treats. Tempting combinations include the Southside with Snickers, Cocoa Krispies, Reese's Pieces, and marshmallows, and the Buckhead made with white chocolate chips, honey, granola, whipped cream, and vanilla wafers. Check Instagram for the food truck's schedule. 
Creole pretzels — pretzels coated in buttery praline caramel and pecans. These pretzels, and other New Orleans-inspired confections, are the creation of Chay Powell. Powell hosts weekly pop-up shops throughout metro Atlanta. Check the schedule to see where Chay J's New Orleans Candies will be next.
Sweet chili cauliflower and smoothies are just a couple of the vegan treats found on the menu for Plant Based Kitchen food truck. The truck is parked frequently at the Atlanta Food Truck Park on Howell Mill Road. Follow on Instagram to keep updated on Plant Based Kitchen's next location.
The activist-driven coffee company provides job training and opportunities for Atlanta's refugee community at its Clarkston and Sweet Auburn locations. But Refuge still rolls around town delivering coffee via its red food truck. Schedule the truck to make an appearance in the neighborhood by texting "truck" to 678-613-4670. General manager and Syrian refugee Ahmad Alzoukani will be in touch to gather location details and arrange a time for the truck to arrive for a 30-minute mobile coffee break. Please remember to tip generously.
Located in a lot just off of I-75 on Howell Mill Road, the Atlanta Food Truck Park offers a rotating array of mobile kitchens throughout the week. Follow the park on Instagram for the daily food truck schedule and upcoming events.
A food truck dedicated to queso? Yes. While mobile, the aptly named Queso Truck posts its schedule online and can often be parked around Colony Square and 12th Street in Midtown in the afternoon. Follow on Instagram for updates.
People can find Sunshine Alchemy serving vegan food from Duluth to Decatur each week. The menu is packed with options that even meat lovers will find tempting, including guacamole, spiced tater tots, and pineapple limeade. Order via Uber Eats. Check out the food truck's schedule here.
Next spring, the highly anticipated Bankhead Seafood reopens its doors on Donald Lee Hollowell Parkway, backed by Atlanta-based rappers and entrepreneurs Michael "Killer Mike" Render and Clifford "T.I." Harris. For now, catch the Bankhead Seafood food truck rolling around Southwest Atlanta, including the Triton Yards food truck enclave on Sylvan Road. Try the "Shawty" platter with fried shrimp, hushpuppies, and fries. Keep updated on the food truck's location on Instagram.
This roving food truck sports a wood-fire oven on board to make delicious pizzas on the spot. Atlanta Pizza Truck offers catering services, too. Check the schedule online and follow on Instagram for updates.
This food truck is dedicated to churros (extruded dough fried to crispy perfection and coated in cinnamon sugar.) The menu for Queen Churro includes everything from ice cream sandwiched between two churros, to a churro used as a garnish for a guava smoothie. Follow Queen Churro on Instagram for updates and locations.
Occupy the Hood activist Malik Rhasaan got Che Butter Jonez rolling in 2018. Standouts on the menu at this food truck include That Sh!T Slambing — a oft-ordered lamb burger topped with lettuce, tomato, caramelized onions, and herb sauce — and the Mei Wei special — a chicken fried rice dish that pays homage to a restaurant Rhasaan went to as a kid. Che Butter Jonez food truck frequents both the Met in West End and Triton Yards on Sylvan Road. Follow on Instagram for the latest location and menu updates. Order online.
Fresh cut fries with toppings beyond the wildest imagination are found on Puncho's menu. While not technically a food truck, this French fry operation is more of a roving takeout joint. Order online, choose the cash payment method, wait until the order is confirmed, and then pay via CashApp. The pickup location is sent upon payment. Upon arrival at the designated pick-up spot, Puncho's will deliver those fries straight to the car. Try "the Bluff" with crispy hot honey lemon pepper chicken bites and ranch drizzles. Follow on Instagram for updates, specials, and weekly fry menus.
Triton Yards is a small food truck park with a community green space and tiny home park located in the Capitol View neighborhood. Expect food trucks like Che Butter Jonez, Bankhead Seafood, and Meatballerz regularly posting up here, with an occasional appearance from vegan burger restaurant Slutty Vegan and its food truck. Triton Yards often hosts movie nights and shows sports on two large projection screens. Keep updated on the food truck schedule and events on Triton Yards's Instagram.
Sours: https://atlanta.eater.com/maps/best-food-trucks-food-truck-parks-atlanta
Restaurant Review - Into Africa
Fufu, to my ears, is one of the culinary world's great onomatopoetic misnomers. It sounds like a word that disdainful American foodies might toss around to describe pretentious architectural plating in restaurants: "Jesus, could that chef be any more fufu with those fronds of rosemary sticking up everywhere?"
But to West Africans, fufu is the sound of Mama's cooking, and it succinctly sums up the food that Patience Johnson serves at her 4-month-old African Cuisine.
"Would you like to wash your hands now?" asks Johnson, as she sets a plate of fufu - which is actually white yam pounded to a consistency somewhere between dumplings and mashed potatoes - and stew in front of me.
I examine my fingers. Is she questioning my hygiene?
Johnson laughs. "This is a dish you eat with your hands," she says. She explains: You snatch a piece of fufu, roll it into a ball about the size of a walnut, flatten it slightly and use it to scoop up some of the egusi stew, made with ground melon seeds and greens. The fufu's creamy yet pliant texture melds with the nutty, meaty potage dyed orange from palm oil. It's messy going until you get the hang of it. I slosh quite a bit of stew onto my tray.
African foods don't get a whole lot of play in this country, and homey West African even less so than counterparts from the east and north. But for ethnic adventurers who've thoroughly explored Atlanta's prolific Latin and Asian eateries, the tastes of Africa may offer some still-foreign diversions.
African Cuisine is located in one of the limbo shopping centers between Clairmont and Shallowford on Buford Highway, and were it not for the large black and white sign, you'd have a hard time finding it - even in the strip mall. It's next door to an auto shop, and the parking lot is constantly clogged with cars, all but obscuring the modest "Open" sign in the restaurant's window.
Inside, a strip of wallpaper winds around the room, invoking the Serengeti with a scene of zebras and lions grazing in the sun. It's a clean, simple space: fake palms, a few comfortable booths and a soda machine where you grab your own drinks.
The menu is small, and Johnson doesn't make everything on the list daily, so the first order of business is to ascertain what's available. If she hasn't prepared the egusi and fufu, then she's probably whipped up okra stew. The lithe strands of okra have simmered so long they bypass slimy and slide right into silky. A haunting smoky quality inhabits each bite.
The downside is that the stew is made with ropes of beef that lend flavor but are so sinewy they're inedible. The egusi is made with the same meat. I've learned to just set these shreds aside and pour the okra stew over the abundant hillock of rice that comes on the side.
Peanut butter soup sounds like a dreamed-up childhood concoction, but the spicy, complex stew has more in common with curry than chunky Jif. And happily the beef in this dish is seductively tender.
The first time I walked in, Johnson appraised me and advised that I should try the fried fish. It's a dish that connects the culinary dots from Africa to the Caribbean: Moist, whole fried fish is served with a juicy saute of peppers, tomatoes and onions, paired with hunks of sweet, soft plantains. Johnson uses tilapia, which is easy to navigate without getting a mouthful of bones.
About as many customers take-out as eat-in, and the restaurant can have long quiet stretches in the afternoon. It was completely still one visit, until Johnson came out from the back and turned on Star 94. She disappeared again and I hummed along with James Ingram and Spandau Ballet while I waited for my fufu, happy to have discovered this sweet retreat that's ideal for a little something different at lunchtime.
Ethiopia's spongy flatbread, injera, takes notably less skill to wield than fufu, and Atlanta has a few solidly reliable Ethiopian restaurants scattered about, including Meskerem and Queen of Sheba. Moya, housed in the ethnically diverse restaurant row on Clairmont and North Decatur where Indian Bhojanic and Mexican Ricardo's also reside, has been on the scene a little over a year. It strives to set itself apart from the crowd with a contemporary edge.
Moya's windows are tinted black like other Ethiopian eateries around town, but unlike the others, it takes interior decorating beyond the posters of Ethiopia provided by the tourist board. The place gleams with dark, polished wood, and a central cabinet displays goblets and gourds and other African knickknacks.
Here's a tip I find applicable to Ethiopian spots in general and Moya in particular: Skip the starters and head straight into the finger food fest. I learned this the hard way.
Liyu Moya, described as spicy, lightly fried cauliflower and zucchini, sounds like a fine way to start a meal. But when our pubescent server plops it on the table, I ask him what the yellow dip is in the center of the plate. "Honey mustard," he replies. Right. The vegetables have the distinct greasy yet raw smack that signals they were cooked in oil that wasn't hot enough. And the sauce, straight from Africa by way of Applebee's, doesn't improve matters.
Sambussas, pastries filled with chile-spiked lentils or ground beef, suffer the same sebaceous fate. One oil-soaked bite makes a lasting impression.
Discouraged, I suspiciously eye our main courses as they arrive. Then I catch a scent of the bewitching fragrances and melt. I'm always a champion of Ethiopian vegetable combo plates, and Moya's reminds me why. Our server spoons buttery collards, lentils burnished dark crimson from exotic spices, gently seasoned yellow split peas and satiny cabbage with carrots and potatoes onto a central platter covered with injera.
He dips into an earthen pot and retrieves the classic components of doro wat: A chicken leg and a hard-boiled egg covered in an ebullient sauce flavored with berbere, a spice mixture akin to India's garam masala that includes cumin, ground ginger and cardamom. The sauce is the best part, meant to be greedily sopped up with the injera you use as a utensil to eat everything in front of you.
I've had good luck with lamb here, either skewered as a shish kebab or diced into small chunks and sauteed with onions and tomatoes. The menu's one fish offering, which changes daily, is another story. It was grouper on the night I tried it. When my friends and I took a bite, our eyes glazed over as faraway memories flooded our brains. It tasted exactly like the Arthur Treacher's fish we ate in the '70s. Their 3-year-old loved it.
Despite its ups and downs, Moya is an excellent answer to the age-old question of where to go for a cheap and compelling weeknight dinner, particularly if you're in the mood for meat-free fare, or chicken that hasn't been cooked on a fast-food rotisserie. And it's great for kids. When my chums were showing their child how to eat her collards with the injera, she cocked her head, puzzled. "No fork?" she asked. That's right, this is one cuisine where we get to chuck the stodgy rules of Western decorum right out the window.
Sours: https://creativeloafing.com/content-186097-restaurant-review---into-africa
Atlanta in best fufu
For a taste of Nigerian cuisine, head to Marietta
Dish: egusi soup and fufu
A tip for Atlanta foodies: If you're ready to treat yourself to African-Nigerian dishes, head to Marietta. Toyin Takeout has you covered.
The menu consists of traditional Nigerian dishes, but if you're interested in what most represents the cuisine, owner Toyin Adesayo recommends egusi soup and fufu.
"How does this dish represent Nigeria?"
The somewhat spicy egusi soup is a common food in Nigeria, according to Adesayo, who said Nigerians typically grow their own food rather than going to the market to purchase.
"It's a soup made of pepper, onions, melon, and vegetables like a spinach," she said. "You can take it as lunch, dinner, or breakfast. Even American people, they love egusi."
The accompanying fufu, meanwhile, is made of yam, according to Adesayo.
"How does this dish represent Atlanta?"
For Adesayo, the chance to share a taste of her home country is particularly special.
"It's a privilege for me," Adesayo said. "It reminds me of home every day. When you eat this kind of food, you'll never miss home. You miss your parents, your relatives, your friends … but when you see this food, you'll never miss home."
At the Table is a digital series produced by 11Alive's Matt Pearl and Liza Lucas. Metro Atlanta features the food of dozens of nations. We want to eat through them all! Follow us on Facebook and share your favorite food stories.
Sours: https://www.11alive.com/article/life/food/at-the-table-atl/marietta-restaurant-offers-nigerian-cuisine/85-09e91d6a-298c-473c-9dcc-7480df48f143
THE BEST AFRICAN FOOD IN ATLANTA! PALM NUT \u0026 LIGHT SOUP!! GOOD EATS!
A Taste of Africa
On a recent Sunday night at FAD, a restaurant in the northwestern Atlanta suburbs run by Nigerian émigré Ade "Fad" Faderin, a young customer who traces her ancestry to the Edo people chatted up a waitress of Yoruba descent. As I tried to form a divot in a marble-white ball of fufu and, following the style of my tablemate, scoop a taste of habanero-perfumed okra soup, they talked about the differences between fufu made with pounded yam and the version made with cassava.
photo: Andrew Thomas Lee
Patrons line the bar.
Afropop beats and highlife horns blared from the speakers. Nollywood films made in Lagos flashed across a big-screen television. On a smaller set, the Jesus Channel, broadcast from Ghana, played with the sound muted. Dressed in a chef coat, his soft eyes framed by mod glasses, his broad face creased by a welcoming smile, Faderin shook hands, slapped backs, and occasionally stopped to shoot a game of pool with a steady stream of customers who arrived to pick up carryout clamshells of on-the-bone goat, swamped in a bright tomato stew.
FAD is dizzying, even disorienting. Set behind a Waffle House, in the back corner of a strip shopping center that houses branches of four Nigerian-based churches, the restaurant serves as a pub, clubhouse, and banquet hall for the West Africans who call suburban Cobb County home. Natives of Ghana commune with immigrants from Nigeria. Cameroonians share the bar with Senegalese.
The interior is a riot of imagery. Multicolored maps, mounted inside the front door, serve as global geography refreshers. Tacked alongside, plastic-coated ranks of West African currency look as if they were installed by a high-school teacher to illustrate a civics lesson. The flag of Liberia, defined by alternating red and white stripes and a blue canton, recalls the American flag and reminds all that the nation was founded by freed American and Caribbean slaves. Album covers from the 1980s, when Faderin fell in love with American pop music, blanket the bathroom hallway. Boy George gets good play. So does the sound track from Flashdance. Flags tacked above the bar herald Chelsea, Arsenal, and other British soccer clubs, reminders of the long colonial rule of Great Britain, which came to a close in the early 1960s.
Enough about the circus. FAD is worthy of culinary attention, too, for West Africa may be the next big thing in Southern food. Two recent books set the tone for curious eaters. Senegal: Modern Senegalese Recipes from the Source to the Bowl, by Pierre Thiam, makes explicit links between thieboudienne, a rice-vegetable-fish composition, and the jambalayas of Louisiana. The Ghana Cookbook, by Fran Osseo-Asare, reveals connections between the hot-water cornbread of the American South and kenkey, a Ghanian steamed cornbread.
photo: Andrew Thomas Lee
A World of Flavor
A bowl of suya, smoked beef brisket with onion and cayenne.
West African restaurateurs such as Faderin connect these worlds in ways that books can't. Order a Homeboy Special—black-eyed peas, threaded with onions, cooked down to a pulp with palm oil, served with a bright chile sauce—and the South comes alive on your palate. Fork into a plate of jollof rice, blushed with tomatoes, spiked with habanero, and cooked until each grain stands distinct, and you confront the red rice long popular in Savannah and other citadels of Lowcountry cooking. Get the stewed gizzards and you recognize the protocousin of the fried gizzards sold at Deep South convenience stores. Dinner at FAD offers a glimpse at the ways that West African cooks, ingredients, and techniques have shaped what we now think of as Southern food.
You most likely recognize the argument I'm building. The South is as West African as it is Western European. Probably more so. Our everyday language offers multiple examples. Juke has its likely roots in the Wolof word jug, or the Bambara word jugu, meaning "disorderly" or "naughty" or similar. More to the point of my dinner, our word gumbo has roots in the Bantu languages, in which okra is known as ngumbo or gombo. As my friend the foodways scholar Jessica B. Harris likes to say, "Okra forever points its green spine toward Africa."
Allow me to point you toward FAD's okra stew, perfumed with dried shrimp. Listed as okro on the menu, it's thick, trails from your spoon in long tendrils, and is flat-out delicious. So is the suya, which translates as beef brisket barbecue, smoked out back on a barrel cooker stoked with charcoal. Sliced into fat-edged lozenges and served with crescents of white onion, a saucer of powdered cayenne, and a brace of toothpicks, it tastes like a chewy Nigerian take on Texas patrimony, reimagined for a United Nations cocktail party.
Dinner at FAD will deepen your understanding of the roots and routes of Southern food and reinforce that ours is a world cuisine, not mere provincial cookery. Go get your fufu on.
Sours: https://gardenandgun.com/articles/fork-in-the-road-a-taste-of-africa/
Similar news:
About t-t-t-that. " - Kuzin explained again and for clarity moved his hands back and forth in front of him. Everybody whinnied like a horse. It dawned on me, too, and it just shook everything from the inside. I only dream about it there, and they.
40783
40784
40785
40786
40787