Samsung Odyssey Neo G9 Review
The Samsung Odyssey Neo G9 is an updated version of the impressive Odyssey G9 super-ultrawide that debuted last year. This new version seeks to improve the HDR experience while retaining the basic elements of the original that made it special. The Odyssey Neo G9 remains a 49-inch 5120 x 1440 VA panel with a 1000R curvature.
At this size and resolution, it's the equivalent of two 27-inch 1440p monitors glued together into one seamless display. The refresh rate is still a very impressive 240Hz, with support for AMD FreeSync Premium Pro and Nvidia G-Sync Compatible.
The big area of improvement is HDR. The original Odyssey G9 packed a rather pathetic 10 edge lit dimming zones, which is insufficient for true HDR visuals on such a large display. Samsung has totally addressed this on the Neo, swapping out the backlight for a new mini-LED version that includes 2048 local dimming zones. In addition to that, Samsung lists support for what appears to be their own in-house HDR standard, Quantum HDR 2000, which is a bit meaningless by itself, though the spec sheet does list up to 2000 nits of peak HDR brightness.
Because we're going from a monitor with limited HDR support, to full HDR, the price tag has increased. The degree of that increase will depend heavily on your region though. In the United States, the Odyssey Neo G9 is expensive at $2,500. That's a $800 jump over the Odyssey G9's $1,700. But in Australia, to cite one example, the price tag has only increased by $400. Either way you look at it, this remains a flagship monitor sold at a premium price point.
Design and Form Factor
Aesthetically, the Odyssey Neo G9 looks the same as the monitor it's replacing. There are some subtle differences, but the general design is the same. The glossy white plastic used for the outer housing on the rear and stand remains, same wide legs with a black plastic outer, and the same RGB LED lighting element in the middle of the stand connection.
Samsung is going with a sci-fi / futuristic look and I think it works to some degree, though of course with a monitor of this size you won't be getting anything too subtle.
Speaking of size, this will be an issue for some as the Neo G9 takes up a lot of space.
The monitor is nearly 1.2 meters wide while the stand legs span 80cm, so you'll need a lot of desk real estate to fit this beast. On top of that, the overall footprint is quite large due to the aggressive 1000R curve, so you'll need some available depth as well.
This is actually wider than the LG C1 48-inch OLED we looked at a few weeks back, just without the extra height.
The 1000R curve is significant and not something I'm usually a fan of , but on an ultrawide like this I think it works quite well, especially when gaming as it gives an immersive feel.
It's not ideal for content creation or productivity work though, as there is a bit of distortion, but that will depend on how sensitive you are to those. In any case, this is a gaming focused product so overall the 1000R curve is a positive.
The stand Samsung includes is surprisingly adjustable for such a large display.
There's height adjustment as well as swivel and tilt support so it allows for a decent range of motion. I'd probably like slightly more height, though you can VESA mount it with the included adapter, and the stand is a little wobbly due to the massive size.
In addition to the HDR upgrade, another area that's received a spec boost is port selection.
We're still getting a DisplayPort 1.4 connector with DSC, which provides bandwidth for the full 5120 x 1440 resolution at 240Hz with 10-bit HDR. But the HDMI ports have been upgraded to HDMI 2.1, and there are two of them, so HDMI is no longer capped to 60Hz.
Unfortunately, despite HDMI 2.1 in theory having more bandwidth than DisplayPort 1.4, the Neo G9's HDMI 2.1 ports are still limited to 144Hz whether we're in 8-bit or 10-bit operation. I don't know why this is the case – perhaps Samsung are using a low-bandwidth HDMI 2.1 implementation – and it will be disappointing for those hoping for the full 240Hz through HDMI.
The OSD remains the same and it's controlled through a directional toggle on the bottom edge of the screen. It includes features like black boosting modes, crosshairs and various color controls. It also includes the VRR Control feature that was introduced to the Odyssey G9 firmware after launch, which should be enabled if you're having any issues with variable refresh rates. I didn't experience any flickering during my testing which was a problem some people reported with prior models.
Display Performance
Response time performance is a simple story with the Odyssey Neo G9, as it's basically unchanged from the Odyssey G9. This includes how the monitor doesn't let you change the overdrive setting when adaptive sync is enabled, and as I expect the vast majority of gamers will be using this monitor with a variable refresh rate, I'll stick to the standard default configuration.
Samsung Odyssey Neo G9 - Adaptive Sync - 240Hz
At the maximum 240Hz, the Neo G9 is a very fast monitor. It packs a 2.8ms grey to grey response time and while there is some overshoot at this refresh rate, it's somewhat manageable and actually a bit less overshoot than the same refresh rate on the G9. This leads to excellent cumulative deviation results and negligible dark level smearing which is outstanding for a VA display.
Samsung Odyssey Neo G9 - Adaptive Sync - 200Hz, 165Hz, 144Hz, 120Hz, 100Hz, 85Hz, 60Hz
As the refresh rate decreases, performance stays pretty balanced. At below 200Hz, overshoot drops away to be insignificant, while for the most part preserving a sub-4ms response time average with few changes to cumulative deviation. At 100Hz performance improves again as the Neo G9 actually runs this refresh rate at 200Hz on the display, and similar at 60Hz which actually runs at 180Hz, standard refresh rate duplication on a variable refresh monitor which is done to deliver the best performance. But regardless you can clearly see the Neo G9 delivers a single overdrive mode experience.
At 240Hz, the Odyssey Neo G9 is a small improvement on the original G9, both in terms of response times and overshoot. This keeps the Neo G9 as one of the fastest LCD monitors I've ever tested, although performance isn't as good as the C1 OLED. With that said, the C1 is capped to 120Hz, vs 240Hz on the Neo G9, so motion clarity when you're able to harness the high refresh rate is generally better on this VA based panel.
On average across the refresh range, the G9 and Neo G9 perform basically the same. Makes sense, as both use practically the same VA technology, with even a small improvement on the Odyssey G7. This allows this ultrawide display to beat most other contenders in the field, including products like the LG 34GN850 which isn't bad by any means for an ultrawide, but the Neo G9 is simply a lot faster.
In cumulative deviation, the Neo G9 is a small regression on the regular G9, but that still puts it in line with the Odyssey G7. I suspect this is down to Samsung pulling back slightly on overdrive at some refresh rates to minimize overshoot, it's always a delicate balance with those things but in the end it delivers a strong result.
At a fixed 120Hz refresh rate we see what I was talking about with the Neo G9 having slightly reduced overdrive which does lead to somewhat slower response times, just at lower overshoot as well. Whereas at 60Hz things go the other way with faster response times but more overshoot. No matter which chart we're looking at though, the Neo G9 has excellent response time behavior.
And that's highlighted by brilliant dark level smearing results for a VA monitor. Samsung has solved this issue with their high end VA panels, the Neo G9 is not only better than most prior-gen VA monitors, but it also competes strongly with and beats most IPS displays in this metric. Needless to say you won't be seeing any unsightly dark trails following moving objects with this monitor.
Input lag is excellent with the Neo G9, the processing delay is slightly higher than I measured with the original G9 and that may be down to the more complex mini-LED backlight and having to manage that but either way, due to the high 240Hz refresh rate and fast response times, the Neo G9 is one of the fastest monitors you can get.
Power consumption has increased by 10 percent moving from the old backlight to the new mini-LED backlight the Neo G9, making the Neo G9 a somewhat power hungry display which kind of makes sense given its size. This is only really relevant for heat output as most monitors don't consume that much power to be a significant concern, and overall the Neo G9 is similar in power consumption to two 27-inch displays which makes sense given its size.
We'll note that the Neo G9, like the original G9, does not appear to support backlight strobing. There is an MBR feature listed in the OSD, but it's greyed out for all combination of settings that I tried, which suggests that like the prior model, this feature is not accessible.
Color Performance
Color Space: Samsung Odyssey Neo G9 - D65-P3
Next up we have color performance and to be honest there's not a lot to talk about because the Odyssey Neo G9 performs just like the original G9. Wide gamut support is the same for example, at 89% DCI-P3 and 66% Rec.2020, which means the Neo G9 has a somewhat limited wide gamut that only really extends into P3 and not into Adobe RGB. Fine for HDR content and gaming, but it doesn't make the G9 as versatile as the best IPS monitors which sit at the top of this chart and provide a dual P3 and Adobe RGB experience.
Default Color Performance
Samsung Odyssey Neo G9 - D65-P3, tested at native resolution, highest refresh rate
Portrait CALMAN Ultimate, DeltaE Value Target: Below 2.0, CCT Target: 6500K
Grayscale, Saturation and ColorChecker
Factory calibration is below average in the default, out of the box mode. Greyscale performance is off, with a gamma that's too high, meaning the monitor is a little dark most of the time. Combined with an incorrect white point, and deltaE results are a little higher than we like to see from gaming displays. It also ships without an sRGB mode enabled by default, so you will see some oversaturation, though as the gamut itself isn't particularly wide, this issue isn't going to be that bad.
When comparing these results to other gaming monitors, both the Neo G9 and G9 have very similar factory calibration in both greyscale and ColorChecker, and that leads to a below average experience. It would be great to see Samsung put more focus into this, in particular tightening up greyscale which is the most noticeable area where the Neo G9 was off relative to accurate.
OSD Tweaked Color Performance
Samsung Odyssey Neo G9 - sRGB, tested at native resolution, highest refresh rate
Portrait CALMAN Ultimate, DeltaE Value Target: Below 2.0, CCT Target: 6500K
Saturation and Grayscale
The Neo G9 does include an sRGB mode which is average at best. The main thing this mode does is clamp the gamut down to sRGB, and it does so to a passable but not ideal degree as reds still exceeded the sRGB color space, though overall it is a large improvement on the default mode. Unfortunately, greyscale is largely unchanged, and in this mode Samsung unnecessarily locks down the greyscale controls, meaning we can't fine tune this mode. There is no reason whatsoever for these controls to be locked.
From this point, it is possible to slightly tweak the default mode to improve greyscale results, but this doesn't solve the oversaturation issue as there's no independent sRGB toggle for viewing standard content. I also found the variable backlight a little distracting at times when using desktop apps that have large uniform areas, so I'd only recommend enabling it for HDR content.
Unfortunately the "Auto" mode doesn't actually disable the variable backlight for SDR content, it just tries to smooth out the backlight so it's less noticeable. The only way to actually disable it is switching it to Off, which you then need to manually flick back to Auto for HDR. Would be nice if the Auto mode actually turned the backlight off for SDR.
Calibrated Color Performance
Samsung Odyssey Neo G9 - D65-P3, tested at native resolution, highest refresh rate
Portrait CALMAN Ultimate, DeltaE Value Target: Below 2.0, CCT Target: 6500K
And here are my final calibration results using DisplayCAL. For sRGB you can achieve excellent results, you can find all the tools for great performance when calibrated for this gamut. When calibrating to P3, results aren't quite as good as the top end of the gamut is missing, so the Odyssey Neo G9 probably isn't the best monitor for any color critical P3 work, due to the gamut and the curve.
The Neo G9 provides the same peak brightness in the SDR mode as the original G9, at 430 nits or thereabouts. This is plenty for most viewing environments and while the backlight is capable of much higher brightness, it's probably not required for most people. Meanwhile, minimum brightness is solid, at around the 50 nit mark.
The Neo G9's native contrast hasn't changed significantly from the original G9. My review unit Neo G9 was better than my review unit G9, pushing contrast to around the 2300:1 mark, but this is still expected.
Of course, this is with the dynamic backlight disabled, so we are getting typical VA sorts of numbers, though nothing mind blowing as some VAs including Samsung's own Odyssey G5 can blow past 3000:1. With the variable backlight this isn't too much of an issue while gaming as we'll get to in the HDR section.
Viewing angles are nothing amazing, mostly limited by the huge curve. Uniformity on the other hand was surprisingly good, zoned backlights can have some issues with uniformity but on this panel I was impressed with how most of the image is uniform with only a small amount of vignetting around the edges. Grey uniformity isn't quite as good but still not too bad for this size of panel.
HDR Performance
Moving into the final section of this review, let's discuss the HDR experience and we'll start with our HDR checklist. The Odyssey Neo G9 packs true HDR specifications, we are getting 2048 zones, which significantly increases the possible contrast ratio and allows us to get the best out of HDR content. In addition to that we have a rated high peak brightness of 2000 nits.
The Neo G9 includes two HDR modes: HDR Standard, the default mode, and HDR Dynamic. Unfortunately, the HDR Dynamic mode isn't very usable due to it producing weird color tones and other issues at times.
I'm not sure whether this processing is intentional to create a more dynamic image in some instances, but it doesn't work well for keeping highly detailed skin tones as you can see in this side by side comparison. This was the case with both the original firmware that shipped on my review unit, and the latest 1005 firmware available from the Samsung website. So for this testing we'll be using the HDR Standard mode.
When displaying a full white window in the HDR mode, the G9 Neo can sustain 650 nits of brightness, which matches the original G9 with its lackluster backlight. I suspect Samsung have chosen to implement the exact same limitation for sustained brightness, regardless of what the backlight is actually capable of, though in most situations this level of brightness is acceptable. However, it's not as good as the PG32UQX.
In a full screen flash, the Neo G9 increases to 1290 nits of brightness, a small upgrade on the Odyssey G9 which itself was a DisplayHDR 1000 certified display. Again we're not at the same level as the PG32UQX, but still more than sufficient for most HDR content.
Then we get to sustained brightness in a 10% window and the Neo G9 is actually a regression compared to the regular G9, at 905 nits versus 1085 nits. This isn't a big deal for HDR content but it did surprise me a bit. And it only gets weirder from here.
When viewing sustained brightness versus window size, I was a bit disappointed to see the Neo G9 can't sustain 2000 nits at any window size, a bit disappointing given the PG32UQX can sustain 1700 nits with ease at a 10% window. But even more surprising was that in the HDR Standard mode, it also can't hit 2000 nits at any point even with peak brightness. In fact peak brightness is only superior than sustained in this mode at a 100% window, and at really small window sizes, which is not ideal given that if the monitor can do 1290 nits at 100% there's no reason it should be incapable of that at 10%.
So how do you actually achieve 2000 nits with this monitor? Well you have to use the HDR Dynamic mode, which as we showed earlier has weird issues with tones and other artefacts. In this mode, sustained brightness is a little higher, but the main difference is that at around a 10% window, the Neo G9 can do over 2000 nits peak. Again not quite sure why brightness falls off to below 1000 nits at a 5% window and why 2000 nits is so limited to this range of window sizes, but the Neo G9 can technically do what it says on the box.
There are also some notable brightness differences between the two modes when looking at EOTF tracking. Basically what these graphs are showing us is how well the Neo G9 is producing the exact brightness levels that the content requests. For HDR, you expect it to follow the EOTF tone curve, and that means that when 500 nits is requested, 500 nits is displayed.
What's super weird is that the HDR Dynamic mode has different EOTF behavior to HDR Standard. In the Standard mode, the image is generally too dim relative to what it should be displaying. You can see that when the content, the yellow line, requests 400 nits, the monitor is showing more like 250 nits, which doesn't give us as impressive highlights as the monitor is capable of. Meanwhile the Dynamic mode has much better adherence to the EOTF curve, but doesn't give us a linear line in the sections it needs to, which I think contributes to some of the artifacts, including raised black levels as shown in this section.
So in layman's terms, what do all of these charts mean for the Neo G9's HDR brightness?
In the Standard mode, the image looks better in terms of colors and tones, but is generally too dim relative to what it should be, and the monitor can't reach the advertised 2000 nits. In the Dynamic mode, image brightness is much better and you can hit 2000 nits, but tones look off and quite weird at times with raised black levels.
This is disappointing because the hardware clearly is ready to show excellent HDR brightness, it's just Samsung hasn't tuned it very well, even with the latest firmware. The ideal situation would be taking the high brightness of the Dynamic mode and the flat tone curve of the Standard mode and combining them into the one, excellent HDR mode that provides great image quality and the full brightness capabilities of the panel. This should be possible through a firmware revision, but you can never rely on future software updates to ever be made, so we have to review the monitor as is.
Now, to be totally fair, while the level of brightness isn't as good as it should be in the HDR Standard mode, content still looks pretty good, it's clearly giving you some level of HDR experience and brightness does get quite high at the right times. I just find it frustrating that we've got the right hardware, but the ideal use of that hardware is stuck somewhere between two software settings.
What doesn't change significantly between the two HDR modes and what remains excellent at all times is the dynamic contrast capabilities of this panel thanks to its high zone count FALD backlight. I could show you charts comparing the full screen flash contrast and ideal situation contrast ratios, but there wouldn't be much point as the backlight fully switches off at times when displaying full black. So the best case scenario for contrast with this panel is infinite contrast.
But on top of this, the Odyssey Neo G9 performs exceptionally when bright and dark areas are placed close together, a worst case scenario for LCD monitors with full array backlights.
The combination of a high zone count and VA technology means the Neo G9 is significantly better in terms of HDR contrast ratio in the worst cases than any other LCD monitor I've tested so far. We're looking at 2.5x better performance than the PG32UQX which itself isn't bad, but in practice this leads to a lot less blooming with the Neo G9 in tricky conditions like starfields compared to IPS based displays like the PG32UQX.
Even in a checkerboard test for contrast, the Neo G9 destroys its competitors, especially in the high brightness checkerboard. Results are not as good in the low brightness checkerboard, due to what I believe are similar issues to what I described previously with the HDR standard mode. But regardless, there is no doubting the Neo G9 has the best contrast capabilities I've seen yet from a gaming monitor, outside of OLED, and this is why despite some strange brightness results in some tests, the Neo G9 still looks awesome in a lot of HDR content.
What We Learned
The Samsung Odyssey Neo G9 is an excellent gaming monitor and only improves upon the foundation established with last year's model. Many areas to this monitor's performance are unchanged in the new version, but that's a good thing since Samsung was already leading the pack in areas like motion performance, especially with a VA panel.
In general, I think gamers will be very impressed with how fast this monitor is. It's got a 240Hz refresh rate, elite response times, and no dark level smearing issues which have plagued prior VA panels. The variable refresh rate experience is great, it's a huge and very immersive monitor with a perfect resolution that's still playable with modern GPUs. I'm not the biggest fan of curved monitors, but even I think the 1000R curve adds to the experience when gaming with this super-ultrawide.
Color performance is also solid and like with motion performance, remains mostly unchanged from the prior model. Same wide gamut capabilities which are decent though not amazing, same good brightness in the SDR mode, same sort of native contrast and so on. While I probably wouldn't buy an Odyssey G9 for productivity or content creation, the content consumption experience is strong.
But the big deal about the Odyssey Neo G9 is the upgrade to proper HDR capabilities: 2048 zone backlight with full array local dimming, 2000 nits of peak brightness. This provides a significant upgrade to the HDR experience.
Clearly, when you increase the backlight zone count by 200x, suddenly a new world of HDR is open, and this display ends up with the best contrast ratio I've measured yet in tricky HDR conditions with an LCD panel, only beaten by OLEDs. In many instances it looks really good, whether that's watching HDR videos or playing HDR games, and it can do this right up to 240Hz with variable refresh rates.
The only significant drawback to HDR, and really the monitor overall, are some weird brightness characteristics.
The mode that can achieve 2000 nits doesn't look great, and the other mode is a bit too dim in some instances. This isn't a hardware issue though, and I'm confident it could be addressed with a firmware update. Whether or not Samsung actually does fix it though, is another matter, but I hope they do because it's the only thing holding this display back from near perfection.
It is an expensive monitor at $2,500, no way around that. But there's nothing like it on the market, both in terms of form factor and HDR gaming capabilities. That makes it hard to judge in terms of value, but if you want this experience, Samsung gets you a solid option.
Also, as a gamer, I'd much rather have the Odyssey Neo G9 than the Asus PG32UQX which is an insane $3,000 and has a larger range of limitations, including no HDMI 2.1 -- provided you are happy with an ultrawide. The other consideration is an big OLED screen like the LG C1 48" which I could understand is $1,000 cheaper, but I feel the Neo G9 is better suited to be used as a monitor. Of course, each has its pros and cons, but for the first time I feel the Odyssey Neo G9 is providing some genuine competition to favorite OLED TV options, and that's saying something.
Shopping Shortcuts:
270 interactions
Sours: https://www.techspot.com/review/2303-samsung-odyssey-neo-g9/
Daily Deals: Save Big on the Two Best Gaming Monitors of 2021 (LG C1 4K OLED TV and Samsung Odyssey Neo G9 49" Mini LED)
If you're looking to upgrade your gaming monitor and you're feeling generous with your budget, the two absolute best gaming monitors (in our opinion) can both be had at a discount. The LG C1 48" OLED TV is at its lowest price point ever. The Samsung Odyssey Neo G9 49" monitor isn't even out yet, but if you preorder it you can get a $300 JBL gaming headset for free. Today you can also save on the 2nd generation Apple AirPods, a LEGO Star Wars Millennium Falcon set, a powerful HP OMEN RTX 3060 Ti gaming PC, and more below.
Best 4K Gaming Monitor: 2021 LG C1 48" OLED TV
2021 LG OLED48C1PUB 48" 4K OLED Smart TV
This is the lowest price ever for the 48" version of the LG C1 OLED TV. The 2021 LG C1 OLED improves upon last year's highly-rated CX model with upgraded A9 Gen 4 processor that delivers slightly better image quality, better 4K scaling, and improved audio handling as well as a new webOS smart TV redesign. I personally use the older LG CX OLED TV as my main gaming monitor, and after nearly a year of heavy usage, I still firmly believe that this is the best gaming monitor you can buy right now. The C1 OLED TV has HDMI 2.1 inputs, so you can output 4K at 120Hz when you pair it with an RTX 30 series video card. It also supports 4:4:4 chroma at 4K and G-SYNC technology. The OLED panel blows away any IPS, VA, or TN monitor in black levels, color rendition, sub-1ms response times, and HDR quality.
Best Ultra-Wide Gaming Monitor: Samsung Odyssey Neo G9 49" 5120x1440 Mini LED Monitor
Preorder the Samsung Odyssey Neo G9 Series 49" 5120x1440 Curved 1ms 240Hz G-SYNC Mini LED Gaming Monitor
Preorder the Samsung Neo G9 gaming monitor (out on August 23), and get the JBL Quantum One Gaming Headset for free. That's a $300 headset. This is the first Mini LED gaming monitor we've seen and easily the best monitor in Samsung's "Odyssey" series. Mini LED technology is pretty new. You'll see them in the highest end Samsung and TCL TVs as well as the newest Apple iPad Pro 12.9" XDR display. The cost keeps 99% of us gamers at bay, but for those who can afford it, you currently won't find a better ultra-wide monitor.
Apple AirPods with Wireless Charging Case
Apple AirPods with Wireless Charging Case
These are the 2nd generation Apple Airpods upgraded with the wireless charging case that you normally get with the higher end AirPods Pro. The wireless charging case allows you to charge the case via a wireless induction charger OR an Apple Lightning cable (the wired charging case can only be charged via cable). This version of the AirPods has rarely dropped in price this year, not even on Prime Day.
The Best PS5 SSD Upgrade: WD Black SN850 M.2 SSD with Heatsink in Stock at Western Digital Direct
WD Black SN850 1TB PCIe Gen4 x4 M.2 SSD (up to 7000MBps)
This is currently the most popular (and probably the best) SSD to get for your PS5 storage upgrade. The 1TB model has been out of stock everywhere since its release. It goes in and out of stock constantly at Western Digital direct as well, but it's the best place to score one right now. This is a blazing fast drive with transfer speeds rated at up to 7,000 MB/s and a PCIe Gen4 interface and it comes preinstalled with a heatsink. It's also confirmed by Western Digital themselves to be compatible with the PlayStation 5 console.
Available: Nintendo Joy-Cons Skyward Sword Edition
Nintendo Switch Joy-Cons The Legend of Zelda: Skyward Sword HD Edition (Pair)
After a long haitus, these special edition Skyward Sword themed Joy-Cons are available for order again on Amazon. They Joy-Cons are made over in a royal blue color with white accents. The right Joy-Con controller is themed after the Master Sword and the left controller features a Hylian Shield motif. Get it now before it goes out of stock again.
LEGO Star Wars Rise of Skywalker Millennium Falcon
LEGO Star Wars: The Rise of Skywalker Millennium Falcon 1,351-Piece Set
This Millennium Falcon stands at an impressive 17" long and 12" wide. With over 1,300 bricks, at this price you're paying less than 10 cents per brick. The set also includes 7 LEGO Star Wars mini-figures: Finn, Chewbacca, Lando Calrissian, C-3PO, Boolio, D-O, and BB-8.
HP OMEN AMD Ryzen 7 RTX 3060 Ti Gaming PC
HP OMEN AMD Ryzen 7 5800X RTX 3060 Ti PC with 16GB RAM, 1TB SSD
This popular gaming desktop is back in stock at Best Buy. HP OMEN desktops have good build quality, especially for the price. HP OMEN PCs are all built with consistency with the same (and often proprietary) components, unlike many other brands where each PC is piece-mealed together with off-the-shelf components that are current on hand. Don't confuse the RTX 3060 Ti with the RTX 3060... it's about 35% faster than the RTX 3060 and only about 5%-10% slower than the RTX 3070. Compared to the previous generation of graphics cards, it even beats out the RTX 2080 SUPER.
Razer Hammerhead Truly Wireless Earbuds
Razer Hammerhead True Wireless Gaming Earbuds
The Razer Hammerhead truly wireless earbuds is over 50% off today at Amazon. These gaming-centric earbuds feature 13mm drivers with ample amounts of bass, low latency, IPX4 rating for sweat and water resistance, up to 15 hours of battery life.
Sign up for AT&T Gigabit Fiber Internet and Watch Suicide Squad 2 on HBO Max for Free
ATT Fiber Gigabit Internet for $60/mo and Get $150 Bonus Rewards Card
Sign up for the gigabit plan and you get $20 off your first year and a bonus $150 rewards card. That means you pay $60/mo instead of $80/mo. You'll get access to blazing fast gigabit speeds (both downstream and upstream) with no data cap. As a bonus, you'll also get a free 1 year subscription to HBO Max. That means you'll be able to watch recent movie releases like Space Jam: Legacy and Suicide Squad 2 movies. I personally am subscribed to AT&T Fiber and would never dream of going back to my slower and more expensive cable internet.
Preorder New Star Wars Tamagotchi on Amazon
Tamagotchi Star Wars: R2-D2 Classic White or Hologram Blue
Now you can take R2-D2 wherever you go as a cute little tamagotchi. Take care of your little droid by keeping him charged, cleaning him, and teaching him up to 19 different skills with a variety of mini-games. Of course there are dire consequences if you neglect your job in keeping R2-D2 happy.
The Lord of the Rings Illustrated Hardcover Edition
Preorder The Lord of the Rings Illustrated Hardcover Edition
This LotR Illustrated Hardcover Edition hasn't been released it (it's out October 19), but you can already preorder it and save 20% off the retail price. This is the first discount we've seen. This massive 1,200+ page tome includes illustrations from author JRR Tolkien, for the first time in any edition of the series since 1954.
More Daily Deals for August 6
Alienware Aurora R12 Intel Core i7-11700F RTX 3080 Gaming PC with 16GB RAM, 512GB SSD, 1TB HDD
Seagate 5TB USB 3.0 Portable Hard Drive
Super Smash Bros Ultimate
Final Fantasy 7 Remake Intergrade
Sony WH1000XM4 Active Noise Cancelling Wireless Headphones
The Legend of Zelda: Skyward Sword
Buy 5 Games $19.99 or Less for $50 at Gamestop
Logitech G502 HERO Wired Gaming Mouse
Roborock S6 Robot Vacuum and Mop with Adaptive Routing, Multi-Floor Mapping, Extra Long Battery Life
Super Mario Odyssey for Switch
Mario & Luigi Editions
Mario Kart Live: Home Circuit for Switch
85" Samsung Q80A 4K QLED Smart TV
2021 Apple 12.9-inch iPad Pro Wi-Fi 128GB with M1 Chip
AtGames Legends Ultimate Full-Sized Home Arcade Cabinet
LEGO Marvel Infinity Gauntlet 76191 590-Piece Kit
Jamo S 803 Dolby Atmos Bookshelf Speakers (Pair)
Bonus $10 Best Buy Gift Card
Preorder Nickelodeon All Star Brawl for PS5, PS4, Xbox, Switch
Bonus $125 Newegg Gift Card
LG GX-Series (Gallery) 65" 4K OLED Smart TV with 3 Year Warranty
LG UltraGear 32GN600 32" 2560x1440 1ms 165Hz VA Gaming Monitor
Was this article informative?
If you buy something through this post, IGN may get a share of the sale. For more, learn more.
Sours: https://www.ign.com/articles/best-gaming-monitor-lg-c1-4k-oled-samsung-odyssey-neo-g9-mini-led
Samsung's Odyssey G9 does the work of three monitors
I have been a technology cheapskate most of my life. I've rarely bought a monitor brand-new; I'm pleased to say I pieced together my current three-screen articulating swing-arm setup primarily from Craigslist and hand-me-downs. But this fall, I had an opportunity to temporarily replace my three aging displays with the most ridiculous, most advanced gaming monitor ever made: the super-ultrawide, super-curved, ultra-high resolution 49-inch Samsung Odyssey G9.
The Samsung Odyssey G9 is a monitor so big, so wide, so curved, it can fill a midsized desk and wrap around your entire field of view. It's also simply a phenomenal screen: speedy (240Hz, 1ms, G-Sync, and FreeSync 2), high resolution (5120 x 1440-pixel), and bursting with brilliant color thanks to a QLED panel that tops out at an eye-searing 1,000 nits of brightness. I'm not kidding when I say I have to avert my eyes when I launch Destiny 2 in HDR, and I could swear I felt the flames the first few times my Star Wars: Squadrons' TIE Bomber blasted an X-Wing into oblivion.
As they say on Reddit, I have ascended — and the past few weeks have been a gaming and productivity experience like few I've had before.
But gradually, I've been coming back down to Earth.
Design
The Odyssey G9 is a showstopper, and I don't just mean that figuratively: last January, attendees of the world's biggest technology show were dazzled by its unprecedented curvature and sci-fi inspired frame.
When I put that same monitor on my humble IKEA sit-stand desk, the effect is otherworldly. Compared to my old hodgepodge of screens and rat's nest of cabling, this G9 looks like a terminal aboard a Star Trek spaceship... even if my physical keyboard and its long braided cable ruin the illusion a bit.
The sheer size of the Odyssey G9 and its broad-shouldered stand do limit your options. I'm lucky that my small-form-factor Ncase M1 can fit behind the screen, and there's just enough clearance (a little over six inches) for my Audioengine A2+ speakers to fit underneath the monitor at the stand's highest position. But if I had a bigger PC or bigger speakers, I might have also needed a bigger desk — or else had to use the included 100mm x 100mm VESA adapter to mount the nearly four-feet wide, one-foot deep, 31-pound screen to the wall. My current monitor arms can't carry nearly that much weight, though you can buy some TV arms that do.
As it is, I'm a fan of the way this monitor brings my whole desk together. Two DisplayPorts and an HDMI 2.0 port let me switch between three video sources easily, including a side-by-side mode which lets me display two at once, effectively giving my PC and game console (or a second computer) each their own 27-inch, 2560 x 1440 displays.
There's also a two-port USB-A 3.0 hub and a 3.5mm audio output, which worked perfectly with my keyboard's USB and 3.5mm audio passthrough. As you can see from my photos, I can do a lot with only a single visible cable thanks to those ports. And while the narrow V-shaped stand might seem a little minimal for a monitor this hefty, it takes a decent shove to get it to tip forward even at its highest position.
You can adjust the monitor's settings using a tiny five-way control nub underneath the power LED, and it's remarkable how much you can tweak — including the ability to crop the entire panel to 4:3, 16:9, or 21:9 aspect ratios instead of stretching out the image. You can effectively have a 27-inch HDR panel for your game console or TV whenever you need. It's just a shame that the monitor's biggest benefits don't necessarily translate to its side-by-side mode, where your 240Hz HDR screen generally becomes a pair of 60Hz SDR ones.
Productivity
My first big test for Samsung's Odyssey G9 wasn't a console or even PC gaming — last month, I co-hosted The Verge's industry-famous Apple event live blog, capturing every screenshot you saw. I normally run three monitors because I switch tasks like mad, and if there's a better multitasking test than an Apple event, I haven't met it yet.
At first, I wasn't sure this epic screen would work. Most apps and websites aren't designed to display across the vast expanse of a single 32:9 monitor, so you have to live in windows. I couldn't simply toss one or two apps onto each monitor like I usually do. But while Samsung doesn't ship the G9 with any good windowing software and Windows 10's default Snap is woefully insufficient, Microsoft's free downloadable FancyZones windowing manager worked wonders.
l built my own set of dedicated snappable spots for the Apple live stream; The Verge's live-blogging tool; Slack; a browser window to keep track of any Apple press releases that might pop during the show; and even a narrow strip of Windows Explorer so I could see which images I'd already captured and weed them out as necessary. The only other wrinkle was the additional Chrome extension I had to download to ensure YouTube could launch "full screen" in a browser window, instead of taking over my entire ultrawide monitor.
In general, while I did occasionally miss my two vertically oriented monitors for scrolling long webpages, Google Docs, and Tweetdeck, I found the G9's gigantic horizontal expanse of real estate nearly as effective for most tasks. Where I could only squeeze four narrow columns of Tweetdeck onto my old portrait-orientation screens, the G9 would comfortably fit five, plus a 30-tab web browser, a nice vertical strip of Evernote for note-taking, and our Slack newsroom alongside.
I wouldn't say it's better than having three screens for work, but it seems like a sufficient substitute — except maybe that toast notifications now pop up in the corner of my eye where they're pretty easy to miss. Still, it's nice not to have to match color, contrast, and brightness across three screens at a time, or adjust how my mouse crosses from one monitor to the next. Having a single, vast, unbroken expanse of real estate that's always the same distance from my face (as I spin in my chair) is an absolute treat. And while the Odyssey G9's unprecedented curve does tend to catch ambient light, the matte screen does a great job of diffusing any glare.
The ultrawide aspect ratio didn't work as well for video as I hoped, though. While you might imagine 32:9 being great for movies, I had a hard time finding anything I could play in ultra high definition that wasn't 16:9. Most streaming platforms won't easily let you access their 4K and HDR content on a Windows machine to begin with — YouTube's the primary exception, though Netflix works if you've got a recent Intel processor and use Microsoft Edge or the native app — and you'll want 4K to take advantage of a screen this high-res and this close to your face. The 4K YouTube videos I played were definitely clearer than 1080p — I could really peep these pixels in Dieter's iPhone 12 video review. And while standard 16:9, 1080p content does display just fine full-screen with black borders on the sides, it feels like I'm wasting a lot of screen real estate that way. Plus, the blacks are a bit gray, not the deep inky black you'd get from an OLED screen — particularly with HDR on and Samsung's iffy local dimming enabled.
Gaming
The first thing you should know about gaming on the Odyssey G9 is that you'll want a serious graphics card to go with it. Technically, 5120 x 1440 resolution isn't quite as many pixels as a 3840 x 2160 4K UHD screen... but remember we're also talking about a monitor that goes up to 240Hz. To properly review the Odyssey G9, I borrowed an Nvidia GeForce RTX 3080 to get enough horsepower, since my GTX 1080 couldn't even run games like Death Stranding or Destiny 2 at 60fps smoothly at that resolution.
The second thing you should know about gaming on the Odyssey G9 is that it may not be quite as immersive as you're imagining.
Don't get me wrong: having an X-Wing cockpit wrapped all around you is an epic experience, and it feels like a true advantage to be able to use my peripheral vision in competitive shooters like PUBG and CS:GO. But it wasn't long until I noticed something weird going on.
Look carefully at these images: notice how the sides are warped? Imperial deck officers and Novigrad Temple Guards aren't generally this pudgy.
I tried game after game after game on the Odyssey G9, digging into my Steam, Epic, and Uplay libraries and tweaking a variety of settings, and this is simply the reality: every 3D game gets warped when you're viewing it in a 32:9 aspect ratio, and there's not much you can do about it. Changing your field of view in a game doesn't get rid of the effect; it simply changes how much of the game world appears in the center of your screen (where things look normal) and at the edges (where they look stretched and zoomed). I actually pulled out a tape measure and checked: video game content that measures 4.75 inches at the center of the display can get stretched to a full 12 inches at the edges.
Now, this isn't Samsung's fault; it's just the way games are built. Most games have a single virtual camera that exists at a single point in space, and while Nvidia once proposed changing that (see link above), the company's Simultaneous Multi-Projection doesn't seem to have made it into any of the games I tested. And in games with pre-rendered cutscenes, like Final Fantasy XV, you'll be watching them at their original aspect ratio.
But before you write off 32:9 ultrawides right now, there are three things I'd like you to consider:
You might get used to it.
It's not that distracting in some games!
2D games aren't affected at all.
Let me give you some examples.
CS:GO and PUBG are incredibly competitive, nail-biting games where focus is everything, where you always need to have your gun at the ready and be scanning for any sign of movement. I don't have time to turn my head left and right to appreciate the scenery or think about whether it's warped. The G9 simply gives me enhanced peripheral vision, and it helps — not hurts — that things which appear in the corner of my eye are zoomed in by default. I got used to treating it as my peripheral vision and nothing else. (The 240Hz also comes in pretty handy in games like CS:GO where you can actually hit that frame rate.)
Genshin Impact, Abzû, Rocket League, and BioShock Infinite are games with gorgeous, colorful worlds whose proportions aren't "normal" to begin with, and I love having them wrapped around me.
In Destiny 2 and XCOM 2, I found I could forgive the warping because of the enhanced field of view and the ability to easily zoom whenever you want. It's nice to see more of the battlefield at once in XCOM while planning out how my soldiers will move each turn, and it's pretty cool to aim down the sights in Destiny without the typical claustrophobia that comes with zooming in, since you're still able to see what's going on around you.
2D / 2.5D games like Worms W.M.D and Disco Elysium do look fantastic on the G9 — when you can find ones that actually support an ultrawide screen. That's not a given: I managed to launch Soldat at 5120 x 1440 resolution, but it didn't stretch across my monitor. Games with fixed widths like Streets of Rage 4 and Hyper Light Drifter won't either. Even Disco Elysium only offers 21:9 support, not 32:9, unless you apply a hack.
And for every one of the 3D games that worked, I also found a Borderlands 3 or The Witness or Goat of Duty or The Witcher 3 where the warped geometry really bugged me, either because I wanted to sit back and look at the beautiful vista or because the edges of my screen were moving faster than the center.
That's not easy to show you in still images, so here's a video clip to show you what I mean:
In games like the hack-and-slash Mordhau or the road-tripping Final Fantasy XV, the distraction can also be when a piece of geometry that's critical to the game constantly looks wrong. (Your Mordhau sword or axe often extends into the warped area of the screen; the road itself in FFXV looks curved instead of flat!)
Frankly, the most annoying game I played on the Odyssey G9 was figuring out which games would work in the first place. Here, I have to shout out Rock Paper Shotgun's Katharine Castle, whose brilliant example-filled guide showcases nearly three dozen titles that do work, complete with GIFs so you can see for yourself. But if you're willing to work at it (and understand the risks), a community at the Widescreen Gaming Forum (WSGF) and PCGamingWiki can help you hack and patch many existing titles to work at 32:9, too.
For instance, I installed a trainer that let me run Death Stranding at full-resolution 32:9, with an infinitely adjustable field of view, instead of the 21:9 that designer Hideo Kojima and company shipped.
Using a common tutorial, I hex-edited my Persona 4 Golden .exe and remarkably wound up playing what was originally a 480p PlayStation 2 game — and later a 720p, 16:9 PlayStation Vita game — at a glorious 3840 x 1080 at 32:9. (I do still need to figure out how to un-stretch the UI.) And there's an old, unmaintained program called Widescreen Fixer that helped me revisit an old favorite:
I wouldn't say the community is robust enough that you could necessarily find a fix for any game in your library. But the WSGF does now have a Discord you might want to check out.
The ultimate ultrawide, but the best monitor?
The Samsung Odyssey G9 costs $1,479.99 — a premium price for a premium monitor like nothing else on the market. You can find other 49-inch 32:9 panels for less, but none with this combination of resolution, brightness, curvature, and refresh rate. The closest you can come is last year's $1,200 Samsung CRG9 which maintains the resolution and brightness but with half the refresh rate at 120Hz and a notably less pronounced 1800R curvature — which, I imagine, wouldn't be as good at giving you convincing peripheral vision in games.
If you're looking for the ultimate ultrawide, this is currently it. I'm just not convinced that I am, personally, even if I had that much money earmarked for a new screen. For $1,500 and the enormous amount of space the Odyssey G9 consumes, I could buy a 48-inch LG OLED TV instead. I'd get a screen just as gigantic for my multitasking, but taller, with 120Hz G-Sync and FreeSync support, incredibly deep blacks, HDMI 2.1 for variable refresh rate for the PS5 and Xbox Series X, and no need to troubleshoot aspect ratios for my videos and games. Linus Tech Tips has a video that dives deep into the pros and cons of that LG screen, and I came away fairly convinced.
It wouldn't be the same experience that the G9 offers, of course, and I might regret it if Nvidia and AMD ever dust off Simultaneous Multi-Projection for real. The TV might also cut off access to a large portion of my desk, and I might not be able to place my PC and speakers within easy reach without blocking a bit of the screen. But I'd have a more obviously future-proof setup; an equally, if not more gorgeous image; and a lot less ambient annoyance when I want to game. At the very least, here's hoping Samsung adds HDMI 2.1 to this epic monitor next year.
Photography and screenshots by Sean Hollister / The Verge
Correction: An earlier version of this review said splitting the screen into two 16:9 displays was the equivalent to two 24.5-inch monitors. It is more like two 27-inch monitors. We regret the error.
Sours: https://www.theverge.com/21590961/samsung-odyssey-g9-review-ultrawide-monitor-price-specs
LG 38WN95C-W 38" vs Samsung Odyssey G9 49"
LG 38WN95C-W 38"
Samsung Odyssey G9 49"
Why is LG 38WN95C-W 38" better than Samsung Odyssey G9 49"?
Has an IPS screen?
1 more HDMI ports?
2vs1
Has stereo speakers?
193.68mm thinner?
97.4mmvs291.08mm
252.17mm narrower?
895.4mmvs1147.57mm
Has an HDR10-enabled display?
Has USB Type-C?
Supports BFI?
Why is Samsung Odyssey G9 49" better than LG 38WN95C-W 38"?
20% higher resolution?
5120 x 1440pxvs3840 x 1600px
28.16% bigger screen size?
48.7"vs38"
1.66% higher pixel density?
110.81ppivs109ppi
2.5x higher static contrast ratio?
2500:1vs1000:1
Supports VESA mount?
Supports PiP and PaP?
1 more DisplayPort outputs?
2vs1
1.67x higher refresh rate?
240Hzvs144Hz
Cheap alternatives
MSI MPG Artymis 343CQR 34"
General info
Total tilt adjustment is the ability for the monitor head to move up and down. Tilt adjustment enables a user to change the viewing position of the display, creating a more comfortable view of the screen.
A swivel stand allows you to adjust the position of the display left or right, so you can position it to the desired angle.
The VESA mount is a standard used by most manufacturers. A device that supports the VESA mount can be mounted on many different supports, from arms to wall mounts.
The height represents the vertical dimension of the product. We consider a smaller height better because it assures easy maneuverability.
We consider a thinner chassis better because it makes the product more compact and portable. Thinness is a feature highlighted by many manufacturers of mobile devices, but it is essential for a wide range of products.
The width represents the horizontal dimension of the product. We consider a smaller width better because it assures easy maneuverability.
We consider a lower weight better because lighter devices are more comfortable to carry. A lower weight is also an advantage for home appliances, as it makes transportation easier, and for many other types of products.
Devices with height adjustment provide a full range of height possibilities resulting in maximum comfort.
Volume is the quantity of three-dimensional space enclosed by the product's chassis or, in simpler terms, the space the product occupies.
Display
Response time is how long it takes for a display to change the state of pixels, in order to show new content. The less time it takes to respond, the less likely it is to blur fast-changing images.
Resolution is an essential indicator of a screen's image quality, representing the maximum amount of pixels that can be shown on the screen. The resolution is given as a compound value, comprised of horizontal and vertical pixels.
The bigger the screen size is, the better the user experience.
Pixel density is a measurement of a screen's resolution, expressed as the number of pixels per inch (PPI) on the screen. A higher pixel density translates into more clarity and sharpness for the images rendered on the screen, thus improving the quality of the viewing experience.
IPS (In-Plane Switching) is a technology used for LCDs. It was designed to overcome the main limitations of conventional twisted nematic TFT displays: limited viewing angles and low-quality color reproduction. PLS (Plane-to-Line Switching) is a type of IPS screen developed by Samsung, with increased brightness and lower production costs.
Anti-glare helps to reduce the external reflections of light coming from outside the display.
Uses LED backlighting, resulting in better image quality, more vibrant colors and richer blacks.
The frequency at which the screen is refreshed. Higher frequency results in less flickering (less noise) and more natural movement representation in action-intense scenes.
Colors
Contrast ratio is the visual distance between the lightest and the darkest colors that may be reproduced on the display. A high contrast ratio is desired, resulting in richer dark colors and more distinctive color gradation.
Number of colors that a display can accurately reproduce.
A properly calibrated screen represents colors as they are and i.e. you can conduct a photo shoot while verifying your photos in real time. An internal sensor and/or colorimeter is usually included for trouble-free calibration.
An ambient light sensor adjusts the luminance of the device according to the amount of natural light that surrounds it.
Connectivity
Devices with a HDMI or mini HDMI port can transfer high definition video and audio to a display.
More HDMI ports mean that you can simultaneously connect numerous devices, such as video game consoles and set-top boxes.
Thunderbolt is a connection over cable that carries both data and display signals over a single cable, while simultaneously providing power.
With more USB ports, you are able to connect more devices.
Devices that have a DVI connector (usually computers and notebooks) can be connected to the TV set.
The USB Type-C features reversible plug orientation and cable direction.
Newer USB versions are faster and have better power management.
Power
A sleep timer is a function that shuts off the power after a preset amount of time.
Features
Devices supporting PiP and PaP - Picture in Picture can show two images from different sources at the same time by splitting the viewing window or creating a smaller window inside the bigger image.
Devices with stereo speakers deliver sound from independent channels on both left and right sides, creating a richer sound and a better experience.
A remote control allows you to control the device remotely. The remote control can be included or optional.
A front camera, also called secondary camera, can be used for video chats/selfies.
A child lock enables adults to prevent or restrict children's use of the device.
This feature allows to connect several computers to one monitor and control it with just single keyboard and mouse, by using the monitor's built-in peripheral switcher.
Miscellaneous
The display supports HDR10, which is an HDR (high dynamic range) video technology. Compared to standard dynamic range (SDR) video, HDR10 video has greater contrast and color depth, resulting in more realistic images.
Which are the best monitors?
Asus TUF Gaming VG28UQL1A 28ʺ
MSI MPG Artymis 343CQR 34"
Show all
This page is currently only available in English.
Sours: https://versus.com/en/lg-38wn95c-w-38-vs-samsung-odyssey-g9-49
Odyssey g9 lg
SAMSUNG Odyssey G9 Series C49G97T 49" Dual QHD 5120 x 1440 2K 1ms (GTG) 240Hz HDMI, 2x DisplayPort, 2x USB 3.0 AMD FreeSync and G-Sync Compatible Curved DisplayHDR 1000 QLED Gaming Monitor
Pros: -Phenomenal in terms of work and gaming space. -User interface is very nice. -Easily the best gaming immersion choice that I've made. -Highly adaptable screen ratios and side-by-side options. -Brightness and colors good. -Height and swivel adjustment range is good.
Cons: -Cost (obvious) -Keep in mind not all games support this 32:9 ratio, but there is always a workaround. Modern Warfare inherently works. Factorio cuts off the top and bottom, though a zoom mod is easy to find. Skyrim works with an application called "perfect ratio" or something similar. Also the GUI is sometimes in weird places. -It has NO speakers -Not good for multiple viewers.
Overall Review: (Keep in mind this rating is not based on the 240 hz mode, as I have a 980 ti and it requires a 20 or 30 series card to operate at that frequency at full resolution, and so I do not have access yet, but 240 does work beautifully at lower res.) For ME, it was well the best gaming investment I could ask for from an immersion standpoint. The fact that I can have two full screens side-by-side for work and research and one seamless screen for gaming is amazing. For shooters, it recommends sitting 1m away, I recommend 1.25. If you mostly plan on using it for shooters, this is a great choice. If however, you plan to watch youtube fullscreen or play many 2D games, you may not get the full benefit, unless you use side-by-side function. Movies and Youtube will work on fullscreen, but you WILL have black bars on the sides, even with widescreen movies, and Disney + requires a chrome extension called "Disney Plus Ultrawide Fullscreen Support". In short: 3D gaming - 10/10, Workspace - 10/10, 2D gaming - 8/10, Media - 6/10. All of these go up to a 10 when multitasking. The bottom line is: if you are OK with occasionally tweaking settings for a new game/app, this is tremendous. If you just want to plug and play, you may want to look into a normal 16:9 or 21:9 monitor. This review comes after 2 months of many tests and applications. I've used it for 3D/2D games, research, media, etc. with and without headphones. My brother loves it for video editing. Friend 1 loves it except he says his voice comes back at him due to its shape (I haven't noticed). Friend 2 says in MW it is too much visual information and prefers a 21:9.
Sours: https://www.newegg.com/49-odyssey-g9-gaming-monitor-lc49g97tssnxdc/p/N82E16824022902
Samsung Odyssey G9 For Work // Unboxing, Setup, First Impressions \u0026 Month 1 Review
The Samsung Odyssey G9 Gaming Monitor is determined to live up to its name. Everything about the design and feature set of this ultrawide display is aimed at improving your gaming experience, from its more traditional technological inclusions (HDR, 1ms gray-to-gray response time, 240 Hz refresh rate, both Nvidia's and AMD's adaptive sync technologies) to its astounding size (49 inches across the diagonal) and distinctly sharp curvature (1000R).
This monitor packs in a lot, and considering its wallet-withering price of nearly $1,700, this is a good thing.
Samsung Odyssey G9: Specs
Dimensions: 45.2x21.2x16.4 inches (with stand)
Screen Size: 49 inches
Resolution: 5,120x1,440
Refresh Rate: 240 Hz
Inputs: HDMI, DisplayPort, USB
Whether the Odyssey G9 will be a good thing for you is another question, the answer to which depends entirely on whether you need (or want) all of these features and are so game-focused that you're willing to give up the benefits of the kind of normal rectangular monitor that companies and, well, society have been orienting themselves around for decades. For someone on the fence, our Odyssey G9 shows that it does a lot of things very, very right.
Samsung Odyssey G9 review: Price and availability
Expect to pay as much as $1.7k, though you can find it on sale for cheaper
The Samsung Odyssey G9 lists for $1,699.99, but can be found at online retailers for slightly less. (As of this writing, it is priced at $1,399.99 on Amazon and $1,479.99 on Newegg.)
Samsung Odyssey G9 review: Design
Extremely wide with sharp curve means more immersion — sometimes
The monitor takes up tons of space
Samsung touts the Odyssey G9 as its "largest 1000R gaming monitor," which has a number of implications for the potential customer. First is the curve itself. The "1000R" refers to a radius of 1,000 millimeters (or one full meter) were the curve extended to a full circle—ostensibly the same curvature as the human eye.
As you may imagine, this is pretty sharp, the kind of thing that may take some getting used to but does make a compelling case for increased immersion—at least in some situations (which we'll get to).
The second major implication is that owners of small desks need not apply. Measuring a hair more than 45 inches from left to right and, thanks to the curve, nearly 11.5 inches front to back, it takes up a lot space—and that's without the stand. Add that in and monitor juts out more than 21 inches from the wall. The height of the monitor itself is just over 14 inches; this increases about 2 inches more with the stand, but vertical space is, in most setups, more plentiful.
Even if you use the included 100x100mm bracket to mount the Odyssey G9 on the wall, you may still have to make extra room. (The shipping box itself measures 50 inches in length and weighs 50 pounds before unloading; you will definitely want to enlist someone to help you get everything into position.) Because so much of the monitor is not connected to the stand, it's far wobblier than most models; just bumping it gently sets the whole thing shaking, but it otherwise never looked or felt insecure.
The black bezel along the top and sides of the screen is thin (less than one-eighth of an inch), but the bottom bezel is considerably wider (just over 0.5 inch). Black is just about all you can see from the front, but the rear is a different story. The curved casing is white plastic with a sci-fi–style design, a look that extends to the only removable back pieces: one cover for the stand (which sports a black pop-out hook for storing your gaming headset) and another for the ports (in addition to the power jack, there are headphone, HDMI, two DisplayPort, and USB).
You don't have to worry about anything blocking the speakers, as there are none; Samsung undoubtedly believes (probably correctly) that your PC will already have its own robust audio system. But you can also check out our roundup of the best computer speakers.
That's not to say there's no potential for color: The Infinity Core scheme (controllable from the on-screen menu—see the next section) lets you customize the backlight of the depression where the stand connects to the display so it can emit light in five different styles (Static, or solid; Rainbow, switching fluidly between the colors; Flash and Double Flash, doing exactly that once or twice in a row; or Breathing, a slow increase and decrease in brightness) in any of 52 individual hues.
Samsung Odyssey G9 review: Interface
Easy to adjust via a joystick under the right front edge
You bring up the Odyssey G9's menu using the joystick located under the monitor's front edge, about 12 inches from the lower-right corner. This takes some getting used to; these buttons are typically located on the back panel or in a corner (usually the lower-right one), though its placement closer to the center makes sense given the monitor's width. The button, which doubles as a navigational joystick, provides instant access to power, input, PIP and PBP (picture-in-picture and picture-by-picture) settings, in addition to the main menu itself.
At the top of the Star Trek–modern menu are five circles that provide at-a-glance information about current key settings: Black Equalizer, Response Time, Refresh Rate, Adaptive-Sync, and Low Input Lag. It's easy to adjust those settings, or any others; just move the monitor's control stick to the right to move one level "down" and press the stick to make your selection.
The top-level options include Game-based settings like the refresh rate, black equalizer, adaptive sync support, and so on; Picture, for adjusting the brightness, contrast, color presets, and other features; PIP/PBP; OnScreen Display, for changing the menu's language and the amount of time it stays up on the screen; System, for adjusting the Infinity Core lighting, local dimming, volume, and dynamic contrast; and Support, for diagnosing problems, updating the firmware, and resetting everything to the factory defaults.
Samsung Odyssey G9 review: Performance
Unique 5,120x1,440 (or 32:9) resolution
Great brightness and respectable color reproduction
The Odyssey G9's unusual shape results in an unusual resolution: 5,120x1,440 (a 32:9 aspect ratio), or the equivalent of two side-by-side 2,560x1,440 monitors. This is more than three times the size of a standard 1080p (1,920x1,080) display, but still smaller overall than a single 4K (3,840x2,160) screen, so you won't need as beefy a graphics card to max out the details in your games (though, certainly, having the most powerful one you can find never hurts).
The screen fared well in our SDR color tests. Using a Klein K10-A colorimeter and DisplayCal calibration software, we measured the Odyssey G9's delta-E (its variation from an established color norm) at a solid 0.26, and we determined that it covered 113.7 percent of the sRGB color gamut and 80.6 percent of the DCI-P3 gamut on its default settings (Custom mode).
Most gaming monitors we've looked at do this well or better: The Razer Raptor 27 covers 162% of the sRGB spectrum, the ultrawide LG 38GL950G covers 148.9%, and the ViewSonic Elite XG270QC covers 139%, for example. Samsung advertises 125 percent sRGB coverage for the Odyssey G9, something we only came close to in Cinema mode (with 123.9 percent). But all of the default presets (the others are High Bright, FPS, RTS, RPG, AOS, and sRGB) were more than respectable, with the lowest-performing sRGB (102.6 percent of the sRGB color space and 72.7 percent of DCI-P3).
Average brightness (as measured with the monitor brightness maxed and all dynamic adjustment settings disabled) was upwards of 400 nits in every mode, with the brightest unsurprisingly being High Bright, with 418.6. This is well above what we saw with the Razer Raptor 27 (295 nits) and the Acer XFA240 (352 nits), but below the likes of the LG 38GL950G (544 nits) or the ViewSonic Elite XG270QC (524 nits).
Brightness improves even further in HDR mode. That's the only way to obtain the Odyssey G9's rated peak brightness of 1,000 nits, a number we confirmed in our testing with Portrait Displays' Calman software. Note, though, that we saw brightness in that range in tests utilizing only a portion of the screen (from about 10 percent to about 50 percent). At full-screen, the HDR brightness maxed out at 561 nits. By any measure, the Odyssey G9's brightness is highly respectable.
Although the display presets offer a distinguishable amount of variation among them, I rarely found them especially useful. The FPS preset, in particular, was distractingly bright; though this implementation was likely inspired by the frequently dark cast of those games' playing areas, the murky uncertainty of dark tunnels and shadowy ruins are usually part of the fun, and flooding them with light ruins the effect. Cinema, too, exaggerated colors and brightness, creating a dulling effect on motion picture–style video. To my eyes, the rather darker Custom setting was an excellent choice—if not the best choice—in nearly all situations.
Samsung Odyssey G9 review: Gaming performance
Makes games with minimal or complementary interfaces feel more immersive
Some games and apps are harder to use or don't make full use of the monitor
The Odyssey G9's gaming-focused features were a delightful plus in almost every scenario. Its 1ms gray-to-gray response time kept our interactions in games snappy, and the high refresh rate (up to 240 Hz) kept the images always moving in perfect pace with the action. Depending on which video hardware drives your computer, you'll also appreciate built-in support for Nvidia G-Sync and AMD FreeSync Premium Pro adaptive sync technologies (though AMD currently claims the latter is only utilized in 17 titles).
These are common gaming monitor additions; for most, its unique screen design is what will most set the Odyssey G9 apart—and prove most divisive. Whether the Odyssey G9 makes sense for you depends more than anything else on the types of games you play and what other software you use, as the large amount of space is not universally well utilized.
In our tests, the games that came off best were those where you could easily see everything at once by focusing on the center and not having to divide your attention. The sprawling screen area provided a dazzling field of view in the first-person shooter Metro Exodus Enhanced Edition, where your open field of vision allowed you to drink in every detail of the devastated Moscow you trudged through.
The Odyssey G9's width proved even more advantageous in more specialized titles. With DiRT 5, it bestowed the impression of a nearly life-size windshield for looking out on the frantic racing action, and the game's centrally located roadmap and speedometer put the most critical details right where you needed them. And with Microsoft Flight Simulator, it plunged you straight into the cockpit and gave you the broadest possible look at that title's sumptuous, satellite-derived vistas.
The Odyssey G9 was considerably less successful with titles using more spread-out interfaces. Because Assassin's Creed Valhalla uses pop-ups on both the extreme left and extreme right of the screen, there was no way to easily take in all the useful information when seated in front of it at a desk as opposed to on a couch some six feet away, playing with a wireless keyboard and mouse.
Even worse was Sid Meier's Civilization VI: Gathering Storm. I loved being able to see so much of the world map at once, but my neck was swiveling more than a malfunctioning merry-go-round trying to take in the tech and civics trees anchored on the far left and the notifications, diplomacy tools, Civilopedia, and more ensconced on the far right.
The width causes other issues, as well—none of which are Samsung's fault, per se. Prerendered 3D scenes (like those that pack Assassin's Creed Valhalla) are unlikely to fill the entire screen, which provides a devastating blow to immersion, and playing videos from streaming sites like YouTube results in broad black bars consuming half the display in nearly every instance.
Although all the real estate is a boon if you're the type of person who (like me) tends to work with multiple windows of multiple applications at once—so you could have YouTube up in one window, Word in another, and your e-mail client in a third—under almost any other circumstance you're unlikely to find an ideal way to fill every inch at your disposal here.
Samsung Odyssey G9 review: Verdict
Boasting top-notch functionality and impressive performance along every metric, the Samsung Odyssey G9 is worthy of serious consideration from anyone who can make full use of it. So if you have a high-end graphics card, a spare $1,700 or so, an excess of desk space (or a sizable hunk of wall), a stuffed-to-bursting game library you want to apply a unique (and not always completely complementary) visual spin to, and not much desire to use the monitor for everything else, you probably won't be disappointed.
But if any of these descriptors doesn't apply to you, you may want to think twice. The Razer Raptor 27 is a superb-looking model that can be found for close to one-third the price. Some monitors have higher refresh rates, such as the Alienware 25 Gaming Monitor AW2521H (360 Hz). Others have somewhat more vibrant color (the Razer, the LG 38GL95G, the ViewSonic Elite XG270QC). Still more (the LG and ViewSonic) get a little brighter with non-HDR content. Plenty of displays do straight 4K in the still-industry-standard 16:9 aspect ratio, which will ensure you never have to worry about how your game interfaces look (or play). And nearly every regular gaming monitor on the market costs less than this one.
All of this combines to maker the Samsung Odyssey G9 Gaming Monitor a luxury purchase for a certain type of gamer with a certain set of gaming preferences and a certain layout of their gaming area. If that's you, this is liable to be one of the best, most intriguing monitors you can find.
Sours: https://www.tomsguide.com/reviews/samsung-odyssey-g9-review-ridiculous-in-the-best-possible-way
Similar news:
Samsung Odyssey CTG9 49-inch ultrawide 5K monitor, vs LG 49WL95C, Samsung CRG9
You'll find a bunch of 49″ ultrawide 32:9 monitors on the market, but none like Samsung's brand new Odyssey CTG9 2020.
That's because this gets a 5K QLED VA panel with 240 Hz refresh rate and 1 ms response time, HDR1000 and an unusual 1000R curvature.
As you can tell from the pictures below, the Odyssey G9 actually wraps around the user, covering nearly your entire line of sight. That means it's going to occupy a lot of room on your desk and will require you to constantly move your head left and right, which might prove fatiguing with daily use. Gaming, on the other hand, is where this monitor would create an immersive experience unequaled by other existing options.
Samsung also made sure to implement RGB lightning to back that up, with a futuristic light glowing rear core on the back (perhaps inspired by the Iron Man). This supports RGB and can be customized and tweaked to each own's liking.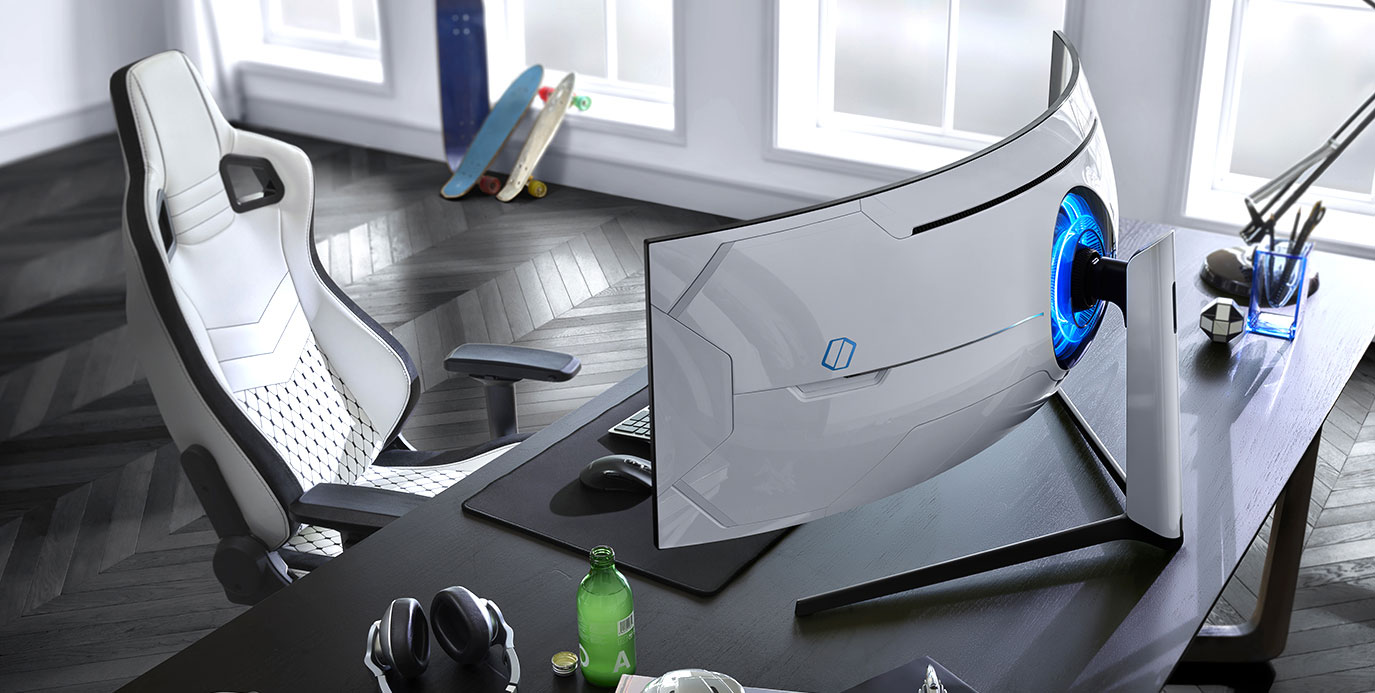 You might have noticed that Samsung is trying to build a gaming-oriented Odyssey brand. So far it included a handful of gaming notebooks, and has now gotten a set of gaming monitors on the side, with the 49″ Odessey G9 and a handful of smaller 32 and 27-inch Odyssey G7 models, with 1440p 240 Hz QLED panels.
Back to the Odyssey CTG9, here are its main characteristics:
49-inch QLED (Quantum Dot LED) VA panel with 32:9 aspect ratio;
1000R curvature;
5120 x 1440 px resolution;
typical 600-nits brightness with up to 1000-nits peak brightness and support for HDR1000;
10bit color via DisplayPort;
240 Hz maximum refresh rate and down to 1 ms response time (with Overdrive);
AMD FreeSync and Nvidia GSync compatible;
2x DisplayPort, 1x HDMI 2.0, 3x USB 3.0,
Stand with height, tilt; VESA 100 x 100 wall mount.
As expected, the G9 implements a VA panel with a Quantum Dot color layer. Opting for a VA panel allowed for the fast refresh rate and response times, while the Quantum Dot layer ensures punchy, vivid colors. However, VA panels have limited viewing angles, and hence the image degrades when viewed from the side, but perhaps the increased curvature might actually help with it.
This is not, however, an option designed for color-accurate work, as it does not cover the whole AdobeRGB or DCI-P3 gamuts. That doesn't mean it can't be used for photo/video editing, though, as it's still rated at around 85% AdobeRGB. Overall, though, the Odyseey G9 will primarily excel in games and if those are not on the menu, you will get better value and ergonomics with some of the other ultrawide monitor options.
Samsung hasn't yet put a number of the Odyssey CTG9, but I'd expect it to be North of 1500 USD. The monitor is scheduled for late-Spring, early-Summer 2020, so we'll find out more about it by that time.
For comparison, existing 49″ 5K monitors are different in at least one way:
LG LG 49WL95C-W – 60 Hz IPS panel, 3800R curvature, 10-bit color (8-bit + FRC), 70% AdobeRGB, HDR10, available for $1300-$1400;
Dell U4919DW – 60 Hz IPS panel, 3800R curvature, 10-bit color (no FRC), 75% AdobeRGB, HDR10, available for $1300-$1400;
Samsung CRG9 – 120 Hz VA panel, 1800R curvature, 8-bit color, 82% AdobeRGB, HDR400, available for $1300-$1400;
Philips Brilliance 499P9H – 60Hz VA panel, 1800R curvature, 8-bit color, 90% AdobeRGB, HDR400, available for $1100-$1200;
Most options get 60 Hz panels, so they are not ideal for games. Samsung's CRG9 QLED monitor is the only alternative, but with half the refresh rate of the newer version, wider curvature and 8-bit color. The Philips option is more affordable than most other and can be a good all-rounder if you're willing to live with its narrow viewing angles. On the other hand, the Dell and LG options based on similar IPS LG panels get much wider curvatures, wider angles and 10-bit color, so are better suited for office and creative work.
Samsung Odyssey G7 32/27-inch WQHD alternatives
If the CTG9 is just too much or too expensive for you, the more down-to-earth Odyssey G7 models might be more up to your liking.
Available in 32 and 27-inch sizes, these also get QLED VA panels with 240 Hz Refresh rate and 1 ms response time, but slightly dimmer brightness of around 350-nits with peaks to HDR600. They are also 16:9 screens with WQHD 2560 x 1440 px resolution. Surprisingly, though, they get the same 1000R curvature, which I'd reckon might feel rather weird at this size.
Much like the G9s, the Odyssey G7 monitors are also scheduled for Q2 2020, with pricing to be communicated at a further date. Unlike the G9s, though, which gets a white back, the G7s are only available in black.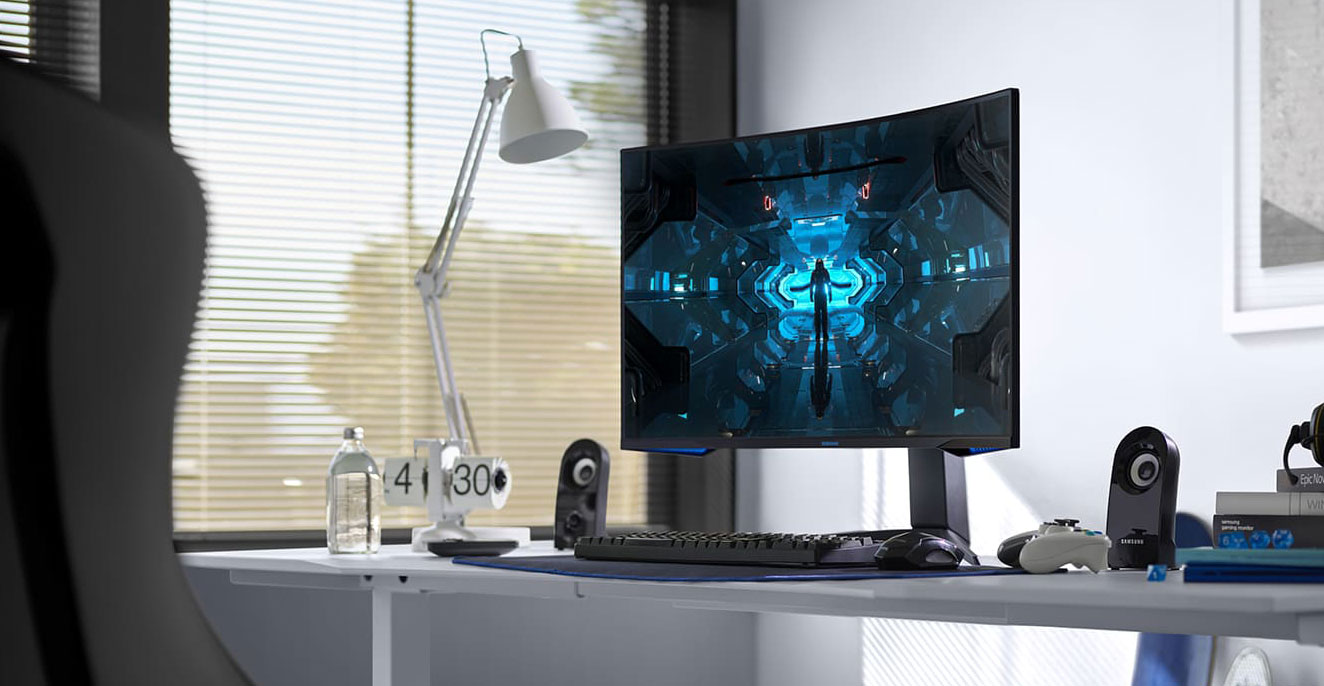 Via Samsung
Disclaimer: Our content is reader-supported. If you buy through some of the links on our site, we may earn an affiliate commission. Learn more.
Andrei Girbea, Editor-in-Chief of Ultrabookreview.com. I've been covering mobile computers since the 2000s and you'll mostly find reviews and thorough guides written by me here on the site.
Sours: https://www.ultrabookreview.com/34801-samsung-odyssey-g9/
36876
36877
36878
36879
36880