July 2018. As we are all dreaming about oceans, blue waves and tranquility moments soaking up the sun, the perfect color is announced!
Sherwin Williams. SW6531. AKA. Indigo. BLUELOVE!
Stop right there! It's not about throwing white sheets all over your furniture and repainting all the walls!
There are so many ways to achieve a perfect balance and to get the ideal result with this color (which, by all means, is P-E-R-F-E-C-T!)
Did you know that blue is the favorite color of more than 40% of the population? Demographic studies assembled results of  subjects from diverse etchnic and cultural categories. Blue is a really classic color, which will less tend to  go out of style in interiors (if it is used with good taste, bien entendu)
Here's some of the best ways to use this color and to fall in love (all over again) with your interior space.
Use it on art
An art frame like this one will make a great impact and will capt your attention immediately. Cold color tones have a calming effect on our brain activity, which means they are ideal in rooms in which you want to relax (or feel in vacation!)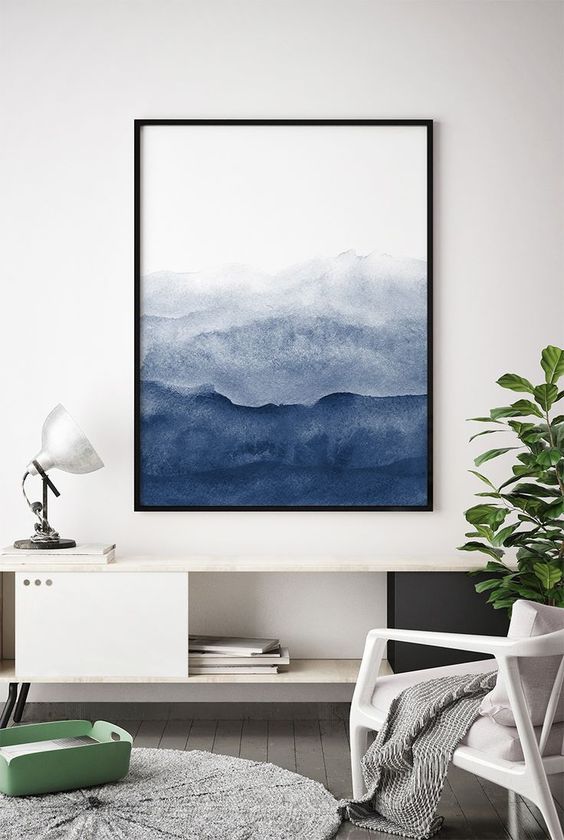 Neptune Art Print (Etsy)
On your furniture
Blue furniture will again capt your attention in a sober space. It is ideal if you want to create contrast in your decor. A good thing about furniture is that it can adapt with time. You could repaint case goods or reupholster your furniture to give them a second life.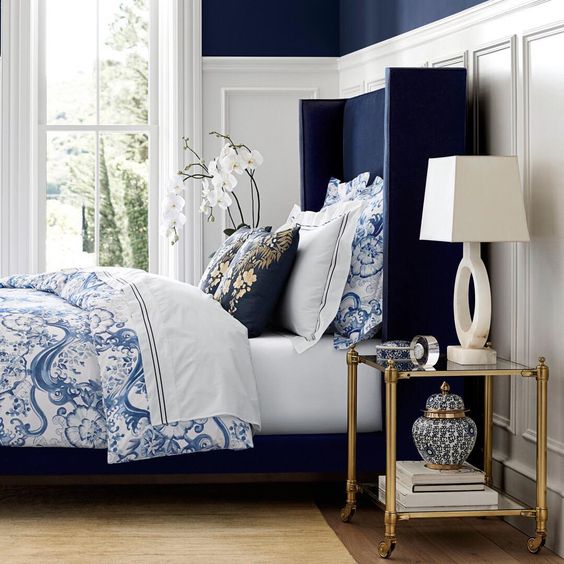 Via @WilliamSonom
Applied on half of the wall
As it is a very intense color, I would use it on the upper part of your wall, and it'll instantly bring some personality to your room without making it too dark.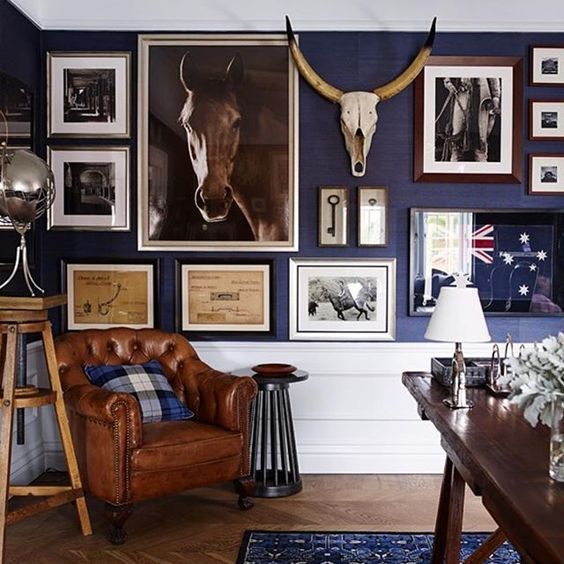 See on Pinterest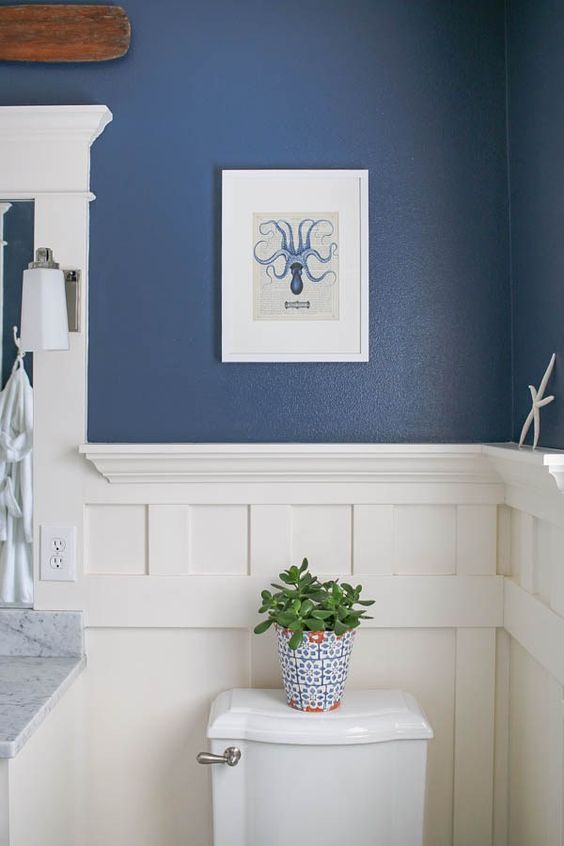 Saw Nail and Paint
On your doors
It is one of the most perfect way to add accent with color: doors! Painting your exterior door will add personality to your home and will make you pop in your neighboorhood.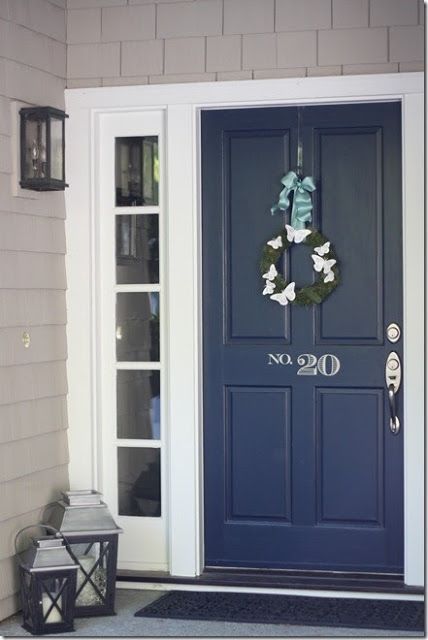 Best Home Decor Ideas
On the floors
If you want to use color on your floors, make it subtle like this pattern which is just fabulous.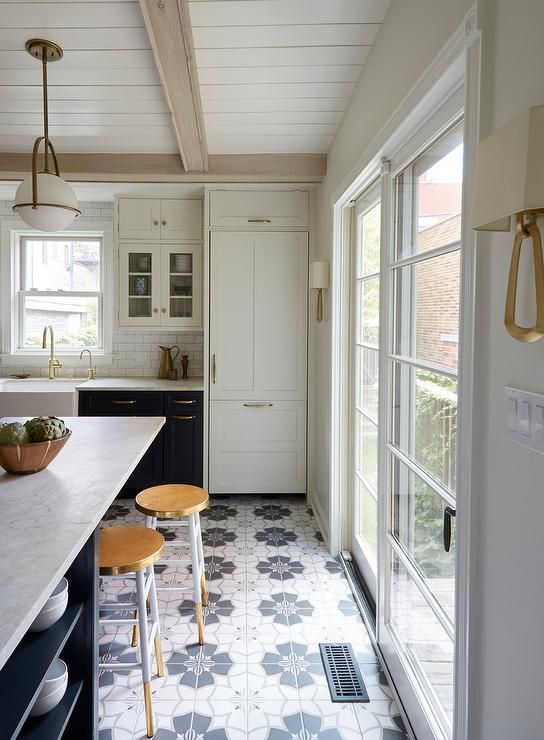 DecorPad
In the kitchen
if you like navy and feel like you can live with the color for a while, then know that this tone makes wonderful, sublime kitchens. (My favorites!)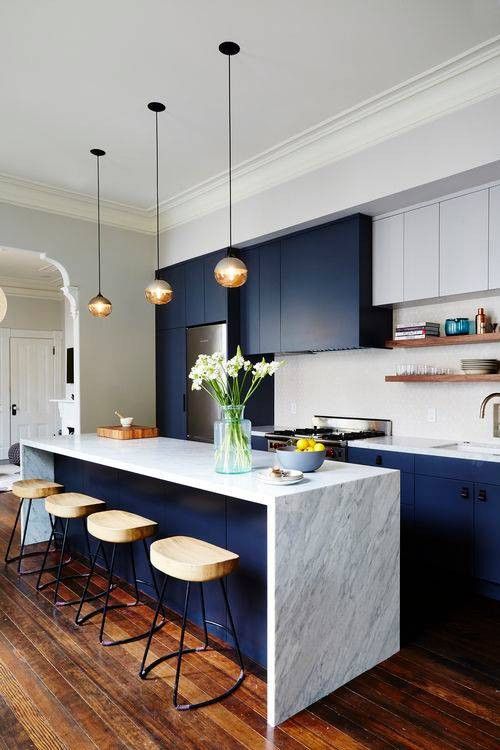 Domino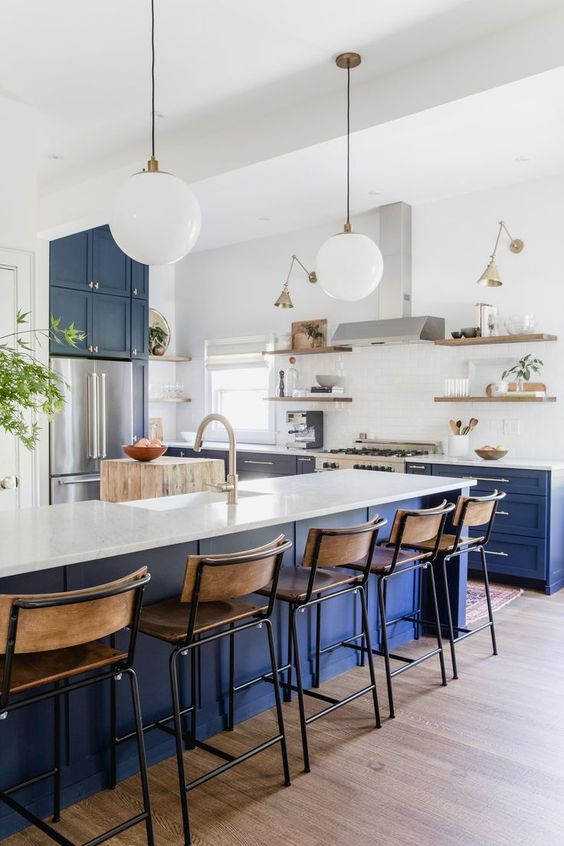 Domino
On your accessories
Is there something more elegant than bleu? (I don't think so!)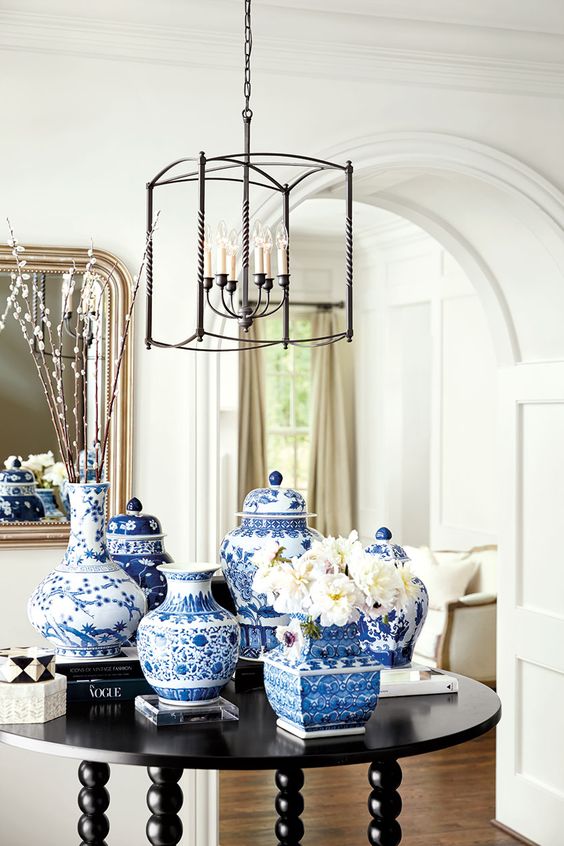 Ballard Design
In my case there is a LOT of blue in my house. (You probably already knew anyway). In my case I used it on walls (in James nursery), on wallpaper, decorative pillows and accessories.
How about you? How would you decorate your space?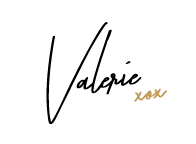 Sours: http://valerielaurent.com/en/how-to-use-the-color-of-the-month-sherwin-williams-indigo/
Indigo Blue: 10 Amazing Ways To Add This Color To Your Home Decor
Have you heard? Indigo Blue is THE HOT color trend this fall and it's a color I'm absolutely in LOVE with! I'm so excited to try this must-have, fresh color in my home this season and today I'm showing you all the phenomenal ways it will add pizzazz and wow to your home! Want to know why I love it?
It's a current yet timeless color to mix with our gray, cream, black and white neutrals.
It's a color that will also will look amazing with my mercury glass, silver and gold metallics but still look timeless, not 'trendy'!
Indigo Blue is taking home decor by storm and this is why!: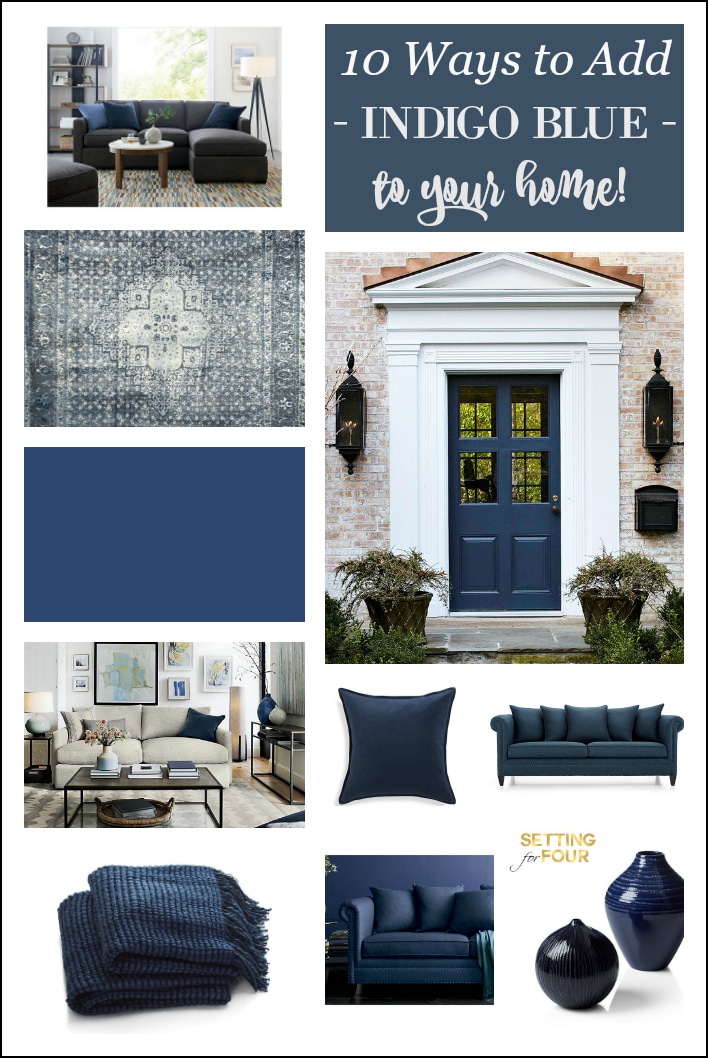 I've done the 'typical' fall colors many times before – the oranges and rust hues which are still beautiful I think….
But this fall I'm looking for something different to spark up my space. Something to give our home some punch and pow, something classic with some edge – but is still comfortable to live with and is family friendly.
This post contains some affiliate links for your convenience. Click here to read my full disclosure policy.
If you're like me and are looking for a stylish color to update your home this fall, you'll love all of the gorgeous indigo decor ideas I've put together for you! 
As I was researching this sumptuous color for my own home I thought I'd share with you all the incredible looks and ideas that I found  – plus all the beautiful places and ways we can add this stunning blue color to our home decor.
Check out 10 amazing ways to add this elegant, dramatic yet livable Indigo blue color to your home:
As you can see in the rooms below – Indigo Blue truly looks amazing with wood accents, rattan, gray, ivory, cream, black and white!
This blue color looks amazing with greenery like fiddle leaf fig trees and vases of green stems: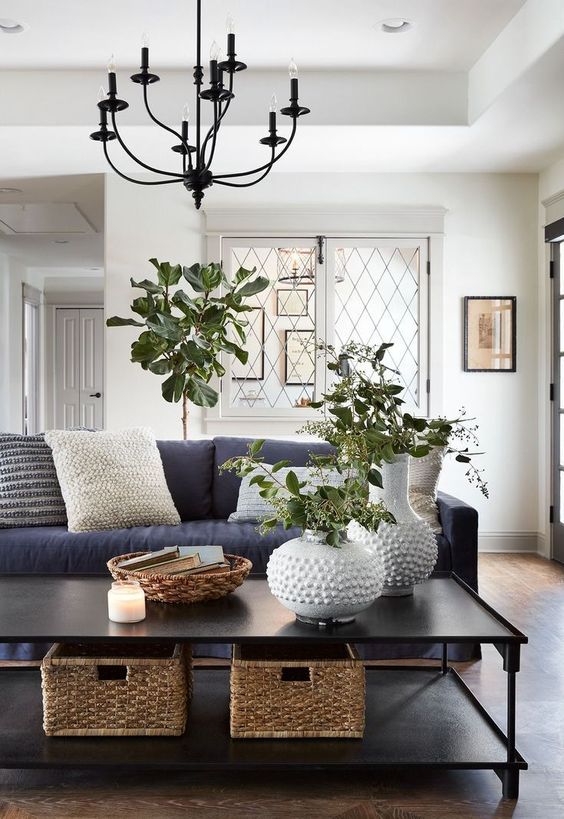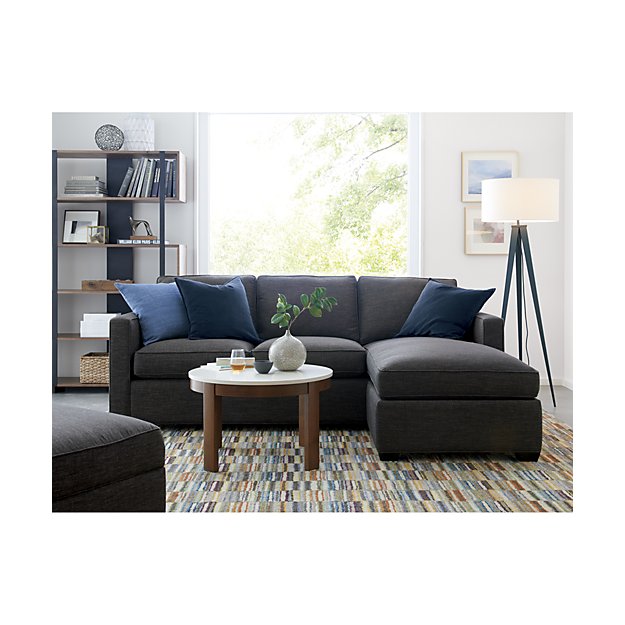 source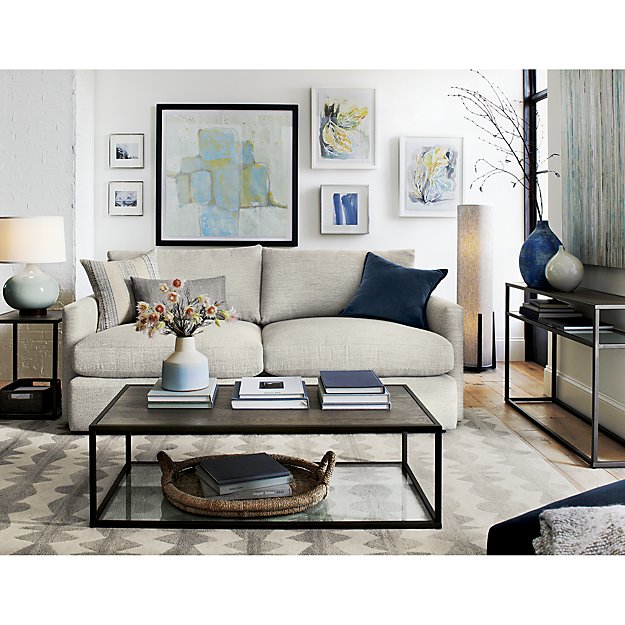 source
It's no wonder that Indigo Blue is all the rage this season! This color is guaranteed to add a shot of rich color, personality and updated style to our homes!
It's true that Indigo Blue is a big trend right now….and why is it even important to consider trends? Trends open our eyes to new possibilities and we can learn a lot from them about our own personal style!
 So what EXACTLY is indigo blue?: It isn't navy or cobalt blue.  It's a rich, dark blue that's between blue and violet.
Its one one of the colors of the rainbow. No wonder it's such a popular color! 
 10 gorgeous ways to add indigo blue to our homes 
1. Paint Color:
Use it for a beautiful front door color and wall color.
SW 6531 Indigo

 W 7602 Indigo Batik 

 Front door: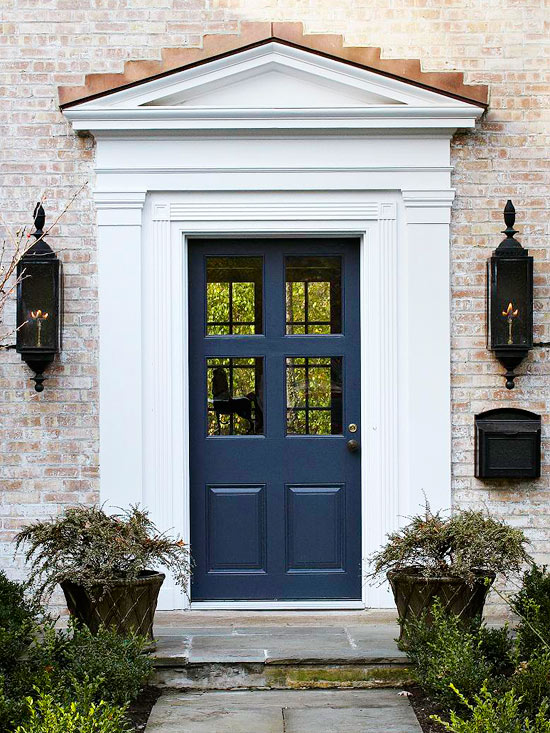 source
Wall Paint Color: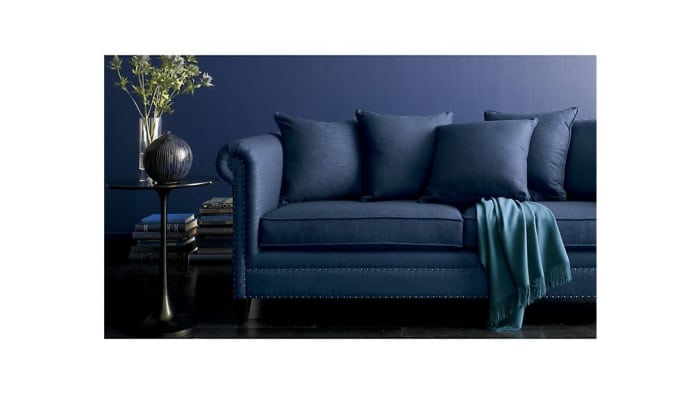 source
2. Pillows:
Indigo Blue Velvet Pillow – I'm crushing on this velvet pillow!  The color…the texture!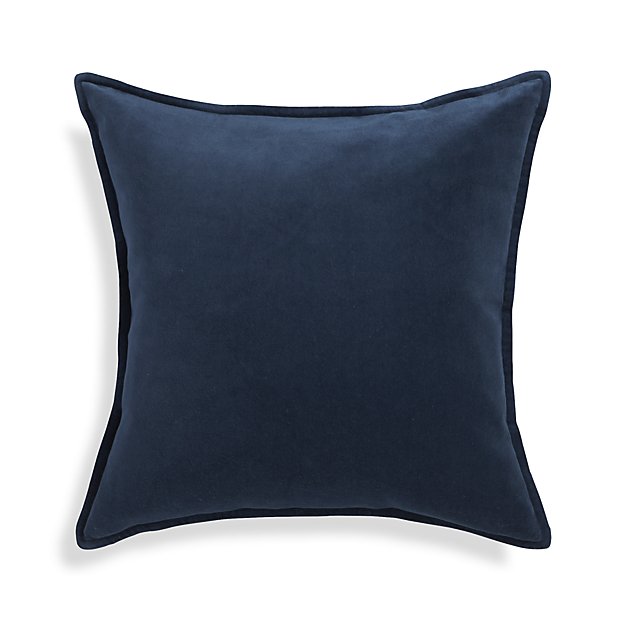 3. Area rug:
Indigo Blue Area Rug – I'm SMITTEN with this area rug – I'm seriously thinking of getting it for our living room!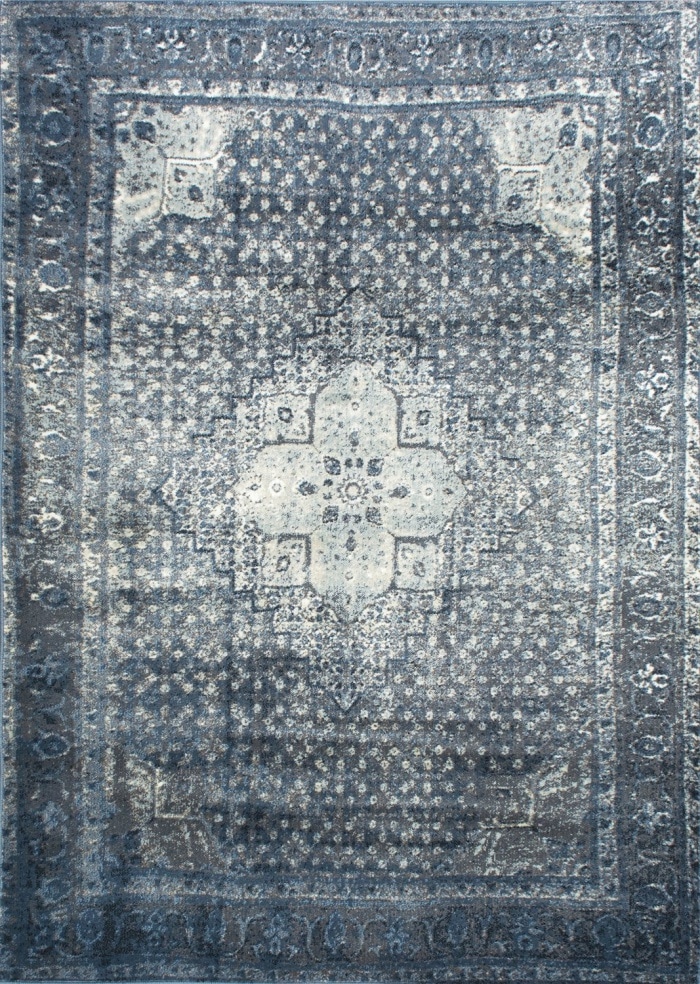 4. Dinnerware:
Indigo Swirl Dinner Plate – stunning! This will go fabulous with the white dinnerware I already have.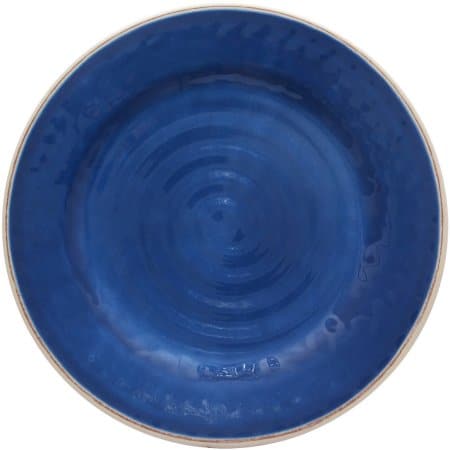 5. Sofa
So so stunning: 3 cushion, roll-arm sofa with nailhead trim!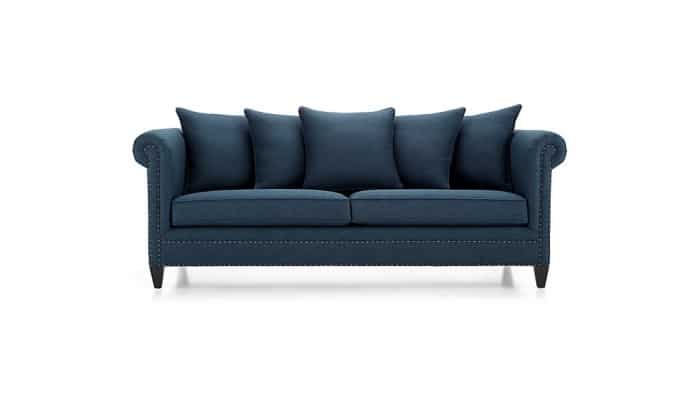 6. Art Print
Abstract art print – I'm a sucker for abstract art.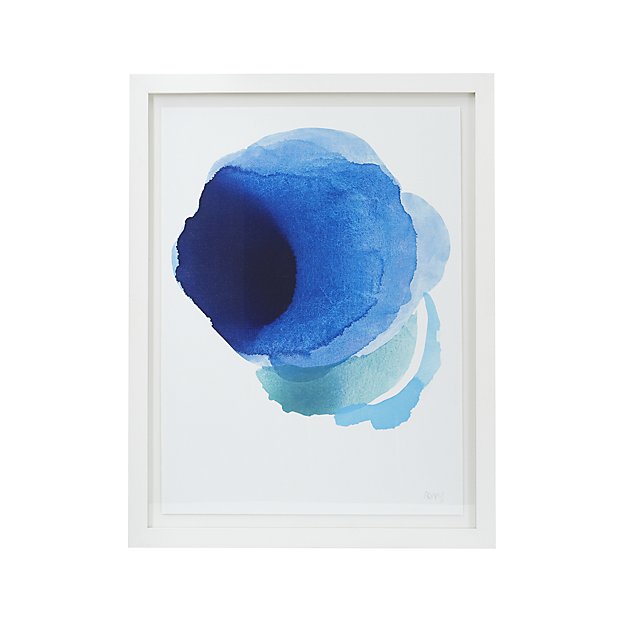 7. Window treatments
Indigo Curtains – these will look fabulous in a den, living room, home office and bedroom.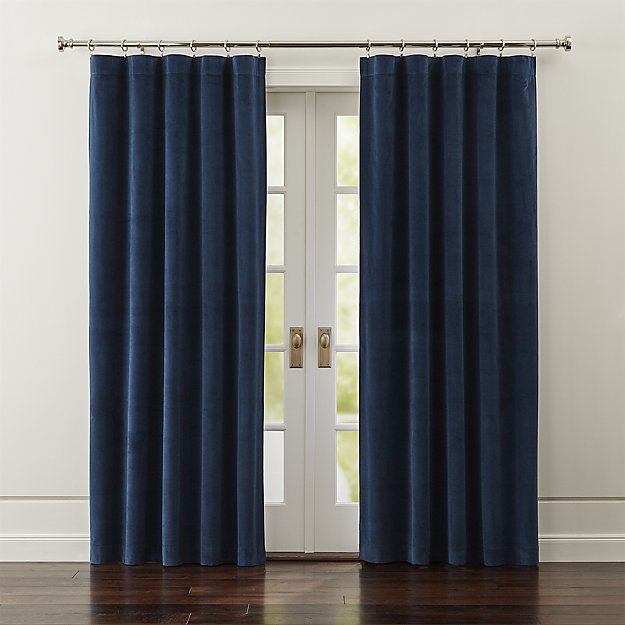 8. Vase
Ceramic Vase – add one or two to a bookcase, kitchen open shelving, mantel, end table.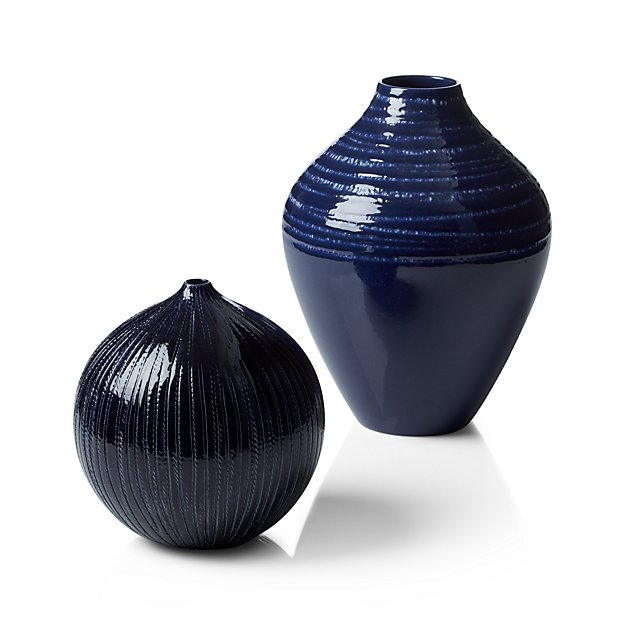 9. Wallpaper
Wood Grain Indigo Blue wallpaper – this is peel and stick … and removable!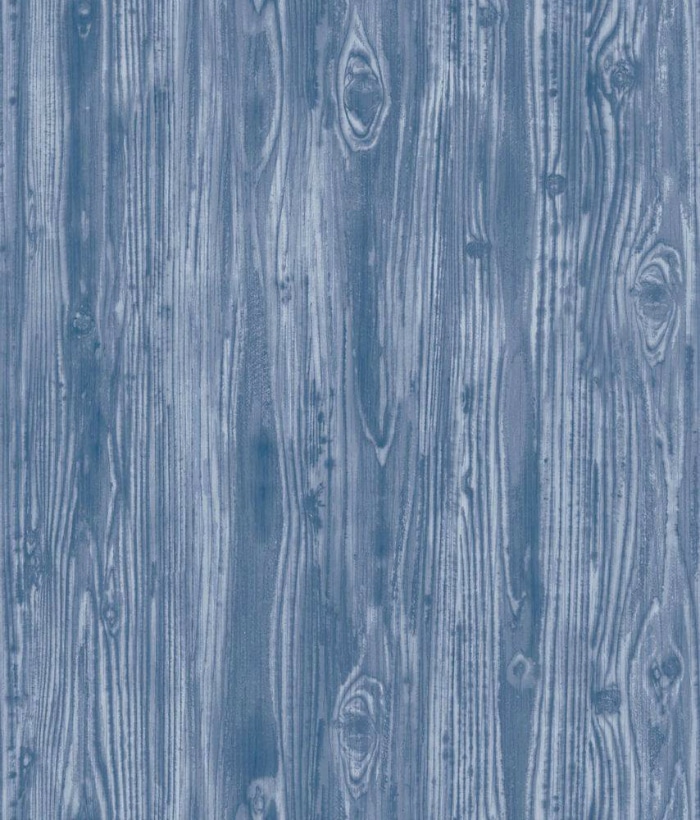 I LOVE this as an accent wall for a living room or bedroom. This wallpaper will work with traditional style, farmhouse style and modern styles too!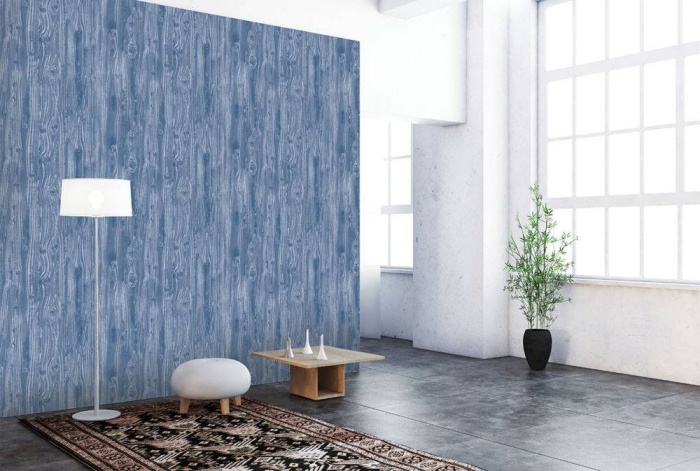 10. Throw:
Chunky knit throw – can't have enough throws! This itself will add a whole new look to your sofa or accent chair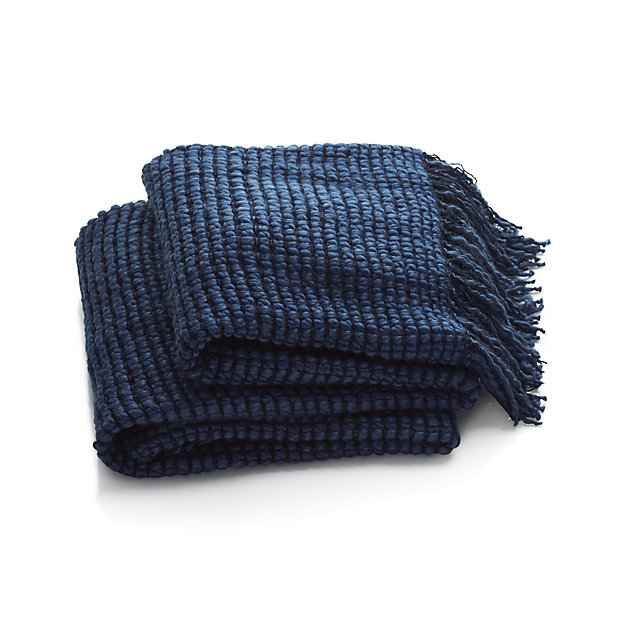 Have I convinced you to join me and add some beautiful Indigo Blue to your home this season?? I hope so! 🙂
What are your thoughts on indigo blue? Do you like it? Will you be adding it to your home decor?
You may also like:
My Favorite Painting Tips and Tools
How to Prepare a Room for Painting – for best paint adhesion and to save time!
How to find your signature style – like I did!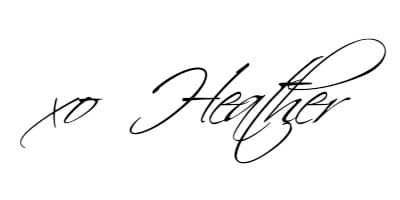 GET THE FREE BEGINNER'S GUIDE TO INTERIOR DESIGN & DECORATING!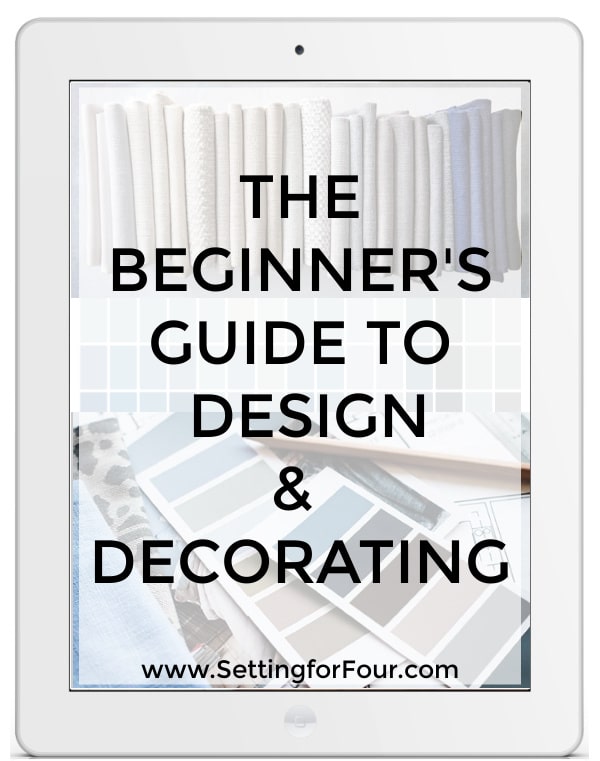 Design secrets to create spaces you'll love!
By signing up, you agree to receive Setting for Four e-mails. Please see our privacy policy for more information. Although I'd hate to see you go, you may unsubscribe at any time. Your information will never be shared or sold to a 3rd party.
Filed Under: Decor, Design TipsTagged With: accessories, color, Decor, front door, paint color, trends
Sours: https://www.settingforfour.com/indigo-blue-color-home-decor/
Sherwin Williams Indigo Batik SW 7602 – The Enthusiastic Blue
The most cheerful yet bold and authentic blue on the palette – avid DIY homeowners everywhere have made Sherwin Williams Indigo Batik as one of their more adored blues.
And you know why?
Well, the kind of charm and royalty exhibited by this paint color is absolutely flawless!
And along with that, the color is known to be extremely timeless – so, you might not have to think twice before using it.
But before we get more and more into this one – let's first discuss all the basics.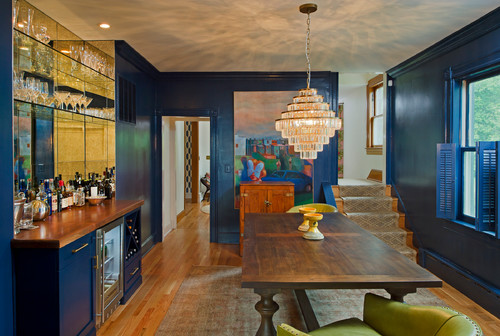 This dark-toned blue exhibits a tone like navy that is bound to make your space look majestic and magnificent.
So, if you are planning to specify this paint color in your home – I would say definitely yes! But you need to take care of a few aspects such as how the color may appear in your space and if it really is a good fit in your home's interiors/exteriors or not.
Well, don't worry. I got your back!
In this color review, I will help you understand the basics about IB and how you can best optimize using it in your homes.
So, let's get it started!
Sherwin Williams Indigo Batik SW 7602 Details and Specifications
A bold and daring paint color like Indigo Batik has tons of details and specifications that you must need to know – before choosing it for homes.
Remember, no two colors are exactly the same – even if they 'appear' similar – hence, there are certain values that differentiate those two colors.
And I am here to disclose the value!
First and foremost, consider the Light Reflectance Values or LRV that helps in determining how light or dark the paint color is!
(You can easily locate this value at the back of the paint swatch)
So, the LRV of Indigo Batik is 8! Which means it is a pretty dark-toned paint color. (Remember, the lesser the value – the darker the paint color)
One GREAT way to test a paint color to see what it'll do in your own home, is to order a sample from Samplize. You can pick one up for Indigo Batik!
Secondly, other associated terms are the RGB and HEX Values that help in determining how the paint color is made of.
Red = 62
Green = 80
Blue = 99
HEX Value = #3e5063
Now enough with the technical and scientific information, let's get started with the practical aspects of this beautiful and timeless color.
How Does this Color Feel in a Space?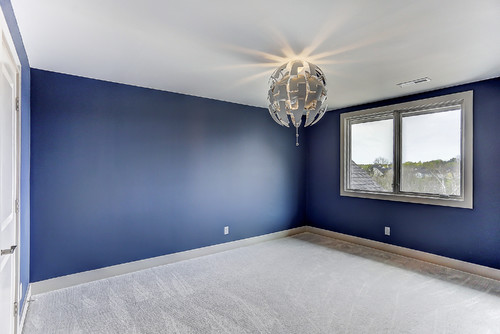 Well, this color feels absolutely luxurious, royal, majestic, and bold when used in a space.
The tinge of saturation in the paint color gives it a luxe look and that is why this paint color is highly used in large mansions and hallways.
Due to the low reflectivity of the paint color, it tends to look enclosed while making your space appear smaller than it is!
Yes! That's true – and that's why I wouldn't recommend this paint color in extremely small spaces.
For southern as well northern (mainly any climate region) can incorporate this paint color in their homes. It definitely is a perfect fusion of warm and cool at the same time.
How Does Light Affect the Color?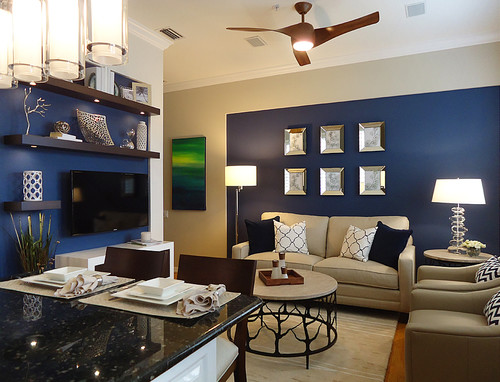 Well, let me tell you, light and paint colors go hand-in-hand!
They have a perfect spark together in creating a desired aura in the space. So, it is a very simple concept – the more the light in your room – the lighter and brighter will the paint color appear.
In this case, if your room receives ample natural light – I would recommend using it since it will make your space look enlarged. The paint color may appear somewhat like SW Bracing Blue!
On the other hand, in the absence of natural light, this paint color may appear much darker – somewhat like almost blue-blacks!
If you want to really see how this color will play in your space and with other colors, get some wall samples from Samplize.
What are the Best Coordinating Colors?
So, now that you are feeling confident about using this paint color – let me suggest a few coordinating color palettes to go with it!
You can either choose from a monochromatic or a contrasting color palette in a space.
To make it simpler, blues are a great fit with goldens (for a royalty touch), or could be off-whites, whites, greys, mauves, browns, and greiges (for a subtle touch).
To name a few, have a look here for a monochromatic palette:
SW 9151 Daphne
SW 6242 Bracing Blue
SW 6243 Distance
On the other hand, for a contrasting palette, I would recommend the following:
SW 6378 Crisp Linen
SW 9023 Dakota Wheat
SW 6246 North Star – study more about North Star here!
In the case of ceilings, trims, and moldings – I would recommend using SW Pure White to further exhibit a creamier refined look or else if you want a crisp look, choose SW High Reflectance White.
SW Indigo Batik Vs Similar Colors
There are a couple of similar colors on the palette – but remember, no two colors are exactly the same!
Even though I would highly recommend this particular paint color for your home – you may still look through SW 2739 Charcoal Blue – see my review and SW 7615 Sea Serpent as the perfect alternatives.
Let's see if any of them is a great fit for you!
Indigo Batik Vs Charcoal Blue
With an LRV of 6, this paint color is comparatively darker than Indigo Batik. Well, the only difference is the lightness as well as undertones. Charcoal Blue appears to be slightly blue-black in the absence or excessive lighting conditions.
So, if you are looking for a very daring atmosphere in your homes, Charcoal Blue would make a good match! Moreover, you can consider the same contrasting color palette I recommended for Indigo Batik.
Order a wall-stick sample of Indigo Batik here to try this color on for size.
Indigo Batik Vs Sea Serpent
With an LRV of 7, Sea Serpent is slightly darker than Indigo. With deep navy-blue undertones, this paint color tends to add a dramatic factor to a space.
This paint is more subtle than being royal or luxurious! So, it is better to choose subtle tones as complementary!
Grab a sample stick-on square of Sea Serpent here to see how the color will look in your living spaces.
Where to Use Indigo Batik in Homes?
There is no way I would say no to it!
Indigo Batik is definitely a YES in homes that are comparatively larger in sizes with a touch of royalty and magnificence!
Whether your home is Modern, Mid-Century Modern, Farmhouse, or Contemporary – this paint color makes a great option. For coastal interior design style, I would recommend using this paint color only in little tinges!
Let's see how you can incorporate it in homes.
Indigo Batik in Living and Dining Room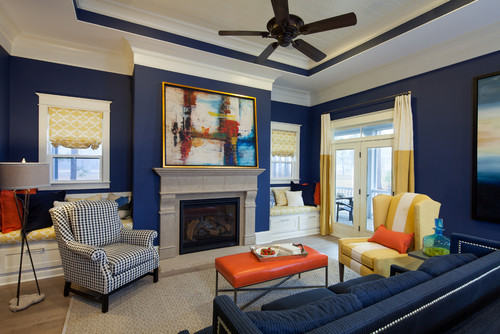 So, if you have a great size and shape of the living and dining room – you can absolutely use this paint color. It is also a good fit for living rooms and hallways with double heighted ceilings.
Moreover, you can pair it with either white or grey sheer curtains, neutral-toned upholstery, lush hardwood floors, and slight golden-tinted accents in chandeliers and table lamps!
Just in case if you have a focal fireplace wall – you can surround it with black marble or tiles and further add a touch of luxe to the space.
For a cozy touch – I would recommend adding off-white neutrals!
Using in Kitchens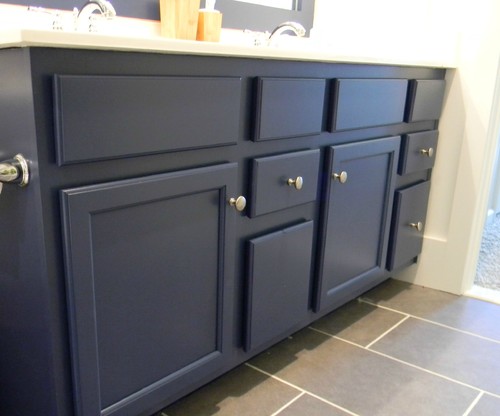 Kitchens would be a great place to show off some Indigo love.
You can paint the cabinets in this paint color and let the backdrop wall be in white or off-white or even go vice versa.
Moreover, choose golden pull handles and a white veined marble countertop to achieve a refined look.
However, it is important to first analyze the space and its size and shape – if you have an open concept kitchen or it is considerably large – you are good to go!
Indigo Batik in Bedrooms
Bedrooms in Indigo Batik are simply wow!
You can pair it with greys, whites, and off-whites and use mauves and yellows as accents through throw pillows, upholstery, sheer curtains, or pendant lights.
For best results – I would recommend painting only the focal wall in this paint color to truly feel the true hue. And that wall could be the headboard wall!
Using on Exteriors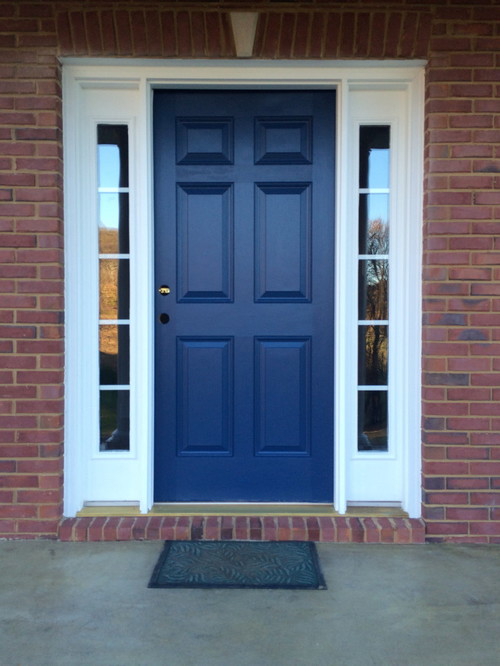 Indigo Batik is also a great fit for your home exterior palette!
You can pair it with whites and off-whites on trims, decorative moldings, and door and window frames. Or else, do the opposite!
In the case of stone wainscoting – choose grey or travertine stone to give a perfect accent to your home exterior palette.
How to Best Sample This Color?

When it comes to colors like Indigo Batik, which can show in many different ways, you should definitely order a peel-and-stick sample from Samplize.

These folks came up with a genius way to sample real pain without having to go to the store, pick up a can, then paint it on.

For not much money you get a good sized square to put up anywhere in your house where you want to "try" on a paint color along with any possible coordinating hues you like. Love this!
So, how do you want to use this color in your homes? Interiors or Exteriors?
Now that you have all the secrets – are you excited about painting your home in Indigo Batik? Should there be any questions or thoughts, let us know in the comments below!
Filed Under: BlogTagged With: paint review, sherwin-williams, sw blue
Reupholstered Thrift Store ChairsPersonalized Felt Easter BasketSours: https://knockoffdecor.com/sherwin-williams-indigo-batik/
Sperm into my mouth. Dima finished surprisingly quickly. I was even offended, as I tuned in for a long blowjob. But Dimka said that everything is ahead and he will still give me super-superfucking. Returning to the line for the bus, we took a beer, stood, smoked.
Indigo sherwin williams
If you are going to change the dislaccation, let us know. I read it three times until I finally entered the meaning of the message. It was like boiling water poured over me. Anya looked at me as though pitifully and guiltily. It was also hard for her in this situation.
July 2018 Color of the Month: Indigo - Sherwin-Williams
Tomorrow, we need to consolidate the success, I thought. In a dream I was haunted by erotic images, but in the morning I was fresh and full of life as never before. In the morning.
Now discussing:
Sasha lasciviously looked at me. It can be seen from the outside view, he realized that I agreed. Although I did not answer and did not ask again. He just took the grease and squeezed it out on his sister's anus and started to knead the butt with his fingers. Let's stand next to the nurse.
21211
21212
21213
21214
21215