Washington, D.C. - The U.S. Senate today passed an economic stimulus bill, H.R. 3090, by a vote of 85-9. Senator Maria Cantwell (D-WA) voted in favor the bill saying it provided long overdue relief for laid off workers and invests in the next generation of our economy as businesses recover from the weakened economy.
"The package we are approving today will extend benefits to workers who need it most," Cantwell said. "It invests in the next generation of our economy as businesses recover from the weakened economy."
Cantwell noted that four provisions were particularly important for Washington state:
13-week extension of unemployment insurance 2-year extension of the wind energy production tax credit Targeted business tax incentives contained in this stimulus package: bonus depreciation for capital investments, and increased write-offs for business losses "Tax extenders" that promote research and development across so many industries in our country. Senator Cantwell's statement for the record follows:
Mr. President, I rise today to impress on my colleagues just how important this legislation is to the workers in the nation who have borne the weight of this recession that was so exacerbated by the September 11th incidents.
My colleagues have heard me say this again and again, but the Pacific Northwest has suffered extraordinarily in the past year. My state of Washington now has the dubious honor of having the second highest unemployment rate in the nation, behind our neighboring state Oregon.
We had a seasonally adjusted unemployment rate of 7.5 percent in January - and the insured unemployment rate is above five percent.
I have analysts in my state who foresee a wave of layoff notices in the pipeline and estimate that the state is going to hit eight percent unemployed when the February numbers come out later this month.
Why is this the case? Well, we have a number of factors at work. I would like to give my colleagues a better understanding of the economic circumstances affecting my state.
Even prior to the tragic events of September 11th and even prior to the recession that may have begun in the early months of last year, Washington's economy was facing hurdles.
We have seen significant layoffs in aluminum, agriculture, and high technology - due to persistent droughts, the high cost of energy, massive reductions in timber harvests, and declining export markets.
My state is the most trade dependent state in the nation on a per-capita basis, and September 11th had a devastating impact on the aviation industry. In October, the Boeing Company announced that that it will lay off an estimated thirty thousand commercial division workers. Approximately eighty percent of those workers are located in the state of Washington.
The first layoff of Boeing workers - nearly four thousand -- occurred on December 14th, and the company set a schedule of layoff notices for the following months that predicted twelve-to-fourteen hundred job cuts per month through June of this year.
But it does not stop there. We have seen from previous recessions that when a Boeing worker is laid off, approximately two more jobs are lost further down the supply line. So where does that leave us? When all is said and done, we will probably have at least forty thousand layoffs in our state that will be attributable to the events surrounding September 11th. Some projections suggest that the number may go as high as sixty-five thousand.
I mentioned previously our statewide unemployment rate of 7.5 percent, but even more unsettling is the fact that fourteen of Washington's thirty-nine counties have unemployment rates above ten percent. In Ferry County, we are facing 15.1 percent unemployment. That same figure is 13.3 percent in Franklin County, 16.8 percent in Adams, 12.1 in Chelan, 11.5 percent in Grays Harbor, and the topper is 17.1 percent in Klickitat.
If this is not an emergency, I do not know what is. That is why we have insisted, for months now that the Senate pass a simple unemployment insurance extension of at least 13 weeks.
It is extremely disconcerting for me to know that so many workers displaced after September 11th have already reached or are nearing the end of their benefits eligibility. Since Sept. 11th, about 1.3 million workers have exhausted their unemployment benefits throughout this nation. In Washington state alone, more than forty two thousand workers exhausted UI claims from September 11th through the beginning of March.
And at the same time, heavily affected states and workforce areas throughout this nation are running out of training dollars.
That is why I and my colleagues have fought for emergency training dollars; that is why we have fought against cuts in WIA funding that were proposed in the budget; and why we have fought for this temporary extension in UI benefits.
This is about giving workers a chance to get back on their feet. It should also be our priority to invest in training those workers, so that we'll be ready with the highest-skilled workforce when we get the economy jump-started again.
My state has taken an aggressive approach to retraining our workforce, and has invested state dollars to provide the necessary support for displaced workers to put food on the table while they get skills training.
This is the direction that our nation should be heading - and it is one that we should be encouraging as we finally take this step to get the federal aid to the states. With the help of the Majority Leader in February, we were able to pass a clean 13-week unemployment benefit extension that took into account the unique situation of states that have aggressively worked to provide more substantial benefits for displaced workers. The Majority Leader and his staff have been tremendously helpful in recognizing these concerns and ensuring that we were providing the maximum assistance to all states.
I want to be clear, I am extremely pleased that the House has finally come to the conclusion that workers are desperate for this 13-week federal support, and has finally set politics aside to do the right thing for our workers, and our nation as a whole.
Mdme./Mr. President, I have worked to ensure that the language of this legislation is consistent with the extended benefits offered by our state - so that one of the most heavily impacted states in the nation is able to fully benefit from what we are doing today.
I understand that the Department of Labor has promised to provide a letter of interpretation of the House-passed legislation that is expected to clarify these issues, and specifically, the technical order of benefits that workers will be expected to receive. I urge the Secretary to get this assurance to us immediately, so that our state can plan to meet the needs of workers who have exhausted or will soon exhaust their benefits.
It was my intent, and I understand it was the expressed intent of the drafters in the House, to provide the 13-week temporary federal UI benefit immediately after the expiration of regular state unemployment insurance benefits - which is typically 26 weeks.
While I am disappointed that the House language is not explicitly clear on this matter, as was the Senate bill, I am pleased to hear that the Department understands our intent and will reportedly carry out these provisions in keeping with that intent.
I will be watching to ensure that the Secretary follows through on this commitment and puts the Department's priority where it should be - on providing as much assistance as possible to the areas of this nation that desperately need it - and to providing it in a time frame that truly reflects the urgency of the situation.
Again, I appreciate the phenomenal work of the Majority Leader and the entire Senate in doing its work on this bill months ago; and now that the House has finally come to the table, I urge that we move quickly to get it enacted and get extended benefits out to workers who need it most.
Finally, I will add that I am pleased with the targeted business tax incentives contained in this stimulus package. By providing both bonus depreciation for capital investments, and increased write-offs for business losses, we encourage economic expansion and development. By giving workers the resources to invest in themselves through training, education and health care, we provide the means for this expansion.
Additionally, I am pleased that this package contains the so-called "tax extenders" that promote research and development across so many industries in our country.
The country is at an economic crossroads and the choices we make today will affect us for years. We must maintain our fiscal discipline and invest in the nation's future business, education and worker needs.
The package we are approving today invests in the next generation of our economy as businesses recover from the weakened economy.
Thank you, Mdme./Mr. President.
Sours: https://www.cantwell.senate.gov/news/press-releases/cantwell-statement-on-senate-passage-of-the-economic-stimulus-bill
Biden signs $1.9 trillion Covid relief bill, clearing way for stimulus checks, vaccine aid
Democrats passed the bill in Congress without a Republican vote through the budget reconciliation process. The House approved the measure Wednesday.
Republicans called the proposal unfit for the moment as Covid-19 vaccinations pick up and more states move toward reopening their economies. The GOP criticized what it called funding not needed to fight the pandemic.
"The American people already built a parade that's been marching toward victory," Senate Minority Leader Mitch McConnell, R-Ky., said on Thursday. "Democrats just want to sprint to the front of that parade and claim credit."
Democrats have called the bill necessary to sustain the economic recovery mitigate the pain caused by a year of economic restrictions. More than 20 million people are still receiving some form of unemployment benefits, and millions of households are struggling to afford food and housing.
Democrats also pointed to the bill's potential to slash child poverty.
The legislation will also increase the maximum Supplemental Nutrition Assistance Program benefit by 15% through September and direct nearly $30 billion to restaurants. It will send more than $120 billion to K-12 schools.
The legislation will also boost provisions to make health care more affordable and expand tax credits to help businesses keep employees on the payroll.
Sours: https://www.cnbc.com/2021/03/11/biden-1point9-trillion-covid-relief-package-thursday-afternoon.html
When will my stimulus check arrive?
The stimulus money promised under the American Rescue Plan began to hit the bank accounts of many Americans on Wednesday, March 17 — the first official payment date — although some financial institutions chose to make the cash available to people even before it arrived from the government.
Not everyone eligible to receive a payment will have received one on Wednesday, though. Treasury and Internal Revenue Service officials said the payments will be released in batches over the next several weeks, with some coming in the mail in the form of checks or debit cards.
The Treasury Department has been working with financial institutions to try to ensure that payments arrive more quickly this time around than they did last year.
How can I check the status of my stimulus payment?
You can track the status of your payment via the I.R.S.'s Get My Payment tool. Be aware that the volume of users sometimes overwhelms the site.
What should I do if I still haven't gotten a payment from a past round of stimulus?
If you were in fact eligible to receive it, you can try to recover it through the so-called Recovery Rebate Credit when filing your 2020 return. Make your claim on Line 30 of Form 1040 or 1040-SR.
Stimulus check for less than expected? The I.R.S. says some delays are tied to spousal debts.
More than 90 million taxpayers have already received a collective $240 billion in stimulus payments — but not all of them have yet received the full amount they are eligible to get.
The Internal Revenue Service has an explanation, at least for some of them.
Married people who filed their returns jointly may receive their stimulus in two separate installments if their tax return includes something called an injured spouse claim — which a taxpayer can file for if part of their tax refund is withheld over a spouse's past-due debts, such as federal or state taxes, child support or student loans.
In most cases, the I.R.S. said on Tuesday, the second portion of the payment will be delivered the way you instructed on your tax return — although it's possible that one portion will be delivered by direct deposit and the other sent by mail. The second portion could be delayed by a few weeks, according to the agency.
Another batch of economic payments will be issued on Wednesday, which may resolve the issue for some couples. But for those still wondering when the relief payment may arrive, the I.R.S. suggested that both taxpayers on the return use the "Get My Payment" tool using their own Social Security numbers to check payment status.
It's unclear how many taxpayers are affected or if there are other issues also causing delays. But nearly 7,000 people have found their way to a Facebook group titled Half Stimulus Missing/Received Status to trade frustrations and information.
Many other Americans — including some who receive Social Security — are still waiting, too.
Leaders from the House Ways and Means Committee sent a letter to the Internal Revenue Service and Social Security Administration on Monday about delayed payments to people who aren't required to file a tax return and who receive benefits from Social Security, Supplemental Security Income, the Railroad Retirement Board and Veterans Affairs. The I.R.S., the letter said, was unable to provide an expected timeline.
"Some of our most vulnerable seniors and persons with disabilities, including veterans who served our country with honor, are unable to pay for basic necessities while they wait for their overdue payments," the lawmakers wrote.
An I.R.S. spokesman confirmed that the agency doesn't yet have a date for when those payments might arrive. But those who did file a tax return last year or who registered with the agency's nonfilers tool for prior stimulus payments should not be affected.
Stimulus Checks
How big are the stimulus payments, and who is eligible?
The stimulus payments will be $1,400 for most recipients. Those who are eligible will also receive an identical payment for each of their children.
To qualify for the full $1,400, a single person must have an adjusted gross income of $75,000 or below. For heads of household, adjusted gross income must be $112,500 or below, and for married couples filing jointly that number has to be $150,000 or below.
To be eligible for a payment, a person must have a Social Security number.
Is there a partial payment for higher earners?
Yes. But payments phase out quickly as adjusted gross income rises.
For single filers, the checks decrease to zero at $80,000. For heads of household, the cutoff is $120,000. And for joint filers, the checks stop at $160,000.
Payments for children decrease in the same way.
Do college students count as eligible dependents?
College students whom qualifying taxpayers claim as dependents are eligible. (They weren't for past payments.) The payment goes to the parent taxpayer, not the child.
Do older relatives who live with us count as eligible dependents?
Good news here, too. If claimed as dependents, these relatives are also eligible this time. The payment goes to the qualifying taxpayer, not the dependent adult.
Which year of income determines eligibility?
The most recent year on record at the Internal Revenue Service. If you've already filed your taxes this year, it would be 2020. If not, it would be 2019.
What if I receive a stimulus payment based on my 2019 tax return, but the income reported on the 2020 return that I haven't filed yet will be too high to qualify?
You will not have to return the money.
What if I am newly eligible for a stimulus payment based on my 2020 income, but I haven't filed my 2020 return?
You could try to file it quickly, in hopes of receiving your payment faster. But there's no guarantee your return will be processed quickly enough, and haste can lead to errors.
And you don't have to rush: The law includes a provision for the Treasury Department to make supplemental payments by September. If you don't get one then, you can claim the $1,400 when you file your 2021 taxes.
If I have a baby anytime in 2021 and meet the income qualifications, will I get a $1,400 payment for the child, too?
Any baby born in 2021 (or before) is eligible.
Unemployment Insurance
How does the stimulus package affect unemployment payments?
If you're already receiving unemployment benefits, payments will generally be extended for another 25 weeks, until Sept. 6. The weekly supplemental benefit, which is provided on top of your regular benefit, will remain $300 but run through Sept. 6.
Although unemployment benefits are taxable, the new law made the first $10,200 of benefits tax-free for people with incomes of less than $150,000. This applies to 2020 only.
If I already filed my 2020 taxes, how do I claim that new tax break?
It's not yet clear, but you may have to file an amended return, according to a Senate aide. The Internal Revenue Service has not issued formal guidance yet. (But here's hoping they figure out a way to make it happen automatically.)
How do the benefit extensions work?
The extended payments will continue to be delivered through different federal programs, largely based on the type of work you did and for whom.
Benefits through the Pandemic Unemployment Assistance program, which covers the self-employed, gig workers, part-timers and others who are typically ineligible for regular unemployment benefits, will be available for a total of 79 weeks, up from 50, and run through Sept. 6.
And benefits through the Pandemic Emergency Unemployment Compensation program, which essentially extends benefits for people who exhaust their regular state benefits, will be available for a total of 53 weeks, up from 24, also lasting through Sept. 6.
What happens to the supplemental payments?
If you qualify for any benefits, you will also receive the full $300 supplemental payment for weeks ending after March 14 and through Sept. 6. Known as F.P.U.C., it's called the federal pandemic unemployment compensation.
The stimulus package also extends an extra $100 weekly payment, called the mixed-earner supplement, through Sept. 6. This payment helps people who have a mix of income from both self-employment and wages paid by other employers, because they are often stuck with a lower state-issued benefit based on their (lower) wages.
The legislation also clarifies that the $300 federal supplement will not be counted when calculating eligibility for Medicaid and the Children's Health Insurance Program. The mixed earner supplement, however, will be counted.
Will payments be uninterrupted?
Experts said there may be a gap for beneficiaries in many states because it usually takes a couple of weeks for agencies to program any benefit extensions.
Student Loans
What student loan changes are included in the stimulus package?
There is a big one for people who already have debt.
You wouldn't have to pay income taxes on forgiven debt if you qualify for loan forgiveness or cancellation — for example, if you've been in an income-driven repayment plan for the requisite number of years, if your school defrauded you or if Congress or the president wipes away $10,000 of debt for large numbers of people.
This will be the case for debt forgiven between Jan. 1, 2021, and the end of 2025.
Housing
What kind of housing help is coming?
The stimulus package provides billions of dollars in rental and utility assistance to people who are struggling and in danger of being evicted from their homes.
Nearly $22 billion will go toward emergency rental assistance. The vast majority of it replenishes the so-called Coronavirus Relief Fund, created by the CARES Act and distributed through state, local and tribal governments, according to the National Low Income Housing Coalition. That's on top of the $25 billion in assistance provided by the relief package passed in December.
To receive financial assistance — which could be used for rent, utilities and other housing expenses — households have to meet several conditions. Household income cannot exceed 80 percent of the area median income, at least one household member must be at risk of homelessness or housing instability, and individuals have to qualify for unemployment benefits or have experienced financial hardship (directly or indirectly) because of the pandemic.
Lower-income families that have been unemployed for three months or more will be given priority for assistance.
Is there anything for homeowners?
The legislation provides nearly $10 billion to help homeowners struggling with mortgage payments, utility bills and other housing costs.
Roughly $100 million will be dedicated to housing counseling, which will help both homeowners and renters remain in their homes.
How about homeless people?
About $5 billion will be allocated to help the homeless, including the conversion of properties like motels into shelters.

Another $5 billion will be used for emergency housing vouchers to help several groups of people — from the homeless to people at risk of homelessness, including survivors of domestic violence — find stable housing.
Health Insurance
What does the relief package do about health insurance?
Buying insurance through the program known as COBRA becomes a lot cheaper, but only temporarily.
COBRA, for the Consolidated Omnibus Budget Reconciliation Act, generally lets someone who loses a job buy coverage via the former employer. But it's expensive: Under normal circumstances, a person may have to pay at least 102 percent of the cost of the premium.
But under the relief legislation the government would pay the entire COBRA premium from April 1 through Sept. 30 for people who have lost a job or had their hours cut.
A person who qualified for new, employer-based health insurance someplace else before Sept. 30 loses their eligibility for the no-cost coverage. And someone who left a job voluntarily is not eligible, either.
Will the cost of health insurance I buy through an exchange be affected?
The legislation lowers the cost of health insurance in many instances for people who bought their own coverage via a government exchange. And the premiums for those plans will cost no more than 8.5 percent of your modified adjusted gross income.
These changes will last through the end of 2022 and do not require people to re-enroll to access the lower prices.
How do I sign up for health insurance?
If you don't already have health insurance but would want it if the price was right, an open enrollment period is already in effect through May 15. You can also switch plans to try to lower the price you're paying already or get more generous coverage. The Kaiser Family Foundation maintains a calculator that estimates your premiums based on your income and any available government subsidies.
Are there any changes to health care flexible spending accounts?
None this time, though there were some in the last stimulus bill.
What is happening with the earned-income tax credit?
For 2021 only, the stimulus package will increase for childless households the size of the earned-income tax credit, which helps those at the lower end of the income scale, and make more taxpayers eligible.
The maximum credit amount for childless people increases to $1,502, from $543.
The age range is also broader: People without children will be able to claim the credit beginning at age 19 instead of 25, with the exception of certain full-time students. The upper age limit, 65, will be eliminated.
How are separated spouses be affected?
Married but separated people can be treated as not married for the purpose of the credit if they don't file a joint tax return.
This applies only if the taxpayer lived with a qualifying child for more than half of the taxable year and didn't have the same principal home as the spouse at least six months of the year. A separation decree or agreement would also suffice, as long as the individual didn't live with the spouse by the end of the taxable year.
This change will be permanent.
Are there any other changes?
For the purposes of calculating the credit in the 2021 tax year, taxpayers could choose to use their 2019 income if it was higher than 2021, according to a Senate aide.

People who otherwise would be eligible but whose children do not have Social Security numbers will be permitted to claim the version of the credit available to childless households. This change is permanent.

Taxpayers won't be disqualified for the credit in 2021 until they have investment income of $10,000, up from $3,650. This change will be permanent, with the $10,000 threshold indexed to inflation.
How does this change the child tax credit?
The credit is more generous for 2021, particularly for low- and middle-income people.
Usually, the credit is worth up to $2,000 per eligible child. This year, it will increase to as much as $3,000 per child ($3,600 for ages 5 and under). The age limit for qualifying children also rises to 17, from 16.
Does it change how the credit works?
Here's where it gets interesting: You could receive some of the credit as an advance on your 2021 taxes. (You can also opt out of advance payments if you wish.)
The legislation makes the credit fully refundable, which means you can receive money from it as a tax refund even if your tax bill is reduced to zero. And half of that money can be advanced to households over the next six months (based on their 2020 tax information, or 2019 if that was unavailable). It's not clear how frequently payments would be made — perhaps monthly — but they should begin in July.
The changes are effective for 2021 only, though at least some Democrats would like to make it permanent.
Who is eligible?
Married couples who have modified adjusted gross income up to $150,000 (or heads of household up to $112,500 and single filers up to $75,000) receive the full value of the new benefit.
But after that, the extra amount above the original $2,000 credit — either $1,000 or $1,600 per child — is reduced by $50 for every $1,000 in modified adjusted gross income that exceeds those levels. (For joint filers with one child age 6 to 17, the extra amount will be phased out at about $170,000.)
At that point, the tax credit levels out at $2,000, and is subject to the usual income limits: It begins to phase out when married filers have adjusted gross income of $400,000 ($200,000 for singles).
How do the advance payments work?
The advance payments would total up to half the value of the credit the household is eligible to receive. (The other half would be claimed on its 2021 return.) But exactly how often the payments would be sent out depends on what the Treasury Department decides is feasible.
Here's how it might work for a couple earning $150,000 or less: With two children, ages 7 and 9, they would be eligible for a $6,000 credit ($3,000 per child). If the payments were made monthly, the family would receive $500 per month starting in July and lasting through the end of the year. The remaining $3,000 would be claimed in 2021 on their tax return.
Could I end up having to pay any of it back?
Conceivably, yes.
A taxpayer may receive too much money from the advance payments in certain situations, such as a change in income or filing status, or if they no longer claim a child as a dependent. (Single parents may run into this situation if the other parent claims the child as a dependent in some tax years.)
This could cause you to owe money at tax time or reduce your refund.
But the legislation mitigates the danger in a couple of ways. First, only half of the credit is paid in advance. And the law also says that if the wrong amount was paid because of changes in the number of qualifying children, up to $2,000 per child would not need to be paid back by taxpayers who fall below certain income thresholds: $40,000 for a single taxpayer, $50,000 for a head of household, and $60,000 for joint filers. People whose income is above those thresholds may receive partial protection, which phases out as they earn more, tax experts said.
The stimulus package requires the establishment of an online portal to allow taxpayers to opt out of receiving advance payments and update information about their income, marital status and number of qualifying children.
Taxes
What is changing about the child and dependent care tax credit?
This credit, which helps working families offset the cost of care for children under 13 and other dependents, will be significantly expanded for a single year. More people are eligible, and many recipients will get a bigger break.
The legislation also makes the credit fully refundable, which means you can collect the money as a refund even if your tax bill is zero.
"That will be helpful to people at the lower end" of the income scale, said Mark Luscombe, principal federal tax analyst at Wolters Kluwer Tax & Accounting.
How much is the credit worth?
For this year only, the stimulus legislation makes the credit worth up to $4,000 for one qualifying individual or $8,000 for two or more. The credit will be calculated by taking up to 50 percent of the value of eligible expenses, up to certain limits, depending on your income. (The more you earn, the lower the percentage you can claim.)
Usually, the credit is generally worth between 20 and 35 percent of eligible expenses with a maximum value of $2,100 for two or more qualifying individuals.
The stimulus package also significantly increases the income level at which the credit begins to be reduced. In past years, that started at an adjusted gross income of $15,000, but for this year the full value of the credit will be available to households making up to $125,000.
Previously, the credit was not further reduced below 20 percent, regardless of income, Mr. Luscombe said. But for this year, the legislation will begin to reduce the credit below 20 percent for households with income of more than $400,000.
What about dependent care flexible spending accounts?
The stimulus package makes one big change. For 2021 only, you can set aside $10,500 in a dependent care account instead of the normal $5,000. But employers have to allow the change: You can't adjust the withholdings from your paycheck yourself if your employer declines to provide the option.
Are paid sick and family leave provisions being extended?
The legislation extends through September tax breaks to employers who voluntarily provide their workers with paid sick and family leave if they need to take time off because of the virus. But it does not mandate that employers provide the leave — that requirement expired on Dec. 31, and was not renewed in the legislative package signed at the end of last year.
Under the new stimulus package, self-employed people will also continue to receive leave-related tax breaks through September.
The paid leave provisions also cover time taken to receive a Covid-19 vaccine, or to recover from any illness or condition related to the immunization.
Sours: https://www.nytimes.com/live/2021/stimulus-check-plan-details
The IRS continues to send millions of stimulus checks to eligible individuals and families. The latest wave is going out to 4 million Americans, the IRS said. That $1,400 amount, however, is just one piece of aid the federal government is making to people struggling through the pandemic. 
Along with the third stimulus check, two other payments promise long-term support for individuals and families: renewed weekly $300 federal payments to unemployed workers and an expansion to the child tax credit that'll send periodic payments to eligible families throughout the year -- here's when those CTC payments could arrive.
Here's what you need to know about all the ways you can get more money through these federal programs, and here are seven ways to get more money back on 2020 taxes. This story was recently updated.
Check 1: The $1,400 third stimulus payment

The $1,400 stimulus check has already gone out to tens of millions of Americans, with more batches of payments going out over the coming weeks -- you can track the status of your payment. Under new eligibility rules, some folks who qualified for the first two payments may not make the cut for the third. A hard ceiling on income, designed to exclude higher earners from getting a check, comes with a rule change regarding the use of dependents in the stimulus check formula. Check out our stimulus payment calculator to see how the income cap affects you.
The new legislation gives the IRS a deadline of Dec. 31 to finish sending the stimulus checks.
With this third round of payments, adult dependents as well as children and families with mixed-status citizenship are included. Here are all the ways a third check could bring you more money, including if you had a baby in 2020. Here's how tax season could affect your payment, what to do if you run into a stimulus check problem -- and how to report it -- and how the third check compares with the first two payments approved in 2020. 
Now playing:Watch this: Stimulus check 3: How much money you'll get
2:32
Check 2: Expanded child tax credit for 2021, which is more than double the amount of the stimulus checks

The new American Rescue Plan expands the child tax credit that currently allows families to claim a credit of up to $2,000 for children under 17. The plan extends the benefit to lower-income families who otherwise wouldn't receive the credit. Families can claim as much as $3,600 per year for a child under 6 and up to $3,000 per year for those between 6 and 17. Here's how often you can expect to get the payments and how to find out if you qualify for the larger payments.
Check 3: $300 in additional weekly unemployment benefits, including a new tax break

Under the new legislation, federal unemployment checks have been extended to Sept. 6 at a $300 weekly rate. The package also reduces the tax burden on the unemployment money for households earning less than $150,000 a year. The new law renewed the weekly $300 federal unemployment checks, which would've expired March 14, without a gap in funding.
The plan also removes a provision that you have to make $2,500 a year to receive the credit and makes the credits fully refundable. In addition, it expands tax credits for one year to help cover the cost of child care. Families could get back as a tax credit as much as half their spending on child care for children under age 13, up to $4,000 for a single child and $8,000 for two or more children. 
What's going on with the student loan debt forgiveness?
In March, President Joe Biden's administration approved a $1 billion loan forgiveness for students who were defrauded by their colleges, or if their school shut down. The change is projected to affect 73,000 people.
Though forgiving student loan debt has been part of the discussion since January, Senate Democrats and the president have different dollar figures in mind for how much to cancel. Biden on Feb. 16 said he supports canceling $10,000 in student debt per borrower and extending the pause on student loan repayment. His figure is at odds with a Senate Democrat proposal, however, that calls for canceling up to $50,000 in student debt per borrower.
"I do think that, in this moment of economic pain and strain, that we should be eliminating interest on the debts that are accumulated, No. 1. And No. 2, I'm prepared to write off the $10,000 debt, but not $50,000," Biden said. While the House and Senate versions of the bill don't forgive student debt, the legislation includes a provision that will make tax-free any forgiven student loan, according to The New York Times.
What about money for coronavirus vaccine distribution?

More than 161 million vaccine doses have so far been administered in the US -- and over 207 million distributed. More than a month early, the country reached Biden's goal of 100 million jabs during the first 100 days of his administration (April 30 marks his 100th day in office), with a new goal of 200 million shots in the first 100 days.
The president's plans set aside $160 billion for a nationwide vaccine program that's been helping state and local governments get the vaccine into people's arms.
More funding to help reopen schools during the pandemic

Getting students back in physical classrooms is a critical piece of the economic recovery. The new law works to return students to schools by having a majority of kindergarten to eighth-grade classrooms safely reopen in the first 100 days of the administration.
More money for state, local and tribal governments
Since the fall, economists have pushed for Congress to provide funding for state and local public jobs. "The case for additional aid is strong because the downside risk of doing nothing is quite real," the American Enterprise Institute, a conservative think tank, said at the end of last year. "The fact that over 1 million state and local government workers have lost their jobs is a sign that fiscal distress has had real consequences." In addition to state and local funding, the law provides funds for food and water assistance and food stamps.
The eviction moratorium now extends through June

Days before the moratorium was set to expire, CDC Director Rochelle Walensky extended the federal halt on evictions and foreclosures through June 30. On Jan. 20, Biden signed an executive order extending the eviction ban through this month.
No $15 minimum wage increase right now

Senate Democrats jettisoned a provision in the relief bill to boost the minimum wage, after the Senate parliamentarian, who determines which items can and can't be included in the bill under a technique known as budget reconciliation, determined that the provision fell outside of guidelines. Proponents will look to include the $15 hourly rate in another bill.
"If any Senator believes this is the last time they will cast a vote on whether or not to give a raise to 32 million Americans, they are sorely mistaken," Sen. Bernie Sanders tweeted March 5. "We're going to keep bringing it up, and we're going to get it done because it is what the American people demand and need."
For more information about stimulus money, here are the top facts you need to know about stimulus checks, how to calculate the size of your check and how your dependents could figure into your payment.
Sours: https://www.cnet.com/personal-finance/you-could-have-more-than-1-stimulus-check-heres-how-you-may-get-3-payments/
Stimulus bill new
Here's what's in the Senate stimulus plan
Lawmakers made several changes throughout the legislation, but three were particularly notable -- narrowing eligibility for the stimulus checks, trimming the federal boost to unemployment benefits and nixing an increase in the federal minimum wage to $15 an hour.
Much of the Senate legislation, however, largely mirrors the $1.9 trillion package approved by the House and laid out by President Joe Biden in January.
Senate Democratic leaders faced more hurdles to advancing the legislation since the party can't afford to lose a single member thanks to the 50-50 split in the chamber. Plus, they must adhere to the strict rules of reconciliation, which they are using to approve the bill without any Republican support.
Senate Majority Leader Chuck Schumer had vowed Thursday to stay in session to finish the bill this week, though Republicans were trying to drag out the process. The bill now goes back to the House for a vote and then onto the White House for Biden's signature.
Time is of the essence. An estimated 11.4 million workers will lose their unemployment benefits between mid-March and mid-April unless Congress passes its next coronavirus relief package quickly, a recent study by The Century Foundation found.
Here's what's in the Senate bill:
Individuals earning less than $75,000 a year and married couples earning less than $150,000 will receive $1,400 per person, including children. That will get money to about 90% of households.
The checks will phase out faster than previous rounds, completely cutting off individuals who earn more than $80,000 a year and married couples earning more than $160,000 -- regardless of how many children they have.
The bill passed by the House set the income caps at $200,000 for couples and $100,000 for individuals. The Senate change leaves out about 7 million families, according to an estimate from the Penn Wharton Budget Model.
Unlike the previous two rounds, adult dependents -- including college students -- are expected to be eligible for the payments.
Unlike the House bill, the Senate version calls for providing a $300 federal boost to weekly jobless payments and extending two key pandemic unemployment benefits programs through September 6, an arrangement hammered out after hours of negotiation on Friday.
The agreement would also make the first $10,200 worth of benefits payments tax-free for households with annual incomes less than $150,000.
This is a significant change from the House bill, which would provide a $400 weekly enhancement through August 29 and continue two pandemic programs for the same period. The House bill does not contain the tax provision.
The Pandemic Unemployment Assistance program provides benefits to freelancers, gig workers, independent contractors and certain people affected by the pandemic, while the Pandemic Emergency Unemployment Compensation program increases the duration of payments for those in the traditional state unemployment system.
The President's plan had called for providing a $400 boost and continuing the benefits through the end of September.
Out-of-work Americans will start running out of benefits in the two programs in mid-March, when provisions in December's $900 billion relief package begin phasing out. The $300 enhancement that was part of the December deal also ends in mid-March.
The Senate bill does not include an increase in the federal minimum wage, which House Democrats proposed raising to $15 an hour.
The parliamentarian ruled in late February that increasing the hourly threshold does not meet a strict set of guidelines needed to move forward in the reconciliation process, which would allow Senate Democrats to pass the relief bill with a simple majority and no Republican votes.
The House legislation would increase the federal minimum wage to $15 an hour by 2025 in stages. It would also guarantee that tipped workers, youth workers and workers with disabilities are paid the full federal minimum wage.
Aid to states and municipalities
The Senate bill would provide $350 billion to states, local governments, territories and tribes, the same amount as the House.
The bills would give states and the District of Columbia $195.3 billion, while counties and cities would split about $130 billion in aid. Tribes would get $20 billion and territories $4.5 billion under both bills.
The Senate version of the bill also contains a $10 billion Coronavirus Capital Projects Fund. It also slightly revises the formula to help states with smaller populations and boost the minimum they will receive.
Additional assistance to states has been among the most controversial elements of the congressional rescue packages, with Democrats looking to add to the $150 billion in the March legislation and Republicans resisting such efforts. The December package ultimately dropped an initial call to include $160 billion.
The Senate and House plans both extend the 15% increase in food stamp benefits through September, instead of having it expire at the end of June.
They also contain $880 million for the Special Supplemental Nutrition Program for Women, Infants, and Children, known as WIC, to help increase participation and temporarily improve benefits, among other measures. Biden called for investing $3 billion in the program.
And they would allow states to continue the Pandemic-EBT, which provides families whose children's schools are closed with funding to replace free- and reduced-price meals the kids would have received, through the summer.
Both bills would send roughly $20 billion to state and local governments to help low-income households cover back rent, rent assistance and utility bills.
About $10 billion would be authorized to help struggling homeowners pay their mortgages, utilities and property taxes.
The bills would provide $5 billion to help states and localities assist those at risk of experiencing homelessness and another $5 billion for emergency housing vouchers for those who are homeless.
Tax credits for families and workers
Both the House and Senate legislation beef up tax credits for families and certain low-income workers for 2021.
In an effort to combat poverty, lawmakers would expand the child tax credit to $3,600 for each child under 6 and $3,000 for each child under age 18. Currently, qualifying families can receive a credit of up to $2,000 per child under age 17.
The credit would also become fully refundable so more low-income parents could take advantage of it. Plus, families could receive payments monthly, rather than a lump sum once a year, which would make it easier for them to pay the bills.
The bills also enhance the earned income tax credit for workers without children by nearly tripling the maximum credit and extending eligibility to more people. The minimum age to claim the childless credit would be reduced to 19, from 25, and the upper age limit would be eliminated.
This would be the largest expansion to earned income tax credit since 2009.
Optional paid sick and family leave
Unlike Biden's initial proposal, neither bill would reinstate mandatory paid family and sick leave approved in a previous Covid relief package. But they continue to provide tax credits to employers who voluntarily choose to offer the benefit through October 1.
Last year, Congress guaranteed many workers two weeks pay if they contracted Covid or were quarantining. It also provided an additional 10 weeks of paid family leave to those who were staying home with kids whose schools were closed. Those benefits expired in December.
Both the Senate and House bills would provide nearly $130 billion to K-12 schools to help students return to the classroom. Schools would be allowed to use the money to update their ventilation systems, reduce class sizes to help implement social distancing, buy personal protective equipment and hire support staff. Both bills would require that schools use at least 20% of the money to address learning loss by providing extended days or summer school, for example.
While the money provided by the House bill would go to both public and private schools, based on the number of low-income students enrolled, the Senate bill specifically carves out about $2.75 billion for private schools.
The bills are in line with what Biden proposed, but call for more than six times the amount of funding for K-12 schools than a compromise plan offered by a small group of Republican senators.
The Senate and House plans both include nearly $40 billion for colleges.
Altogether, $170 billion would be authorized for K-12 schools and higher education. Last year, Congress approved a total of $112 billion between two relief packages that went to K-12 schools and colleges.
The bills would also provide about $39 billion to child care providers. The amount a provider receives would be based on operating expenses and is available to pay employees and rent, help families struggling to pay the cost, and purchase personal protective equipment and other supplies.
Health insurance subsidies and Medicaid
Both the Senate and House bills would make federal premium subsidies for Affordable Care Act policies more generous and would eliminate the maximum income cap for two years.
Enrollees would pay no more than 8.5% of their income towards coverage, down from nearly 10% now. Also, those earning more than the current cap of 400% of the federal poverty level -- about $51,000 for an individual and $104,800 for a family of four in 2021 -- would become eligible for help.
In addition, the bills would bolster subsidies for lower-income enrollees, eliminating their premiums completely, and would do the same for those collecting unemployment benefits in 2021.
But the Senate bill provides more assistance than the House version to those who were laid off but want to remain on their employer health insurance plans through COBRA. The Senate calls for picking up the full amount of the premium, while the House would only cover 85%, leaving the former employee to pay 15%.
Both chambers would extend these subsidies through September.
Also, the Senate retains the House provision that seeks to entice states that have yet to expand Medicaid to low-income adults to do so by boosting their federal Medicaid matching funds by 5 percentage points for two years.
More money for small businesses
Both bills would provide $15 billion to the Emergency Injury Disaster Loan program, which provides long-term, low-interest loans from the Small Business Administration. Severely impacted small businesses with fewer than 10 workers will be given priority for some of the money.
They also provide $25 billion for a new grant program specifically for bars and restaurants. Eligible businesses may receive up to $10 million and can use the money for a variety of expenses, including payroll, mortgage and rent, utilities and food and beverages.
The Paycheck Protection Program, which is currently taking applications for second-round loans, would get an additional $7 billion and the bills would make more non-profit organizations eligible.
Another $175 million would be used for outreach and promotion, creating a Community Navigator Program to help target eligible businesses.
The Senate and House bills provide $14 billion to research, develop, distribute, administer and strengthen confidence in vaccines. They would also put $47.8 billion toward testing, contact tracing and mitigation, including investing in laboratory capacity, community-based testing sites and mobile testing units, particularly in medically underserved areas.
Both chambers would also allocate $7.7 billion to hire 100,000 public health workers to support coronavirus response.
The Senate and House legislation also provide $50 billion to the Federal Emergency Management Agency, with some of the funds going toward expanding vaccination efforts.
The President's plan called for investing $20 billion in a national vaccination program.
Rural hospital assistance
The Senate bill allocates $8.5 billion to help struggling rural hospitals and health care providers.
The House bill did not provide any additional funding for hospitals or nursing homes, which received assistance in previous relief packages.
This story has been updated with changes to the Senate bill and its passage.
Sours: https://edition.cnn.com/2021/03/04/politics/stimulus-senate-democrats-proposal/index.html
Senate approves new stimulus package
What's in the Stimulus Bill? A Guide to Where the $1.9 Trillion Is Going
The measure passed by the Senate, and headed to the House for final approval before going to President Biden's desk, contains money for direct checks, jobless benefits, state and local aid, and more.
Leer en español
WASHINGTON — President Biden's $1.9 trillion economic stimulus plan would have far-reaching effects on society as the country tries to turn the corner on a pandemic that has killed more than half a million people in the United States.
The mammoth bill approved by the Senate on Saturday would provide direct payments to Americans, extend jobless benefits and provide a huge financial infusion to states and local governments as well as to schools to help them reopen. It provides funding for priorities like coronavirus testing and vaccine distribution. And it amounts to an ambitious antipoverty program, offering significant benefits for low-income people.
Here's a guide to what's included in the plan, which is scheduled to go before the House for final approval on Tuesday and then would head to Mr. Biden for his signature.
The bill would give out $1,400 stimulus checks.
Individuals making under $75,000 and married couples making under $150,000 would receive direct payments of $1,400 per person. The bill would also provide $1,400 per dependent.
The payments would gradually decrease above those income levels and disappear entirely above an income cap: $80,000 for individuals and $160,000 for married couples.
Those caps were lowered from the thresholds in the House's version of the stimulus plan, which set the cutoffs at $100,000 for individuals and $200,000 for married couples.
The current $300-per-week boost to unemployment benefits would continue.
The Senate bill extends unemployment programs through early September, including the $300-per-week federal supplement provided in the last stimulus plan passed in December.
Mr. Biden had proposed bumping up that supplemental benefit to $400 per week, which the House agreed to, but the Senate kept it at $300 weekly.
The Senate bill also includes a provision intended to avert surprise tax bills for people who lost jobs, waiving federal income taxes for the first $10,200 of unemployment benefits received in 2020 for households earning under $150,000.
The child tax credit would become more generous, among other benefits.
For 2021, the bill would temporarily expand the child tax credit, which is currently worth up to $2,000 per child under 17.Under the legislation, the tax credit would be as much as $3,600 for children up to age 5and as much as $3,000 for children 6 to 17.
The bill would make the full value of the credit available to low-income people who are currently ineligible or receive only a portion. And for the second half of this year, it would have the federal government send advance payments of the credit to Americans in periodic installments, akin to a guaranteed income for families with children.
The legislation would also expand the child and dependent care tax credit for 2021, and it would expand the earned-income tax credit for workers without children for this year as well. Through 2025, it would exempt student loan forgiveness from income taxes.
Money would go to fight the pandemic and to help states, local governments and schools.
The bill would provide funding for vaccine distribution as well as coronavirus testing, contact tracing and genomic sequencing. It would give money to the Federal Emergency Management Agency as well.
It would provide $350 billion for states, local governments, territories and tribal governments, and it contains about $130 billion for schools. It also includes funding for colleges and universities, transit agencies, housing aid, child care providers and food assistance.
In addition, the bill contains funding to help businesses, including restaurants and live venues, and it includes a bailout for multiemployer pension plans that are financially troubled.
The Affordable Care Act would get a boost.
The bill would temporarily increase subsidies for people purchasing health insurance through the Affordable Care Act's marketplaces. It includes billions of dollars for public health programs and veterans' health care.
It also seeks to help those who have lost jobs keep the health insurance coverage they had through their employer, covering the full cost of premiums through a federal program called COBRA through September.
One thing missing: a minimum wage hike.
As part of the stimulus plan, Mr. Biden wanted to raise the federal minimum wage, which is now $7.25 per hour, to $15 per hour.
The stimulus bill passed by the House would increase the wage to $15 per hour by 2025, but the Senate parliamentarian said the provision violated the strict rules that Senate Democrats had to follow to pass the bill through a special process that shielded it from a filibuster and allowed for its approval with only Democratic support. A vote in the Senate on Friday to add the wage increase back to the bill failed.
The Senate bill also dropped funding for a rail project in Silicon Valley in Northern California and a bridge between upstate New York and Canada, two provisions that were included in the House bill and drew criticism from Republicans.
Sours: https://www.nytimes.com/2021/03/07/us/politics/whats-in-the-stimulus-bill.html
You will also like:
Congress passes Biden's Covid-19 stimulus bill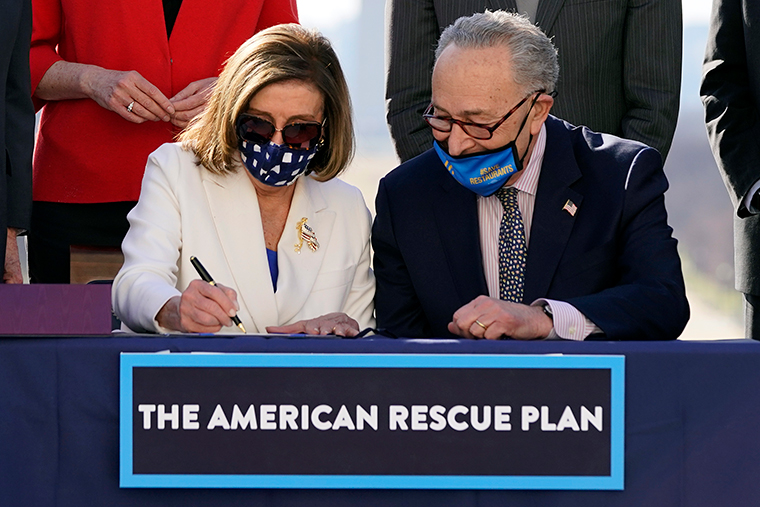 House Speaker Nancy Pelosi and Senate Majority Leader Chuck Schumer just signed the $1.9 trillion Covid-19 relief bill on Capitol Hill to officially send the legislation to the White House.
In remarks, Pelosi thanked President Biden and several other lawmakers in both the House and Senate.
"President Biden's vision and his determination were so apparent to the American people and the reason why this legislation enjoys this support of 75% of the American people in a strong bipartisan way across the country," Pelosi said. "We thank him for his leadership and also for his contribution to the substance of the legislation as well as his signature when that comes."
President Biden plans to sign the bill into law on Friday afternoon at the White House.
"Who knows what the future may bring, but nonetheless on this day we celebrate because we are honoring a promise made by our President and as we join with him in promising that help is on the way," Pelosi said.
Schumer also thanked Democrats in both chambers for working together to pass the legislation.
"What do we say to America? Help is on the way. Help is on the way. You'll receive $1,400 checks by the end of March," he said.
The Senate leader called the bill "one of the most consequential pieces of legislation we have passed in decades."
"So this is a wonderful day for America," Schumer said.  "This is one of the most consequential pieces of legislation we have passed in decades, and you know what we can show America, that we can get things done to make their lives better, and we will continue to do that through the rest of this session. Help is on the way."
Hear full remarks from Rep. Pelosi and Sen. Schumer:
Sours: https://edition.cnn.com/politics/live-news/stimulus-house-vote-03-10-21/index.html
1286
1287
1288
1289
1290