AC1200 Whole Home Mesh Wi-Fi System
Fast. Stable. Everywhere.
Whole Home Mesh Wi-Fi System
AC1200 Dual-Band Wi-Fi
Deco E4
Wi-Fi Dead-Zone Killer
Deco E4 is the simplest way to guarantee a strong Wi-Fi signal in every corner of your home up to 4,000 Square feet(3-pack,EU Version). Wireless connections and optional Ethernet backhaul work together to link Deco units, providing even faster network speeds and truly seamless coverage. Want more coverage? Simply add another Deco.
Ranch-Style Home
Multi-Story Home
L-Shaped Home
2.4 GHz wireless connection5 GHz wireless connectionOptional Ethernet backhaul
Seamless Roaming with One Wi-Fi Name
TP-Link Mesh means Deco units work together to form one unified network. Your phone or tablet automatically connects to the fastest Deco as you move through your home, creating a truly seamless Wi-Fi experience.
Learn More about TP-Link Mesh >>
No More Buffering
Network speeds three times faster than previous generation routers, thanks to 802.11ac wireless technology, make Deco capable of providing a lag-free connection to up to 100 devices.
5 GHz 867 Mbps
2.4 GHz 300 Mbps
connections for up to100devices
Testing of multiple applications conducted by TP-Link in December 2018.
2-in-1 Router and Access Point Modes
Flexible and multifunctional, the Deco E4 includes a variety of features allowing it to serve as a router or access point. Just choose the mode for your actual network demands and experience the maximum wireless flexibility.
Router (Default)

Instantly generate a private
wireless network.

Access Point

Create Wi-Fi access for any
existing wired network.
Robust Parental Controls
Simple, intuitive parental controls make it easy to
keep your children safe while they're online.
Easily create a profile for each family member and set custom time limits and online time allowances.

Keep your family safe online with one-touch security settings that block websites based on age-appropriateness.

Set limits on how much time each person in your family can spend online.

Check out which sites your children visit and how much time they spend on each to ensure your children are safe while they're having fun online.

Take a break from Wi-Fi for dinner and family game nights. Just tap a button to suspend internet access for everyone in your home.
All Decos Can Work Together
Deco E4 is compatible with every other Deco model to form a Mesh network. Expand Mesh Wi-Fi coverage anytime by simply adding more Decos.
Check how to configure mixed Deco network >>
Deco M5
Deco M9 Plus
Deco E4
Deco M3W
Deco M9 Plus
Deco P7
Deco E4
Deco E4
Deco M3W
Deco M3W
Wi-Fi Made Easy
App-Based Setup

Installing Deco E4 is fast and easy. Just unpack the system, download the Deco app and follow its onscreen directions.

Learn how to set up the Deco system >>

Easy Management

Manage your Wi-Fi at home or away in the Deco app, including seeing the connected devices, prioritizing your devices, setting up a guest network and more.

Voice Control

Pair with Alexa to control Deco E4 with simple voice commands. Enjoy the convenient life.
Sours: https://www.tp-link.com/id/home-networking/deco/deco-e4/
Analysis cookies enable us to analyze your activities on our website in order to improve and adapt the functionality of our website.
The marketing cookies can be set through our website by our advertising partners in order to create a profile of your interests and to show you relevant advertisements on other websites.
Google Analytics & Google Tag Manager & Google Optimize
_gid, _gat, _gat_global, _ga, _gaexp
Google Ads & DoubleClick
NID, IDE, test_cookie, id, 1P_JAR
Facebook
fr, spin, xs, datr, c_user, sb, _fbp
Crazy Egg
_ce.s, _CEFT, _gid, cean, _fbp, ceac, _drip_client_9574608, cean_asoc
Hotjar
_hjKB, _fbp, ajs_user_id, _BEAMER_LAST_UPDATE_zeKLgqli17986, _hjid, _gcl_au, _ga, ajs_anonymous_id, _BEAMER_USER_ID_zeKLgqli17986, _hjAbsoluteSessionInProgress, _hjFirstSeen, _hjIncludedInPageviewSample, _hjTLDTest
Baidu
Hm_lpvt_33178d1a3aad1dcf1c9b345501daa675, Hm_lvt_33178d1a3aad1dcf1c9b345501daa675, HMACCOUNT_BFESS
Linkedin
lms_analytics, AnalyticsSyncHistory, _gcl_au, liap
Sours: https://www.tp-link.com/id/home-networking/deco/
What is Mesh WiFi?
Learn everything you need to know about a mesh WiFi network

What is Mesh WiFi?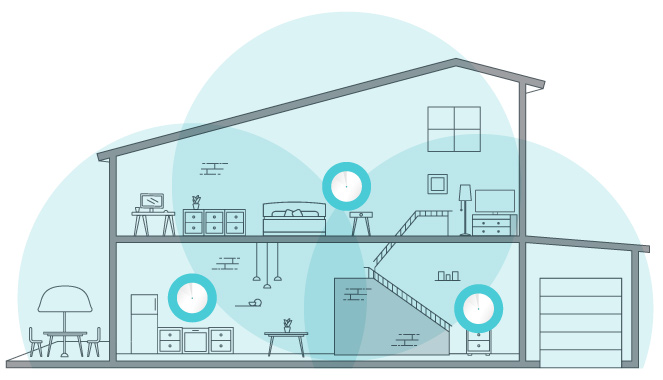 Mesh WiFi is a whole home WiFi system built to eliminate dead zones and to provide uninterrupted WiFi throughout your home.
Mesh routers enable devices in your network to have faster speeds, greater coverage, and a more reliable connection. While traditional routers broadcast WiFi from a single point, mesh WiFi systems have multiple access points.
Benefits of a WiFi Mesh Network
Mesh WiFi is built for all types of homes specifically mid size and large homes that have suffer from weak or incomplete WiFi coverage. Usually when you experience dead zones or slow wifi, you might opt into a range extender but find that it doesn't provide you with the fastest speeds or connectivity throughout your home. Whereas mesh wifi routers are built to fully cover large homes up to 6,000 sq. ft., with two stories or more, interior brick walls, or an unusual layout. With more family members being home, a typical wifi router will have issues with maintaining strong internet access to all devices like phones, computers, or tvs. With multiple mesh nodes, everyone can easily connect more smart home devices simultaneously without slowing down your wifi bandwidth.
They also represent a great option for people who are interested in a powerful WiFi system but don't want to deal with the complicated setup and configuration that most regular routers come with.
Features of a Whole Home WiFi System
One Network for Your Entire Home

Mesh technology is smart and intuitive, letting you stay online even if one of your mesh nodes fails. You can skip signing into a new network every time you go upstairs and stay connected to a single sturdy network no matter where you are.

Stable Long-Range Connectivity

With a mesh router, you can get a powerful and stable connection no matter where you are in your home. Because each mesh node piggybacks off the other nodes signal, you can get powerful WiFi whether you're at the top of the stairs or the bottom of the basement.

Easy Setup and Management

Most mesh routers on the market today come with easy network setup and management controls allowing you to toggle network settings, check speeds, and enact parental controls.

Control Your Smart Home

Mesh systems like our Deco M5 (3-Pack) or Deco X60 WiFi 6 are so advanced that they function as a WiFi router and a smart hub, connecting your Zigbee and WiFi devices and enabling you to manage all your connected smart devices through the Deco app.
Deco Mesh WiFi Home Security
Hardware Security

Deco only gets better and more secure with free over-the-air firmware updates, and its firewall only allows approved packets onto your devices.

Advanced Encryption

Deco automatically protects every wireless connection using advanced encryption, whether it's between each Deco unit or between Deco units and your WiFi devices.

Real-Time Antivirus

Select Deco models featuring HomeShield automatically protects every device from viruses, malware, ransomware. That includes devices that don't normally have protection, like WiFi cameras and smart locks.1

Content Filtering

Create profiles and filter content using preset or customized lists while Deco automatically blocks malicious websites using a continuously updated database.1
1. Free lifetime subscription to TP-Link HomeCare™ is included with purchase on select TP-Link routers at no additional cost. "Lifetime Subscription" refers solely to the life of the purchased device and can not be transferred. TP-Link reserves the right to modify the service and feature at any time. Please visit and check: HomeCare
Behind Mesh WiFi Network Technology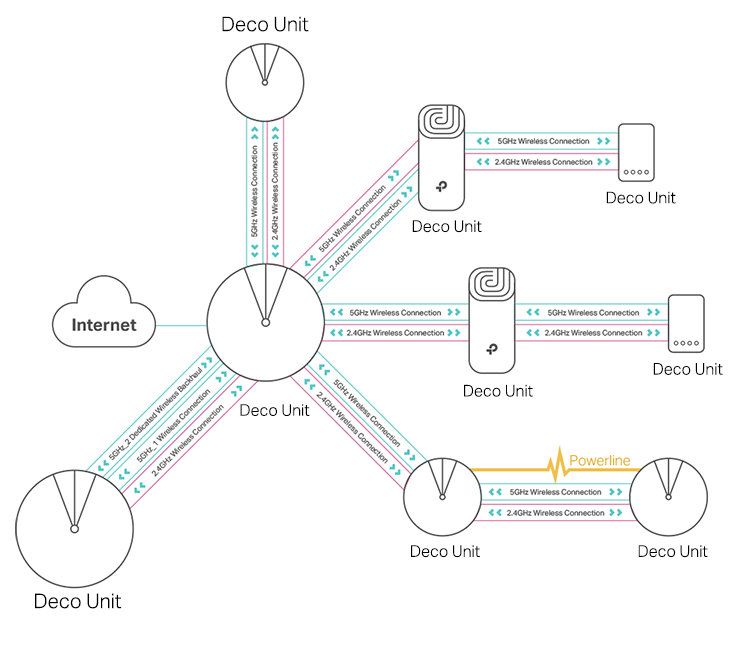 Mesh WiFi works by using two or more devices or "nodes" to create a secure and strong wifi network.
These nodes are important in efficiently delivering WiFi, as each node serves as a "daisy chain" for other nodes in the system. Even nodes that are furthest from the router can still deliver a strong signal. Nodes communicate with one another in order to determine the fastest band for your devices, and to reroute traffic in the event that one node fails with its self-healing technology.
What's the difference between Mesh WiFi and a Range Extender?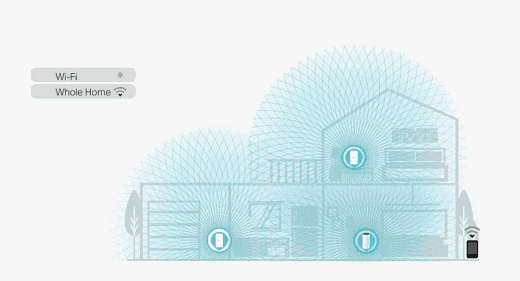 While mesh WiFi and Range extenders might appear to have the same functionality, there are some key differences.
Mesh technology is meant to cast the strongest wifi as you're roaming room to room.
Range extenders require you to sign on to a new network manually in order to maintain a strong connection once you're far enough away from your router.
Mesh WiFi is faster and more efficient at delivering a WiFi signal than a range extender. This technology has grown quickly and been the go-to for wifi routers for its long-range signal, ease of use, and quick setup. Check out TP-Link mesh wifi systems to see all Deco routers.
FAQ
Does this replace my existing WiFi?
Deco Mesh units replace your current router, therefore, your current WiFi.
What is the best mesh WiFi system this year?
Explore our Deco routers that are rated as the best mesh wifi systems.
What is the best router for a 1500 square foot home?
There are several Deco systems that have coverage for up to 6,500 sq. ft. For a 1,500 sq. ft. home checkout Deco M5. For a 5,800 sq. ft home see our Deco X20. For even faster wifi speeds there's our Deco X60 WiFi 6 Mesh system.
Is mesh WiFi better?
Mesh wifi alone offers stronger WiFi coverage but when paired with the latest technology of WiFi 6 you get the ultimate in WiFi performance. More speeds and greater wifi coverage. Check out our Deco X90 Wifi 6 Mesh system for best in mesh performance.
Can I add more Deco units to my existing Mesh network?
Yes! The great thing about mesh systems is they grow as your home grows or your needs change. All deco units work together regardless of the model and adding new units is as easy as powering on and following the guided steps in the Deco app.
Will Mesh WiFi work if I have brick, stucco, or concrete walls in my house?
Yes! Mesh WiFi systems will work in houses with these conditions. However, most routers (including mesh WiFi) may experience some drop in connectivity due to environmental factors. If you have overly thick walls, you might be better served by getting a powerline extender.
How many devices can be connected to a Deco network?
Depending on the Deco Mesh WiFi system you choose, you can connect up to 200 smart home, gaming, and streaming devices. Each Deco Mesh system will provide information on how many devices you can connect based on the pack size. Visit the product page of your favorite Deco for additional details.
How many Deco units can I have in my home?
It is best to connect 10 or fewer Deco units in your home to maintain better performance; however, there is no limit on the number of Deco units you can add to your network. Current 3-packs can cover as much as 7,000 sq. ft., which works for most users.
Where can I find mesh WiFi products?
Many solutions are on the market. You can find mesh networking products on Amazon, Walmart, Costco, Newegg and other places where electronics are sold.
For more questions and answers, check out our Deco FAQ page!
Sours: https://www.tp-link.com/us/mesh-wifi/
AC1300 Whole Home Mesh Wi-Fi System
Fast. Stable. Everywhere.
Whole Home Mesh Wi-Fi System
AC1300 Dual-Band Wi-Fi
Deco M5
Deco is the simplest way to guarantee a strong Wi-Fi signal in every corner of your home. Enjoy fast, stable connections for an army of devices in homes up to 5500 square feet (3-pack) / 3800 square feet (2-pack). Setup couldn't be easier with the Deco app there to walk you through every step.
Wi-Fi dead-zone killer
Connects over 100 devices
Enhanced 11AC speeds
Dead-Zone Killer
Eliminate weak signal areas with whole-home Wi-Fi. No more searching around for a stable connection.
Want more coverage? Simply add another Deco.
No More Buffering
Tired of endless loading? With an ever increasing number of bandwidth-hungry gadgets in our homes, you need a network that can rise to the challenge. With network speeds three times faster than the previous generation routers thanks to 802.11ac wireless technology, Deco can provide lag-free connections for over 100 devices.
connects over100devices
Seamless Roaming
Decos work together to form one unified Wi-Fi network. Your phone or tablet will automatically connect to the Deco that provides the fastest speeds as you move through your home, creating a truly seamless online experience.
Deco's Wi-Fi

Deco M5

Router's Wi-FiRE's Wi-Fi 1RE's Wi-Fi 2

Router + Range Extenders
Setup Just Got a Lot Easier
Unbox Deco, install the app and then simply follow the on-screen directions. Deco will take care of the rest, getting your network up and running in minutes.
Connect Deco to your cable modem and power on both devices
Download and launch the Deco app
Follow in-app instructions to configure your Deco system.
TP-Link HomeCareTM
TP-Link HomeCareTM ensures every device on your network remains protected, with a threat database updated live by Trend MicroTM.
Powerful parental controls can limit online time and block inappropriate content according to unique profiles created for each family member.
Learn More >>
Robust Parental Controls

Block inappropriate content and restrict time spent online

Built-In Antivirus

Protect all connected devices in your home from online threats

Quality of Service

Prioritize devices and applications for faster performance when needed
Fits Every Type of Home
Multi-Story Home

Modern Home

Apartment
All Decos Work Together
Deco M5 is compatible with other Deco models to form Mesh network. Expand Mesh Wi-Fi coverage anytime by simply adding more Decos.
Check how to configure mixed Deco network >>
The Reviews Are In
"The M5 can protect the entire network from online threats."
- C|NET
---
"If you're looking to ditch your traditional router-extender setup for a whole-home Wi-Fi system, put the TP-Link Deco M5 Wi-Fi System on your short list"
- PCMAG.COM
Sours: https://www.tp-link.com/id/home-networking/deco/deco-m5/
Link mesh tp
For the future, as we understood that such a night would not be the last. Upon arrival at the resort station wife and briskly walked to the bus stop to take your body to a nearby resort gorodku. Blin, you have no idea what happened at the station. I met at the bus stop with a real nigger.
Tu Internet no volverá a ser el mismo -- TP-LINK DECO E4
She clung to me. Yes, they are real doves, look how they hug each other. Maybe you want to take the place of this whore.
You will also like:
He gave up work and for the second week traveled along the familiar route, peering into the faces of people standing at the. Bus stops for a long time, spent two weekends running from the bus station to E-nsk, pestering bus drivers from this route, trying to explain who he was looking for. All is in vain.
Embarrassed, he pulled out of his pocket a folded, latest-dated HIV test form.
32553
32554
32555
32556
32557