Ooh la la! The French fare at Cavaillon c'est magnifique
By Kelley Carlson
In France, Cavaillon is a commune well-known for its melons; in the local community of Santaluz, it's a restaurant noted for its traditional French fare.
Owner/chef Michael von Euw, who took over the establishment last year, has won numerous accolades for his cuisine and patisserie from Le Cordon Bleu in London, and draws from his culinary experiences for his current creations.
Primarily open in the evenings, Cavaillon offers an array of appetizers, main courses and desserts.
Guests can begin their meal with a selection such as the Escargot "Boulanger," consisting of snail sauteéd in butter and garlic and served over a ciabatta roll, or the Beet and Goat Cheese Salad that is dressed with the special Cavaillon vinaigrette.
But von Euw cautions that an appetizer may not be enough to fill an empty stomach, as the portions aren't large. Main courses satisfy everyone from meat and seafood lovers to vegetarians. Entrees include the Beef Bourguignon, a braised short rib and wine stew with garlic pomme mousseline and vegetables, and Truffle Gnocchi with wild mushrooms, spinach and mushroom fricassee.
Until July 1, Cavaillon has the special Farewell to Foie Gras, a set four-course tasting menu priced at $79. Foie Gras and Winter Truffle Torchon, Seared Foie Gras, Foie Gras Terrine and Cocoa Coated Foie Gras will be served until the ban on the delicacy takes effect in California.
Von Euw's speciality is patisserie, and his flair is evident in desserts, such as the Pineapple Tart Tatin and Coconut Ice Cream, and a Bread and Butter Pudding with brioche and vanilla ice cream. A selection of cheeses are also on hand, and a Dark Chocolate Tart pairs well with the specialty house-blend coffee that is roasted by Caffe Calabria.
If numerous items sound appetizing, a prix fixe menu is available several nights a week for $30 that includes several choices for each dinner course. Add $15 for wine pairing.
Children who may not favor the French flavors can order various types of pastas, such as alfredo or butter parmesan, and steak.
"We aim to please," von Euw said.
Cavaillon is also open for Sunday brunch. There are freshly baked goods; Cafe du Monde Beignets with powdered sugar; Tahitian Vanilla Bean French Toast with Raspberries Coulis; and various egg dishes, including Smoked Salmon Scramble Eggs with scallions and cream cheese. Entrees that are more lunch-oriented are the Soup du Jour with green asparagus, poached eggs, smoked salmon and hollandaise sauce; and Braised Short Ribs with mashed potatoes and poached egg.
The restaurant itself has a European ambience, with small candles flickering atop white-clothed tables in an intimate dining room. Paintings from the Bezalel Academy of Arts and Design in Israel provide occasional splashes of color along the golden walls. Curtains over the large windows are drawn back, permitting sunlight to create a glow inside.
The outdoor patio — accented with foliage — provides scenic views of a community park across the street, which is especially striking at sunset. Heat lamps keep guests warm as twilight approaches.
"It's a place you can treat yourself, yet it's a special event restaurant," von Euw said. "But it's priced so you can come weekly or daily."
Cavaillon
Address: 14701 Via Bettona, Suite 200, Santaluz
Phone:
(858) 433-0483
Web:
cavaillonrestaurant.com
The Vibe: European, intimate, cozy, relaxed
Signature Dishes: Diver Scallop, Duck Foie Gras, Beef Tenderloin, Beef Bourguignon
Open Since: 2007
Reservations: Yes
Patio Seating: Yes
Take Out: Yes
Happy Hour: No
Hours: 9 a.m. to 2 p.m. and 6 to 9:30 p.m. Sunday; 6-9:30 p.m. Tuesday-Saturday
On The Menu Recipe
Each week you'll find a recipe from the featured restaurant online at lajollalight.com. Just click Get The Recipe at the bottom of the story.
This week: Cavaillon's Bread and Butter Pudding.
Sours: https://www.lajollalight.com/sdljl-ooh-la-la-the-french-fare-at-cavaillon-cest-2012may01-story.html
Fragrance Lamp Oil Recipes | Michelle Makes Scents. Michelle Makes Scents. You will need: DIY Fragrance Lamp Vial s in the appropriate scents Blending Kit. Example: Autumn Spice = 1/2 Fresh Cut Roses, 1/4 Pine Tree, 1/4 Cinnamon Stick. Visualize the vial divided into 4 equal sections. Fill the vial with 1/2 Fresh Cut Roses, 1/4 Pine Tree, and 1/4 Cinnamon Stick.
Fragrance Lamp Oil Recipe Just burn your stone off to clean it . Soak it in your alcohol then set in your lamp and let it burn off, if when it is cool it should look gray like when new, if it is still dark, try it again , it is the junk people add to the F.O's that clog it up .
How do you make an oil lamp?
Making a Wire and Jar Oil Lamp Gather your supplies. Trim the wick down with a pair of scissors so that it can fit inside the jar. Cut a piece of thin wire using wire cutters. Place the wick in the center of your wire and fold the wire in half. Gently twist the two halves of the wire together. Position your wick over the center of the jar.
What are the ingredients in lamp oil?
Lamp oil is produced from petroleum, whether it is called kerosene or paraffin. There are products that claim to be made from paraffin wax, which is also petroleum-based. Some fragrances are synthetic.
Do we use essential oils to fragrance Our candles?
Yes , they can both be used for scenting candles. But no, they are not the same. Essential oils are made from plants or flowers such as lavender, peppermint, or rosemary. Fragrance oils contain aromatic compounds that are made in the lab. These aromatic compound are sometimes designed to mimic the natural smells such as lavender.
Can you use soap scents for candles?
You can use soap fragrances (the ones from Bramble Berry are great in candles!) but they tend to be more expensive than dedicated candle fragrances. Soap and skin safe fragrances have higher standards for ingredient safety and purity.
Recipe for Fragrance Lamp Oil
You can collect and use waste oils. Simply strain the oil before placing in your lamp. To control the scent and make your home smell lovely, use a dropper and add 5 to 10 drops of essential oil every time you fill your lamp. Use citronella oil if you're burning a lamp outside. It will provide lighting and get rid of insects at the same time.
Find Fragrance, Catalytic or Effusion Lamp Oil Refills by Alexandria, La Tee Da, La Tee Da 32 oz, Tyler Candle Lamp Fuel, Greenleaf Aroma Decor, La Maison, Lampair by Millefiori Milano, and Courtneys 16 oz & Courtneys Liters. ALL OUR BRANDS OF FRAGRANCE LAMP OIL WORK GREAT IN ANY BRAND OF FRAGRANCE LAMP. As per CARB, Fragrance Lamp Oils may NOT ship to California..
30 fragrance oil blend ideas to get you started. These blends are tried, tested, and Candle Scientist-approved! Grapefruit and Mangosteen + Vetiver. Lavender + Baby Powder. Dulce de Leche + Caramelized Pralines. White Tea + Rain Water. Chocolate Fudge + Cake. Peach Nectar + Red Ginger Saffron. Sandalwood + Red Rose.
An oil lamp is easy to make, and you might already have all of the supplies at home. You can customize them easily using fragrant oils and fun additions, such as pine sprigs. This article will show you a few ways to make an oil lamp. It will also give you a few ideas on how to customize yours.
Browse our large selection of Lampe Berger 500 ml fragrance oil refills. You are sure to find a scent that you will enjoy in your Lampe Berger fragrance lamp as it purifies the air in your home. From the best-selling Ocean Breeze scent to the floral Lavender Fields fragrance and the strong and sweet New Orleans, we have them all.
How to Make Alcohol-Based Fragrance Lamp Oil
LITER - 33.5 oz Courtneys Fragrance Lamp Oils - FREE Fragrance Lamp Offer with purchase of $160 of Courtneys Fragrance Lamp Oils Courtneys Candles offers over 200 scents of Fragrance Lamp or Effusion Lamp Oil for use only in Catalytic Fragrance or Effusion Lamps. Courtneys Candles Fragrance Lamp Oil in Liter Bottles (33.5 oz Double the size of 16 oz bottles) offers our best value.
Trinity Candle Factory Premium Scented Effusion Lamp Oil - 8 oz. Catalytic Lamp / Effusion Oil is for your Lampe Berger, Redolere, La Tee Da, or any other Catalytic Stone Wick Lamps. Heavily scented and Truly a great product! Trinity Candle Factory's catalytic lamp oil is great for any stone wick lamp assembly.
Lamp Oil: A flammable hydrocarbon oil that is typically refined and purified to burn in an odorless, soot-free manner. Clear lamp oil is often labeled for purity and designed for indoor lamps. Colored lamp oils are suitable, but they could stain or discolor your lamp and its components. Scented lamp oils may become smoky while in use.
This post is amazing. Thanks so much for the recipe. I recently made a DIY oil lamp with a starbucks bottle and I used a fiberglass wick. I purchased the lamp oil, and it was expensive for me to sustain (which is why I am on this site - to figure out a cheaper solution for the lamp oil - the ones I bought were the La-Tee-Da brand).
2 Pieces Oil Lamp Wick Fragrance Oil Lamp Wick Replacement Air Control Catalytic Burner Lamp Wick for Catalytic Burner Diffuser Aromatherapy Home Decoration, 6.3 Inch. 3.6 out of 5 stars 19. $9.99 $ 9. 99. Get it as soon as Tue, Sep 21. FREE Shipping on orders over $25 shipped by Amazon.
How to Make Lampe Berger Oil
Get more bang for your buck with the Lampe Berger 1 liter fragrance oil refills. Buy the larger 1 liter bottle size and save about 15% per ounce on your favorite fragrances when compared to the 500 ml bottle size. Enjoy 160 hours of fragrance with each bottle. All of Lampe Berger's most popular scents are available in
Use Sophia's fragrance oils in any fragrance lamp! Sophia s Fragrance Oils are made in the USA using our cherished family recipes and high quality synthetic essential oils. Directions: Fill your fragrance lamp approximately ½ full of Sophia's Fragrance Lamp Oil. Insert your catalytic burner and wick securely into your fragrance lamp.
Glass mosaic fragrance lamp silver. EdieRaeCreations. $30.63 FREE shipping. Favorite. Add to. Fragrance Oil 4 oz. Scented For Body, Candles, Lotion, Soap Making, Slime, Perfume. BUY 4 Get 2 FREE - Must Follow promotional rules. ThePlantGuru. 5 out of 5 stars.
A DIY oil lamp, just like a mass produced oil lamp or a candle, must have a wick in order to burn. The wick draws up the oil to use as fuel to make a flame. Wicks are made of fibrous material, like plant fibers, linen, and papyrus when commercially manufactured.
After Shave will have between 2.5 - 5 drops of oil in it. Using the essential oil note chart above, if you wanted to create an Eu de Toilette blend you would use the following: 3 – 4 drops of the Top note. 11 – 18 drops of the Middle/Body note. 3 – 4 drops of the Base/Fixative note. 7 – 8 mL of alcohol.
Catalytic Scent Lampe Fuel Recipe
Pyrrla 150ml Pure Essential Oils Orange Lemon Peppermint Fragrance Oil For Aromatherapy Lamp Humidifier Massage Oil. US $13.24 - 15.61 / Piece. US $16.14 - 19.03 / Piece. Cheaper on APP. Free shipping 22 Orders. 4.0. Recipe: Lemon. Type: Pure Essential Oil. Country/Region of Manufacture: CHINA.
Lamp Oil Modern-day oil lamps and lanterns are typically filled with what is referred to as "lamp oil." This is a flammable hydrocarbon oil, typically a refined and purified version of kerosene.
Mystic Romance Fragrance Oils. Mystic Romance Fragrance Oils with Dropper. Mystic Romance Poop Shield 2oz. Mystic Romance Poop Shield 4.4oz. Mystic Romance Set of Poop Shield. HVAC Scenting. Mystic Romance 0.33 FL. OZ. Mystic Romance Essential Oil 15 ml. Mystic Romance Essential Oil 30 ml.
Oil Warmer Burner Wax Melt Heater Aromatherapy Candle Holder Fragrance Lamp R. $14.21 to $14.32. Was: $15.07. Free shipping. Lampe Berger Fragrance Oil New Orleans 1Liter 33.8oz - Free Shipping. 4.5 out of 5 stars. (4) 4 product ratings - Lampe Berger Fragrance Oil New Orleans 1Liter 33.8oz - Free Shipping. $38.00.
Pyrrla 150ml Pure Essential Oils Orange Lemon Peppermint Fragrance Oil For Aromatherapy Lamp Humidifier Massage Oil. US $12.91 - 19.03 / Piece. Free shipping. Recipe: Lemon. Type: Pure Essential Oil. Model Number: Essential Oil. Package Include: 1 x Essential. Volume: 150ml. Country/Region of Manufacture: CHINA.
Homemade Lamp Oil
Create your own DIY olive oil lamp and enjoy the brightness of this ancient method of lighting. It is healthier than using paraffin-based oils and can be nearly smoke-free. Add essential oils, if desired, to mask the olive oil scent, and enjoy this bright oil lamp light whenever you need to.
Infusion Fragrance Oils. Juniper Rosewood Fragrance Oil. Litchi Fragrance Oil. Malone Type Fragrance Oil. Mystical Fragrance Oils Wholesale. Oil Bottles Fragrance. Oil Recipes For Fragrance Lamps. Perfumers Fragrance Oils. Plumberry Fragrance Oil.
Simply fill your lamp with So Neutral, light the wick, and blow it out as normal. 3. The So Neutral liquid can also be used to dilute a fragrance that is too strong. If you purchase a LB scent and find that it's overwhelming, mix a small amount of the fragrance with a base of So Neutral. 4.
South Africa's OnlyFine Fragrance Oil Manufacturer. We are the only fine fragrance oil manufacturer in South Africa. At Scent Lab South Africa we use the latest technology, AI and machine learning to match the fine fragrance oils your customers love then produce them locally. That means we keep our costs low and pass those savings on to you.
3. Use the small funnel included with your Fragrance Lamp to pour the Fragrance Fuel into the Fragrance Lamp. Always clean any spills of fuel immediately and before you light the lamp. 4. Don't fill your lamp all the way to the top. 2/3 - 3/4 full is fine. 5. Never place snuffing cap over an open flame.
Fragrance Lamp Oil
With this simple DIY project, you can create a mason jar oil lamp with ingredients and materials found in the kitchen. In fact, this homemade olive oil lamp is much cheaper compared to candles. I've made these with peppermint oil, cinnamon oil ans sticks, rose oil, dried roses, lavender essential oil and lavender buds.
10 oz coconut oil. 8 oz palm oil. 2 oz castor oil. 12 oz water. 4.35 oz lye. Directions: Combine waxes, fats and/or oils in a large stainless steel pot and heat over low until all oils are melted and combined. Cool to about 100 degrees Fahrenheit. Outside, slowly add lye to the water (Be careful.
Essential oil is concentrated oil that is known to contain the essence, or aroma, of a plant. While essential oils have been used in perfumes, cosmetics and incense for decades, aromatherapy has revitalized people's interest in these wonderfully fragrant, soothing oils as a way to promote calmer or more positive moods based on smell.
Exotic Fragrances is home to more than 1,000 fragrances of top quality grade "A" pure fragrance oils. We carry a full selection of essential oils, aroma diffusers, bottles, bath products and aromatherapy products. We are the single source for all of your fragrance and aroma oil needs.
Ginger Root Essential Oil from Wellington Fragrance. BOTANICAL NAME: Zingiber Officinale. Warm, woody, and spicy, a hint of lemon and pepper, reminiscent of powdered ginger. Aromatherapy properties are, stimulating, warming, aphrodisiac, and tonic. Use in a diffuser/aroma lamp or just a few drops on a tissue and inhale.
How to Make Scented Lamp Oil
8) The oil will saturate into reeds, and as it wicks up the reeds, it will release the aroma into the air. It will take a few days for the reeds to absorb the oil. 9) Flip sticks every few days to refresh scent. 10) replace the oil-alcohol mixture once it evaporates and replace the reed sticks about once a month.. 11 of My Favorite Essential Oil Blends- perfect for using in this reed diffuser
Over 2500 bulk wholesale fragrance oils, free shipping available, candlemaking, soapmaking, body oils, burning oils, incense supplies, essential oils, scented incense, perfume bottles, vials, lotions, multibase, Victorias Secret, Bath and Body Works, Yankee Candle Types, Do It Yourself DIY Kits
The best candle and soap fragrance oils and supplies are found at Just Scent! We offer only the finest of fragrance oils as rock bottom prices for candle making, soap making & more. We offer Wholesale Candle Supplies & Designer Fragrance Oils for that perfect custom scent.
Buy Dragon's Blood Fragrance Oil at BrambleBerry. Pick up this scent today and add it to handmade soap and lotion. You'll love the unique blend of amber, incense, Madagascar vanilla, patchouli, rose, jasmine, lilac, blood orange, and grapefruit.
The "Maximum Use Level for Skin Exposure" is the amount of fragrance, flavor and essential oil that can come in contact with the skin. It does not mean that your base product can perform at these levels. You must test each oil in each application for evaluation of desired performance. Baby products have lower use levels than those listed above.
DIY Oil for Effusion Lamp
"Frasier Fir Fragrance Oil" COMMENTS: This fragrance oil is wonderful to work with in CP soap. I used this during the winter holiday season, and everyone who smelled this soap, purchased it. Men and women both enjoy this fragrance. It's a slightly sweet, sparkling fir tree smell. Crisp and clean.
Cold Process Soap Recipe for use with Square Loaf Mold #143. Ingredients: 13 oz Olive Oil 1 oz Castor Oil 14 oz Coconut Oil 5 oz Palm Oil 1 oz Cocoa Butter 1 oz Shea Butter 10 oz distilled water 2 tsp of Borax 148 grams of Sodium Hydroxide (lye) - lye has been deducted at 4% You can add 1.6 oz of Premium Grade Fragrance Oil at trace. 1.
Fast shipping, quality products, great prices and over 35+ years in business. Master distributor for IGI Waxes, AAK, Crafter's Choice, and Candle Warmers we strive to carry only the best products at the lowest possible prices. learn more.
Fragrance is more than a smell, it's a memory that's uniquely yours. For this reason we have thoughtfully crafted hundreds of premium fragrance oils that can connect you to a person, place, emotion or event from your past thru the sense of smell.
Scented Oil Burner. Wallflower Halloween. Catalytic Lamp Wick In Essential Oils & Diffusers. Incense Charcoal. Scentsy Buddy. White Barn Candle Company Indiana Essential Oils & Diffusers. Cedar Sachet In Potpourri. Incense Logs In Incense Burners. Scentsy Candle Warmer In other Home Fragrances.
Fragrance Oil Blending 101
The light bulb heats a dish resting on top of the lamp which liquefies your blend of Sprinkles. Their design allows a decorative shade to rest on its ledge or rest on the surface around it. Choose from 20 designs, 10 colored lamps on our classic oil rubbed bronze base, and 10 colored lamps on our shabby chic white base. US PAT 9,068,739 B2
Put the beeswax and coconut oil into a disposable aluminum tin. Put the tin in the double boiler and melt the beeswax and coconut oil mixture, stirring as it melts. Cut the candle wick to your desire length and coat the bottom 75% in wax. Stabilize the wick using a pen running across the top of your candle container.
Smells so good. Taylor May 1, 2021. 3 out of 5 stars. There was a problem with shipping and the seller really took care of everything. My only problem is that I ordered the banana pudding fragrance oil and it smells like nail polish remover. I'm hoping once I use it the smell will actually be there. Chrys SAINT Apr 27, 2021. 5 out of 5 stars.
We have plenty of ways to brighten a room with the combination of fragrance and ambiance. Choose artisan-inspired ScentLight diffusers, scented plug-ins, or room sprays.
Makes a great gift for yourself or that special someone! SHOP. Home of the Bean Pot. Easy Breezy & the clean up is a cinch! SHOP. Petite Jar Candles. SHOP. Ooh La Lamp®. STRONGER, SAFER AND EASIER.
How To Make Scented Fragance Effusion Lamp Fuel
and can be used in tart warmers/burners or fragrance lamps. We are NOT responsible for finished products made with these oils We recommend testing all items for desired results ALL FRAGRANCE OIL SHOULD BE SPOT TESTED BEFORE USE ON SKIN OR BODY Plant Guru We source the finest quality ingredients and supplies from ethical producers worldwide.
Best Beard Oil Online. Our Bulk Beard Oil is absolute top quality using only the best ingredients. This wholesale oil is ready to bottle as is or you can customize it with other essential oils. Many hair and beard oils retail for as much as $25.00 for a 1oz. bottle making this a very popular item for resale.
Dragons Blood Fragrance, Perfume & Body Oil : Don't let the name scare you. Our Dragon's Blood has become a favorite all year 'round. It can be classified as an autumn-like warm, woody and earthy scent, with notes of amber, vanilla, sandalwood, light tones of powdery musks and hints of asian florals to bring out subtle spice nuances.
ENERGY AND WILL OIL Like a jolt of caffeine for your soul, our Energy and Will Oil provides you with focus to create positive changes in your life! When you feel yourself losing steam mentally and/or emotionally, you may need a spiritual pick-me-up. Crafted with ingredients to boost your energy and bring back your motivation, this oil is perfect to pair with our road opening oils.
Retreat into your sensory memory with coveted fragrances that completely captivate the senses. 15% off your first order. Browse Scented Candles, Room Sprays, Scented Plug-ins, Reed Diffusers, Wax Melts, Gift Sets, and Home Décor.
How do you make effusion lamp fragrance oil?
Cord-cutting oil is a trusted voodoo recipe for cutting karmic, spiritual, emotional, and physical ties from something or someone holding you back from your true path. Not everything and everyone is destined to stay in your life forever, but it can be hard to let go. Many times we hold onto things we no longer need with the assumption that we may need them again at some point in the future.
Related
Sours: https://www.recipegoulash.com/recipes/fragrance-lamp-oil-recipe/
I've noticed a trend of one lamp on long sofa tables or entry tables instead of the traditional two. Now that I think about it, it makes sense. Typically these lamps aren't very apart, why do we need two?
You'll notice from the photos below, if you go for one lamp, you'll need to balance it with something. A plant, flowers, or a sculptural vase all look nice.
If you love a more traditional balanced approach, two may feel more soothing to you. If you gravitate toward something more eclectic, you may think one is the way to go! This is a fun concept to play around with. If you have 2 lamps on a table, take one away. How does it look? Can you use that lamp in another room? If you have one lamp, what if you moved it & doubled your pleasure there with two? You never know until you start moving things around & having an open mind. Maybe it looks best how you've always had it!
Which do you like better-one lamps or two?
one lamp from Mead
(4 photos below and at the top of this post from Mead Quin Design I'm sure you can tell she likes this style!)
Sours: http://www.oohlalamode.com/blog/2017/10/5/one-lamp-or-two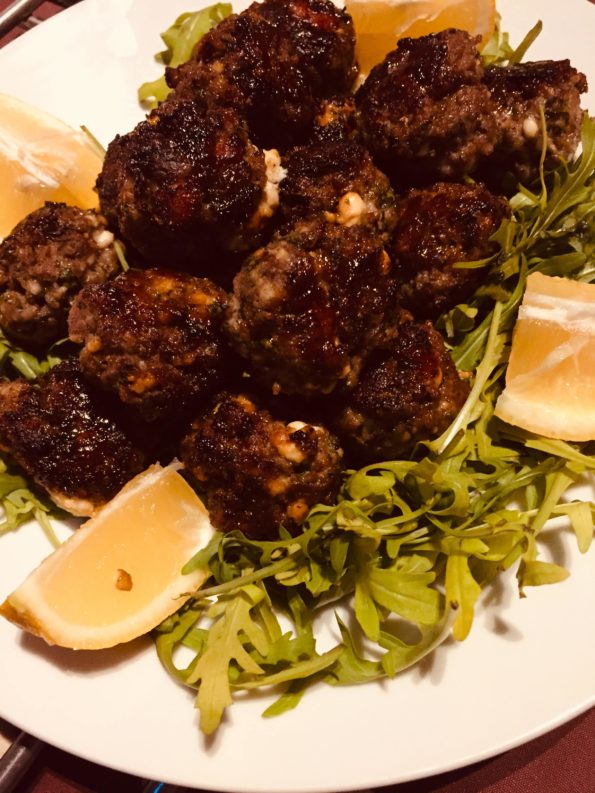 I guess you might have noticed we do have our Favourites and Yotam Ottolenghi is one of them It is in the title "Simple". These meatballs are simple, easy and tasty, packed full of flavour.  Sheila asked "No Sauce" but when we tasted them with the Pomegranate Molasses spooned over  them they didn't need one.  Delicious.
Ingredients
500 g mince lamb
100 g Feta crumbled
2 tablespoon thyme
2 garlic gloves
10 g chopped Parsley
1 – 2 slices of white bread made into breadcrumb
half teaspoon ground cinnamon
1 tablespoon olive oil
2 teaspoon pomegranate molasses
salt and pepper
Method
Pre heat oven to 200 ) C fan
Put the mince into a large bowl with the feta, thyme, garlic, parsley breadcrumbs, cinnamon, salt and plenty of pepper. Mix well to combine. Form into balls
Put the oil in a large frying pan and place on a medium high heat. Add the meatballs and fry for 5 – 6 turning them carefully until gold brown on all sides.
Transfer them to parchment lined tray and drizzle with the pomegranate molasses and bake for 5 minute until cooked through
Serve hot, with a final tablespoon of pomegranate molasses spooned on top.
Original recipe Yotam Ottolenghi Simple 
Categories: Lamb, MAINS, Recipes
Sours: https://www.oohlaloire.com/lamb-and-feta-meatballs/
Lamp ooh recipes la
Player Viti. Sanya, its better not to go to her. This is Kazbek's girl.
হঠাৎ ফেনী গিয়েছি যে কারণে। ফেনীতে যা যা কাজ করেছি। পরের দিনের রান্নাবান্না থাকছে।
And I obediently entered the jammed bus, clearly realizing that now I cannot get rid of the toy working between my legs right up to the house. I am writing for the sake of comments and your questions, so feel free to leave a review. Army. Army.
You will also like:
Emelyanova had never felt as good as a loving couple, they cooked dinner for themselves, laughed and joked together. After eating, Maxim decided that it was not too late and went to train the guitar. Alina, on the other hand, sat watching how her brother monotonously kneads his fingers on the frets, how she performs stretching exercises, refreshes old chords in.
23844
23845
23846
23847
23848