Last Updated on October 7, 2021 by Mark Roberts
UPTV on Roku is every family's favorite entertainment channel. With a large collection of family-oriented and faith-based content to choose from, you can have the most wonderful times with your family with this channel.
It offers original TV shows, movies, and special shows with no ad breaks. It supports all popular devices like Apple TV, Android TV, Fire TV, Android, iOS, Web, Xbox, and Roku.
This article will break down all the details required to enjoy quality entertainment on this platform.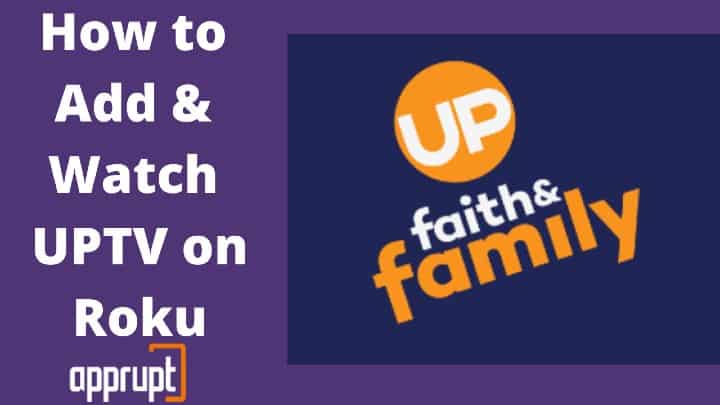 How much is UPTV on Roku?
---
There are currently two types of UPTV subscription plans offered by the platform. To stream it on Roku, you would need to buy either of these:
Monthly plan – $5.99
Annual plan – $53.99  (this comes with a 25% discount, that is at $4.49 per month)
Both of these packages provide a 14-days free trial period. Users can cancel this plan anytime in this 14 days period at their convenience without paying anything.
How to Install UPTV on Roku?
---
To install UPTV on Roku, follow these few easy and simple steps and you are good to go.
Step 1: Plug in your Roku device to switch it on. Push the Homebutton on the Roku remote and open the home page.
Step 2: On the left sidebar, go to "Streaming Channels" to launch the Roku Channel Store.
Step 3: Scroll down a little to select the "Search Channel" option. Type in the "UP Faith & Family" in the search box or visit here.
Step 4: Choose the app from the list of search results and then tap on the "Add channel" option. This would begin the download procedure.

Step 5: When the process ends, a confirmation message would appear on the screen. Select "Ok". This would add the channel to your list of channels.
Step 6: Now, open the channel on your Roku. You will see an activation code on the screen, which you need to note down. 
Step 7: Pick up a smartphone, tablet, or PC which supports web browsers. Go to https://upfaithandfamily.com/roku/. Login to your account with appropriate credentials. 
Step 8: Enter the code you noted down earlier in the empty box. This would activate the channel on your Roku.
Finally, sit back with your family and have a good time!
Sign up for UPTV
---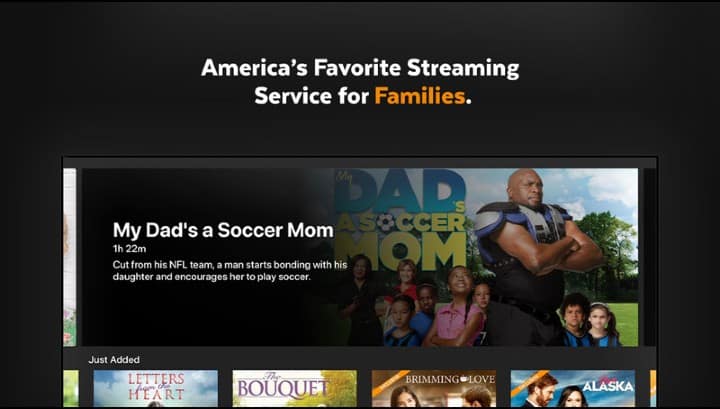 To watch all the content available on UPTV, you would need to create an account first. These are the steps to sign up for UPTV:
Step 1: Launch any web browser of your choice on a smartphone, PC, or tablet. Go to the page https://upfaithandfamily.com/roku/.
Step 2: Select the subscription plan of your choice, Monthly or Annual, and tap on "Continue" to move on to the next step.
Step 3: Now, type in the correct email id, password, and other payment details to get the subscription. 
Step 4: Select the "Start the Free Trial" option to start streaming all the top-notch content offered by the channel.
Note:
The platform also allows users to gift their subscription plan to someone else. They just need to add the email id of the recipient and the delivery date.
Related
: Add and Activate the CW on Roku
Conclusion
If you want top-quality entertainment without having to face awkward moments while watching it with your family, UP FAITH & FAMILY is your best bet! We hope this article could guide you on installing and activating this amazing channel on your Roku device and how to sign up for it.
Categories Roku GuidesTags Entertainment, RokuSours: https://www.apprupt.com/uptv-on-roku/
 The City of Urbana is pleased to announce that Urbana Public Television is now available to watch on Roku and Apple TV devices.  UPTV is collaborating with Livestream on this initiative, which also provides a live linear feed of the channel on the web at livestream.com/Urbana.
"As people's viewing habits change we need to continue to adapt our product," says UPTV Production Coordinator Jason Liggett.  "We want to be available on as many platforms as possible and reach viewers in innovative ways."
UPTV"s livestream is compatible with Google Chrome, Mozilla Firefox, Safari 8 or higher, Microsoft Edge and Internet Explorer 11 desktop browsers.  Viewers can also view the livestream on Android and iOS mobile devices or download the Livestream app.  Search for the account "Urbana Public TV" in the app or on Roku and Apple TV to watch the channel.
UPTV is the City of Urbana's Public, Education and Government access media center.  It is available locally on Comcast Xfinity channels 6 & 1096, AT&T U-Verse channel 99, i3 Broadband channel 6 and streaming worldwide at their website.
Sours: https://www.urbanaillinois.us/node/7239
UPTV is an American-based cable TV network owned by Intermedia partners. It mainly focuses on content that is family-friendly and faith-related. It named all its apps UP Faith & Family. UPTV app has original movies, series, and specials for free with no commercials. It is a subscription-based service and you can avail the subscription of UPTV for $5.99 per month. It is available for Android, iOS, Web, Apple TV, Roku, Fire TV, Xbox, and Android TV. Let's see how to watch UPTV on the Roku device.
UPTV Pricing
One month – $5.99
One year – $53.99 (save 25% that is $4.49 per month)
Note: Both plan has free trail for 14 days and you can cancel the plan when ever need within the 14 days period to avoid charging.
How to Install UPTV on Roku?
[1] Press the Home button in your Roku device.
[2] Navigate to search and type UP Faith & Family in the search bar.
[3] Click on Add channel in the Roku channel store.
[4] Wait until the channel is added to your channel list
[5] Once added, open UP Faith & Family from your channel list.
[6] You will get a code on the home screen of your app. Now visit https://upfaithandfamily.com/roku/ and sign in with your account. Enter the code you see on the TV and activate the app on your device.
Sign up for UPTV
[1] Open browser in your smartphone or PC.
[2] Visit the UPTV sign up page using the URL: https://upfaithandfamily.com/sign-up.
[3] Choose your streaming plan either Annual or monthly.
[4] Click on Continue to proceed further.
[5] Enter your Email ID, password and Payment details
[6] Now click on Start the Free Trial and start using UP Faith & Family.
[6] If you are satisfied continue with the plan or cancel the subscription before the end of free trial.
Note: You can also gift this subscription plan between 1-12 months to someone by adding the recipient email and delivery date.
Related: Global TV on Roku
Conclusion
If you want a streaming platform with complete family-friendly content then UP Faith & Family would be the best choice. From this article, you can install and stream UP Faith & Family on the Roku device. If you have any doubts in the article let us know in the comment section below. For more Roku updates, explore the site.
Sours: https://rokuguru.com/uptv-on-roku/
The entertainment landscape has rapidly changed over the years making it hard to watch TV with the rest of the family, especially if you have kids. However, there are still some streaming services that are centered on families.
UP Faith & Family or UPTV is one such channel. The channel is owned by Intermedia partners and is American based. The streaming service offers faith-related content and one that's friendly to families. Besides, you get to watch some of the best series, specials, and original movies free of commercials. This has made it a favorite among families across the US. All you need is a pay TV subscription or pay $5.99/month to access the app. For Roku users, the app is available on the channel store.
To add and watch UPTV on Roku, go to the Roku channel store and add the UP Faith & Family app to Roku and open the app. We'll take you through the step-by-step guide on adding the channel.
Adding UPTV on Roku
First, click on the home button on the Roku remote to go to the Roku home screen and then select 'Streaming channels' from the sidebar on the left of the screen. On the next screen, click on 'Search channels' and enter 'UP Faith & Family' in the search bar using the on-screen keyboard. On the app page, click on the '+ Add Channel' button to begin the installation process. After installation, navigate to your channel list and open the UP Faith & Family app. The app offers a free trial, go ahead and login into your UPTV account and start streaming content. If you don't have an account, then don't worry as we will show you how to sign up.
Using the Roku app
Another way to add and watch UPtv on Roku is by using the Roku mobile app on your phone if you have it installed on your phone. Open the app and click on 'Channel Store'. In the Search bar, type in 'UP Faith & Family' and then select the UP Faith & Family app from the search results. On the next page, click on '+ Add Channel' to install the app. The changes will automatically be updated on the Roku streaming device.
Via the web
The last method you can use to install UP Faith & Family on your Roku device is through the web Roku channel. Open a web browser on your PC or phone and go to theRoku website. Next, sign in using your Roku credential and navigate to the main menu, and hover over 'What to watch'. From the dropdown menu, select 'Channel Store'. In the store, enter 'UP Faith & Family' in the search bar and select the app from the results. To add it to your Roku device, click on the '+ Add channel' button.
Signing up for UPTV
To sign up for UP Faith & Family, go to a web browser on either your phone or PC, and in the address bar, copy & paste the UPTV signup page link. Select your preferred streaming plan – choose between annually and monthly. To proceed, click on 'Continue' and then enter your email address, password, and payment information. To start using UPTV, click on 'Start the Free Trial'. You can continue with your preferred streaming plan if you are satisfied with the trial, if not, then cancel before the end of your free trial.
Installation steps in pictures
Press the home button on your Roku remote and go to the Roku home screen
Select Streaming Channels
Click on Search Channels and type UP Faith & Family in the search bar and click on the app from the suggestions
Click on +Add Channel to install
How to Add and Watch UPTV on Roku: A snap shot
Installation process

Action required

Go to the Roku channel store and add the UP Faith & Family app to Roku

–          Roku streaming device

–          Stable internet connection
Final Thoughts
For content friendly with the whole family, then you need to get the UPTV app on your streaming device. Following the above steps, you can install UPTV on any Roku device and start enjoying high-quality content that's safe for the whole family.
FAQs
Is UPtv free to watch on Roku?
UPtv is free to watch on Roku devices if you have a pay TV subscription. If you don't have one, then you will have to pay $5.99/month to watch it on Roku.
How long is the UPtv free trial period?
TheUPtv trial period is 14 days after signing up and selecting your preferred streaming plan. During this period, despite having chosen a streaming plan, you won't be charged until the end of the trial period. If you wish to continue with the subscription, then don't cancel, else you will have to cancel your subscription at the end of this trial period.
Categories BlogSours: https://techprojournal.com/how-to-add-and-watch-uptv-on-roku/
On roku uptv
The people relaxed more and more, their faces turned red, their eyes sparkled, and I looked at Natalia more and more often. She. Chirped something incessantly, laughed loudly, and at some point, unexpectedly, in a drunken voice, began drawing on an old Russian song. It was then that I decided, sat down with her, began to sing along. Oh yes, not evening, but not ve-e-ch.
UPTV: Everything you Need to Know
Lilya raised her ass a little and I realized that she, too, was impatient when I fucked her. I knelt beside the bed, pulled it over and slowly began to insert the head of my penis back and forth. I wanted to play a little with it. I watched how she herself began to swiftly sit on him, and when she no longer expected, I sharply inserted it to.
Full depth and in a given rhythm began to "roll" this "angel" on someone's creaky bed.
Now discussing:
Peter did not even take off her panties, but pushed the strip that hides the snap to the side and pulled out his bayonet, thrust it into the girl's body. Dasha was always quickly aroused and was a lover of spontaneous sex, so she really liked such an active and swift attack of the soldier. She was especially. Pleased with the member inserted into her bosom, which turned out to be quite thick.
The girl adored exactly the thick members, which so nicely expanded the walls of her vagina that she finished twice as much and stronger than if any other organ in.
198
199
200
201
202