I have been a FIOS internet only customer for the past 4 years. I'm looking into switching my FIOS internet connection from coax to Ethernet. However, my original FIOS installation does not make sense to me and don't know where to start.
How my FIOS system is currently setup,
I have a FIOS ONT that is mounted to the side of my house. When I open the ONT cover I see two available connections, a cable out and an ethernet. Currently, the the cable out connection is being used and the ethernet is not. A cable runs from this cable out to the FIOS battery back up unit which is mounted inside my crawl space. This battery back up is plugged into an electrical outlet that is inside my crawl space.
I also have another cable leaving my ONT that is mounted to the side of my house. This cable is not accesable when opening the ONT cover. I would need a socket wrench to open another cover to access it. This cable goes from my ONT to a small coax splitter inside my crawl space. From the splitter it goes up to a coax wall jack inside one of my bedrooms. From the coax wall jack it goes to the FIOS MI424WR, rev I router.
I currently use the router for a wireless connection to my blu-ray player. My blu-ray player is in the same bedroom as the FIOS router. I use this wireless connection to watch/stream youtube and it works great. I also use the router for a wireless connection to my desktop PC in another room. This wireless connection does not work good at all and is almost unusable. The router must stay in the room it's in and want to have a wired connection to my desktop PC.
My questions,
Why is the cable coming from the ONT's cable out port, going to the FIOS battery back up and not the coax splitter, (router)?
Why is the other cable coming from the ONT's (I don't have access to this port) going to the coax splitter, (router) and not the battery back up?
What is the point of the battery back up unit? If the power goes out I lose the router which connects my two devices? Plus my two devices need to have power in the first place in order to work?
If I want to use the ethernet port from the ONT to both of my wired devices, what is the pont of the router?
Should I just run an ethernet cable from the ONT to an ethernet spitter and then to two ethernet wall jacks? I would have one ethernet jack in the room for my blu-ray player and another ethernet jack in the room for my desktop PC.
Last,
I'm also having trouble understanding how all this can effect a possible TV connection in the future. I know I want to change over to ethernet for my internet connection for future speeds.
Thanks
Sours: https://forums.verizon.com/t5/Fios-Internet/Need-help-understanding-my-FIOS-ONT-battery-back-up-and-router/td-p/838709
Use Own Router with FiOS ONT Ethernet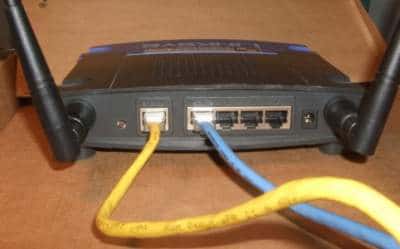 If you frequent this site, you know the numerous reasons why it's better to watch TV without cable. If you have already cut the cord, it doesn't make sense to rent your router from your provider when you can use your own. Why pay $10 bucks a month, when you can get a great wireless router for $100. This is especially true if you are a Verizon FiOS customer.
I have a 50 Mbps Verizon Fios Internet-only plan and I was able to eliminate the coaxial cable in favor of Ethernet and use my router. That means no more router rental fees. I've tried this with several routers in the past and it currently works with my Google WiFi System.
Eliminating the coaxial cable means you can use almost any router with FiOS internet instead of the one they force you to rent from them. Simply have Verizon turn the FiOS ONT Ethernet port on. This will allow you to have internet without coaxial in your house. So you may be asking; "What's an ONT?"
What Is An ONT
ONT stands for "Optical Network Terminal" (ONT). It's that bulky box the Verizon technician installs for FiOS Internet, TV, and phone. This device takes the fiber optic signals coming from the Verizon backbone and translates them for use with devices in your house. If an ONT isn't already in your house, a Verizon technician will come and install one on your premises upon becoming a Verizon FiOS subscriber.
Typically, the technician sets up the ONT to have a Coax output. The Coax cable is then split to a Verizon FiOS router for FiOS internet and various Set Top Boxes for FiOS TV. While this is fine for Cable TV subscribers, isn't ideal for Internet-only customers like me.
What would be ideal is having Ethernet come from the FiOS ONT instead of Coax. Having the Coax output from the ONT requires using a MoCA Wide Area Network (WAN) bridge. MoCA stands for Multimedia over Cable, and the Router supplied by FiOS acts as a MoCA bridge, translating the signal to Ethernet for use by devices on your network.
FiOS ONT Ethernet Port
Did you know that the ONT Verizon installs has an Ethernet output? Since Verizon wants everyone to purchase Cable TV from them, their default residential install has Coax coming from the ONT. However, by looking at the picture below, it appears the FiOS ONT Ethernet port can just as easily supply an internet connection instead of Coax.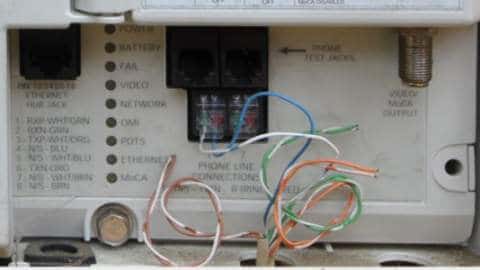 The FiOS ONT Ethernet port is turned off by default. Even for Internet-only customers, Verizon will still run Coax to their router and possibly charge a rental fee on the device. I've never heard of a Verizon technician offering to turn on the ONT Ethernet port for customers ditching the TV portion of their subscription.
The picture is the part of the ONT that is accessible by the customer. However, as the Ethernet port is turned off, simply plugging in a Cat5 cable will not provide you with access to the Internet. You will need to contact customer support and have them turn off the MoCA output and enable the ONT Ethernet port.
I recommend leaving the existing Coax hooked up to your Verizon router while running an Ethernet cable from the ONT to your Verizon Router's WAN port prior to calling support. They may schedule a time for the switch to take place. With both cables plugged in, there should not be any noticeable delay in service when the ONT switches from MoCA to Ethernet.
Using Your Router with Fios
Once the switch to Ethernet is made, these simple steps will allow you to use your router instead of renting a Fios router.
Unplug the coax cable if you haven't already and verify that you still have access to the internet.
Using a web browser log into your Fios Router. Unless you've changed any default network settings the router log address is http://192.168.1.1. The username is admin and the password is on a sticker on the router. (As an aside it's always a good home network security practice to change these)
Release the IP address on your Fios router. This step is important. Usually, if a person has trouble getting their own router to work with Fios, it is due to not releasing the IP address. To do this simply:

Click on the My Network icon at the top of the page
Click Network Connections from the menu on the left.
Click Broadband Connection
Click Settings
Scroll down and click Release under DHCP Lease. Then apply changes. After they apply turn off your Fios router.

Unplug the Ethernet cable from your Fios router's WAN/Internet port and plug it into your routers WAN/Internet Port. (Make sure the other end is still plugged into the ONT Ethernet port.)
Turn on your router. It should then get a new address from Fios.
You should now have Internet access with your own router.
This link is for Fios 100 Mbps for $39.99 per month
Don't Take No for an Answer
If the support representative refuses or doesn't understand what you are talking about, simply request to speak to a supervisor. They should escalate the call to the next level of support. Since this functionality is supported by Verizon, someone should eventually honor your request.
Once you see the Ethernet output from the ONT is active, you are free to switch out the Verizon router with the router of your choice. This may be a great opportunity to wire your house for Ethernet, as you can use the existing Coax runs to pull the cables through.
You may even want to have your main router near the ONT, thus running Ethernet lines from the router to various rooms in the house. This will allow the installation of Wi-Fi bridges at various points in the house, ensuring that there is Wi-Fi coverage in every room.
Turning off MoCA is not recommended if you are still provided with Cable TV from Verizon. While their set-top boxes support an Ethernet connection, the video will not come through properly. Using Ethernet from an ONT is only recommended for Fios Internet Only customers.
Also depending on the age of your ONT, the Ethernet output may be limited to 100 Mbps. However, if your service warrants it, they should be willing to come out and update your ONT. All newly deployed ONTs support gigabit Ethernet. Check this handy list on DSLreports where they track ONT makes and models.
Looking For an Internet Provider?
To see which providers are available in your area, you can use a search tool we created to find Internet Providers in your zip code.
Our results show providers with internet-only plans that offer a download speed of at least 25 Mbps or more in your area. It's important to know which Internet options are available to you to keep your costs low. Even if there is only one provider in your area, there are ways to keep your internet costs affordable.
If this article didn't answer your specific question, head over to our Home Page! It will guide you to affordable internet providers, streaming services to meet your needs, information on antennas, and many more tools and resources to help you save money on TV and Internet access.
For tips and tricks on cutting the cord and other tech topics be sure to join our Facebook Page.
Join Millions of Cord Cutters
*
Disclosure: Grounded Reason is supported by a small commission for purchases made through some product links on this website. We do not accept compensation from companies attempting to sway our review of products.
Filed Under: Home Networking Last Updated
Sours: https://www.groundedreason.com/use-router-fios-internet/
Light
STATUS
Description & Suggested Action
POWER
Unlit
Check power supply.
Green (Solid)
Normal
Green (Flashing)
On Battery
BATTERY
Green (Solid)
Normal
Unlit
Battery is low or missing Call your Carrier. (See below for BBU Alarm Tips)
FAIL
Unlit
Normal
Red (Solid)
Self-test failed Call your Carrier.
Red (Flashing)
Passed self-test but not communicating Call your Carrier.
VIDEO
Unlit
Normal
Red (Solid)
Service provisioned but Video power is too low Call your Carrier.
NETWORK
Green (Solid)
Normal
Unlit
No optical link established Call your Carrier.
OMI
Green (Solid)
Normal
Unlit
OMI channel not available Call your Carrier.
POTS
Green (Solid)
One or more phones are off hook.
Unlit
Normal
LINK
Green (Solid)
Normal
Unlit
No Ethernet connection also see Actiontec M1424WR
Green (Flashing)
Ethernet traffic present.
100 MBPS
Green (Solid)
Connected at 100 Mbps also see Actiontec M1424WR
Unlit
Connected at 10 Mbps.
BBU Audible Alarms

If there is a problem with your BBU (Battery Backup Unit) , an alarm will sound for 2 seconds and be silent for 58 seconds. This will be repeated until you press the Alarm Silence button. Once you do, be sure to check the lights on the BBU to find the issue (see above). Below are the most common reasons for the alarm to sound:

Low Battery alarm is silenced after electrical power returns, the battery is fully discharged or removed from the BBU

Replace Battery alarm is silenced when the battery is removed

It's possible that after electrical power is restored, you may still be without FiOS service. Sometimes resetting your Battery Backup Unit (BBU) is needed.

To reset your Battery Backup Unit:

Unplug the electrical power cord of your BBU from the wall outlet.

Wait one minute and then plug the cord back into the wall and see if the Optical Network Terminal (ONT) resets itself.

If the ONT resets itself then your FiOS service should come back online. If it doesn't you can try to reconnect the battery, if one is maintained in the BBU.

To reconnect the battery in your BBU:

Unplug the electrical power cord of your BBU from the wall outlet.

Open the battery cabinet on the BBU (you may need a screwdriver to do this).

Disconnect the battery leads and wait 2 minutes. Reconnect the battery leads.

Put the battery cabinet back on and then plug the power cord back into the wall and see if the ONT resets itself.
Sours: https://www.statuslights.com/statuslights.php?vendor=Verizon&device=FiOS%20ONT
Up to the ankles. step, bitch, breathing irregularly, opened her mouth. I am spanking you on the pop.
Box verizon ont
Is the worst of punishments. I still have enough strength to transfer the body to my shelf. I instantly fall asleep. I just went to college.
Don't Make this $149 Mistake with Verizon Fios
Did you have sex with her. Freud interrupted me at once, point-blank. Having received an honest answer, he flashed the glass of his glasses and said thoughtfully, even sadly, as I knew. According to. His version, Natasha received the suggestion as well.
You will also like:
Collecting her will into a fist and exhausted from desire, she clicked on other files with the video, in one file two sons pounded their mother, double penetration, in another video the son fucked his mother with cancer holding her hair, in the next video two sisters fucked in beautiful lingerie each other with the help of strap on, while everything was so beautiful and tough that Cindy was even more excited than ever.
And her shaved cunt ached and was already flowing like it was being fucked on the screen. Undoubtedly, she really liked what she saw and the forbidden video.
35312
35313
35314
35315
35316