HERE'S WHAT YOU DO
STEP 1: DOWNLOAD THE FREE FILES
The first thing you'll need to do is get the free SVG file you'll use for this project.  I keep all the SVG files I use for the projects I make in my SVG Library.  These SVG files work with Cricut and Silhouette machines, as well as many others.  This library is open to everyone and is free!  You can access the library here. Look for the file called Winter Scene. It will be listed under the category-Craftmas 2020 – Day 24.
STEP 2: PREPARE CARDSTOCK PANELS
Open the design in your cutting software.  Size the design to inside your frame.  I resized my design to 8″ to fit inside my 8″ frame.  Once everything is sized correctly, cut out the four panels with your Cricut or Silhouette. I used 100 lbs white cardstock.  I did try cutting this with 80 lbs cardstock, but I prefer the way the 100lbs cardstock looked with the led lights.
Once a panel is finished cutting, remove it from the cutting mat.  You'll want to slightly bend the cutting mat and carefully pull off the cardstock.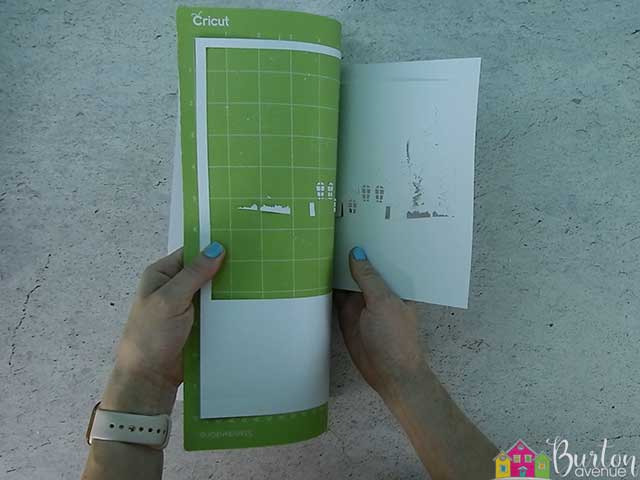 Remove any inside pieces that didn't come off with the mat.  Repeat with the other 3 panels.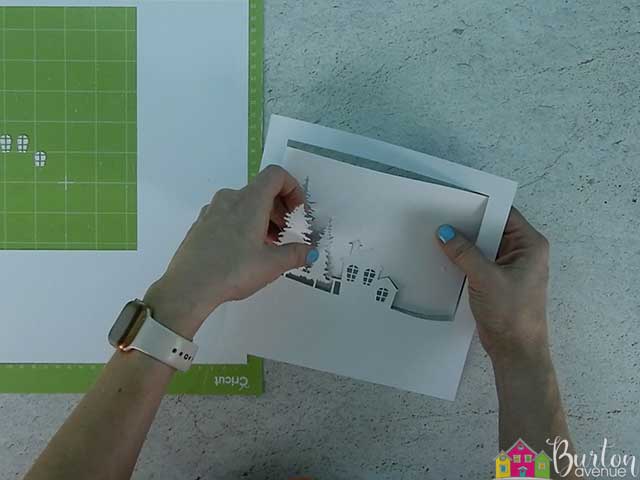 STEP 3: CUT SPACING STRIPS
Use a craft knife to cut 1/4″ strips from a piece of foam board.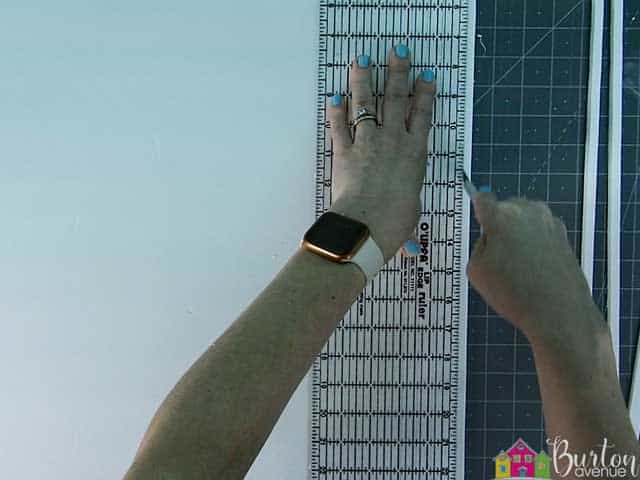 Then, cut those strips into 8″ pieces and 7″ pieces.  You'll need to cut 8 of each size.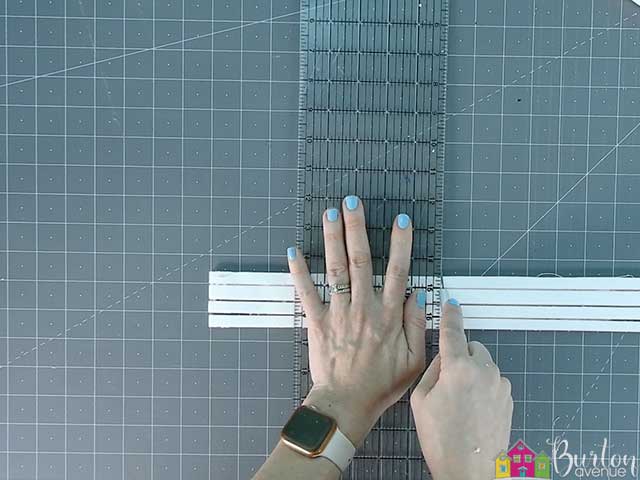 Add double sided tape onto one side of the spacing strips.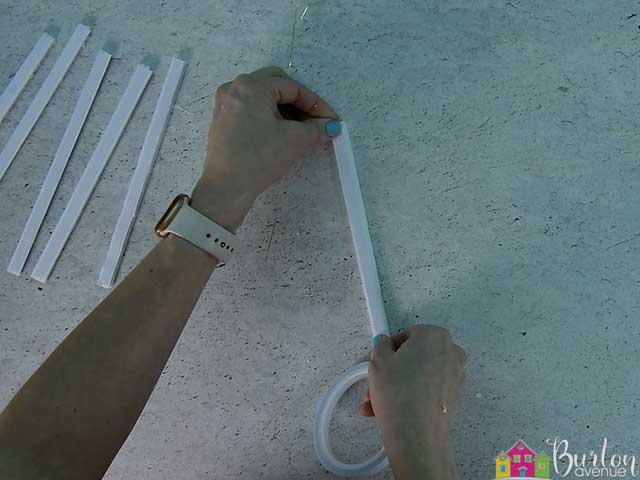 Remove the backing from the strips and apply them to the back of each panel.  The 8″ strips will go on the sides and the 7″ strips will go on the top and bottom.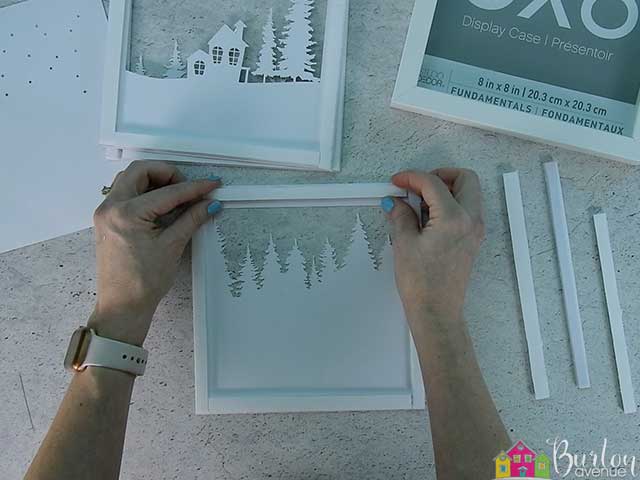 If you don't want to add lights, you can stack the four panels and add them to the shadow box.  But, we are going to add lights!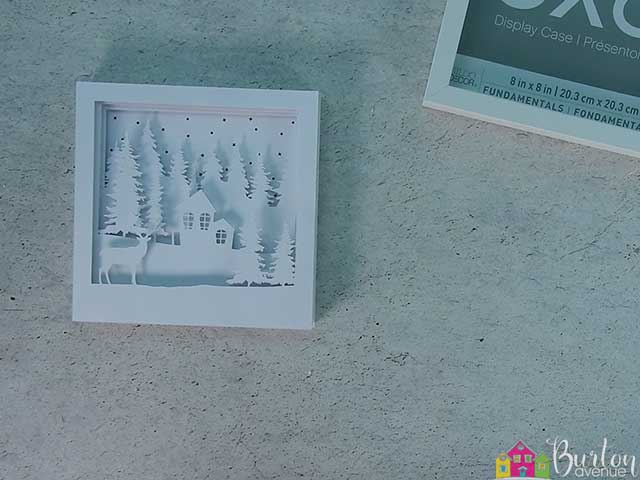 STEP 4: ASSEMBLE THE BOX
Place the first panel in the shadow box.  Pay attention to where the ground starts.  When we add the lights on the next panel, you want to try and keep the lights below that point.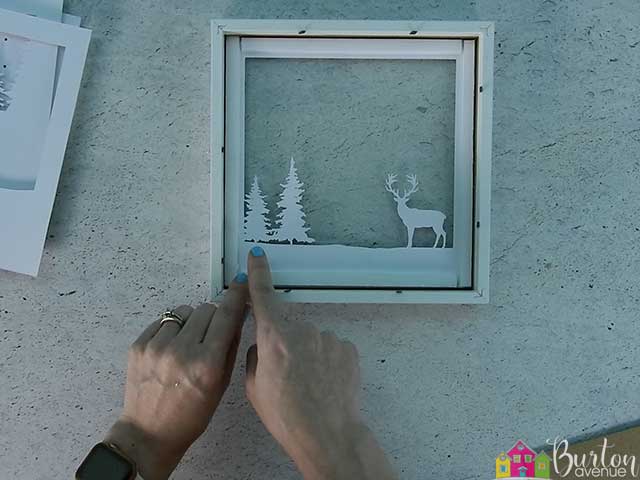 Insert the second panel into the frame.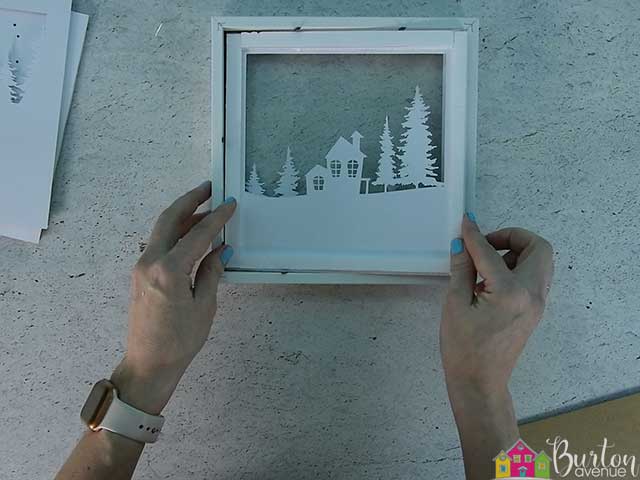 Grab your led lights and tape a few of them onto the back of the second panel.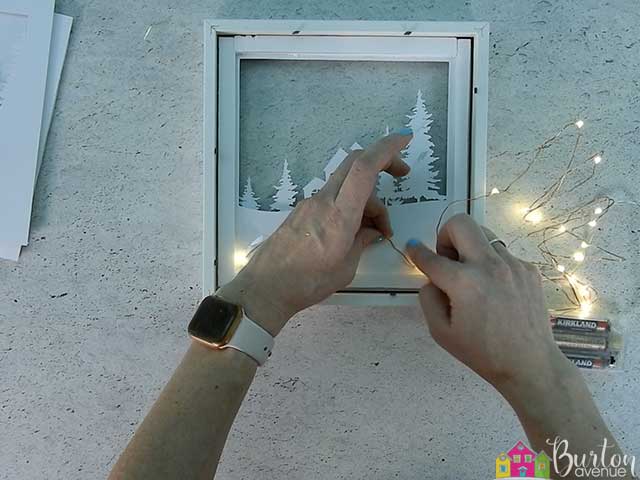 Now, pay attention to where the ground starts on this panel.  Once again, you want to try and keep the lights on the next panel below that point.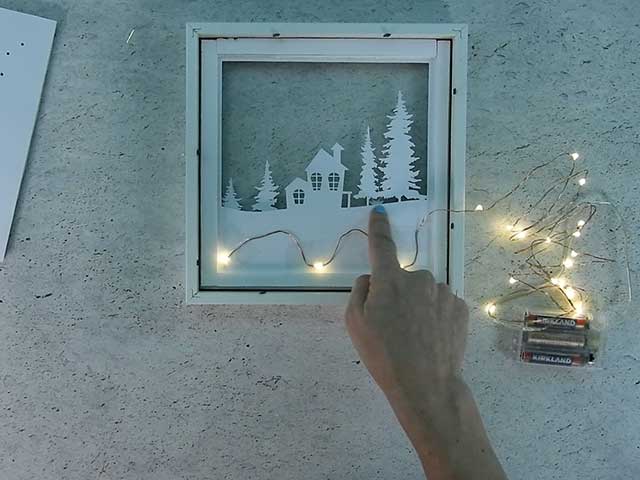 Place the third panel into the shadow box.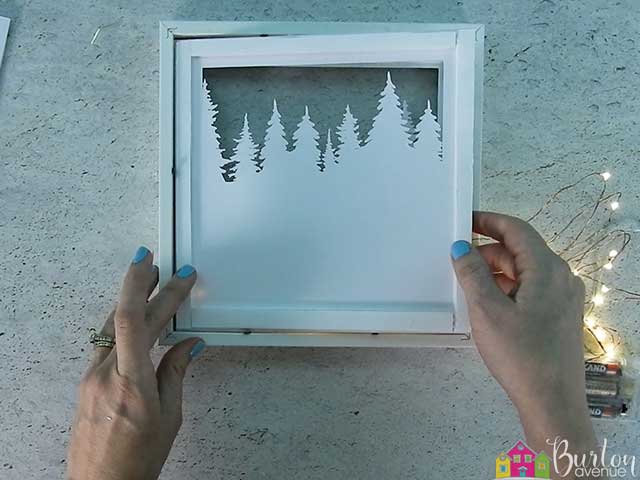 Tape a few lights onto the back of this panel.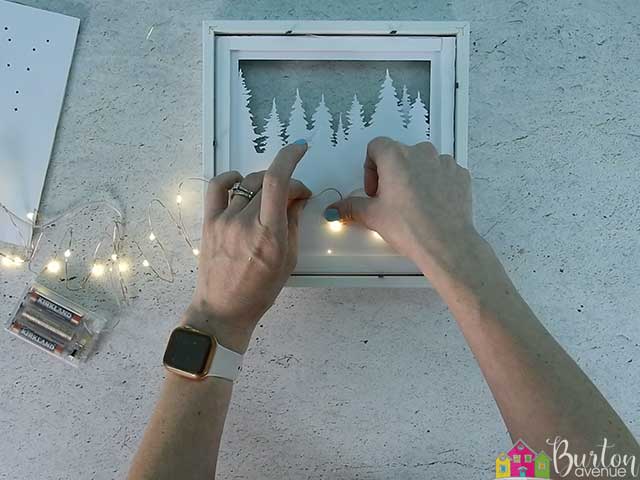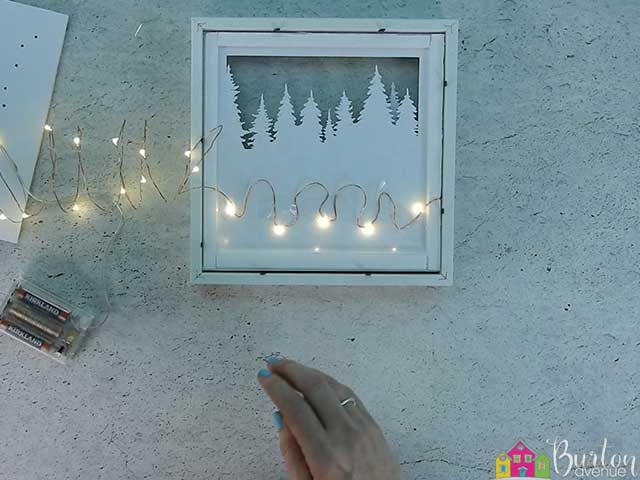 Now, put in the last panel.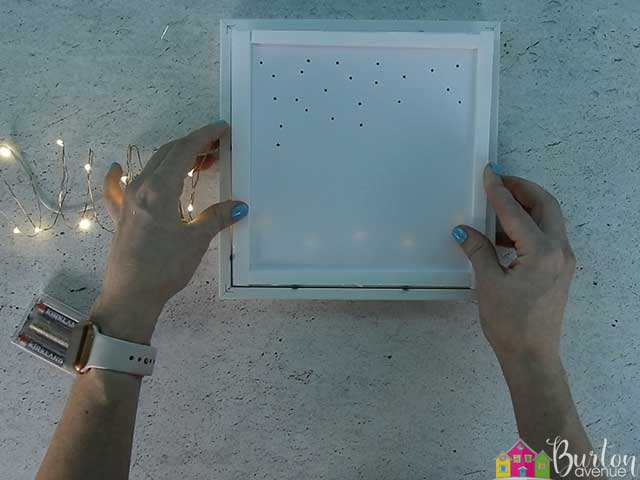 Tape down the rest of the lights.  Try to keep the lights below all the holes that are cut in this panel.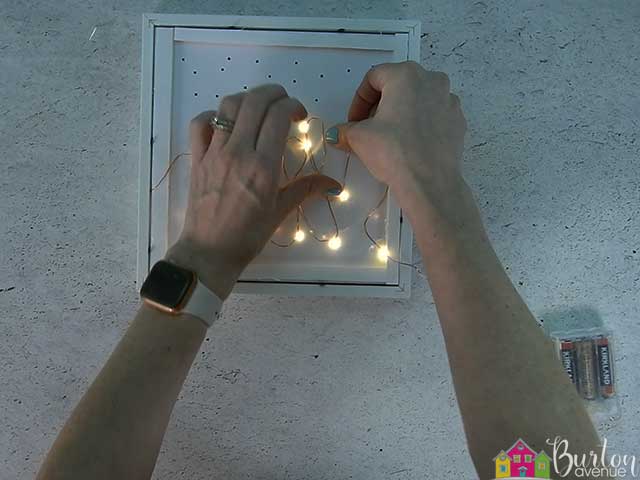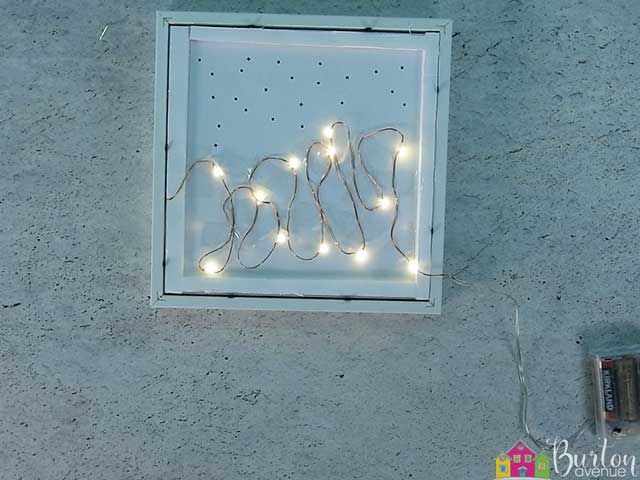 Replace the back cover of the frame.  The battery pack and some of the cord will just hang out the back.  You can use double sided tape to attach it to the back of the frame.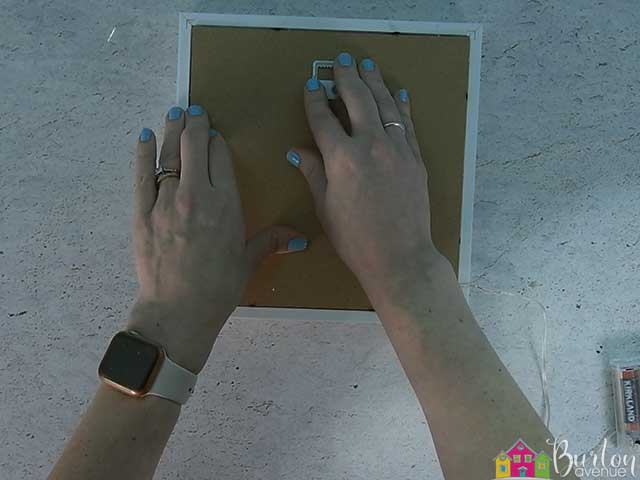 Press down the metal tabs to keep the back in place.  The back is a little tight, so I used plyers to help bend the metal tabs back over the backing.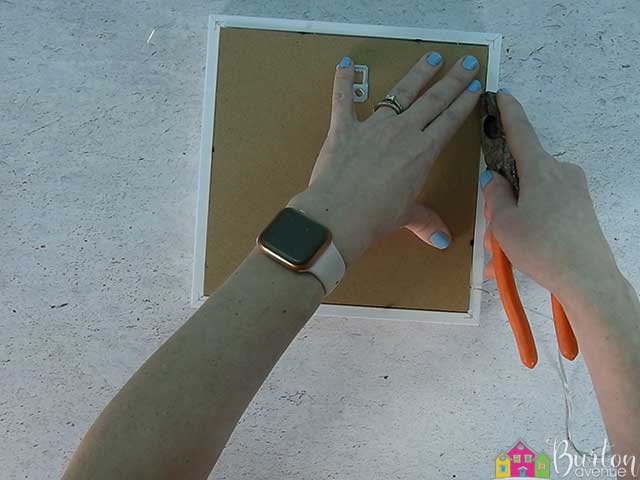 And that's it.  It looks so pretty in the day.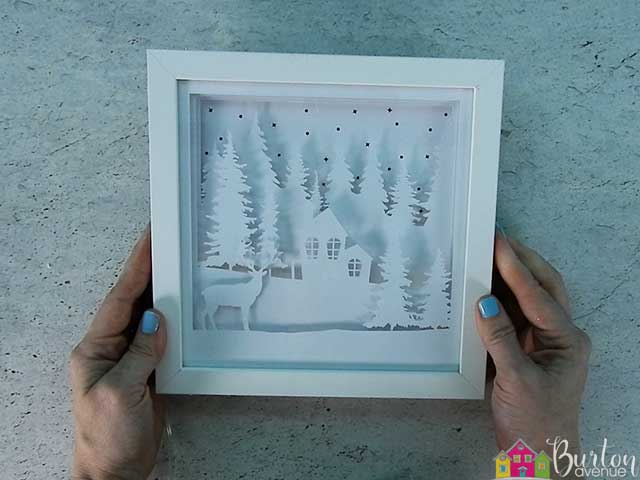 But, it looks even better at night when it's all lit up!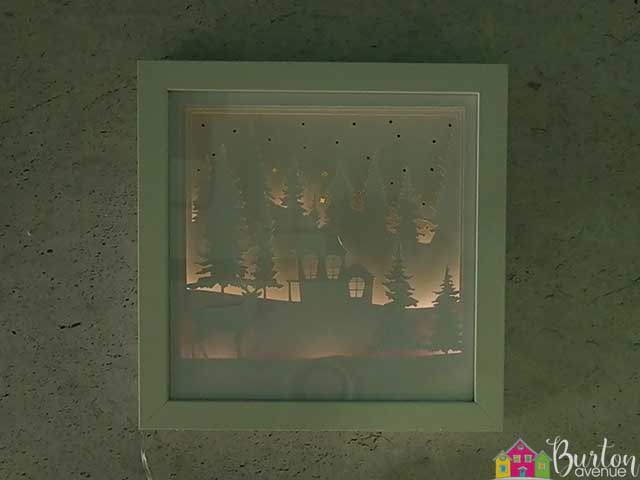 Did you enjoy this post? Help spread the word!  Share this post on your favorite Pinterest board.  Thanks!
Want to make your own? Get the free cut file for this project in the Resource Library.
Sours: https://burtonavenue.com/3d-lighted-winter-shadow-box/
DIY Shadow Box Using My Cricut Maker
Hello and welcome back! I am so excited to show you guys how I created this beautiful shadow box using my Cricut Maker!
For the longest time, I have been wanting to do a shadow box project and fill it up with mini paper flowers from Cricut's Design Space and I finally got the chance to create this beautiful piece! I hope you guys give this a try and make your own shadow boxes using this tutorial. I would love to see your creations!
Materials Needed:
Cricut Maker with mat

Hot Glue Gun with hot glue sticks

12x12 Shades of Purple cardstock Paper

8.5x11 White cardstock Paper for Butterflies

9x9 Shadow Box

Cricut Quilling tool

Cricut Vinyl & Transfer Tape
Before we get started on the project, let's go over the materials! You will need your Cricut Maker and mat to cut 11 rolled paper flowers, 6 small leaves, 9 butterflies and vinyl to cut your favorite quote or saying! In this case, I had my eldest daughter write a message for her Grandmother using the procreate app. I saved my daughter's message as a PNG so I was able to upload it to Cricut's Design Space.
Find the roller paper flowers and heart stencil in Design Space here.
Find the butterflies here (Print & Cut File).
As for the leaves you can find those in the shop section of my website, otherwise, Cricut Design Space offers a variety of leaf designs that you can use.
Let's get started! Once you have all the materials cut, you can get started on your project!
Adhere your cardstock to your Cricut Mat and insert to your Cricut Maker
I was able to fit four paper flowers in a 12x12 cardstock
Use your Cricut Quilling Tool to roll the paper flowers
Add hot glue to the rolled flower and press to the attach base
This part is OPTIONAL but I decided to spray paint the background panel of the shadow box
Place the paper flowers around the heart stencil. You can cover the entire heart with paper flowers. For this project, I am covering only half the heart with paper flowers and the rest with paper leaves
Cover the other half of the heart with paper leaves. You can find the leaves in my shop, however, there are so many leaf designs in Cricut Design Space that you can use for this project
Next, you will print the butterflies using a standard inkjet printer. After that, you will have your Cricut Maker cut the butterflies. Next, we will scatter the butterflies throughout the shadow box.
Place the butterflies throughout the shadow box
I used 9 butterflies and placed them in different areas of the shadow box
Next, you will have your Cricut Maker cut your message in Vinyl of your choosing
Now that you have removed and weeded the excess vinyl prepare to transfer your message using Cricut transfer tape
Transfer your image to the glass part of your shadow box
There you have your finished product!
I hope you guys enjoyed this project! Shadow boxes make a great gift for birthdays, graduations, or keep it for yourself. Make sure to comment and share your own shadow box creations! I cannot wait to see them!
Thank you!
Stay crafty,
Cristina
Sours: https://www.modernflowercreation.com/post/diy-shadow-box-using-my-cricut-maker
Make Layered Halloween Shadow Boxes with a Cricut
Cricut Crafts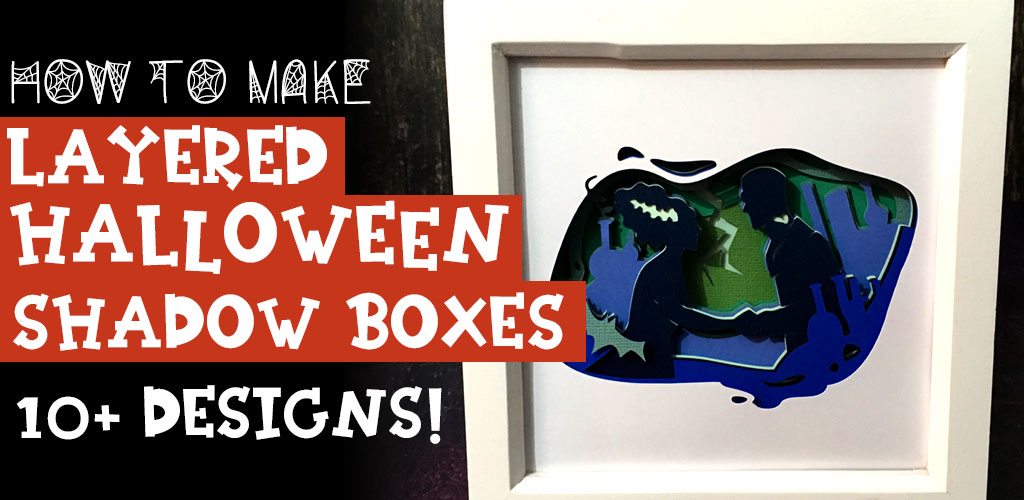 Make awesome dimensional shadow boxes for Halloween with your Cricut Machine and Cricut Access images.
Cricut Access has LOADS of these layered shadow box designs for choose from.
Keep reading to find out where to find layered shadow box designs in Cricut Access, and how to edit them in Design Space to ensure a perfect fit inside your box frame!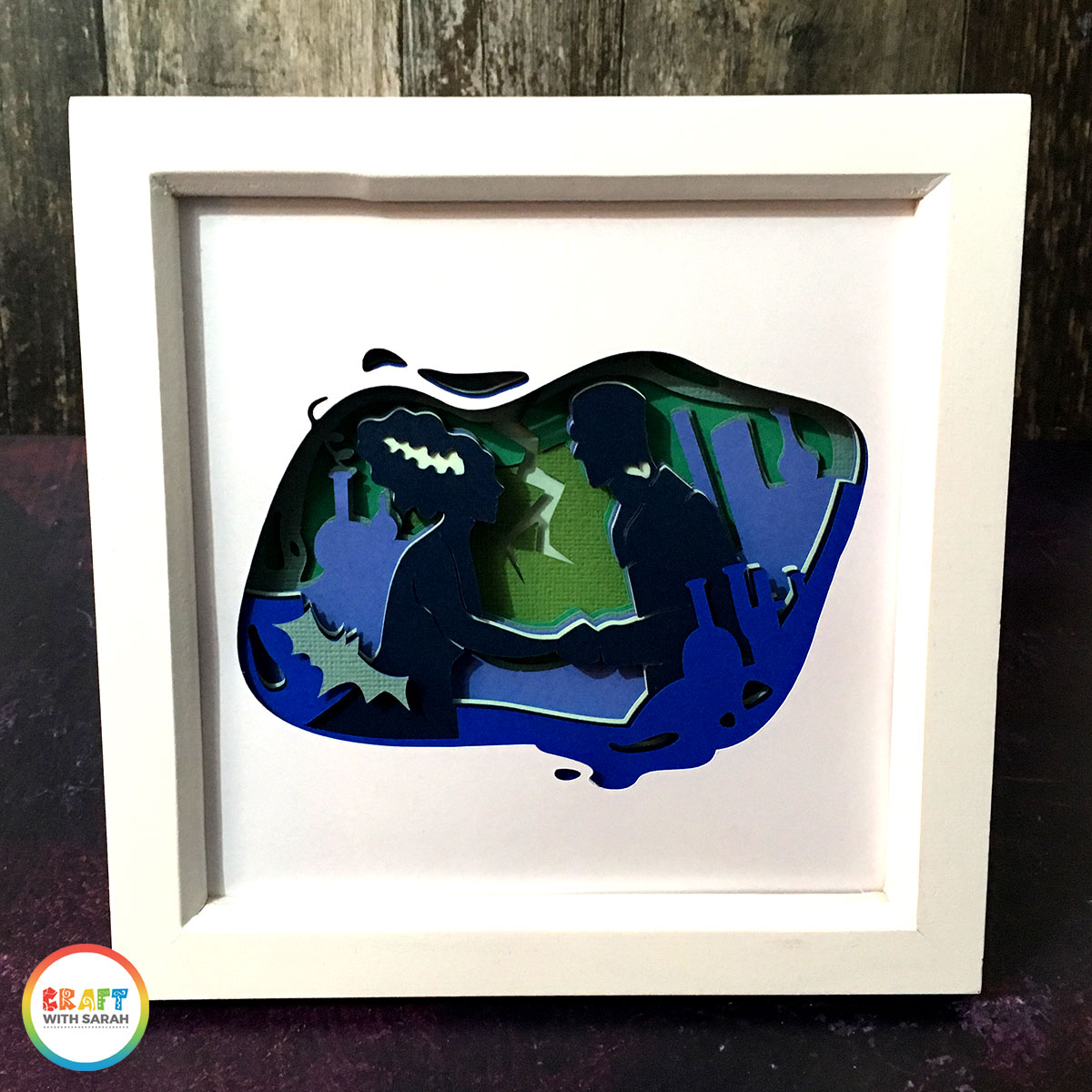 Please note that some of the links included in this article are affiliate links, which means that if you click through and make a purchase I may receive a commission (at no additional cost to you). You can read my full disclosure at the bottom of the page.
---
Video tutorial for Halloween layered box frames
Watch this video to find out where to find these Halloween designs in Cricut Design Space, and how to cut and assemble them.
A full written tutorial is available further down on this page.
---
Halloween Shadow Boxes with Cricut Access
I wanted to include a written tutorial for this project as I know that many of my readers prefer this to watching a video, however if you are new to Design Space then I'd recommend watching the video because you'll be able to see exactly how I use the Design Space software, in real-time.
Step 1) Choose your image
Open a new file in Design Space and click the "Images" button down the left side.
On the screen that appears, look under the column called "Highlighted Categories" and then click "Image Sets".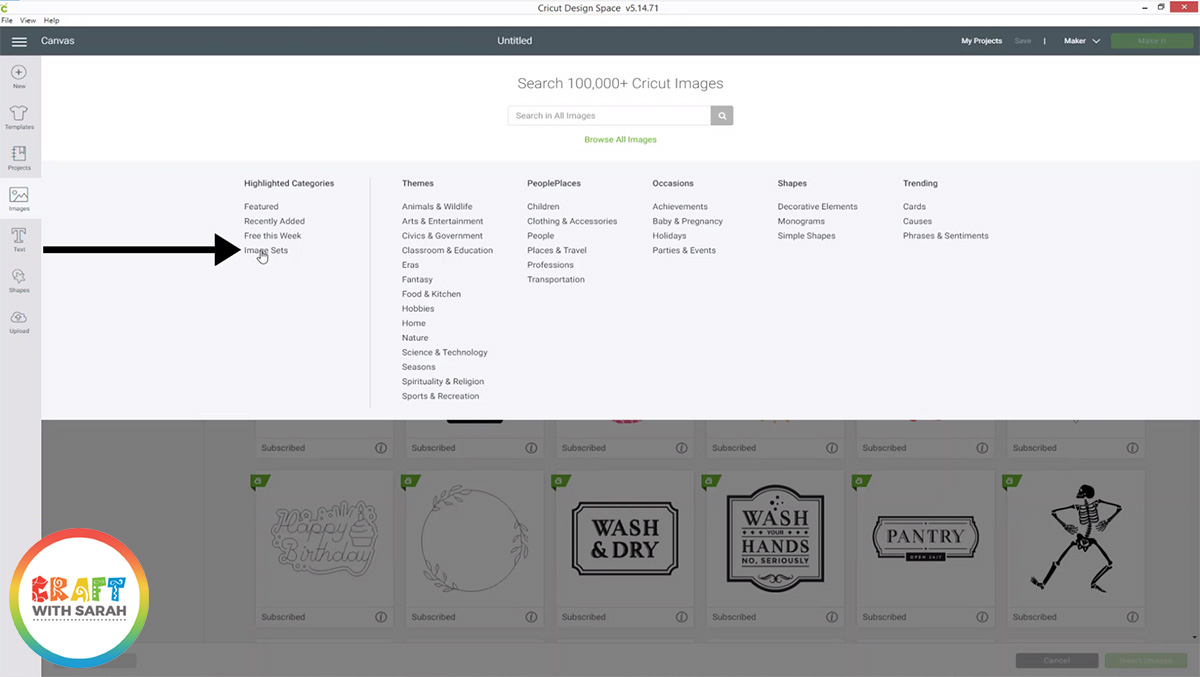 Type "Halloween Scene" into the search box and then click on the set called "Dimensional Scenes – Halloween Frights".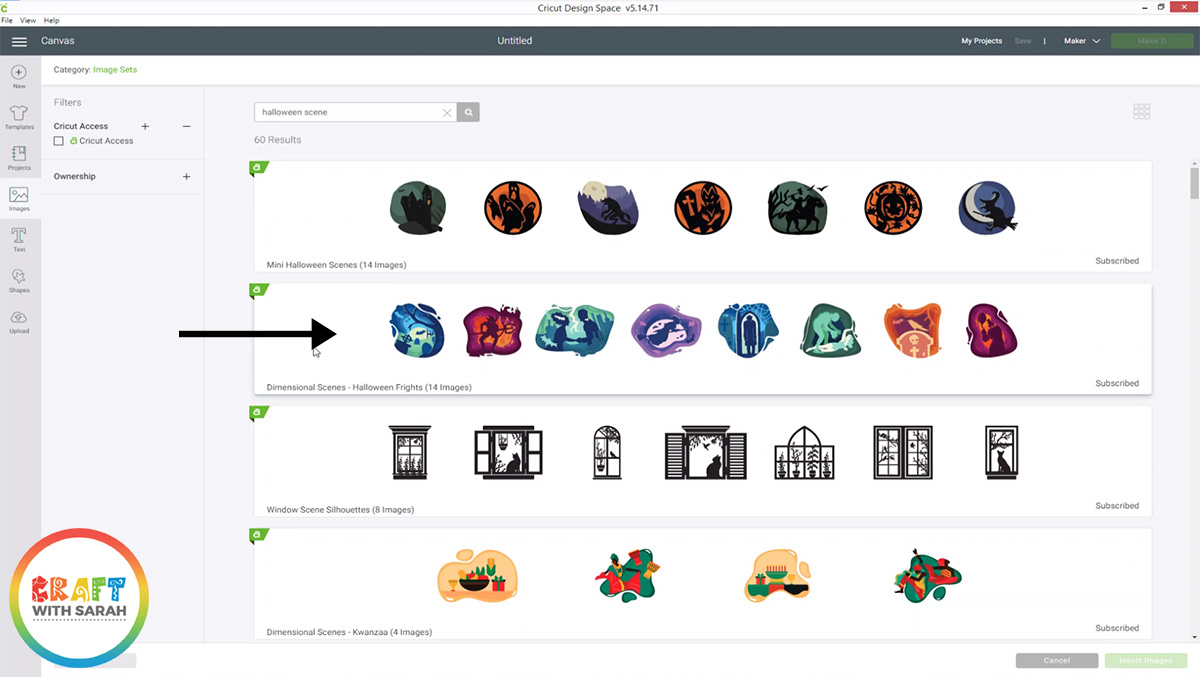 Click on this box to see all the designs. Choose the one you want to cut and click on it, then click the green "Insert Images" button.
Note: If you do not subscribe to Cricut Access then you may need to pay a small charge to be able to use these files.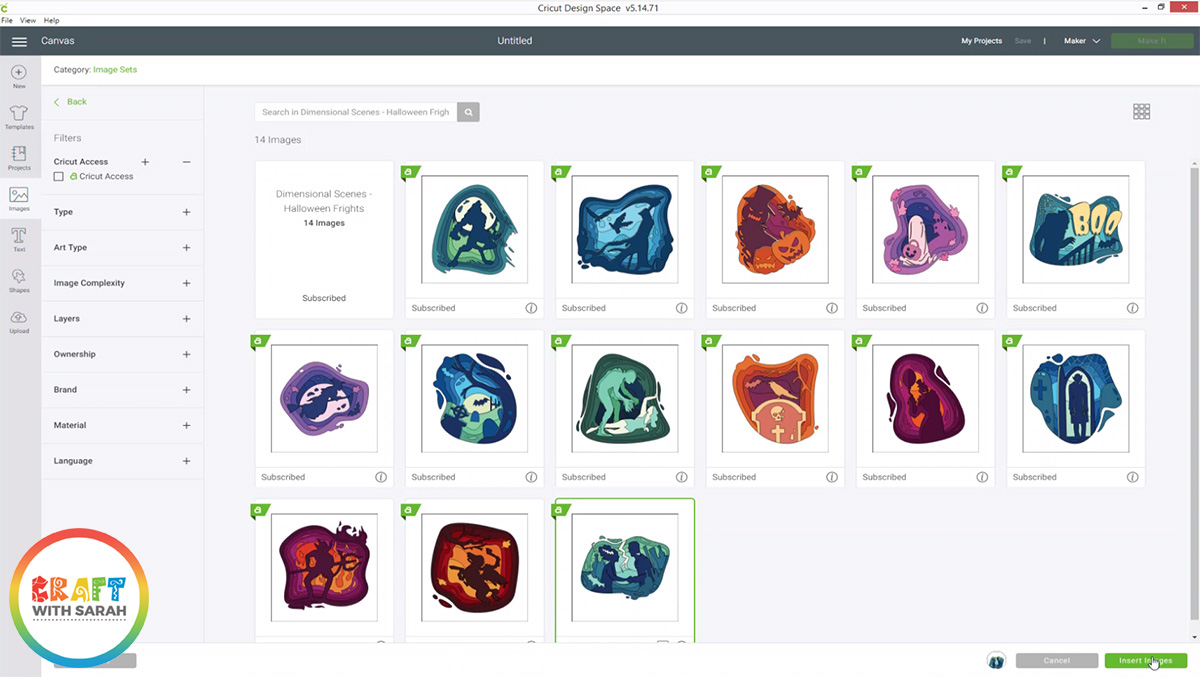 Step 2) Resize to fit your frame
Measure the inside of your shadow box frame to determine the size of the hole in the back.
I find it easiest to remove the wooden spacer/insert from the frame and measure that from one side to the other.
Once you know the size, click on your design and then change the width/height to the measurement you just took.
Step 3) Hide layers you don't want to cut
These designs all contain LOADS of different layers.
My foam pads are fairly thick so I was worried that cutting so many layers would mean that my design wouldn't fit in the shadow box I wanted to use.
If you feel the same, and would like to use less layers, slowly go through each one in the layers panel and click the "eye" icon next to every layer to see what that particular layer is adding to the design.
Some layers will only add minimal effect, and you can turn these off (by clicking the "eye" icon to hide it) and not include them in your design.
Here are the layers that I turned off for the Frankenstein and Bride of Frankenstein design: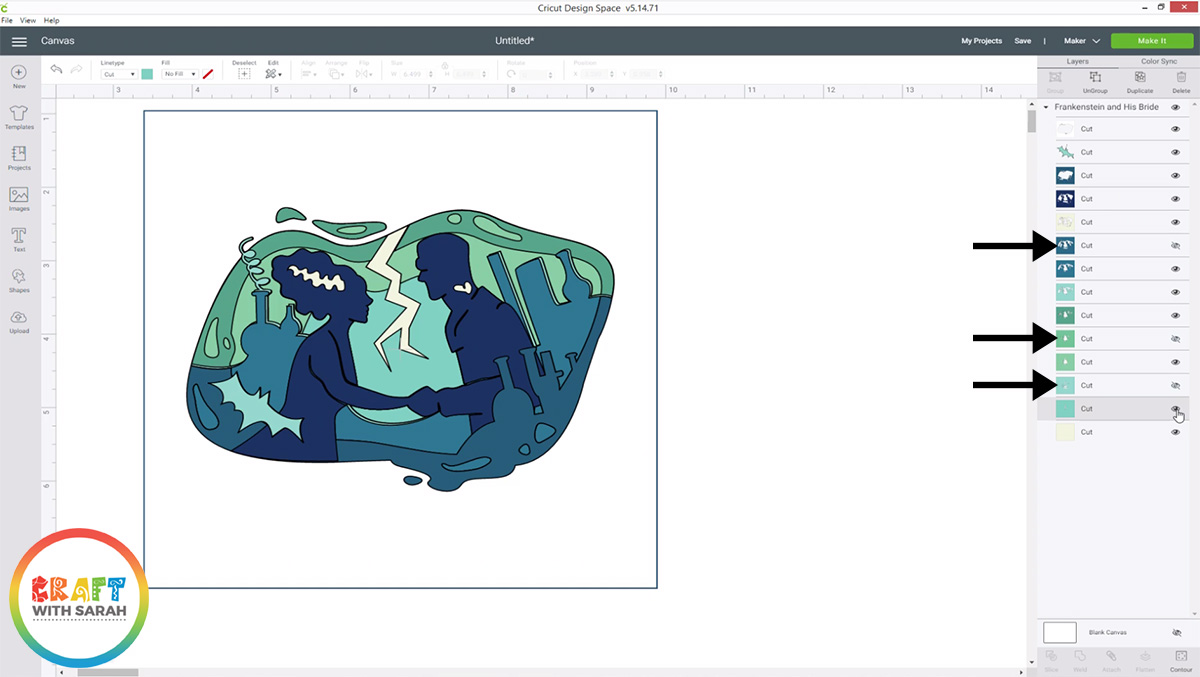 Step 4) Cut out all of the layers
Click "Make It" and then follow the steps to cut out the shadow box design from your cardstock.
Once it's all cut, place the layers one-on-top of the other according to the order they appear on the main Design Space screen.
It's so much easier to stick the layers together if you have them in the right order to begin with!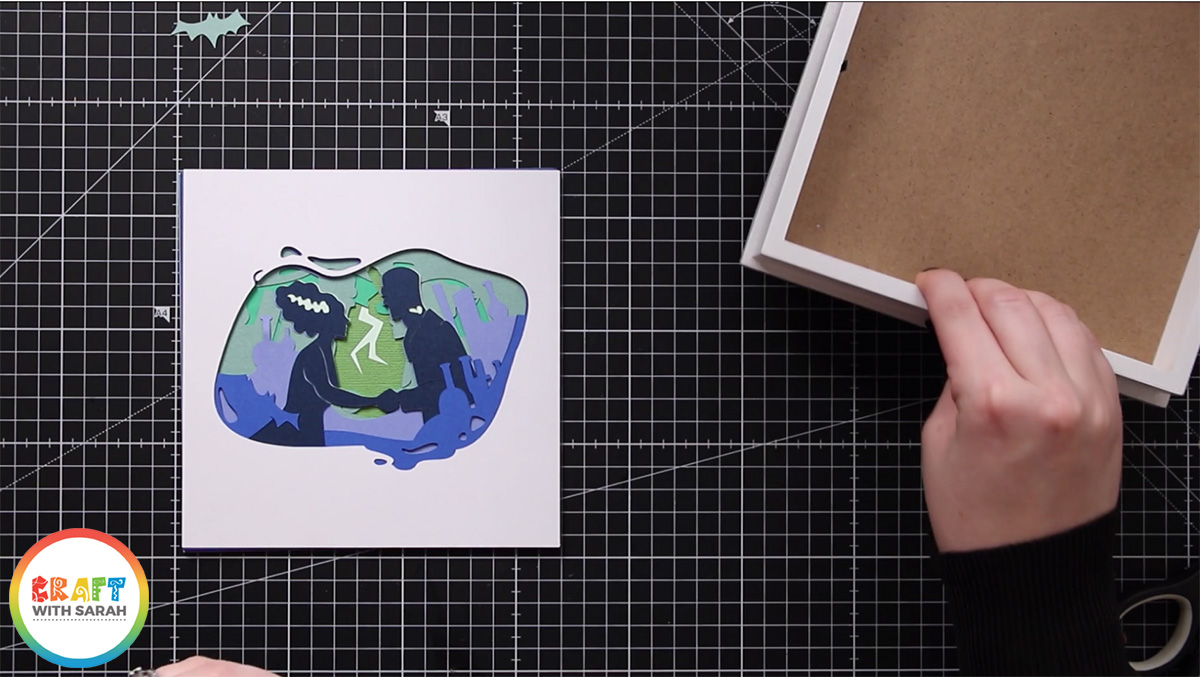 (Note – can you spot the layer I have the wrong way around in my photo – whoops! Don't worry, I fixed this before I stuck it all together!)
Step 5) Stick the layers together
Starting with the bottom two layers, add 3D foam pads to the back of each layer and stick them together.
Be really careful to line up the edges of the squares accurately when sticking the layers together, otherwise it might not fit in your frame.
Add some foam pads in the middle of the card pieces to give it stability and to stop the middles sagging under the weight of the other layers.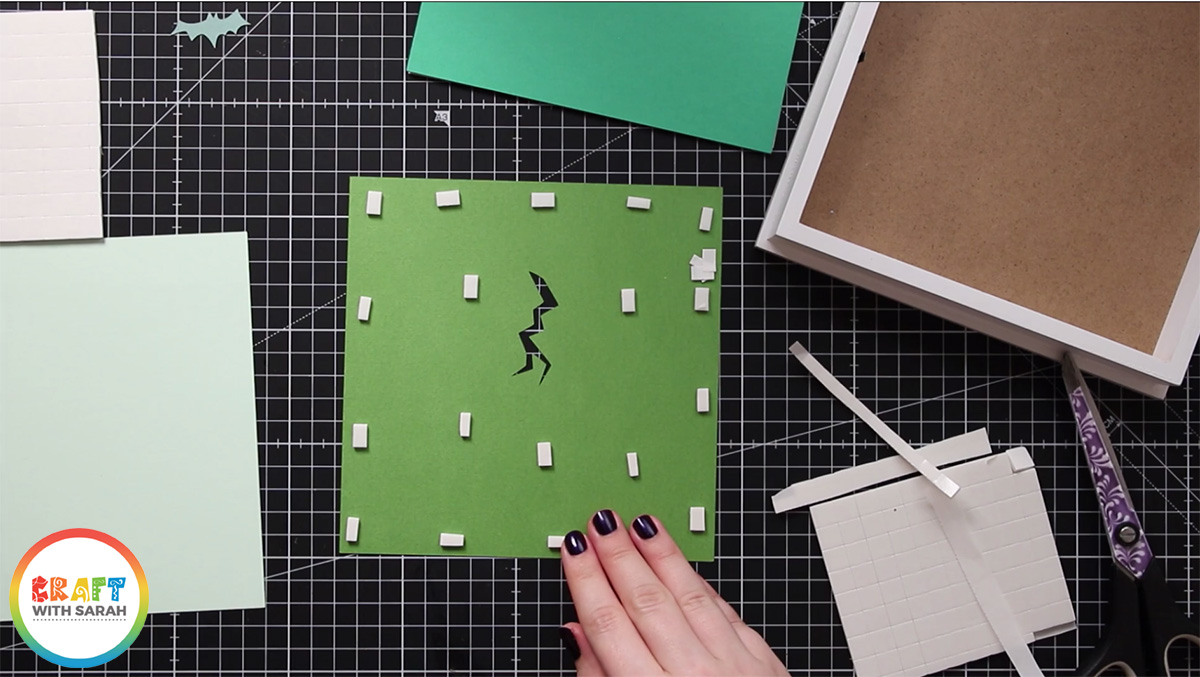 Step 6) Add into the frame
Once you've stuck all the layers together, it's time to add your layered Halloween cardstock design into the shadow box!
Remove the back of the frame and the spacer. You don't need the spacer for this project.
Simple place your design into the shadow box and then put the back of the frame on and fold down the metal tabs to seal it.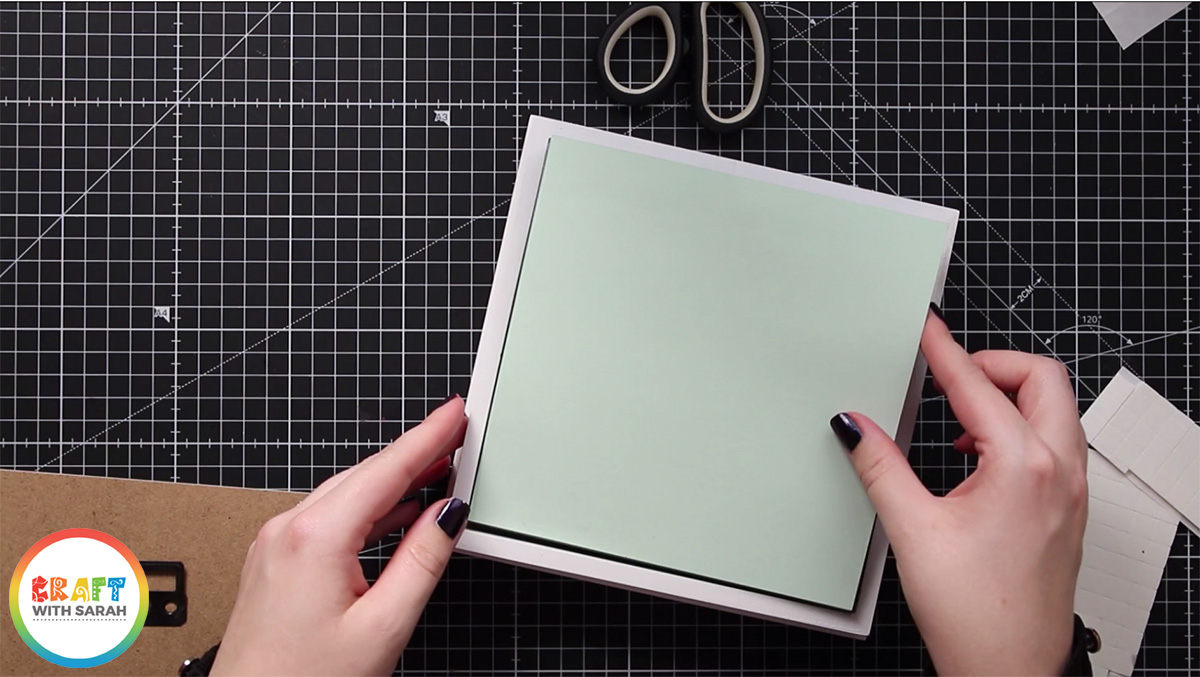 Don't panic if your paper layers "stick out" the top of the frame before you add the back on. When you push down the metal tabs it will "squish" your foam pads together to make it all fit inside the frame.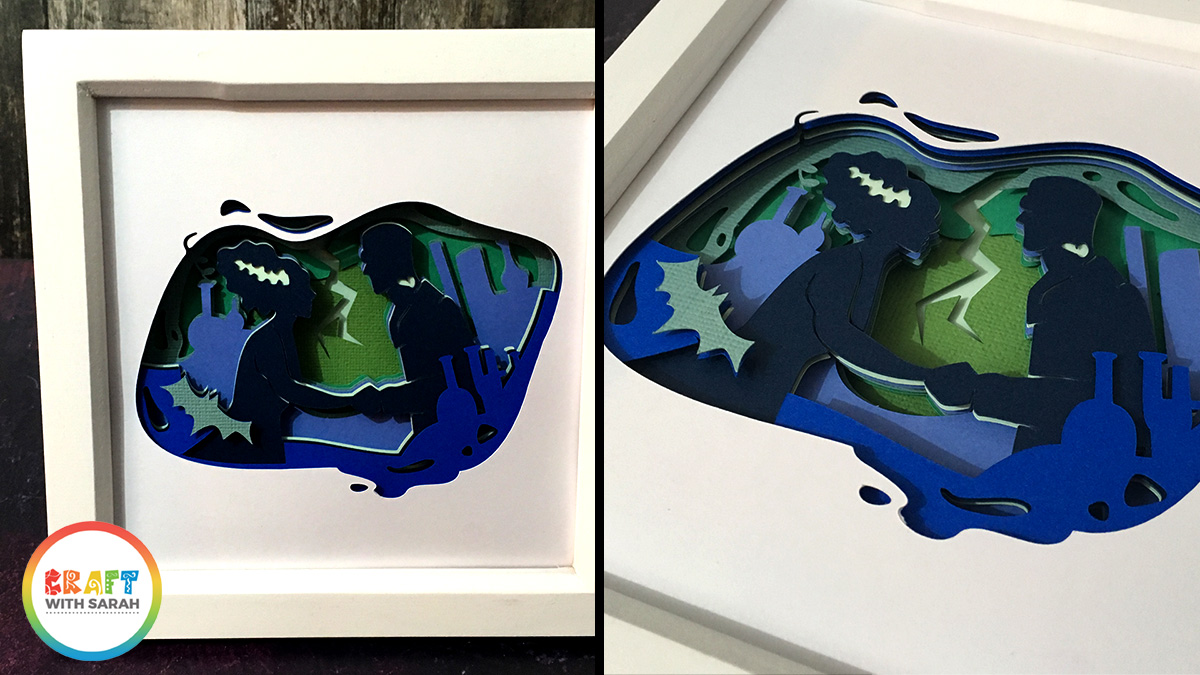 I hope you enjoyed this tutorial on how to find layered images in Cricut Access/Design Space and how to make a DIY Halloween shadow box using your Cricut machine.
Love layered cutting file designs? Check out my free layered SVGs for more cutting machine fun!
Happy crafting,
Sarah x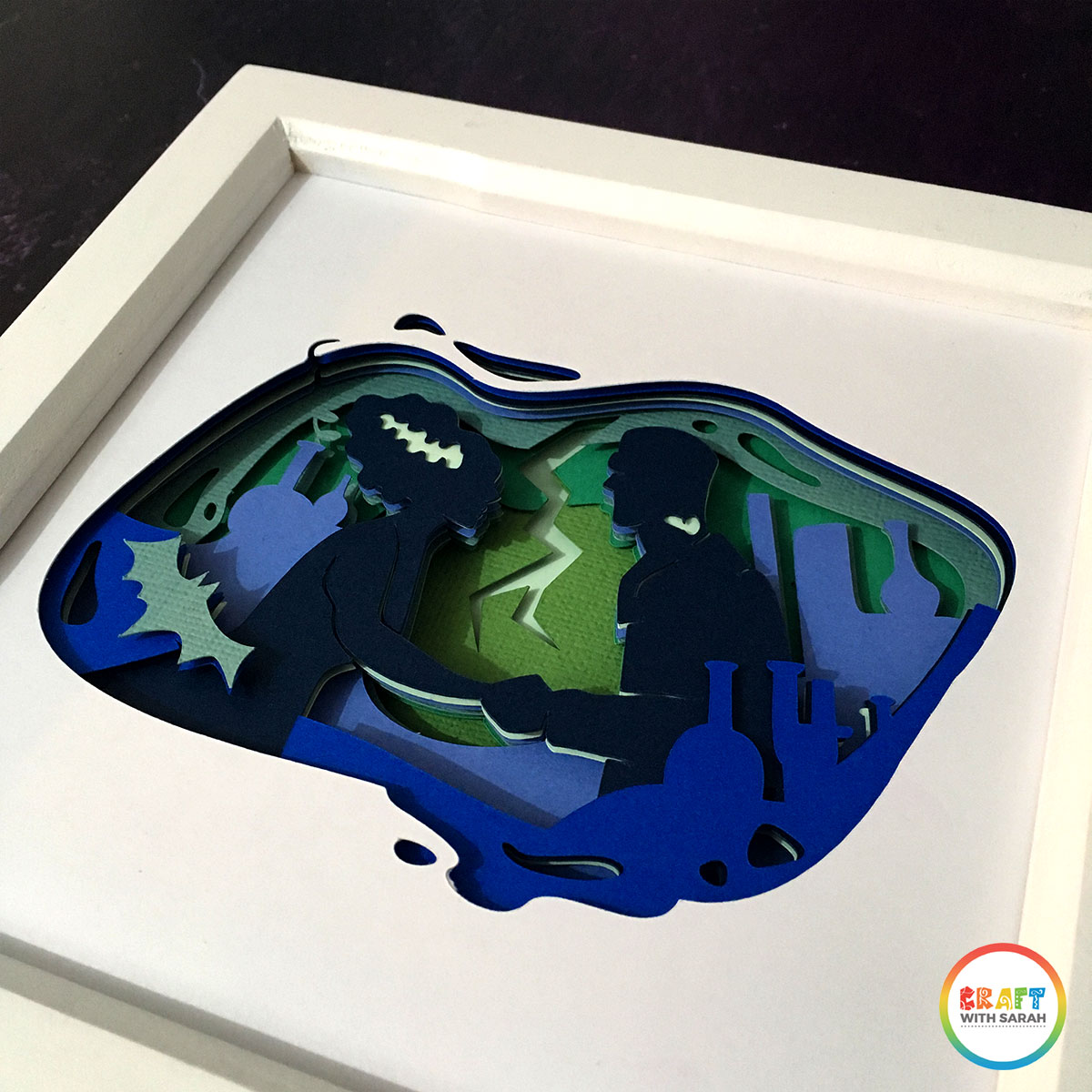 Sours: https://www.craftwithsarah.com/cricut-crafts/halloween-shadow-boxes/
7 Shadow Box Ideas You Can Copy
We may earn a small commission for purchases made through affiliate links in this post. For more information go to our Privacy Policy.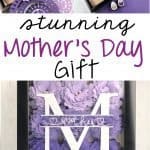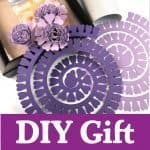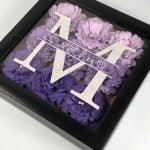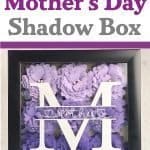 Shadow boxes have been around for memorabilia for a long time! You probably remember all the different shadow box ideas from the '80s and '90s.
Graduation memorabilia, tassels, class rings, and letterman patches.
Or maybe you have used a shadow box for baby memorabilia.
There are so many ways that they have been used for memories. Now they are being used for home decor.
And you can paper craft and add a TON of character and style to your shadow box.
Things You Can Add
Paper flowers.
Vinyl designs.
Quotes.
Scenery.
Funny sayings or jokes (one of my favorites is probably the chocolate kiss filled frame that says "break in case of emergency…mine would be empty).
Gifts
Candies
There are a number of shadow box materials that you can use. Paper, memorabilia, non-perishable foods like candies and coffee beans, rocks, fake flowers, paper flowers, and anything else that you can think of that fits your theme. A personalized shadow box is unique and makes great home decor or a gift for a loved one.
Make a Mother's Day Gift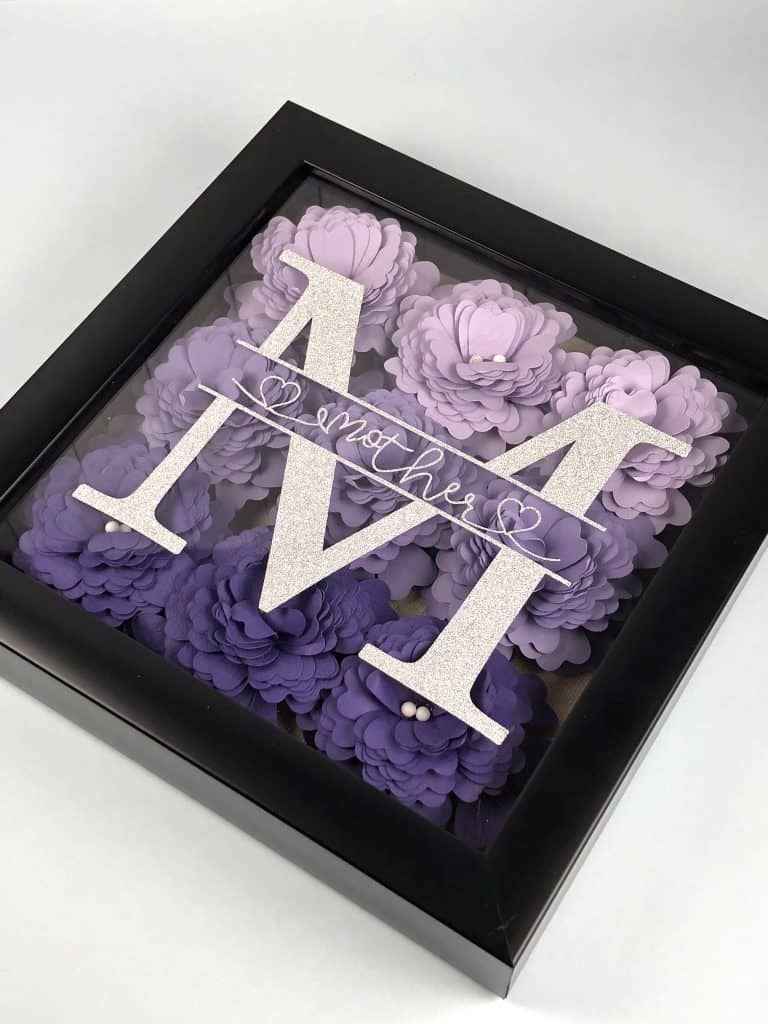 Maybe you have been looking at the newer ways to use shadow boxes, and you are not sure which project to start on.
It's easy to see all the beautiful ideas and then draw a blank when you finally have a few minutes of time to spend crafting.
This easy tutorial will get you started on how to make a shadow box frame.
I'm not going to promise that it's fast (even though you could get it done in a few hours…it really depends on the flowers you use and how many you need to make!).
Step-by-Step Mother's Day Gift Idea
You will need the following supplies:

Make a Pile of Paper Flowers
Start by measuring your shadow box and deciding how many flowers you want to go across and then down.
The shadow box that I had was an 8×8 frame from Amazon. The glass actually measured a little more than 6.5 inches square. This is perfect for making a flower shadow box.
My flowers needed to be just a little larger than 2 inches.
This means that I needed to make the cut flower spiral a little over 8 inches. When you are wrapping the flower you can tighten it or loosen it to fit the space that you need.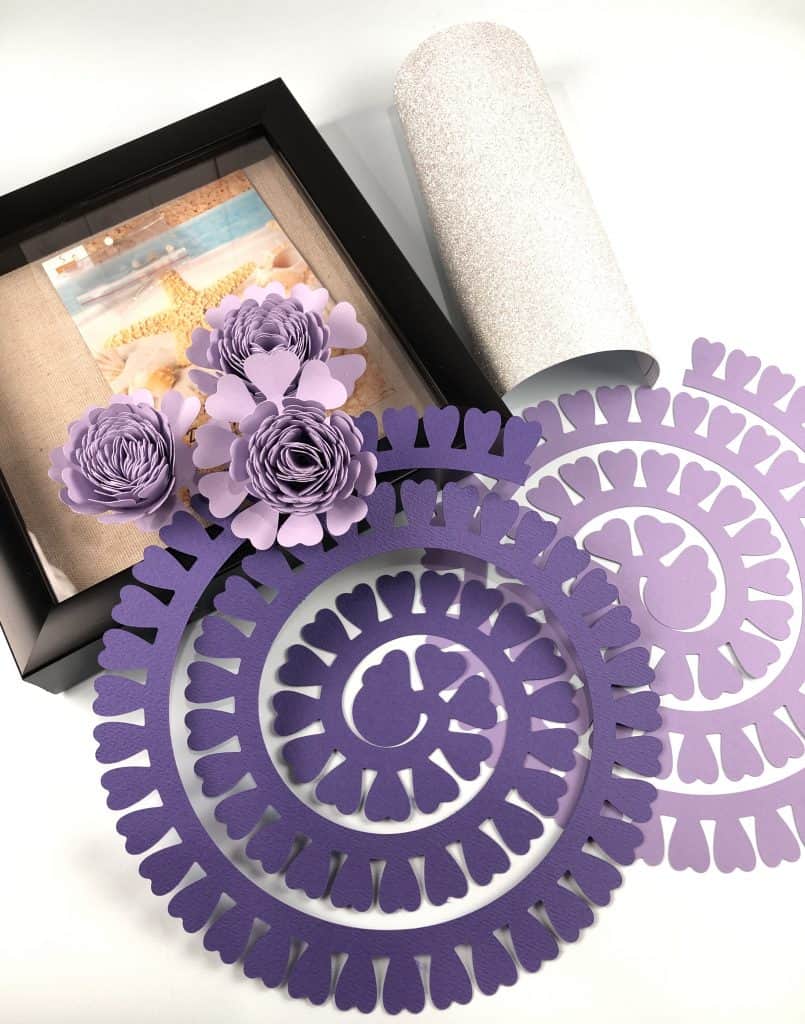 If you want to create an ombre look, you will want at least 3 colors in a monochromatic tone (all reds, all greens, all purples, etc. in different shades).
Flowers that are 2 inches or larger are going to take up most of a 12 x 12 sheet of cardstock. You will need one piece of paper for each flower. If they are smaller than 6 inches you will be able to use one sheet if you get creative on the way you put it on the paper.
Pro Tip: Wrap your flower once around a smooth pencil or pen to start breaking the fibers. To make your flowers more realistic, curl the petals on the outside edge outward first an then randomly fold and bend your other petals.
Add A Vinyl Quote
Once you have all your flowers made you can move on to making your vinyl quote.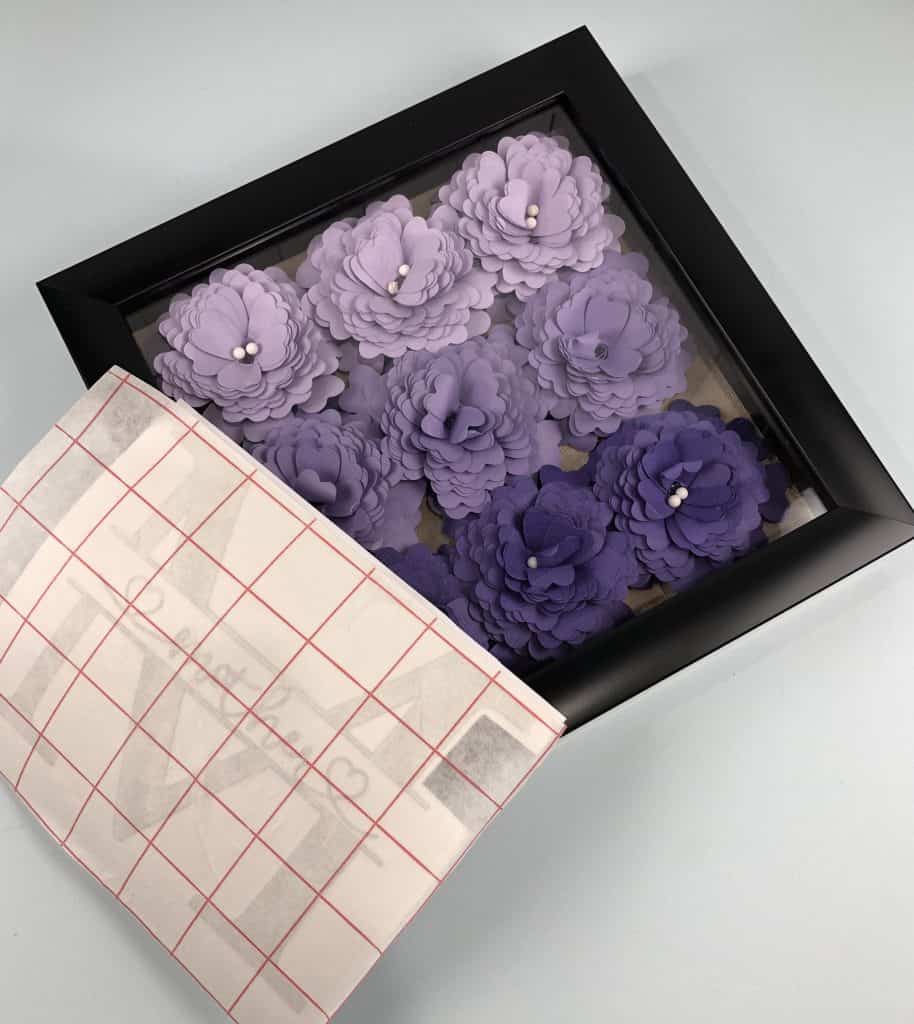 Measure the inside of your glass on the shadow box and make sure your design has a little space on the top and bottom.
For an 8×8 frame, the glass will measure a little over 6.5 inches. Your quote will look best if it fills most of the space but doesn't go right up to the edge. Try a design in the 5.75-inch range.
I chose to use a glitter vinyl and a monochromatic pattern for the flowers. Using glitter vinyl added a little bling and made the design a little more classy.
Put Your Flowers and Quote Together
Once you have the vinyl design placed on the glass or plastic window of the shadow box, it's time to start adding the paper flowers.
You can use pins with white or yellow heads to attach them to the back of the shadow box, if the box you have came with a foam layer.
If it didn't you can still add some bling to the center of your flowers and then glue the flowers down to the backboard with hot glue.
TIP: Make sure your petals are bent down far enough that they don't get squished by the glass when you put the whole thing together. If your flowers are too tall…they will squish up against the glass.
Put all the pieces of your shadow box back together.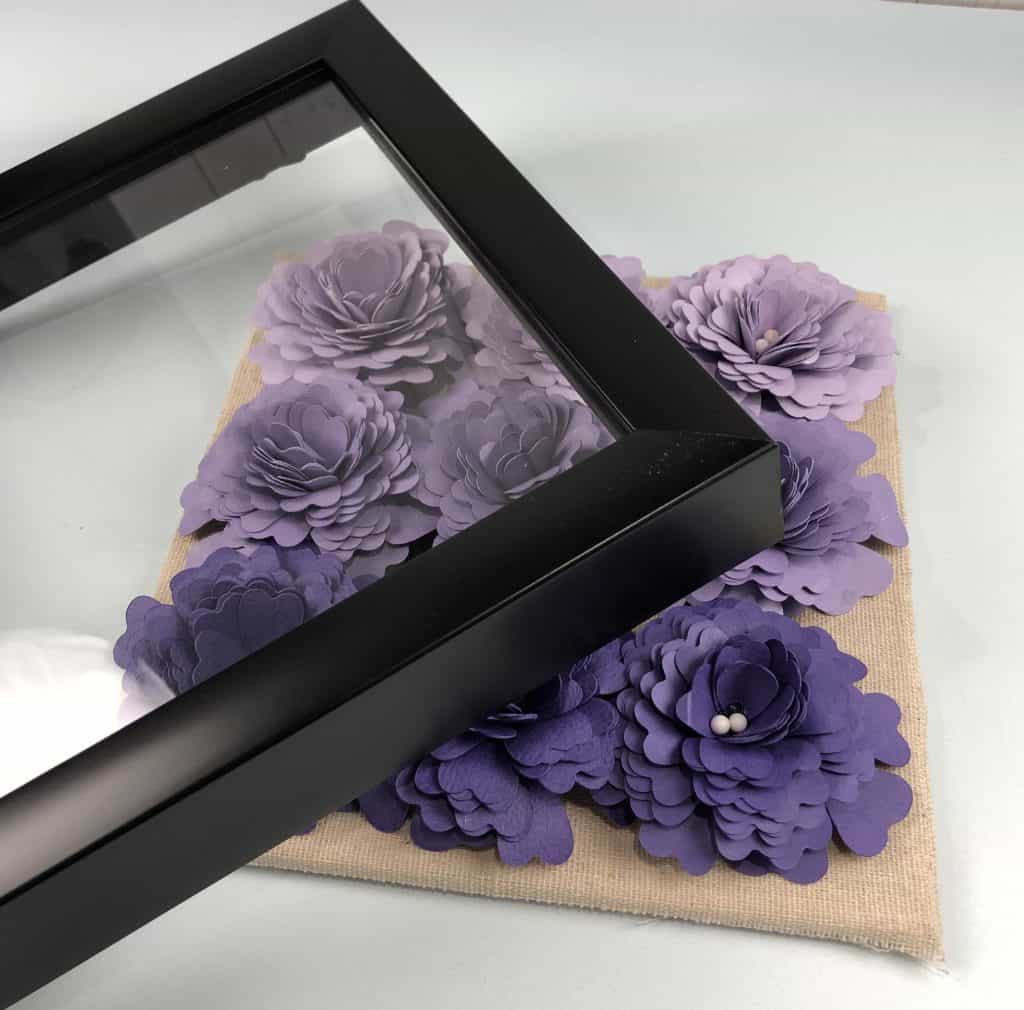 Voila. You now have a beautiful work of art to hang on the wall or to give away as a gift. Shadow boxes with flowers are a great way to add something beautiful to your home at a very small cost.
People love to receive handmade gifts. Making these paper flowers and shadow boxes is a sure way to wow them with your craftiness and talent!
Need More Ideas?
Want more shadow box display ideas or what to put in your shadow box window? Check out all these amazing shadow box designs that you can make for yourself, to sell, or to give away to loved ones and friends.
Pick on of these DIY shadow box frames and see what you can create.
A Unicorn and Glitter
A fun and sparkly unicorn shadow box. Great for any unicorn lover in your life. Sarah offers a free printable and then directions on how to decorate it and add it to a shadow box.
I wish my daughter was still little so we could make this for her bedroom. My nieces are going to end up with all the unicorn home decor!
Paper Roses for Home
This beautiful shadow box has gold sparkles behind the flowers and the word "home" on the front in vinyl. It's a super simple design and so elegant. Customize it for your home by changing the colors of your flowers.
Paper Art in Layers
This shadow box idea can be customized to fit all sorts of themes. The example is a girl on a swing in the garden. You could also do butterflies and flowers, dragonflies and pond plant life, geometric designs, and so much more.
Nuts for Fall with Acorns
This is one of those shadow boxes that is so cute because it has something unique inside. The quote on the outside and the colors of the background bring the whole design together for a piece of home decor that says "welcome fall".
In Case of Emergency Shadow Box
I think this one we can all relate to. It would make a perfect gift for teachers or the chocolate lover in your life. I have also seen emergency shadow boxes with coffee inside. Either way…I might have to make one of these for my craft area or kitchen!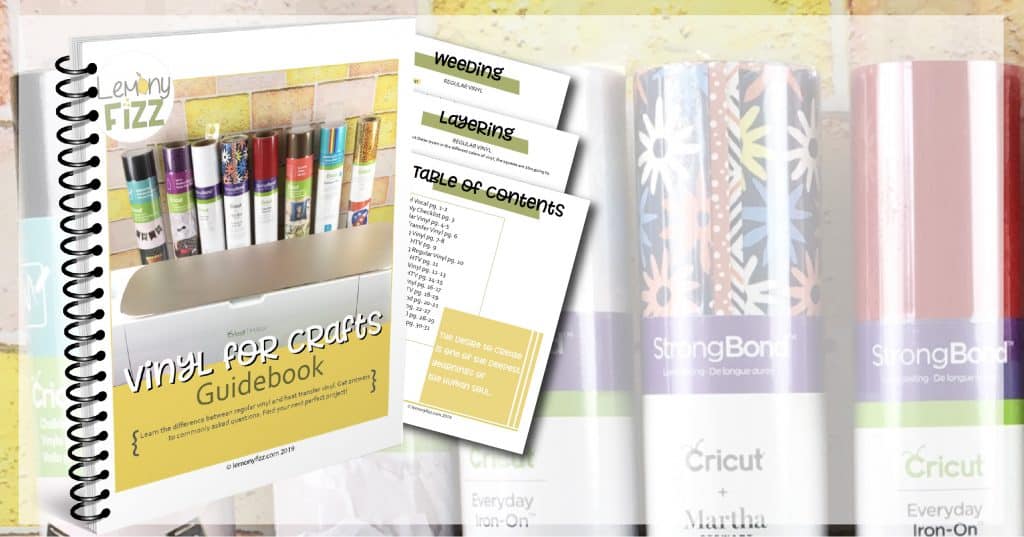 Filed Under: Paper Crafts
Sours: https://lemonyfizz.com/shadow-box-ideas/
Shadow boxes cricut
Custom Shadow Box: Make Your Own in Cricut Design Space
Learn how to design a custom shadow box in Cricut Design Space!
Last spring I made a garden-themed shadow box and shared it freely with everyone, and so many of you have made it! (Thank you!) Since then, I've seen many more variations on shadow box themes and folks keep asking for MORE. But here's the awesome thing — you can design your own custom shadow box, with just the imagery you want ! So today I am showing you how to design a custom shadow box in Cricut Design Space!
See exactly how to design your own shadow box in this tutorial video below (or keep scrolling if you prefer a step-by-step photo tutorial):
In order to design a custom shadow box, it helps to understand how shadow boxes work. Essentially, the way a shadow box works is you stack many layers of cardstock on top of each other, with each layer having different elements cut out from the center of the cardstock. Then when you shine a light from behind the layers of cardstock, the light comes through the layers in varying degrees of brightness, creating a lovely 3D effect with depth and beauty.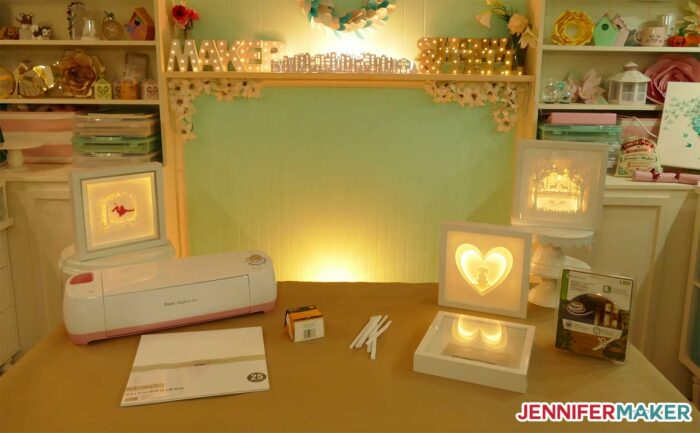 The secret to creating a beautiful custom shadow box is to always have three things: a FOCAL POINT, FRAMES, and a BACKGROUND.
A shadow box's focal point, usually at the center, is the element you want to really stand out. It's often the silhouette of a person or people, an animal, a character, a building, or something else meaningful and personal. This focal point isn't likely to be very large, but the eye will be drawn to it. For the best results, your focal point should be clearly defined and without other layers touching it or overlapping it.
A shadow box's frames are the elements you'll have at the edges (top, sides, and bottom), often things like trees, flowers, other less-important buildings and animals, or really just anything that goes with the theme and helps you draw the eye to the focal point.
A shadow box's background is what appears behind the focal point and frames. It can be as simple as a plain and uncut piece of cardstock, or you can add extra layers behind that piece of cardstock to add more depth, such as a sun, moon, stars, or even a reflection.
If we look closely at the shadow box I designed, the focal point is the people on the swing, the frames are the foliage (trees and flowers) around it, and the background is the sun.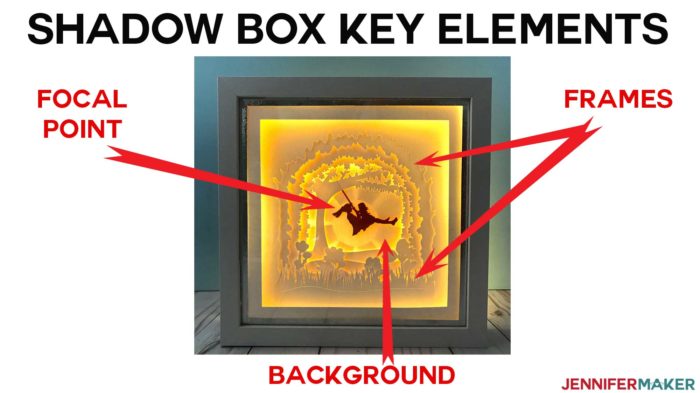 Now let's talk about shadow box layers and their order. Here's the layer order for a shadow box, from front to back:
First layers are typically the frames, and there are usually at least two of these layers (more layers will give you more depth).
The focal point layer comes after the top frame layers.
The background is at the back of the layers.
The simplest shadow box design, and the one I recommend you begin with if you're new to this, is simply two layers of frames with a single focal point layer and a solid, uncut background layer. From there, you can introduce more elements and more layers, just be sure to keep that central focal point nice and clear.
You can design shadow boxes in many different ways—I usually design them in Illustrator, and I know others who design them in Inkscape. But both of those programs have a learning curve, so today I'm going to show you how to make them more simply in Cricut Design Space. You can simply use shapes or upload our own images, but what works REALLY well is to use Cricut Access. If you're not familiar with Cricut Access, this is a subscription program from Cricut that allows you access to over 100,000 images—you can search and use the images in Cricut Design Space, which makes it perfect for designing shadow boxes. You can find pretty much everything you need to design shadow boxes in Cricut Access. I have a Cricut Access subscription and I'll be using it to create the shadow boxes in this tutorial. I highly recommend it! (Tip: If you just got your Cricut, you get a free month of Cricut Access — this is a great time to experiment with it!)
To help you design your custom shadow box successfully, I've created five different template sets in eight sizes ranging from 8″ to 12″ to fit most commercial shadow box display frames. Each template set also has a box pattern with so you can make designs without buying wood shadow box display frames, too. You can also use this box pattern to just keep your design nice and neat and tidy inside your display frame.
Key concepts taught in this tutorial include how to use my shadow box template, how to identify Cricut Access images, how to weld, how to slice, how to change linetype, how to add spacers between layers, and how to light up your shadow box.
Ready? Let me show you how to design your own shadow box and enclose it in a display frame with LED lights! This post contains some affiliate links for your convenience (which means if you make a purchase after clicking a link I will earn a small commission but it won't cost you a penny more)! Read my full disclosure policy.

Quick Links to Information in this Post
Materials to Design and Make a Custom Shadow Box
How to Design Your Custom Shadow Box
Step 1: Get my free template.
Download the shadow box templates (Design #167) from my free resource library(get the password to the library in the form at the bottom of this post). There are eight templates in there, from 8″ to 12″.
Step 2: (Optional) Measure your shadow box display frame.
If you're using a shadow box display frame for this project, turn your display frame over, take off the back, remove the spacer inside (if there is one), and measure the inside of the display frame. This is the size your want your finished shadow box design to be. For example, for the display frame I'm using, its inside dimension is 9″.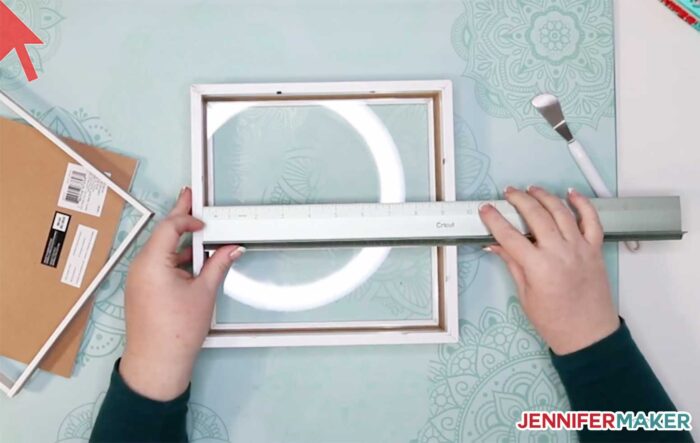 Step 3: Upload one of my templates to Cricut Design Space.
You can cut a custom shadow box with a good craft knife, but it's tedious and it requires you having some drawing skill. So instead, I'm going to show you how to design and cut a custom shadow box design with a Cricut cutting machine. And to do that, we need to use Cricut Design Space, where we'll design our custom shadow box together, step by step.
Start by uploading the right size shadow box template to Cricut Design Space. Each of the template files has a number in its filename that corresponds to the size in inches. For example, I have a 9″ inside dimension on my frame, so I'll upload the file named "shadow-box-paper-art-9-jennifermaker-SVG.svg"
If you're not sure how to upload an SVG cut file to Cricut Design Space, watch this helpful video training series I made. If you're on an iPhone or iPad, here's how to download and upload SVG files to the Cricut Design Space app.
Here's what my shadow box template SVG cut file looks like uploaded to Cricut Design Space: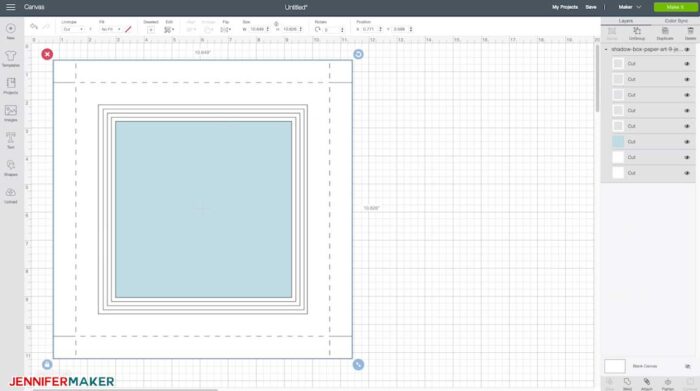 Step 4: Create your custom shadow box design
I'm going to show you how to design a really simple shadow box with just four layers (two frame layers, one focal point layer, and one background layer). And then I'll show you how to make a more complicated shadow box design with eight layers (five frame layers, one focal point layer, and two background layers).
A Simple Custom Shadow Box Design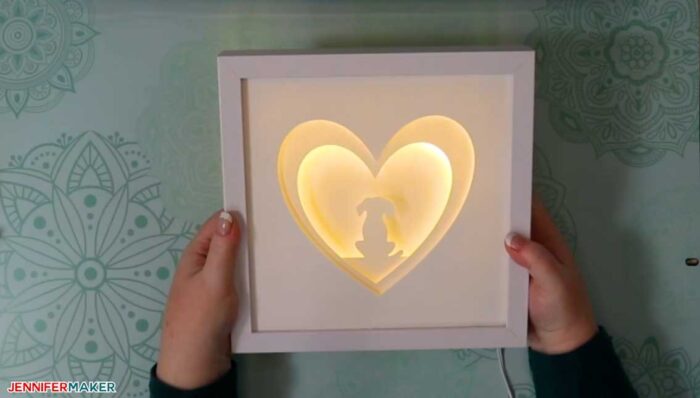 Let's start with the really simple shadow box design so you understand the basics. From the template, you'll need the top three frames and one solid square. You can hide the rest of the template for now.
Begin by finding a focal point image. Click "Image" and type in something simple, like dog. Look for a solid (or mostly solid) image — silhouettes are best. For example, I selected this dog (#MA942EFC) and add it to my canvas in Cricut Design Space:
Tip: The dog is from the Animal Silhouettes cartridge which has over 100 different animals. There's also a Dog Silhouettes cartridge and a Cat Silhouettes cartridge if you prefer felines. All three are included in Cricut Access.
Click, hold, and drag the dog to the center of your smallest frame template. You'll probably want to resize it so it looks good. I made my dog about 25% of the height of the template.
Tip: Make sure your focal point image is centered perfectly in the frame by selecting both then clicking the Align > Center.
Now we're not done with this layer — the dog is just floating in space, unconnected to the sides. Anything you put on a layer MUST be connected to the sides of the frame or it will not work properly. So let's give this dog a floor to sit on. Click on Shapes, choose Square, click the Unlock button on the Square, then resize and reposition the square so it is just touching the bottom of the dog and ALSO overlapping the sides and bottom edges of the frame. Once you do that, select everything for this layer (so the dog, the shape, and the frame) and click Weld.
That's it! You've made your focal point layer!
Now we need to make our two frame layers. First, center one of the frame layers over the dog (the second smallest). For these, we'll simply use some heart shapes. Click Shapes, then click on Heart. Center the heart over the dog. You'll notice you now can't see the dog — you can make the heart transparent for positioning purposes by changing the Linetype to draw, moving it where you want it to be, then changing it back to cut once it is in position.
View the complete design process in my full step-by-step video tutorial.
Design tips:
Start with the back layer and work your way forward.
The more layers you have, the more depth and shadow you'll have in your finished shadow box.
Use silhouettes and silhouette cartridges. Here's a list of silhouette cartridges in Design Space to help you find them:
Step 5: Cut out your shadow box layers.
Once you have a design ready in Cricut Design Space, click Make It and check your mat previews to make sure everything looks good. If you're good to go, select Medium Cardstock as your material setting. Load up a blue or green cutting mat with your 12″ x 12″ white 65 lb. card stock, insert it into your Cricut, and cut it with the fine point blade.
Tip: If you have any issues cutting intricate designs, be sure to check out my Cricut Cutting Problems: Tips for Cleaner Cuts guide to learn how to do this.
Step 6: Put spacers between your cut layers.
It's essential that there be a little bit of space between your layers or you won't get the shadow effect. You can put space between layers by using something like 3D Zots, adhesive foam squares, weather stripping, or strips of foam core or sign board. If you have many layers, you'll want to use more shallow spacers like Zots or adhesive foam squares to avoid making your design too deep and unable to fit in a shadow box display frame.
Step 7: Frame your design.
You can frame your custom shadow box design in two ways — either put it in a store-bought frame, or use the box pattern in my template set to make a frame from cardstock.
To use a display frame, just flip it over, take off the back, and set your custom shadow box inside face down.
To use my box pattern, just cut it out, fold up the sides, and glue or tape the sides in place to form a box. There are two parts to the box — just sandwich your design between the two parts!
Step 8: (Optional) Add LED lights.
If you put your custom shadow box design in a display frame, you can add LED lights to the back to light it up and see all of those layers and shadows so much better! I prefer to use LED light strips, but some people just use fairy lights. Either way, they go behind your layers of cardstock. I usually put my LED light strips around the edge of the frame for a nice even glow. You'll want to position the lights so your cord can hang out one corner — if necessary, cut a small notch in the corner of the frame for the cord. Now just replace the back of your display frame, plug in your light, and enjoy the magic!
Get my free shadow box template SVG cut files and patterns
If you design your own shadow box, we all want to see it! Please share your photo in our Facebook group or tag me on social media with #jennifermaker . You can even earn two bonus entries for my 25-Day Gift-Away giveaway if you upload a photo of your version of this project by December 25th.
See all of the projects, tutorials and free designs in The Great Maker 25-Day Gift-Away Challenge!
Love,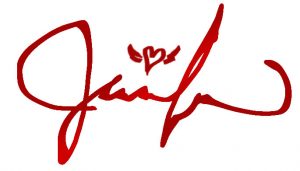 Want to remember this? Save the Design Your Own Custom Shadow Box Tutorial to Your Favorite DIY Pinterest Board!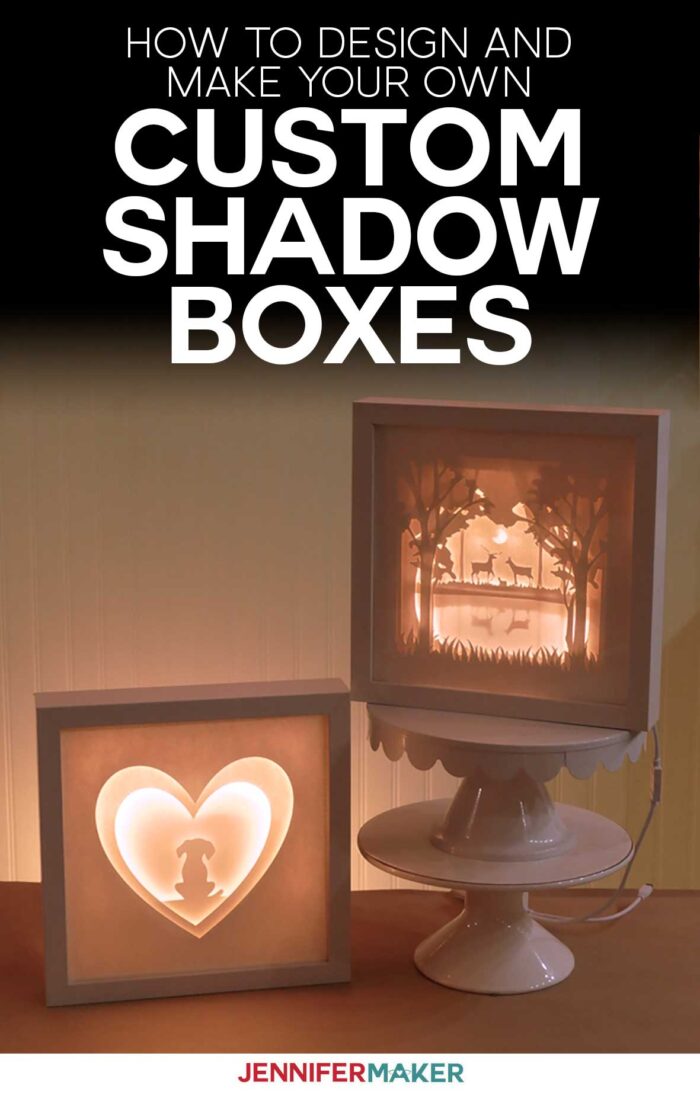 Filed Under: Cricut, DIY Crafts, DIY Home Decor
Sours: https://jennifermaker.com/custom-shadow-box-cricut-design-space/
DIY PAPER FLOWER SHADOW BOX ❀ - EASY CRICUT PROJECTS
Show Some Love!
Jump to How-To
Paper flower shadow boxes are a great gift to give for valentne's day, mothers day or just to show appreation to that special someone.
The first step to making these amazing rolled flower shadow boxes is learning how to make the Cricut Paper Flower or roses.
These paper flower shadow boxes are a really easy way to decorate a space, or even to give as a unique gift and when you add a quote to the front, they come out beautifully!
Imagine doing this project for your mom as a mother's day gift in her favorite color. Or a Christmas gift for your aunt in wintery white?!
What amazingly beautiful wall hangings these flower shadow boxes would make, for real.
I'm seriously thinking I need one in my entryway for each season.
This has quickly become one of my favorite ways to decorate with paper flowers, but there are so many ways you can sprinkle these pretty creations throughout the house, the possibilities are endless.
What You Need to Make a Cricut Paper Flower Shadow Box?
To make the rolled flowers you just need:
How to Make Ombre Paper Flower Shadowboxes
If you have never made paper roses, I have an amazing tutorial for it.
It literally takes me less than 30 seconds to roll up a flower and move on to the next one. It makes the project seem really fast and I love that. Then you can simply make your shadow flower box.
There's nothing I hate more than a tedious task and, because the flowers look so good but are so quick to come together, I don't feel like this is boring to make at all.
To make this shadow box, as I said, you will need 3 to 4 different shades of the same color. I like to start by making all the roses, so they're ready to go right into the shadow box.
Once they're rolled, I put flowers along the edges in the colors I plan to do each row, so that I don't get off on my rows.
Being ombre, I'm always worried about getting off on my colors in the rows–it would be a glaring mistake.
But if you were going for a monochromatic flower wall art for your shadow box, I wouldn't bother with doing the outer edges first, I would just fill the box.
Then, you line up all of the flowers from the darkest to lightest but in order, just like in the video.
A small dot of hot glue on the back of each flower and you're golden.
To add the lettering I put on the front of my shadow box, I'd recommend using adhesive vinyl, it doesn't matter if its permanent or not because you are literally going to put it on the inside of the glass..
Just be careful when you do that to, first, mirror the letters–that's a common mistake and such a terrible waste of vinyl, I hate when I forget.
Paper flowers are probably my most favorite of the papercrafts. It all started with coffee filters and tissue paper flowers when I was a kid and now this!
It's become an obsession–but one I love.
And they're definitely easy enough that the kiddos can get involved in helping to make these, just like the flowers I made when I was a little girl.
If you bounce over to the paper flower tutorial, you can learn step by step how to make them and you can also get a free flower template.
More Ideas for How to Decorate with DIY Paper Flowers
You can really make some beautiful flowers with this easy tutorial and I love the versatility of them–you can really do a ton with them, especially the giant paper flowers.
I know you've seen those gigantic flowers made with the oversized paper? They're perfect for parties and even mantle decorations. Anywhere that big big flowers make a pretty impact.
This ombre paper flower shadow box was for a customer, and she was in love with it.
Rolled paper flowers are kind of like pom poms, you can basically use them in any home decor project and add a little fun flair.
In my mind, there's nothing you can't do with a fun flower accent. Some of my favorite ideas for these cute paper flowers are:
Baby Shower Table Decorations
Printed Flower Wreath
Birthday Party Photo Background
Paper Flower Garland
Crepe Paper Flower Centerpiece for the Dining Room Table
Floral Terrarium
Bouquets for Weddings, or Aisle Chair Decor
Floral Arch
Display Case
Baby Mobile
Bridal Shower Invitations
Party Decor
Seriously, the ideas can go on and on. You just start with cutting one little floral arrangement and then, POOF!
You're over here making a hundred or more to fill a pretty shadow box. It's the best.
More Easy Cricut Projects for Beginners or Advanced Users
I love my Cricut and, at this point, I'd say I'm pretty proficient at using it. But, it's such an easy machine to understand, it's easy to get the hang of.
---
---
So, even if you're a beginner or an advanced master-of-the-cutting-machine, these amazing Cricut projects will be right up your alley.
Prep Time: 20 minutes
Active Time: 1 hour
Total Time: 1 hour20 minutes
Difficulty: Easy
Estimated Cost: $20
You can really make some beautiful flowers with this easy tutorial and I love the versatility of them--you can really do a ton with them, especially the giant paper flowers.
Tools
Cricut Machine
Light Grip Mat
Spatula
Instructions
Follow the instructions to roll the flowers.
Make sure to cut at least 4 you should be able to get 2 per page as long as you don't resize the template
Glue the roses in creating an ombre effect by going from darkest to lightest see the video
Optionally add a saying or quote on the inside of the box
Did you make this project?
Please leave a comment on the blog or share a photo on Facebook
How do you hang things in a shadow box?
Awkward or heavy objects can be wrapped in thin stainless wire poked through minuscule holes in the backing and twisted behind the sturdy backing to hold the item securely in place. Wrap wire where it is least visible or can be covered by part of the item on display.
Why do they call it a shadow box?
Military shadow boxes were originally simple boxes in which sailors retiring from shipboard service carried their belongings ashore. … By carrying his belongings, a metaphorical "shadow" of himself, enclosed within the box he could ensure he would touch land before his "shadow".
Show Some Love!
Sours: https://by-pink.com/flower-shadow-box/
Similar news:
Better to remove the fuck out of harm's way. And without looking, I formatted the disk, while I myself was cleaning the keyboard from the allocations. Fucking what have I done.
20697
20698
20699
20700
20701