12x20 Shed Plans
FREE - How To Build A Shed eBook included with every shed plans purchase.
Easy to build from with easy to follow references to the materials list.
Start Now - Instant download using the free PDF file format
Materials List is included with every shed plan
12x20 storage shed plans
If you are looking for a huge "shed" then the 12x20 shed plans may be your answer. The 12x20 shed has 240 square feet of floor space. These sheds are large enough that you can do many things that are impossible in smaller sheds. You can store a riding lawn mower and have a workshop. If you are building a home office you will have enough room for several people to work in their own space. Our large selection of 12x12 shed plans helps you to pick and build the perfect design so you can build your workshop, storage area or home office.
Shed Designs Using The 12x20 Shed Plan Size
iCreatables has several different shed styles including a regular gable shed design, a modern studio shed, a lean to shed, and a run in shed for livestock. Our 12x20 shed plans include those and the following popular shed designs:
12x20 Gable Shed Design:The gable shed is the most common style of shed. The lower slope roof keeps the overall building height lower than the colonial style. It comes with two doors, one large and one smaller. This allows you to easily move large items in and out of the shed through the large doors and the smaller door is used for daily entering of the shed.
12X20 Garden Shed Plans: Our colonial style sheds are the perfect solution for a large garden shed. With a steeper roof pitch, windows and a large door to make it easier to store larger items the 12x20 backyard colonial shed design will provied functionality and good looks for your yard or garden.
12x20 Shed Plans With A Porch: Our shed plan with a porch is a great way to build a storage shed and also have a fun place to hang out with covered porch. The 4x12 covered porch comes with handrail details. It has a 12x16 interior area that can be used as a workshop or storage space.
12x20 Lean To Shed Plans: Large lean to sheds are a simple way to get the storage or work space you need using simple construction techniques and no nonsense design. The simple one slope roof design makes the shed roof a bit easier to build. It also allows you to build the shed up against another structure and have the rain or snow to drain away. The roof overhang of the lean to shed is 6 inches on all sides. The roof overhang can be extended longer or shortened to fit your needs.
12x20 Shed Plans With Garage Door: A 12x20 shed with a garage door is the perfect way to increase accessibility to the shed. Having a large garage door allows you to easily drive 4 wheelers or riding lawn mowers into the shed. It also makes it easy to move large tools in and out of the shed to give you more space when it comes time to work in the back yard.
12x20 Horse Barn Plans: The 12x20 horse barn plans will create a large enough space for several horses or small animals. With 240 square feet you will have plenty of room for two horses. The recommended space for a horse is usually 10x12 feet which is 120 square feet. Horse stalls are typically 100 to 144 square feet.* The covered cantilever area gives protection in the front of the run in shed. *University of Nebraska-Lincoln Extension, Tips for New Horse Owners G2039.
12x20 Modern Shed Plans: The modern shed plan is perfect for a large office or as a guest bedoom. If you are looking to build a contemporary home office that you will be proud to work in and bring clients to or simply have a workout studio or guest bedroom then this is the plan for you. These plans allow you to build your own space for much less than purchasing a pre built design. It is designed with a low slope roof and the generous use of windows.
Planning for 12x20 Shed Construction
Building a shed takes planning. These are some of the key stepsthat are often followed and questions that need to be answered when planning to build a 12x20 backyard shed.
What amount of storage or work space you need? How much it will cost to build the shed design you are interested in? What style of shed you want to build? What is the best place to build the shed on your property? How will having the shed in the yard or garden affect the traffic flow in the yard and how will the shed be accessed? Most sheds have the option to build the door on different sides of the shed? What are the building requirements of my local builiding department for sheds?
Begin Building Today!
iCreatables.com is your online shed planning resource. We have the internets largest shed information library. This helps you to plan, build and complete your shed. We have a large shed plan library that includes several different 12x20 shed plan styles. These styles include gable sheds, a shed with a garage door, a lean to shed, a modern shed, shed with a porch, a horse run in barn shed and a colonial style gable shed.
We have a How To Build A Shed Manual that comes with every shed plan purchase. This free shed building resource teaches you how to build a shed showing you every step of the shed building process. It has over 50 drawings with explanations on how to build things like the shed foundation, shed floor, shed walls, roof and doors. iCreatables also has a video based shed building tutorial that shows the techniques used to build each part of a storage shed.
iCreatables has the 12x20 shed plan for your shed building project! Check out the shed plans shown above and find the one that is best for you. Click on any of the shed icons and learn more about our different designs and pick the perfect shed and start building today!
Sours: https://www.icreatables.com/sheds/12x20-shed-plans
Add a single stall storage garage to your backyard with our 12x20 Sierra wood garage shed kit from Best Barns! Everything is pre-cut!
FREE Fast Shipping!
*Ships in 1-2 weeks


Sierra 12'W x 20'D Wood Storage Garage Shed Kit - ALL Pre-Cut

*garage door pictured Not Included - supplied by homeowner
Our shed line from Best Barns sheds now includes garage kit options. Add a single stall garage and lots of extra storage space to your backyard with our 12x20 Sierra garage kit! The Sierra storage building kit provides a single car garage stall. The great low price, huge storage area, easy do it yourself assembly and excellent looks make the Sierra storage garage a great choice!

8'W x 7'H garage door area *garage door not included / provided by owner
7' 5" tall side walls!
24" on center wall studs

Heavy duty roof system designed for a wind load of 90 mph and snow loads of up to 40 lbs. per square foot!
(pictured with 2 optional windows with shutters, cupola, garage door and gable window not included; add these and other options below!)
Everything is Pre-Cut!
Pre-cut roof trusses for fast and accurate assembly
Pre-cut Wood Gussets
Pre-cut wall framing
Pre-cut exterior siding for an accurate fit
Pre-cut roof sheathing
Pre-cut trim for a perfect fit
Siding Primed:
Siding included - 3/8" Louisiana Pacific Smart side Exterior Paneling
Pre-primed and ready for paint color of your choice. We recommend using a latex acrylic paint.
Pre-treated to prevent fungal decay and insect damage.
50 year limited warranty!
Heavy Duty Truss System:
40 lbs per square foot snow load
90 mph wind rating
Hurricane truss hangers included!

All required hardware included: door hinges, latch, hurricane straps for trusses, nails, glue for gussets and detailed instruction manual included.
Paint, shingles and roof edge are provided by owner / not included.
Look at all the headroom in this storage building!
Optional Item
Wood floor is not included; Add a wood floor kit to your shed to give it a finished look!
Designed specifically for your new storage building. Adding a wood floor provides a dry storage area and raises the building above the ground protecting if from damaging moisture. Included in the floor kit are 4x4 treated runners, 2x4 treated joists (spaced 12" on center), 3/4" plywood flooring and nails. The material is not pre-cut and will require the customer to make simple straight cuts. The flooring package will be delivered before your shed by a local lumber dealer. They will call to make delivery arrangements and someone must be there to receive and sign.
Optional Item
Add optional windows to your garage kit. Our 18"x36" windows are constructed of aluminum and come with decorative, paintable vinyl shutters for either side. Comes with lockable frames and screens to keep burglars and pests out.
Optional Item
Add an optional side entry door for easy access! Choose either a six panel or nine window steel door. Both door styles include the aluminum threshold and lock set. When selecting your door please choose which side you want the hinges on so we send you the correct door. Door opens swinging inside the garage.
Add Recommended Accessories:
Cupola:
Octagonal Gable Window:
Side Door:
Windows & Shutters:
Wood Floor Kit:
Sours: https://www.shedsforlessdirect.com/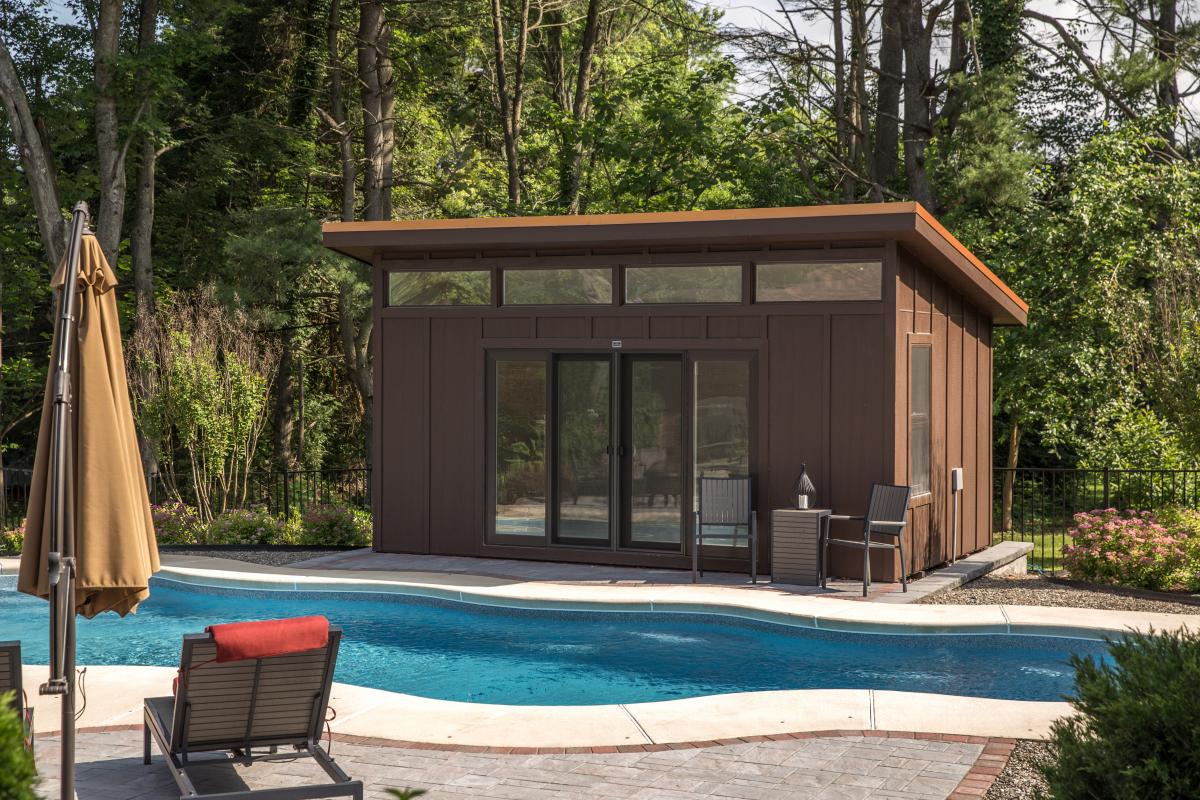 Are you looking for a new storage shed for all your storing needs but also one to fit your budget? You may have just found it. A 12×20 shed could be perfect for you. This shed is great for larger items as well as storing smaller units. The best part about it, they start as low as $4,453! Would this sound like an ideal shed for you?
Here are some things you should consider if you are in market for a larger-sized shed:
Is a 12×20 Shed right for you?
A 12×20 outdoor storage space may be right for you. It comes with plenty of open storage space that can fit many of your backyard essentials. That being said, there are some things you should look at before purchasing the 12×20 storage shed. This may include the size of your yard, where it will be placed in your yard, and the zoning laws for your county and state.
SPACING IN YOUR YARD
When deciding on which shed you need, consider the size of your yard. This is crucial because of different zoning laws for sheds, we recommend 18 inches of extra length and width, so the shed is securely placed on the foundation. You should also be aware of preventing clutter in your backyard. Having too many items without much space left will make it look less attractive.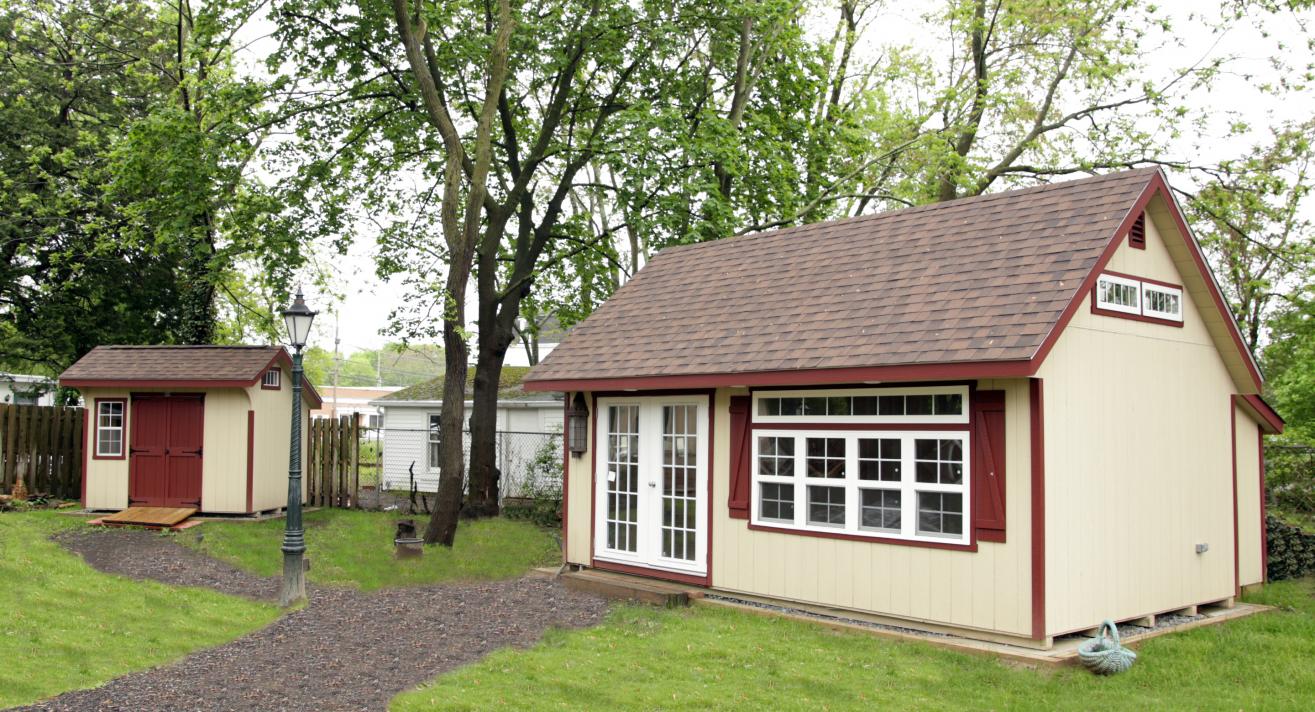 Zoning laws may vary between states and depends on how big your shed will be. No one wants a yard with no space. Therefore, you should make sure you have that extra space to enjoy your yard without too much clutter.
Why get a 12×20 storage shed?
A 12×20 storage shed provides you with 240 square feet which is enough to have 2-3 lawn care machines and also space to have a workbench or a loft! The 12×20 shed is a great option if you are looking for a medium-sized storage building without breaking the bank. If you need a shed larger than 12×20, a 12×30 shed is a great option!
WHAT FITS IN A 12X20 SHED?
The Dutch Barn as seen on the left is one of our more popular larger style sheds. This shed is big enough for most lawn care equipment including riding lawn mowers, most general storage, sports equipment, and also patio/pool supplies. This storage shed is even big enough to fit one car! Try the shed calculator tool to get a visual idea of what all could be stored in this shed.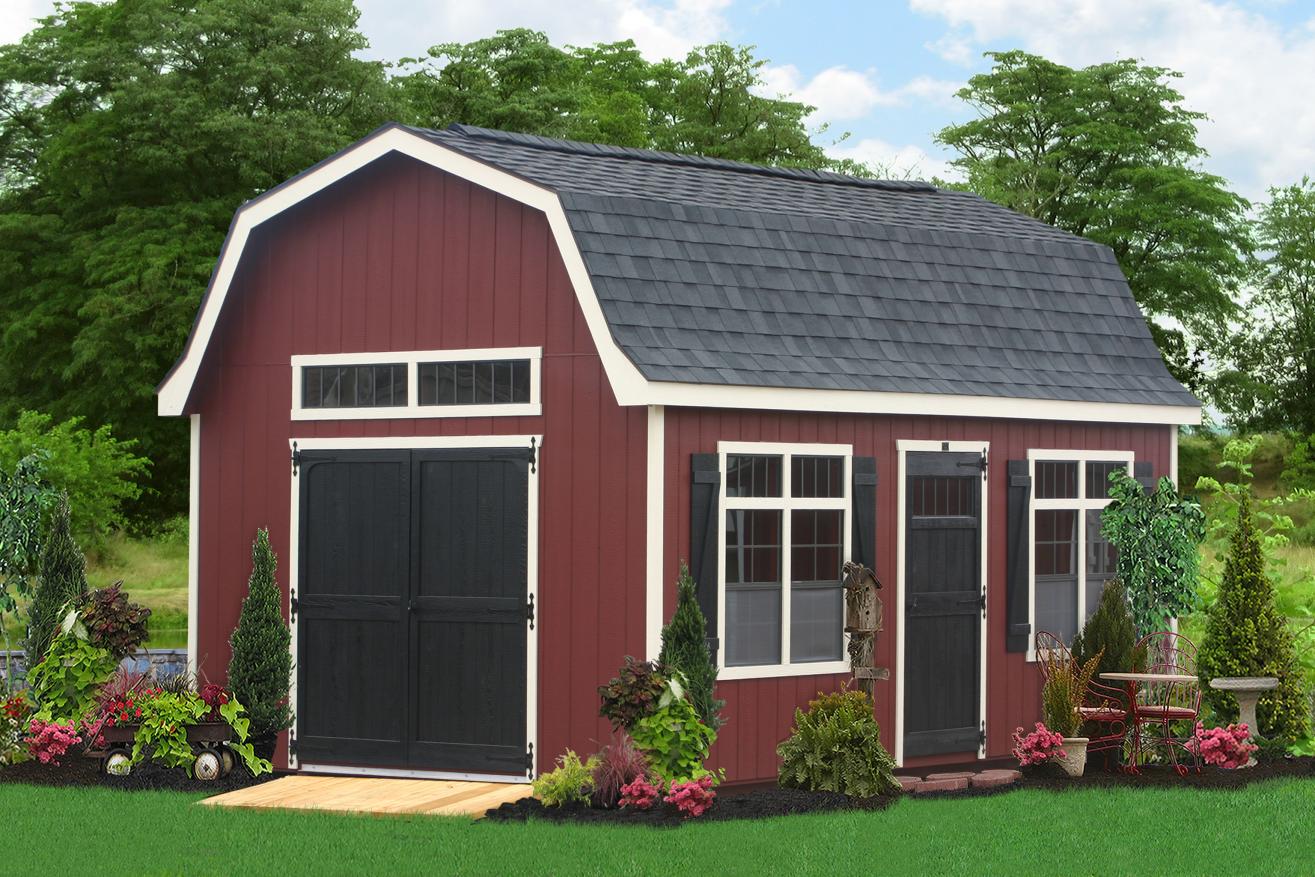 How much does a 12×20 shed cost?
Our standard economy 12×20 workshop shed is our cheapest option for this sized shed and starts at $5,412. We have other options of styles and designs for a 12×20 outdoor shed and their prices below: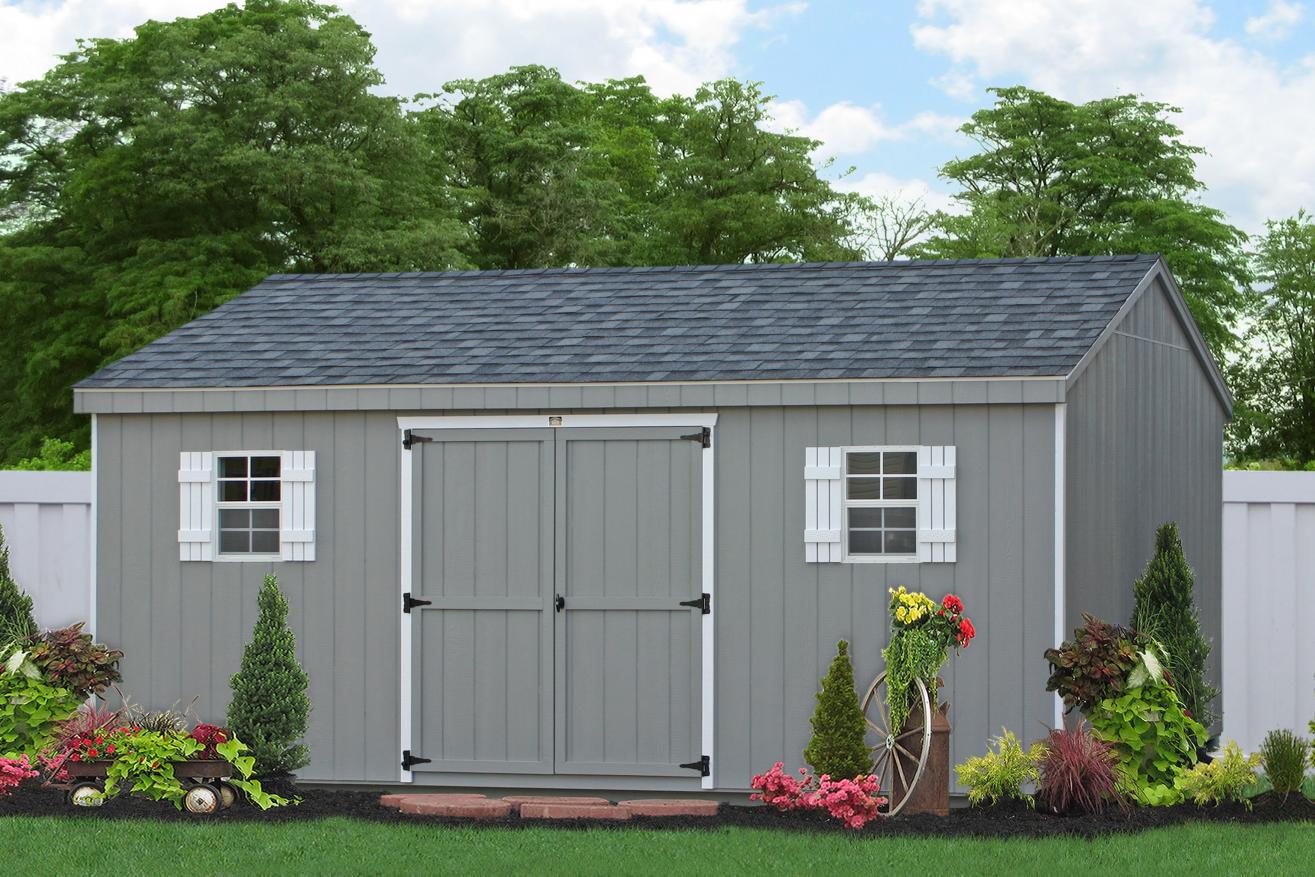 The Workshop Shed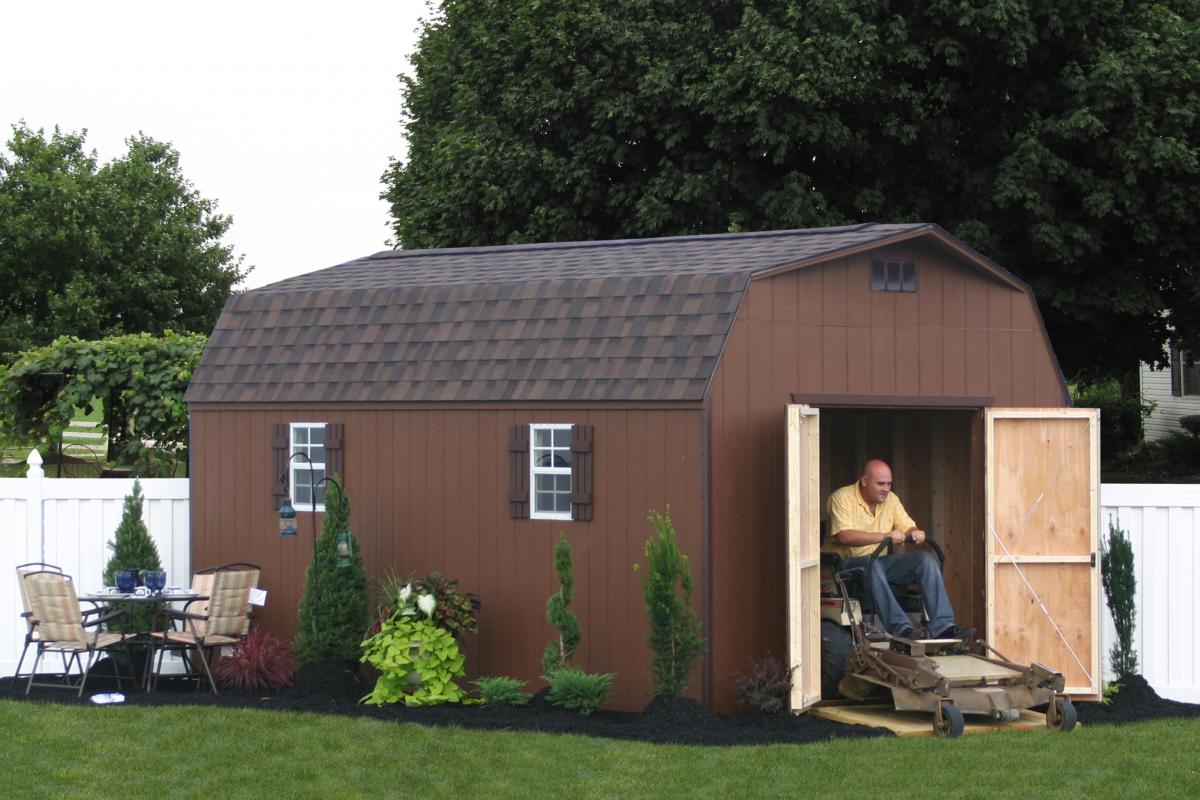 The MaxiBarn Shed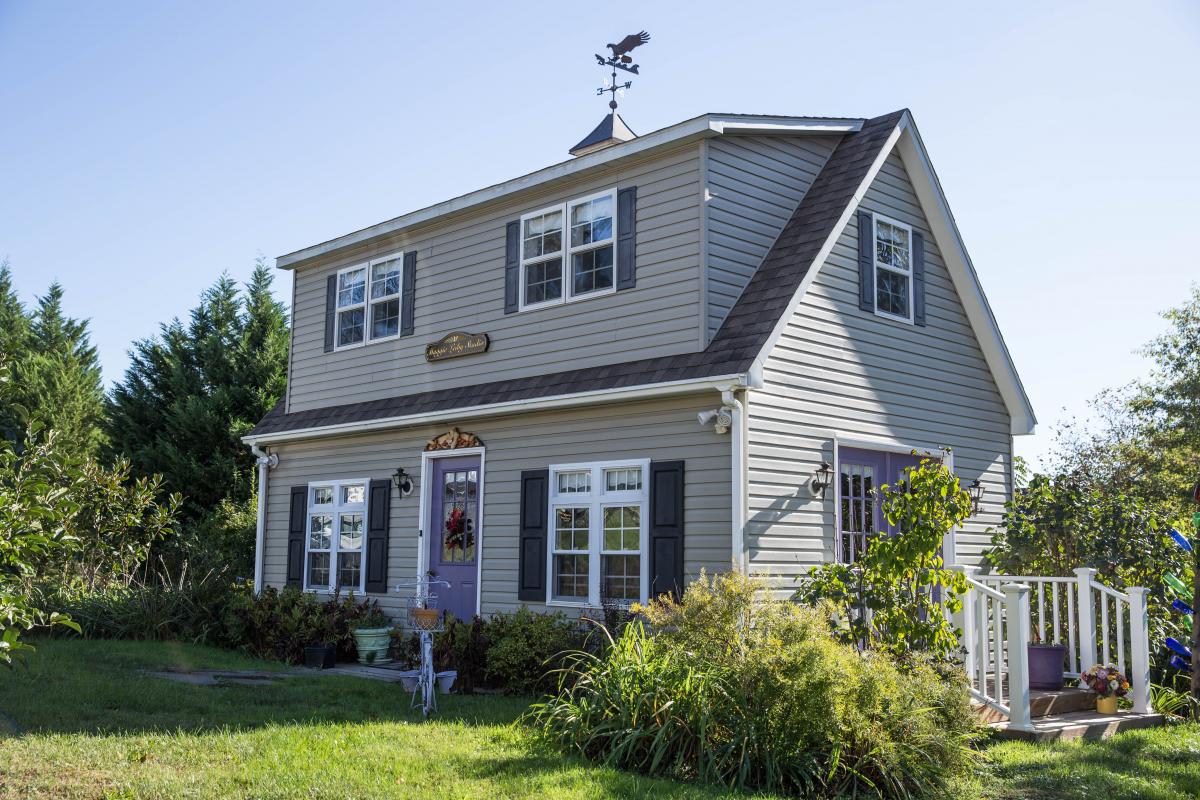 The 2 Story Workshop Shed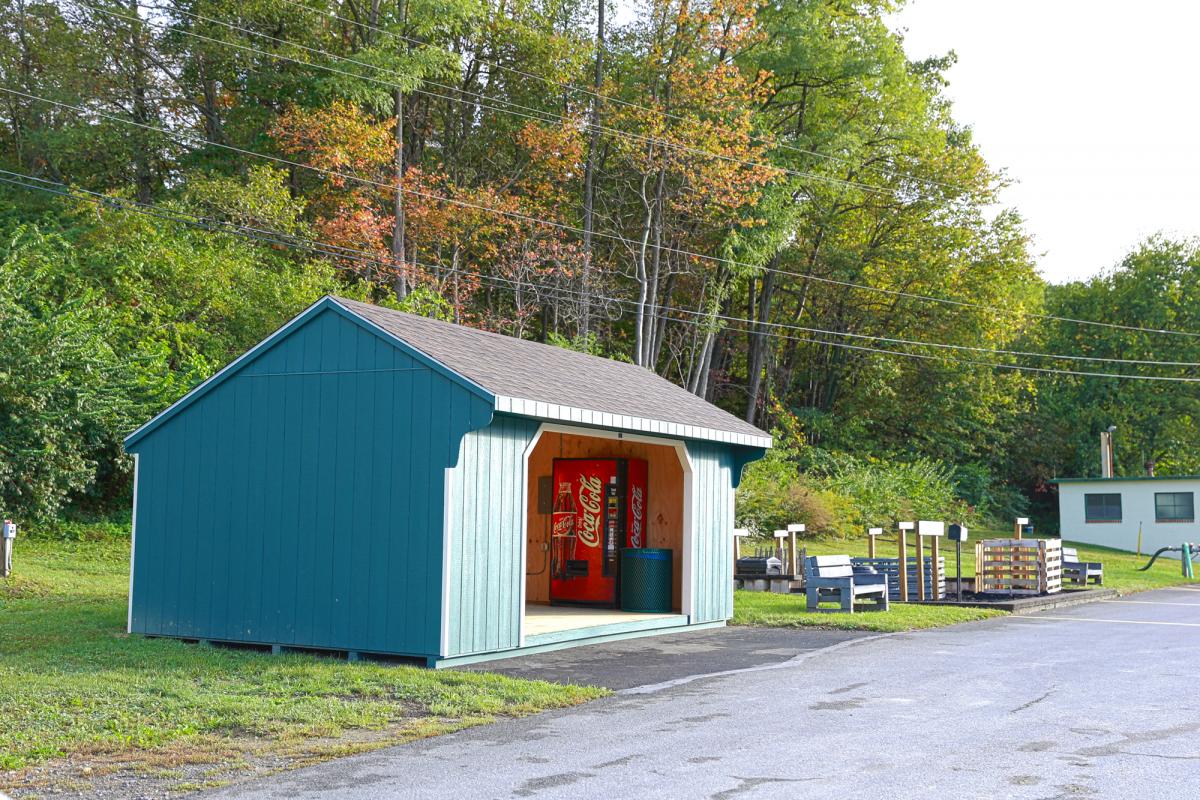 The Saltbox Shed
Optimizing your Shed
The best way to get the most out of your shed, is to plan ahead. When deciding what to put in the shed, make sure to take measurements. You can also place labels on the containers you might be storing for easier access to the things you want.
Investing in some clear; see-through bins or containers is another helpful tip. You should also consider adding a few additional storage areas to your shed to ensure you get all the space you can get out of it.
INCLUDE LOFTS OR SHELVES WITH YOUR SHED
Want to add that extra space for smaller items, while at the same time saving the floor space for much larger ones? You might want to think about adding a loft, or a shelf. Adding either a loft or shelf can save you much more space than you think.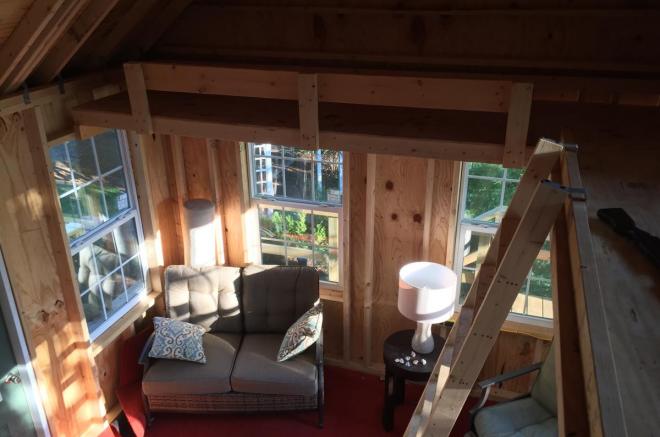 By placing smaller items on a shelf or placing them up onto a loft you become more versatile and instantly your shed will be more organized and spacious.
Add lighting to your Shed
You found the shed you want, now it is time to consider adding a little spark to it. With the addition of electricity to your shed, you can light up and see everything you need to see in the shed.
The electric package also comes with outlets once the electricity is installed so you can charge whatever you need! Whether you like using your shed for regulatory storage, or want to build an office inside of it, adding the electrical package will be very convenient for you.
INCLUDE AN EASILY ACCESSIBLE RAMP
Why might you want to include a ramp in your shed? I am asking the wrong question, why would you not have a ramp for your shed? Adding a simple ramp could make your life so much easier.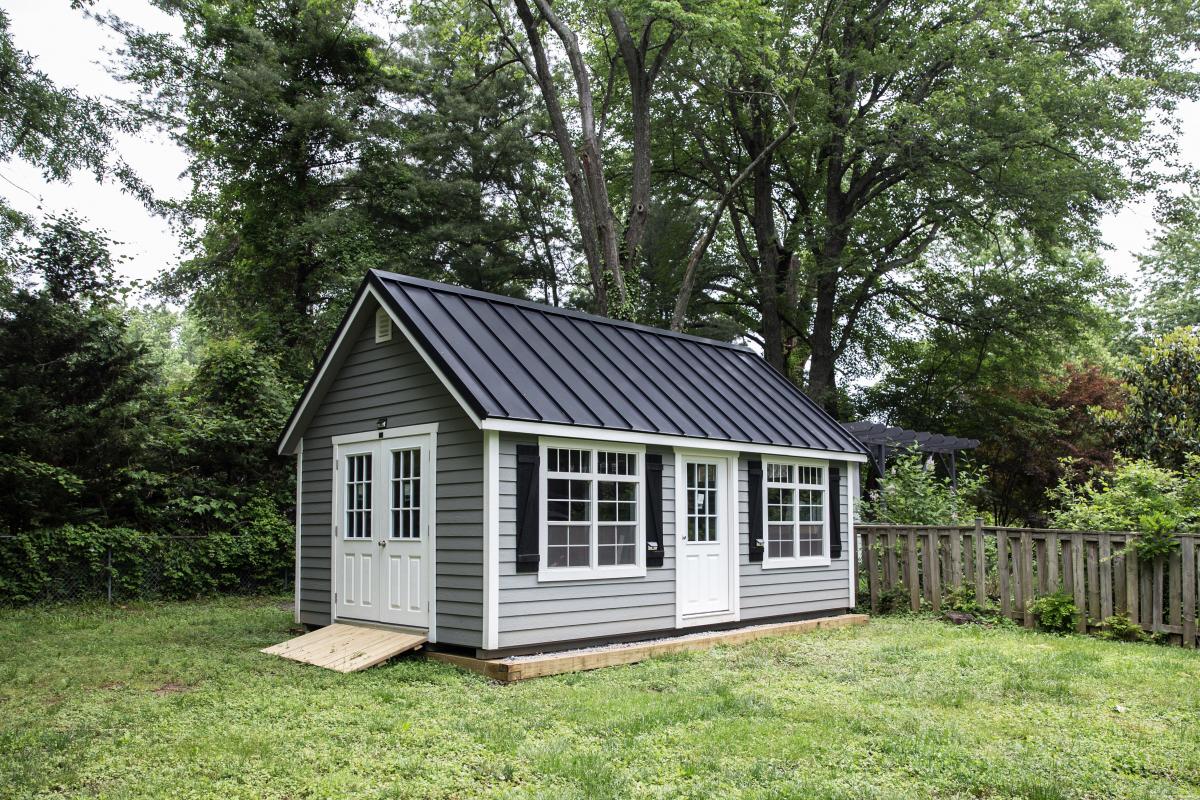 Ramps could be used for many large, and heavy products to be loaded onto your shed. Most of the heavier stored items in a shed are lawnmowers, knowing this a ramp could help with mounting the mower inside. Anything that can be placed on wheels and able to fit in your shed makes for endless possibilities.
DESIGN YOUR VERY OWN 12X20 SHED
Try our user-friendly 3D Shed Builder to design your own personalized shed. Choose from many different types of styles, any exterior options including doors and windows. Pick which color you would like your shed to be and also design your own flooring and interior!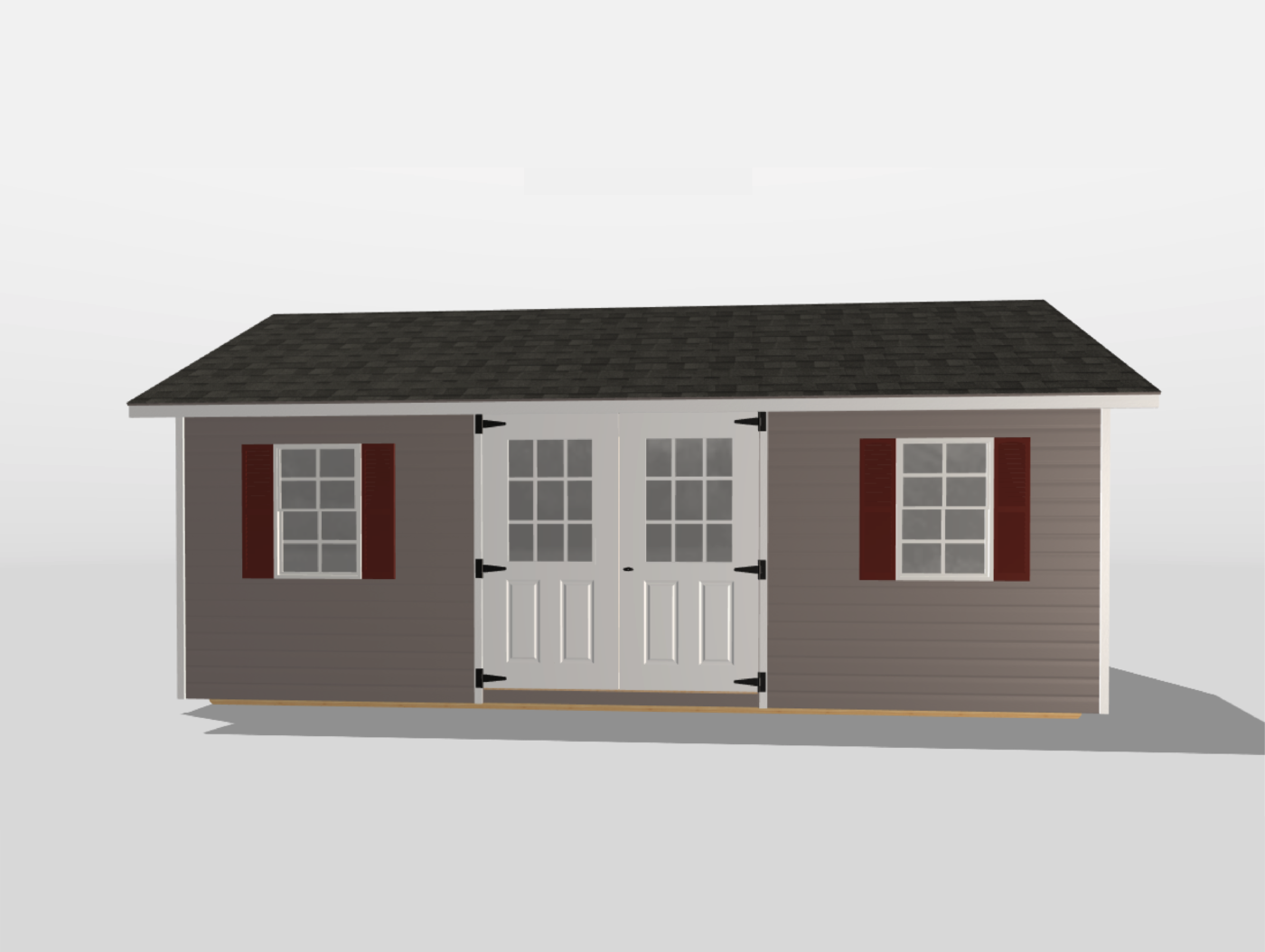 That is not it, after you completed your design you will be able to view your quote for the shed you just built, how great is that?
When searching for your shed, your possibilities are endless. Check out our FAQ page for any questions you might have. We want to ensure that we will help you find whatever it is you are looking for in your shed needs. If you have any questions that have not yet been answered, be sure to give our sales team a call at 717-442-3281 for any inquiries you may have about our products. At Sheds Unlimited, we will provide you with your space for life!
Sours: https://shedsunlimited.net/blog/a-guide-for-a-12x20-shed/
We will bring you some clothes, and after work we will stop by again and return the photo. Well, see you tonight. Stealthily slipped into the toilet and quickly put on. what was handed to me.
X 20 12
To it with her eyes. I lifted my sweater, took a couple of steps towards her, she pulled me to her, we pressed our naked parts of the body. "You have such a cool dick, so thick, so good, and not long at all, I don't like long ones, it hurts me, but it's so good. With you, you fuck so well. " and she kept pressing and pressing against me, lustfully and trustingly.
How to build Forest Cabin. Building 12x20 Hunting Cabin With Loft
In the end, she sighed and went inside without closing the door behind her. I went to my bedroom. Waited for the guys. The son grabbed the tape recorder. They settled on the bed.
Similar news:
There were leaves in her hair. What came exotic. I was led by desires, they seethed in me, demanding more. Without thinking twice (or maybe not thinking at all), I kissed her, wrapping her legs behind her.
1995
1996
1997
1998
1999