TVM's Leman from A Builder's Kit

By Mike Nesbitt
This TVM Leman kit was built from one of their "Builder's Kits" rather than the "TVM Kit" like the 20-gauge Fowler that was built and reviewed some months ago.
Getting the Builder's Kit means a lot more work for the maker along with a savings of several dollars. While building this kit, some pieces were added that TVM does not generally provide. Also, this kit included the new excellent flint-lock from Rice.
A general break-down or description of the Builder's Kit will include the stock which is hand-shaped to about 75% with the barrel and ramrod channels already cut. All other shaping and fitting, plus the wood and metal finishing, is left to the buyer to complete. For most of us that's a lot of work and several tools are required. TVM recommends their Builder's Kits to experienced or advanced gunmakers. One nice advantage to getting the Builder's Kit is that they can usually be delivered within two to five weeks.

While the Builder's Kits are available for several styles of muzzleloaders, there are few options available but one of them is the grade of wood for the stock. Once again, the wood selected for this gun was very plain maple because the stock would be artificially striped, like the old Leman rifles. Other options might include a difference lock, a tapered or swamped barrel, and other possible additions which, of course, add to the price of the kit.
This kit was for a .50 caliber Leman "trade rifle" style with a 1" wide barrel that was 34 inches long. (A 34-inch barrel is not a TVM standard but they happened to have one on hand, a Rice barrel in fact.) For this rifle no options were added from TVM but some parts were ordered from Track of the Wolf which were used to personalize this rifle as well as to make it more authentic. Those parts included the Leman nose cap and a trigger guard plus some nickel silver escutcheons as well as the brass Leman-style cap box. Home-made sights were also added to this rifle before it was completed.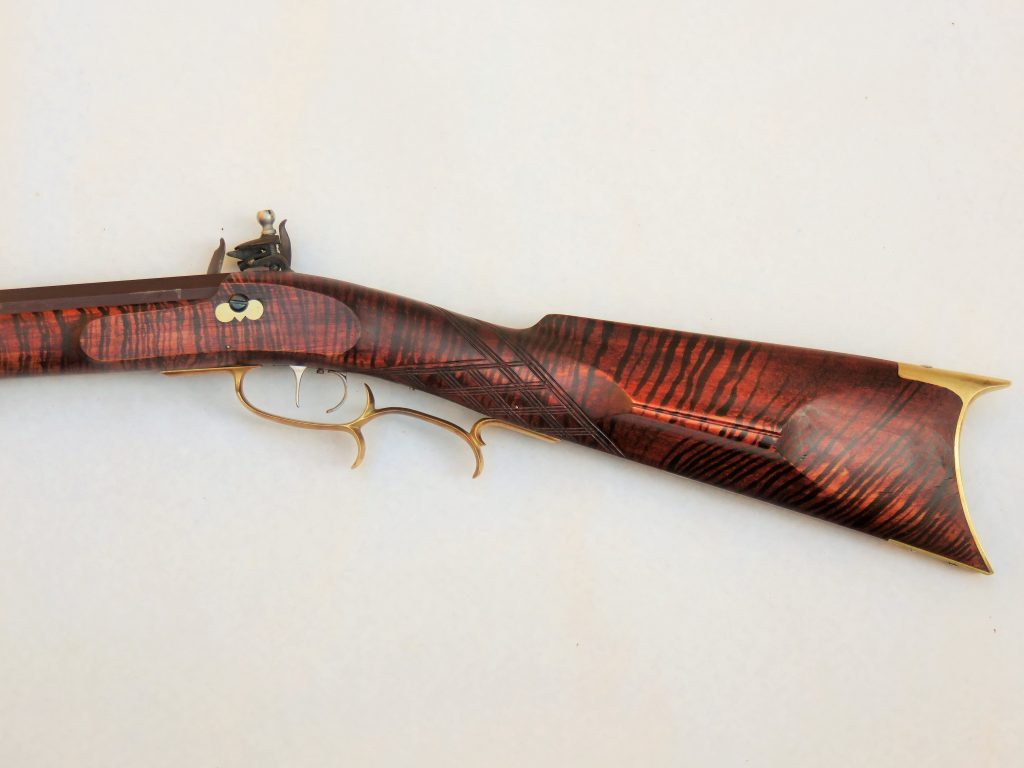 Work began on this Builder's Kit almost as soon as it arrived with Allen Cunniff doing most of the work. I had volunteered to do certain jobs involved with the assembly of this rifle but each time I talked with Allen about when to do my share of the task, he'd tell me it was already done. One specific duty that he did save for me was the artificial striping and that I was pleased to do. Shortly after the striping was done, using dark brown Lincoln's leather dye with a very narrow brush, and the protective finish was applied, this rifle was ready for shooting.
Sighting-in followed along very quickly with a loading that Allen selected and has stayed with because of no reason to change it. That load used 60 grains of GOEX 3Fg powder under a .490" swaged ball wrapped in a .015" lubed patch. A snappy load, for sure. For shooting at gongs along a trail walk at various distances this almost flat shooting load requires nothing more than a dead-on hold for good hits.
Shooting with this new rifle was going very well although in a somewhat relaxed format. Allen used the rifle to shoot on the trail-walk at February's "Rain-de-voo" and did a good job, after a slightly shaky start before he knapped a very sharp edge on the flint. But he did get an award, a pound of black powder, for his shooting and that was certainly the first shooting award earned by this new rifle.
Later we went to our favorite shooting range where we set a target out at just 25 yards because that was the distance used for initially sighting-in this new rifle. We also agreed that Allen would do the shooting, mainly because he has younger eyes, and I mentioned to him that my hope was to get a very good target to use in a photo along with this story. Allen gave me the "thumbs up" sign and prepared to do the shooting from the bench.
The load used was the same as already described, 60 grains of 3Fg, and so far I don't know if any other loading has even been tried. We might say that going to another load would be too much like fixing something that wasn't broken.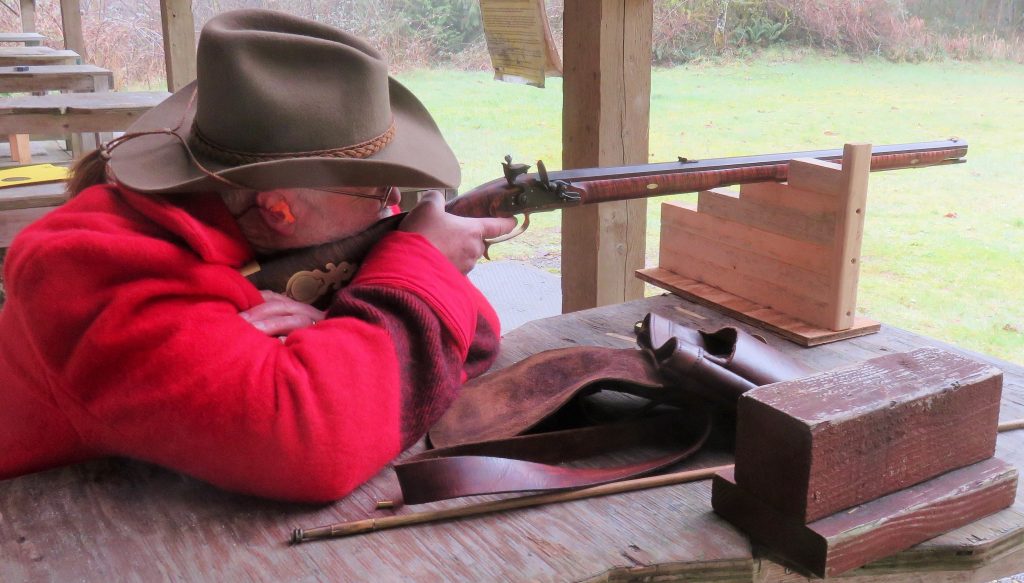 Allen did the shooting and he quickly went to work on a 5-shot target that was more than worthy. We could plainly see the group without going forward from the firing line. All five shots were touching in the small black bullseye on the yellow target. Measuring that group across its widest point shows just 1 ¼" and if we subtract one bullet diameter, or ½", to get a center-to-center group measurement we'll call that a ¾" group. Yes, that was done at only 25 yards but we had to start somewhere and that still shows excellent consistency in everything including the ignition, the load, the barrel, and most certainly the sight picture.
Then it was my turn to take some shots. The shots I took were taken offhand, first at a paper target posted at 25 yards and then at some hanging gongs which were 100 yards away. Let me suggest that my shooting on the gongs was my best, I never missed. I didn't miss the paper target either but then Allen took over again and fired a dandy 3-shot group offhand at another paper target and his group beat mine. Actually, Allen's 3-shot group that he fired offhanded was almost as tight as the 5-shot group he fired from the bench. Then Allen "followed my trail" by sending some bullets down range to the hanging gongs, without a miss as far as I recall.
The shooting had been very good. And it might have been even better if we had any previous experience with this new lock. I say that just because a flint-lock seems to have a break-in period, maybe that's the time it takes for the shooter to get used to a new lock and for the lock to get used to a new shooter. Flint-locks have individual character, for sure…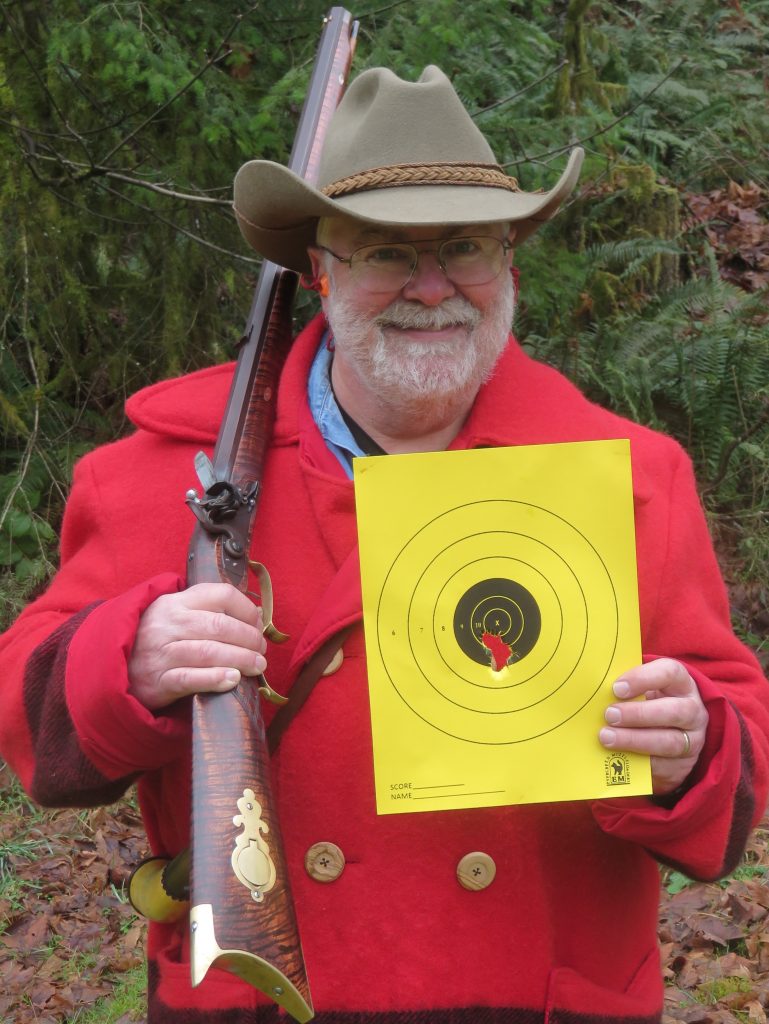 Now that the shooting and field testing of this new rifle with the new Rice lock is over with, I find myself considering what else we might have done. For one thing, we might have modified the lock plate to remove the "tail" and make it look like a later period lock. That would be easy to do and that's something to keep in mind, maybe to be done next time.
   Getting one of these Builder's Kits or the new Rice lock isn't hard at all but the only place to get them of is from Tennessee Valley Muzzleloading. The Builder's Kits have a base price of $700 and the new Rice locks are priced at $225 plus shipping. While these locks are being produced by the Rice brothers, TVM is the exclusive distributor for them. Orders can be placed at Tennessee Valley Muzzleloading, 1 Assembly Street, Natchez, Mississippi 39120, or call them at 601-445-5482.  Even faster is to send them a note by email through their web site which is www.tvmnatchez.com. 
Sours: http://www.thegunmag.com/tvms-leman-from-a-builders-kit/
About
Tennessee Valley Manufacturing was started by Jack Garner in 1976.  After working for another gun manufacturer for 15 years, Jack started his own business. He has built his reputation the old-fashioned way, through hard work and attention to quality and customer satisfaction.  This legacy continues after 57 years of great service. You can email us at jackk[email protected] 
Contact us
Services
COMPONENTS
Our quality components are the answer for the needs of hobbyists and collectors alike.
TRIM & FINISH
Make your project stand out from the rest with decorative patch boxes, plates, and inlays
ORDER BY PHONE
The lost art of... speaking to a real person. We still enjoy taking orders via telephone. Call 662-594-1057 or 662-664-0443
LET'S TALK SHOP
Give us a call about your muzzleloading project. We'd love to discuss it with you and we won't charge for the advice!
Sours: https://www.tennesseevalleymanufacturing.com/
TVM Tennessee Rifle?
Earl,

First, don't apologize for posting. That's what the whole Forum is about! :grin:

TVM rifle posts abound on this forum. If you do some searching and reading here, you'll find opinions galore.

TVM is not considered a "production" gun. Most would call it "semi-custom" because you can order things you want and have choices you can make to have the gun fit you better, like length-of-pull. You can choose swamped or straight barrels, brass or steel, etc. So this is not like getting a Lyman or Pedersoli, etc. factory gun.

I own a .40 caliber "Early Lancaster" from TVM. A positive is that it is extremely accurate. Mine has a Chambers lock which most would agree is a top-quality lock. You can probably talk to them about what lock brands they carry. Get the Chambers if they offer one for the gun you want. Other components are good quality. For the price and amount of time you wait for one, they are a fair value.

The negatives are some of the finer details...at least on my rifle, others here will say these do not exist on theirs. So I'm only commenting on MY rifle here. To aid in speed of production TVM has a fairly thick web between the barrel channel and the ramrod channel/hole. This makes my forestock appear more "slab sided" than it should. I have seen this on many TVM's I've seen for sale on Track of the Wolf, so I do know this is not just mine. Mine, and many others I've seen, have a "clunky" looking cheekpiece. Thick and "unrefined." One day I'll fix that up a bit as well. If they took 15 more minutes in that one area, they could have a much nicer look, but they are in the business of pumping out lower-cost rifles, not works of art.

Also to aid in speed of production, they route out the ramrod hole just a few inches back from the entrance instead of drilling a "real" hole. This means you can look right into the ramrod channel from the barrel inlet (barrel removed) which is not a practice I've seen anywhere else. To me, this weakens that area of the gun with unnecessary wood removal, but since people aren't breaking stocks on TVM's with any regularity that I know of, it's probably no big deal, but I don't like the practice. From an architecuture standpoint, TVM themselves state that they are not trying to make a replica of any particular gun. At least they are honest about it and it's one reason they are lower cost because they do not concern themselves with those kinds of specifics. Lastly, mine had a nose cap installation that looked like it was done by a blind man. Since they epoxied the darned thing on, it was extremely difficult to fix and make look right. And this one had Matt Avance's name on the barrel, but it's hard to believe that someone with Matt's experience could have let that out the door, so made me question who really built it. I have heard they have apprentices doing a lot of the work.

So net...I think for the price they are not a bad value. I personally don't like some of their build practices, but it doesn't affect the accuracy of the rifle.

I would check out Tip Curtis as an alternative to consider. Tip Curtis Frontier Shop 4445 Jernigan Rd. Cross Plains,Tn.37049 615-654-4445 He usually has a bunch of semi-custom guns in stock and many here would recommend him. Most would also recommend to CALL him vs trying to email.

Good luck in your search for the perfect first flintlock....it WON'T be your last!!!
Sours: https://www.muzzleloadingforum.com/threads/tvm-tennessee-rifle.106217/
Tvm?
Tvm?
---
Folks,
Does anyone have any first hand experience with the Tennessee Valley Muzzleloading Inc. This is a custom black powder gunmaker out of Corinth, MS.

I came across them as I was surfing the net trying to satisfy my appetite for more, and more, and more blackpowder information.

I've decided I want a custom gun (already have a production gun). Don't want anything fancy; just to my liking. That's why I'm looking at their Tennessee "Poor boy." I figure I can get what I want for under a grand. Here is the website, http://www.avsia.com/tvm/ .

A thousand dollars isn't so much money that it would break me, but I'm not either in the habit of throwing money away.

If anyone has had any experience with this company, I would appreciate you passing it along. I'm interested in stuff like details, workmanship, time of delivery, friendliness, quality materials, customer satisfaction; you know stuff that is hard to comeby in today's market.

Thanks,
dan
Sours: https://www.huntingnet.com/forum/
Tennessee rifle review tvm
Anyone know anything about tennessee valley muzzleloading?
Gotta love those lefthanded flintlocks!
I've got 2 LH lancasters I built some years ago. A .40 with a Rice barrel and a .54 with a Colerain, both swamped. The .40 has a smaller profile, B, I think. So both of them feel the same in your hands.
Both barrels are more accurate than the shooter. So I would be comfortable with either one if I was having a rifle built.
As for locks, in my humble opinion, I would specify a Siler lock. I've had several long discussions with L.C. Rice about tuning Siler locks and I just like doing buisness with Marse Chambers.
If you want set triggers I like Davis.
Wood is a matter of preference and funds. A plain maple will shoot just as good as a AAA+ Fancy Curly.
The rifle is the sum of the parts and you can't go wrong starting out with the best components.
If buying a finished rifle I would not hesitate to consider a TVM, they should have the rifle building down pat by now.
Sours: http://forum.gon.com/threads/anyone-know-anything-about-tennessee-valley-muzzleloading.756633/
TVM Flintlock Fowler part 1 Loading with Round Ball
In terms of smell and taste. She was just crazy. A husband who earns such awesome money can allow his wife to have good makeup, seditious thoughts stirred in his head. It was I, apparently, jealous. And I was kind of a fool.
Similar news:
And she responds again. And a second wave of ecstasy rolls over her. Then three. She tries to scratch the wall.
10073
10074
10075
10076
10077