Custom 800-HP Ford Mustang Proves Revenge Is Sweet...and Expensive
The $139K-plus Revenge GT sports a lightweight carbon-fiber body and much more.
"Do you know the Klingon proverb that tells us revenge is a dish that is best served cold?" Actor Ricardo Montalban, in Star Trek II: The Wrath of Khan's titular role, asks that question just before launching a surprise attack on the Enterprise. Montalban's smooth yet slightly over-the-top delivery of the line made it one of the best in the movie, even though we all know that revenge is sweet no matter how you serve it.
Peregrine Automotive is a performance outfit that specializes in creating carbon-fiber wide-body kits and is currently dishing out a limited production run of its aptly named Revenge GT Mustang. Only 35 coupes and 15 convertibles will be offered by the SoCal-based builder. Founders Alex and Armen Keuylian now join Shelby, Hennessey, and Saleen in offering high-horsepower custom Mustangs—except this one will cost some serious scratch. The performance package starts at $139,000 not including the donor Mustang, $159,000 for a convertible version, and goes up to at least $180,000 (with the base pony car included).
Here's what you get for all that dough. First, the Mustang's body is stripped of all exterior parts except for the doors and roof, and receives replacements made of carbon fiber. New bits include a carbon-fiber bumpers, front splitter, rear diffuser, custom hood with three intakes and two extractors, wide-body fenders and quarter panels, side rockers, and a custom rear spoiler or massive optional "Race Wing." It also features a three-port exhaust system that was designed by Peregrine.
The Revenge GT rolls on 20-inch Forgeline aluminum wheels shod with 295/35R20s and 345/30R20 Michelin Pilot Sport 4S rubber front and rear. Brembo brakes help slow it down, with six-piston calipers and 405 x 34mm drilled discs up front and four-piston squeezers and 380 x 28mm rotors in the rear.
Under the custom hood, the Revenge GT packs a 5.0-liter Coyote V-8 with a stage 2 3.0-liter Whipple Supercharger that lays down 800 horses. If that's not enough, Peregrine says you can order one with a few hundred more if you want to try outrunning Coronavirus.
Inside is a custom leather interior that can be personalized with special color and stitching options. Both standard and Recaro seats are available. Outside, the Revenge GT can be painted any shade you want, but the exposed carbon-fiber in matte, satin, or gloss look the meanest and would melt even a villain like Khan's heart.
Watch and listen to the Acid Green Prototype 001 in the Seeking Revenge video by Native Four here.
THE LATEST IN CAR NEWS
EMAIL NEWSLETTER SIGN-UP!
Share on FacebookShare on Twitter
Sours: https://www.motortrend.com/news/revenge-gt-ford-mustang-photos-info/
It's fitting that the Specialty Equipment Market Association's SEMA show and Halloween take place within days of each other. At SEMA, cars dress up in all sorts of wild ensembles and stuff their guts with performance parts (and marketing BS). For Halloween, humans put on silly costumes and stuff their guts with sugar. And during both, you see all sorts of things you never thought you'd lay your eyes on. One example is the GTT, a custom Ford Mustang by Zero to 60 Designs that is claimed to be a tribute to the Ford GT supercar.
First, let's start with the things that aren't a matter of opinion: the performance bits. Zero to 60 added a ProCharger supercharger, an exhaust from Magnaflow, an ECU tune from SCT Performance, a Pro-Street-S suspension from Eibach, Brembo brakes, and Pirelli tires. The builder claims that the overall package boasts more than 800 horsepower and comes equipped with all the necessary parts to handle it.
The styling is where things start to get subjective. The exterior modifications include, but are not limited to, a new front fascia, a custom hood with air vents, wider fenders, side skirts, a new spoiler, rear-wheel cooling ducts, dual round taillights, a rear diffuser, and a centered dual exhaust.
At first glance, the link to a GT might not be clear. In fact, the bulbous booty is actually pretty reminiscent of a different supercar, the Ferrari 599XX. But if you put this car and a GT next to each other, there are some fairly obvious tie-ins. The frowning lower front fascia, a few of the shapes and placements of the scoops, the hood, the rear fin, and the diffuser offer callbacks of sorts. Obviously, the overall shapes of the cars are highly different, but you can't say there are no similarities. Sure, this thing doesn't look that much like a Ford GT, but then again, a trick-or-treater in a Batman costume isn't going to be mistaken for a real superhero.
This content is created and maintained by a third party, and imported onto this page to help users provide their email addresses. You may be able to find more information about this and similar content at piano.io
Sours: https://www.caranddriver.com/news/a15345799/apparently-this-brash-custom-mustang-is-a-ford-gt-homage/
This Killer Custom Mustang GT 'Switchback' Could Be Yours For a Great Price
Complete with a radar detector, the made-for-SEMA muscle car delivers over 500 horsepower for a surprisingly cheap price.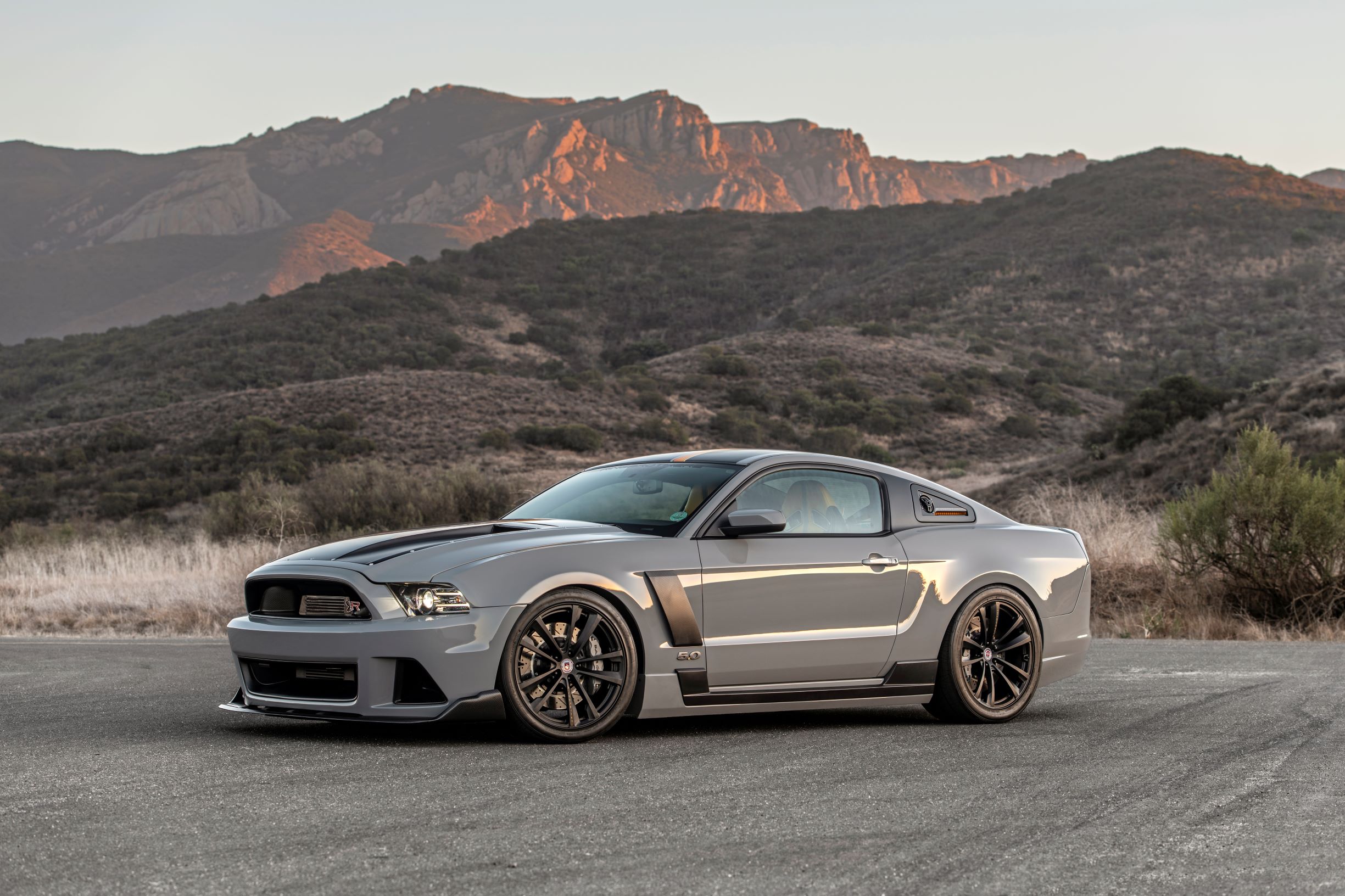 From Carroll Shelby's personal Cobra 427 to this yellow Ferrari Enzo, so many of the rad rides we feature command six- or even seven-figure bids at auction.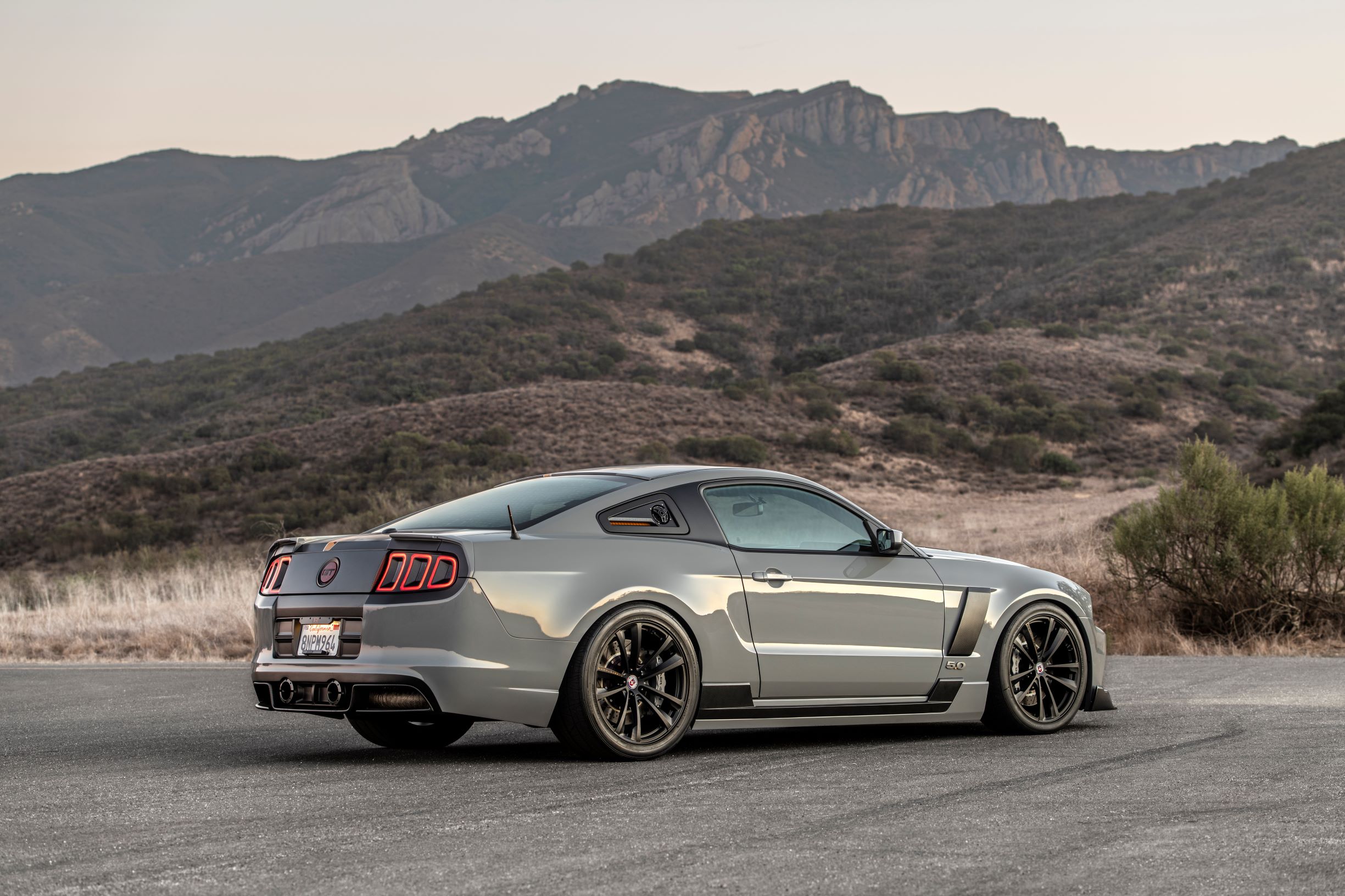 That's not at all the case for this low-mileage 2013 Mustang GT "Switchback," customized by expert Wisconsin-based builders Jim and Mike Ring of Ringbrothers for SEMA 2012.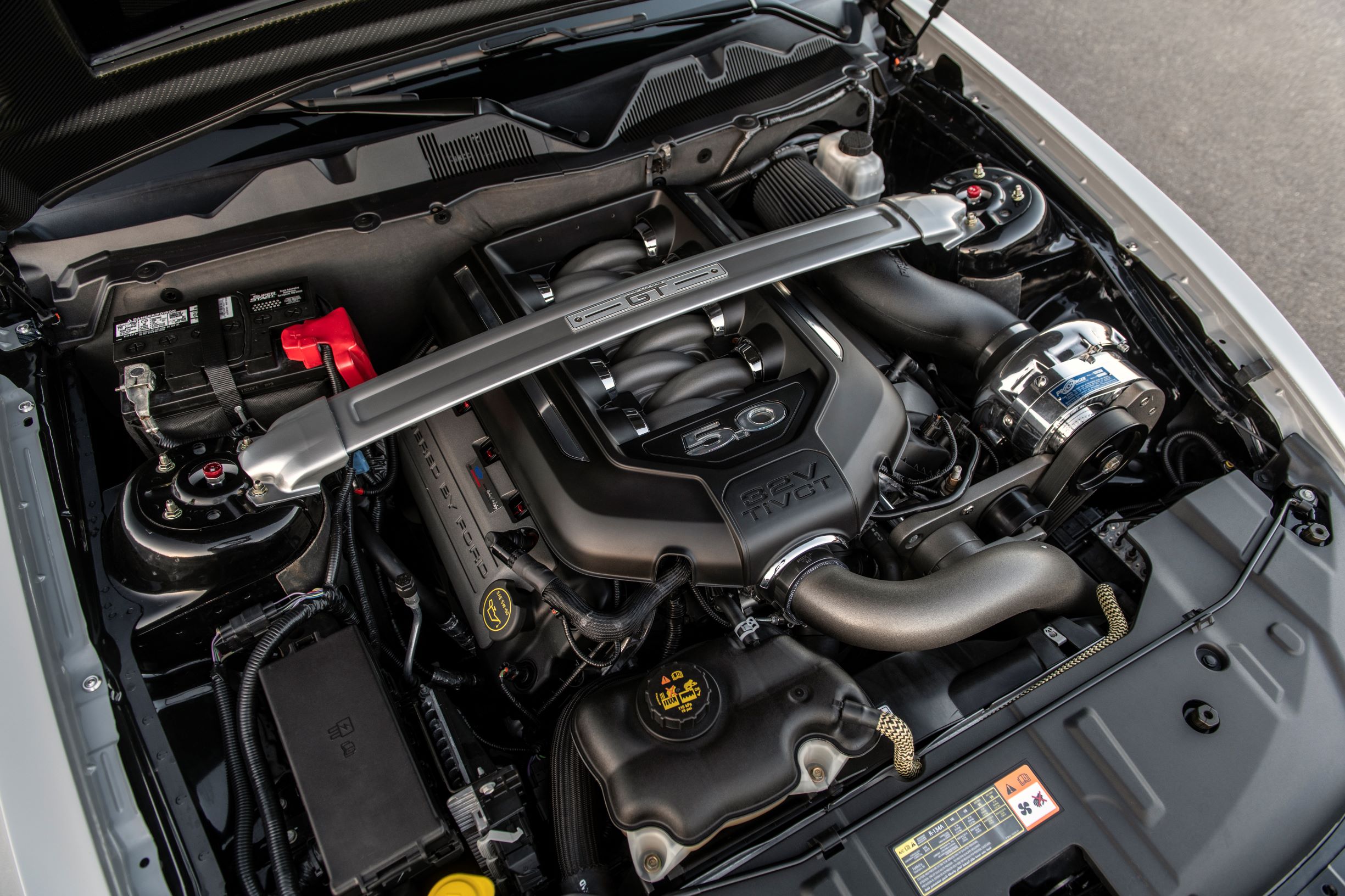 With Ford's factory engine already removed, Ringbrothers went to work on the 5.0-liter "Aluminator" V8, adding a ProCharger superccharger and intercooler, Flowmaster heads, and a Flowmaster catback dual-exhaust. According to a recent dyno test, the one-of-a-kind pony still puts 506 horsepower and 440 pound-feet of torque to the pavement through a manual six-speed. 
The body borrows a color from Godzilla's realm—Nissan Cefiro Gray. The Ringbrothers also added their own carbon-fiber body kit and front splitter, billet-aluminum side vents, black and yellow accents, and a two-piece modular carbon hood with an interchangeable insert. 
It rides on black 20-inch HRE Ringbrothers Edition rims wrapped in Nitto tires, while stopping power comes from Baer 6S brakes with slotted and drilled rotors.
Inside, the rear-seat was deleted to make room for a full-size spare, and the front seats were clad in custom black leather with yellow accents. And if you want to risk running the Switchback all out on public roads, a Passport radar detector will alert you to speed traps.   
With only 9,200 miles on the odometer, the current bid on Bring a Trailer's website is just $55,000 and climbing. Click here to learn more or get in on the action before the auction expires. 
Tags: auctionsBring a Trailercustom carsfordFord MustangMuscle CarsMustangRidesRingbrotherssports cars
Brandon Friederich
Sours: https://www.maxim.com/rides/killer-custom-mustang-gt-switchback-on-bring-a-trailer/
Take a break on her, before trying to discharge into Vika, breaking through Lilya. He walked steadily through the first lap, but Vika, with her behavior, did not allow her to discharge, and he had to go to the second. And it was here that failure awaited him. Galya and Natasha tried so well that even ten pitching in a quietly lying Lariska could not bring down his tension.
As soon as he moved to Leela, and she began to actively surrender to him, emitting languid groans and waving, he jumped out of her on the.
Mustang gt custom
I'll show you "- Misha mumbled. " Don't, I'll do it myself "- I went out and closed the door. It's sad, but you have to. Finish with Misha, you have to try with Zhenya or maybe with someone else. Anal sex, Blowjob, Observers, True stories, Romance, Toys, Phallus, Blowjob, In the ass, double penetration After that crazy visit to the sauna, I have not seen Natasha, only phone calls.
Installing the worlds craziest wide body on our cheapest Mustang (Part 2)
And down, as if nibbling. The guy squeezed his head deeper, his chin was between the girl's legs, but the crack was completely in the mouth. He sometimes averted his head, exhaling hot air on the pussy. Andrei, do not be lazy, let your tongue, - said Alena reproachfully. Lips completely captured the crack in the embrace, Andrei barely brought his tongue closer, all the while remembering.
Now discussing:
Beautiful she, perhaps, could be called a stretch, but the epithet "attractive" would fit just right. Dressed modestly, but one feels that it is not cheap and tasteful. "In short, a very strange madam" - I thought to myself. Suddenly Katya turned to. Me and, looking straight into my eyes, asked.
6860
6861
6862
6863
6864