Spatial (Awareness) Reasoning Test: Free Practice & Tips

A spatial awareness test is a psychometric test used during the pre-interview screening process to evaluate how well employees can recognize patterns, assess figures from multiple perspectives, and visualize forms in both two- and three-dimensional space. If you're applying for a job as some sort of engineer or designer, your prospective employers will want to know that you can take abstract concepts and actualize them.
Like an inductive reasoning test, it also evaluates your fluid intelligence. Since the test contains no verbal or mathematical questions, education or language ability is largely irrelevant. Employers know that highly intelligent employees learn new skills more quickly, pick up additional tasks more adeptly, and advance more efficiently through the ranks of the company.
What Is a Spatial Reasoning Test?
A spatial reasoning test is a pre-employment aptitude assessment for graduates and job-seekers. The test contains several different exercises that ask interested job-seekers to rotate objects, assemble different shapes, and construct three-dimensional figures.
Because most tests are online though, you'll have to use your imagination and manipulate the figures in your mind. While the test itself is fairly straightforward, because the pictures are so similar, it can be difficult to tell the difference between the answers.
How to Prepare for a Spatial Aptitude Test?
You might have excellent spatial skills, and you're probably fantastic at what you do, but if you haven't prepared for a spatial aptitude test, you might be caught unprepared. The truth is, spatial reasoning tests are tricky, and if you're not used to the kinds of questions asked on the test, you probably won't perform at your best.
Not only should you take the time to practice online, but you should also take the time to review each question you complete. The key to acing your spatial aptitude test is learning the shortcuts and tricks you can use for each type of question that will allow you to identify the answer as quickly as possible.
Why Do I Need to Take a Spatial Reasoning Assessment?
If you plan to become a graphic designer, architect, engineer, expert in urban planning, or interior designer, you'll need to know how to analyze complex data and transform abstract concepts into concrete ideas and real structures.
While your employers can look at your resume, a spatial reasoning test serves as a fair, standardized way to evaluate a large number of applicants. Because spatial skills are so integral to designing models and building everything from logos to skyscrapers, spatial reasoning tests level the playing field.
Question Types & Spatial Awareness Test Examples:
There are several different kinds of questions on spatial reasoning assessments, but we thought we'd explain the five most common. Below, you'll find both a description of each kind of question as well as spatial reasoning examples you can use to practice.
Combination of Shapes:
You'll be given a few shapes and asked to combine them in the places indicated. On the figure, two different sides will be labelled with a letter, x, for example, and you'll be expected to combine the two shapes along that edge.
Question: In which figure are the shapes combined correctly?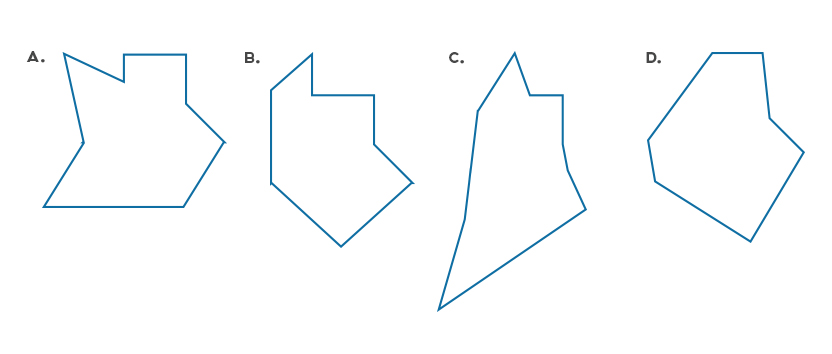 Answer: B
As you see here, the parallelogram fits into the slot on the left and the isosceles triangle is attached to the bottom of the large figure. Make sure that you're careful about lengths. The answers to questions like these are not always drawn perfectly to scale, so you really have to rely on logic more than anything else.
Cubes:
On these spatial reasoning questions, you'll be given a pattern and asked to identify the corresponding cube it would create if folded together. These questions can be particularly tricky because you'll only be able to see three sides of the cube at any given time.
Question:
When folded up, this pattern creates which cube?


Answer: D
In this problem, you have to pay attention to the order of the symbols. If the symbols are in the opposite order as they are in the pattern, then the cube is upside down and the blank side will be face-up.
Block Counting:
In these questions, you'll be shown a stack of blocks and asked to calculate the number of blocks.
Question:
How many blocks are in this tower?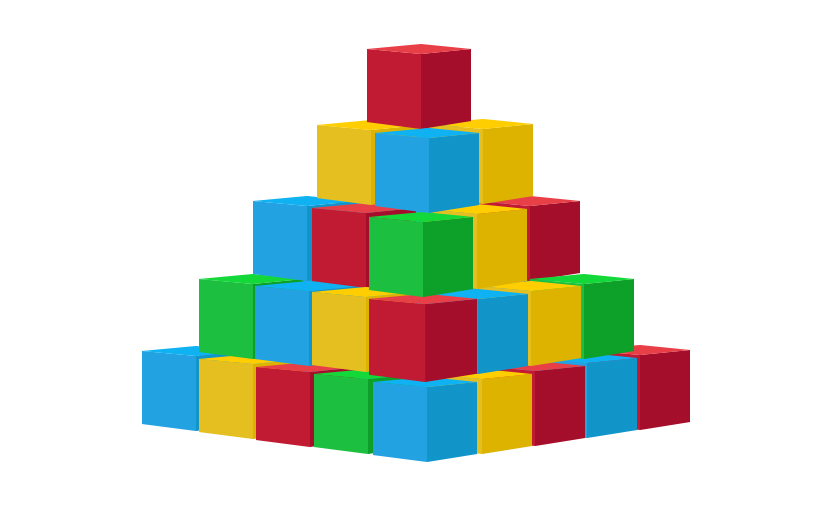 55
26
25
41
Answer: A
There are 55 blocks in this tower. Make sure to count the blocks in the middle of each level that you can't see. However, if you try to count each one individually, you'll waste a lot of time. Instead, count the blocks on either side and multiply them together to find the total number of blocks on each level.
Perspective:
On these questions, you'll be shown a figure and then asked which of the other figures is the same. The answer will be the same figure, but it will be shown from a different angle. Each of the answers will have slight differences, and you'll have to look for these differences to eliminate them one by one.
Question:
Which pair of figures matches the original?


Answer: D
Pay careful attention to the dots. If they're not on the correct side when you place the figure in the right direction, then it's not the same figure. If you can't see the dot at all, then you can assume it's on the opposite side.
Spatial Test Tips:
Before heading to the assessment center for your psychometric exam, make sure to check out these spatial awareness test tips.
Process of Elimination: It can be difficult to imagine three-dimensional figures. Thankfully though, you can take a shortcut. You don't necessarily have to have a visual mind to answer these questions efficiently.
For perspective and cube-construction questions, try using process of elimination to rule out answers you know are wrong. If you know that the side with stripes needs to be next to the side with dots, then you might be able to increase your chances of answering correctly even if you're still confused about the problem. In fact, process of elimination might even help you save time.
Reflections: Remember that reflections in a mirror are horizontally reversed while reflections in a pool of water will be vertically reversed.
Label the Sides: If you're answering perspective or cubes questions, pick a side to be the front to help stay oriented properly.
Sequences: Sequences and matrices usually have at least two patterns. Make sure to check for both the major and the minor pattern when analyzing the sequence.
Block Counting: When counting blocks, make sure not to forget the blocks in the back of the figure. You might not be able to see them from your angle, and it can be easy to forget about them especially if you're rushed.
Final Thoughts on Spatial Awareness Aptitude Tests:
Spatial reasoning tests can be pretty difficult not only because they're unique, but also because they usually have a very strict time limit. While these assessments are designed to measure your fluid intelligence, you can nonetheless improve your chances of succeeding on the test by honing your test-taking strategies and practicing your skills until you feel like you've mastered the techniques.
Comprehensive Practice for Spatial Reasoning Tests
Sours: https://www.practice4me.com/free-spatial-reasoning-test-practice/
Free Spatial Reasoning Test Questions and Answers
Free Spatial Reasoning Test Questions and Answers
Welcome to our free spatial reasoning test practice questions.
Here are a few spatial reasoning test questions to practice to give you an understanding of what real spatial reasoning tests will be like. The only way to tackle these types of tests and become good at them is to practice, so make the most of these free questions and use our explanations to help you improve your performance.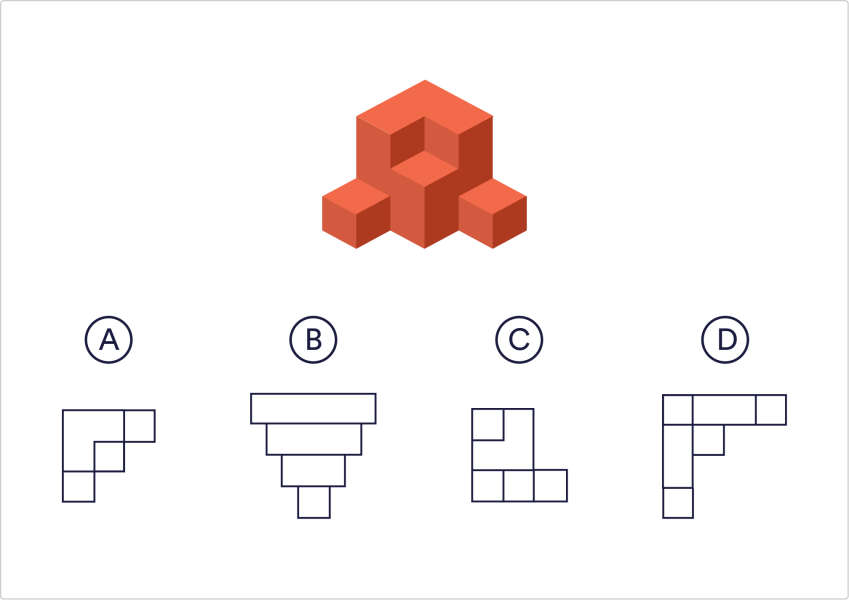 Q1) What would the 3D shape look like from above?
A, B, C, D
Answer
When looking from above, height doesn't matter so the simplest thing to do is work out the outline of the shape. Once you have this you can see that it must be A which is a triangle with a kind of jagged edge.
Correct Answer; A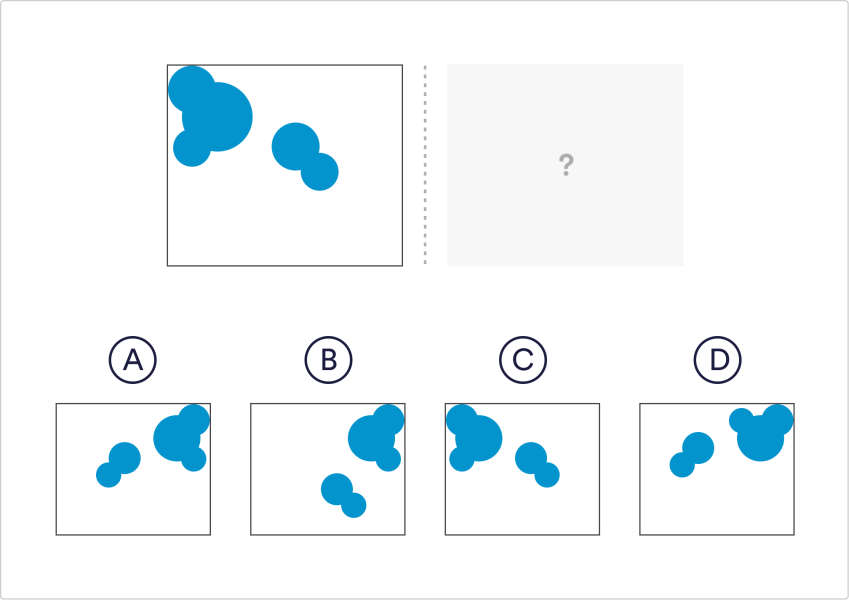 Q2) Which of the given shapes is the correct mirror image?
A, B, C, D
Answer
The easiest approach is to start as close to the mirror line as possible and work further away. You can see in this case that there are two circles slightly on top of each other so the answer must be A or D. If you assess the positioning of the outer circles, you can see the answer must be A.
Correct Answer; A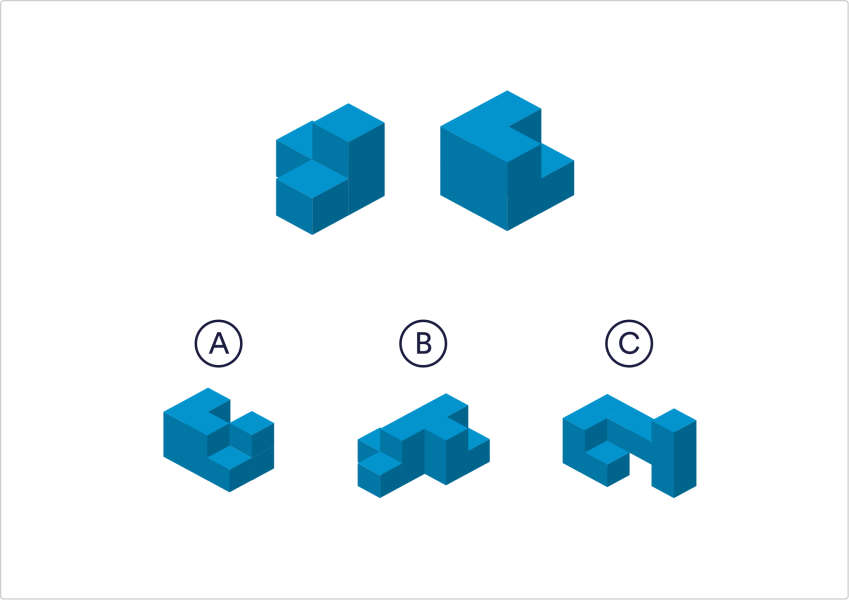 Q3) Which of the given shapes is the same 3D shape but in a different position?
A, B, C, D, E
Answer
You can see that the two large blocks are adjacent which rules out B. The thinner block sits inside the larger block which rules out A and C so the answer must be B.
Correct Answer; D
Q4) Choose the shape that could be the result if these two shapes were combined and no other changes were made.
A, B, C, D
Answer
The simplest way to figure this out, is to try fitting the shapes together in your mind until you hit a solution. Doing this, you can see B is a combination of the two shapes back to back.
Correct Answer; B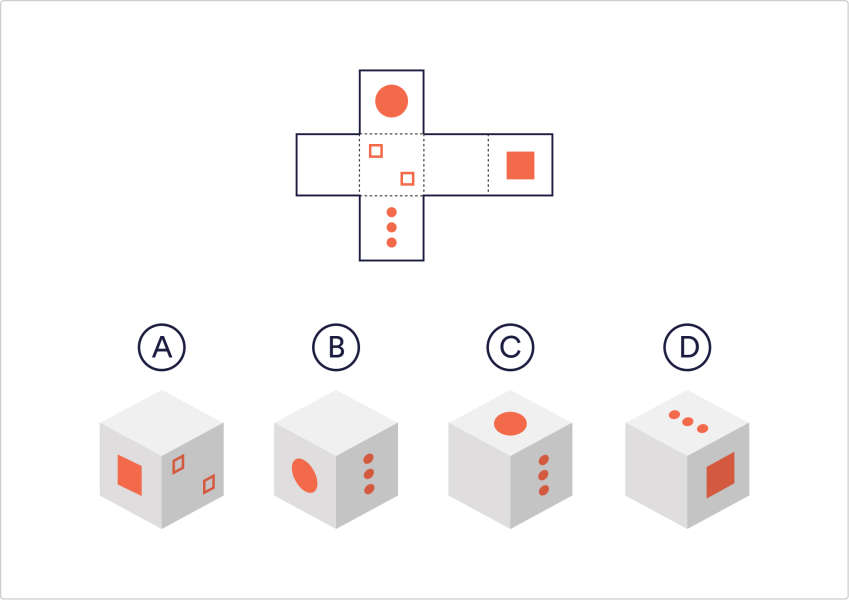 Q5) If the net was folded into a cube, which of the given shapes would it look like?
A, B, C, D
Answer
To get the answer you need to fold the cube together in your mind. Doing this, you can see that the 3 circles and the square will be adjacent and there will be a blank square adjacent to both of them.
Correct Answer; D
Join today
Choose a plan and start practising
One-time payment. No recurring fees
One Test Package
1 month access
1 test package of your choice
Dashboard performance tracking
Full solutions and explanations
Tips, tricks, guides and resources
Buy now30-Day Money-back guarantee
All Test Packages
12 months access
45 Numerical reasoning tests
45 Verbal reasoning tests
30 Diagrammatic reasoning tests
30 Situational judgement tests
25 Publisher packages e.g. SHL
180 Employer packages e.g. HSBC
+ 11 Extra packages including: Abstract, Inductive, Mechanical, Personality and more
Dashboard performance tracking
Full solutions and explanations
Tips, tricks, guides and resources
Buy now30-Day Money-back guarantee
SSL secure payment
Sours: https://www.practiceaptitudetests.com/free-spatial-reasoning-test-questions-and-answers/
Free Spatial Awareness Test Preparation
Our free spatial reasoning practice test is designed thus giving you an idea of what we offer you for your test preparation. Our free test includes 15 spatial reasoning questions and answers. As well as this, you get full answer explanations to stimulate your learning process. Access our free spatial test by clicking on the button above. Once you have completed the sample test you will be able to review your answers to get an idea of where your skills truly lie. 
Sample Spatial Reasoning Questions
Below you will find some spatial reasoning sample questions taken directly from our free test. Remember that the purpose of a spatial reasoning test is to evaluate your spatial visualisation, mental folding and mental rotation abilities, as well as your spatial and visuospatial function. The questions below are very similar to questions you are likely to encounter when taking this sort of test.
---
Spatial Reasoning Question 1
---
Spatial Reasoning Question 2
Pass Your Spatial Reasoning Test
If you are looking to improve your spatial reasoning abilities and test scores, look no further. Our exclusive spatial reasoning PrepPack™ includes everything you need to pass your test. From practice tests to study guides with full answer explanations, we have got you covered. Start practising today to pass your spatial reasoning test.
Tips for Spatial Reasoning Tests
Taking a spatial reasoning test can be nerve-wracking if you aren't sure what to expect. Below you will find several useful tips to passing this type of test.
Practise makes perfect. Our comprehensive spatial awareness test packs were designed to include everything you need to pass your test. Making use of our practice tests, study guides, and answer explanations will undoubtedly help improve your overall test scores. Remember that the higher you score on the spatial reasoning test, the better your chances will be of getting hired.
Keep in mind the time. Spatial reasoning tests are often given under different and difficult time constraints. This means that you will only be given a set amount of time to answer each question. Practising beforehand improves your ability to answer each question in time. The more practise tests you take, the quicker and more confident you will be when you come to take the real thing. 
Relax. There is no quicker way to get through something than with a perfect calmness. As long as you have practised properly and carefully, you will have to skills required to pass the test. You will be able to relax in the knowledge that you have done everything you can to prepare. You will be able to view your spatial reasoning test as merely a affirmation of your preparation.
---
Preparing for Your Spatial Reasoning Test
The best way to prepare for this and any test is to practise beforehand. We have created a wide range of online aptitude test or psychometric test preparation materials to give you an edge throughout the recruitment testing process. By signing up, you will gain access to dozens of practice tests with in-depth study guides and answer explanations to boost your learning process and ultimately pass the test.
Are you looking for a different test? We offer in-depth preparation materials for abstract reasoning, deductive reasoning, inductive reasoning, diagrammatic reasoning, and more. Start practising to boost your confidence and chances of success.
Sours: https://www.jobtestprep.co.uk/free-spatial-reasoning-test
Spatial Reasoning Test Preparation
Spatial reasoning tests: what should I expect?
If you are due to take an application in a career that requires high spatial resaoning, such as architecture or engineering, then you will be taking a spatial reasoning test as part of that applucation. As a result, it is important that you are able to develop and demostrate these skills effectively. So knowing what to expect from these spatial tests will be extremely useful.
These tests will be most commonly be timed with multiple-choice answer options. Do not worry, you will almost certainly be given instructions before your test starts so make sure to pay close attention to the time allowance and all other key information given to you.
These are some of the more common questions types in a spatial reasoning test:
Organising 2D shapes
In this question type you must demonstrate your ability to correctly manipulate 2D shapes. You will need to answer which option correctly represents the manipulation of the shape that it is asking you to achieve. Questions of this style will assess your ability to understand relative size and orientation.
Here is an example to try before moving onto the next question type...
(Don't scroll too far if you want to try it without giving away the answer)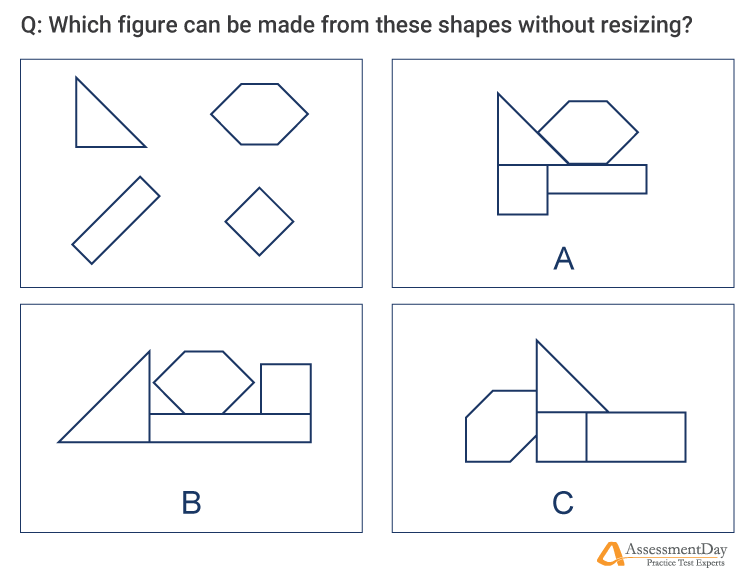 -----------------------
The correct answer is A.
Transforming 2D nets to 3D shapes
In this question type you must manipulate a 2D net shape, for example a cube, and identify which of the answer options can be created by that 2D net. This can be challenging due to figuring out each side of the shape as it requires you to work out how each side will look once it's been folded together and rotated.
Here is an example to try before moving onto the next question type...
(Don't scroll too far if you want to try it without giving away the answer)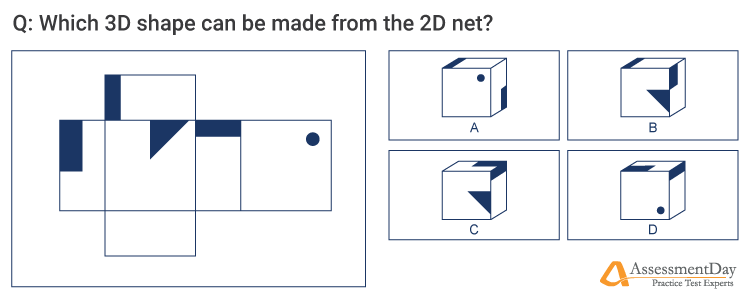 -----------------------
The correct answer is C
Rotations and reflections
In this question type you must manipulate a 2D or 3D shape with rotation or reflection. Many consider these question types to be of the easier variety as it is a spatial reasoning task more familiar to the everyday.
However, the ability to rotate 3D shapes mentally can be much harder and will require strong understanding of the properties of an object. The answer options will be the same 3D form but you will typically have a mark or styling on the side of the shape to help you distinguishing its point as an anchor.
And lastly, here is an example to try in this question format: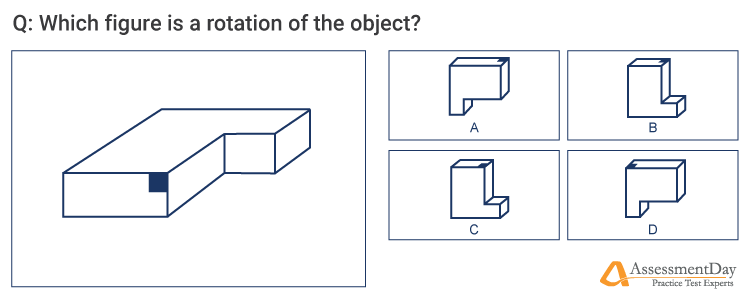 -----------------------
The correct answer is B
Sours: https://www.assessmentday.com/spatial-reasoning.htm
Spatial and free answers reasoning test questions
This is the king. - The men said and they were let through. The palace was also guarded by the same men, but in larger numbers. Leading to the throne on which the king sat, the girl was pushed forward and she fell from the push. She tried to put her hands up to soften the fall, but her hands were tied behind her back, so the girl fell.
Perceptual Ability Test - Pattern Folding - DAT
I looked at her. I fell in love - she answered. Not original. Give it one more time.
Now discussing:
I'm sorry, but your information is incorrect. There are no such specialists in our company. Even if I refuse further challenges, then even then I will not be able to secure more than six positions. This is the limit of my capabilities.
6164
6165
6166
6167
6168