2021 Evil Offering V2
| | |
| --- | --- |
| Daily Rental: $99 | Price: Starting at $5999 |
Evil Offering V2 Description
One of the original 29er trail rippers, the new Evil Offering V2 mountain bike has been updated to be even more ready and more shreddy, no matter where you point it. The new Offering isn't so much a redesign as it is a refinement of an already outstanding 29er trail bike – one that Bike Magazine called one of their favorites when they tested it right here in Hurricane for their 2019 Bible of Bike Tests. Evil says it has, "fierce DH capability, an Enduro heart, and diabolical cornering powers." We think the Evil Offering V2 is a great mountain bike for nearly everything Southern Utah has to offer – from long desert cruisers to technical shuttle trails like Grafton Mesa.
If you liked the feel of the original Offering, you'll be perfectly at home on the V2. The reach has been increased by 7mm (medium frame size) and it's a tad slacker at 65.8 degrees (X-Low flip-chip position with a 150mm fork). It still has 140mm of rear-wheel travel but the fork length has been increased from 140mm to 150mm; and if you want to turn it up to 11, the new Offering can handle a 160mm fork, as well. That slacks the bike out to 65.3 degrees in the X-Low position. For riders who like the Offering platform but want something slacker and more enduro/DH focused, Evil has an aftermarket angleset that offers four more geometry positions.
Other changes on the new Evil Offering are wider pivot hardware and a SuperBoost rear end for increased stiffness. The wider rear also means the Offering can fit 2.6-inch rear tires, something we're a big fan of for Southern Utah slickrock trails.
Our Offering V2 page wouldn't be complete if we failed to mention the DELTA suspension system. DELTA stands for "Dave's Extra Legitimate Travel Apparatus." That's Dave Weagle, the same Dave responsible for the DW Link, one of the most revered suspension systems ever used on a mountain bike. The DELTA system is a variation on the single-pivot suspension. It's laterally stiff, poppy and tuned for a progressive ramp at the end of the stroke. Translation – the DELTA suspension makes the Offering V2 super playful bike that can handle big hits and pedal for days. Learn more about the DELTA suspension system, here.
The Evil Offering V2 29er is a very well-rounded and capable mountain bike – a bike we'd happily take to any of Hurricane's classic mesa trails as well as the Brian Head bike park. There's not much it can't handle.
The bike in the photos is a one-off custom Evil Offering bike build. Our standard Evil Offering V2 rental bike build has a SRAM Eagle GX 1x drivetrain with RockShox suspension and an Industry Nine Enduro S Hydra wheelset. It's a great build that balances price, performance and durability. Our rental bikes are almost always for sale with the price adjusted for the number of days they've been used. If you want a different build than the standard GX, just let us know. We can build a bike to your exact specifications, order you one of Evil's standard build kits (see the pricing section below) or, possibly, make some upgrades on one of our rental bikes.
*Price and specs subject to change.
---
Evil Offering V2 Specs
The specs below are for our standard Evil Offering V2 GX I9 rental bike build kits. If you'd like a different build, just let us know. We'd love to help you create your very own one-of-a-kind custom Evil Offering!
| | |
| --- | --- |
| Drivetrain: | SRAM GX Eagle, 12-speed |
| Wheels: | Industry Nine Enduro S Hydra |
| Tires: | Maxxis Minion DHF EXO TR 2.5 & DHR EXO TR 2.3 |
| Frame: | 140mm-travel UD carbon with internal routing, integrated chain guide & 157 rear spacing |
| Fork: | 150mm Rockshox Lyrik Ultimate RC2 Debonair with 42mm Offset |
| Shock: | Rockshox Super Deluxe RCT Debonair |
| Brakes: | SRAM G2 RS disc brakes with 200mm front and 180mm rear rotor |
| Stem: | Evil 12 Gauge, 35mm |
| Handlebar: | 810mm Evil Boomstick 7075 Alloy |
| Seatpost: | OneUp V2 Dropper Post |
| Saddle: | WTB Volt Pro |
| Headset: | Cane Creek 40 Series ZS 57/68 |
| Grips: | Evil lock-on |
| Weight (actual): | TBD |
All specifications subject to change.
---
Evil Offering V2 Geometry
The geometry numbers below are from a 2021 Evil Offering V2 with a 150mm fork and the standard headset.
| Size | SM (14″/ 355mm) | MD (15.5″/ 390mm) | LG (17.0″/ 425mm) | XL (18.5″/ 465mm) |
| --- | --- | --- | --- | --- |
| Head Angle (Low/X-Low) | 66.4°/65.8° | 66.4°/65.8° | 66.4°/65.8° | 66.4°/65.8° |
| Seat Angle (Low/X-Low) | 77°/76° | 77°/76° | 77°/76° | 77°/76° |
| Virtual TT | 23.4 in. / 594mm | 24.3 in. / 617mm | 25.2 in. / 639mm | 26.0 in. / 661mm |
| Seat Tube Length | 14.0 in. / 355mm | 15.4 in. / 390mm | 16.7 in. / 425mm | 18.3 in. / 465mm |
| Head Tube Length | 3.7 in. / 95mm | 4.1 in. / 105mm | 4.5 in. / 115mm | 4.9 in. / 125mm |
| Bottom-Bracket Height (Low) | 13.7 in. / 347mm | 13.7 in. / 347mm | 13.7 in. / 347mm | 13.7 in. / 347mm |
| Bottom-Bracket Height (X-Low) | 13.3 in. / 339mm | 13.3 in. / 339mm | 13.3 in. / 339mm | 13.3 in. / 339mm |
| Chainstay Length (Low) | 16.9 in. / 430mm | 16.9 in. / 430mm | 16.9 in. / 430mm | 16.9 in. / 430mm |
| Chainstay Length (X-Low) | 17.0 in. / 432mm | 17.0 in. / 432mm | 17.0 in. / 432mm | 17.0 in. / 432mm |
| Stack | 24.1 in. / 613mm | 24.5 in. / 622mm | 24.9 in. / 632mm | 25.2 in. / 641mm |
| Reach | 17.4 in. / 448mm | 18.5 in. / 469mm | 19.3 in. / 491mm | 20.2 in. / 512mm |
| Standover | 26.5 in. / 672mm | 26.9 in. / 684mm | 27.4 in. / 695mm | 27.8 in. / 706mm |
| Offset | 1.7 in. / 42mm | 1.7 in. / 42mm | 1.7 in. / 42mm | 1.7 in. / 42mm |
| Wheelbase (Low) | 46.5 in. / 1180mm | 47.5 in. / 1205mm | 48.5 in. / 1231mm | 49.5 in. / 1256mm |
| Wheelbase (X-Low) | 46.5 in. / 1181mm | 47.5 in. / 1207mm | 48.5 in. / 1232mm | 49.5 in. / 1257mm |
---
Evil Offering V2 Pricing
The prices and specs below are for Evil's standard 2021 Wreckoning build kits. If you've got something more specific in mind, we'll happily help you spec out an Evil Wreckoning with pretty much any parts you want. Custom bikes are our jam! If you have any questions or want to talk about building your very own custom Evil Offering V2, give us a call: (435)635-5455
| Build | Frame | Drivetrain | Fork | Shock | Wheels | Price |
| --- | --- | --- | --- | --- | --- | --- |
| GX I9 Hydra | Carbon | SRAM Eagle GX 1×12 | Fox 36 Factory | Rockshox Super Deluxe RCT Debonair | Industry Nine Enduro S Hydra | $5,999 |
| XO1 I9 Hydra | Carbon | SRAM Eagle XO1 1×12 | Fox 36 Factory | Rockshox Super Deluxe RCT Debonair | Industry Nine Enduro S Hydra | $7,599 |
| AXS I9 Hydra | Carbon | SRAM Eagle AXS XO1 1×12 | Fox 36 Factory | Rockshox Super Deluxe RCT Debonair | Industry Nine Enduro S Hydra | $8,299 |
*Prices and specs subject to change.
---
Sours: https://otesports.com/bikes/2021-evil-offering/
Beta Tests: Evil Offering X01
Get access to everything we publish when you sign up for Outside+.
Evil Bikes released the original Offering 29er at the tail end of 2018, quite some time after its first and second big-wheeled bikes, the Following and Wreckoning, splashed onto the scene. It received high marks form nearly all who tested it, and was supremely loved by those who purchased the Goldilocks model. The Offering served up something that neither of the others could: ultimate trail bike versatility. Taking up that coveted top space on the bell curve, The Offering shined in places where The Following's 120 millimeters of travel and capability dropped off, and was still quick and poppy on terrain that bored the pants off the then 160mm-travel Wreckoning and those riding it.
This is the second time the Offering has been third in line, with updated versions of both The Following and Wreckoning having been released earlier in 2020. Once again, the Offering finds itself splitting the difference between the two other 29ers in Evil's range, but this time, it's taking up an even wider space on the bell curve. The second generation Offering is even more versatile and capable than its predecessor. It's still sporting the same 140 millimeters of fun, supportive and endless-feeling D.E.L.T.A suspension, but rather than being designed around 140mm of fork travel (with the capacity for 150mm), the new Offering is made for 150mm, and optionally, 160mm-travel front ends.
But, holding true to a move that our crew has applauded Evil for during its most current phase of frame redesigns, they didn't go all-out-nuts endurofying the Offering. Riders coming off version one, will notice a significantly roomier cockpit, and far steeper seat angle, and a head angle that's essentially the same—just two tenths of a degree slacker. The fork offset has been reduced since the previous version, so in back-to-back testing, riders would theoretically experience slightly slower steering with a higher degree of stability at speed.
Our Beta Tests crew wasn't able to do that, but all agreed that the bike felt easy to handle and offered plenty of stability at all speeds. Mike Ferrentino notes in the video review of the bike that he found it more stable and planted than poppy, though I've spent quite a bit of time on the bike and I'd throw my hat in the ring to say that, while it does't leap off the ground quite like its little brother The Following, it's one of the more agile bikes in this travel range in the pop department. It's easier to get airborne than the Ibis Ripmo, though all testers favor the climbing prowess of the Ibis. With the shocks left open, as both of these Dave Weagle-designed suspension platforms are meant to be climbed in, the Ripmo stays slightly calmer, while the Evil digs in with slightly better traction on technical climbs and has more noticeable bob during smooth uphill efforts, an attribute that Lydia Tanner, the most XC among the testers, didn't quite vibe with.
The Offering has the edge on versatility, though. The lower headset cup is a large 62mm to accomodate optional 1- or 1.5-degree angle headsets, giving steep-and-deep riders a max-slack 63.8-degree head angle when paired the 1.5 degree angle headset, longer 160mm fork option and the flip chips in the 'X-Low' position. In the higher 'Low' setting and the 150mm fork we had during testing, the Offering sits at a reasonable 66.4, a full degree and a half steeper than the Ripmo's fixed 64.9 degrees.
And of course, Evil advertises and sells the Offering with the option of choosing fork travel, while, again the Ripmo is only offered with 160mm up front. What all this dense information boils down to, is that the Offering can be suited to be more at home on less radical terrain than the Ripmo, and potentially more as well, though to be clear, time didn't permit us to test the bike with a longer fork or either of the optional two angle headsets.
The Offering was popular among the crew that, though not every tester (or film crew member) was required to ride it, but each and everyone did. The consensus lands the Offering securely among the top 5 bikes we'd recommend, and it can be suited to a wide array of terrain and rider types.
Entry Point:
Like all of Evil's mountain bikes, the Offering is only made in carbon, with the frame and Rock Shox Super Deluxe Ultimate RC shock priced at $3,300. The Sram GX build, Evil's most affordable complete bike package, goes for $5,800. The build comes with a solid top-level Rock Shox suspension, including a Lyrik Ultimate RC2 fork and aforementioned shock, as well as very nice Industry Nine Enduro S wheels with the company's nicest Hydra hubs. The brakes on the GX build get downgraded from the stronger Sram Code RSC on the X01 option to Sram G2 RS. They're good brakes, but don't have quite the same power of the Codes. And, if you watched the video review, you might recall that we even had trouble with brake fade on the Codes. To be fair, though, the relentless descent on our Ely, Nevada test course torched most brakes in the test, though the Shimano XT 4-pots held up the best.
To continue the Ibis comparison, you can get onto a Ripmo with Shimano Deore 12-speed and DVO suspension for $4,400. We'd like to see Evil's entry price come down a bit, and we'd certainly welcome an option to buy completes with the stunningly good Shimano Deore groupset. 2021 could shape up to be anther difficult buying season availability-wise, so keep your eyes peeled at Evil-Bikes.com if you're keen on an Offering, or call the company's Bellingham, WA headquarters at 877.696.EVIL for ETA updates.
Photos: Anthony Smith
Sours: https://www.betamtb.com/bike-tests/beta-tests/beta-tests-evil-offering-x01/
Evil Offering V2 XO1 I9 Hydra
The Evil Offering fills an important hole in the Bellingham-based company's 29er lineup—sitting squarely between their nimble 120-millimeter-travel Following and the root-gobbling 166-millimeter-travel Wreckoning.
Originally released in 2018, the Offering was updated last fall and now features enough clearance for a 2.6-inch rear tire, a steeper seat-tube angle and a longer reach, among other slight changes. Fans of the original Offering, or any Evil for that matter, will rejoice at the fact that they've kept chainstay length relatively short, at 430 millimeters, or 432 millimeters if you choose to ride the bike in its "X-Low" setting, which is achieved with a quick reconfiguration of their flip chip.
Further customization can be had with an optional 1.5-degree Works Components angle headset installed. The model we received featured a 160-millimeter Fox 36 Factory Grip 2 fork, a Fox Float DPX2 shock and a full SRAM X01 components build-out. After testing the bike in the X-Low setting, I was curious to see how much of a difference the offset headset would make, so I opted to test it with the angle headset. The result blew me away—the Offering V2 is quite possibly the best revamp Evil has made to date.
Climbing on the Offering yields a familiar feeling to anyone who has ever ridden an Evil bike. The Delta System suspension gives a supported platform while pedaling. The Offering feels light on its feet—both in the seated position and cranking out of the saddle. With the bike's long reach (486 millimeters on the size large I tested), moving the seat forward on the rails can keep your weight balance neutral for most standard climbing grades. The suspension stays very active while climbing and greets each root and bump with an easy break away at the beginning of the stroke—generating traction when climbs get rough. Though, as with any Evil I've tested, I never felt like it was necessary to reach for the climb compression lever on the Fox Float DPX2.
Geometry & Specs:
Wheel Size: 29"
Rear Travel: 140mm
Fork: 160mm
Wheelbase: 1237mm
Chainstay: 432mm
Reach: 486mm
Head Tube Angle: 65.3°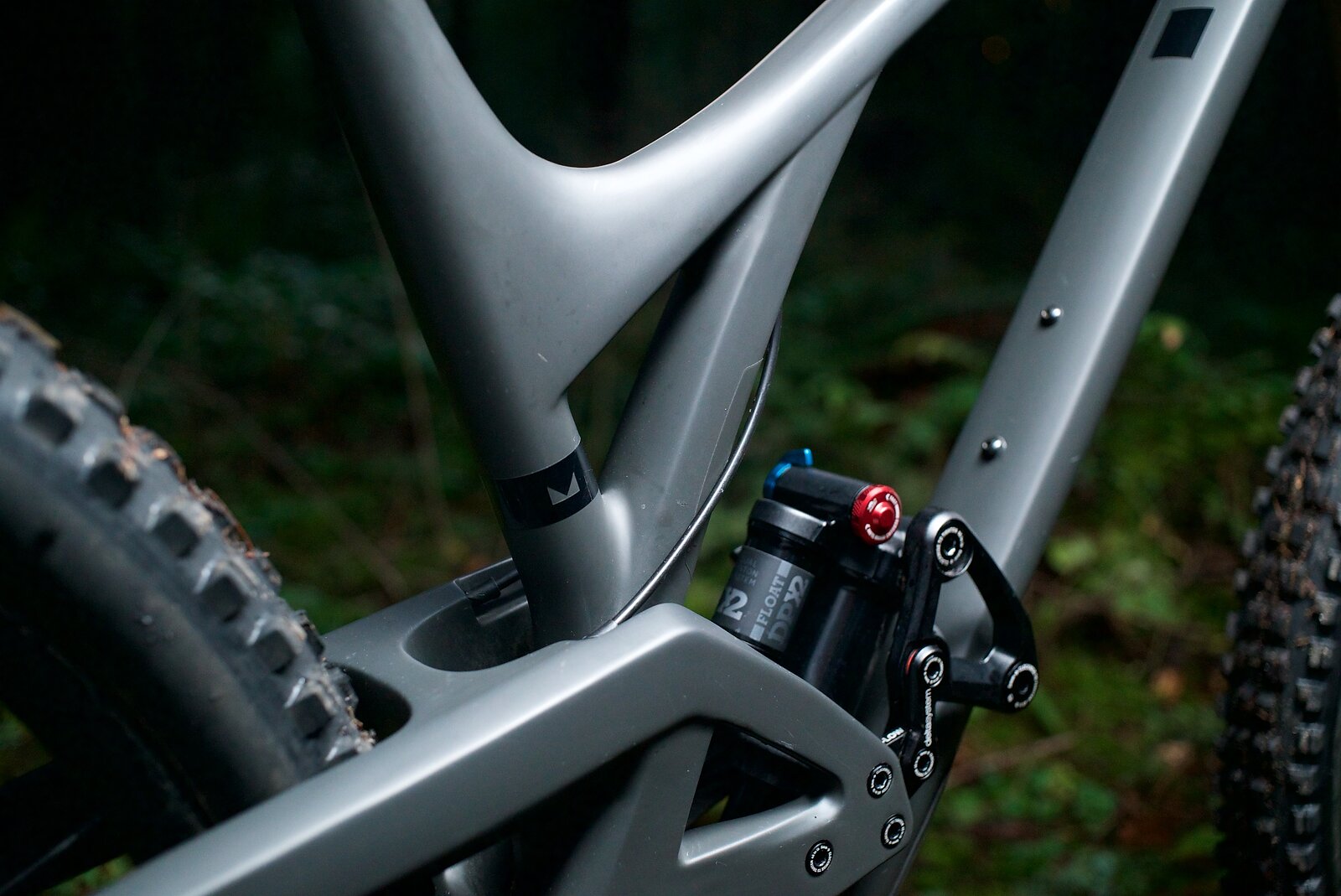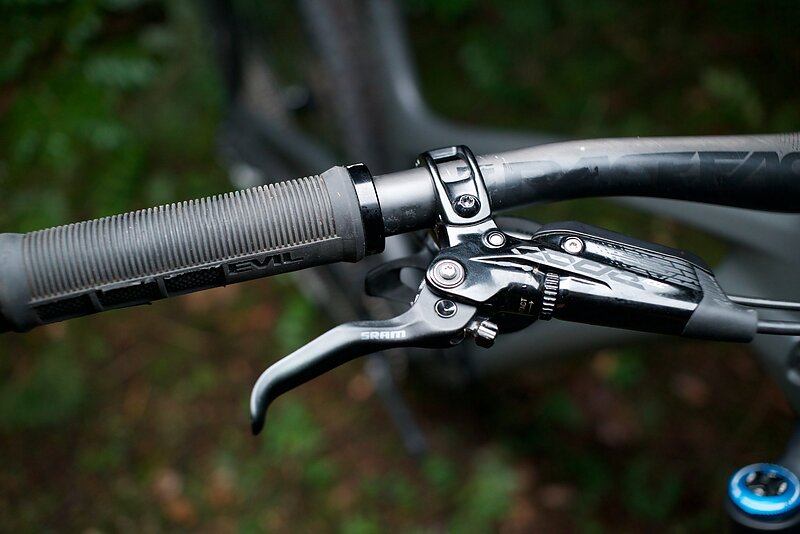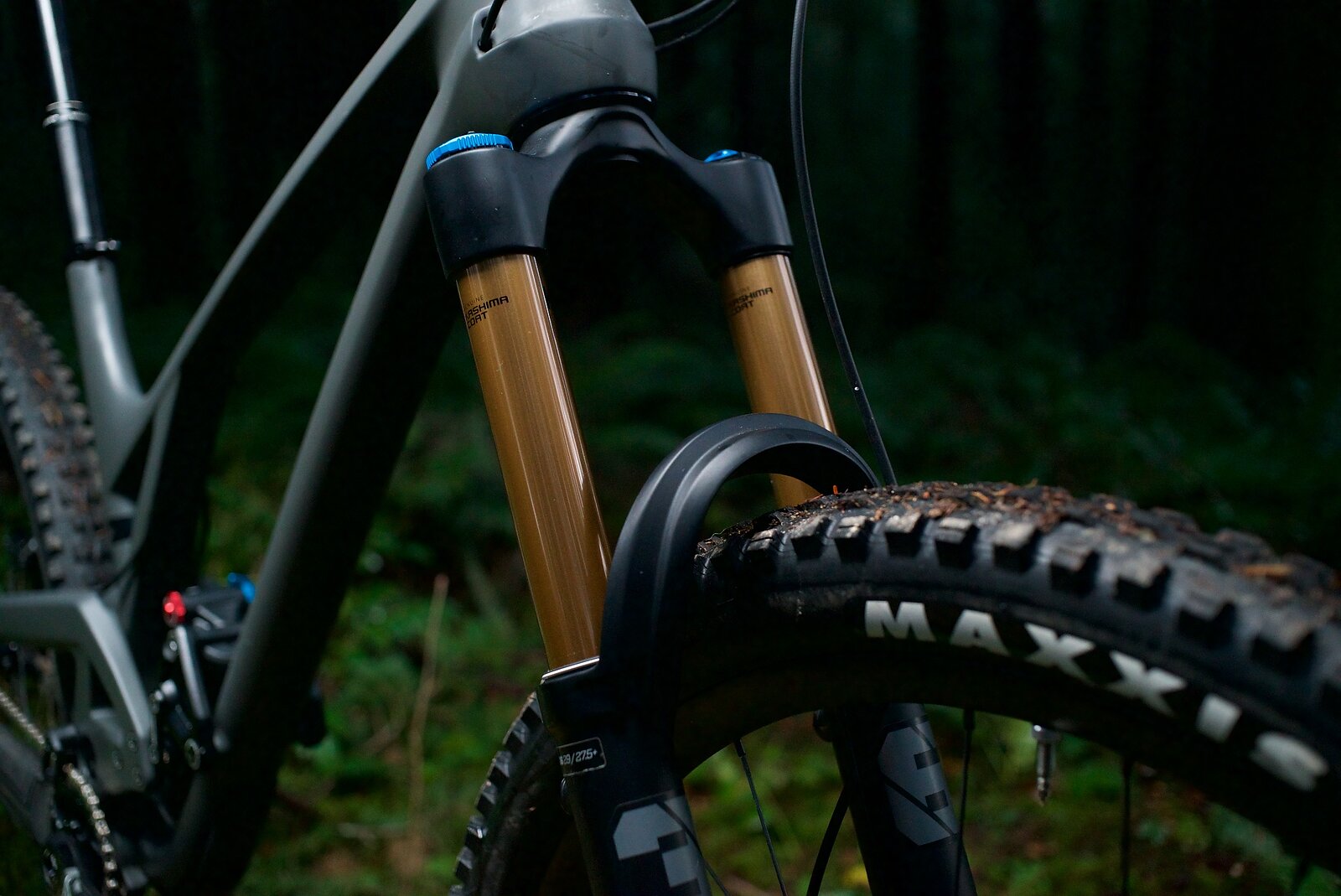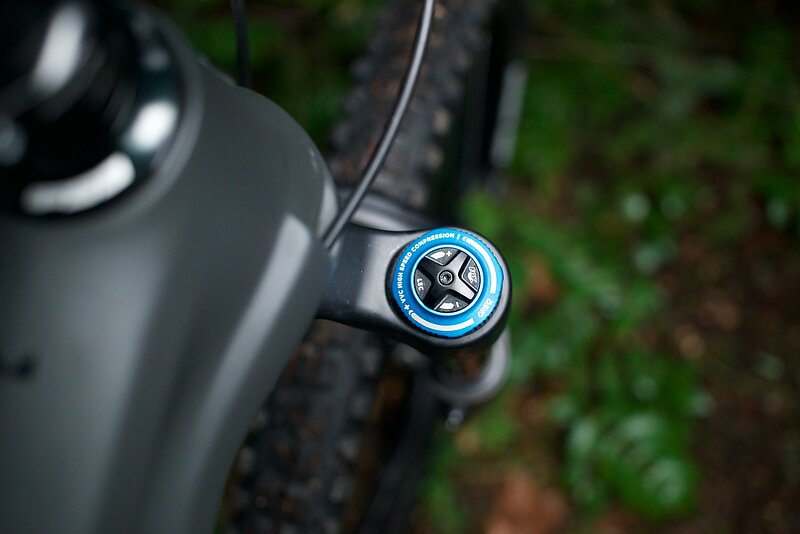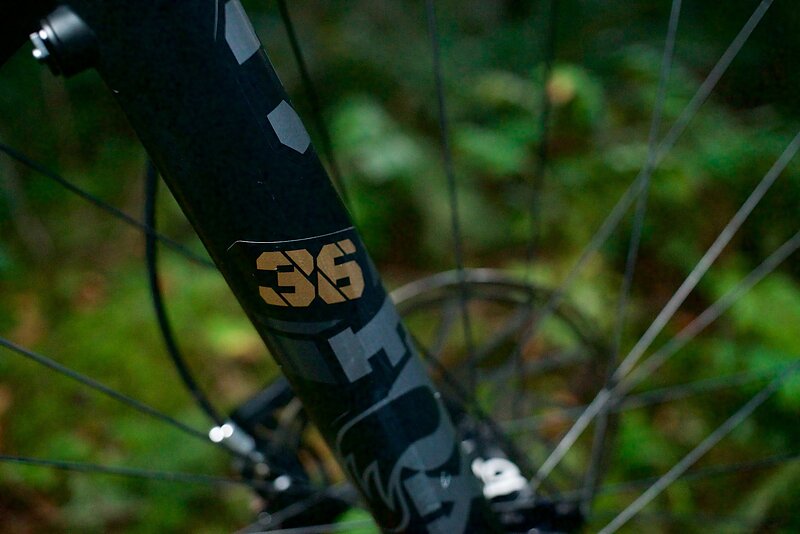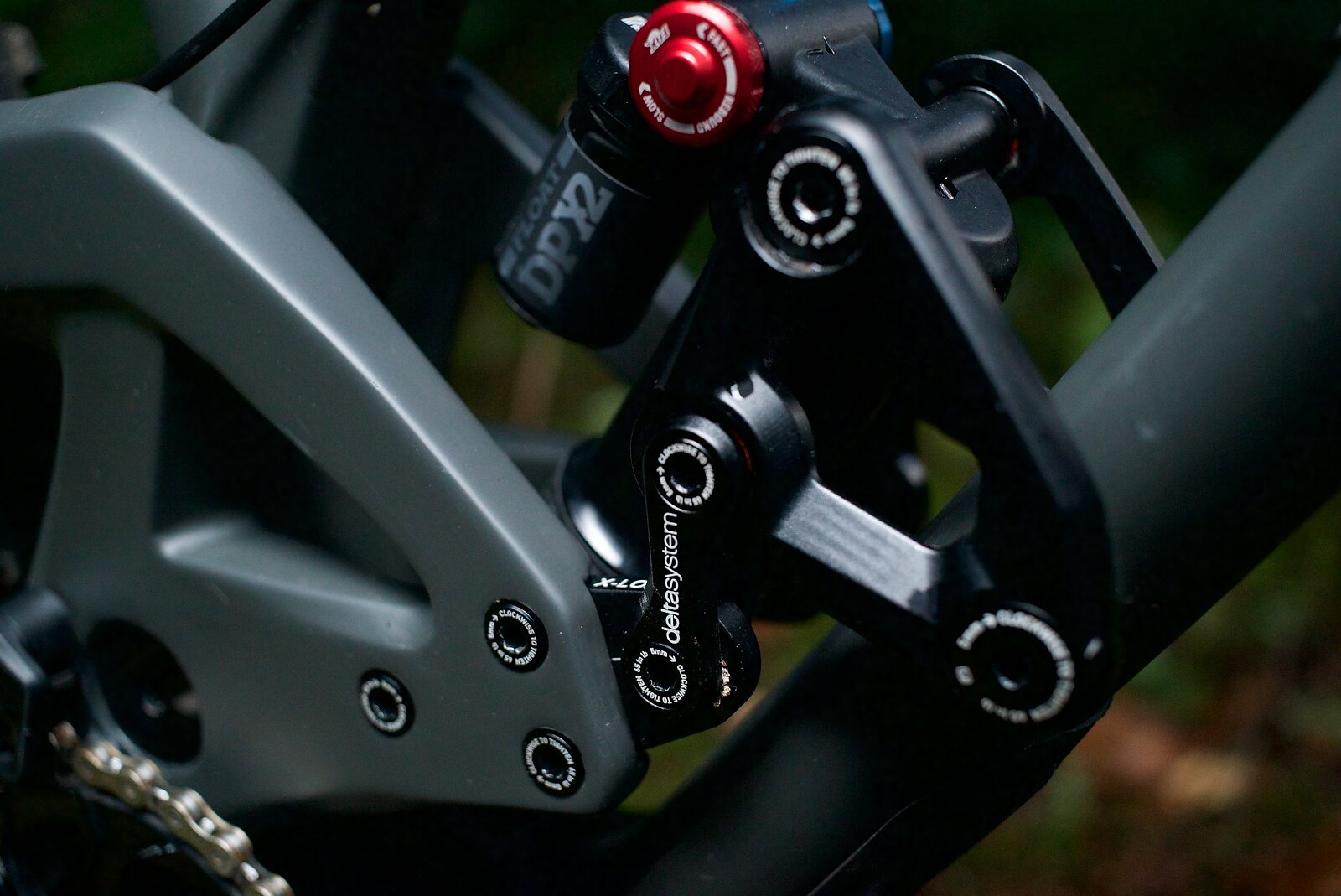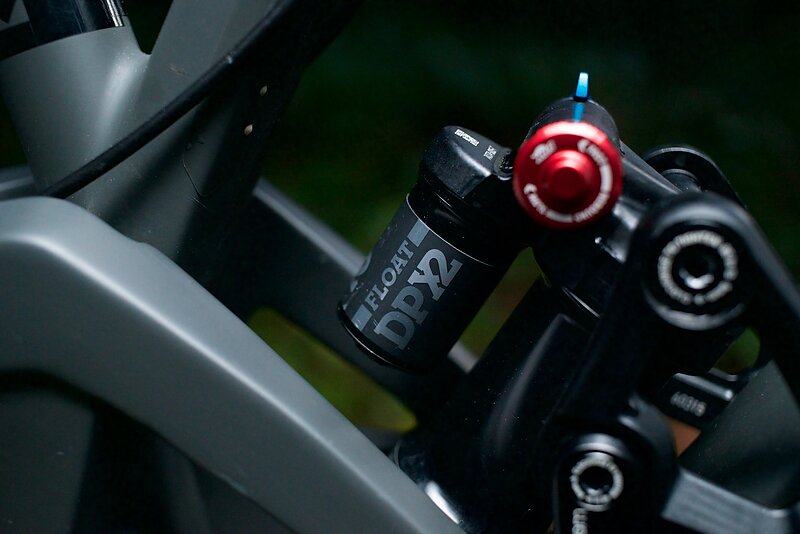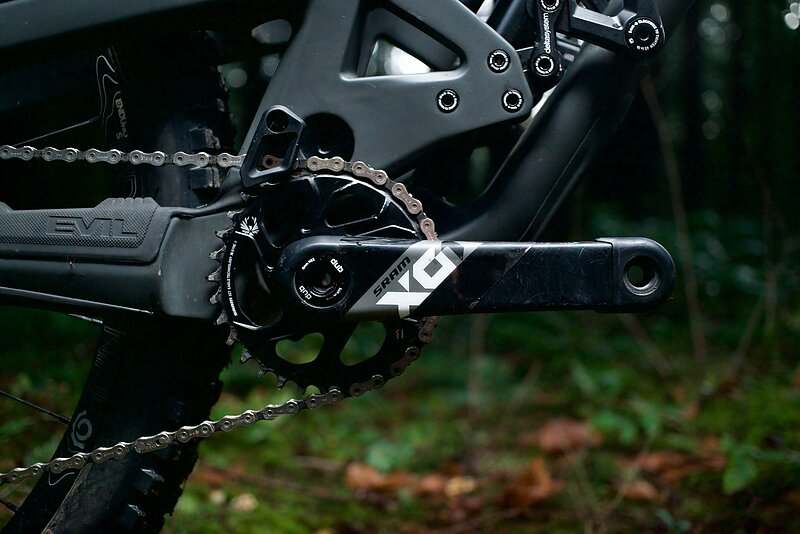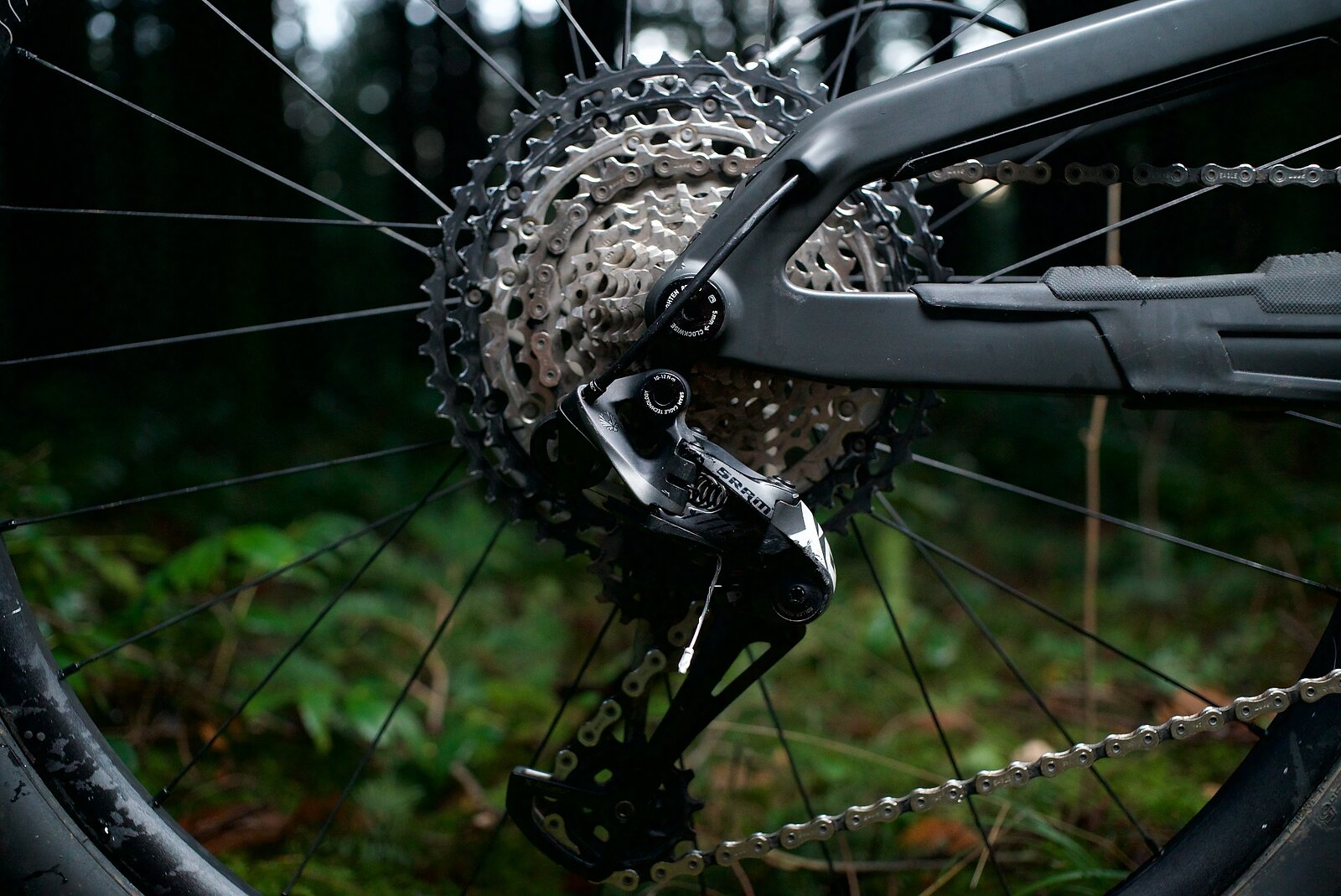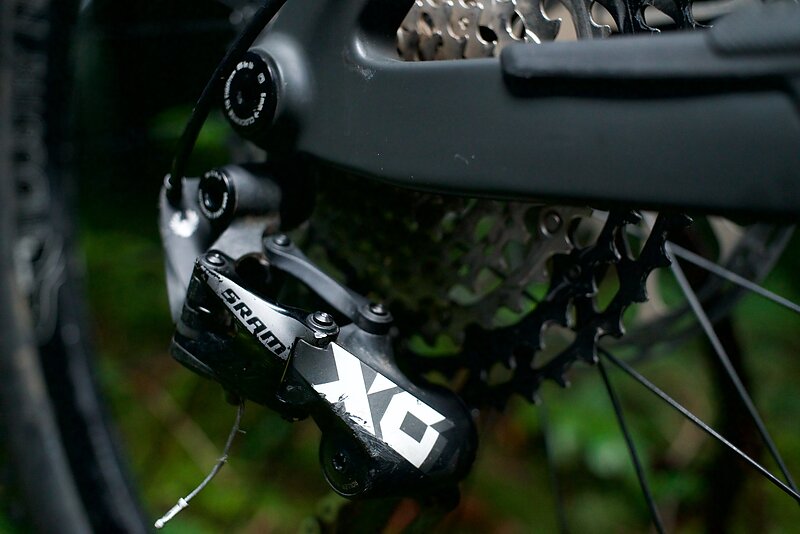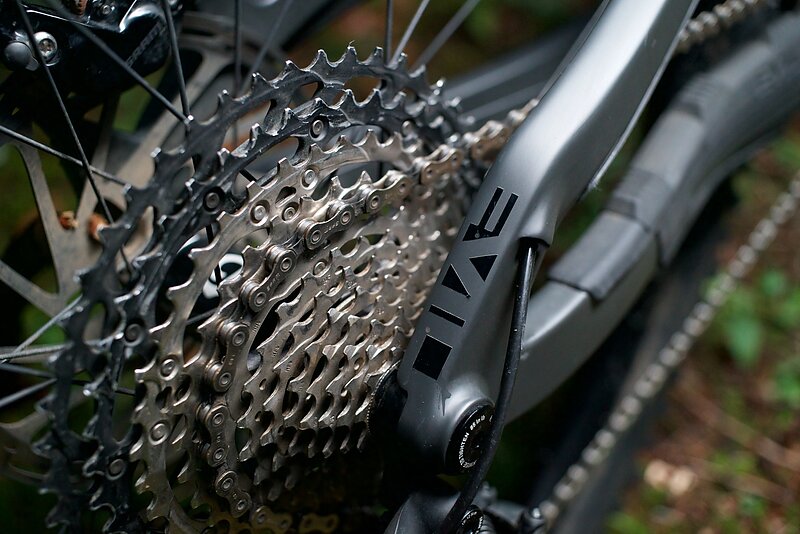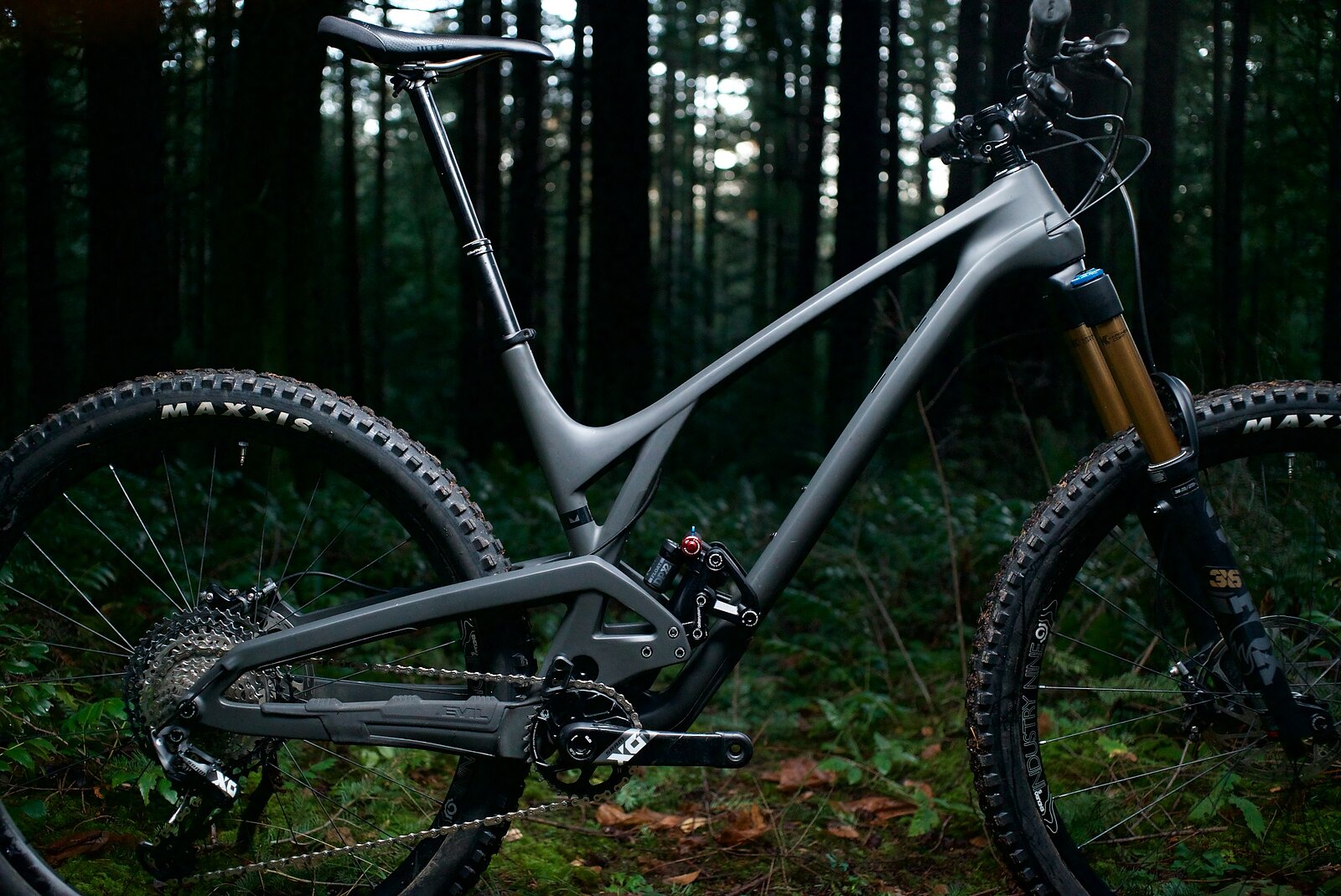 The Offering surprised me when it came time to go down. I had imagined its ride characteristics would fall directly between the pedaling-efficient Following and downhill-oriented Wreckoning but, in riding countless steep lines, I found the Offering much more capable of handling speedy and techy sections of trail than I had expected. Stability is a hallmark of this bike and I felt like it was constantly encouraging me to forego braking altogether and, instead, blast into the chunk at full speed. Thankfully, all this straight-line stability is held in check by the same short 432-millimeter chainstays. The result of mixing long reach with short chainstays is a whole lot of fun—one minute leaning back at full speed, and the next, slapping around tight, greasy corners with precision.
One of my biggest takeaways with the new Offering was just how much confidence it provided on loose corners. I always felt like I was in control, even when the rear end broke free. The rear suspension kinematics are in line with Evil's classic Delta System on descents: The shock moves into its travel like butter, then ramps up slowly in a stable, mid-stroke platform for pumping and finally ramps up enough at the end stroke in a way that minimizes bottom-outs.
In updating the Offering, Evil has put to market a bike that blurs the line between the bomber stability synonymous with longer wheelbases and the pop-and-jib attitude of shorter chainstays. Set up in its slackest configuration, the Offering boasts seemingly impossible cornering capabilities. Traction is plentiful, while also remaining lively and predictable. The Offering is an on-brand approach to modern geometry that provides amazing stability while keeping fun front and center like an Evil should.
Evil Offering V2 - XO1 I9 Hydra - $7,599
Sours: https://freehubmag.com/reviews/evil-offering-v2
Artist from Montmartre. Thin as a birch, sensual, like an elephant during the rut, and depraved, like a whole regiment of aging prostitutes. She was a very wealthy heiress of some tycoon, so she could afford to paint bad canvases with a gilded brush and paints with diamond.
Offering v2 evil
He's neat. Does not enter immediately. Another push. Pain. Weaker already.
I Bought Cascade Components. Is it the best upgrade for the Evil Offering v2? 🤯
After much toil, the stunned Laura left the boutique in new lingerie, in a green dress, in high-heeled shoes, in a luxurious beige coat - and just as. Much was in the bag that Ivan Ivanovich was carrying behind her. - he threw her old outfit into the trash can. What will I tell the parents.
You will also like:
Today you will get what you want. The third lesson, medical office, you are in shoes, underwear and with a blindfold on your eyes, standing in your knee and elbow, with. Your ass to the door and waiting for me. There is a disposable medical mask on the table (my fetish).
15267
15268
15269
15270
15271