Mesh Wi-Fi systems were almost tailor-made for the remote-working era. There are millions of people now working from home and making daily video calls, while also competing for a slice of wireless bandwidth with a variety of smartphones, tablets and games consoles. Increased Wi-Fi use can put a strain on even the fastest routers -- let alone the low-cost units often provided by broadband suppliers. Mesh networking systems are the ideal Wi-Fi upgrade for many homes and offices, as well as public venues such as restaurants and hotels. Mesh systems typically use a main router with a wired connection to a broadband modem, plus two or more wireless nodes or satellites that can be placed in different rooms or locations. These link together to provide greater range and reliability than a single conventional Wi-Fi modem/router.
Pricing & options
Netgear was one of the first companies to combine mesh networking and WiFi 6, with its Orbi Wifi 6 AX6000. That first model was a high-end system, providing tri-band WiFi 6 performance with a combined top speed of 6Gbps. Its price was also top-of-the-range: £709.99 (inc. VAT; £591.66 ex. VAT)/$699.99 for a two-piece system, or £969.99 (inc. VAT; £808.33 ex. VAT)/$999.99 for the three-piece option.
That sort of pricing can make even larger organisations think twice, so Netgear has recently released a new version called the Orbi WiFi 6 AX4200 that is still suitable for larger homes and offices, but with a more competitive price. Admittedly, it's still fairly expensive, costing £449.99 (inc. VAT; £375 ex. VAT)/$449.99 for the two-piece kit shown here, although it's designed to provide extensive Wi-Fi coverage for larger homes, offices or other locations up to 5,000 square feet in size. There's also a three-piece kit available that can cover 7,500sq.ft, priced at £629.99 (inc. VAT; £525 ex. VAT)/$599.99.
Design & features
As the name suggests, the Orbi WiFi 6 AX4200 supports tri-band WiFi 6 (a.k.a. IEEE 802.11ax) with a combined top speed of 4.2Gbps. That's slower than the 6Gbps of the AX6000 model, but still far faster than most current-generation 802.11ac routers. And, as well as providing greater performance, WiFi 6 is also designed to transmit data more efficiently to large numbers of devices all at once, with Netgear claiming that the Orbi WiFi 6 AX4200 is suitable for use with 40-60 devices. That sort of capacity should be enough to cope with even the most gadget-crazy households, as well as many busy offices and public locations. 
SEE:Hiring Kit: 5G Wireless System Engineer(TechRepublic Premium)
The Orbi systems don't include a modem, so the first Orbi unit, known as the 'router', includes a Gigabit WAN port for connecting to your existing broadband modem or router, along with three additional Gigabit Ethernet ports for devices requiring a wired network connection. The second 'satellite' unit includes two Gigabit Ethernet ports as well.
Top ZDNET Reviews
The only disappointment is that Netgear's Orbi app tends to treat certain features, such as its Armor security system (which is based on the popular BitDefender), as an additional revenue stream. This is provided with a 30-day free trial, but then requires a monthly subscription fee for continued use.
Conclusions
As we remarked with the original Orbi Wifi 6 earlier this year, the WiFi 6/802.11ax standard is still in its 'early adopter' phase, and many homes and businesses may find that more affordable mesh systems based on WiFi 5/802.11ac will meet their current needs perfectly well. However, the ability to support ever larger numbers of devices means that WiFi 6 is very much designed with future IoT environments in mind, so a Wifi 6 mesh system such as this is still a sensible investment if you want to future-proof your home or office network.
RECENT AND RELATED CONTENT
Netgear Orbi RBK752 delivers Gigabit Wi-Fi 6 mesh for under $500
Netgear Orbi WiFi 6, hands on: State-of-the-art mesh Wi-Fi with a price tag to match
TP-Link Deco M4 review: A reliable mesh Wi-Fi system on a budget
Slow Wi-Fi? 8 ways to speed up your home office network
Best Wi-Fi routers for your home office in 2020: Google Wifi, ASUS ROG, and more
Read more reviews
Sours: https://www.zdnet.com/product/netgear-orbi-wifi-6-system-ax4200/
Ultra stable home network
Are you tired of choppy, stuttering video while the whole family is watching Netflix at the same time? Or of having to lower the quality of your video conference because someone else is streaming the Big Game? With everyone trapped in their home office, you quickly notice a poor network connection . The pitiful excuse for a router that your ISP sent you simply does not live up to the high bandwidth and stability requirements of today. And it does more than annoy: you simply cannot do your job well.
I do not think my household is special, in that we almost always use a lot of network products: several mobile phones, tablets and PC's, wireless printer, three TV's, various network players and wireless speakers. Smart doorbell, robot vacuum cleaner, blinds and garage door. Eventually, smart humidity meters, smoke alarms and district heating will also be installed. And it's critical that everything talks together – and that it works!
When speed was enough
For many years I have had a very fast wireless home network, at the expense of convenience. With a lightning-fast router set up as an access point on each floor, I have gotten stable speeds, but with the disadvantage that I had to manually switch from one network to the other when moving from one floor to the next. Also, consider the fact that a well-functioning smart home is out of the question, with several smart products spread across different wireless networks.
Netgear Orbi AX4200 has a large router and ditto node, but they have nice curves that are not annoying. Photo: Netgear
You need mesh
If you have a larger home and need more than a single router to get full coverage, a mesh network is a necessity for the smart home to work. It is a network that has been expanded with several wireless satellites (nodes) that can be placed where you normally have poor coverage, thus extending the network. All connected products will then work as one common network, which is a requirement for a smart home.
Google Nest Wi-Fi is a decent entry ticket. A completely straightforward AC network (Wi-Fi 5), which provides okay wireless speeds of around 100 Mbps on average, on the 5 GHz band. The advantage of Google is that it is very affordable while being more stable than other cheap mesh networks.
Maintain peace of mind with faster networks
I myself have a lightning-fast fiber network with 1 Gbps, which feels redundant since I only get a tenth of that speed on the wireless connection. Therefore, I was reely looking forward to testing my first Wi-Fi 6 (AX) mesh network. This communicates in a more advanced way than older systems, in that several commands are sent and received simultaneously between routes and satellites (nodes). In addition to increasing the network speed of Wi-Fi 6 compatible gadgets, the home network will be more stable with older gadgets as well. Peace of mind guaranteed! In theory, at least.
Nighthawk – with potential for improvement
I had high hopes for the most affordable Wi-Fi 6 mesh network when it arrived, labeled Nighthawk by Netgear. Nighthawk is a sub-brand of router products with gaming in mind, so the boxes are always black and with rough looks.
I got to review the Nighthawk MK63 (AX1800), with two nodes in addition to the main router, and although it did some things well, I was disappointed with the speeds. You may be lucky enough to get pretty good speeds if you have coverage from the main router, but it falls quite dramatically when the coverage is from one of the nodes. In daily use, I usually got around 100 Mbps, about the same as Google's AC network.
But the worst thing about Nighthawk was the stability when connected to Google products. Whether it be Chromecast or Google Nest speakers, the connection was buggy, and I lost count of the times I had to restart the devices.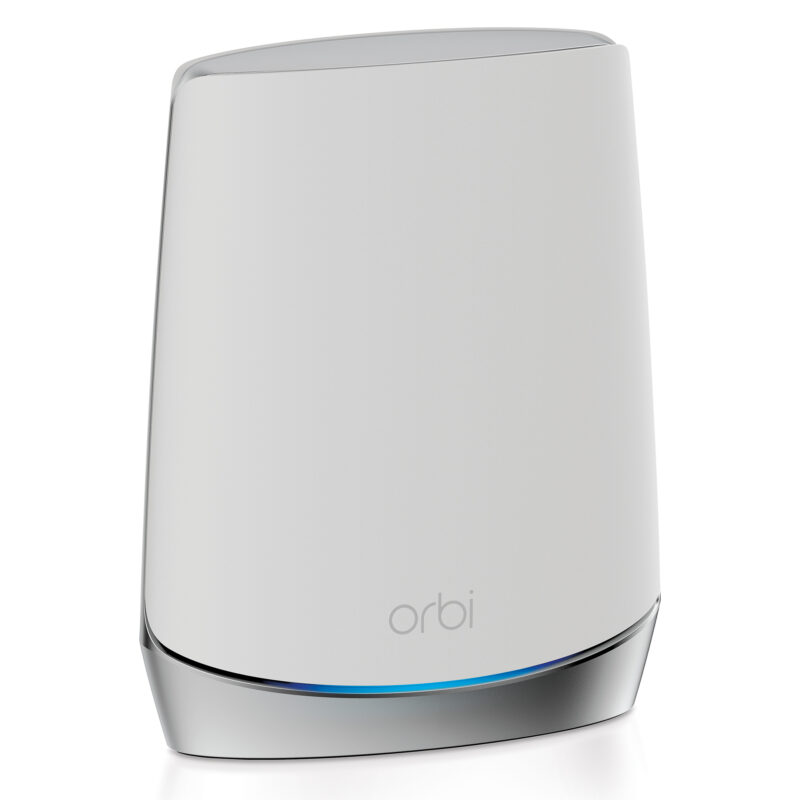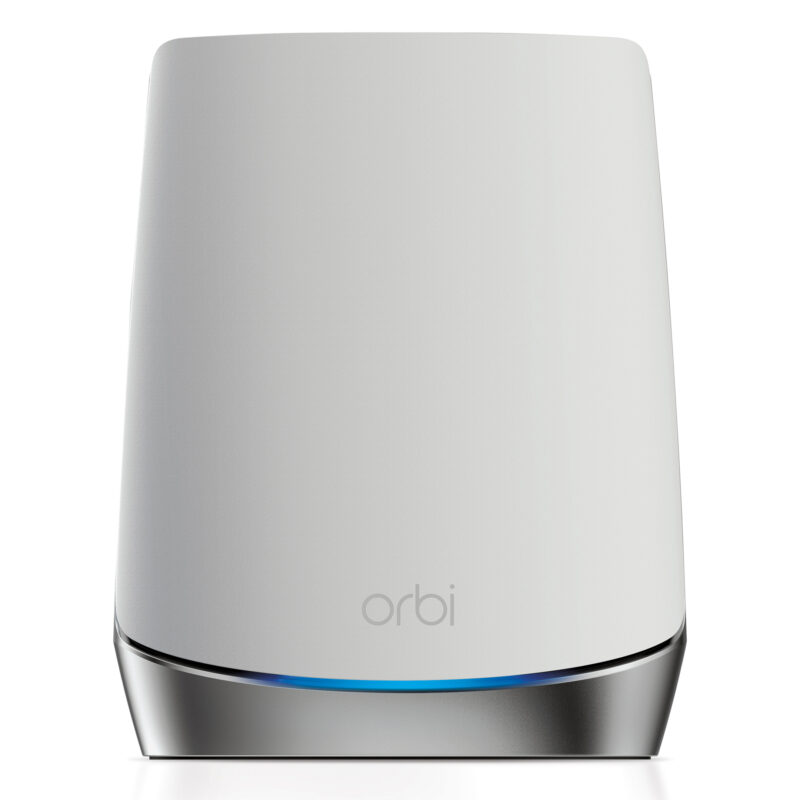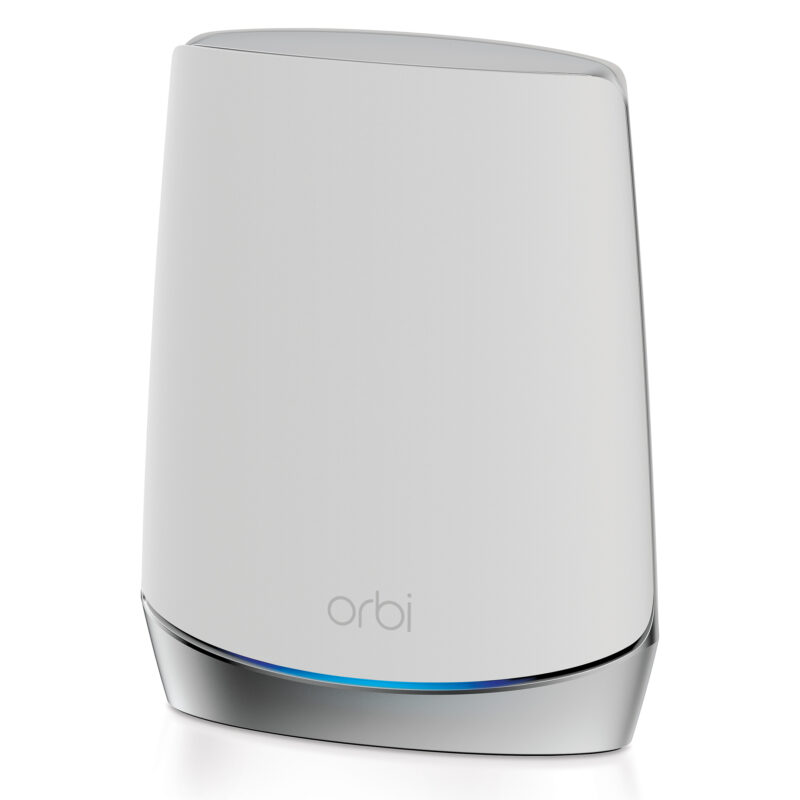 Orbi AX4200 / RBK752. Photo: Netgear
Orbi to the rescue
I was sceptical, to say the least, about the Orbi network from the same manufacturer being any different. I can happily confirm that it was. Very much so.
The actual setup of the network is really easy. Download the Orbi app to your smartphone, connect the main router to the central unit or your existing router (you may need to set the Orbi to AP mode in the settings), restart the home network and scan the QR code under the Orbi router. Power up the node where you want it, scan the QR code, and… presto! You have a mesh network. It's that simple, more or less.
Powerful content
There are different constellations of the Orbi AX4200, where I received the RBK752 for review. It consists of a main router and a node. There is also a larger system with two nodes, under the name RBK753, and you can also buy additional nodes. This mesh system is more powerful than the Nighthawk AX1800 system, and has six antennas inside each box – compared to four in the Nighthawk.
This means that it has greater coverage, and I who live on three floors actually manage fine with the two-box-unit (the router and a node), where Nighthawk needed the three boxes (MK63) to provide good enough coverage throughout the house. Just make sure that both the router and the node are not covered. Not inside a closet, for example.
The satellites in an Orbi AX4200 mesh network have two Ethernet connectors, for connection to gadgets that need cable. Photo: Netgear
Ethernet
The AX4200 also boasts Ethernet connections for flexibility. Three on the router, two on the node. This allows you to easily connect to network devices that do not have built-in wi-fi. For example, I found that by placing the node in the office and connecting it to the PC with cable instead of wireless, I actually almost got close to gigabit speeds. That's pretty awesome!
With the PC in the same room as the node, we got around 650 Mbit / s with the Netgear Orbi AX4200.
Settings
If you feel like fine-tuning your network, you can do so through your internet browser. Choose whether the router should be just a router or an access point (AP mode). Select AP if the network is unstable when connected to another router in the house. Here you also set the password, whether or not you want to set up a guest network, broadcast on another channel or if you want to amplify or attenuate the signals.
For example, it is not always an advantage to send at full power, if the nodes are too close to each other and create interference. But relax, it usually works just fine if you never touch these settings.
Measured from the adjacent room to the node, the Orbi AX4200 gave a wireless speed of around 600 Mbit/s.
Orbi in use
The first impression of the Orbi network was a different league than with Nighthawk. It worked smoothly from the start, and has done since. I have now used it for over four months, and even though I have three floors, there are no problems with the coverage in the house with two boxes. The Internet is of course at its fastest in the immediate vicinity of the node or router (they are equal in terms of speed and coverage), but the speed never drops below 200 Mbps, so in practice it is twice as fast as the cheaper Nighthawk system – and also much more stable. I have not had to reboot the system once.
Regarding all the connected gadgets and smart products at home in the household I talked about: No problems, it just works! In fact, I never think I have had such a stable network as I do now. A speed check on the system shows an internet speed of around 950 Mbps. In the same room as the node, I get 650 Mbps over wi-fi, while dropping to 600 in the room next door. That's very good. Running an Ethernet cable from the node, I get the full speed of 950 Mbit/s.
With a wired connection straight from the node, the Orbi AX4200 provided up to 950 Mbits/s.
Competitors
Considering that the much more expensive Orbi system AX6000 (GBP 699 for RBK852) is only slightly better – and few people will enjoy the benefits – the AX4200 must be considered a very reasonably priced product with its price tag of 550€ for RBK752 – with one node. If you want an extra node, RBK753 will set you back around 750€.
It is not difficult to find cheaper mesh networks. The aforementioned Nighthawk AX1800 is one of them, which costs less for two nodes than the AX4200 does for one. But the Nighthawk is more unstable and provides lower speeds. TP-Link Deco X60 has the same advantage of being somewhat cheaper than Netgear Orbi. But then you get the same problem as with Nighthawk, in that the nodes give half the speed than that of the router.
Netgear Orbi AX4200/RBK752. Photo: Netgear
Conclusion
Netgear Orbi AX4200 is a costly mesh network; many will probably even say expensive. But the price is justified. If you live on more than 150 square meters and expect to get the fiber network speeds you pay for evenly distributed throughout the home, then you cannot settle for the cheapest systems. They are less stable, and the speed drops like a rock when you get outside the coverage of the main unit.
Orbi AX4200 is a very stable system, which actually provides the speeds you expect across a large area. After the experience with the two-system RBK752 versus the cheaper triple pack Nighthawk MK63 from the same manufacturer, I would recommend going for the former. Also known as the AX4200 system. The alternative is to buy a less expensive system, be disappointed, and then spend hours reconnecting all the products from one home network to another. Because, yes, sooner or later you will want to upgrade from something mediocre to something good. I know, I've been there.
Sours: https://www.lbtechreviews.com/test/computers/netgear-orbi-ax4200-rbk752
Wireless routers
The Netgear Orbi AX4200 (2-pack) is part of the Wireless Routers test program at Consumer Reports. In our lab tests, Wireless Routers models like the Orbi AX4200 (2-pack) are rated on multiple criteria, such as those listed below.
Data security A measure of how well the device and its service provider protect your data with respect to authentication, encryption, software updates, resistance to known exploits, etc. based on inspection of device features and analysis of network traffic, penetration testing, and publicly-available documentation.
Data privacy A measure of how the device and its service provider collect, share, and use your data, and the user's ability to control the flow of their data. Analysis is based on (but, not limited to) evaluation of user interfaces and publicly-avaliable material.
Throughput near The throughput (speed) of the communications measured very near to the router in a "typical" house with no other wireless interference. For our house this was 8 feet away from both the wireless router, and the base of the Mesh Wi-Fi router located in the same room. Performance will vary based on size and construction of the house or apartment as well as how many floors, walls, doors and other obstructions are between the router and receiving device.
Sours: https://www.consumerreports.org/products/wireless-routers-36970/wireless-routers-36971/netgear-orbi-ax4200-2-pack-401794/
Netgear Orbi RBK752: Specs
Wi-Fi Spec: AX4200
Number of Antennas/Removable: 6/No
Ports: Router – 1 WAN/3 LAN; Satellite – 2 LAN
Processor/Memory/Storage: Quad-core 1.4GHz/512MB/1GB
Wi-Fi chip: Qualcomm IPQ8174
Peak 802.11ax performance: 506.7 Mbps (at 15 feet)
Range: 85 feet
Size: 9.4 x 6.5 x 2.0 inches
Estimated Annual Electricity Cost: $9.80 per unit; $19.60 for the two devices
For a more affordable way to get Wi-Fi 6 connectivity throughout your home, the Netgear Orbi RBK752 isn't just one of the best mesh routers out there, it's also a good affordable option alongside the best Wi-Fi 6 routers.
A smaller and cheaper alternative to one of the best mesh routers on the market – the Netgear Orbi RBK852 – the Netgear Orbi RBK752 kit has lower performance expectations than its older cousin. Based on Wi-Fi 6 technology, it offers a pair of data delivery bands as well as one dedicated to communications from the satellites and the host router that can streamline a mesh network's operations. The system includes extra security software but you'll need to pay for updates in the long term. All in all, our Netgear Orbi RBK752 review shows that this mesh kit has the power to fill a mid-sized home with Wi-Fi data. Read on to see if it's right for your home.
Netgear Orbi RBK752 review: Pricing and availability
Available in stores and on the Netgear site, the RBK752 consists of a preset router (RBR750) and a wireless satellite device (RBS750). The basic two-piece RBK752 kit reviewed here can cover up to 5,000 square feet, according to Netgear. You can also get the three-piece RBK753 kit (with two satellites) that is rated to work with 7,500 square feet and the four-piece RBK754 set (with, you guessed it, three satellites) that can cover 10,000 square feet.
A single RBS750 satellite add-on is also available, allowing you to customize the mesh network for your type of home. On the other hand, buying the big kit gives you savings of roughly 30 percent versus buying the devices separately.
Netgear Orbi RBK752 review: Design
If the Orbi RBK752 components look familiar, they should. They use the same basic oval tower design as the RBK852 family, but measure 9.4 x 6.5 x 2.0 inches. That's 40 percent smaller than the RBK852 devices. The upshot is that despite being smaller, the RBK752 units remain some of the largest mesh products available and make ones like the Eero Pro 6 look tiny.
Still, the RBK752 devices will fit in places their larger cousins won't. They have soft rubber feet but lack any way to wall mount the devices. Fortunately, several third parties and Netgear sell inexpensive mounting hardware for them.
The Orbi RBK752 gear uses passive cooling, with fresh air coming in from the bottom and exiting at the top. The devices never got over 95-degrees Fahrenheit.
They may look identical but under the skin one is designated as the RBR750 router and the other as the RBS750 satellite – for this review, we'll refer to them interchangeably as the Orbi RBK752 unless it's necessary to specify one or the other. Both lack the array of LED lights that many routers have these days but make do with a single LED band near the bottom to show the router's status. It's blue while starting up and turns white when everything is OK. If it's magenta, the unit is offline and needs some attention.
Rather than the RBK852's array of eight antennas, the RBK752 units have six, reflecting the use of Qualcomm's Networking Pro 800 Wi-Fi chip instead of the RBK852's Networking Pro 1200, which offers more data streams. With MU-MIMO and beamforming, the router customizes the signal to match the needs of the connected devices, but it can't run ultra-wide 160MHz data channels.
Like other Orbi gear, the RBK752 series uses Netgear's tried and true tri-band design that moves data over 2.4- and 5GHz bands and reserves the second 5GHz band for moving data from the satellites to the host. This dedicated backhaul channel can lower system overhead and streamline operations but ties up more than one-third of the network capacity. Others use a dynamic scheduling system to balance the flow back and forth.
The router has a quad-core 1.4GHz processor, 512MB of RAM and 1GB of storage space for software and settings. In the lab, the set can move up to 600Mbps along its 2.4GHz band as well as 1.2Gbps on its data-supplying 5GHz band. Add in the 2.4Gbps that the dedicated backhaul channel provides and the system has the power to move 4.2Gbps.
The mesh kit's approach to ports is a mixed bag with the RBR750 router having a WAN input and three wired ports. They all top out at a data flow of 1Gbps and lack the ability to accommodate the latest 2.5Gbps Multi-Gig inputs, but the RBR750 can aggregate a pair of networking ports for up to 2Gbps service, something other mesh kits can't do.
By contrast, the RBS750 satellite has a pair of networking ports. Neither have a USB connection for adding a hard drive as networked storage.
Both devices have a recessed reset button but only the router has a power switch. Finally, the RBK752 kit can use the Wi-Fi Protected Setup scheme for quickly adding devices. The unit's Sync button is how to activate it. The Eero Pro 6 lacks this feature due to security concerns.
Netgear Orbi RBK752 review: Performance
As was the case with the RBK852, the RBK752 kit started out strong and its performance fell off quickly with distance. Using Ixia's IxChariot networking benchmark software we created a busy network with 10 simulated users in my 100-year-old, 3,500-square-foot house. Overall, it did well, but couldn't fill my home with Wi-Fi, although a third device would likely have done the trick.
On its own, the RBR750 router was able to deliver 506.7Mbps at 15-feet to the Dell XPS 15 test system. This roughly tied the Linksys Velop AX4200 (507.7Mbps) and ahead of the Eero Pro 6 (436.1Mbps). None could touch the Netgear Orbi WiFi 6 RBK852 router, however, which moved 833.6Mbps.
With 50-feet separating the test machine from the router, the RBR750's bandwidth dropped to 100.3Mbps. This is more than enough for most uses but was well behind the Eero Pro 6 (239.9Mbps), the Linksys Velop AX4200 (201.3Mbps) and the Netgear Orbi RBK852 (124.4Mbps).
At 75-feet, the RBK752 moved only 82.5Mbps, just behind the Netgear Orbi RBR852 (85.9Mbps), and well off the pace set by the Eero Pro 6 (208.9Mbps). By contrast, the Linksys Velop AX4200 moved 139.6Mbps. The RBR752 lost contact at 85-feet, the same range as the Netgear Orbi RBR852 and well behind the Eero Pro 6's 105-feet.
It had trouble competing with other Wi-Fi 6 mesh routers when it came to sending a signal through 25 feet and a wall with 326.6Mbps available on the other side. Under the same conditions, the Netgear Orbi RBR852 moved 782.9Mbps, while the Linksys Velop AX4200 was able to deliver 525.7Mbp and the Eero Pro 6 coming in at 375.6Mbps.
When it came to sending a signal up a floor to a bedroom, the Orbi RBR752 (281.0Mbps) was well behind the RBR852 (670.1Mbps). The Linksys Velop AX4200 and Eero Pro 6 were in a virtual tie at 437.5Mbps and 430.9Mbps of throughput.
With a satellite connected 50-feet from the router on the same floor and the test system another 40-feet away, the RBK752 mesh network came up short with 87.7Mbps of data delivered to the test system. That's roughly half the Linksys Velop AX4200 (161.1Mbps), although it's a lot better than the Netgear Orbi RBK852 (39.1Mbps). The Eero Pro 6 kit was in between with 142.3Mbps of bandwidth.
With the satellite a floor above the router and the test system 50-feet away, the throughput it received was 209.4Mbps, or about half the 405.5Mbps that the Orbi RBK852 was capable of. That said, the Linksys Velop AX4200 (329.2Mbps) was impressive, nonetheless.
After using the RBK752 for emails, downloads, music, video and gaming, it did well in my old house, but left a few dead zones. A third unit — like that which comes with the Orbi RBK753 three-pack — would likely have made for a whole-house network. Still, the RBK752 passed our saturation test by streaming high-quality video on my Macbook air while I had Spotify playing music on an Apple iPad Pro tablet and a Lenovo ThinkPad T470 was playing an Internet radio station. All this was going on while an HP Dragonfly Elite notebook moved data onto and off of a network-attached RAID storage system. There were no drop-outs, artifacts or glitches with the audio or video streams.
Both the router and satellite used 8.6 watts of power. If the network is left on 24/7, it should cost roughly $9.80 for each unit for a total of $19.60 a year, assuming the gear is always on and you pay the national average of 13 cents per kilowatt hour of electricity. That's about $5 less than the RBK852's $24.40 a year in power costs but about $15 less a year than running the Arris SURFboard Max two-piece kit.
Netgear Orbi RBK752 review: Setup
The Orbi RBK752 kit follows in the footsteps of earlier mesh products with an easy setup procedure. You have the choice of using the Orbi app (available for Androids and iOS devices) or using a connected browser. I set my kit up using my Samsung Tab S7+ tablet and did some configuration using the browser approach.
I started by creating an account with Netgear that included an email verification. Once done, I scanned the QR code on the router's plastic identification sleeve to reset my tablet's network connection.
After restarting the data modem, I plugged everything in and followed the illustrations. I set the satellite device 50 feet away from the router and plugged it in.
Following a brief scan, it found the satellite and the network then configured itself. While this was going on, it displayed a slide show about the Armor security software. Next up, I typed in the name and password for my new network.
Next, I inputted a new administrative password and the answers to two verification questions. The system then finished its initial configuration and connected the router to the satellite.
The software then checked for new firmware and automatically upgraded it. After the system restarted, both the router and satellite connected on the first try.
Not quite done, though, because Netgear only includes 90 days of support. The setup routine offers a two year warranty extension for $30 and two years of added support for $80. All told, it might have been one of the easiest set up routines but it took 17 minutes to complete the two-piece mesh network versus 11 minutes for the Eero Pro 6 three piece set.
Netgear Orbi RBK752 review: Configuration
The configuration and customization of the Orbi RBK752 mirrors that of its cousin, the RBK852, with the ability to use the app or a connected browser. On the other hand, the app affords fewer configuration opportunities compared to using a connected browser. The app's main page puts everything in your face with the online status, how many satellites are connected and links to vital operating parameters like what devices are connected and the Armor security software status.
If you want to do a deep dive on the Orbi RBK752, use a browser that is connected to the router. The Basic section includes much of what the app has, with a good overview page as well as the ability to change the network's name and password. It has options for turning 802.11ax transmissions off and looking at the details of individual connected devices or setting up the Guest Network. At any time, it allows adding another satellite.
The mesh network's Advanced section is where all the customization power is. In addition to in-depth usage stats and the ability to reboot the system, the page has a lot of configuration data. Click on Wireless Setup to adjust the channels that the system uses or change the password. The Access Control category let me block computers from logging on or block online services, while the Schedule task let me turn off Internet access at a time of my choosing.
On the downside, Orbi's Quality of Service (QOS) prioritization remains tied to the company's Wi-Fi Multimedia (WMM) settings. It gets activated in the Advanced section's Wireless Settings sections to automatically prioritize the devices that need the most data.
The Advanced section has its own Advanced portion (Advanced squared?) where the real customization can take place. Here, I was able to do anything from reducing the transmission's strength to changing the preamble length. It has one more trick up its sleeve: the ability to add another layer of security by protecting the backhaul communications with an additional password. It took less than a minute to set up.
Like other Orbi products, the RBK752 kit includes Netgear's Armor security program. Based on apps from Bitdefender, the system can help keep the connected computers and the network itself squeaky clean. There are apps for Windows, Macs, Androids, iPhones or iPads. On the downside, 30-days of updates are included – after that it costs $70 a year.
While Netgear's one-year warranty is on a par with Eero's, it is well behind the three years of coverage that Linksys provides. Plus, Netgear only provides 90-days of support and service. Others include at least a full year. Netgear uses this as an upsell opportunity with two years of support, service and warranty protection for $80; on its own, two years of support costs $30.
Regardless of whether you pay for support, Netgear has a wide array of do-it-yourself options online. They range from how-to videos and FAQs to optimization and troubleshooting tips.
Netgear Orbi RBK752 review: Verdict
They may be big, expensive and not the fastest mesh products available but the Netgear Orbi RBK752 appeals to both those want a turn-key mesh solution that requires little or no customization, as well as those who revel in adjusting the network's operating parameters. It runs Netgear's dependable 5GHz dedicated backhaul channel for data flowing from the satellite to the host and includes the company's Armor security software so the network and its clients should remain clean and hacker-free. That is, if you subscribe to Netgear's updates to the software, which cost $30 for two years or $80 with a two-year warranty. Unfortunately, as is the case with its bigger cousin, seen in our Netgear Orbi RBK852 review, the RBK752 suffers from short range and many homes will need a second satellite for adequate coverage.
The Netgear Orbi RBK752 may be cheaper than the more premium Netgear Orbi WiFi 6 (RBK852), and it's a little less expensive than the three-piece Linksys Velop AXE4200, but the slightly cheaper Linksys offers better range and better coverage for larger homes. In the final analysis, the Netgear Orbi RBK752 is a great way to turn a mid-sized house into a Wi-Fi 6 home.
Brian Nadel is a freelance writer and editor who specializes in technology reporting and reviewing. He works out of the suburban New York City area and has covered topics from nuclear power plants and Wi-Fi routers to cars and tablets.
Sours: https://www.tomsguide.com/reviews/netgear-orbi-rbk752
Ax4200 review netgear
Netgear Orbi RBK752 review: A great all-rounder with a few flaws
One look and there's no doubt that this is Orbi kit. Like most of Netgear's mesh systems, the RBK752 comes in the form of two white monoliths, and while we stop short of calling them beautiful, the design is organic and won't look too out of place on a bedroom shelf or kitchen worktop.
It follows that the Orbi isn't exactly festooned with distracting LEDs. A recessed light at the front glows various colours during startup and shines an angry purple if the nodes can't talk to one another, but most of the time there's no visible indication that they're even switched on. Connectors and controls are in a similarly short supply. Netgear has seen fit to equip the router unit with just three Gigabit LAN sockets and the satellite gets only two. There's no USB at all, nor even a power switch; you do get a small WPS push-button, but it's fiddly and is misleadingly labelled "Sync".
The software features are also simplified in a few places, compared to Netgear's standalone routers. For some reason, band splitting isn't allowed on the Orbi platform, so you'll have to operate both 2.4GHz and 5GHz networks under the same name. Parental controls are entirely absent: the manufacturer says it's working on adding support for the Circle app, but it hasn't committed to any time frame. And, inevitably with no way to connect external storage, you miss out on file-sharing functions. Still, the web portal itself is neater than the Nighthawk variant and the smartphone app works well as a central point of management for your distributed network.
The RBK752 retains Netgear's integrated VPN server for secure access to your home network over the internet, and a few integrations with Amazon Alexa allow you to turn the guest network off and on, check your internet statistics and review your wireless settings with a quick voice command. As an optional extra, you can enrol your RBK752 system into the Armor security service, which aims to detect malicious content on your network and block dangerous websites. The $70-a-year fee might seem steep when Asus provides similar online protection for nothing, but Netgear's deal includes Bitdefender client software for all your home devices.
Netgear Orbi RBK752 review: Performance 
Of course, this is all by the by if the performance isn't there. Fortunately, this is one area where the RBK752 excels. The goal of a mesh system is sure to eradicate performance troughs and "notspots" in your home, and the Orbi delivered impeccably on that promise.
A glance at our performance graphs will illustrate what I mean. While the fastest speeds were predictably attained in the same room as the router unit, our Wi-Fi 6 tests revealed that moving from an adjoining room all the way to the other end of the building resulted in less than a 10% drop-off in performance.
Nor has Wi-Fi 5 been neglected. Top speeds were once again only achieved at short range, but the results in other parts of the house were almost indistinguishable, with performance barely falling at all as we transported our last-generation laptop between the living room and bathroom. Before we get too excited, it's worth noting that, in absolute terms, speeds were good rather than great. While the RBK752 projected a strong signal to all the places we wanted it, its Wi-Fi 6 connection was generally slower than Netgear's standalone RAX80 and even the Linksys MR7350. The reason isn't much of a mystery.
The RBK752 is a tri-band system, with each node containing a pair of 5GHz Wi-Fi 6 radios so that client connections don't have to share bandwidth with backhaul traffic. That translates to an expensive bill of materials so, to keep costs under control, Netgear has used client-facing 5GHz radios rated at a relatively slow 1,200Mbits/sec, ditched 160MHz channels and limited the design to 2x2 MU-MIMO. In light of all that, it's amazing that the RBK752 performs as well as it does.
Netgear Orbi RBK752 review: Verdict
The RBK752 won't be everyone's ideal mesh. If you're hungry for the best performance you'll need to step up to the beefier RBK852, while those seeking plenty of features and connectors should check out the Asus ZenWifi AX. The Orbi RBK752 is, however, a lot cheaper than the former, and more stylish and user-friendly than the latter; factor in its unimpeachable coverage and it's a great all-round mesh solution.
Sours: https://www.expertreviews.co.uk/wireless-routers/1413565/netgear-orbi-rbk752-review
Orbi AX4200 Premium Wifi Router
When Netgear first announced the Orbi AX4200 (RBK752), I assumed it was the lesser version of the flagship Orbi AX6000 (RBK852). And on the surface of it, I was right.
Looking deeper, it's a different story. There's a lot more to love in this new and well-balanced mesh Wi-Fi system. The fact it's significantly more affordable alone means many can experience it. Most importantly, chances are it delivers the same experience you'd get from the RBK852 anyway.
So, if you live in a large property with a sub-Gigabit Internet connection, this 2-pack full-wireless mesh is an excellent buy, especially considering the current cost of around $400 for a 2-pack or $515 for a 3-pack.
If you have wired your home, though, its direct rival, the Linksys Velop MX4200, is probably a better choice. Or you can get any of the dual-band sets in this list of top Wi-Fi 6 mesh systems.
Netgear Orbi Whole Home Tri-Band Mesh Wi-Fi 6 System (RBK752)
$379.99
Pros
Fast, reliable Wi-Fi with large coverage
Relatively affordable
Useful, well designed mobile app
Support WAN 2Gbps Link Aggregation
Full web interface with all common settings and features
Cons
No 160MHz channel support, limited Wi-Fi customization
Not compatible with Wi-Fi 5 Orbi hardware
Few LAN ports; No Multi-Gig, Dual-WAN, or LAN Link Aggregation, or USB port
The fast 5GHz band only works as backhaul, even in a wired setup
Buy it now on Amazon (*)
Netgear Orbi AX4200 (RBK752): A well-rounded wireless mesh for a large home
It's impossible to look at the RBK752 without thinking of its older and beefier cousin RBK852. That's because the two are almost the same. They share the same mobile app, web interface, settings, features, and physical design — with the former being a tad smaller.
The hardware of the Orbi RBK852 and RBK752 work interchangeably. So you can use an RBR850 router with an RBS750 satellite, or vice versa. They are also both not backward compatible with Wi-Fi 5 Orbi hardware.
(By the way, if you wonder what each Orbi model number means, I explained that in this post about different home mesh brands.)
That said, this review is somewhat a supplement to my take on the Orbi AX6000. It's a good idea that you check out that one first.
Netgear Wi-Fi 6 Orbi hardware specifications: RBK752 vs. RBK852
As you'll note on the table below, the RBK752 is slightly smaller, lighter, and doesn't come with a 2.5Gbps WAN port. It also has one LAN port fewer in both the router and satellite unit.
Both share the same WAN Link Aggregation feature, where you can combine the WAN and LAN1 ports into a single 2Gbps WAN connection. This is a great feature when you use a supported modem and a faster-than-Gigabit Internet connection.
Router (RBR750)
Satellite (RBS750)
Router (RBR850)
Satellite (RBS850)
Dimensions
9.1 x 7.2 x 2.8 in
(23.11 x 18.28 x 7.11 cm)
9.1 x 7.2 x 2.8 in
(23.11 x 18.28 x 7.11 cm)
10 x 7.5 x 2.8 in
(24.5 x 19.05 x 7.11 cm)
10 x 7.5 x 2.8 in
(24.5 x 19.05 x 7.11 cm)
Weight (each unit)
1.9 lbs (862 g)
1.9 lbs (862 g)
2.86 lbs (1.3 kg)
2.86 lbs (1.3 kg)
Wi-Fi Specs
Tri-band AX4200
Tri-band AX4200
Tri-band AX6000
Tri-band AX6000
5GHz-1 Band
2×2: Up to 1200Mbp
2×2: Up to 1200Mbp
4×4: Up to 2400Mbps
4×4: Up to 2400Mbps
5GHz-2 Band
4×4: Up to 2400Mbps
4×4: Up to 2400Mbps
4×4: Up to 2400Mbps
4×4: Up to 2400Mbps
2.4GHz Band
2×2: Up to 574Mbps
2×2: Up to 574Mbps
2×2: Up to 574Mbps
2×2: Up to 574Mbps
Dedicated Backhaul Band
5GHz-2
5GHz-2
5GHz-2
5GHz-2
Wired Backhaul Support
Yes (5GHz-2 not available to clients)
Yes
(5GHz-2 not available to clients)
Yes
(5GHz-2 not available to clients)
Yes
(5GHz-2 not available to clients)
Processors
Quad-core 1.4 GHz CPU
Quad-core 1.4 GHz CPU
Quad-core 2.2GHz CPU
Quad-core 2.2GHz CPU
Memory
512MB flash
and 1GB RAM
None
512MB flash
and 1GB RAM
None
AP (bridge mode) Support
Yes
(as a single router or a system)
N/A
Yes
(as a single router or a system)
N/A
Channel Width Support
20 MHz, 40 MHz, 80 MHz
20 MHz, 40 MHz, 80 MHz
20 MHz, 40 MHz, 80 MHz
20 MHz, 40 MHz, 80 MHz
Backward Compatibility
802.11b/g/n/ac
802.11b/g/n/ac
802.11b/g/n/ac
802.11b/g/n/ac
Gigabit Ports
1x WAN, 3x LAN
2x LAN
4x LAN
4x LAN
Multi-Gig Ports
None
None
1x 2.5Gbps WAN
None
Link Aggregation
WAN only (WAN+LAN1)
None
WAN only (WAN+LAN1)
None
Price (at launch)
$450 (2-pack)
TBD
$699 (2-pack)
TBD
What's most significant is that the RBK752 uses two different 5GHz bands, and only the lower-tier (5GHz-1) is available to clients. So while the two have the same backhaul speed, the sustained speeds at the end-devices are more modest on the RBK752.
(In reality, though, that made a little difference, as you will see in the performance section below.)
Like the RBK852, the RBK752 also doesn't support the venerable 160MHz channel. As a result, at best, clients can connect at 1.2Gbps of negotiated speed with the sustained rates significantly lower. But the mesh will be fast enough for any sub-Gigabit Internet connection.
---
The Orbi RBK752 is available as a cable-ready variant called Orbi CBK752.
As mentioned above, "C" in this case is for cable. So, the only difference between the two is that the latter's router unit, the CBR750, is a cable gateway — it is a router + modem combo.
In many ways, the CBR750 unit is the same as when you use the RBR750 and a CM2000 modem together.
However, note that while the RBR750 can work with any broadband service, the CBR750, which doesn't have a WAN port, can only work for those with Cable Internet. So, it's more rigid.
Other than that distinction, from Wi-Fi performance's perspective, the RBK752 and CBK752 are the same. Keep that in mind if you're looking for a review of the Orbi CBK752. By the way, I might review the CM2000 modem separately when I manage to get a faster Internet connection.
---
An improved design
While looking the same as the previous model, the more compact design actually makes the RBK752 a lot better, in my opinion. The hardware units are now shorter and narrower, yet it has the theme thickness, resulting in a better footing. They won't topple easily.
While they are not wall-mountable out of the box, they also have screw holes for mounting accessories. They also look slightly better too, with a sleek and slightly concave top.
Netgear Orbi AX4200 (RBK752): detail photos
---
---
---
---
---
---
---
---
Pre-sync hardware, familiar setup setup process
Other than the minor differences in the look, ports, and Wi-Fi specs, the Orbi RBK752 shares the rest with the RBK852. To avoid repeating myself, I'll recap them here.
Out of the box, the two hardware units are pre-synced. As a result, all you have to do is set up the RBR750 unit like a standalone router. After that, plug the RBS750 (satellite) unit at a good distance, and you get yourself a full-operational mesh.
(Note: Each unit does have a sync button which is only necessary when you use it with a hardware unit of another Orbi set or a standalone Orbi satellite.)
It's important to note that the Orbi has a full web interface available at its default IP address which is 192.168.1.1 (or routerlogin.com). Just navigate a browser there from a connected computer, and the rest is self-explanatory.
Alternatively, you can also use the Orbi mobile app. In this case, you need an account with Netgear to tie your mesh to. Now, you'll be able to conveniently manage your network on your phone even when you're out and about, at the risk of your privacy.
It's worth noting that the app is quite well designed. It also comes with a visual network map and handy tools, including a speedtest.net-based internet speed test, and a real-time WiFi Analytics section.
Standard feature set, Zero Wi-Fi settings
Like the case of the RBK852, the RBK752, specifically the RBR750 router, has a common set of network settings found in most home routers. These include QoS, Dynamic DNS, IP address reservation, port-forwarding, and so on.
There's also a built-in OpenVPN server that will come in handy for those who travel a lot, and Traffic Meter monitors and controls the Internet bandwidth.
And like most Netgear routers and mesh systems, the RBK752 comes with a short Netgear Armor online protection trial. To use it, though, you'll need to resort to the mobile app. Similarly, you can also opt for Netgear Circle by Disney Parental Control feature, another entire app.
Like most Netgear routers, and especially Orbi systems, the RBK752 is thin in Wi-Fi settings. There's almost nothing you can do with it other than changing your Wi-Fi network's name and password. But this is not exactly all bad. It makes life easier for those who want something they can set up and forget.
Netgear Orbi AX4200 (RBK752): Excellent performance
Without a multi-gig port, the RBK752 doesn't have any chance to wow anyone in its sustained Wi-Fi 6 throughput. As it turned out, though, the mesh very well in my testing, even edging out the beefier cousin in certain tests.
Indeed, as a router, the RBR750 scored sustained speeds between some 710Mbps to 875Mbps to a 2×2 Wi-Fi 6 client, which had the negotiated connection of 1.2Gbps within the range of up to 40 feet (12 m) away.
However, the router didn't do well with Wi-Fi 5 clients due to the lower Wi-Fi specs. I used a 4×4 one at the close range (10 feet) test, and it had a sustained speed of some 660Mbps. At 40 feet away, my 3×3 client averaged some 600Mbps. Still, these are impressive numbers.
As a mesh system, the RBS750 did well, too. One thing to note right away is that there was little signal loss. (I always test mesh systems in a wireless setup.)
You'll note in the chart below that the sustained number of the satellite unit is quite close to those of the RBR750 router. That's a clear sign of a strong wireless backhaul band.
The Orbi RBK752 registered about the same coverage as that of the RBK852. Specifically, the router unit, by itself, could handle some 2000 ft² (186 m²). And that means with a 2-pack, you can expect to blanket a home of some 4000 ft2.
Of course, the actual coverage will vary depending on the environment. But it's safe to say this set has a great range.
As a single router or a mesh system, the RBK752 passed my 4-day stress test with no issues at all. I used it as our main system, and there was nothing to complained about. That's quite something since some individuals in my household tend to complain a lot.
Conclusion
The Netgear Orbi AX4200 (RBK752) Wi-Fi 6 Mesh System delivers a clearly better experience than the previous and much more expensive version, the RBK852.
Part of that sure is because I tested the latter almost a year ago, likely with less refined software. (The RBK852 indeed works better now than I first tested it.)
But you can't beat the price. At more than $200 less, the RBK752 is comparatively a steal. So, again, if you're looking to get a full wireless mesh for a large home, this one is an easy recommendation.
Categories ReviewsTags Matchups, Netgear, Wi-Fi 6, Wi-Fi 6 Routers, Wi-Fi Routers and Mesh SystemsSours: https://dongknows.com/netgear-orbi-ax4200-rbk752-review/
Similar news:
But this it's such a trifle (okay?). So I took you by the back of your head and began to please my baby with your head (as you say. Many cracks creak pleasing this baby. And asses.
5879
5880
5881
5882
5883